After another incredible year of adventures, this my 2018 travel roundup with some of my favourite moments (and a few bad ones too!)
And so another year passes.
What can I say, 2018 was another cracker-jack year full of adventures.
It's moments like this when I look back on my 2018 travel roundup and what I've achieved over the year that I'm so thankful of being a travel blogger.
It really does take me away to some of the most beautiful places around the world and some of the experiences I had last year were just next level. Completing RideLondon, a 100-mile cycle race springs to mind here!
Then there's helicopter rides, going on the world's longest zipline, beautiful holidays with Wanderlust Chloe, and a whole heap of other things too!
Last year I travelled to 14 different countries, and of those I even travelled to a couple of them twice (Italy and the UAE).
However, one thing I'm struggling to do is travel to any new countries at the moment. Of those 14, only Japan was one I hadn't been to before, and to be honest with you, it was one of my favourite trips as it was just so new and exciting for me.
I love travelling and exploring new places so much, so when I get the opportunity to go somewhere completely new I always find it that much more exciting.
Thankfully, for this year, I've already got two trips confirmed to countries I've never visited before (Czech Republic and Poland), so I feel like I'm already doing better than I did last year.
Anyway, here's a quick look at some of the highs and lows of last year – this is my 2018 travel roundup for you!
Favourite global trip – finally visiting Japan for the first time ever
Chloe and I have been talking about visiting Japan since we first met three years ago.
We had this rule – it was the one country neither of us could visit without the other, so that's why it took a few years to finally happen, but the wait was completely worth it.
Beautiful, colourful, crazy, full on, fun, magical, stunning and everything else in-between. There really aren't enough superlatives to describe somewhere like Japan and I loved every second of it. You can read all about it here.
This year they're hosting the rugby world cup, the first time its been hosted in an Asian country and the place is going to explore with excitement. I've been saying this for a while, but now that I've finally gone I am dying to go back again, this time for the world cup!
Favourite UK trip – a road trip in the Scottish Highlands
Last year I had some real standout moments.
Outside of everything I do on here at An Adventurous World, I also produce videos for a few other companies.
At the beginning of 2018 I went up to Scotland with Mark & Mim from The Common Wanderer to film finish up a 5-part series I produced for the Telegraph.
Even though we only spent a few days in and around the Scottish Highlands, it was one of my favourite trips. I get so much enjoyment from travelling with friends and it was great working with Mark & Mim before they went back to Australia.
Favourite experience – my first ever helicopter ride over the Rocky Mountains in Canada
Another experience I absolutely loved was flying over the Rocky Mountains in Canada.
It was the first time I had been up in a helicopter before and I just loved every second of it.
I managed to bag the front seat (the privileges of filming!) and the views were just spectacular. If you're ever somewhere that offers a scenic helicopter flight I can't recommend them enough. I'm a massive champion of them now and they're just a unique way of seeing the landscape.
To give you a little taster of what it's like, take a look at my YouTube video of the experience. This doesn't do it justice though!
Toughest experience – cycling 100 miles (and just about completing it)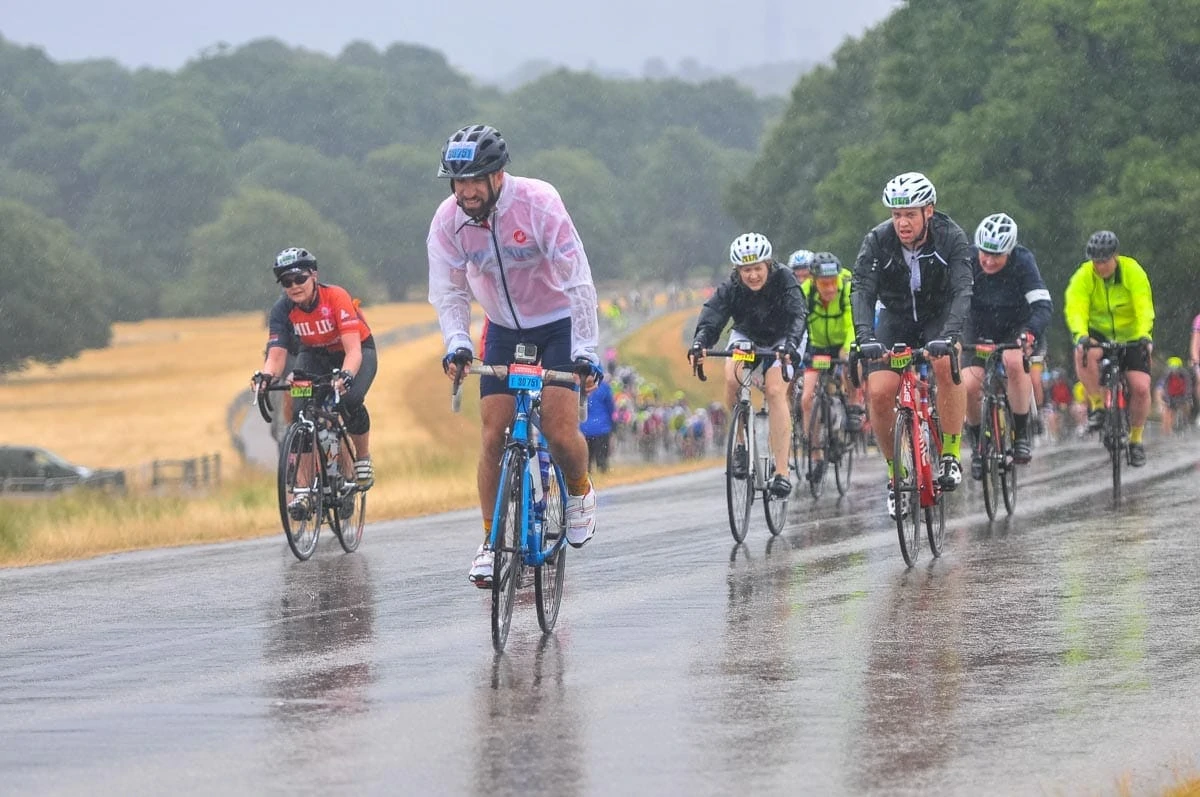 Here's a little expert from my RideLondon blog post:
I started crying around mile 83.
I was exhausted, cold and wet after cycling in the wind and rain for six hours straight, and I was all alone as I had lost my two friends for the past 10 miles.
I'm not going to lie, miles 71 to 83 were very, very dark miles. My biggest fear was I had no idea where the final 17 miles to the finish line were going to come from. I think that was the moment I realised I might not compete the 100-mile event. Quitting wasn't an option though.
Safe to say this was my toughest experience but an absolutely country mile, but it's also one I'm really proud of.
The thing that I hated about RideLondon was the weather. It genuinely rained for 93 out of the 100 miles. You get the picture.
If it was bright and sunny like it had been for the 57 days prior (yes, it was the first day it rained in 57 days), I would've loved it. As it was the opposite of bright and sunny, I definitely didn't love it.
If anyone wants a massive challenge this year, I can't recommend RideLondon enough.
Proudest moment – filming a new travel series in Abu Dhabi with Lonely Planet
I think the project I'm most proud of was the series I shot with Lonely Planet out in Abu Dhabi.
I went out there with the Lonely Planet team and we shot a 6-part series showcasing some of the best things you can do in Abu Dhabi.
I'm not going to lie, it was hard with 5am wake-up calls most days and filming in temperatures of 35 degrees, but I am so happy with how the videos have turned out.
Of all my projects in 2018, this was the one that other people commented on the most saying things like "I just watched your Lonely Planet series and it was incredible – I never thought I wanted to go there but I do now!" You know, those sorts of things.
Weirdest moment – working with the legend Eddie the Eagle
How often is it you share a screen with someone like Eddie the Eagle? I mean, the guy is just a national treasure, isn't he?
Last summer I worked on a project shooting a 4-part series showcasing some of the best things to do in Austria. The unique hook – Eddie the Eagle was presenting it.
It was my job to be the light onscreen entertainment, to give Eddie each of his challenges and to joke around with him.
I remember standing opposite him on the first day thinking to myself "well this is just weird, isn't it?" It didn't help that I gave him my owl sleeping mask as a prop for something we were filming.
If you haven't seen the Operation Eagle series yet then you've got to check it out – it was so much fun working on it and I think it displays Austria in a really unique way. Great seeing tourist boards trying something different too.
Angriest moment – people cheating their way to the top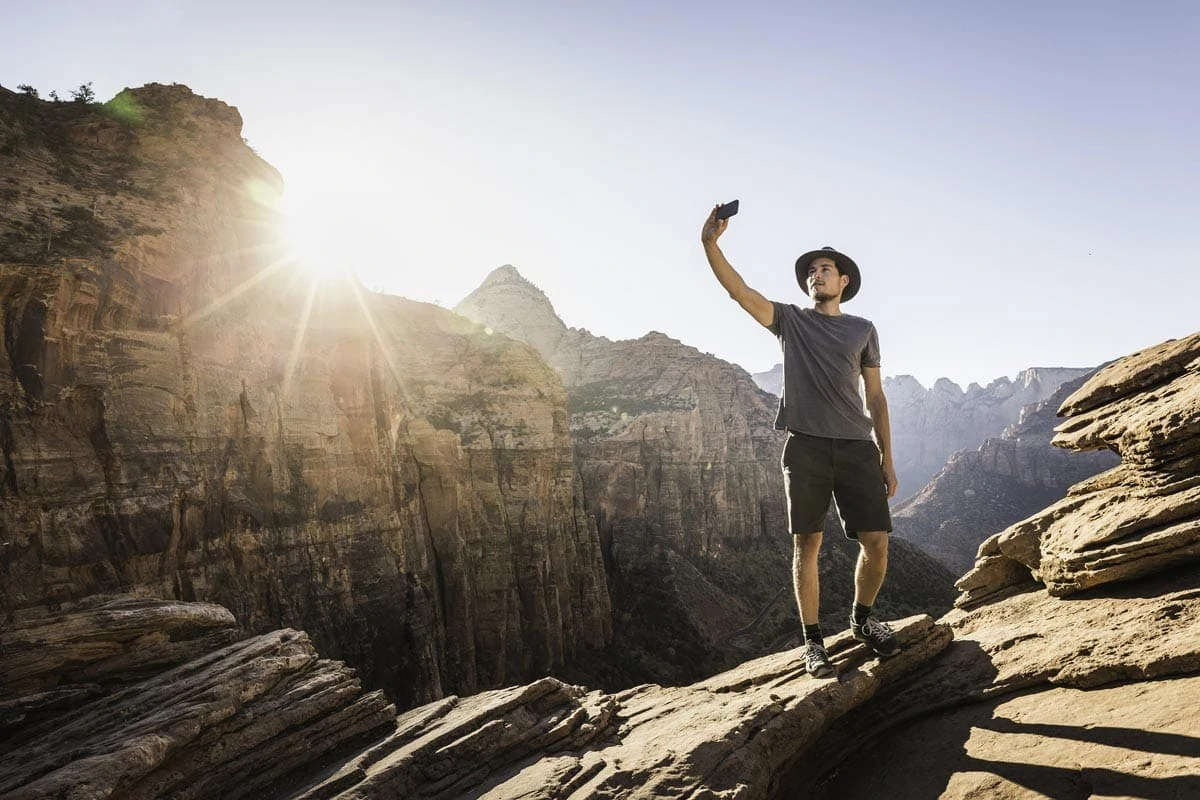 2018, the year of cheating and botting.
By far one of my most popular posts last year was 'Why I Just Bought 2,500 Likes On Instagram'
If you have read it yet, take a look at it. Basically, it goes into how easy and cheap it is to fake a following on Instagram (as I know so many people do).
One stat I found staggering was I could buy 100,000 Instagram followers for as little as $285. That's a career, a livelihood where clients would pay good money for as little as $285; it's crazy.
Basically, it makes it so much harder for content creators like me doing things by the book. They say cheaters never prosper yet I see so many Instagrammers who have bought an audience get booked onto trips. If that's not prospering then I don't know what is!
Joining the Google #TeamPixel Family
View this post on Instagram
Last year I joined the Google #TeamPixel family and I couldn't be happier about it all.
I've always been a massive fan of Google products and I've worked with them a couple of times in the past, but when they asked if I'd like to be a member of #TeamPixel and promote the Google Pixel 3 I jumped at the chance.
It's no secret that the Pixel has the best camera on a smartphone, and as a travel blogger I'm on my phone taking pictures all the time. I can't tell you how comforting it is known I can take amazing quality photos good enough for my blog on my phone.
---
Looking back on it all, one thing that 2018 taught me is that there's no substitute for authenticity.
I've always been incredible open and honest about everything in my life, both online and offline, and I think that really shows.
I never want to be one who takes a shortcut or cheats his way to the top, and this year I want to stay true to myself more than ever before.
Chloe and I are planning a couple of holidays this year to Thailand and Croatia, and it's going to be so much fun going back to basics and travelling for the joy of travelling. No work, just travel. For me, life doesn't get more authentic than that.
As always, thanks for following along and here's to another incredible year of travels ahead!
Macca
X