The city may be weird, but day trips from Portland are wild, wonderful, wine-and-cheese filled, and contain an abundance of waterfalls!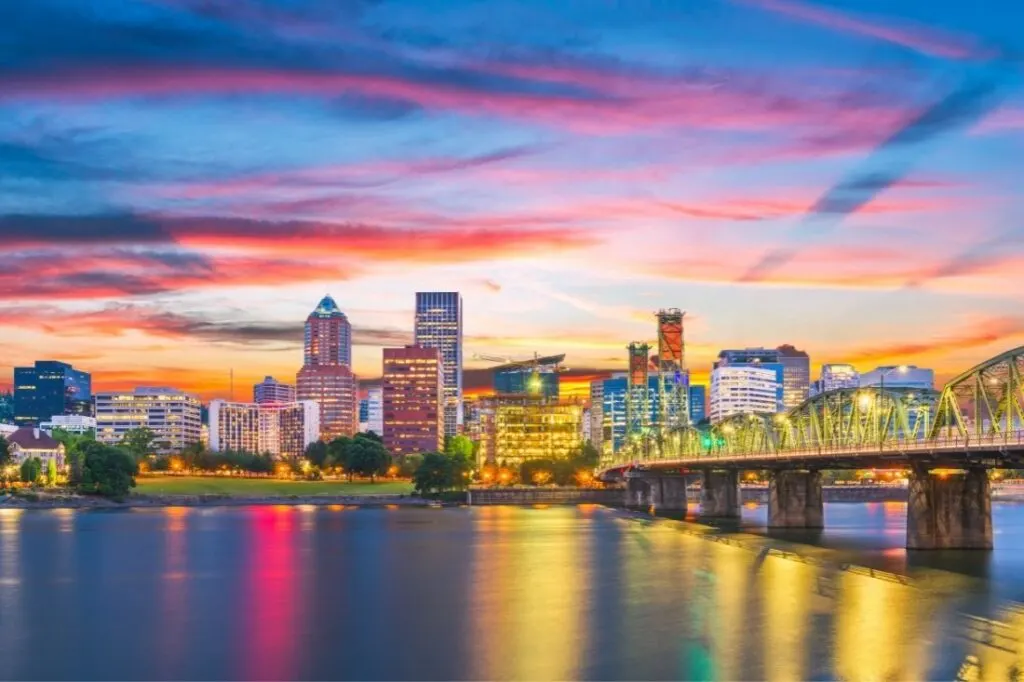 Portland is an incredible city, in an incredible location. Set on the Columbia River, to the east you'll find yourself in mountain ranges and valleys, and to the west you'll be delighted by the Pacific Ocean. There are also an abundance of natural waterfalls and forests, as well as still active volcanoes – which means, hello hot springs!
With such incredible nature on its doorstep, you won't be surprised to hear that there are some amazing day trips from Portland to be had. Work up an appetite enjoying the many outdoor activities the area has to offer, then reward yourself and enjoy the magnificent scenery while tasting some of the local cuisine.
I've ticked off a fair few of these activities and I can honestly say Portland is a place you'll want to keep on visiting time and time again. It might be the donuts and craft beers that pull people in, but there's so much to see and do in the surrounding area too.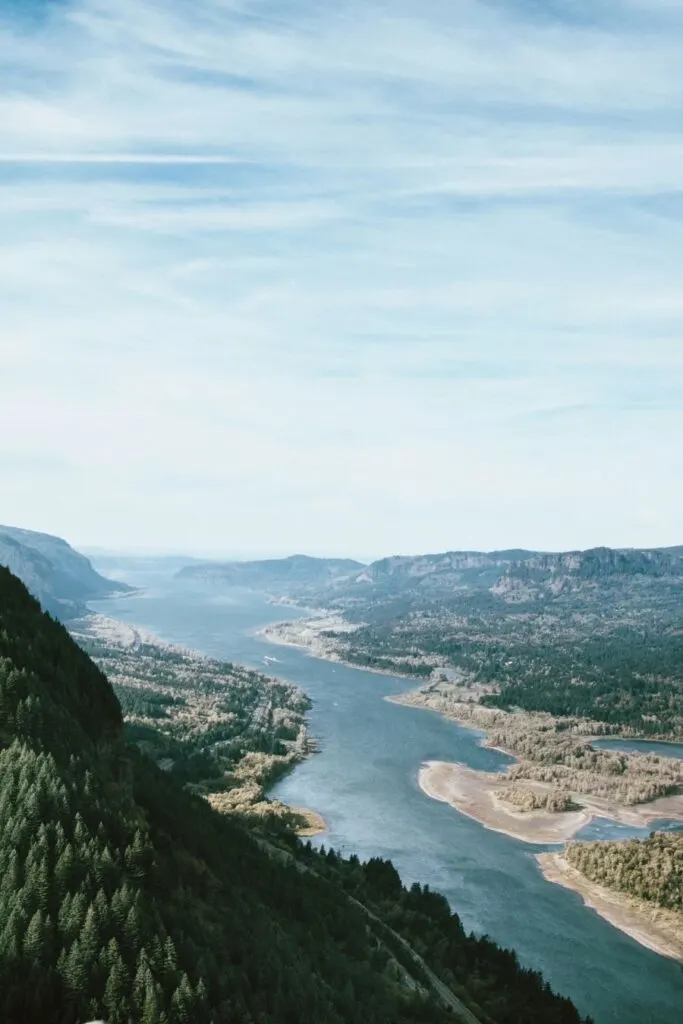 Enjoy the views from the snowy peaks of Mt Hood, take a hike behind waterfalls at Silver Falls State Park, or go for a scenic drive in the Columbia River Gorge National Scenic Area.
There are so many epic day trips from Portland within just a few hours hours drive. Though, great news, many of the Portland day trips I've included are accessible by public transport or Portland tours too.
By the way, if you're planning to base yourself in Portland, be sure to check out my list of Weird Things to do in Portland. If you're a fellow brew lover, don't miss this cheat sheet of the Best Breweries in Portland. As I said, I really love the city!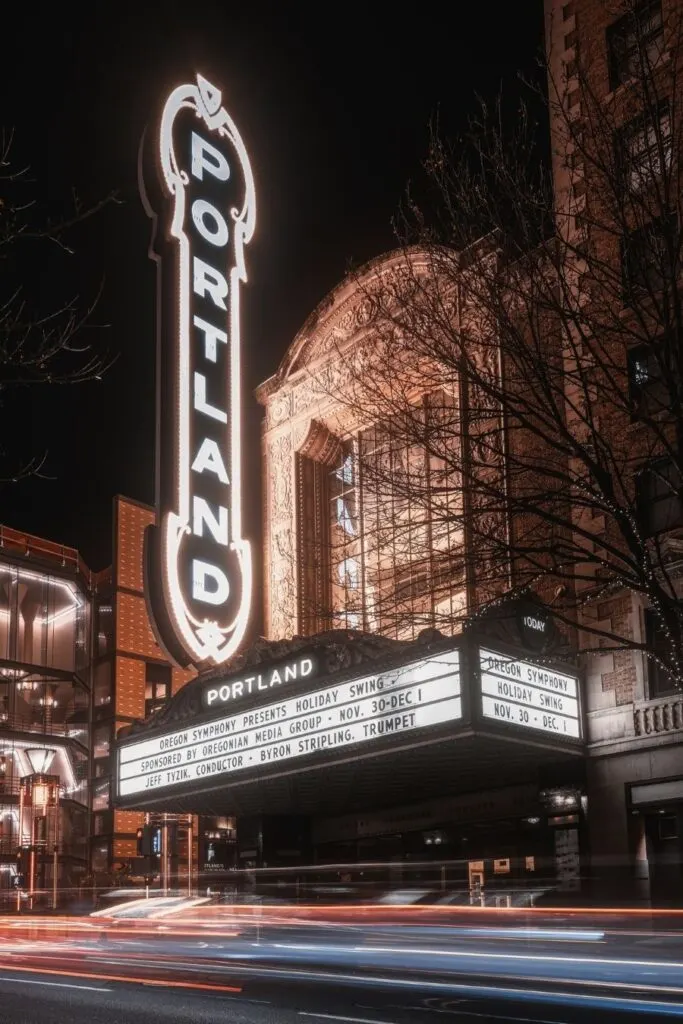 ---
The Best Day Trips from Portland, USA
Mt Hood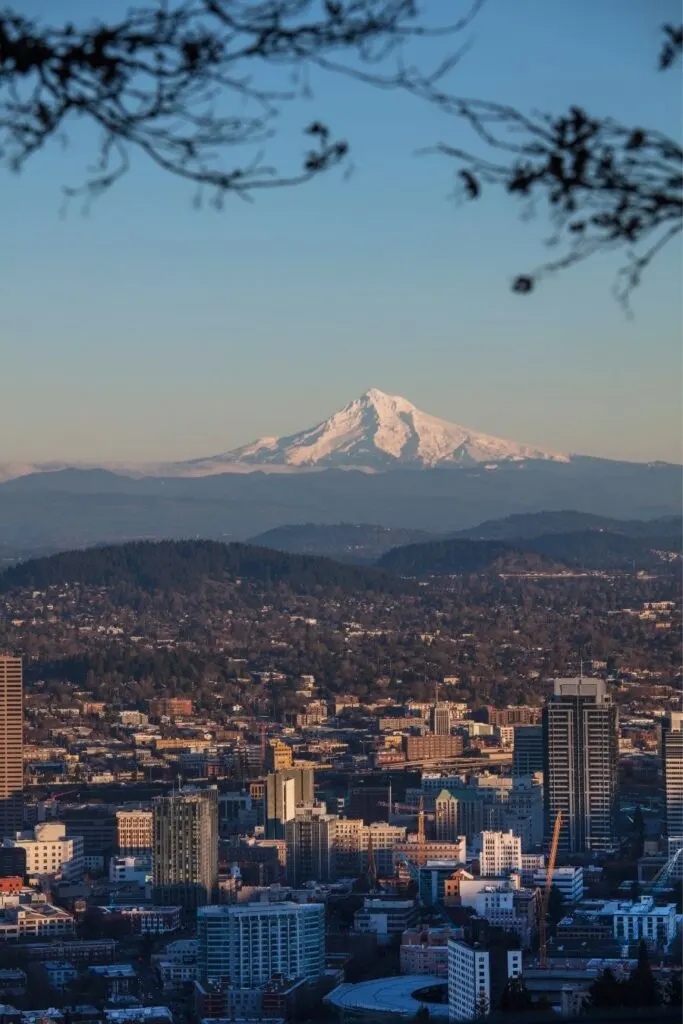 With such amazing scenery at your doorstep, you're going to want to spend a lot of time outdoors. One of the best day trips from Portland to get your nature fix is heading 80km south-east to Mt Hood.
Standing at 3,425m tall, this snow capped volcano is the highest mountain in Oregon. Alongside almost year round skiing, Mt Hood offers opportunities for rock-climbing, hiking, and fishing. This is definitely one for all you adventure lovers.
On the southern flank of Mt Hood you'll find the National Historic Landmark Timberline Lodge. Horror movie lovers may recognise this building from The Shining. Stop in for a locally-sourced seasonal bite or a hard earned hot chocolate.
If you don't feel like driving, hop on one of the Portland tours to Mt Hood – some even include lunch and wine tasting!
Columbia River Gorge National Scenic Area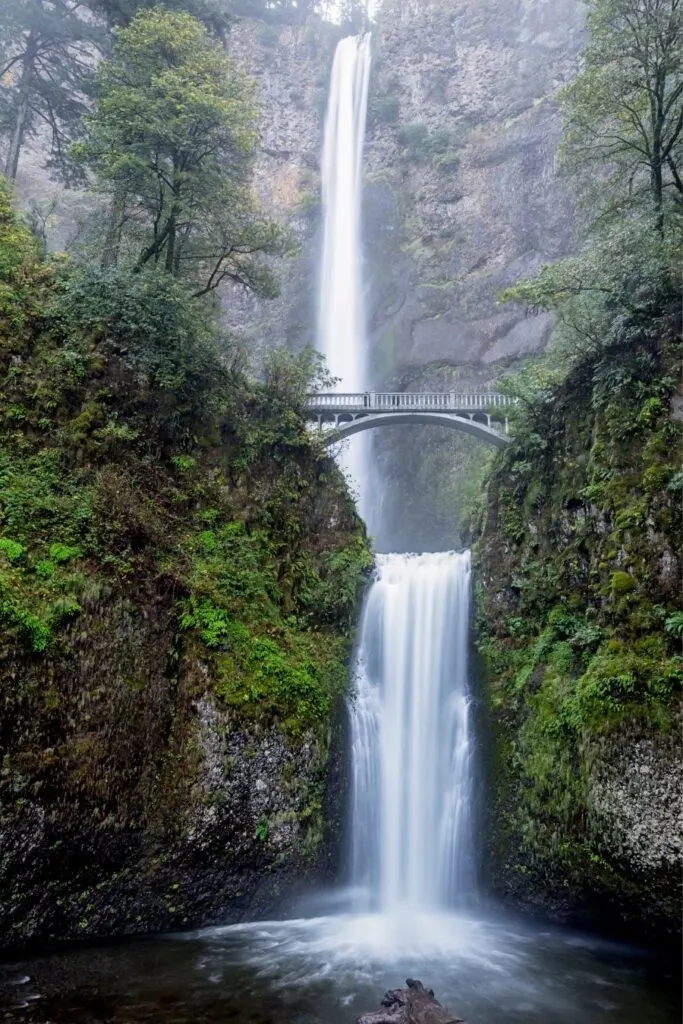 Just a stone's throw from Portland, the stunning vistas of Columbia River Gorge await you. This epic canyon spans over 130km, and is up to 1.2km deep!
This area makes for an incredible scenic drive on both sides of the river. Make sure you head to Crown Point Vista House for some incredible birds-eye views.
On the Oregon side take a cruise down the Historic Columbia River Highway to enjoy views of the gorge, waterfalls, and the Cascade Mountains, or drive the fruit loop to delight in the local produce.
The Columbia River to Mt Hood website is a great place to start planning your trip here. Alternatively, I would recommend this Columbia Gorge waterfalls tour where a guide will take you to all the best spots in the area.
Willamette Valley – Oregon's Wine Country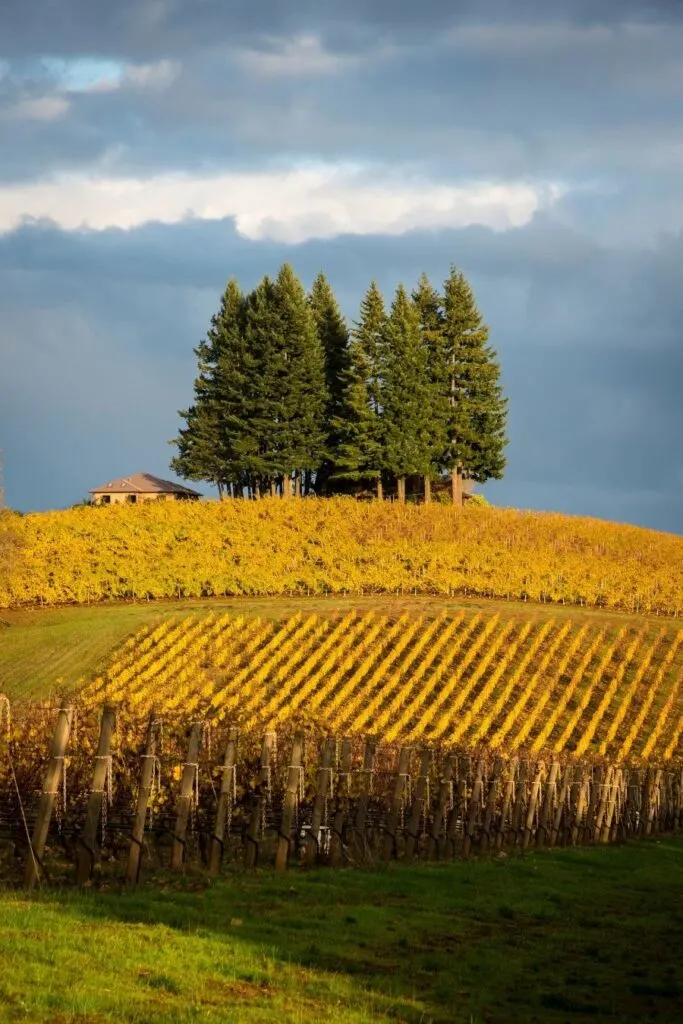 The gorgeous Willamette Valley is home to more than 600 wineries, and not to be missed while you're in Portland. While the area is well known for Pinot noir, there are countless varieties of wine (and beer and ciders) being produced, so you'll find something for all tastes.

Take a self-guided drive between vineyards, markets and distilleries, or take a load off and enjoy one of the many Portland tours to the area. Personally, I'd recommend a tour like this one over a self-guided tour, because you'll be driven to all the different wineries so you can really enjoy yourself.
The Willamette Valley, which is actually 4 valleys, stretches from Portland to Eugene, so it can be a great place to combine with other days trips if you're on a tight schedule.
If you're planning to to make one of your Portland day trips here, the Willamette Valley website has lots of useful information.
Eugene, Oregon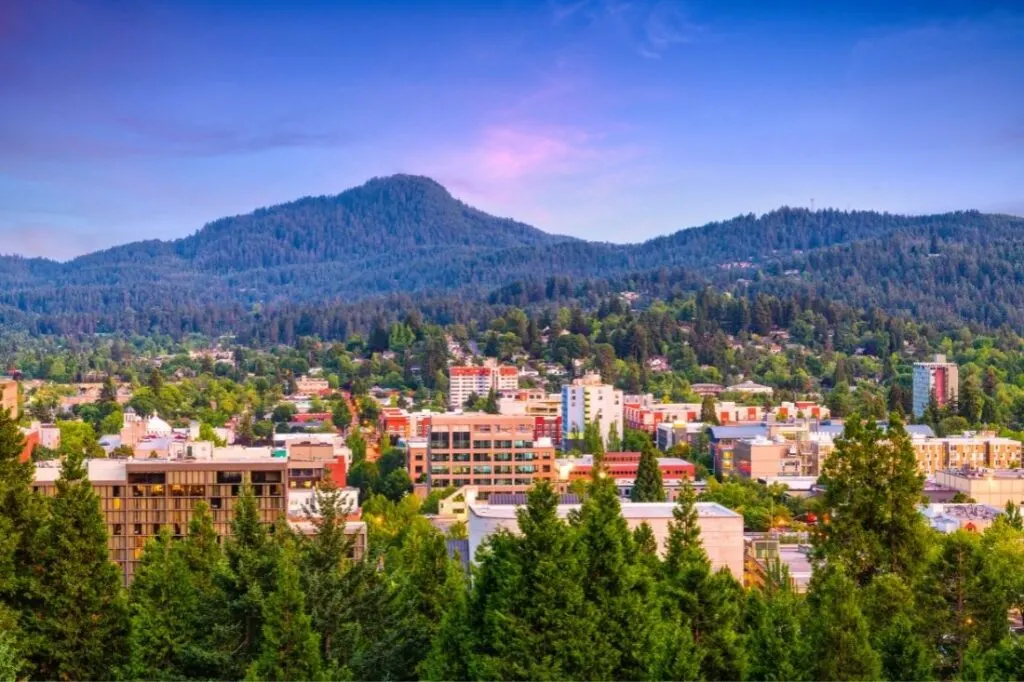 To the south of the Willamette Valley you'll find yourself in the colourful city of Eugene, Oregon. With a vibrant art and festival scene, incredible restaurants, and collection of craft breweries, this city has the makings for a great day out.
Arrive early to brunch in Downtown Eugene, before spending some time checking out the street art around Main Street. Then take a lazy afternoon stroll down by the Willamette River.
Come on a Saturday to lose yourself in the friendly and fantastical market. This is a great place to score yourself a unique gift and a tie-dyed shirt.
Silver Falls State Park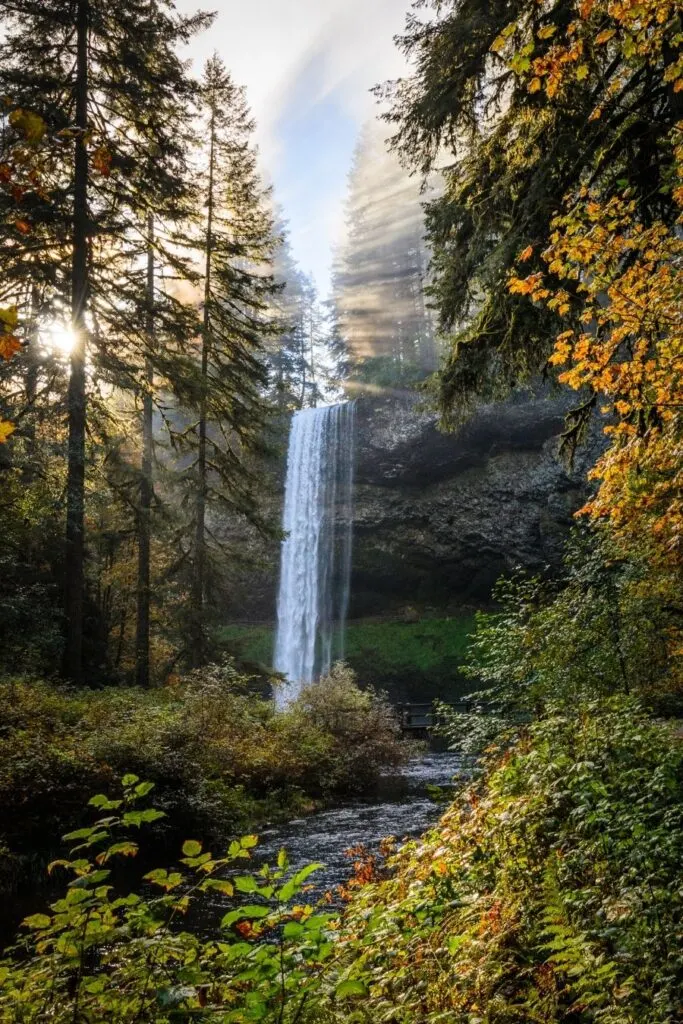 Did you know that the Oregon side of Columbia River Gorge has over 100 waterfalls? If you're in the mood for a hike, Silver Falls offers the fantastic 12km Trail of Ten Falls.
As you may have guessed from the name, this popular hike loops through lush forest scenery past 10 waterfalls. Oh, and not only past, the trail actually takes you behind some of them!
This hike is moderate, well maintained, and there are options to shorten the loop, making this a great outing for the whole family.
Word to the wise – arrive early as the car park fills quickly. This really is such an epic day out – I reckon you'll really love this one.
Cannon Beach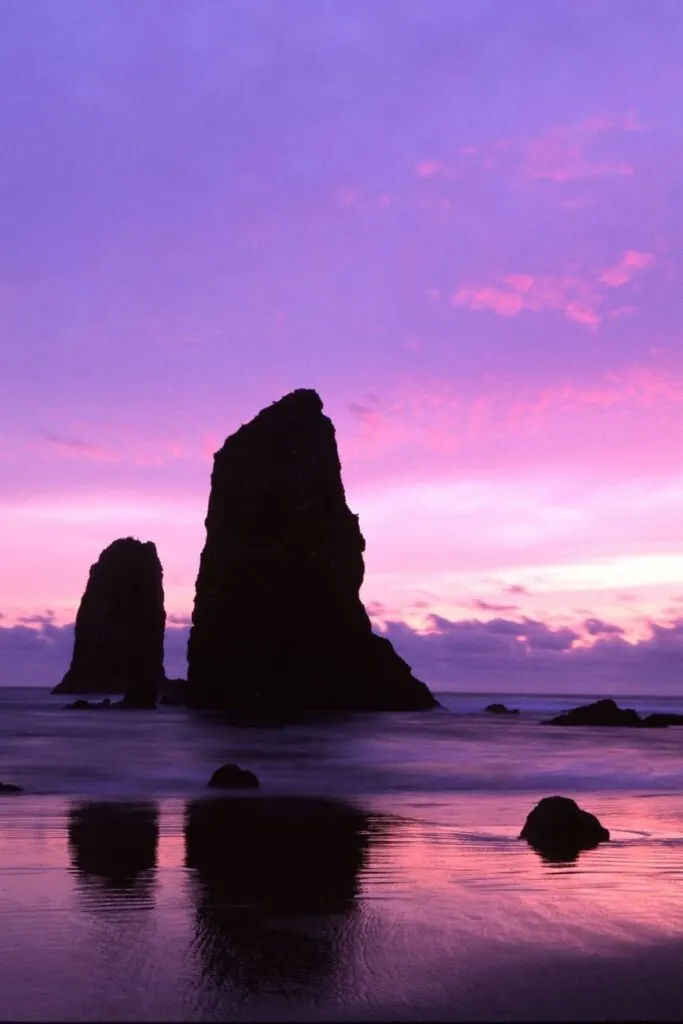 Just 90 minutes from Portland sits the stunning coastline of Cannon Beach. You'll soon see why National Geographic named it as one of the world's 100 most beautiful places. I've even featured it as one of the most beautiful beaches in the world!
This gorgeous beach offers endless white sand, crowned with the iconic 72m Haystack Rock. The rock is accessible by foot at low tide, and if you're lucky, you might even spot some of the Tufted Puffins nesting on it.
Enjoy the splendour from the beach, or take one of the many scenic hikes on offer. While you're here, don't forget to stop off at the charming local village to taste some locally caught seafood!
Cannon Beach is one of the reasons why I loved travelled around Oregon. I mean, you really can't get a more beautiful place!
This Northern Oregon Coast tour is a great way of seeing some of the best beaches in the area
Astoria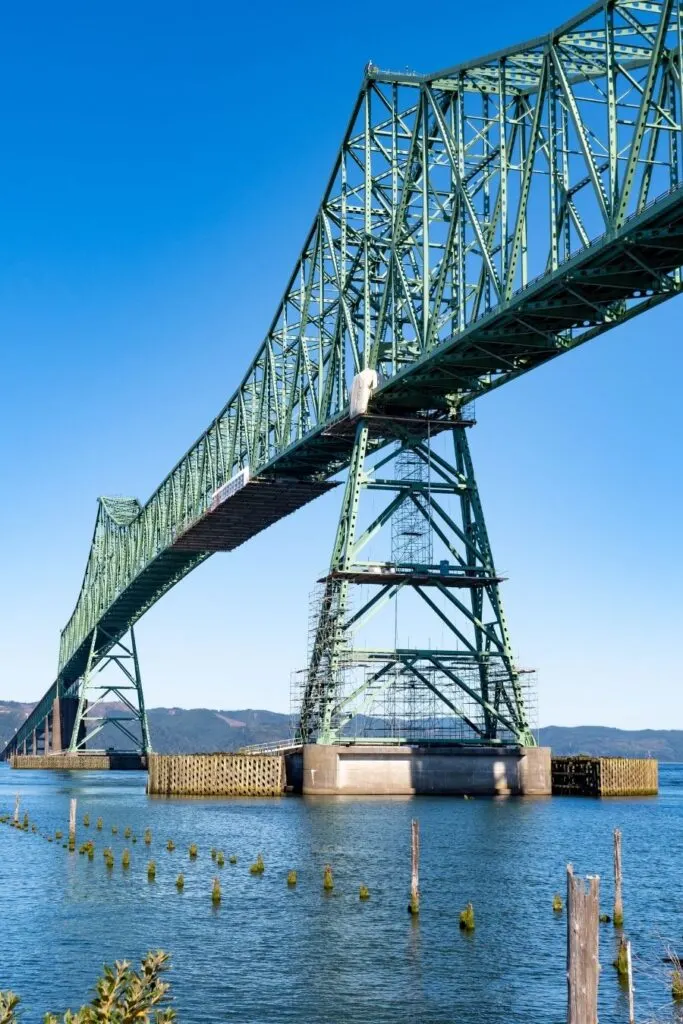 Founded in 1811, the port city of Astoria is the oldest city in Oregon. Located around 150km from Portland, and rich in the beauty and maritime history of the Pacific Northwest, Astoria makes for a worthy day out.
There is plenty of fishing, antiquing and sea-lion spotting to be done here. Some of the quirkier attractions of Astoria include: the Big Red Shed, which serves as a source of inspiration for many artists both from the outside and the artist studios within; the Old Riverfront Trolley; and enjoying a feast of beer battered fish and chips at the Bowpicker.
Oh, and biggest attraction of all – Astoria is where they filmed the legendary film The Goonies. You can even see the house where Chunk does the Truffle Shuffle! I'm not saying this was my favourite thing about visiting Astoria, but…
Seattle
At 3 hours drive away, this is one of the farthest distance day trips from Portland I've included, but there is no way I could leave this incredible seaport city off the list.
There is so much to visit while you're here, but you can't the bustling Pike Place Markets. These markets are home to the famous fish throwing mongers, as well as a collection of arts and crafts sellers, and the original Starbucks.
On a sunny day, make your way to the top of the space needle to enjoy 360 degree views. Just below, visit Chihuly Garden and Glass and see the amazing and colourful glass displays.
Tillamook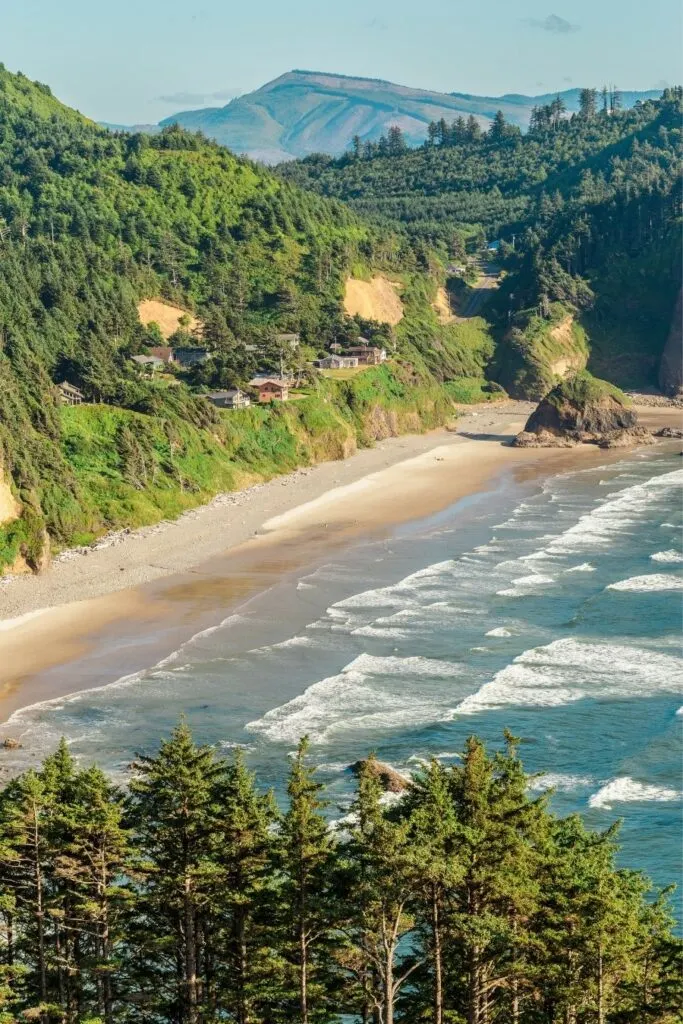 Calling all cheese lovers, cancel your plans and make your way to Tillamook. Under 1.5 hours drive from Portland, and nestled between a state forest and a bay, Tillamook is the answer to your dairy loving dreams.

The co-operative Tillamook Creamery is a great way to start your trip. Here you can visit the livestock, learn about the cheese-making process, and, of course, try all the dairy delights that they produce.
Alongside a feast of cheese, Tillamook offers a beach, zip line adventure park, and pioneer museum. If you're holidaying in June, also keep an eye out for the annual pirate festival. Arrgh!
Sauvie Island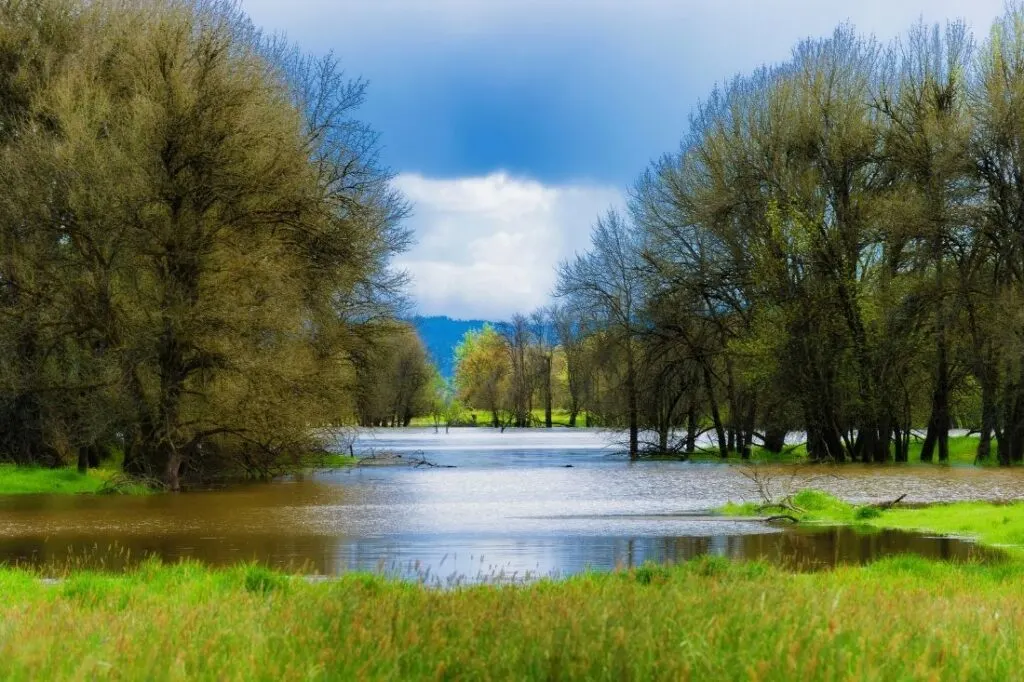 Head to the largest island in the Columbia river for one of the best fun-filled family day trips from Portland. Best of all, this island is just 30km from Portland! Depending on the season, on this island you'll find a variety of activities including corn mazes, hay rides and opportunities to pick pumpkins and other local produce.
This island is home to a wealth of flora and fauna, and has a large dedicated wildlife area. Birdwatchers come here to spot the herons, osprey, bald eagles, and wintering waterfowl. Alongside bird watching, come here to enjoy fishing, hunting, trapshooting, and canoeing. There are some great hiking spots in the area too.
Johnston Ridge Observatory, Mount St Helen
Get a taste for the natural history of the area, by taking the two hour drive to Mount Saint Helen. Built at the location of the youngest and most active volcano in the Pacific Northwest, Johnston Ridge Observatory will pique the curiosity of young and old.

From the observatory, you'll get views right into the crater of the volcano and 1980s blast zone, as well as the lava dome and the landslide deposit. If you're hungry for more, there is a short looped hike to take as well. For me, this is one of the best weekend trips from Portland.
Breitenbush Hot Springs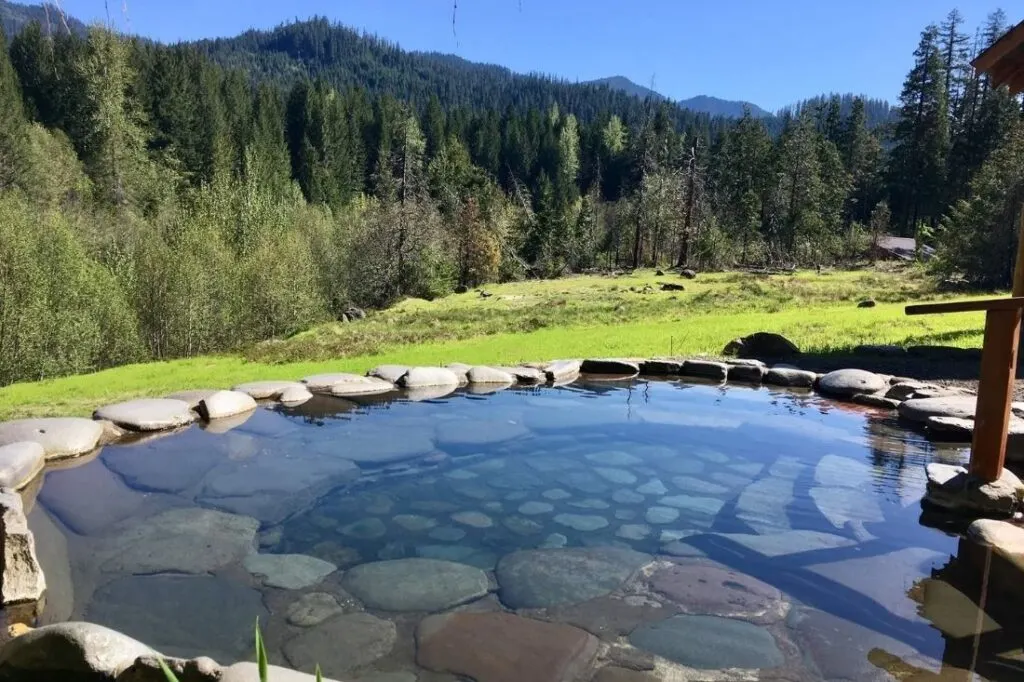 Feeling sore after all of your Portland day trips? Treat your aching traveller muscles to some R'n'R at the Breitenbush Hot Springs. There are a variety of clothing optional bathing facilities available to use, from designated quiet areas and individual tubs to communal rock pools. Better yet, there is no phone service, so lay back and let the healing commence.
The attached retreat also offers a meditative labyrinth, a sauna, vegetarian meals, and a forest. If you time things right, you can also get in on the daily well-being classes or one of the frequent concerts.
Tours in Portland
If you're looking for a few tours in Portland itself, I would recommend these ones!
---
Did I miss any of your favourite Portland day trips? Let me know in the comments below.
Like this post? Then Pin it for the future!