Forget camping! If you're looking for one of the most secluded places to stay at in all of Europe then the Bubble Hotel in Estonia is for you!
I arrived a lot later than I planned.
By the time I parked my car, it was about 10pm and pitch black outside.
Waiting for me was Kristi, the woman who was taking me to the Bubble Hotel.
"I thought you were never coming," she exclaimed. Considering we were in the middle of Matsalu National Park in Estonia I was surprised I found the place at all. We were quite literally in an empty field in the middle of nowhere.
"Follow me. I'll take you to the Bubble and show you what it's all about." I was promised a camping experience like no other; well, they certainly got that right.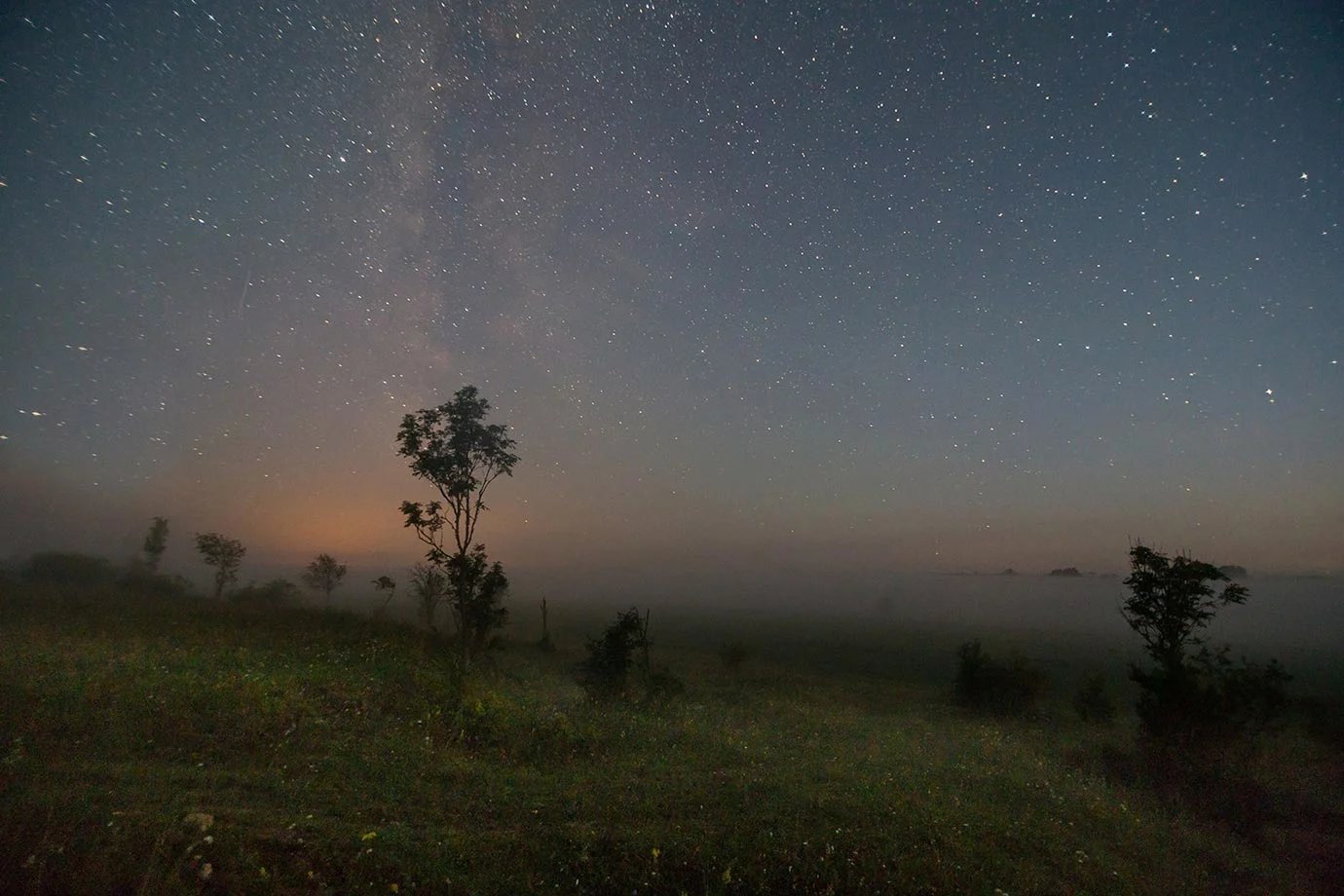 I first saw the Bubble Hotel after walking around some bushes. There it was lit up like a Chinese lantern, a bright orange bubble with nothing else for miles around.
The first thing that struck me wasn't how lonely I was going to be cut off from civilisation, but how bright the stars were in the night sky.
Being located in a national park means there's hardly any light pollution at all, and all I could see was a blanket of diamonds above me.
With a couple of beers in my bag and some food, I knew I'd be happy for the next 24 hours with nothing to do but take endless photos of the night sky. For me, that's all it takes. I knew they I was going to love staying at the Bubble Hotel in Estonia.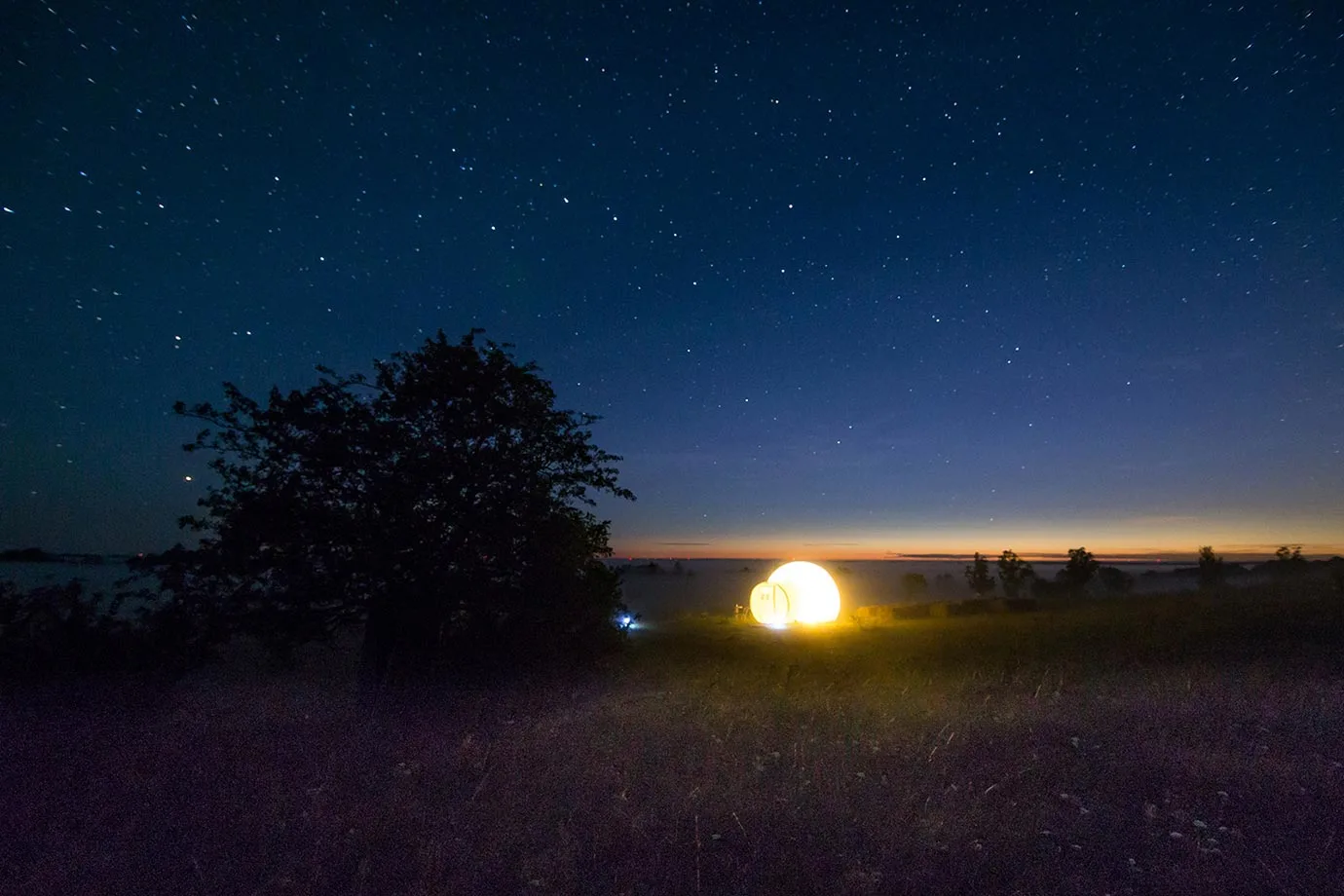 After putting my bags down inside the bubble I set up my camera and started taking some photos.
Even though it was the middle of August, Estonia gets quite cold during the night, but it wasn't until around 2 or 3am that the mist started rolling in. That's when I realised it was probably time to go to bed.
I grew up camping so I'm used to hard grounds and cold nights, but this was nothing like that at all.
There was a nice electric heater inside and the bed was extremely comfortable, and after those beers I was out like a light, for a few hours at least.
I set my alarm-clock for around 7am because I wanted to get up early and catch the sunrise. I thought I may as well get up and take some shots and then crash out again for a few more hours.
Even though it was still super misty, it was nice watching the sunrise, though obviously it would've been more special sharing it with someone else! Still, this is what staying at the Bubble Hotel in Estonia is all about!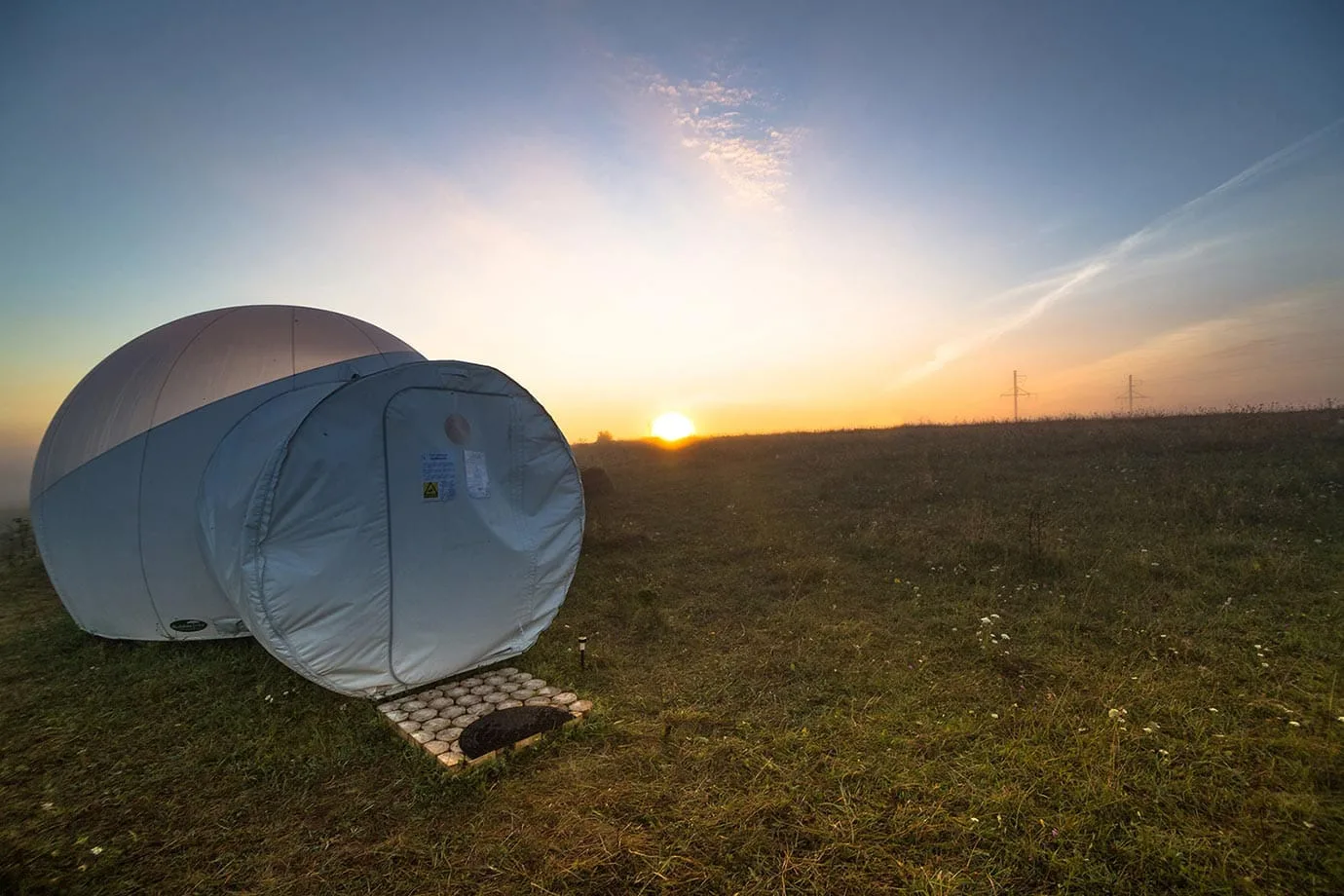 It goes without saying, but there's no food or drink at the Bubble Hotel. What you take in you take out.
After a few more hours sleep I cracked out some pastries I bought with me and took in the scenery.
It's hard to describe what it's like being so cut off to society, even if it's only for 24 hours, but I absolutely love the seclusion of it all.
I mean, you wouldn't want to do it every night, but one of the beautiful things about Estonia is views like this, and they don't come much better than at the Bubble Hotel.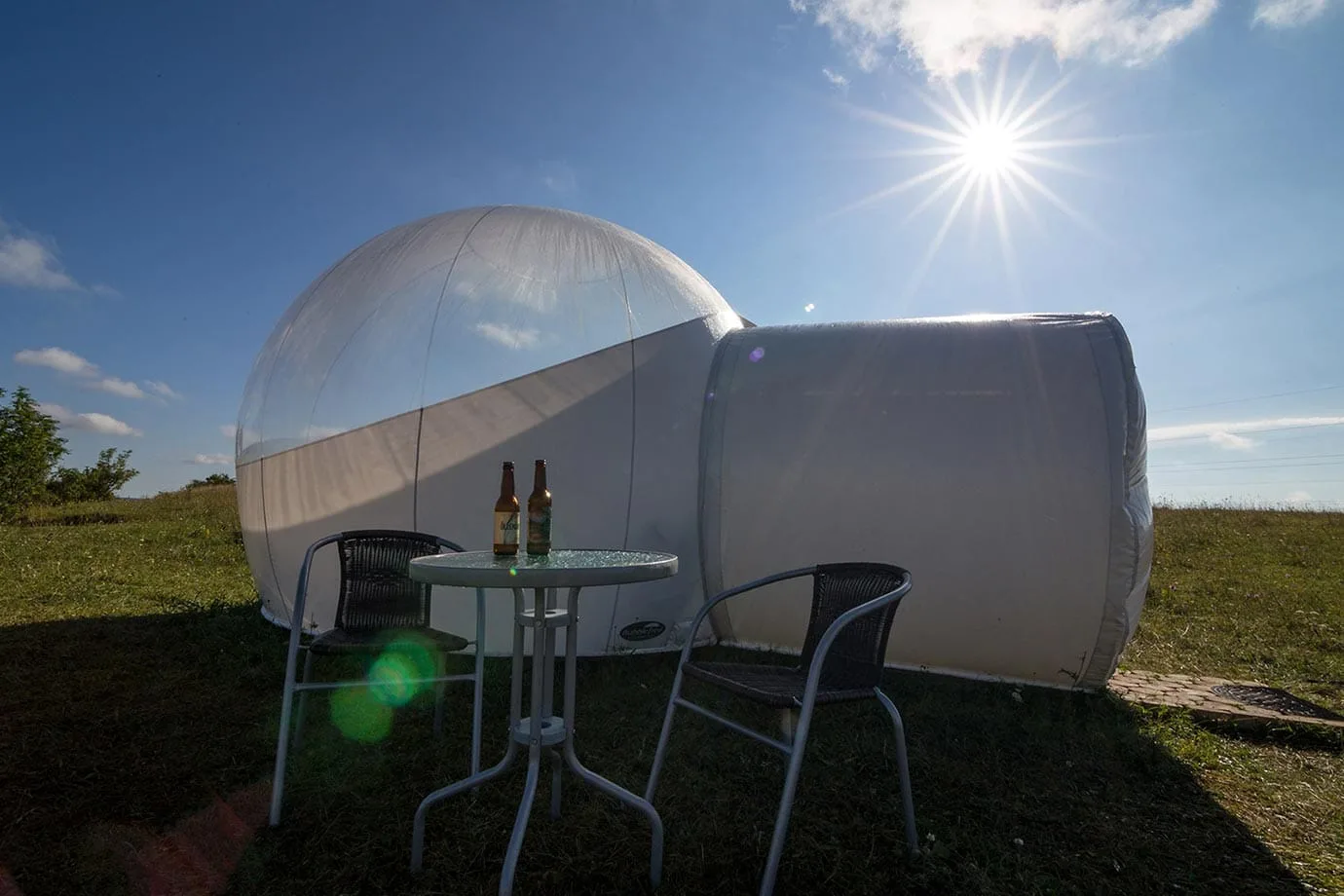 It's not quite camping and it's not quite glamping, but it is so different from any other place I've stayed in.
If you're looking to get away from it all (or if you're like me looking to take some photos of the night sky!) then the Bubble Hotel in Estonia is the perfect place. They don't come much more secluded than this one.
Photos of the Bubble Hotel
The Bubble Hotel costs €99 per night (Sunday to Thursday) and €119 per night (Friday and Saturday) and includes breakfast. You also get 20% off if you stay a second night.
What do you reckon? Think you'd enjoy staying at the Bubble Hotel or would it be too quiet and secluded for you? Let me know in the comments below!
My visit to Estonia was part of a press trip organised by the Estonian tourist board. As always, all views and opinions are entirely my own and without bias.
Like this blog post? Then make sure you Pin it!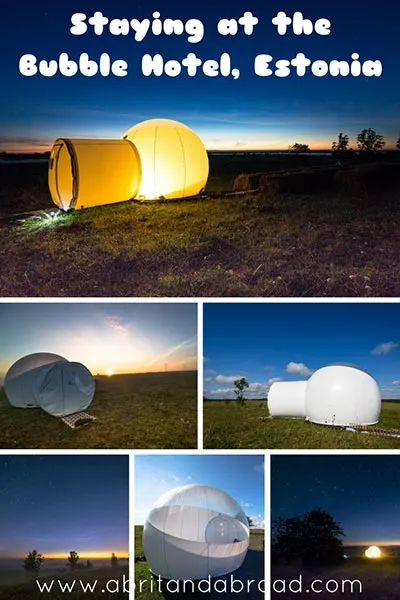 Save