Seeing Portland through the eyes of the Brit
I always knew Portland was cool, a haven for hipsters, but I never knew it was so frickin' weird too. And I say that in the best way possible!
From the city's slogan "Keep Portland weird" to the people you meet on the streets, one of the first things that I noticed about Portland was that this is a place that takes pride on being peculiar, on being that little bit strange.
Without a doubt one of the best things about the US is that every state and every city is just so different from one another, and that's true for Oregon and Portland too. With the raw beauty of Cannon Beach and the Oregon Coast which is dotted with slow surf towns, I thought Portland would be pretty laid back too, yet it buzzes with life at all times of the day; seriously, this place never sleeps. The thing Brianna and I quickly learned was that this was a city you've just got to experience at street level. This is where all the exciting things happen.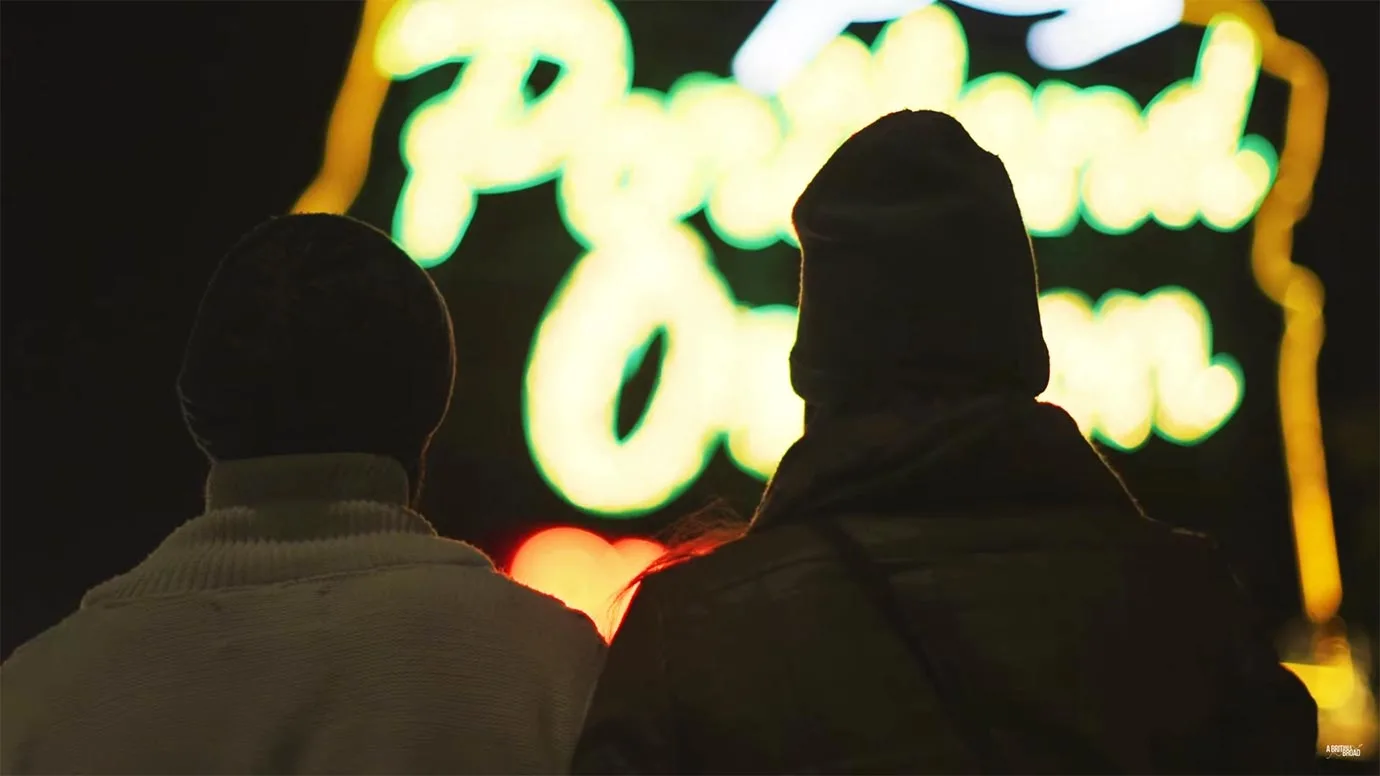 We stayed at Jupiter Hotel, a short 10-minute walk over the bridge from Downtown. Yet it was this walk over the bridge that really brought Portland to life for us. In the evenings when we walked back into town we had the city lights in front of us getting brighter and brighter with every step we took, and you could almost feel the energy coming off of the city. I tell you what, that little walk was the perfect way to get you in the mood for a couple of beers and going out.
Being the big kid that I am, another thing that I loved doing in Portland was Ground Kontrol, the 90s arcade. This is one of the darkest and dingiest places you'll find, yet it's packed from wall to wall with old arcade games and pinball machines. I can't remember the last time I played an old fashioned pinball machine; it felt like I was eight-years-old on Brighton Pier again!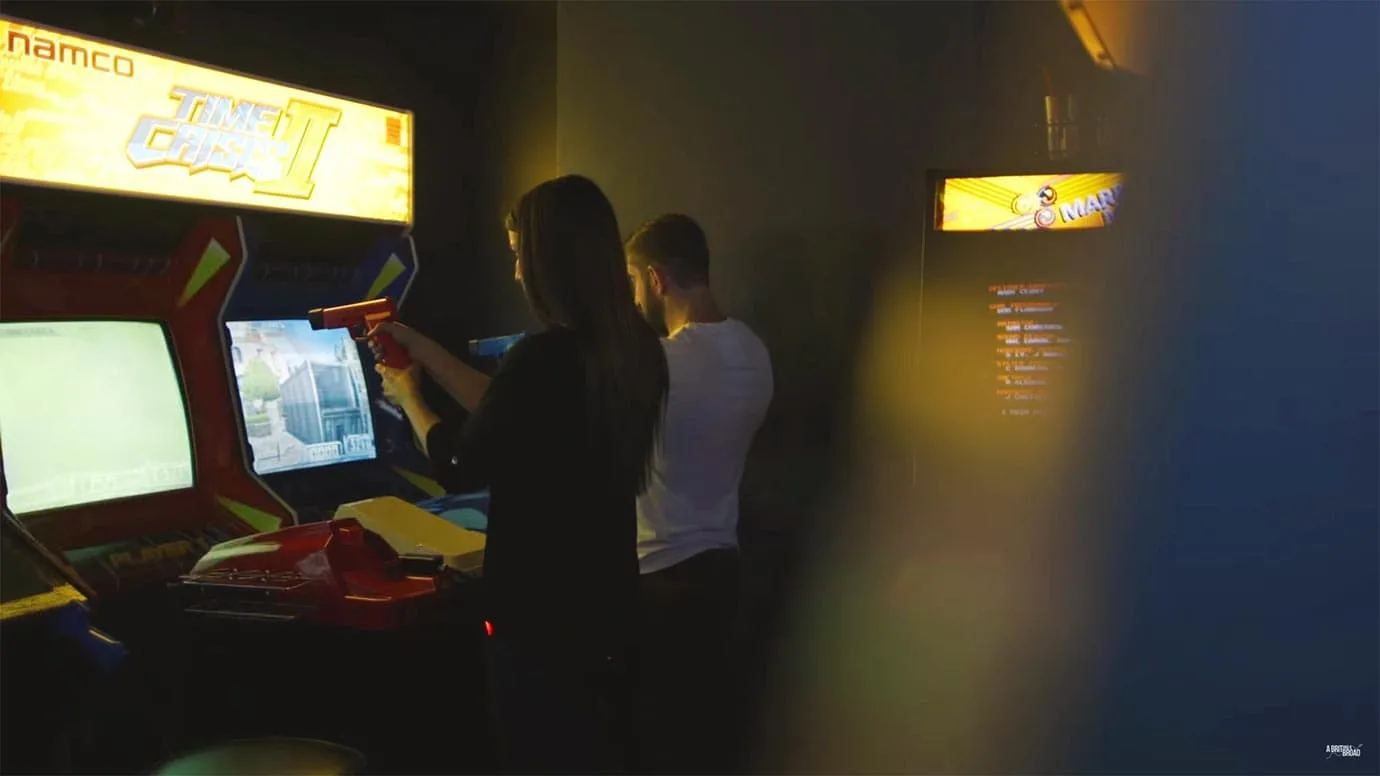 When we're in a new city, Brianna and I always like to find something 'alternative' to do, the lesser known tourist attractions, so when we found out about Kate's Park, the "world's smallest park", we knew we had to check it out for ourselves. Whether Kate's Park is officially the world's smallest park is debatable, but if that's what the internet says it has to be true, right?
After about 10 minutes of searching, we eventually came across a tiny 2ft bush in the middle of a relatively busy intersection. Despite no signs or placards, we knew this had to be the place. Once we had found the world's smallest park, we thought we'd play Frisbee with the world's smallest Frisbee (obviously a 5cent coin). Yep, we have to admit, this was pretty weird.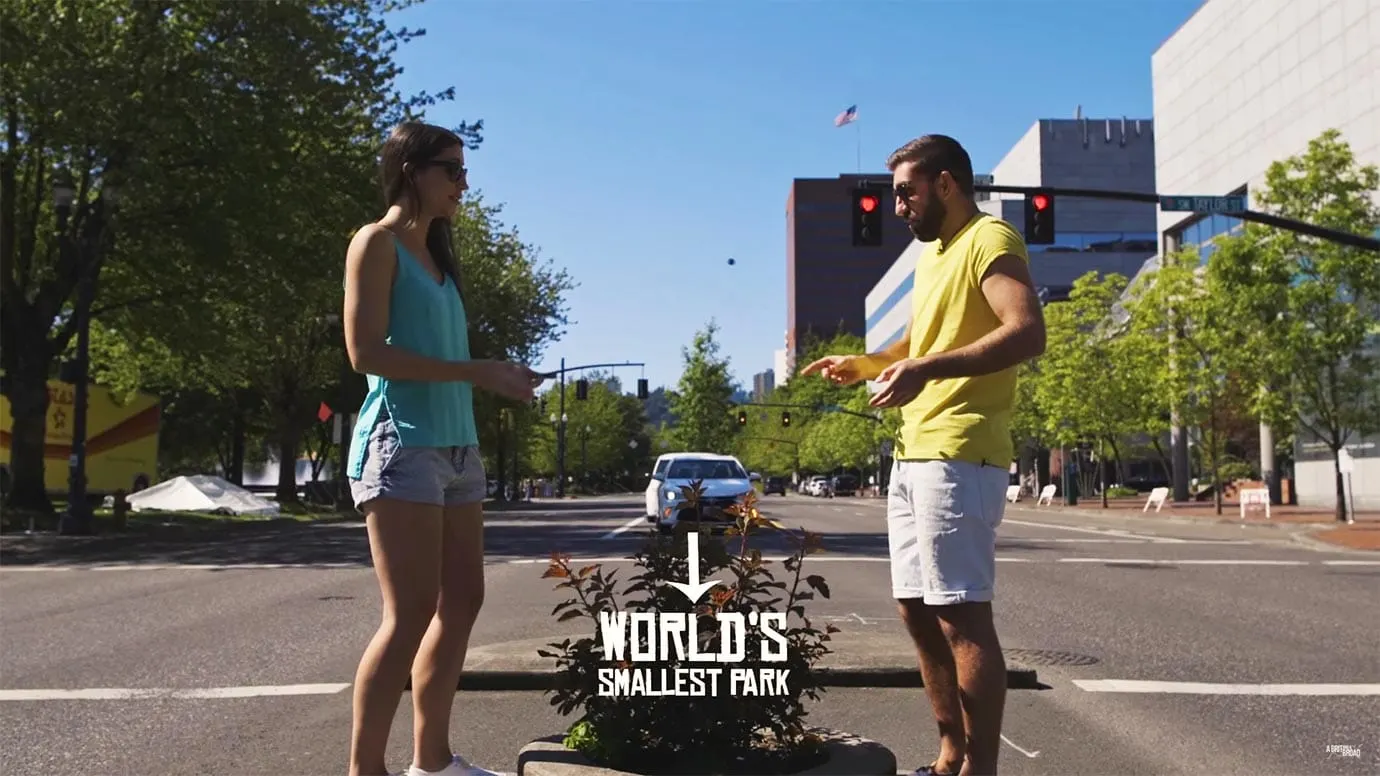 The thing about Portland is you don't actually have to do anything to experience it. You could just walk around the city like we did or sit in a bar knocking back a couple of suds and you'd still get a feel for the place. Yes, Portland is pretty frickin' weird, and that's just the way we like it.
---
Seeing Portland through the eyes of the Broad
Portland has been put on the map for a few reasons; the craft brewery culture, an affinity to draw artists and creative types to it, a certain sugary donut shop, the practice of dining and drinking out and the many top notch restaurants that go along with it. The list goes on and on.
Not to mention one of my favourite TV shows staring Carrie Brownstein and Fred Armisen (formerly of Saturday Night Live), which centers around the many characters you find in Portland: aptly named "Portlandia". If you haven't seen it, please watch it.
I think I like it so much because many of the very "Portland" things are also very Vancouver. Skits that poke fun at bike lanes, whatever the alternative to milk is this week, coffee shop culture; it all hits close to home and hits a funny bone for us Vancouverties.
And yet, Portland is so itself. There is a grunginess to it that may be there because that's the way they like it. The opening scene of Portlandia is a musical number called "Dream of the 90's is Alive in Portland" – so, you know?
It's a place where odd is celebrated and out of the box is the norm. Where you can probably find a cute little boutique store anywhere you look, and the same goes for a deliciously crafted hoppy drink. And probably a street busker who just wants to hear about your childhood.
Macca had never been before, so we went hard for a couple of days, trying to see as many little corners of the city we could. But as we expected in this multi-layered city, we only scratched the surface.
We, of course, had to get our hands on as many craft beers as possible (read where we went here) and pretty much spent the whole weekend eating.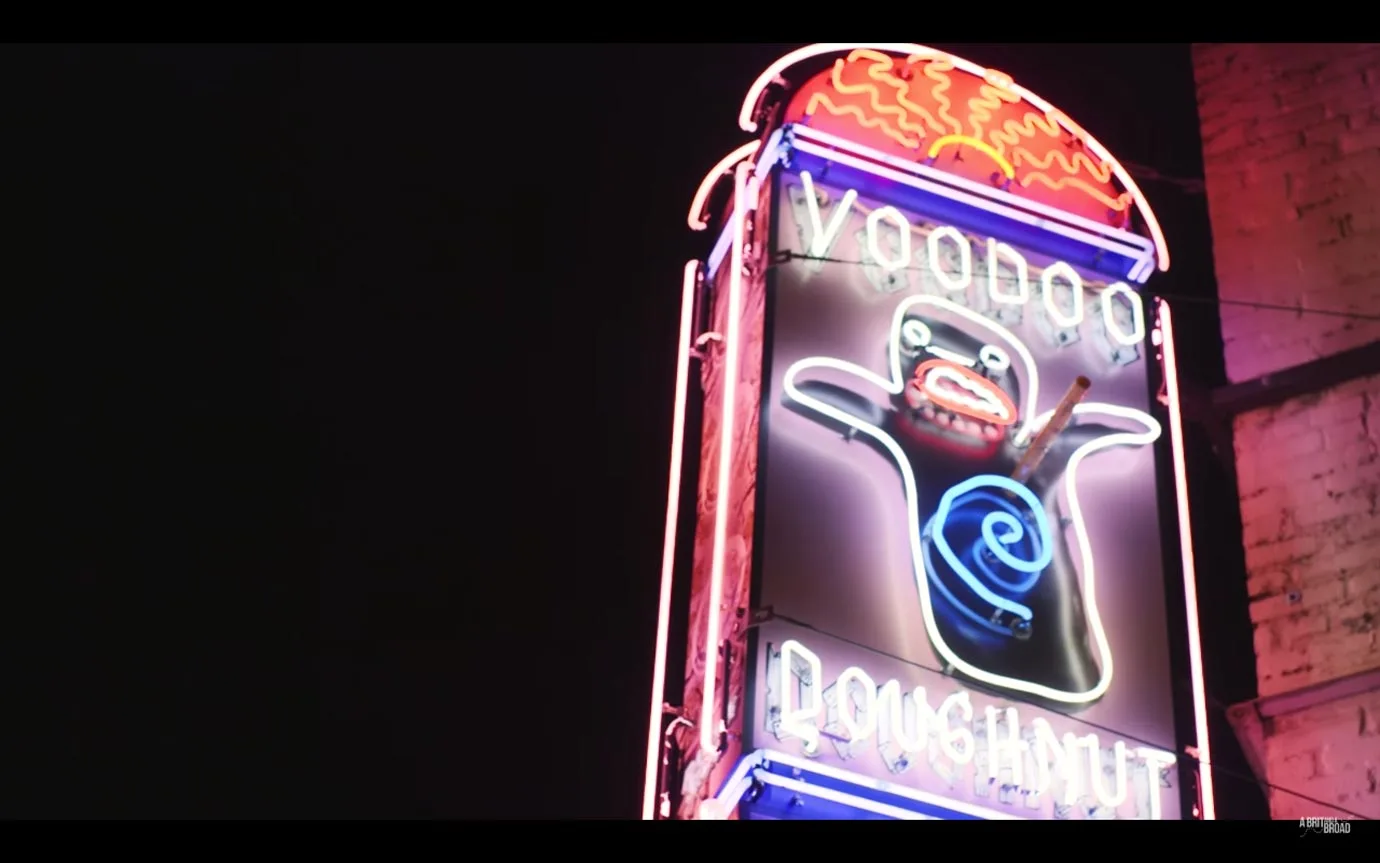 We took Macca to Voodoo Donuts, who have become famous for their intensely sweet and strange delights. It's open 24 hours and there are now 2 locations to check out (not to mention others popping up in other cities including Taipei City??), so you might not have to stand in the famously long line up.
You can get a Captain Crunch donut, the Texas sized donut (the size of six donuts in one), the Gay Bar donut ("chocked full of luscious cream and all the colors of the rainbow!") – and more creations as awesomely odd as this.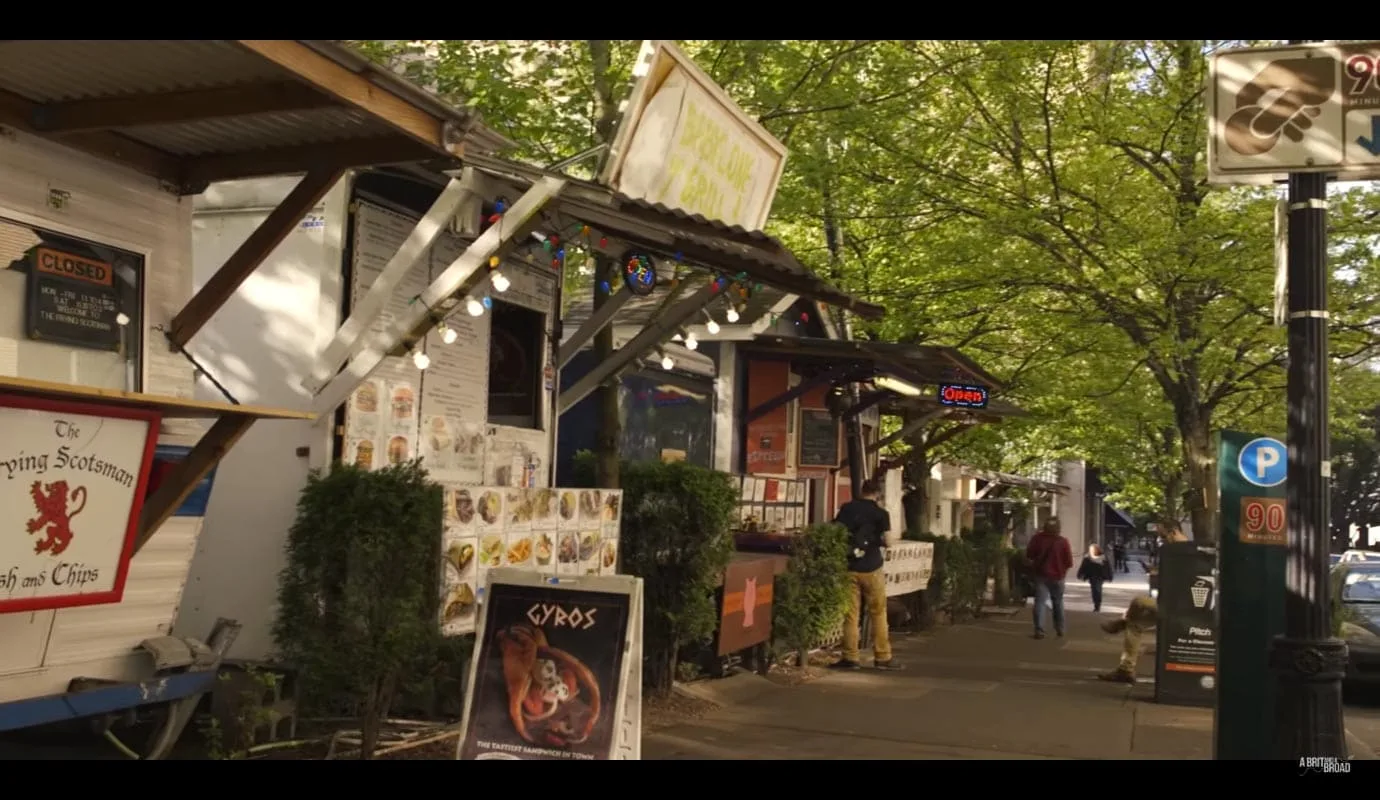 Food trucks are another Vancouver adoption from the Portland scene, however unlike Vancouver, Portland has a few dedicated lots (which they call pods) and take up a whole city block.
This is a great spot to stop for lunch or a late night snack and you can pretty much get anything; thai food, hot dogs, wood fired pizzas, Mexican, Japanese – it's all in one place.
There's a lot to see and do in Portland, but the best part is just to be. There's an energy there, which encourages individuality and while this "hipster" edge might be seen as pretentious or put on (and in some cases very well may be), I found it to be quite welcoming.
People in the service industry were quite genuinely friendly, and that in itself says a lot. Maybe I'm just jaded from living in Vancouver, but I commented on it all weekend.
There's a focus on connection in Portland, it would seem, and in a world where we sometimes connect more to our cell phones than to each other, it was a welcome adjustment to make.