With your own private plunge pool and the black sand beach of Lovina just metres from your front door, this is the perfect place to relax for a few days
With the hedonism of Kuta where the party never stops or the hustle and bustle of Ubud where the streets are teeming with people at all hours of the day, Lovina in northern Bali is a far cry from either of these two places. In fact, it's how Bali used to be 20 years ago – quiet, peaceful, beautiful.
With black sand beaches and some of the best sunsets on the island, Lovina is an amazing place to visit, and if you're looking to get away from the crowds to then this is definitely the place to do it.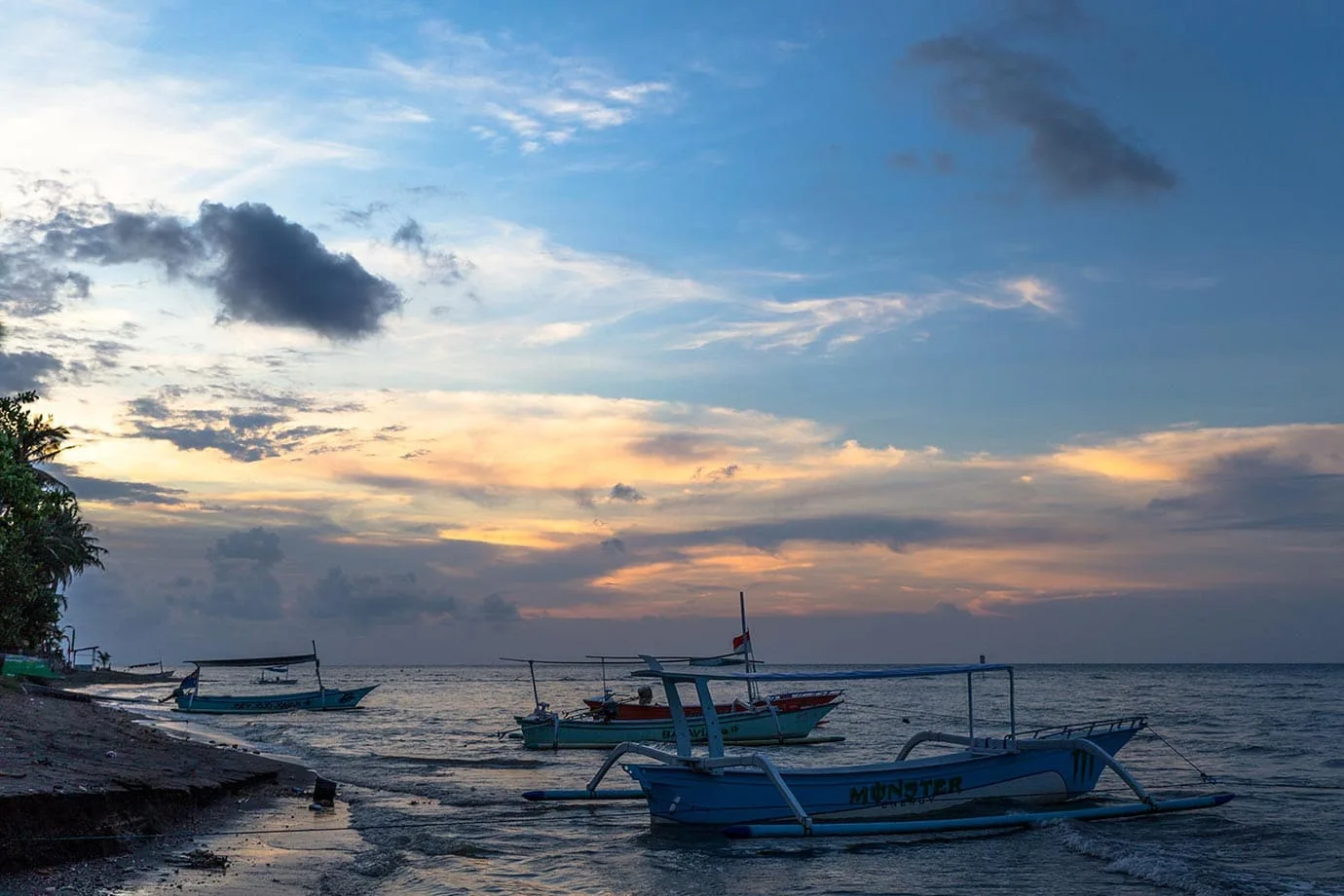 After travelling around Indonesia for a few weeks where we learned all about the culture and history of Bandung, woke up for sunrise at the ancient Buddhist temple of Borobudur, and made the trip to Raja Ampat, hands down one of the most beautiful places in the world, we were looking for a place to rest up for a few days – that's when we found Lovina.
While we were in Lovina we stayed at Lilin Lovina, a secluded boutique hotel on the furthest west point on the beach.
As soon as I walked into the place, as soon as I was handed my welcome drink of iced cold watermelon juice, I knew I was going to find it an incredibly relaxing place to stay.
After I checked in, I walked through the small garden down to our little villa, and with our own private plunge pool and the black sand beach of Lovina just meters from the front door, I knew I was going to be happy here.
The room itself was very rustic and fresh with white and grey tones everywhere and white-washed walls. One of the things that I loved about the room was how open it was. With full length windows, the light really brightens up the room, and with the bushes and surrounding palm trees just outside at times it feels like you're in nature.
Like with most of Bali, the bathroom is outside. Even though this is a surprise to people when they first arrive to Bali, it's actually a really good use of space, and there's no better way to wake up with the blue skies overhead.
Just outside the villa was a little plunge pool, the perfect place to cool down on a very hot day (read every day in Bali).
Each of the villas has a private plunge pool at Lilin Lovina, and each one is designed in a way to make it blend into the environment.
Dotted around Lilin Lovina are a few sun loungers facing the beach, and there are a few sets of tables and chairs in the drinks house too if you're looking to get out of the sun.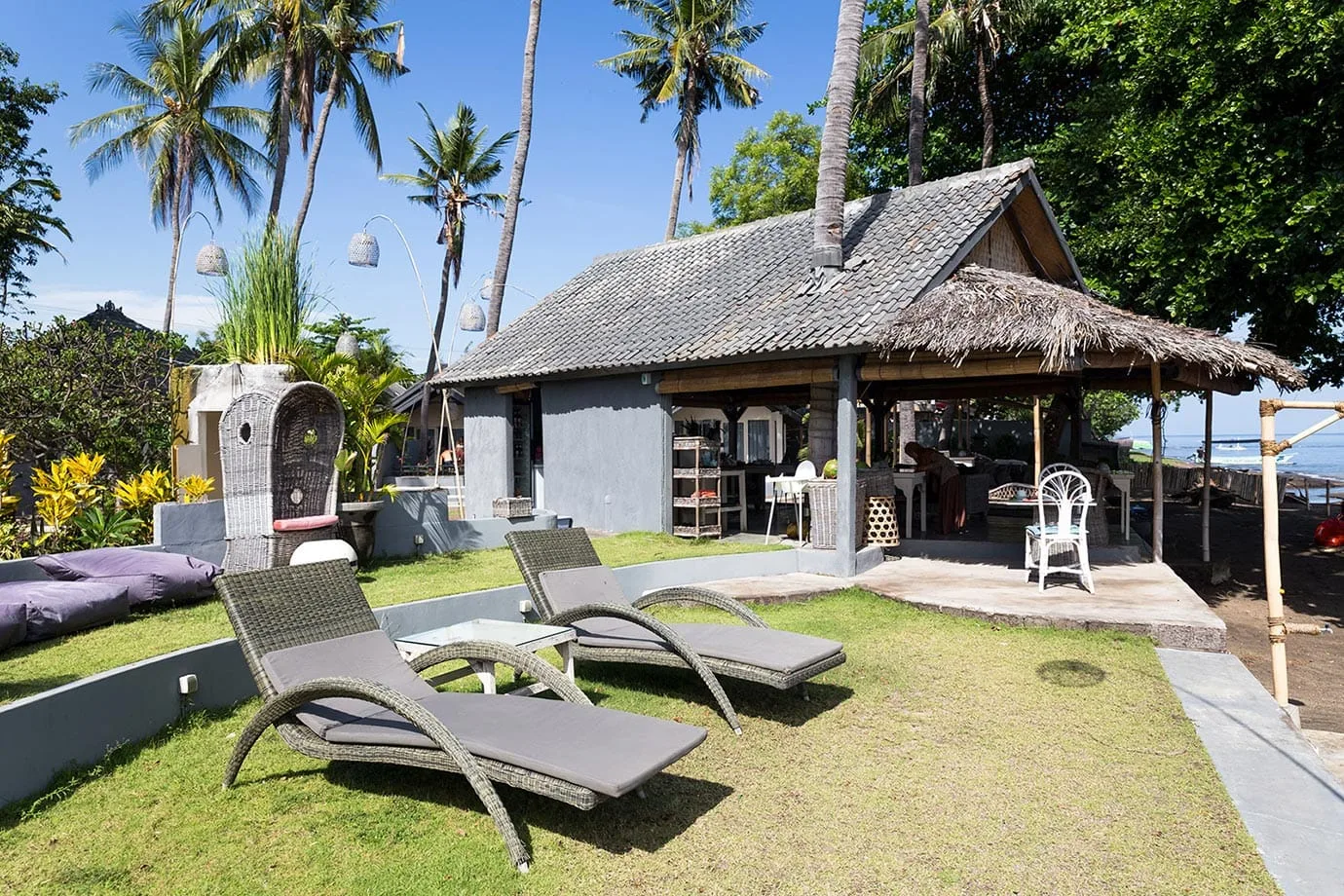 Even though there isn't a restaurant at Lilin Lovina, they do serve breakfast, and it was without fail one of the highlights of my stay there.
As opposed to a cold buffet or a mixed platter of fruit, each morning they served up something different, and each dish was really delicious. While I was staying there I had a Spanish tortilla and shakshuka (eggs cooked in tomatoes and herbs), and the hot dishes usually came with homemade bread, a muffin, and of course a mixed platter (it had to appear somewhere). There's also watermelon juice and coffee to wake you up.
One of the best things about Lilin Lovina is it's right on the beach. It's not near the beach, or five minutes from the beach – it's actually on the beach – and whenever you go to sleep at night or wake up in the morning, the sound of lapping waves is always in the background.
Also, if you're in Lovina looking to do a sunrise dolphin watching trip then you can even get picked up and dropped off on the beach at the hotel too.
The majority of people coming to Lovina are looking to kick back and relax – it's just that type of place – and at Lilin Lovina you can do it in your own space without any of the exuberant price tags at a few of the larger hotels.
This really is a place to take it all in, and with amazing breakfasts, a secluded atmosphere and your own private pool, you might just want to extend your stay!
A private villa at Lilin Lovina costs approximately £65 per night and includes breakfast. There's also your own private plunge pool and free WiFi, and you can arrange taxis and transfers there too.

Address:
Jl. Singaraja Seririt Lovina Beach
Singaraja
Kabupaten Buleleng
Bali 81151
Indonesia
Tel: +62 362 41670
[email protected]
Like this blog post? Then make sure you Pin it!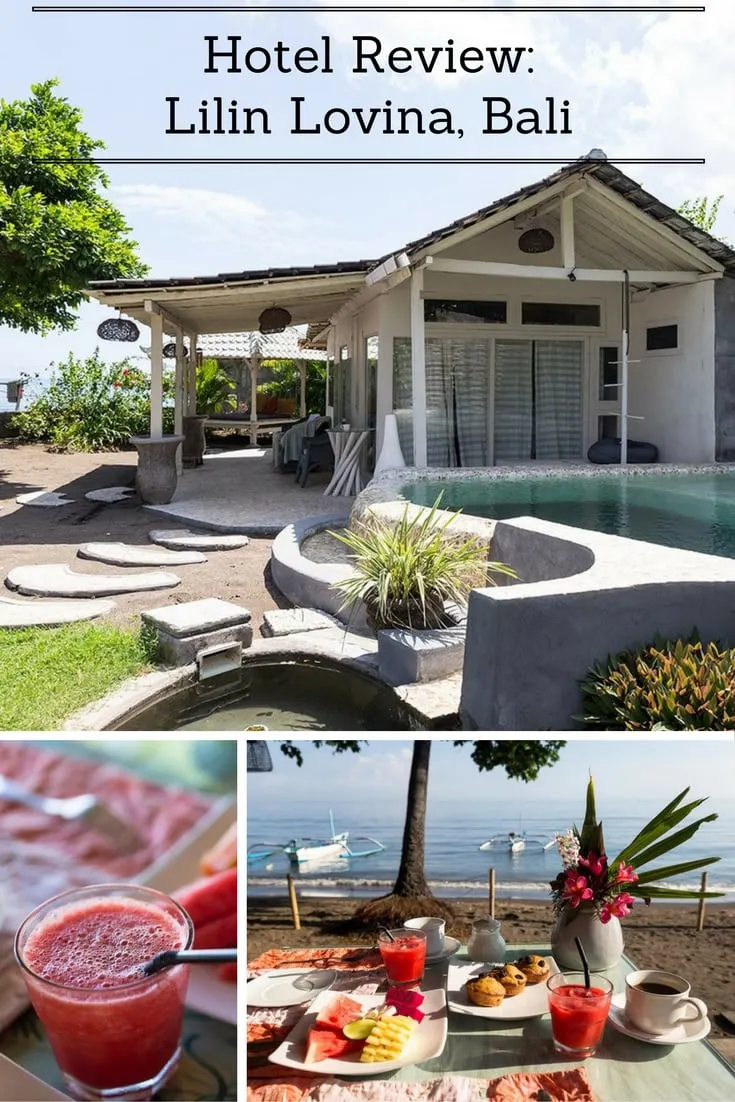 Save