Do you only have 1 day in Athens? From visiting the Acropolis to exploring Monastiraki Square, this is the ultimate 1 day Athens itinerary!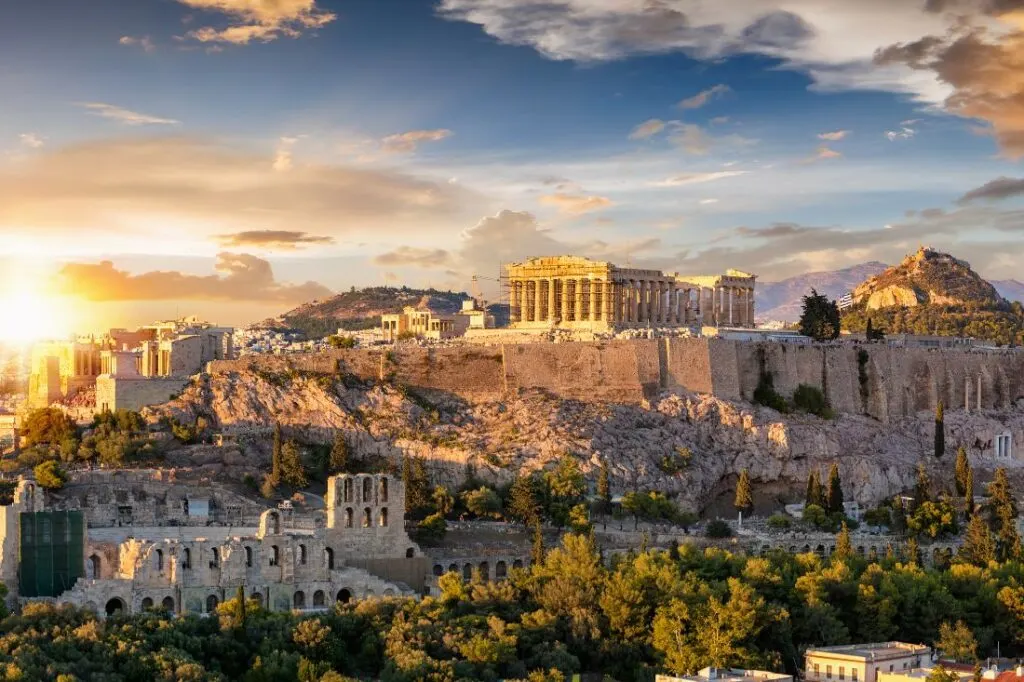 Let me guess. You've only got 1 day in Athens and you're wondering whether that's enough time to see the city? Well don't worry, because this is the perfect blog post for you!
I know that 1 day in Athens might seem like rushing it, but you'd be surprised at how much you can pack into a day. After all, this is a city that's made for sight-seeing with some of the most amazing monuments in the world.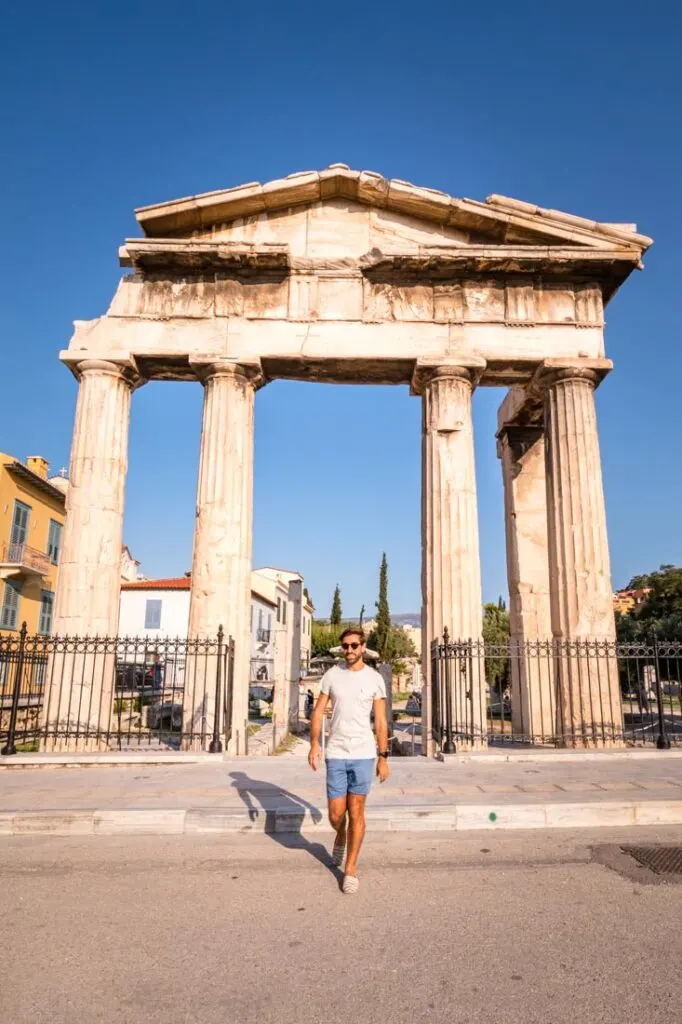 That's why in this blog post I'll tell you all about the must-see attractions to visit, how to get around the city, and exact timings for your 24 hours in Athens so you don't have to worry about a thing.
I will say that this is a very different Athens itinerary from most of the others you'll read because I really want to show you how much this city has changed. Put it this was – there's a lot more to see other than the Acropolis and museums.
If you follow this guide then you're in for an incredible day in Athens!
Why Athens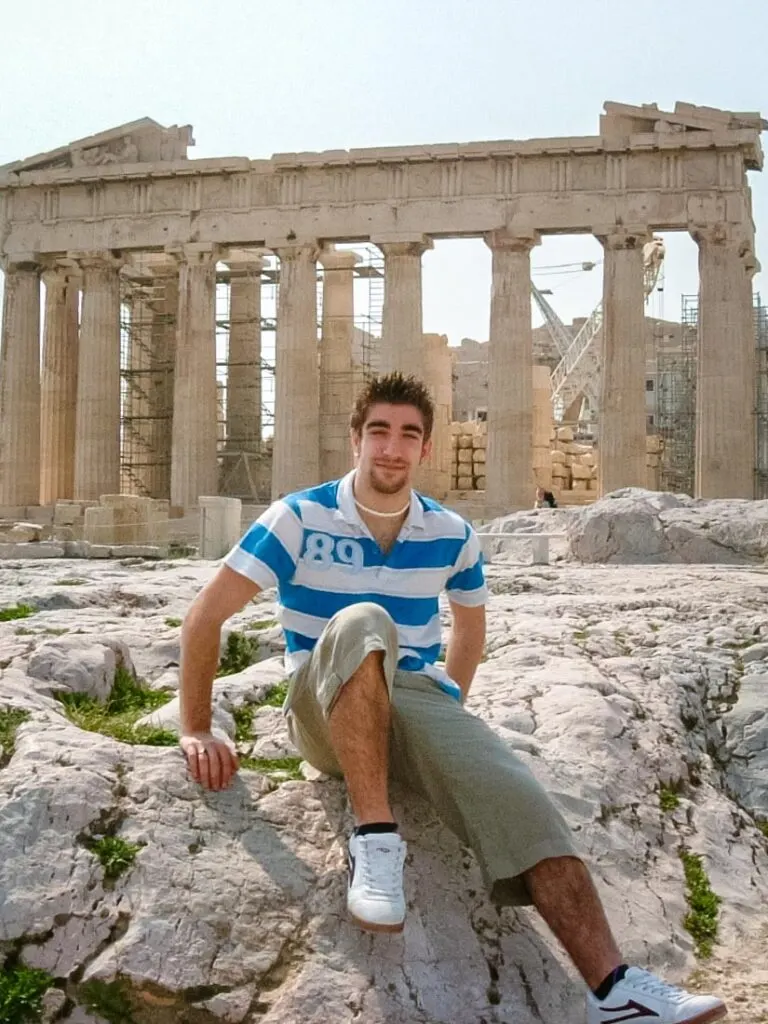 Let me say this now – I love Athens, and I think it's one of the coolest cities in Europe at the moment.
My love affair with Athens started 18 years ago (funnily enough when I was 18-years-old – long before my days as a travel blogger).
On that trip I explored Athens with wide-eyed innocence, drinking in the sights and sounds of bustling city was so new and exciting to me.
Even then though, I got such a sense of history. This is one of the oldest capital cities in the world, and you can almost feel that was you walk the smooth marble steps around the Acropolis and ancient agora.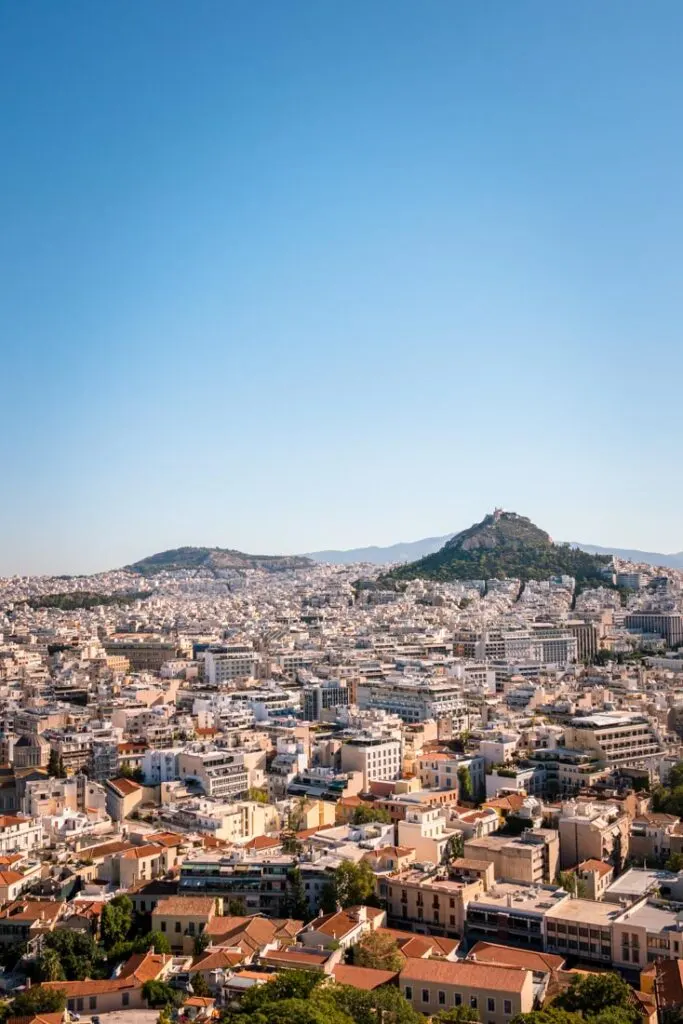 Fast forward 18 years and the city has changed a lot. Even though it still acknowledges the past, it has morphed into this incredibly cool and contemporary city with one-eye firmly on the future.
There are these boujie cocktail bars dotted around the city, modern art galleries with the works of Damien Hirst, and innovative architecture that shows the potential of Athens as one of the world's best cities.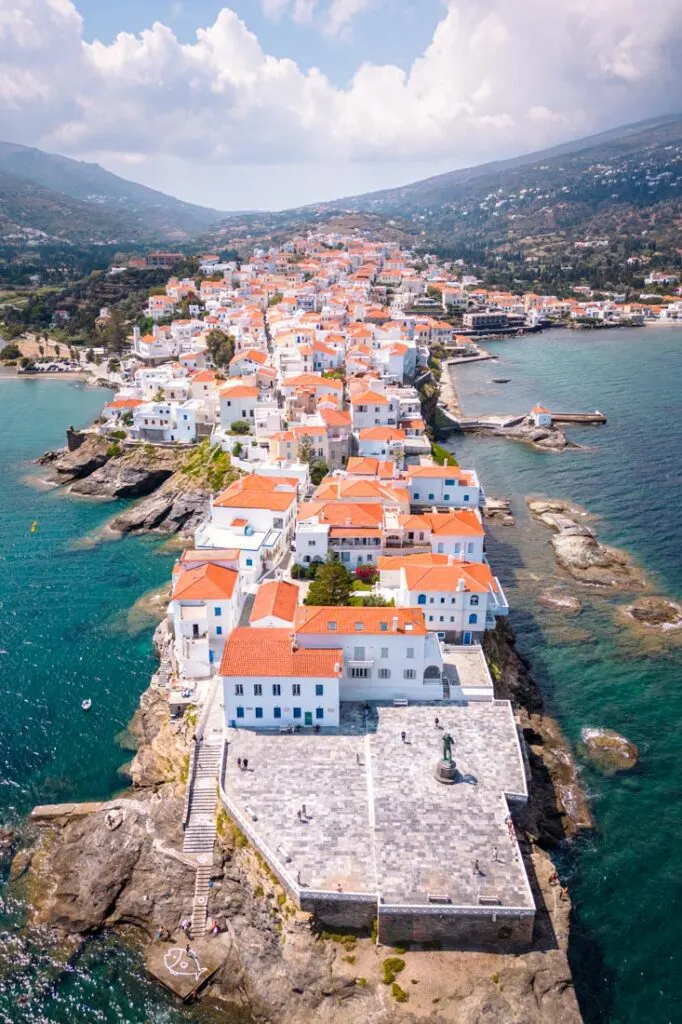 On this trip to Greece, I really wanted to explore a couple of the lesser-known islands of Andros and Tinos in the Cyclades, but I also wanted to see how much Athens had changed too.
With only one day in Athens, I was worried it wouldn't be enough time to see the city, but I was wrong.
I loved being in Athens again, and it was great seeing how much this place had changed.
---
1 day in Athens, Greece
Let me just say this now – this Athens 1 day itinerary is a rough guide. You don't have to do everything on the itinerary. In fact, I'd be damn impressed if you did!
Saying that, it is possible doing all of this in a day because I did it, so it all depends on you and how much energy you've got.
08:00 till 09:30 – Visit the Acropolis and the Parthenon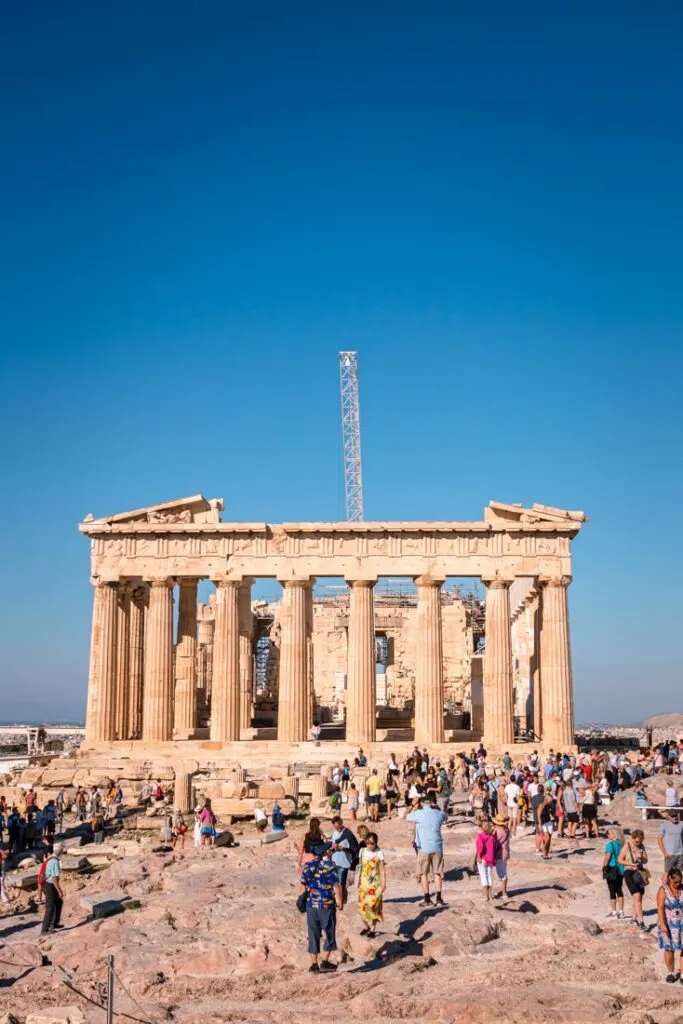 I am a bit of an ancient history buff, so naturally this is the first activity on my itinerary.
The Acropolis is not only one of the top things to do in Athens, it's one of the best-preserved monuments in the world. Dating back over 2,400 years, the Parthenon shows the intricate architecture and simple beauty of a building that has stood the test of time.
This is where Aristotle, Pericles, Plato, Socrates and Sophocles would've walked. On this hill democracy, philosophy, theatre, and freedom of expression and speech was born. As a world we owe so much to the Athenians.
Even more amazing is the fact that early fortifications of the Acropolis date back well over 3,300 years. This is history, right here, and people always seem to forget that.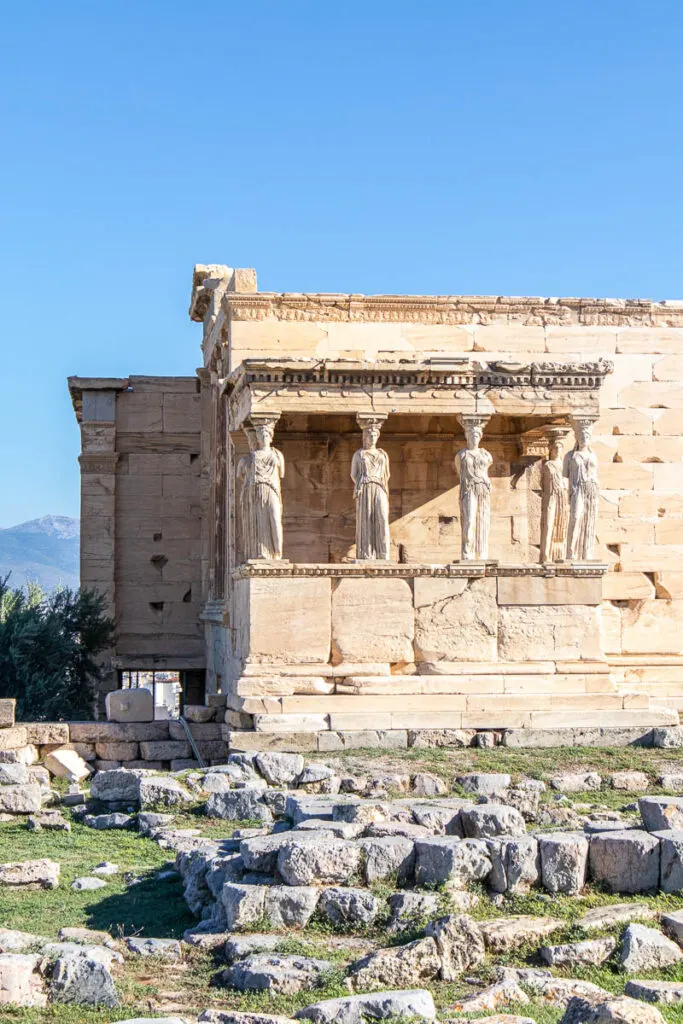 Obviously it being one of the best things to do in Athens, it is super busy. That's why you should get up early and beat the crowds.
Technically the site is open from 08:00 till 19:30, but it's best to get in the queue around 07:45. Even at that time it's busy with people, but it should be before the cruise and coach tours which arrive closer to 10:00.
Another benefit of going in the morning is you beat the midday heat too. During summer, it can be roasting on the Acropolis, and there isn't any shade either.
10:00 till 13:00 – Go on a food tour with Alternative Athens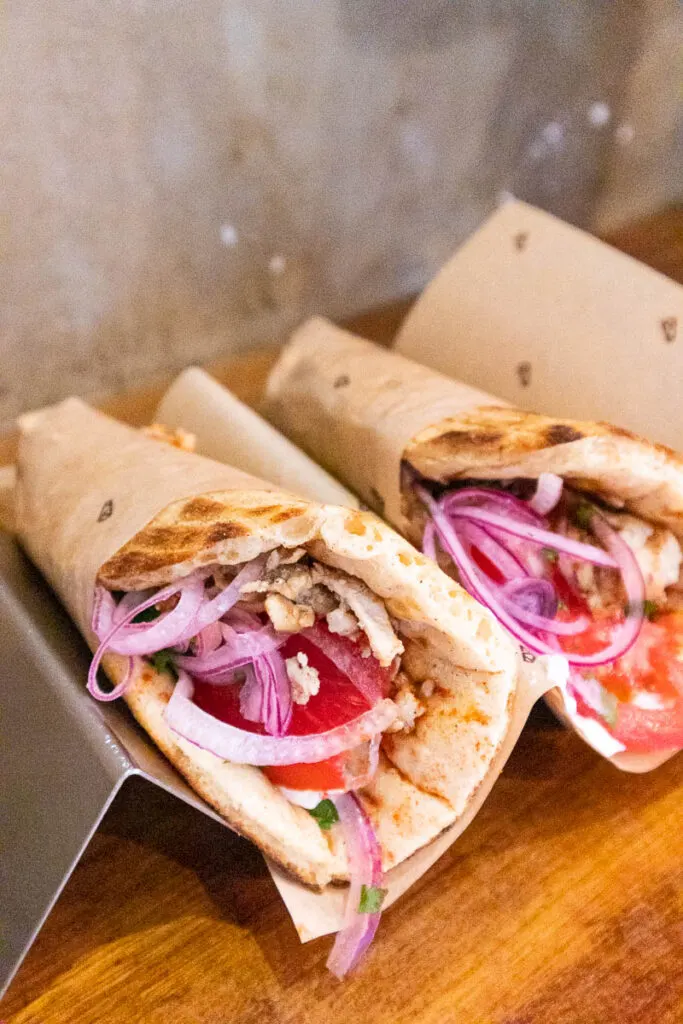 I always say one of the best ways of getting to know a city is on a food tour. Not only do you get to try all the delicious local delicacies, but you also get a good overview of the city too.
From the Acropolis, I walked down to the Old Royal Palace to meet Andreas, our guide from Alternative Athens. The walk only takes about 20 minutes.
This food tour really was an odyssey through Athens' best dishes, and we ate A LOT. My advice is to only have a light breakfast and turn up hungry.
On this Athens food tour we went to 7 different stops over the course of 3 hours. We tried local olive oil, learned all about gyros and kebabs, discovered the difference between Greek and Turkish coffee, and it ended in a giant meze lunch with our new found friends.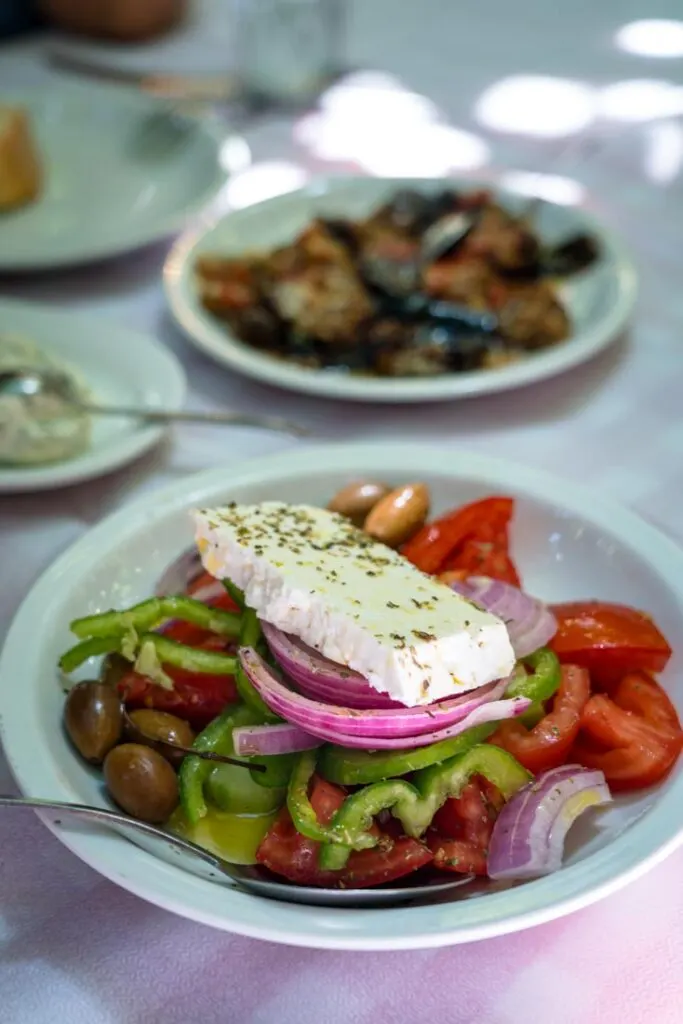 I really enjoyed trying all the different olive oils, and obviously no trip to Athens is complete without a tasty gyros (a pita bread stuffed with meat, onions, tomatoes and sauce).
Also, this tour took us to places like Varvakios Market and Spice Street which you just wouldn't discover on your own while walking around the city, so you really do get to discover a different side of Athens.
One of the best things about this food tour is its basically breakfast and lunch taken care of. Also, our guide Andreas told us loads of recommendations on where to go later on in the day. Win win.
13:00 till 14:00 – Explore Monastiraki Square and the surrounding temples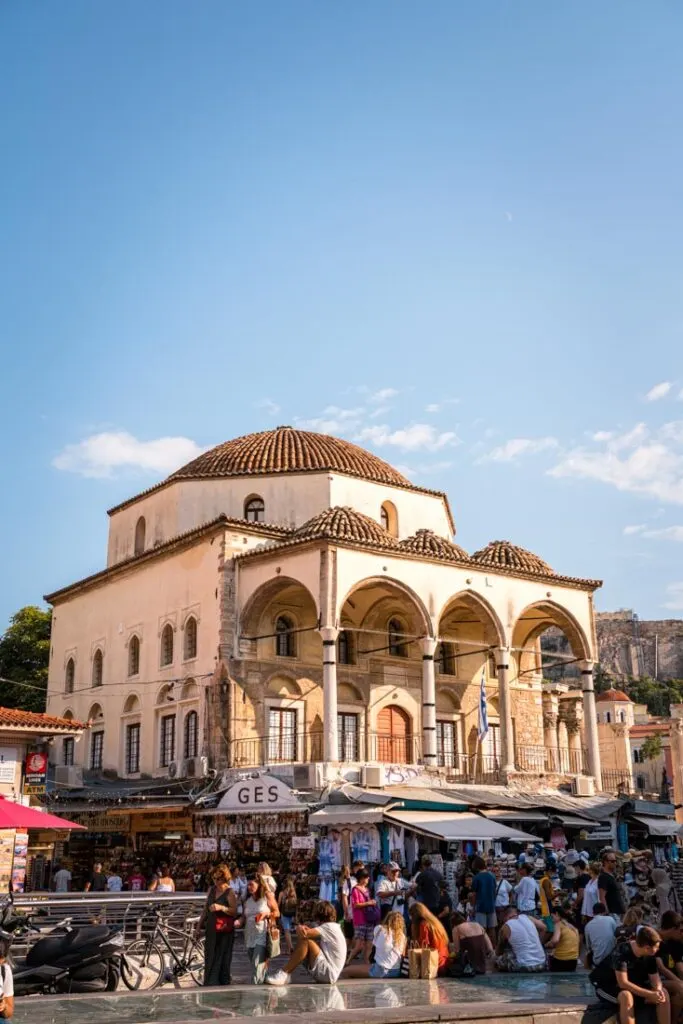 This food tour finishes up in Monastiraki Square, one of the oldest neighbourhoods in Athens that's right in the heart of the city.
Because you'll still be absolutely stuffed from the food tour, I'd recommend walking around Monastiraki Square and the surrounding temples.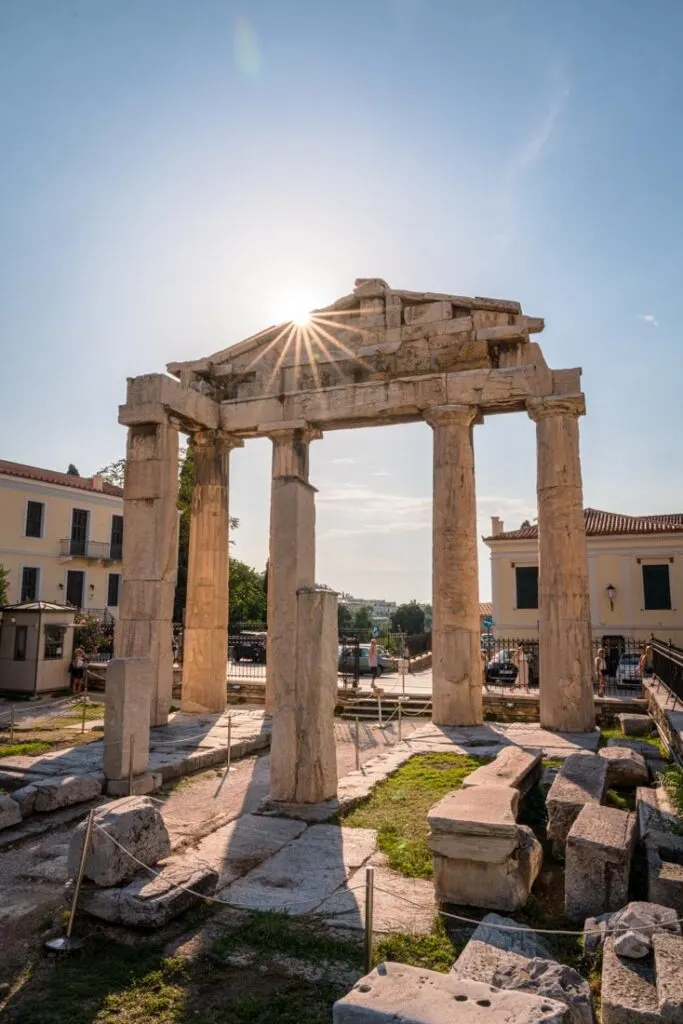 All within a short distance of each other are Hadrian's Library, the Roman agora and the ancient agora which are well worth visiting. My favourite of these is the Roman agora with the Tower of Winds – this is considered to be the first meteorological station in the world!
Walking around Monastiraki Square is a cacophony of sounds. There are street artists playing music, local vendors shouting out their products, people meeting and greeting each other with hugs and kisses.
Also, there's a flea market at Monastiraki Square selling everything from dresses to snow globes of the Parthenon to swords and Roman armour.
14:30 till 15:30 – Take in the modern art at the Public Tobacco Factory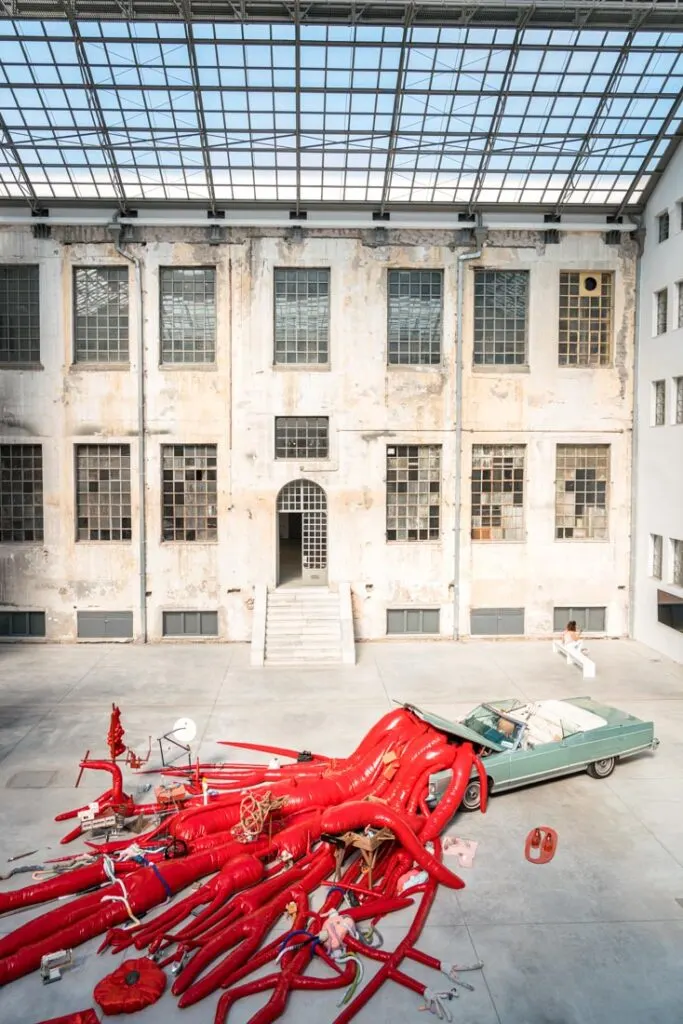 Now it's time to show you a very different side of Athens.
From Monastiraki Square, I hopped in a taxi (I used the Beat taxi app), and headed to the Public Tobacco Factory which was 15/20 minutes away.
As the name suggests, this giant building used to be a former tobacco factory built in 1930. Since then it has been used as a warehouse, political administrative building, and even as a concentration camp during WW2.
With a troubled and turbulent past, there is now hope for the future. This industrial landmark has undergone a huge restoration project, and it has been reborn as a major art space in 2021.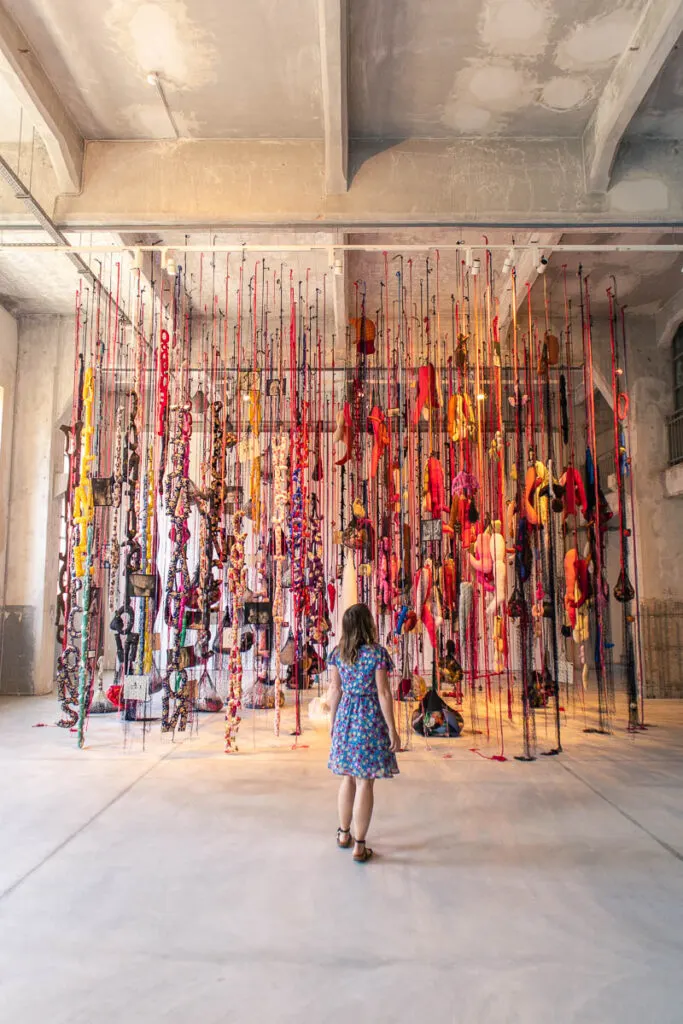 My jaw dropped when I walked into the main hall. In keeping with it's past, there is this austere industrial beauty to the building. Add in world-class installations from artists such as Damien Hirst and Annette Messager, and the place is completely unrecognisable.
The Dream On exhibition features 18 large-scale installations by artists from all around the world, and some of them are stunning. My favourite was a piece by Annette Messager with these tendrils of string hanging down from the ceiling.
If you've only got 1 day in Athens and want to do something different from all the other guides, then this is the place for you.
16:00 till 15:30 – Stroll around the Stavros Niarchos Foundation Cultural Centre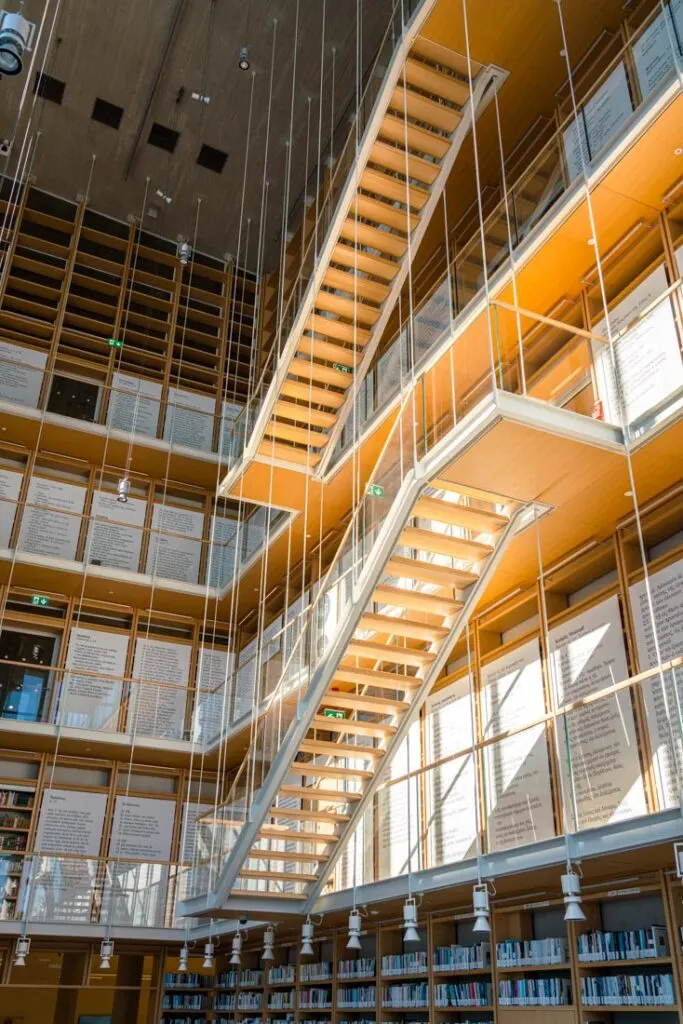 Next up we're going to take in the architecture of the Stavros Niarchos Foundation Cultural Centre. This is another 20-minute taxi ride away from the Public Tobacco Factory.
The Stavros Niarchos Foundation Cultural Centre (SNFCC) is the latest jewel in the cultural crown of Athens. It's hard describing what the SNFCC actually is because it fulfils so many different uses.
Day to day, the two main uses of the SNFCC are as a giant library with over 800,000 books, and for the Greek National Opera with a number of state-of-the art theatres.
However, on site there are also a couple of cafes and a restaurant; there's an outside courtyard where you can meet you friends and grab some food from the nearby food trucks; there are free events from concerts to festivals. It's all of these things and more.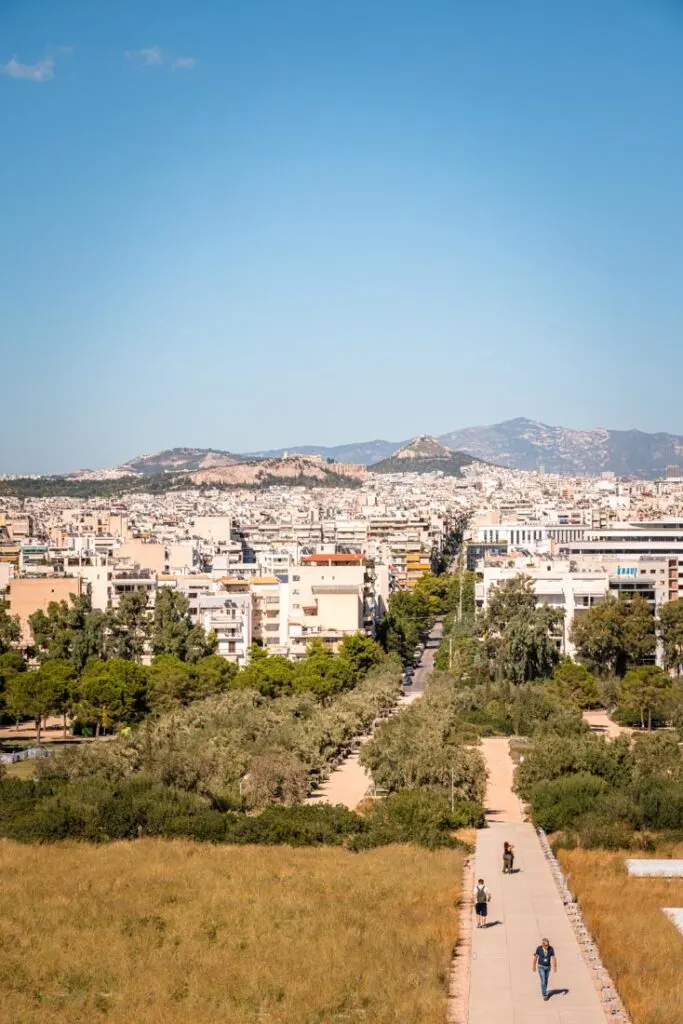 And that's not even the best bit. If you take the lifts to the very top, there's a sprawling rooftop park with some of the best viewpoints in all of Athens.
I couldn't believe that there was this gorgeous park, with luscious green grass and trees dotted all over the place, on top of a building. I mean, come on, how cool is that!? This is modern architectural elegance as its best.
Opened to the public in 2016, the whole project cost US$860 million and it was a gift from the Stavros Niarchos Foundation to the Greek state. And now it's a gift we can all share in and make use of.
18:00 till 19:00 – Go for sunset drinks at a rooftop bar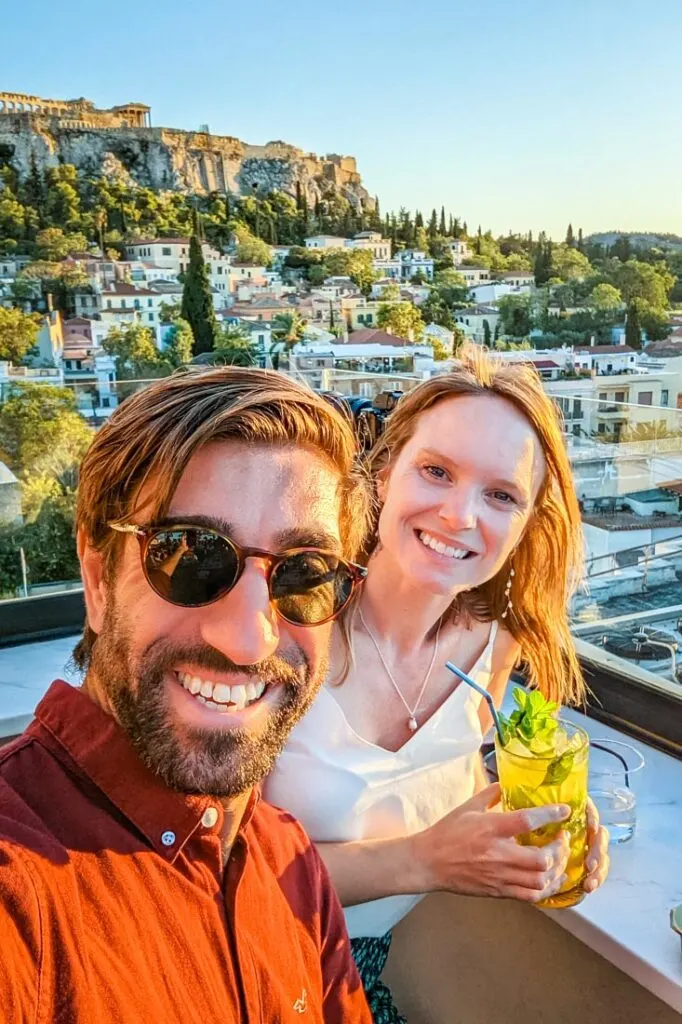 Continuing our Athens in a day, it's time to head back to the hustle and bustle of Monastiraki (you guessed it, another 20-minute taxi ride away). Don't worry, this is the last time you'll have to catch a taxi!
Around Monastiraki there are so many cool bars and restaurants to explore. Over the last few years, rooftop bars have sprung up all over the place looking to outcompete each other for the best sunset view of the Acropolis.
For best out and out view, Ciel Athens is a really popular spot. If you can grab a seat right in the corner, then you've got the most amazing view of the Acropolis.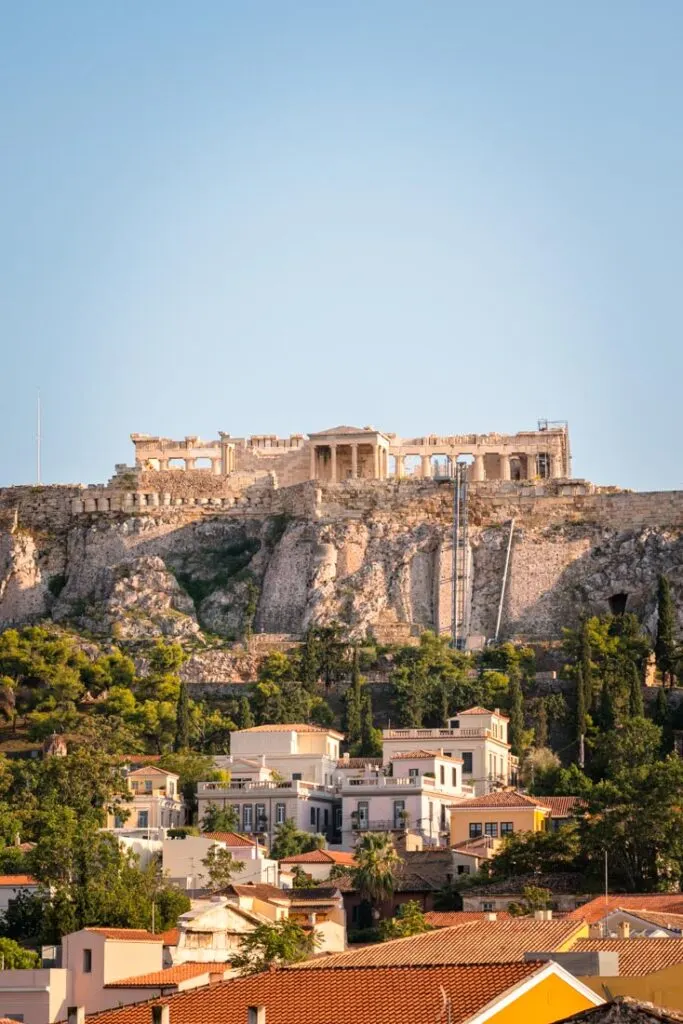 However, I much preferred Couleur Locale. To get to this secluded spot, you have to walk through a little market and catch the lift to the very top. It very much feels like a speakeasy bar (just one that everyone knows about now).
Here you've got great views of the Acropolis, and there's a great choice of cocktails too. For me, this is a must on an 24 hours in Athens itinerary.
19:00 till 21:00 – Have dinner at Ergon House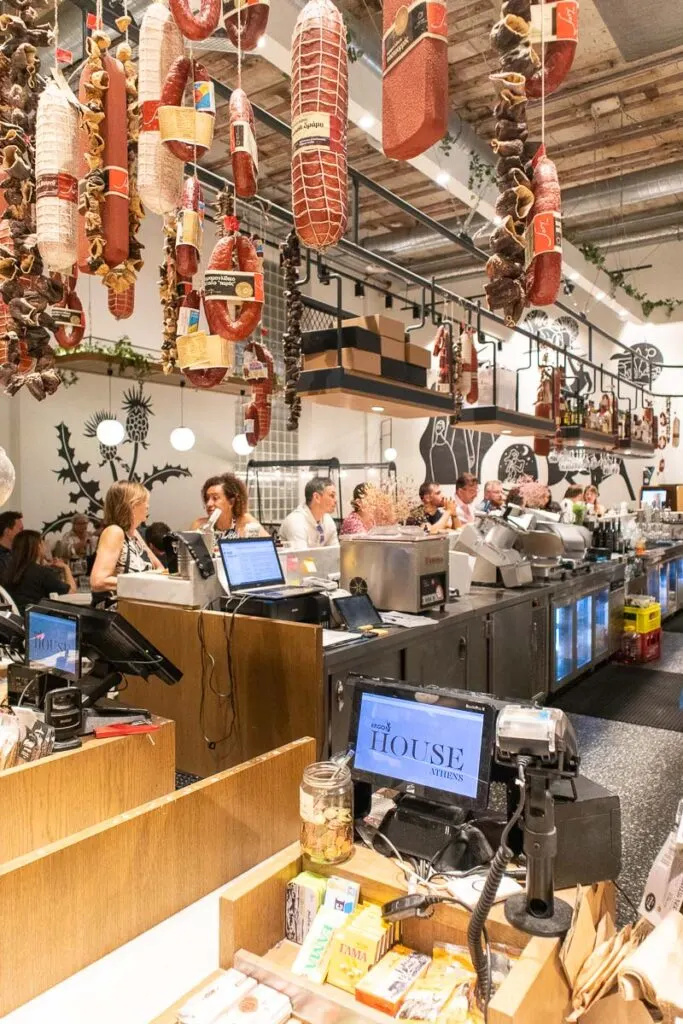 A very short walk from Ciel Athens or Couleur Locale is Ergon House, one of the best restaurants in Athens right now.
This place was recommended to us on our food tour, and also by a couple of other followers who had been before.
Ergon House is a very new-age restaurant. It is a traditional taverna, a modern restaurant, a greengrocer, a butcher's, a deli, oh, and it's a hotel too. It's a one-stop shop for everything from picking up a steak and a bottle of red to take home, to ordering a small bottle of ouzo and dining in.
It's basically a modern-day agora celebrating the best of Greek cuisine and culture.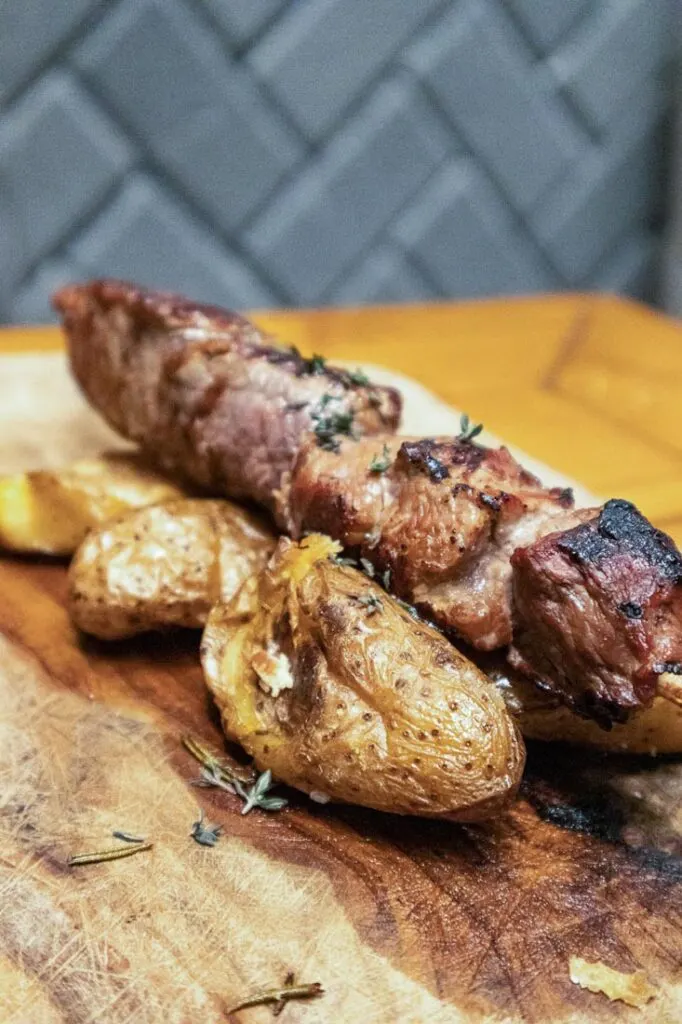 While we were there, we had the tirokafteri feta cheese spread with olive oil & chilli peppers, beef "kontosouvli" kebab with potatoes, and a selection of Thessaloniki sausages with a tabouleh salad on the side.
The food was delicious, the atmosphere was buzzing, and naturally I loved it. This was definitely up there with the best restaurants I've been to in Athens.
21:00 till 22:00 – Have one more drink at The Foundry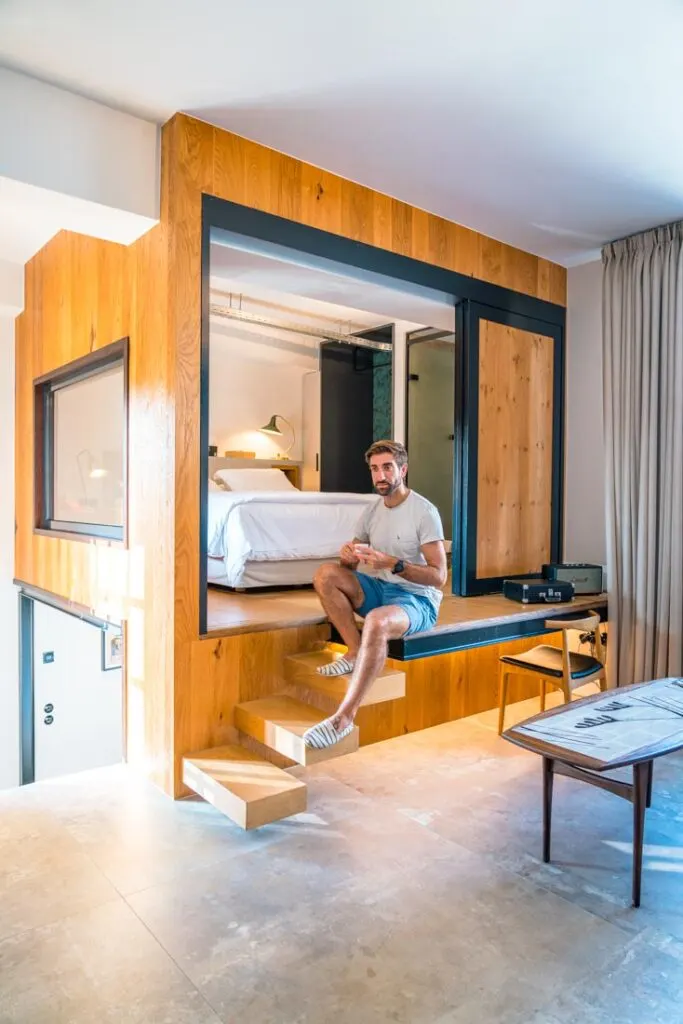 If you've only got 1 day in Athens, I'd recommend staying at The Foundry.
Situated in the historic neighbourhood of Psyrri, The Foundry is a collection of urban luxury suites that fuses industrial design with exceptional, mid-century modern stylistics.
Each room is its own little apartment with kitchenette and living room, but they are also very private too with each one feeling like your own home away from home.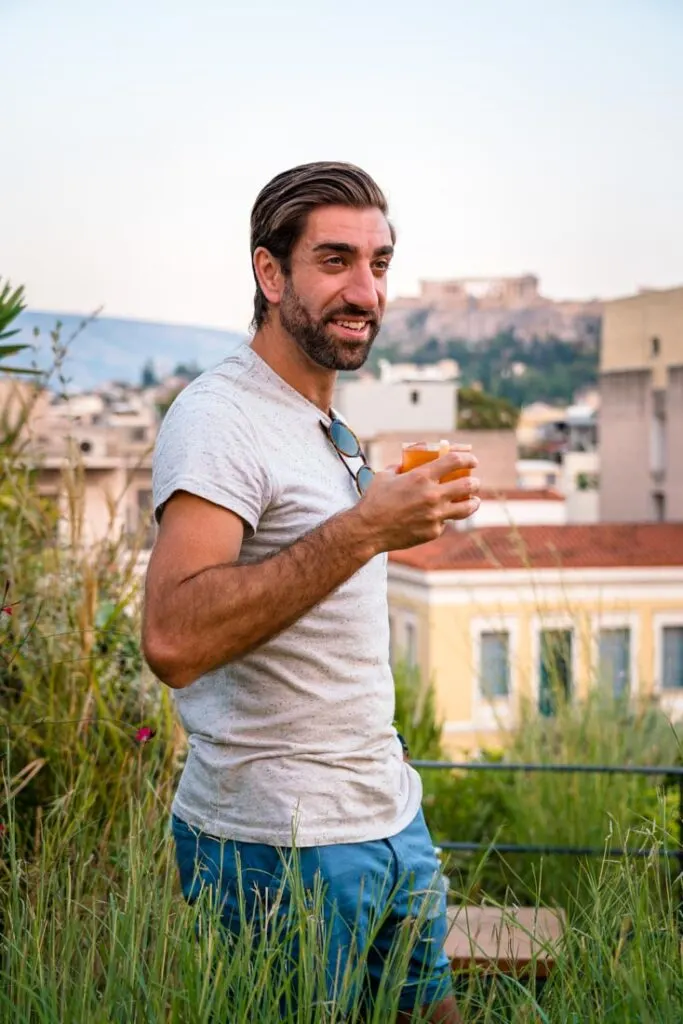 There's also a quaint rooftop terrace with stunning views over the city. All guests staying here get a complimentary cocktail, so make good use of it and kick back for the rest of the night.
My recommendation would be the Hephaestus cocktail, their take on a bloody mary with tequila instead of vodka. Just delicious and the perfect way to end the best 24 hours in Athens.
---
This post was in association with Visit Greece promoting Athens and some of the lesser-known islands to visit in Greece. As always, views are entirely my own and without bias.
Are you planning a trip to Greece? If you have any questions about what to do in Athens, you can let me know in the comments below!
Like this blog post? Then Pin it for the future!