Looking for the best day trips from Athens? From visiting Parnitha National Park to ancient UNSECO World Heritage sites, check out these amazing trips!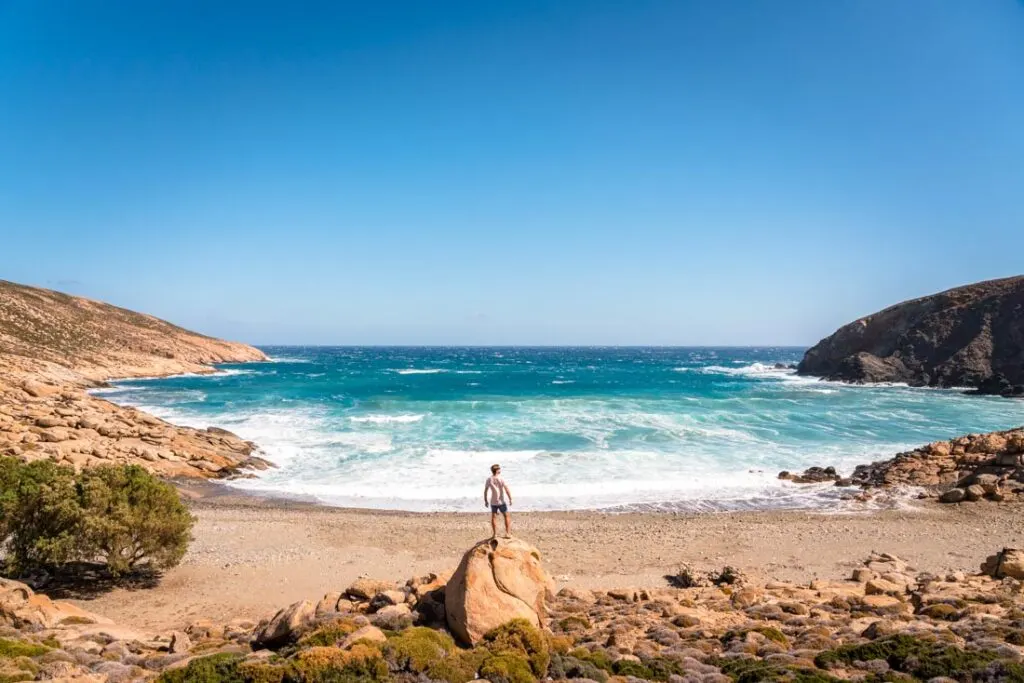 The glorious city of Athens, named after the Greek goddess of wisdom, holds such a special place in my heart.
Sitting in the Attica region of Greece, Athens is surrounded by rugged coastlines and dramatic mountain-scapes. Add in relics of ancient history, and visiting the Greek capital is like being transported to another time.
With famous landmarks including the Parthenon and the Acropolis, and mouthwatering food on every corner, you'll have no trouble filling several days in Athens. However, with so many incredible destinations nearby, you'll want to add in some day trips from Athens.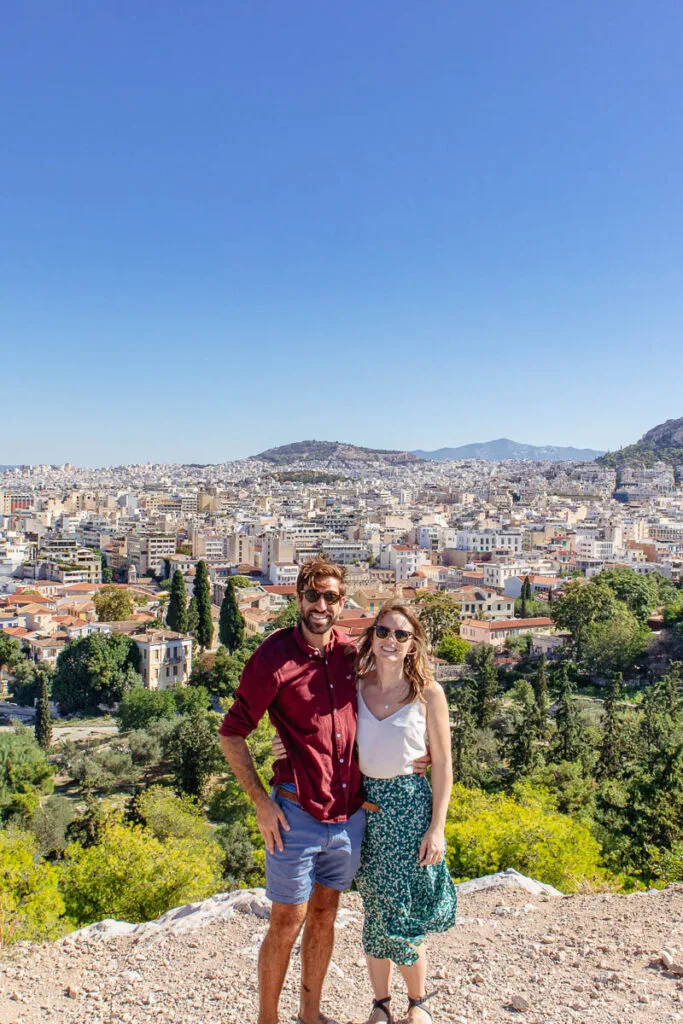 Athens day trips have so much to offer (as in, SO MUCH to offer). You can go hiking through the epic landscapes of Meteora and visit the mountain top monasteries. You can explore the ruins of ancient civilisations at Delphi, Mycenae and Epidaurus. And then you can get a taste of Greek island life at Andros.
Some of these day trips are quickest by car, but I've included lots of activities with public transport or tour options too. Whatever your travelling style, you're sure to find activities around Athens that suit you. So read on, and get planning the best Greek holiday ever!
If you're staying in Athens before exploring some of these places below, check out my amazing guide to 1 day in Athens. This guide is packed full of all the best things to do in the city!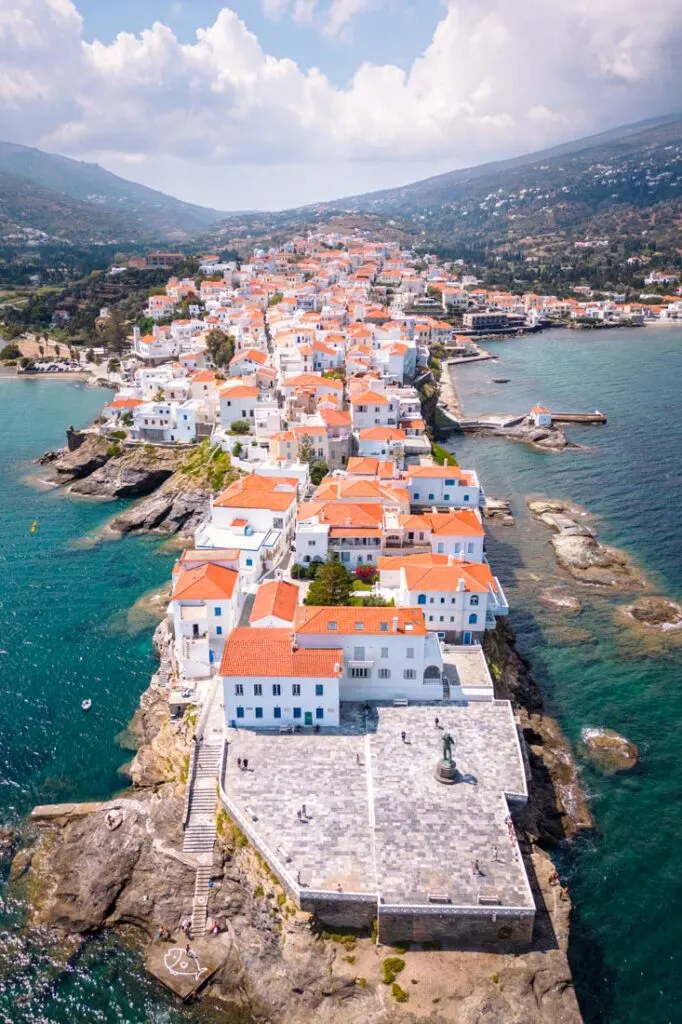 ---
Day trips from Athens, Greece
Delphi
The incredible UNESCO World Heritage site of Delphi is a must do for your Athens day trips. Nestled into the side of Mount Parnassus are the 2,500 year old archaeological ruins of temple to the Greek god Apollo.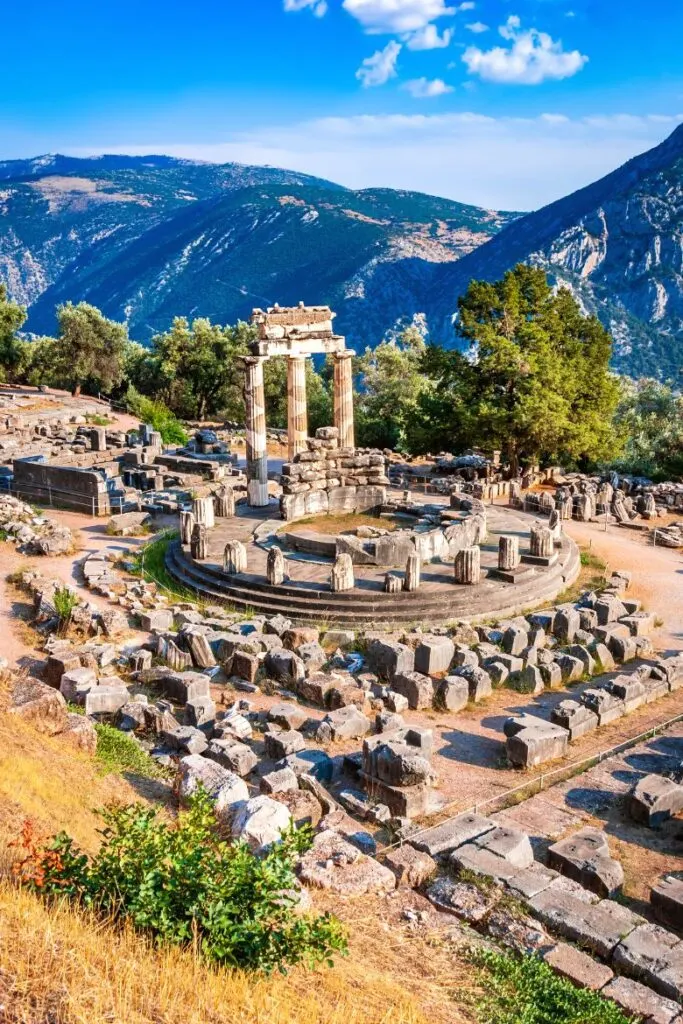 This temple was home of the oracle of Delpi. In ancient times, people would travel from far and wide to listen to the oracle speak the prophecies of Apollo.
Today, you can visit, walk around take in the majesty of the well preserved ruins. These are some of the best ruins in all of Greece – I can't tell you how special it feels walking around here.
At just 2 hours drive away, one of the best ways of seeing Delphi for yourself is on a tour. This Delphi day trip takes care of all transport, which means you can enjoy this ancient site all to yourself.
Nafplio
Nafplio, the former capital of Greece, is a gorgeous medieval town. It is often claimed to be one of the prettiest towns in the whole of Greece. When you see all the cute streets you'll quickly understand why!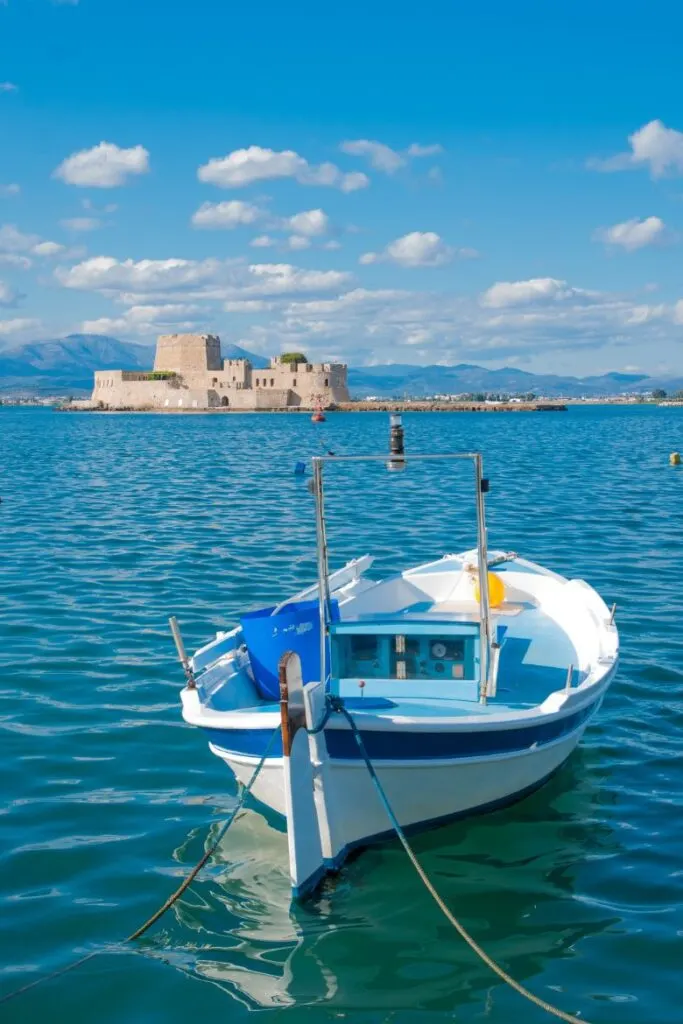 Sitting on the Peloponnese peninsula, Nafplio can be reached in under two hours by car.
Spend a day winding your way through the streets and alleyways discovering neoclassical buildings. Then climb the 913 steps to the impressive baroque fortress of Palamidi, which looks out over the town.
End your day with sunset stroll along the gorgeous coastal paths around Acronafplia. Here you'll be treated to views of Bourtzi Castle, which sits out in the water.
Meteora
Lush, green mountains and valleys dotted with dramatic and monastery topped rock formations: Meteroa is just breathtaking. Come to visit the perfectly placed 13th century monasteries and hermitages, or simply take a hike in this incredible landscape.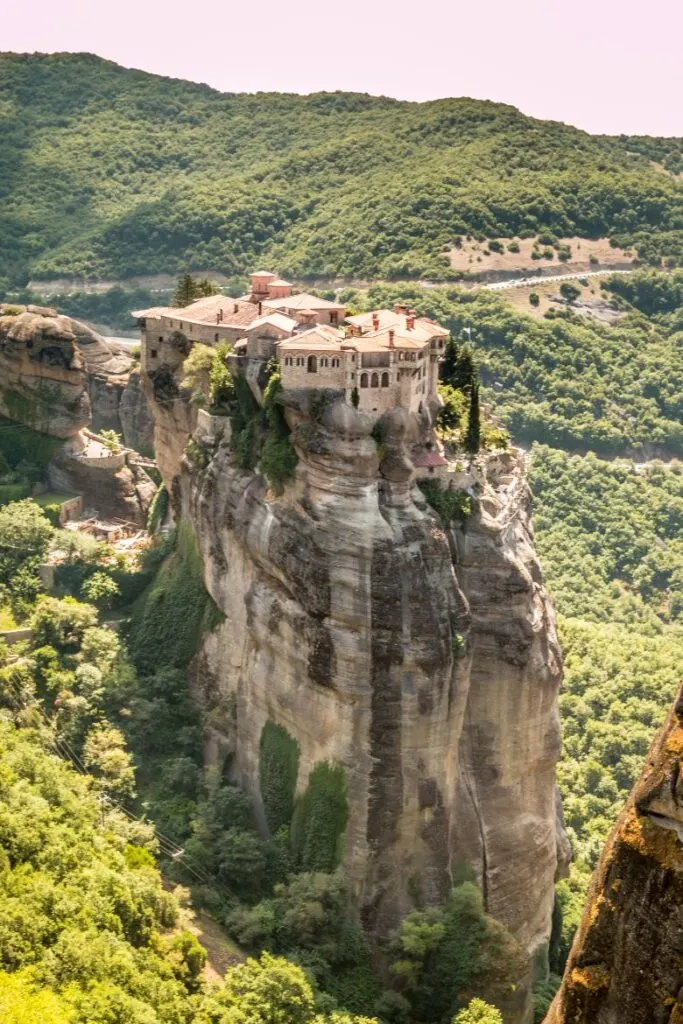 At 350km distance from Athens, around 4 hours drive, this is one of the furthest day trips on this list. But I couldn't leave it off because this area is just so magnificent.
I recommend taking one of the regular Athens tours to Meteora. Not only do they take you to the best spots, you can snooze in the tour vehicle on the way there. Honestly, these type of tours really do take the stress out of doing all the driving yourself!
Andros
I went to Andros on my most recent trip to Greece and completely fell in love with the place. (If you're looking at spending some time on the island, you can check out my guide to all the best things to do in Andros here).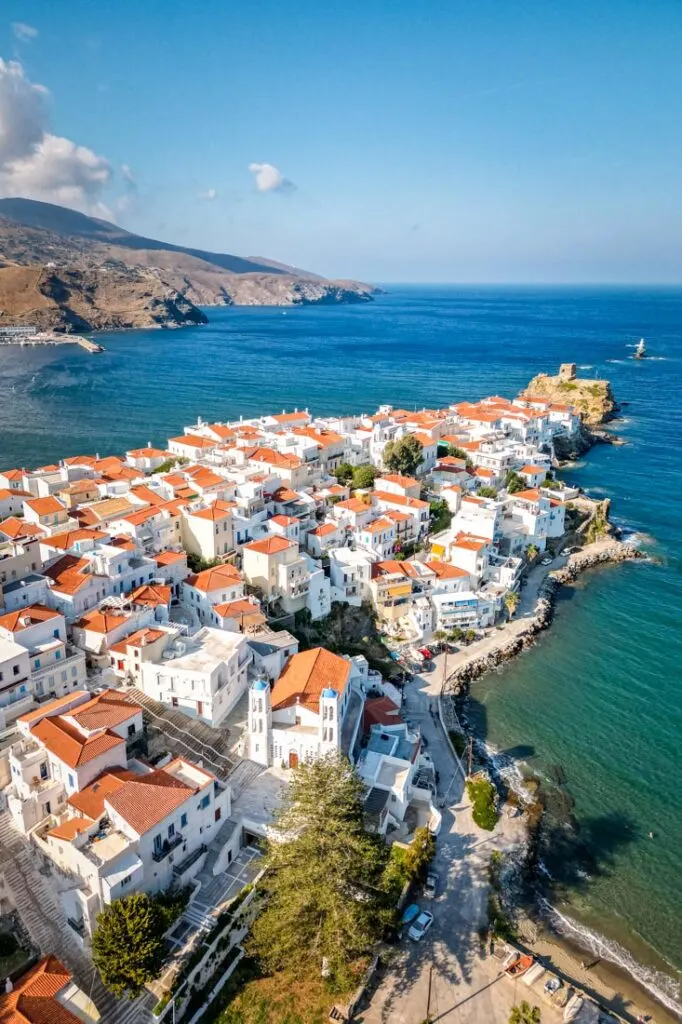 With white-washed houses stacked upon hillsides overlooking deep blue waters, you'll be hard pushed to find a more beautiful island. Rugged coastlines complete with a precariously balanced lighthouse. Clear sands to stretch out on. Andros has all the makings of a quintessential Greek island paradise.
Thanks to the network of high speed ferries, it is possible to reach Andros in just under two hours from Athens. This makes it a great choice is you're keen to check out that Greek island life.
It is a bit of a stretch doing this as one of your Athens day trips, but it is possible. If you need any help planning this one, let me know in the comments below and I can help out!
Nemea
Spend a day paying tribute to Dionysus, the Greek god of wine, by going wine tasting in Nemea. The fertile lands that surround Nemea have helped sculpt this area into a thriving wine region. The area is well known for producing deep red wines, for which they have the Nemea appellation naming rights.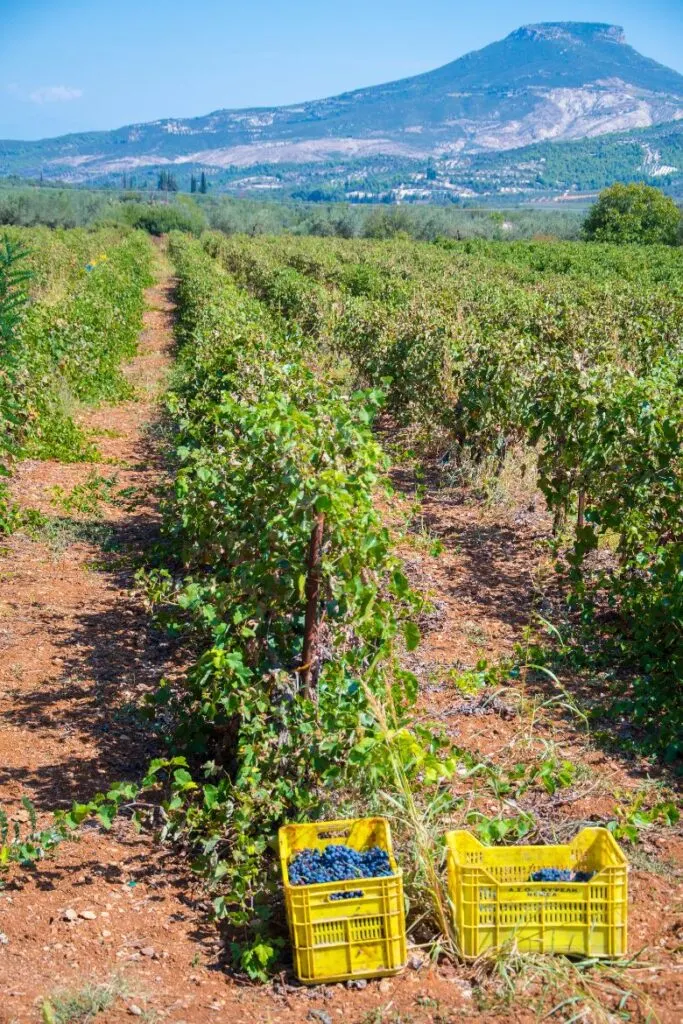 Sitting 115km to the east of Athens, you can easily reach Nemea in under 1.5 hours drive.
Popular vineyards include the boutique Koroniotis Winery and Palivou Estate, which is one of the largest vineyards in the area. Pick one vineyard to visit, or better yet, book in for a wine tasting tour straight from Athens.
Mycenae
Nestled into the hills between Argos and Nemea, around 1.5 hours drive from Athens, you can find the fascinating archaeological site of Mycenae. Impressive in size, intricacy, condition, and age, this is said to be one of the most important ruins in the country.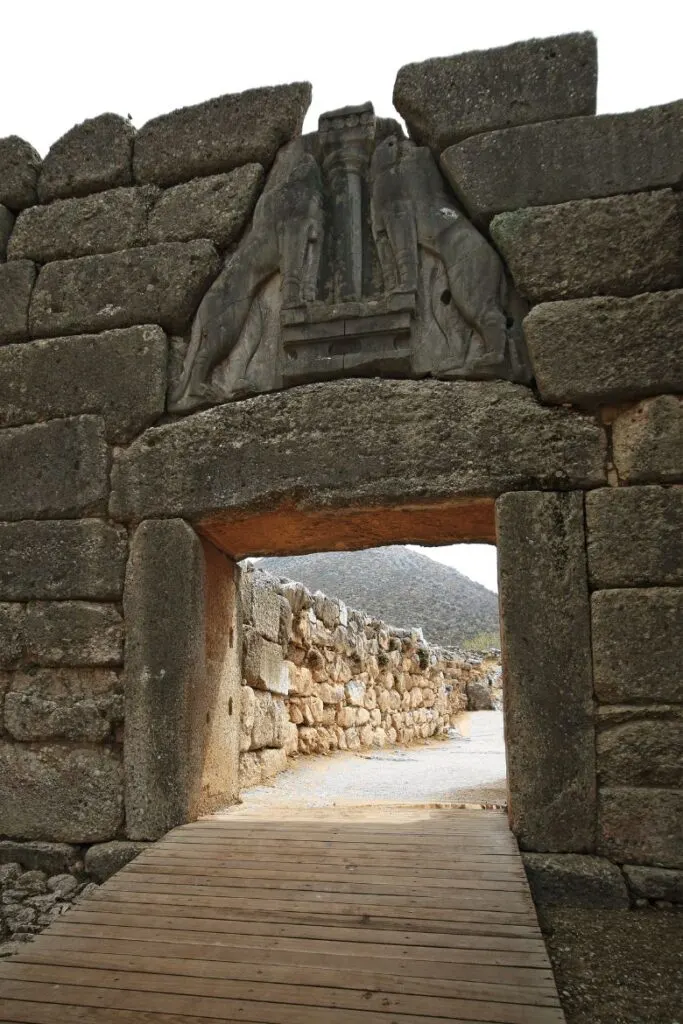 This ancient walled city was a thriving hub of activity over 3,000 years ago. It is claimed to be the home of king Agamemnon, who lead the Greeks in the Trojan war.
Sites of note to look out for during your visit include the Lion Gate, the tomb of Agamemnon, the grave circle, and the Treasury of Atreus.
This is easily one of the most popular day tours from Athens which takes you to Mycenae, Epidaurus & Nafplio, so it's a great way of visiting all three on one trip.
Naxos
Slightly further afield, it is even possible to visit the incredible island of Naxos on a (long) day trip. Sitting to the south of Athens in the Aegean sea, gorgeous Naxos is the largest of the Cyclades islands.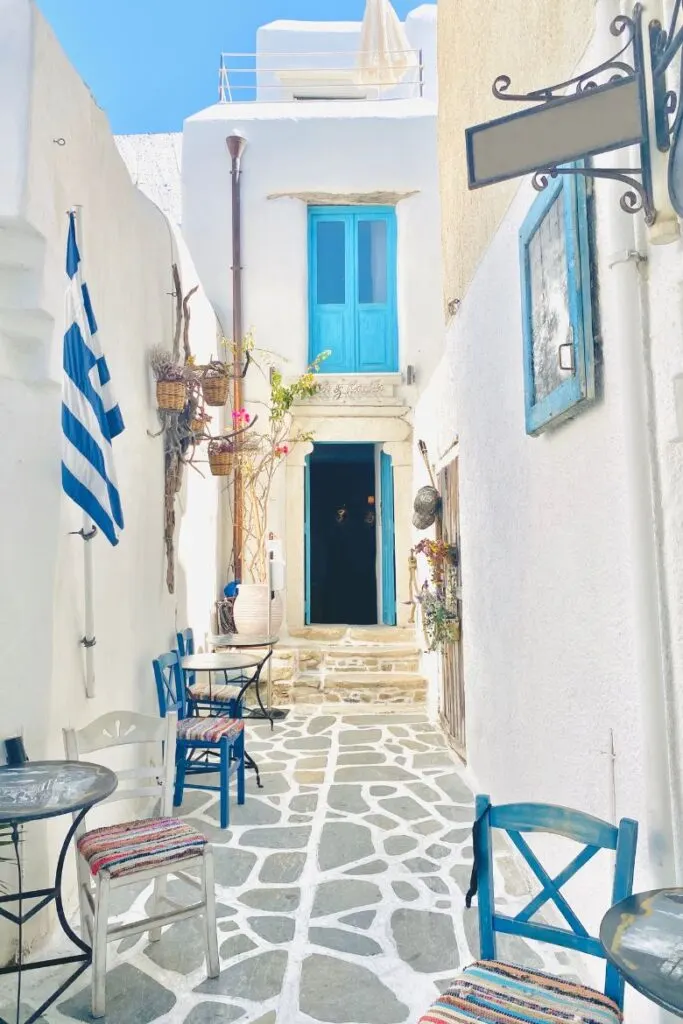 One of the best things to do here is to take a hike up to the Temple of Apollo. While much of the temple has been in ruins for some time, a massive marble doorway continues to stand tall. Sunsets here are particularly stunning.
The fastest ferries will have you in Naxos in 3.5 hours from Athens. To make the most of it, take the 7am ferry over. As I said, it is a long ol day this one!
Poros
For a taste of island life much closer to home, spend a day at the picturesque island of Poros. With regular ferries from Athens that take 1 hour each way, you can easily fit this trip into an afternoon. Obviously I'd recommend spending the whole day there to really make the most of it!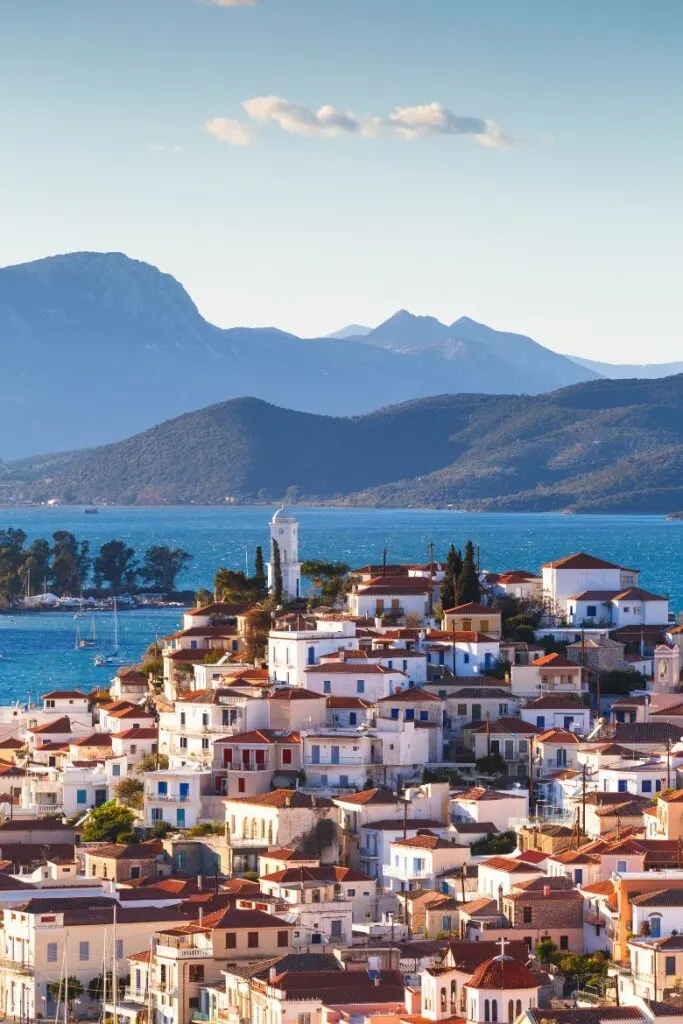 Poros has wonderfully sandy beaches, crystal blue waters, and a lively seafront promenade complete with traditional taverns.
Plan to spend the day at the beach, before wining and dining in this vibrant town. You can even hire a yacht from Poros and spend your day cruising the Greek islands in style. There are also full day cruises from Athens which takes you to places like Aegina, Hydra and Poros.
Corinth
Sitting on the coastline of the Corinthian Gulf is the fascinating city of Corinth. This city, originally known as New Corinth, was established in 1858 after an earthquake flattened the existing Corinth.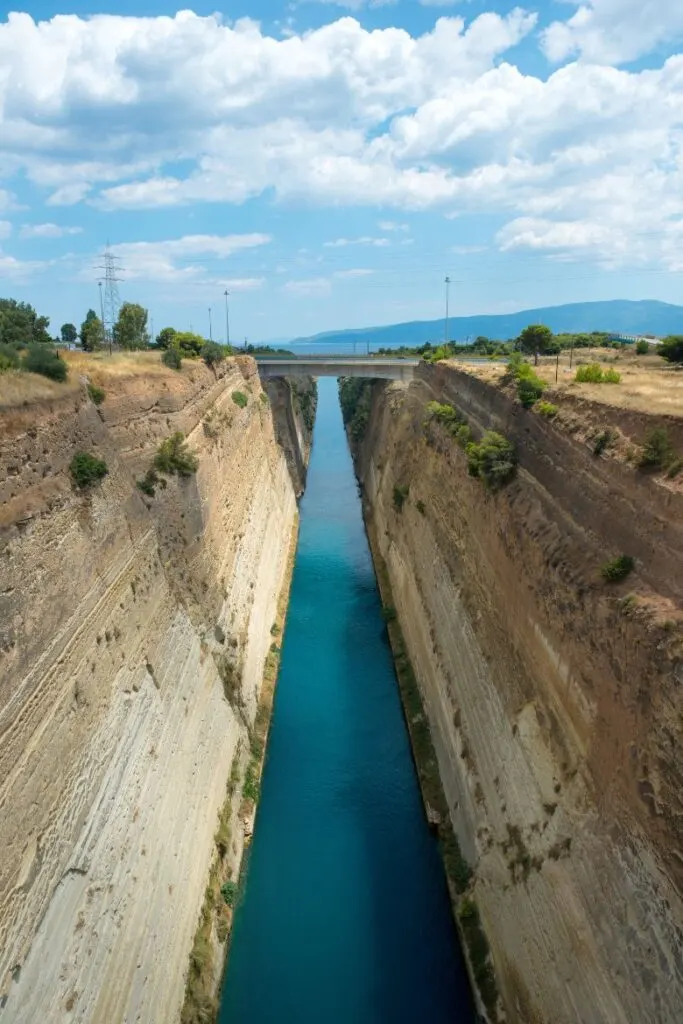 There is a wealth of activities to enjoy here. Sites of note to visit are the Corinth Archaeological Museum and the Ancient Corinth site, and the Acrocorinth, an impressive acropolis of ancient Corinth. Be sure to also stop by one of the seafood restaurants for dinner, where they serve up locally caught produce.
Corinth can be reached in under 2 hours by public bus. So it's a great option for car free day trips.
Cape Sounion & Temple of Poseidon
For a day of picturesque views of ancient ruins and incredible coastlines the head to the stunning Cape Sounion and visit the Temple of Poseidon. Sitting on the tip of the cape, just 70km south of Athens, the Temple of Poseidon can be reached by car in just over an hour 1 hour.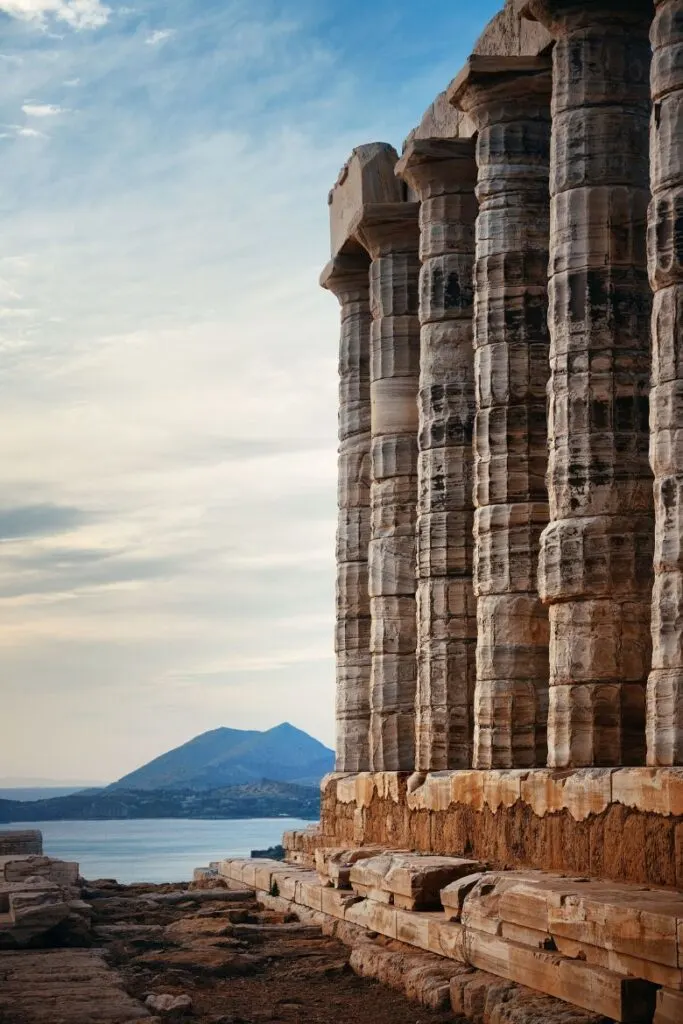 The temple is believed to have been built in approximately 700 BC, and surprisingly still has many standing columns today.
Athens tours to Cape Sounion and the Temple of Poseidon leave daily. Book yourself on a small group tour and take a deep dive into ancient Greek history. For me, this is easily one of the best and easiest day trips from Athens.
Mount Parnitha
Spend a day hiking in the gorgeous natural landscapes at Mount Parnitha National Park. Situated just 30km north west of Athens, you can reach Mount Parnitha in just 1 hour's drive, making it excellent place to visit.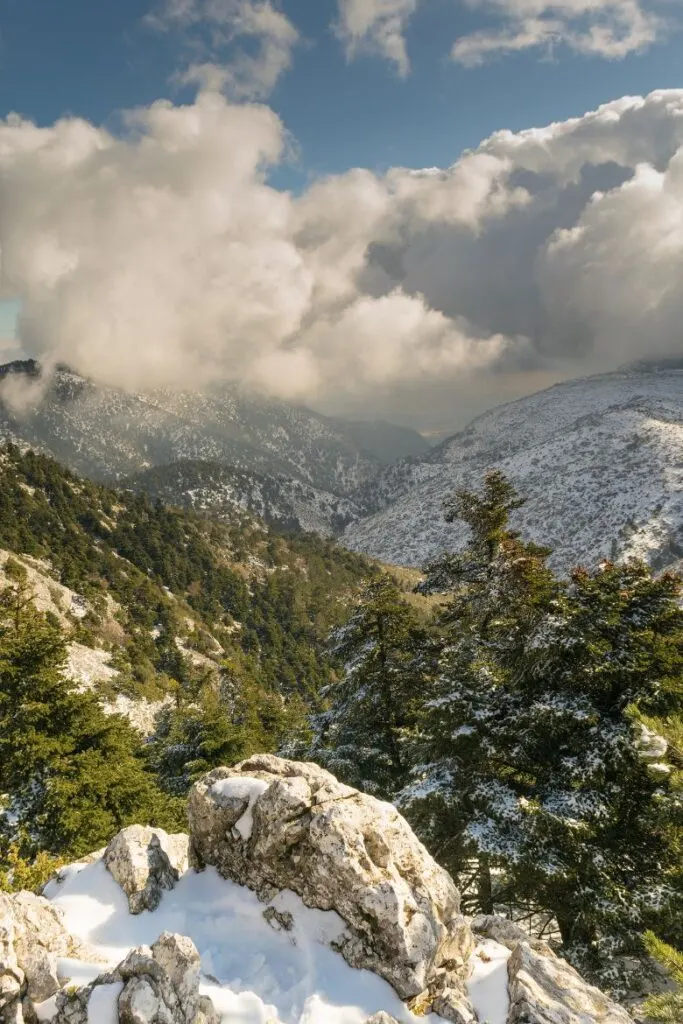 The mountain is covered with thick forests and has a thriving ecosystem, home to hundreds of varieties of plants. If you're lucky, you may spot some of the animals that call this area home, including deer and foxes.
There are also caves, monasteries, a fortress and even a casino that you can visit during your hike. Be sure to wear sturdy shoes and bring a picnic!
Epidaurus
Last, but by no means least, is a day trip to the ruins at Epidaurus. There are two main sites to check out here: the Sanctuary of Asclepius, which was a temple of healing; and the epic ancient theatre. Built around 300 BC, this gigantic open air theatre can seat 14,000 and is still in use today!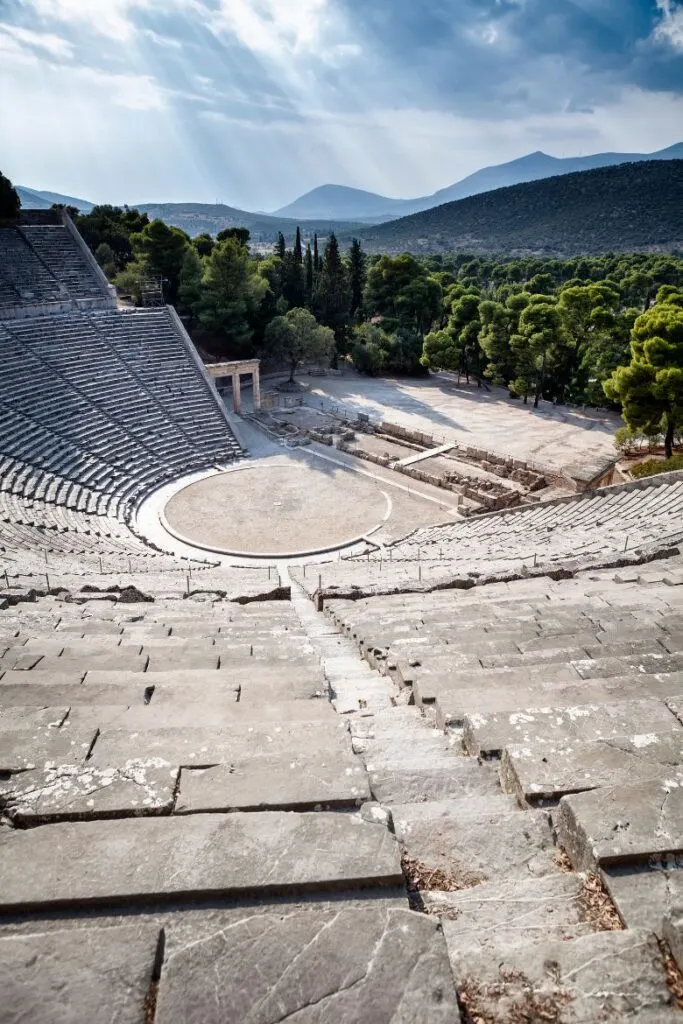 The town, which was named after a son of Apollo, Epidauros, can be reached in a 2 hour drive from Athens. There are also regular Athens tours to Epidaurus, many of which combine it with a visit to Mycenae.
---
So there you have it, my favourite day trips from Athens. What are the best Athens day trips you've been on? Let me know in the comments below.
Like this blog post? Then Pin it for the future!