Have you only got 3 days in Prague? That's great! Check out my Prague 3 day itinerary packed full of the best things to see & do in the city!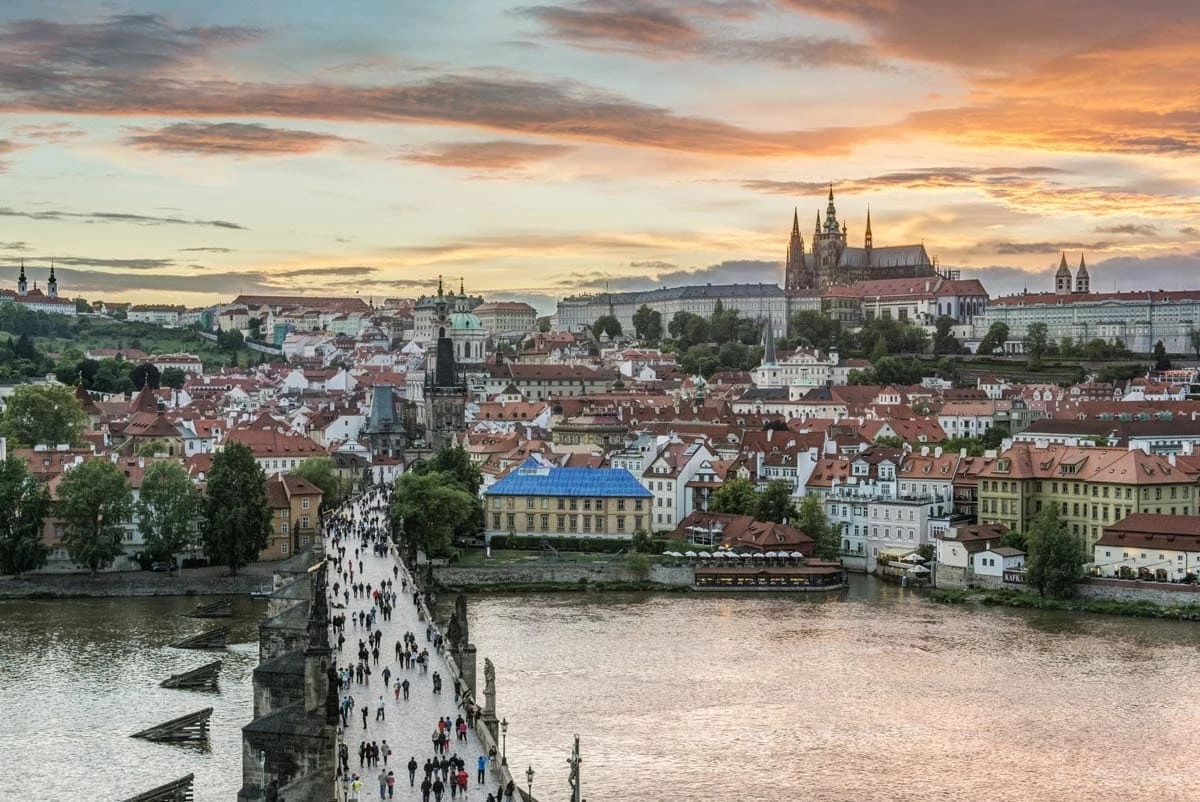 Prague is very quickly becoming one of my favourite cities in Europe, and I have a feeling you're going to love it too.
If you're planning a trip to this magical city, this is my Prague itinerary on how to have the perfect 3 days in Prague. Tick off a few of these things on a weekend away and you're in for an incredible time.
Prague is a city that has a beautiful blend of amazing architecture, fascinating history, delicious food (particular the beers), all with this old fashioned charm surrounding the place.
If you've never been to Prague before, you're in for an absolute treat. It's an amazing place for a weekend away or for a romantic break, and a few days in Prague is plenty of time to see all the city has to offer.
To give you an idea, check out my video to see some of the best things to do in Prague:
What to do in Prague in 3 days
One of the things I recently said in my highlights from 2018 was that I really want to focus on travelling to new places this year. I went to 14 countries last year and only one them was a place I hadn't visited before.
That's why, when it came to my first trip of the year with KLM, I really wanted to go somewhere I'd never been before. Somewhere new, somewhere exciting.
Prague had been one of the places I'd been dying to visit for a while now, so it felt perfect for my first trip of the year.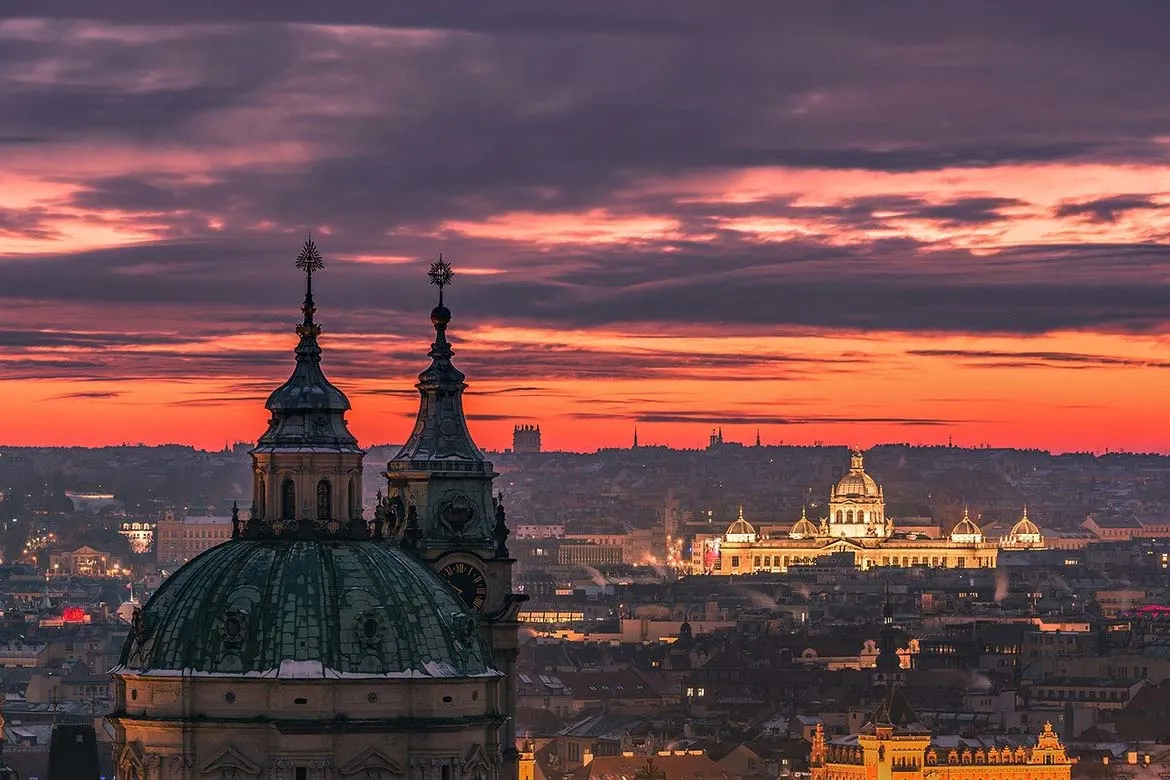 As soon as I arrived and walked through the Jewish Quarter towards where I was staying, I instantly loved the place.
I love Baroque and Gothic architecture, and Prague has that in abundance. Add in pastel colours and a ton of things to do, and it's basically tailor-made for a weekend away.
From Prague Castle to Wenceslas Square, there is so much to see and do with just 3 days in Prague. So, if you're heading to the capital of the Czech Republic for a city break, this is what to do in Prague for 3 days – I really hope you find my itinerary useful!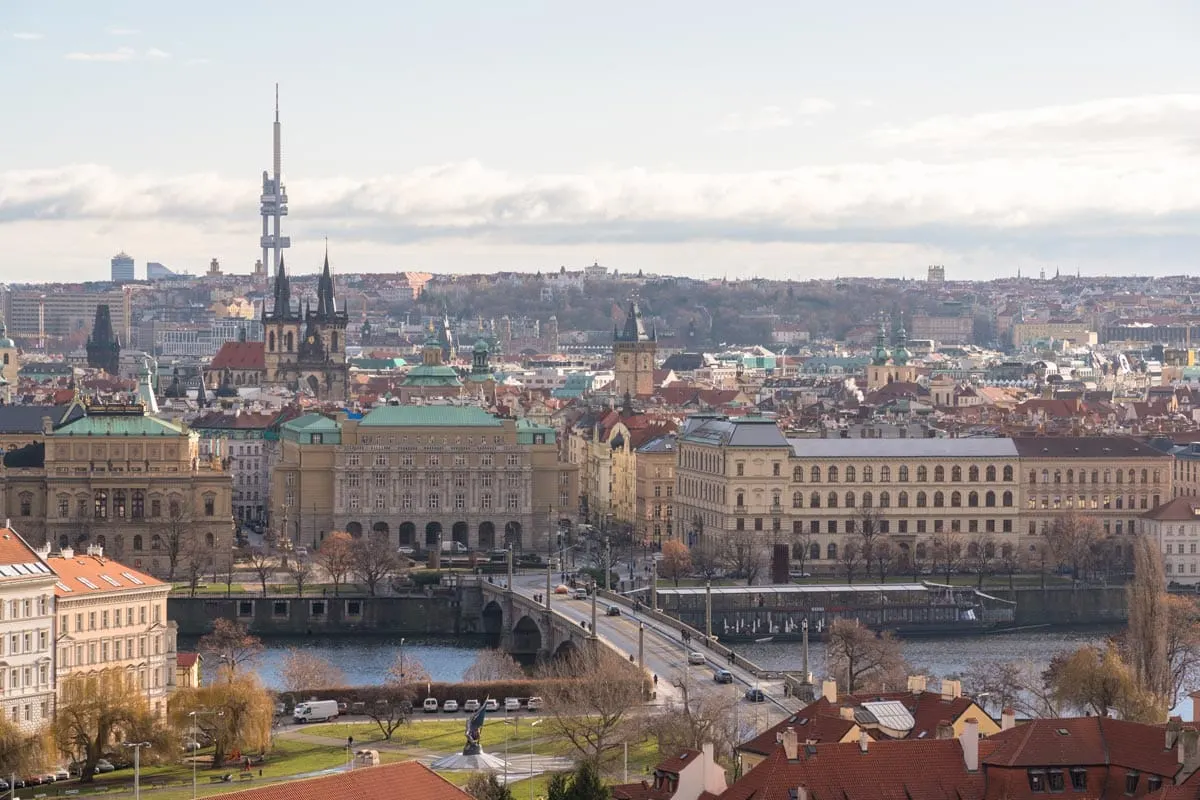 Travelling to Prague city centre from the airport
Traveling to the city centre from the Prague airport is a breeze.
The airport is located 17 kilometres away and it usually takes about 30/40 minutes to reach the city centre. Keep in mind that during the rush hour it may take you a bit longer to get to the centre.
There are a few different ways to travel from the airport to the centre of the city. The cheapest option is to use regular public bus transport. You will find the bus station in front of Terminal 2 (Exit D) and a ticket which is valid for 90 minutes will set you back £1.10 (32 CZK) per person.
Uber is also an option when traveling from the airport to the centre and costs around £18. This is ideal if there's a group of you but I found the bus really cheap and easy. Oh, and you can buy multi-day tickets too if you're travelling around the city a lot!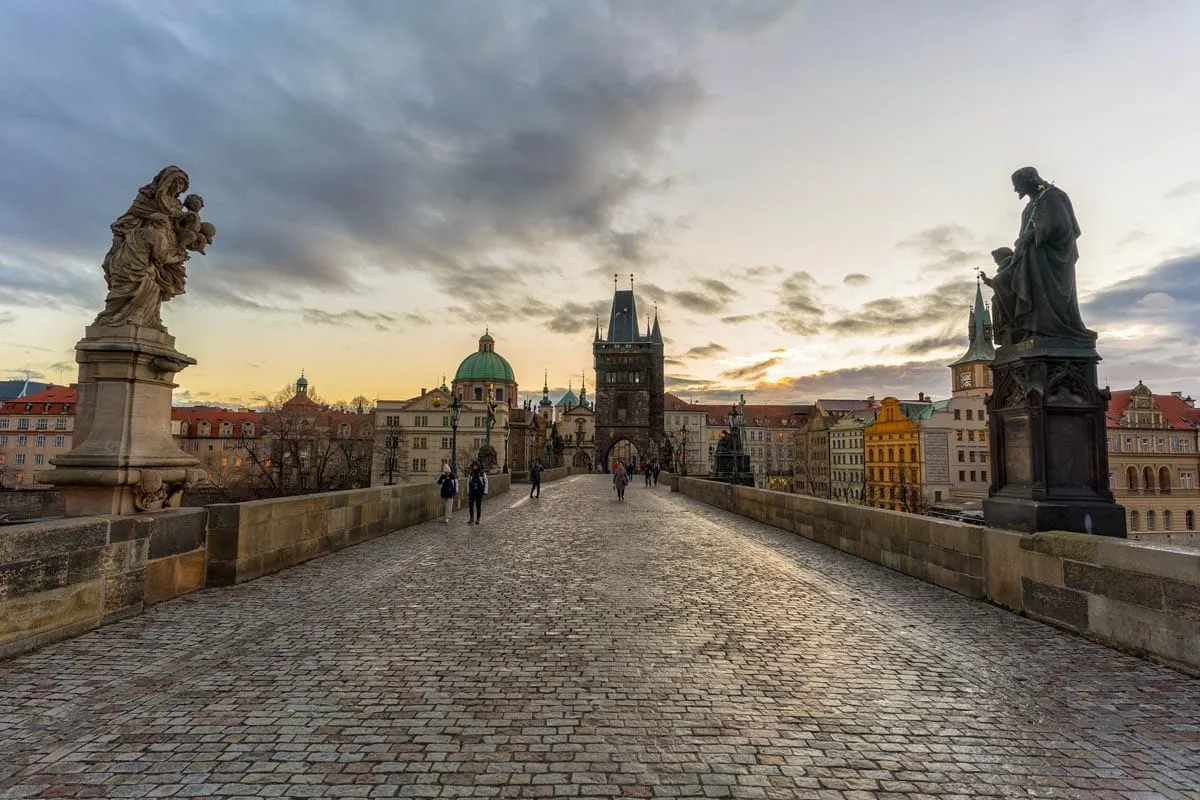 My Top Tip: Buy the Prague Card
One thing I'd really recommend buying beforehand is the Prague Card.
You can get 2-day, 3-day card or 4-day card that will give you free entry into a lot of the major attractions, discounts into those that aren't free, and unlimited use on public transport. It also includes discounts on a lot of the major tours too.
I bought my 3-day Prague card and picked it up from the airport. Then I was able to use it on the bus into town right away. I can't tell you how much I saved over my 3 days in Prague but it would've been nearly €100 so I definitely think it's good value for money.
Prices start around £52 for a 2-day card (cheaper for under 16s).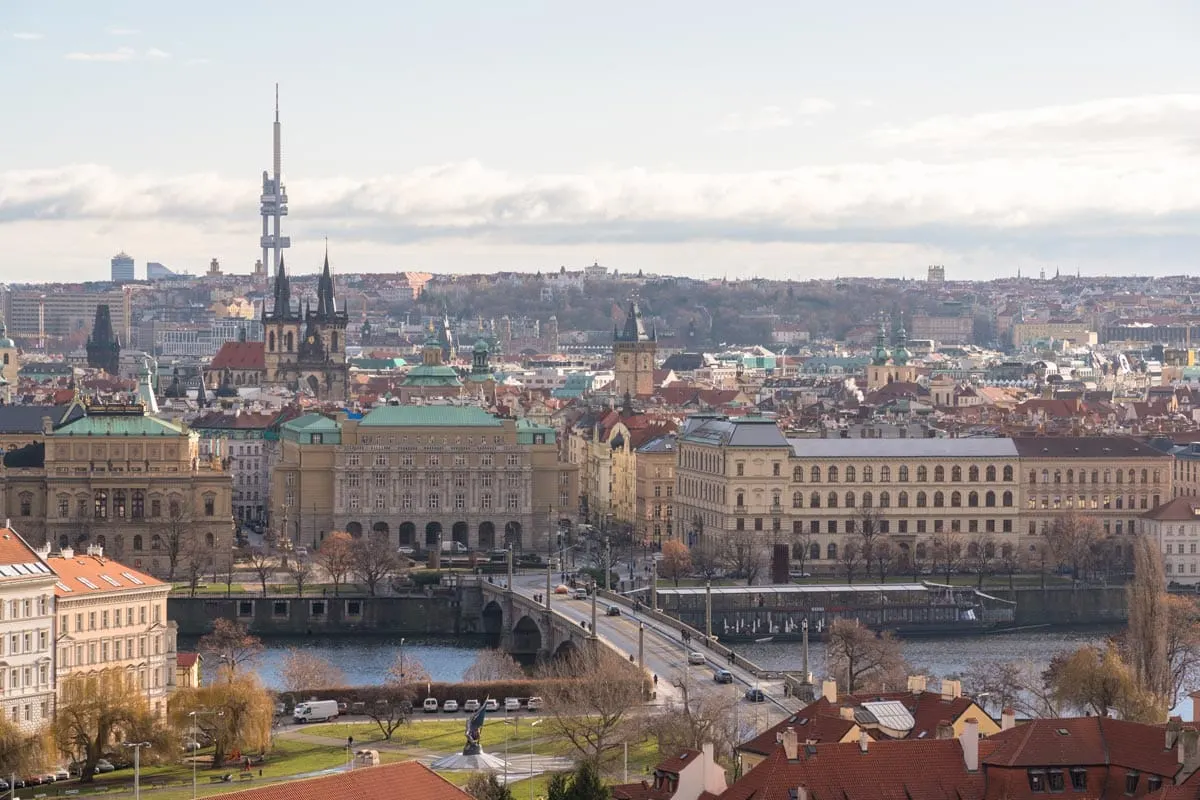 ---
Prague 3 Day Itinerary
Day 1
What I really liked about Prague was how walkable it was. It almost doesn't matter where you stay in the city as you'll be able to walk to most places.
I stayed in the Jewish Quarter, and even walking across the city up to Petrin Tower took about 30 minutes, so it's very compact. Saying that, I did clock up 24,000 steps one day so make sure you pack comfortable walking shoes.
Anyway, these are the best things to do in my 3 day Prague itinerary. This is basically like the ulimate tour of Prague.
Prague is without a doubt one of the best places to visit in the Czech Republic so I really hope you enjoy it!
Charles Bridge
One of the biggest attractions in the city is Charles Bridge.
Built in the 14th century, this bridge spans the Vltava River and connects the Old Town to Prague Castle.
Flanked on either side are a number of Gothic statues and plaques that showcase how beautiful the bridge is. As soon as you see them you'll see what I mean.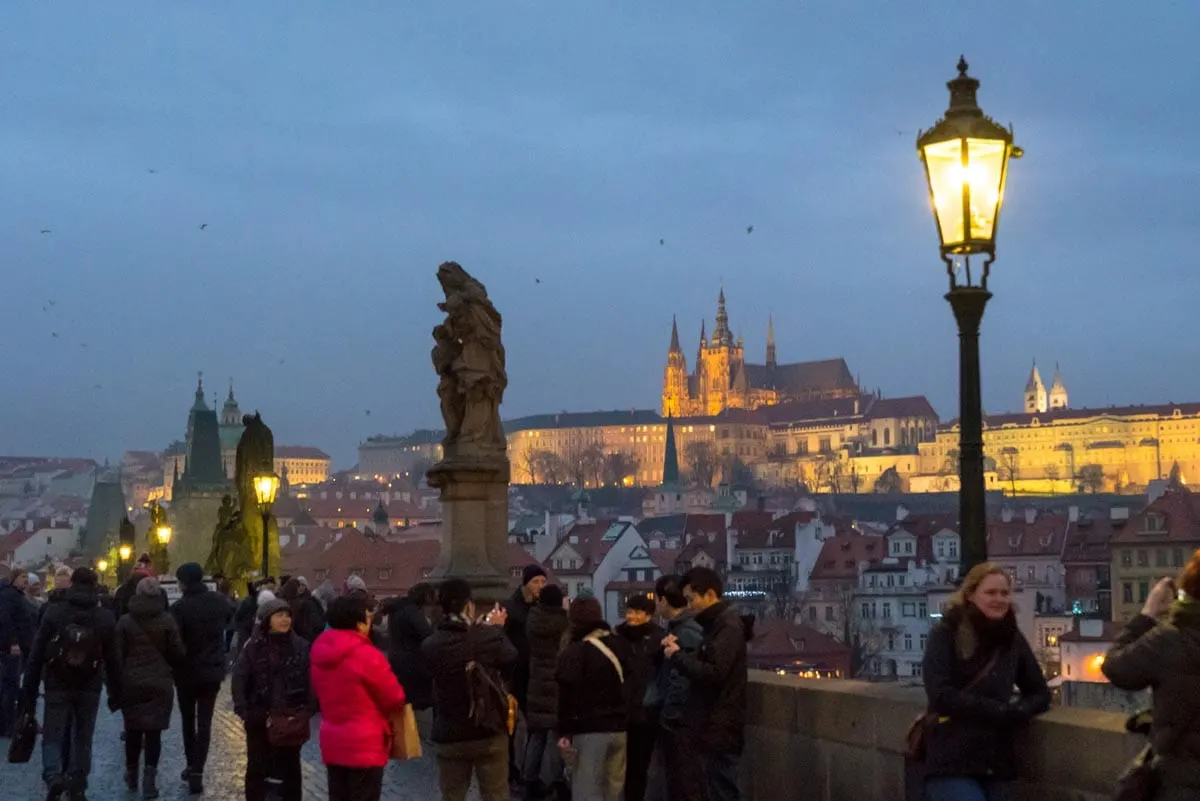 No matter where you are staying in Prague, you'll make your way across Charles Bridge multiple times. It's inevitable.
However, if you want to avoid the crowds, it's best to come either at sunrise or well after the sun has set. Otherwise you'll share the bridge with the 100s of tourists all looking to capture the perfect photo.
Charles Bridge Tower
If you're looking for the best views of Charles Bridge then head to the top of the Charles Bridge Tower.
Located on the Old Town side of the river, you have to climb the 138 steps to get to the view gallery. Even though this is knackering the views are well worth it.
Again, much like with the bridge, I'd recommend getting here early. The doors open at 10am, and if you're lucky you might just have to the place to yourself at that time.
However, if you're really looking for that killer shot then head up 30 minutes before sunset. You'll be up there with all the other photographers but if you can nab yourself a space you can capture such a stunning photo.
Tickets cost 100 CZK (£3.50) per person or 70 CZK (£2.40) with the Prague Card.
Prague Castle & St Vitus Cathedral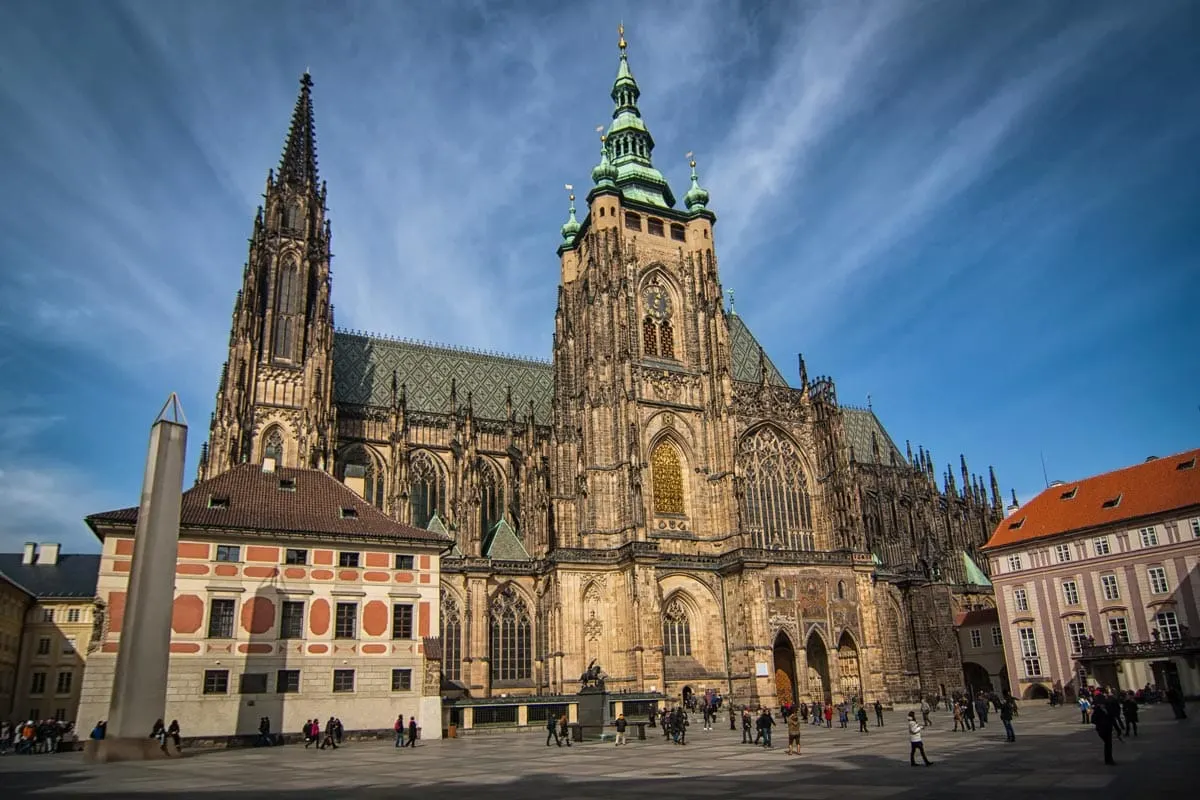 It is very easy to spend all afternoon walking around Prague Castle and it is packed full of things to do.
The main attraction here is St Vitus Cathedral, a gorgeous Gothic cathedral that is even more spectacular on the inside than on the outside.
As soon as you enter the cathedral, there are these beautiful lines of symmetry as the columns create arches above you. Also, it's absolutely massive inside. Again, if you're a photographer like me then you'll love it.
The other spots to visit inside Prague Castle is St George's Basilica and the Golden Lane.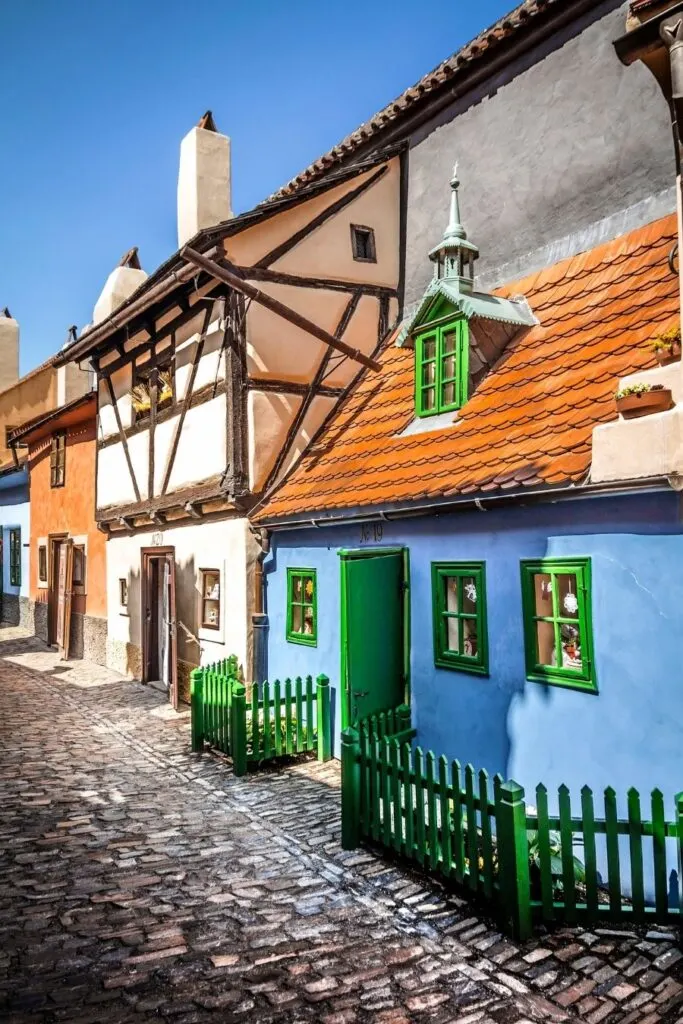 Golden Lane is a row of miniature houses glued literally to the walls of the Castle. Historically, it is though the city's alchemists lived here trying to turn metal into gold.
I guess if they did they could've afforded bigger houses, but still pretty cool walking the streets where alchemists and kings mixed together. If you've only got 3 days in Prague then make sure this is on your list of things to do.
If you're looking for a 2.5 hour guided tour of Prague Castle which includes the entrance ticket, then you can book it here.
Eat at Lokal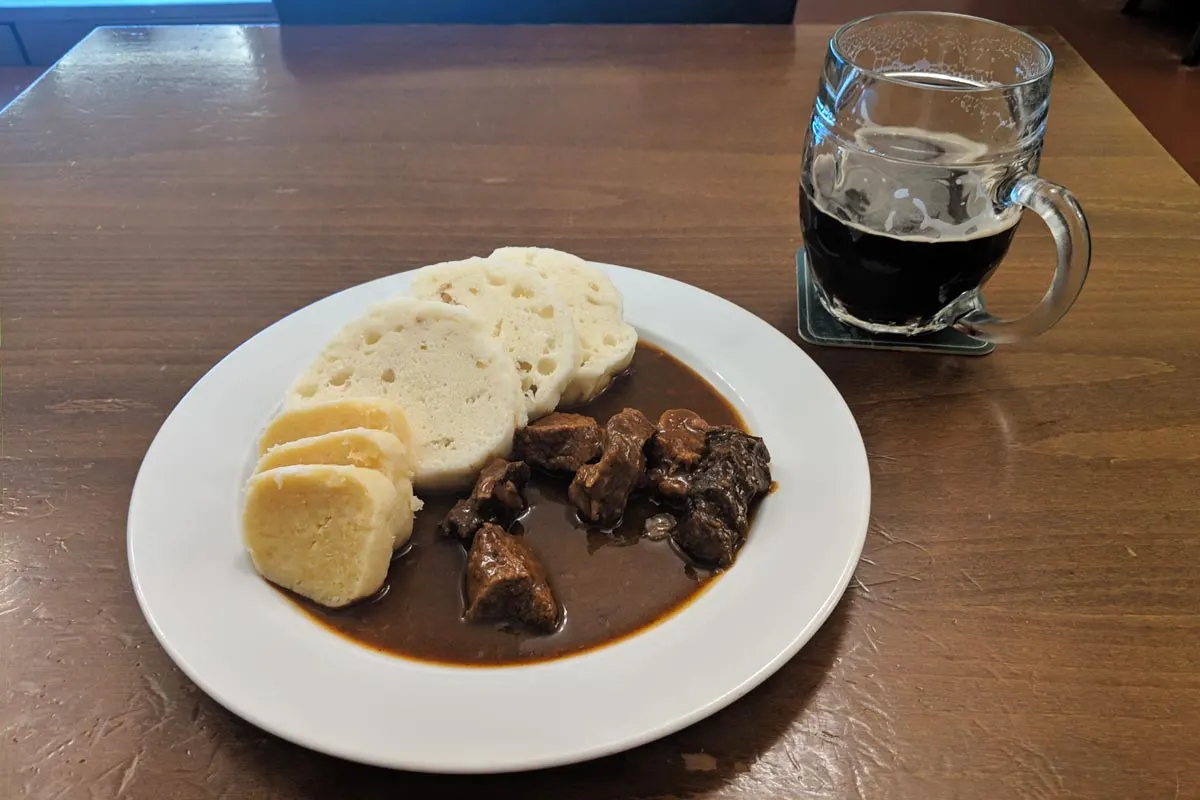 When I was researching things to do in Prague, the one restaurant a few people said I should try was Lokal. They weren't wrong, this place is quality!
Located in the heart of the Old Town, Lokal is an old-fashioned beer hall serving traditional Czech cuisine all washed down with delicious beers.
To show you how popular Lokal is, I went there at 8pm on a Monday at the beginning of January and I still had to wait 20 minutes for a table.
However, this restaurant is really big so you don't ever have to wait for long.
I recommend the goulash with bread and potato dumplings and a dark beer – it really doesn't get more traditional than that.
Day 2
Whenever I'm exploring a new city I always try and find the best views. Well, in Prague there are no shortage of them.
After taking in the amazing architecture of the day before, day 2 is more about the views and the history. Get ready for another fabulous day in Prague!
Petrin Tower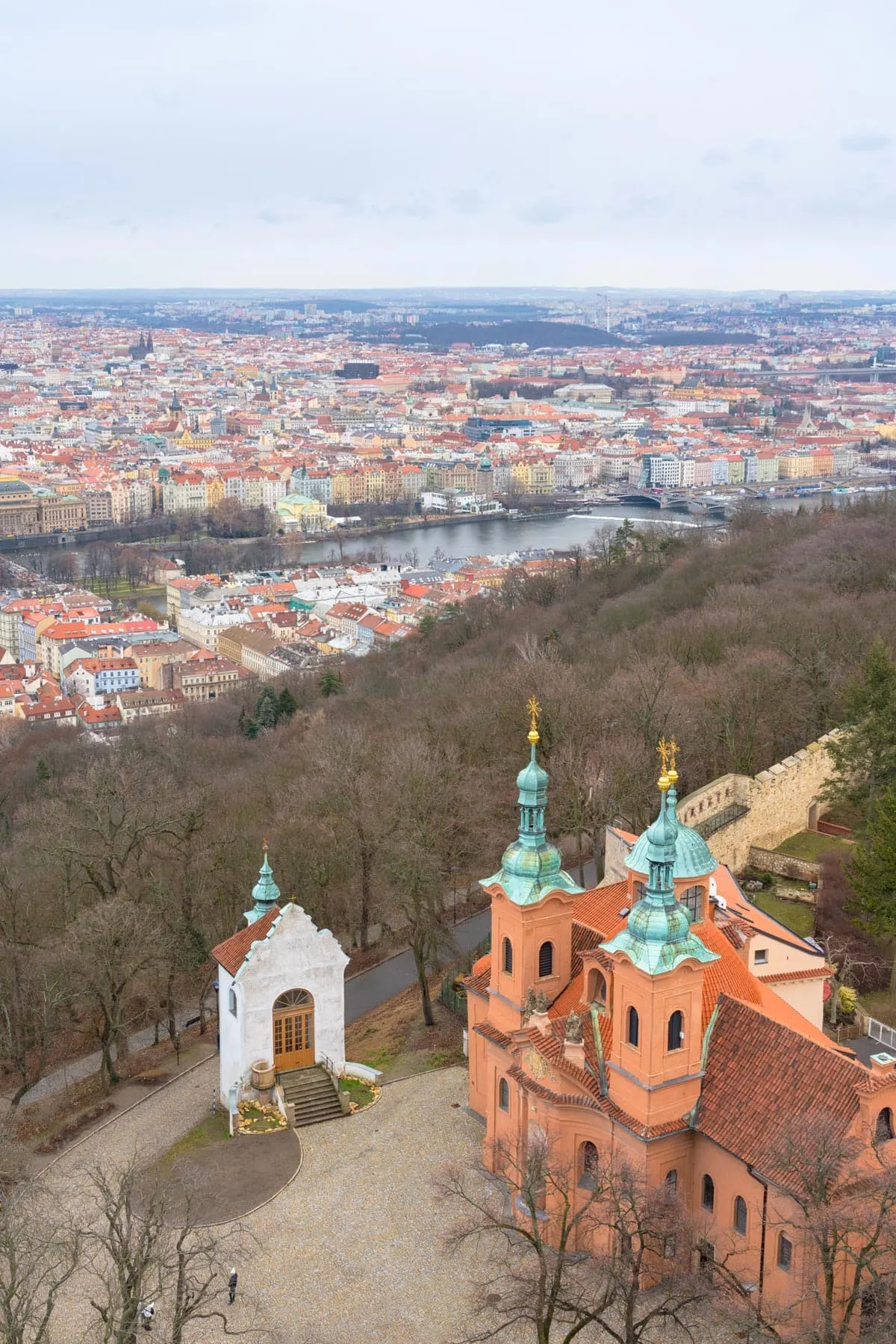 No matter where you are in the city you'll be able to see Petrin Tower overlooking the city.
Even though it is easy to walk to Petrin Tower, it's much more fun catching the funicular to the top. If you've got your Prague Card this is included. If not, it only costs 26 CZK (£0.90) for a ticket.
Petrin Tower is a huge lookout tower built in 1891. It is loosely based on the Eiffel Tower in France and the viewing deck is at the same height.
There are two ways of getting to that viewing deck. You can either catch the lift, or you can climb the 299 steps to the top.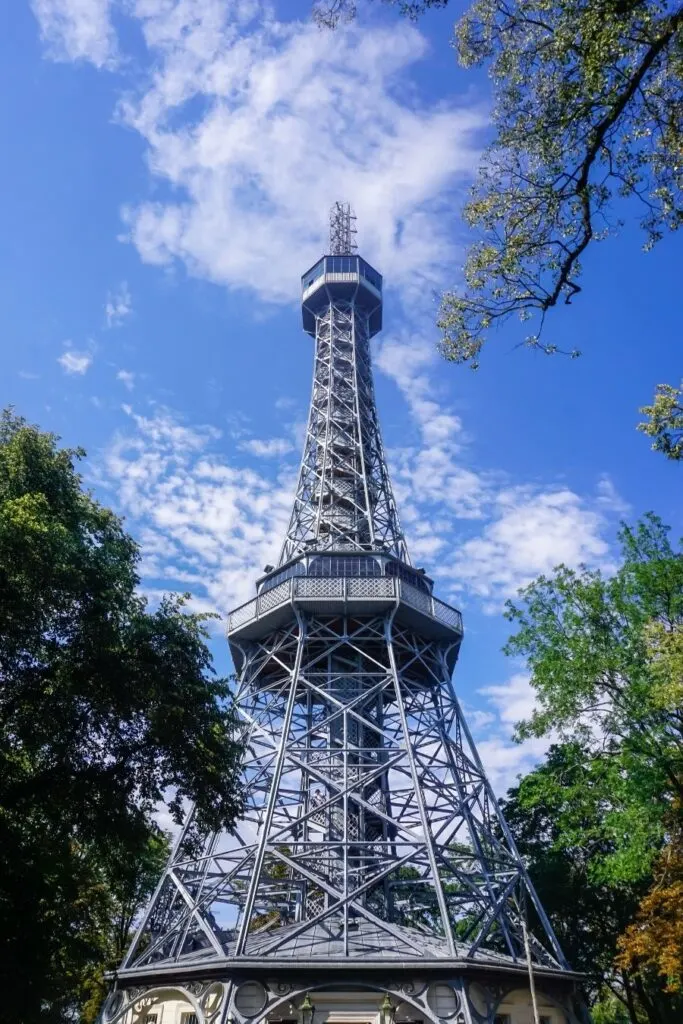 Now I tried to catch the lift but I wasn't allowed for some reason. I think he said I was too young to catch the lift. Still, walking is definitely the best option as you get the best views all the way up.
Once you get to the top the views are incredible, but the viewing platform is surrounded by dirty glass, so it's not the best spot for photos. Go down a set of steps and you'll have clear views without the reflections of glass.
For me, this is one of the top places to see in Prague in 3 days, especially for the views at the top.
Tickets cost 150 CZK (£5) or free with the Prague Card.
Petrin Mirror Maze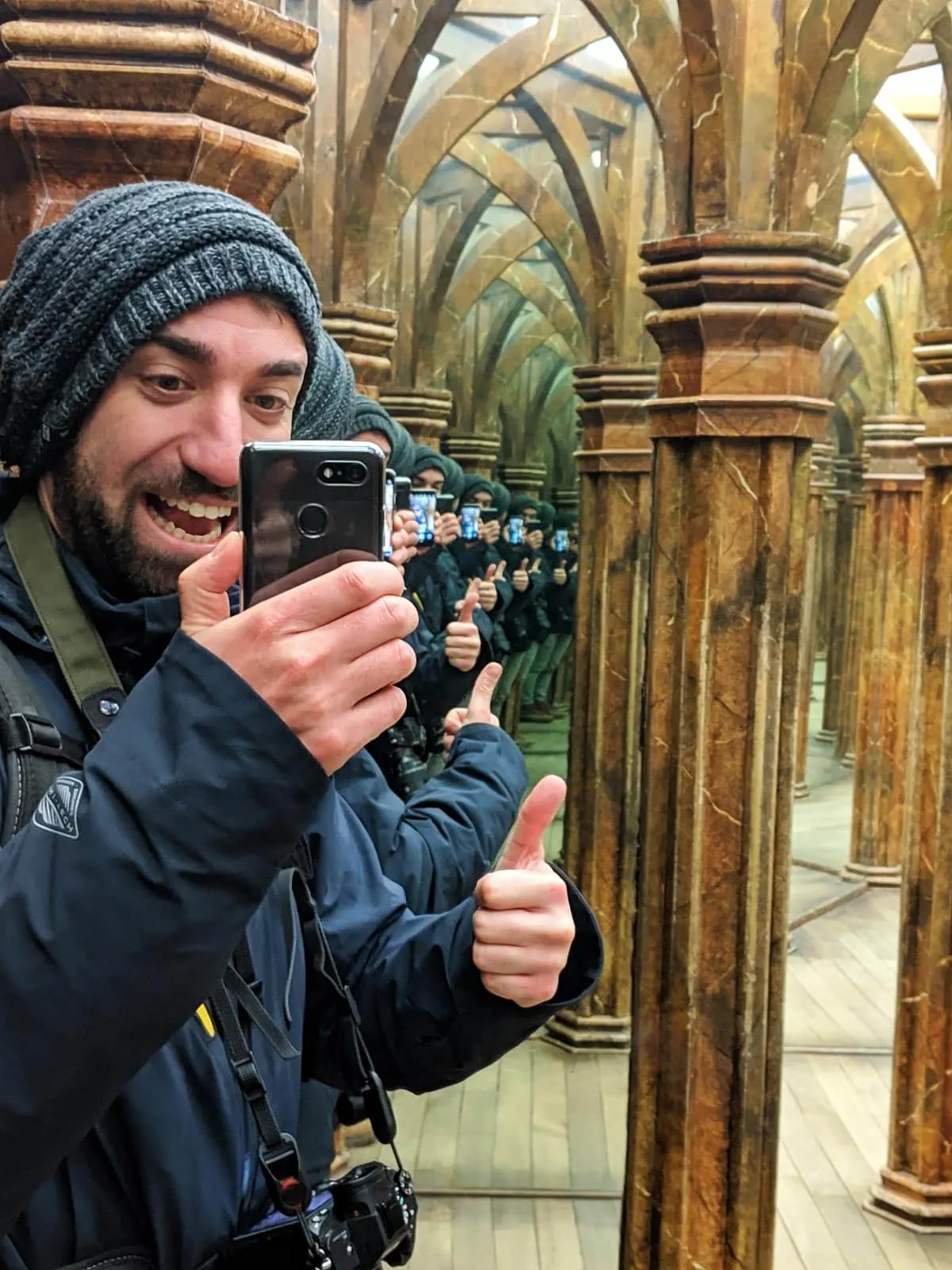 When it comes to what to do in Prague, it's worth checking out the Petrin Mirror Maze.
As the name suggests, this is a fun mirror maze that's great if you've got very small ones with you.
I popped in as it was included in the handy Prague Card. Would I have paid for the mirror maze? Probably not, no, but it was fun for 10 minutes!
As I said, if you have a kid aged between 5 and 10 then will love this place. It's also a great place for a cheeky never-ending selfie!
Memorial to the Victims of Communism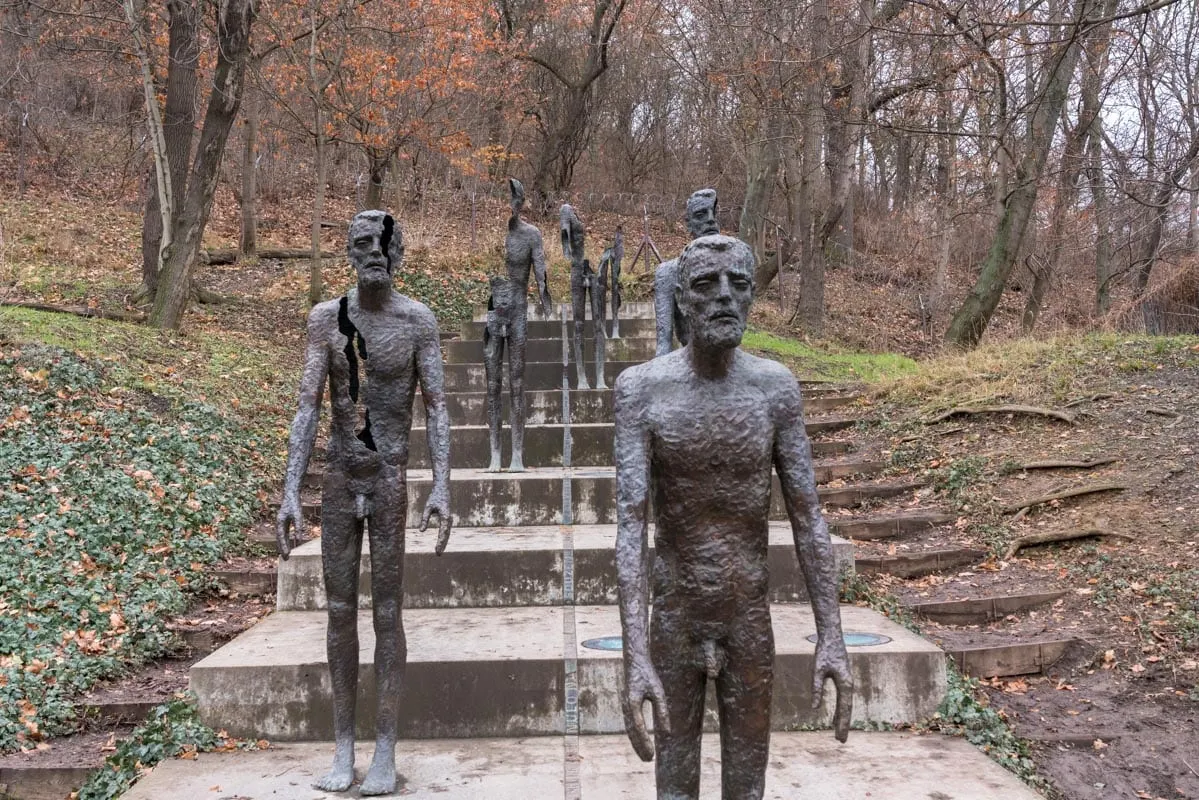 The walk back through Petrin Park is lovely. I can imagine this to be one of the best spots in the city on a hot summer's day.
At the bottom of the park and near the funicular station is a memorial to the victims of communism.
I think this is a good place to visit to remember those who lost their lives during the Soviet empire. Again, it highlights the history of what the city has been through and it's definitely worth seeing if you've got 3 days in Prague.
The KGB Museum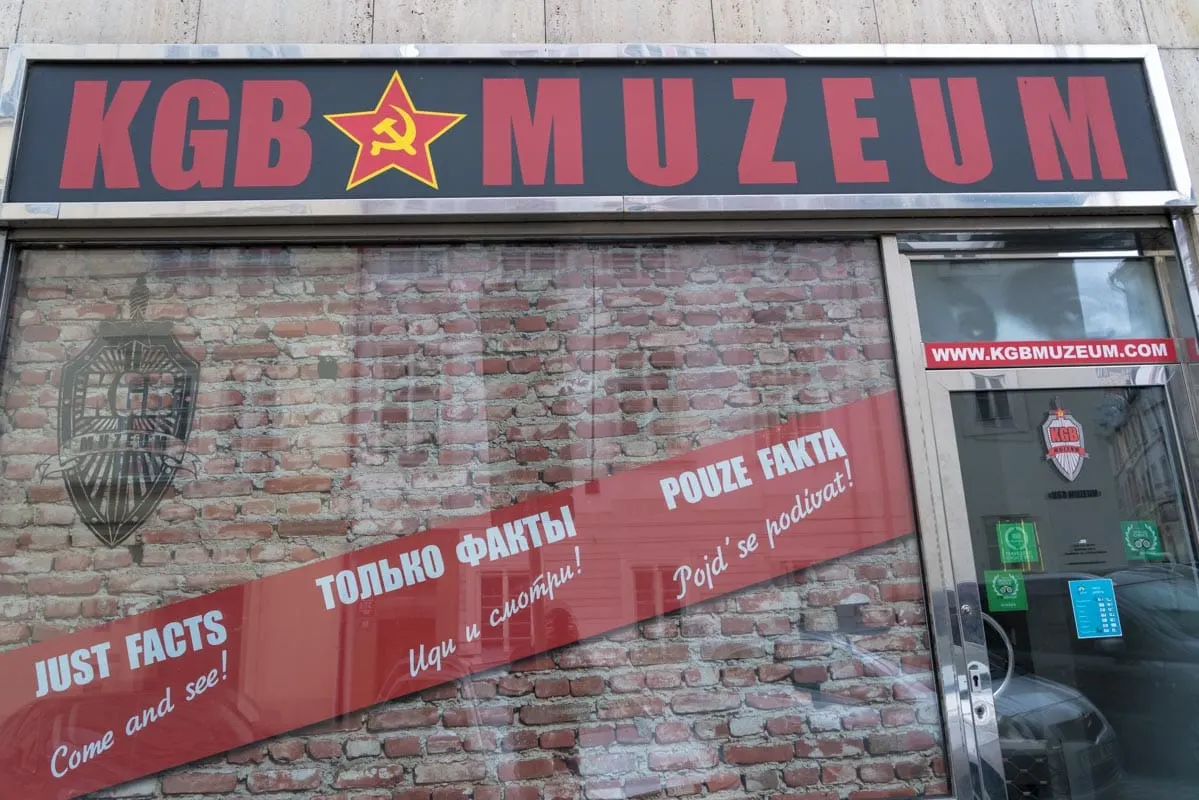 The KGB Museum is just around the corner from Petrin Park and Prague Castle. Run by an enthusiastic Russian collector, this is a small museum of KGB memorabilia.
Walking around here is a treasure trove of gadgets such as concealed pistols, spy cameras, torture equipment and even an original garotte, known as 'Stalin's scarf'.
If you really want to learn about the communism era and what life was like in Prague during the 1960s, there's no better place than the KGB museum for it.
Tickets cost 350 CZK (£12) which is a little on the steep side for such a small museum, but it really is fascinating. There a hourly tours in English and Russian. It may sound surprising but this is always ranked as one of the top things to do in Prague.
John Lennon Wall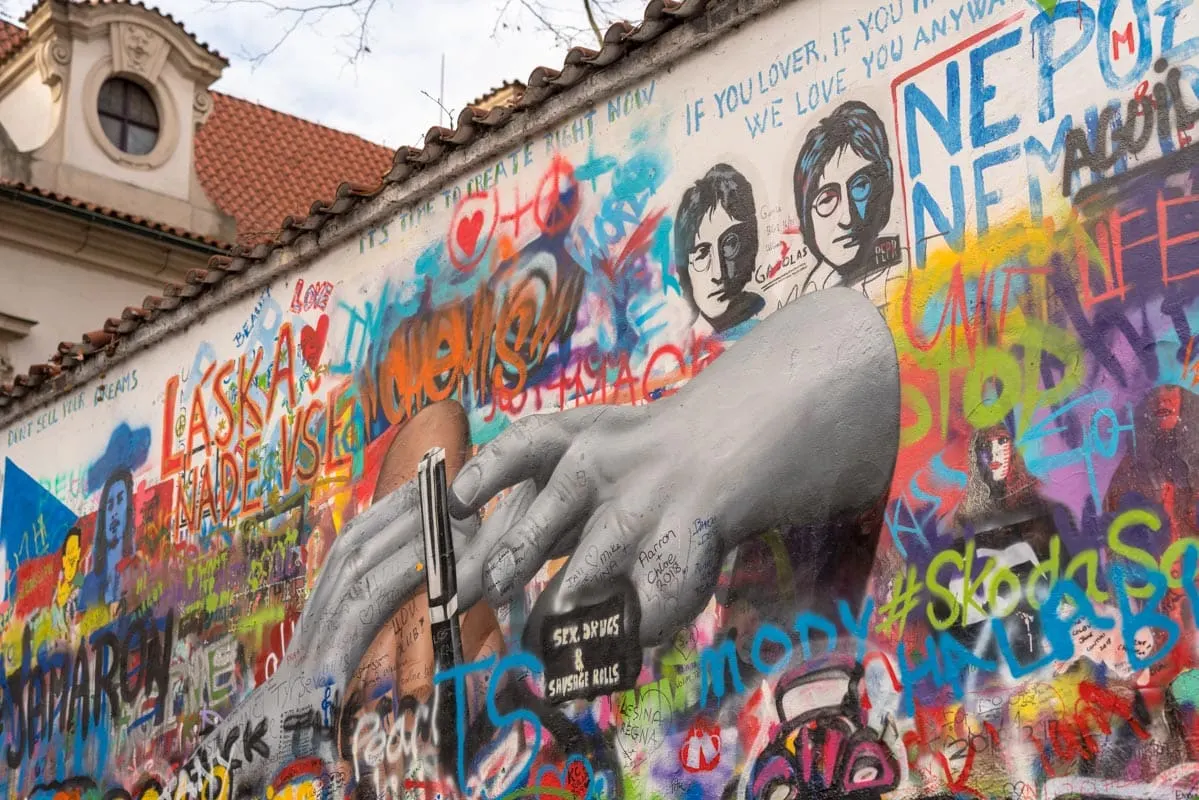 Tourists have been flocking to the John Lennon Wall since its first creation in the 1980s.
Basically, this is a wall covered in John Lennon-inspired graffiti with Beatles lyrics and it is one of the most colour places in the city.
One of my favourite things about the John Lennon Wall is it's constantly changing; no two visits will look the same.
Today, the wall represents a symbol of global ideals such as love and peace. Definitely worth visiting while walking around Prague!
Try a few of Prague's world-famous beers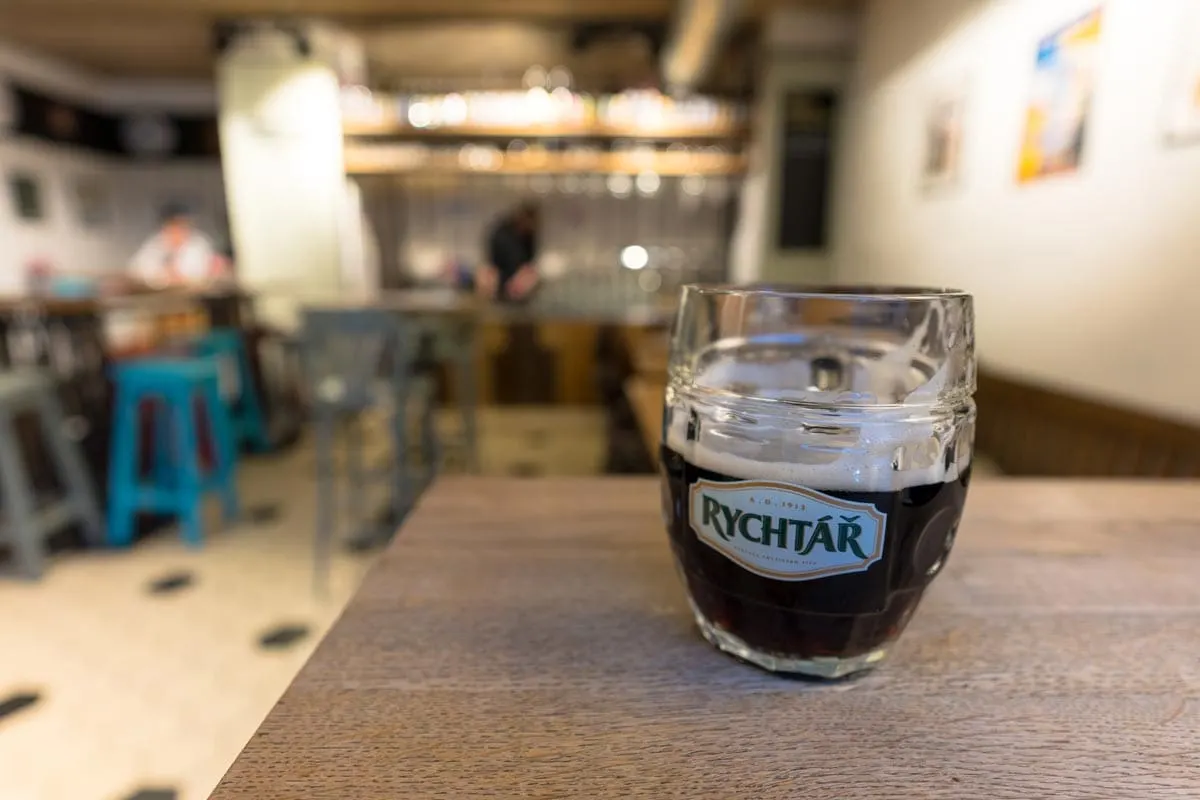 Wondering how to spend 3 days in Prague? Drink a lot of beer!
Czechs drink on average about 161 litres of beer per person each year. That's nearly a pint a day. When Czechs say they love beer, they really mean it.
When you're sightseeing in Prague, you've got to set aside some time for a few beers. That means finding a traditional beer hall and taking it all in for a couple of hours.
A few of the best beer halls in Prague are U Medvidku, U Tří Růží and U Dvou Koček, but my favourite was U Fleku. There's a massive beer garden for the summer and their dark beer was delicious. The perfect way to spend an afternoon for me!
You can also jump on a beer tasting tour if you'd like to learn more about Czech beer.
Day 3
As I've already mentioned, Prague is a small city and easy to walk around. That means you would've passed by a few of these place already while walking around.
However, each one is well worth a closer look, especially if you want to get some of the best views of the city! Some might say I've saved the best till last. This includes some of the best adventurous things to do in Prague.
Old Town Square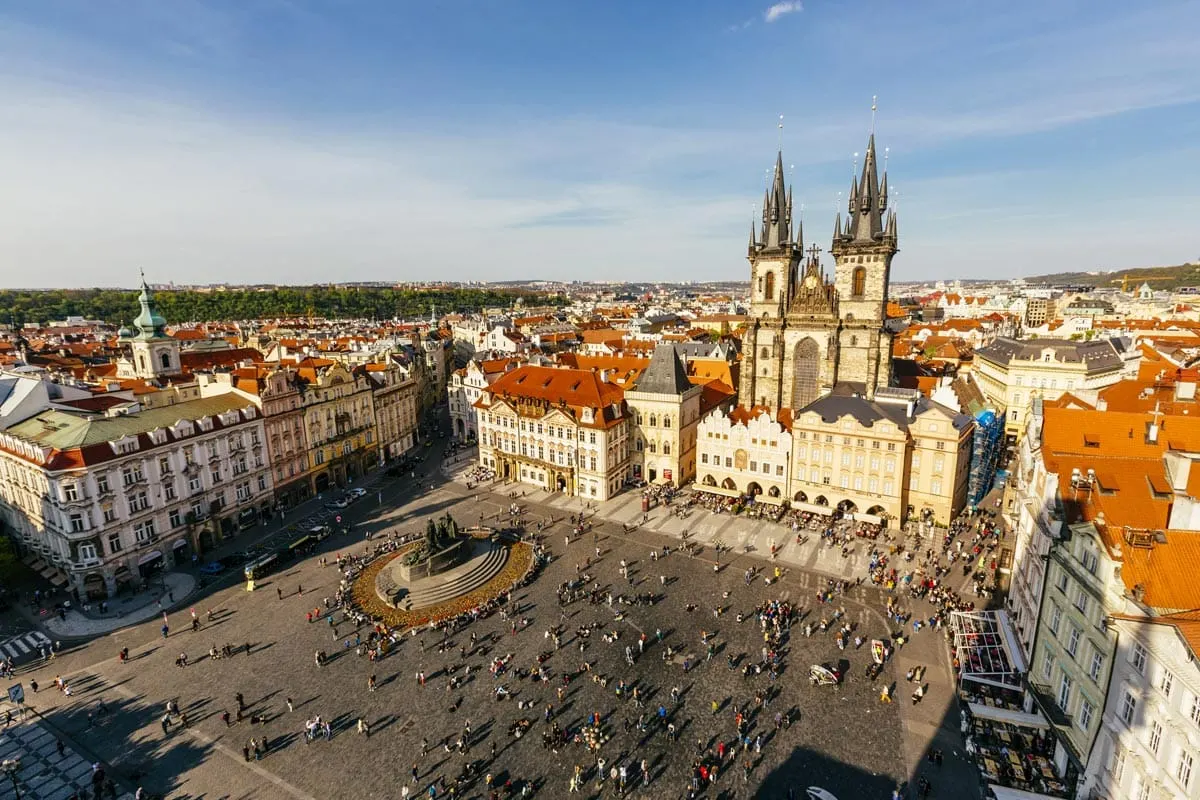 If you're looking to visit Prague in 3 days, then you'll pass through the Old Town Square a fair few times. This is the heartbeat of the city and naturally where you'll find the most tourists too!
One of the best things you can do here is get lost in the winding lanes around Old Town that eventually spill out into the main square.
The elegant tower of the Town Hall with the world-famous astronomical clock, the proud silhouette of the fairytale Týn Cathedral, the monumental Church of St. Nicholas and countless multicoloured houses of many styles lend this place a unique atmosphere, which will captivate all those who decide to take a look at its charm.
Astronomical Clock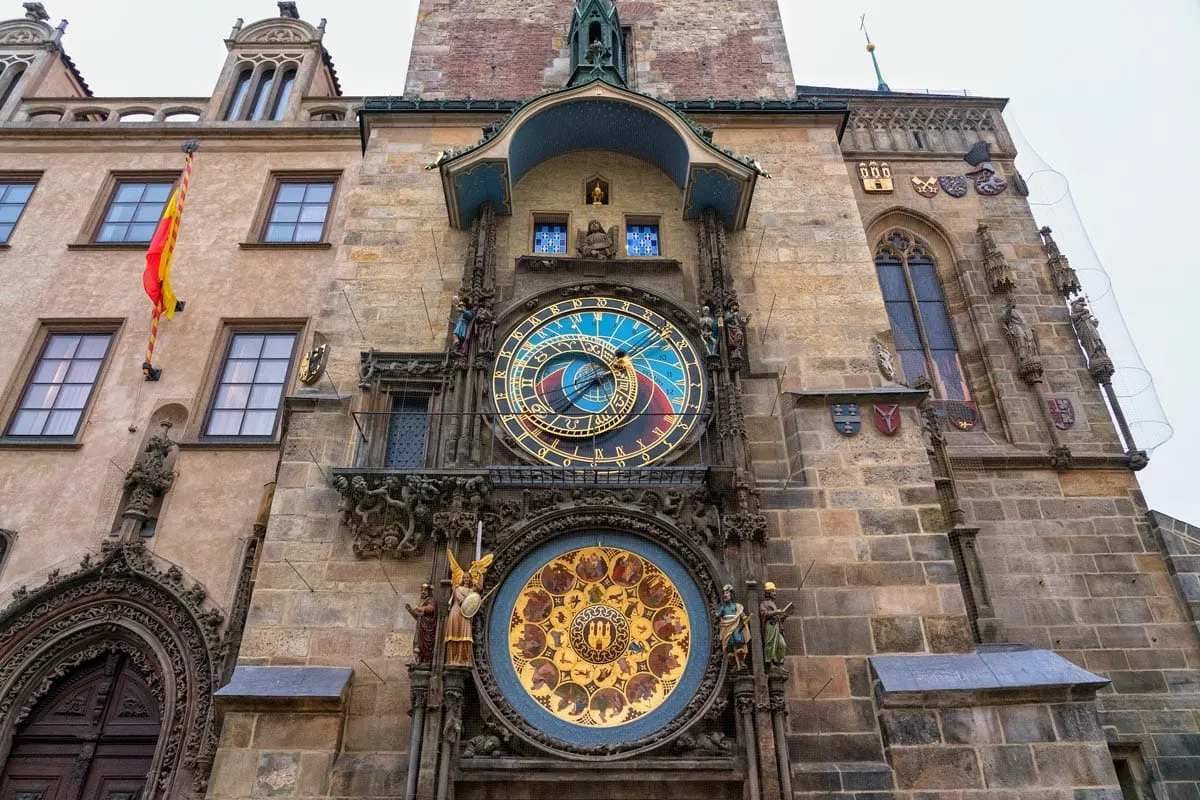 One of the main attractions in the Old Town Square is the Astronomical Clock.
The Astronomical Clock was first installed in 1410 making it the third-oldest astronomical clock in the world and the oldest still running.
An astronomical clock is a clock that shows the relative positions of the sun, moon, zodiacal constellations, and sometimes major planets. Thankfully, it also tells the time which was the only thing I was able to work out.
The square is packed when the clock chimes, so if you want to get a good photo make sure you get there 10 minutes early. If you're only in Prague for 3 days then you'll definitely see the Astronomical Clock a few times.
Town Hall Tower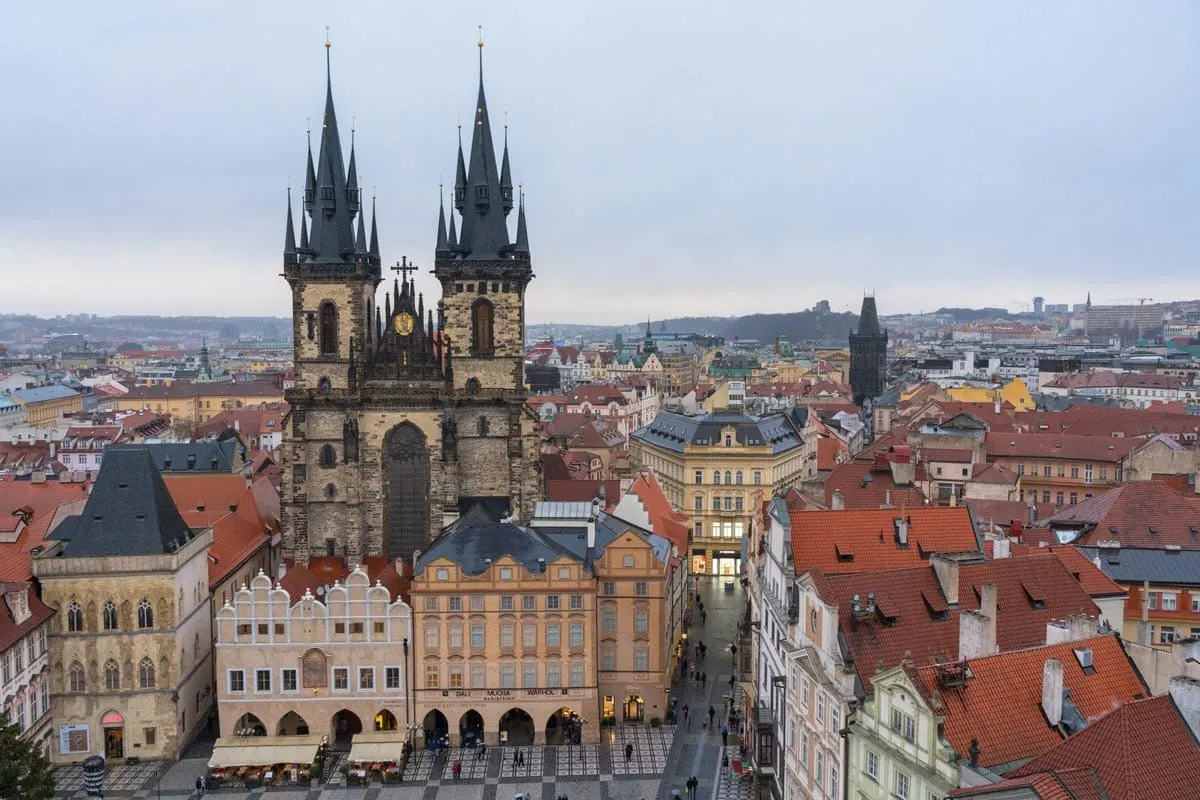 The Astronomical Clock is on the side of the Old Town Hall, so once you've finished with the clock then pop inside the hall.
The Old Town Hall was built in 1338 and the oldest part is the beautiful Gothic tower and bay chapel with a unique view of the clock.
However, I was really keen on climbing to the top of the tower for the best views of Old Town Square.
The best way to get to the top is via the lift. Then, once you're up there you can see Prague from up above.
By the way, the Old Town Hall is where the tourist information centre is, so if you ever need any advice or information then this is a great place for it. But the Town Hall Tower is a must on any Prague itinerary.
Tickets cost 250 CZK (£8.60) or are free with the Prague Card.
The Powder Tower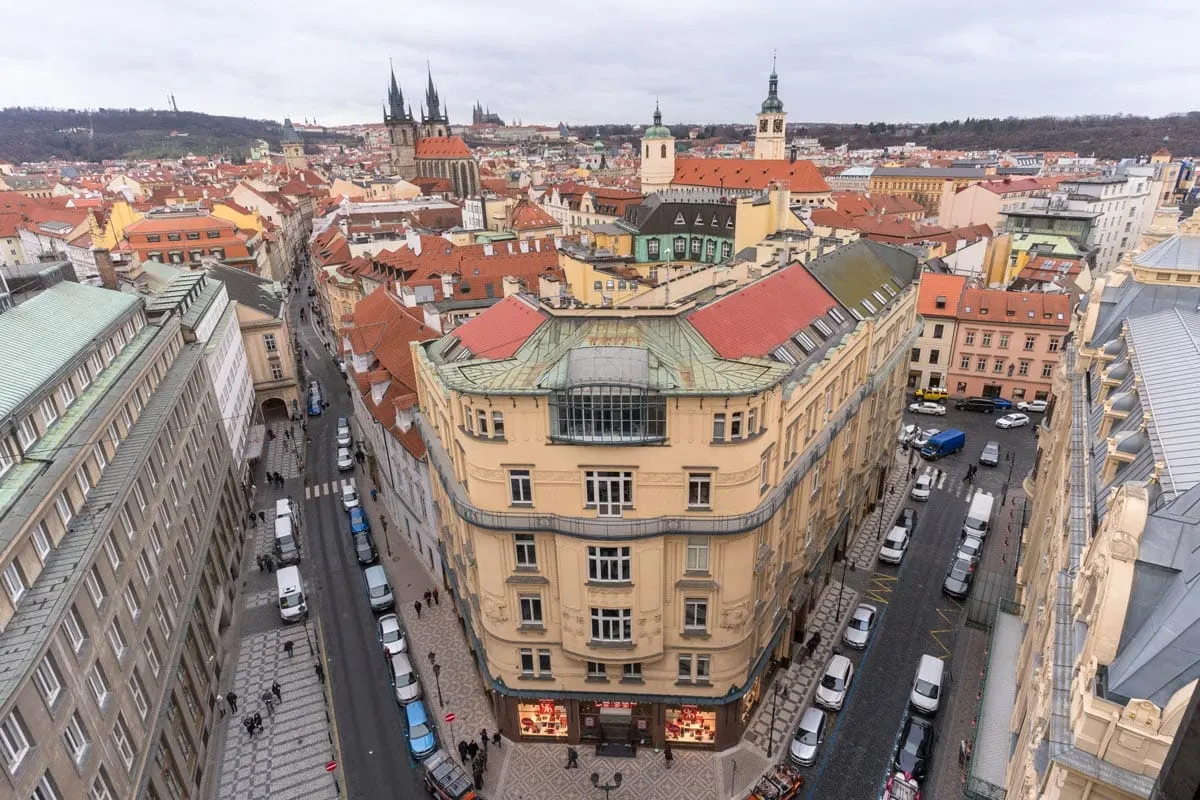 While we're on the subject of towers and views, another cracker is the Powder Tower.
The Powder Tower (or Powder Gate) is one of the original city gates which separates the Old Town from the New Town.
I think if I was to sketch an old-fashioned Gothic tower (not that I'm any good at drawing mind you), I'd draw something like the Powder Tower. It looks like something straight out of Game of Thrones.
Once again, climbing to the top can be tiring, but the views are amazing again.
Tickets cost 100 CZK (£3.50) or are free with the Prague Card.
St Henry's Tower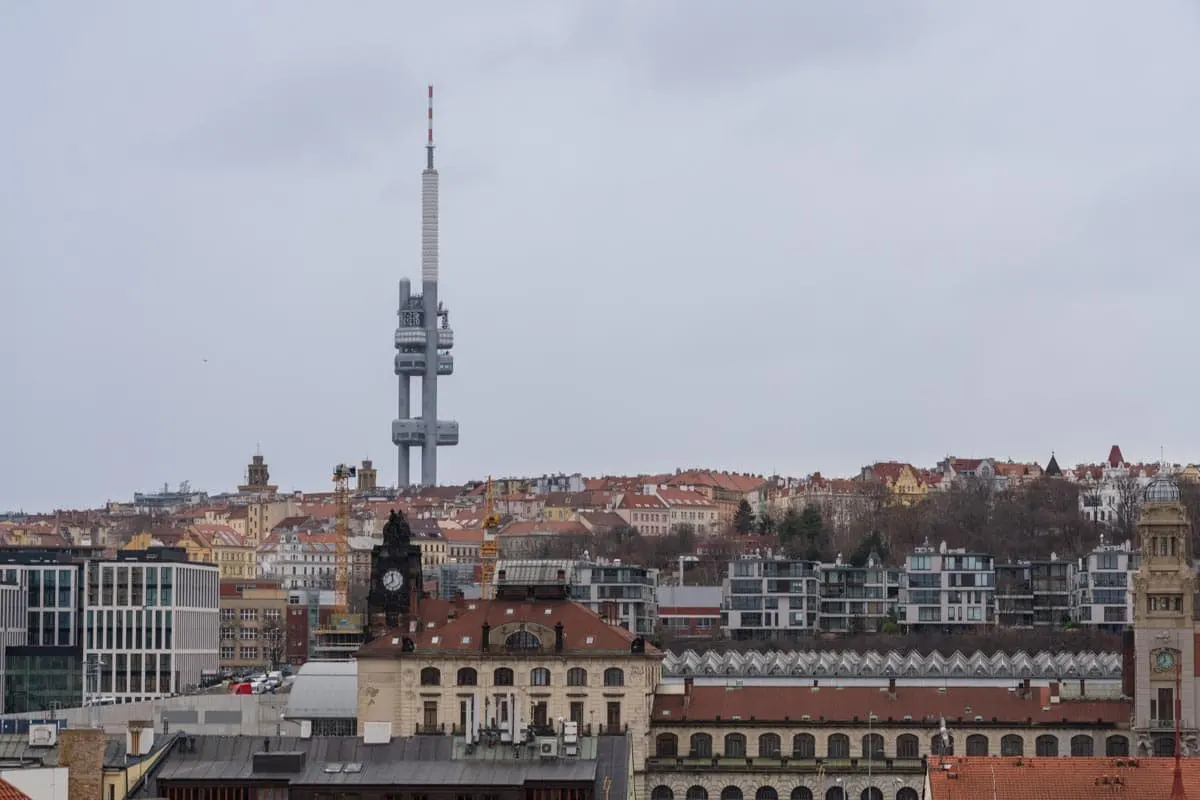 Yes yes yes, another tower.
Just around the corner from the Powder Tower is St Henry's Tower.
I quite liked this tower because it gives you the best views of Zizkov TV Tower.
Now this building has an unwanted reputation. It's officially been voted as the '2nd ugliest building in the world'. Not an award you can put on your mantelpiece that one.
Tickets cost 140 CZK (£4.80) or 70 CZK (£2.40) with the Prague Card.
Try a delicious trdelník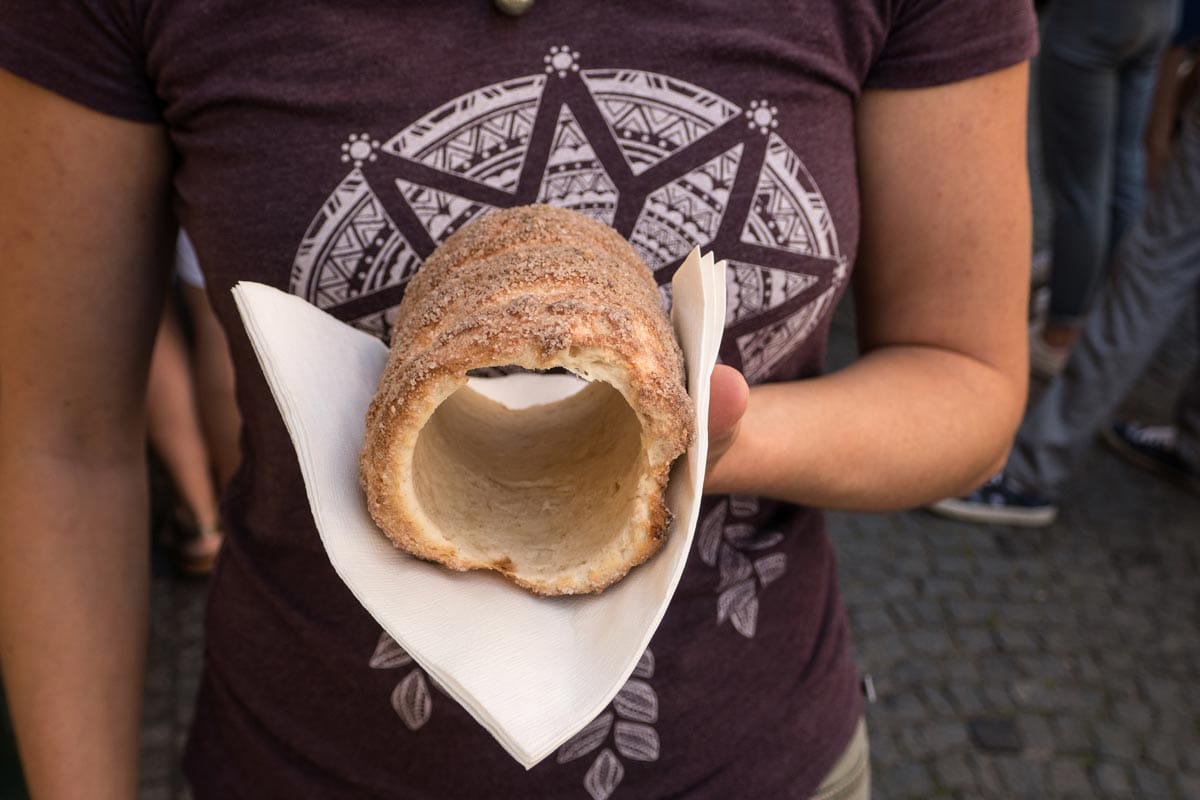 It's impossible to escape trdelník in Prague. Thankfully, you don't want to!
This is dough that's wrapped around a stick into a cylinder and cooked over coals. When done, it is rolled in a sugar and walnut mixture. The result? Absolutely delicious.
There are trdelník stalls dotted all over the city, and one will only set you back 60 CZK (£2). These are perfect on a cold winters day so I encourage you to eat lots of them! If you've only got 3 days in Prague then I make that at least one a day!
If you're short on time but you really want to eat your way through the city, then I'd really recommend this half-day food tour of Prague. This is such an amazing way of learning all about the food culture here.
You can check out some of the best dishes in my blog post all about what to eat in Prague. The food here is surprisingly good!
Where to Stay in Prague
From 5-star hotels to boutique properties with luxury amenities, there is an abundance of accommodation options to choose from here in Prague. I've written an extensive guide on the best hotels in Prague but here are a few different options for you.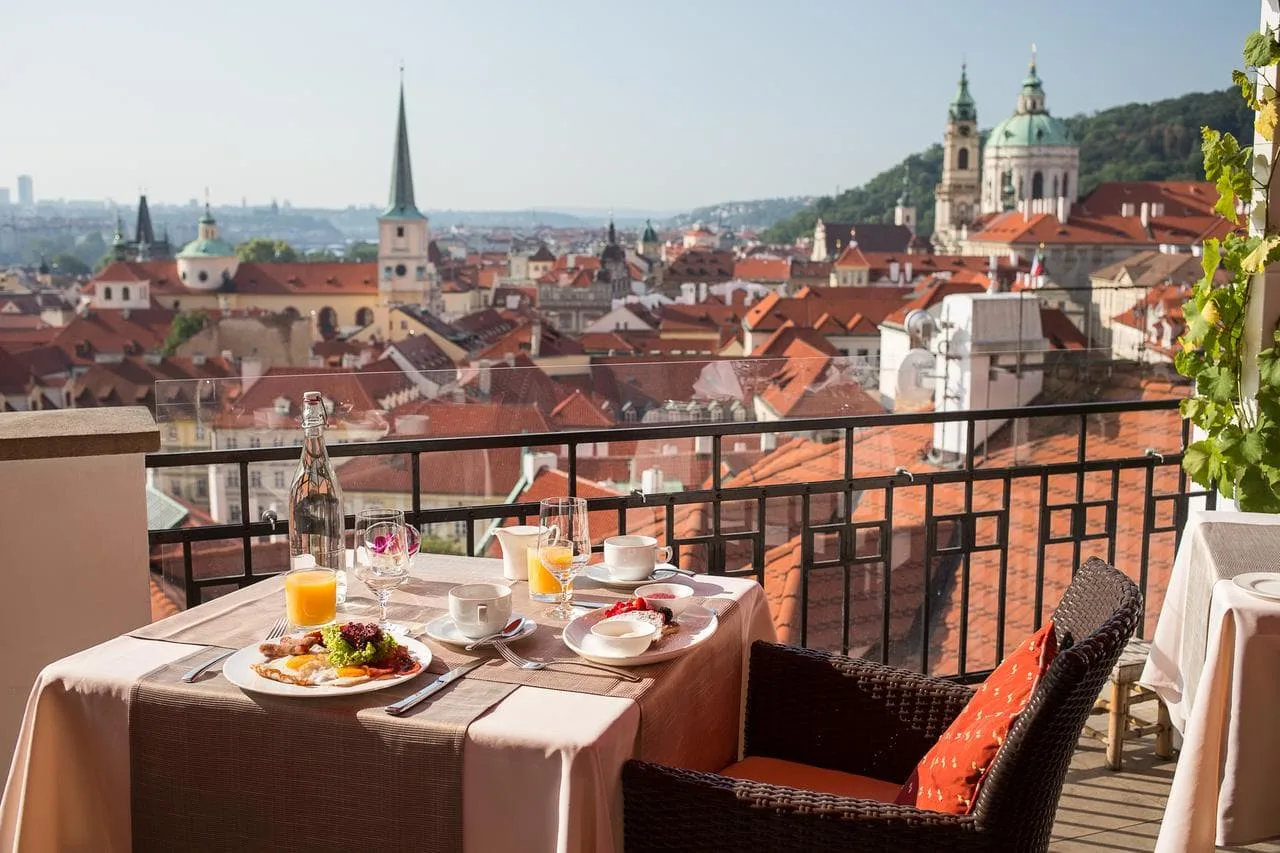 The Golden Well boutique hotel is all about the location. Prague Castle is basically just around the corner and attractions like Lesser Town Square and Charles Bridge are easily walkable. The rooms are extremely nice and spacious and you get complimentary bathrobes and slippers which is always a welcome treat.
Head out to the 4th floor of the hotel where you will find the on-site restaurant that offers both International and local cuisine. However, it's the spectacular views of the city from the outdoor terrace that will keep making you want to come back.
Price: Because of all the luxurious amenities and service, one night for two people at the Golden Well costs around £220 and includes a fabulous breakfast.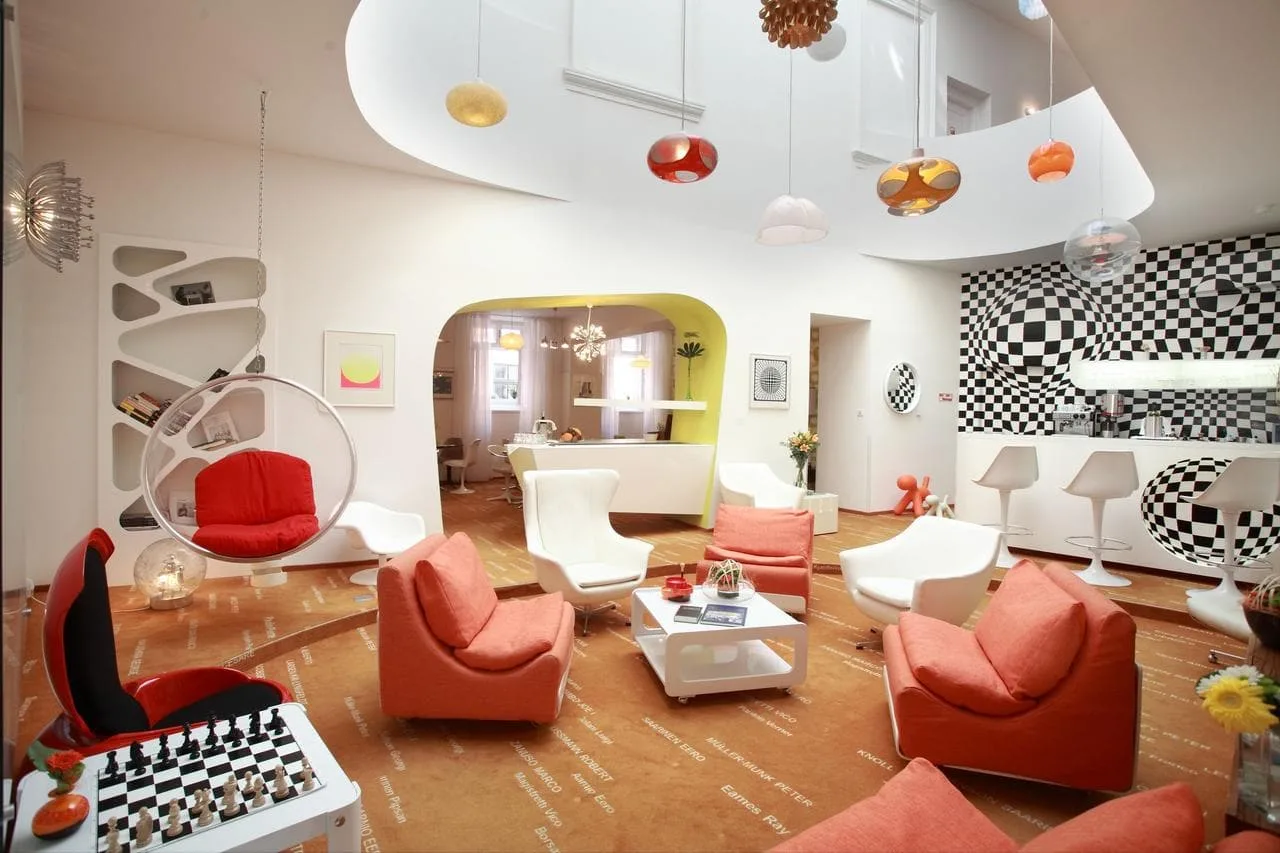 Conveniently located in the historic centre of Prague and just a short walk from both Prague Castle and Charles Bridge, Vintage Design Hotel Sax is an ideal accommodation for travellers who are looking for a retro hotel in Prague. The interior of this place will take you back to the '60s and '70s and the vintage furniture looks awesome.
A standard double room at Vintage Design Hotel Sax comes with a flat-screen TV, air conditioning, and an en-suite bathroom with complimentary toiletries. A-la-carte breakfast is offered to guests and there is room service available. As you can probably tell, this really is one of the trendiest hotels in the city.
Price: Expect to pay around £75 for a deluxe double room for two people.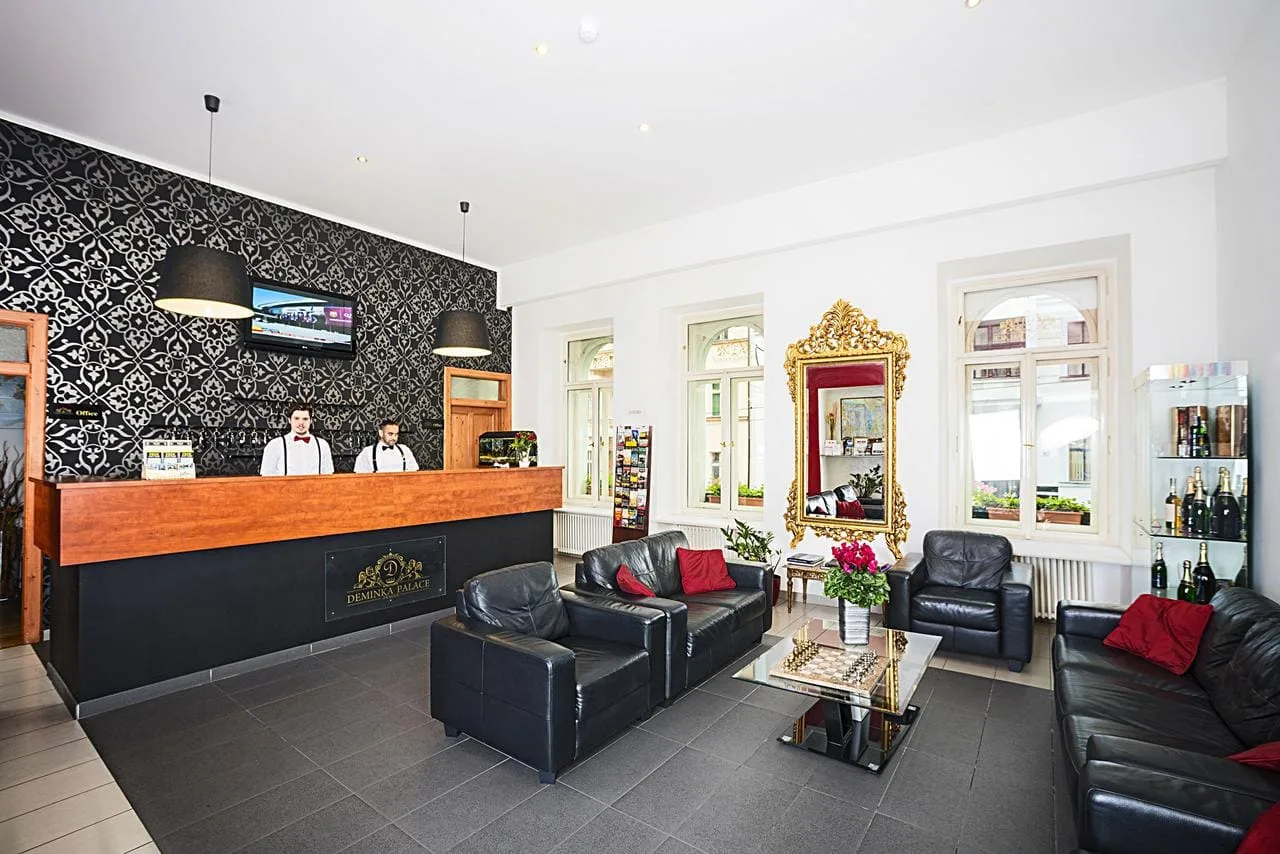 Want to stay in the centre of Prague in a seriously amazing 4-star hotel for just £35? Then check out the Deminka Palace, a lovely hotel with individually designed rooms, free Wi-Fi, and a 24-hour front desk. I really think this is one of the best deals you'll find in the city. Also, being in the centre means you're close to all the best things to do in Prague.
The on-site restaurant offers local cuisine and there is a nice terrace with a bar where travellers can enjoy drinks and snacks. Attractions like Wenceslas Square and Old Town Square are easily reachable. If you're on a budget, then I definitely recommend this place.
If you're looking for some of the best hotels, make sure you check out my guide on where to stay in Prague.
Tours in Prague
Here are some of my favourite tours in Prague for you. These tours will show you the best of the city with just three days in Prague. Hopefully one of these tours takes your fancy!
Prague packing list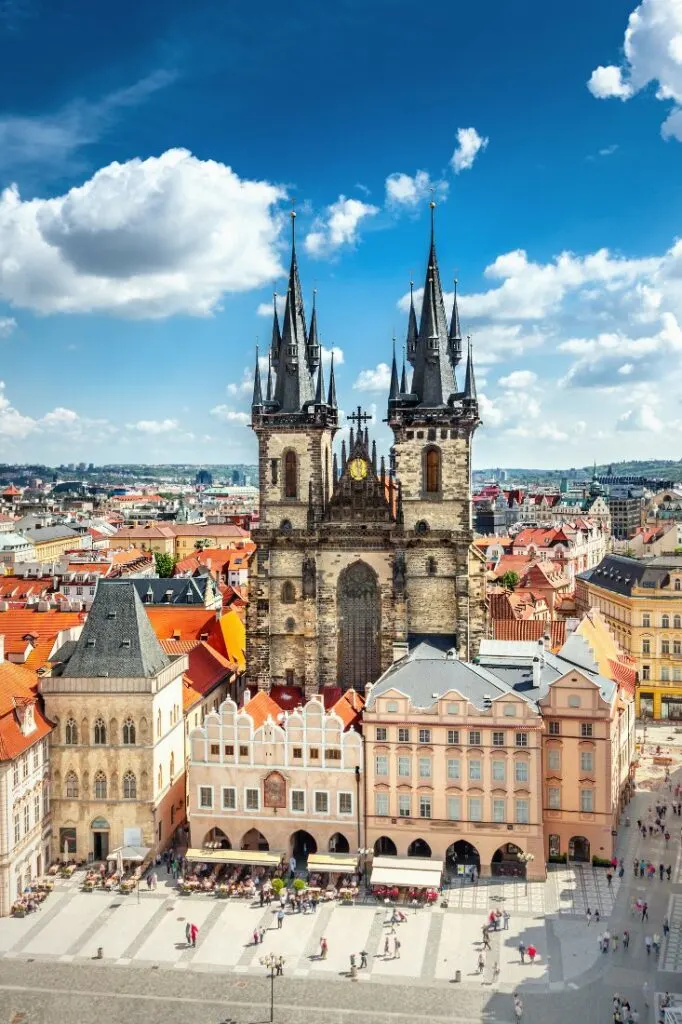 As you can imagine, I travel a lot. It comes with the territory of being a travel blogger! That being said, there are some things that I now can't travel without. If you're planning your Prague 3 day itinerary, I'd really recommend taking these items with you: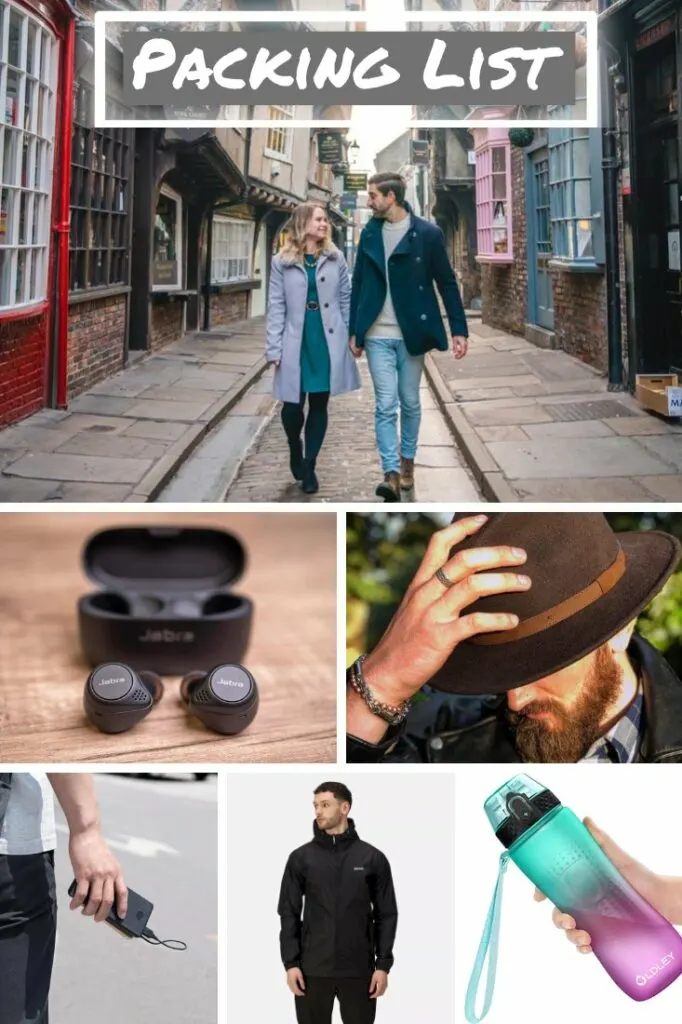 ---
My trip to Barcelona was in association with KLM's '#101ReasonsToTravel' campaign promoting their top destinations in Europe. As always, views are entirely my own and without bias.
If you're interested in learning more about Prague and why this is such a fascinating place to visit, then check out my fun facts about Prague here!
If you only had 3 days in Prague, what would you recommend? I'd love to know so let me know in the comments below!
Like this blog post? Then make sure you Pin it!