Are you looking at sampling the best food Prague has to offer? From traditional goulash to pickled cheese, this is what to eat in Prague!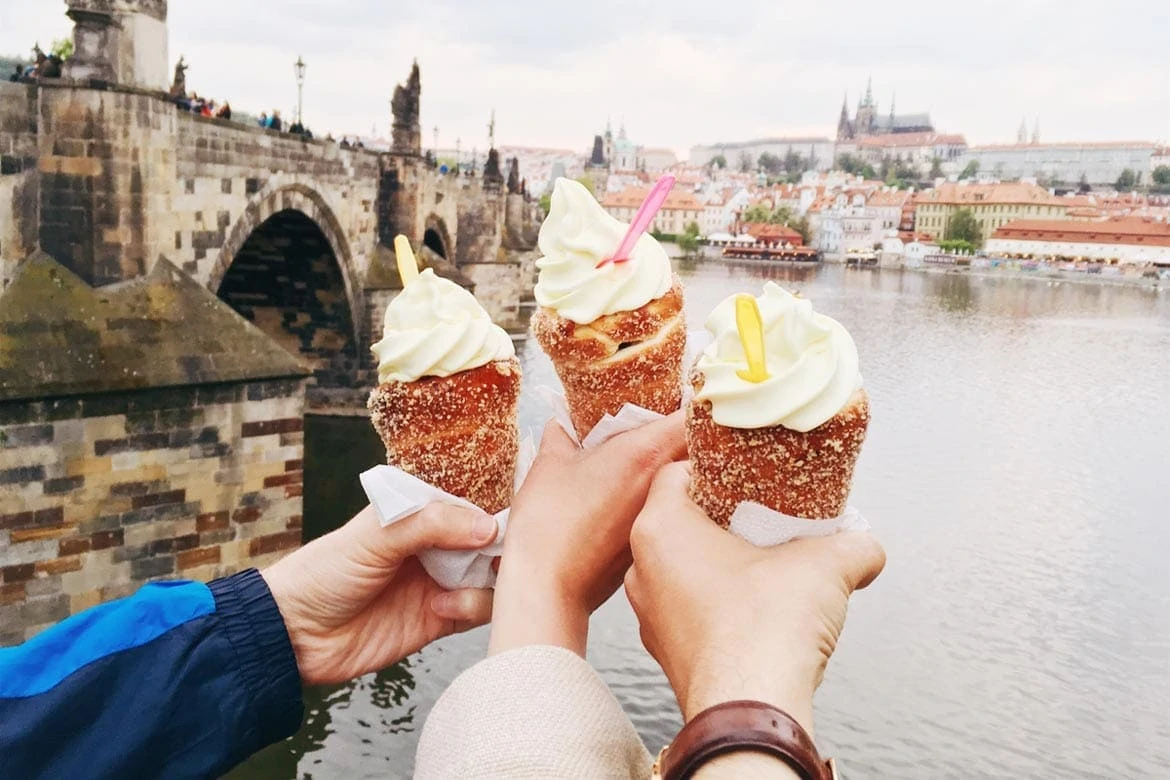 Let's not beat around the bush here, the city doesn't have the best reputation when it comes to food in Prague.
Everyone thinks of big stews with dumplings. Meat meat and more meat. Oh, and lots of beer thrown in there for good measure. Like, lots of beer.
Yes, the food is like that, but it's really delicious too. Hearty and warming, perfect for visiting Prague in winter.
Obviously I'm firmly flying the flag but I actually really like the food in Prague. I could eat goulash all day long.
That's why I wanted to put together this little guide on what to eat in Prague. Trust me, you're in for a treat when visiting here!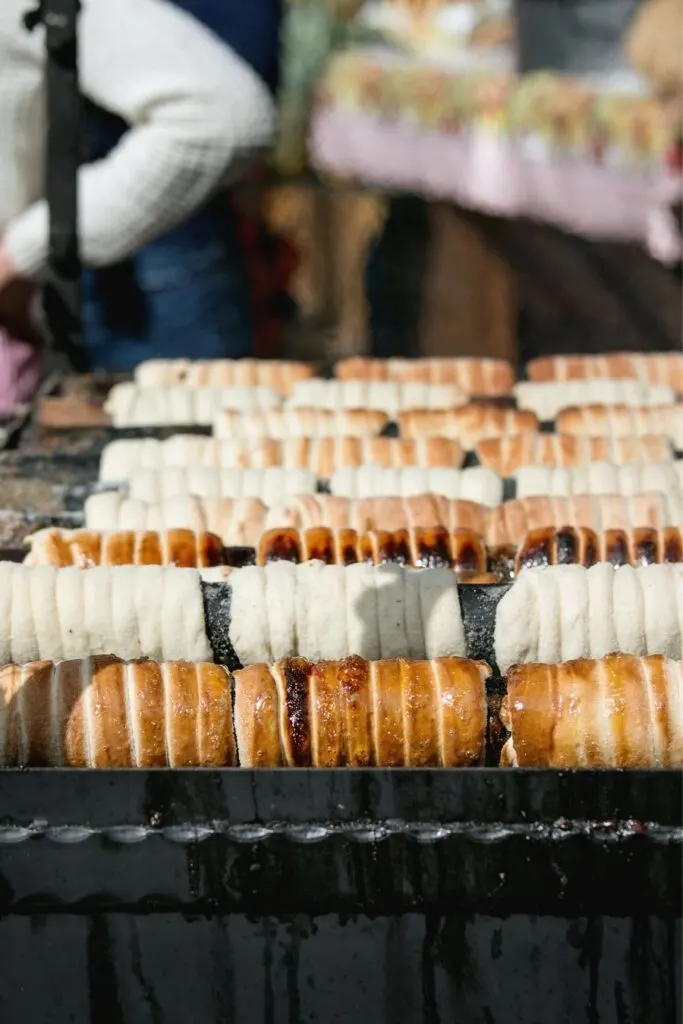 Whether you wish to try the traditional braised beef with dumplings and sauerkraut, enjoy an authentic Czech rolled pastry called trdelnik, or sink your teeth into a huge portion of grilované klobásy, you'll find an abundance of delicious food in the city that'll make you very happy indeed.
For me, whenever I get to a new city I jump on a food tour. I find that's the best way of learning about the local cuisine while finding where some of the best restaurants are too. This is one of the best food tours in Prague where you get shown around by a local, so I'd really recommend this. They really do take you to the best food in Prague!
So, if you're looking at sampling the best the city has to offer, here is my Prague food guide. These are all the best local specialties so get ready to eat your way through the city!
---
What to eat in Prague
1. Trdelník (chimney cake)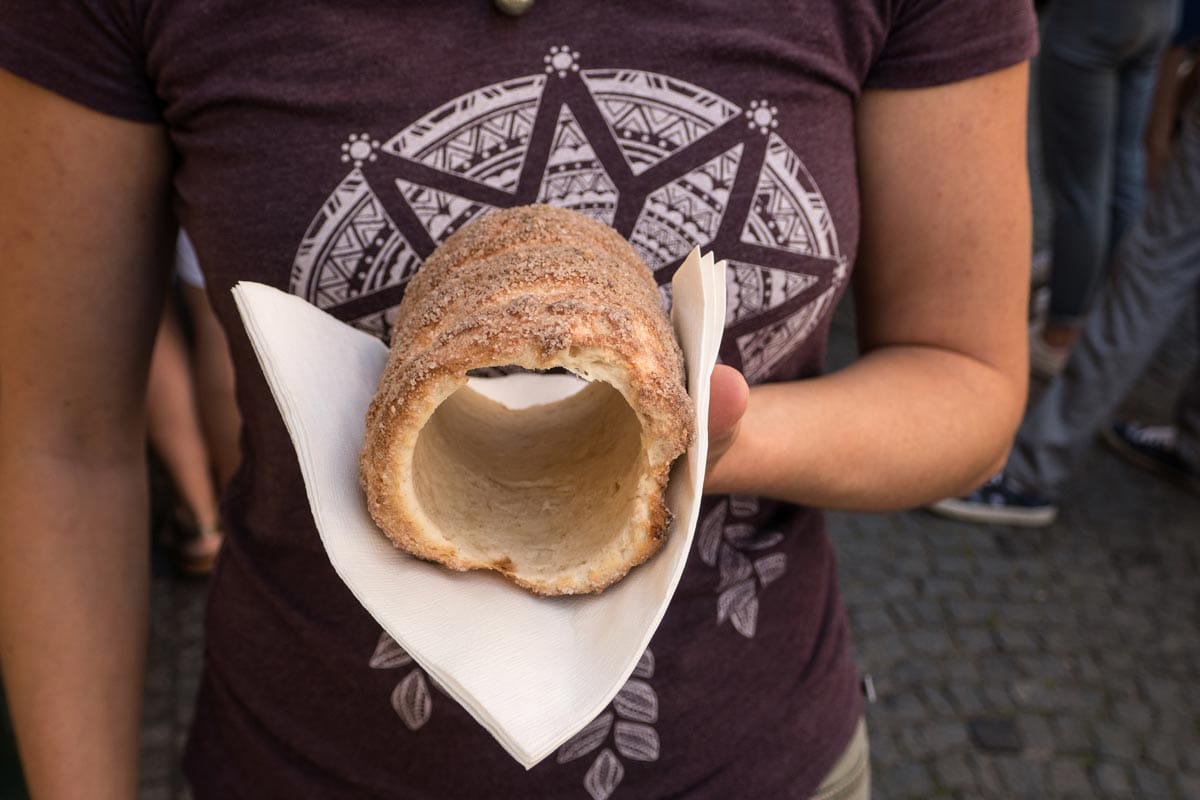 Trdelník actually originates from Transylvania in Romania, but this traditional pastry can be found on every street corner in Prague. Honestly, I actually think it was on every street corner and it's no surprise that this a firm favourite among locals and tourists alike.
Trdelník can be made as a sweet and a savory pastry. It is prepared by wrapping some dough around a stick and then heating the stick over a flame until it the pastry becomes golden brown. The next step is to roll it in cinnamon sugar, brush it with a bit of butter, and spread different fillings inside. I have to admit that watching trdelník being prepared is weirdly mesmerising.
It is sold by numerous street vendors throughout the city and you can also find it in a number of bars and cafes. Usual price is around 60 CZK (€2).
2. Chlebíčky (an open-faced sandwich)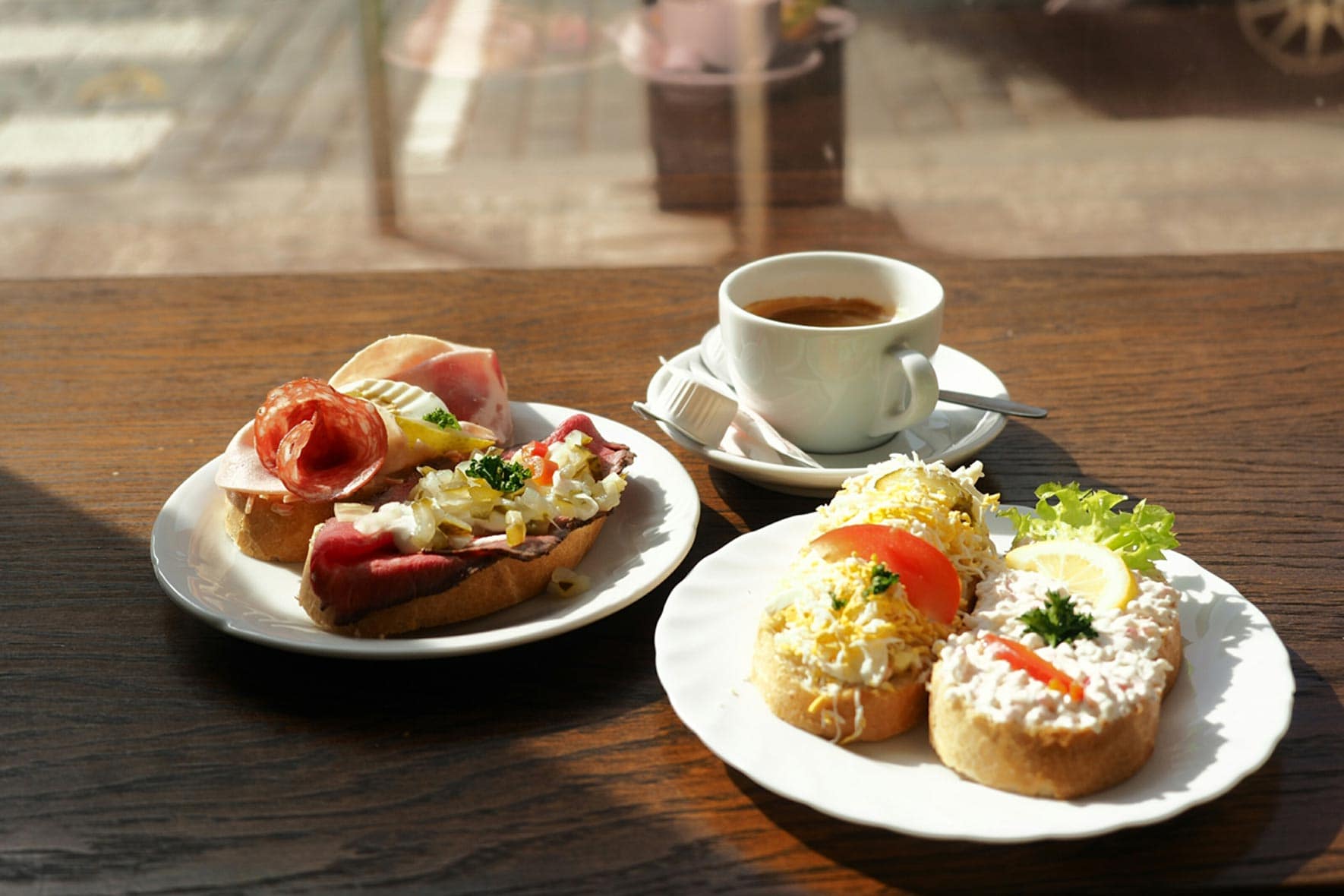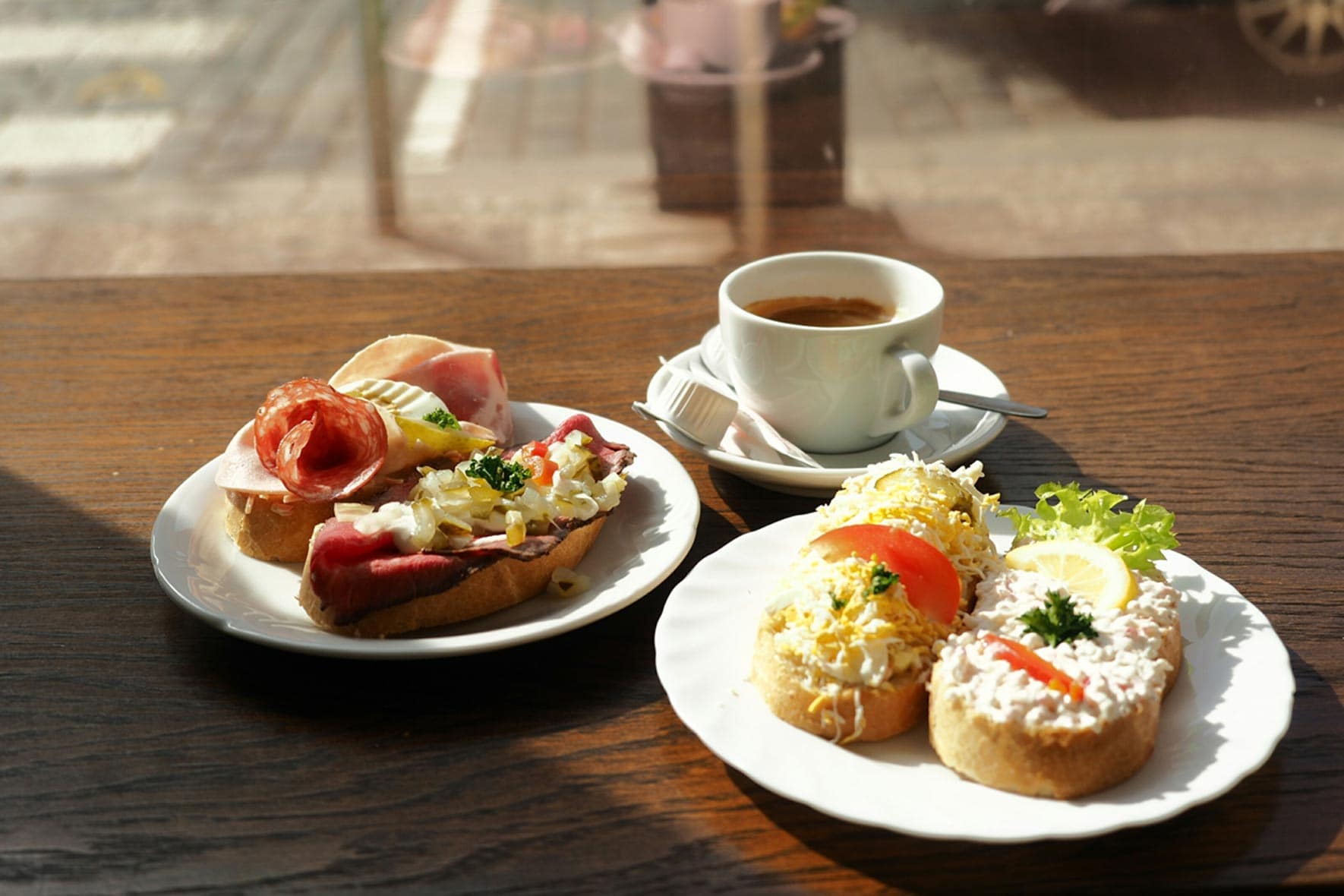 There are so many nice things to eat in Prague and chlebíčky is definitely one of them.
This open-faced sandwich is usually eaten for breakfast or lunch, and locals like to serve it during celebrations and other social gatherings. You will find this baguette-like bread with different toppings like cucumber, egg, salami, and ham at many deli shops across the city.
However, my favorite place where they serve chlebíčky is the Zlaty kriz deli, a local old-school deli packed with locals. There is also the Sisters bistro where you can try a different Scandinavian-influenced version of this sandwich.
3. Goulash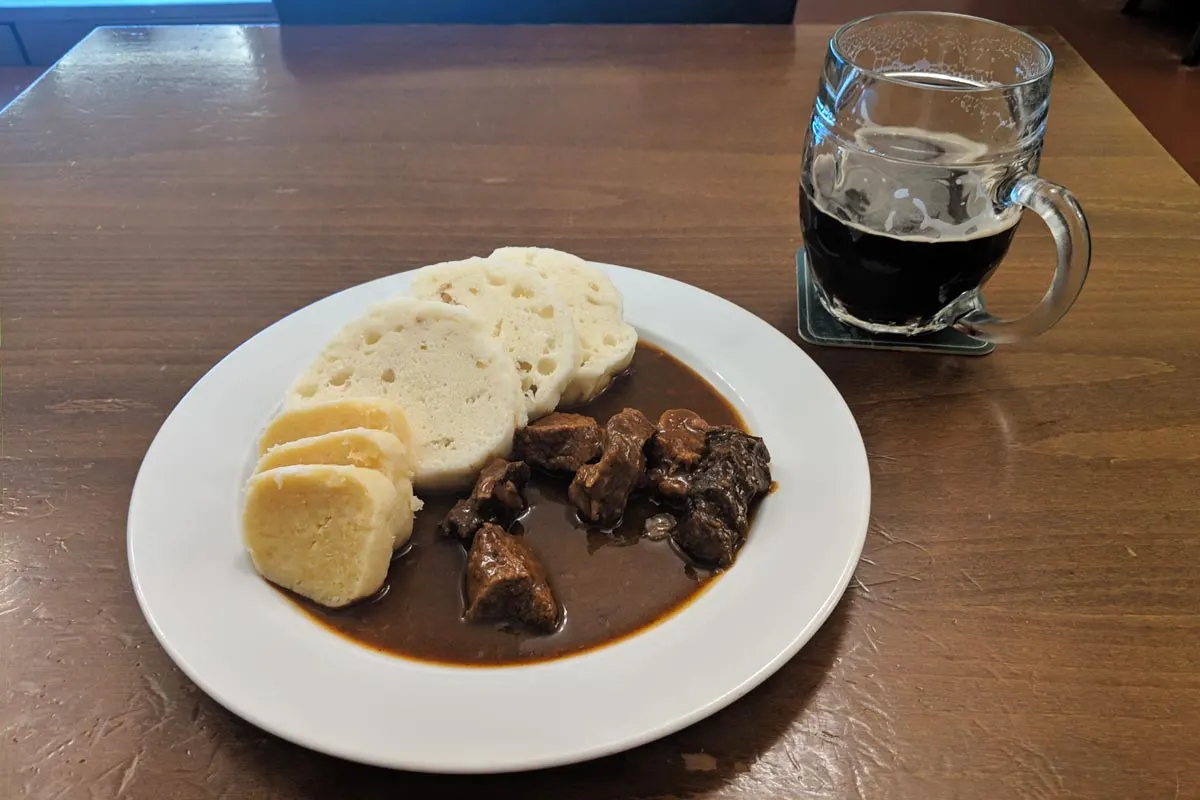 It's always easy to find a nice place where to eat in Prague, especially if you are in the mood for a big bowl of goulash!
There are many versions of goulash in this part of Europe and the dish itself probably originates from Hungary, but the Czech-style goulash is one of the best I've ever had.
Unlike the Hungarian version of Goulash where you have to eat it with a spoon because of its soupy texture, here in Prague they make it thicker, put fewer vegetable, and serve the dish with dumplings.
Keep in mind that goulash can be spicy because of all the dry paprika. There are many restaurants that offer bowls of this heavenly dish, but my favorite ones are Mlejnice and Mincovna restaurant. This is one of those traditional Czech food you just have to try in Prague.
4. Grilované klobásy (grilled sausage)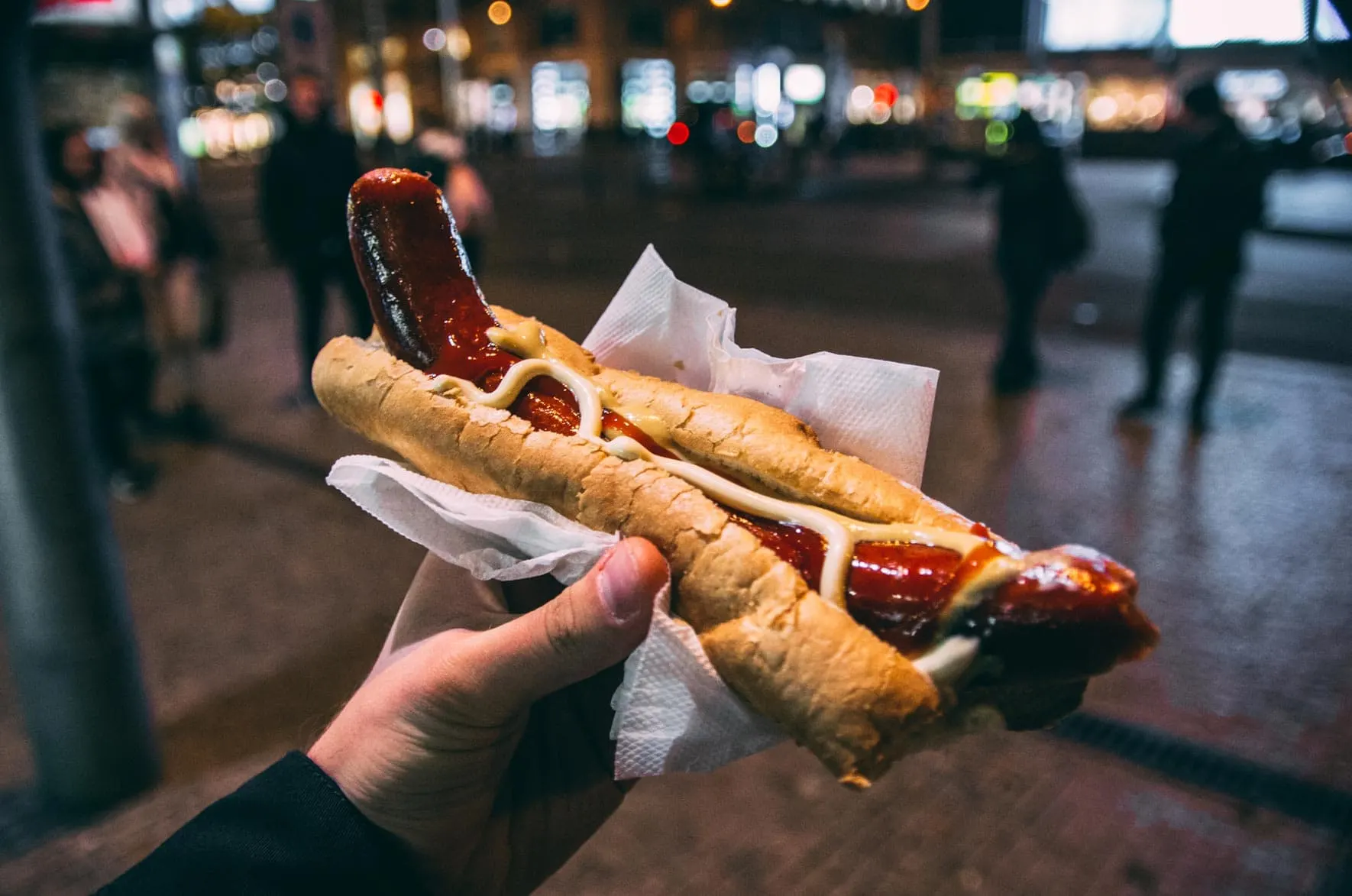 No Prague food guide would be complete without mentioning the fabulous grilované klobásy. It's basically grilled sausages which are placed inside a roll and served with a bunch of different sauces.
Expect to find dozens of food stalls and beer gardens across the city selling these tasty sausages. Of course, there are a couple of varieties of grilované klobásy, but in most cases they include mustard and bread. They go perfectly together with a glass of a cold Pilsner beer (trust me on that one!)
5. Palačinky (Czech pancakes)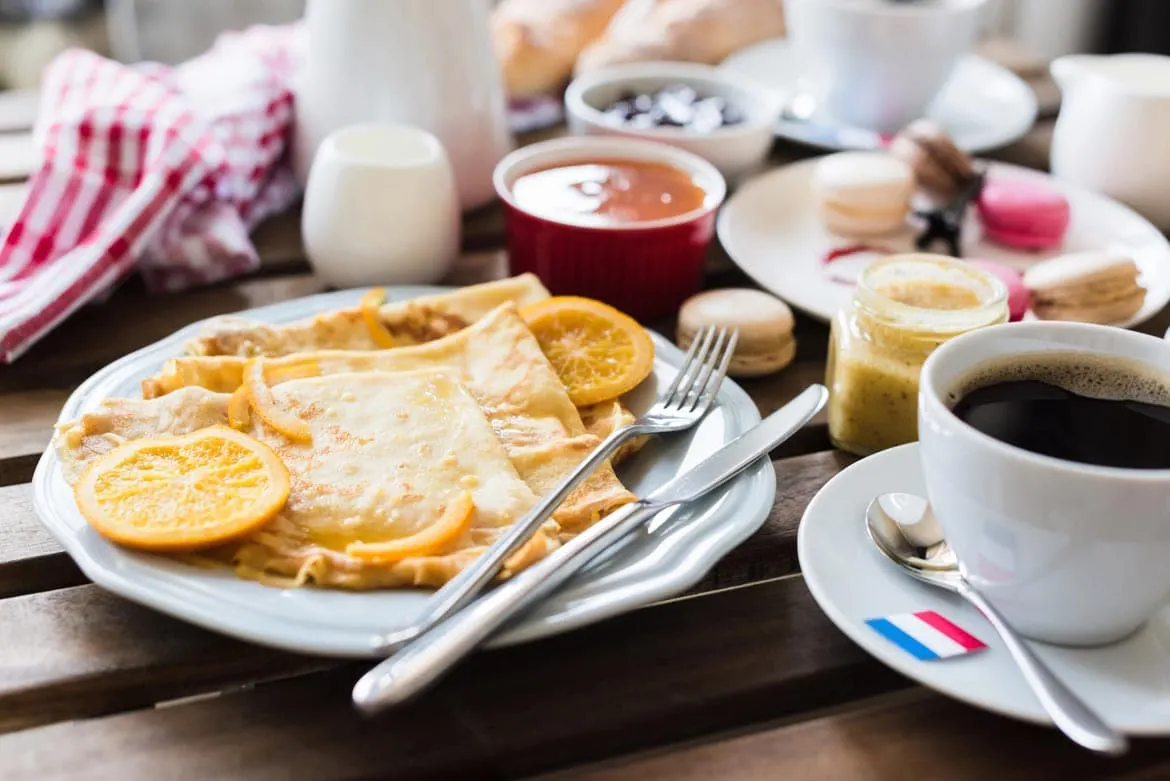 Let me introduce you to palačinky, thin Czech pancakes similar to the French crepes.
They are usually served as a sweet dessert and topped with a variety of fillings like jam, ice cream, nuts, sweet cheese, whipped cream, and fruits. There is also the savory version of these pancakes which includes toppings such as spinach, meat, or cheese.
Many cafes in Prague serve them, as well as numerous food carts in the Old Town Square. The locals here will probably tell you that the presentation of palačinky is very important and that they should be rolled up in the shape of cigars!
6. Svíčková (braised beef) with dumplings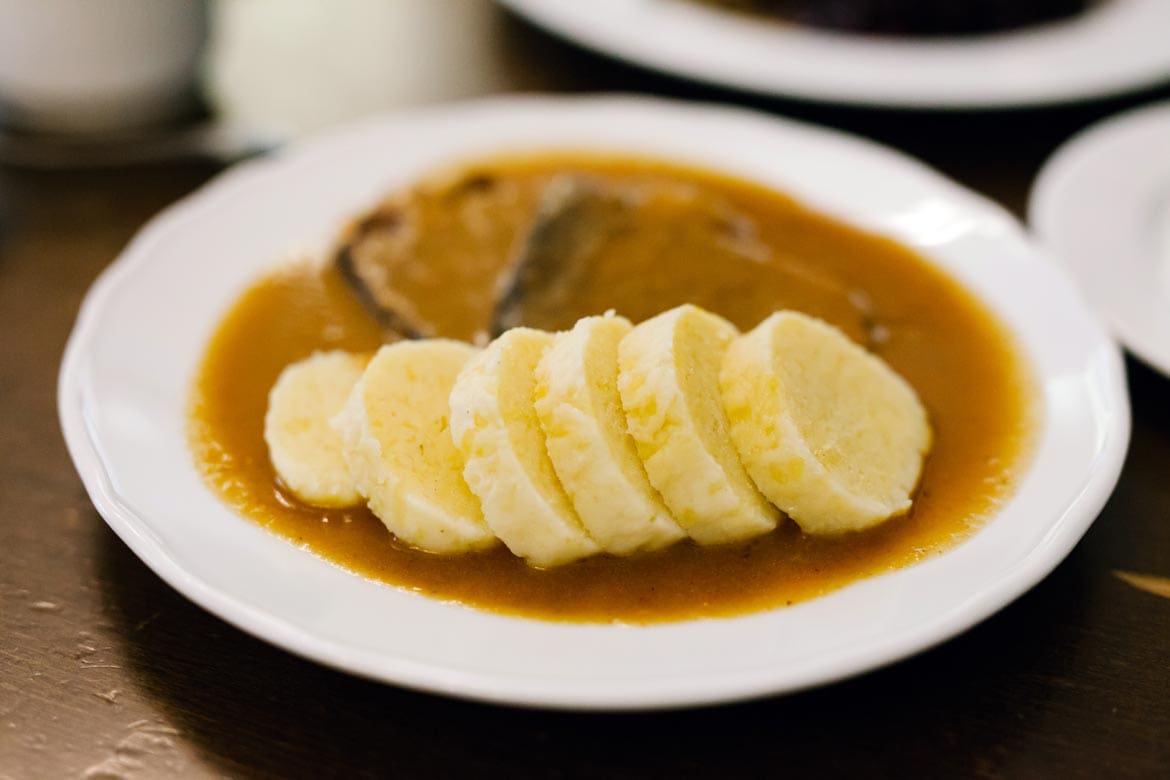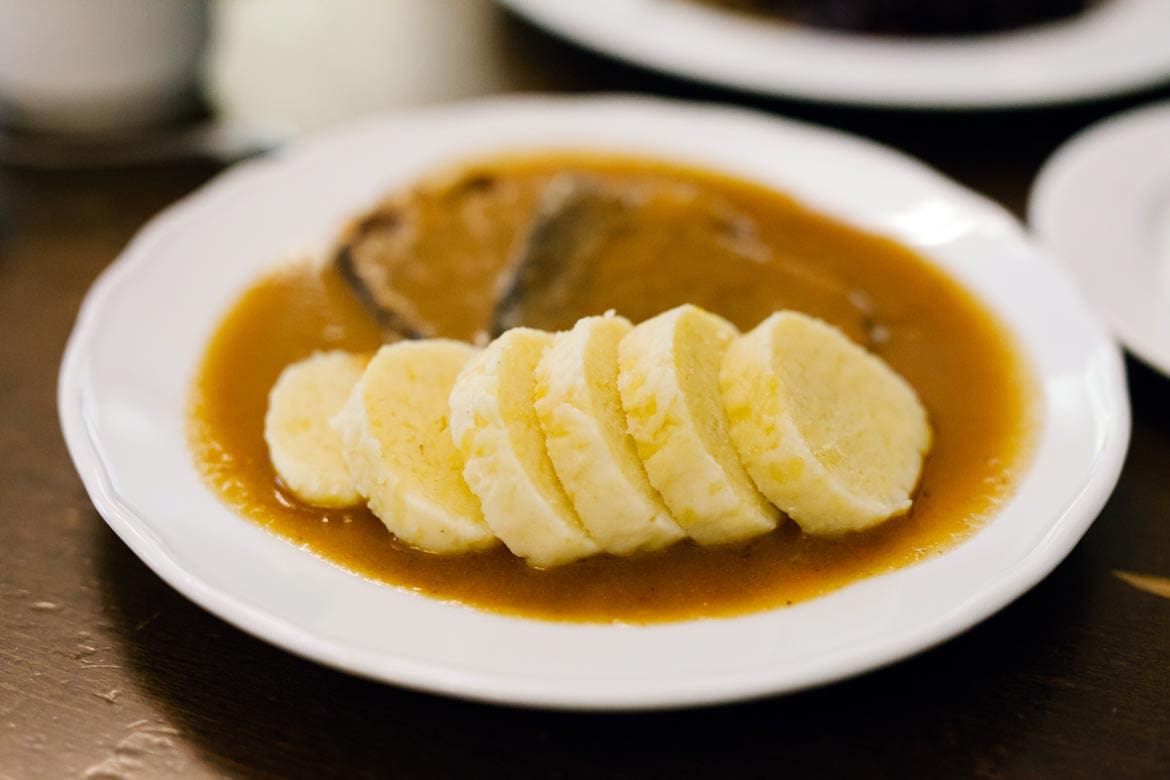 Svíčková is probably one of the most famous dishes in Prague and no visit to the city is complete without trying this beef eye fillet which is cooked in a mix of vegetables. However, this dish is kind of difficult to make and it takes a couple of hours to prepare it.
Svíčková is made of thin slices of beef seasoned with a sweet sauce which is prepared from parsnips and carrots. It is usually served with boiled bread dumplings, a bit of cream, a slice of lemon, and in some places, even with a couple of cranberries.
The thing about svíčková is that everyone uses a different recipe which they think is the best. I liked the version of this dish at Café Louvre and at Smíchovské Vidličky a nože which was very traditional!
7. Gingerbread at Perníčkův Sen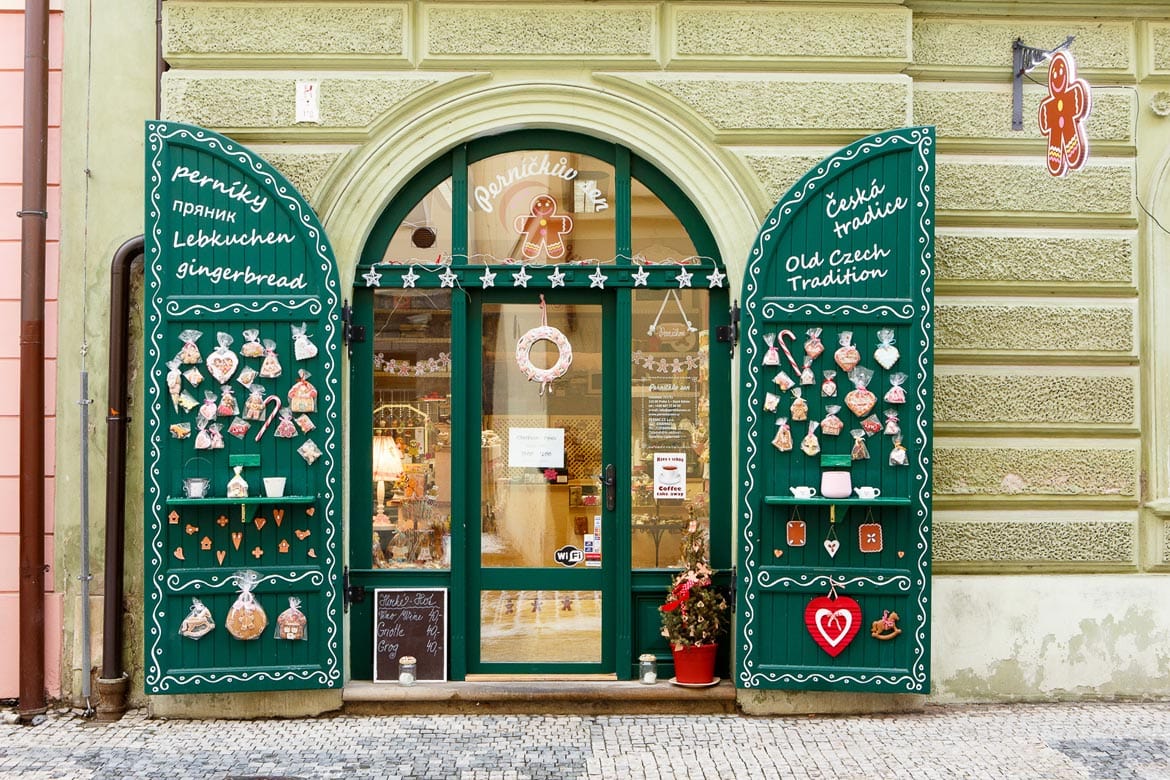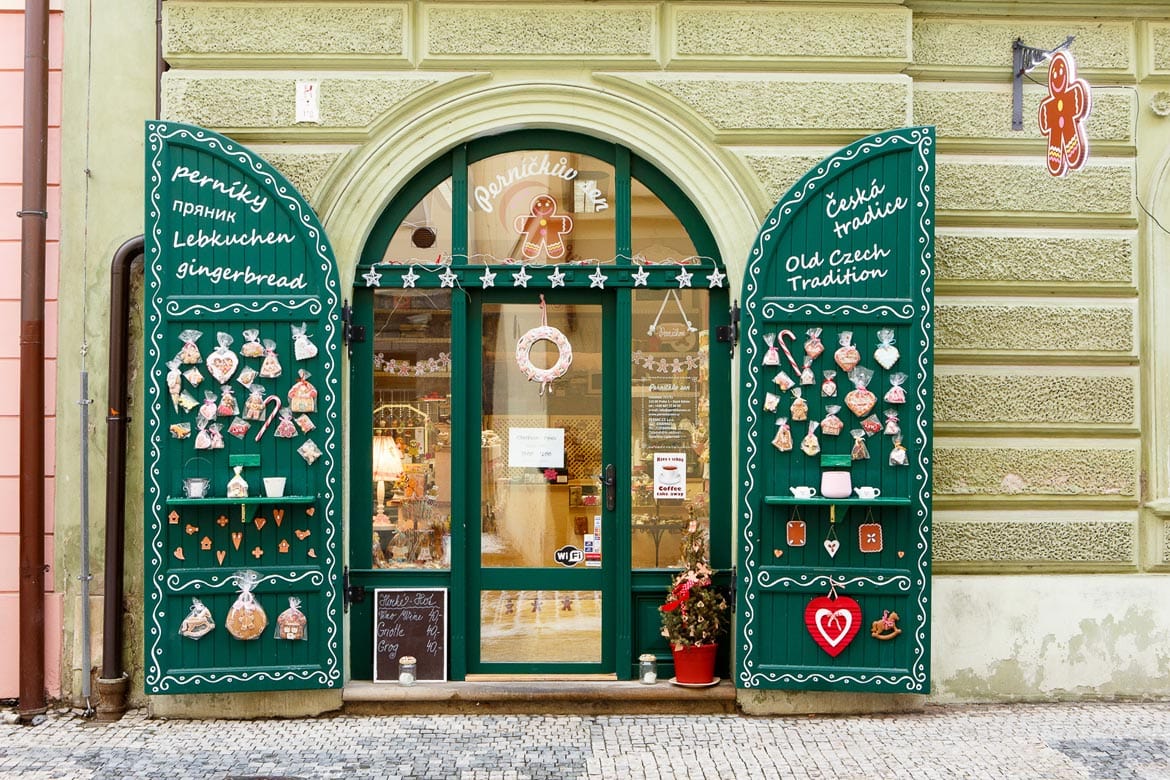 If you are in the mood for some local gingerbread while visiting Prague, make sure to stop by Perníčkův Sen. This is a small shop that serves traditional Czech gingerbread in various shapes and sizes.
Whether you wish to try gingerbread covered in chocolate and filled with jams or wish to order it with almonds, nuts, and chocolate, Perníčkův Sen has it all and more.
Besides gingerbread, this lovely shop also sells aprons, cakes, cookies, and other popular Czech sweets. You can also arrange a custom order piece that includes names of your loved ones; perfect for a present.
8. Traditional Czech cuisine & beer at Lokal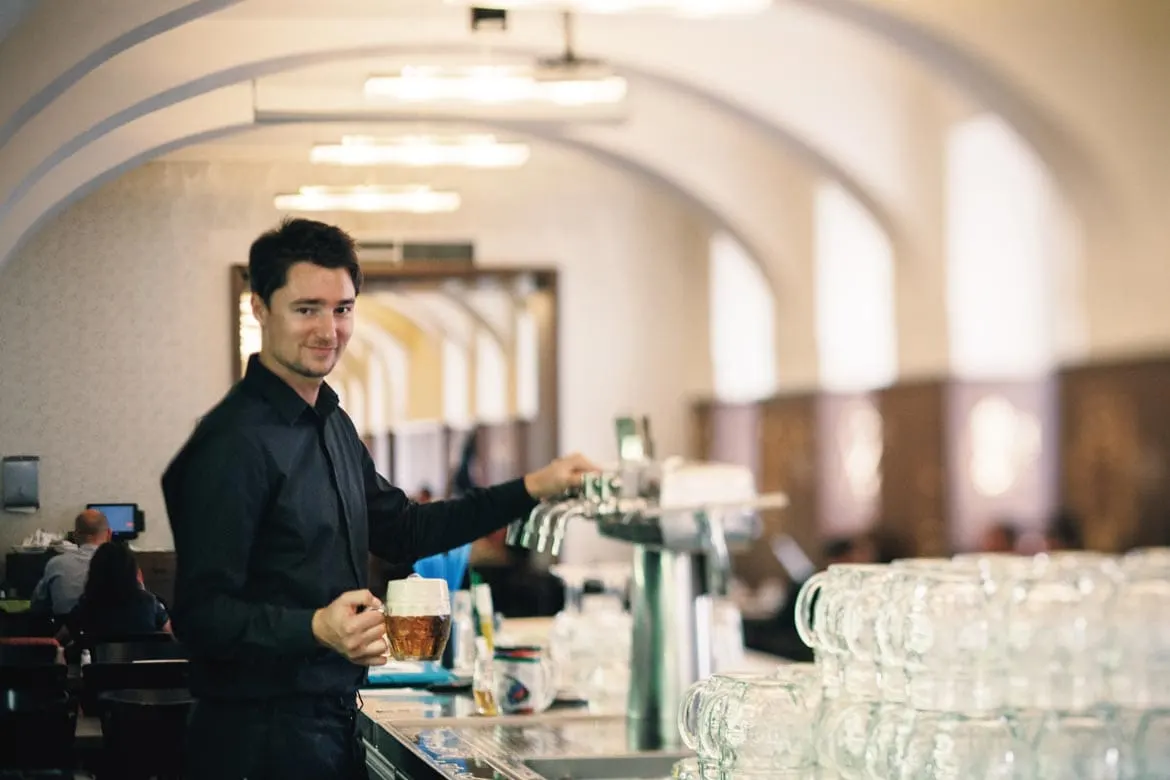 Everyone will tell you that Lokal is the best place to go in Prague for authentic Czech style cooking and classic pub food. This chain of stylish gastro-pubs has 6 locations in the city and is popular both with locals and tourists. It's also fantastic value for money too!
From Gothaj salami and chicken paprikash to Prague hams with creamy horseradish and Přeštice sausage, every dish prepared here melts in your mouth. What I really liked about this place is that all the smoked meats they serve and made at their very own butcher shop.
Alternatively, this is an amazing beer tour where you learn all about beer in Prague. It also includes a traditional Czech dinner at the end of it too which is a bonus!
9. Dumplings (both savory and fruit)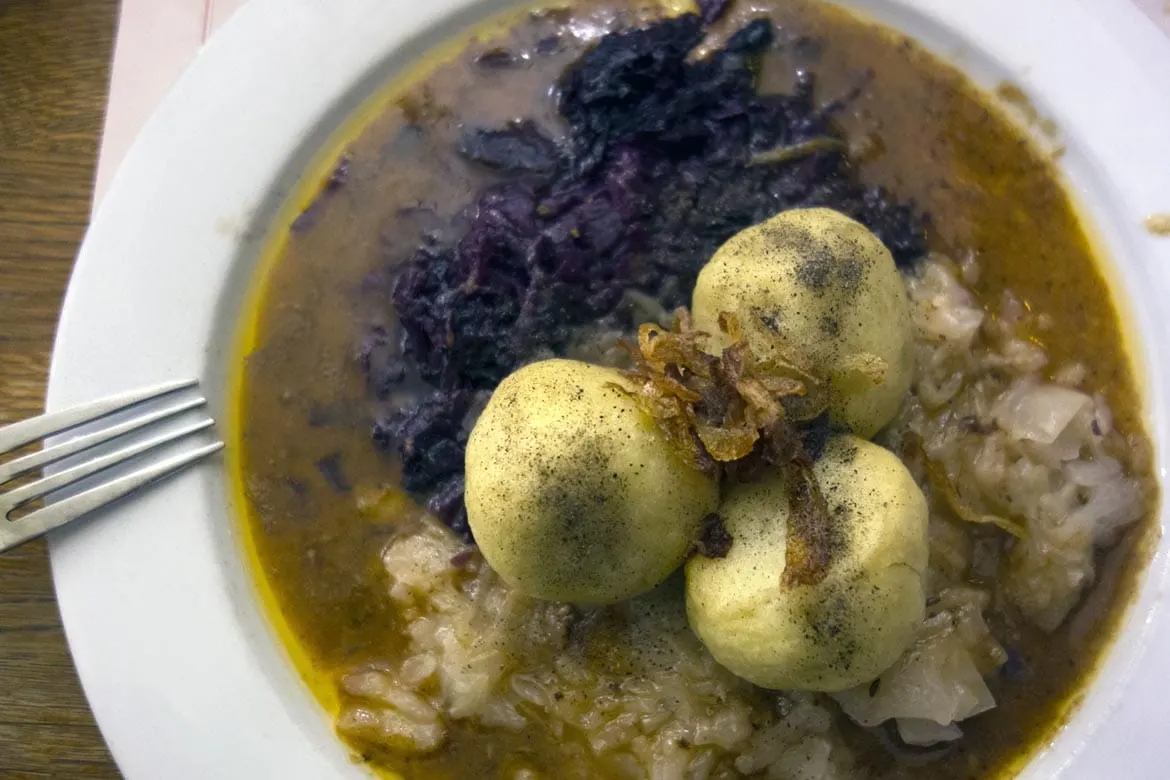 Where to eat in Prague when you are craving dumplings? Fortunately, dumplings meals are pretty much everywhere in Prague. The most popular meals with dumplings are raiska, goulash, and svičková.
Since I've already mentioned goulash and svičková, it would be fair to say something about raiska omáčka. This is basically beef with sweet tomato sauce and dumplings. The soup is usually made by using chopped tomatoes and tomato paste, where you add the cooked beef, add a variety of spices.
There are also fruit dumplings which are sweet. From strawberry and apricot to blueberry and jam dumplings, there are plenty of versions to choose from. The only downside of dumplings is that if you eat too many of them, you'll probably feel like you have a brick in your stomach for a couple of hours. Don't even think about the number of calories these bad boys have.
10. Pickled cheese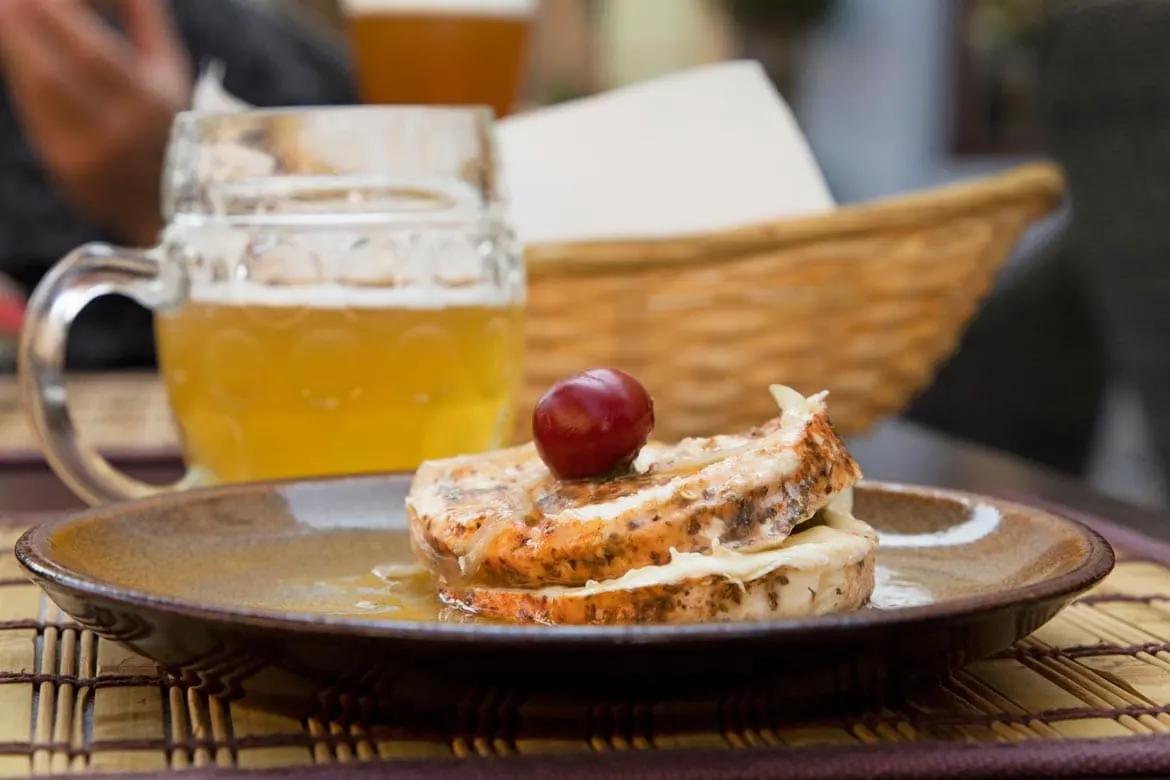 Looking for unique things to eat in Prague? Make sure to try some pickled cheese while staying in the city!
Nakládaný hermelín in Czech, pickled cheese is a classic bar snack found all around the city. It is often served with onions, peppers, and some dark bread. Obviously you have to have a beer with this snack (it is Prague) but I reckon this is the one dish that will really surprise you about Czech cuisine.
11. Pork knuckle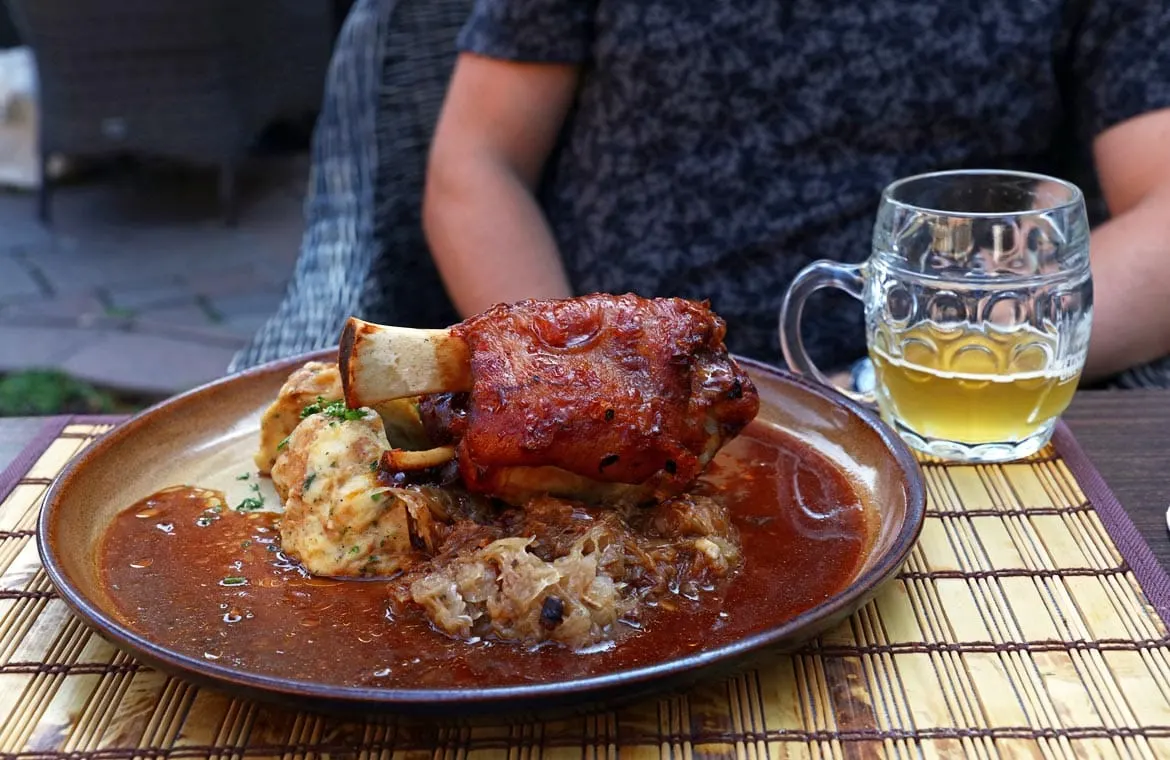 Pork knuckle is probably the most famous dish in the Czech cuisine. It may not look pretty but the taste of this is fabulous. For me, this is what traditional Prague food is all about – it's not pretty but it is damn tasty!
They usually boil the meat, marinate it in some herbs, pour some nice dark beer, and then let it roast. Here in Prague, pork knuckle is usually served with horseradish, mustard, and pickled vegetables. If you are thinking about what to eat in Prague then you've definitely got to try pork knuckle!
12. Moravian wine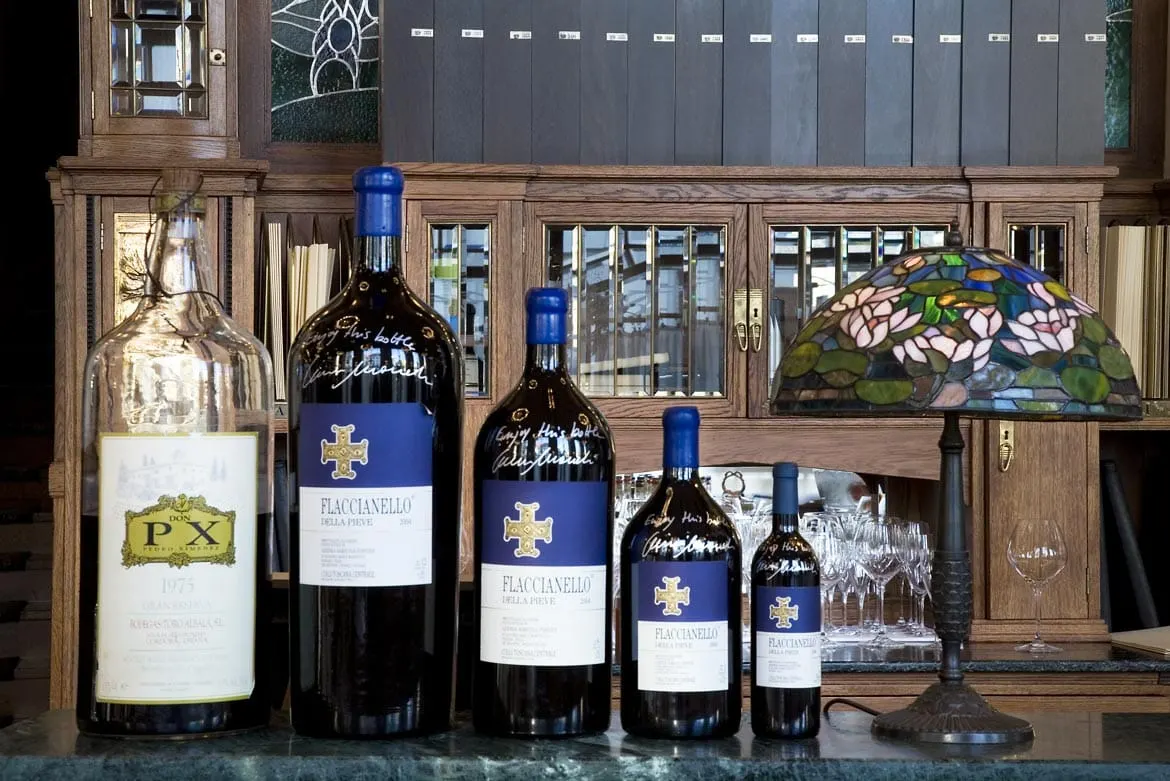 Although it may seem that everyone drinks beer in the Czech Republic, there are still many people who appreciate a nice glass of wine. And I'm not talking about imported wines from Italy or France, I am talking about the local Moravian wine that you can find in Prague.
An interesting fact is that more than 90% of Czech wine comes from Moravia, a traditional region with hundreds of lush vineyards just 150 miles away from Prague.
What's also interesting is that some of the vineyards are located on castle grounds. So, if you fancy a glass of wine, go to the Vinograf wine bar near the Charles Bridge where they have the biggest selection of wines from the Moravia region.
---
If you're interested in learning more about Prague and why this is such a fascinating place to visit, then check out my fun facts about Prague here!
Which one of these Prague dishes would you most like to try? Let me know in the comments below!
Like this blog post? Then make sure you Pin it!