You know the debate between the window vs aisle seat on an airplane? Well these are the definitive reasons why the aisle seat is the best seat on a plane!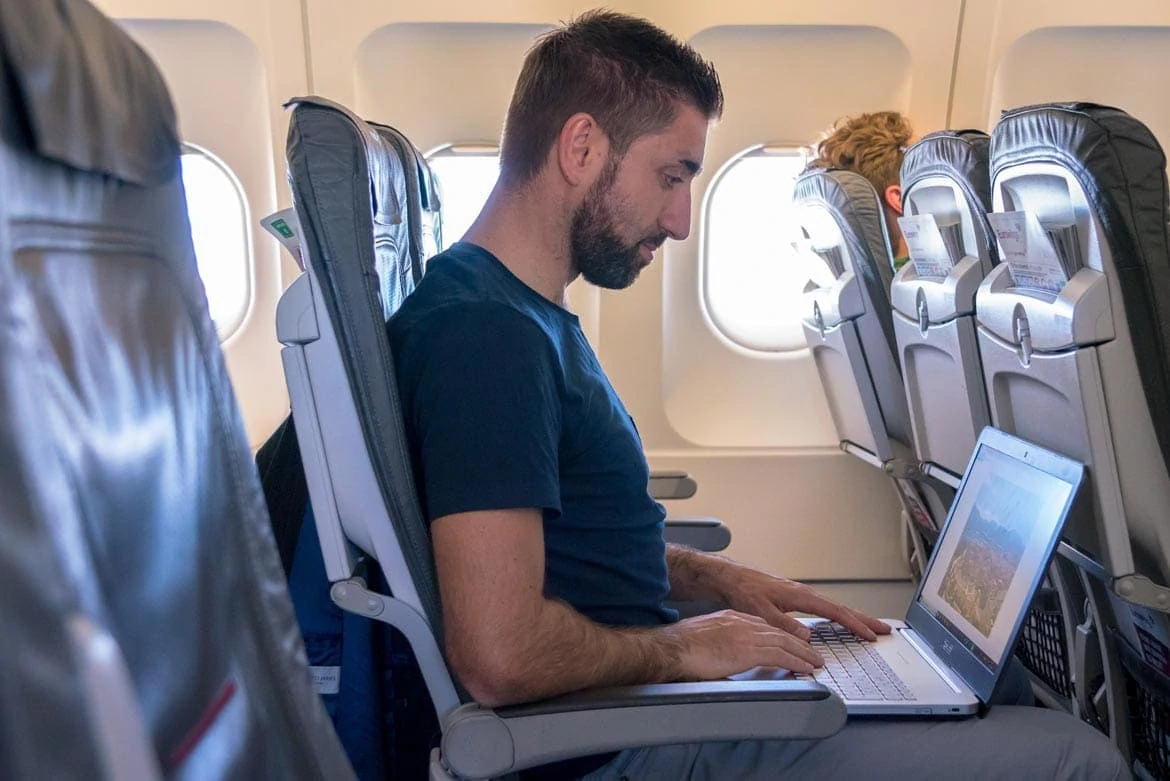 I feel like this is a debate that's been going on since commercial airlines started flying 100 years ago but I'm here to put the debate to bed – the best airplane seat by a million miles is the aisle seat. Why? Well I'm about to tell you.
I would like to say I'm one of the lucky few who get to travel a lot. Maybe a bit to much information, but I was conceived in Jordan, I went on my first "holiday" at just 4-months-old and I've basically been travelling ever since. I feel like I've clocked up a lot of experience over the last 34 years of travelling around the world.
I've done everything from short 40-minute hops from London to Amsterdam to epic 40-hour round the world trips, all while trying to work out where's best to sit on a plane for maximum relaxation and comfort.
Basically, what I'm trying to say, is I feel like I know what I'm talking about.
Now this isn't an old debate. In fact, I'm actually firming flying the flag for the airplane aisle seat over on the Thomas Cook Airlines blog at the moment.
They really wanted to find out which seat was better and which one people preferred. Well, I am in the red corner promoting the aisle seat.
Thomas Cook Airlines asked the question on Twitter and these were the results:
We asked newly engaged travel-blogging couple @WanderlustChloe and @anadvworld to help us settle the window vs aisle seat debate. She votes window but he says aisle. Who has you convinced? #TCAWindowSeathttps://t.co/eLkYF4THYi

— Thomas Cook Airlines (@TCAirlinesUK) May 21, 2019
How can 68% of people be so wrong! Come on guys, what are you thinking!
To help change you mind, these are the definitive reasons why the aisle seat is in fact the best seat on the plane.
I'll trust you'll make the right decision the next time you fly…
1. You have extra leg room
Yes, you really do. Now I'm not a tall man by any stretch of the imagination but even I like to stretch out.
By choosing the aisle seat you've got all of the wonderful space next to you for some extra leg room – this is such an important point if you're a big or tall person.
Also, if you're on a budget airline then I promise you it's all about the plane aisle seat.
2. Quick access to the toilet
Even if I'm a camel and I hardly drink anything all day, I always find I need the toilet as soon as we've taken off.
Being very British, I just hate being that guy who disturbs someone while they're trying to get some shut eye saying "excuse me, can I just delicately climb over you while I pop to the toilet?" Much better to avoid the whole situation and just go to the toilet whenever you want. For peace of mind I love it.
3. Quick access to your bag & equipment
Being a travel blogger, you can imagine how much stuff I have in my bag. There's my camera, laptop, memory cards that need to be backed up, blog posts that need to be written.
When I'm on a plane I'm often working, and it's great being able to quickly jump up and grab something from my bag. Makes my work a lot easier I can assure you.
4. You get off the plane faster
Also, another reason why I love the airplane aisle seat is how quickly I can get off once we've landed. When you travel a lot, those extra few minutes you have at home because you got off the plane quickly can add up a lot. It's the small things, right?
Do you struggle sleeping on a plane? Then make sure you check out my top tips for sleeping on a plane to help you out!

5. You get more food & booze
This is actually a thing, but I've found if you're in the aisle seat you speak to the flight attendants more. If you speak to them more, they like you more.
That means when you ask for extra food and booze they're more likely to give it to you. It's a lot easier than trying to shout something you want from the window seat that's for sure!
6. More space to eat
When it comes to eating on a plane I absolutely hate being in the middle seat as there's just no room to eat your food. With an aisle seat, it's great having that little extra space to be able to stick your elbows out and use your fork. Makes a huge difference and means you can actually enjoy your food.
7. It's a lot easier to get up and exercise
If it's a long flight of more than 6 hours nothing can be worse for your body than just sitting there not moving. Obviously deep-vein thrombosis (DVT) is a concern when flying long-haul and it's always recommended you stretch your legs and get the blood pumping a few times in a flight. If you've got an aisle seat then it's a lot easier to get up and exercise.
Here are my essential tips on staying healthy while travelling!

8. Life's less stressful when travelling with kids
If you're travelling with children then the aisle seat is the one for you. This is mainly because you'll be able to get up quickly if shit hits the fan (both metaphorically and literally there).
Nothing can be worse than not being able to take care of your child when you've got one or two people in the way of you making it to the toilet or not.
9. The aisle seat is better in an emergency landing
Fingers crossed (touch wood, throw salt over your shoulder) that this never happens to you, but an aisle seat is better positioned for getting to an emergency exit.
They say in an emergency you've got 90 seconds to get to an exit. That's the critical time to get off the plane. And it's a lot harder to do that if you're wedged in by the window.
10. Statistically the aisle seat is the best seat on a plane
Did you know that statistically the aisle seat is more popular? Apparently 7 in 10 frequent air travellers prefer the aisle seat as opposed to the window. So you see, it's not just me!
---
At the end of the day, the whole window vs aisle seat is down to preference. It's what you're most comfortable with. For me though, after clocking up countless flights, I know what I prefer…
This post is in association with Thomas Cook Airlines to spark up a bit of a debate. As always, views are entirely my own and without bias.
Which side of the debate do you fall on? Do you prefer the window seat or the aisle seat? Let me know in the comments below!
Like this blog post? Then make sure you Pin it!