From classical elegance and groovy 70's décor to bold modern design and funky houseboats, these are the best boutique hotels in Amsterdam!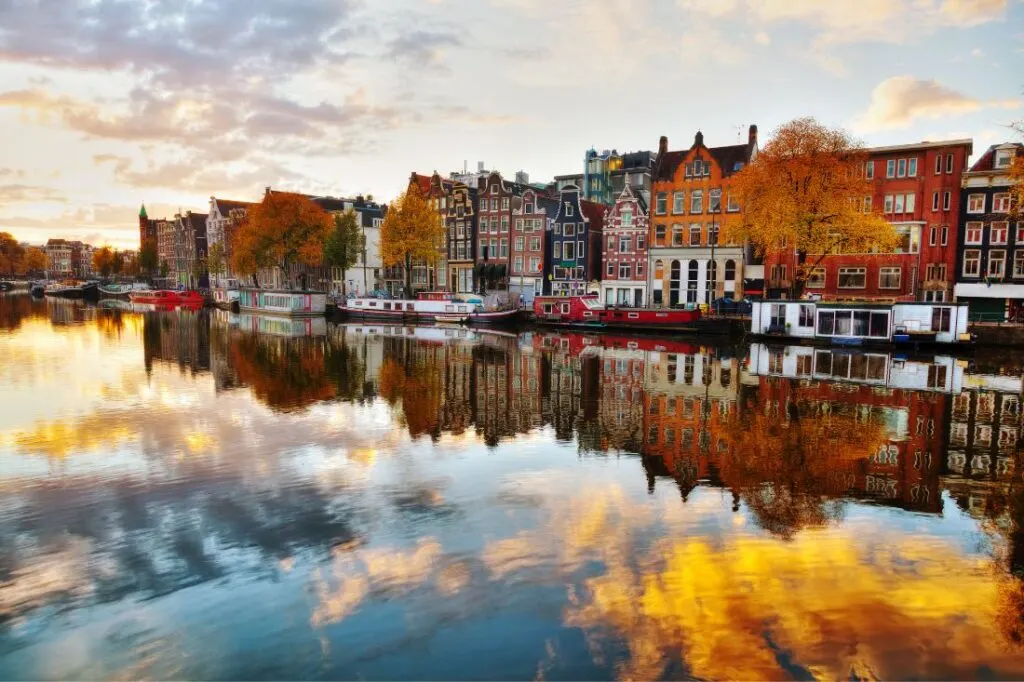 Bicycles, stroopwafels, tulips and canals: Amsterdam is a city that is famous and beloved by many, and for good reason. Truly a city that never sleeps, you'll always find something going on no matter the hour.
With a city as vibrant and happening as Amsterdam, it is important to make sure you get a good night's (or day's) sleep. Which is why I have created a list of the best boutique hotels in Amsterdam for you.
There are some incredible Amsterdam hotels to choose from. Enjoy luxurious lodgings on the canal at The Dylan, or get your 70's groove on at Hotel V Fizeaustraat.
Or, for something truly unique, try the mind blowing experience that is Crane Hotel Faralda. Here you are treated to marvellous views from a luxuriously converted crane. Yes, you read that correctly.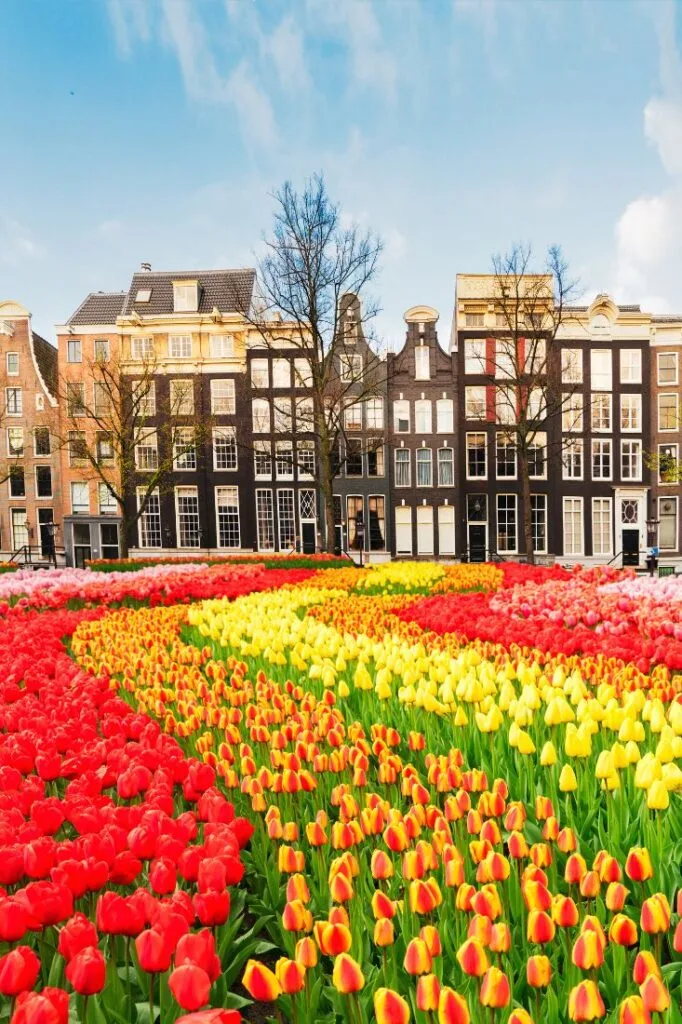 With so many great choices, it can be hard to know where to start looking.
This is why I've created a list with some of the best Amsterdam boutique hotels. I've also included a quick guide on some areas that are popular to stay in. Read on and start dreaming about your next Amsterdam adventure.
Looking for more Amsterdam inspiration? Check out my guide to on the best things to do in Amsterdam in summer. Also, I've got this amazing guide on the best Amsterdam food you have to eat when in the city!
Where to stay in Amsterdam
Centrum (City Centre) – The historic centre of Amsterdam, full of romantic scenes of bikes chained to bridges, canals lining the streets, and tall, thin houses all in a row. Home to the Red Light District and other popular attractions, centrum is where to stay to be where the action is.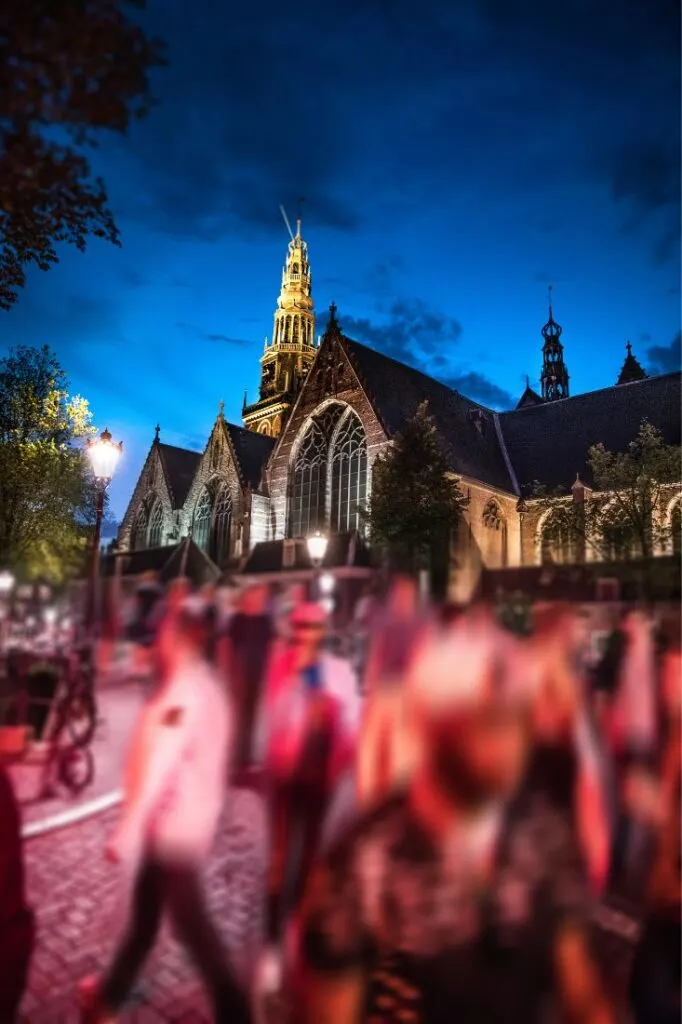 MuseumKwartier (Museum District) – Located just to the south-west of the centre, the museum district is close enough to walk everywhere, without having party goers at your doorstep. As you can guess, this is also where you'll find the best museums including the Van Gogh museum and Rijksmuseum.
Amsterdam Oost (East) – A diverse area with an industrial history, Amterdam Oost has it's own vibrant style. There are plenty of restaurants and bars in the area, as well as some excellent Turkish bakeries.
Amsterdam Noord (North) – Generally quieter and more laid back than its southern neighbours across the river. Amsterdam Noord has idyllic villages with traditional houses, working farmland and picturesque canals. Thanks to the free and frequent ferry, it's an easy ride to the centre.
---
The Best Boutique Hotels in Amsterdam
Luxury Hotels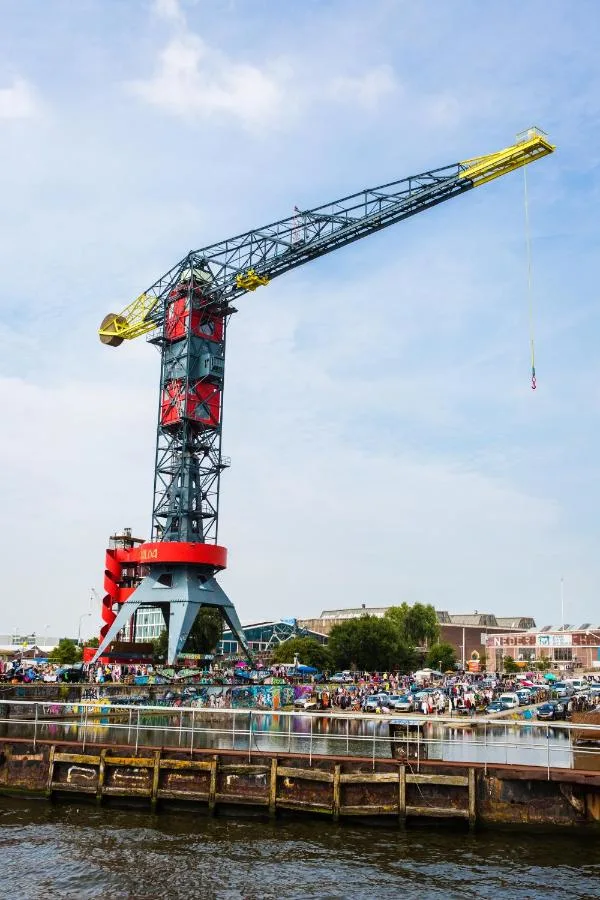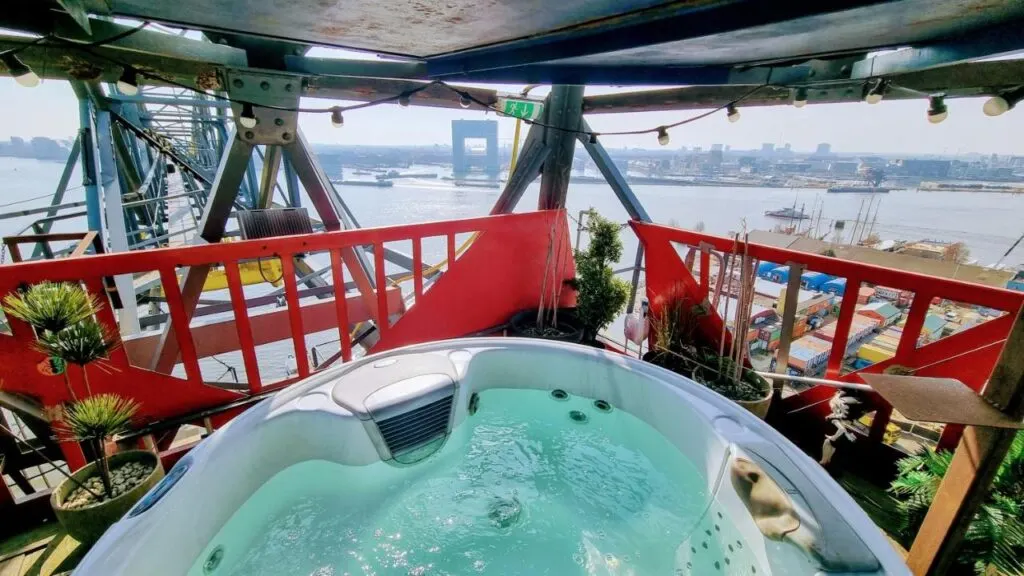 One of the most unusual yet spectacular boutique hotels in Amsterdam is to spend a night high in the sky at Crane Hotel Faralda. In all senses of the phrase, this hotel is above and beyond.
Built in a literal crane and split over two floors, this luxury accommodation is surprisingly plush and classy. Enjoy views over the IJ while you soak in a hot tub, and don't miss out on the Prosecco breakfast! The inside of this unique hotel is really quirky too – it really is a once-in-a-lifetime type of place!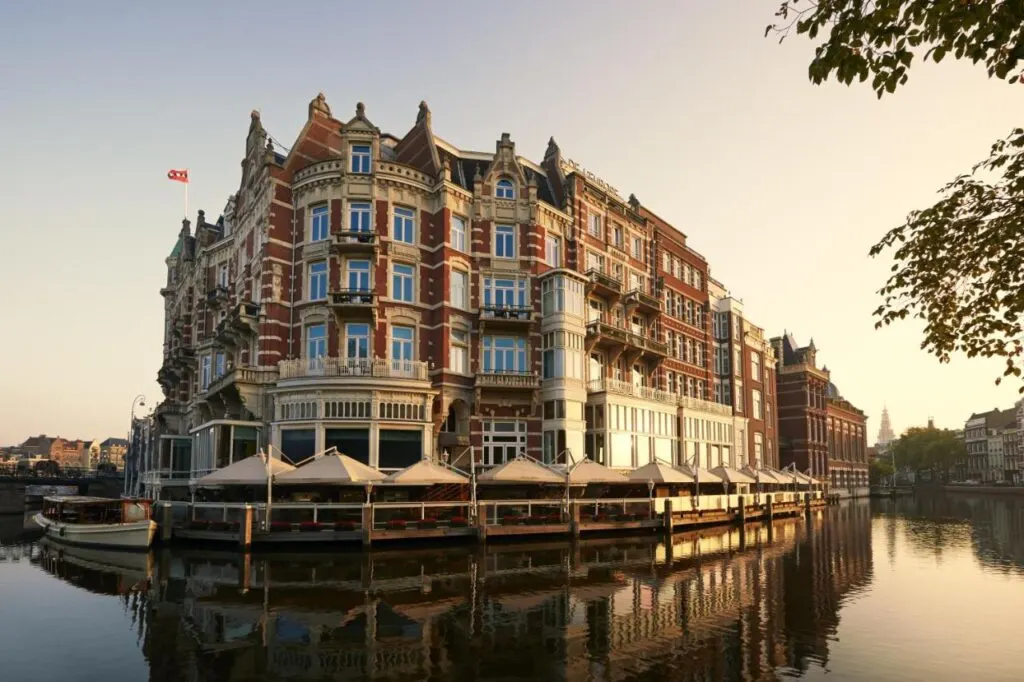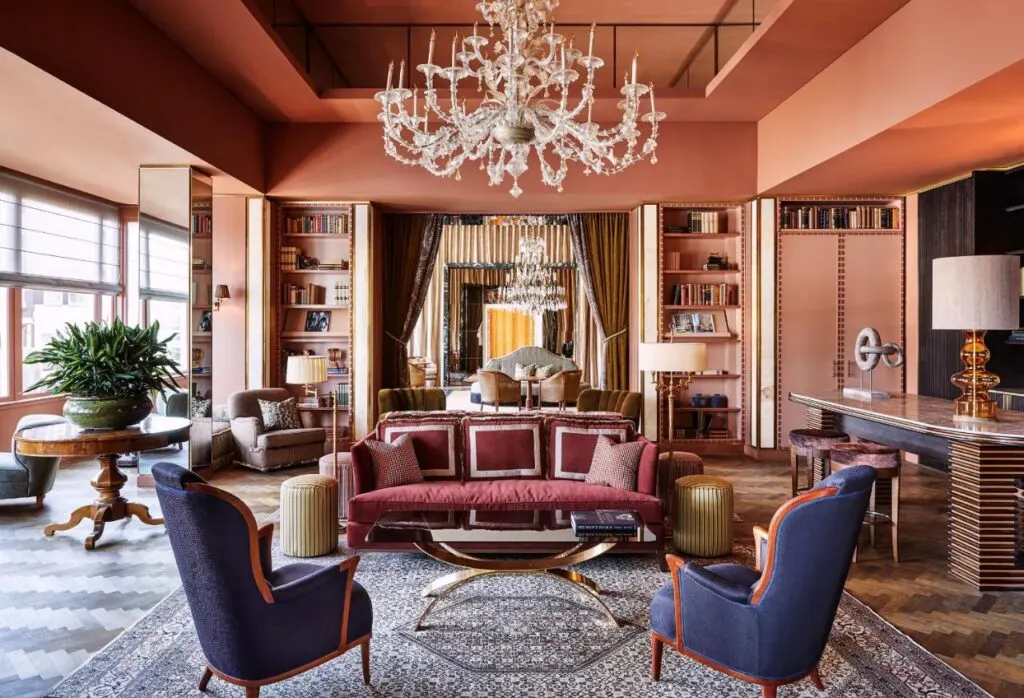 Stay right on the Amstel river in the historic centre of Amsterdam at the luxurious De L'Europe. Gorgeous outside and in, this elegant hotel features marble walls, chandeliers and antique furniture, as well as its own wellness spa, bistro, and bar.
One of my favourite things about this hotel is their amazing in-house two Michelin Star restaurant Flore. Be sure to spend a decadent evening delighting your taste buds with their mouthwatering seasonal dishes.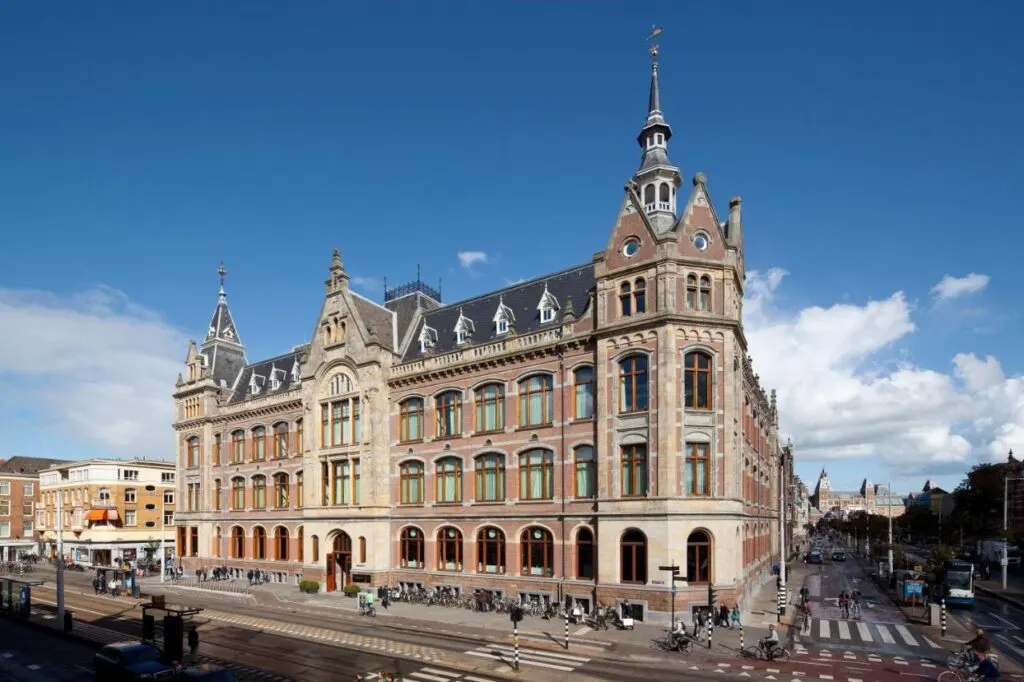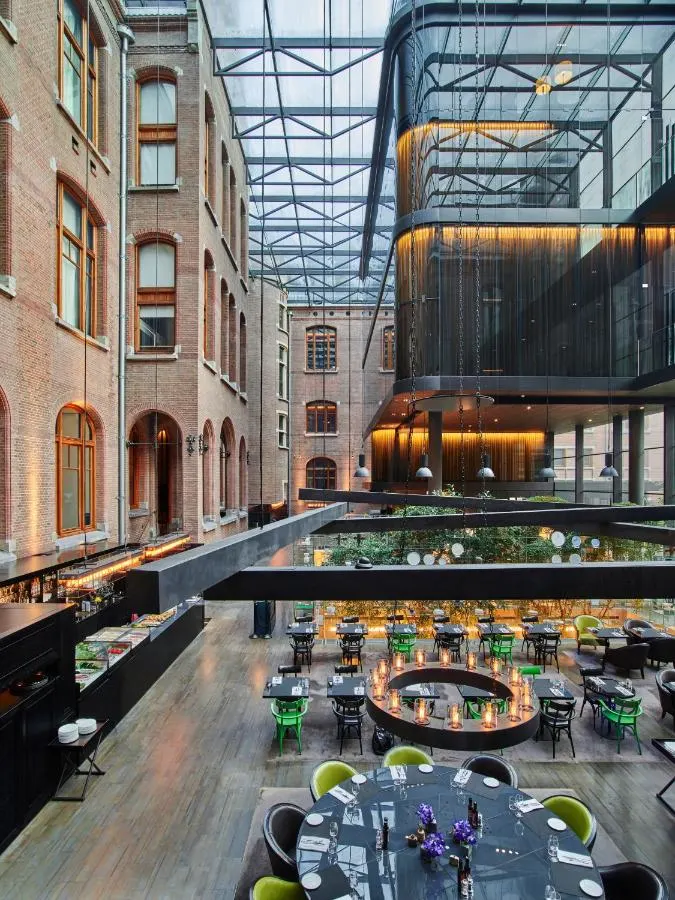 Set in a gorgeous historical building in Amsterdam's museum district is the luxurious Conservatorium Hotel. Prior to becoming a hotel this building once housed a bank, and then a music school.
The interior has been decadently refurbished to include spacious Dutch style rooms and suites which are both modern and comfortable. This fantastic hotel also features a hammam, gym, and sauna, which guests are free to use. There are also yoga classes and massages on offer. This is one is the best Amsterdam hotels if you want to stay in the centre, but still get your zen on.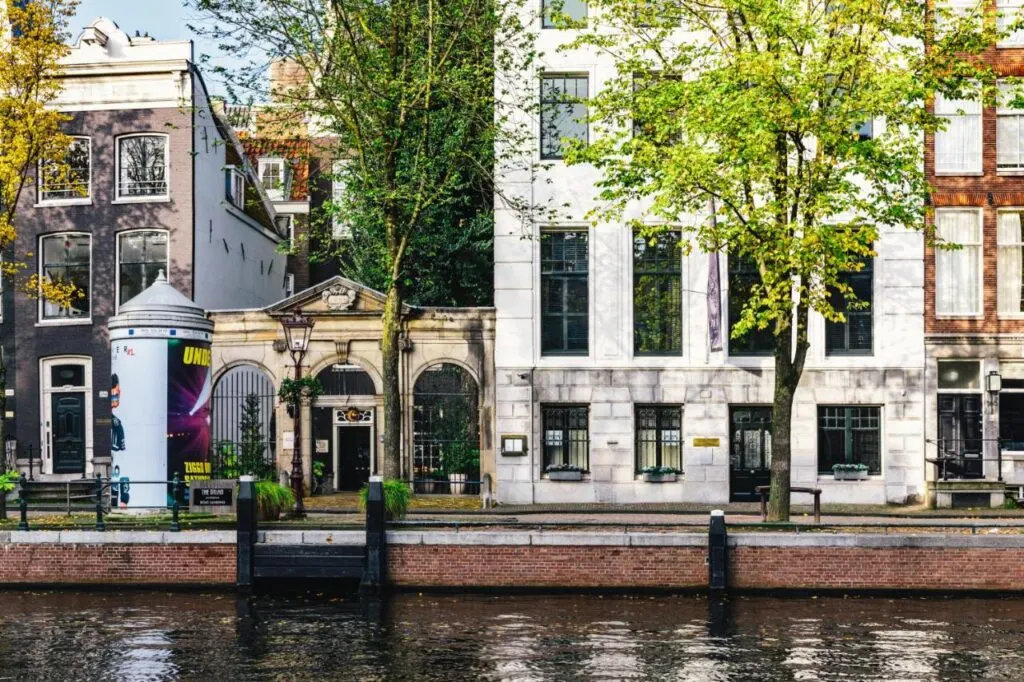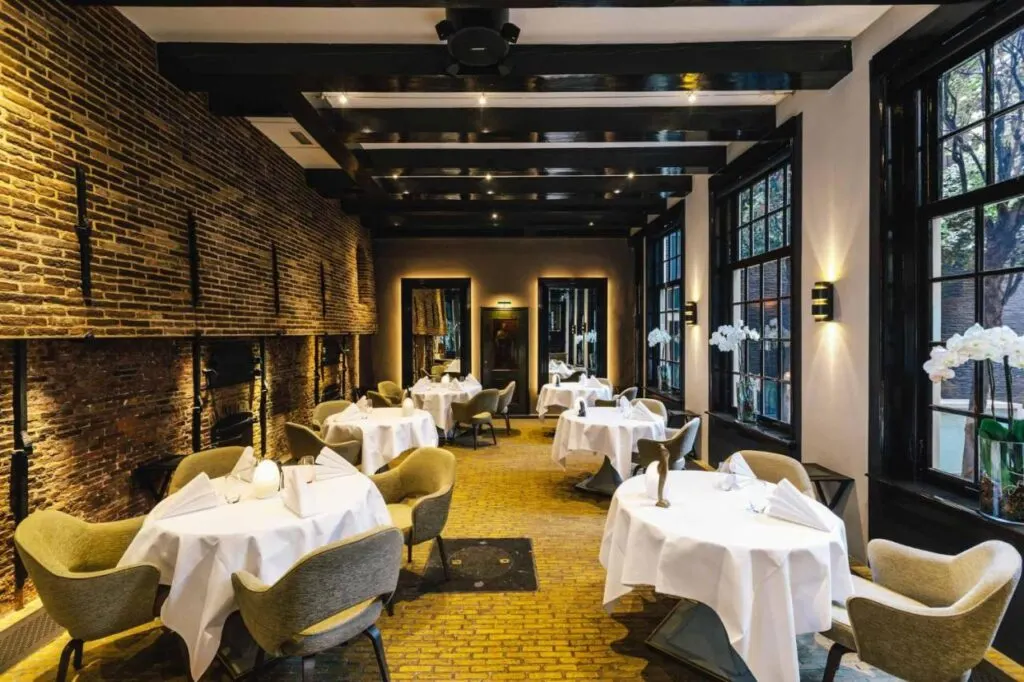 Chic, modern, but with a taste of classical charm, The Dylan in Amsterdam centre offers a stylish and luxurious base for your Amsterdam stay. Located on the Keizersgracht canal, you be at popular attractions in just a few minutes walk. What really attracted me to this hotel is the stunning bar area, as well as their fabulous use of space.
The Dylan features one Michellin Star restaurant Vinkeles. Set in an 18th century bakery, this restaurant offers sumptuous French cuisine. Honestly, you can't miss this one.
Mid-range Hotels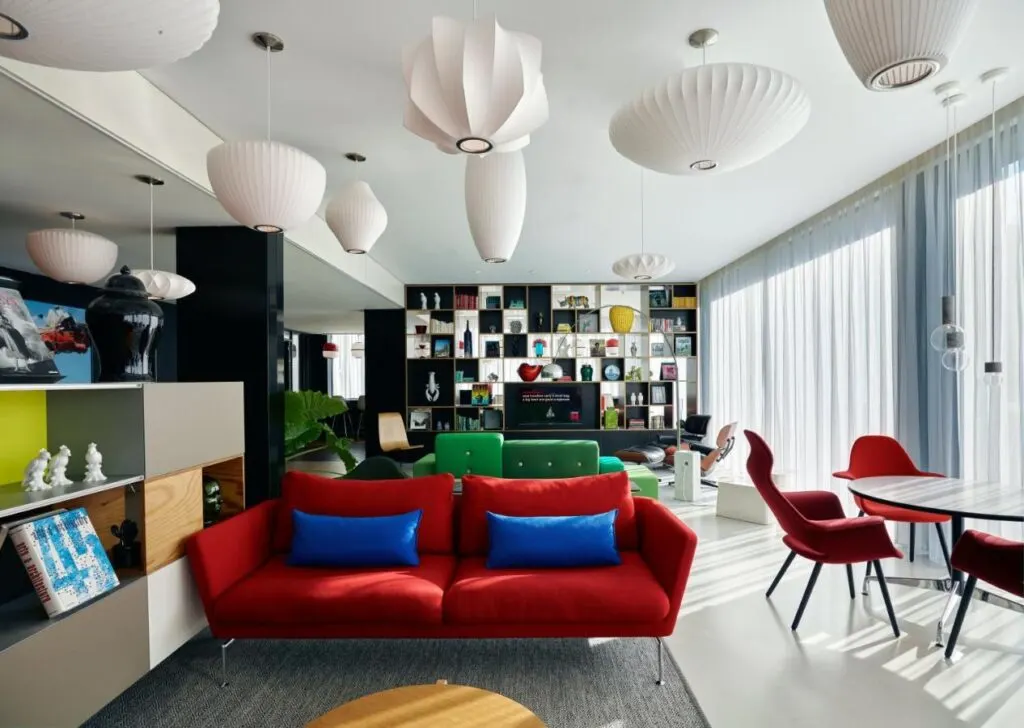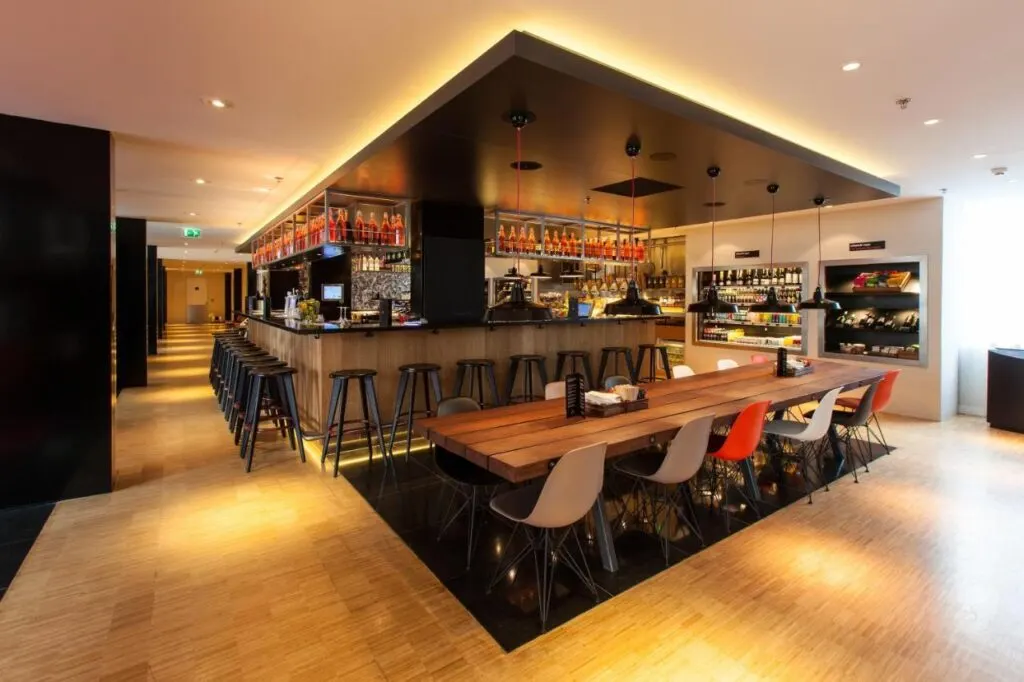 Fun and funky, Citizen M should be on your radar if you're looking for a designer stay. Located in Amsterdam's south, close to the RAI conference centre and Amsterdam Zuid Railway Station, this hotel is well connected.
I seriously love the use of bright coloured furniture in this place, it gives the hotel such a fresh and unique vibe. There are also multiple working spaces throughout the building that guests are free to use.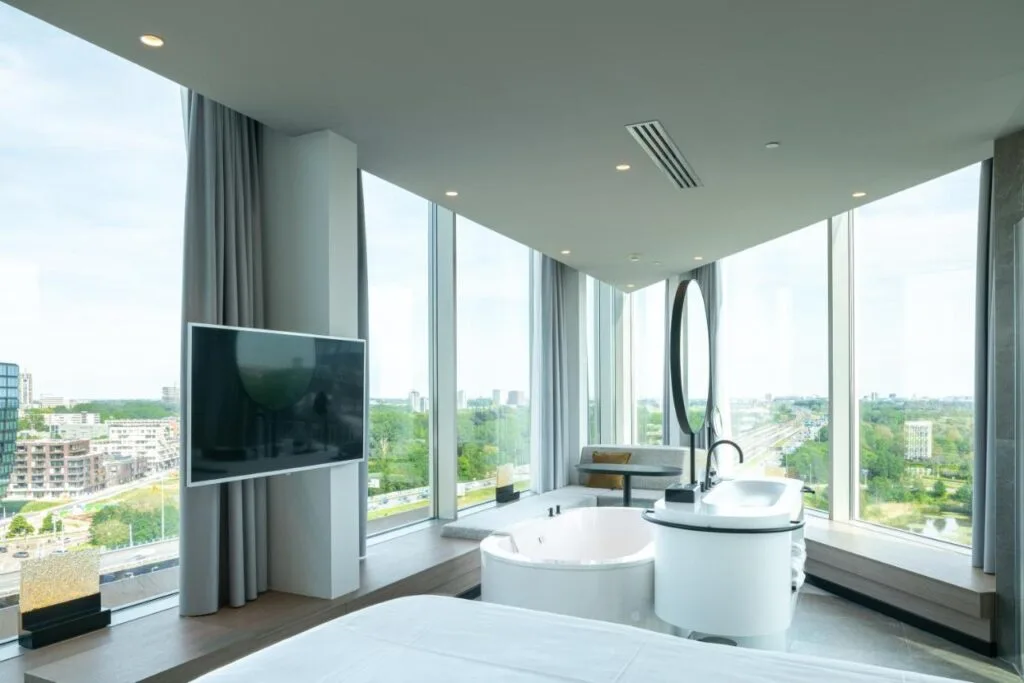 Comfortable and modern rooms with incredible views await you at Van der Valk Hotel Amsterdam Zuidas. Not going to lie, one of my favourite things about this hotel is the wellness area. There are several saunas and steambaths available on the top floor where you can melt away your sore muscles, while gazing out over the Amstel skyline.
If you're after a more private experience, many of the rooms also come with a window adjacent tub. Lay back and watch the lights twinkle as you enjoy a luxurious bubble bath.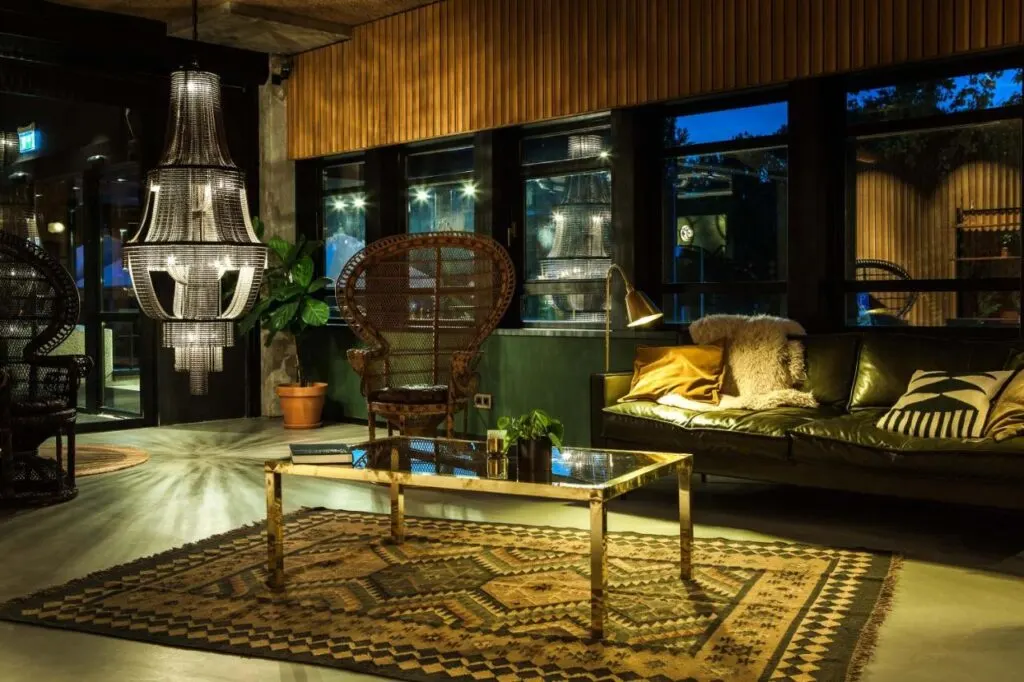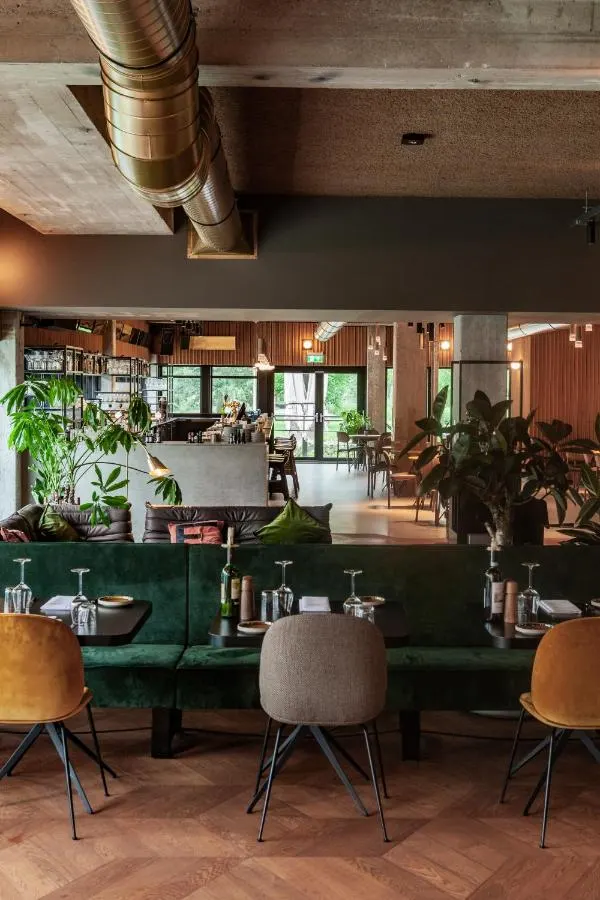 Let the good times roll in the positive 70's style at Hotel V Fizeaustraat. Located in east Amsterdam, this hotel is decked out with unique and groovy décor. Imagine vintage wicker chairs, plush rugs, and hanging tapestries.
Featuring large windows and vintages vibes, you're sure to feel at home in these bright, spacious and funky rooms. There is even a cosy shared lounge which comes complete with a fireplace to curl up next to in the cooler months.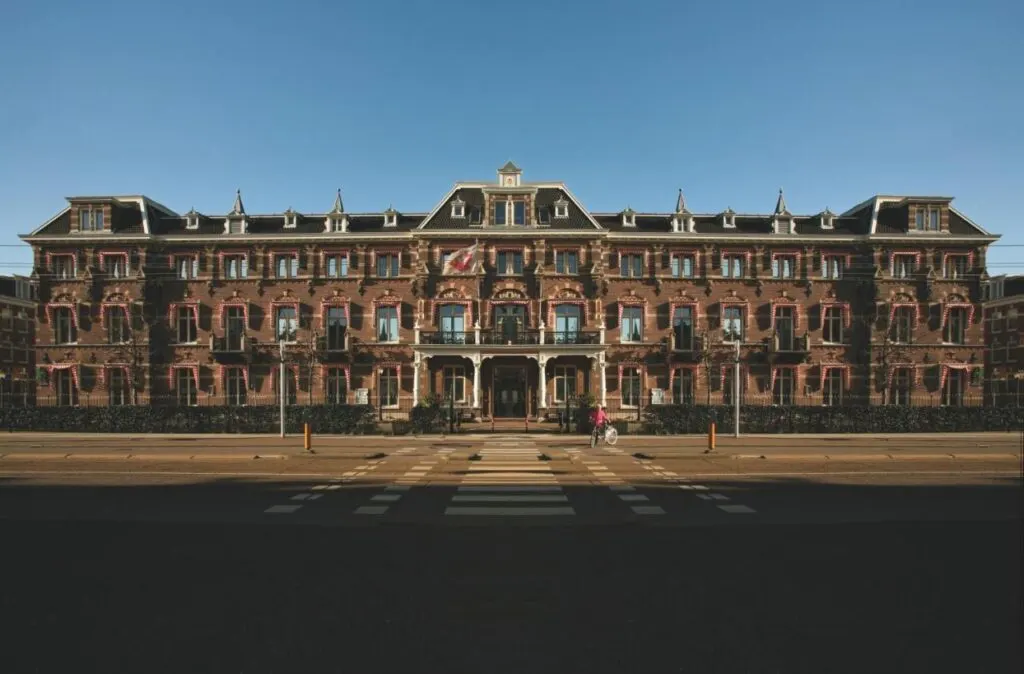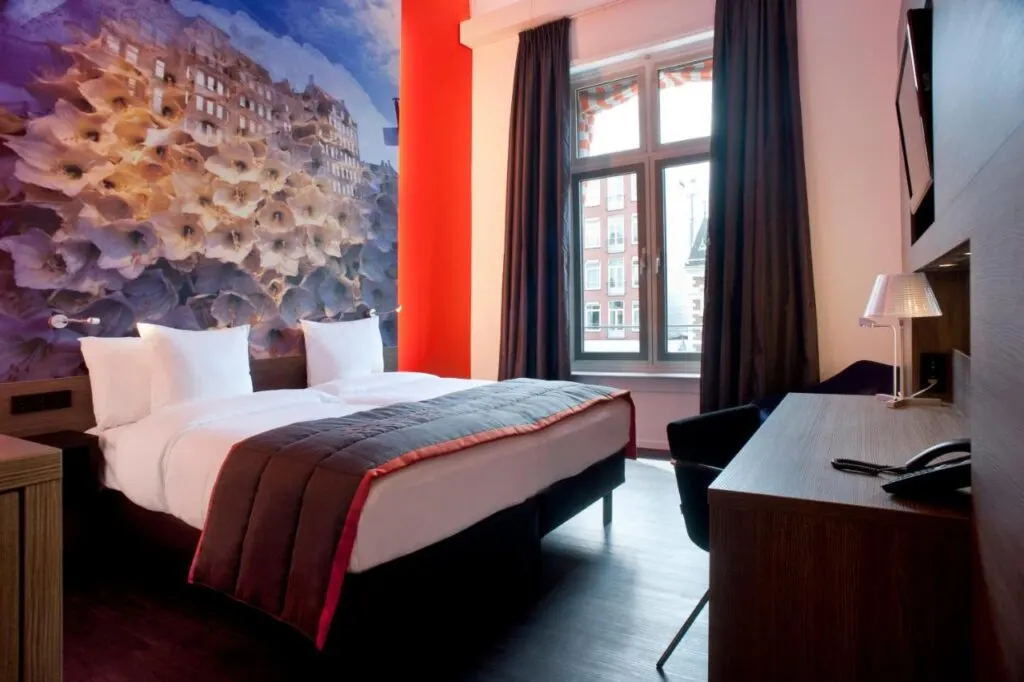 Stay in a gorgeously renovated, historic civilian hospital at The Manor in Amsterdam Oost. This incredible building was established in 1891 and outwardly maintains its traditional charm. In juxtaposition to the historic facade, inside is decorated with a fresh, Italian style.
Picture rooms with walls covered in art, and funky, modern furniture. Located in eastern Amsterdam, you can reach the centre in a 30 minute walk, or take the tram essentially from the front door.
Budget Hotels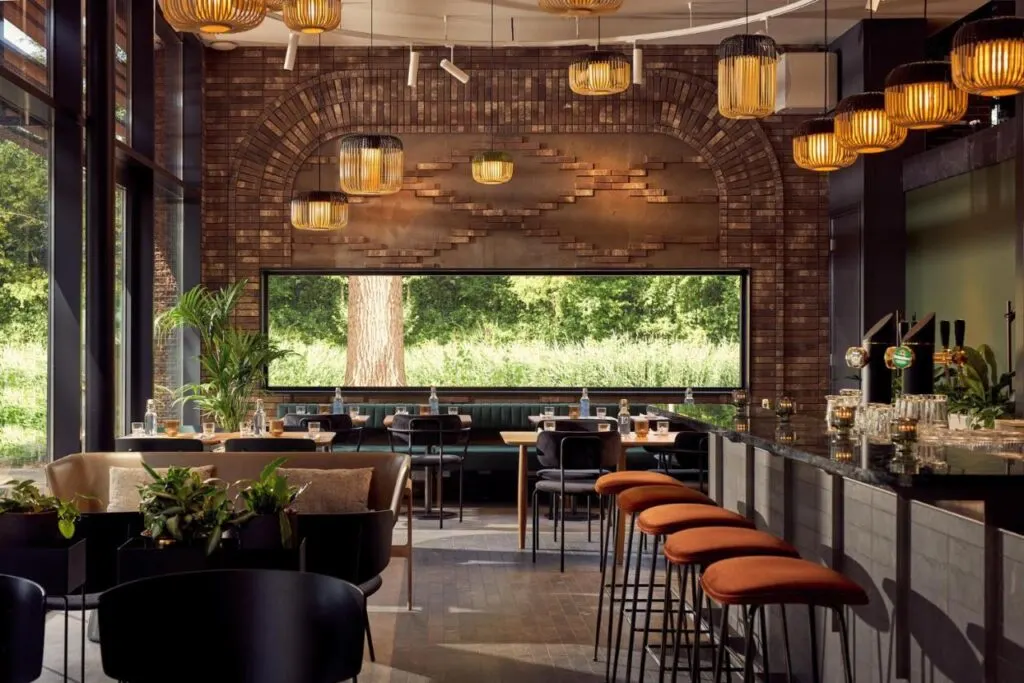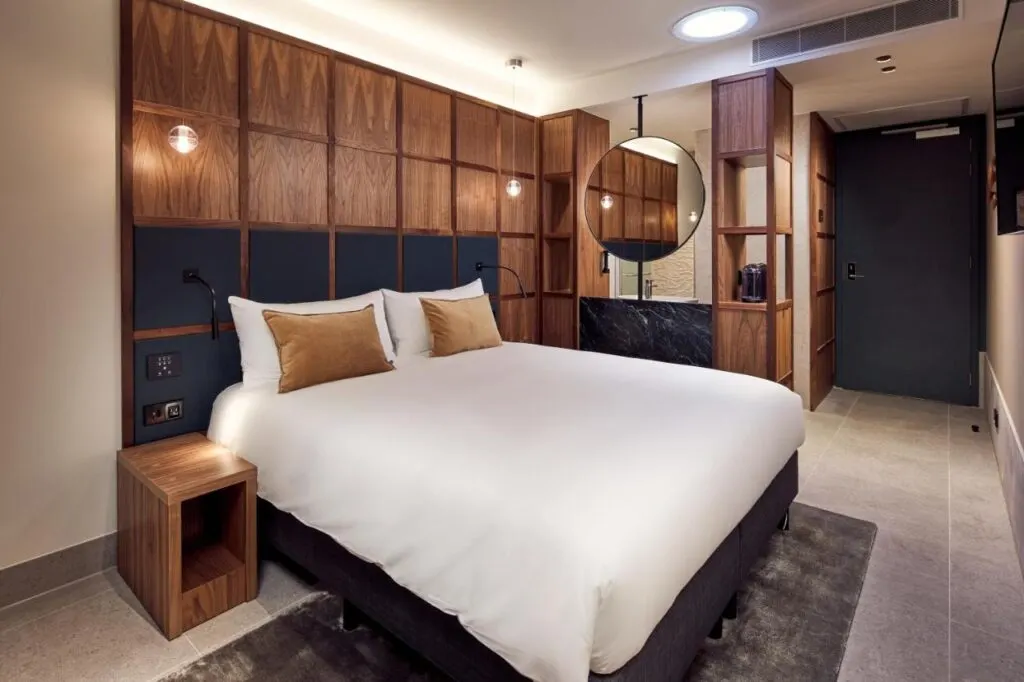 Stylishly decorated in a modern meets classic design, with a nod to 1920's class, Met Hotel is one of Amsterdam's best budget friendly boutique hotels.
Sip a martini in the classy in-house bar, before retiring to the incredibly comfy beds. In the morning, be sure to try the sumptuous breakfast buffet, honestly it is amazing. This is the perfect example that budget doesn't mean cheap – this is genuinely a really nice place to stay at in Amsterdam!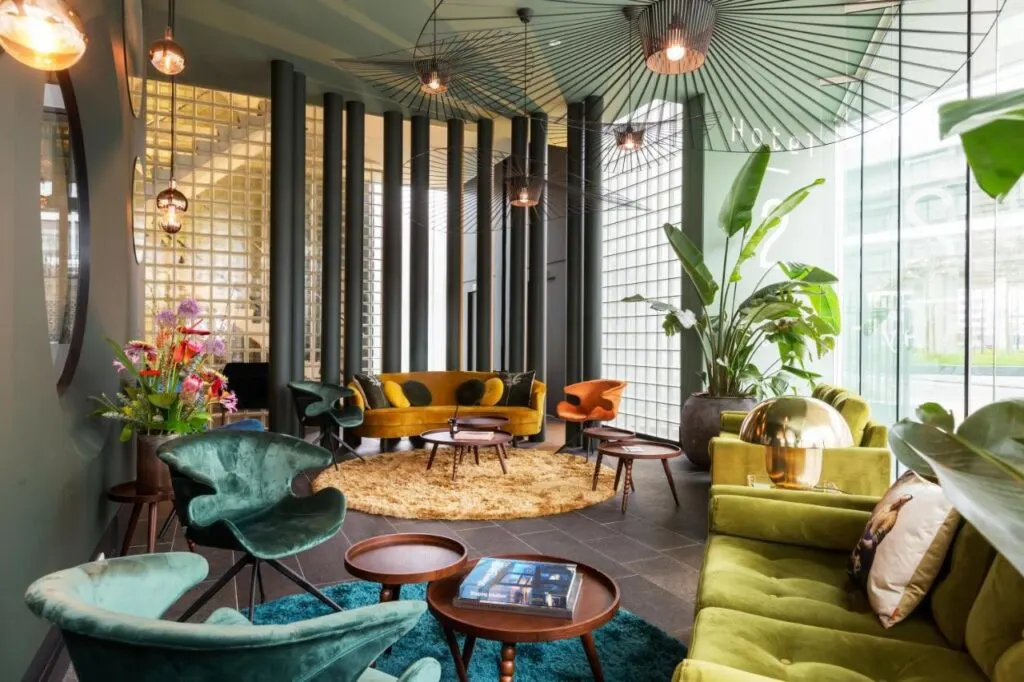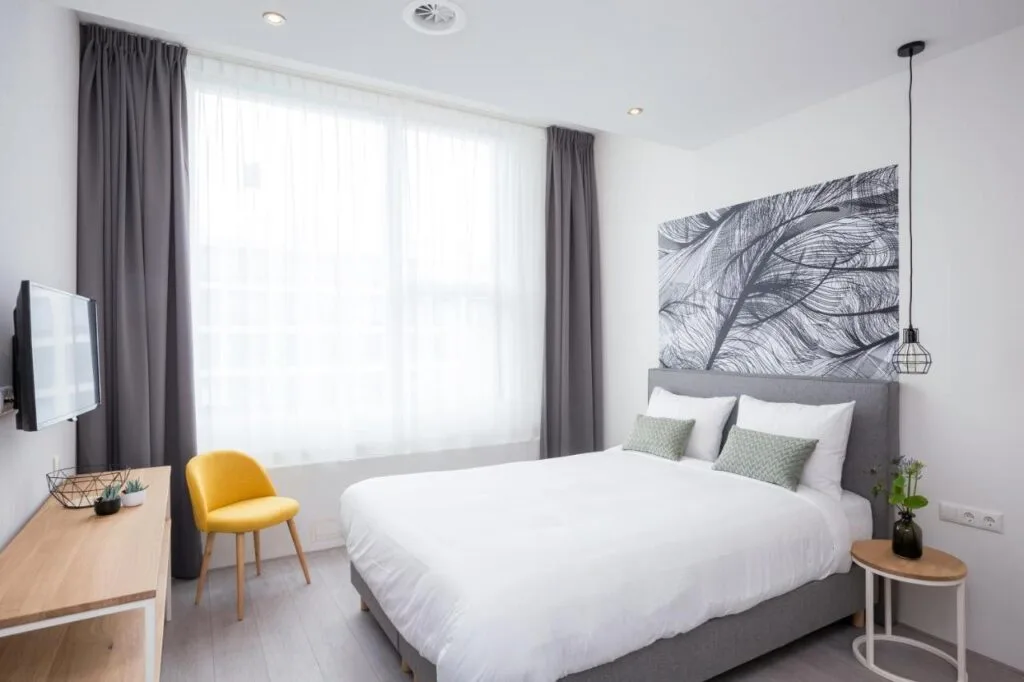 Hotel2Stay, located in the Westpoot area (near Sloterdijk) has multiple studios on offer. With clean and modern rooms, complete with a kitchen, this is one of the best Amsterdam hotels for those looking for a self catered stay. There is even an in-house sauna and gym, as well as funkily decorated lounge areas and laundry facilities for guests, making it perfect for longer visits.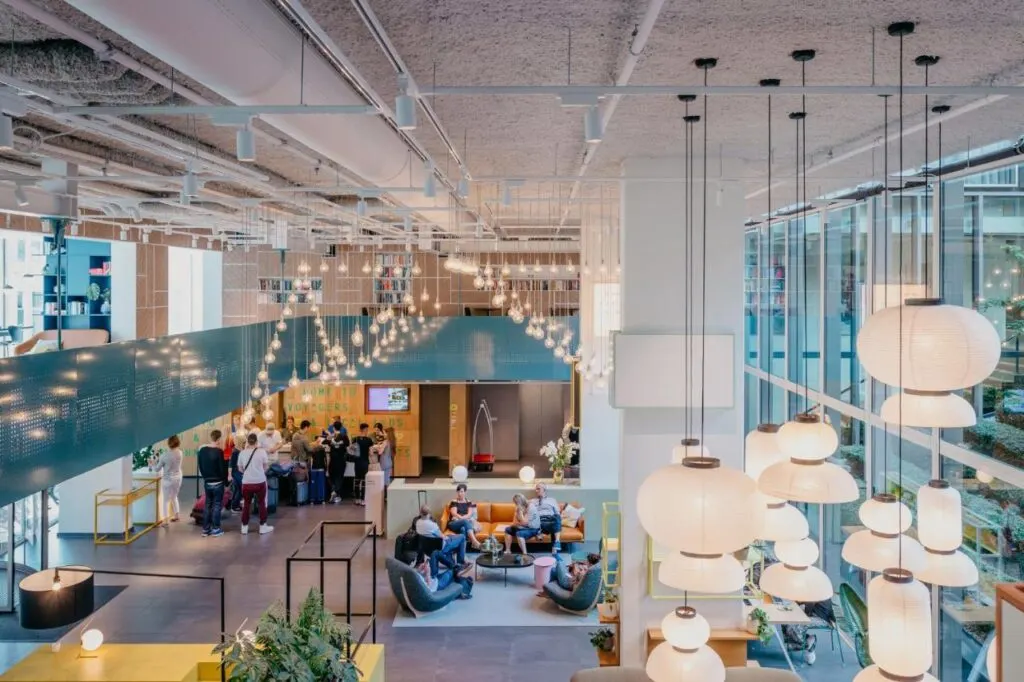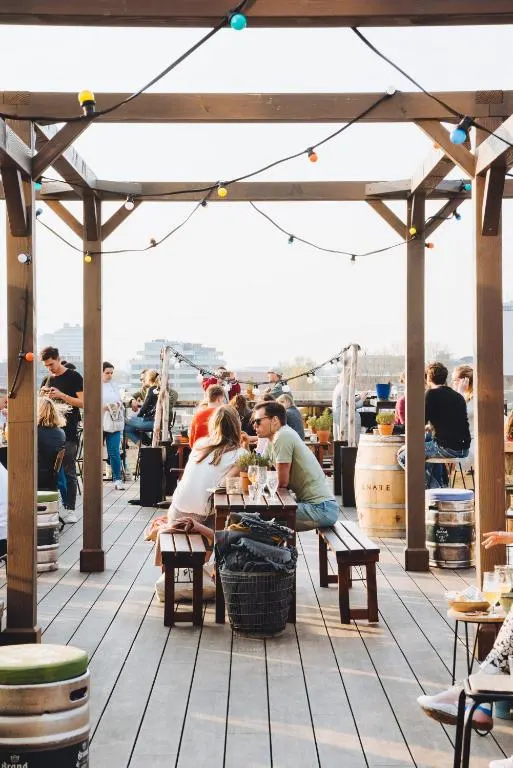 Located in eastern Amsterdam is the modern and spacious Hotel Casa. With large, bright, open plan spaces, and functional workspace design, this is an excellent base for holiday makers and digital nomads alike.
Hotel Casa also features a magnificent rooftop garden, which is just perfect for sipping a beer on a sunny summer afternoon, as well as an in-house restaurant and bar. There are even bikes to hire and a packed lunch service, so you can be out adventuring in no time.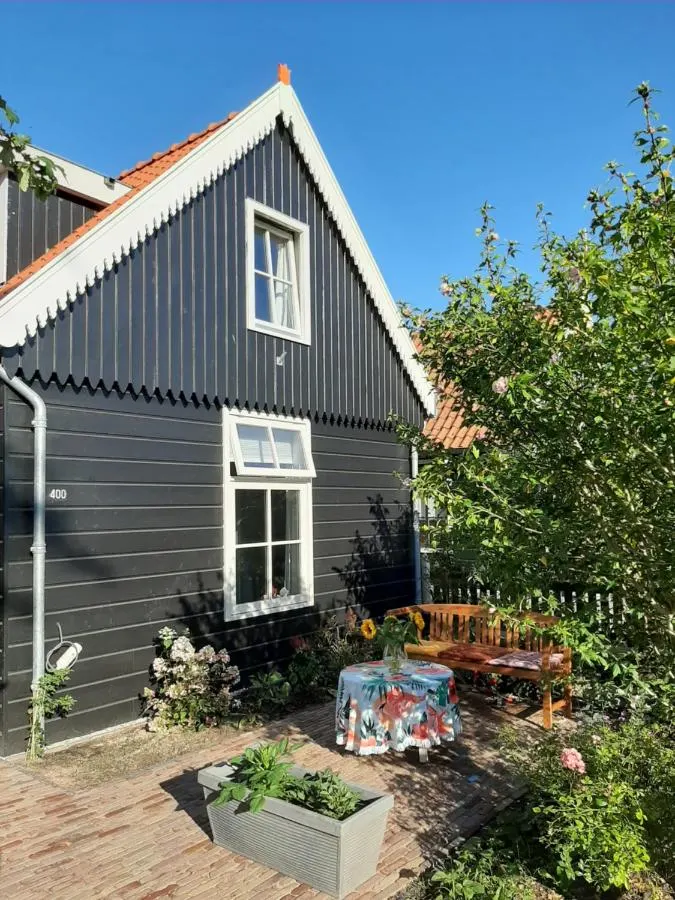 Escape from the hustle and bustle and wake up in the quiet countryside B & B Tulp in Amsterdam Noord. Located in a peaceful neighbourhood, complete with traditional houses and canals, you'll feel like you're getting the true Dutch experience.
The room is thoughtfully equipped with everything you need, and each morning you are treated to an incredible breakfast. If you want to recharge between city visits, this is the place for you.
---
So, that completes my list of the best boutique hotels in Amsterdam. Which one is your favourite? You can let me know in the comments below.
Like this blog post? Then Pin it for the future!