Are you thinking of visiting Butrint National Park in Albania? From where it is to how much it costs, this is my guide to Butrint National Park!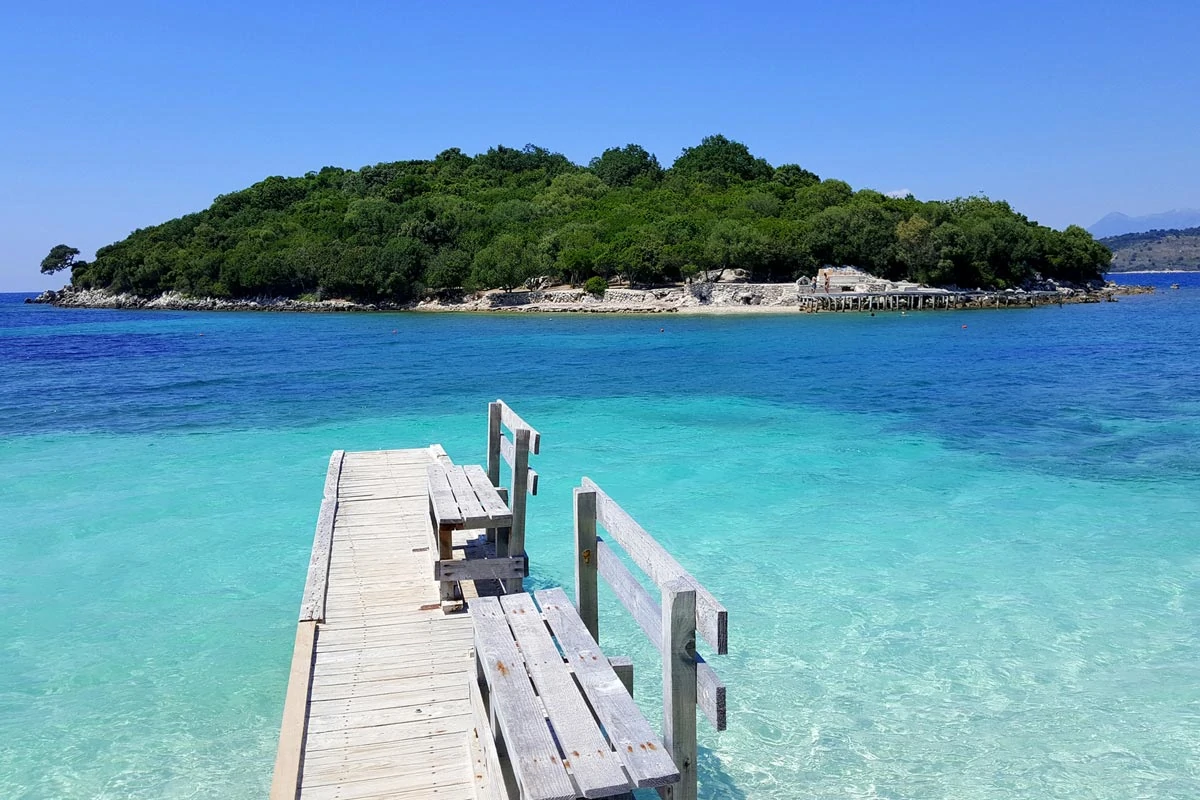 Butrint National Park is a seriously special place and is an absolute must-see on any trip to Albania.
Now I know what you're thinking. You've probably never heard of Butrint National Park before. I hadn't either until I was actually in Albania travelling around the country.
I was in the coastal town of Sarandë when I was pictures of Butrint in all the local tourist agencies. As soon as I saw pictures of these crumbling ruins nestled in the forest with bright blue waters surrounding it, I knew I just had to visit and see it for myself.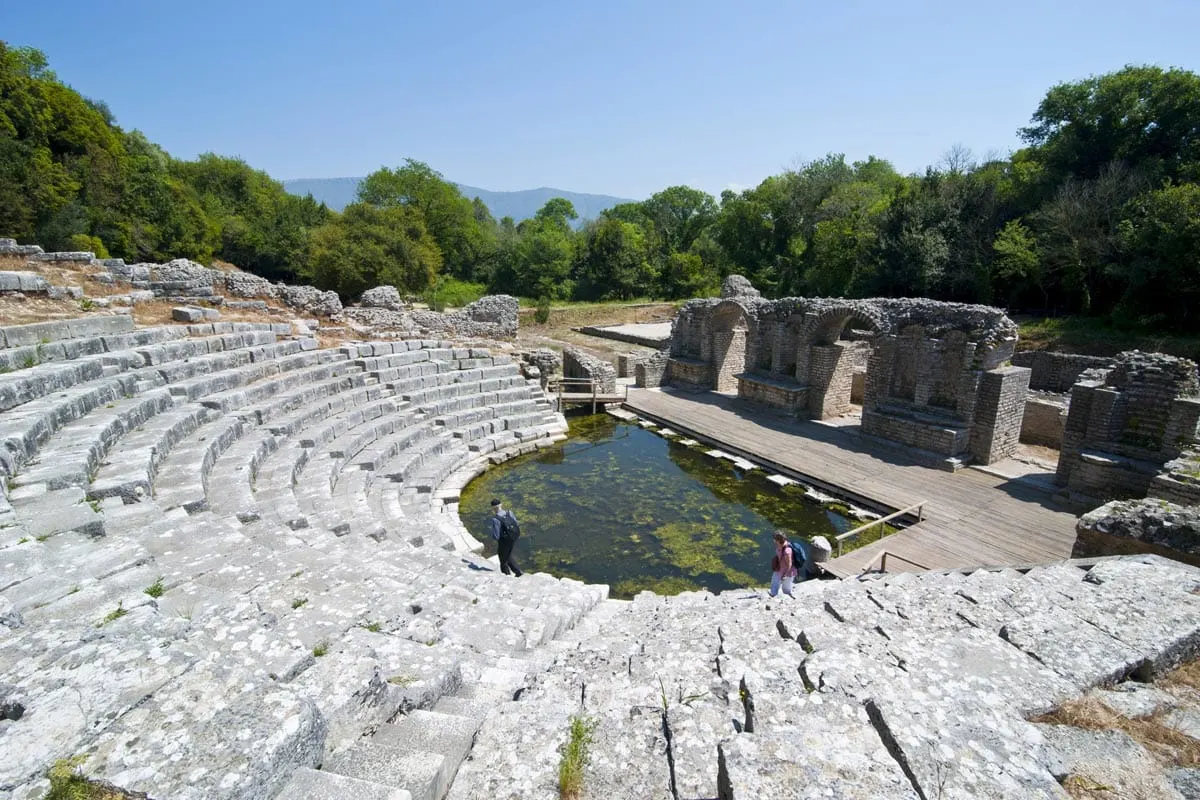 What is Butrint National Park?
The ancient city of Butrint (otherwise known as Buthrotum in the time on antiquity), was once one of the finest and most beautiful cities in all of the Roman Empire. 2,400 years later, it is a place that still captivates people today.
Butrint was supposed to become a hospice for the veterans of Roman wars, but in the 3rd century AD an earthquake destroyed most of the city. A lot of the ruins you see today are from the same earthquake, and the city dropped off the map after that.
Today, Butrint national park is a UNSECO World Heritage Site, and a Ramsar Wetland Site of International Importance (two very important titles). It is a site that attracts visitors from all over the world, and with reason; it is absolutely stunning.
With a picturesque lagoon and mountains surrounding Butrint national park, it is worth coming here for the views alone. Honestly, it is absolutely stunning.
I was drawn for the history and the ruins though. Let me say this, history buffs will just love this place, especially as a lot of tourists still don't visit here.
Hopefully this Butrint guide will tell you all about the national park of Butrint.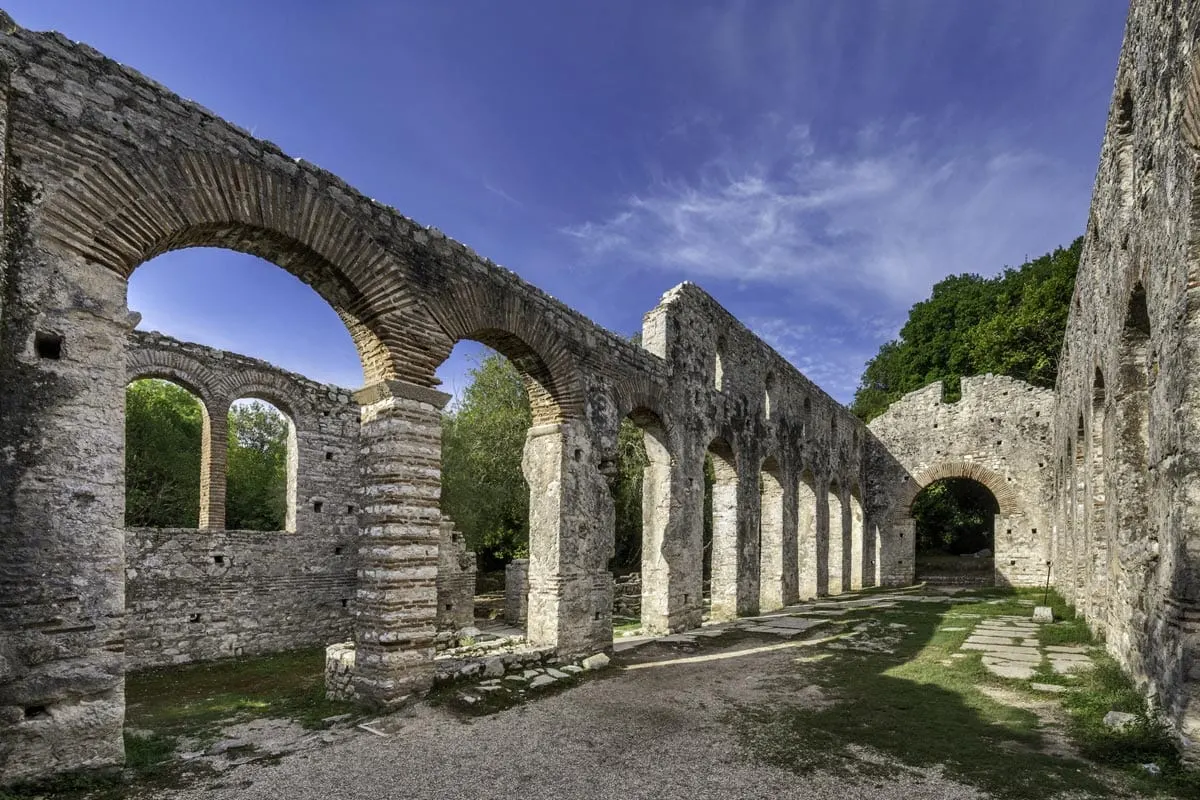 Getting to the national park of Butrint
Located in the southwest of Albania, it is approximately 30 minutes drive from the city of Sarandë.
There are a number of ways of getting to Butrint. Firstly, you can hire a car and drive, which is very quick and easy. There are a couple of places where you can hire a car from in Sarandë or from the airport.
There is also a local bus to Butrint but this takes a lot longer. The bus follows the SH81 to Ksamil which is where you'll find the ruins.
One other option which is what I did was hitchhiking. This is very common in Albania and it's a really great way of meeting the locals too.
Also, it's worth noting Butrint is very close to the Greek border. For all you Top Gear fans out there, it's actually the place where Jeremy Clarkson caught the little man-made wooden ferry transporting their cars over to Greece in the Albanian Top Gear episode.
If you've got your own car, it is well worth catching this ferry as it's so unique. The Greek border crossing point at Qafe Bote is just a short drive away from where you get off the ferry, so it's very easy getting to Greece from Butrint. It is a border crossing point not many people know about and makes a great story to tell friends!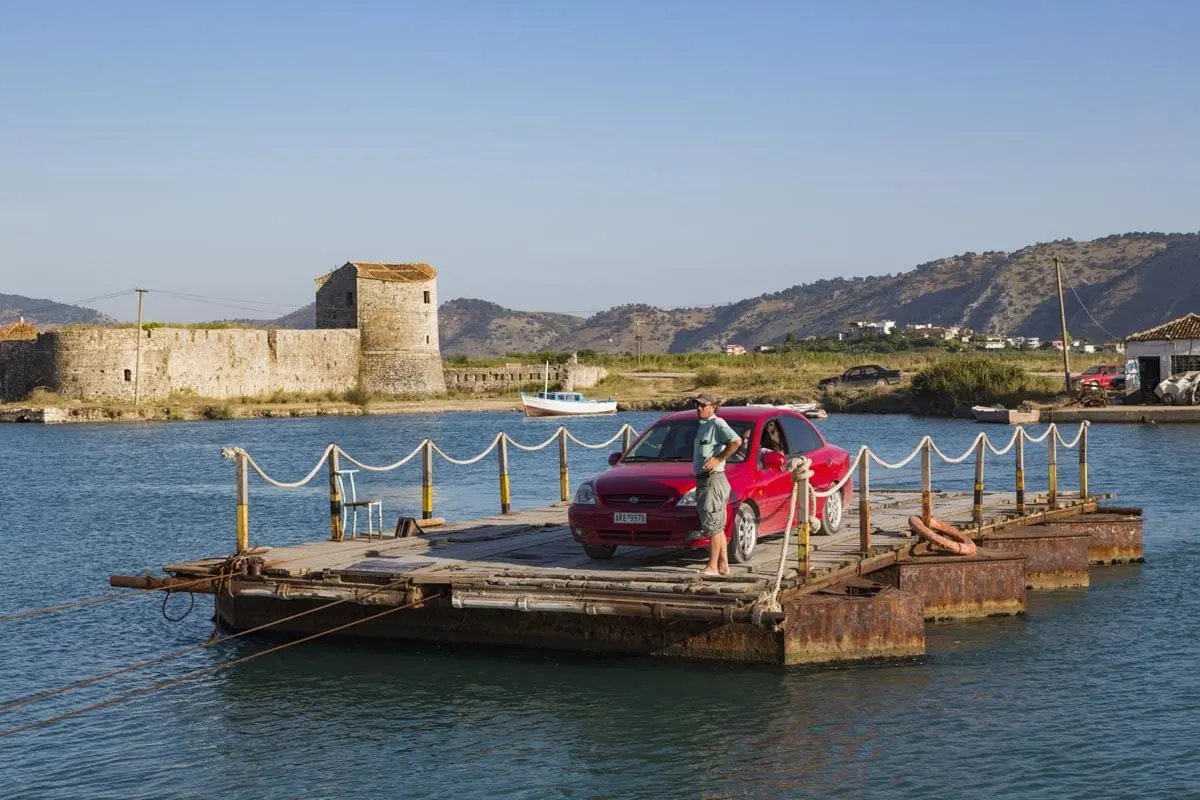 Butrint Albania map
How much does Butrint National Park cost?
Butrint National Park tickets costs 700 lek for foreigners (approximately €5).
When it comes to timings, I would factor in a good 2 to 3 hours wandering around this UNESCO World Heritage site. That should give you plenty of time walking around the site.
Butrint is a microcosm of Mediterranean history. It has seen the rise and fall of a number of great empires who have dominated the region, each one developing the city in their own way and adding their own imprint.
There are so many layers to Butrint, and the more you walk around the more you peel back a new layer, delving deeper and deeper into the history of the area.
What you see today is an amalgam of monuments representing a span of over two thousand years of history from the 4th century Hellenistic period to the Ottoman defences created in the early 19th century.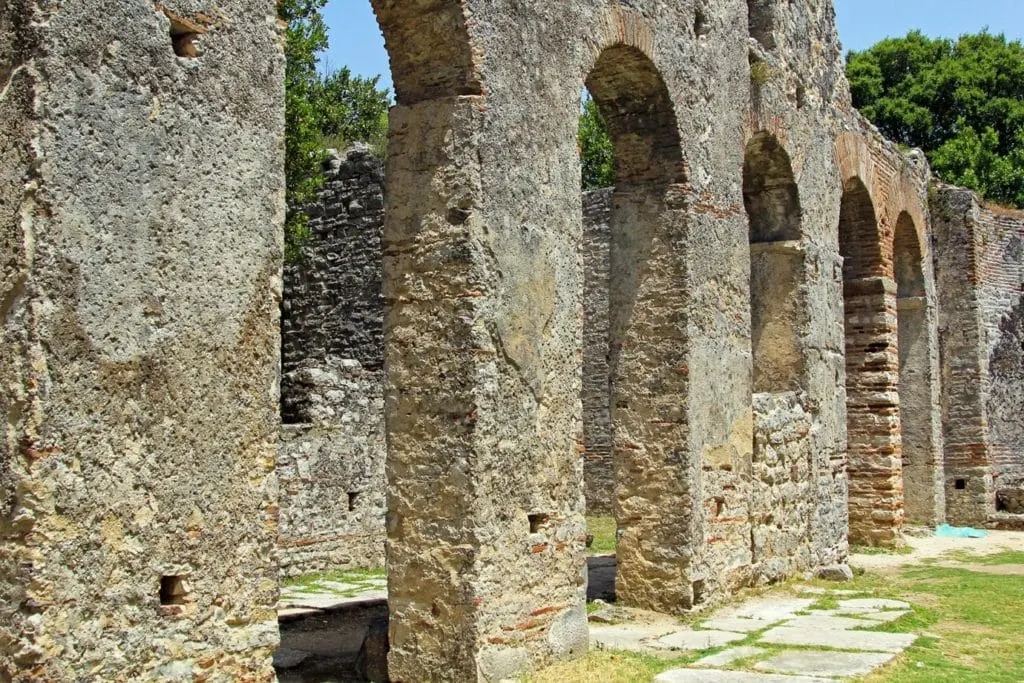 The history of Butrint national park
With the rise of the Roman Empire, Butrint expanded to become a flourishing Mediterranean city.
Monuments like the theatre give it a Roman aspect, and after Julius Caesar and Augustus founded a colony here the city was extended via a bridge and aqueduct across the channel and onto the plain, causing commerce to boom.
Over the centuries that followed the fortunes of Butrint rise and fell much like the empires surrounding it, but during the 13th century Butrint thrived again. A castle was built on the acropolis and its fortification walls were repaired again.
By the 19th century, Butrint had become a small fishing village clustered around the castle, though today it probably sees more people walk through its walls than 100 years ago.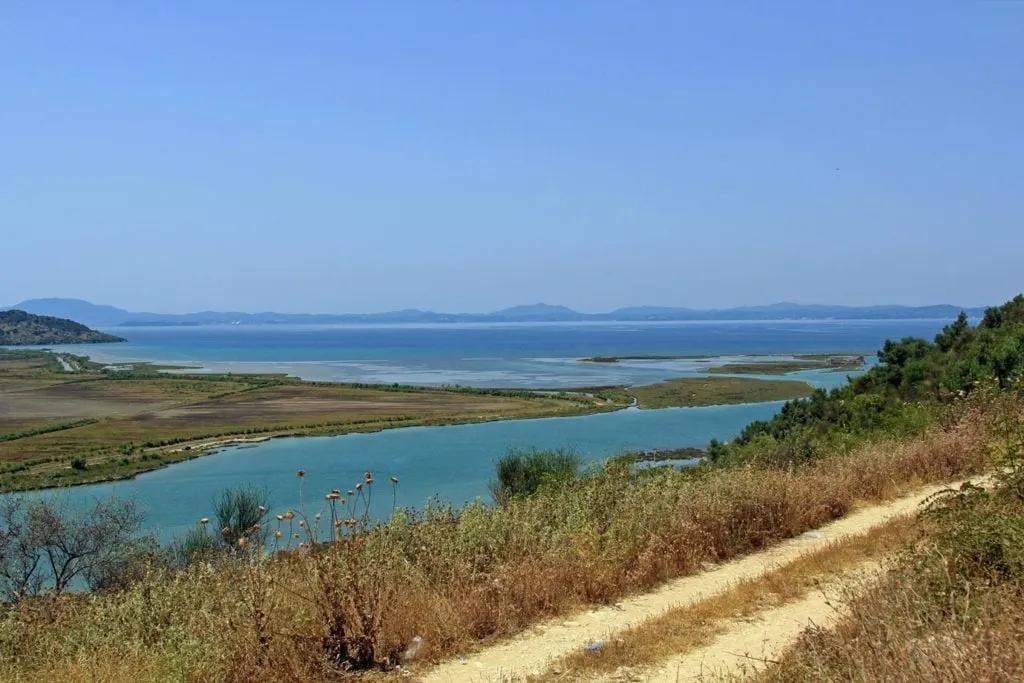 When you are walking in beauty such as Butrint, I suggest you take a packed lunch with you, sit in the ancient theatre or by the church, and take it all in. Trust me, it'll be worth it. Also, there aren't many places you can buy lunch, so taking one with you is a win-win situation.
After seeing a fair few ancient Roman cities around the world, I can honestly say Butrint is one the best I've ever come across, and it is just another amazing reason to visit Albania.
Butrint opening hours
Butrint National Park is open from 9am till 4pm.
Be warned, during midday and around lunchtime it can be extremely busy at the site. Also, if you're visiting during summer, it can be very hot too.
If you can, I'd really recommend visiting either early in the morning or later in the afternoon when things have quietened down.
Top tips for visiting Butrint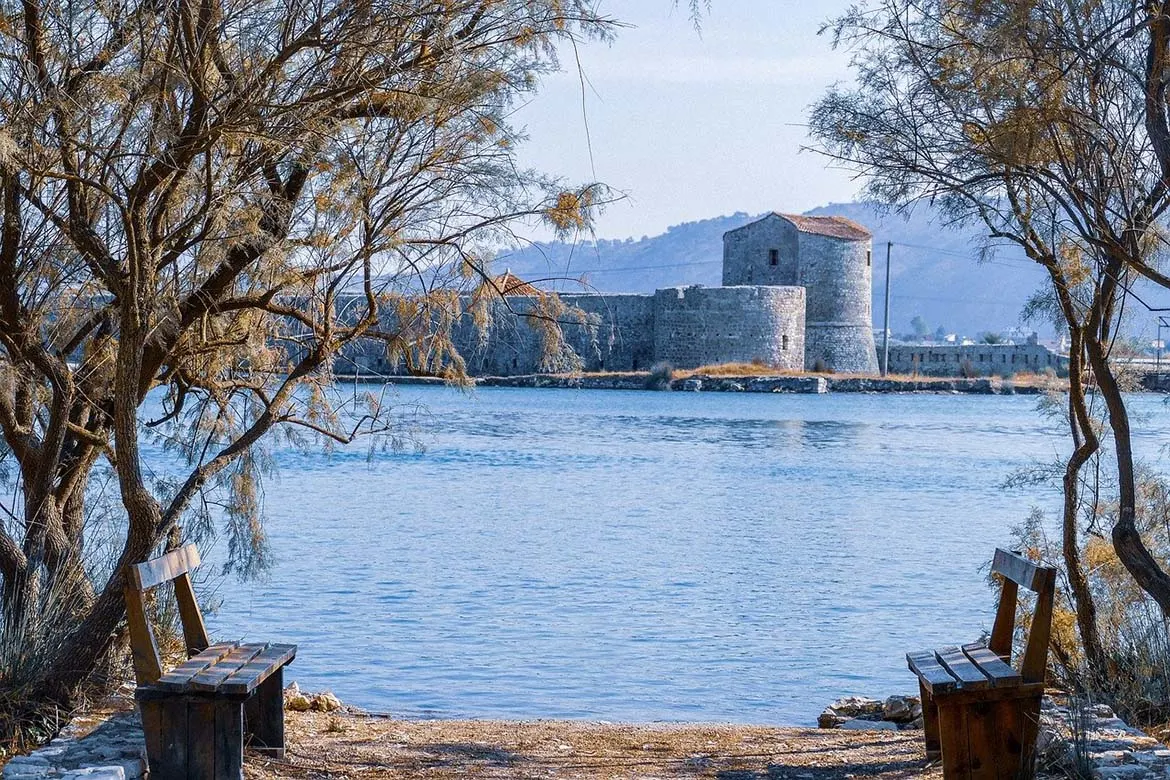 Drink lots of water – As I've already mentioned, it can be pretty toasty during summer so make sure you drink lots of water.
Wear comfortable shoes – It is very rocky at Butrint so I'd recommend wearing comfortable shoes. Trainers or hiking shoes are best I'd say.
Don't forget your camera – I can't tell you how many photos I took at Butrint but it was easily into the hundreds. Make sure you don't forget your camera here!
Leave a little tip – If you're on a tour of Butrint in Albania then it's always a good idea to leave a tip with your tour guide as a sign of appreciation. I'd usually say €3-5 is about right.
Don't leave any rubbish – You'd be surprised at how much rubbish I saw while in Albania and at this site. Don't be a part of the problem and take all rubbish with you.
Feature tours in Albania
Photos of Butrint National Park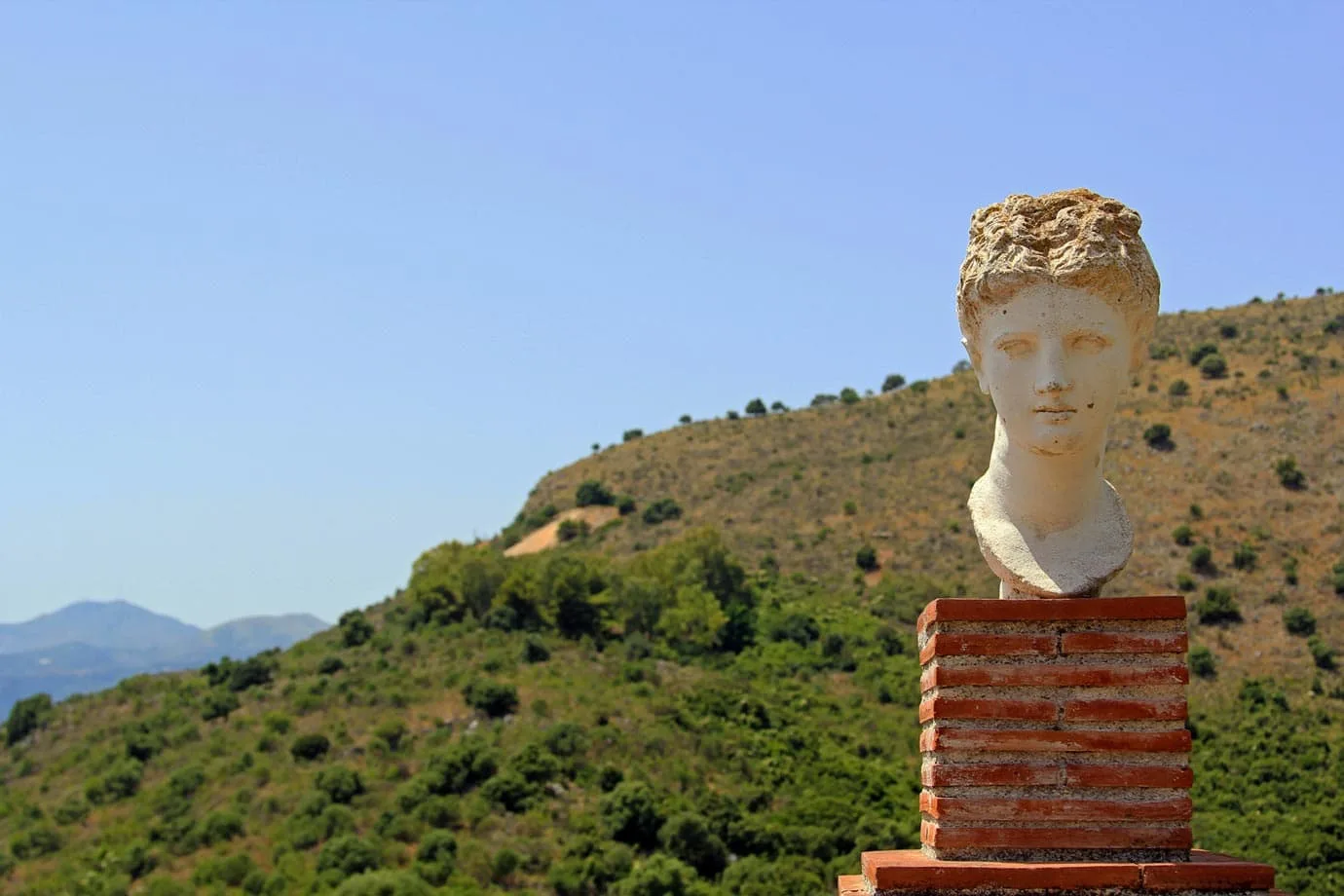 Have you ever been to Butrint national park? If so, what did you make of this ancient Roman city? Make sure you let me know in the comments below!
Like this blog post? Then make sure you Pin it!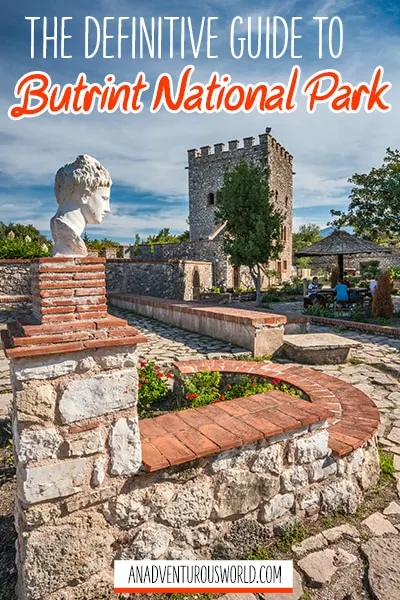 Save