Here are some hints and tips on eating street food in Central America and how to avoid getting ill
Firstly, I have to state that this article should be taken with copious amounts of chicken salt (after all, it is Central America that we're talking about here). Just by reading this post it doesn't mean you're completely impervious to food poisoning, nor can I be held liable if you do get ill. Saying that, eat everything.
Now time for some finger pointing. My sister-in-law always advises me against eating street food in Mexico. She's Mexican, so technically she should have more experience and expertise on the subject than I do, but in this case she couldn't be more wrong (sorry sis).
Some of the best food the three of us had in Mexico were street side tacos and tostadas, and not once did we get ill (and that's even with me smashing the chili sauce).
[arve url="https://www.youtube.com/watch?v=1L64g0_FdP0″ thumbnail="11786″ title="Is it safe to eat street food in Central America?" description="Is it safe to eat street food in Central America? Well, here are some hints and tips on eating street food in Central America and how to avoid getting ill." upload_date="2014-10-12″ duration="2M23S" /]
Also, in all the other countries we went to in Central America, we had some truly tasty street food. For us, learning all about a new culture means eating anything we can get our grubby little hands on, and often the national dish of a country is essentially street food (take poutine in Canada or fish & chips here in Britain).
For example, pupusas are a traditional Salvadorian dish which are made up of a corn tortilla and stuffed with beans, minced meat and held together with gooey melted cheese. How could you not want to eat that!?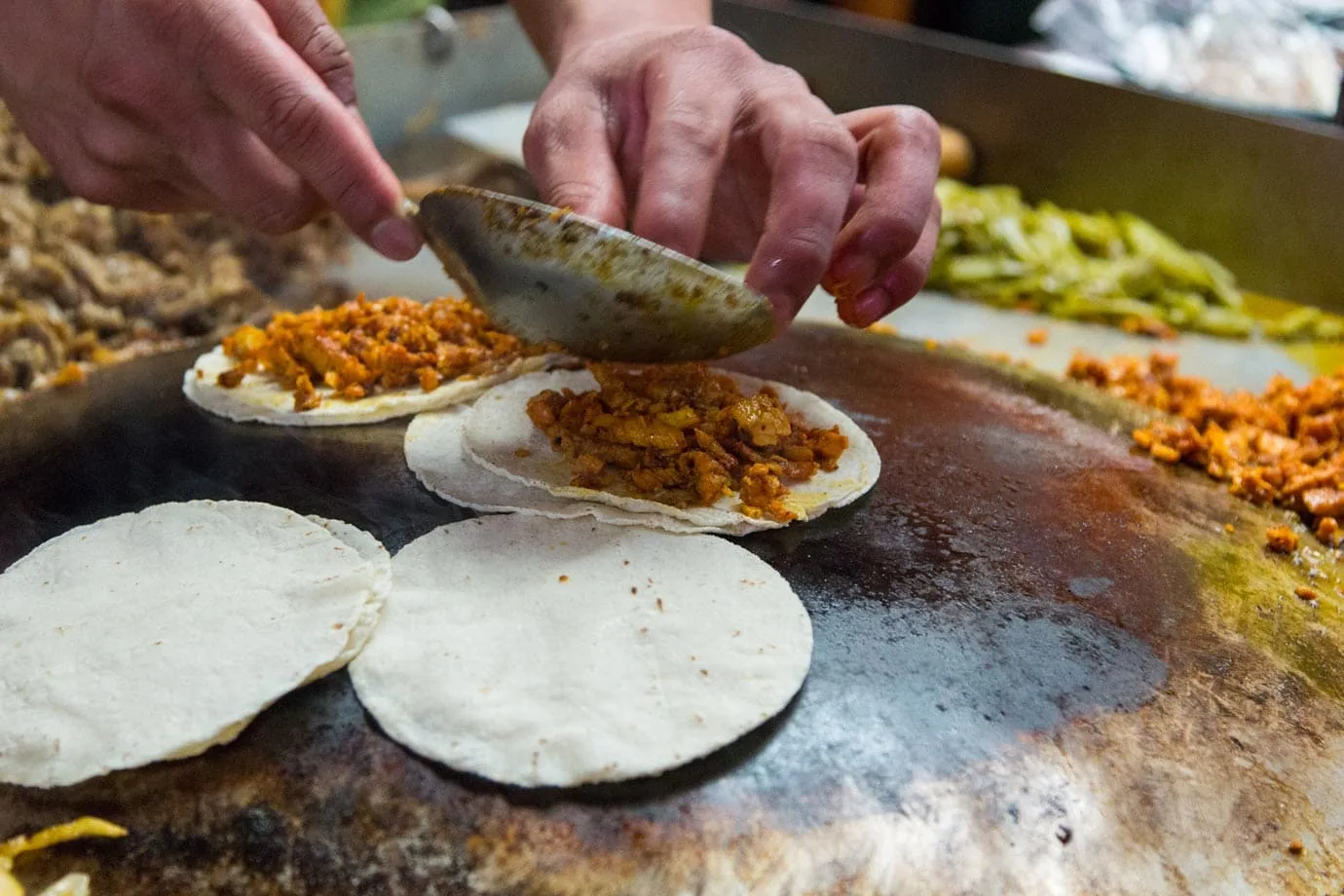 At a dollar a taco (sometimes less), if you're travelling on a budget street food is extremely difficult to avoid, but instead of sifting through the back pages of a restaurant menu looking for something affordable that you think will be healthier, you sould be embracing the art of eating on the pavement (which is better than eating off it).
People think that if you eat street food you're instantly going to contract something that's going to kill you, so here are some pieces advice from a guy who ate everything while travelling through Central America and didn't get ill:
Fried chicken stands are everywhere in Central America, and they are all delicious
If the chicken looks pink on the inside then it's probably best you don't eat it
Your classic salchicha and patatas bravas (otherwise known as sausage and chips) is extremely unhealthy but you'll struggle to stop eating it
The coffee will rot your teeth but it'll keep you fuelled all day
If there's a queue of locals, you know the street food is good to go
Also, places that are serving only one or two different types of dishes are usually a good bet to go for
And if you can see them cook it right in front of you then that's even better!
Beware: Green chili sauce doesn't always mean it's not as spicy as its red counterpart
Chili is your friend, not your enemy. It does wonderful things to your metabolism
Menu typicales will be your go-to dish, and yes, you will get bored of it
As you'll get bored of rice
And beans
Wash your hands; you'll be glad you did
At road side stands, if it looks like food has been sitting out in the sun all afternoon, don't eat it (unless it's fried chicken of course)
Yes, you can ask for a little taster before you buy
And yes, you can barter for your food too!
If it's deep-fried (almost everything is deep-fried in Central America), most of the time you're going to be okay eating it
At the end of the day go with your gut instinct. If it doesn't look like it's going to be good, then it probably isn't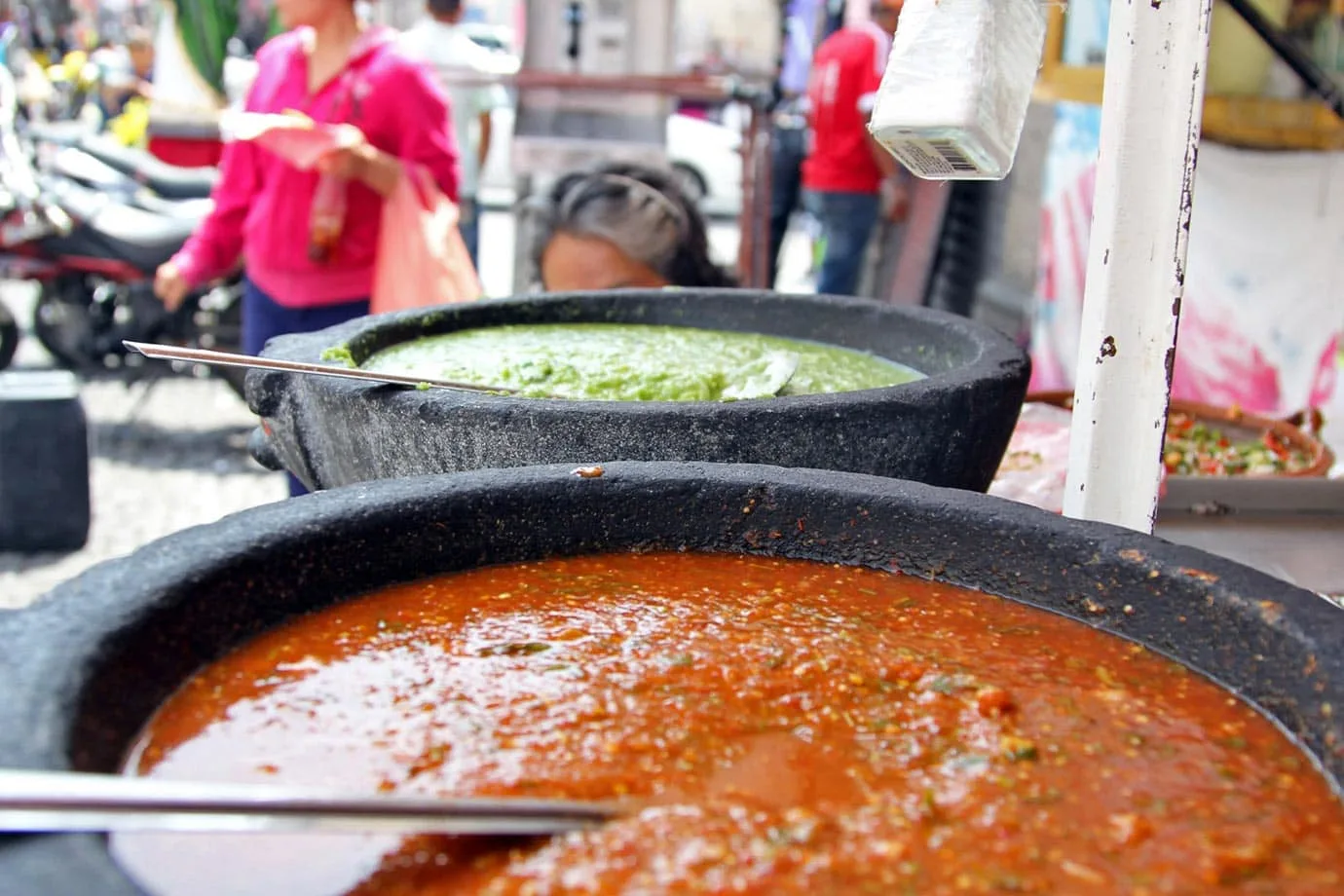 Also, it's important to note, even if you do get ill, it can actually be a positive thing, especially in the long run.
Being ill gives you some down time to catch up on life admin, you'll invariavbly lose a lot of weight (bonus), and by becoming ill you'll start to build up antibodies to tackle the problem incase you get ill again the future. This means you can go back to eating anything and everything you want. That's science for you people.
Seasoned backpackers and travellers often talk about "having an iron stomach", yet they neglect to mention all the times they've contracted food poisoning to get to that position.
Have I? You betcha I've been ill on the road, a fair few times too, and I genuinely feel that's why I can go around eating whatever I want, no matter how alien it looks, without fear of being struck down. And if you do get ill, oh well, you'll get better again.
So there you have it, some healthy advice on whether it is safe to eat street food in Central America or not. In my opinion – yes, yes it is safe. Now go. Eat. Enjoy. And if you get sick I'm sorry…
---
What's your favourite country for street food? And are there any pieces of advice you religiously follow before reaching for that second taco? If so, let us know in the comments box below!