Are you looking for one of the best restaurants in Mendoza, Argentina? Then look no further than Bodega Lagarde – the perfect balance of food, flavour and spectacular views

In the luscious grounds of Bodega Lagarde with the Andes mountains in the background, you couldn't ask for a prettier setting to have lunch.
Add in a delicious set menu and unlimited wine pairing (yes, you did read that right!), eating here makes for a joyous affair.
In fact, I loved it here so much it was one of my highlights in Argentina!
Bogdega Lagarde lies just 20 minutes south of Mendoza towards Lujan de Cuyo, a region that produces some of the best wine in Argentina.
They have been producing wine here at Bodega Lagarde since 1897, and it is one of the oldest wineries around Mendoza with a rich history of creating alternative wines such as Viognier and Moscato Bianco.
Focused on quality over quantity, the wines here are top notch, and the best way to enjoy them is over lunch with the vineyards in the background.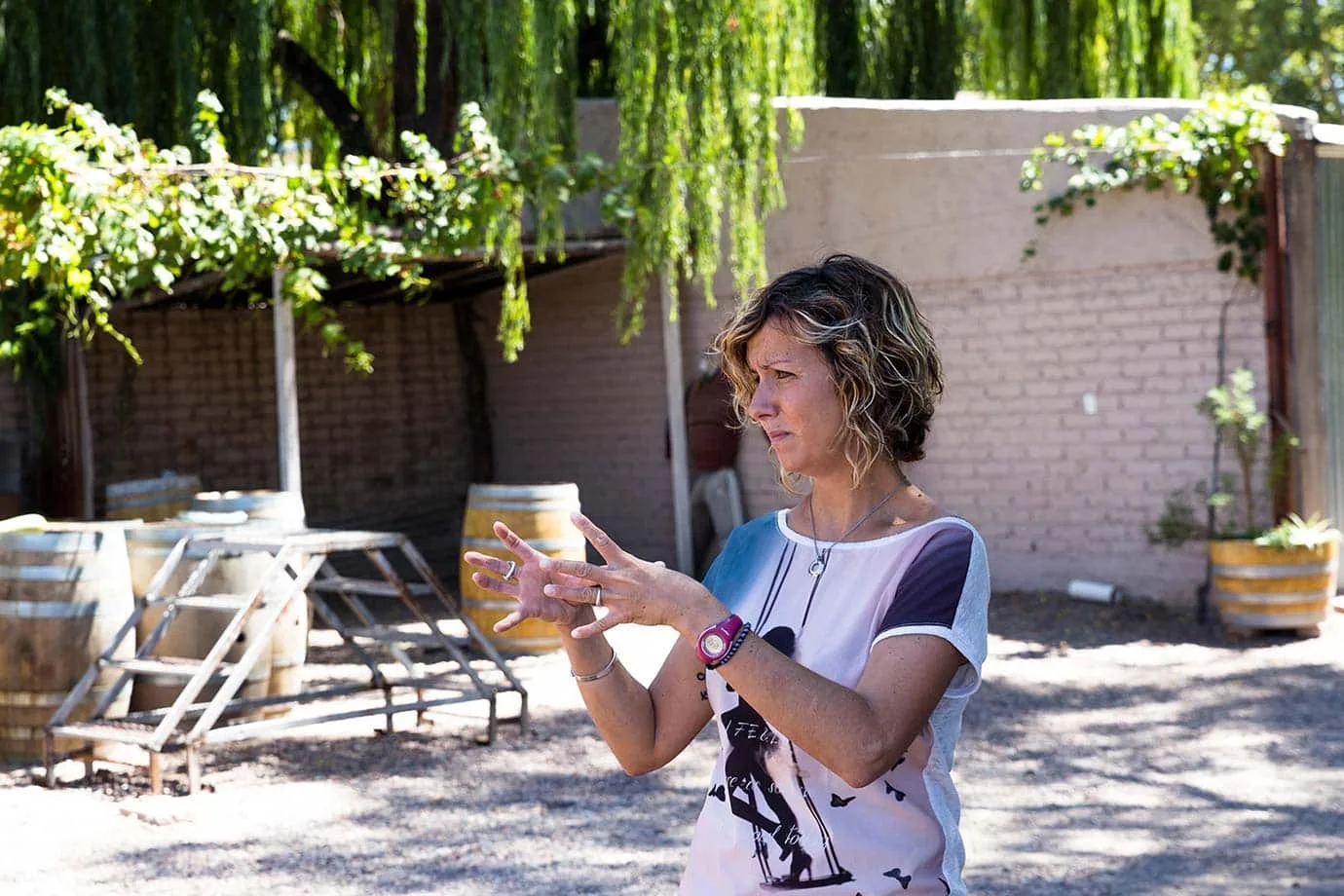 Taking a tour a Bodega Lagarde
We arrived at Bodega Lagarde just before midday where we were greeted in the main reception.
Before we sat down for lunch, we joined one of the English speaking tours going around the vineyard, learning all about the wine making process here and why this region is so good for producing certain types of vintages.
In an region that's famous for Malbec and reds, Bodega Lagarde broke convention by being the first non-traditional winery to produce a Viognier. They also make quite a lot of champagne here, something that is different from other wineries in Argentina.
One thing I really liked about walking around Bodega Lagarde was wherever you looked you could see the history of the place. They're obviously very proud of their heritage here, and from the timeworn chimney to the century-old wine barrels, it really brought the history alive.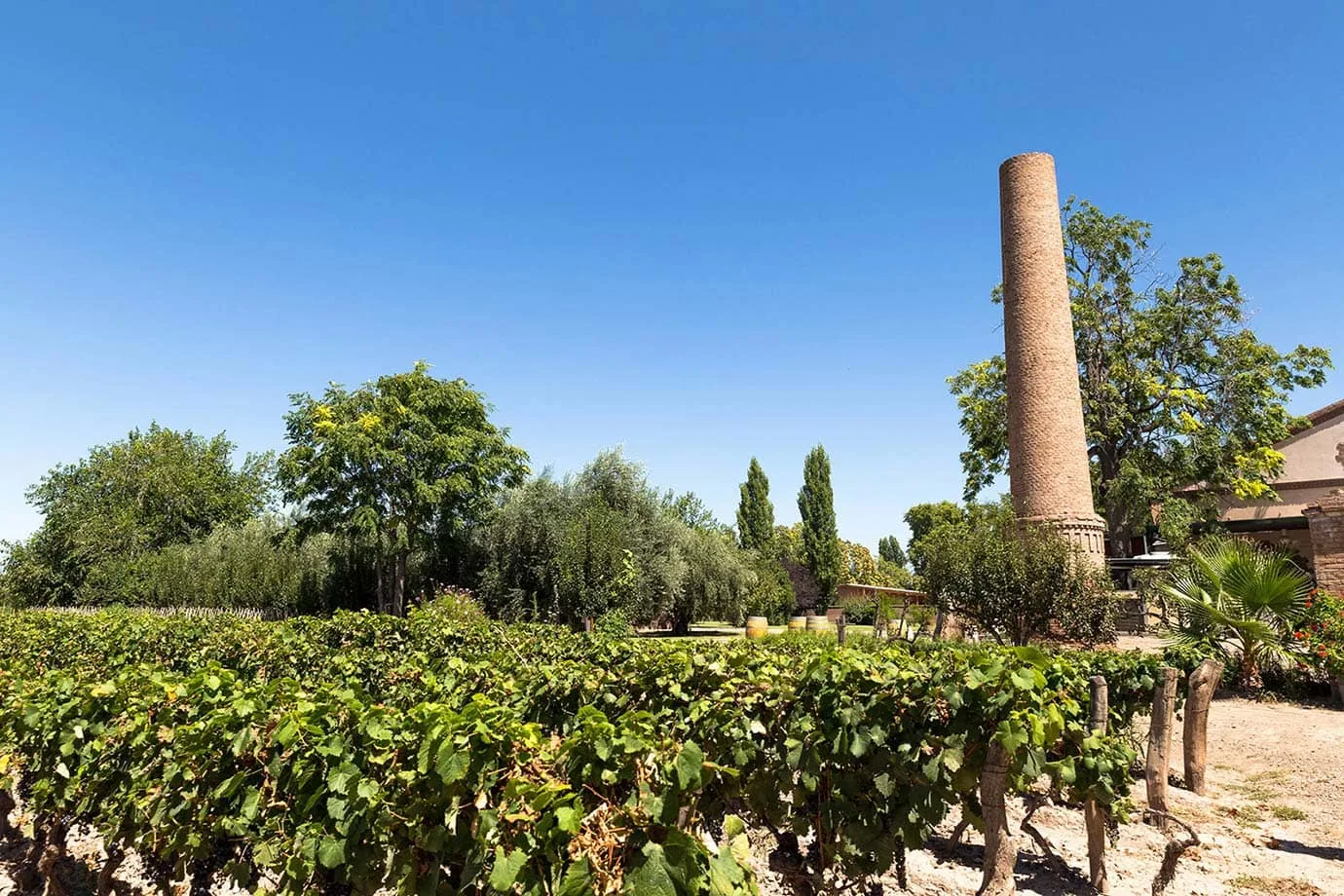 Once in was time for lunch, we were asked whether we wanted to sit inside or outside. On such a lovely day we chose outside and we were seated under the shade of a tree right next to the vines.
Soon after our waiter came over and explained something very unique about lunch – it was unlimited wine; you really could drink as much as you wanted.
In all the vineyards that do a lunch and wine pairing combo that I've beeen to, this was the first time I'd come across unlimited wine, and I thought it was a nice touch.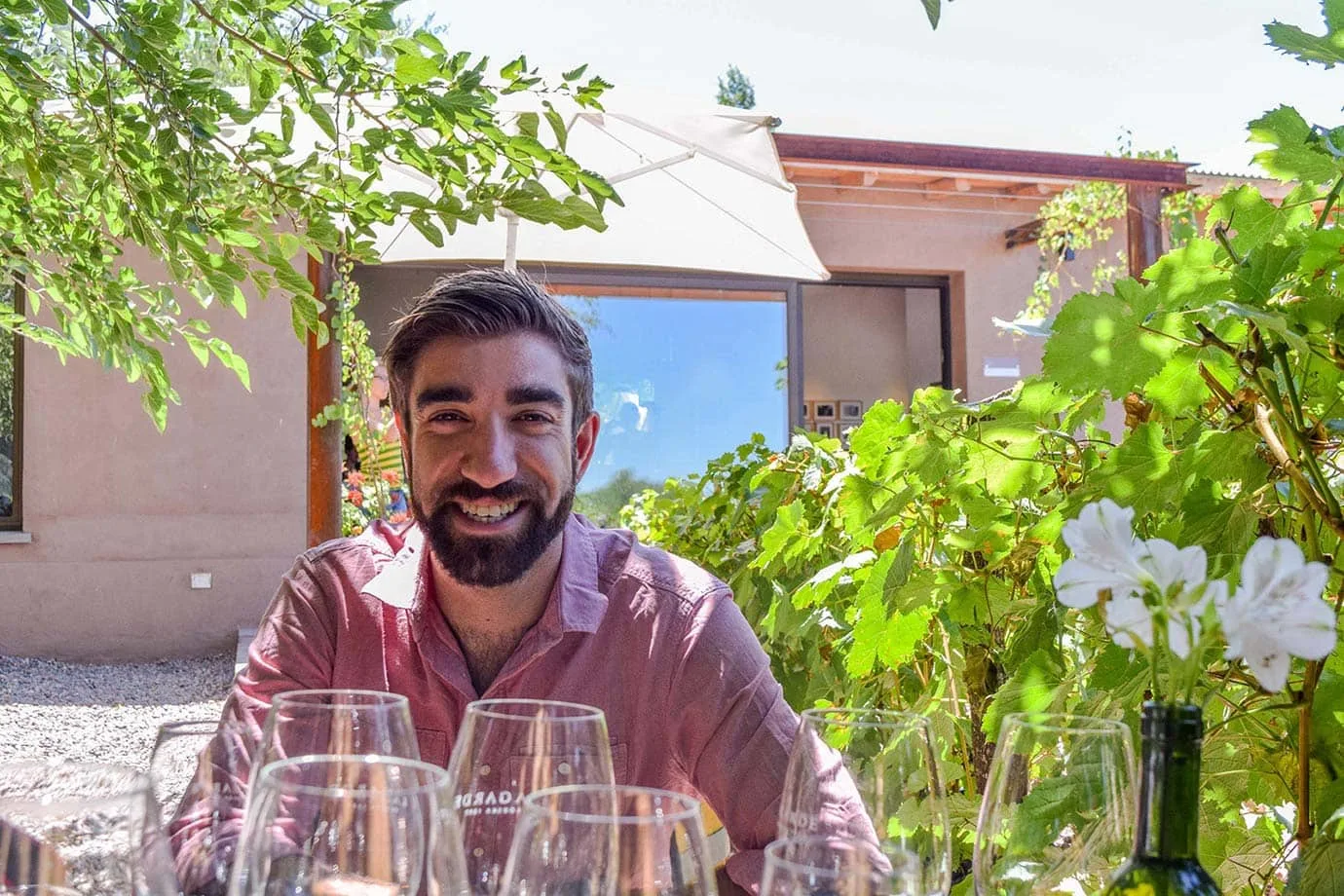 (Photo by Wanderlust Chloe)
Course 1: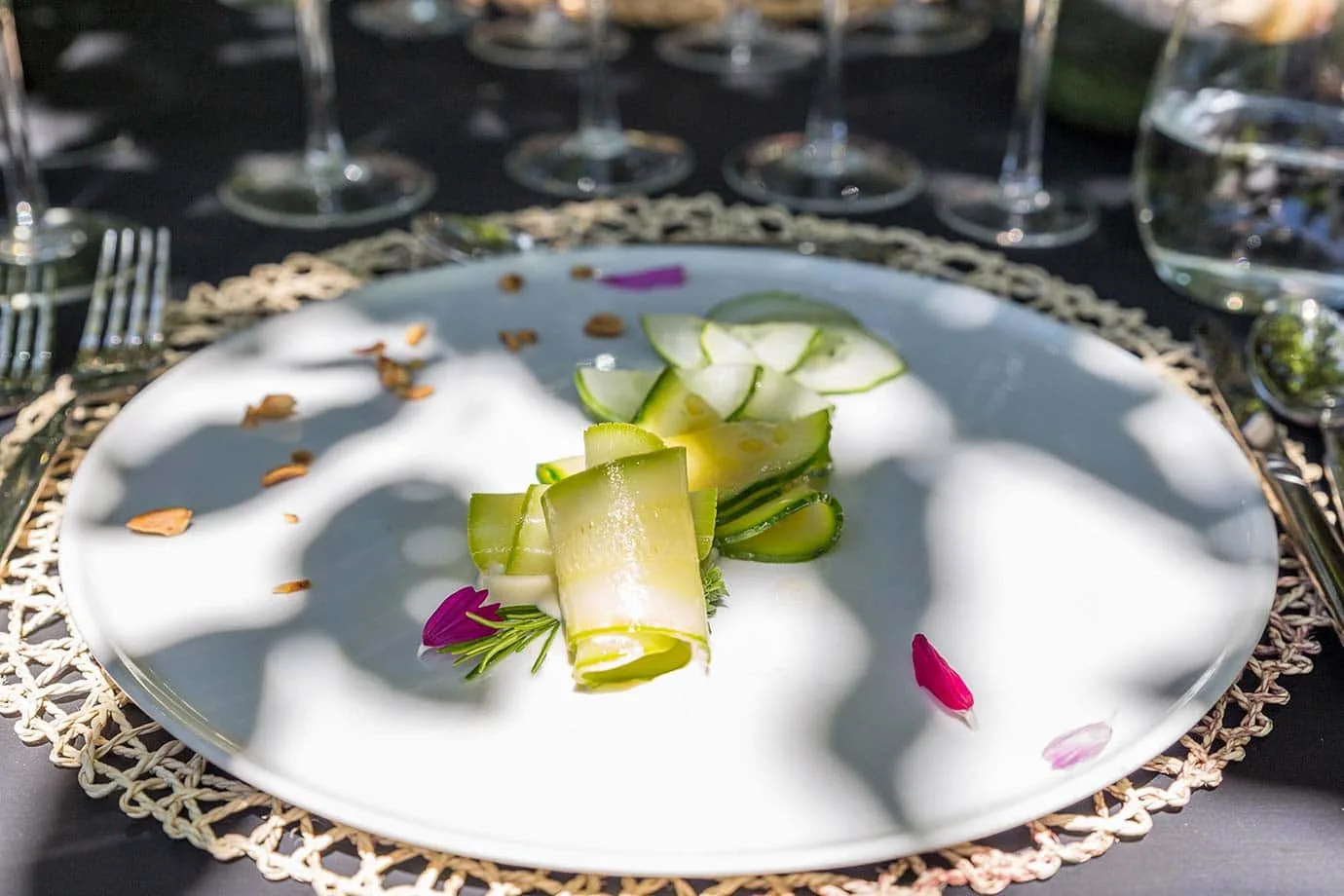 Food – Squash carpaccio, infused ricotta, lemon vinaigrette and almond slice
Wine – Lagarde Sauvignon Blanc 2015
On a hot afternoon this palette cleanser was extremely subtle and refreshing, though I would have preferred more ricotta. The almonds added a nice texture to the dish though, and it set up the rest of the meal perfectly.
Course 2: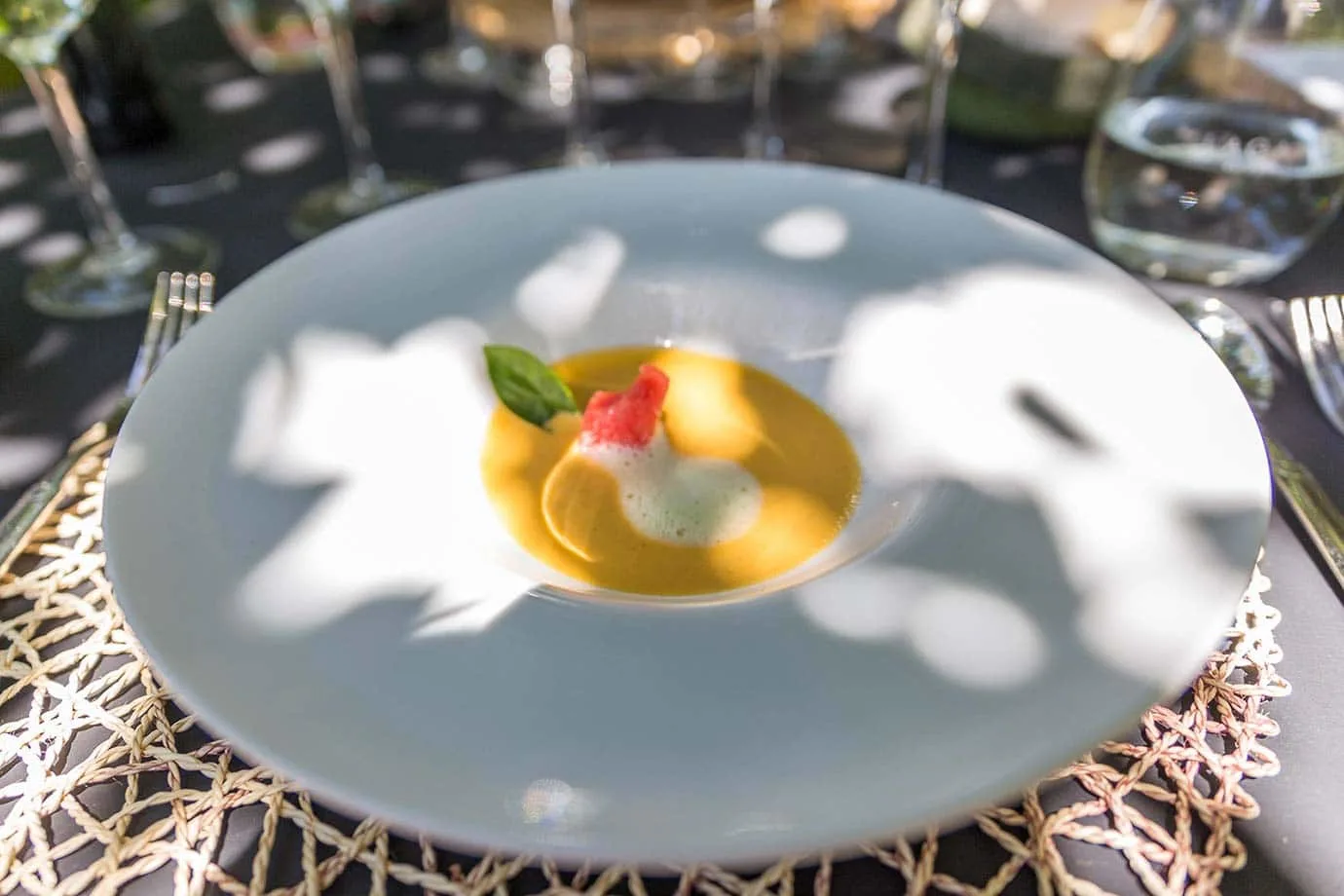 Food – Peach gazpacho, basil, watermelon pickle and organic spices from the orchard
Wine – Lagarde Blanc de Noir 2015
Again, this soup was very light and refreshing but absolutely packed with flavour. The watermelon pickle paired with the peach very well, and there was an undertone of basil throughout. Possibly my favourite dish of the day.
Course 3: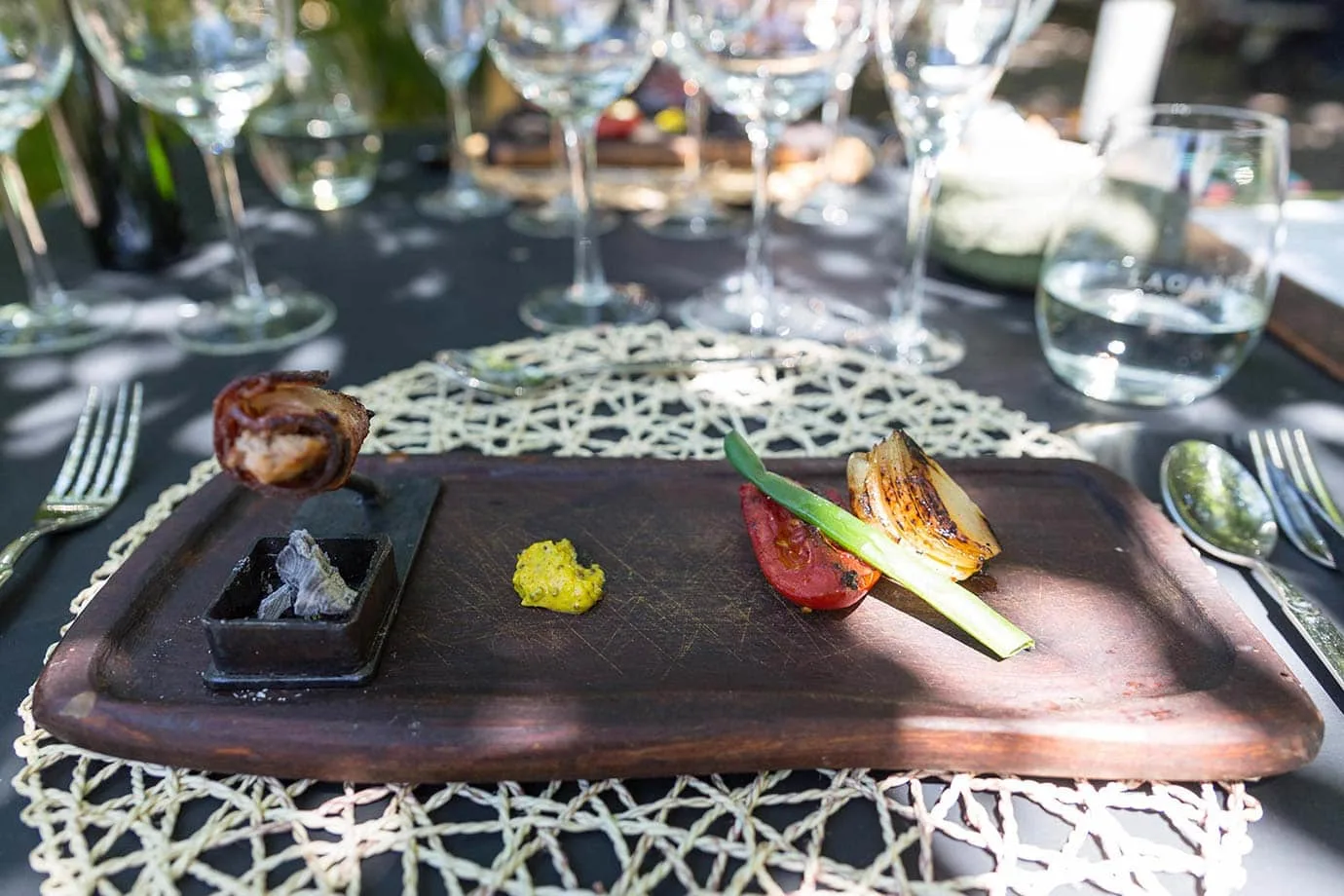 Food – Local pate, mustard relish and iron-baked vegetables
Wine – Lagarde Syrah 2013
A little bit of theatre with this one. The little bbq, known as a pincho in Argentina, carried the smell of burning charcoal adding to the deep smoky flavour of the bacon and the pate. The mustard relish wasn't strong enough for my palette though and I felt like it needed the heat with the meat.
Course 4: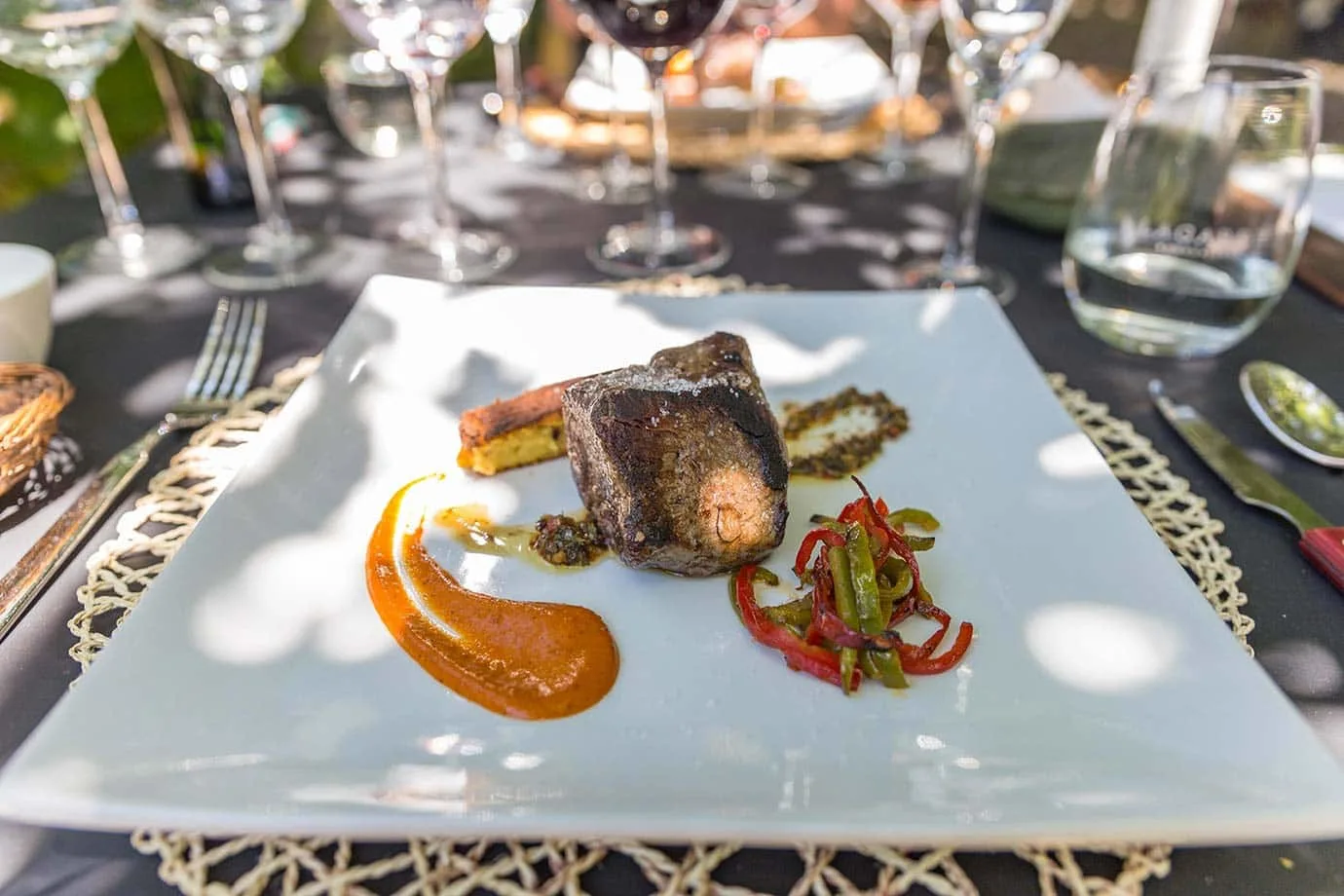 Food – Grilled filet steak, romesco sauce and seared corn cake
Wine – Cabernet Sauvignon 2012
As with most restaurants in Argentina, the main course was steak. You really can't go wrong with steak in Argentina and this one fell apart in your mouth and it went well with the romesco sauce. Paired beautifully with a Cabernet Sauvignon which complimented the dish well.
Course 5: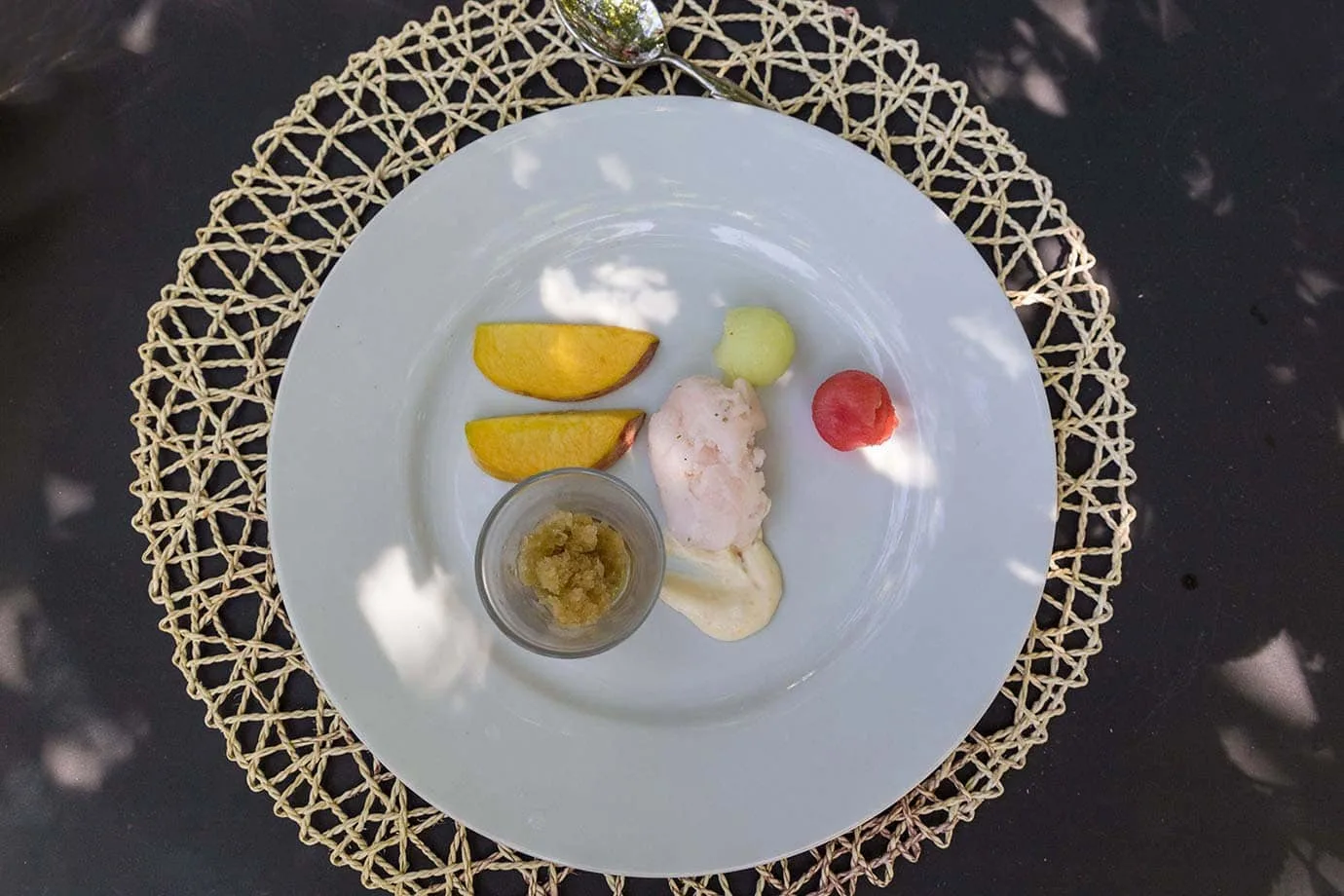 Food – "Yerba mate" ice cream
Wine – Espumoso
Mate (pronounced mah-teh) is a popular hot drink in Argentina, and being packed full of caffine it's very bitter in taste, so with such a strong taste a dessert like this is always going to divide opinion. Unfortunately, for me, I didn't find this sweet enough, but the cream held it all together.
---
Standing out in one of the most famous wine regions in the world with dozens of vineyards around is no mean feat, but Bodega Lagarde delivers a genuinely amazing experience in a beautiful setting.
In a country that's famous for fine-dining and even better wines, it can be hard to distinguish place from place, but I absolutely loved Bodega Lagarde – it really is worth visiting on any trip to Mendoza!
How much is lunch at Bodega Lagarde?
The five course lunch menu with wine pairing and pre-lunch wine tour at Bodega Lagarde costs $810 (Argentine peso) per person.
Don't forget the wine is unlimited, and there is a vegetarian option. Please note: the menu at Bodega Lagarde changes every three months to reflect the seasons.

Adddress:
1745 San Martin, Mayor Drummond (5507)
Luján de Cuyo, Mendoza, Argentina
(+54 261) 498-0011
Save
Save