Are you looking at doing the epic Torres del Paine W Trek? From whether to go on a tour to which route to take, this is my guide to the W Trek in Patagonia!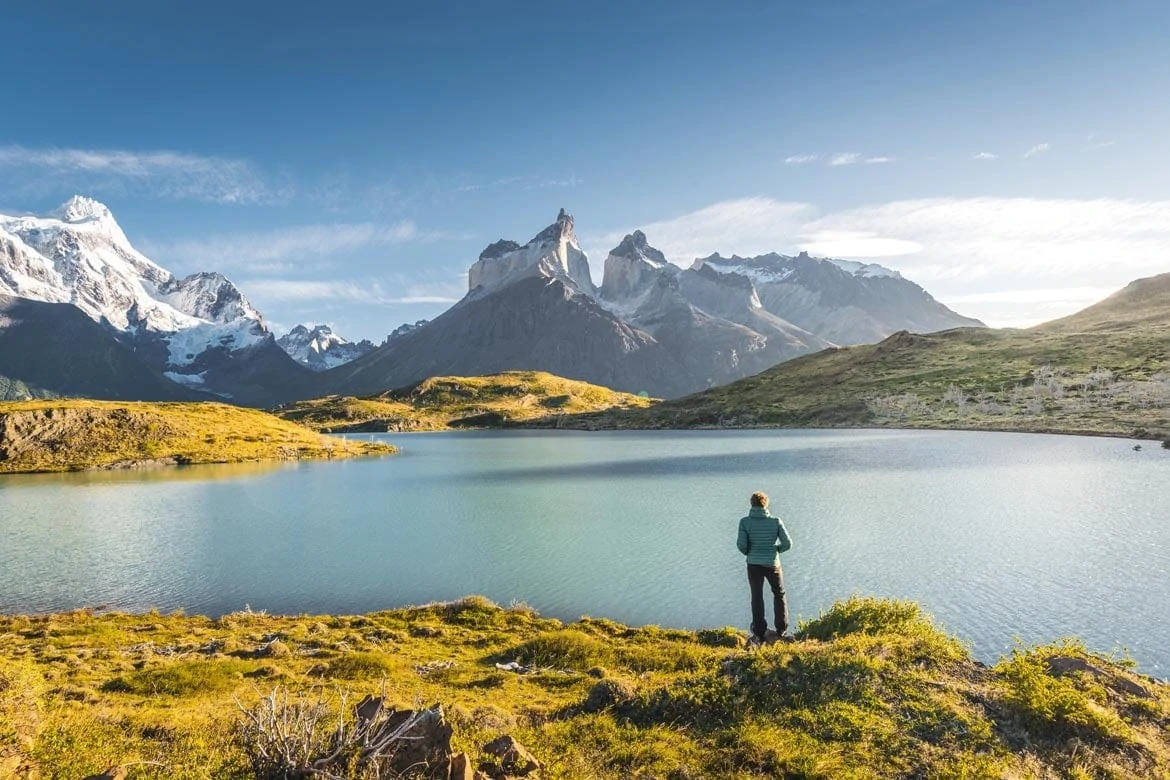 Patagonia. A place that many people dream of going. If hiking and exploring new parts of the world is something that you enjoy, it's a good bet Patagonia is already near the top of your list of places to visit.
With its incredible vast mountain ranges, stunning blue glaciers and beautiful forests, what's not to love? That's what makes the Torrest del Paine W Trek arguably the best trek in the world. In this post I'll tell you why!
Patagonia is massive, so visiting with a tour or guide is recommended to get the most out of your trip. It spans 1 million square miles across both Argentina and Chile. Surprisingly (or not considering its rugged landscape), Patagonia is home to less than 2 million people. That means you've got a lot of space all to yourself.
So, if you're thinking of taking on the Torres del Paine trek then this is the post for you. In this post I go into hiking on a tour vs self-guided, which route to take, and loads of other practical information too. It's time for your adventure to begin here!
Chilean Patagonia
Visiting the Chilean side of Patagonia is a great option for a few reasons. First, it is more isolated than Argentina, so you can expect to see fewer visitors. Second, the Torres del Paine National Park is one of the most iconic parts throughout all of Patagonia. Lastly, the wildlife within Torres del Paine is very diverse and you'll be able to see a wide range of animals along with your hike.
A little information about the Torres del Paine National Park: It is one of Chile's largest parks, measuring at 598,593 acres of wilderness. Its grasslands provide safety and shelter for a variety of animals including, pumas, guanacos, condors, Huemul deer, foxes, and even swans. If you're interested in wildlife then check out this guide on the animals of Patagonia. Seeing all these animals is one of the best things about visiting Patagonia, and you really do see them all!
Many of these animals can be spotted while on daily walking tours and multi-day hikes. Some animals, like the puma and Huemul deer, require a multi-day wildlife tour with a devoted guide to help you spot them. But keep an eye out, you might be able to spot some of these while visiting the park.
Hikes in Torres del Paine National Park
Throughout Torres del Paine National Park, there are numerous multi-day and day hikes for every hiker's interests. One of the most famous multi-day hikes within the park is the W Trek in Patagonia.
It was given its name because the trail resembles a capital "W". This 50 miles (80 km) trail will allow you to see incredible rock formations everywhere you turn, beautiful alpine lakes, and of course, the gorgeous 3 Towers. The Torres del Paine W Trek allows you to see all of this in a relatively short amount of time.
In addition to the beautiful landscapes, you will (hopefully) be able to see a variety of wildlife throughout the park. Sound interesting? Continue reading to see how you too can complete this incredible hike.
Alternatively, if you're looking for a much shorter trip, you can also go on some day hikes in Torres del Paine. Check out this blog post to see where some of the best day hikes are.
Tour vs self-guided for the W Trek?
Unlike other famous hikes like the Inca Trail to Machu Picchu where you cannot hike without a guide, you don't have to have a guide for the W Trek in Patagonia. Many experienced hikers decide to hike solo, which you absolutely can! However, for someone who isn't as experienced with multi-day hikes, or Patagonia in general, it would be a good idea to reserve a tour for the W Trek. Plus, tours these days are pretty great!
Some of the advantages of having a tour guide are that they take care of everything for you. You won't have to try and compete against other hikers for campsites and lodging along the way.
Instead of carrying around extra weight, like your sleeping bag, tent, food, and water, many Patagonia tour companies have the option to hire porters or offer them to carry your things for you. This is a great option for individuals who might not want to carry a 20 to 30-pound pack for multiple days.
Another great thing about tours is that you can meet new people! Depending on your tour size, you will most likely be meeting and hiking with new people from around the world. This is a great time to start some new friendships, and how cool is it that you'll be able to say that you made a friend while in Patagonia?
Overall, tours are a great option when deciding to hike the Torres del Paine W Trek. You'll be able to have your accommodations taken care of, and all you'll have to do is hike!
If you're looking for your own separate accommodation on a self-guided tour then check out these stunning places to stay in Torres del Paine National Park.
Unsure which W Trek tour is the right fit for you? Here are some of our favorite:
This 8-day self-guided tour will let you experience the Torres del Paine Trek, and provide you a day to rest the day before and after hiking. Accommodations will range between Refugios and campsites depending on the night. This tour does not provide porters, you will need to carry your own pack the entire hike.
This shorter 5-day guide is great for someone who would like more time to explore other parts of Patagonia. You'll still be able to hike all of the W Trek and see the iconic Three Towers. All accommodations are made at Refugios so you can relax after a day of trekking. Note that this tour does not include the National Park Entrance fee. Prices to enter range depending on the season. Make sure you check the current price before going as well as withdraw money. The park doesn't have any ATM's within it (obviously), so it is crucial that you have money before going.
This quick 6-day guide will let you experience the Torres del Paine trek as well as give you the opportunity to visit other parts of Patagonia if you wish. You'll spend 4 days hiking the W Trek, with a day to rest before and after. You will have a mix between Reguigos and campsites along your way.
This 10-day tour is great for those who want to visit both the Argentina and Chile side of Patagonia. You'll be hiking the famous W Trek on days 3 through 6 of the tour. After completing the W Trek, you'll have the chance to visit El Calafate and Perito Moreno Glacier on days 7 and 8. To finish off your great 10-day tour, you'll fly to Buenos Aires and explore sites like Plaza de Mayo, San Telmo neighborhood, and the Recoleta cemetery.
Getting to Patagonia?
Getting to Patagonia can take a long time for a majority of travelers. Depending on where you are traveling from, you will most likely need to stop two to three times on the way there and back.
No matter where you are coming from, you will most likely be stopping in Santiago. If time and money permits, it would be a good idea to spend a day or two in the city either before or after your hike. Santiago has plenty of great things to see, including, La Moneda Palace, visit the Museo Chileno de Arte Precolombino to see ancient art, and the Plaza de Armas. There are also multiple day trips from Santiago, including Valparaiso and Cajon del Maipo.
Depending on your tour company, you will need to take an additional flight from Santiago to either Punta Arenas airport or the airport in Puerto Natales. Your tour operator will inform you about which airport they will be picking you up from and transporting you to the start of the hike.
What to expect on the Torres del Paine W Trek
Depending on the tour that you choose will determine how many days you will be spending on the W Trek. For those who would like to take things a little slower, completing the hike in five to six days is a good option. You'll be hiking fewer miles each day over the period of multiple days.
If you would like to complete the hike in a quick four days, you can expect to be hiking 12+ miles a day. No matter how many days you decide to hike the W Trek, you can still expect to see a wide range of wildlife, incredible glaciers, rock formations, and the 3 Towers.
The 3 Towers
The 3 Towers is a purely incredible rock formation that you will be reaching at the end of your hike on the W Trek Patagonia. Make sure you save enough battery on your camera so you can capture all the great shots when you get here. You'll definitely want to brag about this one for years to come – it's just one of those places!
Different routes/extensions to the W Trek
Do you want to extend your Torres del Paine Trek? Many devoted hikers chose to extend their hike to the O route. The O route is a very rigorous and strenuous hike, extending to 70 miles (112 km). This route generally takes around 8 days to complete. For a majority of hikers coming to Torres del Paine, they chose to only complete the W Trek. While the O Trek is part of the W Trek, you can expect fewer amounts of people to be on the O route of the trail.
Feeling extra ambitious? Take on the 9-day Q route! The Q route encompasses the W and O route while adding on an additional day in the beginning. While the W and O route reaches the iconic 3 Towers at the end of their hikes, you can expect to see this a few days into the Q trek. The Q trek finishes with astonishing views of Glacier Gray. A small number of hikers chose to add this additional part of the trek to their itineraries, so you can expect solitude while you hike.
Don't fret if the Q trail seems too daunting and overwhelming. The Torres del Paine W Trek is still absolutely worth completing!
Things to know before you go:
When you arrive in Chile, you will be issued a PDI (tourism card). Do not throw it away! You will need the card to leave the country at the end of your hike, as well as you'll need to show it at different campgrounds and lodges.
You'll want to reserve your tour well in advance, ideally, five to six months before you go. Although the park receives fewer visitors than other parks and places within Patagonia, it is growing in popularity. As a result, it is crucial that you reserve your tour in advance because spots fill up. The W trek doesn't currently have a limitation on how many people can hike on the trail daily. However, if you are wanting to extend your hike to the O trek, they only allow 80 people a day on the trail so it is wise to plan for this.
When is the best time to visit? There isn't one exact month to visit that is better than others. Every season in Patagonia has its own advantages and disadvantages, and it's up to each individual to decide their preferences Summertime months in the southern hemisphere are November to March. Temperatures are usually in the high 60's (17-20 degrees Celsius) with the low in the 40s (6-8 Celsius). With warmer temperatures, you can expect a larger amount of people, and higher prices from November to March. Although there are generally more crowds during this time; if you enjoy engaging and meeting new people while hiking, this would be an optimal timeframe for your visit.Fall consists of the months March, April, May, and early June. The park remains full of crowds in March but dwindles out with the following months. You can expect the park to have an autumn feel to it with young wildlife exploring, and trees beginning to change colors. The high stays around the 40s to 50s (5-13 degrees Celsius), while the low drops significantly to the 20s (-3 to 3 degrees Celsius). For those who don't mind the cold, this would be a great time to visit! Be aware that there is a high chance of snow in the later months.Winter make up the months from June to August. This is the most challenging time to visit the park, however, some tour companies like Cascada Expediciones provides a winter special to Torres del Paines National Park. You can expect the high to be in the low 40s (5-8 degrees Celsius) with the low in the 20s (-3 – 0 degrees Celsius). The weather during the winter months can be unpredictable with snowstorms and high winds. If you are planning on visiting Patagonia during this time, it is wise to do your research and come prepared.Spring goes from September through November and you can expect some colder weather during these months. The days still remain relatively warm, with temperatures in the high 50s (13-15 degrees Celsius) while the low drops down to 30s (3-7 degrees Celsius). If you don't mind a little bit of chill in the air, this would be an excellent time to visit. As temperatures drop, so do prices. This makes the Torres del Paine an ideal time to visit for those on a budget, as well as people wanting to explore the park with fewer crowds.
Hiking the W trek? Or adding on the O or Q trail? You'll want to get into shape! The W trek alone is 50miles (80 km) round trip. If you are planning on hiking the O or the Q trail, you'll want to do some additional training. The best training for any of the Patagonia trails will be to go on multiple long hikes beforehand. In addition, using a treadmill or running outside, and stair climber machines are helpful.
Mental stamina is also very important. You'll be hiking 7+ miles a day for multiple days, and you'll need to keep a good frame of mind to continue going.
Buy good hiking boots! These are the ones I've got and always recommend to people. For any long hikes that you will be going on (not just in Patagonia) it is best to invest in some good hiking boots. They should be comfortable and have great ankle support, as well as a good gripping sole for those loose rocks and dirt. Make sure you break in your boots long before the W Trek.
To help with your legs being sore after a day of hiking, bring a muscle/massage ball to rub out your calves and feet. I promise you'll want one!
Bring layers! The temperature can change frequently throughout the day, and you'll want to be able to stay warm or cool while hiking. Layers are especially important for the night for all of the seasons.
Hiking poles can be optional depending on the hiker preference. However, many hikers find them to be useful for providing stability while going up and downhill.
Pack some of your favorite hiking snacks. Some of the best snacks to bring while hiking is jerky, trail mix, energy bars, and dried fruit. If you chose not to pack your snacks all the way to Chile, there is a large UniMark grocery store in town, as well as other small shops that you can pick up some snacks at.
Putting it all together: Planning your Torres del Paine W Trek
Things you should do before going: Find your tour that best fits your style and interests and reserve it at least 5 to 6 months in advance. You'll have more options and say in when you would prefer to go, and what type of tour you would most enjoy. Another great thing about booking in advance means that you won't have to worry about it in the coming months.
Break-in your hiking boots: You don't want to show up to do the W Trek with brand new boots. Make sure that they are comfortable and fit well before beginning your hike.
Make sure you don't lose your PDI tourism card. You will need it to enter different lodging options along the way as well as to leave the country.
Enjoy your hike!
Not sure if the W Trek is for you? There's plenty more to do in Patagonia – which covers parts of Argentina and Chile. Read on for some more Patagonia activities to enjoy:
Should you visit the Argentine or the Chilean side of Patagonia? Or both?
A common question that travelers who dream of going to Patagonia have is: which region is better to visit?
Unfortunately, most travelers don't have millions of dollars in the bank, and months of time to explore all of Patagonia, so decisions have to be made on which region they would like to visit more.
Both Argentinian and Chilean Patagonia have their advantages and disadvantages. Deciding which region to explore will depend on a few factors – namely your interests, budget, and time.
Argentinian Patagonia
Comparing the two regions in size, it's fair to say that Argentina easily comes out on top. Patagonia encompasses most of the southern part of the country. On the flip side, because there's more space, it means there are a greater number of destinations within the Argentina side to explore. A few popular ones include Perito Moreno Glacier, Ushuaia, and Mount Fitz Roy.
One disadvantage of visiting the Argentina side is that flights tend to be more expensive. This can be expected given its growing popularity among travelers, as well as its size and a large number of sights to see. Trying to visit this side of Patagonia may prove to be more difficult for travelers on a budget.
Overall, Argentina still receives a higher number of visitors per year compared to its counterpart. If you decide to visit the Argentina side, you can expect to see a higher concentration of visitors throughout the year, as well as more expensive flights.
However, if the Argentina side doesn't sound as appealing, the Chilean side is left virtually untouched. The perfect option for travelers who prefer quieter and less populated destinations, compared to overly crowded touristy places.
A large part of the Chilean side of Patagonia is isolated – to see the majority will be challenging for most travelers, requiring intense long periods of hiking like the W Trek.
But if that's not for you, there are parts of the region that are more easily accessible to travelers. Many travelers choose to spend their time either in Carretera Austral or easier day hikes and wildlife tours in Torres del Paine National Park.
Even though the Chilean side receives fewer travelers, the Torres del Paine National Park still welcomes 150,000 travelers a year, with estimates expected to increase to 300,000 visitors by 2025.
If you are having a difficult time deciding between regions, and want to visit both, don't fear! Many Patagonia tour companies will have extended tours for you to visit both the Argentinian and Chilean parts of Patagonia.
---
Are you planning on doing the Torres del Paine W Trek? Are you doing it alone or part of a tour? Let me know in the comments below!
Like this blog post? Then make sure you Pin it for the future!