Innsbruck isn't all about the skiing & winter sports. From mountain biking to hiking, here's how to spend an amazing summer in Innsbruck, Austria!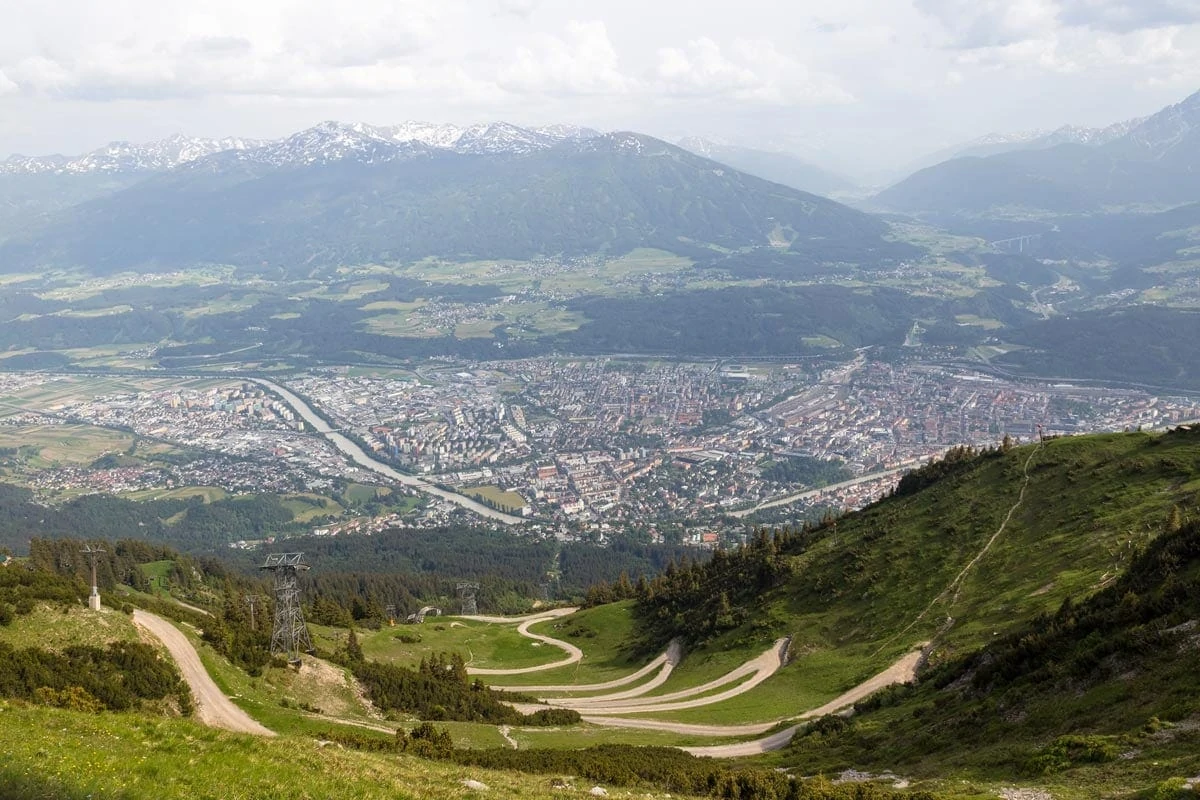 I'm starting to think that Austria only produces pretty towns and cities. Every one I've been to has been absolutely stunning.
After already visiting Graz, Salzburg and Zell am See, it's impossible to pick a favourite, but Innsbruck in Tirol is another incredibly beautiful place, especially in summer.
Nestled at the bottom of a valley and surrounded by the mountains, many people consider Innsbruck just a winter destination with world-class ski resorts. However, when it comes to summer in Innsbruck there is so much to see and do here.
Austria in summer is all about the outdoor activities, so in Innsbruck expect to do things like mountain biking and hiking. The views at the top of Nordkette Mountains really are something else.
So, for those of you looking at what to do in Innsbruck in summer, this is my travel guide for you!
To help plan your trip here, make sure you check out my guide to the best boutique hotels in Innsbruck. Some of these places are so dreamy and perfect for that extra special holiday.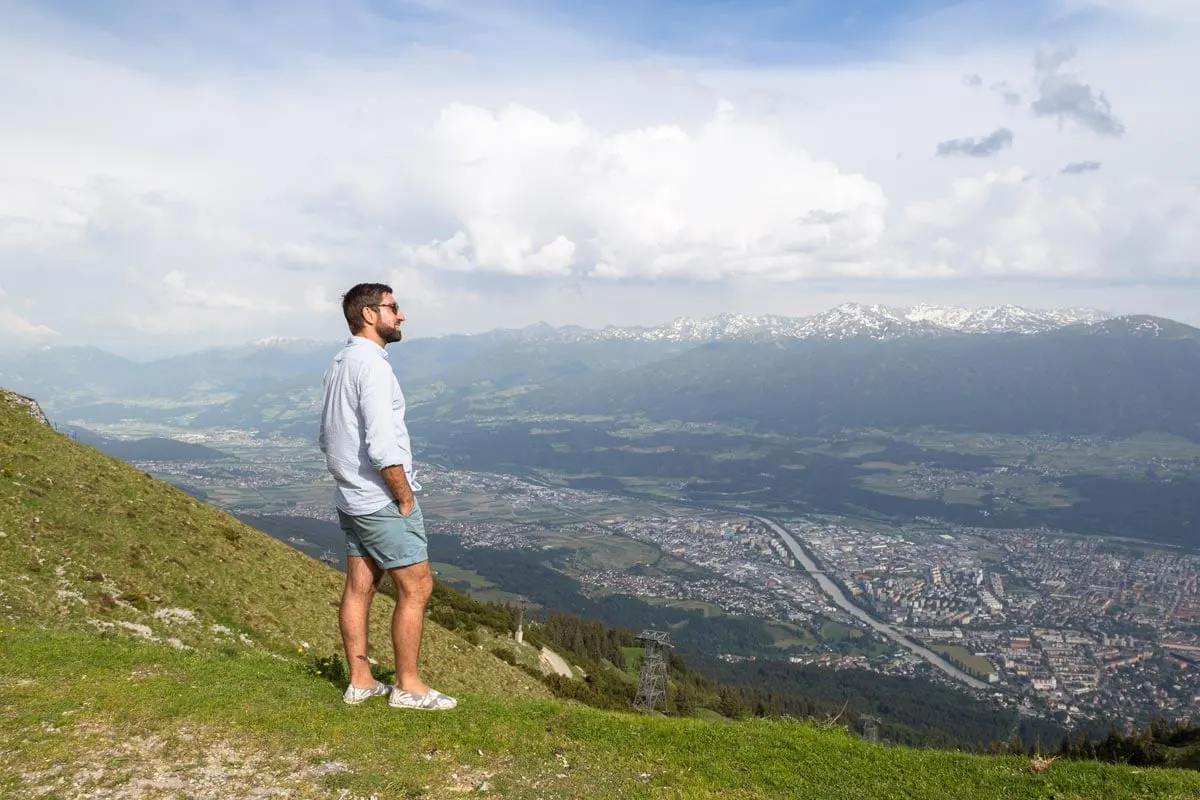 Summer in Innsbruck, Tirol
I was initially in Innsbruck filming a web series with Eddie the Eagle (if you remember him!) We really wanted to showcase some of the best things to do in the city.
The whole challenge was to beat the clock. Eddie and I had to get from Berginsel Ski Jump to the very top of the Nordkettenbahnen in just 30 minutes. Impossible, right? Watch our video and find out for yourself!
As you can see from our video, we had such a glorious summer in Innsbruck. Even though we were only in Innsbruck for a few days, I wanted to see all the city had to offer.
The beautiful thing about Innsbruck is the close proximity of the mountains. You can literally get from the city up to the top of the mountains in less than half an hour. 20 minutes if you're really counting.
Okay, so we *may* have taken a little longer ourselves, but that might've been down to the fact that I wanted to go on a scenic horse and carriage ride through the city. If it wasn't for that, we would've been at the top of those mountains in a flash.
Still, we shot in some of the best locations in the city, and in-between filming I managed to tick off some of the best things to do in Innsbruck.
So, if our video has inspired you to see a little more of the city, then this is what to do in Innsbruck!
Summer weather in Innsbruck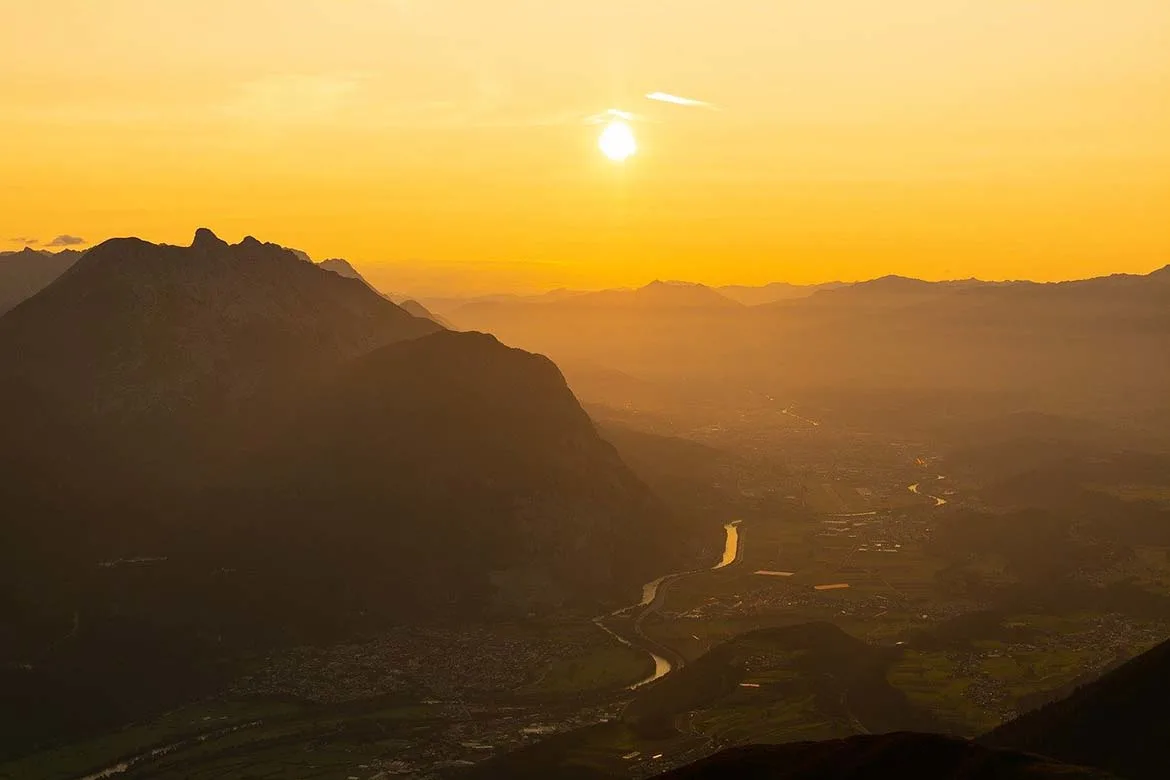 The summer weather in Inssbruck is just gorgeous. When I was here, it was hot and sunny every single day. And I'm talking about proper shorts and t-shirt weather here.
These are the average temperatures of you:
May – 13°C (high of 19°C)
June – 17°C (high of 22°C)
July – 19°C (high of 24°C)
August – 19°C (high of 24°C)
September – 16°C (high of 21°C)
As you can see, visiting Innsbruck around June, July and August is the perfect time. September is a lot quieter so I'd definitely considering coming here then too.
---
Things to do in Innsbruck in summer
Stand in the shadows of the Bergisel Ski Jump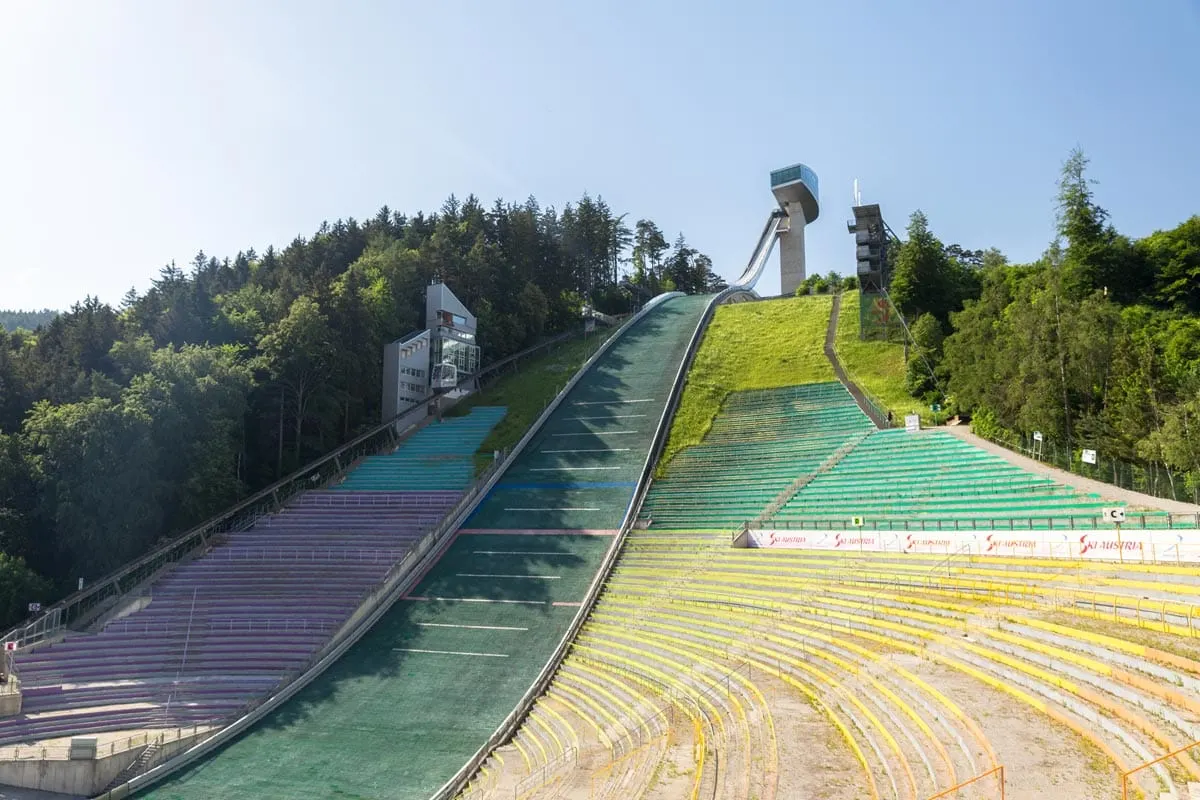 The Bergisel Ski Jump is one of the most famous landmarks in Innsbruck. How anyone can throw themselves off this thing I have no idea. Eddie assured me it was one of the most exhilarating things you can do. Obviously I'll have to take his word for that as I can't see myself trying this anytime soon.
Anyway, competitions were first held at the Bergisel Ski Jump in the 1920s. Since then, it has been redeveloped and expanded to a capacity of 28,000 people.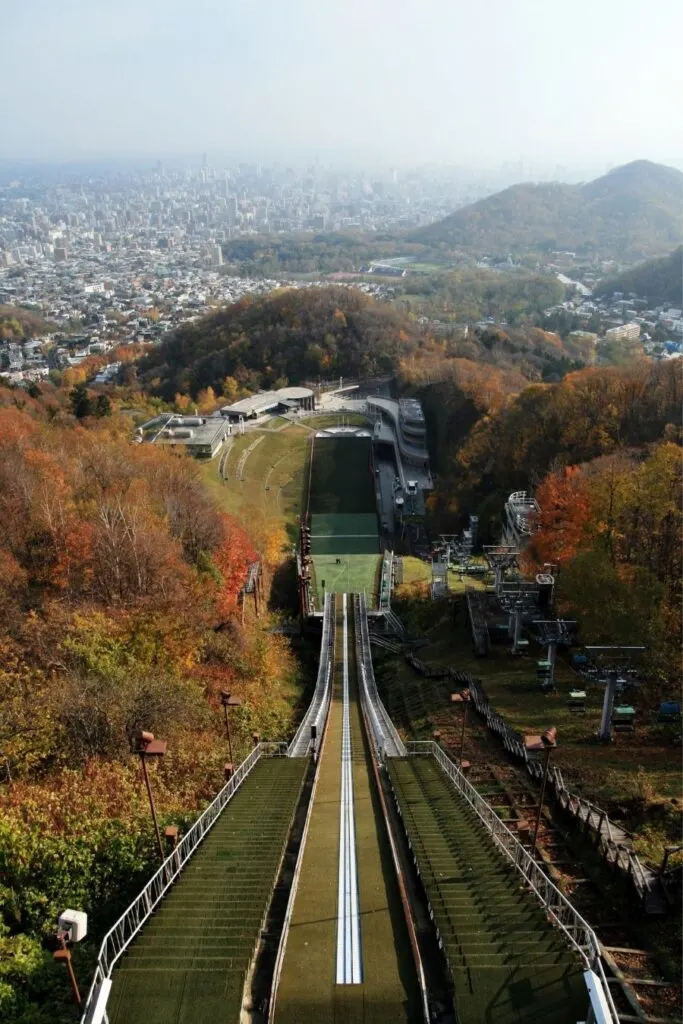 If you want to see how crazy people like Eddie are, standing at the top really gives you an insight into what it must be like to be a ski jumper.
The Tower stands 47 meters tall and provides some spectacular views from the top. This isn't one of the faint hearted though!
Tickets to the top cost £9 and you get there via a funicular (don't worry, you don't have to climb those stairs).
Catch the cable car to the very top of the Nordkette Mountains
Directly opposite Bergisel Ski Jump are the Nordkette Mountains. No trip to Innsbruck would be complete without catching the cable car to the top.
Standing at over 3,000 metres, the Innsbruck cable car takes around 20 minutes to get to the top and provides you with amazing views of Innsbruck.
There are several stops along the way if you'd like to get out and explore the different stations. Also, there's a lovely little restaurant at the very top serving traditional Austrian food.
The views from up here might just be my favourite in all of Austria – they really are something else. There's a reason why this is one of the best things to do in Innsbruck, especially in the summer.
Tickets cost £35 per person for a round-trip and I really recommend this activity!
Have a coffee at the Golden Roof in the heart of Old Town (Altstadt)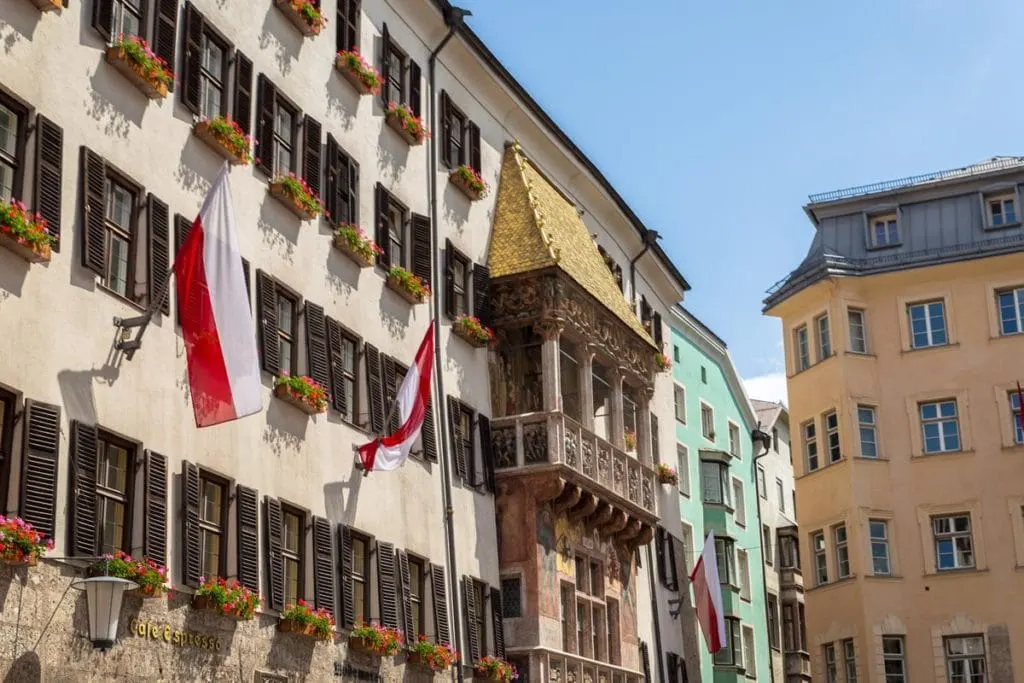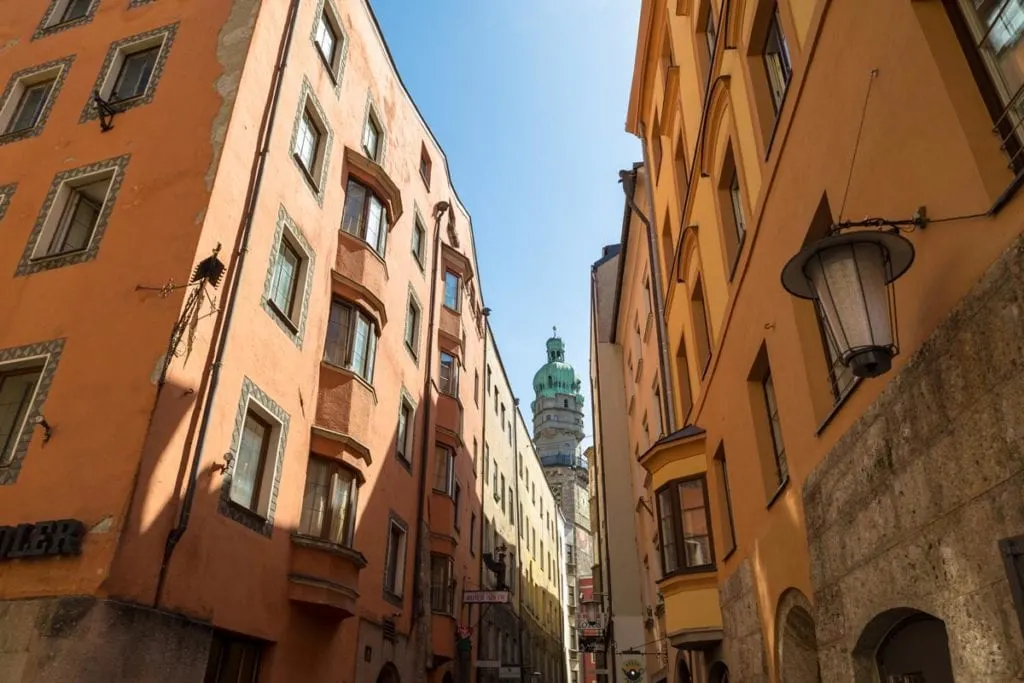 One of the stranger Innsbruck attractions is the Golden Roof (or Goldenes Dachl in German.)
As the name suggests, this is a roof made out of gold, and it is found right in the heart of the Old Town.
Constructed in the 1500s for Emperor Maximillian I, the striking roof is made up of 2,738 gilded copper tiles. All the lower balconies bear coats of arms relating to the Emperor's historical territories.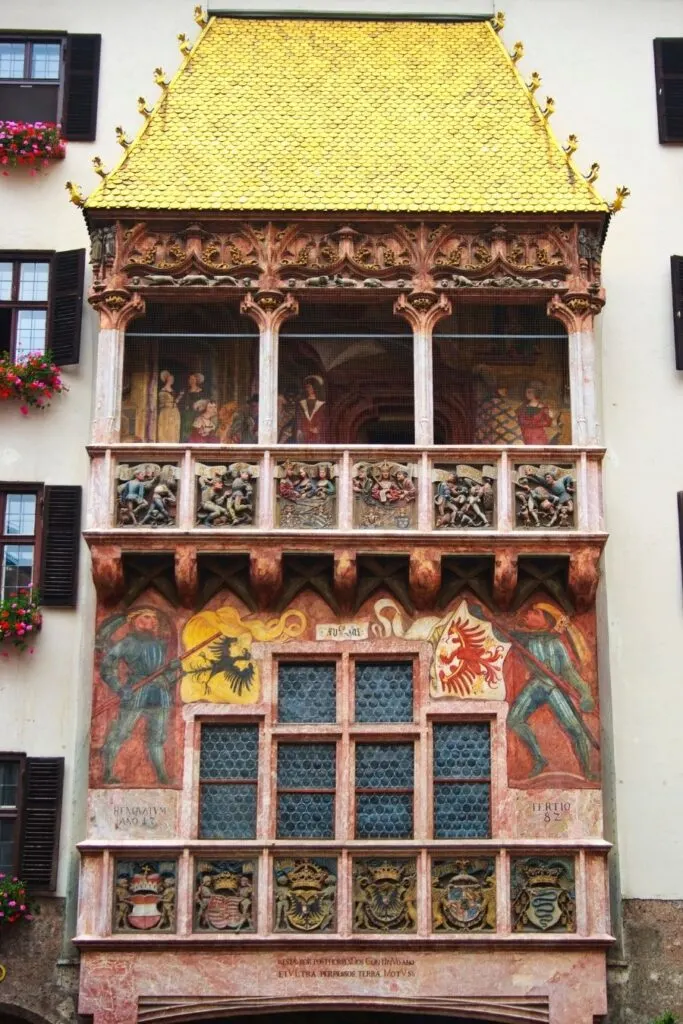 One of the best things to do at the Golden Roof is to grab a coffee or a beer from one of the restaurants in the main square and watch the world go by – all with the Golden Roof in the background.
For me, summer in Innsbruck is all about taking it easy and enjoying the sunshine. Well, this is such a stunning spot in the city to do it from.
Climb the 133 steps to the top of the Town Tower (Stadtturm)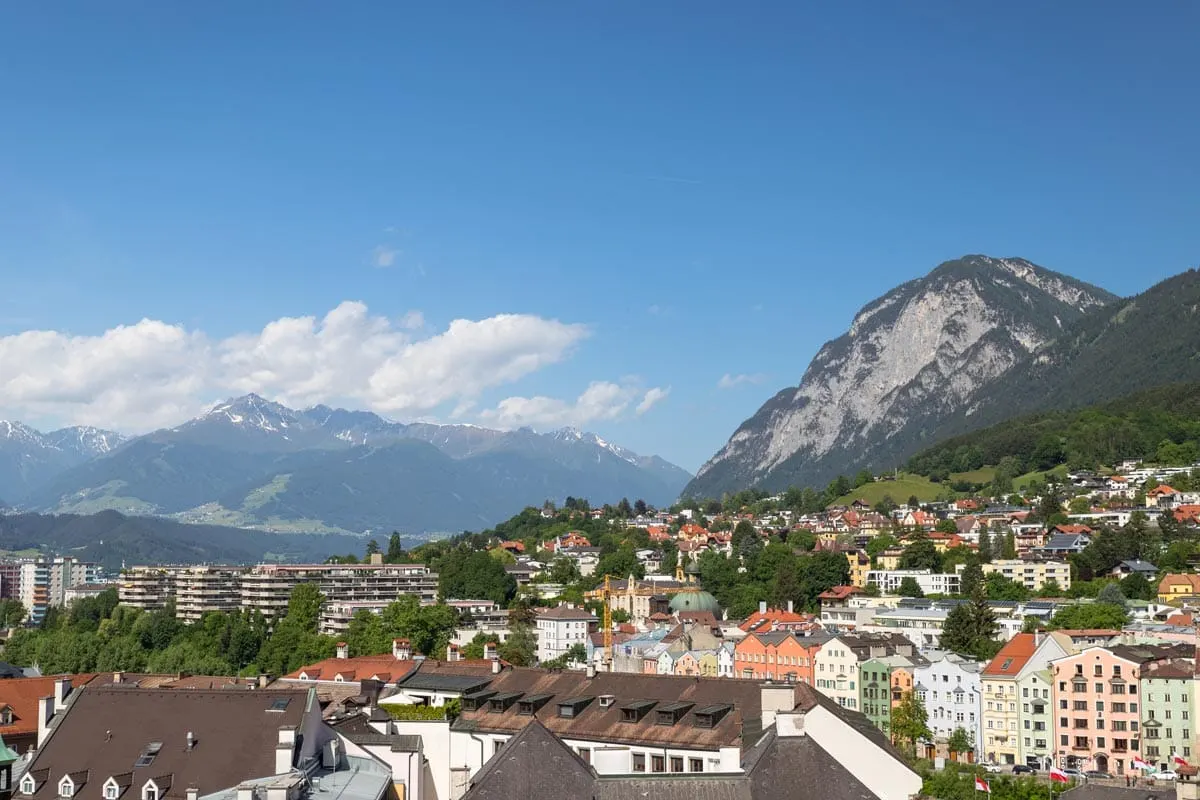 Whenever I'm somewhere new, I always find the tallest building in the city for those cityscape views. Well, in Innsbruck this is at the Town Tower (Stradtturm).
Built in 1450, people having been climbing to the tower for views of Innsbruck for over 500 years. The only thing that's changed here is the view of the city being built around the Old Town.
Even though the 133 steps to the top will leave you panting, the views are incredible. I love how the red roofs are framed by the river and the mountains – picture postcard perfect this scene.
Take some photos of the colourful houses by the river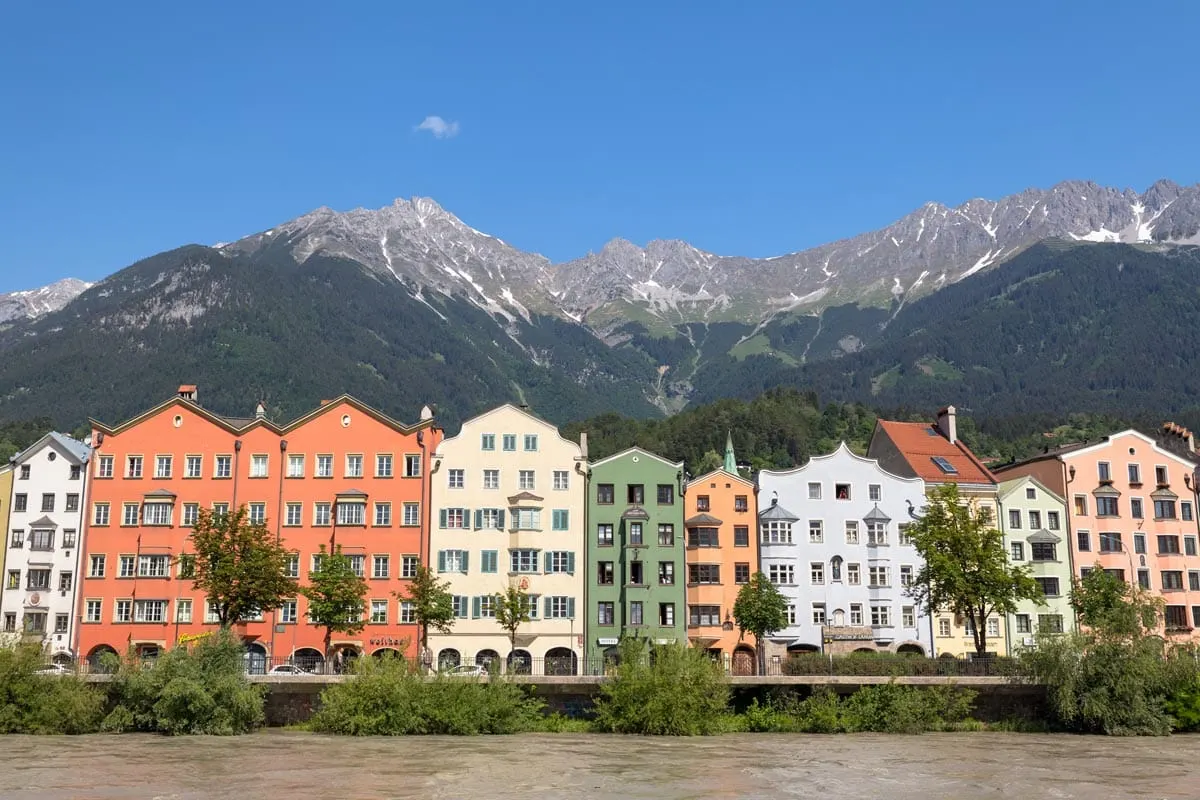 When it comes to what to do in Innsbruck, I always recommend going on a little self-guided photo walk of the city.
Like with a lot of places around Austria, Innsbruck is really bright and colourful. However, when the seasons change and the sun comes out then everything becomes so much more beautiful.
Down by the river there are some colourful houses painted in oranges, greens and blues. For me, this was one of my favourite photo spots in the city. If you head down to the river I found this spot by the bridge. This is where you can find a local market during the summer too (more on that in a bit).
Go for a cycle around Innsbruck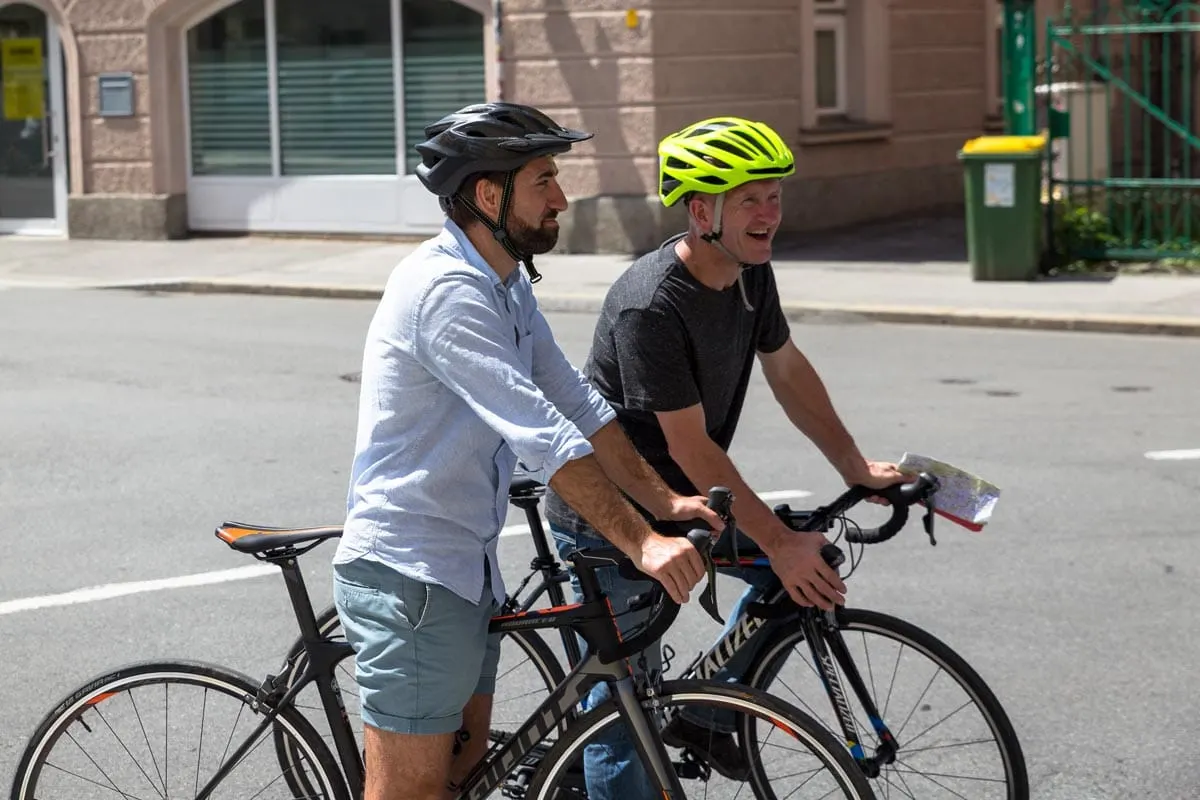 One of the best ways of getting around Innsbruck in summer is to hire some bikes.
Innsbruck (and Austria in general) are really into their road cycling. In 2018 they held the UCI Road World Championships and there are lots of cycling routes up into the mountains.
While I was in Innsbruck a few people we're talking about the race already and the city was absolutely buzzing. Often there are cycling events going on so make sure you check what's going on in the city before you arrive.
Feel like 1 million dollars at Swarovski Crystal Worlds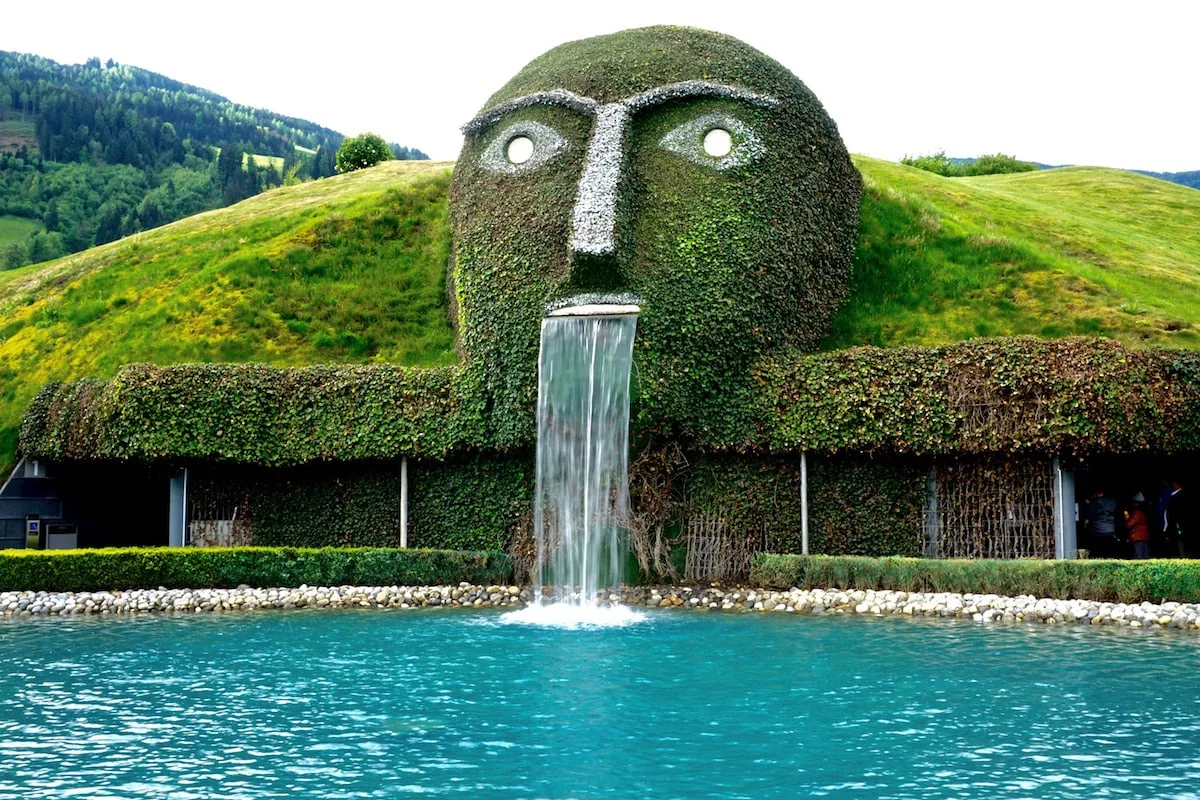 Even though Swarovski World is just outside of the city (it'll take you about 45 minutes to get there), it is definitely one of the best things to do in Innsbruck.
Yes, they sell lots of diamonds and crystals there. No, you don't need to buy all the diamonds and crystals there. As you can see, it is an amazing place for photos though. Tickets cost £15 per person and this place is fun for the whole family. Also, the art & architecture there is spot on. Personally, I would say this is one of the best things to do in Innsbruck in summer – again, I just love the architecture here.
If you'd like to learn more about Swarovski World then check out Wanderlust Chloe's guide.
Taste some samples at a local market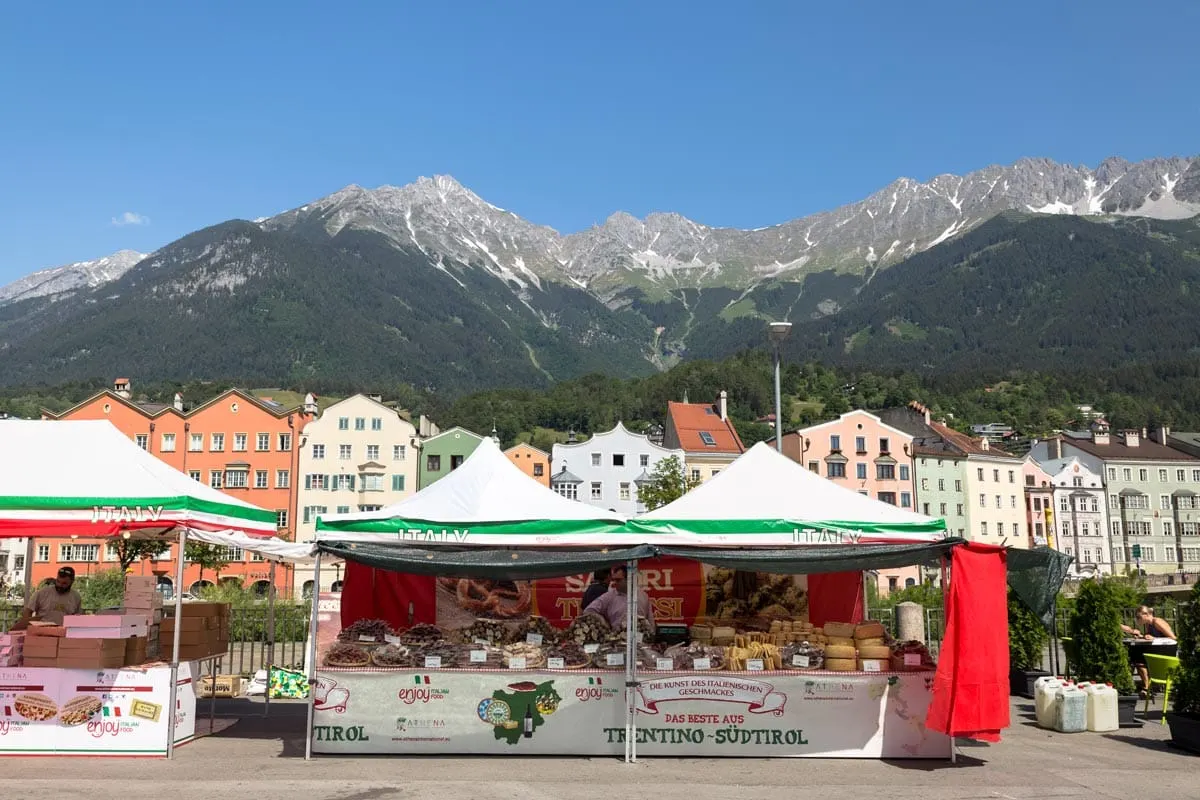 Innsbruck summer means markets! Now I love eating my way through a city so obviously I had to explore a few of the local markets.
Again, down by the river you'll find a local farmers market. I genuinely spent about an hour wandering from stall to stall sampling some local cheese and cold meats. I didn't realise how good Austrian cheese was – so good I just had to pick up a wedge that barely made it home with me. If you can, buy some local cheese – you won't regret it I promise you.
Take on some of the best downhill cycling in Europe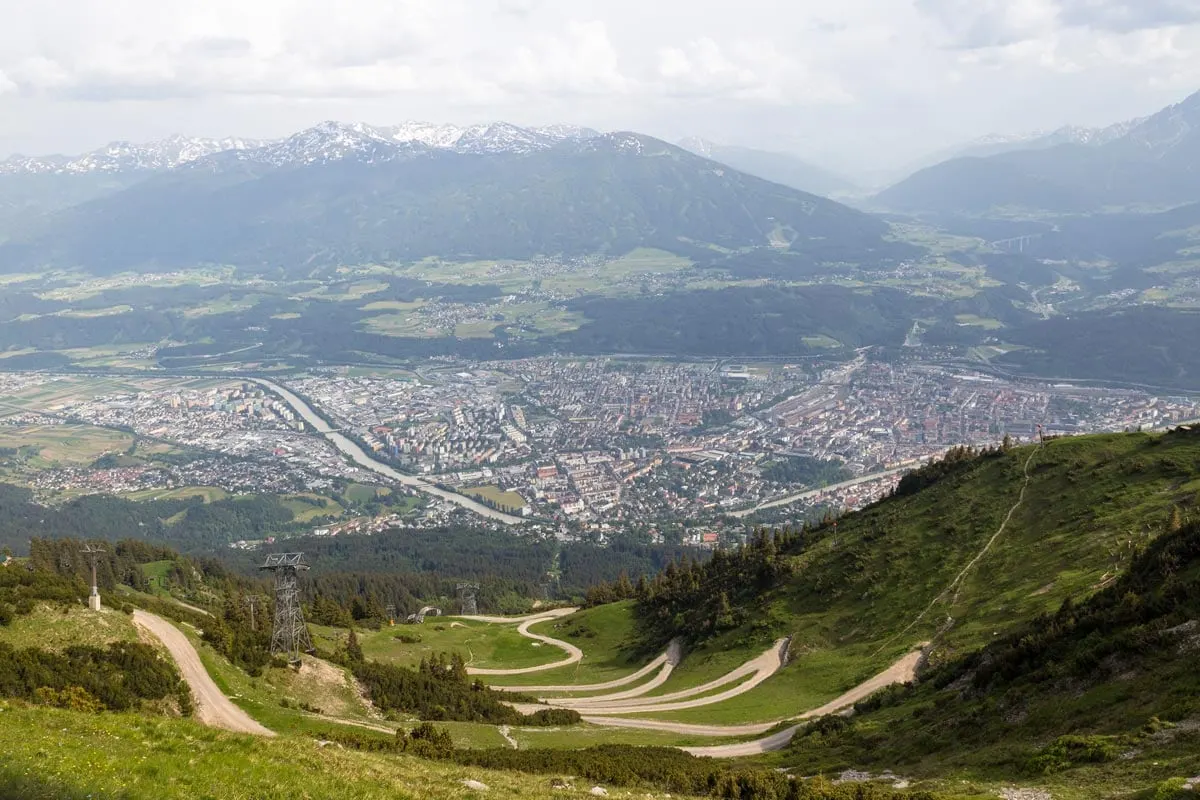 If you're an adrenaline junkie then Innsbruck has some incredible downhill cycling. When all the snow has melted from the mountains then this is a great summer activity.
The Bike Park Innsbruck in Mutters and Götzens welcomes mountain bikers with four trails and a biking centre with practice area. You can hire a bike and protective gear for the day and tackle the trails yourself. Or, alternatively, you can find a local guide and go on a bit of the tour of the mountains.
Heading to the top of the cable car really is one of the top places to visit in Innsbruck, and cycling downhill afterwards is an even better adventure!
Pay a visit to S
chloss Ambras (Ambras Castle)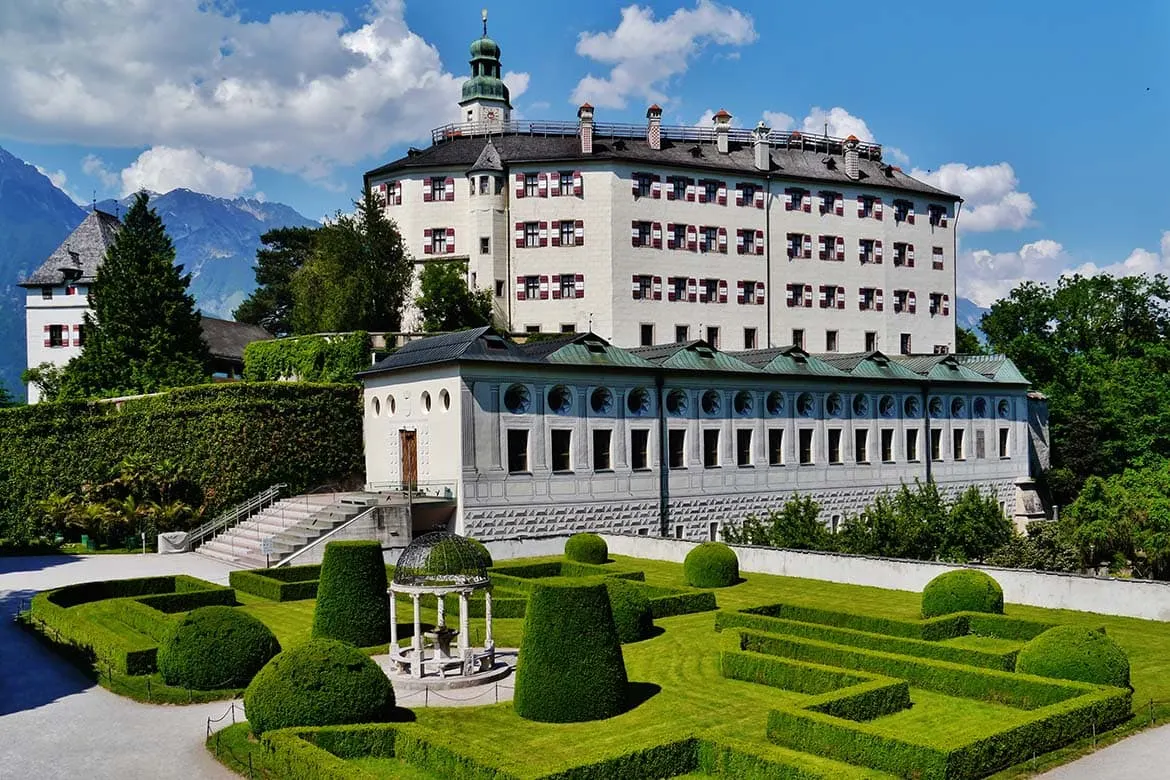 Schloss Ambras (Ambras Castle) is one of the most popular tourist attractions in Innsbruck. Perched on a rock 100 metres above the valley floor, Amrbas Castle dates all the way back to the 10th century. Yes, it really dates back that far.
On a tour around Ambras Castle you'll see the the sheer wealth and opulence of the place. There are objects made of ivory and coral dotted all over, there's suits of rare tournament armor, and there's over 200 paintings in the Habsburg portrait gallery.
Ambras Castle is a great place to add to your Innsbruck itinerary.
Where to stay in Innsbruck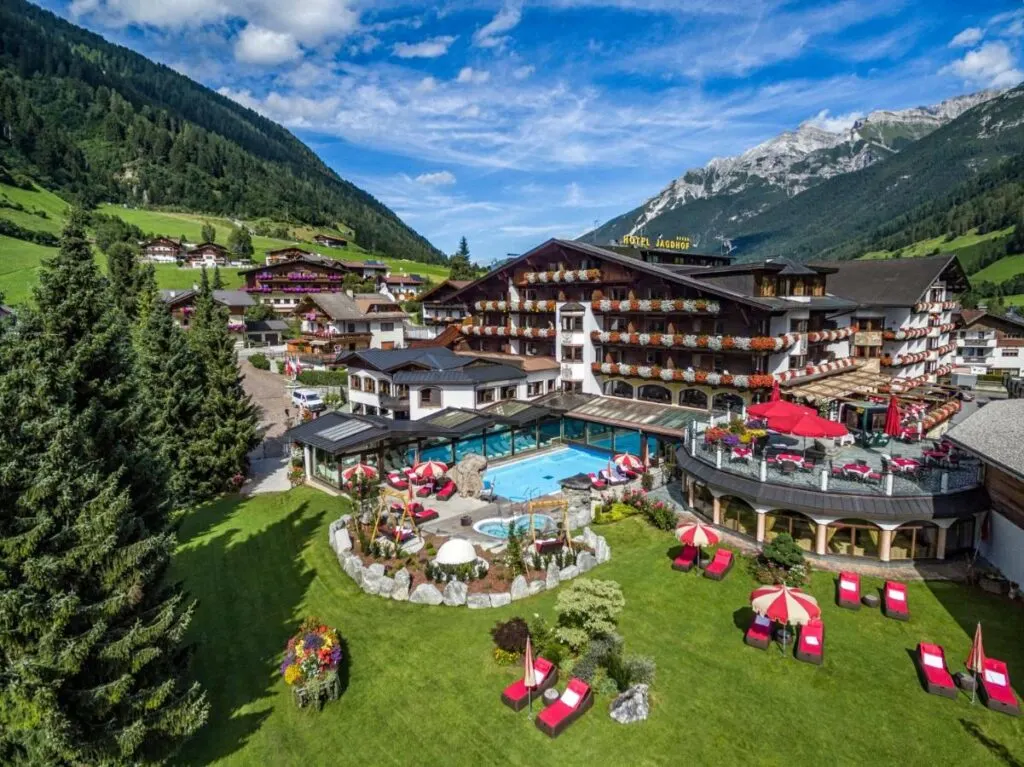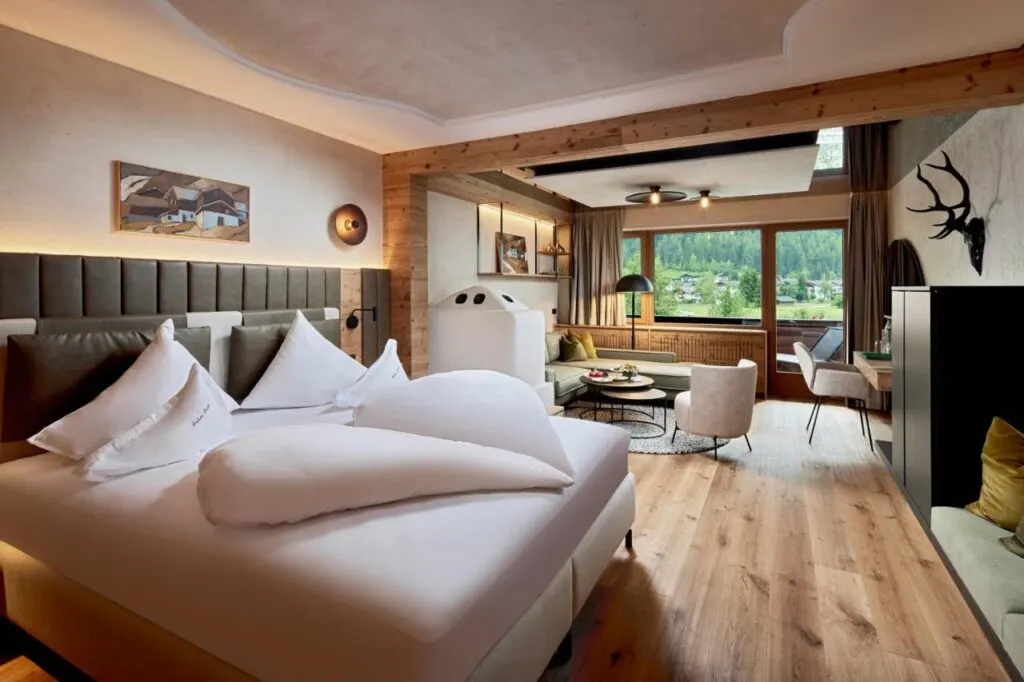 If you don't mind going a bit further afield, this resort in Neustift im Stubaital has it all. Panoramic views of the scenic Tyrolean mountains, not to mention the Stubai Glacier.
Things are fancy inside too. There's a real traditional vibe here, plus more than 20 amenities: a 3,000 m² spa and an award-winning restaurant.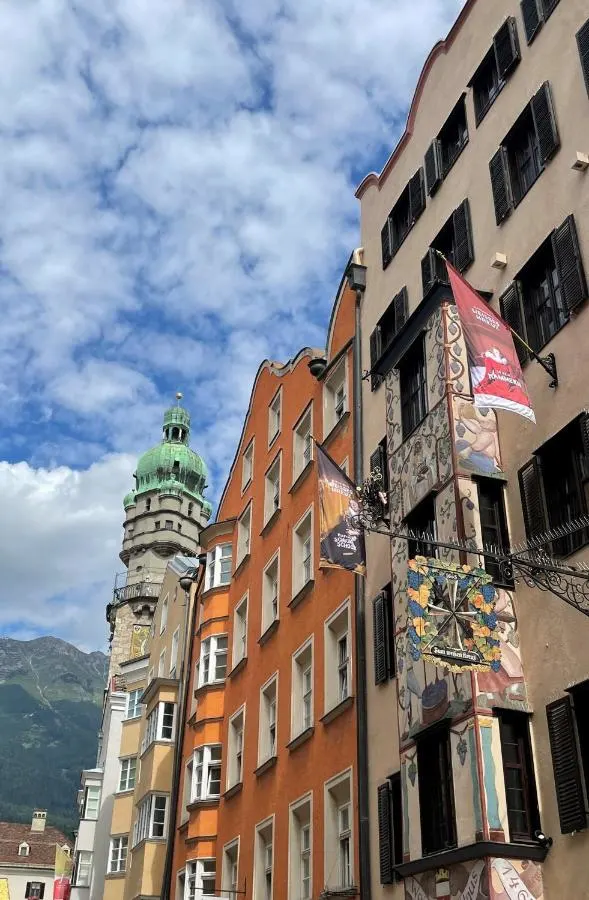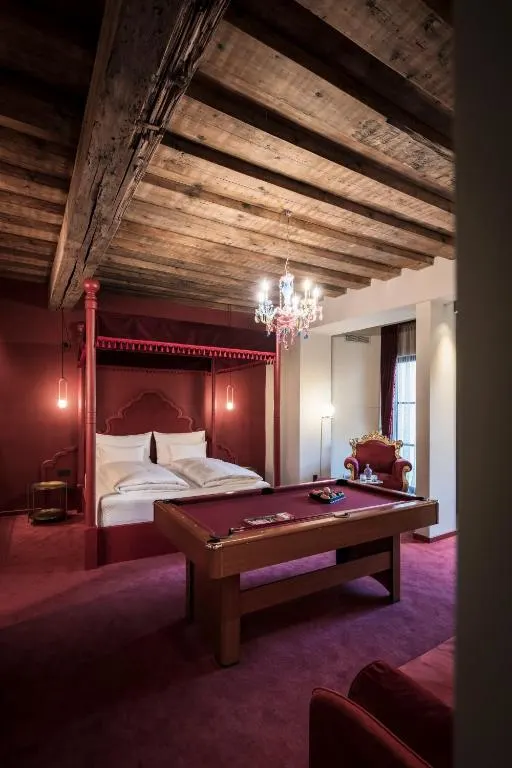 Altstadthotel Weißes Kreuz has been standing since 1464, though it had a full refresh in 2020. That's a whole lot of history, including a visit from Mozart in 1769.
Located in the city's bustling downtown, this is one of my favourite Innsbruck hotels for a beer. By that I mean – if you visit, don't forget to check out the impressive sixth floor bar.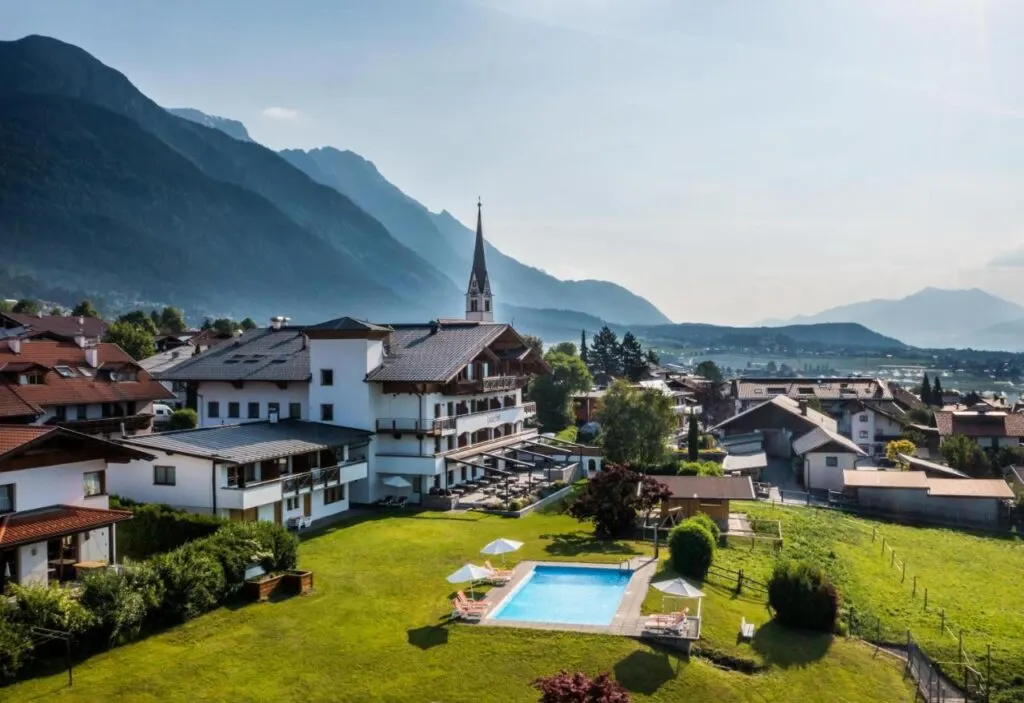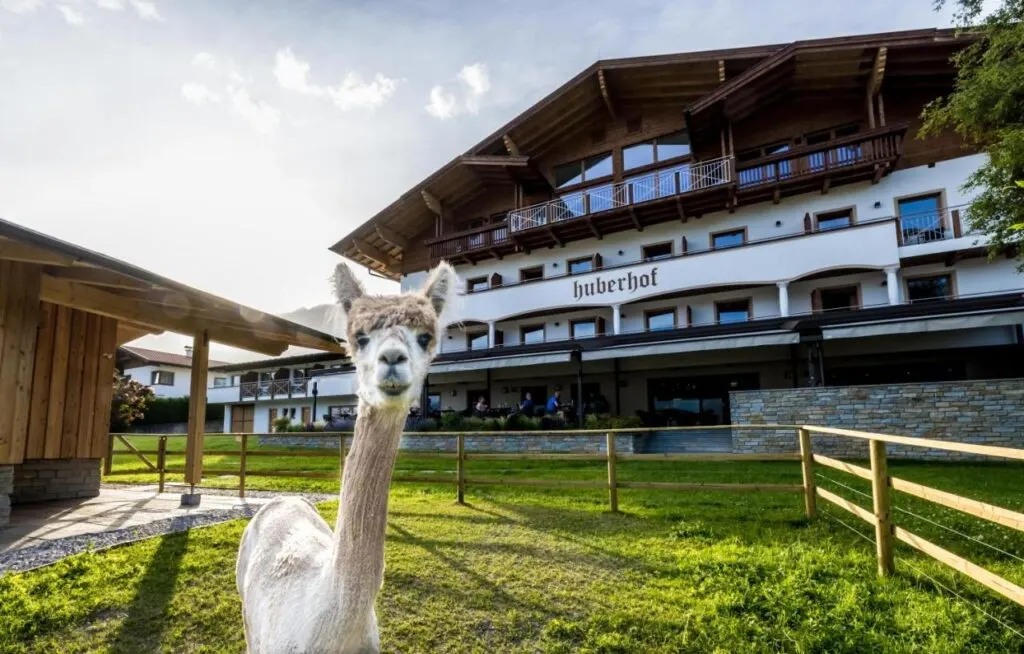 I love a city break, but sometimes it's nice to get away from the hustle and bustle, right?
Hotel Huberhof is ideal for that. It's around a 15 minute drive from Innsbruck, so you really get that nice, country air. It's got a pool, two tennis courts, and views of the Patscherkofel mountain. What's not to like?
Innsbruck packing list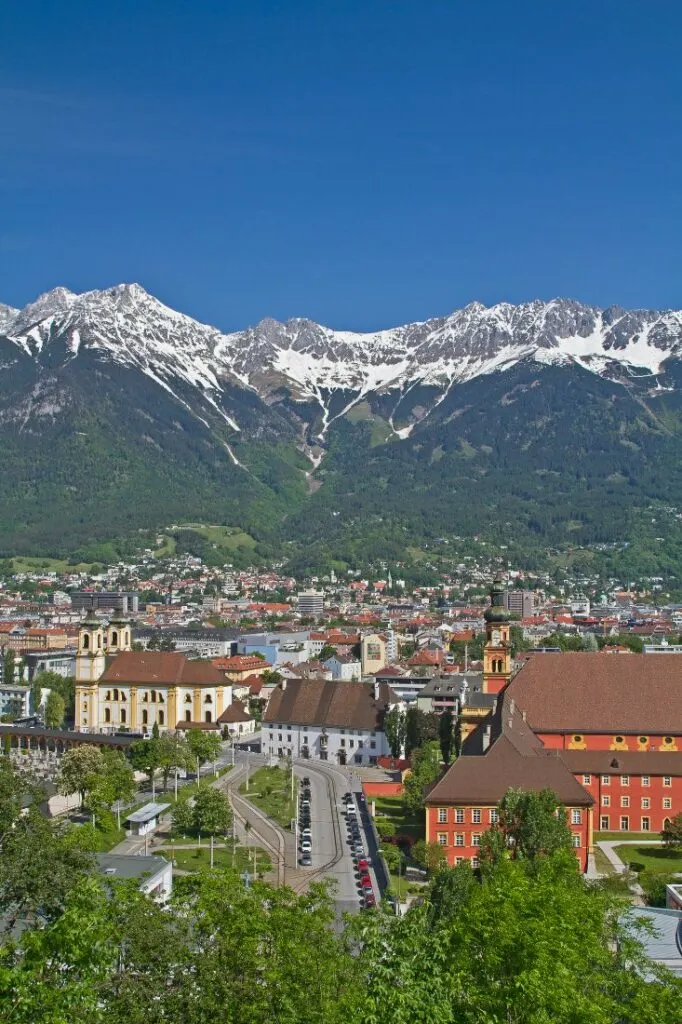 As you can imagine, I travel a lot. It comes with the territory of being a travel blogger! That being said, there are some things that I now can't travel without. If you're planning your Innsbruck summer itinerary, I'd really recommend taking these items with you: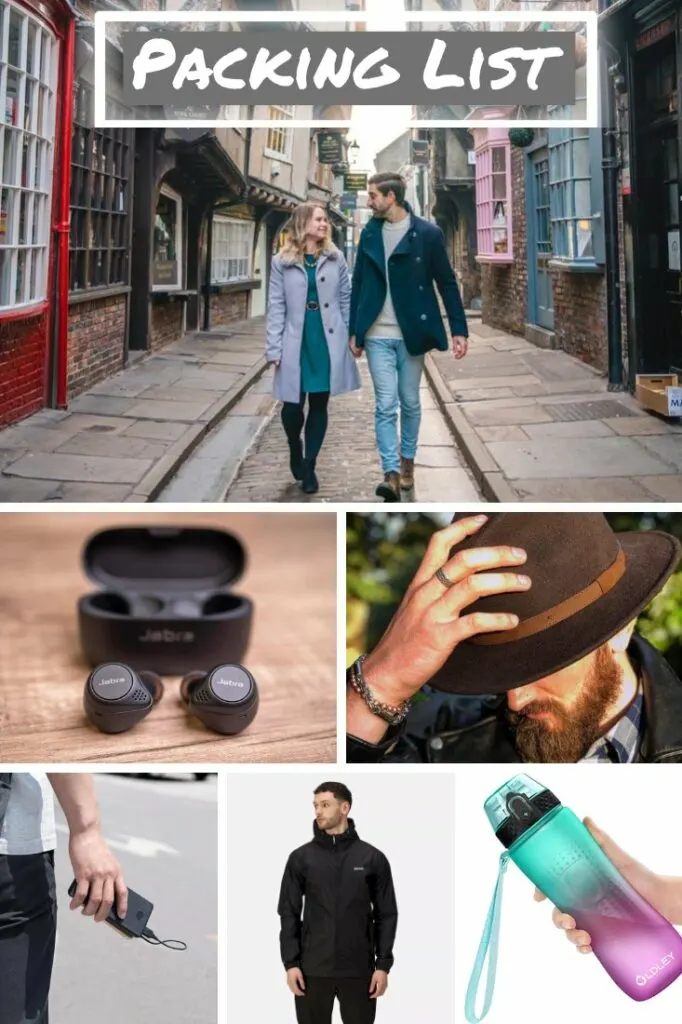 ---
This post was in association with Visit Austria and Visit Innsbruck promoting some of the best things to do in Austria during the summer – it's not all about the winter sports here! As always, views are entirely my own and without bias.
Are you planning a holiday to Innsbruck? If you have any questions at all then let me know in the comments below!
Like this blog post? Then make sure you Pin it for the future!