Only in Salzburg for a couple of days? That's great! Here's my itinerary for 2 days in Salzburg with some of the best things to see & do in the city!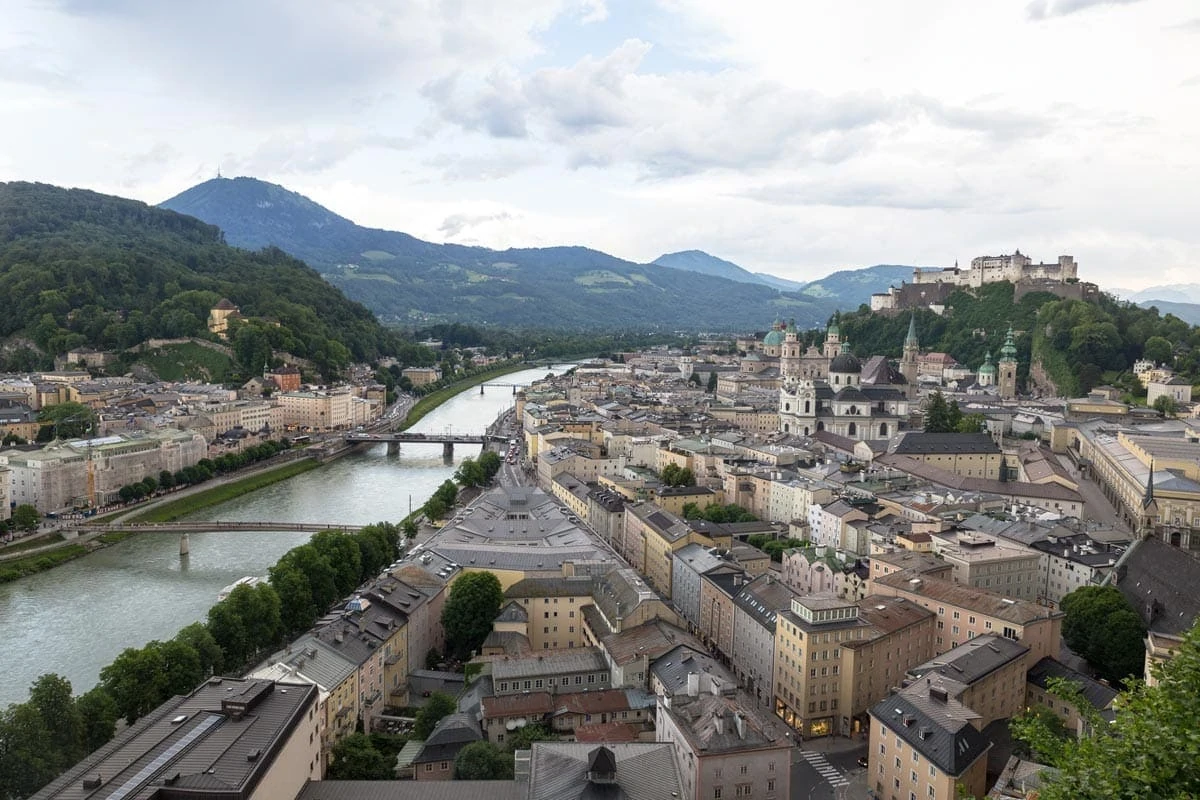 Are you only in Salzburg for a couple of days? Then this is the blog post for you! In this post I'll show you how to have the perfect 2 days in Salzburg featuring some of the best things to see & do in the city.
This is the Salzburg itinerary I've followed myself so I know all of this is possible in just 48 hours. Make sure you read on as I feature a couple of unique places to visit too.
What can I say about Salzburg? It's the birthplace of Mozart. Home to the Sound of Music. And a place that has truly captured the magic of Austria. I don't know if you can tell yet but I really love Salzburg.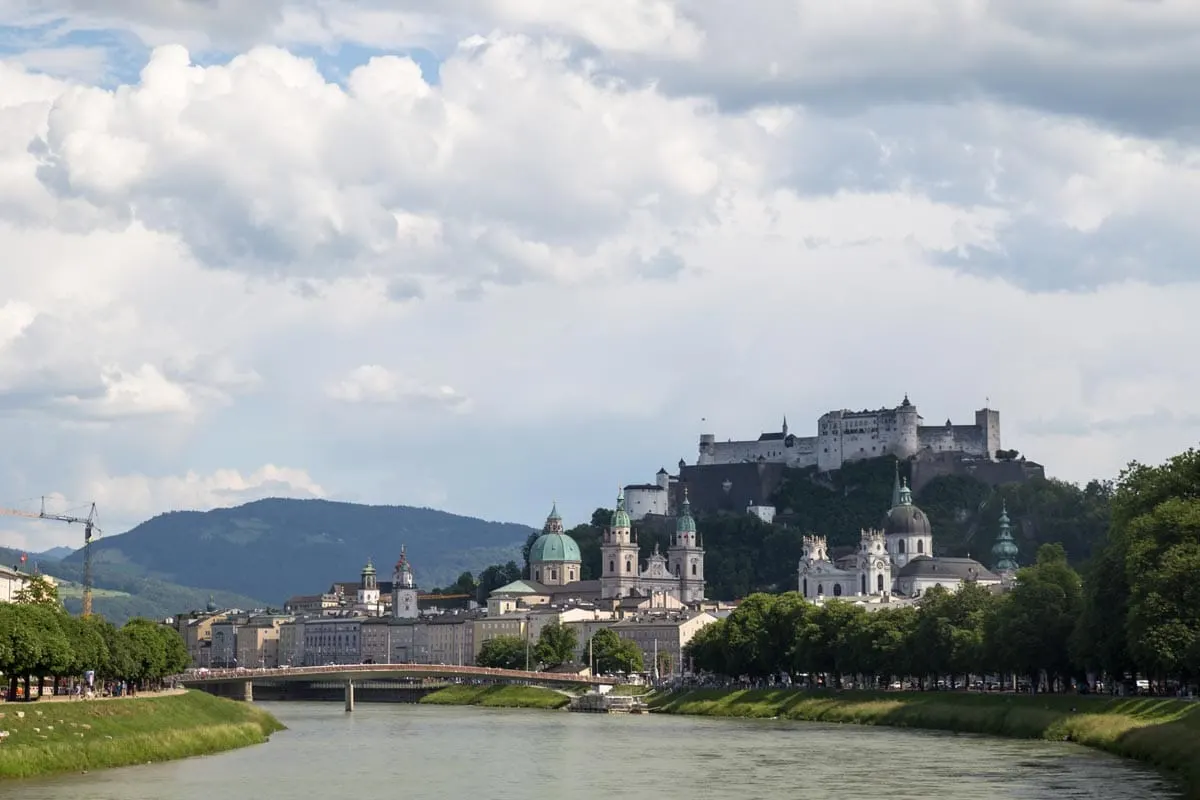 A city that's surrounded by mountains and forests with a river running through the middle, Salzburg is certainly beautiful. For me though, it's all about the amazing architecture everywhere that really makes the city what it is.
It's so easy wandering around the Old Town getting lost in side streets and coming across brightly coloured shops interspersed between 15th century churches.
When it comes to sights and attractions though, you certainly won't be scrambling around wondering what to do in Salzburg that's for sure!
If you're looking for a couple of my other posts on the city, then check out 'Where to Stay in Salzburg' and 'Day Trips from Salzburg' for some more information.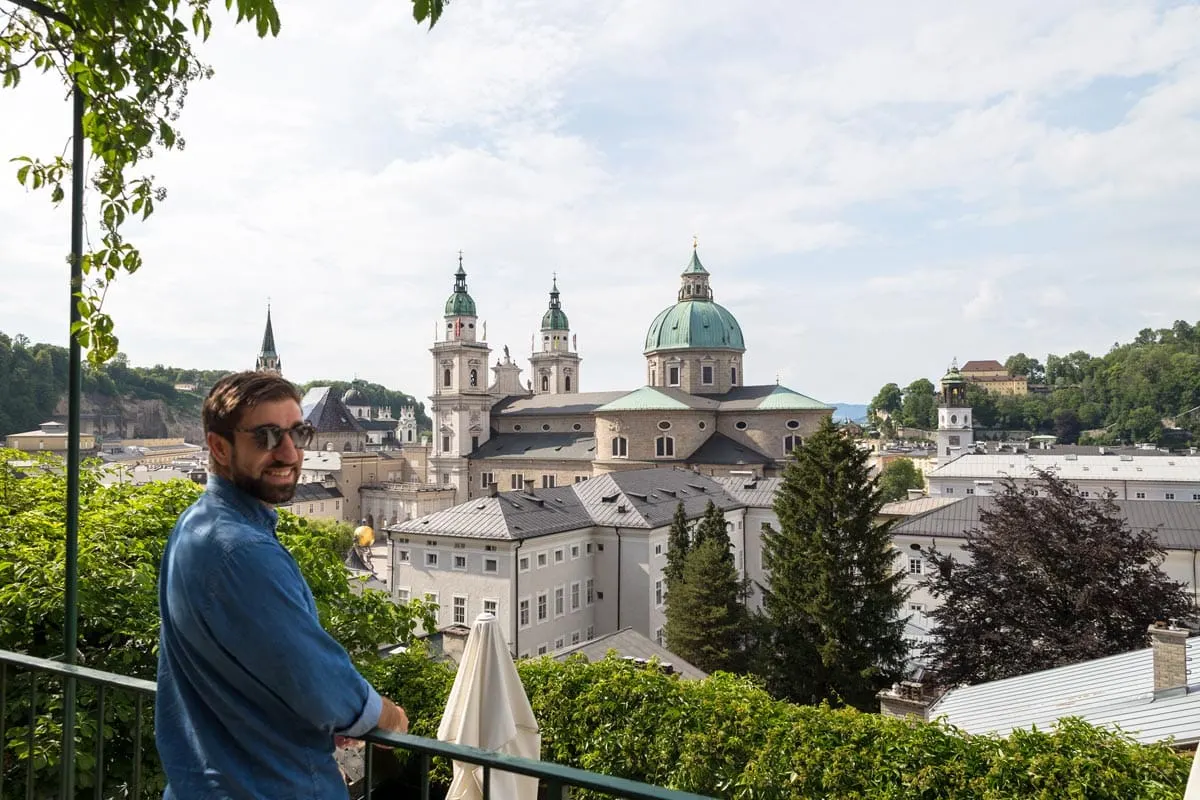 ---
What do in Salzburg
From visiting Mozart's birthplace to climbing to the top of Hohensalzburg Fortress for some of the most magnificent views of the city below, this is my Salzburg itinerary. Tick off a few of these (or even all of them!) and you're in for an incredible time.
One of my favourite things about Salzburg is it's such an easy city to get around. Even though the streets are tight and compact, it's easy to walk everywhere. There's even a lift to the top of the hill so you can avoid the steps if you want to.
Also, for those of you who are fans of the Sound of Music, no trip here would be complete without visiting the Mirabell Gardens, just one of many locations where they shot the film in the city. You can start practicing the Do–Re–Mi tune now!
Anyway, without further ado, here's what I suggest you do for 2 days in Salzburg.
Day 1
Hohensalzburg Fortress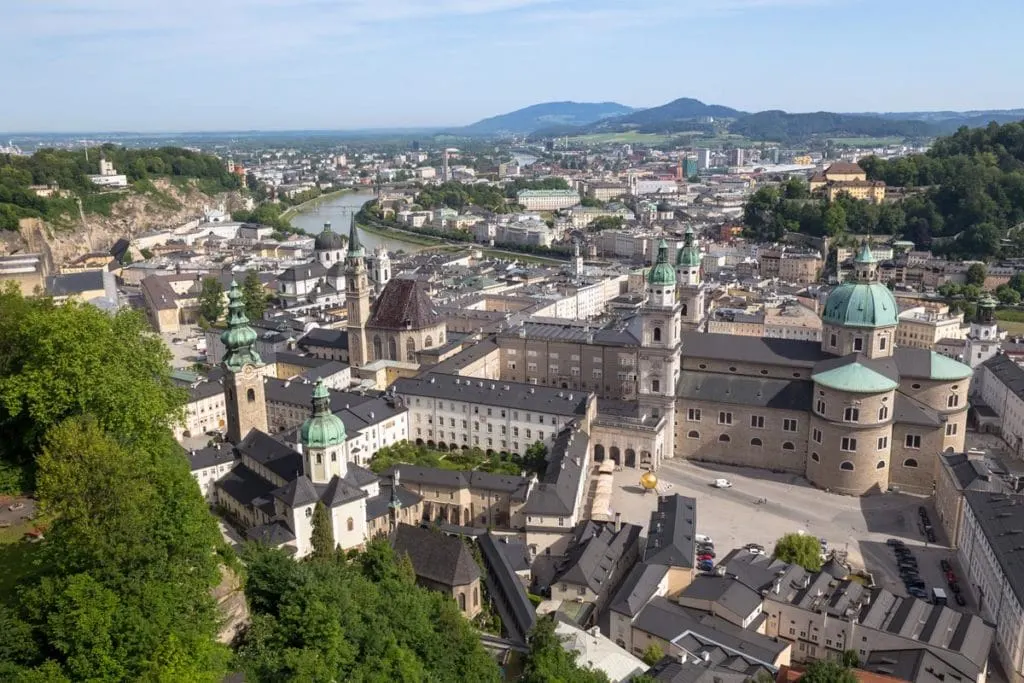 It's no surprise that I'm starting with Hohensalzburg Fortress. For me, this is where you can get the best views of Salzburg and the surrounding countryside.
Originally built in 1077, most of today's fortress is from the mid-16th century. This fortress is such a good example of an old-school European fortification. Find the highest point, build a massive castle on top of it, defend the city.
You can get to the top of Hohensalzburg Fortress via the funicular (which takes just 54 seconds), or you can walk it in about 20 minutes. Be warned: it is very steep so I'd recommend the funicular. It's a lot of fun too.
Tickets to Hohensalzburg Fortress cost £15/$18 and this includes the funicular ride up and down, a tour with audio guide and access to the three different museums inside.
As I said though, for me it's all about the views from the top – I mean, just look at the panoramic views you get!
Wander around Mirabell Gardens and Mirabell Palace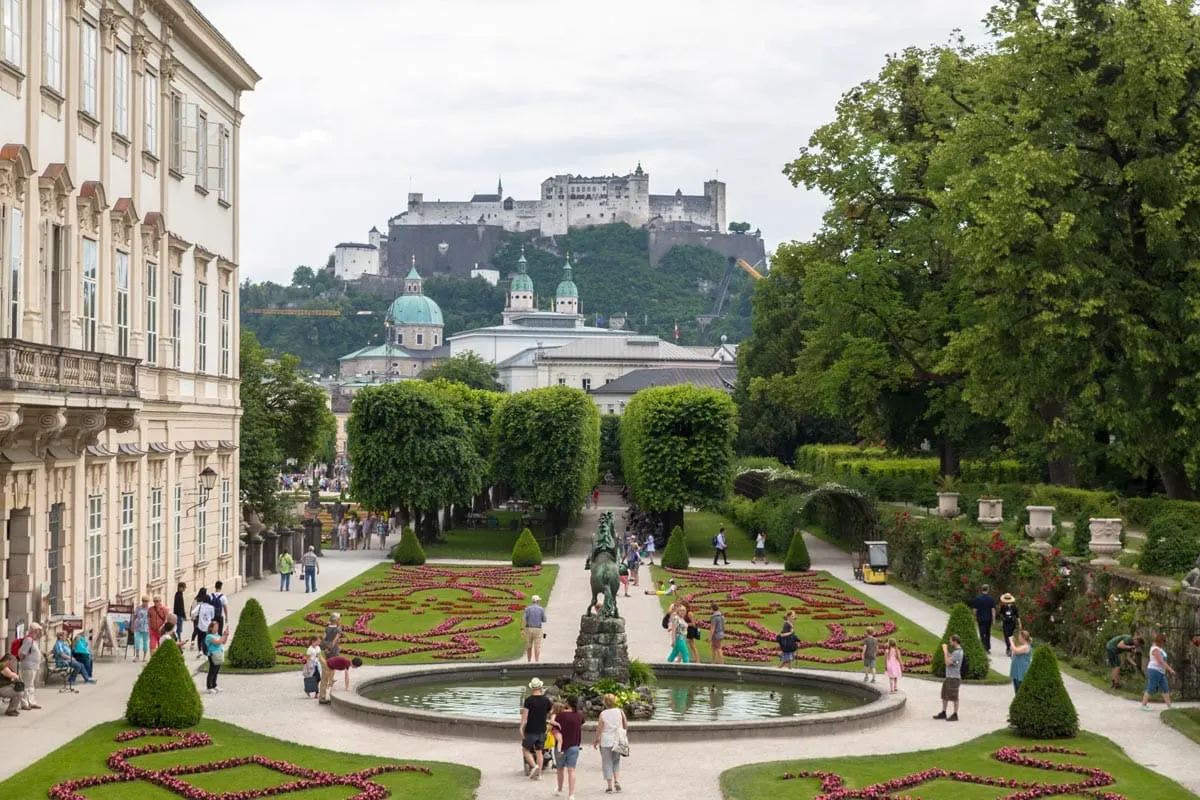 The Mirabell Gardens & Mirabell Palace are one of the most popular tourist attractions in Salzburg, so be prepared for the crowds.
The palace was built in 1606 but shot to world-wide fame when it was featured in film The Sound of Music.
If you're a big Sound of Music fan, there are tours of Salzburg that include a stop at the Mirabell Gardens. The gardens are absolutely gorgeous, especially when they're in full bloom in summer.
However, if you're not a fan of the film and want to take in the palace and gardens without the crowds, it's best to visit the either early in the day or late in the evening when the tour buses have left. Then you can have the place to yourself.
In the summer when the sun's out, lots of people head here for a picnic on the grass. I really recommend coming down here with friends in the evening too.
Tickets for the Sound of Music Tour cost £45/$54 per person and they take you to all the best spots in the city.
There are loads of other tours to choose from here to. You can find the best Sound of Music Tour in Salzburg in this awesome blog post.
Have lunch with a view at M32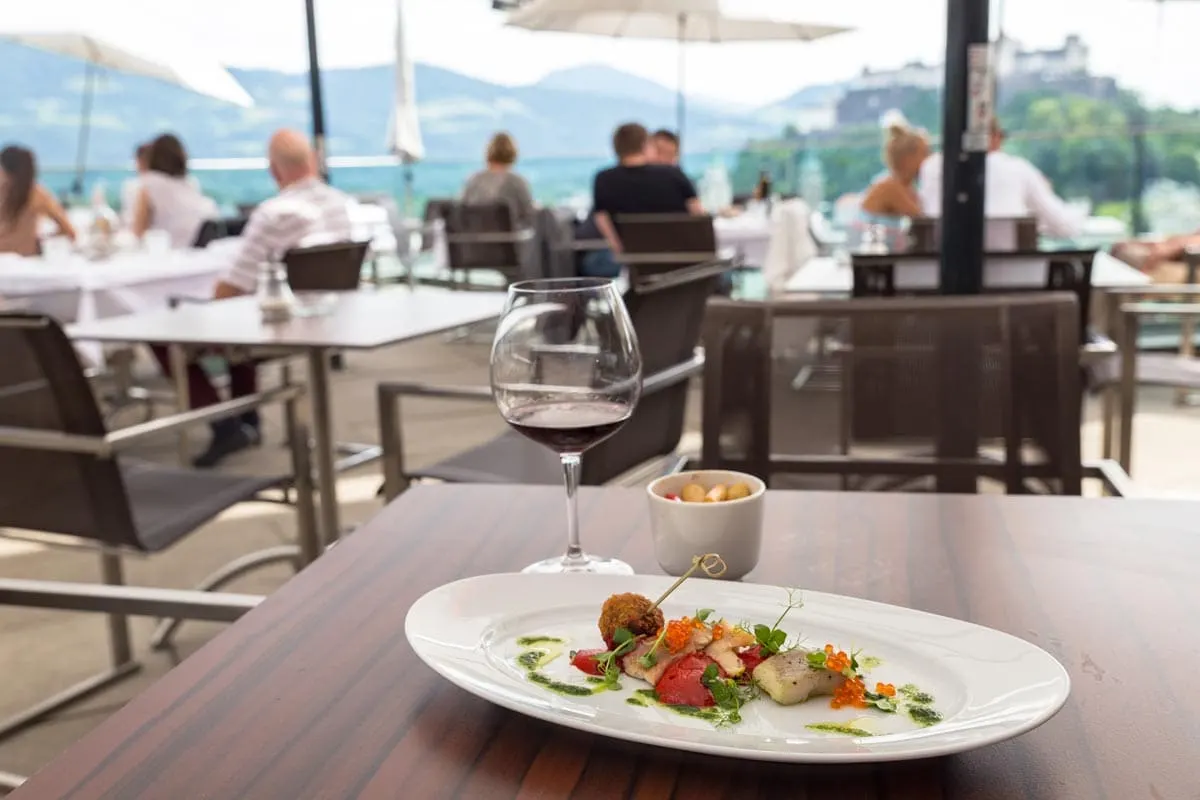 Another one of my favourite views in Salzburg is from the Museum of Modern Art on the Mönchsberg (tickets to this are included in the Salzburg card if you pick one up).
Bolted on to the side of the museum is M32, a stunning restaurant with some beautiful views of the city below.
I think the best time to come here is for lunch during the day when the sun is out. The menu is really light too which I loved (though it can be a little expensive for main courses). I went for a smoked mackerel dish with an asparagus salad on the side and it was delicious – not what you expect Austrian food to be.
Also, a glass of red wine with that view? Yes please. Honestly, there aren't many places in the city with a better terrace than this one.
If you've only got 2 days in Salzburg, I really recommend coming here for lunch or dinner. I promise you won't regret it!
Take in the views along the Salzach river
One of the best things to do in Salzburg is to go on a Salzach river boat tour.
The views up the river with Hohensalzburg Fortress on one side and the churches and mansions really highlights the beauty of the city. It's so green too, especially during summer.
Like most boat tours, there's a audio guide in English (other languages available) so it's a great way of learning more about the city while taking in the beautiful views. There are a few different tours available but I went for a 45-minute tour which was definitely enough time.
Tickets cost around £15/$18 per person for a 45-minute tour and includes a guide. If you're travelling on your own this is a really good way of meeting like-minded people too.
Drink beer and eat meat at Augustinerbräu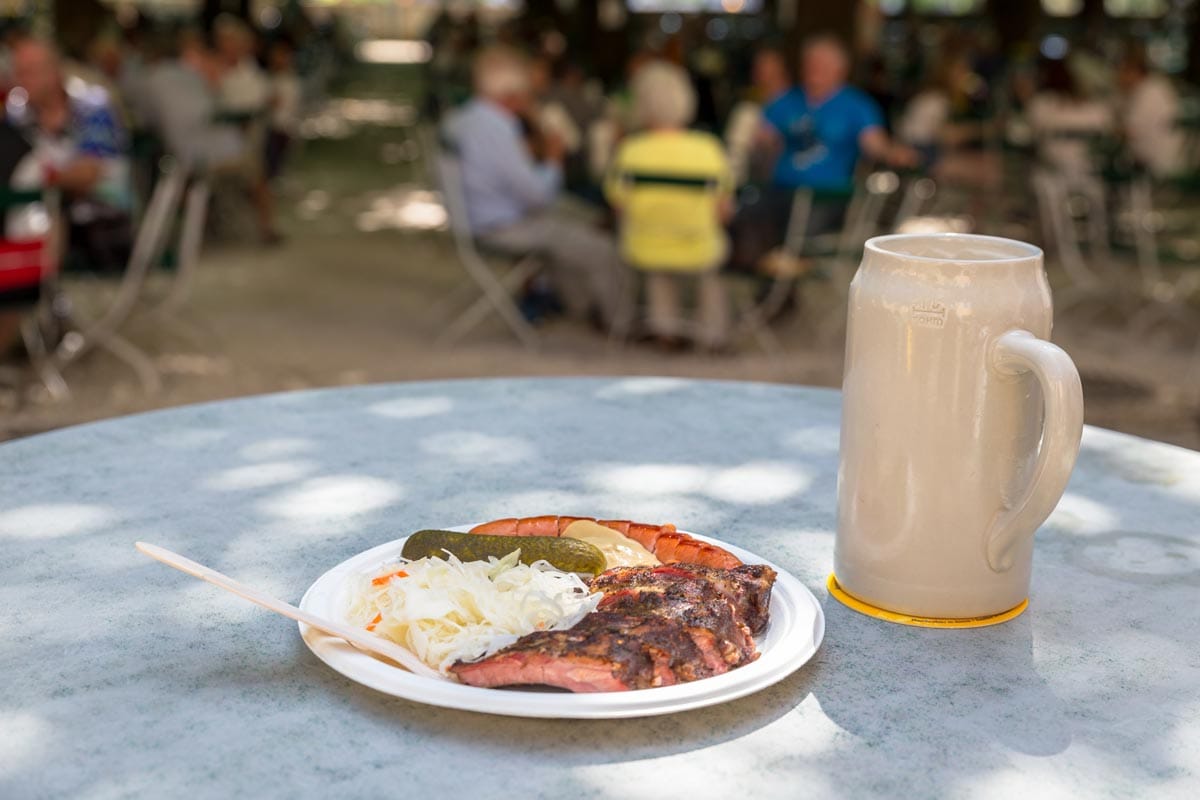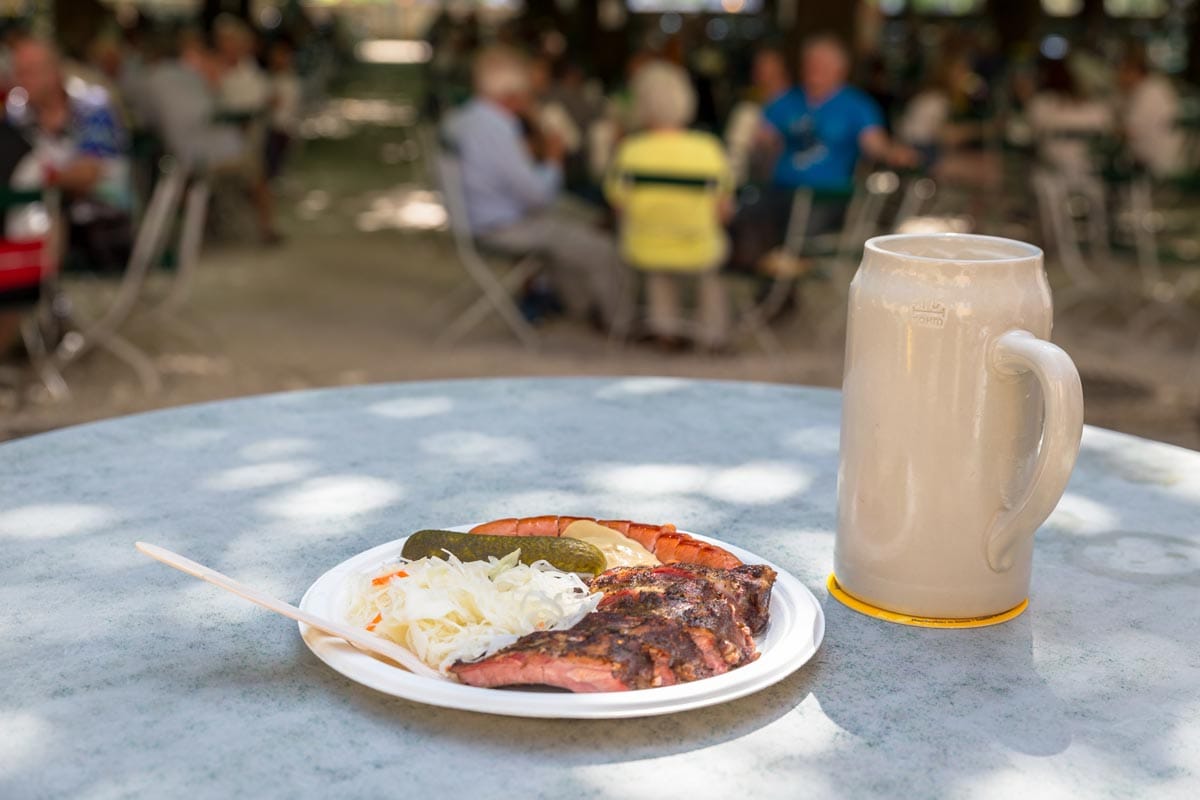 I just had to feature this place on my Salzburg itinerary. I mean, Augustinerbräu is legendary after all.
Augustinerbräu is an old-school beer hall, so forget the museums for a bit and knock back a few litres of beer. And I really mean litres.
Augustinerbräu is heaving during winter with every room and table packed with people, but in the summer everyone spills out into the beer garden in big groups.
The done thing here is to walk around decided what meat you want – they've got pretty much everything but I went for some bbq ribs and a couple of different sausages, with a couple of pickles and cabbage of course. Then you choose what size beer you want and get your mug filled to the top with the good stuff. They also have one of the biggest beer gardens in the city too.
Honestly, this place has such a good atmosphere and it's always so much fun to visit. Augustinerbräu is definitely a must on any trip to the city.
Day 2
Visit Mozart's birthplace and see where the magic happened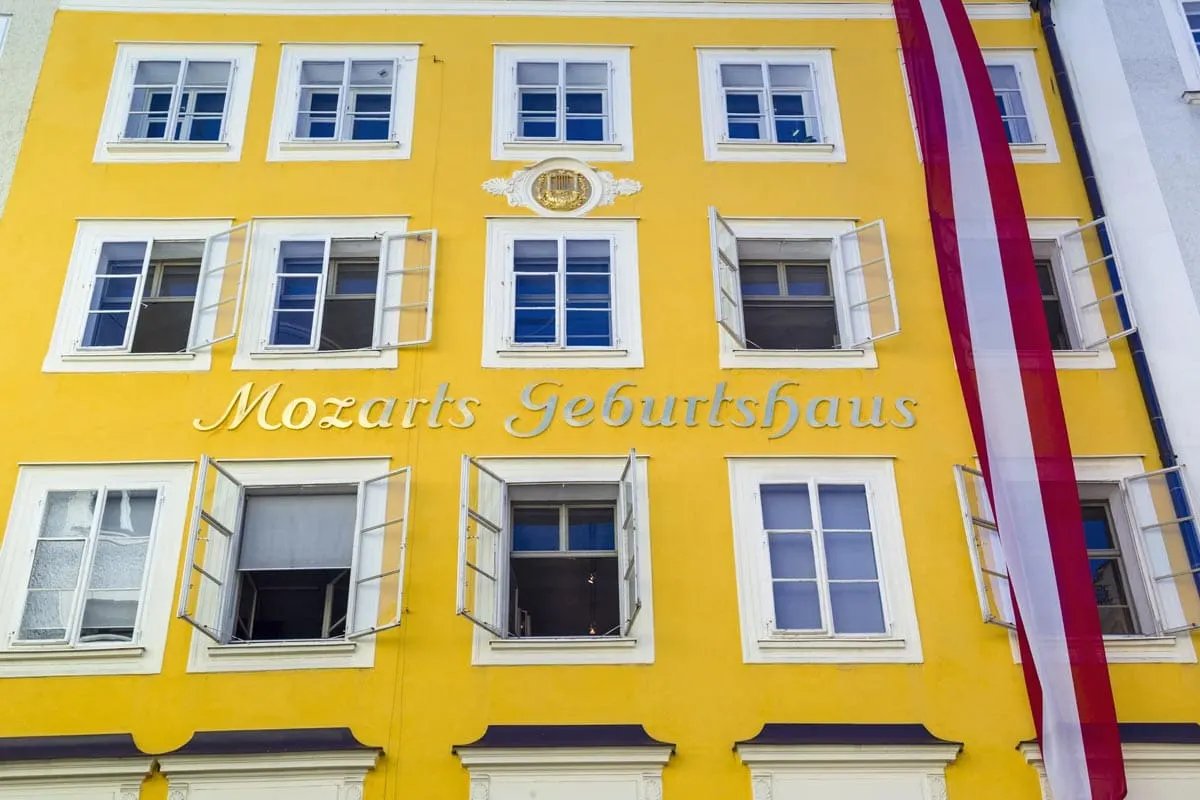 Right, it's the second day of your two days in Salzburg. Let's get right back into it because it's another busy day of sightseeing!
Mozart's birthplace is another one of the top attractions in Salzburg. Even walking past this place can be a struggle as everyone stops outside to take photos of the building.
Mozart was born in 1756 and his family lived here for 26 years. The magic happened RIGHT HERE in these rooms. Today, Mozart's birthplace is a museum to his life (tickets cost £11/$14). It's so fascinating walking around and seeing the exact spot where he learned to play piano and compose music. It really gives you a feel for the person behind the music.
This is a pilgrimage site for all classical music lovers from all over the world and is well worth visiting while in the city. Understandable, the historic centre of the city of Salzburg is recognised as a UNSECO World Heritage site.
Another really popular tour is a music concert at Mirabell Palace. Here you can listen to the works of Mozart and his contemporaries in such a stunning setting.
Wander around Kapitelplatz (Chapter Square)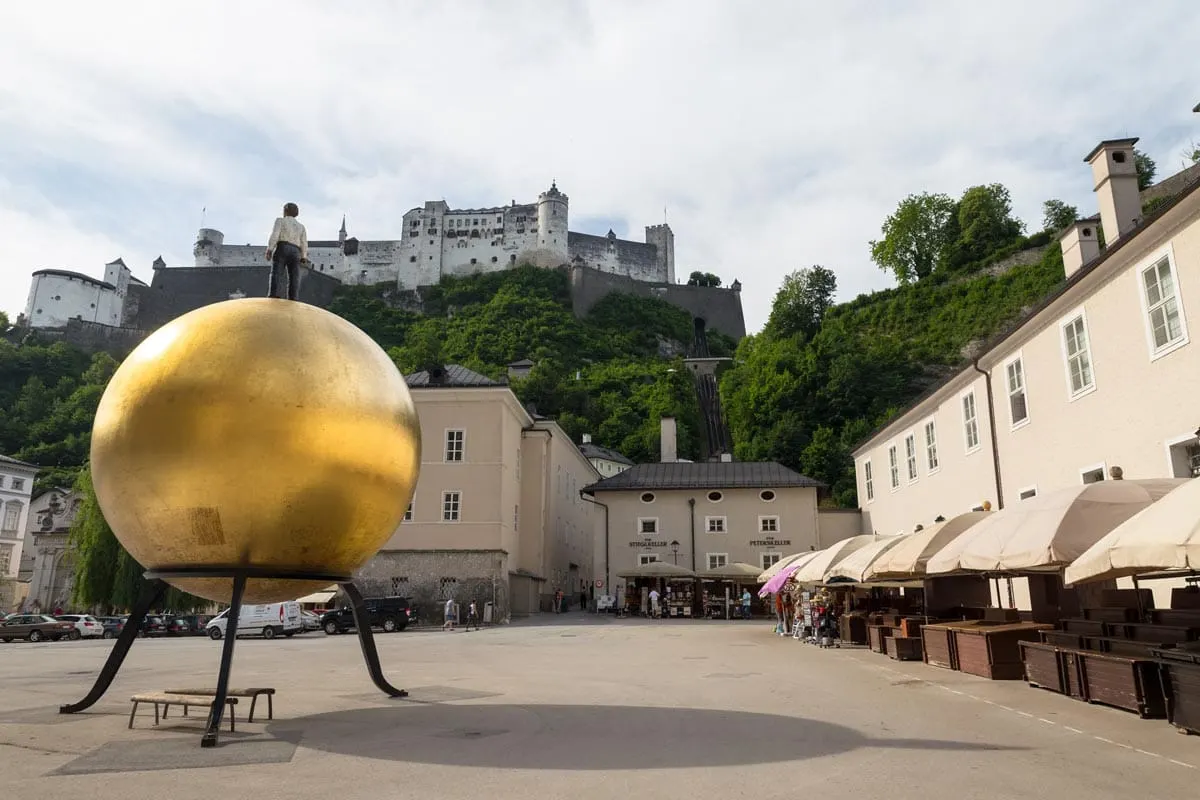 If you're walking to the Dom Quieter Quarter or up to Hohensalzburg Fortress, chances are you'll pass through the Kapitelplatz.
This is a square with some really nice stalls in Salzburg where you can pick up some souvenirs. It's also home to the Sphaera, a giant golden orb with a man standing on top.
This was originally used to promote the modern art museum in Salzburg but it has now found a permanent home for itself in Kapitelplatz. I love the juxtaposition of the modern art surrounded by the 16th century buildings – so cool!
Grab a coffee and some strudel at Cafe Tomaselli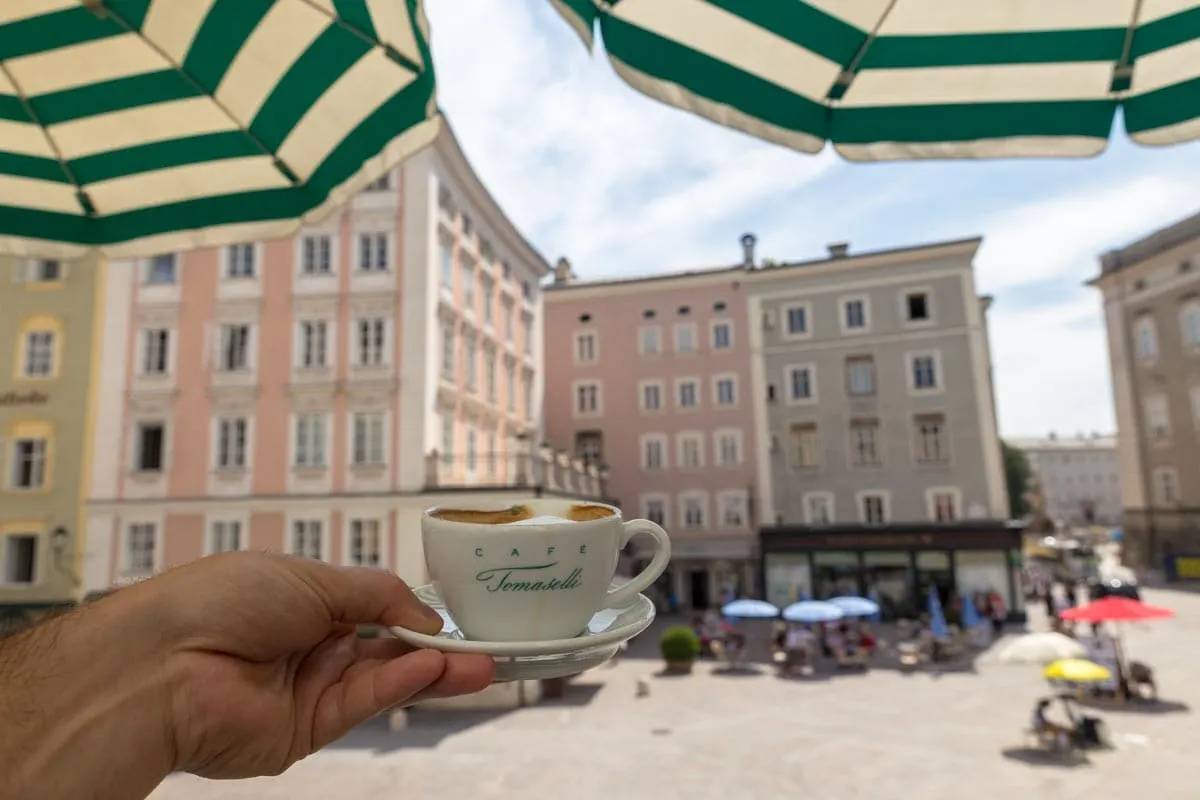 Cafe Tomaselli has become a bit of an institution in the city becoming one of the top places to visit in Salzburg.
Situated right in the heart of Old Town, Cafe Tomaselli have been serving up cakes and drinks for over 300 years. Amazingly, they're still run by the same family, and that old-school family tradition is wherever you look here.
Cafe Tomaselli is really famous for it's cakes. A woman with a tray of freshly made cakes will come over to your table to show you what's on offer. Being in Austria, I had to go for the apple strudel and it didn't disappoint!
The best thing to do here is order yourself a cake, a coffee, and watch the world pass you by. It's such a good people-watching spot.
Climb the Mönchsberg for some more views of the city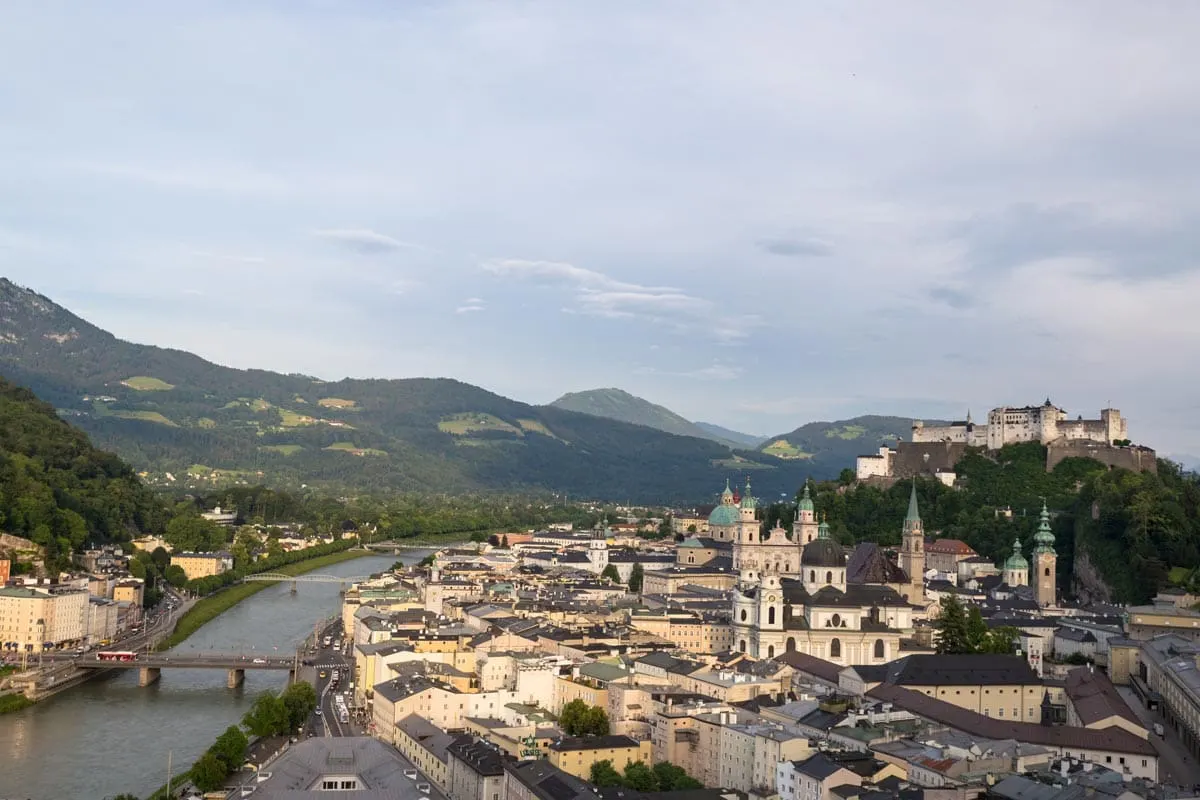 One of my favourite views of Salzburg is along the Mönchsberg.
Along from M32 is a pathway that takes you along the Mönchsberg and the views of the city are incredible. There are a few breaks in the trees where you can take photos like this one.
The best time to come here is at sunset. There are a few benches here so it's very relaxing watching the sunset over the city. As you can see, it's such an amazing photo spot too.
Also, it's very near Augustinerbräu so beers afterwards.
Dine out at Seven Senses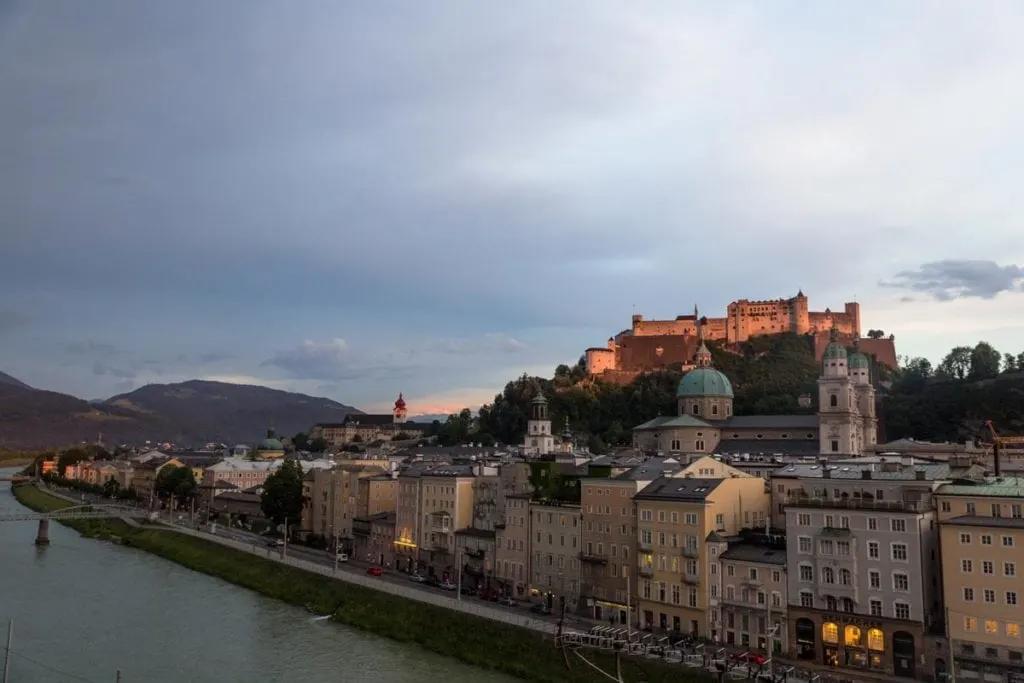 If you're looking for one of the best things to do in Salzburg at night then look no further than Seven Senses.
On the banks of the Salzach river, Seven Senses has the perfect view of Hohensalzburg Fortress lit up at night. It really is in one of the most beautiful settings in the city.
At Seven Senses I had the sea bass with Mediterranean vegetables and a lovely saffron jus and it was amazing. The menu is really seasonal and they change it very regularly, so no two meals are the same here. Put it this way, this place deserves its reputation as one of the best restaurants in Salzburg.
For me, this is the perfect way of rounding of 2 days in Salzburg. As I said, you really can do so much in just 48 hours in the city!
Salzburg packing list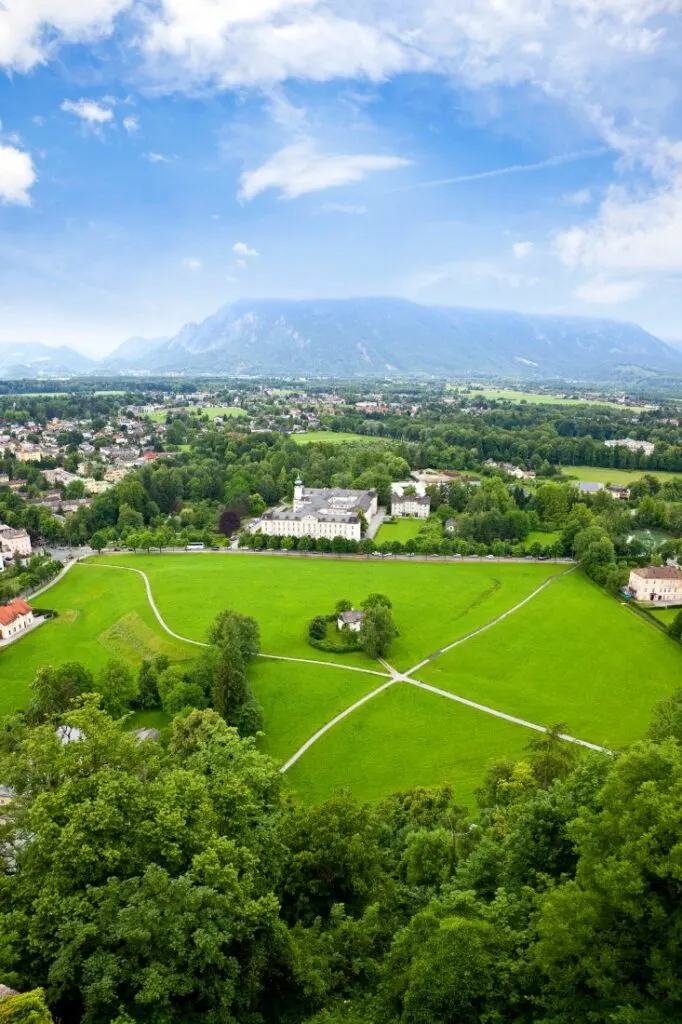 As you can imagine, I travel a lot. It comes with the territory of being a travel blogger! That being said, there are some things that I now can't travel without. If you're planning your Salzburg itinerary, I'd really recommend taking these items with you: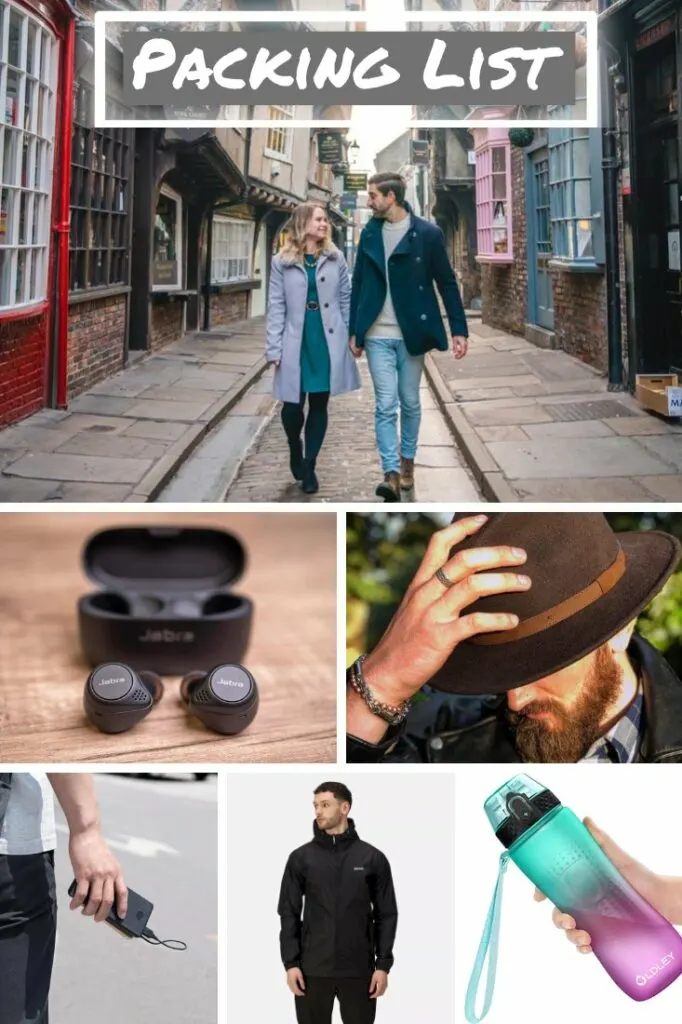 ---
This post was in association with Visit Austria and Visit Salzburg promoting some of the best things to do in Austria during the summer – it's not all about the winter sports here! As always, views are entirely my own and without bias.
What did you make of my Salzburg itinerary? What's the one thing you're most looking forward to doing? Let me know in the comments below!

Like this blog post? Then make sure you Pin it!