From Royal Hideaway Corales Suites to Barceló Santiago, here are some of the best Black Friday deals with huge savings on selected hotels in Tenerife!
---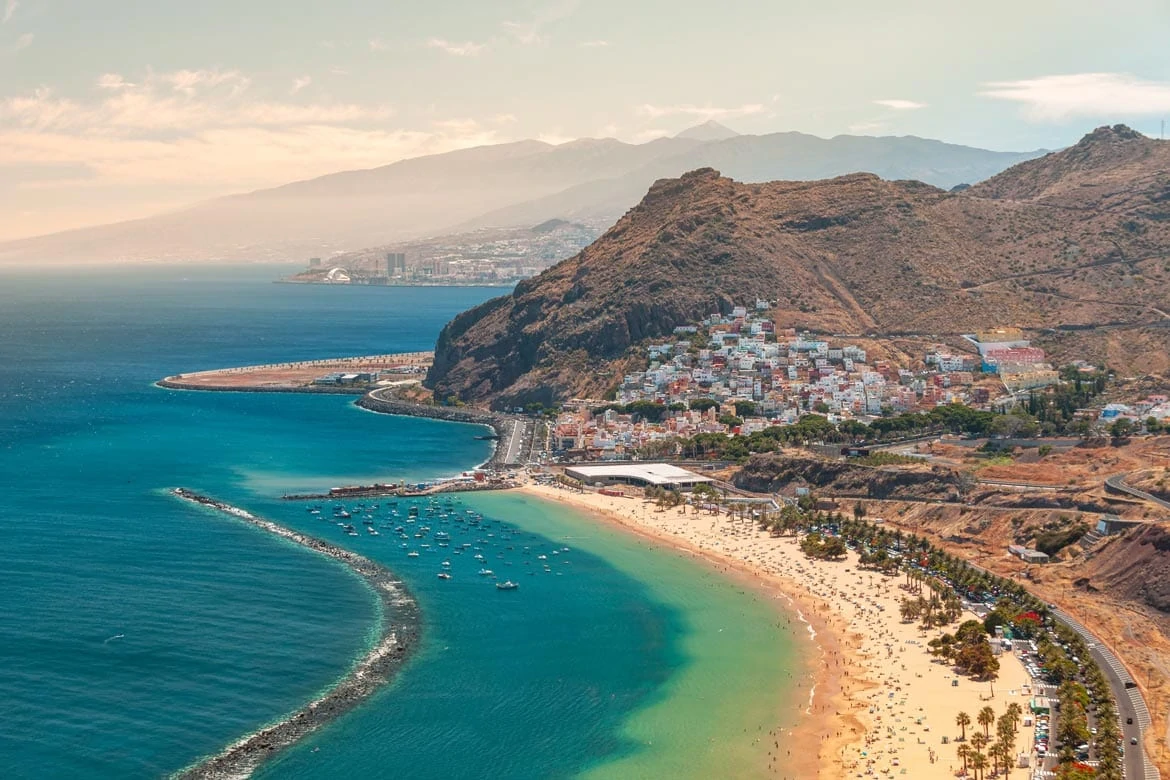 If you guys are anything like me, you love picking up a bargain. I mean, who doesn't, right? Well, when it comes to where to stay in Tenerife, there are some fantastic deals out there if you know where to look for them.
Travelling to Tenerife in peak season can be really expensive. However, if you travel in the shoulder season when it's a little quieter, you can get some amazing offers with huge discounts. I find travelling around April/May or September/October good months where you'll still get great weather just without all the tourists.
Tenerife is such a beautiful place to visit, and it's perfect for couples looking for a romantic break or families looking to create new memories.
And if you're looking for a beach break, then check out the best beaches in Tenerife. This guide has the top 10 beaches you should visit on your holiday.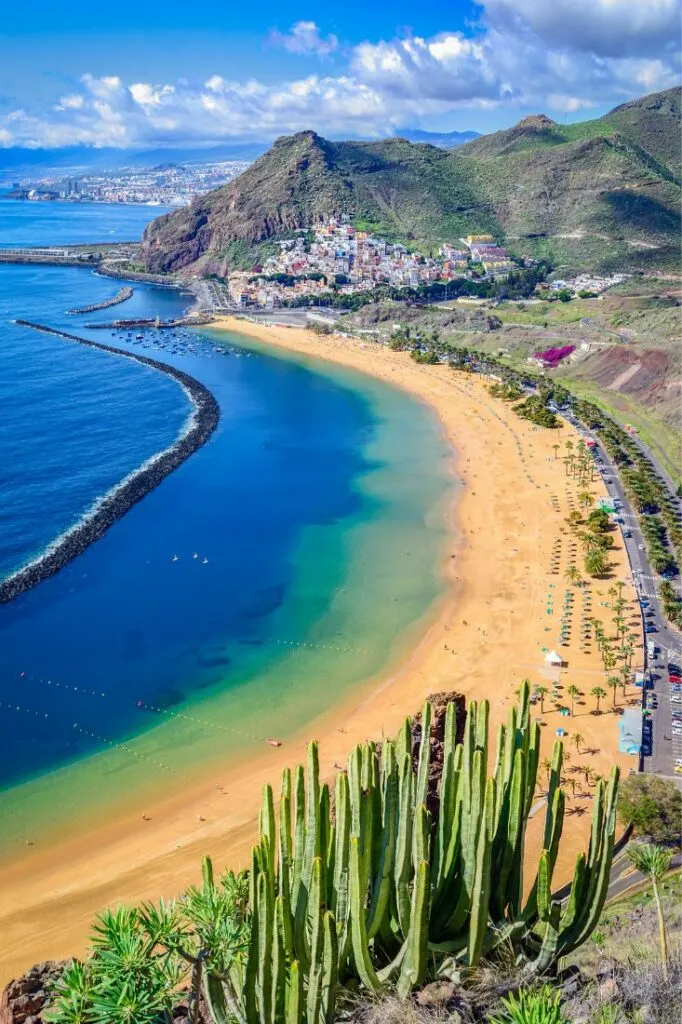 One of the best ways of scoring a deal is by booking a hotel in Black Friday and Cyber Monday. I used to think that these days were mainly for clothes and electronics, but over the past couple of years I've seen some amazing discounts on travel and hotels too. In fact, I'd say this is one of the best times of the year to book a hotel in Tenerife.
Places like the Barceló Hotel Group are starting to offer some incredible deals, so if you're quick you'll be able to make some huge savings on your holidays. From the 25th November till the 4th December, there are loads of discounts on hotels and resorts all around the world. And with a portfolio of 251 hotels in 22 different countries, you're bound to find the right one for you.
The best thing is these Black Friday deals aren't for ridiculous travel periods where you HAVE to travel out of season. There are offers to travel throughout the year so it's win win.
For Black Friday and Cyber Monday, I've put together some of the best deals on hotels in Tenerife. Hopefully you'll be able to book something for a little bit of winter sunshine!
---
Where to stay in Tenerife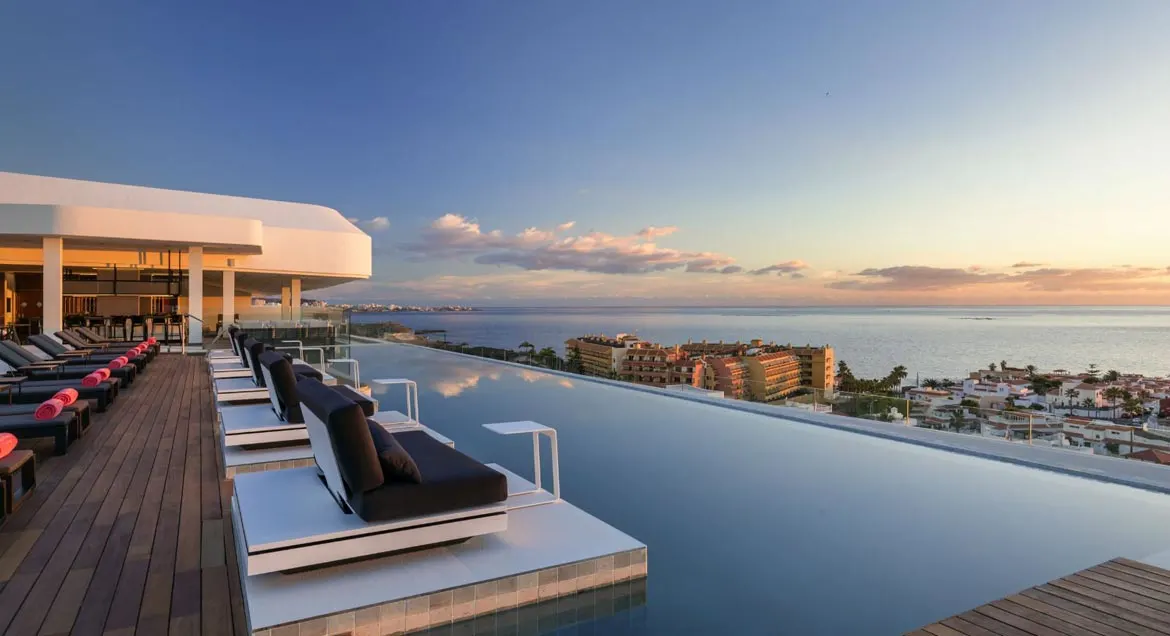 For those of you looking for a little seclusion and a lot of alone time together, look no further than the Royal Hideaway Corales Beach. This is an adult only luxury 5* resort and is one of the most beautiful hotels in Tenerife.
Located in the Costa Adeje in Southwest Tenerife, the property is surrounded by protected nature reserves making this such a stunning location. And being surrounded by water means the sunsets from here are something else too.
The hotel is designed by renowned Tenerife architect Leonardo Omar, and the complex is in the shape of a boat with the interiors being inspired by the island's marine corals.
The restaurant is run by the award-winning Padrón brothers who have created an amazing menu that showcases the best of Spanish ingredients with an unusual flair.
Like with most luxury resorts, there's a fantastic spa and wellness centre on site too where you can pamper yourself for the day. This is perfect if you're looking for a romantic break to unwind.
The Royal Hideaway Corales Beach won the 'Best European Hotel' in 2018 from the European Hospitality Awards, so this really is a fantastic place to stay.
If you're looking for activities to do, check out my blog post featuring some of the best adventures in Spain. Hopefully it'll inspire you do to something different.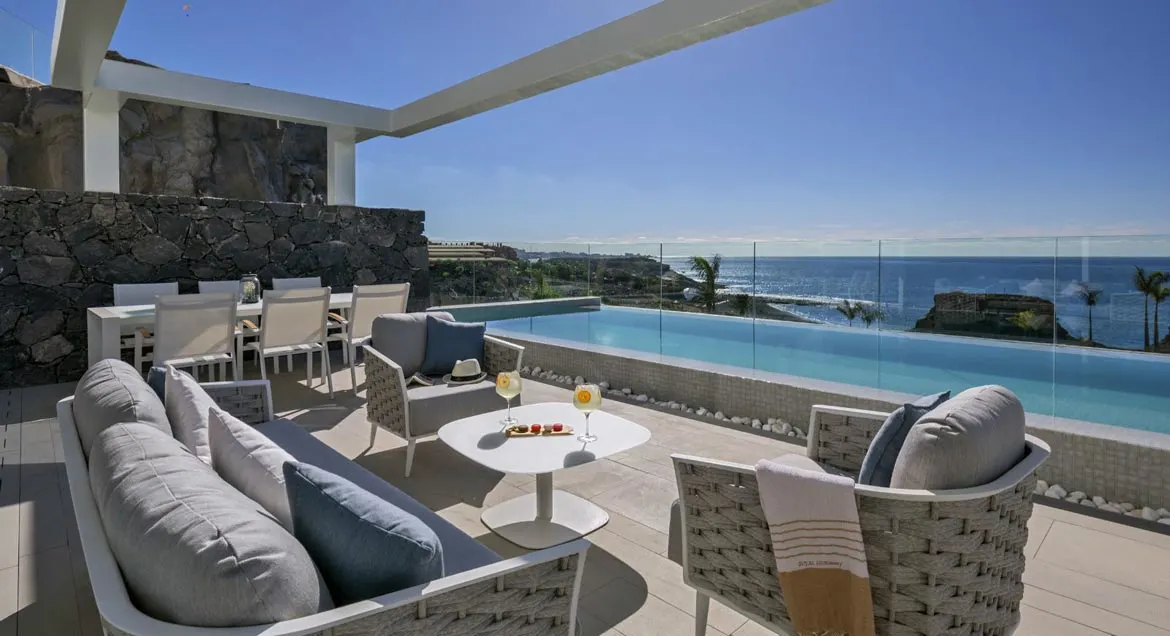 When it comes to where to stay in Tenerife, there are so many incredible places to choose from. Well the Royal Hideaway Corales Suites is one of the most popular hotels on the island for a reason.
The best thing about Tenerife is there's so much to do there. You can go wine tasting at a local vineyard, hiking up a volcano, or more water sports than you'll know what to do with. This makes it the perfect place for a family holiday. That's where the Royal Hideaway Corales Suites comes in.
Unlike the Corales Beach, the Corales Suites is open to families. With 114 designer apartments on site, each one has enough space for the whole family. Also, you'll have one of the best views on the island with seafront views of La Enramada beach. Trust me when I say the sunsets from here are just spectacular.
Whether holidaying as a family or as a couple, you can enjoy being at the hotel that's tailored to your personal tastes and needs, with activities geared towards discovering the real essence of the island and connecting with the sea that surrounds it.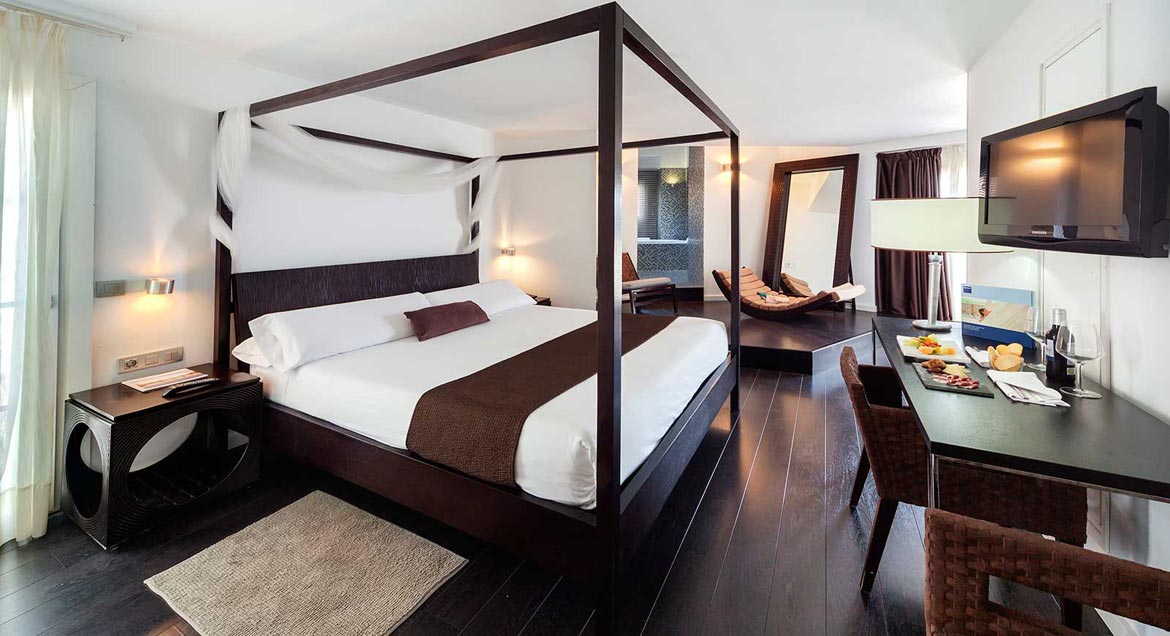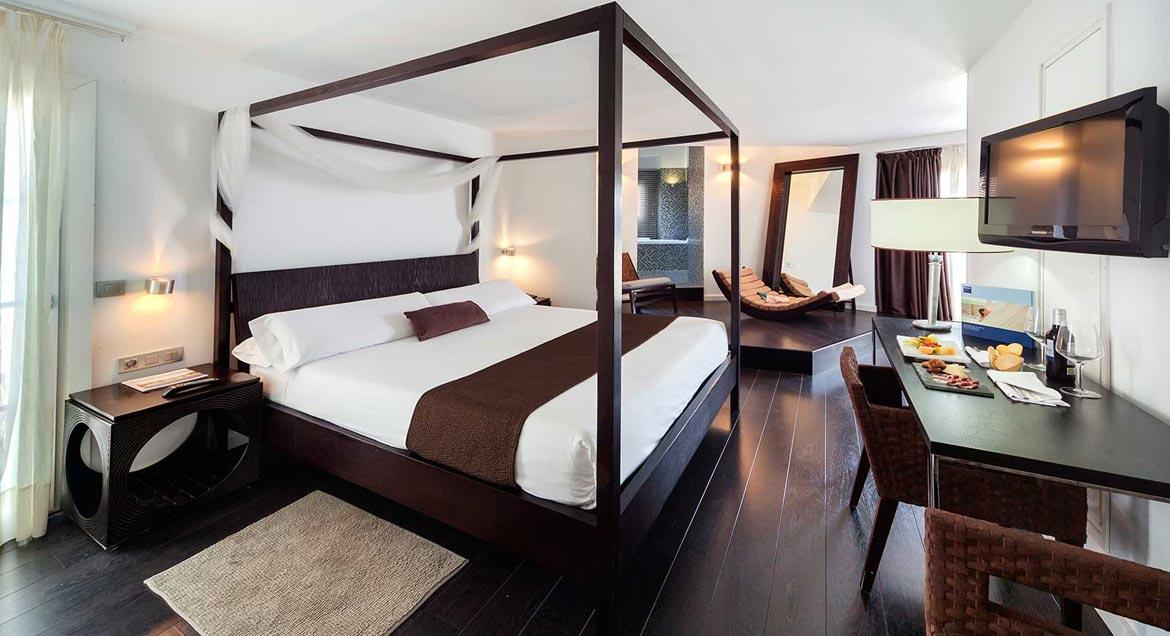 Unlike the Corales hotels, the Occidental Santa Cruz Contemporáneo is on the opposite end of the scale. This is one of the best bargain hotels on Tenerife where rooms cost around €60 per night. That's so cheap for a lovely 3* hotel and it'll be even cheaper with a Black Friday deal too!
The Occidental Santa Cruz Contemporáneo is located in the exclusive area of Rambla de Santa Cruz and is a short 5-minute walk from the centre. Here you'll find everything you need for the perfect holiday with a shopping area, lots of entertainment options and loads of restaurants to choose from too.
This hotel has an amazing rooftop pool with plenty of relaxation space, so if you need a day by the pool then you can. There's also a fantastic restaurant on site which blends Mediterranean and Canary Island cuisine.
Another great spot to unwind at the end of the day is in the Macusamba Lounge-Bar which comes with its own gin menu and signature cocktails inspired by the island.
Even though this isn't an expensive hotel to stay at in Tenerife, it's packed with amenities that makes it feel a lot more luxurious than you'd initially think!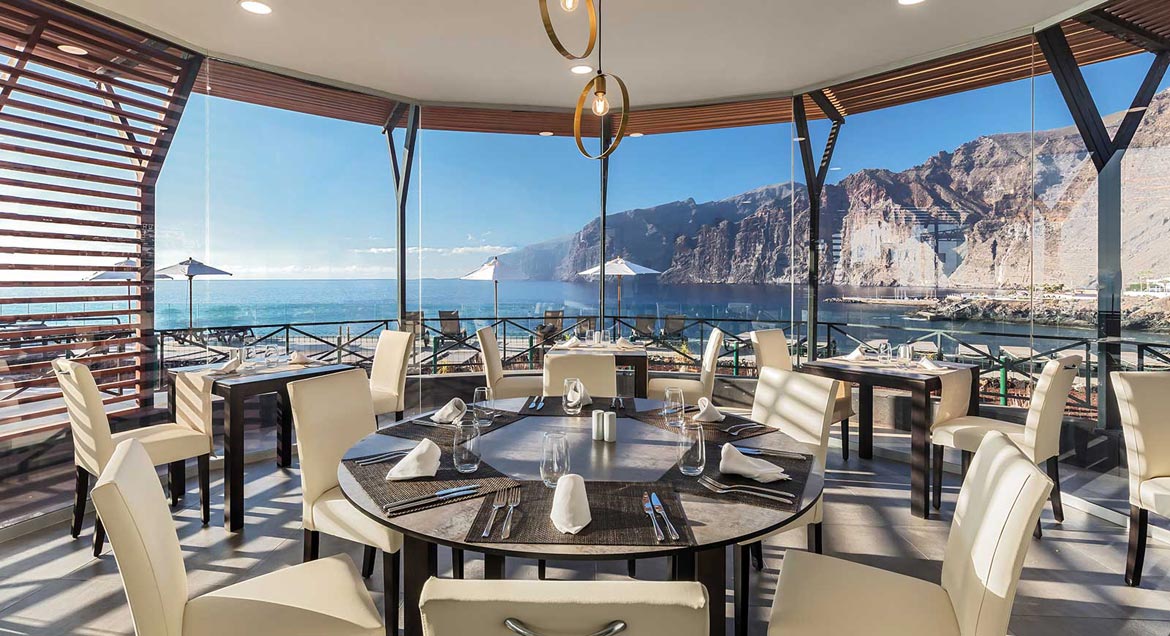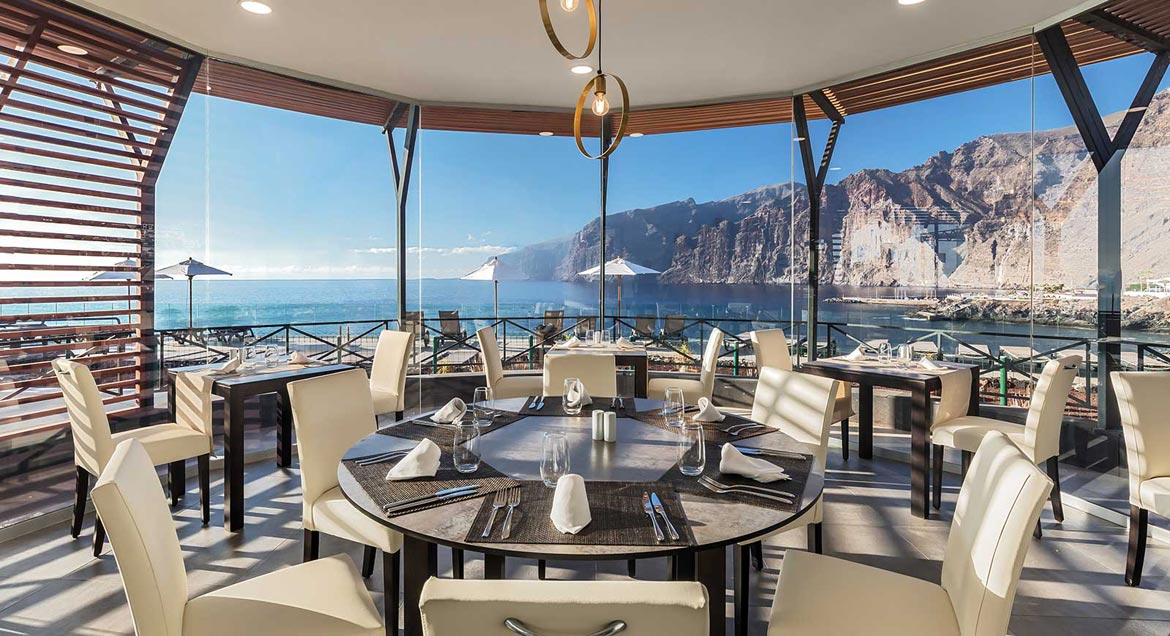 The Barceló Santiago is a lovely 4* hotel that's situated in the south of Tenerife with beautiful views of the island of La Gomera and the Los Gigantes cliffs. One of the best things about this hotel is it's just 200 metres from the beach making it an amazing option for those of you with families.
Barceló Santiago has loads of hotel amenities including 3 pools (one of them heated from November to April so you've got somewhere to swim), tennis courts, a gym and a studio. You can also book other excursions on the island like sea mammal watching, 4×4 off-roading through the mountains or enjoy game of golf just 10 km away.
This hotel is in such a beautiful location and it's perfectly situated if you want to explore the rest of the island too. I mean, just look at the view from the restaurant!?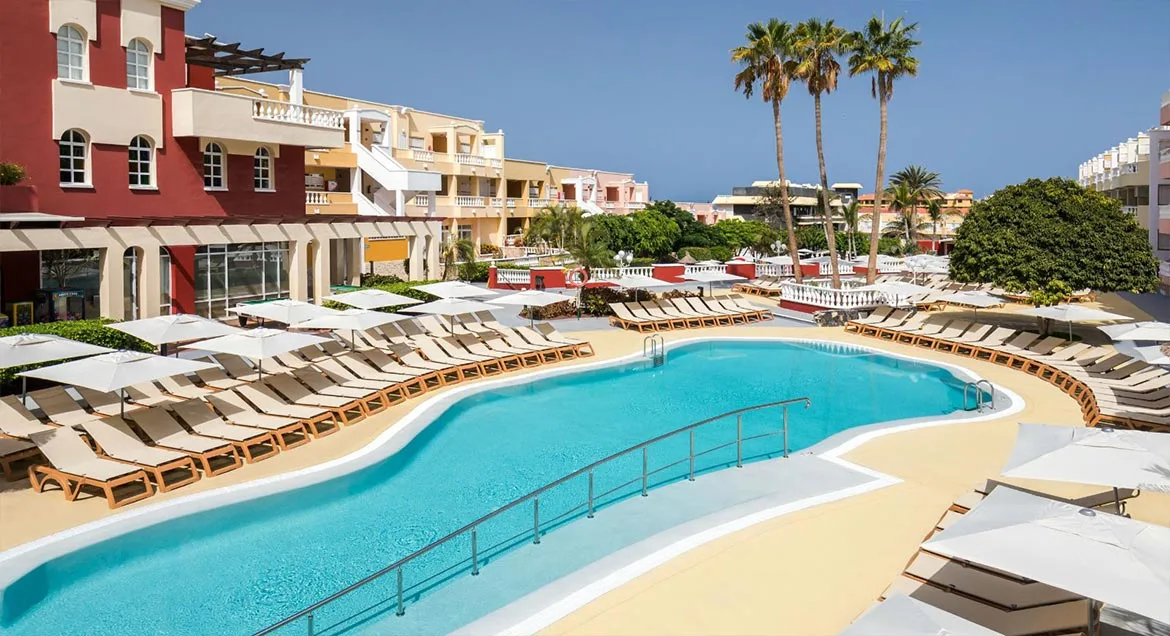 The Allegro Isora is a big hotel with 312 apartments and rooms, but it still feels exclusive and secluded when you're staying here. Located next to the famous Playa la Arena beach, this is an amazing place to immerse yourself in the cuisine, nature and beauty of Tenerife.
The Allegro Isora has excellent facilities with a couple of swimming pools, a delicious restaurant, a lounge bar for after dinner and a kids club for the little ones too.
One of the swimming pools in the complex has been recently refurbished and has a water slide for children and adults, as well as a range of water games.
Opened in 2015, the modern U-Wellness centre, with a fully equipped Fitness Centre, completes the outstanding facilities offered by the hotel. On top of this, it's an exceptional location for all lovers of water sports.
The hotel has been designed in the Canarian architectural style and offers recently-renovated facilities.
---
This post is in association with Barceló Hotel Group promoting their Black Friday and Cyber Monday deals. As always, all view and opinions are my own.
Where are some of your favourite places to stay in Tenerife? Let me know in the comments below and I'll add them to this blog post!
Like this blog post? Then make sure you Pin it!