From guided walking holidays in Sierra Nevada to cycling in the Spanish Pyrenees, these are 8 amazing adventure holidays in Spain for you to do!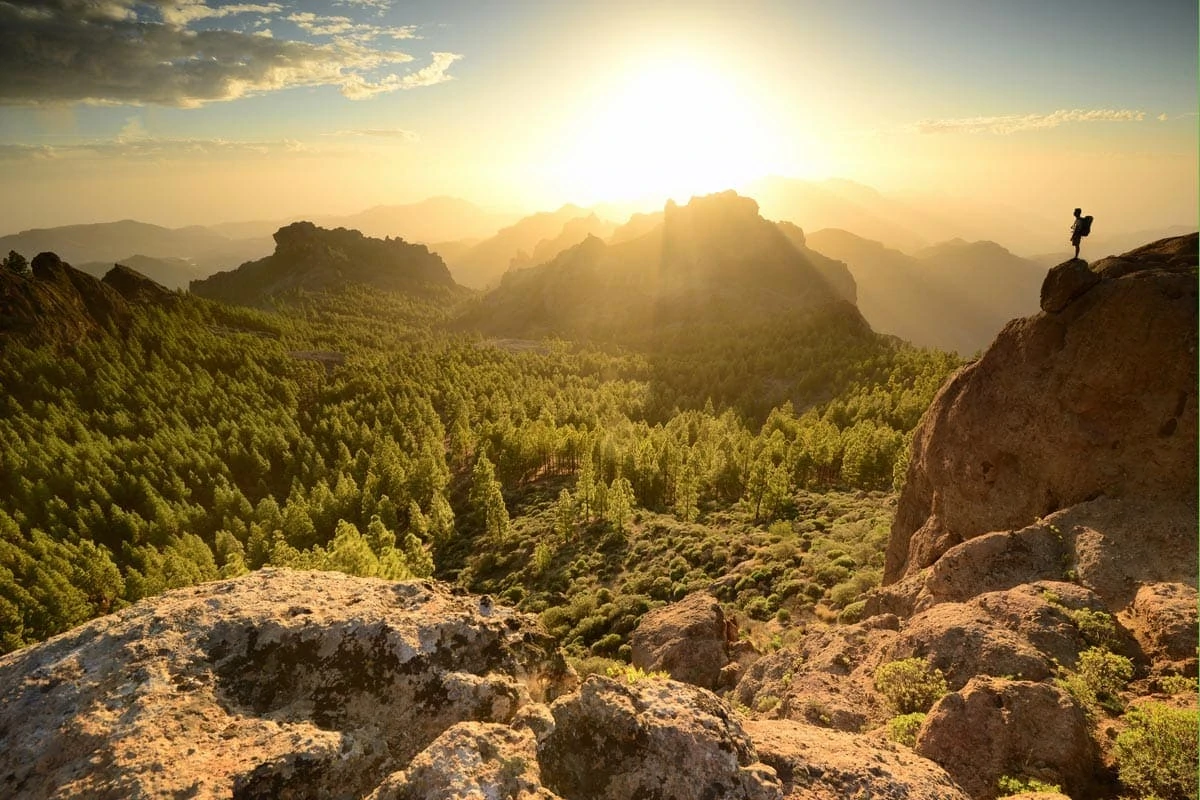 It's time to get ready for the ultimate outdoor adventure holiday in Spain!
You may think of Spain as being slow and sedate, a county all about the afternoon siestas and late night fiestas, but you can have some incredible adventure holidays here.
One of the things I love about Spain is the weather. With a lot of places in the south of the country getting around 300 days of sunshine a year, it's one of the best places to be outside no matter the time of year. Instead of sunning yourself by the pool though, I really recommend one of these Spain adventures.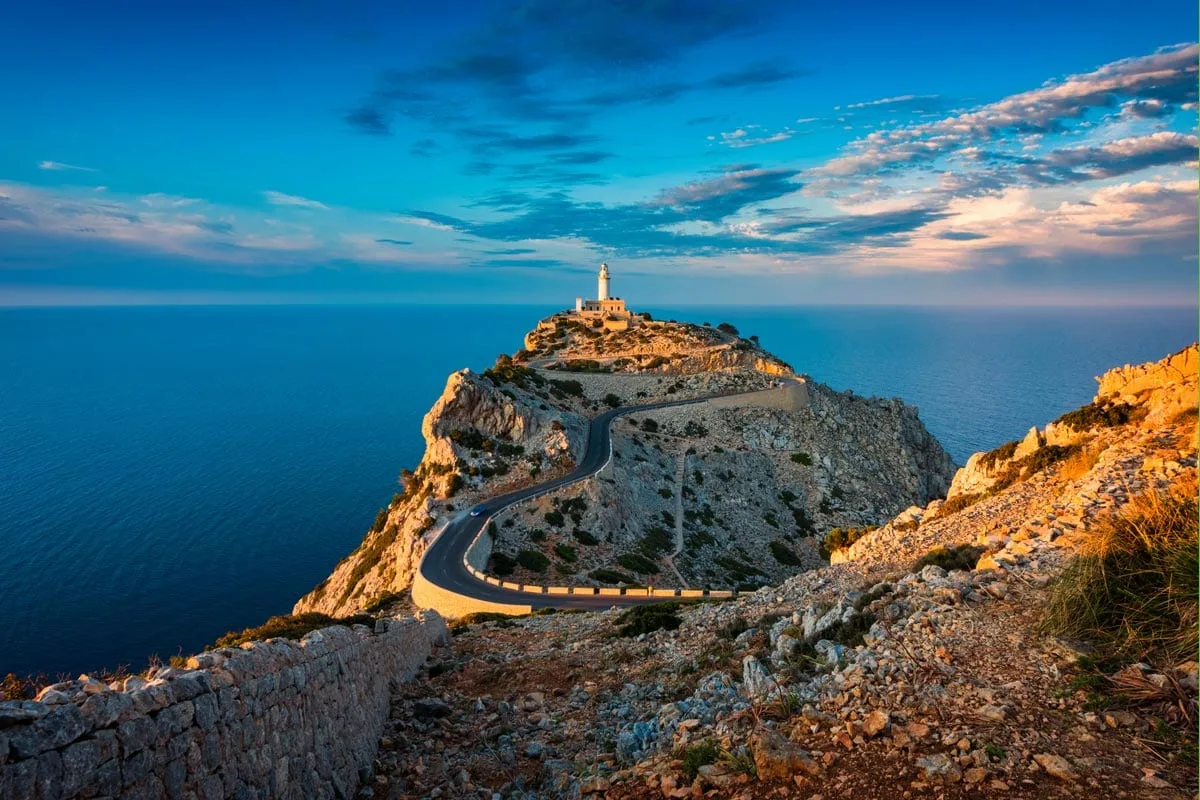 Almost one that needs no introduction is the Camino de Santiago.This is 800 kms of hiking through the most beautiful terrain of northwestern Spain.
However, a few other Spain adventures involve learning to surf at Santander, climbing to the top of a volcano in Lanzarote and partying at La Rioja Festival (yes, Spain has a festival dedicated to drinking wine – how amazing is that!?)
Also, I recently visited the region of Murcia and I was so surprised at how different this place was to the rest of the country. Very rough and rugged, sometimes Murcia looked more like Mars than anywhere else I've been to. It definitely highlights the different landscapes you can get in Spain though.
So, for you next holiday why don't you try one of these adventure holidays in Spain? I promise you won't regret it!
Head for the hills cycling the Pyrenees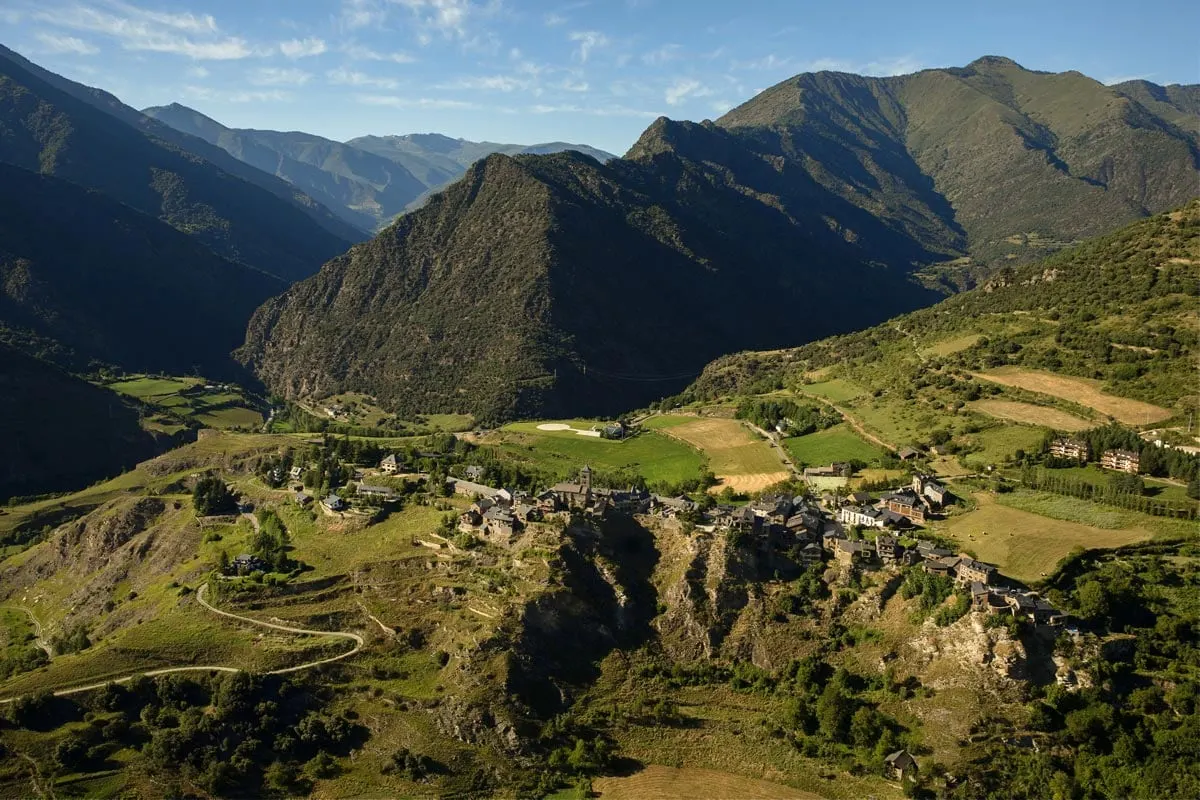 The Pyrenees mountain range covers 430 km and it stretches over both Spain and France.
The French Pyrenees may be famous for the Tour de France and more well known, but the Spanish Pyrenees are just as beautiful with hardly any riders on the road.
Places like Girona have become a bit of a must for cyclists with an avid community being based there. Also, there's the great cycling conditions all-year round.
Girona is a great place to start your trip but there are some amazing accents around the area that include the 10km Sant Hilari, the 10km Rocacorba and the 11km Els Angels.
One of the best things about cycling in the Pyrenees is you can nip into France and enjoy some of the iconic Tour de France climbs. This one is a real must for any cycling enthusiast.
For those of you looking for a cycling holiday, check out this cycling tour of the Pyrenees. This tour includes all accommodation, meals, transfers and road side assistance too. It means you can focus on the cycling without having to worry about all the logistics.
Alternatively, you can pick up a bike in Girona and go on a self-guided tour.
Hike the legendary Camino de Santiago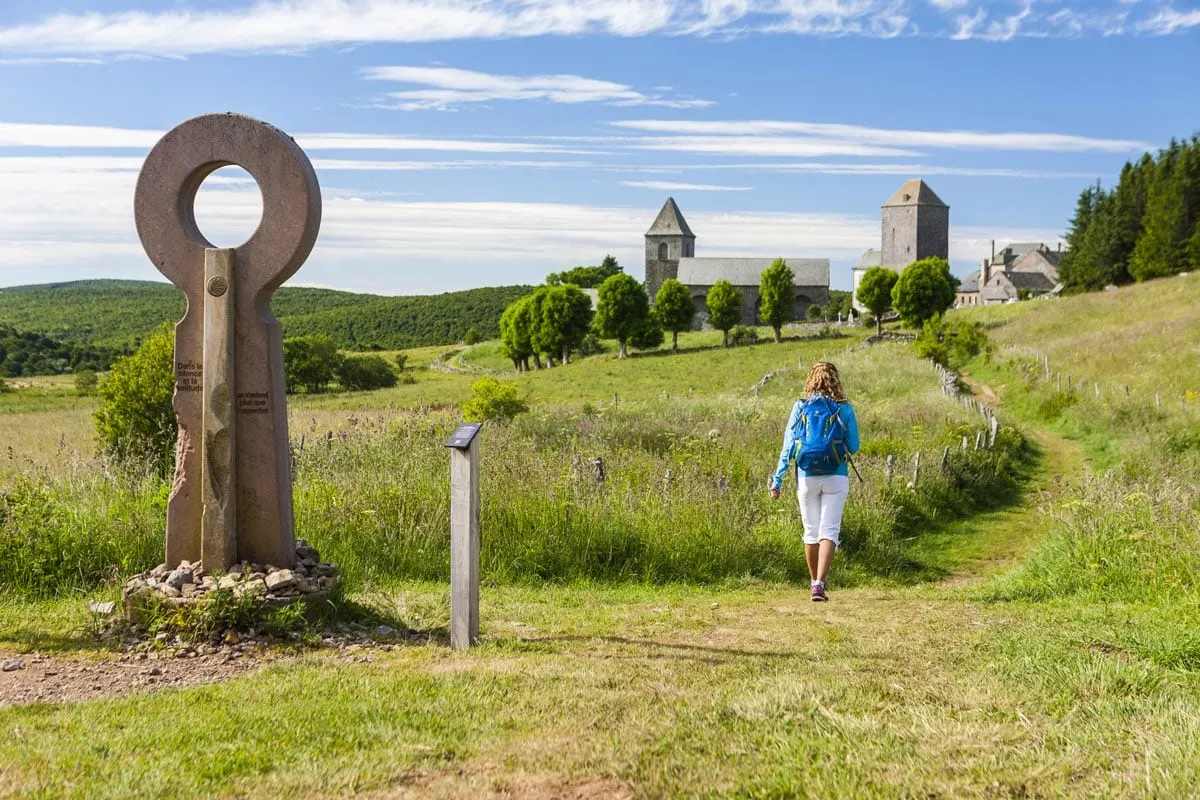 The Camino de Santiago (also known as the Way of Saint James) is a network of trails leading to the cathedral of Santiago de Compostela in Galacia in northwestern Spain.
Many walk the Camino as a form of spiritual journey, a way to find yourself again on the road. Or, for people like me, it's just the beauty of hiking in somewhere as stunning as Spain with some amazing like-minded people along the way.
A lot of companies offer guided walking holidays, but somewhere like the Camino de Santiago you can do it on your own too. It all comes down to how much time you have. If you're short on time then it's a good idea booking a walking holiday package.
Either way, there is a reason the Camino de Santiago is a UNESCO World Heritage Site. It really is one of the most incredible hikes you'll ever do.
Also, the best places to stay on the Camino de Santiago include converted castles and monasteries – so cool and very different too! Click on the link to see my blog post on where to stay on the Camino!
Learn to surf at Santander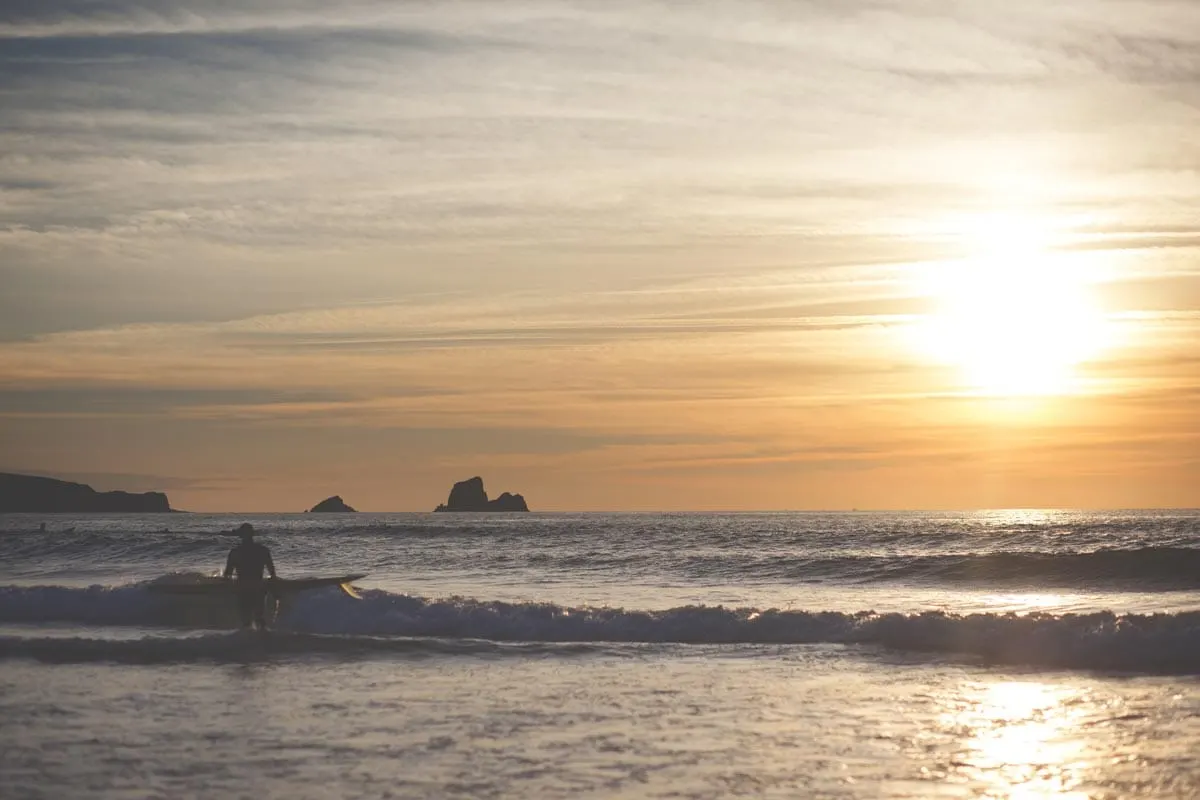 No matter where I am around the world I always love surfing.
If you've never tried it before, Santander in northern Spain is a great place to learn to surf. You've got rugged coastlines and rolling mountains making this one of the best adventures in Spain.
While the Basque Country may be better known for its surfing, Cantabria and the area around Santander offer some great options too. Spots such as Liencres, El Sardinero, and Berria are all amazing and there are a few surf schools too to teach you the ways of the water.
However, there is some big BIG wave surfing at Cantabria so I recommend you steer clear of those until you're ready! Big wave surfing is a huge Spanish adventure sport. This makes it the perfect place to watch big waves surfers!
The surfing season really picks up in June and then carries all the way through till very late in the summer. And the waters are warmer than you think too.
For me, this is one of the best places to visit in Spain. You really can't go wrong with a holiday here, especially when it involves surfing!
Party at San Vino Wine Festival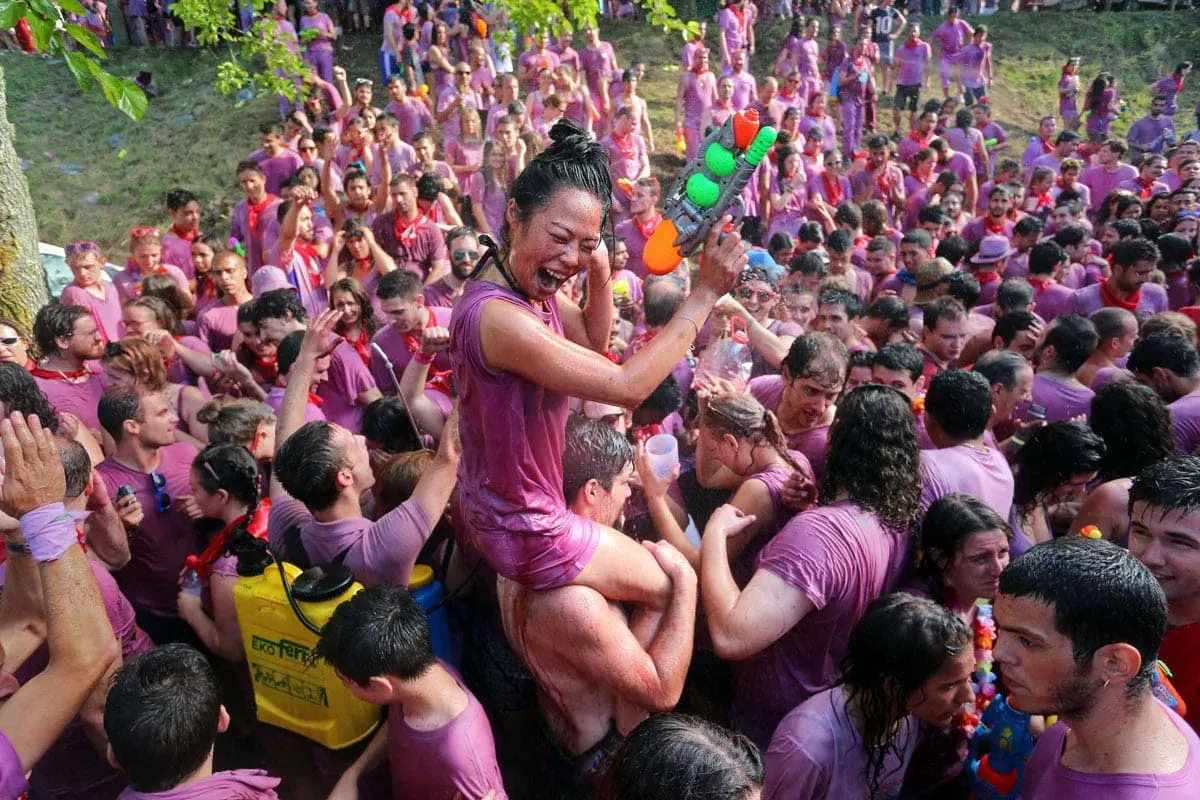 The title of this festival says it all, really!
If you're a wine lover (much like I am), don't miss the chance to visit the Rioja region in northern Spain the summertime. I mean, it's totally acceptable getting squiffy all in the name of culture.
With a number of different wine tasting events and tapas bars to enjoy, it's very easy to lose track of time here, but the main event is the "Batalla de Vino", also known as the wine fight.
The battle begins with a massive street party before everyone gathers the next day to duke it out armed with buckets of wine. Bring your water pistol, dress up in some old clothes and be prepared to get drenched in wine because this is a fiesta like no other.
I think this is one of the most unique festivals in the world. If you're interested in the San Vino Wine Festival then check out this tour. On this tour you'll drink more wine than you can handle – definitely for the ones who like a party.
Climb to the top of a volcano at Lanzarote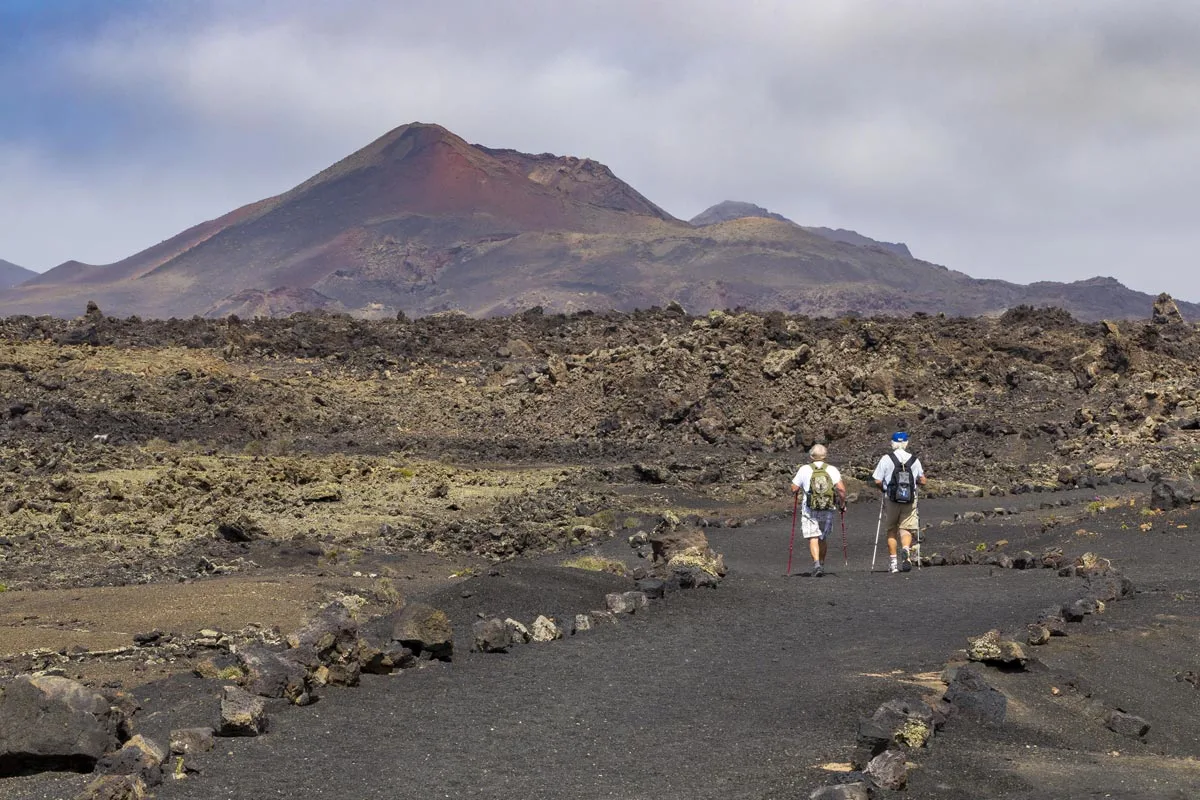 If there's one thing you won't be short of in Lanzarote its hiking trails.
With a crazy moon-like landscape and a few volcanoes dotted around the island, it is incredibly beautiful here and another amazing adventure holiday in Spain.
Los Volcanes Nature Park together with Timanfaya National Park are the two main places to hike volcanoes in Lanzarote and they can easily be done in a day.
One of the best things about hiking Lanzarote is that you can either go off on your own or on a guided walking holiday to show you the best trails. It all depends on the type of adventure holiday in Spain that you're after.
This is an amazing full-day tour that'll take you to the volcanoes and the caves on the island. You'll visit places like El Golfo, explore the beautiful caves of Jameos del Agua and climb up volcanoes too.
For those of you looking for some of the other best things to do in Lanzarote, check out this blog post. It's packed full of all the best things to do on the island!
Get messy at La Tomatina Festival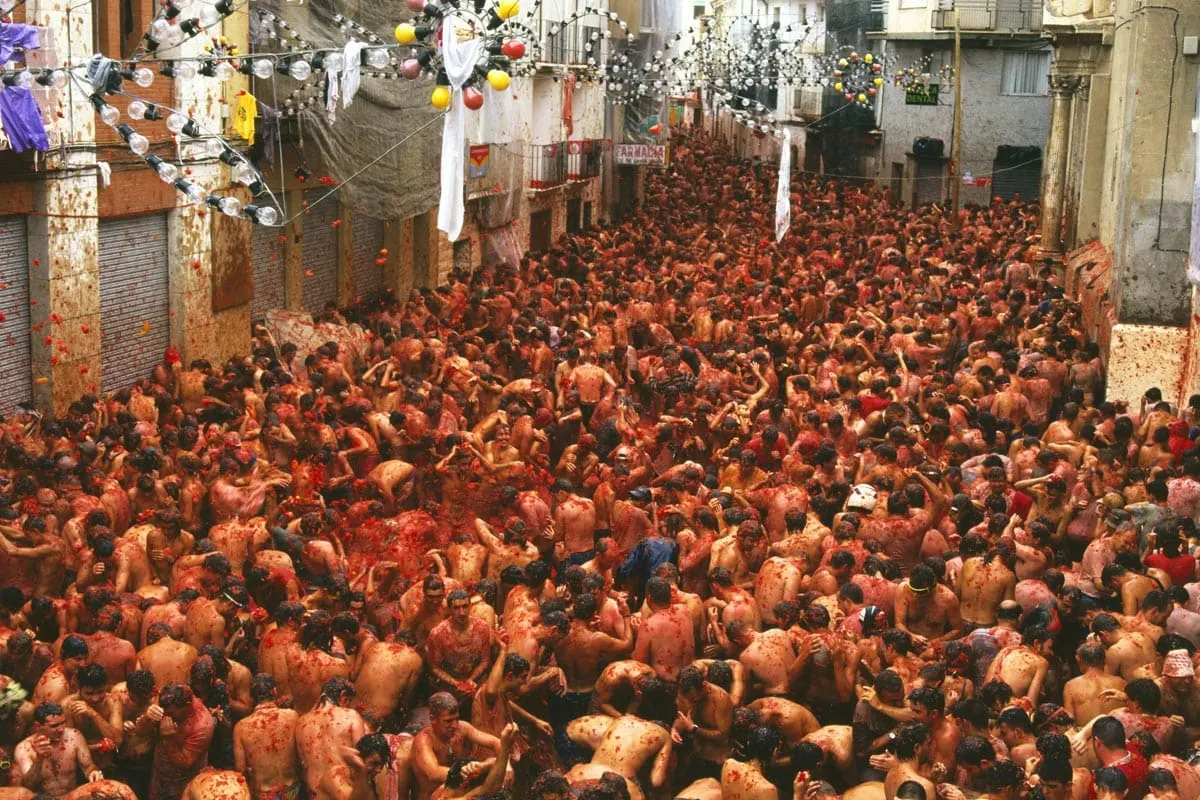 La Tomatina is a festival everyone knows about.
Held in the Valencian town of Buñol in the east of Spain, La Tomatina is a food fight like no other. Thousands of people gather in the streets hurling rotten tomatoes at each other.
What's the point of La Tomatina? To have as much fun as possible of course!
I know it seems strange having a food fight as one of the top adventures in Spain but it has become one of those bucket-list activities that everyone wants to do (including me!)
Also, there are a bunch of other festivities and live-music around La Tomatina well worth checking out. Just make sure you book a hotel for la Tomatina beforehand as they can sell out pretty quickly.
If you're heading to La Tomatina, check out this amazing tour with Stoke Travel. This tour includes festival tickets, accommodation, food, and lots of beer, wine and sangria! Party time!
Try paragliding in Andalucia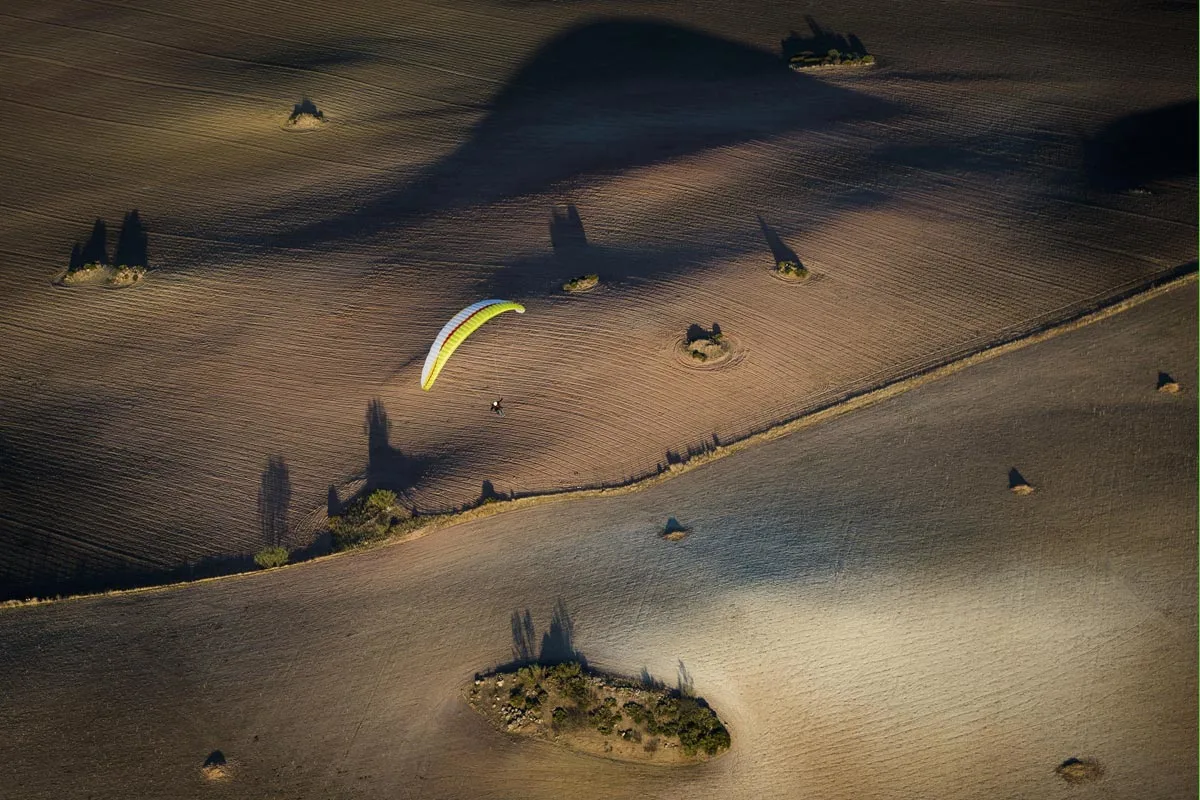 Paragliding over the countryside of Andalucia and Sierra Nevada? Sign me up! This is what mountain adventure holidays in Spain are all about!
This has to be one of my top adventurous things to do in Spain and it is surprisingly relaxing too. Honestly, it really isn't as scary as you think and I really recommend this activity to people.
Andalucia has become a bit of a Mecca for Spanish paragliders. Not only can you fly in the hills of Andalucia all-year round but there are over 20 established flying sites. This makes it perfect if you're learning to paraglide or if you want to try it for the first time.
Also, there are loads of schools in the area where you can book a flight and learn from an expert. Tempted now? You can find out some more information about paragliding in Andalucia here.
If you're in the area, make sure you check out some of the best beaches in Andalucia. This guide will show you where you can find them!
Get your zen on doing yoga in Ibiza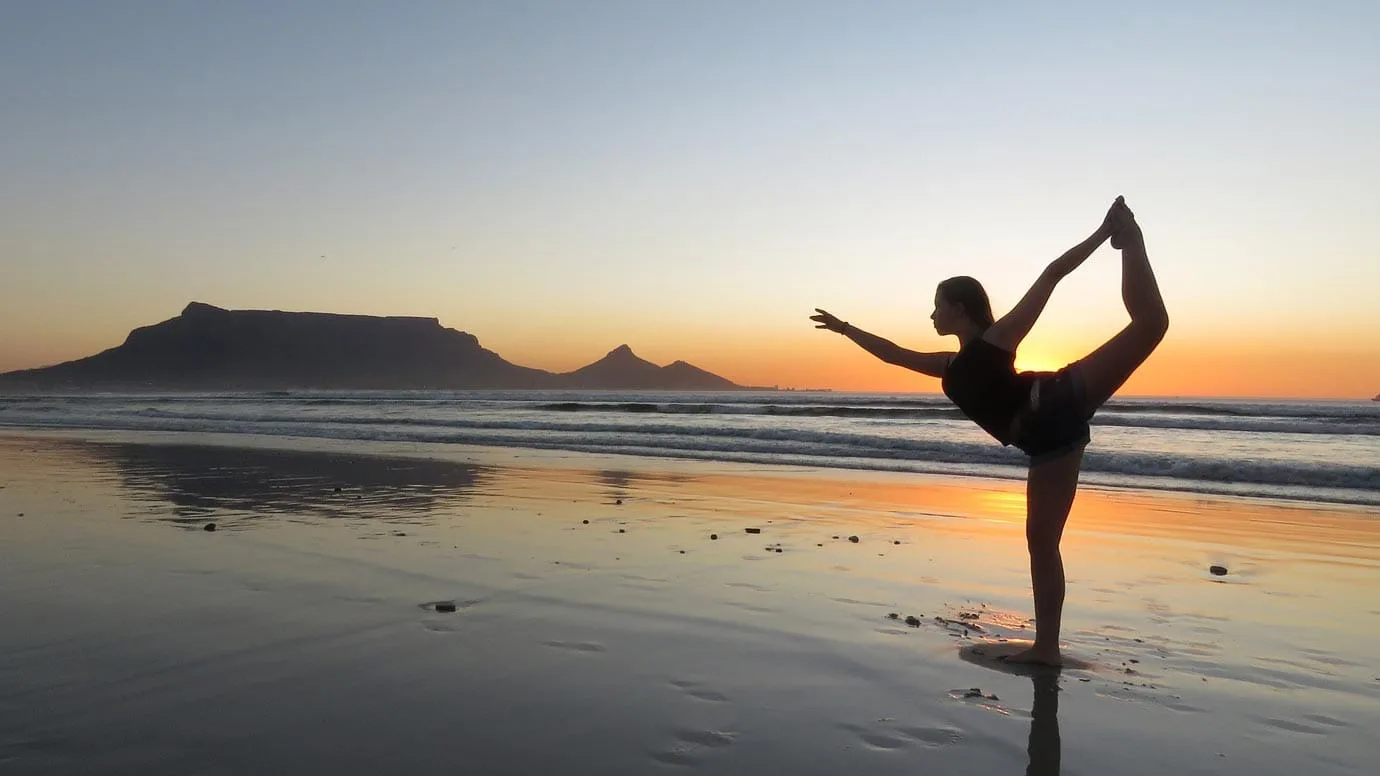 Okay, so this isn't exactly an a Spanish adventure but it is still one of the top things to do in Spain.
While Ibiza is famed for its nightlife, this Mediterranean Island off the coast of Spain has a lot to offer beyond clubbing till 6am.
Once you get away from Pacha and Ushuaia, Ibiza is actually an incredibly sedate island and an amazing place to do yoga. Whether you want to drop into a class or get away to a retreat, there are no lack of options for yogis in Ibiza.
There is something unique about island life. It somehow lends itself to a slower pace, and more room for inner practice.
It's no wonder the natural beauty of Ibiza has become so popular for the spiritual and physical practice.
If you fancy the slower pace of life, this is the one for you!
---
Are you planning an adventure holiday in Spain? If so, which one catches your eye? Let me know in the comments below!
Like this blog post? Then make sure you Pin it!