From going on a terrifying 'death walk' over a valley to some of the best hiking in the UK, here are some amazing adventures in the Lake District, England!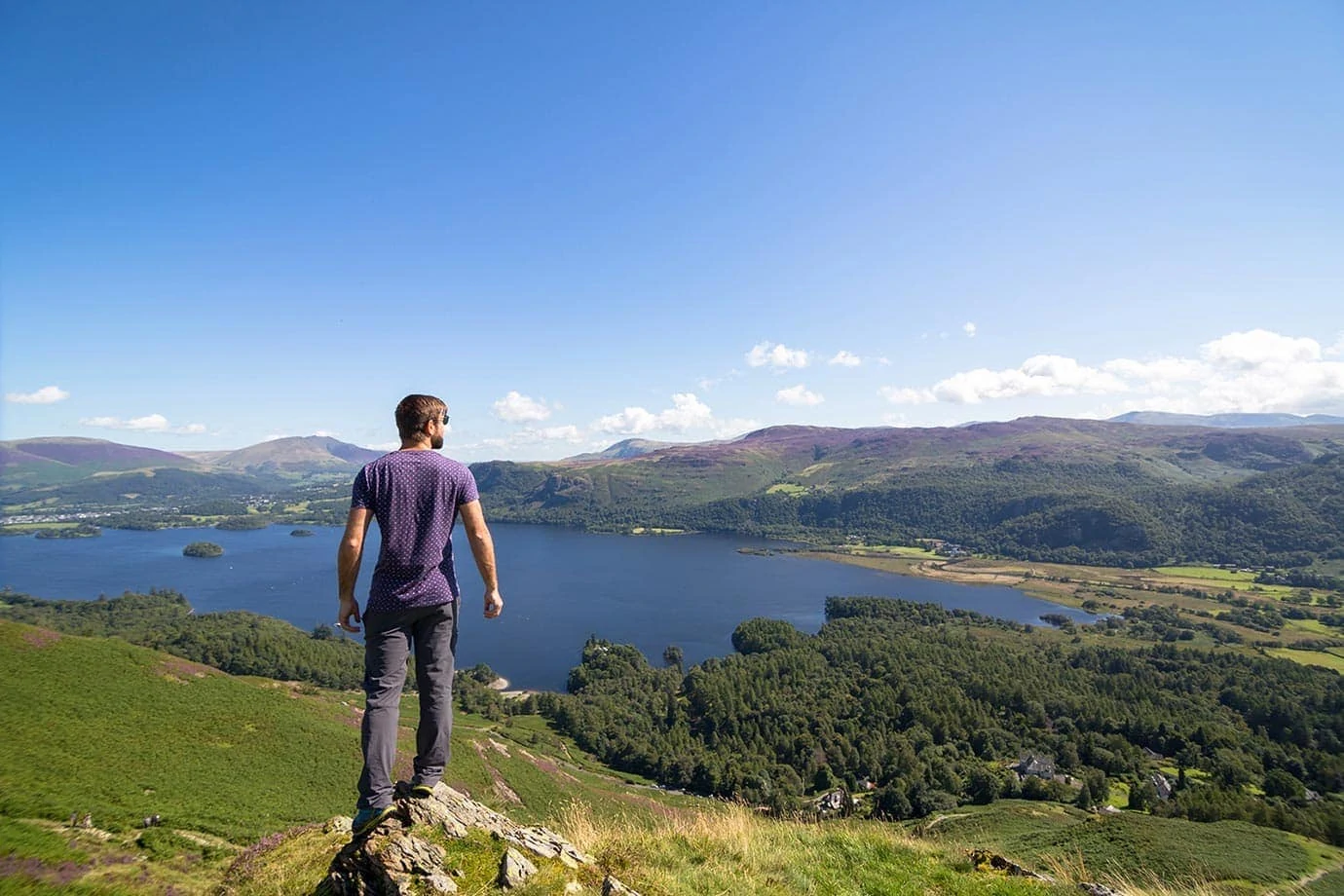 If adrenaline activities are your thing then check out these amazing adventures in the Lake District. All of these are guaranteed to get the blood pumping. Trust me because I've done them all!
The Via Ferrata at Honister is on next level. It's probably one of the best adventure activities I've ever done in the UK and that's really saying something. The view below as you do the 'death walk' suspension bridge is terrifying, but more on that later.
The Lake District also has some of the best hiking in the United Kingdom too. Nothing makes me happier than hiking here, and the views are just stunning. This is what hiking in England is all about.
Let me tell you now – if you're into your adventure activities then the Lake District is the place for you!
First though, here's a video of my favourite adventures in the Lake District. This is what it's really like!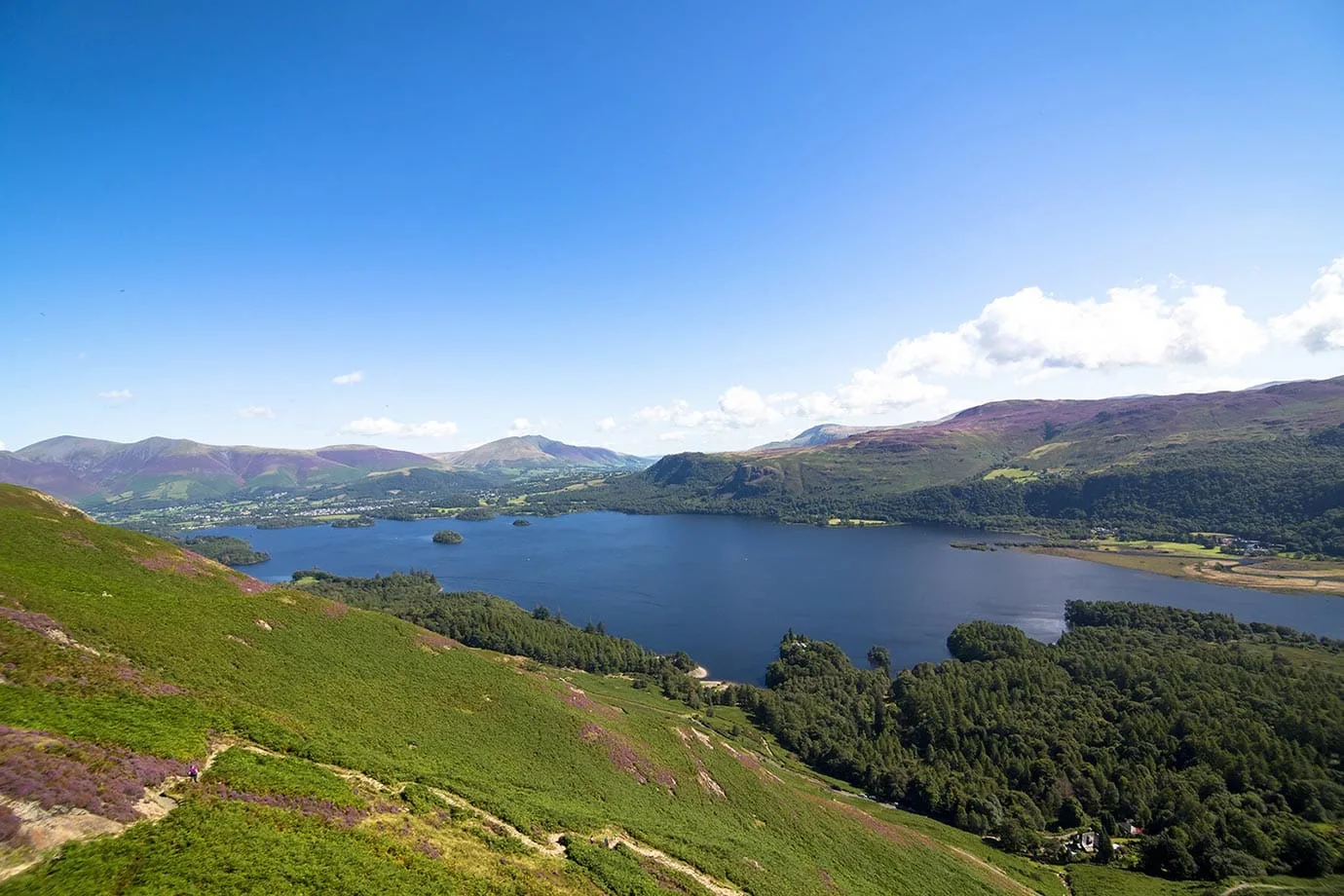 I've been to the Lake District in England a fair few times now and it's a place I absolutely love. It's just got something for everyone. Also, it's the perfect place for those of you with little ones.
Yes it's got the hiking, but you can also do pretty much every water sport imaginable (I'm a little bit gutted I didn't do any wakeboarding while I was in the Lakes). Also, the Via Ferrara Xtreme tour is one of the craziest climbing experiences I've ever had in my life.
So, if you're looking for some amazing adventures in the Lake District then you can't go wrong with any of these.
1. Do the Via Ferrata Xtreme Tour at Honister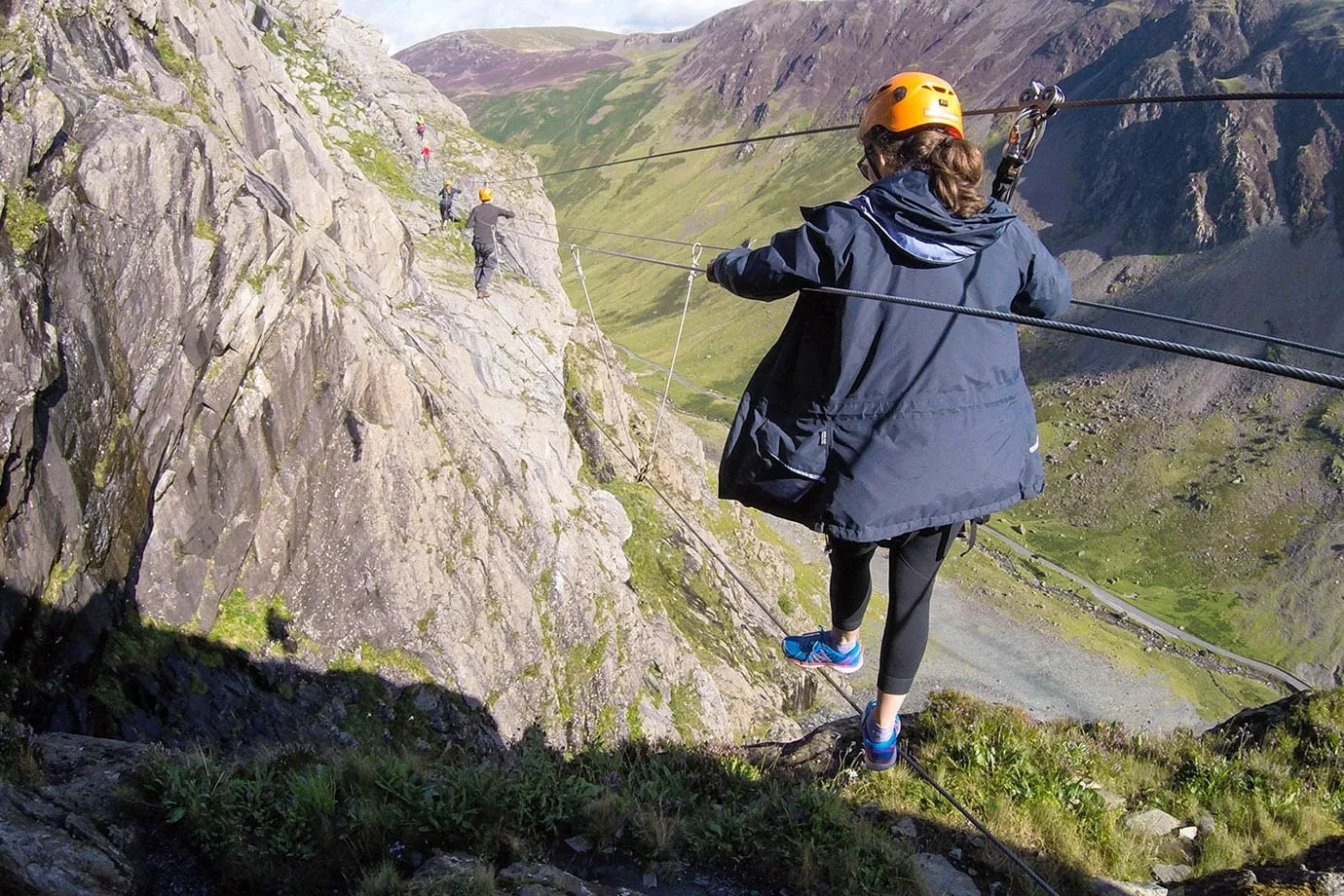 At Honister you can two things. 1) Buy some slate from the last working slate mine in England, or 2) hang off the side of a mountain for three hours and walk over a high wire that'll reduce even the toughest people to nervous wrecks.
Using the original miners tracks up the mountain, there are two Via Ferrata routes to choose from – the original route or the Xtreme route.
I did the Xtreme route, and well, it was pretty extreme!
The Via Ferrata Xtreme route consisted of a series of iron ladders, high wires and cargo nets, all very high up on the side of a mountain. Apparently this route is seven times higher than Big Ben and taller than the Shard so yeah, it's pretty sketchy at times.
By far the scariest bit is the 100m long Infinity Bridge (otherwise known as the 'death walk'), a long hire wire over the valley where you get blown around by the wind from side to side with just the thinnest bit of cable to stand on. Yeah, that's an experience to remember.
One of the best things about the Via Ferrata is the views of the Lake District at the top of Fleetwith Pike – at times you'll question why you're doing the Via Ferrata, but with views like this you quickly realise it's worth it. Lake District adventures don't come much better than this.
Price: £45 | You can book your tickets here! You can read all about my Lake District via ferrata experience here!
2. Kayaking and standup paddleboarding at Coniston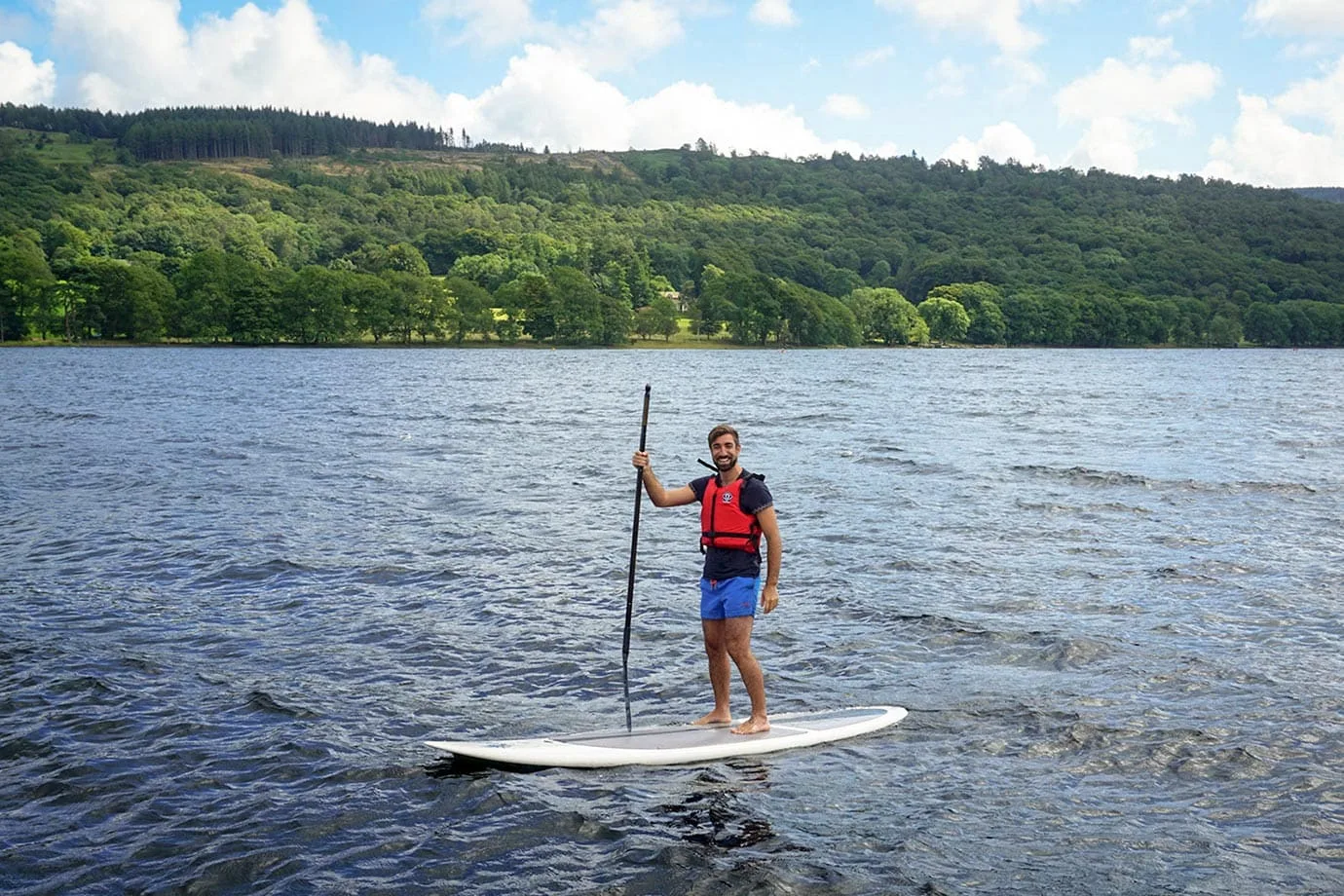 When it comes to Lake District activities, you can beat water sports at Coniston Lake.
From hiring a row boat to standup paddleboarding, if it involves fun on the water then you're guaranteed to have it here.
During the summer Coniston water is teeming with kids learning how to sail and with families zooming around on speed boats for the day. The thing is it's such a beautiful spot. It's so easy to forget where you are when you're having fun sailing or paddleboarding, but just look around and take it in.
If you don't want to get out on the water then you can hire bikes at Coniston and ride around the lake. Also, there's a really nice café at the Coniston Boating Centre too. That's where I grabbed some lunch after my paddleboarding session.
I absolutely love paddleboarding – I find it so peaceful and relaxing – but it didn't exactly end well. Make sure you watch my video to find out what exactly happened!
Price: £20 for up to two hours | Website: http://www.conistonboatingcentre.co.uk/
3. Hike up to Catbells in Keswick for some of the best views around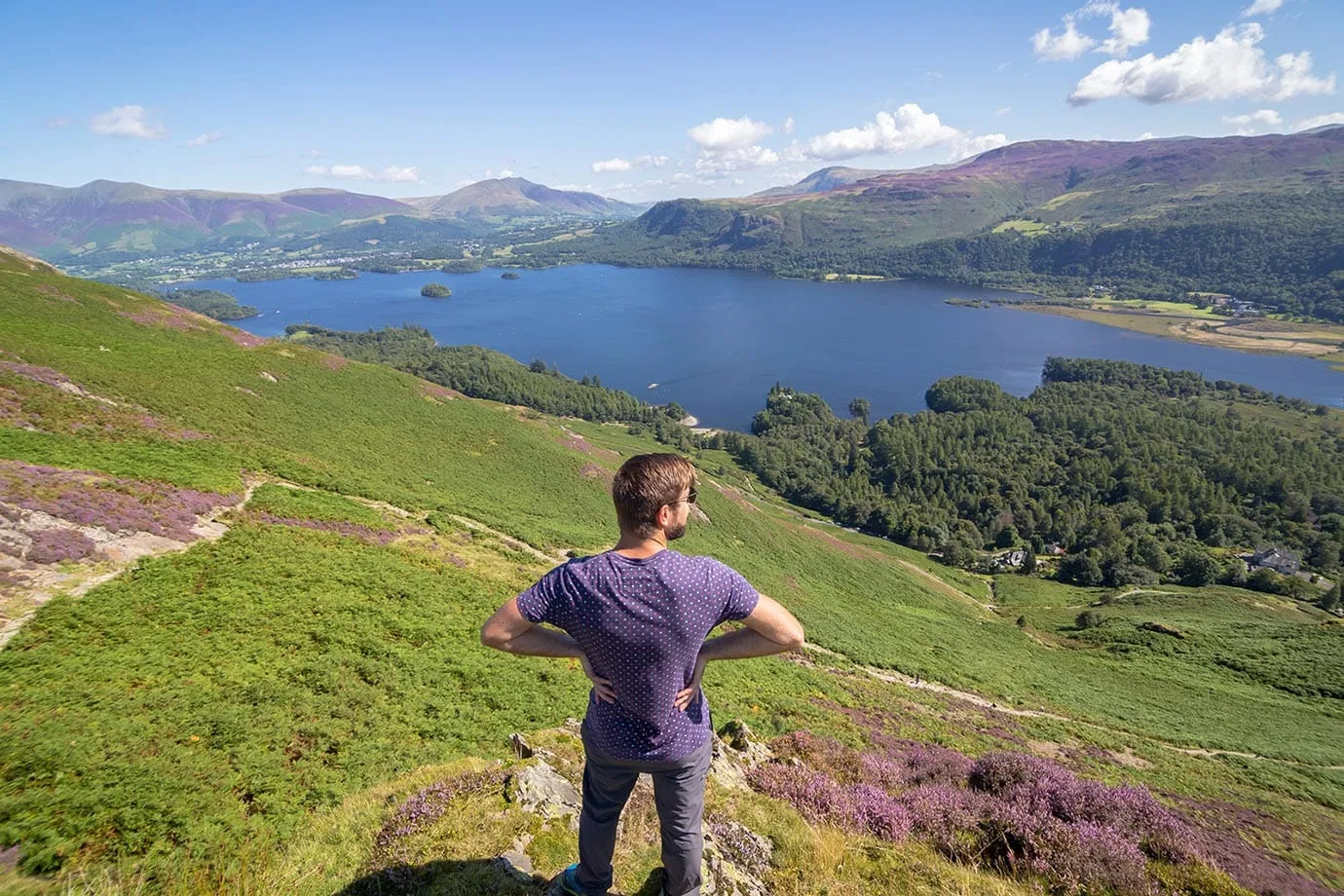 When it comes to what to do in the Lake District, you can't come here without going hiking. That's partly to burn off all the amazing food you'll have while you're here!
One place that came highly recommended to me was the Catbells hike in Keswick. This is one of the most popular viewpoints in the Lake District. Once you get to the top of the Catbells it is easy to see why.
The best thing about hiking Catbells is it's a real beginners hike. It only takes an hour or two (depending on how many times you pause for breath!) to reach the summit.
A word of warning though – during summer this is a really popular spot and it's really hard to get a parking space for this hike, so much sure you head off early!
If you're looking for an amazing tour of the Lake District seeing some of the best sites along the way then I really recommend this one.
Price: free! | Website: https://www.walklakes.co.uk/walk_26.html
4. Drive on some of the most beautiful roads in the UK
If you're looking at seeing as much of the Lake District as possible then hire a car and zoom around the countryside.
As I don't own a car I picked up one from Carlisle with Hertz and then drove from town to town stopping off a cute villages and incredible viewpoints along the way.
To give you a sense of how good the driving is here – loads of car commercials are shot in the Lake District, and with winding roads and rolling hills in the background it's easy to understand why.
Even though I was trying to pack in as many mini adventures as I could while in the Lake District, just driving around was an adventure in itself.
If you're looking for one of the best roads, it has to be climbing up to Honister – just sensational. All those petrolheads among you will love that one.
Sometimes it's the simple things in life, isn't it!?
Price: car hire at £24 a day | Website: http://hertz.co.uk/
5. Get wet canyoning at Windermere and really get the adrenaline pumping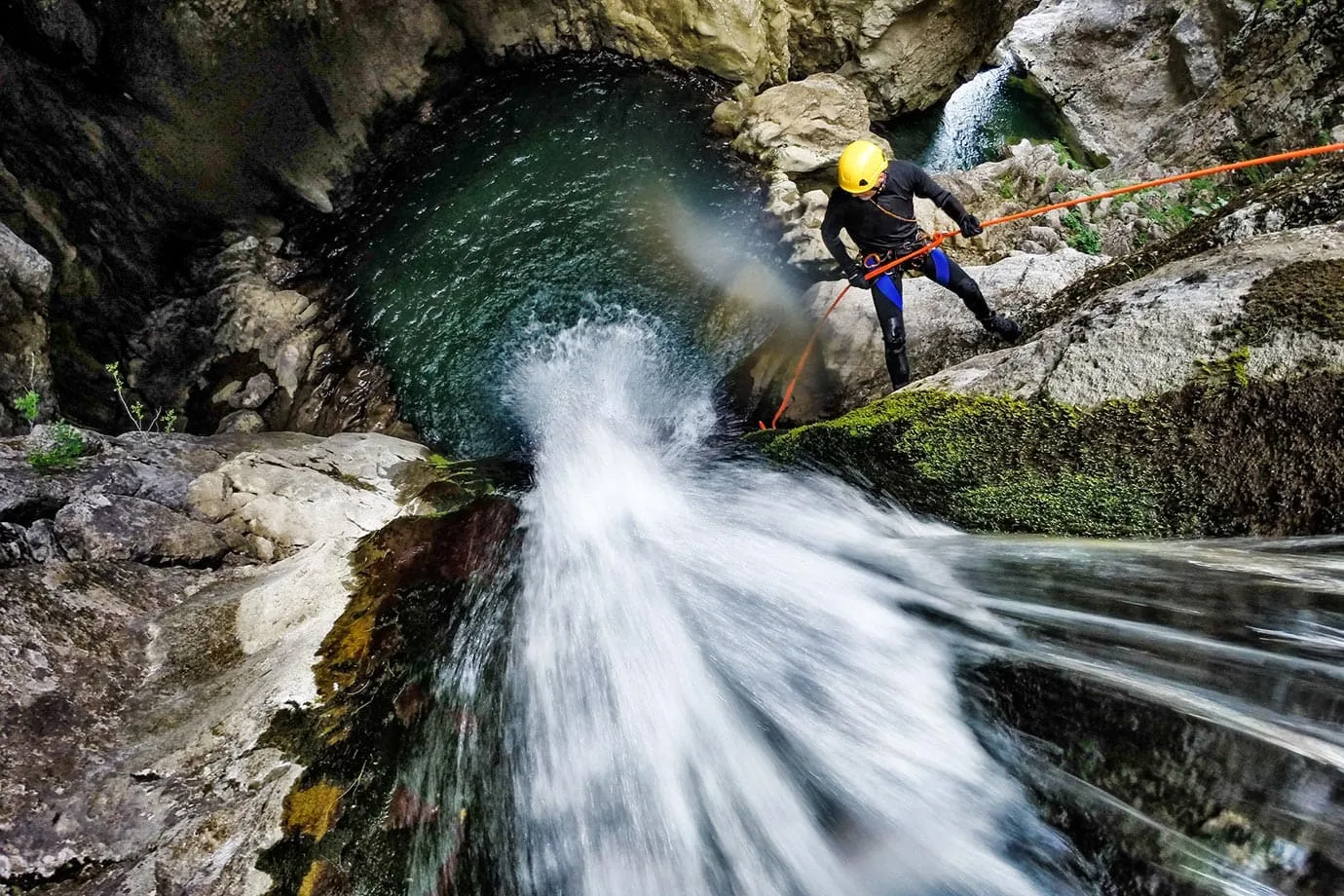 One of the best Lake District adventure activities is this one, canyoning.
Another thing that this area in England is famous for is huge canyons and gorges. This makes it a bit of a playground for big kids with a number of Lake District adventures to choose from.
If you like abseiling, canyoning, rock climbing or scrambling, then Windermere takes the number one spot as the best place to do it, but it doesn't really matter where you are as you'll be able to find these activities all over the Lake District.
Oh, and if you don't know what canyoning is, it's basically abseiling and throwing yourself down mountains and waterfalls. Usually there are a couple of natural rock slides thrown in there for good measure too. Either way, it always involves a lot of water and it always is a lot of fun.
For me, canyoning in the Lake District is the best place to do it in England. I can't recommend this activity enough!
Price: Varies on each activity but between £40 to £80 per person | Website: Canyoning Lake District
---
If you're looking for some of the best places to eat at in the Lakes then check out Wanderlust Chloe's amazing guide on the best restaurants in the Lake District.

My trip to the Lake District was part of Cumbria Tourism, Visit England and Hertz's campaign promoting places to visit in England – not all adventures have to be abroad! As always, views are entirely my own and without bias.
Have you ever been to the Lake District before? If so, what are some of your favourite adventures to do there? Let me know in the comments below!

Like this post? Then make sure you Pin it!