Are you looking for the best Lake District adventure? Then let me introduce you to the Lake District via ferrata at Honister. It's unbelievably scary!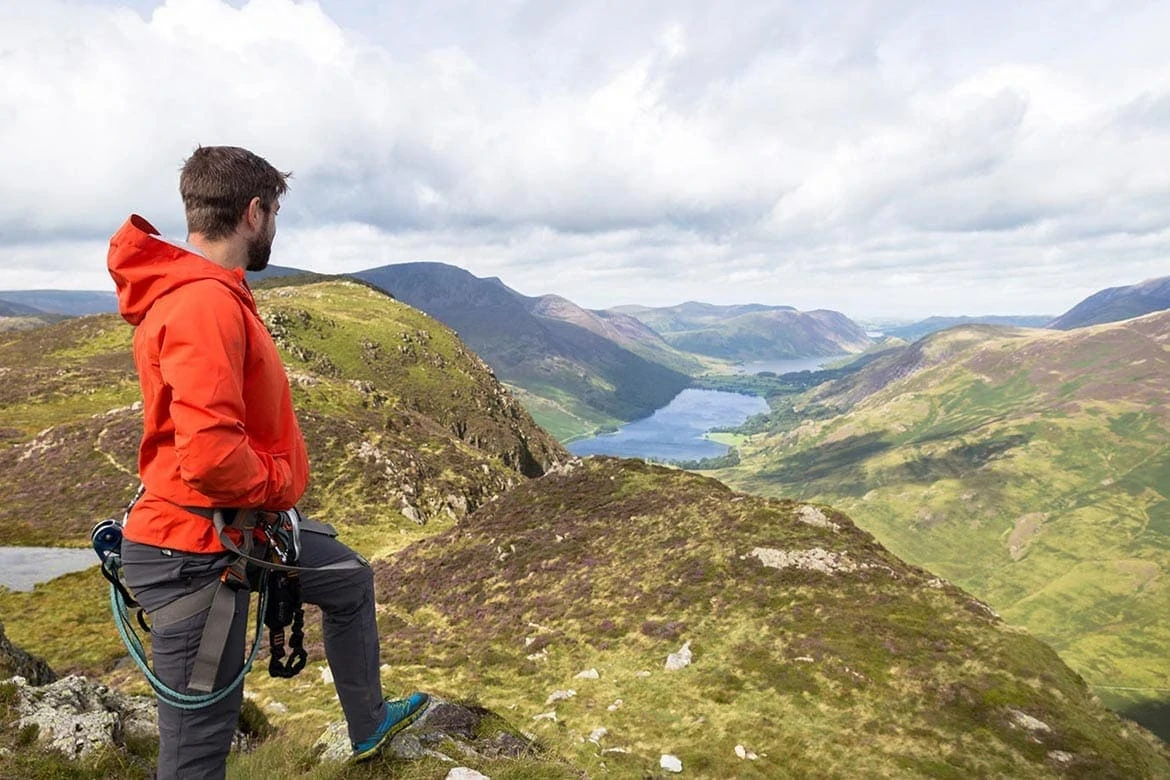 I was halfway across the perilous Lake District Infinity Bridge and my legs went to jelly. Gone, just like that. I could barely put one foot in front of the other, knees knocking into each other.
As I looked down all I could think about was the 60 metre drop below me. All I could see was rugged rock and shale flowing down the mountain. I felt the silvery wire between my feet was scant protection and my hands started to slip. My whole body had a mind of its own.
I grabbed the rope on my safety harness certain I'd fall but the high-wire became taught again and I just about regained my balance. I wasn't going to fall, but that didn't stop me from bricking it.
Then, slowly, I manged to put one foot in front of the other, my body taking control when my mind was screaming to stay still.
I knew the Lake District via ferrata at the Honister slate mine would be a challenge, but I didn't expect it to be this scary!
I'll say this now, this really is one of the best adventures in the Lake District. If this sounds like your idea of fun then make sure you read on!
To give you a bit of an idea of what it's like, make sure you watch my video below!
Where is the Honister Slate Mine?
I feel like Honister is a place tucked away in a forgotten part of the UK. Honestly, if you didn't go there for the Lake District via ferrata you'd never know it existed.
Near the towns of Keswick and Cockermouth, Honister is an old slate mine that was abandoned in the 1980s. Today though, it is reborn as an adventure playground for the whole family.
In recent years Honister has gone through a huge transformation. Not only is the slate mine back open again for business but they opened up the via ferrata in 2011 which quickly won the "Best Tourism Experience in The Lake District" award soon after.
To get to Honister, you can either drive through of Keswick or Buttermere and up the mountain to the slate mine – it's the only place for miles around so you can't exactly miss it. There's plenty of parking too.
This is without a doubt one of the best adventures you can do in the UK and it's so much fun! I can't recommend this enough and it's well worth the journey to the Lake District for this activity alone.
Also, while you're in the area, you can check out some of my other favourite adventures in the Lake District here. Do a couple of these and you're in for an amazing time in the Lake District!
What is the Honister via ferrata?
The Honister via ferrata is a crazy cliff-side adventure. Basically, all along the cliffs at Honister are iron ladders and iron cables which you clip into.
via ferrata actually means "the iron way" and instead of rock climbing, you're essentially using iron ladders and steps to traverse your way across the cliff face. via ferratas usually include things like steel cables and cargo nets too. Basically, in short, it's a giant playground up in the mountains and it's so much fun.
Once you get to the Honister via ferrata there are a couple of safe demonstrations taking you through the day's activity.
The first demonstration is when you're putting on your kit (which they provide for you). The equipment is the same as rock climbing, so a safety harness and helmet. Make sure you bring comfortable shoes though – that's really important.
Then you hop onto a bus and you're driven a short way up the slate mine until you get to the start point. There's a second safety demonstration with the cables and how you clip into them at the start of the via ferrata.
Essentially, there are 2 carabiners (like you'd use in climbing) which you clip onto a very long iron cable that runs alongside the via ferrata.
When you come to a section where you need to change, you unclip one of these carabiners and then clip onto the new cable.
Because there are 2 clips attached to the cable, at no point are you completely disconnected from the ladders or the cliff face. This means, if you do fall, you will still be attached.
I even asked how many people get injured and they said no one so you really are in very safe hands here. I know it's scary but you can 100% trust all the equipment.
Via Ferrata Classic vs. Via Ferrata Xtreme
At the Honister Slate Mine they run two types of tours – the Classic and the Xtreme.
The Classic is the original via ferrata route. This follows the historic miners path high onto Fleetwith Pike. This tour is suitable for all ages and abilities and really encourages people to get out of their comfort zones which is remarkably easy when you're hanging off the side of a cliff!
As the name suggests, the Via Ferrata Xtreme is on another level compared to the Classic.
Basically, there are more vertical climbs, more cliff edge ladders, more cargo net crossings. Oh, and there's the Infinity Bridge too. This is by far the scariest part of the day but there's no better feeling than when you complete this section.
Both the Classic and the Extreme tour take approximately 3 to 4 hours. Also, they're open in all weather conditions so this really is an all-year round activity.
Saying that, I did this in the summer sunshine and it was glorious . I'm not too sure I would say the same if it was cold and raining!
Completing the Via Ferrata Extreme
For me, I absolutely loved the Via Ferrata Extreme. As in, I LOVED IT! Yes it was challenging, but was such an adrenaline rush too.
One of my favourite moments was you get to the top of Fleetwith Pike and you have the most incredible views of the Lake District all around you. Seriously, this was one of the best views I saw in the Lake District and that's saying something.
From the top of Fleetwith Pike it's a short walk back down the mountain until the bus picks you up and takes you back to the main entrance. And that's it, you've completed the Lake District via ferrata.
Once you're at the main office, there's a lovely little café where you can get lunch or some cake. I warmed myself up with their soup and sandwich combo and it was the perfect way to round off the whole experience.
There's also a gift shop if you'd like to pick up some slate products. They sell things like slate plates – quite cool if you're a home owner!
Top tips for the Lake District via ferrata
As I've already mentioned, make sure you weather comfortable shoes. I think this is by far the most important thing otherwise you won't be able to climb.
You can't take any bags or backpacks onto the via ferrata itself in-case you drop them. You can leave everything in lockers in the main building.
I'd really recommend wearing trousers or a top with zip pockets. Knowing my phone was safely zipped up while I was on the cliff face made me so much happier.
You can use a GoPro as long as it's attached to a helmet or with using the chest mount. Some of the helmets at the Honister Slate Mine have GoPro attachments already on them so make sure you grab one.
Even if the weather forecast is bright sunshine, I'd still recommend bringing a rain jacket. The weather can change really quickly up in the Lake District so it's really important to pack clothes accordingly.
If you get too scared to continue, the mountain guides will make sure you get taken back down to the office safely.
And most importantly, enjoy it! This is an adventure like no other in England so I really hope you enjoy it!
How much does the Via Ferrata Extreme cost?
The Honister Via Ferrata Extreme (the one I did) costs £50 which I think is an absolute bargain. Also, the Classic route costs £40 though doesn't include the Infinity Bridge.
This is for a 3 to 4 hour activity and includes all tour guides, transport from the main entrance and equipment too. Personally, I think that's really good value for money.
Also, they've just opened up a zip wire at Honister, so that's another activity you can do while you're there. I told you like was an adventure playground!
Can I just say, I can't recommend booking this activity enough. It genuinely is one of my favourite adventure activities I've ever done in the UK – hopefully you'll love it too!

---
Are you brave enough to take on the Infinity Bridge in the Lake District? Make sure you let me know in the comments below!
Like this blog post? Then make sure you Pin it!