The Catbells walk is without a doubt one of the best walks in the Lake District. This guide has all the info to help plan your day at Catbells!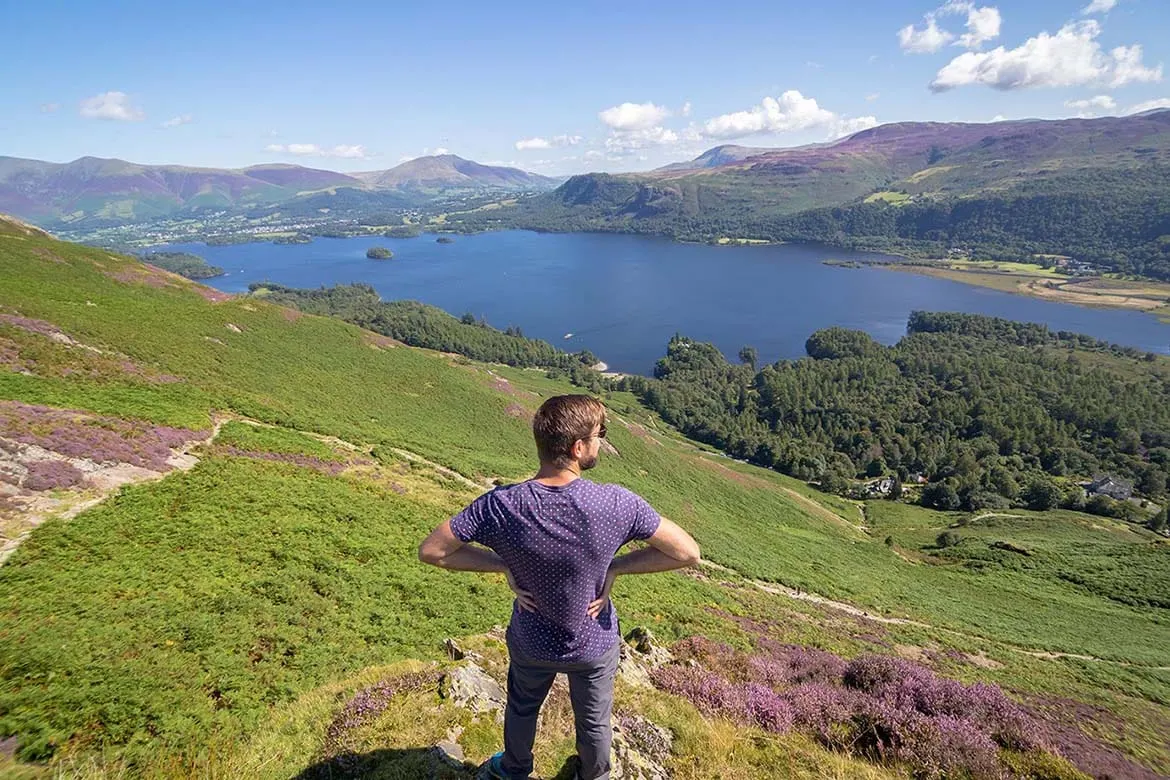 With simply stunning views over the lakes at Keswick and Derwent Water, the Catbells walk is without a doubt one of the best you can do in the Lake District.
Honestly, I can't recommend this route enough. It takes you past forests, through the beautiful English countryside, before opening out onto jaw-dropping panoramic views of the Lakes. For me, this is what hiking in the Lake District is all about. This is why I love the United Kingdom so much.
I remember taking my partner Chloe on this route. She loves a long walk, but as soon as a hill or mountain is involved, she doesn't like it. There's just something about that word hike. However, this was the one route that got her into hiking a lot more. When you see the views at the top of Catbells you'll understand why.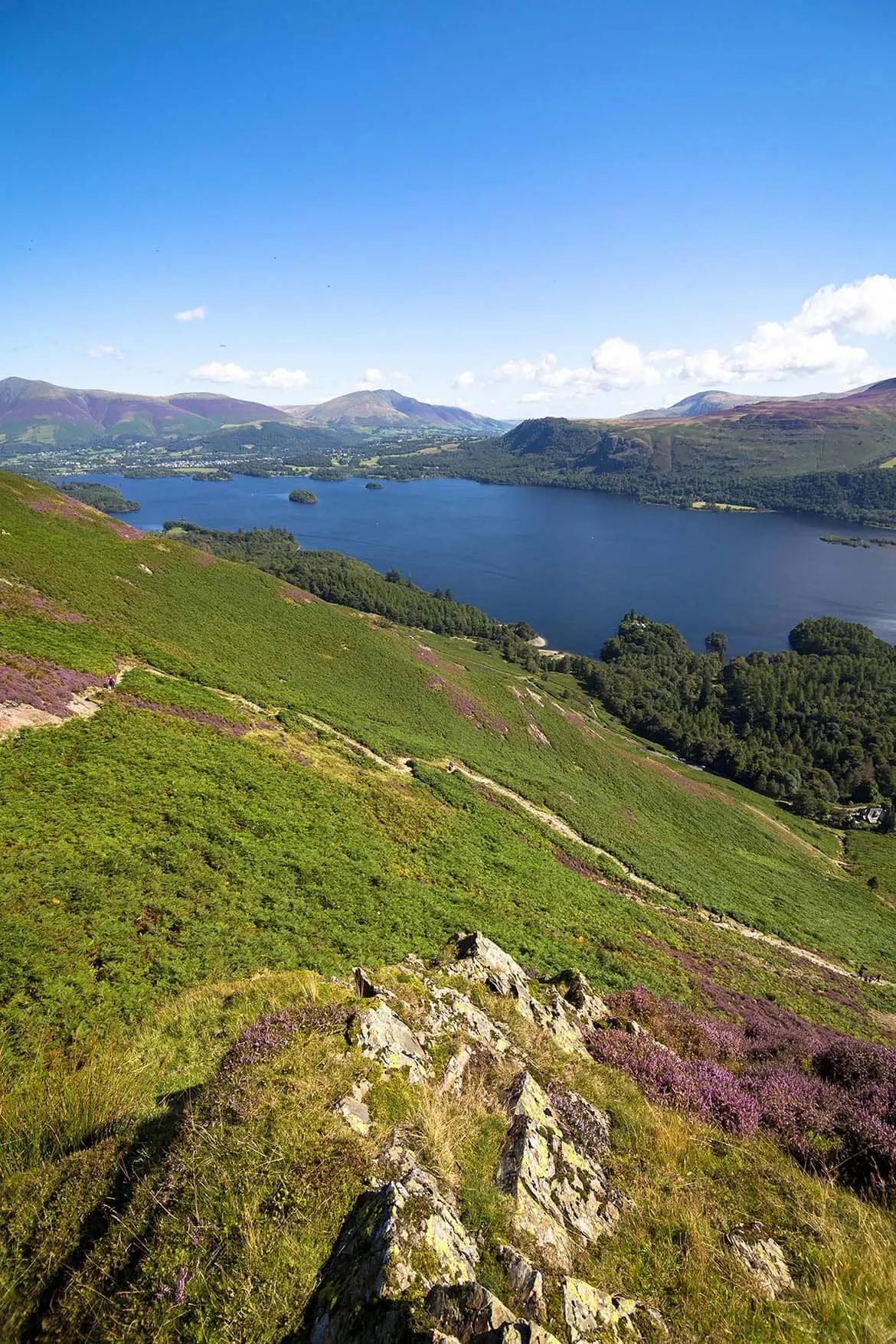 Obviously there are so many different trails to choose from in the Lake District it's hard to decide which one to go for.
In this post I'll specifically talk about the Catbells walk. As I've mentioned, this is one of the most popular walks in the Lake District, so I wanted to give it the love it deserves.
In the post you'll find the best route, where to park your car, when's the best time to do the walk and loads of other practical information too. Hopefully this post will inspire you to take on one of my favourite walks in England!
If you're looking for some other things to do in the area, check out some of my favourite adventures in the Lake District. This includes taking on the epic Lake District Via Ferrata for those of you who are brave enough!
What is Catbells?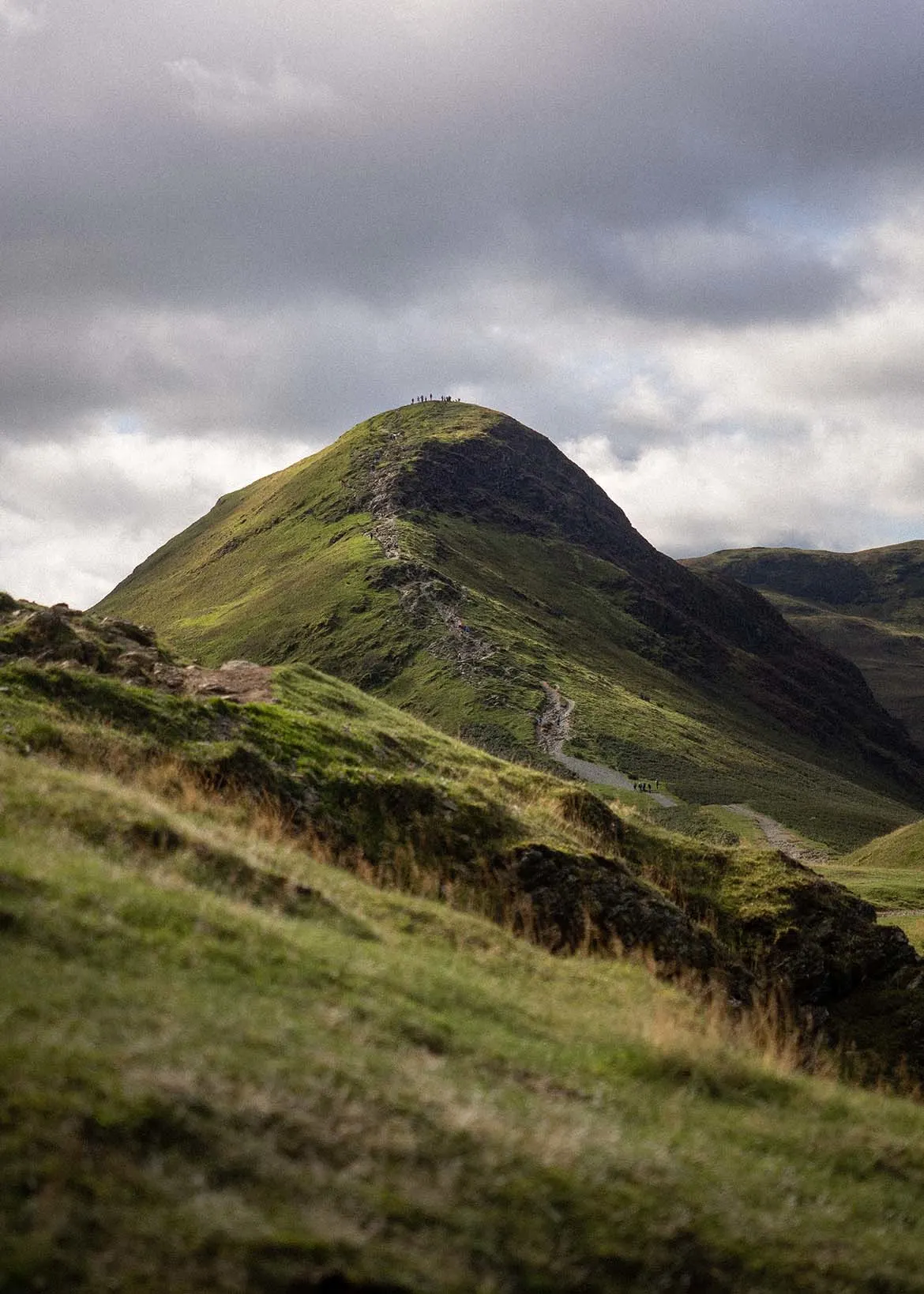 Catbells is a fell in the Lake District in Cumbria.
At a height of 451 metres (1,480 ft), it doesn't sound high, but there are definitely a couple of steep sections that'll get the blood pumping. Saying that though, people of all ages and fitness levels should be able to do this walk.
The Lake District writer and walker Alfred Wainwright even said this:
"It is one of the great favourites, a family fell where grandmothers and infants can climb the heights together, a place beloved. Its popularity is well deserved: its shapely topknott attracts the eye offering a steep but obviously simple scramble."

Alfred Wainwright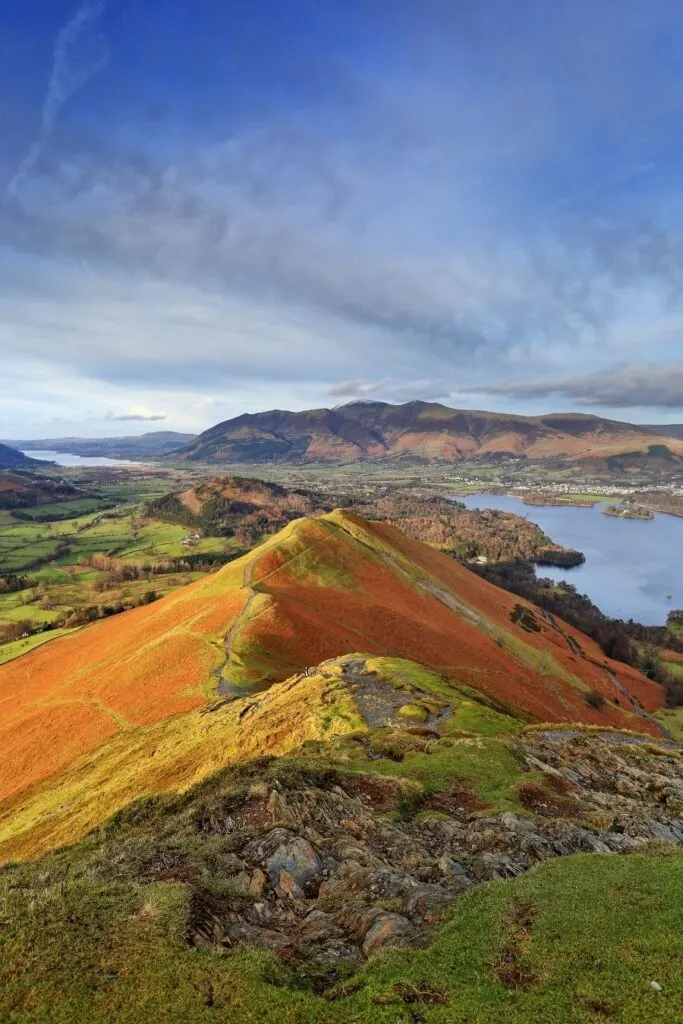 You'll find Catbells on the western shore of Derwentwater and close to Keswick too. I absolutely love Keswick and there are loads of things to do there. Keswick is an amazing place to base yourself to explore all the Lakes have to offer.
It's unclear where the name Catbells comes from (sometimes you'll see it as Cat Bells too), but it's believed to be a distortion of the word 'Cat Bields', meaning 'the home of the wild cat'.
Don't worry though; you won't come across any wild cats while walking here!
How long does it take to walk Catbells?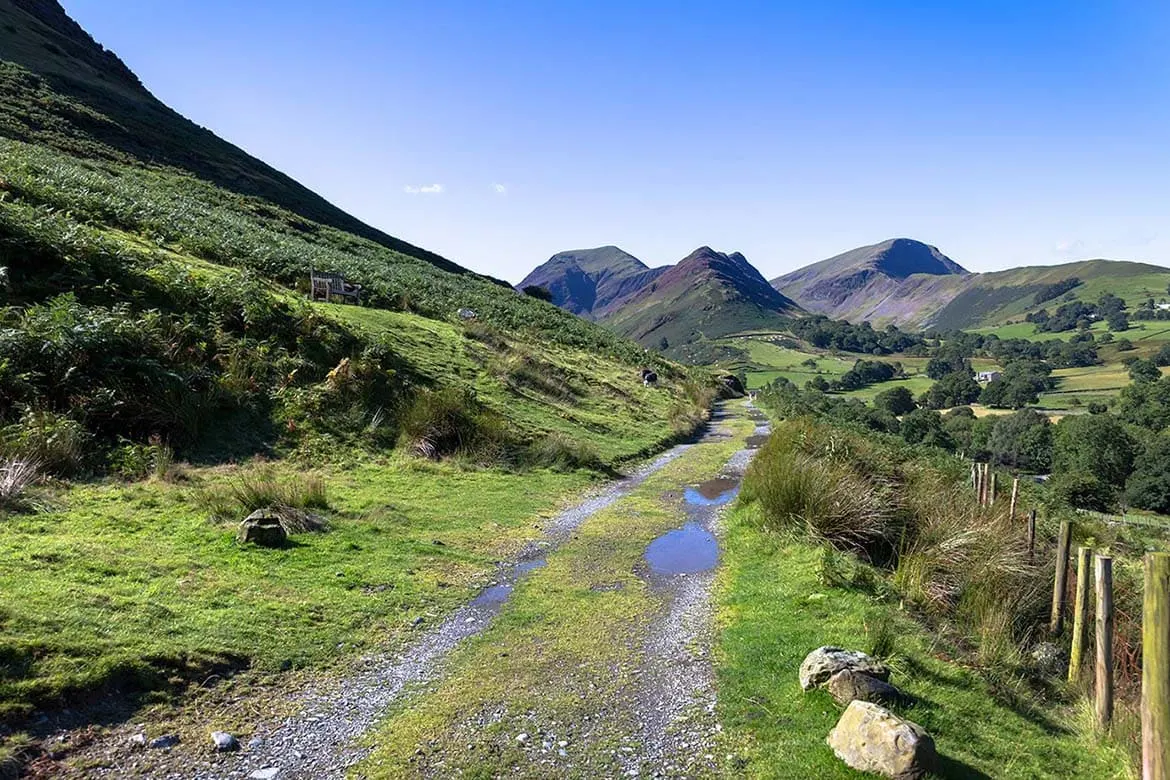 This is a bit of a "how long is a piece of string" question as it always depends on your level of fitness. Generally, the Catbells hike will take between 2 and 4 hours including stops.
The total distance of the walk is 3.5 miles (5.8 kms). When I was there, it took me around 3 hours including a fair few photo stops along the way. I stopped for a picnic lunch too.
I would say that the walk is of moderate difficulty. There's one really steep section, otherwise it's fairly straightforward.
Catbells walking route
The start point: Hawes End

The most popular start point in at Hawes End. There is a very busy car park here – I'd always suggest arriving early to get a space and avoid disappointment.
From Hawes End, there are plenty of signs that read "Cat Bells, 1 mile" pointing to the trail. The trail is initially a narrow stone path heading straight for the hills, so you can't miss it. Remember, if you're heading up it usually means you're heading in the right direction.
One of the best bits about starting from Hawes End is you'll see all the boats in the water of Derwent Water. Enjoy the views but they get better than this!
Section 2: Climbing up to the summit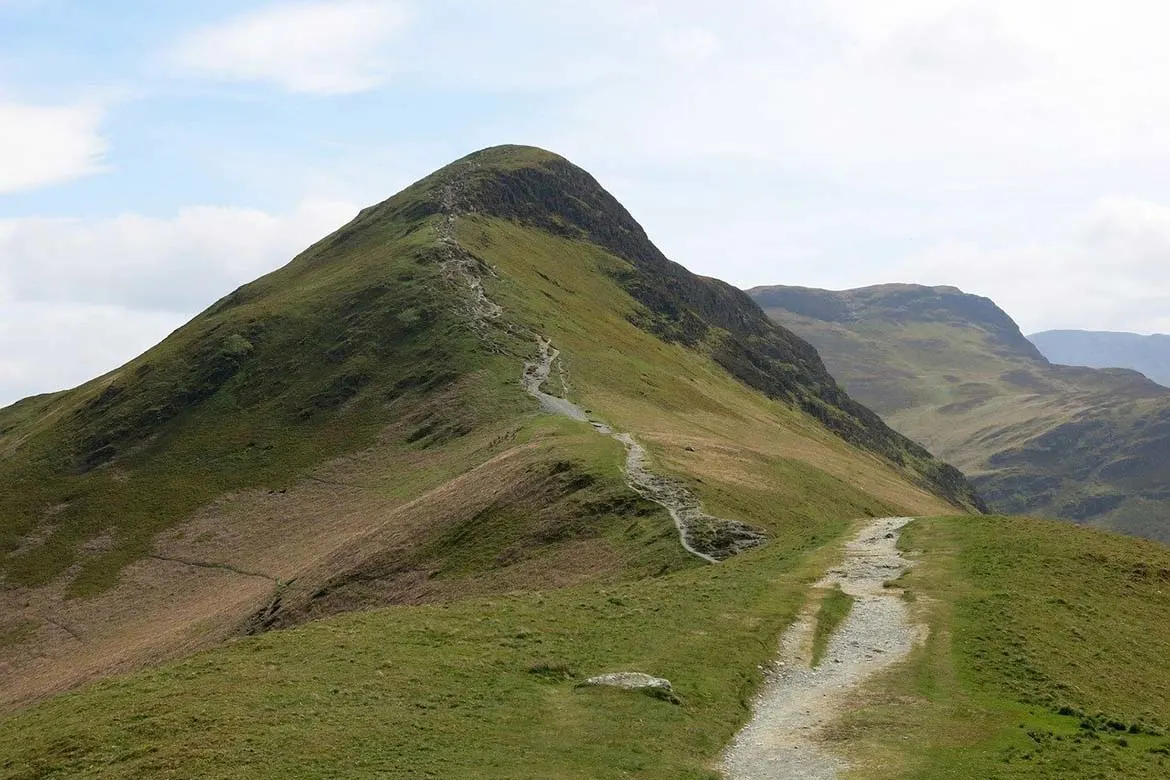 If you keep on climbing up the hill, you'll pass a memorial to Thomas Arthur Leonard. He was a pioneer in developing organised outdoor holidays for working people.
Keep following the path until you get to a rocky section. This is the one point where it becomes a bit of a scramble to reach the viewpoint. I promise you it's well worth it though. Some people call Catbells a "proper little mountain". Well, with the views from the top you'll see why.
From the viewpoint you'll be able to see Skiddaw to the north. The mountain range here is simply stunning, especially if there's a dusting of snow on top of them.
Just below the viewpoint you'll be able to see the town of Keswick. It's hard to imagine living in a more beautiful spot in England.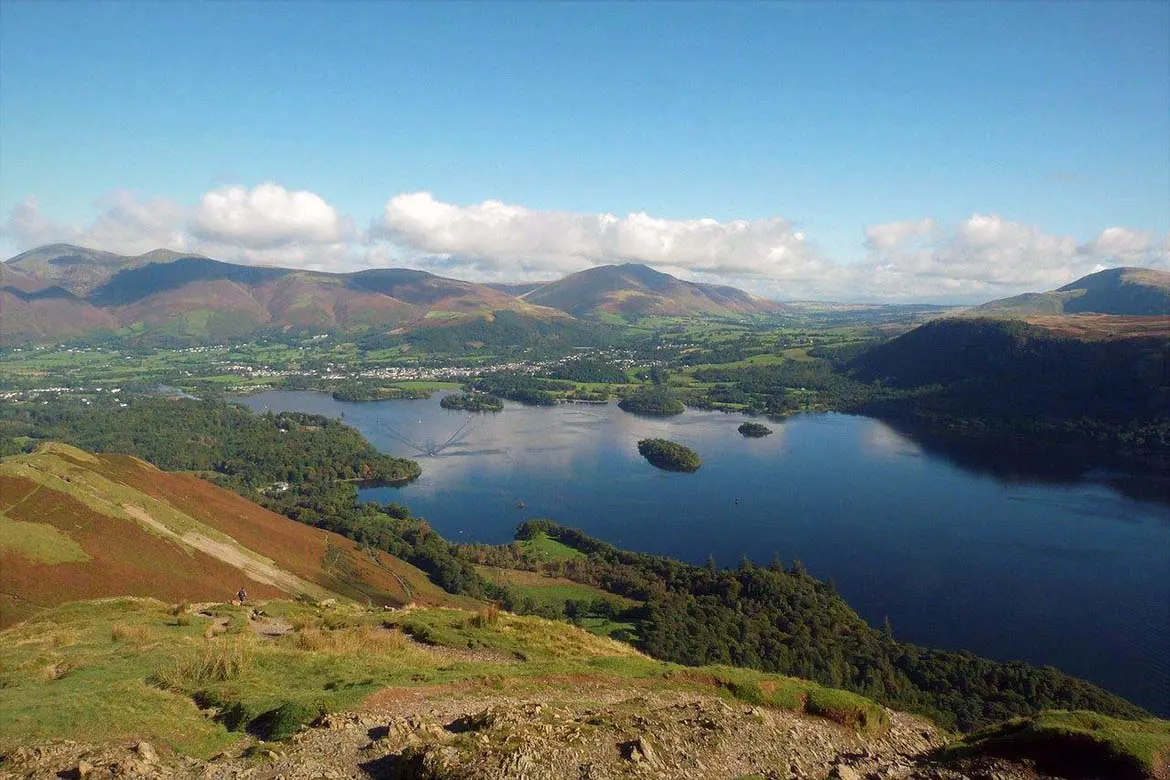 As you can imagine, the summit can get fairly busy during peak season. If you come here early in the morning you *can* have the place to yourself – it all depends what time you head off at.
If you keep walking along the path a bit, there are a few spots where you can have stop to have a picnic. Personally, I'd always recommend this as opposed to stopping on the summit as it's a little quieter. Then you can really drink in the views while having a bite to eat.
Section 3: Following the path to Borrowdale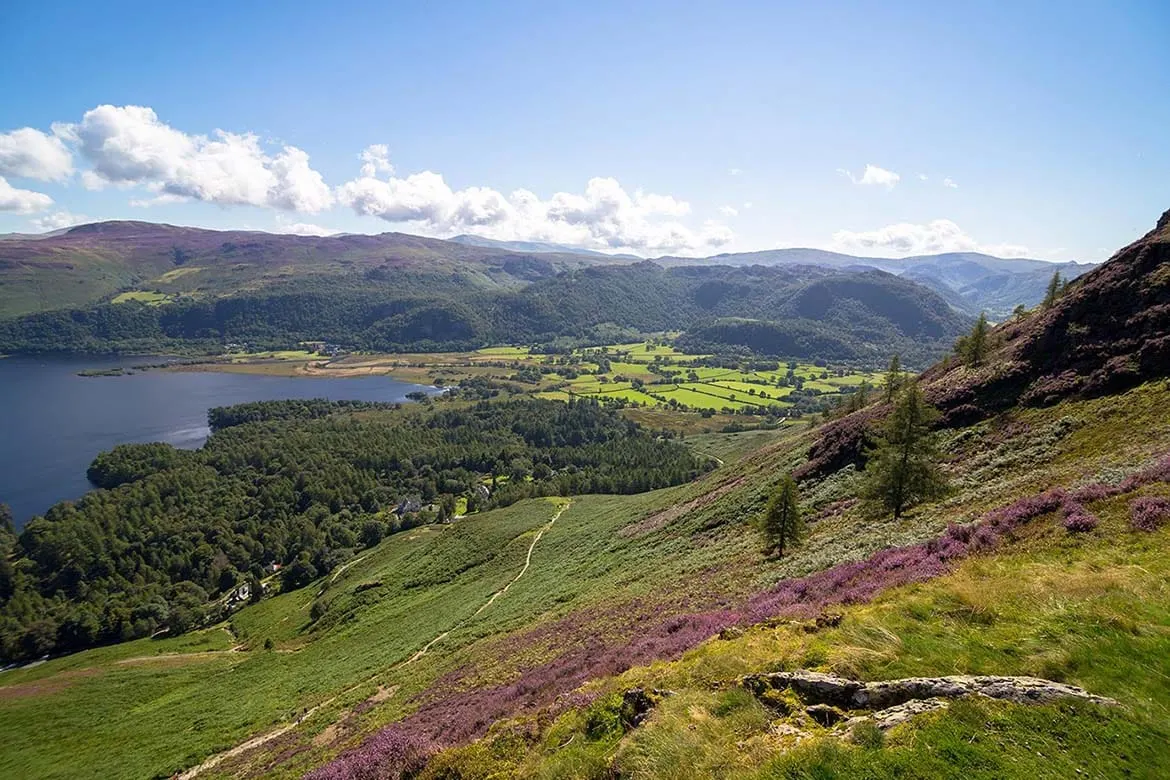 Once you've reached the summit, the path continues south downhill. There are a few paths that will lead off to your right to Little Town and the neighbouring valley.
Just keep on the same path heading downhill until you come to some steep stone steps. Take these down until you get to the Catbells bridleway – from here, take the fork on the left.
This path starts taking you back to Hawes End. The best thing about this section is you've got the view of the lakes to your right. Even though this view isn't anywhere near as beautiful as at the top of Catbells, it's still stunning.
Section 4: Heading home and swimming in the lake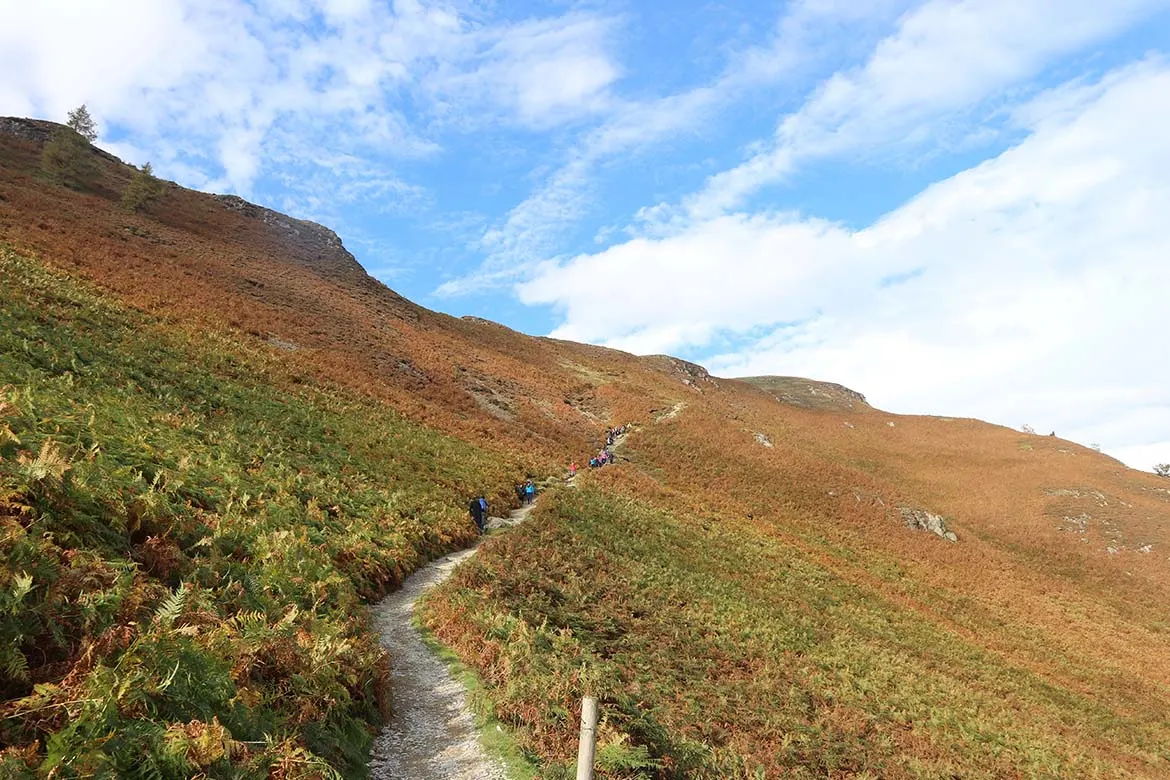 The walk back to Hawes End will take around 45 minutes to an hour. Obviously this section is all downhill so it's pretty easy breezy.
Once you get back into Hawes End, I really recommend going for a dip in the lake. It is cold but it's super refreshing and it really completes the Catbells hike.
There's a small beach at High Brandelhow, so you can leave your stuff there and jump into the water.
If not, you can keep on walking back to Hawes End and find yourself a pub for a pint.
Catbells parking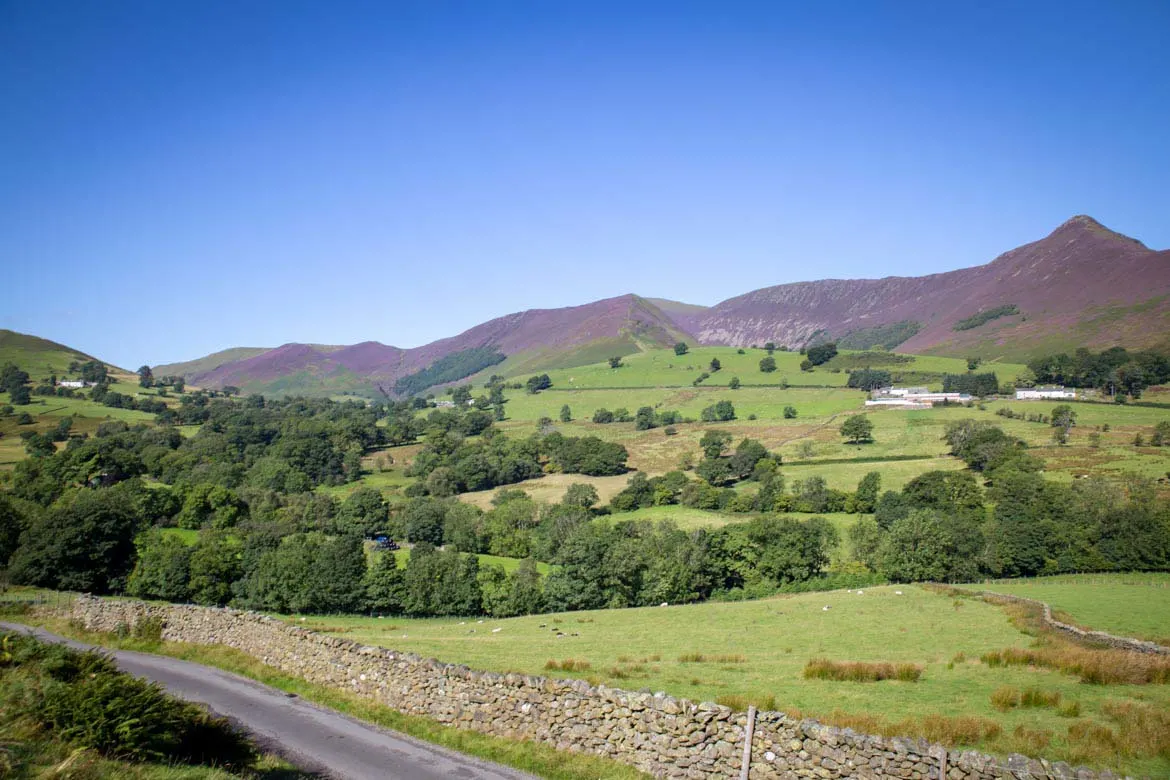 As I've already mentioned, there is parking at Hawes End.
For those of you tight on time, you can also park on the other side of Catbells in Little Town. There's a car park quite near the hiking trail, and here you can come up via an alternative route to Catbells.
Usually, this car park is quieter. Also, the route to the top is slightly quicker, so it's a good option for those of you running out of time.
Alternatively, if you're staying in Keswick, then you can avoid parking altogether by starting your hike here. It is a lot longer mind you!
Where to stay – Hotels near Catbells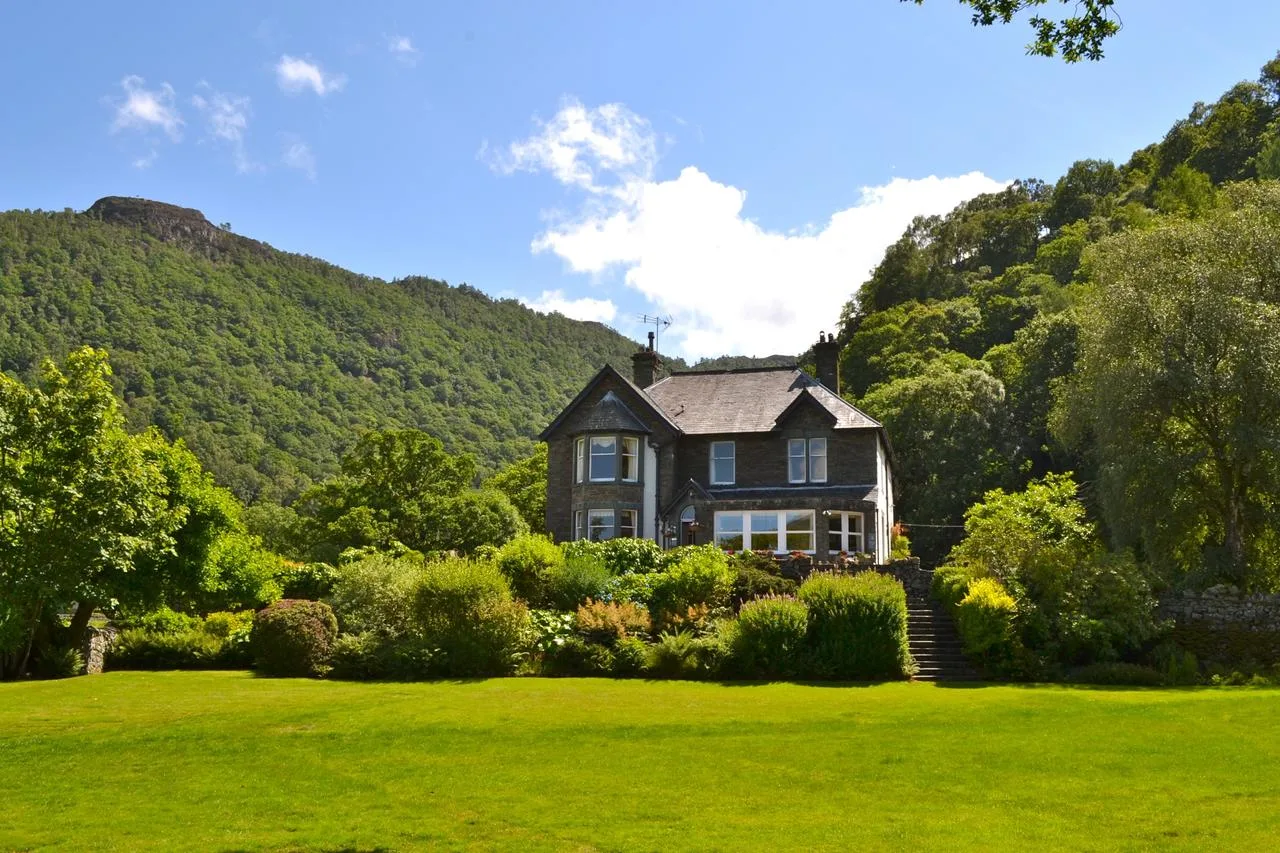 A fantastic hotel near Keswick is the The Leathes Head Country House Hotel. This place always rates really highly and is one of the top hotels in the area.
Set in more than 2 acres of land and right in the heart of Borrowdale, this hotel has so quality views throughout the property.
Also at the hotel is a 2 AA Rosette restaurant. This makes it one of the best restaurants in the Lake District from a chef who only uses locally sourced ingredients.
I've stayed here once before and I can't recommend it enough. It's quiet, but it's so peaceful too. Definitely one of my fave hotels in the Lake District that's for sure.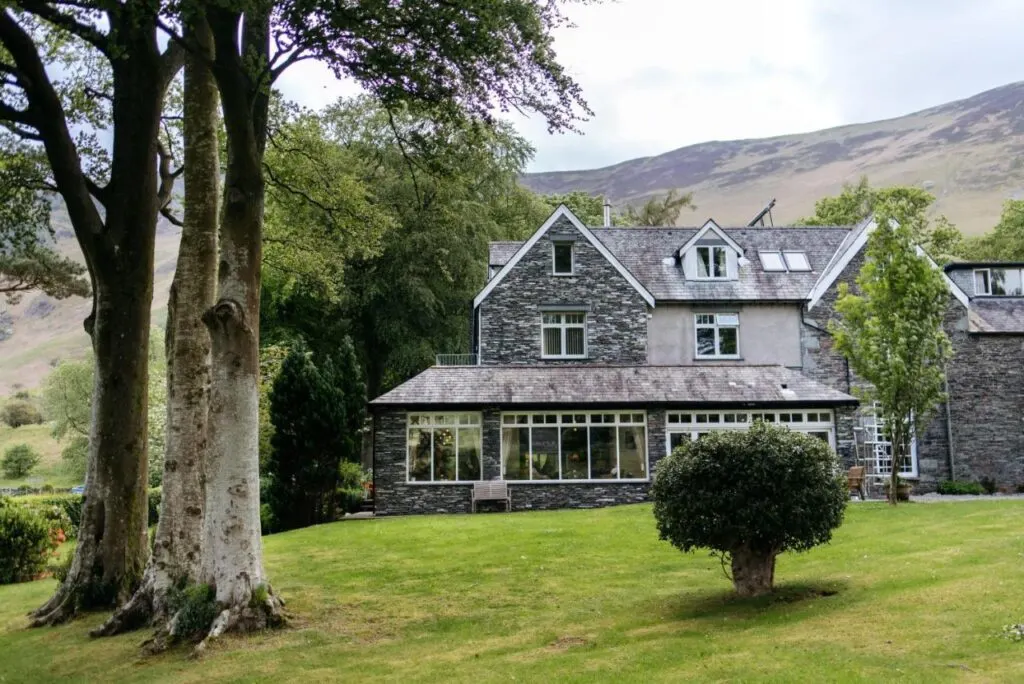 This hotel is in a perfect location if you want to have plenty of walks nearby. Set in 2 acres of tranquil wooded gardens, Borrowdale Gates hotel is a family-run hotel with gorgeous views of the Borrowdale Valley.
There's a fantastic restaurant here that serves traditional British cuisine and Lakeland produce. You can also enjoy a lovely afternoon tea in the cosy lounge after you've finished the Catbells walk too!
If you can't find what you're looking for, take a look at the map below. These are some of the best hotels in the Lake District so hopefully you'll find what you're looking for.
---
Another amazing walk to do in the Lake District is seeing the Rannderdale Bluebells. When the bluebells are in full bloom, it is one of the most beautiful sights in the Lake District!
Are you thinking of doing the Catbells walk? What else are you doing in the Lake District? Let me know in the comments below!
Like this blog post? Make sure you Pin it for the future!