Day trips from Adelaide are incredible and diverse, from bushwalking in Para Wirra and biking in the Barossa valley to going on safari!
Sitting on the stunning coastline of St Vincent's Gulf and surrounded by rolling hills, Adelaide is an incredible city to visit. The South Australian capital is often overlooked for the larger capital cities such as Sydney and Melbourne. However, this wonderful city and surrounds has a lot to offer – they don't call it Rad-elaide for nothing!
With its fantastic location, there are some amazing day trips from Adelaide right on your door step. Some are literally just a 30 minute drive away! I've done a fair few of these myself, and I loved exploring some of the best places near Adelaide.
Oh, and if you love food and wine, then you will absolutely love it in South Australia!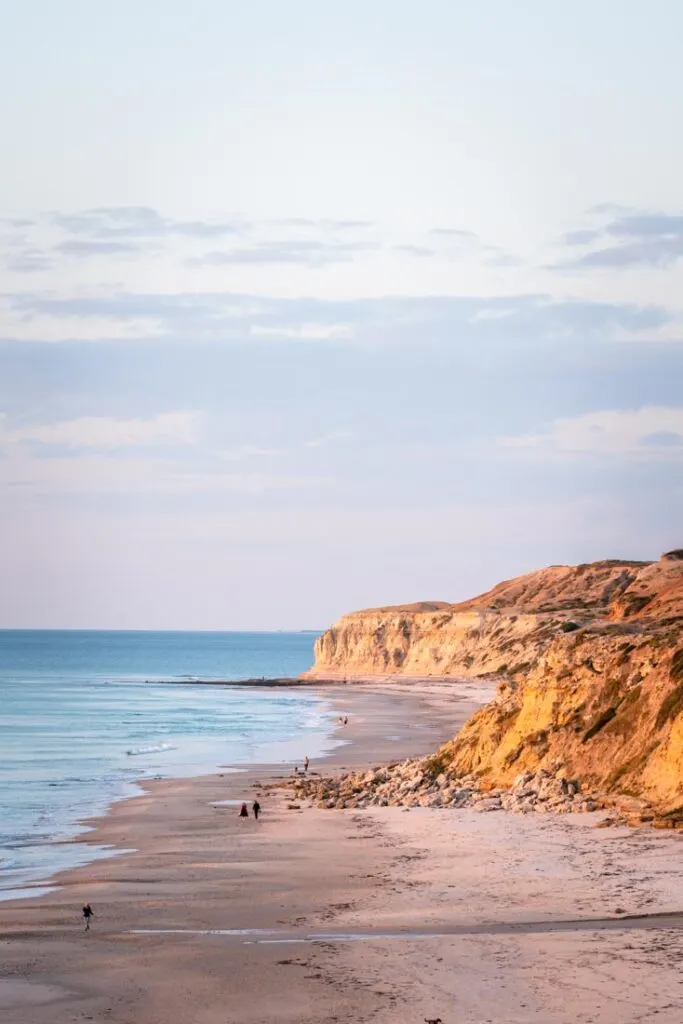 Are you ready to spend a decadent day tasting wines in McLaren Vale, or get stuck into some German history and cuisine at Hahndorf? For trips further afield you could take a day trip to the gorgeous Kangaroo Island, go on a bike ride around the Barossa Valley, or even go on safari!
So, if you're headed to this vibrant state capital soon, I've prepared a list of my favourite Adelaide day trips for you. I really hope you love them as much as I do.
Looking for more South Australian inspiration? Then check out my post on things to do in the Flinders Ranges. This place is too far for a day trip but it was one of my favourite places I visited in South Australia.
---
Day trips from Adelaide
Go wine tasting in McLaren Vale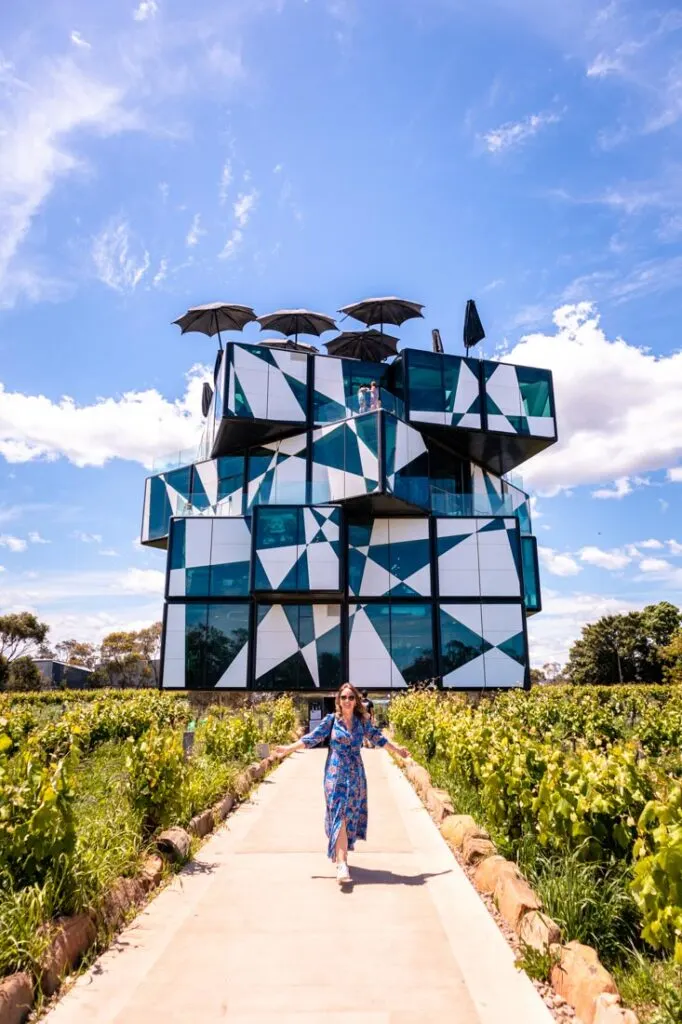 South Australia is known for its fantastic wine scene. So, it's not surprising that one of the most popular day trips from Adelaide is going wine tasting in McLaren Vale. Located just 40km south of Adelaide, you can easily reach the area in just 40 minutes by car.
With over 80 cellar doors in the region, there are some incredible vineyards to choose from. The Cube at d'Arenberg is a vineyard like no other though.
It's a place where art, architecture, fine dining and wine all come together in harmony. It's a concept that's changing the face of what a vineyard is and offers. It's no wonder this is one of the top experiences in South Australia!
Ride bikes through the Barossa Valley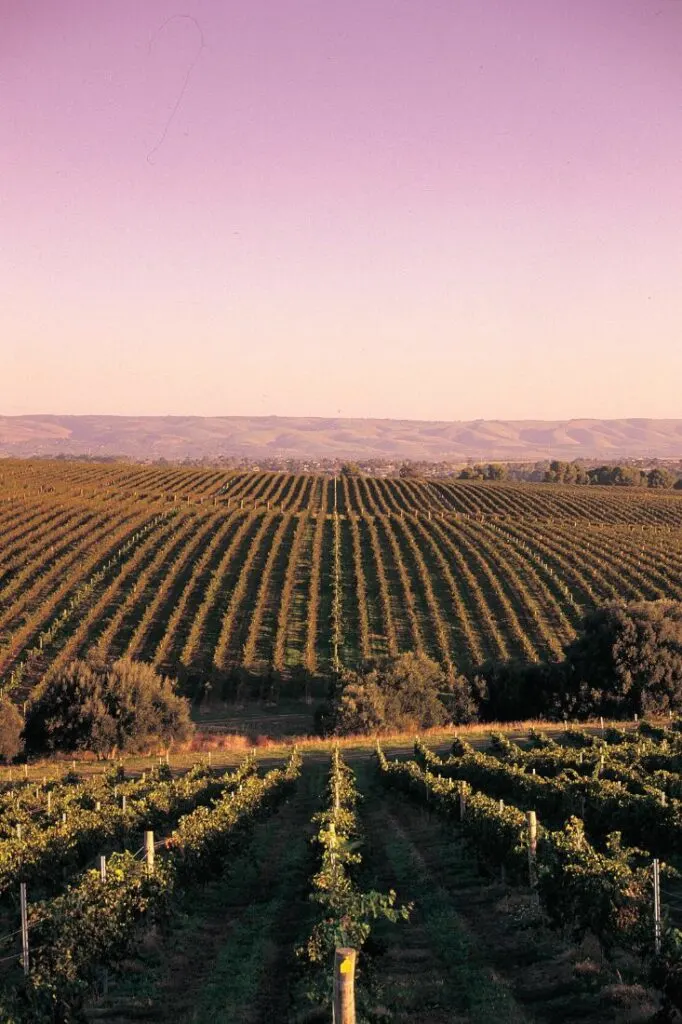 Sitting around one hour's drive to the north east of Adelaide is the world-famous Barossa Valley.
Celebrated for its fabulous wine and food scene, and filled with idyllic vineyards: this is the perfect day trip to enjoy the finer things in life.
I highly recommend appreciating this region by bike. Spend a glorious day leisurely peddling between the rows of vines, hopping from vineyard to artisan cheese maker to distillery. Honestly can life get much better than this?
Both regular and electric bikes are available to hire from the Barossa Cycle Hub in Tanunda. They can also provide you with a cycle map and give you loads of information on where to go.
If you're coming from Adelaide, then another amazing way of exploring the Barossa Valley is by going on a tour. I'd really recommend this tour as it includes wine tastings at 4 world-class wineries, a delicious lunch and all travel expenses too. This is perfect if you don't have your own car too!
Visit the Germany town of Hahndorf (in Australia…)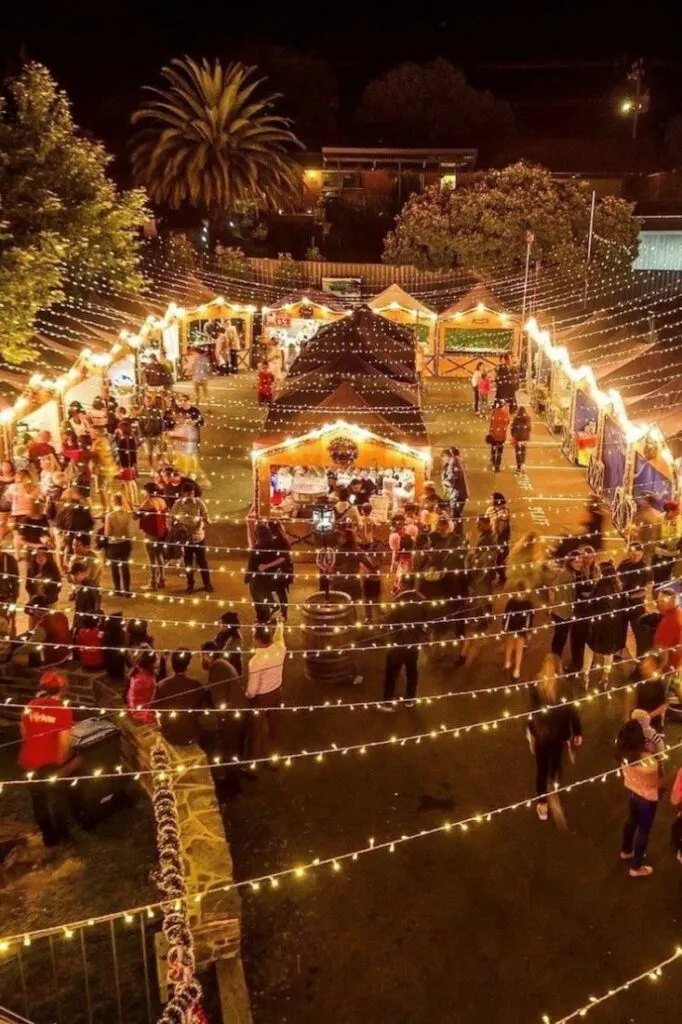 After wine-tasting, one of the most popular Adelaide day trips is to head 26km east to Hahndorf. Located in the gorgeous Adelaide Hills, you can easily reach this heritage listed town in just 50 minutes by public bus or by going on a tour.
First established by German and British settlers in the early 1800's, Hahndorf is Australia's oldest surviving German settlement.
The town, now primarily catering to tourists, is full of traditional German features. Attractions include German bakeries, cuckoo-clock shops, and the Hahndorf Inn which serves up traditional German cuisine. They also do an amazing German Christmas market here too (I mean, of course they do).
Here you can also visit The Cedars, the home of Australian artist Sir Hans Heysen.
Take a hike at Victor Harbor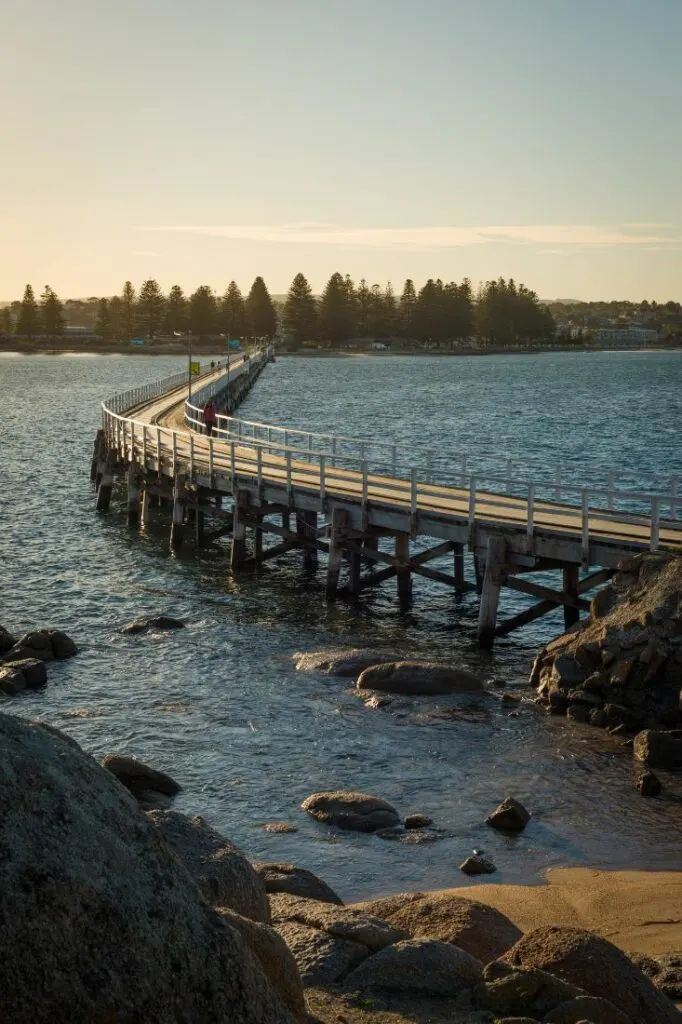 Situated on the Fleurieu Peninsula, around 80km south, is the glorious Victor Harbor. Reachable by car in just over an hour, this is another of the most popular Adelaide day trips.
The main attraction that draws people here is the region's stunning scenery. Sitting right on the ocean, you are treated to dramatic coastlines and clifftops which are just begging to be hiked along.
In the winter months, you might even spot some Southern Right Whales. After working up an appetite with the fresh sea air, be sure to stop in town for a delicious locally grown meal.
See Granite Island too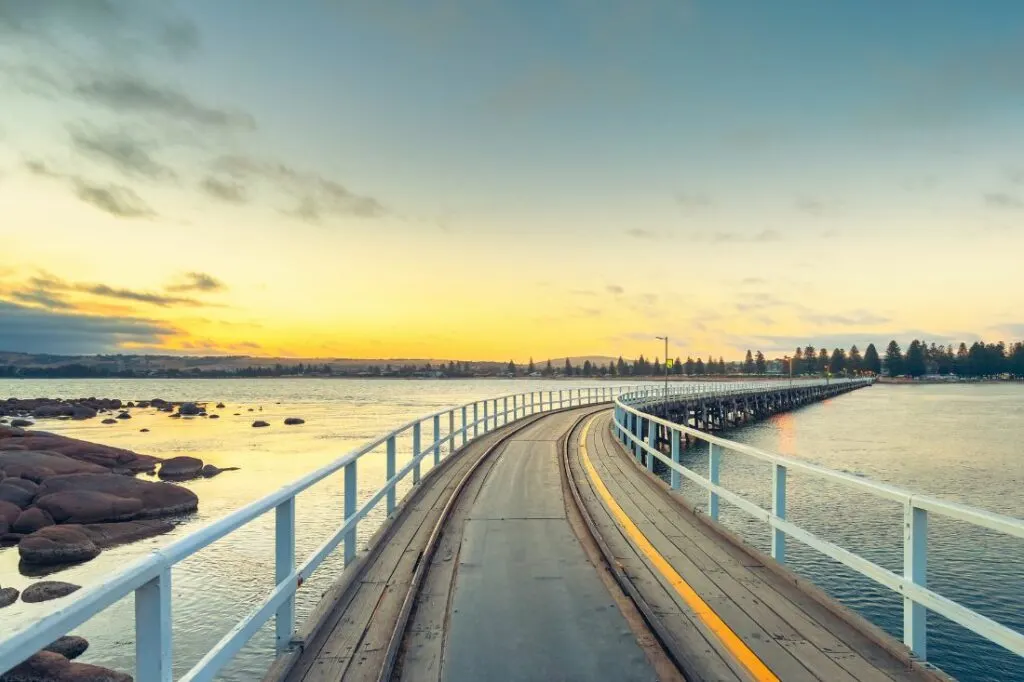 Sitting just across the water from Victor Harbor, Granite Island is connected to the mainland via a wooden causeway. You can reach the island on foot, but for a really special experience take a horse drawn carriage across!
Once on the island, follow the Kaiki walking trail. The 3km loop roughly follows the coastline, treating you to excellent views. Be sure to admire the Sculptures by the Sea series, which integrates art into the landscape.
The island is quite small, so this can easily be combined with a day trip to Victor Harbor if you're low on time. This is one of the most popular Adelaide tours, so good news if you're travelling car free!
Take a beach day at Port Elliot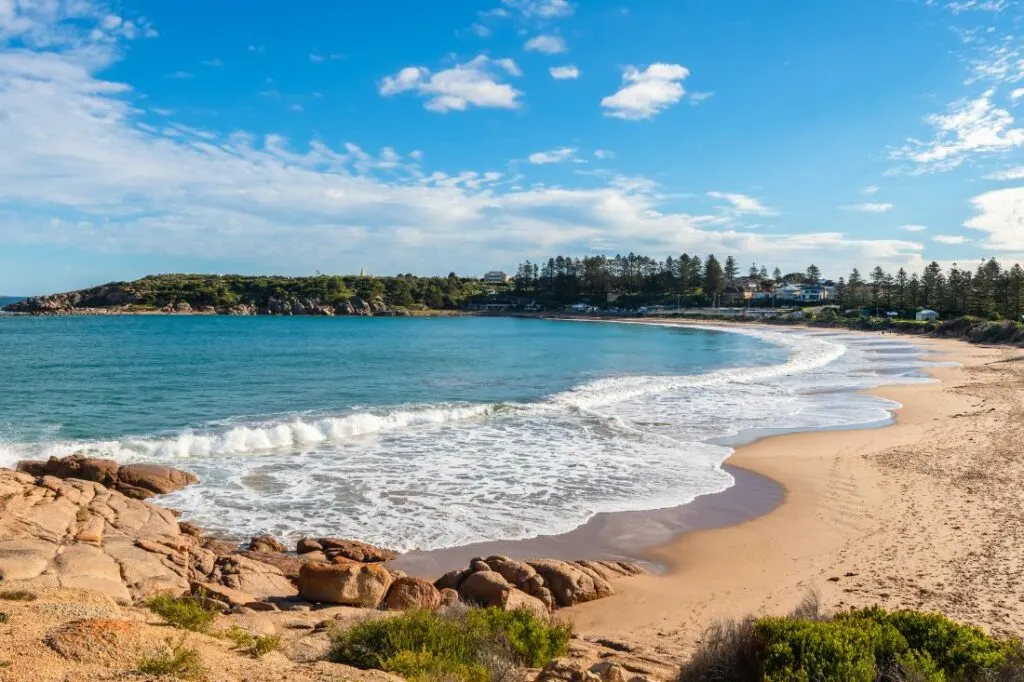 Located on the Fleurieu Peninsula an hour's drive south of Adelaide is the gorgeous coastal town of Port Elliot. This area is home to some of the best beaches South Australia has on offer.
Just in front of the town are the calm waters and sandy beaches of Horseshoe Bay. This is the perfect place to kick back with a book and soak in some sunshine.
The pristine waters and abundance of underwater wildlife around the granite outcrops also make this area popular with divers and snorkellers. I really recommend this! There are gear rental shops nearby, so no worries if you didn't pack your own.
Take a tour to Kangaroo Island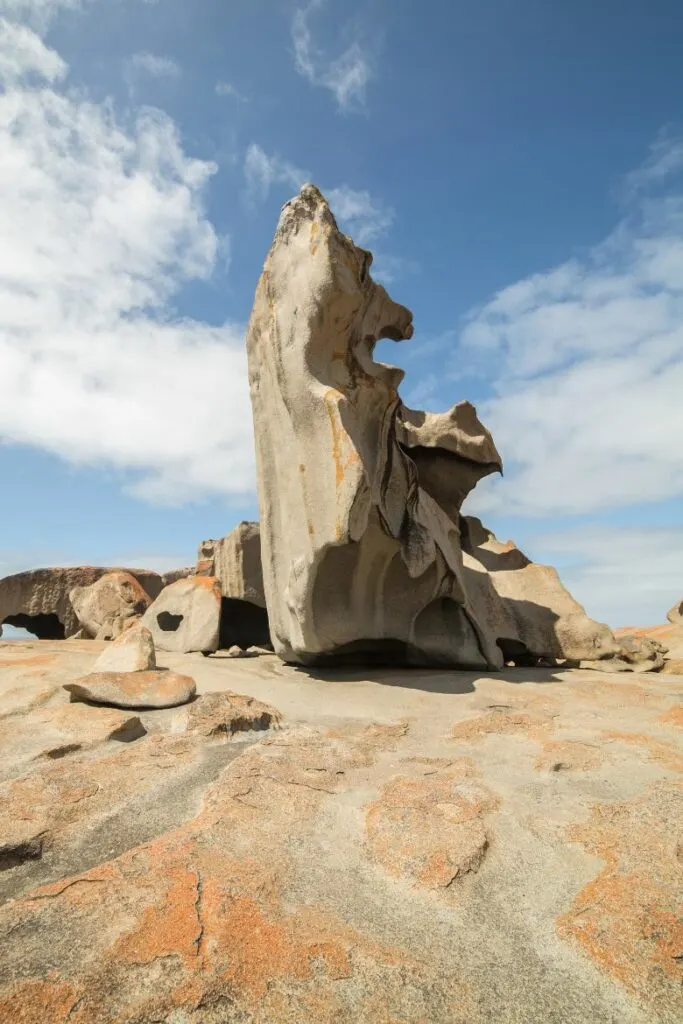 Want to visit Kangaroo Island but don't have your own transport? Then go on an amazing tour from Adelaide where everything is taking care for you.
Kangaroo Island, approximately three hours away from Adelaide by car and ferry is Australia's third largest island. It's a stunning place to visit and one of my favourite spots in South Australia.
The island is home to a plethora of native wildlife including sea lions, echidnas, seals, and of course, kangaroos. There are also caves and rock formations to explore, and vineyards to visit.
On Adelaide tours to Kangaroo Island you will be treated to the best the island has to offer, both in terms of wildlife, and the local produce. You'll even have a tasting of the local wine!
Visit Monarto Safari Park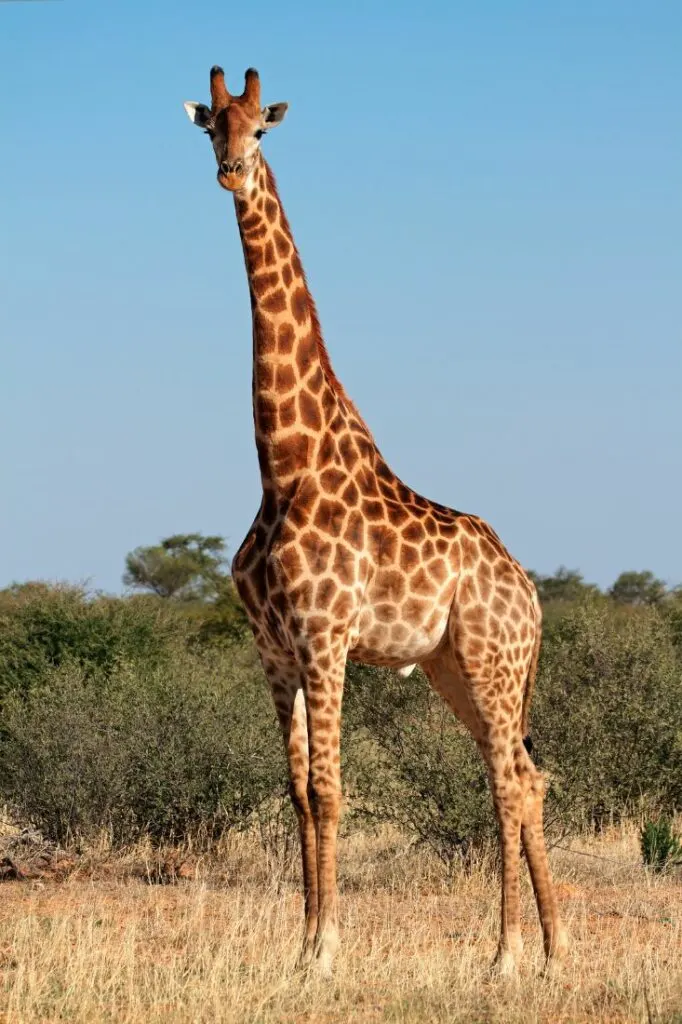 Did you know the world's largest safari park outside of Africa is within a day trip of Adelaide? For an epic day out, make your way to the Monarto Safari Park.
Just an hour's drive from Adelaide you can immerse yourself in a world of rhinos, giraffes, chimpanzees, meerkats and more! This is one of the best day trips from Adelaide if you're travelling with kids – they will absolutely love it here.
Once you're inside, hop on the free zu-loop bus and take a tour through the open-range enclosures. Then choose from one of the 12kms of hiking trails and really feel like you're in the African jungle.
See the koalas at Cleland Wildlife Park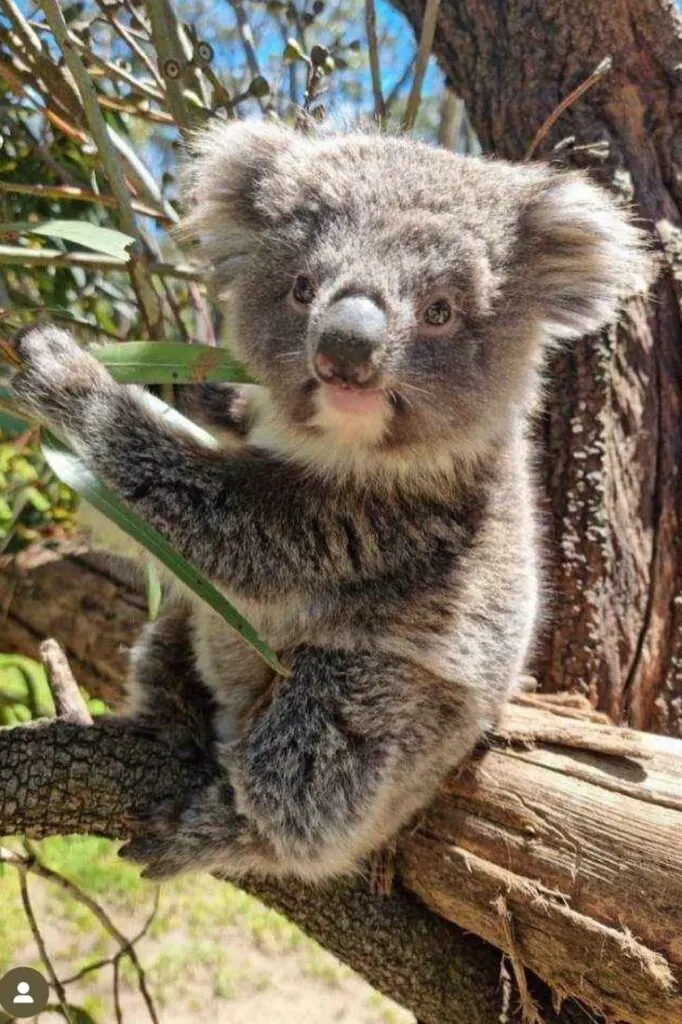 If you're after a more uniquely Australian wildlife experience, then Cleland Wildlife Park will be more your style. Located in Mount Lofty, a 20 minute drive from Adelaide, Cleland Wildlife Park is home to dozens of native Australian animals who are waiting to meet you.
The animals are generally not kept in enclosures, and some are quite friendly so you can even go up and pat them. If you're feeling brave, you can even feed them from the palm of your hand!
Animals you might encounter include koalas, wombats, kangaroos, and dingoes. You'll also be able to spot native birds, snakes and reptiles.
Wander around Mount Lofty Botanic Gardens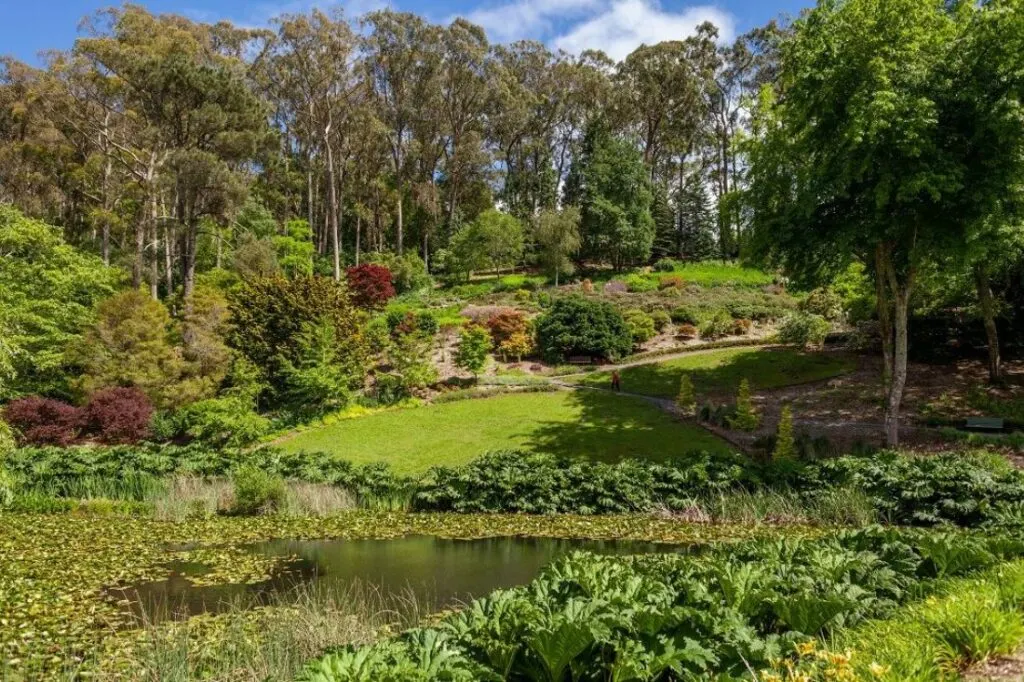 Budding botanists and garden enthusiasts cannot miss taking a trip to the Mount Lofty Botanic Gardens. Alongside an impressive collection of native and international plants, the gardens feature hiking trails, sculptures, and viewing platforms.
One of the wonderful aspects of this garden is that in each season it shines in its own special way. So it's worth a visit no matter when you're visiting Adelaide.
You can reach this garden in an easy 20 minute drive from Adelaide, so it's perfect to combine with other activities. There is a food truck on site, which makes a great spot for lunch.
Go bushwalking at Para Wirra Conservation Park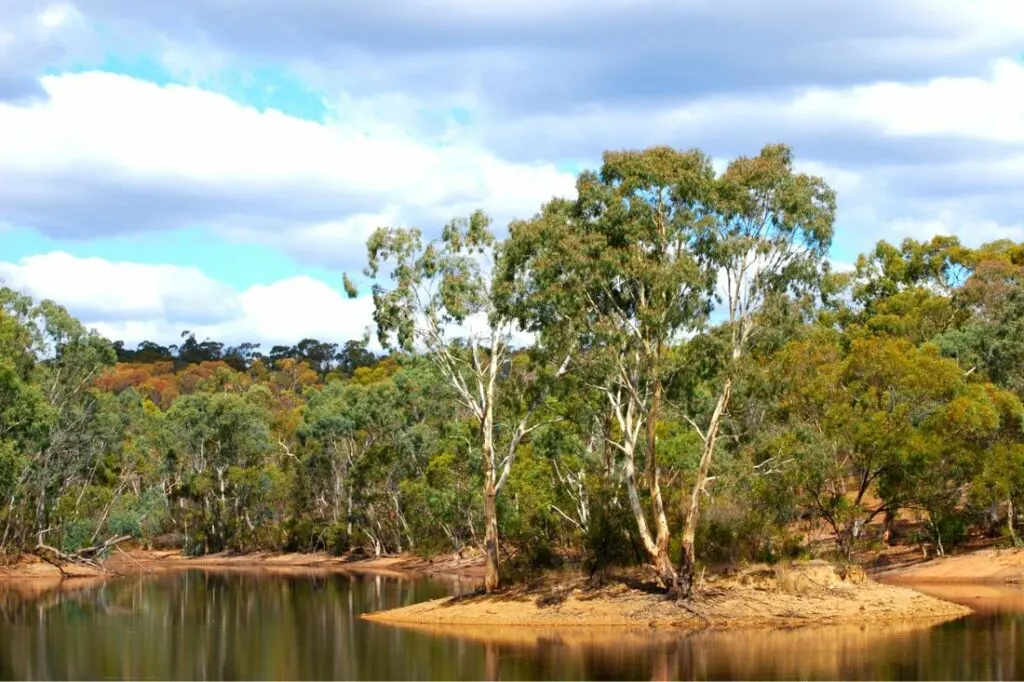 There is no better remedy for spending time in the city than to immerse yourself in the sights, smells and sounds of the Australian bushland. Only 40km from Adelaide, you can do just this at Para Wirra Conservation Park.
This conservation park is a stunning example of Australian bushland. Home to hundreds of bird and animal species, here you'll have the opportunity to spot kangaroos, emus, lizards and more.
With trails ranging from 1km flat loops to steep 10km tracks, you can choose an adventure that suits your style. If you're travelling with young companions, take them to the natureplay forest, where exploration and tree climbing are encouraged.
Explore the old town of Burra
Around one and a half hours drive north of Adelaide, you'll find the fascinating town of Burra. Between 1848 and 1877 this historical mining town was thriving, beating to the drum of copper extraction. In fact during its heyday it supplied 5% of the world's copper!
Today, Burra is home to a smaller, but still vibrant community. Alongside gorgeous scenery, Burra has a thriving art scene. Head to the Burra Regional Art Gallery, where they showcase art from and about the region, then follow the Eudunda Mosaic trail.
If you are keen to know more about the town's mining history, make sure to also check out the Bon Accord Mining Museum.
Take in Coorong National Park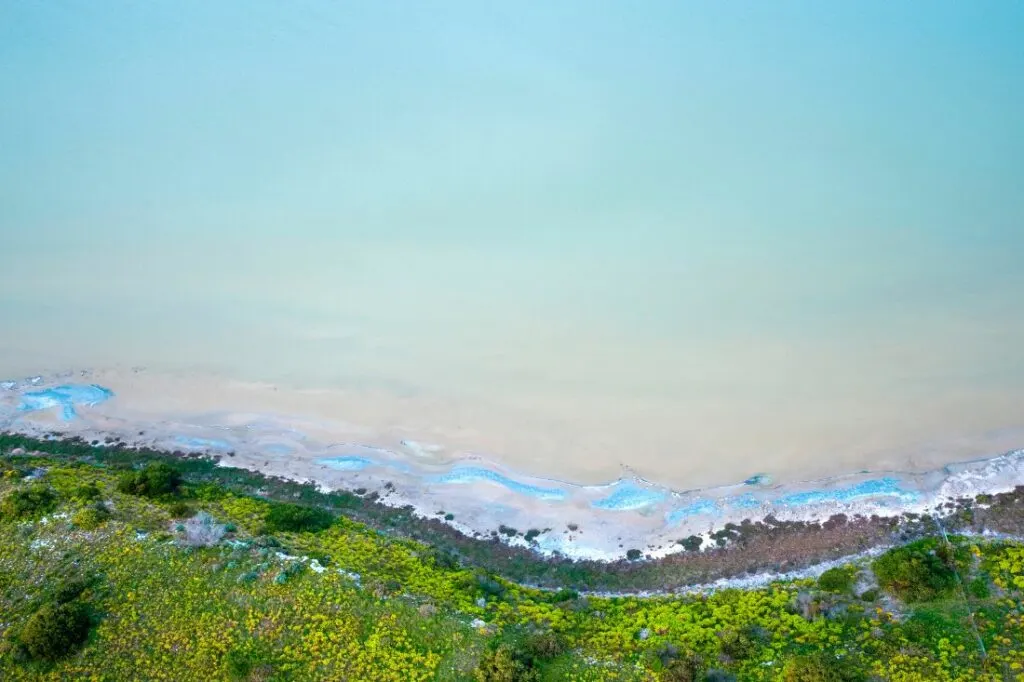 Spend a day exploring the wetlands at Coorong National Park. This naturally splendid park can be reached via a 2 hour drive south east from Adelaide.
The park is centred around a 130km+ saltwater lagoon, which is a refuge for a spectacular array of birds. In fact, over 230 types of migratory birds stop in at various times of the year.

There are many ways to enjoy this park. Popular activities include hiking, kayaking, four wheel driving, bird watching, and fishing. There is also a self-guided history tour you can follow which provides fascinating insight into the early European explorers who came here.
---
So, are you as excited about Adelaide day trips as I am? Let me know which one you're interested in the comments below.
Like this blog post? Then Pin it for the future!