Looking for the coolest hotels in Melbourne? From the luxurious Adelphi Hotel to hipster spaces in St Kilda, this is where to stay in Melbourne!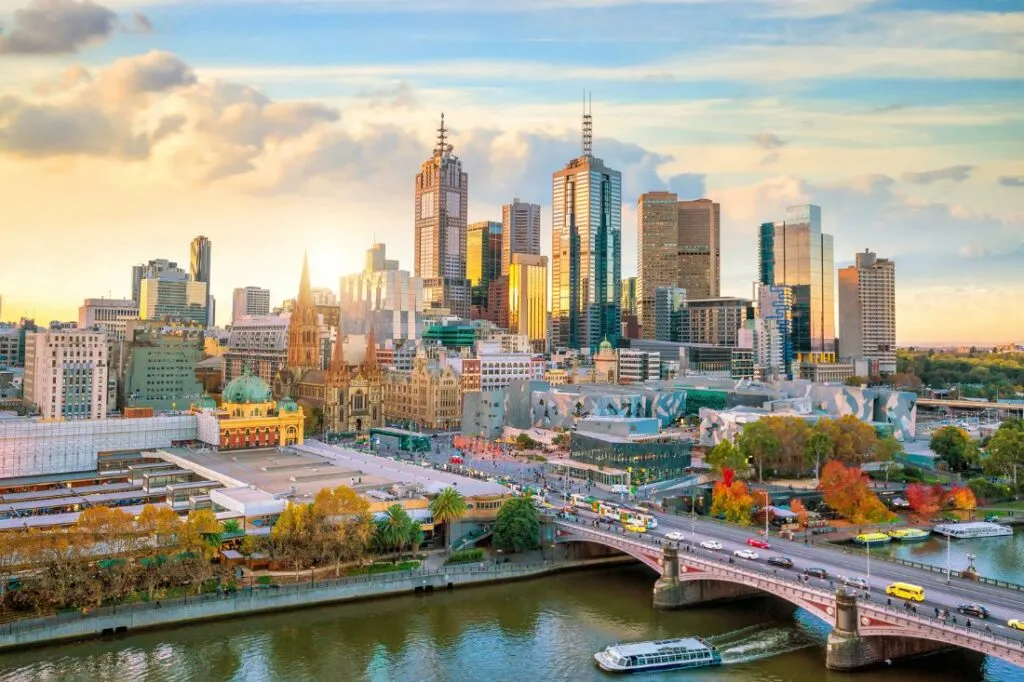 Ah Melbourne. It's one of those cities that you can't help but fall in love with. It's no wonder it often gets voted as one of the most livable cities in the world!
Whether you love to lap up the sunshine on the beach, want to hit up a load of vintage stores, or consider yourself to be a foodie, Melbourne has it all and more.
From the stretching sands of St Kilda to the sleek cocktail bars and suburban vibes of South Yarra, there's a neighbourhood to suit everyone. The hardest thing is finding where to stay – that's why I've put together this list of the coolest hotels in Melbourne!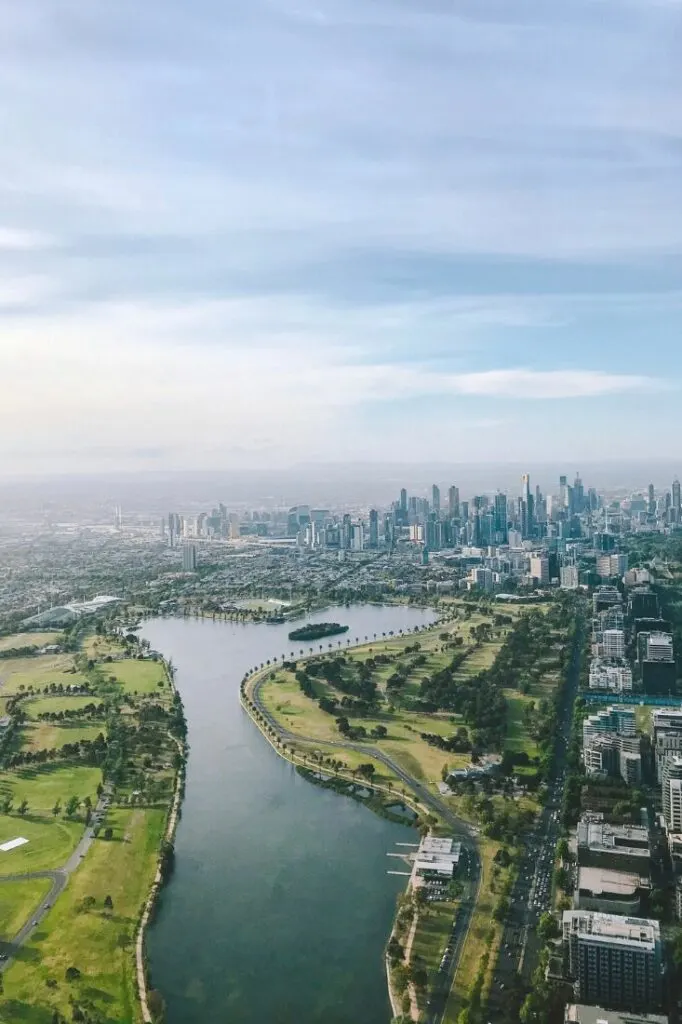 With Melbourne being such an amazing city, full of artists and creatives, the accommodation options are some of the best in Australia. Some funky Melbourne hotels include the opulent and colourful W Hotel, the iconic Adelphi Hotel, and just wait until you see the views from Quest Flemington Central.
So, where are the best places to stay in Melbourne, and what makes them so amazing? Well, I've done the research so you don't have to! Read on to discover my complete guide to the coolest hotels in Melbourne. If you stay in one of these, you're bound to have an amazing holiday!
Where to stay in Melbourne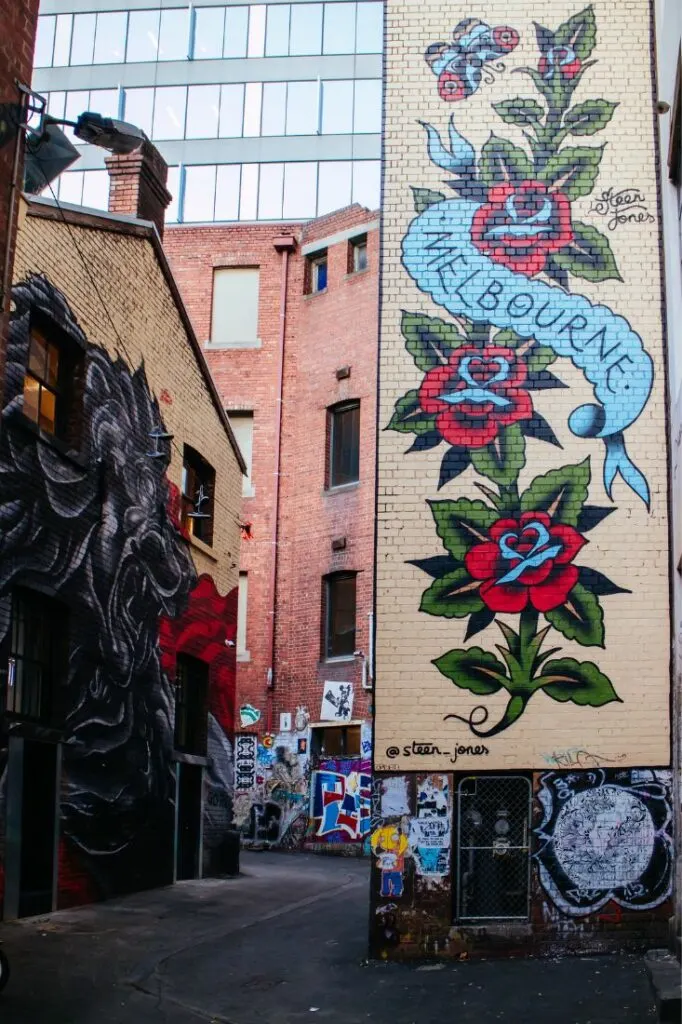 St Kilda – Nestled in between stunning beaches, amusement parks, and trendy seaside restaurants, St Kilda is the ultimate neighbourhood for people looking to enjoy the sun, sea, and sand Melbourne dream experience. If you're looking for the quintessential beachside Australian vibe, this is definitely the place to be.
Fitzroy – Looking for a neighbourhood that's a little more quirky, head to Fitzroy. Packed with charming vintage shops and awesome independent restaurants and cafes, it's definitely a cool spot. Shop until you drop, find a bargain, or discover a new foodie spot that's off the beaten path. For me, this is one of my favourite places to stay in Melbourne.
Melbourne CBD – If you want to be in the hub of Melbourne, you'll want to stay in Melbourne's CBD (Central Business District). Whether you're mixing work and play or just want to be in the stylish area of the city, the CBD is an ideal neighbourhood to stay in.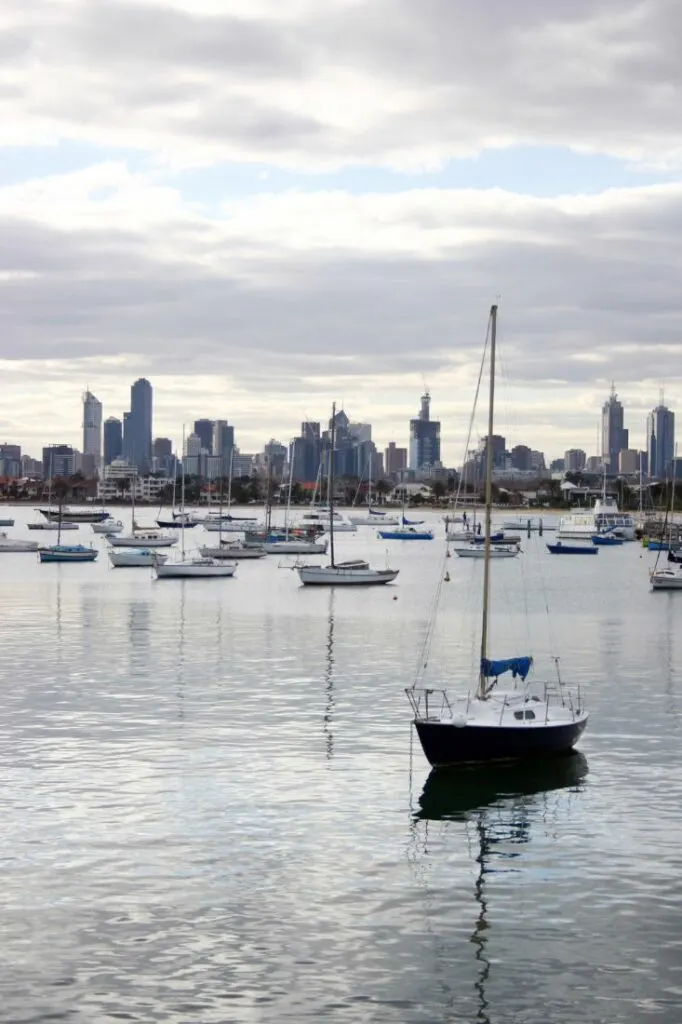 Footscray – Want to stay in a neighbourhood that's a melting pot of cultures? Head to Footscray. Home to a ton of migrant communities, you can have the best round-the-world food tour right on your doorstep and discover plenty of awesome cultures all in one place.
South Yarra – Looking for a more luxurious, suburban place to stay? South Yarra is home to a lot of fancy shops, gorgeous houses, and some of the best riverside cocktail bars in Melbourne. Close to the shopping mecca of Richmond, you can enjoy a quieter vibe to relax and rejuvenate and easily travel to more upbeat neighbourhoods.
---
Coolest hotels in Melbourne
Luxury Hotels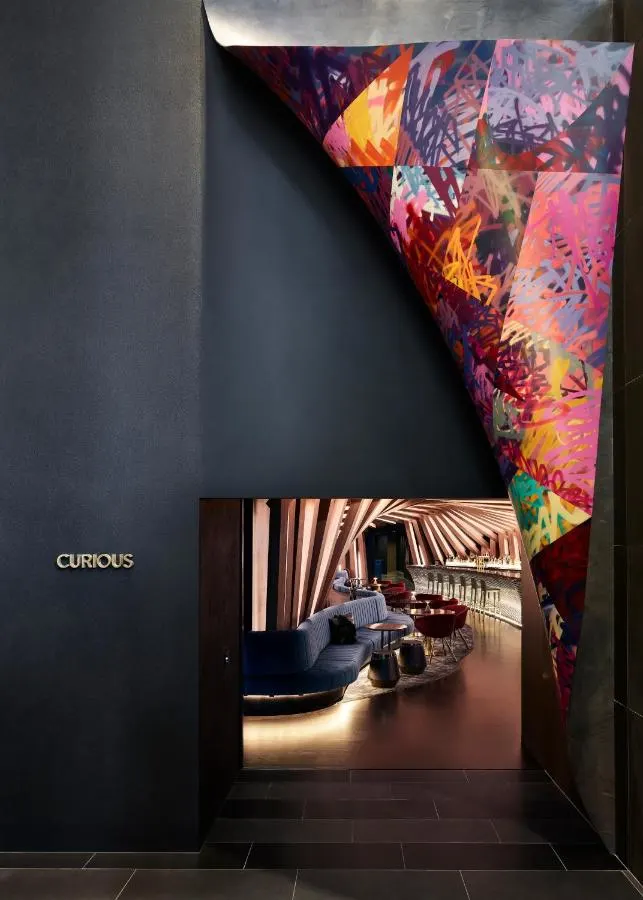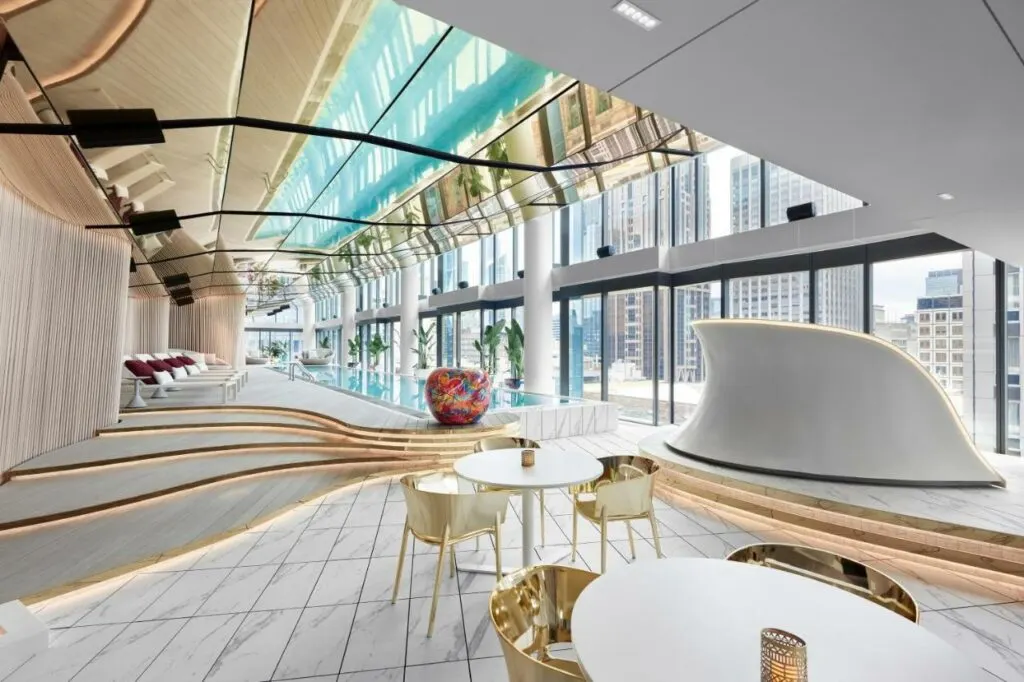 If you're into amazing modern art and architecture, then a stay at the glamorous W Melbourne in the CBD is a must. It's a super bright and beautiful hotel on Flinders Street, close to all the action.
With stunning lines including a striking wave ceiling in the reception and city skyline views from your luxurious room, it's an architectural marvel. Like with all W hotels around the world, this really is the height of luxury and a place you'll always remember.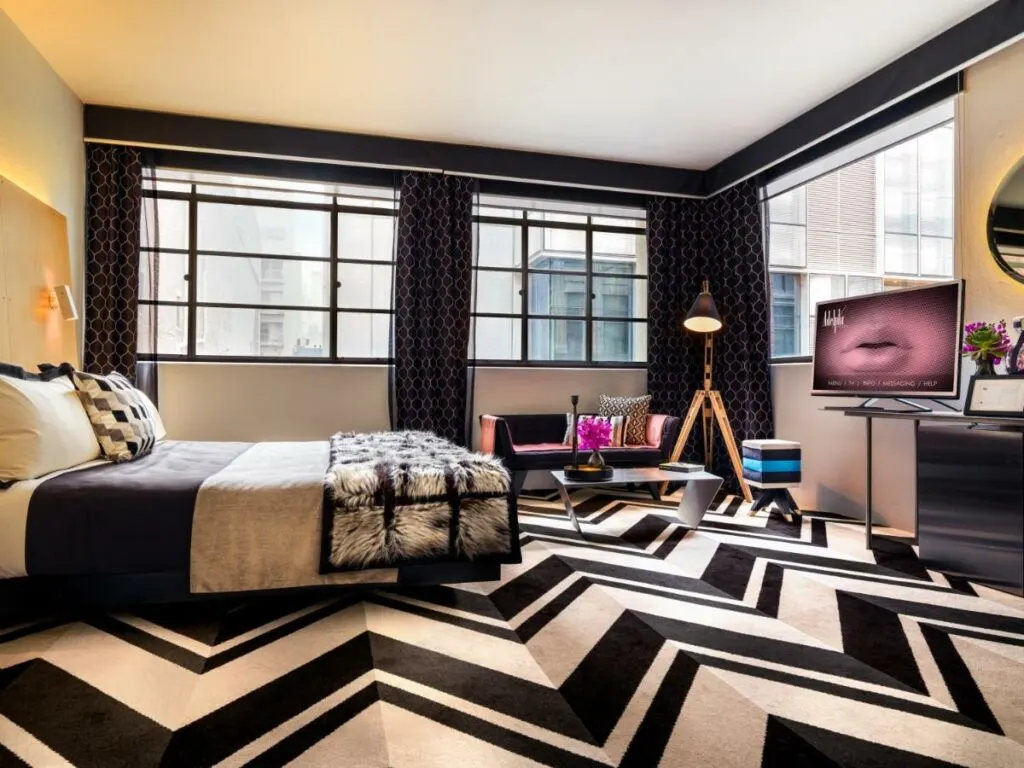 Located on the popular Flinders Street, the fantastic Adelphi Hotel is an opulent stay, filled with unique and quirky design choices. From the striking black and white zig zag carpet to the giant wire horse sculpture to a stunning rooftop pool and terrace, it's a stay that you're not going to forget in a hurry.
It's one of the most popular stays in Melbourne's CBD for a reason. At the end of a long day of exploring, head out to the giant sun terrace and swimming pool area. Chill under a parasol, enjoy a cocktail or three, and soak up the last gorgeous rays of your day in Melbourne. Sounds like paradise, right?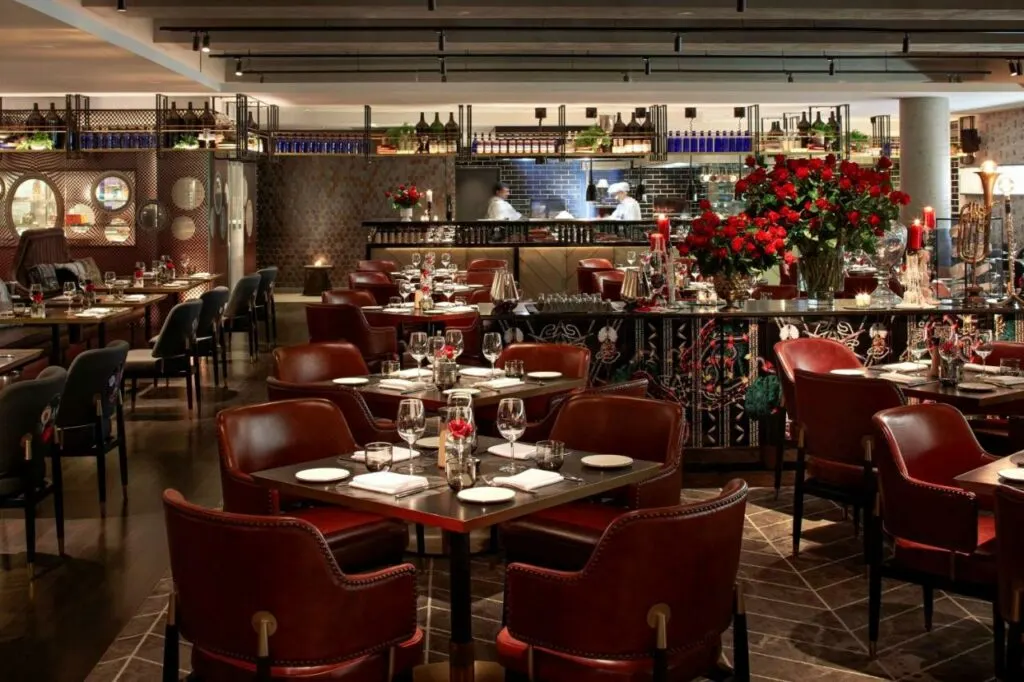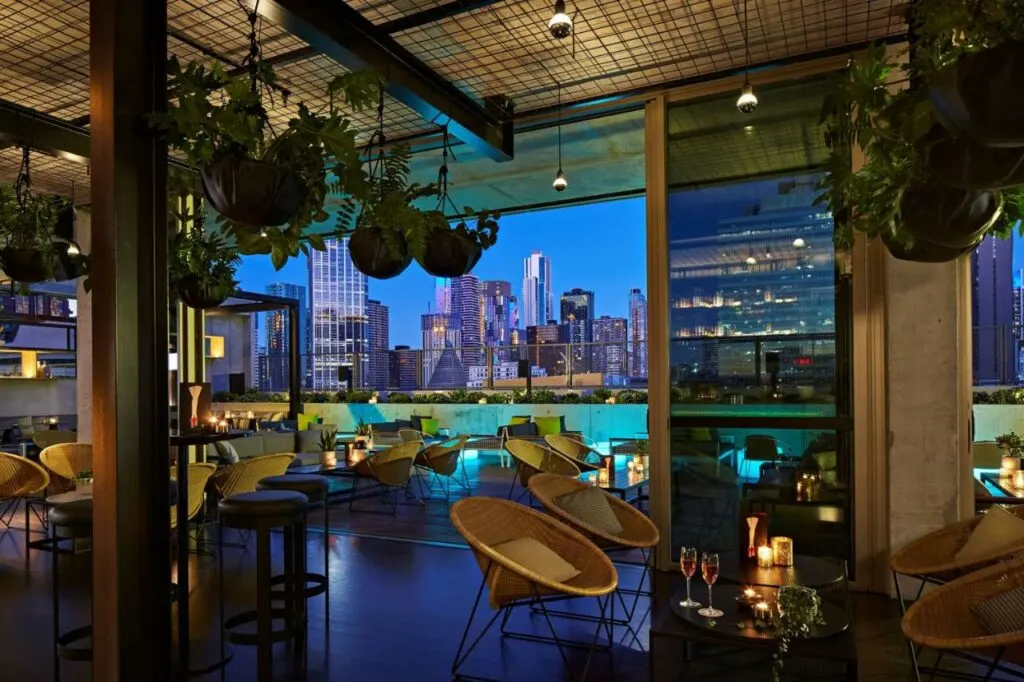 If you're into a more dark, sultry, and opulent design style when you're picking your hotels, you definitely need to check out QT Melbourne.
Whether you want to finish off the day with a cocktail in the sumptuous lounge area, looking to relax in the opulent rooms, or want to have a delicious meal in the sky restaurant overlooking the city centre, it's the luxurious Melbourne trip that you deserve!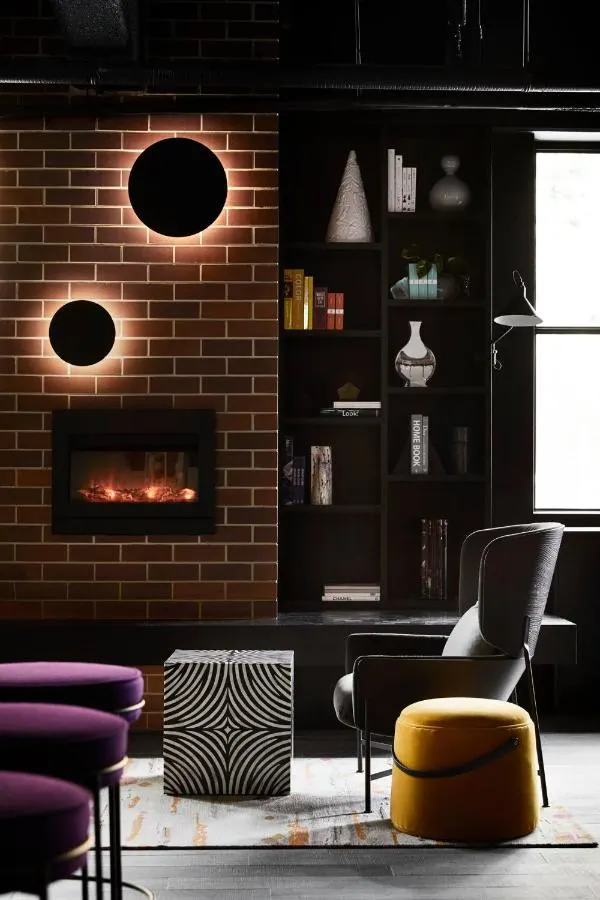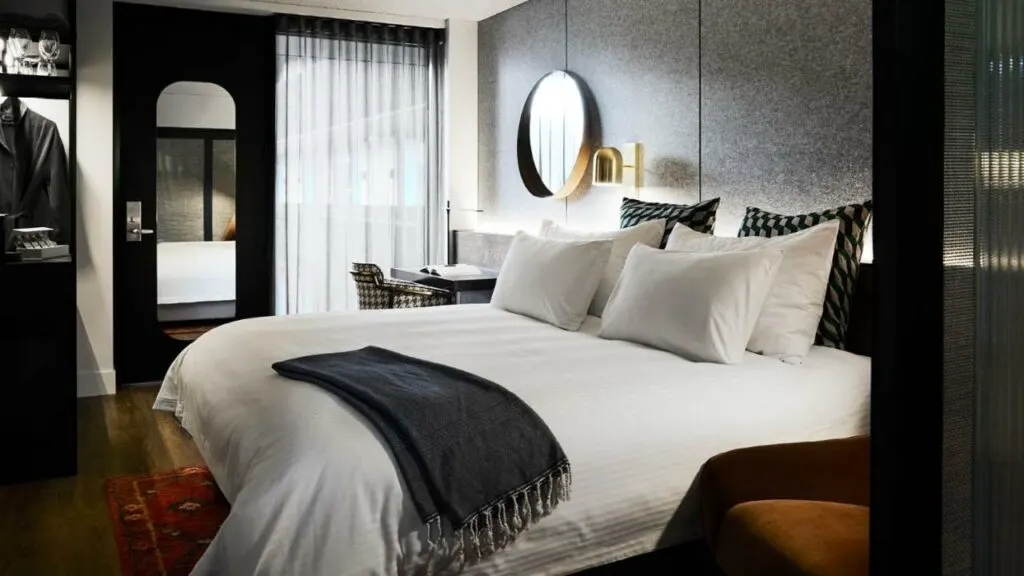 I love a sexy and sleek, modern hotel in the middle of the city centre, so Zagame's House is a clear frontrunner for the coolest hotel in Melbourne. Located right near the Melbourne Central Station, this stunning five-star hotel is the perfect base to explore the Central Business District from.
At sunset, wander up to the balcony walkway and watch the panoramic vistas of the city as day turns into night and the area comes alive.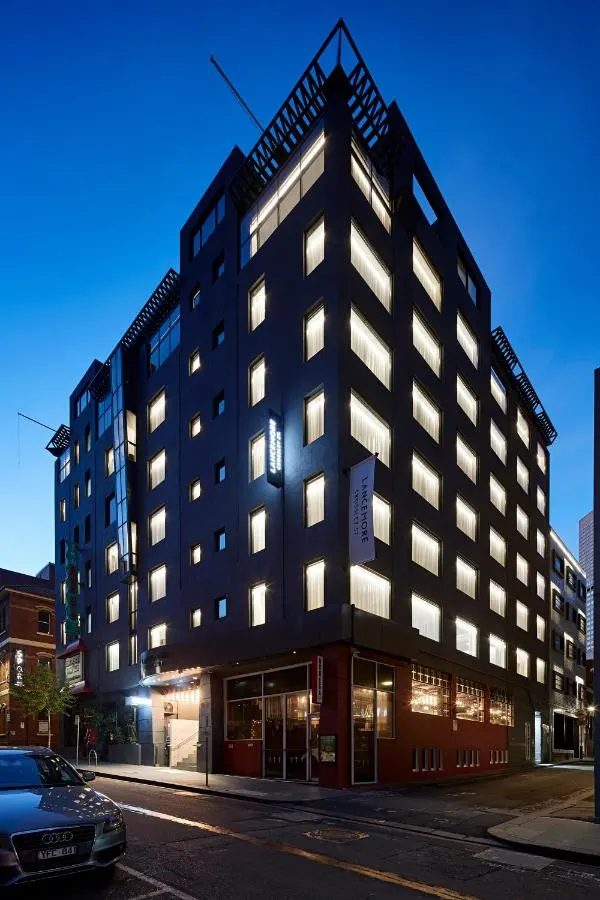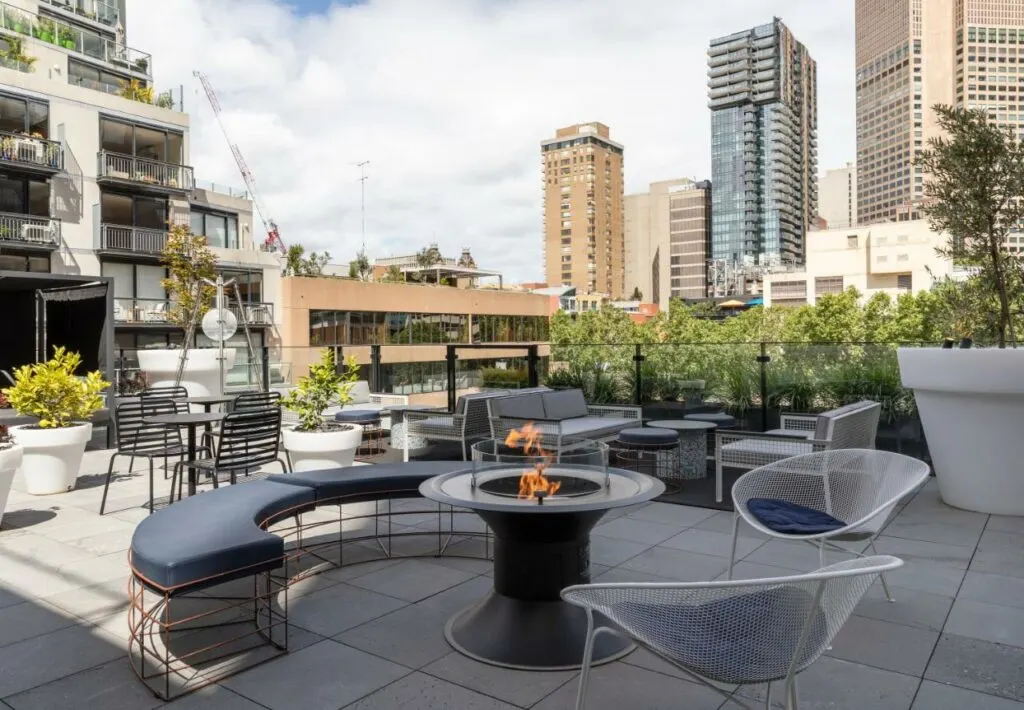 Modern, sleek, stylish, and opulent. These are all words that can easily describe Lancemore Crossley St. Melbourne.
From the spacious balconies with huge, comfortable sofas and armchairs, to the luxurious cocktail bars that were made to be seen in, this Melbourne five-star hotel is one of the most beautiful places to stay in the entire city. Make sure you have a drink by the sculpture of the fallen chandelier – it's the perfect mix of luxury and artistic design.
Mid-range Hotels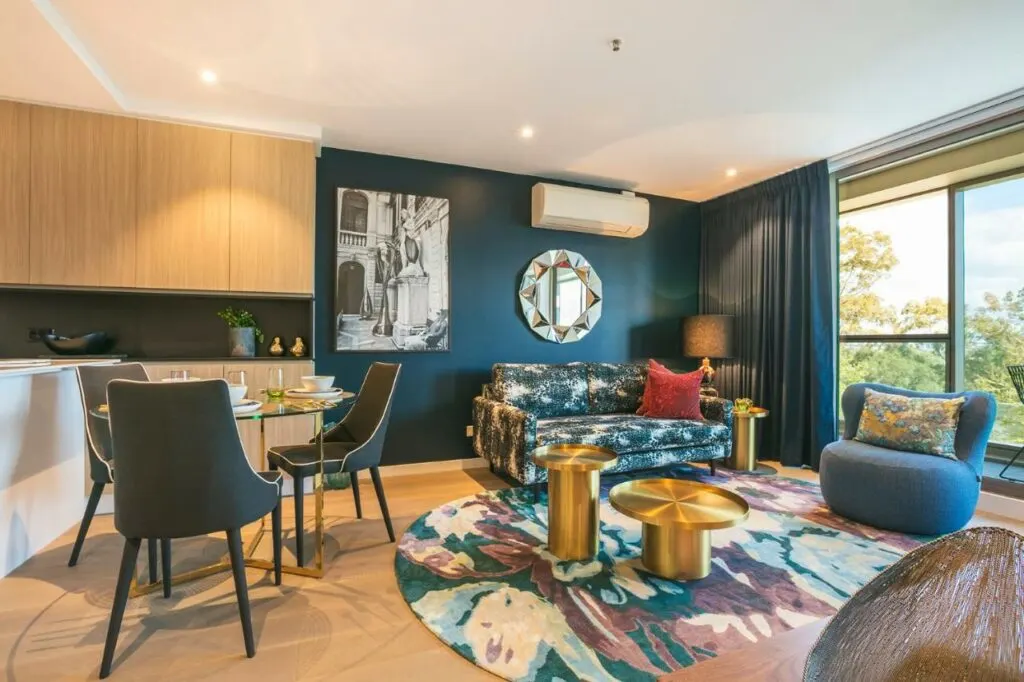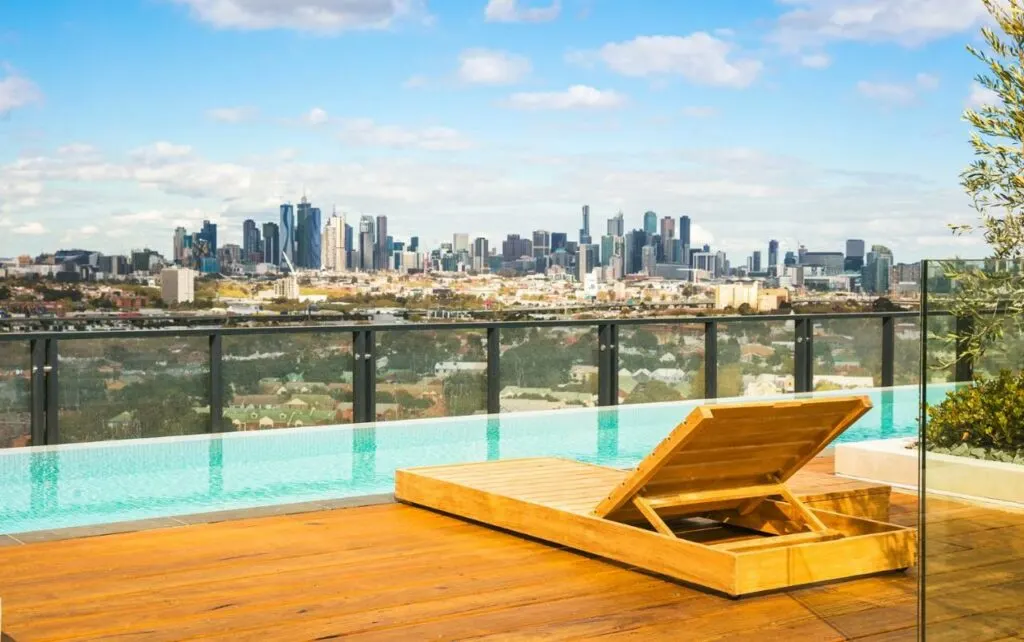 In need of some more space during your trip to Australia? Quest Flemington Central features a series of stunning apartments, each with its own artistic vibe.
The truly special part of the Quest Flemington Central? The rooftop pool with ridiculously amazing views of the Melbourne skyline. It's outstanding, I'd never want to leave that swimming pool or the loungers alongside it! This is actually one of the best views in Melbourne, so take that into consideration when looking at where to stay in the city.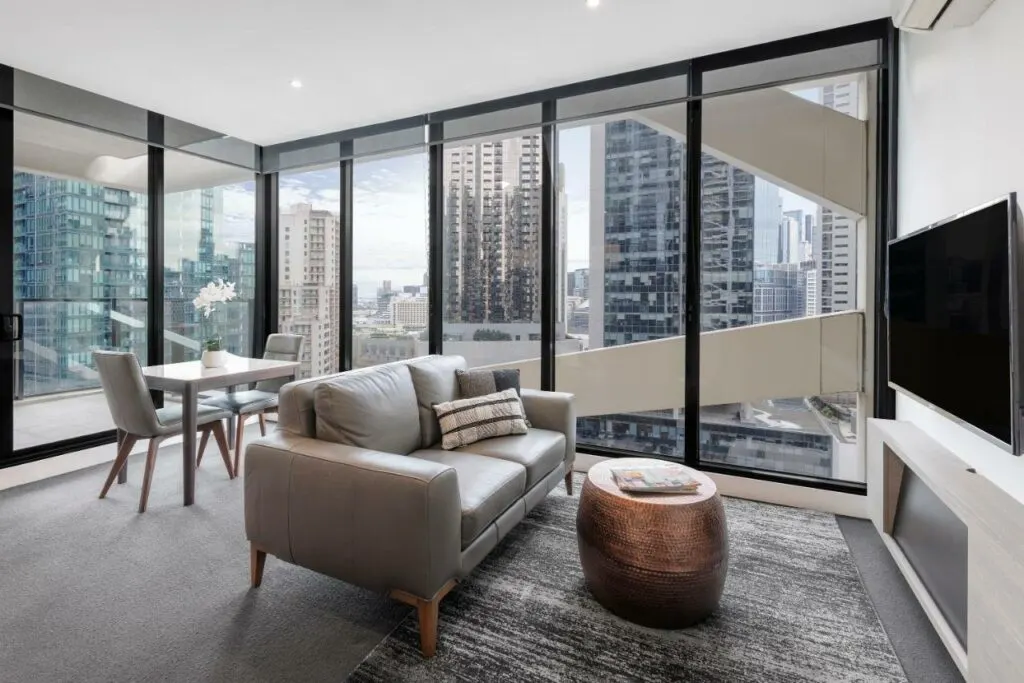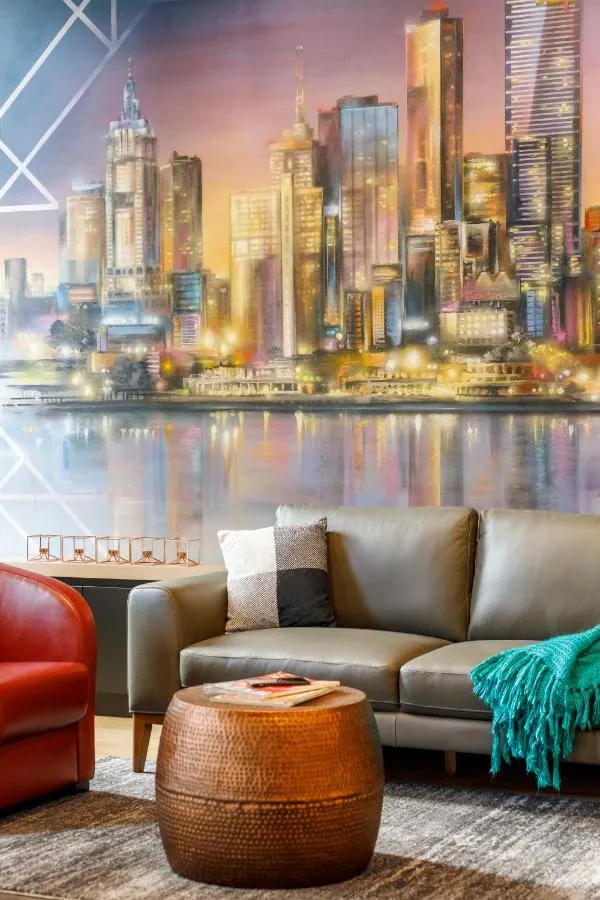 Want to check into a sleek and artistic apartment near the National Gallery of Victoria? Image Wrap offers amazing studios and luxury apartments for you to spread out in and enjoy during your stay.
Wander out onto your gorgeous balcony and take in the panoramic views of the Melbourne Central Business District – you're right in the heart of the action.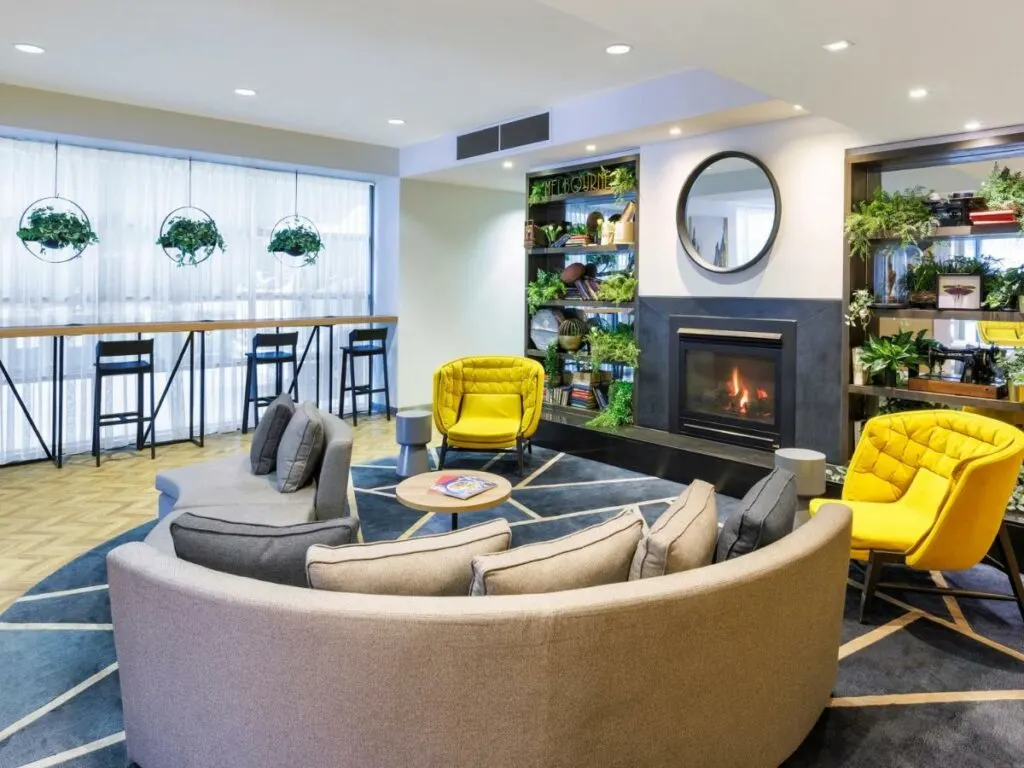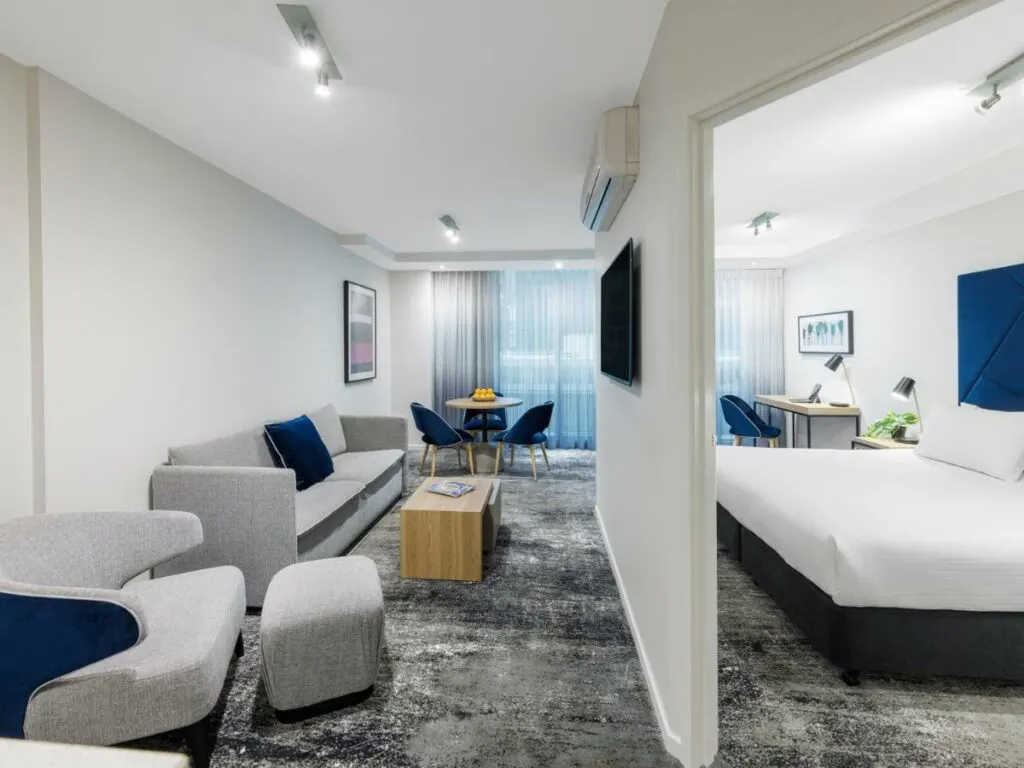 Looking for an elegant apartment hotel that's located right in the heart of the action on Flinders Street? Brady Apartment Hotel Flinders Street features a largely minimalist design aesthetic that's clean and sleek.
With a bright and warming lounge area with shelves full of books and a fireplace, and an indoor swimming pool and gym, this cool Melbourne hotel is perfect for the whole family.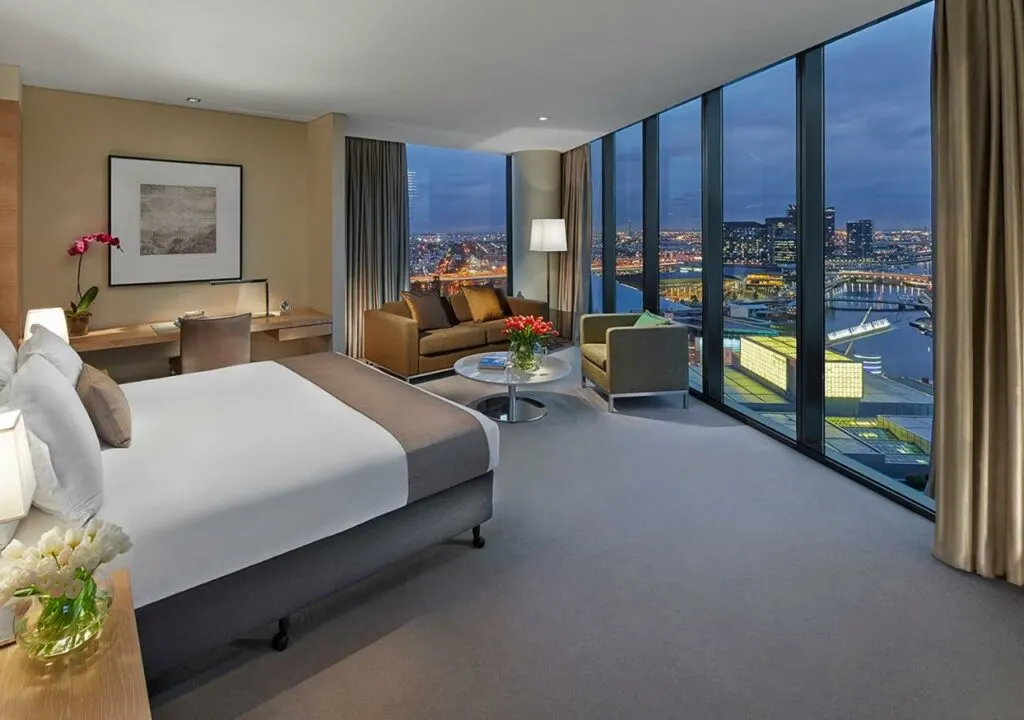 Located on the swanky Southbank, the Crown Promenade Melbourne is a modern-looking hotel that features full floor-to-ceiling windows. This gives you amazing, panoramic views of the Melbourne city centre and offers tons of natural light throughout the day.
Whether you want to relax and rejuvenate by the beautiful indoor swimming pool, you need to mix work and pleasure at the extensive conferencing facilities or want to kick back in your room's jacuzzi bath, it's all possible at this wonderful boutique hotel in Melbourne.
Budget Hotels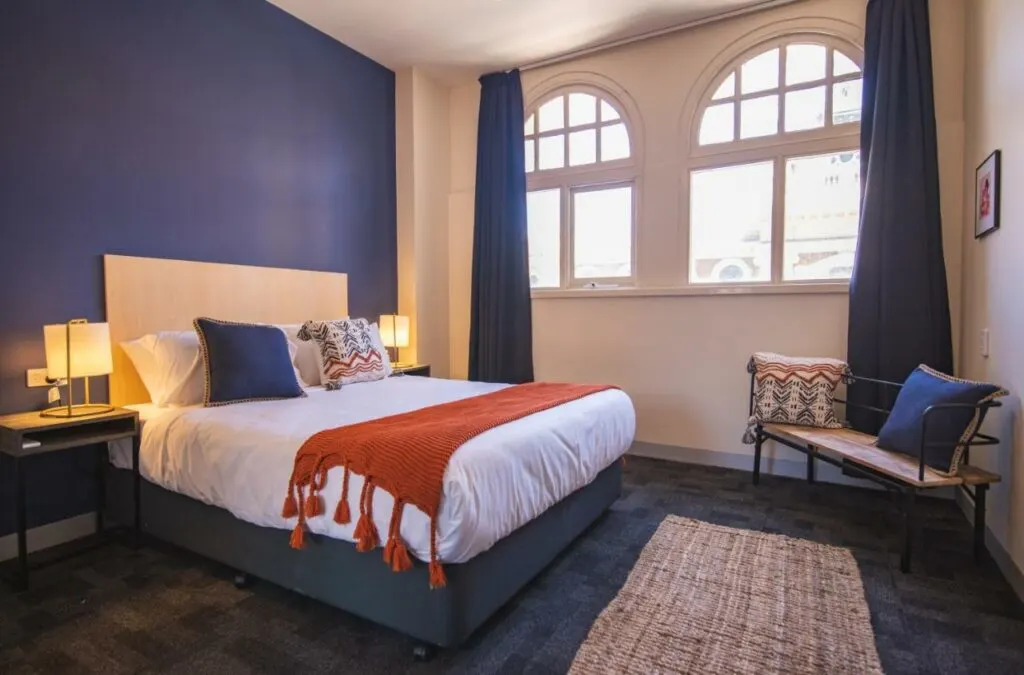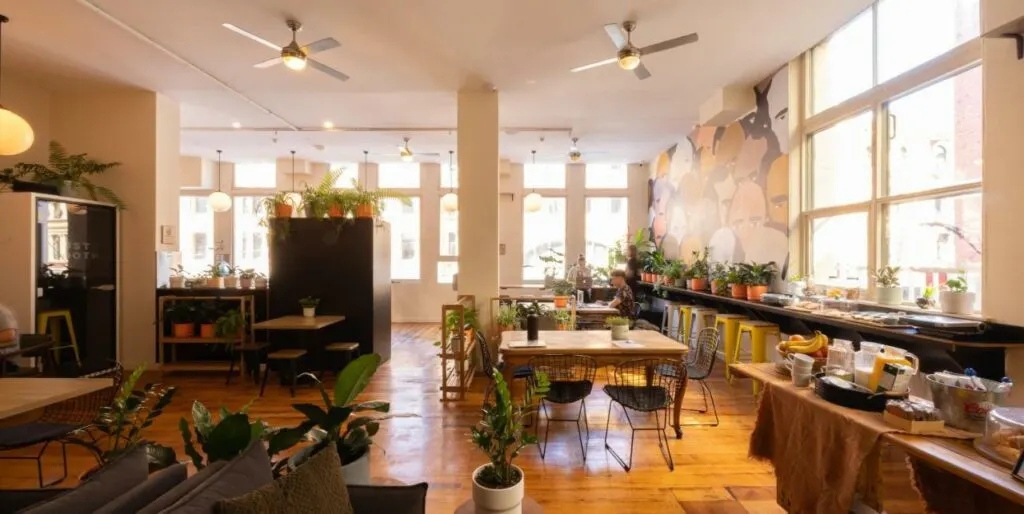 The Selina group has an amazing reputation for affordable and stylish stays in the city centre. Selina Central Melbourne is no different. With fun, common areas complete with pool tables, a movie room with Netflix free of charge, and gorgeously designed rooms that are both comfortable and charming, this Melbourne hotel is a great option for your stay in the Melbourne CBD.
It's a perfect spot for solo travellers or friends traveling together with a fun, social vibe. Selina Central Melbourne also runs a ton of tours and social events throughout the week so you can take advantage of all these extra activities!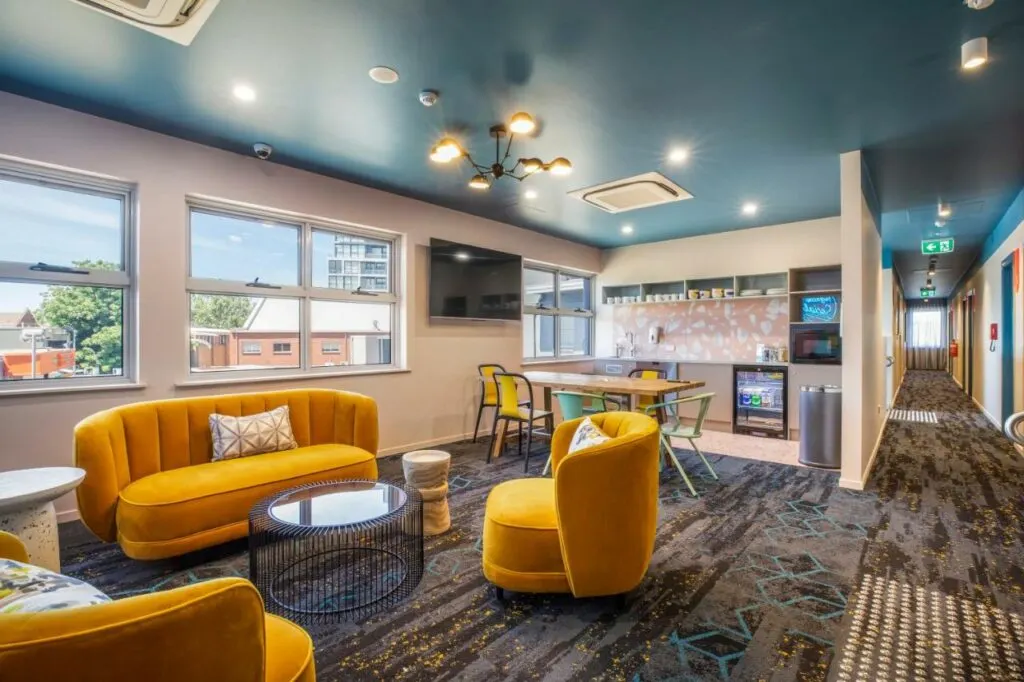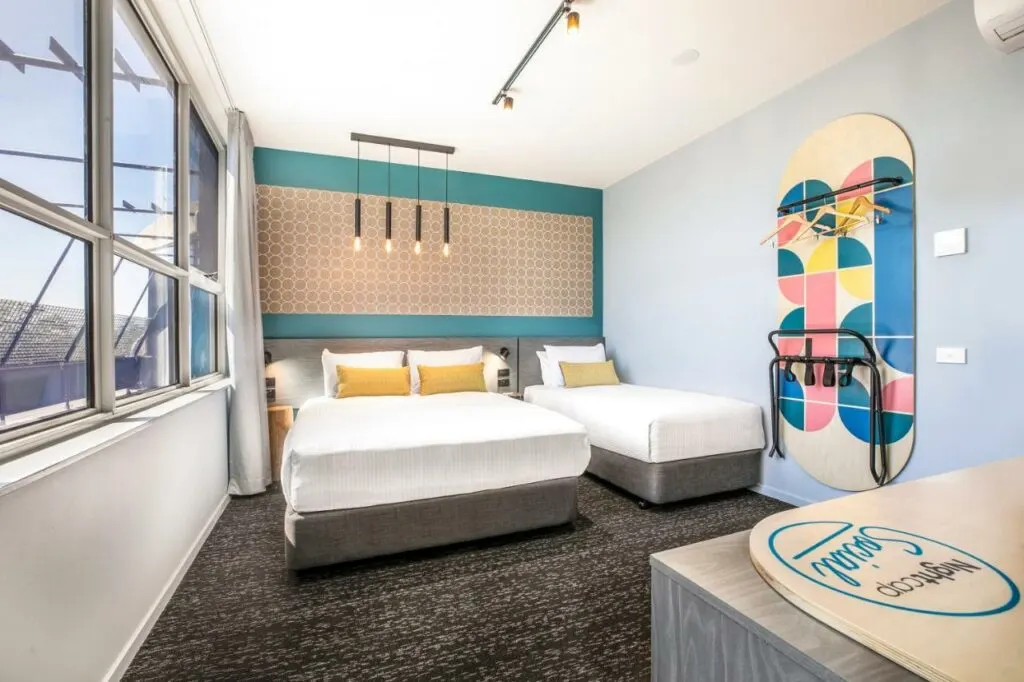 Looking for a colourful place to stay? Book a room at the Royal Hotel by Nightcap Social. Featuring bright and youthful art murals in each bedroom, comfortable beds, and a stylish, fully-stocked cocktail bar to hang out in.
With an onsite bistro and a shared lounge, it's a home away from home during your stay in Melbourne. Given the affordable price point of this hotel, it's an amazing option.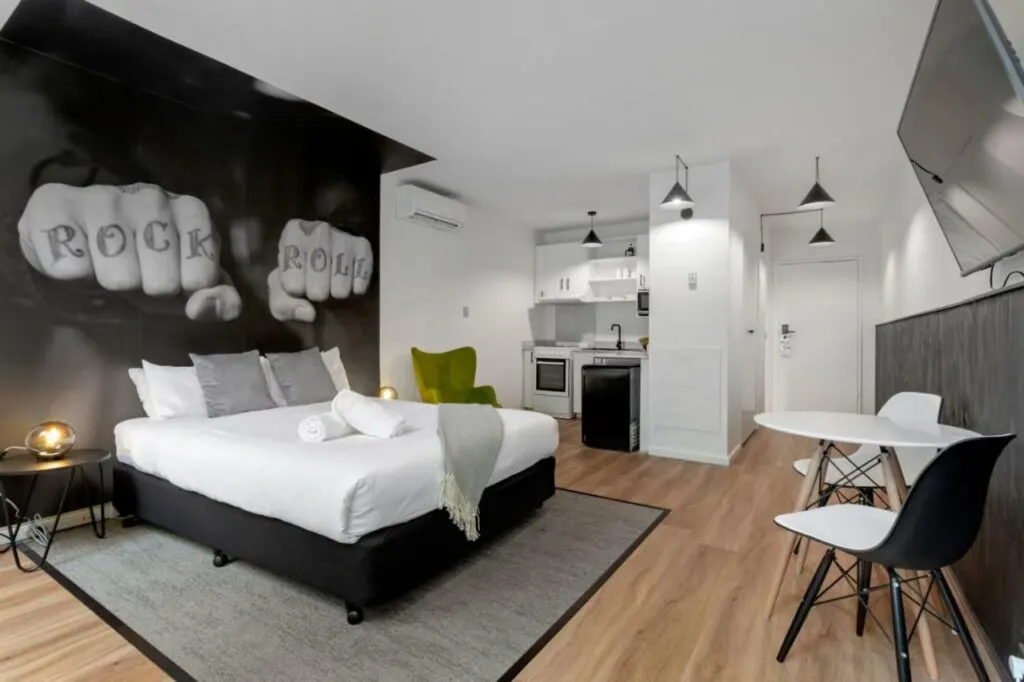 Sometimes you want to live like a local. The bright and airy Davis Avenue Apartments are located in the lush suburb of South Yarra, close to some amazing restaurants and cocktail bars.
With a chilled-out, arty aesthetic, complete with a small balcony with outdoor dining set for your morning coffee, you can pretend that you're a Melbourne resident, living the dream.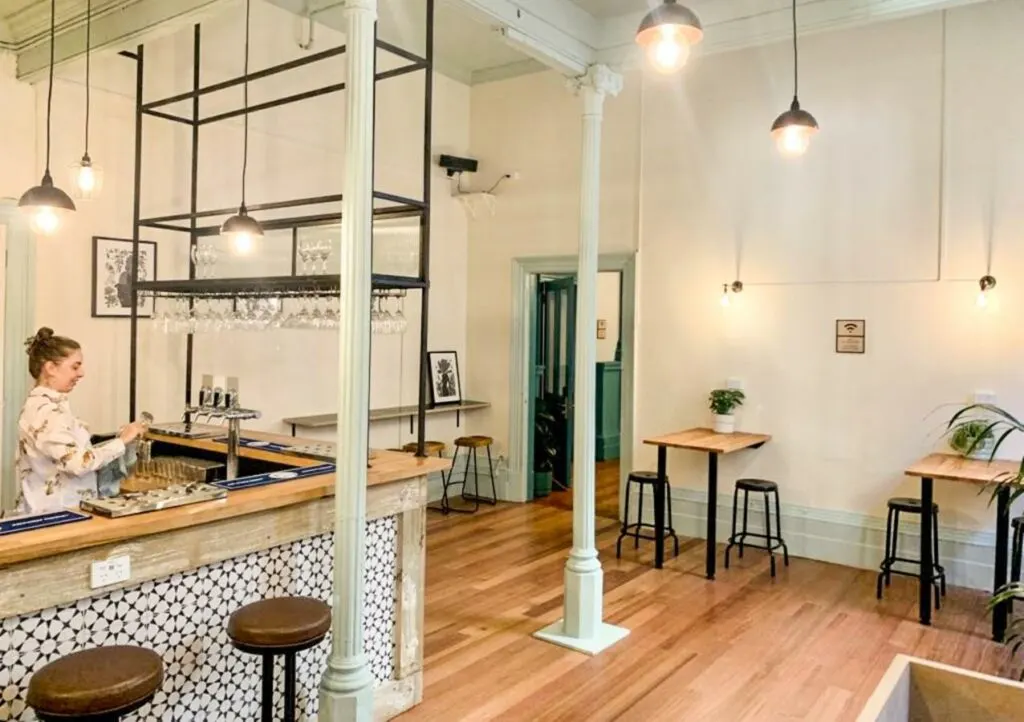 Want to embrace that beachside Melbourne lifestyle? Me too! If you want to do it in an affordable way that doesn't sacrifice a comfortable, luxurious feel, consider booking a stay at Selina St Kilda Melbourne.
With bright design choices, and beautiful shared common spaces for you to work, relax, or eat and drink, it's an amazing place to stay even if you're a solo traveller. Meet new people, enjoy the awesome location, and stay in comfortable, spacious accommodations. What's not to love.
---
So, which of these super cool Melbourne hotels is your kind of aesthetic? I know I have my preferences, but I want to hear all about your favourites! Let me know where you'd like to stay in Melbourne in the comment section below.
Like this blog post? Then Pin it for the future!