Are you looking for the best day trips from Montreal? From skiing in Mont Tremblant to seeing the architecture of Ottawa, these are my top picks!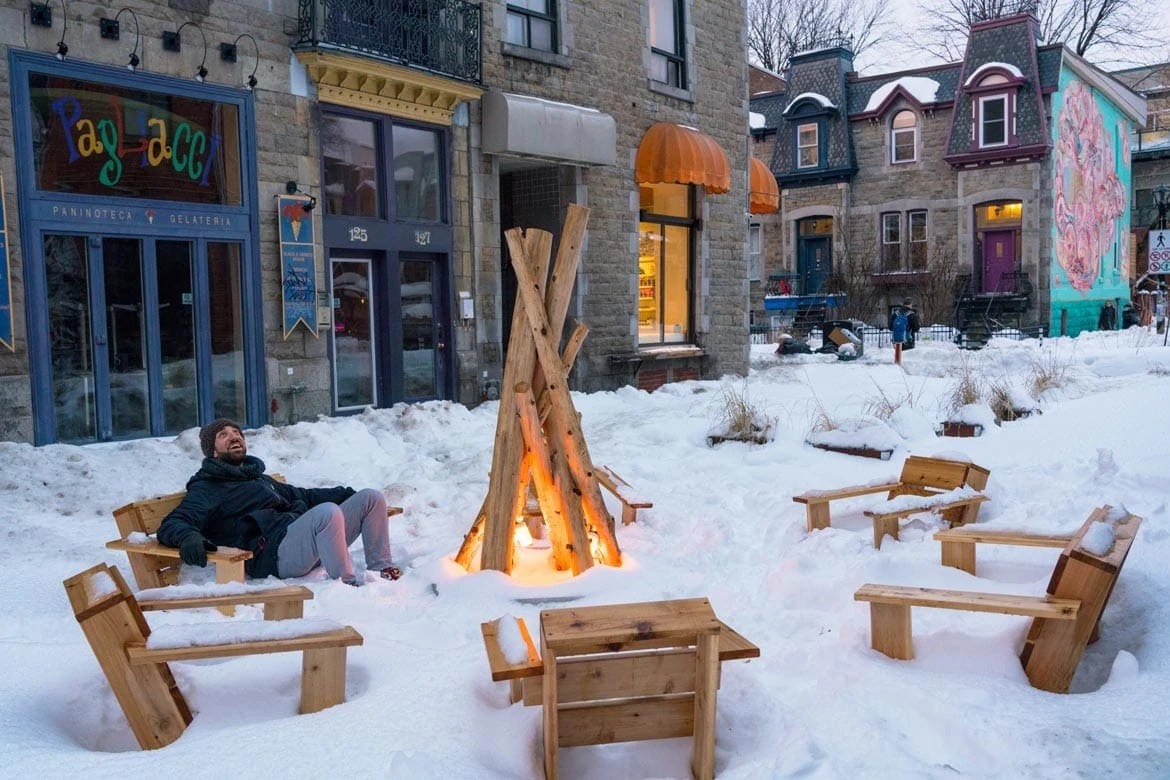 This post has been produced in collaboration with Explore Canada as part of the #ForGlowingHearts campaign.
There's a reason why Montreal is one of the most popular cities in Canada. With an amazing art scene, more restaurants than you'll ever be able to eat at (trust me on that one) and this irresistible blend of French-Canadian culture, it's very easy to base yourself in the city and see all it has to offer.
However, if you get off the beaten track then there are some fantastic day trips from Montreal. Being in the heart of Quebec, places like Quebec City, Ottawa and Mont Tremblant are all a short journey away.
Also, Montreal is very near to a number of amazing vineyards in the area. I bet you didn't consider Canadian wine but I promise you it's delicious, especially the ice wine which is famous in Quebec. Once I've popped a bottle of the sweet stuff it's hard stopping! Just me???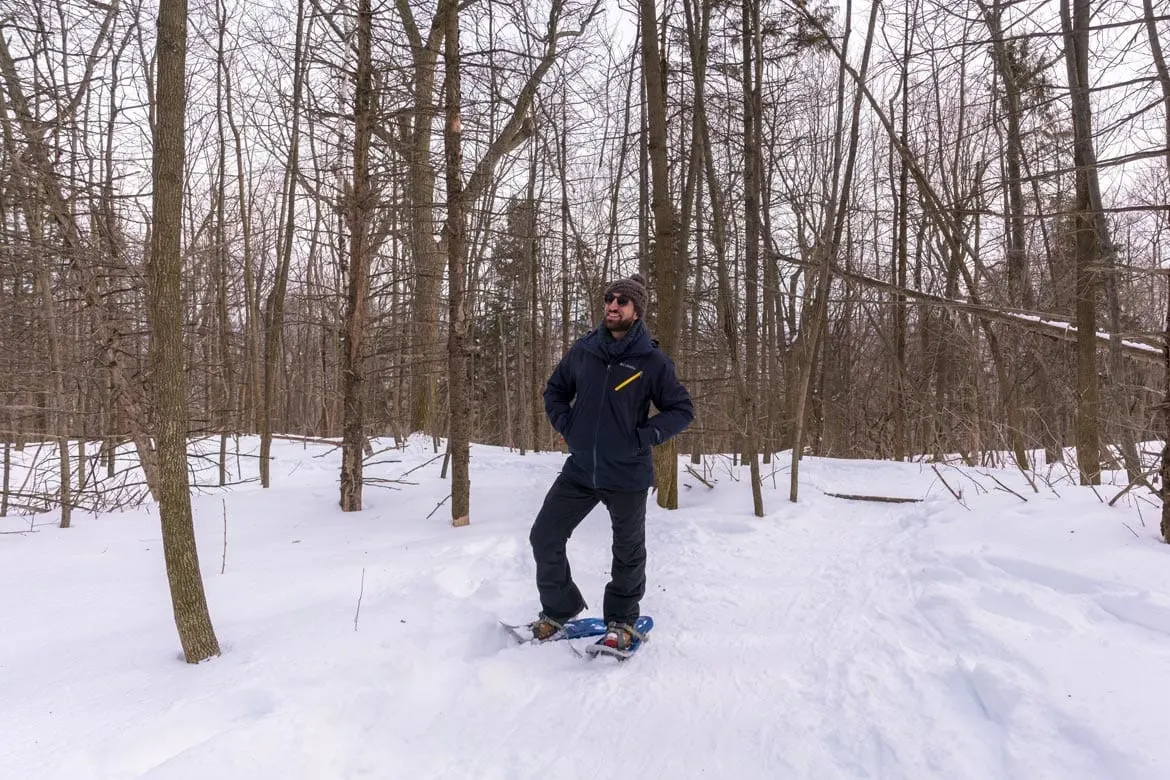 As much as I love Montreal, I love getting out the city and into the countryside. From hiking around beautiful lakes to some of the best ski slopes in all of Canada, you're not short of things to do near Montreal. And I promise you they're worth the effort.
All of these Montreal day trips that I've featured are within a couple of hours of the city, so they're easy to do in a day. No matter which one you choose to do you're in for an amazing adventure!
If you're looking at spending a few days in the city first then check out my guide to 3 days in Montreal. This is packed full of all the best things to do in the city!
---
Best Day Trips from Montreal, Canada
Mont Tremblant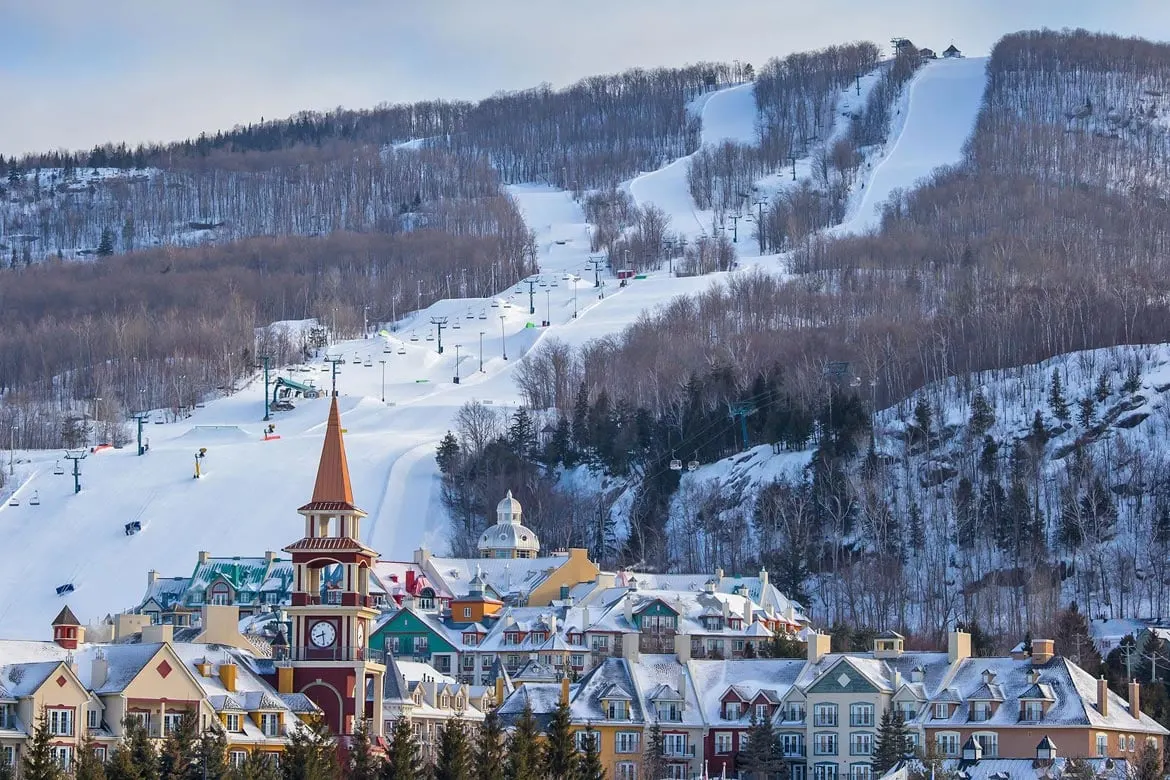 Mont Tremblant is one of those places that's perfect to visit both in summer and winter.
During summer it has some of the best hiking around. If you make the hike to the top of Mont Tremblant you'll be greeted with those vast landscapes that you can only get in Canada. Also, if you're a mountain biker then there are some awesome downhill tracks in the area too.
However, I think I prefer it in winter when you can go skiing and snowboarding. The quaint village at Mont Tremblant was actually designed to look like a Swiss alpine town; imagine dreamy chalets and cute mountain huts and you'll have the right idea.
The skiing and snowboarding is incredible here though. At 875m, Mont Tremblant is one of the highest mountains in the Laurentians National Park and offers a huge variety of runs for all types of skier.
Mont Tremblant is only a two-hour drive away from Montreal. It also has an airport just 20-minutes from the slopes, so if you're short on time you can fly here too.
This fantastic full-day tour takes in the best of Mont Tremblant and even includes exploring the Laurentian Mountains too.
The Laurentians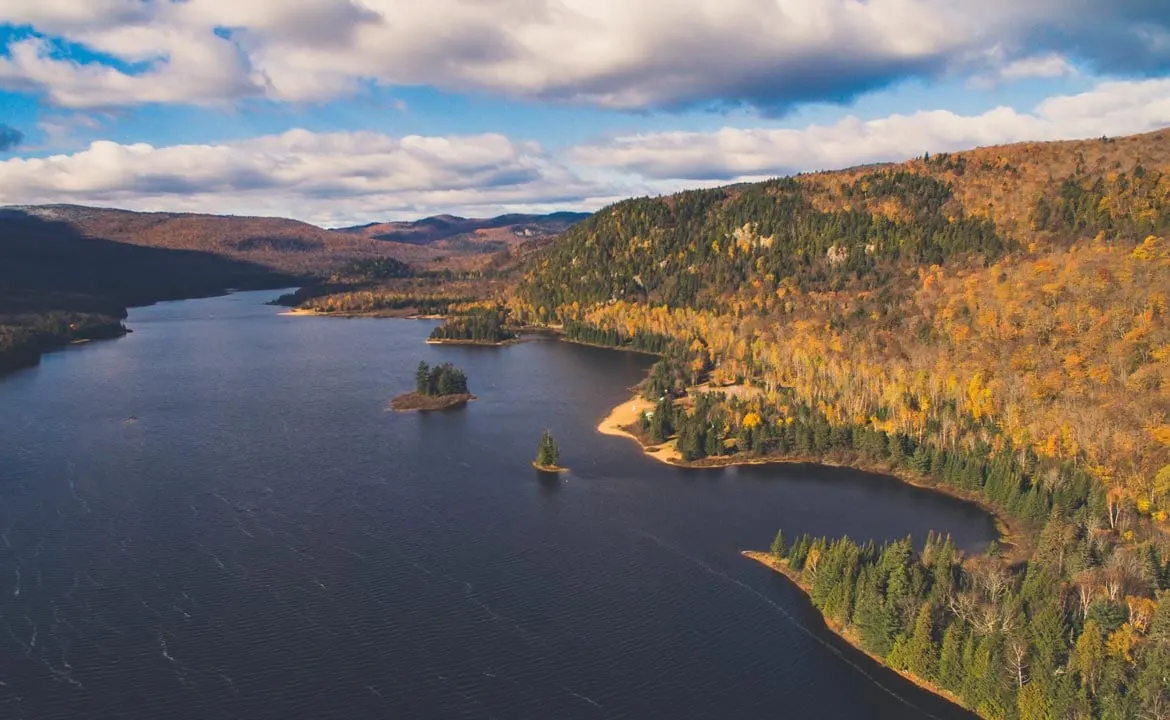 I bet you've never heard of the Laurentian Mountains before, have you? Don't worry, because if you're looking for one of the best day trips from Montreal then you'll definitely want to add this to the list.
For me, the Laurentian Mountains are what Canada's all about. Crystal-clear lakes, rolling hills and mountains wherever you look, and cute alpine villages dotted all over the place. Forget the Swiss Alps, you can get the same thing in Canada too.
One of the best things to do in the Laurentians is to go on a self-guided driving tour around the area. There's nothing quite like getting lost in the secluded tranquillity here. Also, you can park your car almost anywhere and go hiking – it doesn't matter where as it's all good.
The Laurentians is only an hour's drive from Montreal so very easy to do in a day.
Quebec City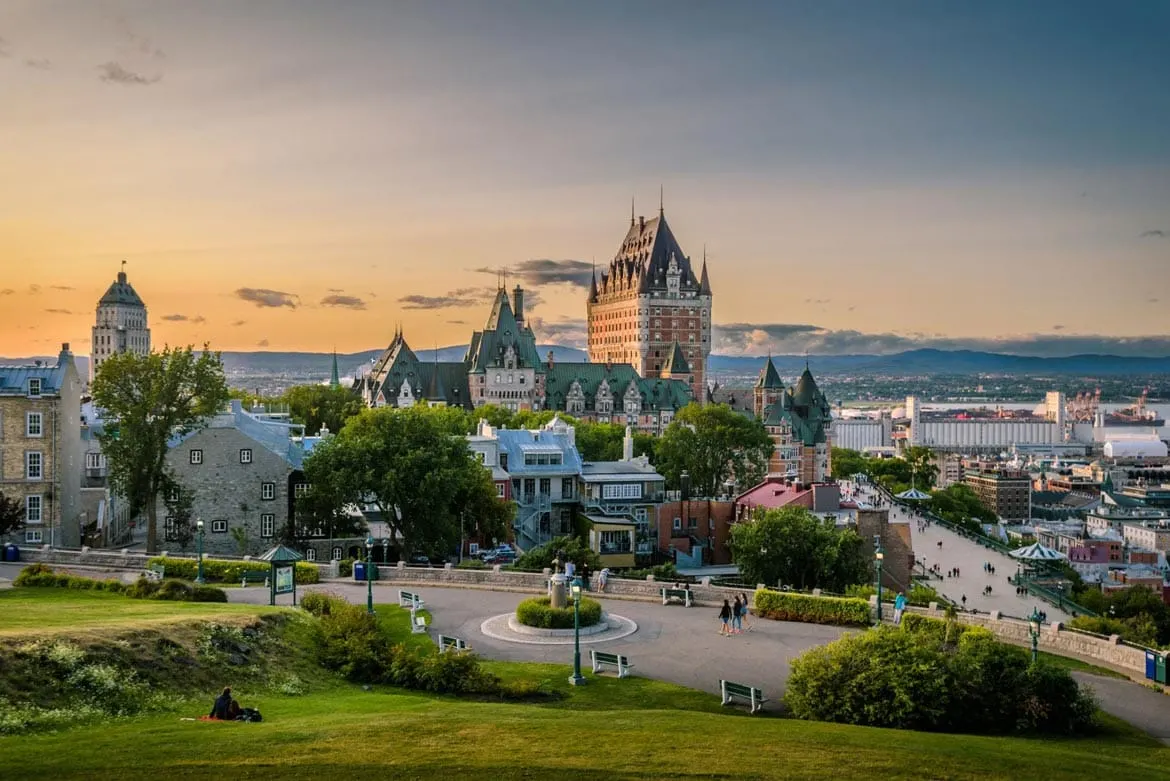 I will say this now – Quebec City is a bit of a trek to get to, but it is worth it! One of the things I loved about Quebec City is the architecture. Wherever you look there are these old ornate buildings that really highlight the history of the area. Quebec City is one of the oldest settlements built by European colonists in all of North America and you can see that all over the city.
The best way of seeing Quebec City is going on a walking tour or on a food tour of the city. Then you'll learn all about the culture, history and see all the top sights in just a few hours.
I'd also recommend visiting the National Assembly of Québec and the National Museum of Fine Arts of Québec. I would say the latter is one of the best art museums in Canada.
All in all it is about a three hour drive away, so perhaps think about adding in an overnight stay so you can have longer in the city.
This Quebec City tour from Montreal takes you to all the best places in the city. On this tour you'll also visit the beautiful Montmorency Falls all without the worry of having to dive yourself!
You can also see some of the best things to do in Old Quebec City here. It really is such a beautiful part of Canada!
Mont Sutton, Eastern Townships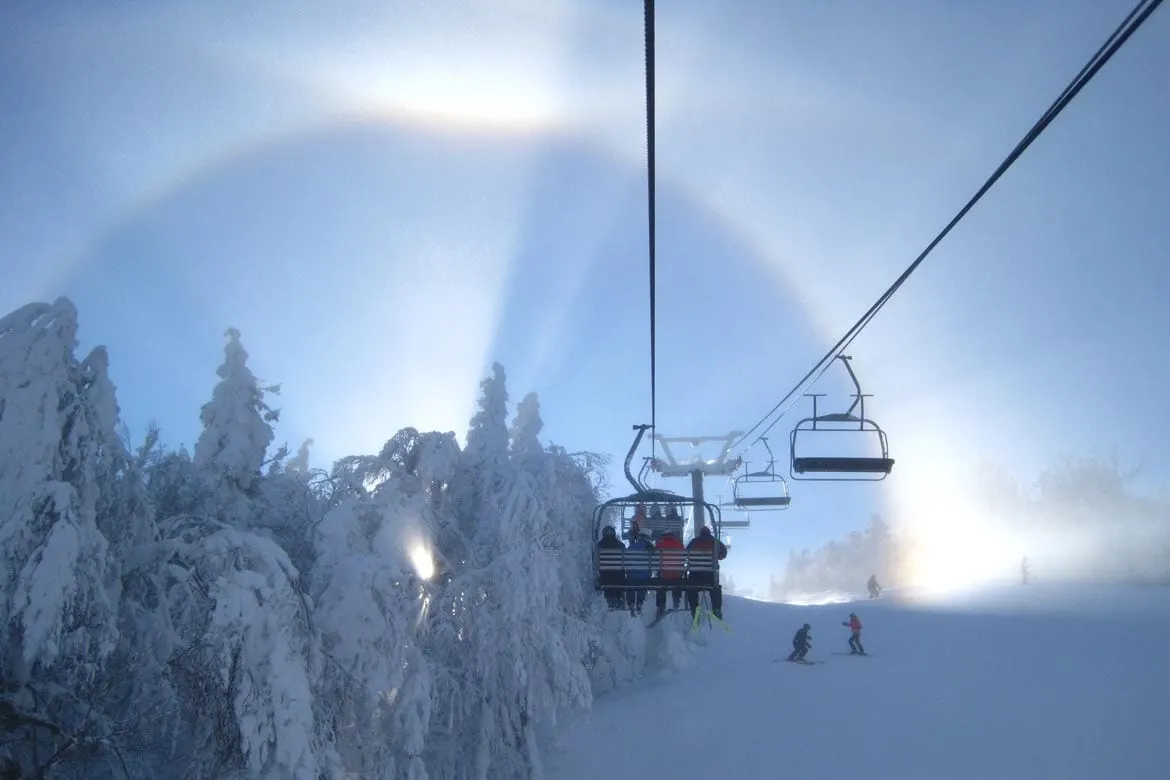 This is another one for all you adrenaline junkies and winter sport lovers! If you're looking for a really quiet ski resort where you'll find more locals than tourists, then head to Mont Sutton in the Eastern Townships. This is a little over an hour away from Montreal.
There are 9 different lifts with 60 runs/trails to choose from; that's before you factor in the off-piste skiing too. This makes Mont Sutton perfect for some family friendly fun.
Mont Sutton is almost famous for its glade skiing. This is essentially alpine skiing through the trees on a defined woods trail. If you've never seen it before its amazing – so quiet and peaceful as you make your way through the trees.
Omega Park & Montebello Lodge
For those of you looking to get out on Montreal for the day then this could be the tour for you.
Omega Park is a nature and historical park right in the heart of Canada. It's a bit like a giant drive through safari but on the next level. If you want to discover Canada's wildlife then you'll see animals such as bison, bears, elk, moose and even wolves, all in their natural environment.
The journey through the park will be between 2 to 4 hours with plenty of opportunities to stops and take photos. Or, if you're driving yourself then there are loads of hiking trails and picnic areas in park too.
From there you travel to the nearby Montebello Lodge, the largest log building in North America. Yep, you get to tick that off the list! Built in 1930, the lodge is nestled in the heart of the scenic Montebello village and surrounded by nature. This is in such a beautiful location.
Omega Park is an hour and a half from the city making this one of the most popular day trips from Montreal. One of the best ways of learning about Omega Park is on a private tour with a local. They'll be able to give you all the history of the area and they're the best as spotting all the wildlife too!
Iles-de-Boucherville National Park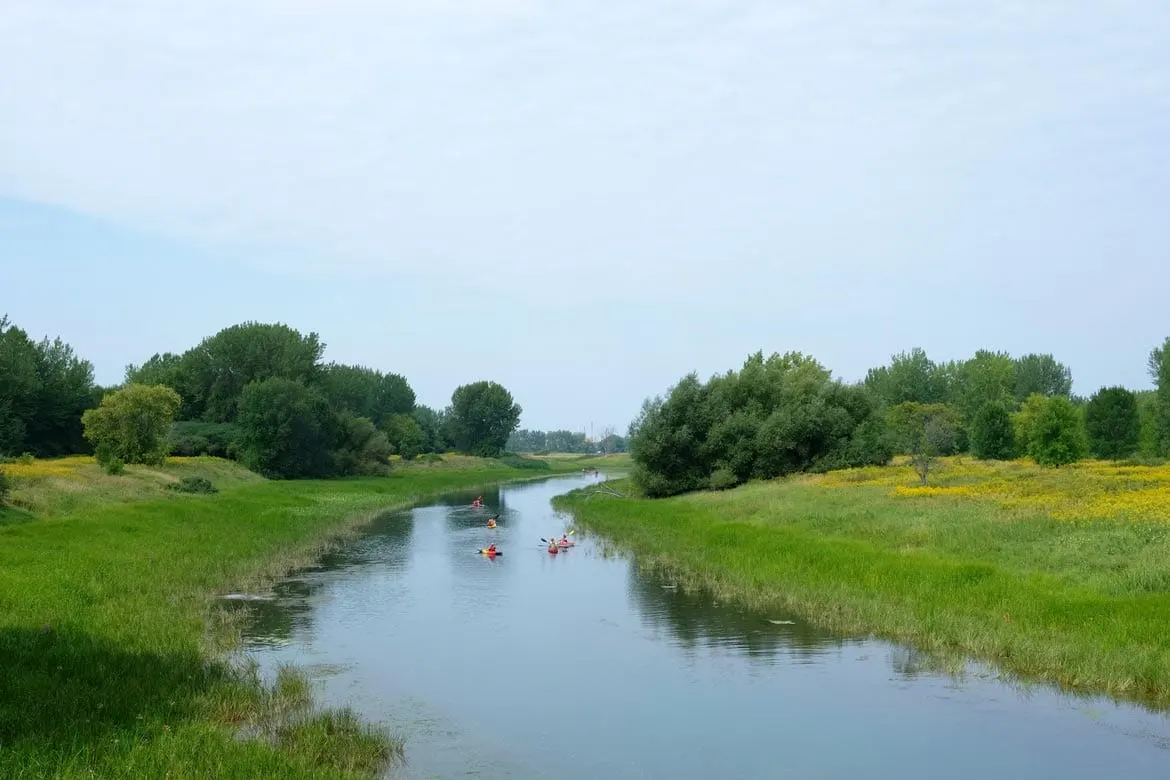 This place is on the doorstep on Montreal but it feels a million miles away from the hustle and bustle of the city.
The Iles-de-Boucherville are actually a chain of islands that have some of the most beautiful waterways once they open up.
Much like with most places in Canada, Iles-de-Boucherville National Park is an amazing place for those who love being outdoors. In winter you can go snow-shoeing or cross-country skiing here, and in summer the place comes to life with hiking and canoeing on the lakes and rivers.
This huge expanse of protected natural reserve was once home to the First Nations people that lived here. There is an amazing educational tour this gives an insight into the reserve, as well as offering information on the conservation and wildlife you can find here.
Ottawa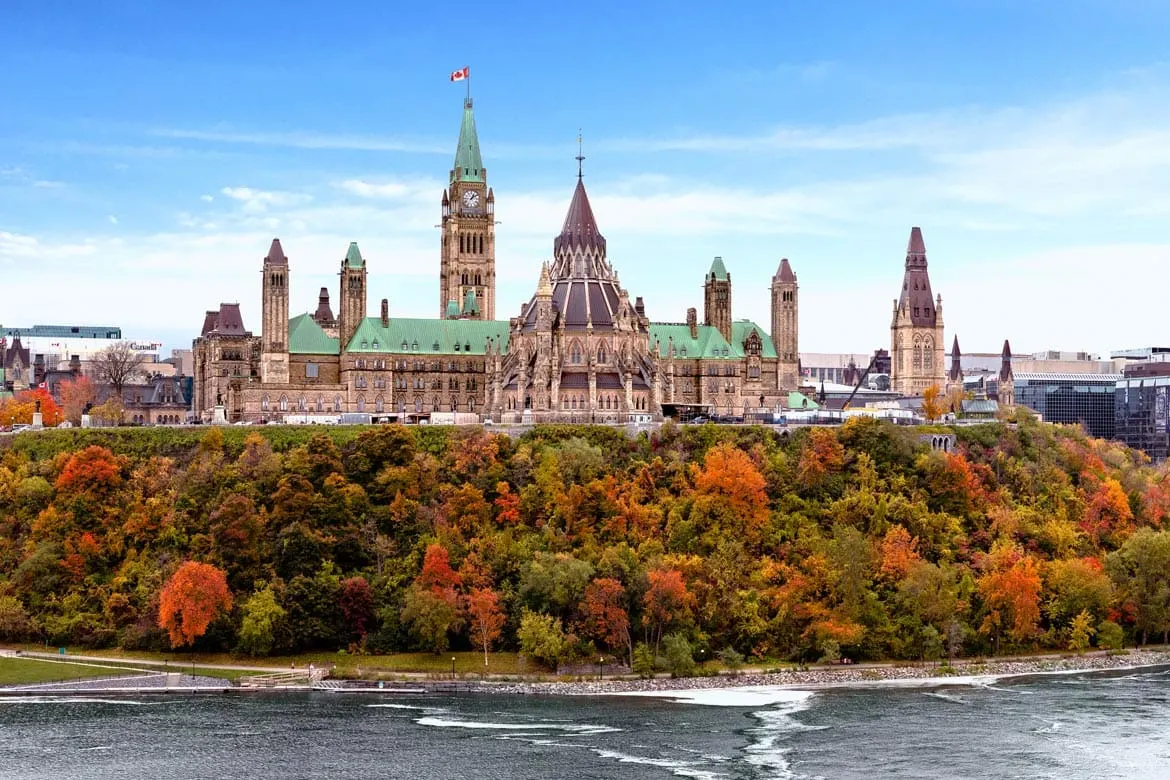 Welcome to the capital of Canada! If you're looking for world-class museums and amazing architecture then you'll find it here.
There are so many sights and attractions in Ottawa that you can easily spend a full day here and not get bored. One of the most popular places to visit is Parliament Hill. Like the name suggests, this is the home of Canadian Parliament. You can actually go on a free tour of the Parliament buildings so I'd definitely recommend that. It's also worth visiting this spot for the Gothic architecture – I think it's some of the best in Canada.
Winter is also an amazing time to visit Ottawa as there's the Winterlude Festival. This is where you'll see some of the craziest ice sculptures from anywhere around the world. Think big… and then add some!
Ottawa is one of the most accessible day trips from Montreal with a number of bus routes and a rail line, so getting here is very quick and easy. Alternatively, you can go on this tour of Ottawa from Montreal which takes you to all the best spots without having to drive yourself.
Ottawa is always voted as one of the top 5 cities to visit in Canada. It's very different to Montreal, so it's great ticking off both of these places on one trip!
Sucrerie de la Montagne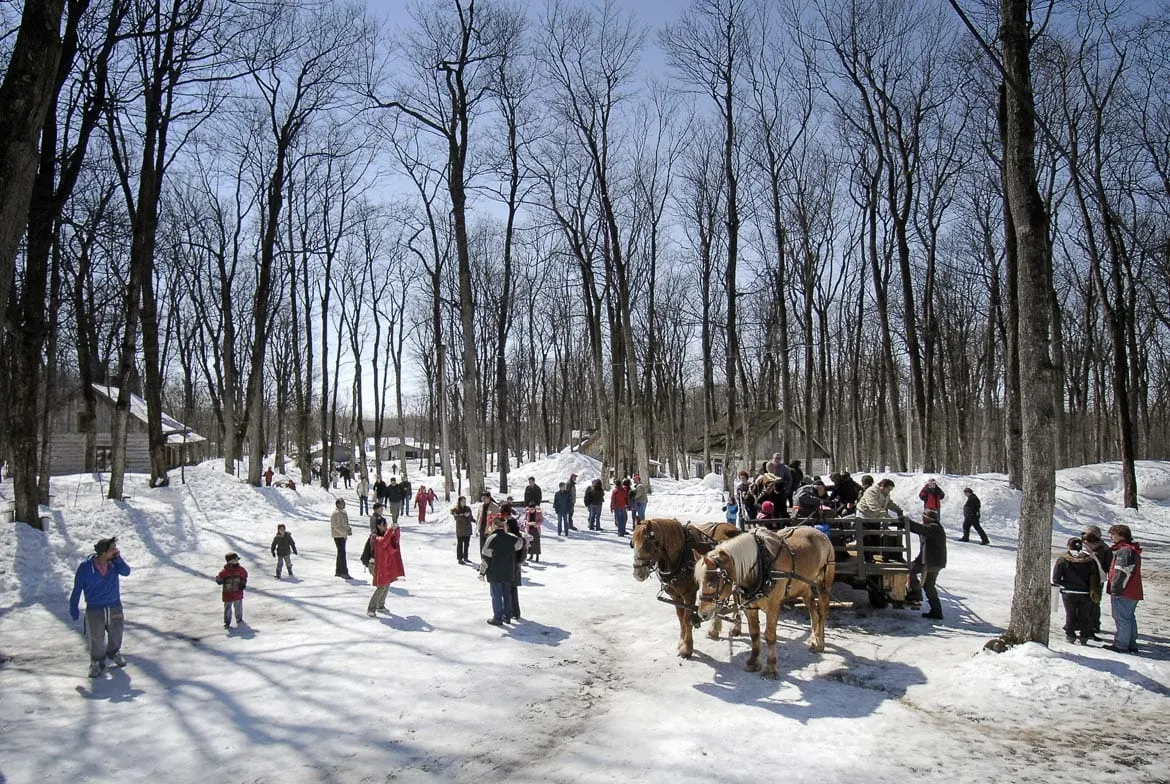 I would say Sucrerie de la Montagne is one of those "must dos" while in Montreal – it's just so unique!
If you've translated the French you'll know Sucrerie de la Montagne means Sugar of the Mountain. This is where you'll find an authentic sugar shack where they produce maple syrup.
Nestled in a 120-acre maple forest around Mont Rigaud, Sucrerie de la Montagne is like stepping back in time to see what life was like to those early Canadian pioneers.
Maple syrup is harvested from the maple trees, and here you can do it for yourself. There's also a restaurant where you can try traditional dishes cooked with maple syrup for a very unique lunch or dinner.
Unlike many other sugar shacks, Sucrerie de la Montagne is open throughout the year meaning you get to taste the good stuff no matter when you visit.
Go on a wine tour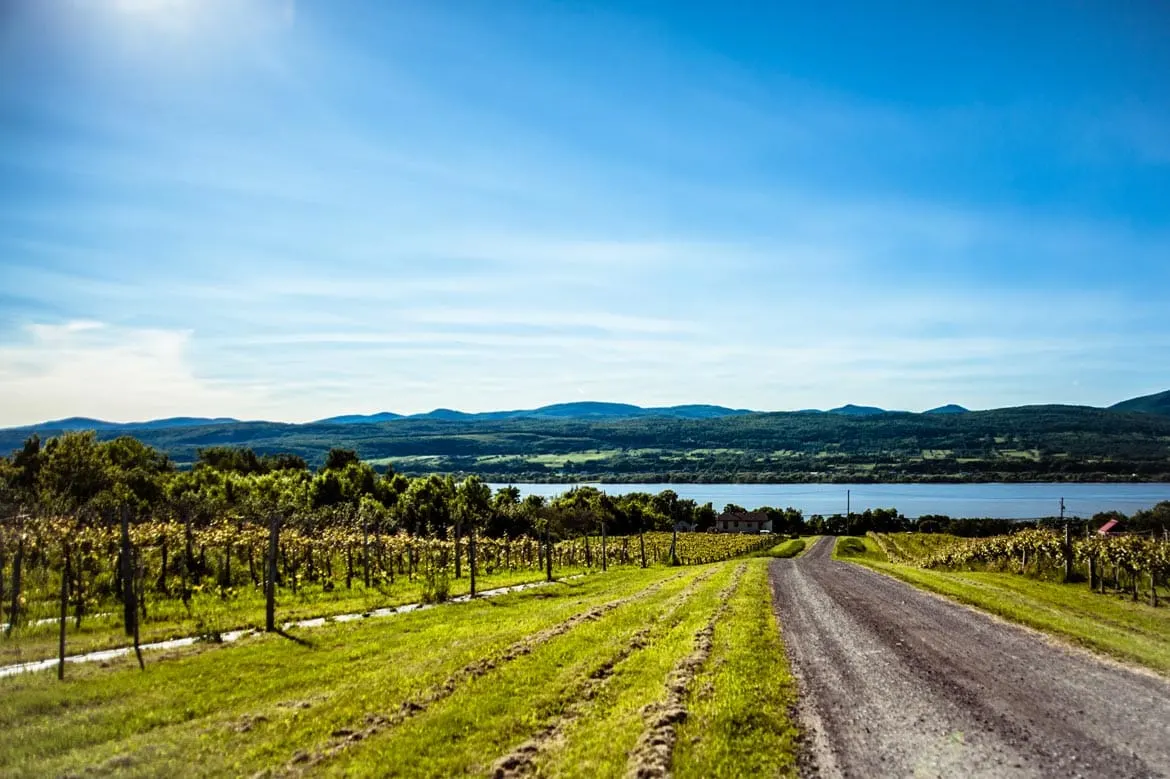 As I've already mentioned, there are some lovely vineyards just outside of Montreal. That means if you're looking to try some delicious and unique wine then this is the place to do it. Wine is actually one of the fastest growing industries in Canada so its probably not what you'd expect.
One of the best ways of seeing a few different vineyards is going on a wine tour. Then you get to sample a huge variety of wines from the region including the infamous ice wine. This is where the grapes are left on the vines to freeze during winter so they produce a really sweet dessert wine. Traditionally served in small bottles, I could drink litres of the stuff.
There are a few half-day and full-day tours to choose from (usually where lunch is provided too) so this is an excellent option for those foodies among you!
Hike Calvaire D'Oka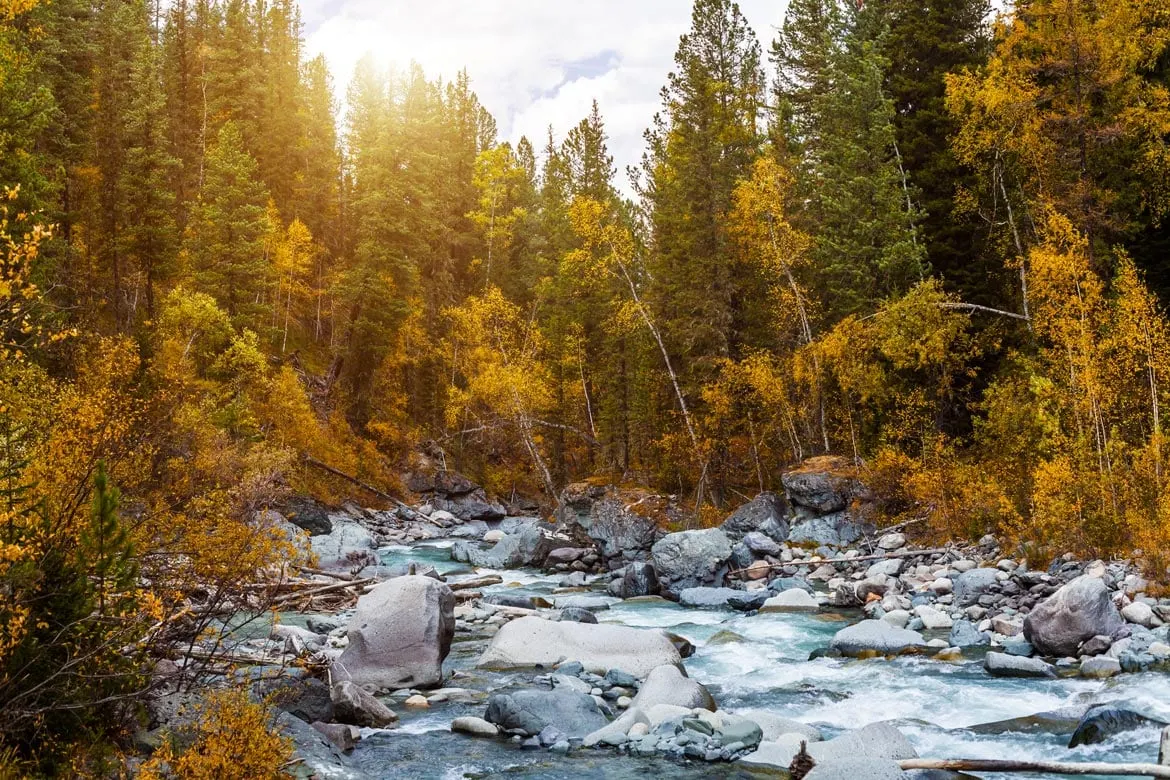 If you love hiking then let me introduce you to Calvaire D'Oka. This is a sensational hike in Oka Provincial Park, a huge natural reserve complete with beautiful forests and lakes dotted around the place.
During summer the lakes are teeming with water sports such as kayaking and standup paddleboarding. Or you can rent a bike and take on some of the trails in the area. The hiking here on an Autumn falls day is incredible though and the colours on the trees are so beautiful.
During winter, you can go snow-shoeing through the forests or cross-country skiing. It doesn't matter when you come here though as it is absolutely beautiful.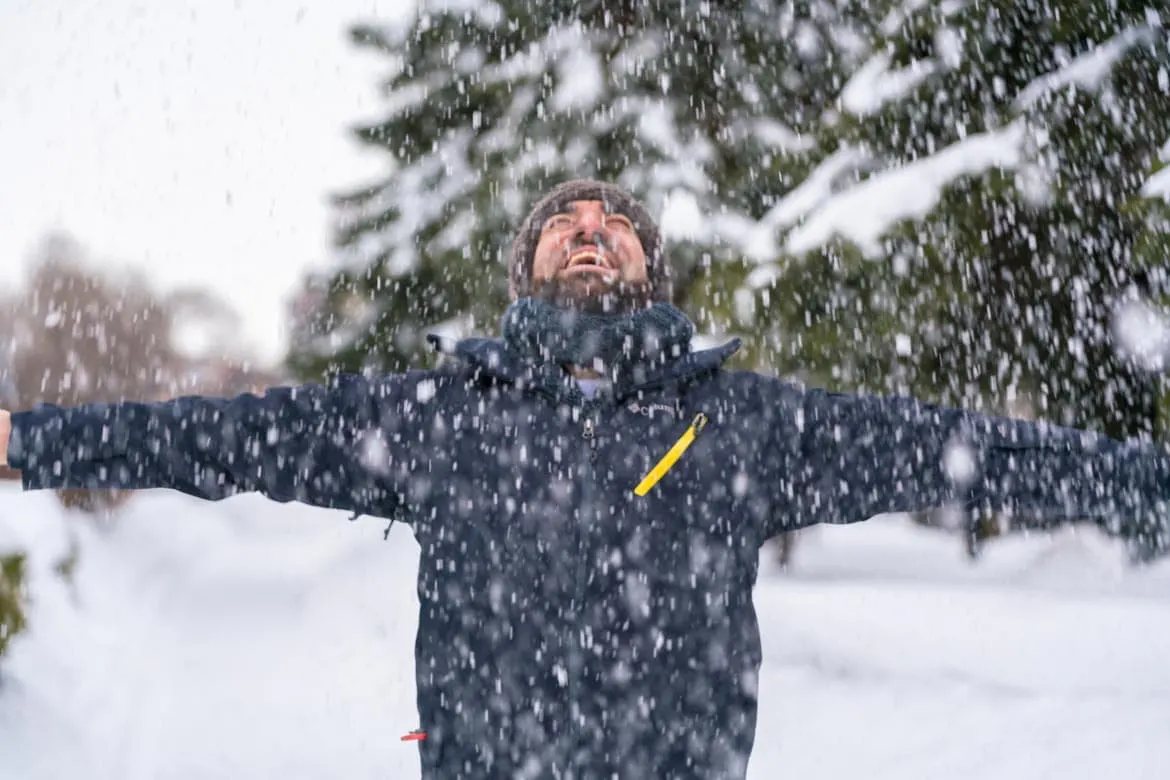 I really hope you found this post useful and hopefully it'll inspire you to go on a few day trips from Montreal. That's the idea anyway! If you're looking for something a little closer to the city then I'd really recommend Mount Royal too. Technically it's in Montreal but it's an amazing place to visit for the day. You can check out my Mount Royal winter guide here!
Oh, and just a word of warning! Before booking your flights to Montreal, make sure you apply for an official Canadian Government ETA. It costs just $7.50 and you can apply via this link. Any other website that costs more is wrong – there are a lot of fake sites out there so make sure you book from the right one!
---
This post was in association with Explore Canada as part of the #ForGlowingHearts campaign. As always, all views and opinions are my own.
Are you planning a trip to Montreal? What are you thinking of doing while you're there? Let me know if the comments below!
Like this blog post? Then make sure you pin it for the future!