Are you looking for the best Montreal winter activities? Then here's everything you need to know about visiting Mount Royal Park in winter!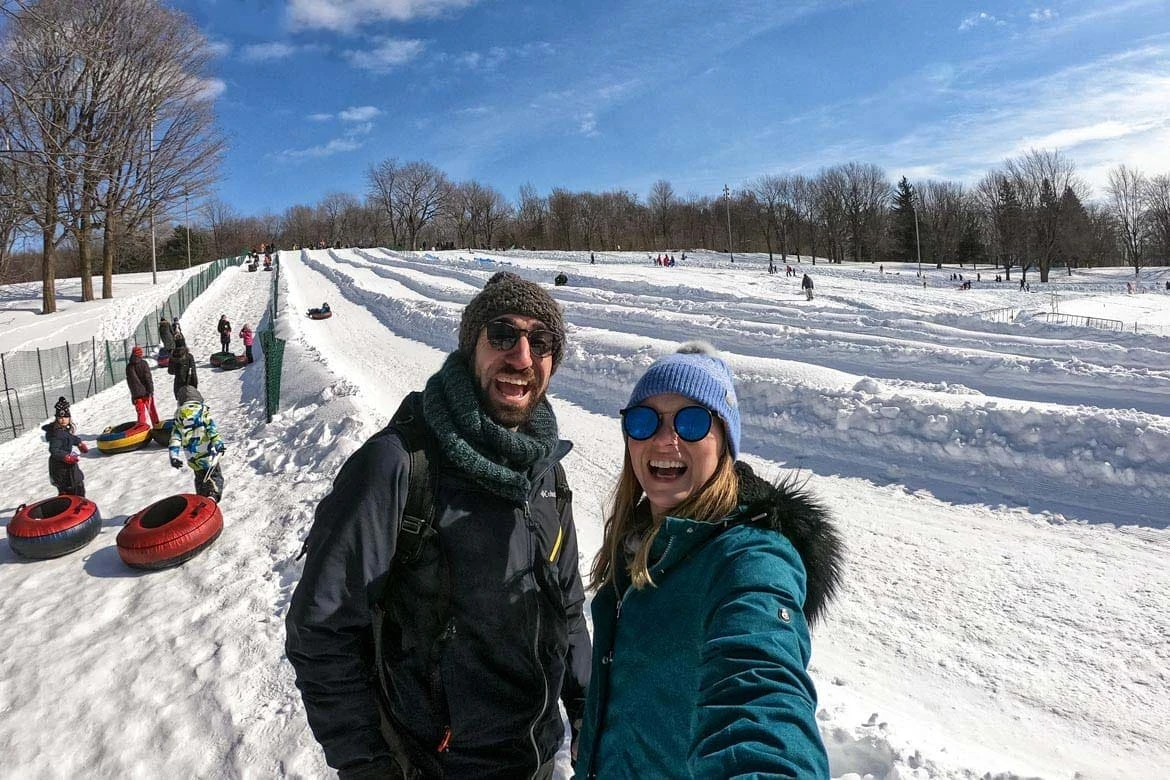 One of my favourite things about Montreal is it's not just a summer destination, it's a real winter destination too.
Even though you've got the skyscrapers and a real city vibe, there are also some incredible winter activities in Montreal just moments from the city centre.
Mount Royal (where the name Montreal comes from) stands over the city, and people flock here for their snowy adventures during winter in Canada.
As I found out for myself, you could be wandering the streets of downtown in the morning and 20 minutes later be playing around in the snow ice skating and hiking – there aren't many cities around the world where you can do that!
Mount Royal in Winter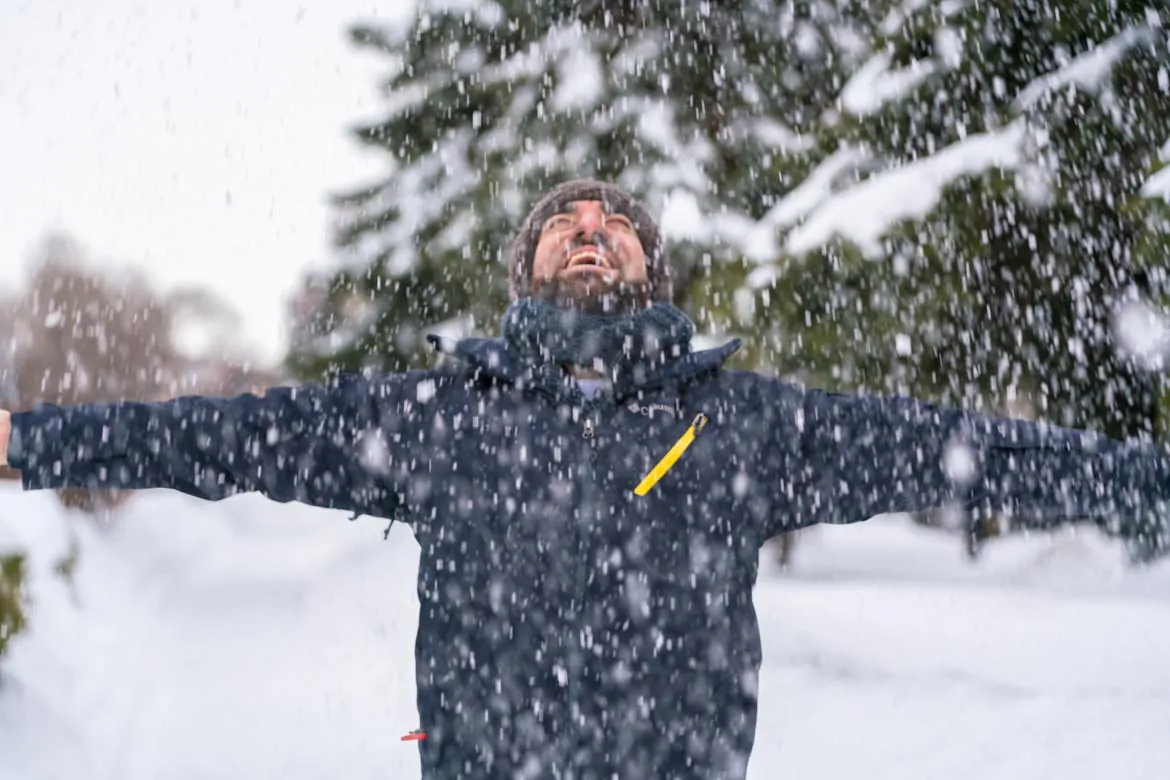 Mount Royal Park was actually designed by Frederick Law Olmsted – he also designed the infamous Central Park in New York City, so he knows a thing or two about parks.
In terms of wide-open spaces that Canada's so famous for, this is the place to be in Montreal. I absolutely loved exploring the park myself, especially during winter. And I was so surprised how many winter activities there were to do here.
If you're heading to Montreal for a winter city break, here are some of the best Montreal winter activities that I really recommend. This is basically my Mount Royal winter guide for you guys.
If you're looking for a winter wonderland in Montreal, then you'll just love this place. It's time to get outside and enjoy the snow!
Also, here is my itinerary for the ultimate 3 days in Montreal. If you're looking at stopping by Montreal on a Canadian adventure or for a weekend away, see where I recommend in my Montreal itinerary!
Winter in Montreal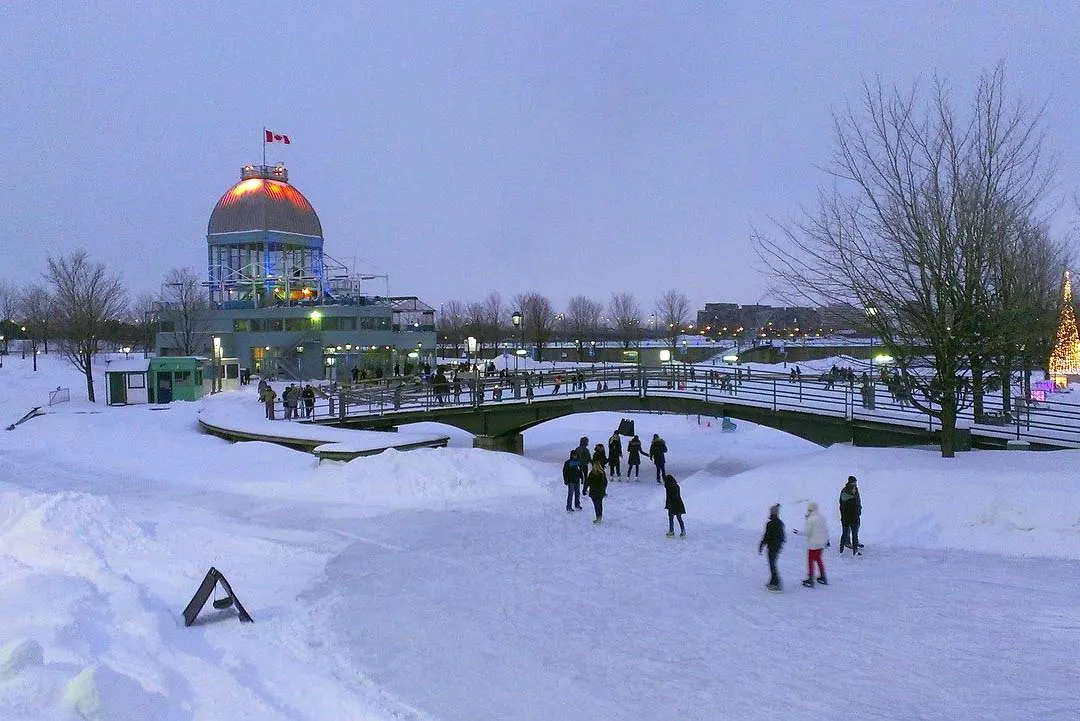 I'll say this now, winter in Montreal is cold. Like really really cold. If you're not prepared for it then the winters here can be brutal. However, as long as you bring lots of layers and wrap up warm you'll be absolutely fine.
Montreal has the longest pedestrianized underground walkway of any city in Canada. Basically, you can get to wherever you want in the city all underground and avoid the cold and snow.
Technically, winter in Montreal lasts from December until April. The average temperature in December is a daytime high of -2oC and a nighttime low of -9oC. Expect snow for when you're there in December.
In January and February, the temperatures are around the same. In March, thing begin to hotten up but again, it can still snow so make sure you're prepared.
I will say that it is a very dry cold though. The coldness doesn't seep into your skin like a lot of other places. Just try not to show any bare skin at all!
Getting to Mount Royal Park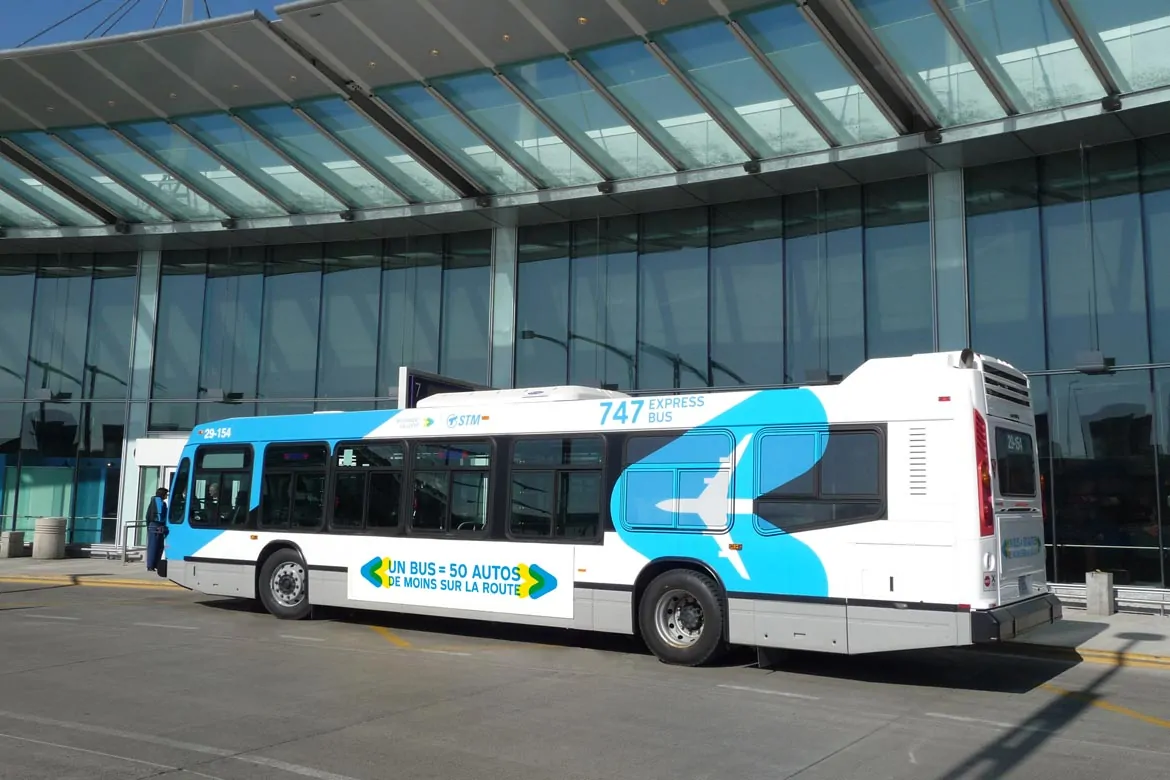 Getting to Mount Royal Park is really easy.
The quickest way is by taxi. Even coming from the Old Port or from Griffintown, a taxi will only take about 15 minutes to get to Mount Royal. There is Uber in Montreal, but if you don't have phone coverage then you can pick up a taxi on the street very easily.
Catching public transport to Mount Royal is also very simple – this was how I got to the park.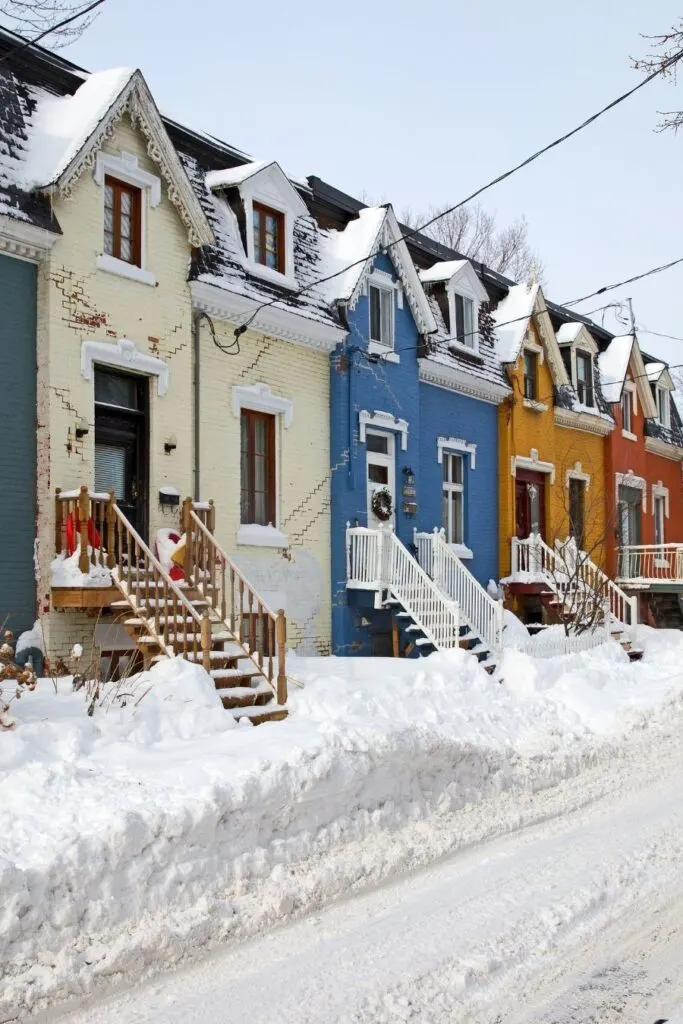 Again coming from Downtown Montreal, I caught the 165 bus (tickets are $3.25) to stop Côte-des-Neiges / The Boulevard. From there it was an 8 minute walk to Beaver Lake.
The other two main busses to look out for are the no. 11 and no. 711 – these take you to the centre of the park as opposed to Beaver Lake.
Please note: you need to have bought your bus ticket beforehand or have the exact change with you. Tickets cost $3.25.
If you're walking from the city, it will take you around 45 minutes, so even this option is quick and easy.
Another great way of getting around Montreal while seeing all the sites is on this guided bus tour. This will take you to some of the best places in Montreal, and it's a great way of seeing the city!
---
Montreal Winter Activities
Ice skating Beaver Lake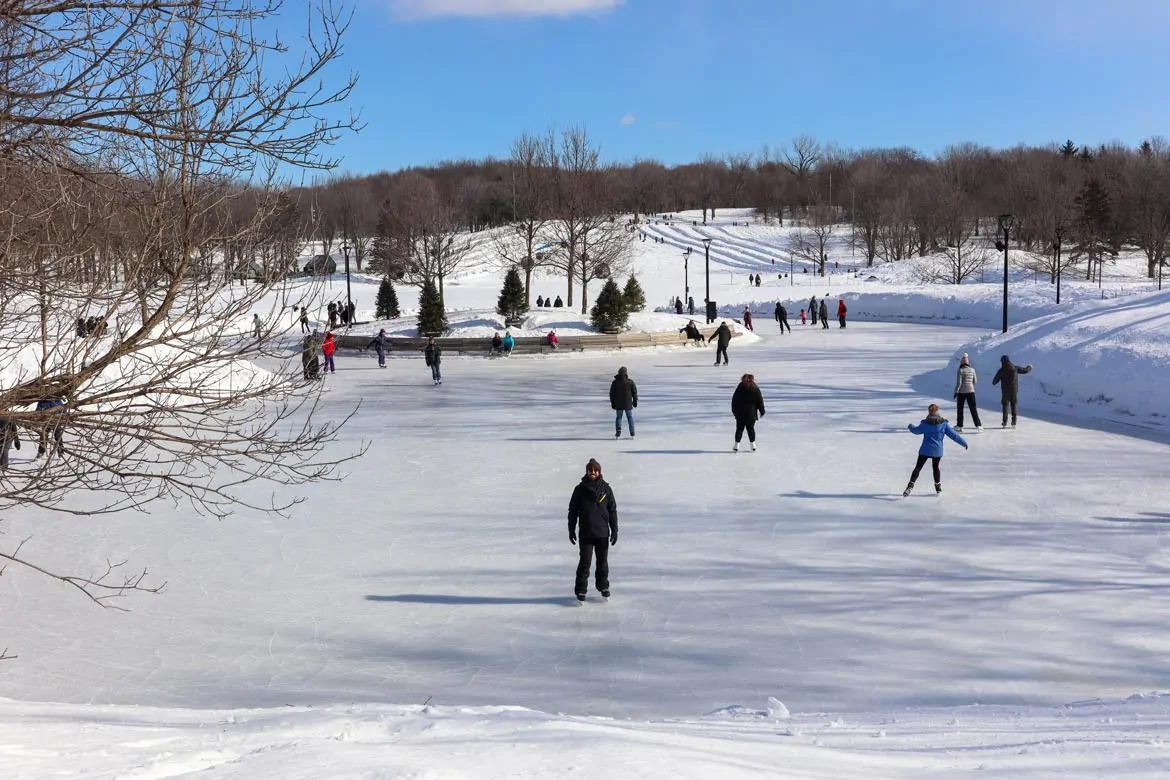 My first winter activity in Montreal was ice skating at Beaver Lake and I absolutely loved it.
The only time I ever get to go ice skating in London is around Christmas time. Even though there are a few ice rinks dotted around the city, they are tiny and packed full of people. You also only get 20 minutes on the ice which is just not enough.
What I love about ice rinks in Canada though is they're massive and you get to spend a lot longer on the ice, so I was really looking forward to ice skating at Beaver Lake.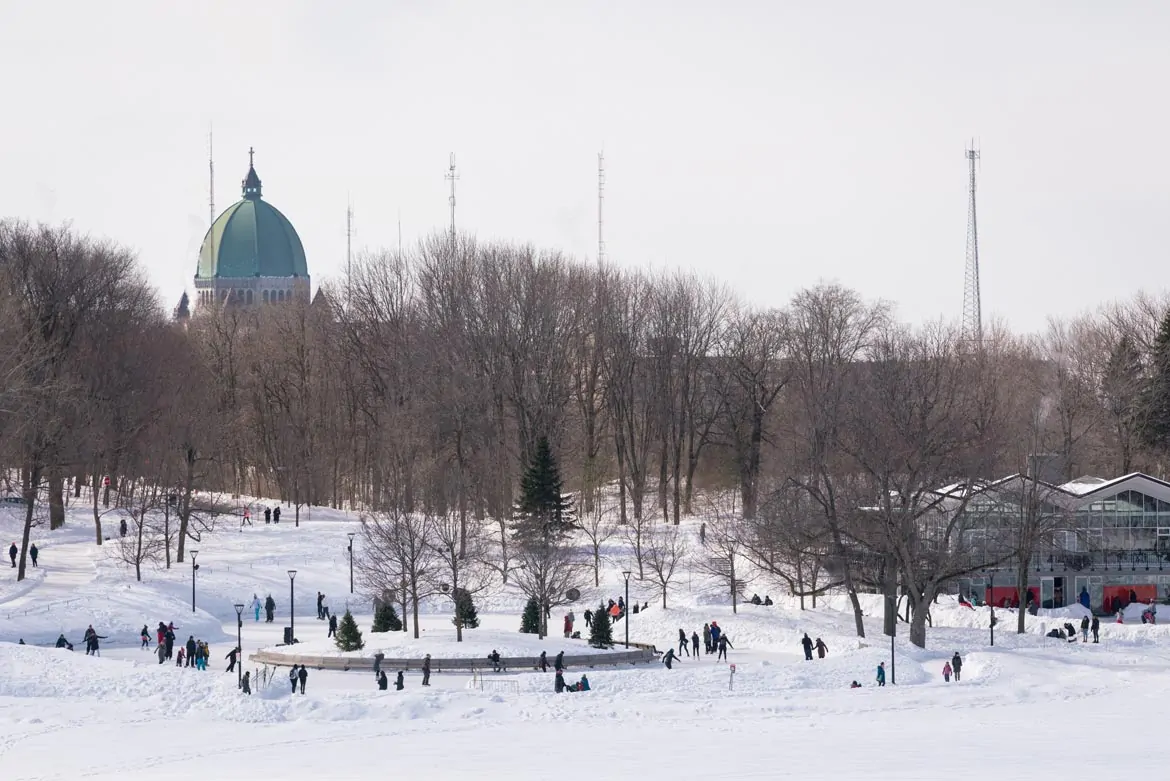 The skating rink at Beaver Lake is next to the Beaver Lake Pavilion (Pavillon du Lac-aux-Castors).
This rink is in a figure of 8 with one half for kids and families, and the other half skating around some trees. What I really liked about skating here was they were playing some classical music – it made the session so much more enjoyable skating to music.
The outdoor skating season in Montreal usually runs from mid-December to mid-March, so if you're visiting the city during this time period then I'd really recommend skating here.
Also, if you want to have the place to yourself then visit either early in the morning or later in the evening on a weekday. Then you can skate without having too many kids around.
Ice skating at Beaver Lake opens at 9am and closes at 9pm. This is what Mont Royal activities are all about.
Skate rental costs $10 for 2 hours. They also offer skate sharpening for those of you with your own skates.
Mount Royal Park Snow Tubing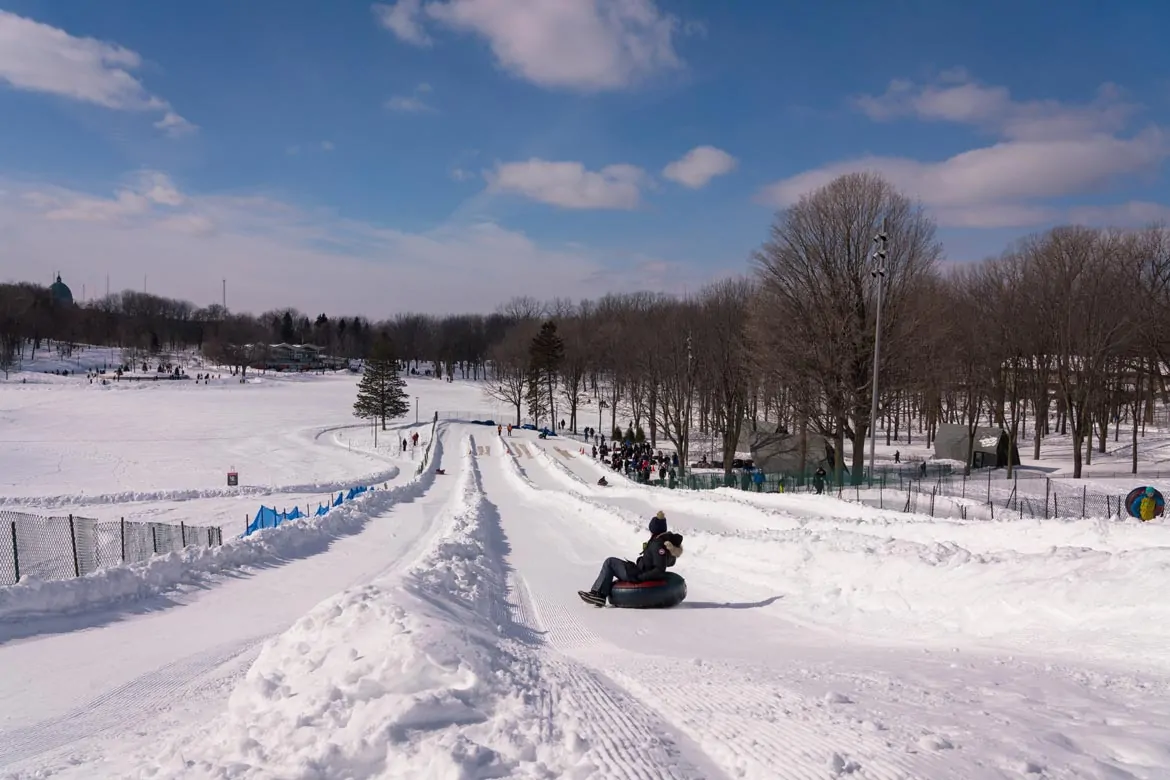 I think snow tubing is the best adrenaline-pumping winter activity in Montreal and it's so much fun.
If you've never heard of snow tubing before you're in for a treat. Basically, it's like tobogganing but instead of a wooden sleigh you're sitting in a giant inflatable inner tube. Because the inner tube is made out of smooth rubber you really fly down the snow.
I'd say snow tubing is one of the best winter activities for kids and for those who don't ski as it doesn't involve any skill. All you do is sit down and enjoy the ride. And what a ride it is!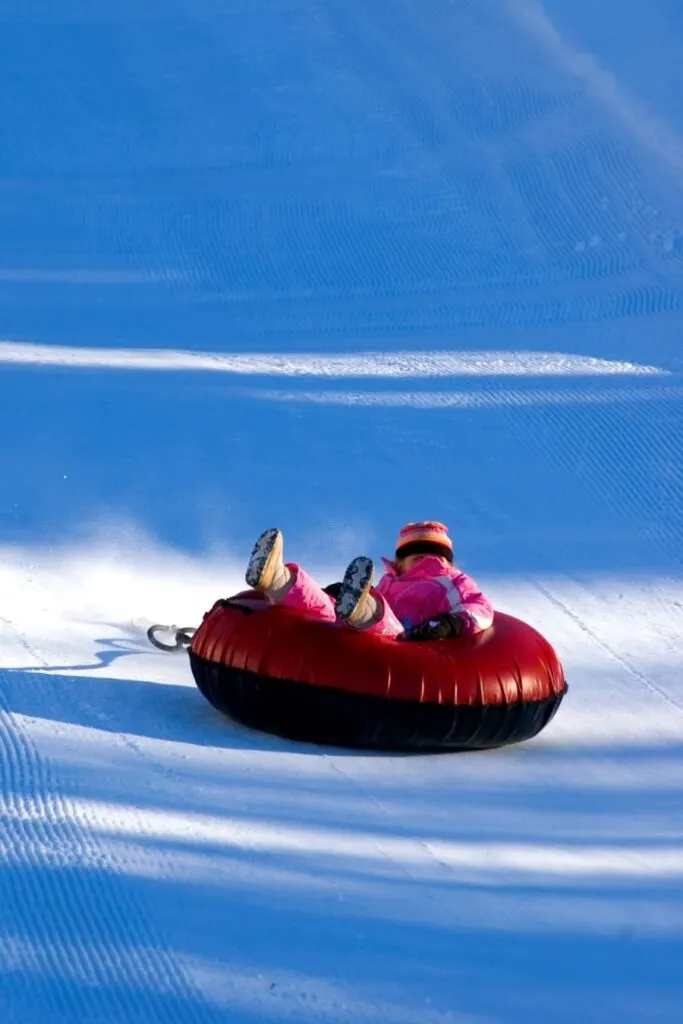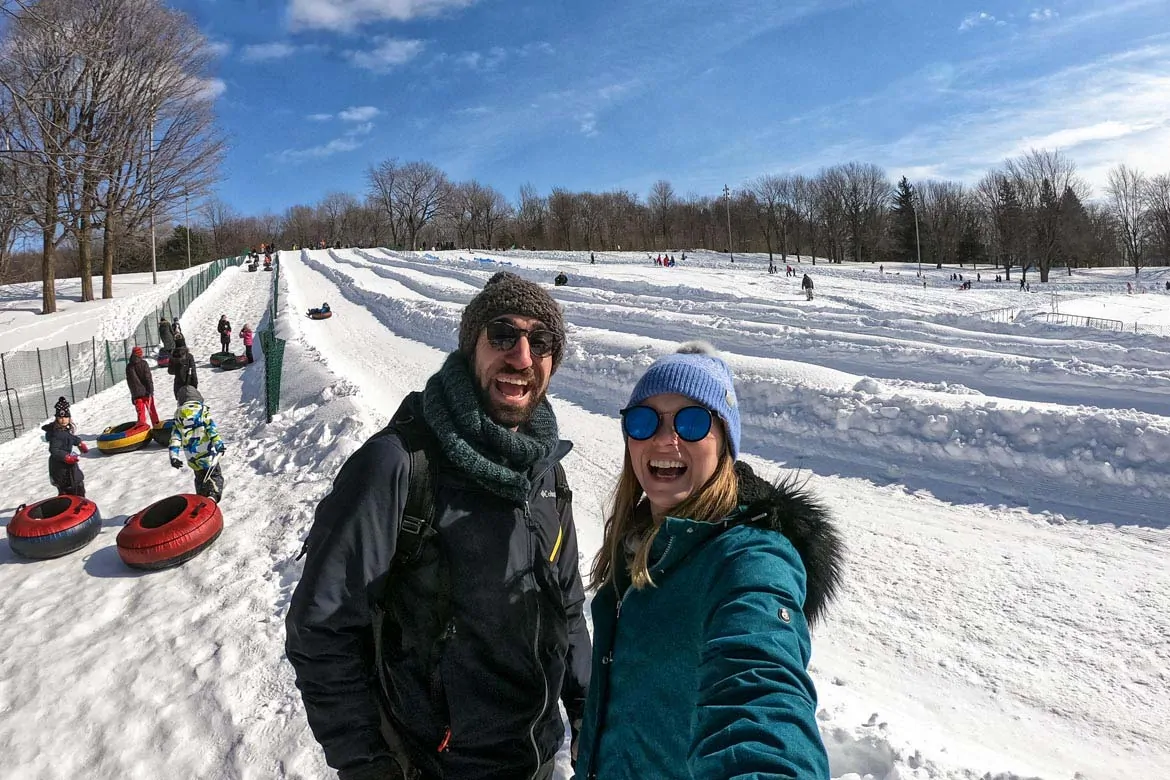 You can go snow tubing just on the other side of Beaver Lake in Mont Royal Park.
The tubes themselves cost $9 per person and only $5 for kids under 11. Also, you can use them for the whole day if you want, though I'd recommend an hour to two hours for this activity.
The snow tubing Mont Royal season runs from mid-December to the beginning of March. The slopes are open from 10am-4pm Monday to Friday and 10am-6pm Saturday & Sunday.
I genuinely think snow tubing is one of the most fun winter activities in Montreal so make sure you add this to your list of things to do in the city!
Snow shoeing at Mount Royal Park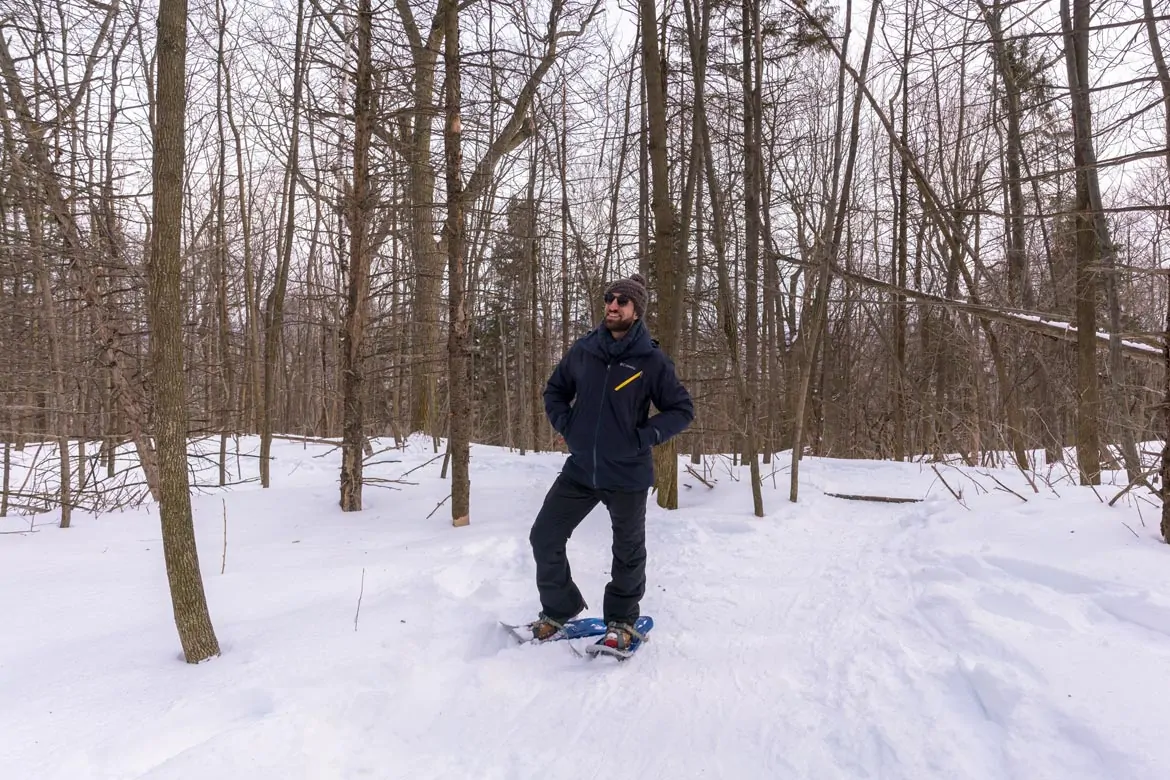 The next adventure activity in Mount Royal Park is snow shoeing.
To me this seems like such a Canadian activity. Just strap some crampons over your shoes and head out into the woods for a few hours. I can barely face going to the shops when it's cold but Canadians will very happily hike in -15 just to be in outdoors.
At Beaver Lake Pavilion (Pavillon du Lac-aux-Castors) you can also hire snow shoes for the day. These cost $15 for three hours.
The snow shoes are basically easy-to-walk-in plastic crampons that bite into the snow when you walk.
Putting them on is very easy – you just place them on the soles of your boots and tighten the straps. Make sure they're done up very tight because they'll be a lot easier to walk in.
Also, I'd really recommend wearing waterproof salopettes if you've got them and very comfortable and waterproof walking boots too. If you're snow shoeing for a couple of hours then you really want to make sure your feet are completely waterproof. Once you get damp and cold feet there's no coming back from that and you won't enjoy it at all.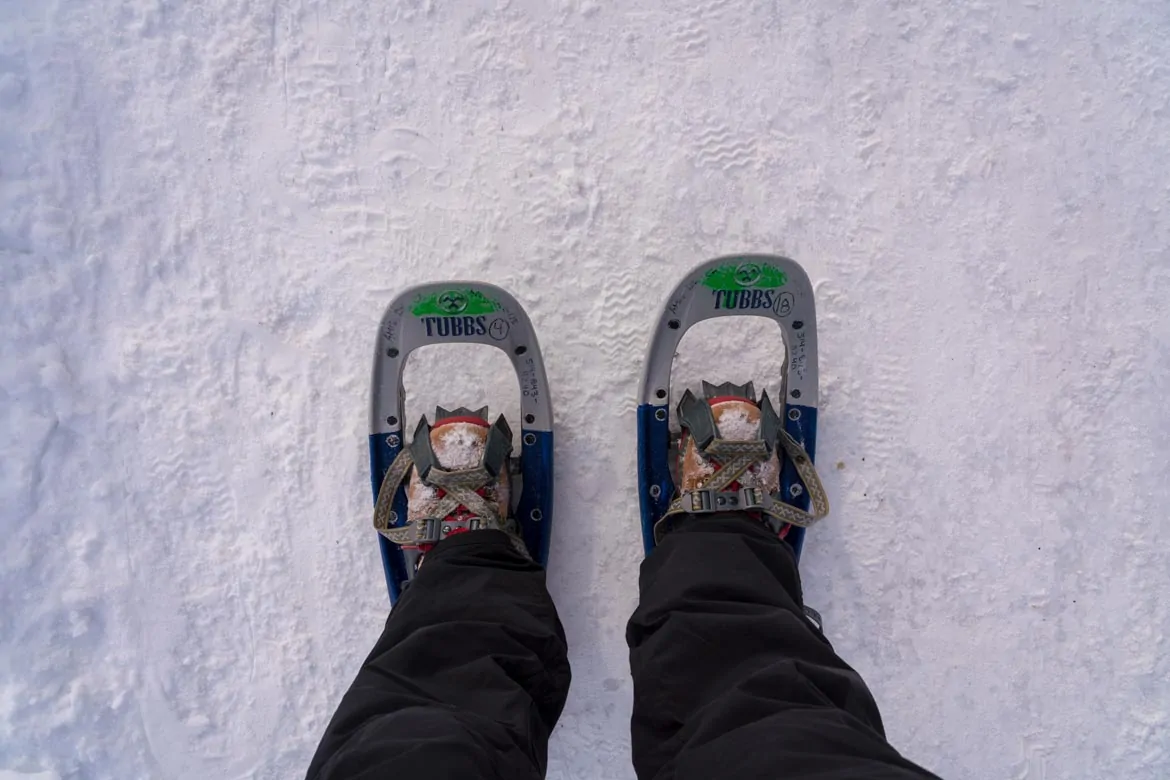 There are a number of trails around Mount Royal Park.
If you speak to the guys at Beaver Lake Pavilion they can give you a few routes. Alternatively, you can follow the yellow hiking signs which will take you around Beaver Lake.
I really enjoyed snow shoeing and I find it so peaceful. After about 15 minutes of walking I was in the middle of the forest and it felt a million miles away from the city.
There aren't many places where you can get off the beaten track and away from everyone so easily as this! This really is one the most accessible Montreal winter activities.
Cross-country skiing at Mount Royal Park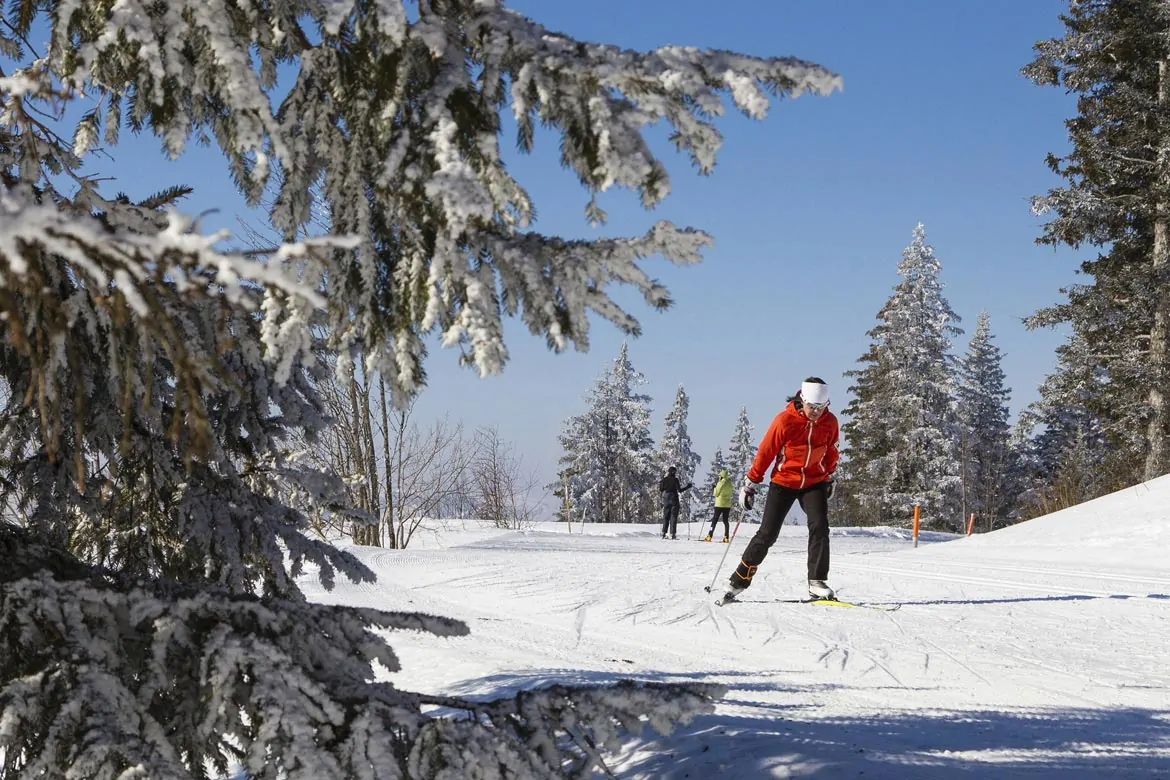 When it comes to things to do in Montreal in winter, cross-country skiing has got to be right up there.
There's nothing quite like going skiing when there's fresh power on the ground, and cross-country skiing is such a good workout too.
In and around Mount Royal Park are a number of cross-country skiing trails that are perfect for a wintry adventure.
In total there are 22 km of groomed trails in Mount Royal Park so lots of opportunities to explore the area.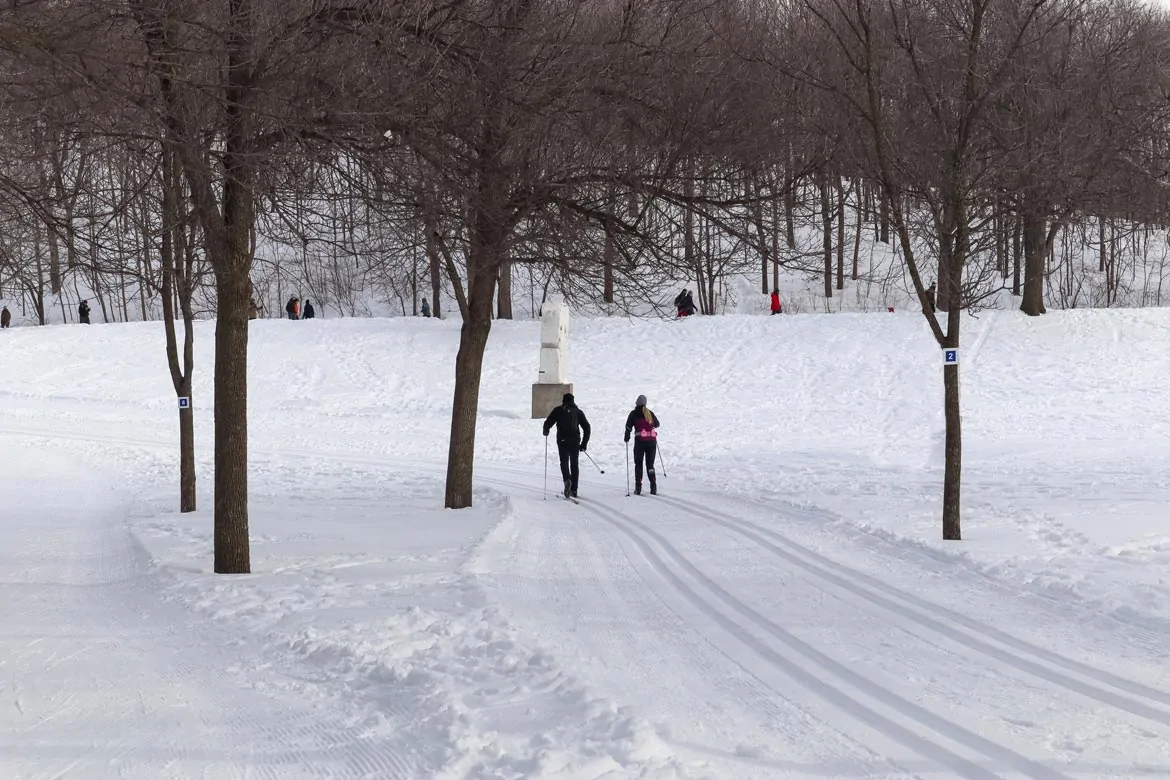 For beginners, you can book a lesson beforehand. Each lesson lasts 1 hour 30 minutes and there's a maximum of 6 people in your group.
This is where you'll learn all about basic ski techniques, how to ski uphill and downhill, and how to improve other techniques on other trails too.
As I've already mentioned, cross-country is a proper workout so be prepared to work up a sweat even when it's -15 outside.
Lessons cost $110 per person with equipment rental. You can also get intermediate and advanced lessons too if you're already a but of a cross-country skier.
One of the best things about cross-country skiing around Mount Royal Park is there are a number of toilets and vending machines dotted around for when you want to stop for a rest.
Also, if you're already a cross-country skier you can hire skis and equipment for $15 for 2 hours. You can find out more information about it all here. For me, this is one of the best Mont Royal activities – hopefully you'll really enjoy this one!
Kondiaronk Viewpoint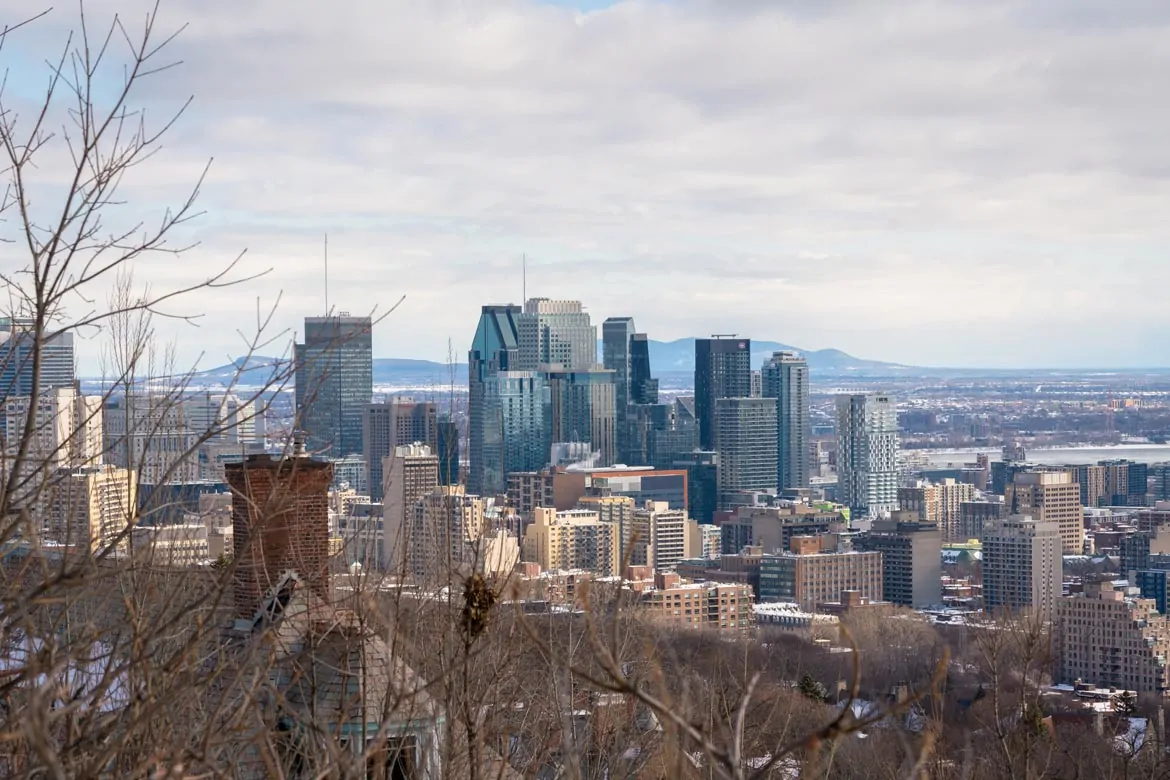 Montreal winter activities don't all have to be skiing and playing around in the snow; you can also go sightseeing too.
One of my favourite views of the city skyline is from Kondiaronk viewpoint.
You can access this viewpoint year round, but Montreal looks especially magical during winter when the city is blanketed in snow.
From this viewpoint you can see downtown Montreal, the Old Port, and Jacques-Cartier Bridge. This is also the perfect spot for sunset in the city.
There are a number of ways to get to the viewpoint. Just follow the signs from Mont Royal Park and you'll be there in no time at all.
Winter Tours in Montreal
---
This post was in association with Destination Canada and Tourisme Montreal for the campaign 'Fall in Love with Canada'. As always, views are entirely my own and without bias.
Are you planning on doing any winter activities in Montreal? Do any of these take your fancy? Let me know in the comments below!
Like this blog post? Then make sure you Pin it!