Heading to Montreal for a winter city break? Then here's how to plan the perfect 3 days in Montreal including the best things to see & do in the city!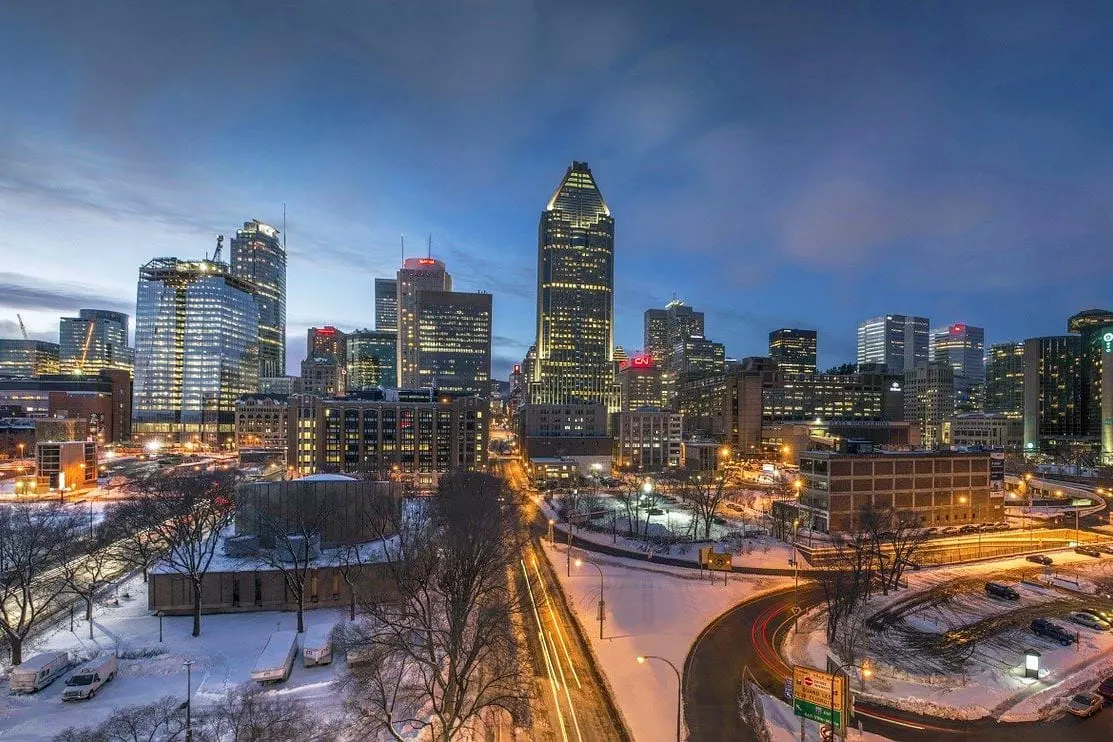 If you've never been to Montreal before you're in for an absolute treat. It is this beautiful blend of French flair and cool Canadian vibes, and it is such a friendly and welcoming city too.
After spending 3 days in Montreal it is quickly becoming one of my favourite cities in all of Canada. It just has so much going for it – amazing architecture, incredible food, very different and distinct neighbourhoods. It's just one of those places where you immediately feel comfortable walking around in.
As a little taster, check out my video on some of the best things to do in Monteal in winter!
Why Montreal
One of the things I adored about Montreal is how easy it is getting outside in nature (though that's a very common theme in Canada!)
Mount Royal (where the name Montreal comes from) stands over the city, and people flock here for their adventure activities during the winter and the summer.
As I found out for myself, you could be wandering the streets of downtown in the morning and 20 minutes later be playing around in the snow ice skating and hiking – there aren't many cities around the world where you can do that.
On my Montreal 3 day itinerary, I spent a lot of time explore all the city had to offer, but I also visited Mount Royal Park a couple of times too. I really enjoyed being outdoors even though it was freezing cold.
I've written a separate post all about my favourite winter activities in Montreal. If you love things like skiing and snow shoeing then I really recommend you check it out!
Winter in Montreal
I'll say this now, winter in Montreal is cold. Like really really cold. If you're not prepared for it then the winters here can be brutal. However, as long as you bring lots of layers and wrap up warm you'll be absolutely fine.
Montreal has the longest pedestrianized underground walkway of any city in Canada. Basically, you can get to wherever you want in the city all underground and avoid the cold and snow.
Technically, winter in Montreal lasts from December until April. The average temperature in December is a daytime high of -2oC and a nighttime low of -9oC. Expect snow for when you're there in December.
In January and February, the temperatures are around the same. In March, thing begin to hotten up but again, it can still snow so make sure you're prepared.
I will say that it is a very dry cold though. The coldness doesn't seep into your skin like a lot of other places. Just try not to show any bare skin at all!
Montreal is a city obsessed with food
Montreal is also a huge foodie destination. The locals are so passionate about their food that all the best restaurants in Montreal are busy no matter what day it is.
Montreal has more restaurants per capita than any other city in north America. That means new restaurants are opening up every single week and only the best survive. That means you're guaranteed amazing food when you visit here.
Like I always do, I found one of the best ways of getting to know Montreal was through its food, and it is so much more than bagels and poutine.
There's a big Vietnamese population in Montreal, so the Vietnamese you'll find it top notch. I genuinely had the best pho I've ever had outside of Vietnam.
Also, with such a French influence, there's a big emphasis on fine dining. Even though they don't have the Michelin guide here, restaurants like Europa rival any in the world.
So, if you're looking for an amazing Montreal itinerary packed full of all the best things to see and do in the city, this is what I recommend you do if you've only got 3 days in Montreal in winter!
Travelling to Montreal city centre from the airport
Montréal-Pierre Elliott Trudeau International Airport is just 20km from Downtown Montreal.
That doesn't sound far, but there are so many roadworks going on in the city that the drive can take anywhere from 15 minutes to an hour.
Unfortunately there's no metro or train station at the airport, so the best way of getting into the city centre is by bus or by taxi.
The 747 busline is 24/7 service that runs between Montreal airport and the central bus station (Gare d'autocars de Montréal – Berri-UQAM métro station).
You need to buy a ticket (CA$3.25) before you board the bus. The STM information counter is located in the international arrival area or find an STM representative near the bus stop outside the airport.
If you're staying at a nice hotel it's likely they'll arrange an airport shuttle for you. When you're heading back to the airport just bear in mind it can take a little longer than you'd expect.
– Where to stay in Montreal –
One of the things I found quite surprising about Montreal was how many different neighbourhoods there are.
A few of the places I explored in my time in Montreal were The Plateau, Mile End, Little Portugal, Griffintown and Goose Village – and that's barely even scratching the surface of the neighbourhoods in Montreal.
The two main places where tourists stay are Downtown Montreal and Old Montreal.
Downtown Montreal is where you'll find all the high-end hotels, but don't let that put you off because there are a number of budget options too.
On my last night in Montreal I stayed at Hotel Ambrose, a really cute hotel that only cost £60/CA$105 per night. That goes to show there are some really fantastic budget hotels in the city if you shop around.
At the other end of the scale, I also stayed at Le Mount Stephen Hotel which is one of the best hotels in Montreal. This place is a beautiful blend of old-fashioned country manor when you walk in to uber-modern rooms. Also, they have one of the best bars in the city too that was packed in the evenings – always a good sign! I'd really recommend staying at either of these two places.
Old Montreal is towards the Saint Laurence River and is a cluster of cute cobblestone streets. There are a number of bars, cafes and restaurants, but there are a few hotels dotted around the area too.
Old Montreal was one of my favourite places in Montreal so I really recommend you spend some time here. It's very easy to lose yourself on the streets popping into shop after shop!
– Tours in Montreal –
– Montreal Itinerary: Day 1 –
Montreal Food Tour in winter
Whenever I get to a new city, especially one with such an amazing foodie reputation like Montreal, I book myself onto a food tour. I always think they're the best way of getting to know the tastes of a city, and there's usually loads of background history of the area too.
In Montreal I went with Local Food Tours. They're the biggest tour company in the city and considered the best.
Their Old Montreal food tour took me through the heart of Montreal's historic district and took 3 hours.
Along the way we tasted things like bagels (arguably better than New York bagels), a delicious smoked duck washed down with craft beer, and of course poutine, Canada's way of elevating the humble chip.
We also tried pouding chômeur. This is translated to "unemployed pudding" highlighting its meager origins. It's tastes a lot like a sticky toffy pudding and is just as delicious.
I always love these sorts of food tours and they're an amazing way to get a few restaurant recommendations while orientating yourself with the city too.
If you've only got 3 days in Montreal then this is one of the top activities I'd recommend. I have to admit I really loved my Montreal foodie tour!
Cost – $67 dollars per person for a 3-hour tour and includes all food and drink.
Montreal Archaeology Museum
Also located in Old Montreal is the Montreal Archeology Museum.
This is a fascinating museum explaining the origins of the city – and it's a lot older than you think!
The city of Montreal was founded in 1642 when the French established a settlement here (though First Nations tribes were in and around the area a lot longer than that).
The museum has collections of artefacts from the First Nations and goes into how the French and British regimes influenced the history of this territory over the years.
What's really unique about the museum though is that you can explore the history of the area through an original underground circuit leading through archaeological excavations.
It's also a fantastic place for a photo too. As a photographer I would say that though!
Cost – tickets cost $19 per person and I recommend spending about an hour or 2 at the museum.
Notre-Dame Basilica
The Notre-Dame Basilica in Montreal might just be the most beautiful church I've ever stepped foot in.
It's not much to look at on the outside – austere grey stone and harsh lines – but that only makes the inside even more magnificent.
The ceiling looks like a starry night and there is gold wherever you look. I was quite surprised at how colourful the church was too – it's not what I imagined at all.
Unusual for a church, the stained glass windows along the walls of the sanctuary do not depict biblical scenes, but rather scenes from the religious history of Montreal.
Unfortunately I didn't go, but in the evenings there is an amazing light show inside the Norte-Dame Basilica which is supposed to be well worth seeing. Tickets for the light show cost $26.50 and runs for 2 hours.
This place really is a must on your 3 days in Montreal itinerary. I can't recommend visiting this place enough.
Cost – tickets for Notre-Dame Basilica cost $8 per person (and free if you are attending mass).
Catch a show at Théâtre Maisonneuve
I went to the Théâtre Maisonneuve on a Friday night and it was PACKED! It's obviously one of the places to be in Montreal and you could tell that the locals really loved coming here.
The theatre itself is located in Place des Arts and showcases world-class musicians, orchestras, plays – you name it and they'll play it here.
When I was in Montreal there was a contemporary dance performance by legendary dancer Akram Khan and it completely blew my mind. I'd never seen anything like it and it was such a clever use of space and music intertwined together.
For something a little different and to live life like a local for the evening, I really recommend you watch a show at Théâtre Maisonneuve – it's such a great experience!
Cost – it obviously completely depends on who's playing. Head on over to their website for more details!
Have dinner at LOV
LOV stands for 'Local, Organic, Vegetarian' and it is one of the best vegetarian restaurants in Montreal. In fact, it's one of the best restaurants in Montreal period!
Everything on the menu is 100% vegan and homemade with natural ingredients. They also have a big eco-friendly, so this restaurant is not only delicious but environmentally sound.
LOV is more of a small plate restaurant so I really recommend trying a few things on the menu. I really enjoyed the beetroot salad, and if you want a different take on an old classic then try their vegan poutine.
Also, this restaurant is very Instagrammable. Pictures of your food is very welcome here – just don't spend too long at the flower wall in the entrance!
– Montreal Itinerary: Day 2 –
Snow tubing & snow shoeing at Mount Royal
For me, this is a real must of your Montreal 3 day itinerary. I mean, you can't come to the city without getting outside and in the snow!
As I've already said, I love the fact that Mount Royal Park is just a short ride away from the city centre. If you're staying in Downtown Montreal you can catch a taxi and be at the top of the park in just 15 minutes. Or, if you're like me, you can catch the bus which still only takes 30 minutes.
As I was in Montreal in winter there were loads of winter activities to do. In fact, I managed to squeeze in ice skating, snow shoeing through the forest and snow tubing down the hills all in a morning.
I think of the 3 activities ice skating was my favourite, but if you're really looking at getting away from it all then I really recommend the shoe shoeing. After about 15 minutes of walking through the forest you'll be completely alone. The city feels a million miles away when you're here!
Cost – Skates: $10 for 2 hours, Snowshoes: $15 for 3 hours, Snow tube: $9 per tube.
Montreal Museum of Fine Arts
If you're looking for one of the best museums in the city then I really recommend the Montreal Museum of Fine Arts.
This is the largest museum in the city and there are always some fantastic exhibitions going on here. When I was visiting the city there was an Alexander Calder exhibition, so they really do get some of the world's best artists.
The museum's original temporary exhibitions combine various artistic disciplines – fine arts, music, film, fashion and design. They had a room that looked like a 1960s London flat just on a much bigger scale.
The museum is spread across 5 pavilions so you can easily spend a few hours here wandering from room to room. I'd say this is one of the top things to do in Montreal in winter.
Cost – entrance into some of the main collections are free. Tickets for the temporary collection cost £15 per person for ages up to 30 and then $23 for over 30s.
Amaze Escape Room
No matter where I am around the world I always love an escape room. I know you can do them anywhere but they're always guaranteed to make me happy for an hour!
While I was in Montreal I tried out Amaze Escape Room. They're famed for being among the hardest escape rooms in the city so I thought I'd give it a go.
I went for the Mad Scientist Lab and it was proper difficult. Did I escape? NO! SO HARD! But it was really great fun so I'd definitely recommend this place if you've got a spare hour in the city.
Cost – $25-35 per person (depending on how many people play) for a 45 minute game.
Les Enfants Terribles Restaurant
Les Enfants Terribles combines delicious food with some of the best views in the city.
Located on the 44th floor of Place Ville Marie, this is one of the tallest buildings right in the heart of the city.
That means if you bag yourself a table by the window you've got these incredible views of the city sprawled out below. It was only from here that I realised how big Montreal is – the city really goes on and on.
The food is really good too, and for a restaurant in such a sought-after spot it was really reasonable too. Mains varied from $18 to $38 so a great price point, especially when you get the view too.
I came here for a very romantic evening when the city was lit up at night, but I reckon it'd be even better at lunchtime so you can see the city in daylight. This is a great place to add to your 3 days in Montreal guide.
Alternatively, it's a fantastic spot for sunset cocktails!
– Montreal Itinerary: Day 3 –
Bota Bota spa
I genuinely wish every city had a place like Bota Bota.
Bota Bota is an old car ferry that they've transformed into a luxurious spa and moored on the Saint Laurence River itself. So it's a spa boat ON the river. How cool is that!?
There are two main sections to Bota Bota – the boat itself and the garden (which is in a separate section). The boat section is where they have all the treatment rooms and it is a silent zone so no talking. The garden is much more relaxed where you can talk.
At Bota Bota you're supposed to go through a water circuit. This is where you sit in a sauna or stream room for 10/15 minutes, jump into a freezing plunge pool for 15/60 seconds, and then relax in one of the meditation rooms for 20 minutes.
During winter they have a section at the back of the boat where you can jump into the river itself.
With outside temperatures of -15 it's not for the fainthearted but obviously I had to give it a go and I loved it!
If you're here during winter then you've just got to give it a go!
Cost – a day pass for Bota Bota costs $60 per person (and $70 on weekends). It only costs $40 for a 3-hour pass if you book before 10:30am.
Ice skating at the Old Port
If you're looking at what to do in Montreal in winter then look no further than the Old Port.
The Old Port in Montreal was probably my favourite area in the city, and it had a lot to do with the ice skating there.
Located opposite Bonsecours Market, this ice skating rink is a big loop taking you around the Observation wheel in the middle. Honestly, it is so beautiful here, and even though you can see the skyscrapers it feels a million miles away.
I would say this is one of the best family friendly activities in Montreal and kids can use plastic penguins to help them stay on their feet. I even saw someone skating with a pram!
Cost – $6 for skate hire.
Ride the Observation Wheel at Old Port
Also down by the Old Port is the Observation Wheel.
If you're looking for one of the best views of the city then get yourself a ticket, sit back and enjoy the cityscape.
The Observation Wheel is open from 10am till 10pm, so it depends what views you want. I came for sunset and I loved watching the city turn from orange to pink to a deep purple.
Rides here take 20 minutes. Also, at the base of the Observation Wheel there's a bar, a bistro and a coffee shop too. If you're in Montreal in 3 days then you should have time to squeeze in this activity.
Cost – tickets cost $25 per person for a 20 minute ride. You can get an anytime pass here.

Crazy golf at Putting Edge
Big kid activity again!
Located in Downtown Montreal is Putting Edge, an underground glow-in-the-dark crazy golf course.
What I really liked about Putting Edge is it's an 18-hole course so you actually get to spend a bit of time playing unlike a lot of other courses I've been to.
This place is really fun for an hour and I went here before hitting a few bars nearby. Just don't get too competitive with your partner!
Cost – tickets cost $12 per person for an 18-hole game.
Hotel deals in Montreal
Are you looking for a good hotel deal in Montreal? Then check out some of the best options below:
---
This post was in association with Destination Canada, Quebec Original and Tourisme Montreal for the campaign 'Fall in Love with Canada'. As always, views are entirely my own and without bias.
What have you got planned for your 3 days in Montreal? And what are some of your favourite things to do in Montreal? Let me know in the comments below!
Like this blog post? Then make sure you Pin it for the future!