'Ticking' off one of the world's most popular dive sites
Out from the murky depths below emerged a black shadow. Almost like a figment of my imagination, it was gone with a blink of the eye.
Straining to see into the blue abyss, the only thing I could hear was the rhythmic rattle of my regulator, in and out, in and out.
Then, to the right of me, another shadow emerged. Then another, until all of a sudden I was at a depth with 10-12 grey Caribbean reef sharks gliding effortlessly below me, almost mirroring the birds flying overhead in the sky with me floating somewhere inbetween the two.
I was only five minutes into my dive of the Blue Hole and I was already loving it.
The Blue Hole, otherwise known as the Great Blue Hole, is a large submarine sinkhole two hours off the coast of Belize.
I didn't realise how large the Blue Hole was – it's over 300 metres across and 124 metres deep – and when you're in the middle of it it's hard to imagine you're in a sinkhole at all as you can't see the sides.
This site was made famous by Jacques Cousteau who declared it one of the top 10 dives sites in the world, and diving enthusiasts have been flocking here ever since.
Also, in 2012, the Discovery Channel ranked the Blue Hole as the number one on its list of "The 10 Most Amazing Places on Earth"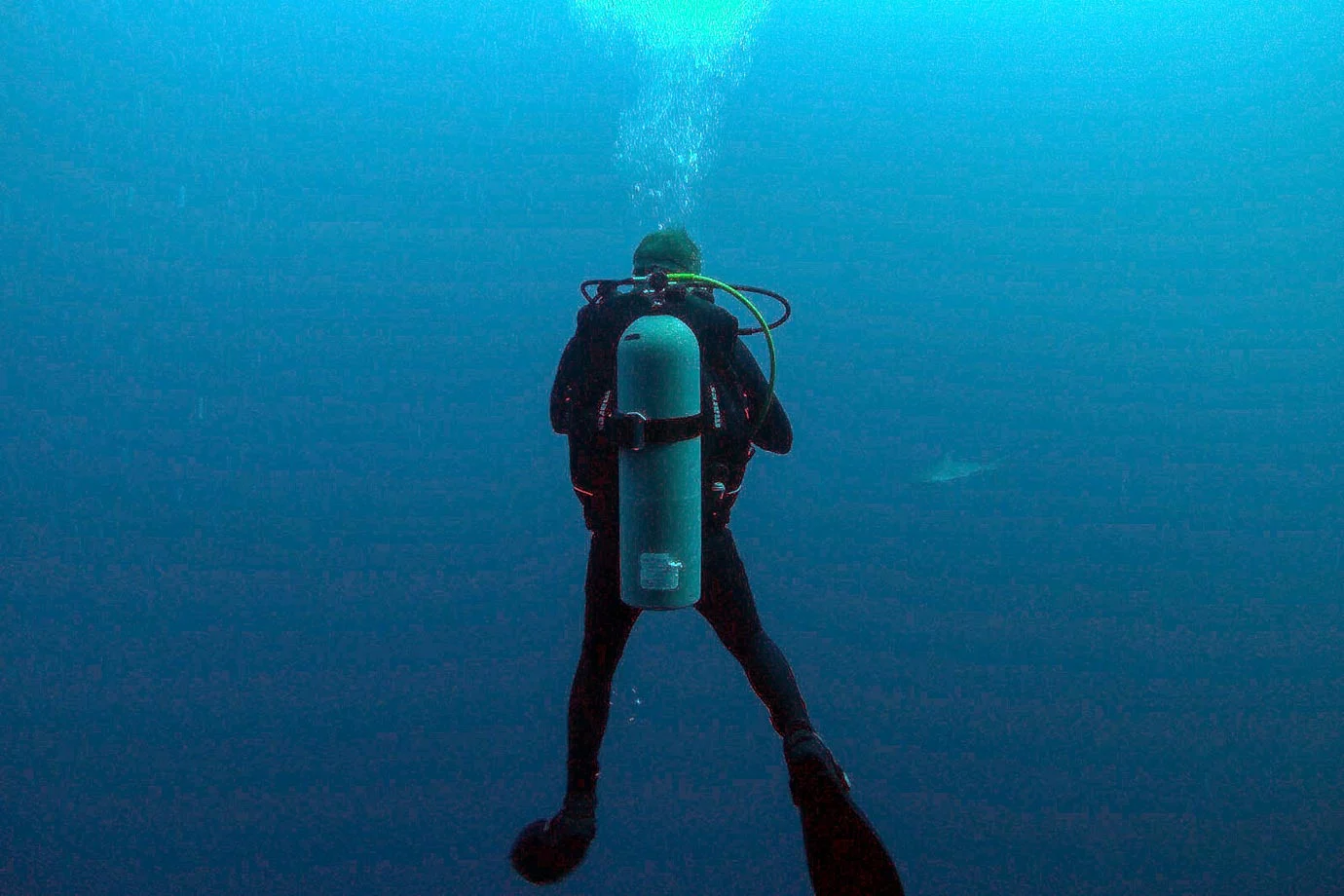 To be honest with you, my expectations of the Blue Hole were quite low. A lot of divers, especially new, inexperienced divers think it is quite overrated, a "bucket list dive" to tick off at the earliest opportunity, but I loved every minute of it, mainly because it is a dive site like no other.
It's not about the coral or the marine life (though you can see sharks), but it's about the mystery of diving in such an unusual place.
At around 30/40 metres you can swim in and out of stalactites in murky blue water, giving an extremely eerie and other-worldly feel to the situation – where else in the world can you do that?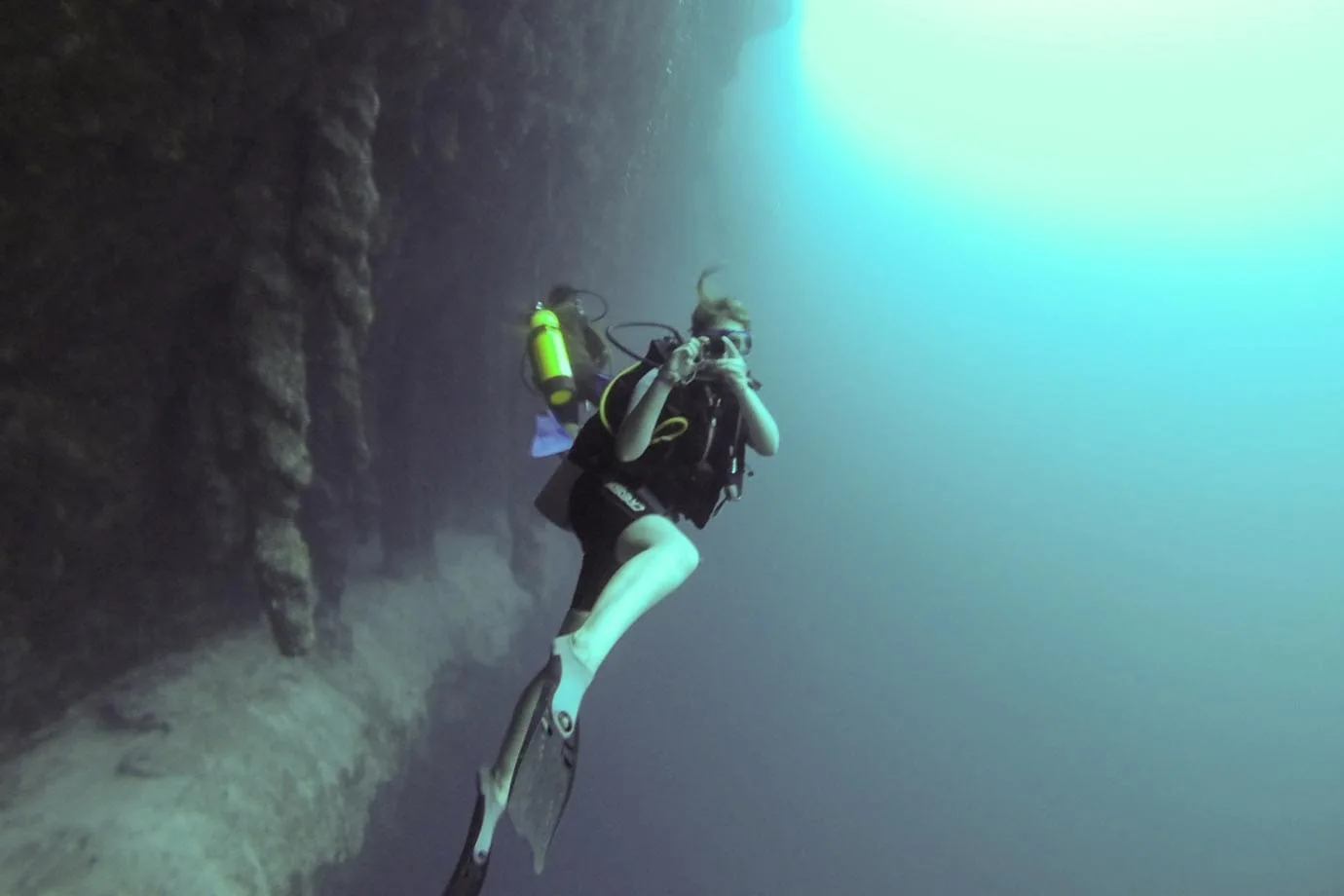 Based on the island of Caye Caulker, I dove with an outfit called Frenchie's, one of the only dive shops that remains open throughout the low season of Belize. Also, they have a number of local Dive Masters (which I always like) who know each dive site inside-out.
After an early 05:30 wakeup call and a breakfast of strong black coffee, it took two hours to get out to the Blue Hole.
There were seven of us in our dive group and we were soon briefed on the dive site. We were told we could drop down to 40/45 metres – I always love a deep dive.
Soon after we were in the water swimming with grey Caribbean reef sharks, all of us enthralled with what we were seeing.
With a bottom time of 25 minutes, the Blue Hole isn't the longest dive, but it does make you appreciate every second of it.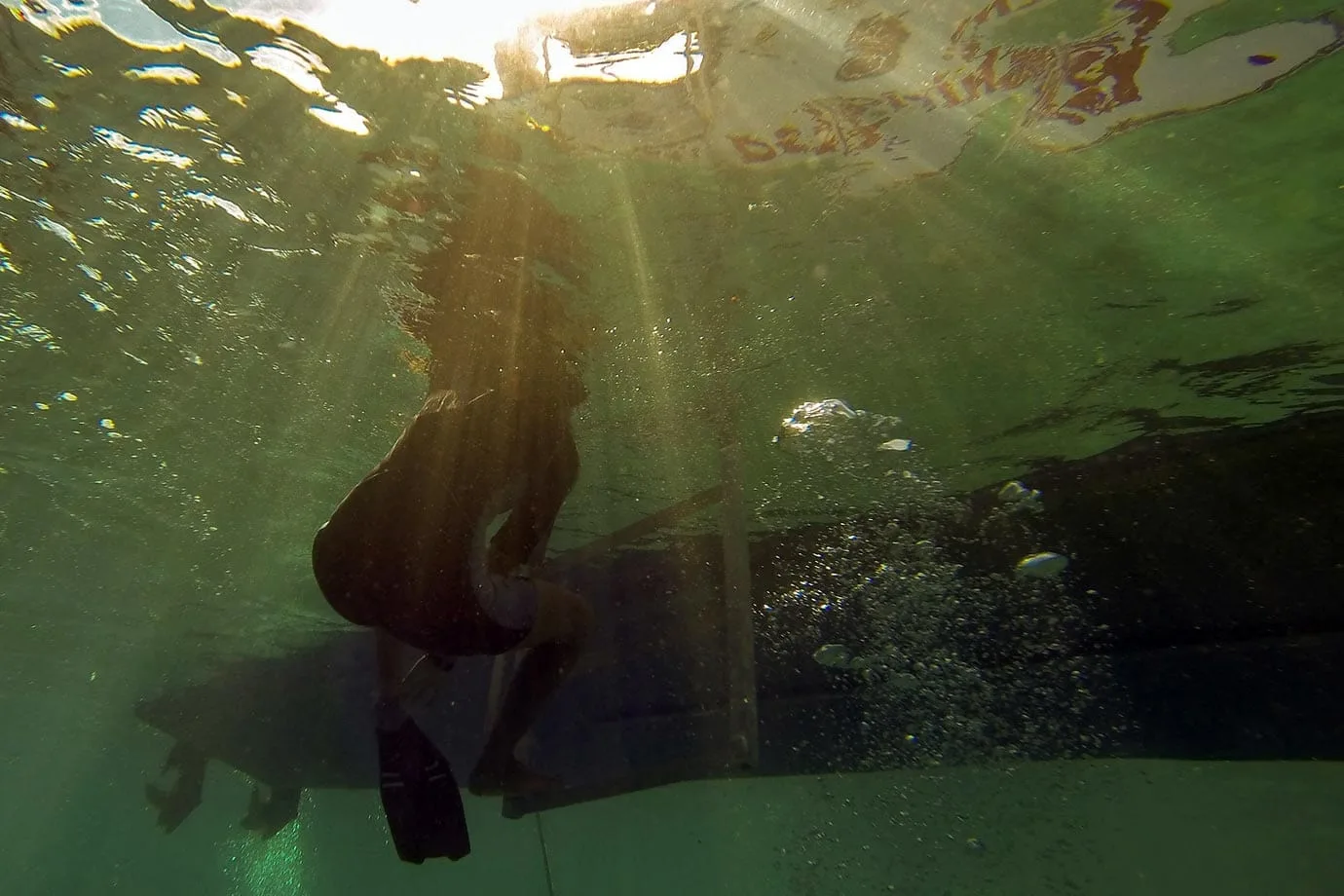 We were soon back on the boat and heading over to our second dive site. All of this area in Belize is a protected marine reserve which means two things – firstly, it's pretty unlikely you'll see anyone else here, and secondly, the water is teeming with life.
On that second dive we saw some more sharks, a large green moray eel swimming out of its hole and a spotted eagle ray silhouetted by the sun overhead.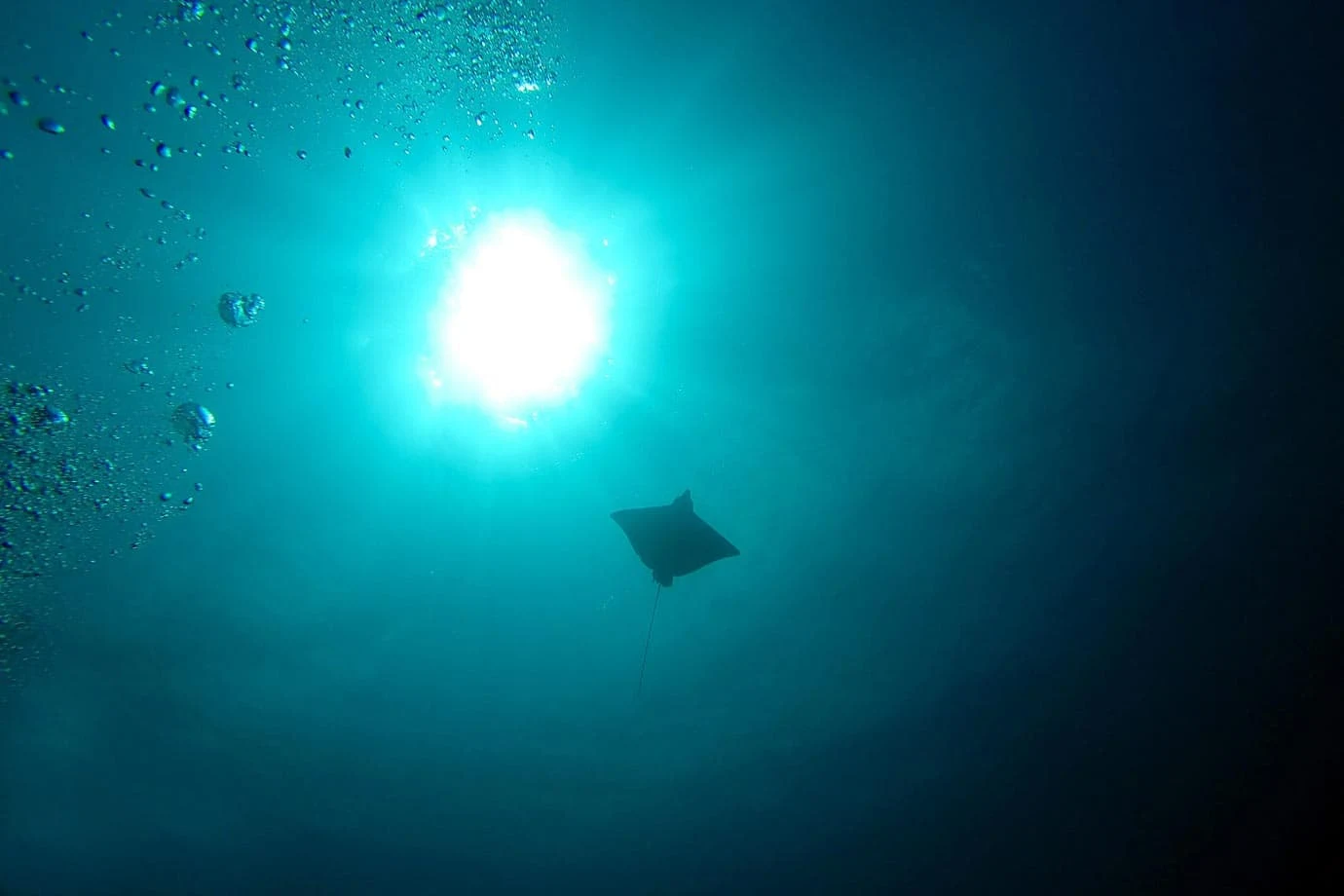 One of the things I love about diving is it really gives you the opportunity to explore above the water as well as below it, and for lunch we stayed on one of the protected islands in the reserve.
The island, Long Caye, was tiny, no more than half a kilometre long, yet a handful of park rangers live there all year long ensuring the safety of the turtles that hatch on the beach. Apparently you can stay on the island, and Frenchie's do overnight trips for people which I can imagine would be an amazing experience.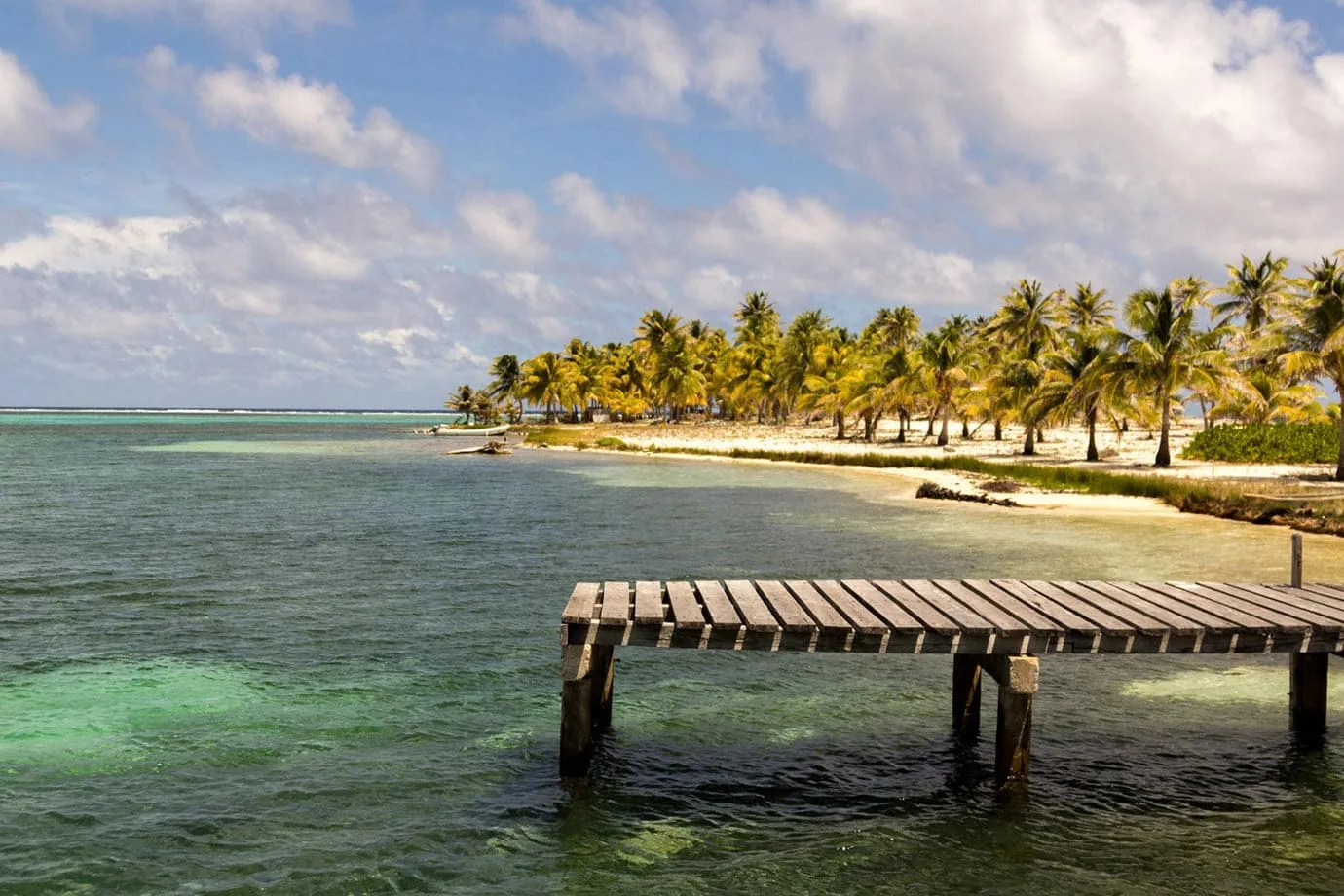 Our third and final dive was out at Long Caye Aquarium, and it was almost as if Frenchie's had saved the best till last.
If the Blue Hole was all about an unusual dive site, then Long Caye Aquarium was all about the marine life; it really had everything.
To cap off a great dive and an even better day, as we were heading back to the boat we came across a huge two-metre roughback stingray, the first time I've ever seen one.
And as this was Belize the trip wouldn't have been complete without a few glasses of rum punch on the way back to Caye Caulker. UnBelizable.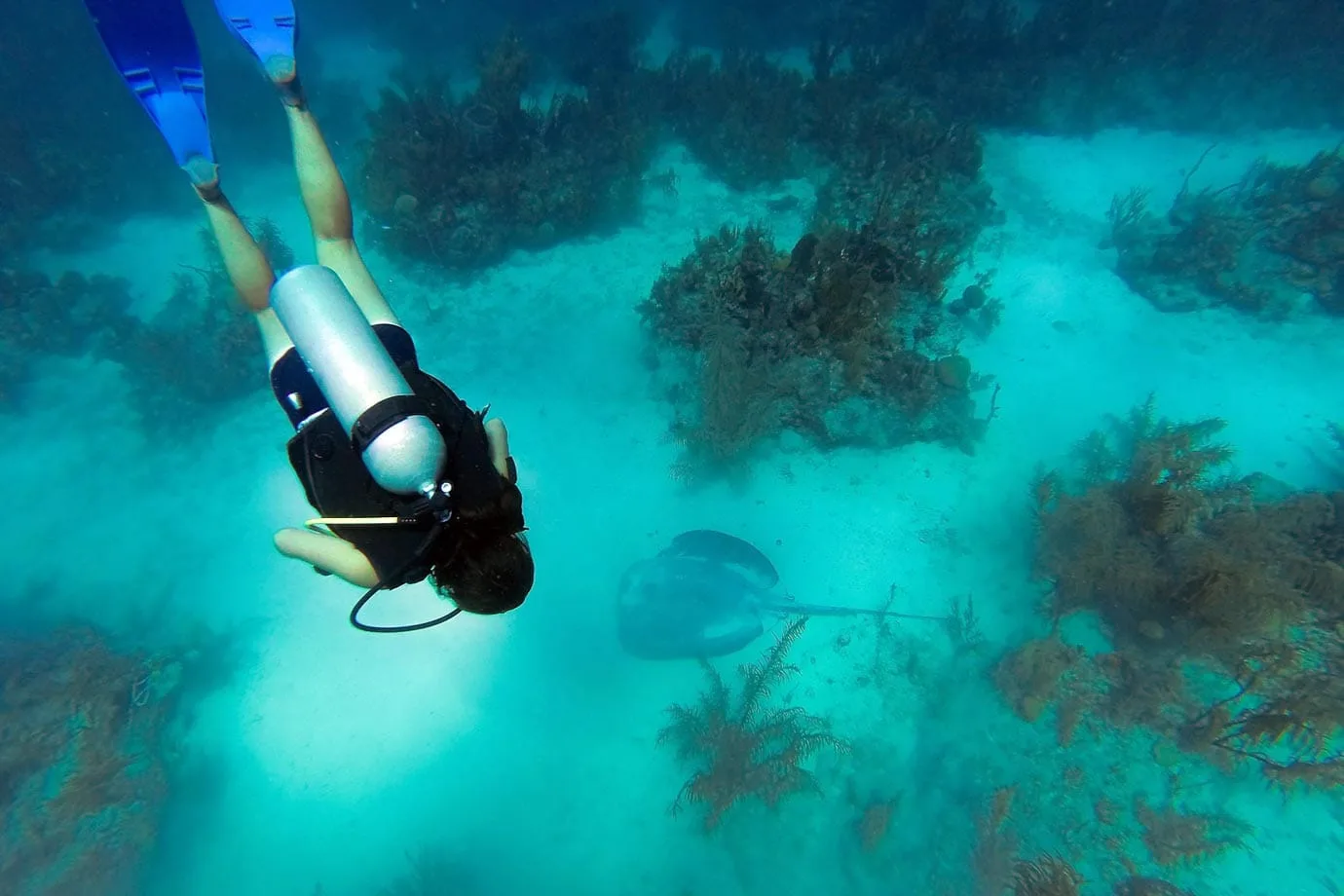 Diving the Blue Hole is expensive at BZ$480 (approximately €190) for the entire day (including breakfast, lunch, the marine park fee, transport and all equipment hire), but if you're a diving enthusiast then it is well worth it.
There's no doubt about it, the Blue Hole is a "bucket list dive", but for good reason; there's nowhere else like it.
Don't just tick it off your list but enjoy the Blue Hole for what it is; you'll never know when you'll be back again.
Save