Are you thinking of hiking Volcan Villarrica in Pucon, Chile? Then check out my guide packed full of info all about the Villarrica volcano hike!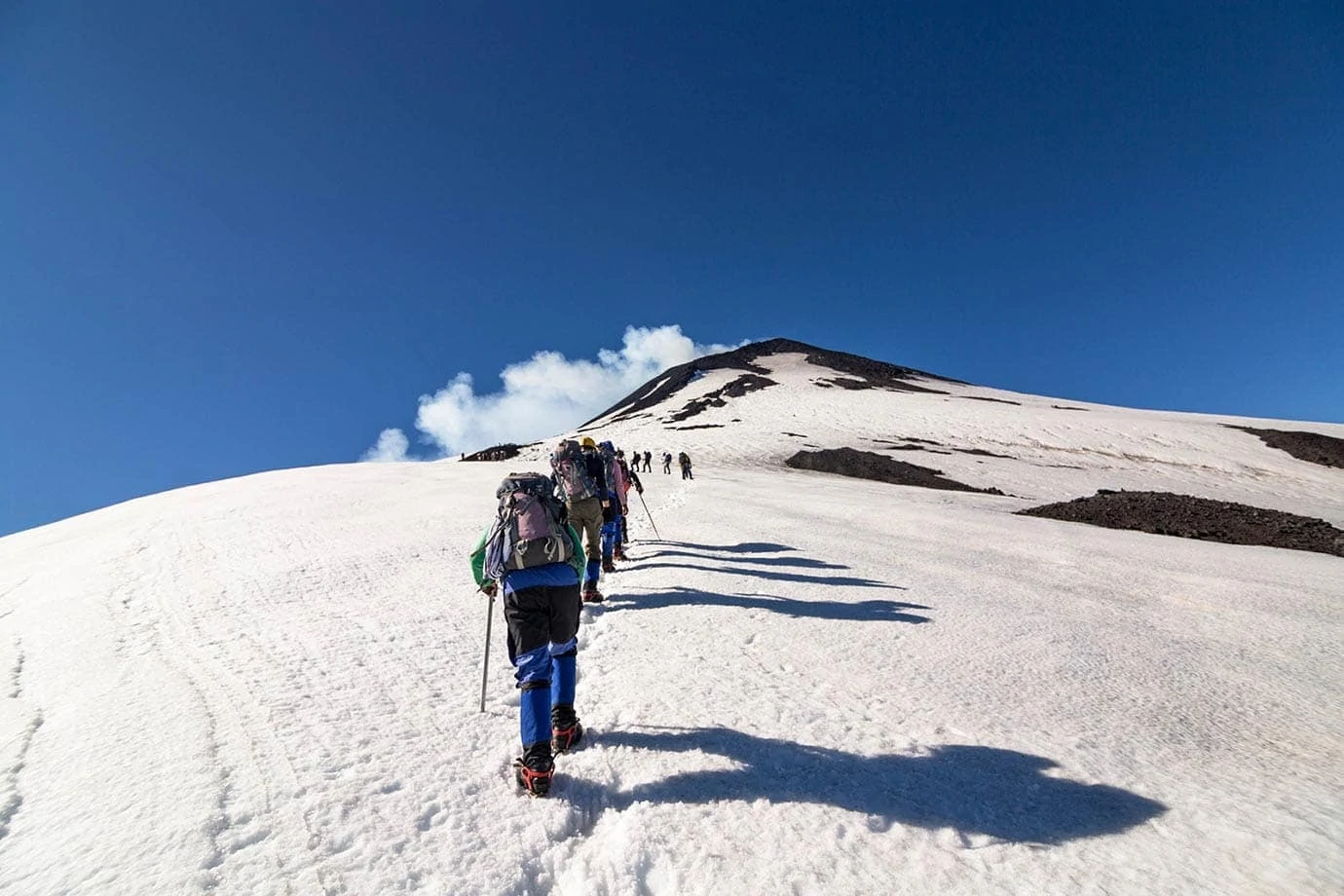 So, you want to hike to the top of Volcan Villarrica, one of the most active volcanoes in Chile? Well who can blame you, it's one of the best hikes you'll ever do!
When I heard you can climb to the top of an active volcano, I knew I had to visit Pucon to conquer that challenge. I love hiking at the best of times but add in sunrise, a steaming volcano and sledding down some snow and I'm like a little kid at Christmas. Nothing makes me happier than a hard hike with beautiful views.
Let me say this now though. The Villarrica Volcano hike isn't for the faint-hearted. It's tough, a fair few people drop out along the way, but if you make it to the summit it is an experience like no other.
Personally, I really can't recommend this activity enough. If you're still interested then make sure you keep reading my guide all about the Pucon volcano hike!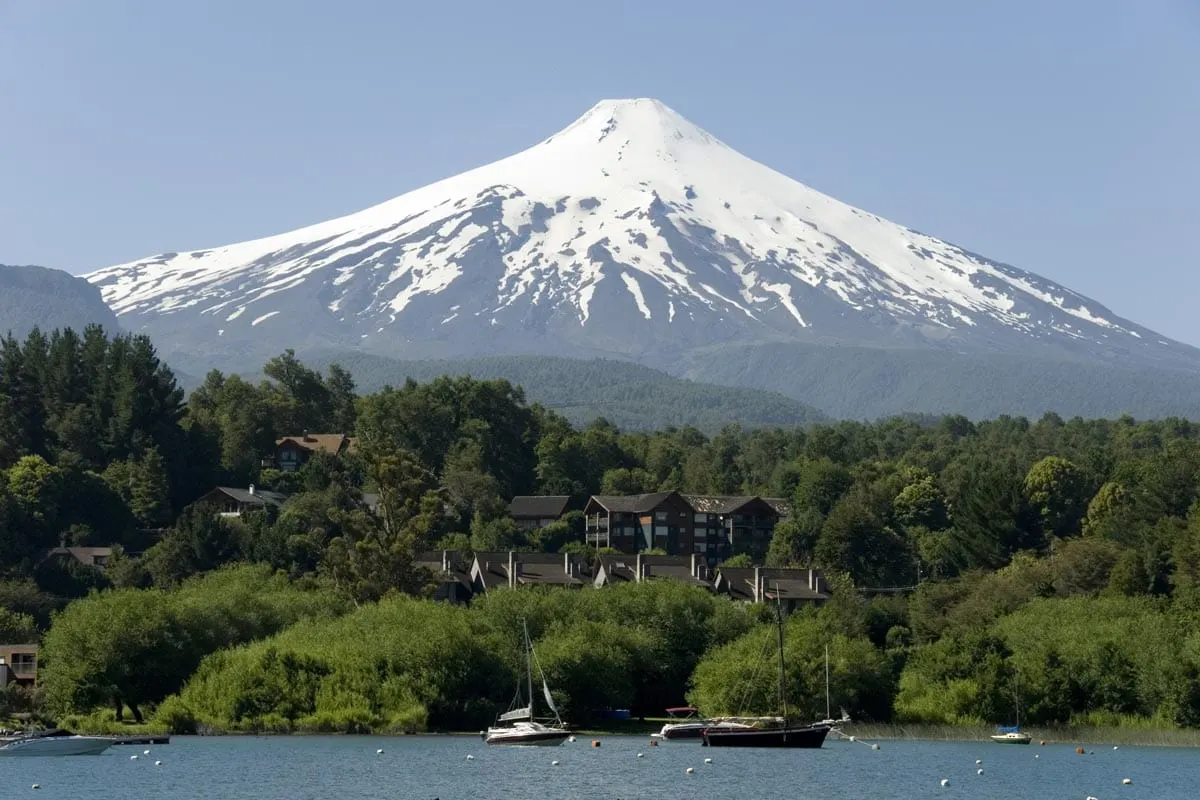 My experience of the Villarrica Volcano hike
I tentatively put on my gas mask, securely sealing it in place before climbing the final few hundred metres to the summit.
At the top, clouds of sulphur were pouring off the active volcano making my eyes water. That didn't stop me grinning from ear to ear though.
To the right of me I could see the crater of Villarrica Volcano, the rock tinged yellow from all the sulphurous gas, while to my left I could see a huge white glacier, a place where hardly anyone steps foot.
Turning around, I looked down the volcano past all the ice and snow to Lake Pucon glistening in the midday sun. It was amazing seeing how far we'd come in just one morning.
It didn't matter that I was only 2,848 metres high, it felt like I was on top of the world. This really was a hike like no other.
An early morning wake up call for the Pucon volcano hike
My alarm went off at 5:30am. Not the earliest of starts, but still enough to question what I was doing.
Armed with my packed lunch and water for the day, I walked the 10 minutes from my hostel to Zenit Travel, the guys who I was climbing Volcan Villarrica with for the day.
There, I grumbled a hello to everyone as they already had their kit laid out before them. Almost in solemn silence, we started packing our bags for our hike that day.
Despite the early hour, Agustin, the owner and chief guide of Zenit Travel, was already working at a million miles an hour making sure everyone was happy and comfortable with their kit, stating that it was a good day for climbing.
Once we were all ready, we jumped into the minibus and made our way to Volcan Villarrica National Park.
If there were any doubts about climbing an active volcano, one that erupted as recently as March 2015, now would've been the time to back out. Thankfully, no one did.
Driving to Volcan Villarrica
After a 45 minute ride, we arrived at the car park in Villarrica National Park at the bottom of the volcano.
I'm not going to lie, I was so surprised at how many people there were rushing around getting ready for the climb.
I thought there would be a few dozen people climbing Villarrica volcano, not a few hundred people. Saying that, Agustin assured me that once we got on the volcano itself it wouldn't matter. We'd find a climbing slot that'd make it feel like it was just us.
Considering he's been doing this for years I had a feeling he was right.
After a brief demonstration from Agustin on how to climb (keep those knees bent people!), we walked a short way to the ski lift.
From here you can clearly see the summit of Volcán Villarrica, far off into the distance. I'm not going to lie, it looked pretty daunting.
That's why, when Agustin asked if I'd like to take the ski lift for $10,000 or climb for an extra hour and a half to the top of the ski lift, I jumped at the opportunity for an easy start to the day (it was still early after all!)
Peacefully swaying back and forth as we slowly crawled higher, the view of the volcano became clearer and clearer. The anticipation grew. It was time to climb.
Starting the climb at Volcán Villarrica
The first stage was a steep 45 minute climb over rocks to get onto the slope of the volcano from which it was a straight line to the top.
At our first stop where we ate some nuts and glugged down some water, we had 10 minutes to catch our breath and appreciate the views which were already something else.
Honestly, any doubts you have about this climb will fly out the window when you see the view. You can also see a couple of the other Pucon volcanoes in the area too.
The next stage was another 45 minutes, again over rock, to get to the bottom of the glacier . This is where Agustin showed us how to put on our crampons and gave us a demonstration of how to walk on the ice.
If you've never worn crampons before, it's actually really easy. After about 10 minutes of walking in them you'll hardly notice they're on your feet at all.
Then it was time to walk on the glacier itself, a blanket of white before us.
I won't go into all the details of climbing Mount Villarrica – a lot of it was just me putting one foot in front of the other, very comfortable in the silence of walking, almost overawed with where we were – but it's safe to say that the views just got more and more spectacular the higher we climbed.
We stopped off a couple of more times for a rest and to gather our energy again, especially for the final assent.
That's when we put our gas masks on, for the final push to the top.
Reaching the summit of Volcan Villarrica
Then, after hours of climbing, we did it.
Agustin timed it perfectly so we were the last group to summit Villarrica. Once we got to the top there were only a few other people up there with us; it felt like we had the volcano to ourselves.
It felt so good being at the top of the volcano – it really did feel like being on top of the world – and the views were just the best yet. They were simply astounding. It was hard to believe how far we'd come, and looking back down the volcano you can't help but feel a huge sense of achievement.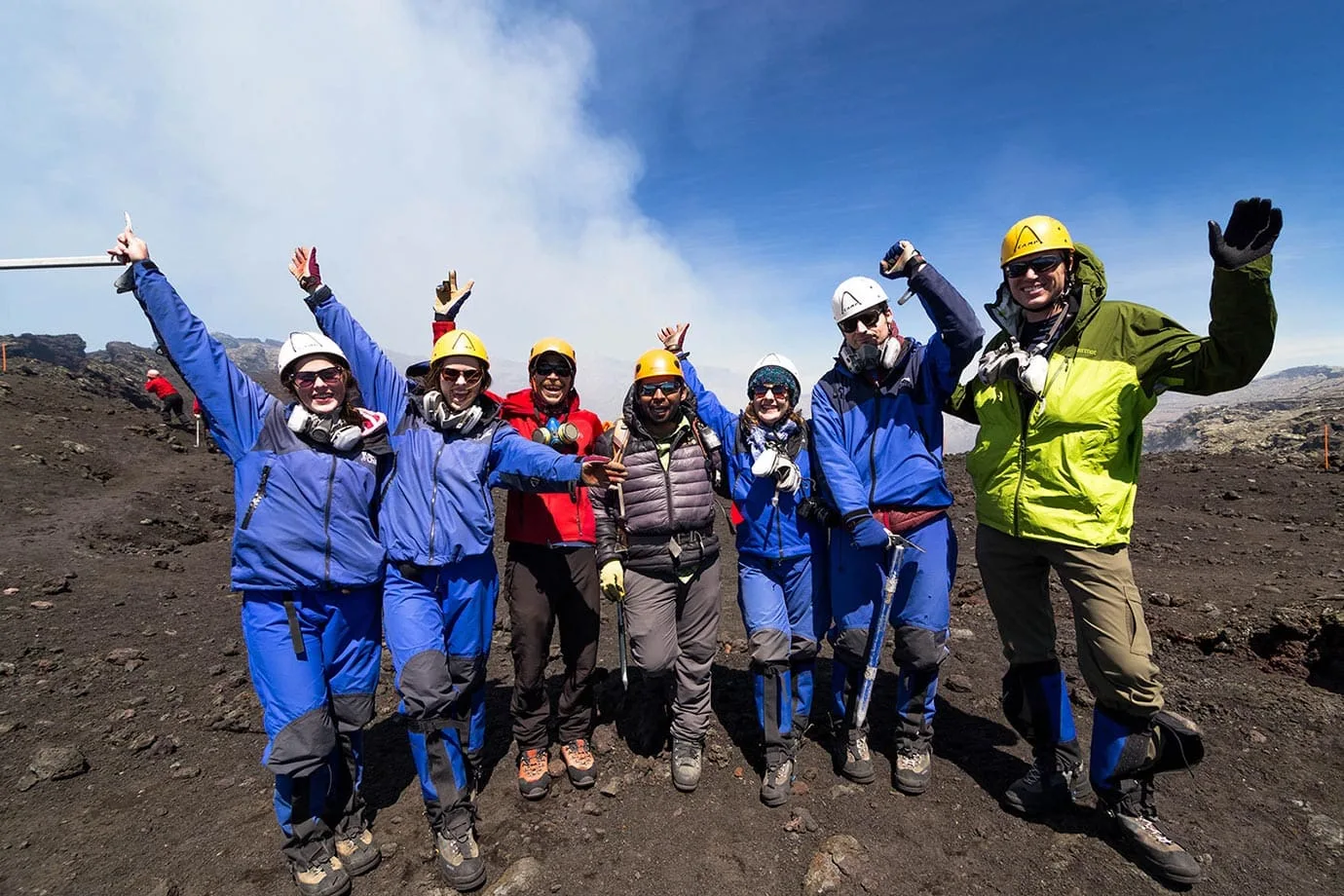 Getting back down from the summit
As you'd expect, getting from the top to the bottom of the volcano was so much quicker, but not for the reason you'd think. We tobogganed down.
One thing we'd been carrying around with us all morning was a round piece of plastic, just big enough to sit on, so that's what we did. This is exactly like tobogganing anywhere else around the world, just down the side of an active volcano.
Again, Agustin showed us how to use these bum boards, and it wasn't long before we were all sliding down, throwing ourselves around corners like we were professional lugists.
And if you're looking for an adrenaline high to top standing upon an active volcano, this is it.
Once we made it back to the ski lift again, it was a short 20 minute walk through the loose gravel back to the car park and the opportunity to finally relax a bit.
It's hard to summarise trekking Volcan Villarrica. I've climbed a lot of volcanoes in the my time, but this is up there with the best of them. There aren't many places where you can climb to the top of an active volcano in a day, but at Volcano Villarrica you can.
Add in the fact that you're climbing on a glacier – no doubt a first for many people – and tobogganing back down to the bottom in an adrenaline-fuelled rush, and you really do have one of the best day hikes in the world.
As I said, I really hope you enjoy it as much as I did!
Top tips for trekking Volcan Villarrica
Go to bed early – I can't stress this enough, but don't stay up late and don't go partying the night before. It's a very early start to the day and you'll need to keep your energy for later.
My advice; take the chairlift – I know a lot of backpackers who'll want to save their pennies but the chairlift really is worth it. Saves precious time, energy, and the views are great in the morning.
Take lots of snacks – When you're hiking, it's always a good idea to have lots of snacks on you. I find trail mix (nuts and dried fruits) are great to eat. Also, sweets, lots and lots of sweets.
Take more water than you'll think you need – Obviously you're on a volcano, so once you've run out of water you can't get any more. Always take more than you'll think you need.
Wear layers – It can get very hot very quickly, so wear layers to peel on and off whenever you get hot and cold.
Don't push yourself – If you're not feeling it and you don't think you can make it to the summit, don't push yourself. Remember, people have died on this hike so the risk really isn't worth the reward.
Where are the toilets? Everywhere! For guys this is pretty easy, but there are lots of rocks and other spots of girls too so don't worry about being seen.
How much does a Volcan Villarrica tour cost?
A full day tour hiking to the top of Volcan Villarrica with Zenit Travel costs £107 ($135) and includes all transport costs, guides and equipment for the day. This is usually limited to a group of 12 people too, so make sure you book in advanced.
If you'd like catch the ski lift to cut out an hour and a half of climbing then make sure you bring an extra $10,000.
---
Have you ever hiked Volcan Villarrica before? Did you think it was one of the best hikes you've ever done? Make sure you let me know in the comments below!
Like this blog post? Then make sure you Pin it!