Are you looking for one of the best hikes in Chile? Then look no further than Parque Nacional la Campana – it really is a hike like no other!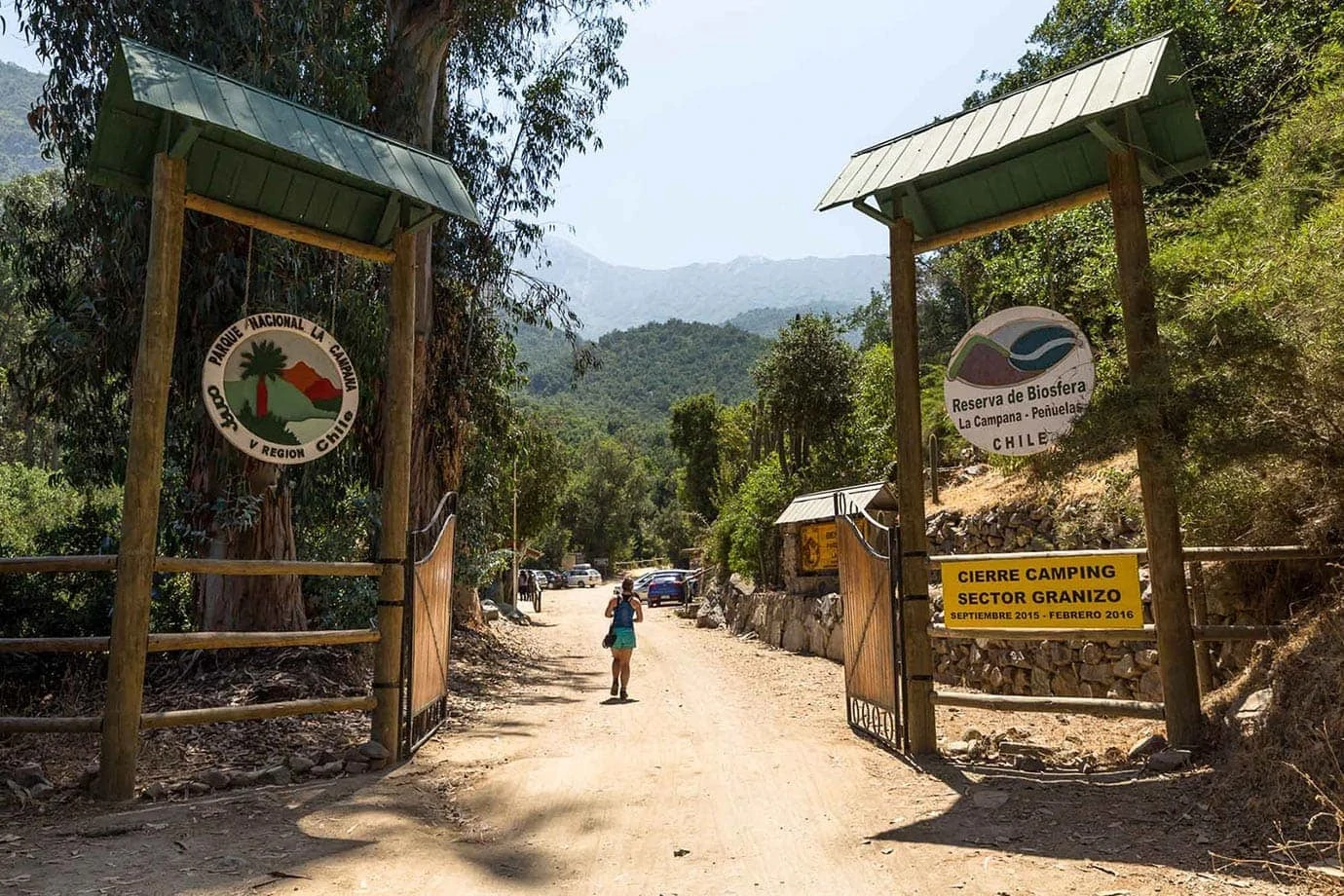 When it comes to adventure activities in Chile, hiking in Parque Nacional la Campana has to be right up there as one of the best things to do.
With a couple of days to spare around Valparaiso before I headed back to the capital of Santiago, I really wanted to explore the surrounding area.
With the beaches of Vina del Mar only 30 minutes away and the vineyards of the Casablanca Valley within an hour's drive, there's actually plenty to see and do around Valparaiso. Then there's the hiking near Valparaiso.
All of a sudden you're out the hustle and bustle of Valparaiso and in Chile's stunning countryside with gorgeous mountains all around you. Honestly, it is so beautiful here.
In this blog post I'm going to tell you all about trekking Cerro la Campana (the mountain in the national park) Hopefully this post will inspire you to go hiking in Chile!
What is Parque Nacional la Campana?
Parque Nacional la Campana is one of the best national parks in Chile. Being half way between Santiago and Valparaiso, it is one of the most accessible too.
The major draw here is hiking to the top of Cerro la Campana. This is a 1,880 metre-high summit where you can see the Andes on one side and the Pacific Ocean on the other. However, to do this you really need a full day to reach the summit.
If you're thinking of climbing Cerro la Campana, then you've really got to set off around 6 or 7am to ensure you've got enough time to complete it in a day.
However, if you do manage it you're walking in some famous footsteps. Charles Darwin summited Cerro la Campana back in 1834, and it really is one of the best hikes around.
How to get to La Campana National Park?
As I was coming from Viña del Mar, unfortunately I didn't have enough time to summit Cerro la Campana myself.
Saying that, there are still some really great hiking trails within Parque Nacional la Campana. I really wanted to go hiking here, and even though I didn't complete Cerro Campana, I still had an amazing day explore all this area had to offer.
Getting to Parque la Campana was fairly easy. I caught the metro from Viña del Mar Estacion Central (tickets cost $2,000/USD2.50) to Limache, the station at the end of the metro line.
If you don't fancy the metro then there are buses running regularly from Valparaiso and Viña del Mar to Limache, so it all depends on which mode of transport you prefer.
From Limache there are a number of buses running to either Olmué where you can catch another bus to Parque Nacional la Campana, or, if you're lucky, there are direct buses to the park entrance but these are less regular.
If you can, try and catch the direct la Campana bus all the way to the national park entrance. This will save you time giving you a lot longer in the park.
How much does La Campana National Park cost?
A Parque Nacional la Campana ticket costs $8,000 (USD10) and that's for the whole day.
The people on the front desk are really helpful and full of information, and they pointed out a number of different trails I could do for the afternoon. You can ask them loads of questions about the area, but they were great at point out the best hiking trails.
With trekking Cerro la Campana out of the question, there were a couple of viewpoints that looked like they would be good hikes, so stocked up with snacks and water I headed off.
La Campana National Park Hike
The first hike was a loop which takes you through the forests to one of the best viewpoints. From here you could see the surrounding mountains on either side.
One of the girls on the front desk told me to keep an eye out for birds, and whilst walking along that loop I came across a couple of eagles up in the trees. It always pays to keep your eyes open here!
The rest of the afternoon was spent walking to the mirador, the main viewpoint for short day trippers in the national park. Most of the hiking here is under shade, but walking to the mirador you're skirting alongside the mountain in direct sunlight and it can get rather hot and sweaty. What I'm saying is make sure you bring sunblock and a hat!
However, once you final make it to the viewpoint it's all worth it. Here you're afforded astounding views of Cerro la Campana and the valley floor. It really is worth visiting Parque Nacional la Campana for this view alone.
Cerro la Campana trek
From the mirador, getting back to the front entrance of the park is super easy, and unless you're climbing to the top of Cerro la Campana you don't need to be an experienced hiker to be in the park.
Overall, the main Cerro la Campana trek is 22 kms. From researching it, I would say it's a fairly difficult trek mainly because you're walking over soft stones. The best time to do this hike is from September till April when it's a little cooler.
The views from the top are supposed to be some of the best in Chile though. If you do this trek yourself, let me know as I'd love to hear all about it!
After leaving the national park, it was pretty quick to get back to the metro station at Limache.
I have to admit, I was really surprised at how set up Parque Nacional la Campana all was. All along the trails were places to stop and rest, and there were a number of picnic areas too. This makes it such a great day trip from Valparaiso.
While walking around, I came across a few families hiking together, and it struck me that the national park was a great place to leave behind the hustle and bustle of the cities and to reconnect with nature. Being in such close proximity to Santiago and Valparaiso, it seems like the perfect escape for the weekend.
I really hope you get to experience this place for yourself!
Top Tips for Hiking Parque Nacional la Campana
Bring lots of water – Once you're in the national park there's nowhere to buy water so make sure you pack enough with you for the whole day
Wear comfortable shoes – The terrain is very rocky around the national park so it pays to have some comfortable shoes. Ideally hiking boots/shoes, but comfortable trainers are good too.
Wear layers – If you're heading off early in the morning it can be pretty chilly but you'll soon warm up once you're moving, so it's a good idea to wear layers to take on and off whenever you get hot and cold.
Don't leave any rubbish! – You'll be surprised at how much rubbish I saw while hiking la Campana. Don't be a part of the problem and make sure you take all rubbish with you.
Have you ever been hiking in Parque Nacional la Campana? Did you make it to the summit of Cerro la Campana? Let me know how you got on in the comments below!