Looking for a unique cocktail that's the very best of Mexico all in one glass? Then this my michelada recipe that is both spicy and refreshing
Micheladas are one of my favourite drinks, so I couldn't resisit coming up with my own michelada recipe.
If you're looking how to make a michelada that's both spicy and refreshing, then this is the recipe for you!
Just imagine this for a second.
You've just been walking around seeing the sites for a few hours, the sun's starting the set over the horizon and you're feeling damn good about life.
All of a sudden that thirst hits you, that thirst you know no matter how much water you drink it will never be quenched. It is that tickle in the back of your throat, a scratch that cannot be scratched. You know there's only one thing to do – you head immediately to the bar.
There's no greater feeling in the world than knocking back a few ice cold ones after a long day on the road in somewhere like Mexico. Refreshing, rejuvenating, having a couple of cheeky beers at the end of the day can turn a good one into a great one. Perfect, right?
Well, instead of beer, what about a michelada?
What is a michelada?
I'm going to put myself firmly into the "you're on your own mate" category, but after travelling through Central America I would argue that a michelada is the perfect way to unwind for the day.
For those of you who haven't had one of the greatest drinks ever created by man, it is a spicy beer cocktail (yes, you read that right). Think of a Bloody Mary, substitute the vodka with beer and you're just about there.
A michelada (pronounced mee-che-lah-dah), is a Mexican cocktail made with beer, lime juice and tomato juice or clamato (a blend of tomato juice and clam juice) with a bunch of spices thrown in, and it is a lot tastier than is sounds.
To finish it off, it comes with a salt rim or a spicy salt rim around the glass and served on a bunch of ice. Now that's a michelada recipe right there.
How to make a michelada?
Its curious savoury delights make it an acquired taste, obviously, and that's one of the reasons it's not that well known outside of Central America.
However, micheladas have a lower alcohol content than most beers, so you can knock 'em back, and they'll wipe away any remnants of a hangover (trust me on that one). I can't even begin to extol the virtues of this drink enough.
Anyway, if you fancy giving it a go at home, here's how to make one!
My michealda recipe:
1 large glass
1 lime
Coarse salt
About 50ml tomato juice
A few dashes hot sauce
A few dashes soy sauce
A few dashes Worcestershire sauce
1 bottle or can of beer
4-5 ice cubes
Mix it all together and you're rocking!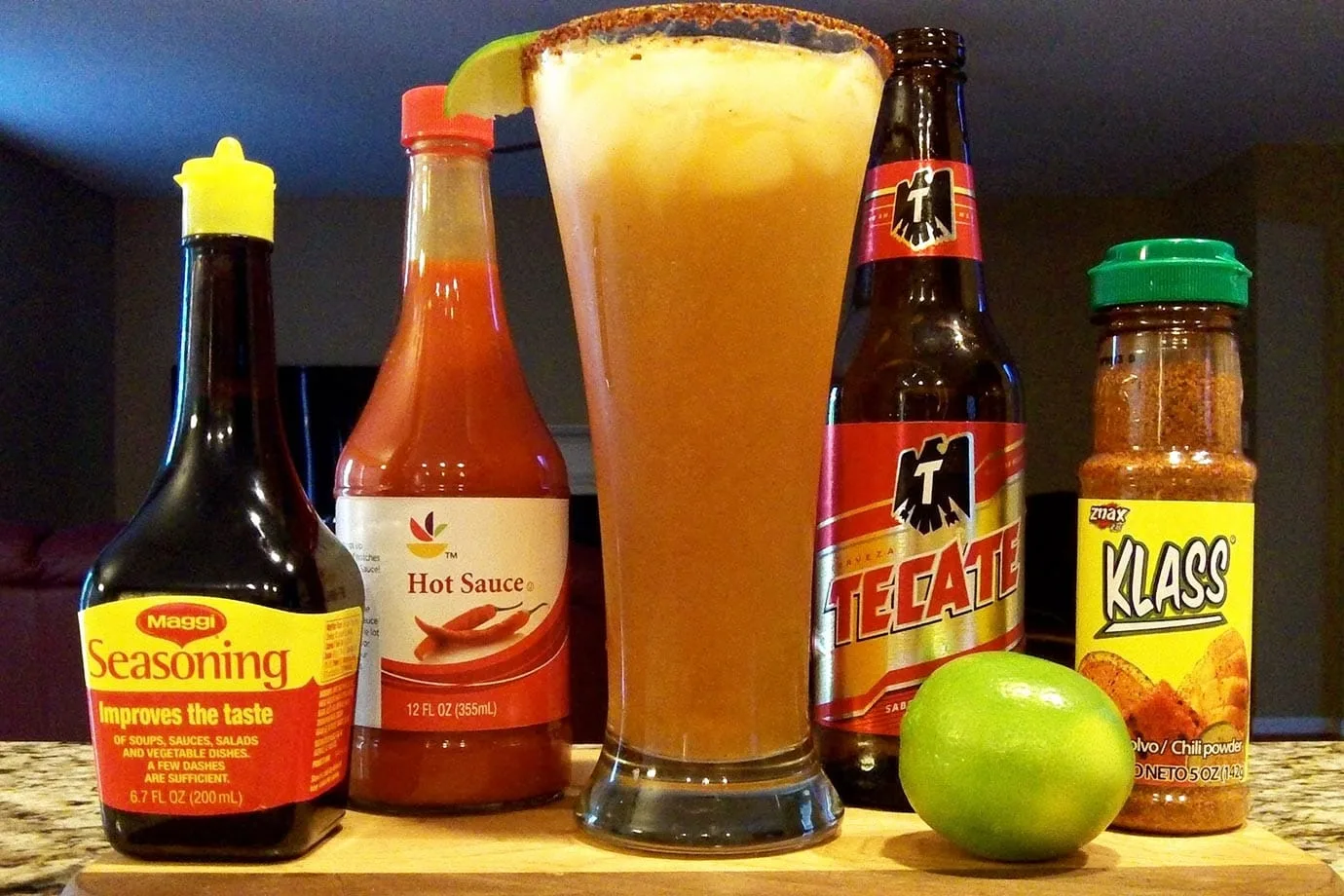 Now, you can't come travelling to Central America without a least trying one or two micheladas.
They're as synonymous to this region of the world as are the chicken buses, and they need to be given the respect they deserve.
So, if at the end of the day you find yourself ordering a beer and all of a sudden you see a michelada on the menu, pause for a second and give it a go. Trust me. It is a decision you won't regret (well, you might, but you tried something new – go you).
What is your favourite michelada recipe? I would love to hear what you mix together so let me know in the comments below!