There's only one way to truly explore Kekova in Turkey – by kayaking over the sunken city of Kekova, a place frozen in time for 2,000 years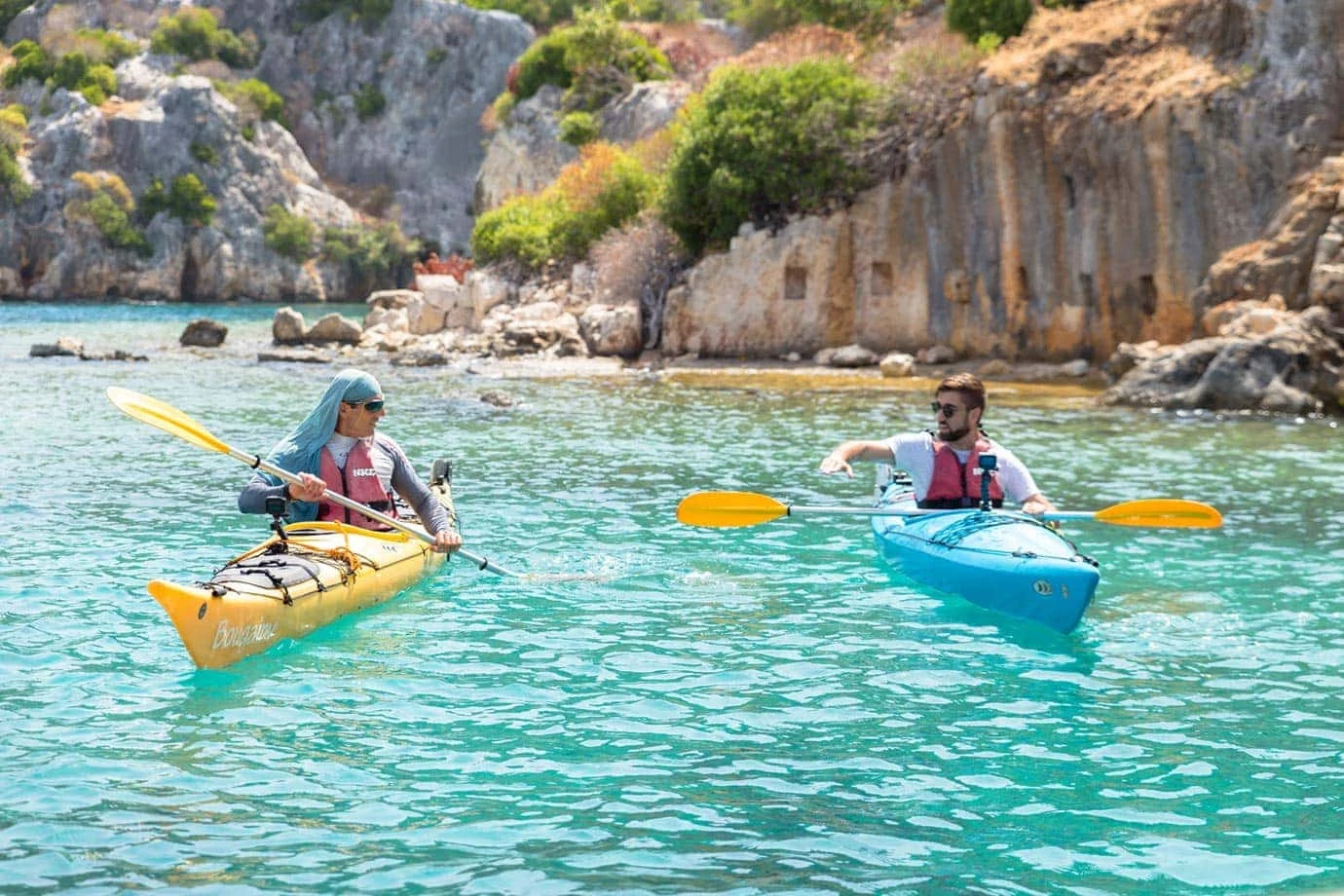 Kekova. For me, just saying the name brings back images of this once magnificent city, of what it must've been like living there.
When I was kayaking over the sunken city of Kekova, just below the glittering turquoise surface I could see the clear outline of a house, the foundations still firmly intact.
Shards of smashed pottery were strewn around the place, fragments of a forgotten era, a completely different world.
At one ruin, a tiled mosaic somehow still held onto the vestige of red and green hues despite being submerged underwater for nearly 2,000 years.
Just on the coast barely a dozen metres in front of me, a broken church, the archway still half-standing, a cross etched into the stone forever.
If you strained your ears past the cries of the crickets, you could almost hear the hustle and bustle of the streets as people swapped stories in the forum, for this was Kekova, once a thriving city in the Roman empire, now nothing more than a cluster of bricks and stone sunken into the sea.
As for bringing history to life, being able to kayak over ancient underwater ruins is an experience like no other – it's like exploring Pompeii on water, just without the crowds at a place no one knows about.
Would you like to kayak at Kekova? Then see what it's really like in my video below!
How to get to Kekova Island
The day before I arrived in Kekova in southern Turkey, a place located on the Turquoise Coast.
It's not hard to describe Kekova. Barely bigger than a village, Kekova is just a cluster of guest houses and restaurants that serve Turkish tourists during the hot summer months.
I can't imagine what this place would look like during winter – I wouldn't be surprised if it closed down completely, perhaps the call to prayer from the local mosque the only sound for miles around.
As for us, we were there for one reason and one reason only – to kayak Kekova, to kayak directly over the sunken city.
When Lonely Planet wanted to find authentic stories, the ones no one else knows about, this was exactly the type of place they had in mind.
A little further along the coast is the holiday hotspot of Alanya. If you're heading there after Kekova, check out these amazing things to do in Alanya!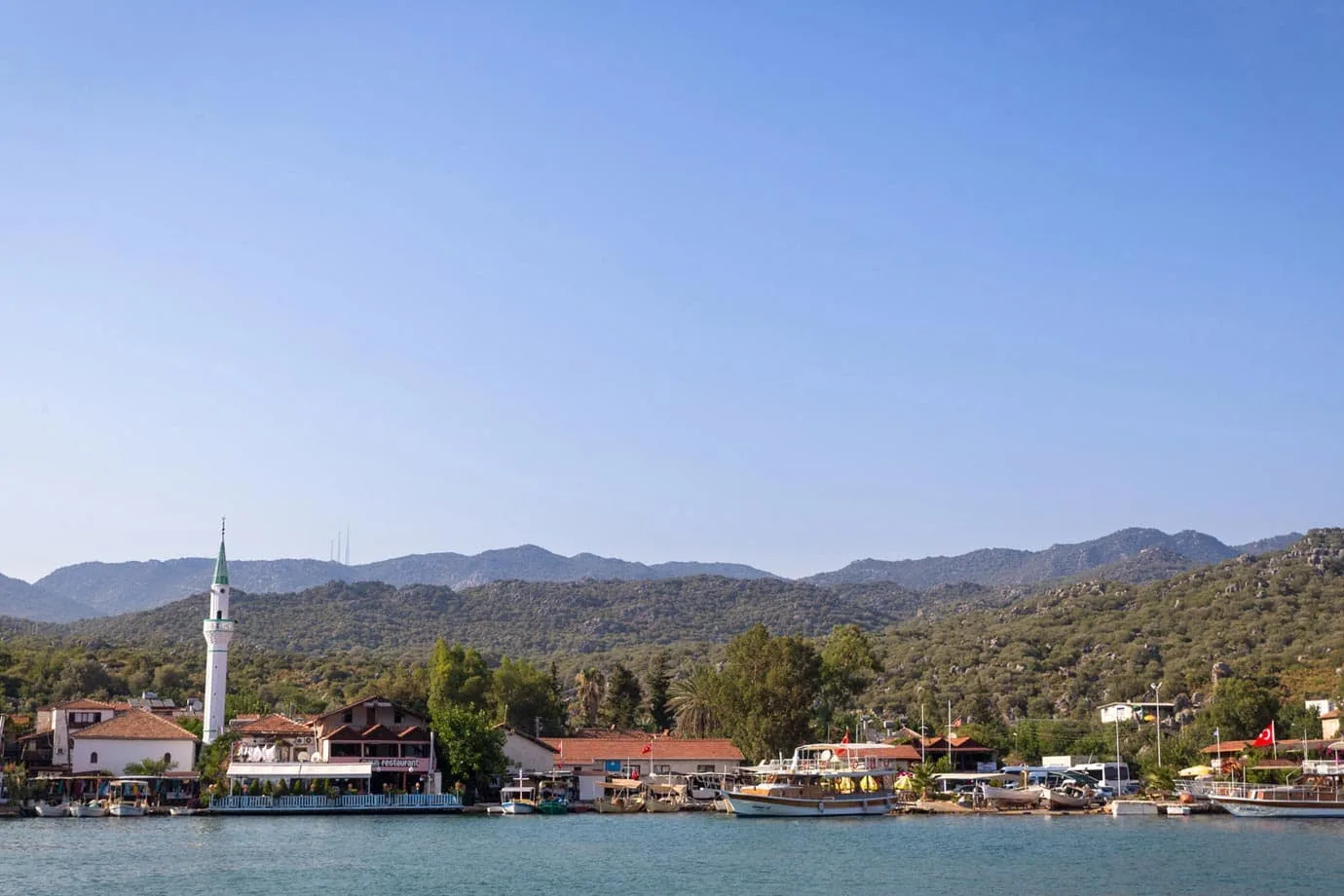 The Kekova sunken city – the history of Kekova
Kekova was once a thriving city in the Roman empire before it was torn apart by two major earthquakes.
The first was in 400BC, the second one finishing off the job in the 2nd century AD, and ever since the city has been submerged underwater, almost forgotten about.
It's hard to believe, but this was genuinely an important town in the Roman empire and people really don't know much about it. I certainly didn't see any other tourists while I was there!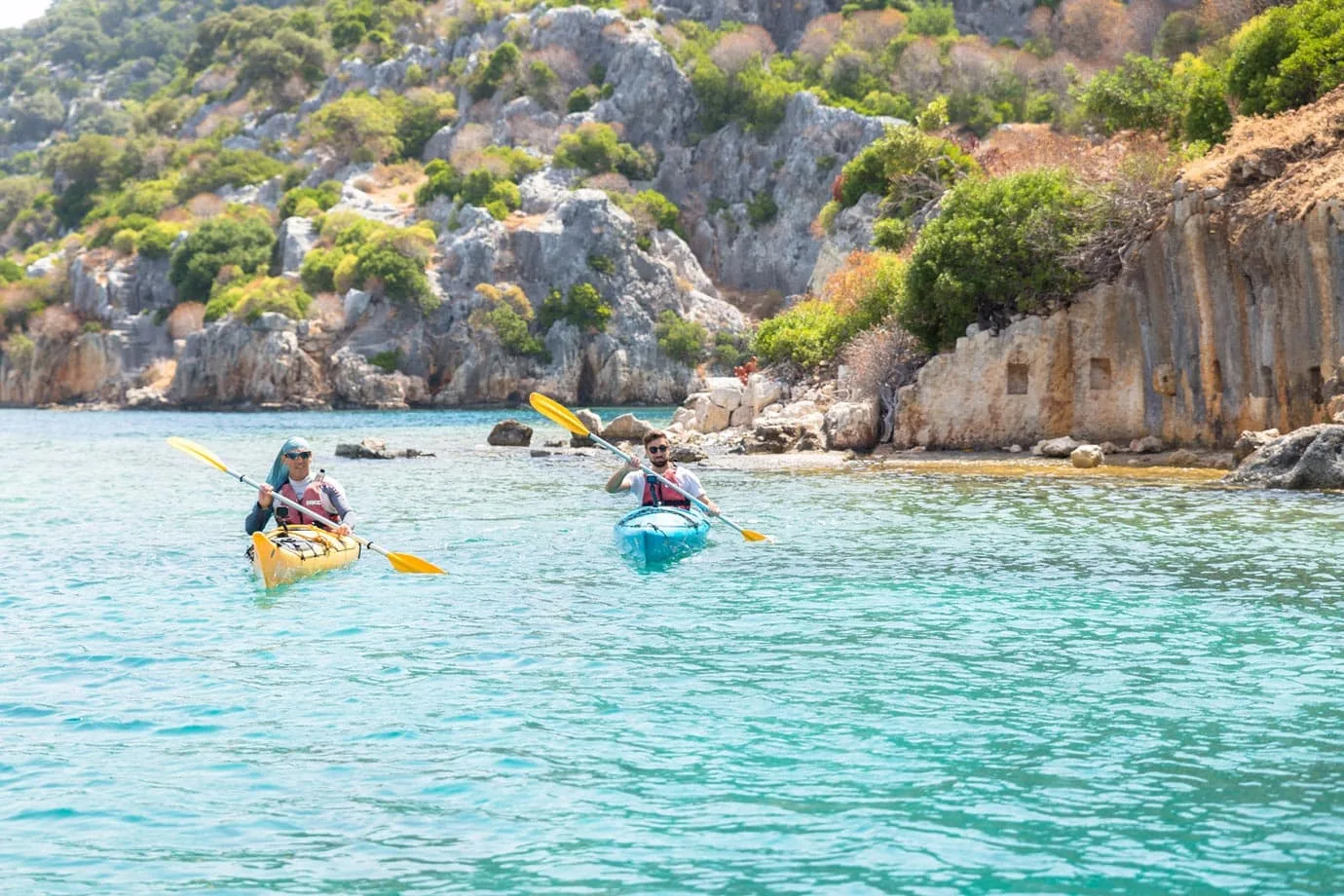 Things to do in Kekova, Turkey
That morning I met Maho Arican, my guide for the day and someone who knew everything about Kekova and the surrounding area. It was his mission to highlight how important this place once was, and how ignored it is now.
To get over to the Kekova sunken city we hopped into a couple of kayaks and paddled for 15 minutes over to a few ruins on the rocky coastline.
The beautiful thing about this place is it's completely inaccessible apart from by boat. Or if you're like us, by kayak.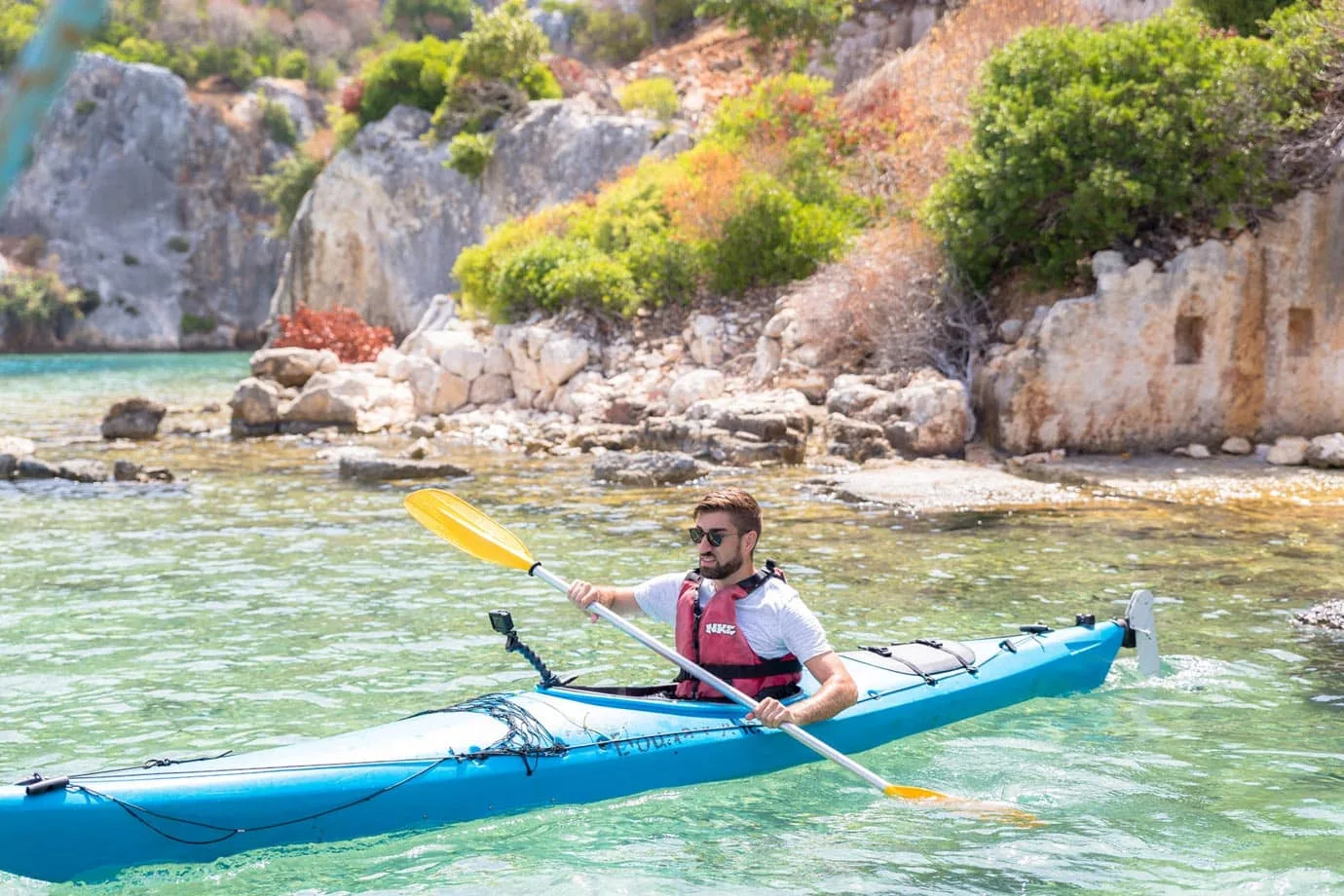 Once we made it over to the ruins, Maho said "this is it – we're here. Look below you."
At first, I couldn't quite comprehend what I was seeing. Then as my eyes adjusted I could see the clear outline of a house. I'm not a builder or architect but the foundations of a house are obvious to anyone, you just don't expect to see them underwater. Or after 2,000 years for that matter.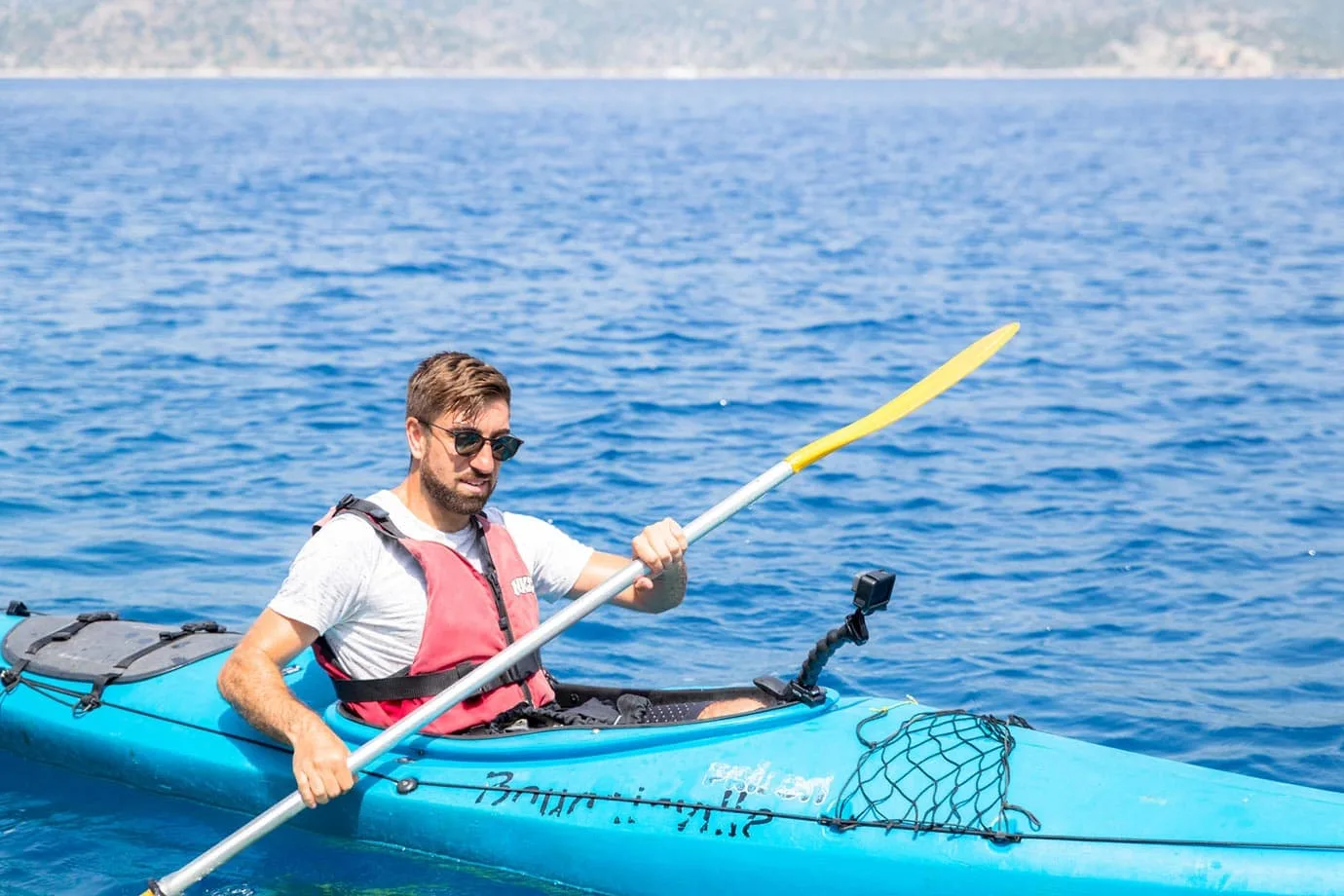 Kayaking in Kekova
As we paddled along the coast, Maho explained that the whole city slid off the side of the coast into the water. I could even see staircases that were once on land, the stairs were now leading down into the sea to the watery tombs beneath.
No matter where I looked to saw remnants of this city – an archway on land, a mosaic underwater. There was even the clear outline of where the harbour walls once were. Again, it wasn't hard imagining people making a life for themselves fishing every day, their wooden boats bobbing on the water – it was a scene I saw only a few hours before, a lifestyle many Turks still have today.
This is where people lived, where they loved, and it was completely wiped off the face of the earth in moments. What remains is some of the best Lycian ruins in Turkey which make this such a fantastic place to visit. The Lycian tombs are something else too.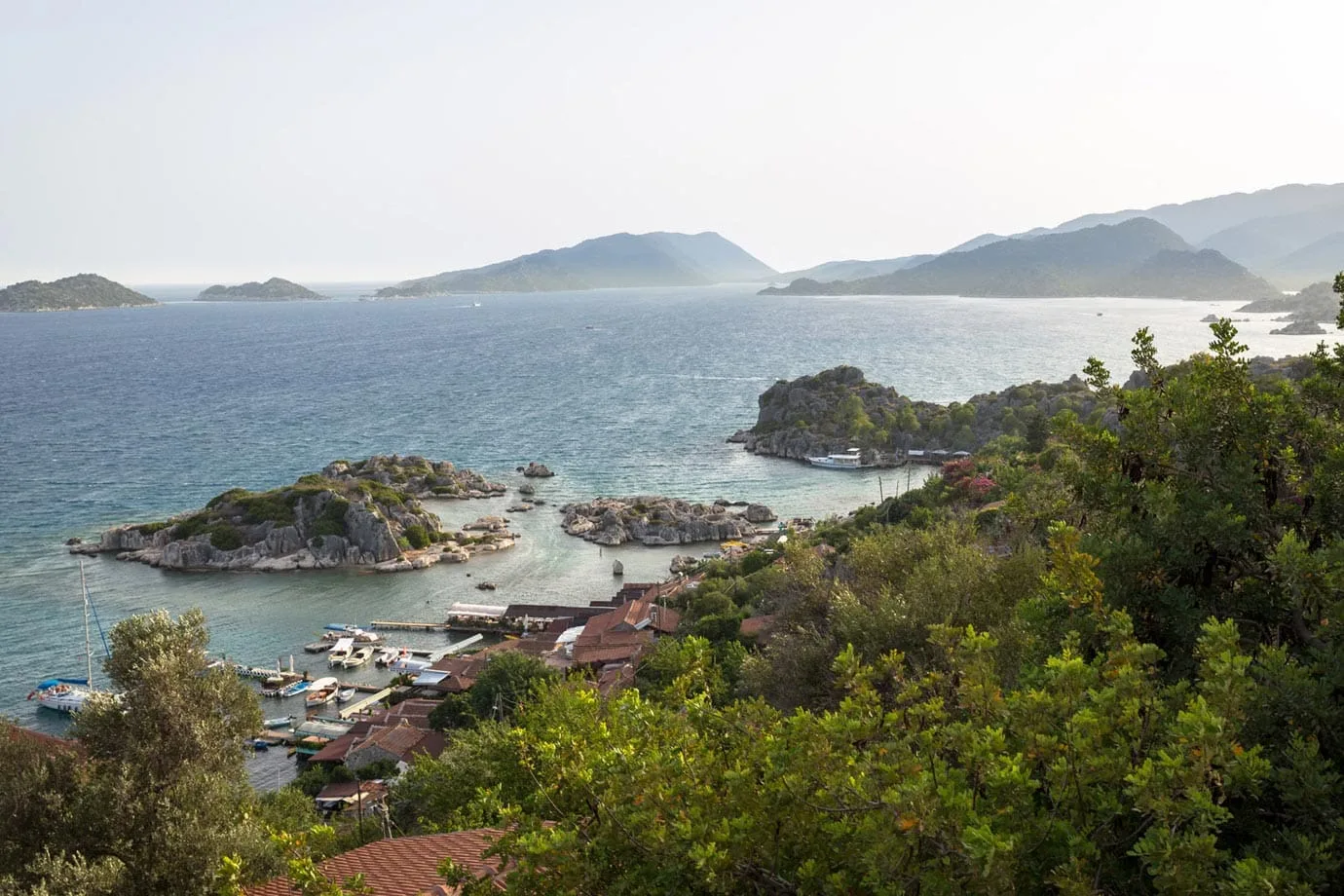 A few years ago you could swim here but the Turkish government has since banned it as too many tourists were picking up broken shards of pottery as 'souvenirs'.
The thing is, there's not too much the government can do about Kekova. You'd think the whole site, the pottery, the mosaics, should be in a museum, that they want to do more to preserve it, but when you're there and you see it for yourself, you realise it kind of is.
Not many people travel to Kekova, let alone see the ancient city, so it's just left there, disregarded, undisturbed, it's own living museum.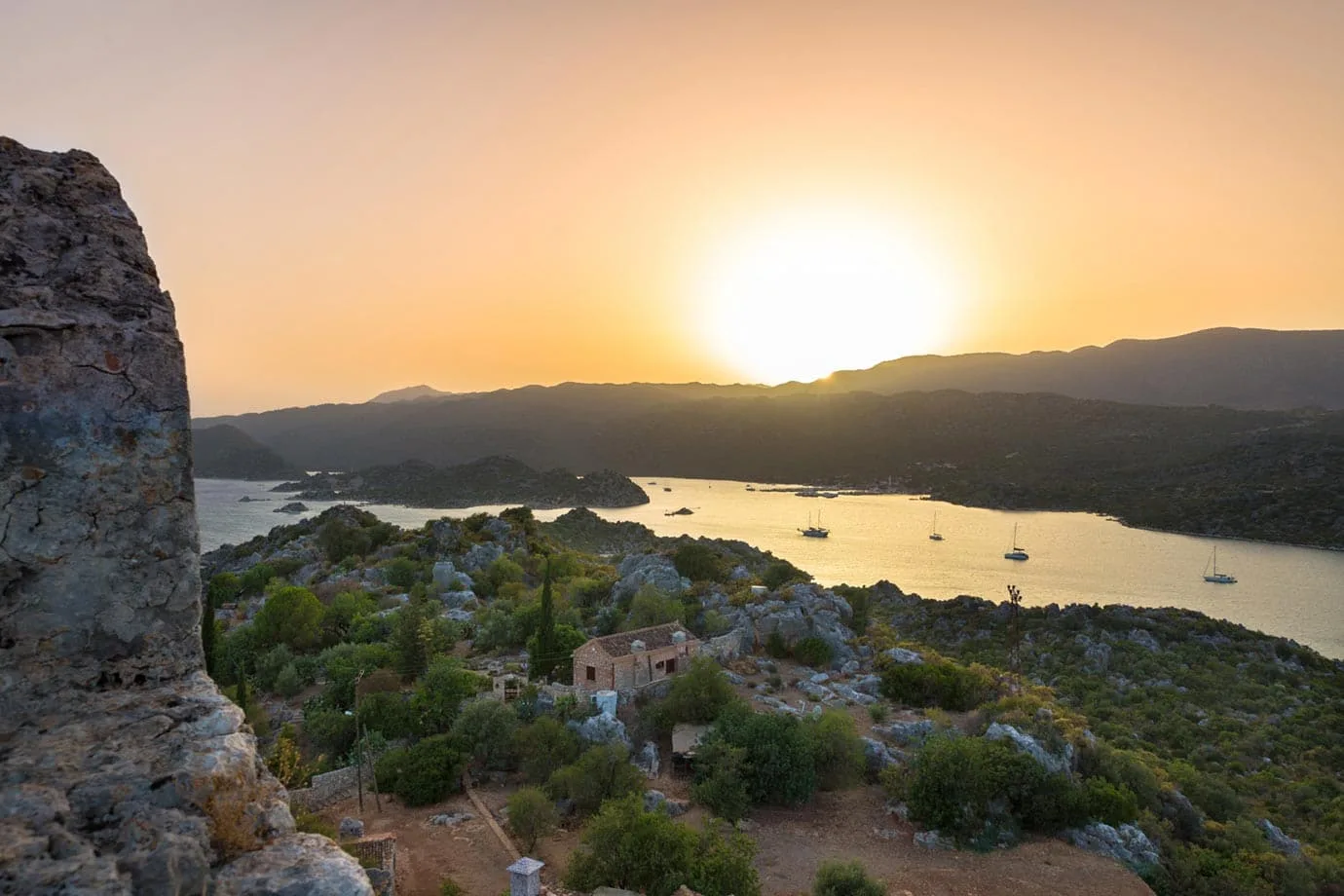 A story that's not forgotten
With Lonely Planet, we wanted to tell the stories not many people get to hear. Well, we certainly found that in Kekova.
Where in the world can you get so up close and personal with history like this, especially while getting to explore the gorgeous Turquoise Coast?
For me, and if you follow my blog, you'll know I'm a secret history buff, so seeing history like this while having an adventure too was an experience I didn't expect.
And I think that's one of the beautiful things about Kekova – it's so unexpected.
Photos of Kekova, Turkey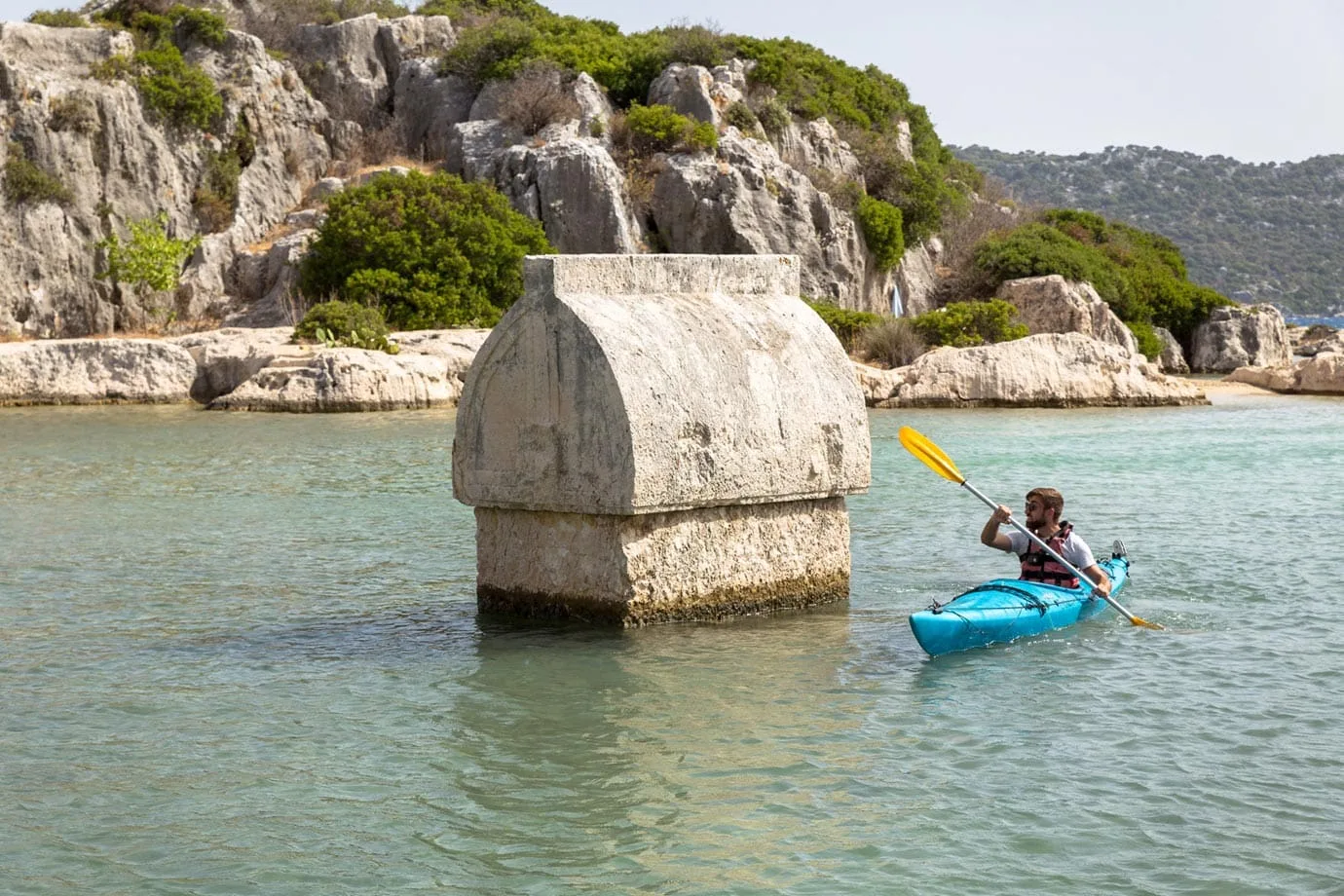 My trip to Turkey was in association with Lonely Planet and Turkey Tourism uncovering some of the best things to do in the country. As always, views are entirely my own and without bias.
Is Kekova somewhere you'd like to explore? Let me know what you think about the place and whether you'd like to go there in the comments below!
Like this blog post? Then make sure you Pin it!