Mouthwatering meatballs, tempting Turkish delight, piping hot coffee & meze plates galore: this is a culinary journey of what to eat in Istanbul!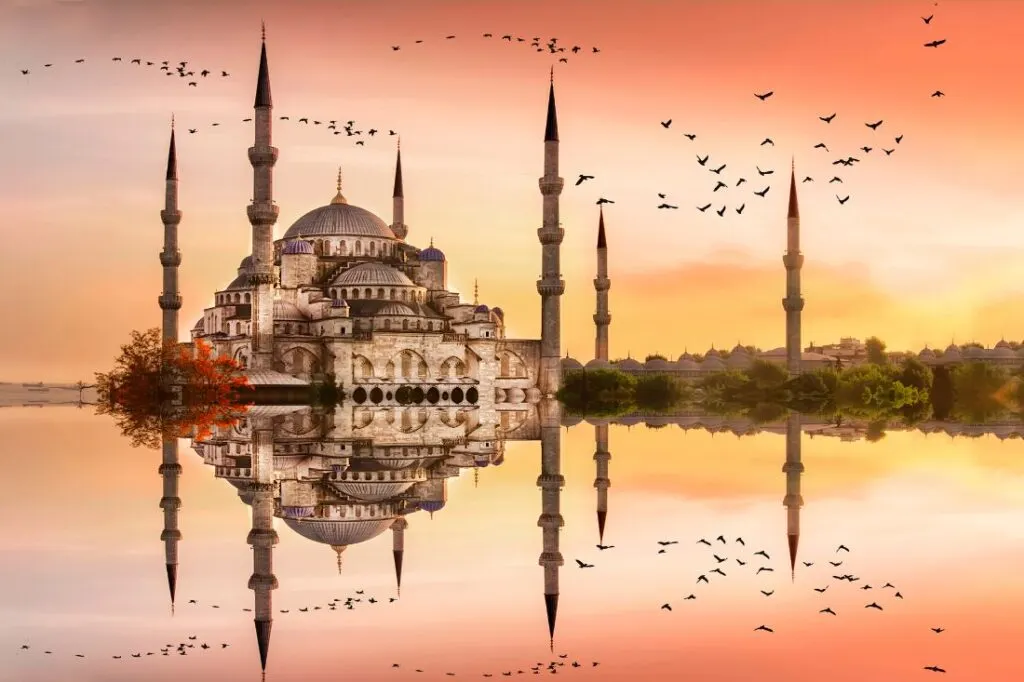 I can't tell you how much I love Istanbul. It's a city I've been to a few times now, and I always leave wanting to discover more.
Sitting on the cusp between Europe and Asia, Turkey's Istanbul is a fabulous city to lose yourself in. The blend of cultures, combined with the city's rich history, creates a destination like no other, and one you definitely need to visit.
One way to really get to know more about this vibrant city and its multicultural history is through the food. So, if you're planning your first visit and you're wondering what to eat in Istanbul, this post has got you covered. I'll take you through the best foods Istanbul has to offer, and where to find them.
Trust me, you need to be very hungry when exploring Istanbul in Turkey!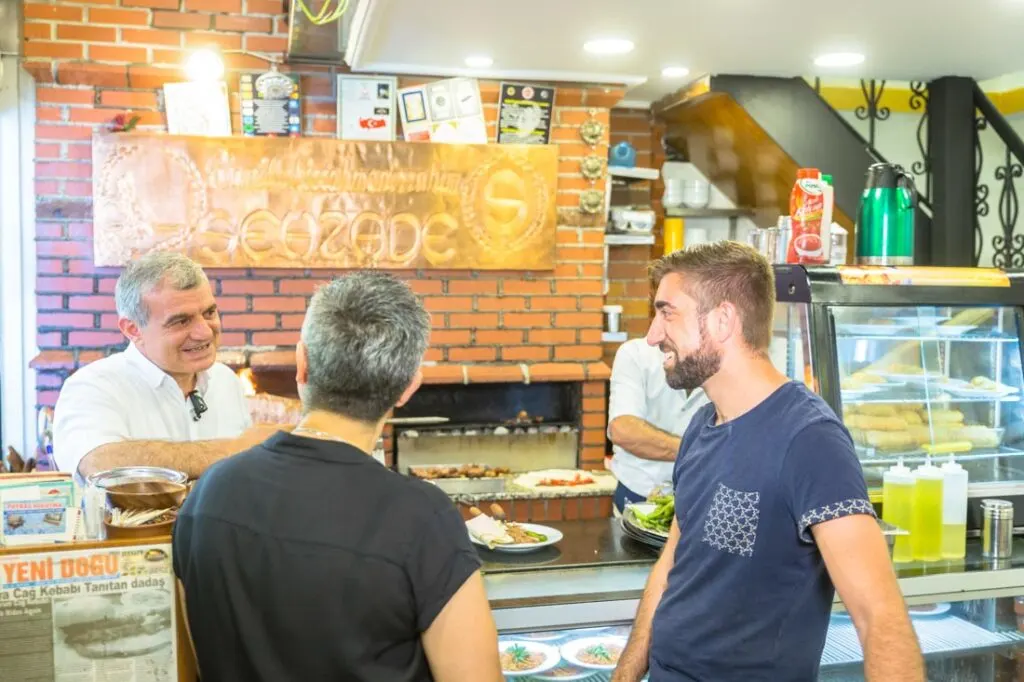 The flavours of Istanbul are as varied as they are mouthwatering. From the strong coffee that energises your day, to the succulent köfte in rich tomato sauce, and the sweet syrup from baklava running down your chin. I can taste all those flavours now!
If you're inspired to learn more about the food culture, I highly recommend you take a Turkish food tour or even book yourself a spot in a Turkish cooking class. Not only will you learn all about Turkish cuisine, you'll also get more hints on some of the best places to eat in Istanbul.
I did this food tour in Istanbul and I absolutely loved it – it's definitely one of the best things I've done in the city.
If you're looking for more inspiration on things to do in Istanbul, check out my breakdown of the best tours on offer. This is a great when planning your holiday here!
---
What to Eat in Istanbul, Turkey
Iskender Kebap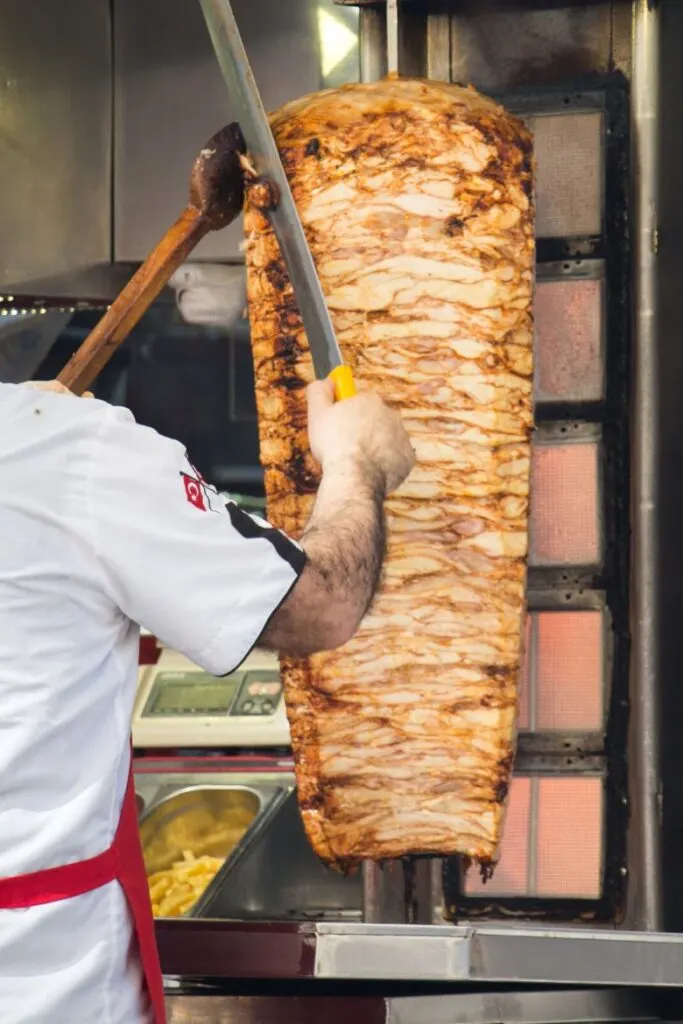 First on your list should be an Iskender kebap.
Served in the traditional pita bread, the Iskender kebap filling is comprised of thin slices of grilled lamb, spicy tomato sauce, yoghurt and melted butter. This is one of the most delicious kebaps in Turkey.
Named after the man who invented it, this kebap was first created in Bursa, just a few hours away. Look out for 'Kebabci Iskender' restaurants, which are owned by the creator's family. These are some of the best places to eat in Istanbul if you're hungry for Iskender kebap!
Turkish coffee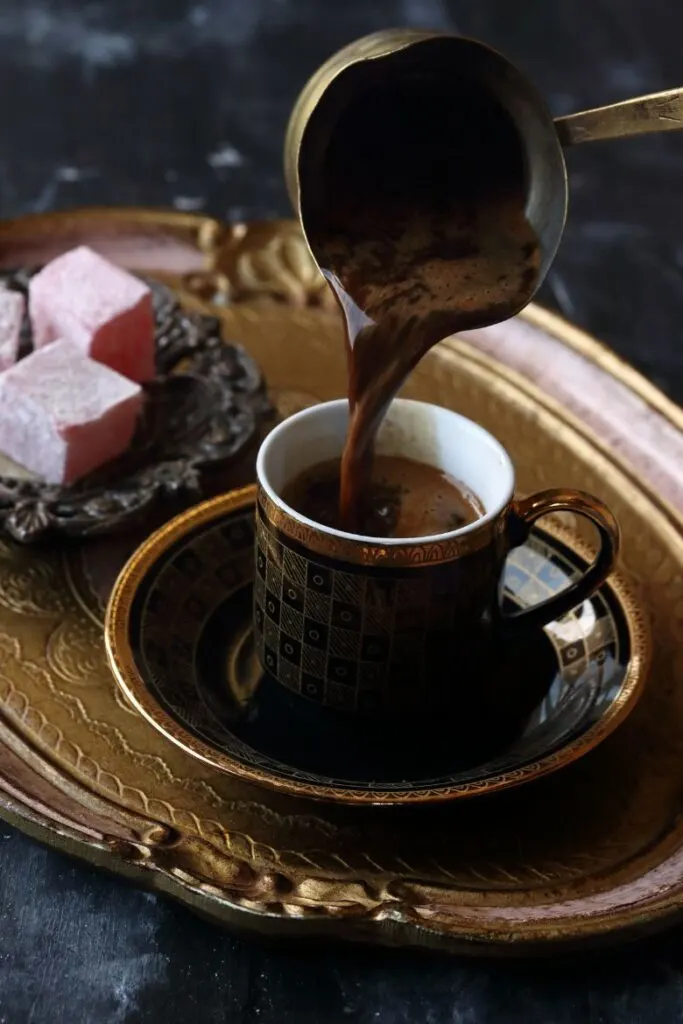 Regardless of whether you're a regular coffee drinker, enjoying a good Turkish coffee is a must do during your stay. The drink, and preparation thereof, are so embedded in the Turkish culture that it was recognised by UNESCO.
To make a Turkish coffee, fine coffee powder is mixed with water and sugar in a single serving metal pot then heated on an open flame or even through hot sand. Once poured, it is important to leave the coffee to sit to allow the coffee grains to settle.
Drink slowly and enjoy the rich, delicious flavour. However, leave the bottom portion as this is full of thick coffee sediment. I always get this bit wrong and end up with my mouth full of coffee sediment – yuk!
Lahmacun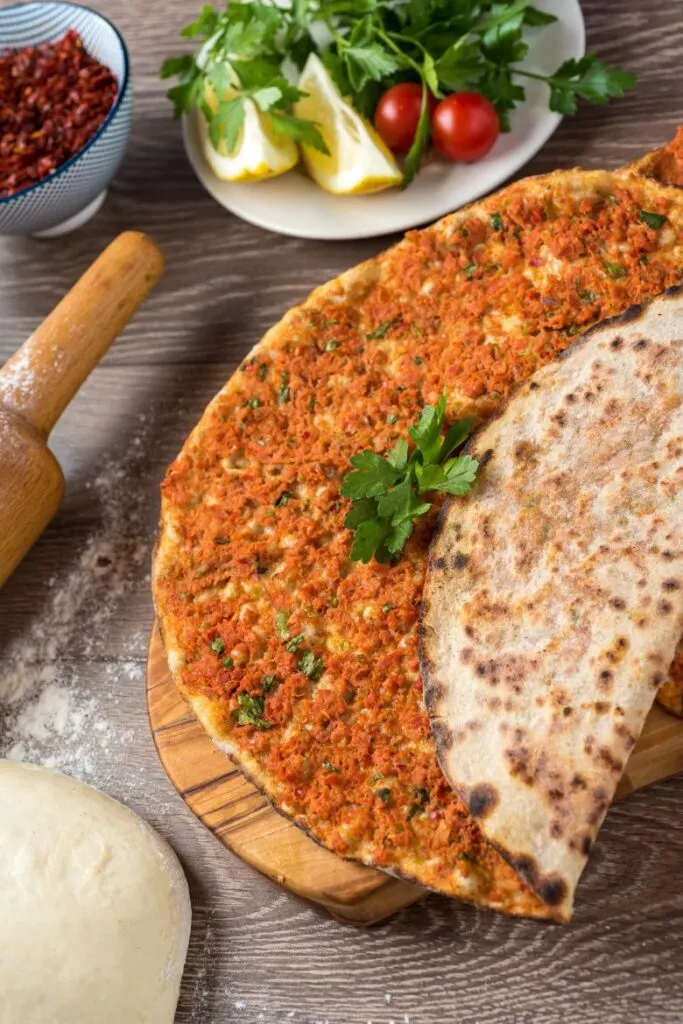 If you're in need of a quick snack to keep you energised for adventures, grab yourself a lahmacun. This popular Turkish street food is the perfect thing to keep you going.
Similar to pizza in their form, lahmacun are comprised of a thin dough base with toppings. The basis of the topping is lamb mince and chopped tomatoes. Depending on the style extra toppings can include a mixture of onions, garlic and herbs.
For a fresh, zesty flavour, squirt some fresh lemon juice on before consuming. Delish. If you're looking at what to eat in Turkey, lahmacun needs to be on your list.
Köfte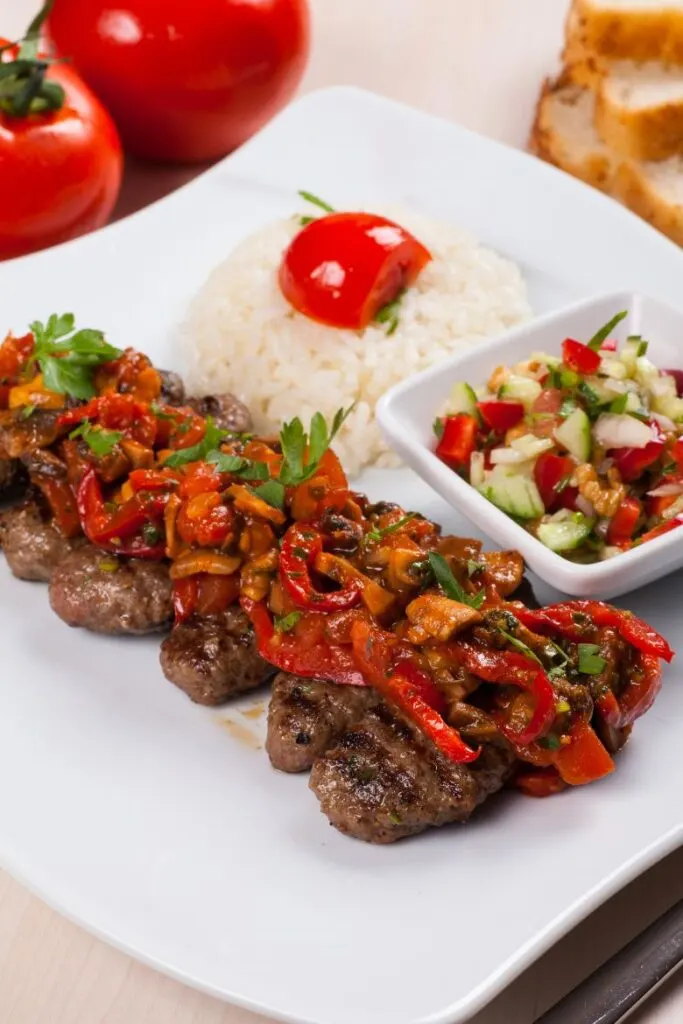 Köfte, often described as Turkish meatballs, are mouthwatering. These tasty grilled meatballs are often served with a simple tomato sauce, salad, or as a kebab filling.
Though the traditional ingredients are simple, just ground beef, onion, cumin, the result is succulent and tasty. Over the years, a number of variations to the recipe have been created, including different herbs and flavours.
If you're on the hunt for köfte, one of the best places to eat in Istanbul is Meşhur Filibe Köftecisi. Established by a Bulgarian migrant in 1893, the restaurant and recipe have been passed down through the generations.
Simit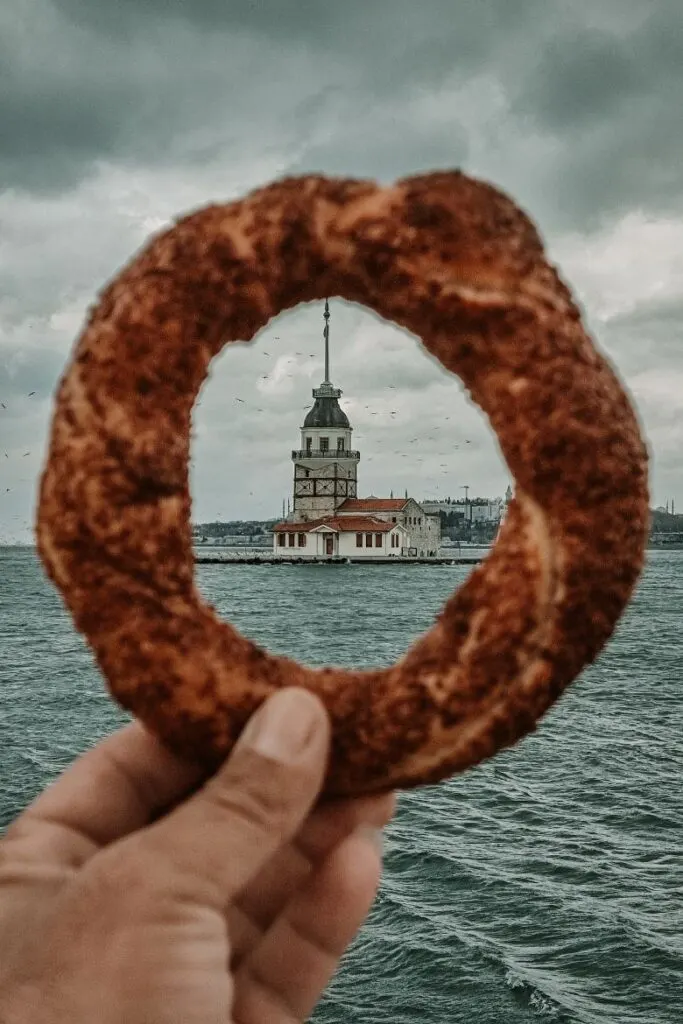 Similar in size to a bagel, simit are soft, white loops of bread, covered in a coating of sesame seeds. Best enjoyed warm, this popular Istanbul street food is typically consumed plain as an on-the-go snack.
With origins back to the Ottoman Empire, simit, and their vendors, are an integral part of life in Istanbul. Throughout the day you'll encounter the iconic vendors carrying perfectly balanced stacks of simit on their heads, or pushing simit carts. Be sure to grab yourself one!
Knafeh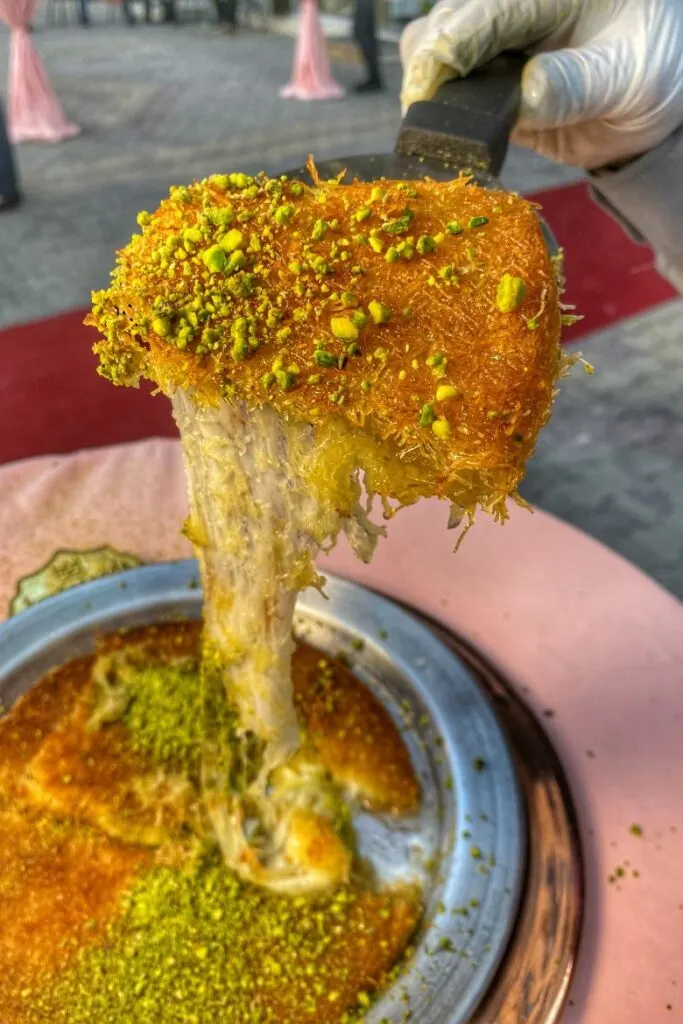 What do you get when you mix rich, stretchy cheese, cover it in filo pastry and melted sugar, then sprinkle it with crushed pistachios? The oh so decadent künefe!
Served straight from the oven, this delicious desert originated in the south eastern part of Turkey, and can be enjoyed widely across Istanbul. You'll find künefe in most kebab restaurants; save room for one when you visit. Whatever you do, don't think of the calory count, it's just not worth it.
Baklava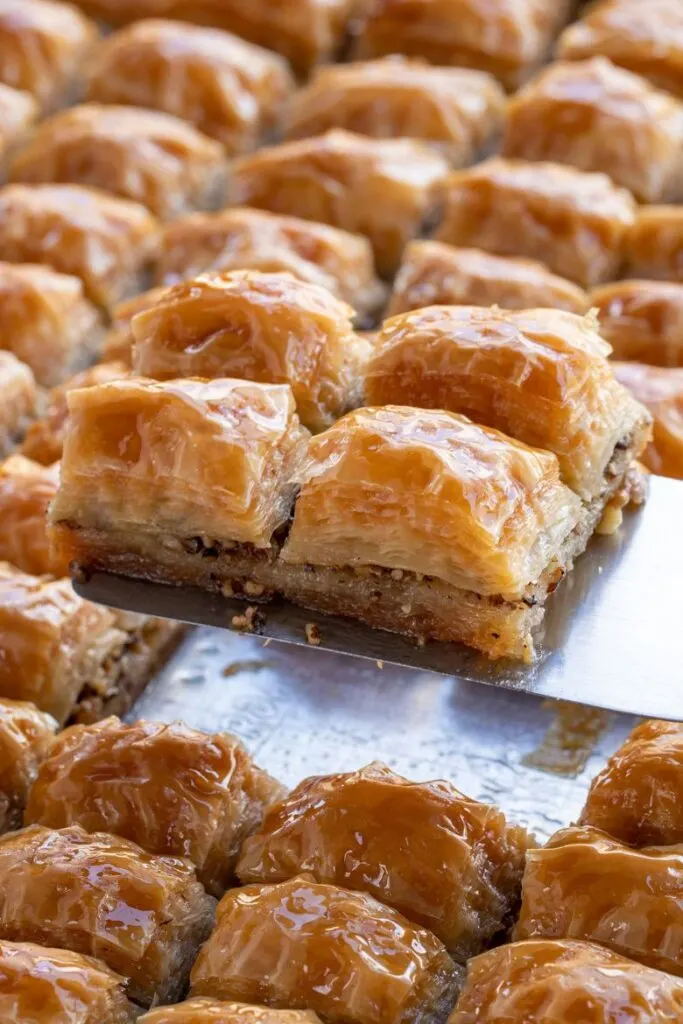 On the subject of sweets, another one you must try during your Istanbul adventure is baklava. Sold in Turkish shops worldwide, you're probably familiar with this popular desert. However, take it from me, none that you have tried to date will compare once you try fresh baklava in Istanbul.
Baklava is the incredible combination of layers of filo pastry, filled with chopped nuts and covered in sweet syrup. Prepared en mas in a giant pan, this bite sized desert is packed full of flavour and texture.
Turkish delight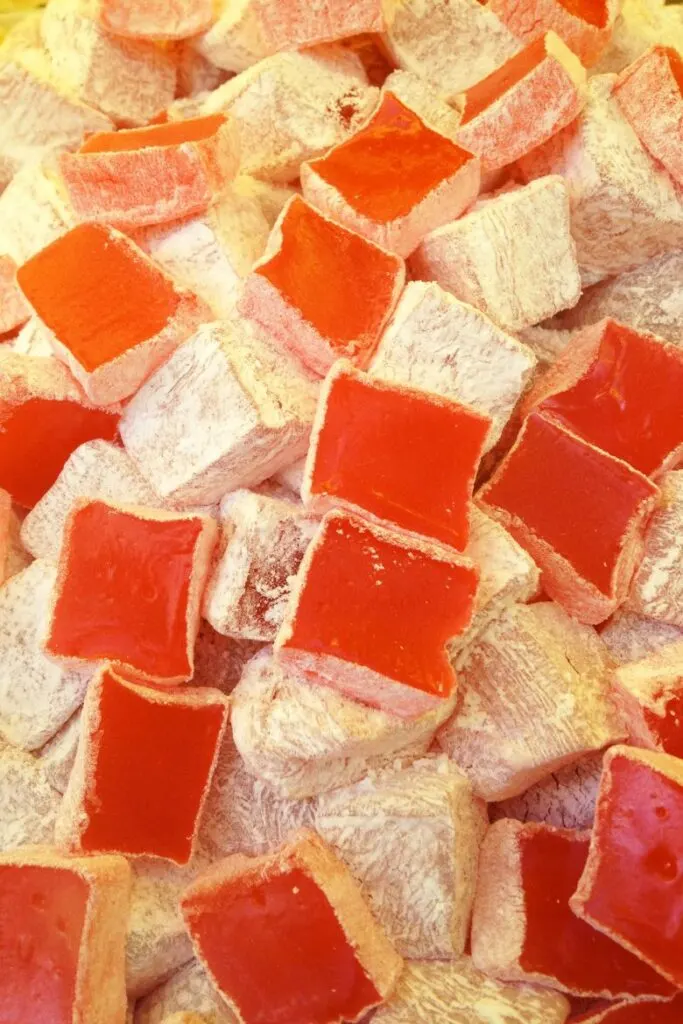 Of course, you cannot come to Turkey without trying the iconic Turkish delight. Turkish delight are known as lokum in Turkish, which translates to mouthful, and is actually group name for a whole range of sweets.
While you may be familiar with the rosewater flavour, there are many more available including bergamot orange and lemon. Some even come with pieces of crushed nuts or fruit. I recommend getting one of these delicious morsels from Haci Bekir, which has been perfecting them since 1777.
Manti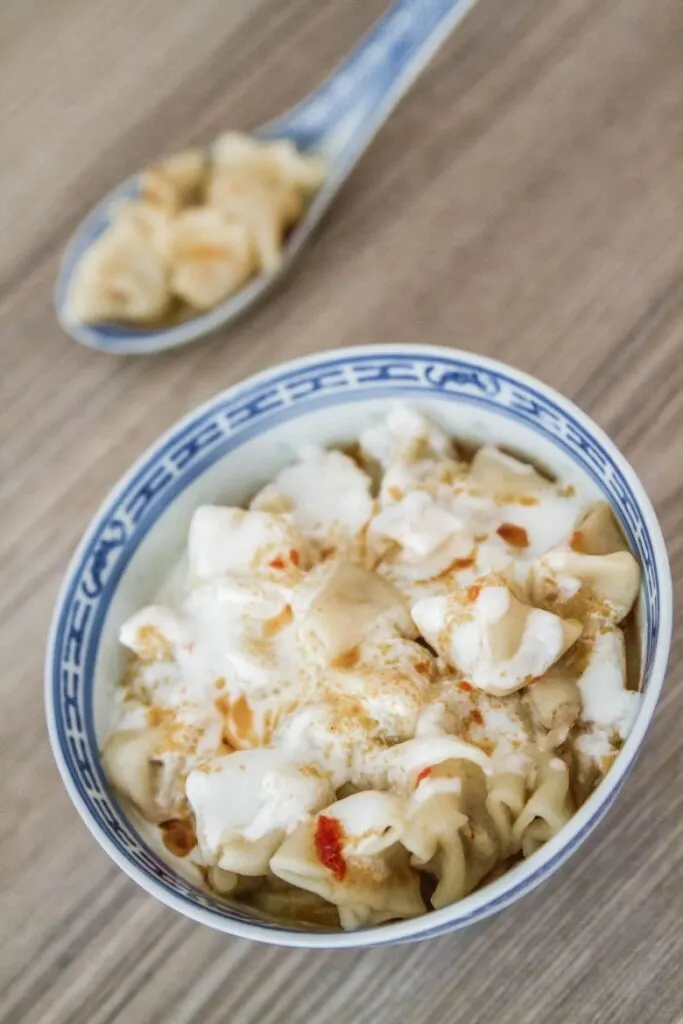 Manti are the Turkish answer to ravioli. Typically made from lamb, these bite sized pockets come served with either a garlic, mint, and yoghurt sauce, a caramelised tomato sauce, or both!
As the creation of this dish is a meticulous process, it is said that the smaller the manti, the more the host respects you. Make sure you order a portion during your trip!
Karnıyarık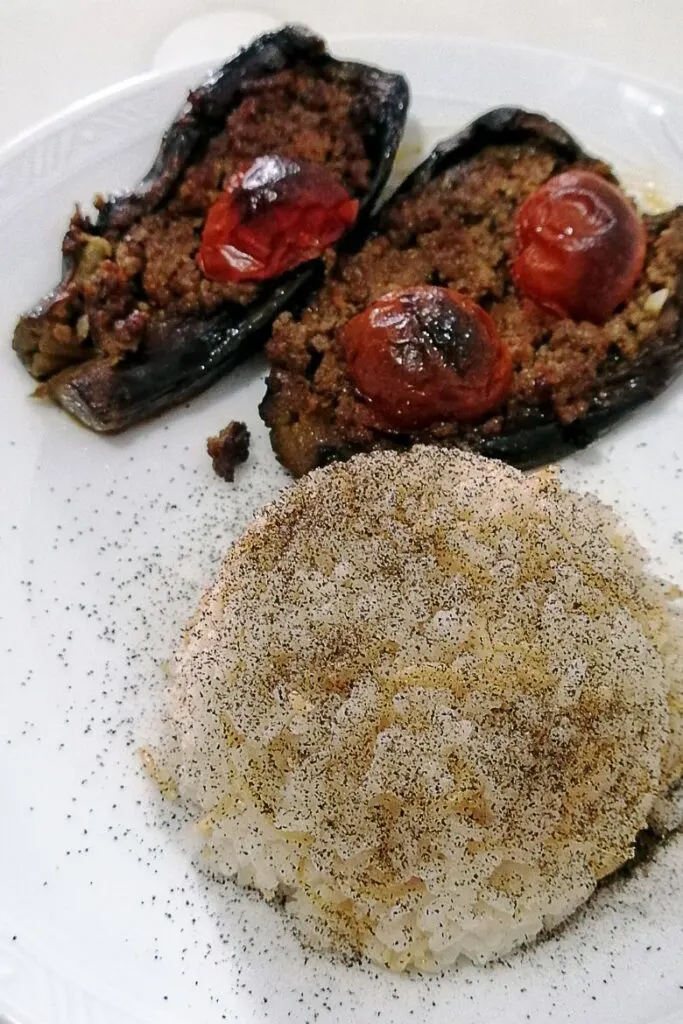 Karnıyarık is what to eat in Istanbul when you've reached your kebab quota and are looking for something filling and tasty. Simply put, karnıyarık is eggplants stuffed with a well seasoned blend of mince, onions, and chopped tomatoes. Consumed warm, this dish is generally served with rice.
For vegetarians, there is a meatless version of the dish called Imam bayıldı. This version is generally served cold. Both options are equally delicious!
Meze Plates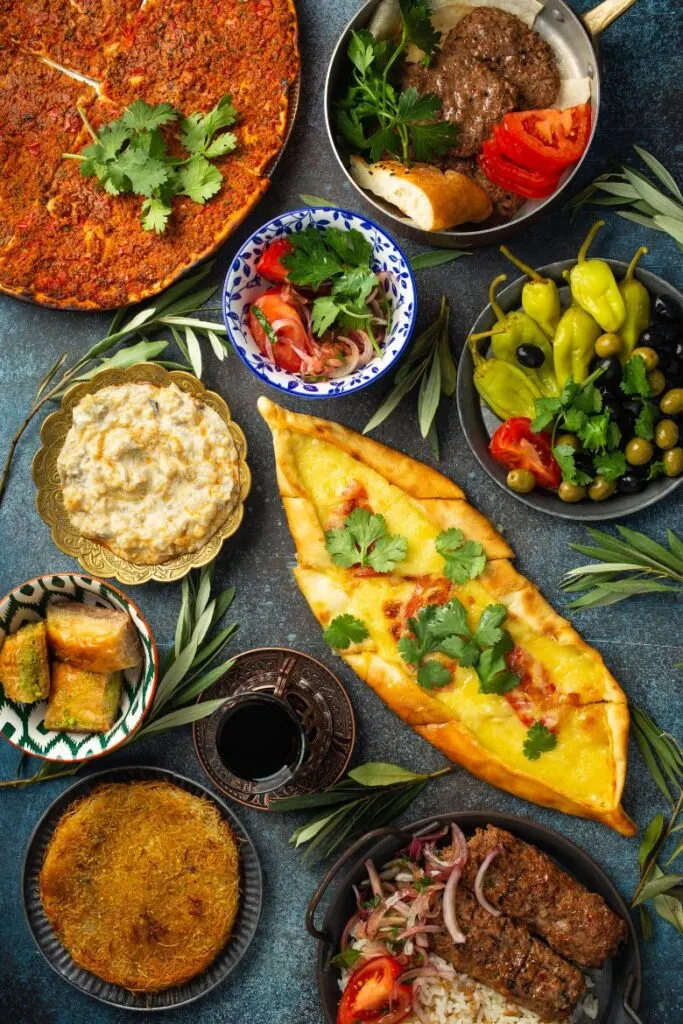 Traditionally served at the beginning of the meal, meze plates are an excellent way to discover the wide range of flavours of Turkish cuisine. Imagine multiple small dishes, designed for sharing, filled with an array mouthwatering delights, both warm and cold.
Typical meze components include olives, bread, dips, pickles, cheeses, stuffed vine leaves, fritters and so much more. Definitely worth trying a full range while you're here!
Craft beer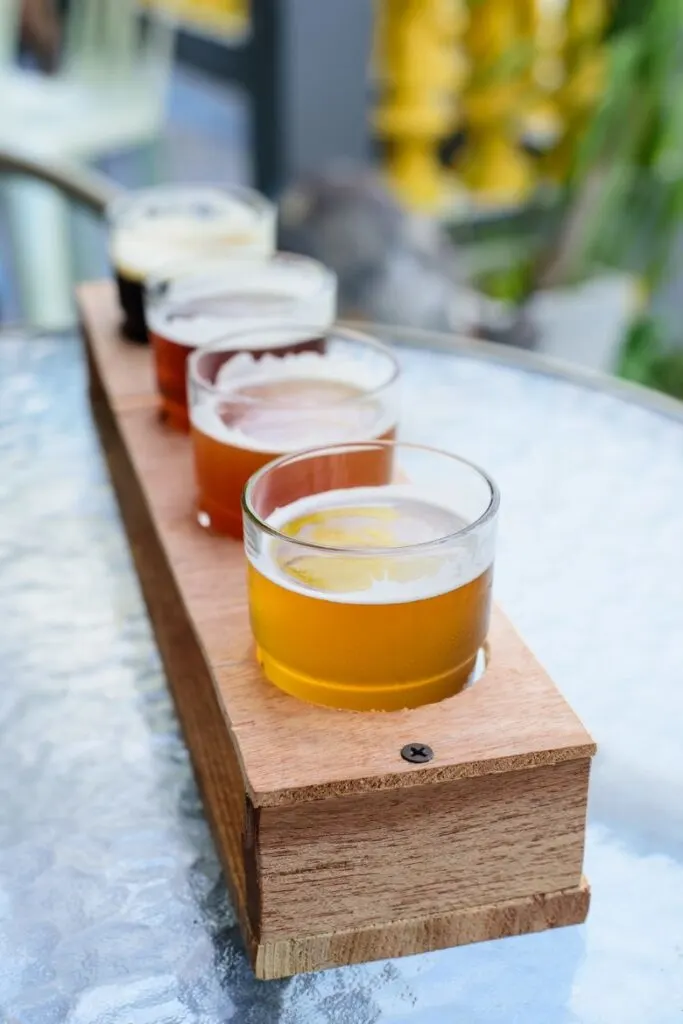 If all of this adventuring and eating has worked up your thirst, it's time to check out some of the incredible craft breweries that Istanbul has to offer. Enjoy a pint on location at Bosphorus or The Populist breweries, or enjoy the wide range of craft beers on offer at Craft Beer Lab.
Due to the high taxes on alcohol in Turkey, the prices for beer may seem relatively high compared to other consumables. But trust me, the beers on offer at these craft breweries are worth it. Cheers!
Izgara Balik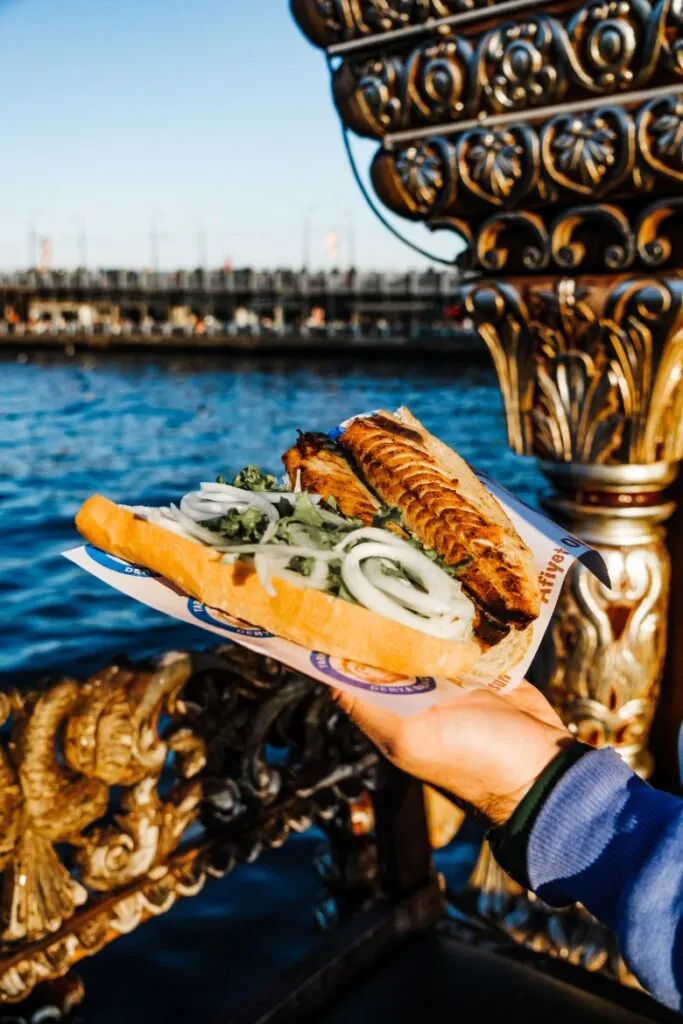 If it is seafood that you're after, prepare yourself for a feast of izgara balik, grilled fish. There are many great options, here are two of my favourites.
Caught in the Aegean Sea and farmed in saltwater lagoons, gilt-head bream is a staple of Turkish cuisine. When grilled, this becomes the meal of izgara Çipura. For the full experience, enjoy alongside a meze plate.
Another great seafood snack is balik ekmek. Literally translating to fish bread, balik ekmek is a grilled fish sandwich, plain and simple, but full of flavour. You can buy these straight off boats near the Galata Bridge.
Kokorec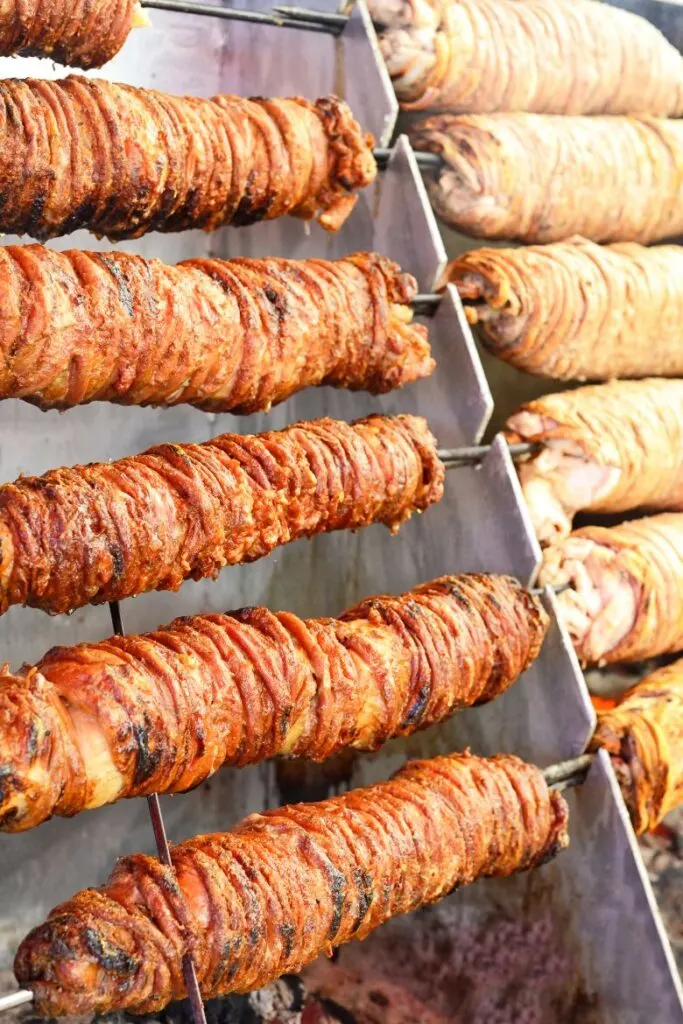 Cooking on an open grill, the smell of kokorec will tempt you as it wafts down the street. However, while this is a beloved dish among many locals, it is definitely among the dishes reserved for those with adventurous appetites.
Served on a bun, kokorec is a combination of hearts, kidneys and lungs, stuffed inside a goat's intestine, and mixed with plenty of seasoning: the result is an intense meaty flavour. There are no fence-sitters with this one, you'll either love it or hate it! For me, this is among the best street food in Istanbul.
---
So have I awoken your appetite with this list of what to eat in Istanbul? I know my stomach is rumbling. Let me know your favourite Turkish treats in the comments below.
Like this blog post? Then Pin it for the future!