Fancy sailing Turkey? This is what it's like going on a traditional Turkish gulet cruise in one of the most beautiful places in the world!

Let me say this now – there's nothing quite like going on a traditional Turkish gulet cruise.
Not only was this one of my favourite experiences in Turkey but it's one of the best sailing experiences I've ever had.
A Turkish gulet cruise is one of those things that not everyone considers. When they think of sailing trips, they think of Croatia or the Caribbean. Well, with sail Turkey you get to explore one of the most gorgeous stretches of coastline stopping off at coves and secluded beaches.
One of my favourite things about sailing in Turkey was the water. There's a reason why the call this the Turquoise Coast and I loved nothing more than mooring up for the afternoon and taking the plunge.
To give you a little taster, this is what it's like going on a Turkish gulet cruise:
What's it like going on a Turkish gulet cruise?
"Canonballlllllllllllllllllllllllllllllllllllllllllll", I yelled as I ran and jumped off the top deck of the boat, a huge plume of water shooting up into the air shortly after.
I think it was about the fourth time I did it but I couldn't help myself – I was having way too much fun. I would've felt bad about quoting Anchorman every few minutes loudly for everyone to hear, but as we were the only ones in a secluded bay on the Turquoise Coast I thought I could get away with it.
As I came up for air I couldn't help but laugh. What a spot we were in! A gorgeous bay with a few olive trees dotted along the coastline and the water shimmering in the fading light. It's easy to understand why they called this area the Turquoise Coast and it's absolutely stunning.
Shortly after, Ingrid, the first mate on our boat called down to us as we were swimming around – dinner was about to be served.
As I climbed back onto the boat, a huge 72ft traditional Turkish gulet sailing boat, I saw this huge feast in front of me, an ice-cold beer with my name on it already opened.
This was something I could really get used to, and even though we were only sailing for the day, it was by far one of my highlights on any trip to Turkey.
I mean, how could anyone not love sailing around place as beautiful as the Turquoise Coast, especially when your every wish is taken care of for the day!?
Sailing Göcek Turkey
"This is your boat. Treat it like you own it, like you've been sailing it for years," those were the words that greeted me as I stepped on board the Günay I, a gorgeous wooden sailboat fit for a king. As it turned out, there was only twos rule on the boat – take your shoes off and relax. Both of those had to be followed.
Don't get me wrong – I did not own this boat, nor was I under any illusions that I did, but both Ramazan and Ingrid, the captain and first mate of Günay I, couldn't do enough to make me happy.
If there was any way they could make my trip more enjoyable, even to the point of teaching me to sail (something that usually has dire consequences), they'd do it, all with a smile on their faces.
As I said, this was something I could really get used to!
Our day consisted of sailing, swimming, eating, and not a whole lot more.
That morning we started in Gocek near Dalaman on the southern coast of Turkey and we spent the day exploring the Turquoise Coast stopping off at secluded coves and bays, often with no one else around at all.
However, not being one to just laze around all day (though that's what most people do aboard the Günay I), I wanted to get involved in the action and learn how to sail.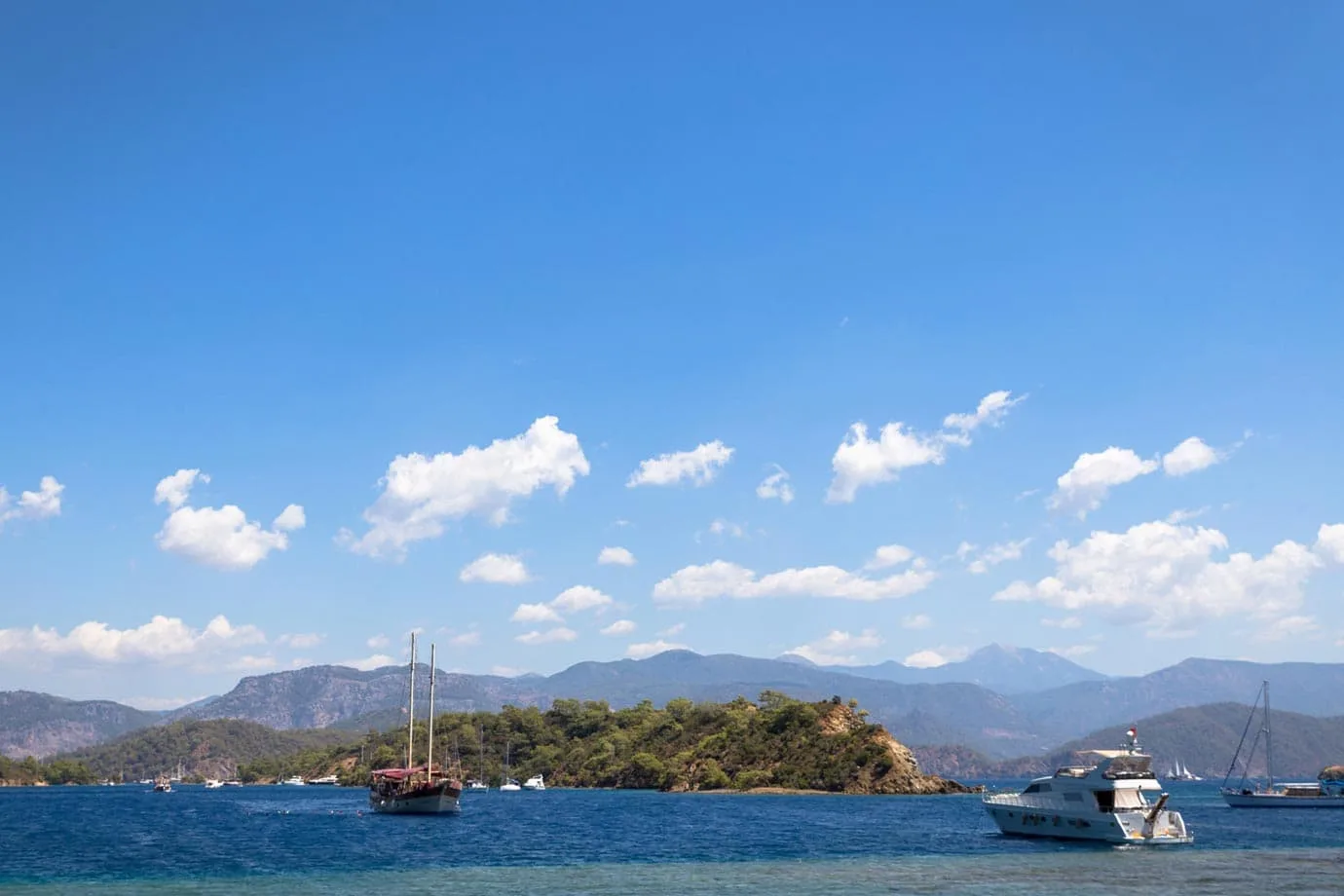 What is a Turkish gulet sailboat?
A gulet sailboat is only found in Turkey. Usually with two or three masts, the one thing that sets it aside from all other boats is the fact it's completely made from wood.
The place we were in, Gocek, is a sailor's paradise, but the thing is hardly anyone actually goes sailing here; all the traditional gulet sailing boats you see use their engines. All of them apart from one.
Both Ramazan and Ingrid were very keen to state that theirs was the only boat that actually sailed. Whenever there was a lick of wind, up went the sails and off went the engine. I mean, you can't come sailing and not throw up the sails, right!?
When I asked Ramazan if I could help out, he was happy to show me the ropes – literally.
When it came to hoisting a sail (my main job for the day), I quickly learned two things. Firstly, you've got to be exceedingly quick to pull the rope in to take up the slack. Secondly, knots are a lot trickier than I ever imagined!
I don't know if I did a good job or not, but as we didn't keel over and fall into the sea I took that as a sign of success.
It was funny though, as soon as the sails were up and the engine was off it was so peaceful and quiet; this was how I imagined sailing the to be.
A feast for a king
By far one of my major highlights of the day was dinner.
Both Ramazan and Ingrid live on a farm, so all the food they serve is 100% organic. Everything from the bread to the cheese to their own jams and honeys, they produce everything themselves (with a little help from Ramazan's mum and dad as well).
Dinner was a selection of meze, about nine different dishes in total, my favourite being the smoky grilled aubergine, but it was the location that made it – our own bay, no one around us, all with the waves gently lapping the side of the boat. A couple of beers to wash it all down and you've got yourself the perfect dinner right there.
As the day was drawing to a close we headed to a secret sunset spot.
Watching the sun dip below the craggy mountains, the sky ablaze with different hues of pink and orange, all with a beer in hand, I couldn't imagine a more perfect way to end the day.
Before my trip I knew sailing on the Turquoise Coast was going to be a day to remember but it was even better than I ever imagined.
If you're looking at exploring this magical part of Turkey, then this is the way to do it. Just sit back, relax, and enjoy it.
Photos from our gulet cruise with Günay 1:
A day gulet cruise in Turkey on board the Günay 1 costs €65 per person and starts at 09:00 until after sunset/until moonrise. A full day on board includes a organic Turkish breakfast (homemade cheese and jams) and a natural Mediterrean menu freshly prepared on the boat. Also, you can have unlimited coffee, tea and water throughout the day as well as a few other treats thrown in there too – all in all incredible value for money!
Are you looking to sail Turkey? Did you know about gulet sailboats? Let me know in the comments below!
Like this blog post? Then make sure you Pin it!