Exploring Death Valley, visiting the Grand Canyon, ice skating at The Cosmopolitan – these are the best things to do in Las Vegas in winter!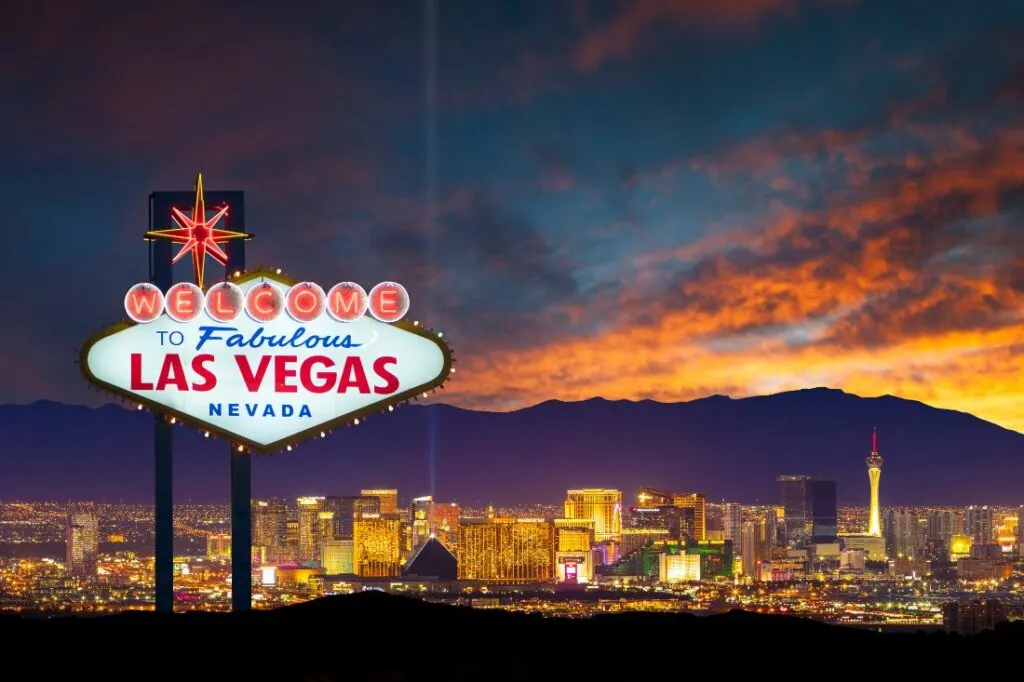 Most winter travel blogs will have you wandering down Christmas markets sipping mulled wine.
They'll have you getting goosebumps beneath your jumper, fingers going numb from the snow as you cup it in your hands to throw. But this isn't like most travel blogs. And Las Vegas isn't like most winter destinations.
That doesn't mean for one second you should discount Las Vegas in winter. I'd actually argue it's one of the best times to visit. And I'm about to tell you why.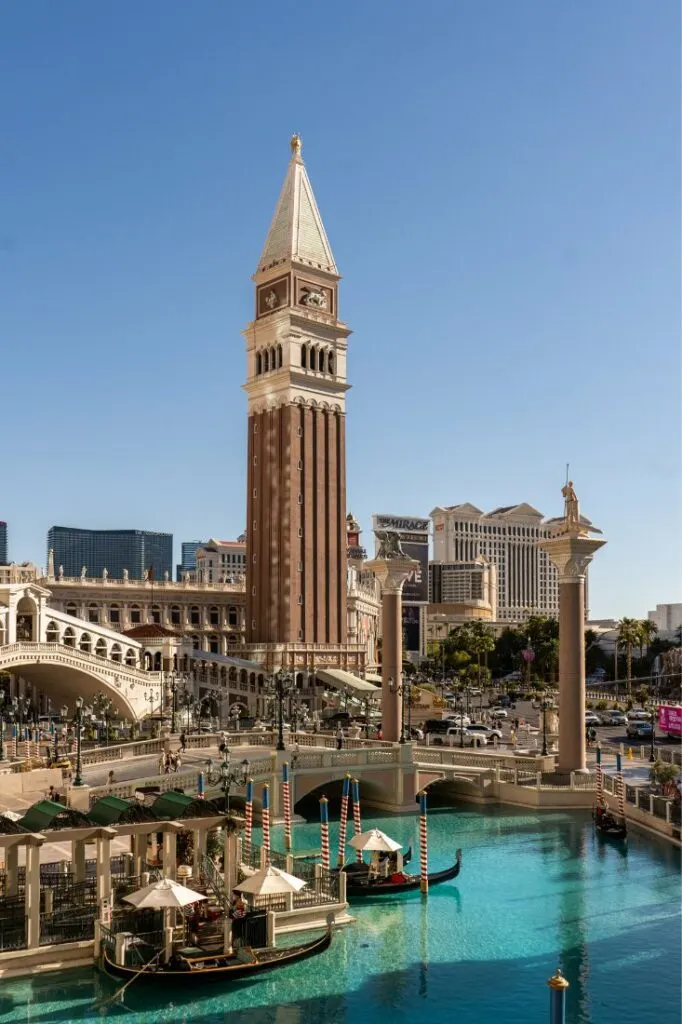 First of all, for the more traditional winter travellers among us, no one does a party like Vegas. And that means the holiday celebrations are out in full force, with events and decorative displays all along the city.
Secondly, Las Vegas is located in a beyond brilliant location for outdoor activities: hiking, road trips, the lot.
But in the summer, Nevada (and neighbouring California) are so hot that it can be hard to actually get out into the National Parks and explore. In winter, it's much milder, and the country opens up for travellers to explore.
So, hang onto your hats and keep reading. We're going to get into the best things to do this winter in Vegas. I really hope this article helps plan your trip here – I promise you this is such a good time of year to visit!
Weather in Las Vegas in Winter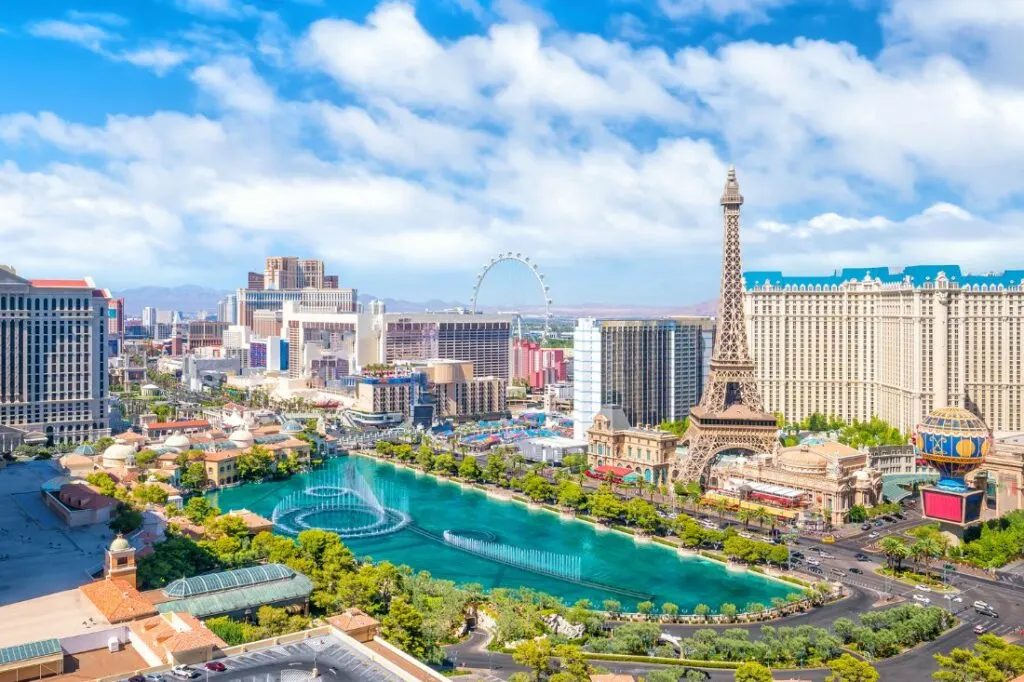 The winter weather in Las Vegas isn't quite what you'd expect from the movies and media. December is the month you'll find the coldest temperatures with highs of just 15°C (59°F) and lows of -3°C (26.6°F).
January is similar, with the average day sitting between -2°C (28.4°F) and 15°C (59°F).
Things pick up a bit in February though with slightly warmer temperatures starting at 1°C (33.8°F) and creeping up to a more favourable 19°C (66.2°F). Throughout the season, expect just one to two days of rain per month.
---
Things to do in Las Vegas in winter
See the Bellagio Conservatory and Botanical Gardens lit up for Christmas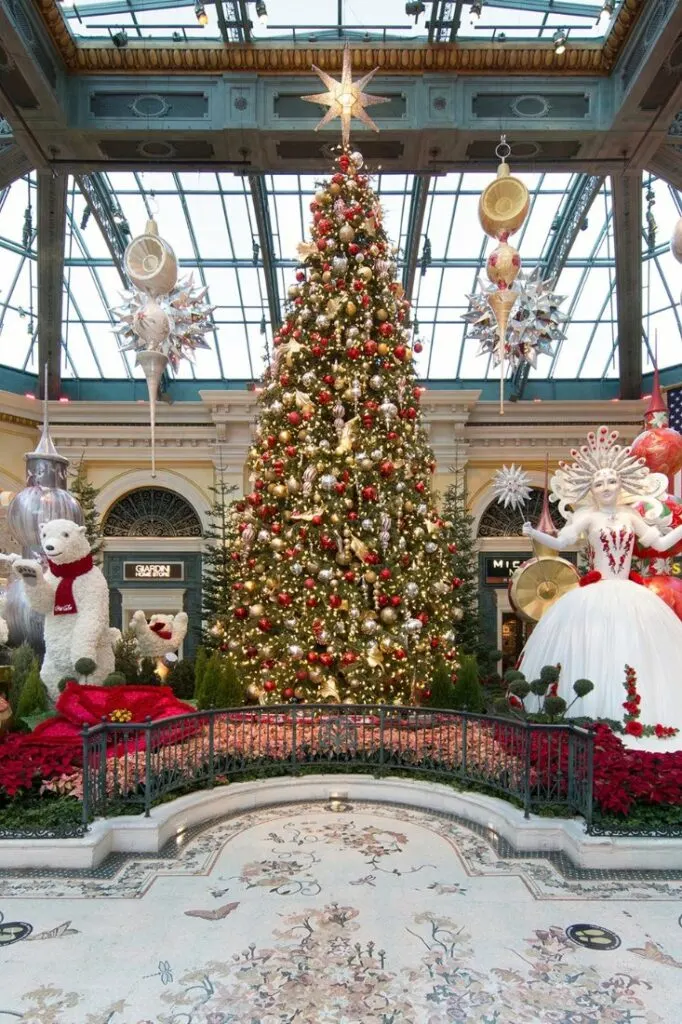 It might not feel traditionally festive in the middle of the desert, but it will once you head to the Bellagio. In December, its Conservatory and Botanical Gardens are transformed into a winter wonderland, complete with Christmas lights, decorative displays, a towering tree and even fake snow.
This year's display is starting on the 2nd December until early January – check it out if your trip coincides!
Head to Red Rock Canyon for hiking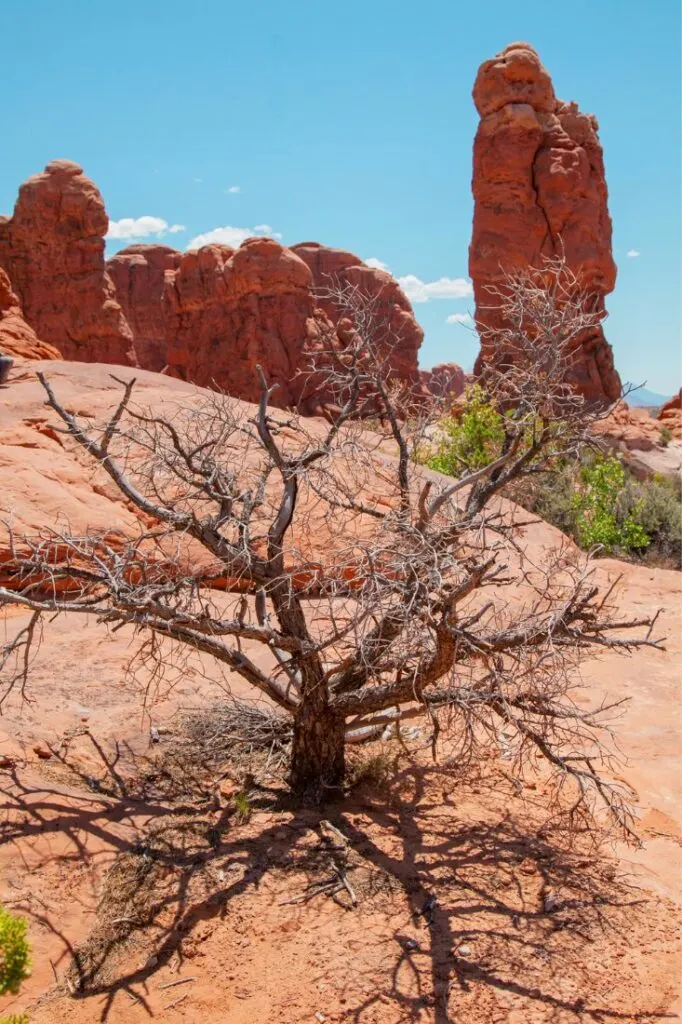 So, the desert is weird. For most destinations, hiking and general outdoor adventures are something I can only recommend in the summer. In Vegas, it's the opposite.
In the summer the searing sun and soaring temperatures mean hiking can be genuinely dangerous, especially for the inexperienced.
The winter is generally a much better time to explore, so I really recommend heading to Red Rock Canyon this time of year: much more hiking trails will be doable (lots of good suggestions here), and it's just as beautiful so it's ideal for photography too. Alternatively, if you'd prefer, take a guided tour so someone can show you all the top sights.
Or explore Death Valley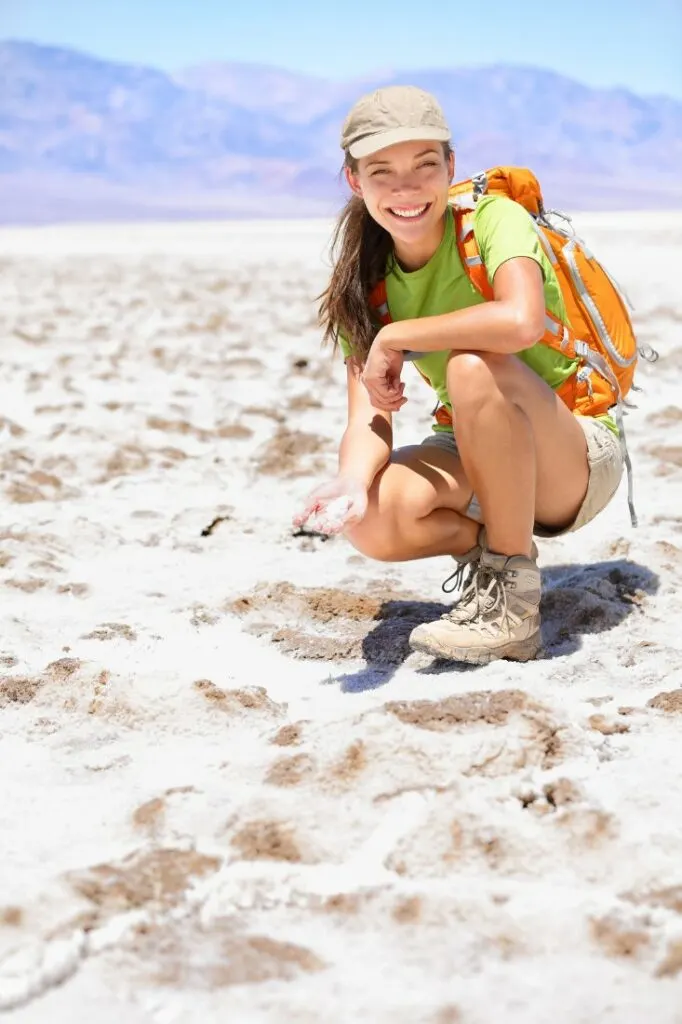 Death Valley is a bucket list destination in itself, and if you're in Las Vegas in winter you've got the perfect opportunity to visit. Like Red Rock Canyon, the temperatures are much lower, so a trip will be more tolerable.
You can easily do a day trip to Death Valley. You won't be able to see everything – you're about a two hour drive away in Vegas – but you can catch the highlights. Some of the sights I'd recommend seeing include Dante's View, Zabriskie Point, Badwater Basin, and Mesquite Flat Sand Dunes.
If you don't want to rent a car and drive, book a guided tour instead so that everything is taken care for you.
Watch the Christmas tree lighting at Fremont Street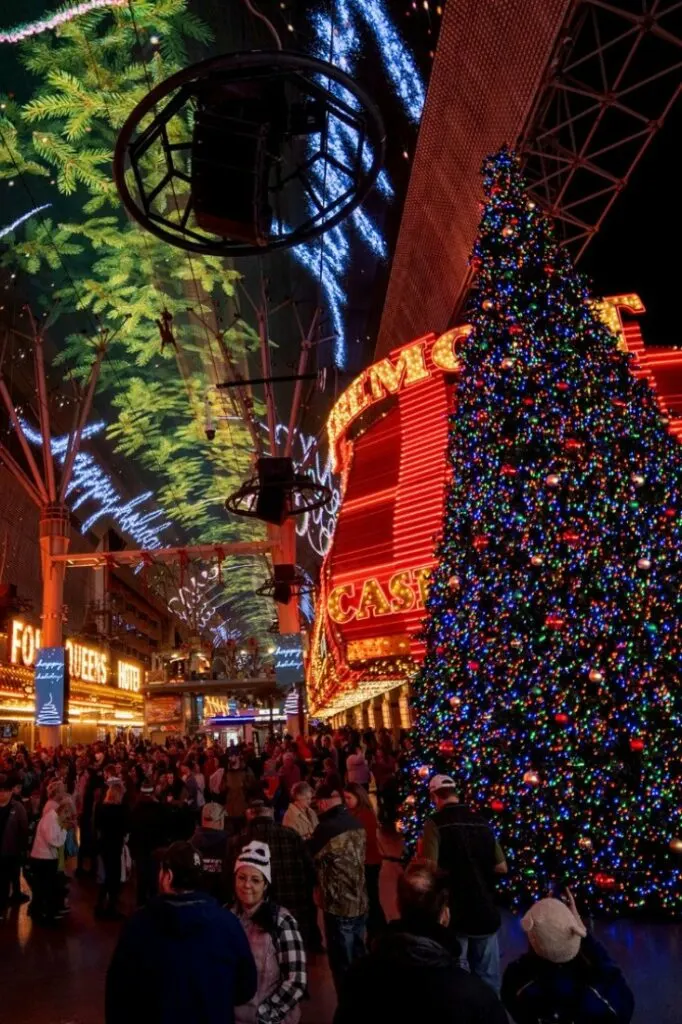 No trip to Vegas is complete without a trip to Fremont Street in general, but visiting in the festive season is a proper treat. This year's tree lighting is on the 6th December (it's also the Las Vegas Christmas tree, not just any old one), but even if you can't make the exact date, there's tons of festivities and celebrations throughout the month.
Spend a day ice skating at The Cosmopolitan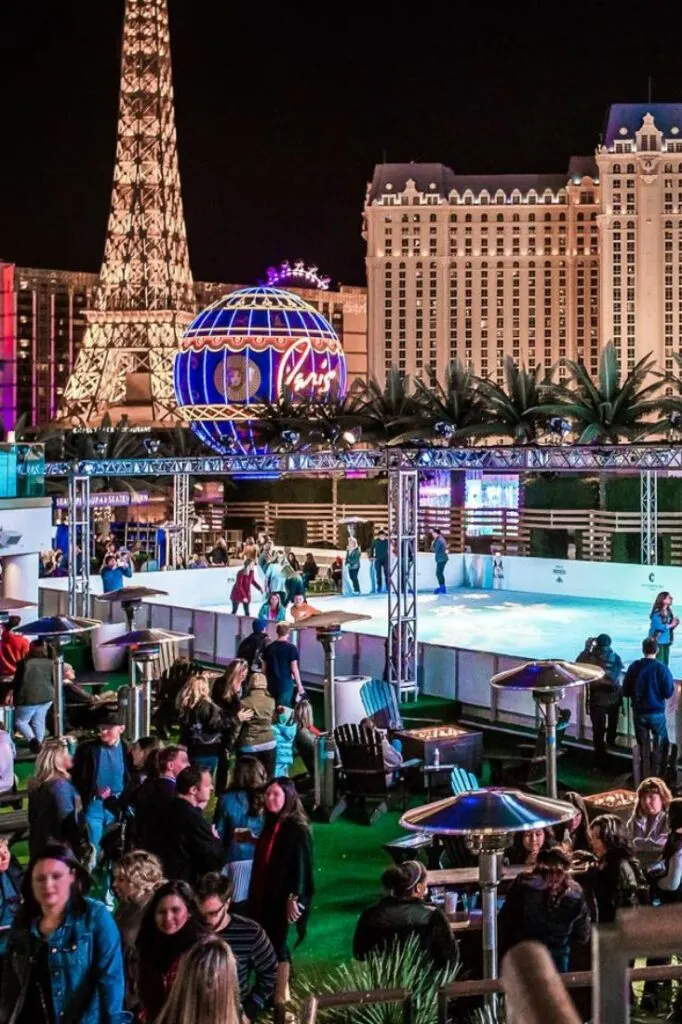 The hotels on the Las Vegas strip really come into their own in winter. There are few better examples of this than The Cosmopolitan. Each year, its Boulevard Pool transforms into a sprawling ice rink. It's magical and atmospheric, especially with its periodic snow showers and views to the strip. You certainly won't feel like you're in Nevada by the end of it.
Enjoy the snow at Lee Canyon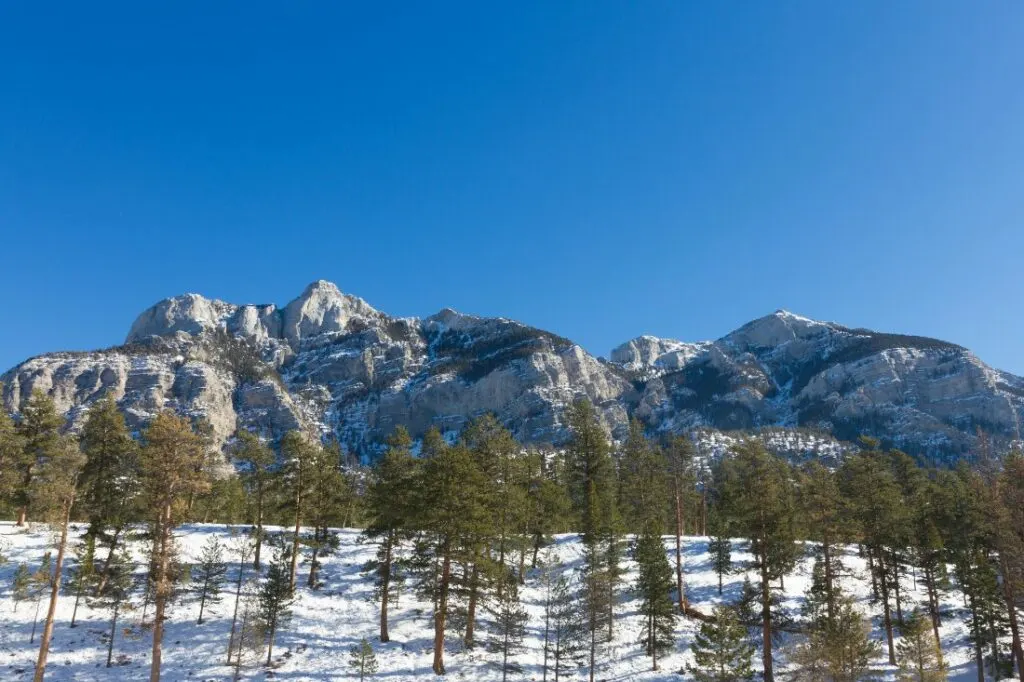 One thing you might not expect about winter in Vegas is that there are some pretty great places to enjoy snow sports.
I'm talking specifically about Lee Canyon. Located in the Spring Mountains, an hour's drive from Vegas, its sheer elevation means it's one of the few places in Nevada that see snow. It's perfect for skiing, snowboarding, or just enjoying the wintery views.
Get a sweet treat at Ethel M's Chocolate Factory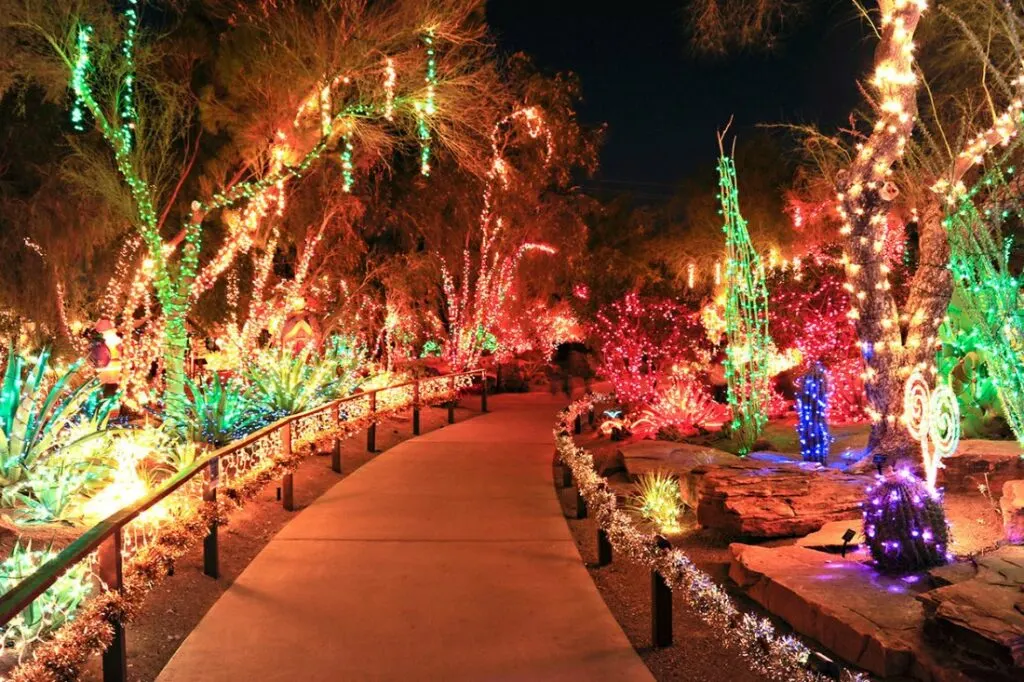 Ethel M's Chocolate Factory is another one of the Las Vegas winter activities you don't want to miss. If you like the sweet stuff, it's a hit all-year-round, but it's extra special at Christmas.
See the Christmas light display, wander around a cactus garden draped in festive lights and decor, and enjoy some seasonal chocolate tasting.
Or get your adrenaline pumping at LINQ Promenade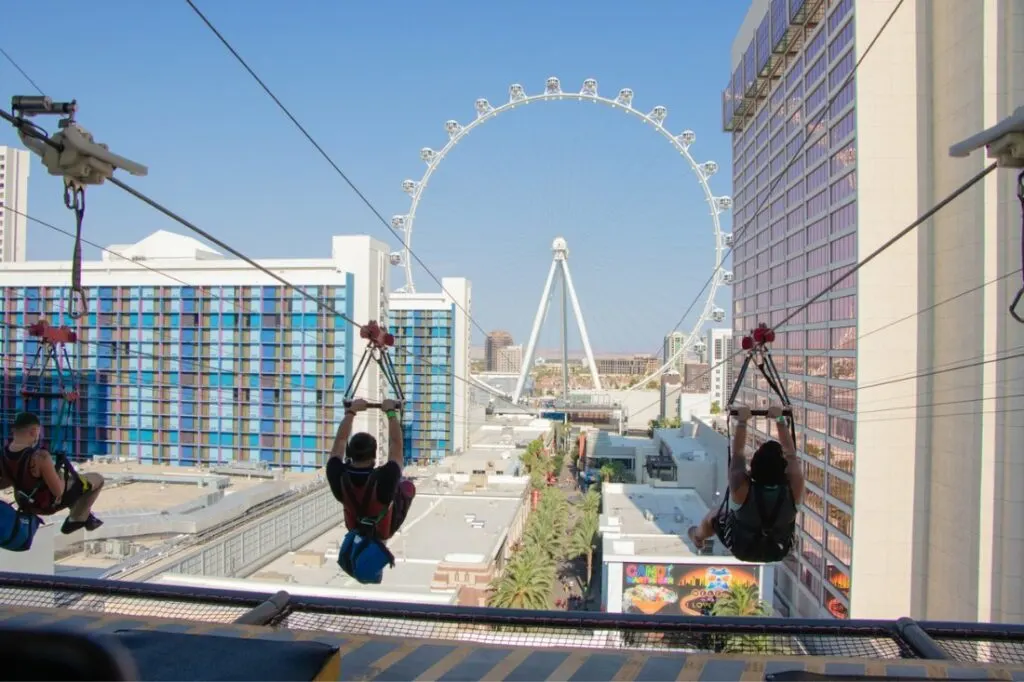 Even if you've not been to Vegas before, I'm sure you've heard of LINQ Promenade. The High Roller Observation Wheel and the zipline are both fairly famous, especially the zipline. Mainly because it's terrifying – you're flying through the air 12 storeys up.
Visiting in December? You'll get the added bonus of festive vibes and holiday lights.
See a Las Vegas show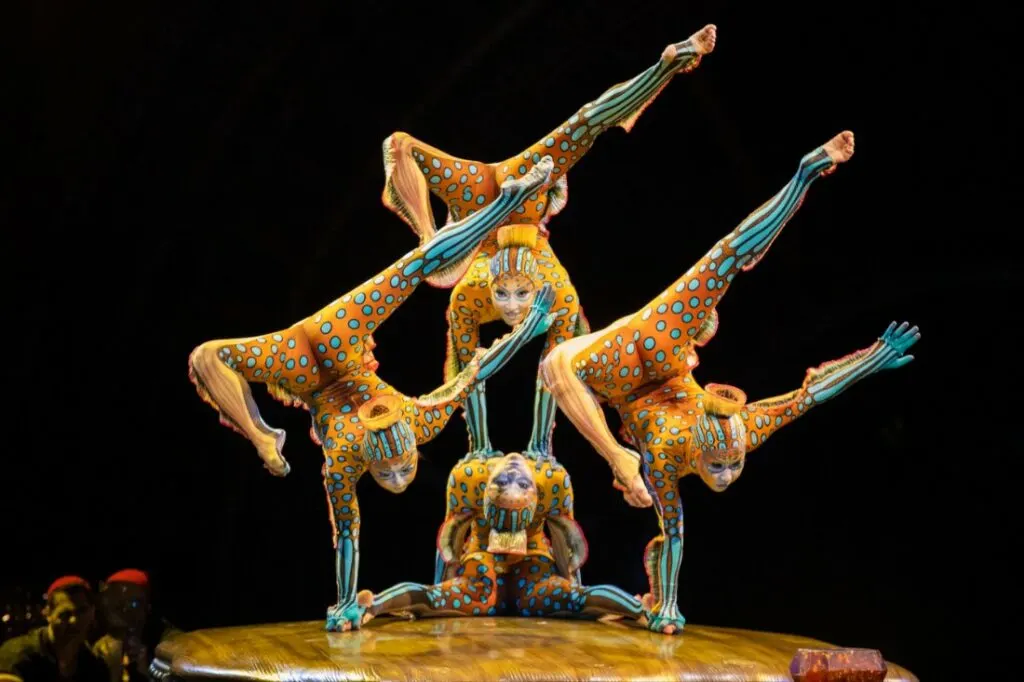 Another thing Vegas is famous for is the shows, of course. I highly recommend seeing one while you're in the city. There's all sorts: from Cirque du Soleil to cabaret to concerts, so make sure to have a look at what's on during your trip. Keep in mind that if you're around in the lead up to Christmas, there will be holiday-themed shows on too.
Take in the view from the Grand Canyon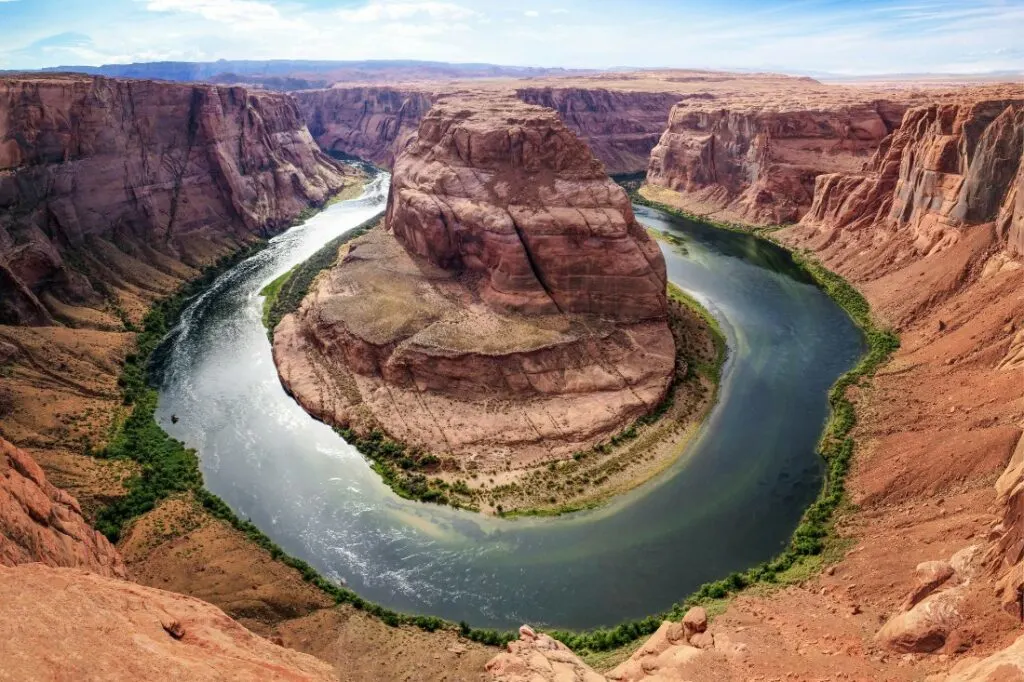 The Grand Canyon is one of the most extraordinary sights in the whole of the US – it's also one of the most popular day trips from Las Vegas. Yep, even in winter.
From Vegas, it's a 4-hour drive to the South Rim, and 2 hours to the West Rim, so it depends how intense a day you want. You can break up the day by seeing some other sights: the famous Hoover Dam or slices of Route 66.
If you don't feel like driving there are lots of tours you can take to the South Rim or West Rim (you can even take a helicopter to the latter).
Or check out 4000-year-old rock formations in Valley of Fire State Park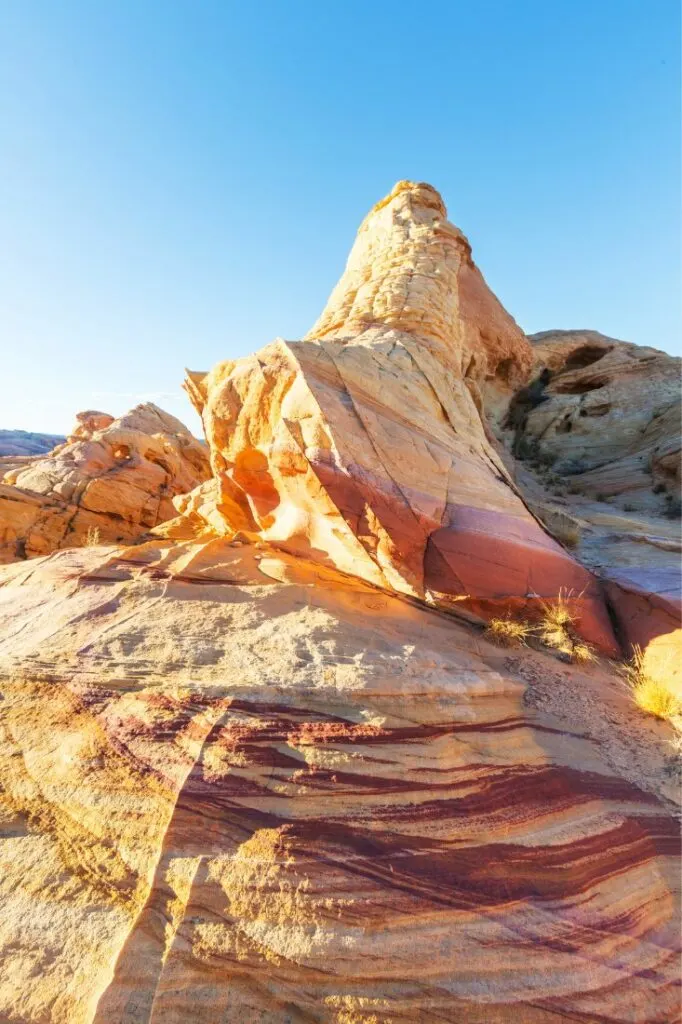 Just like Red Rock Canyon and Death Valley, Valley of Fire State Park is generally much more comfortable to explore in the winter. Only 45 minutes from the city, this state park is home to petrified trees and 4000-year-old rock formations and Native American petroglyphs.
With the cooler temperatures, there are more hikes you can enjoy for longer. Plus, fewer crowds make it easier to have a picnic or take photos of the rich desert colours. It's no problem if you don't drive either – you can take a guided tour.
Go kayaking at Emerald Caves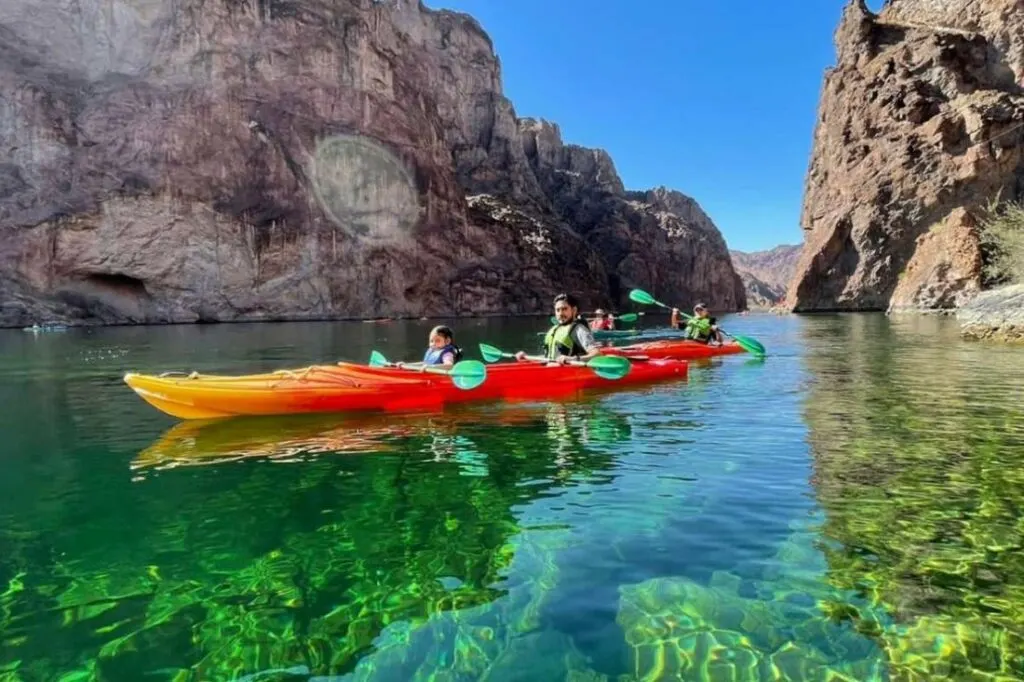 Have you noticed how many of the best Las Vegas winter activities are outside? It's a real novelty – especially since that includes water sports, too.
In winter, Nevada temperatures aren't cold enough that kayaking is out of the question. Good thing, too, as that means you'd miss out on kayaking up the Colorado River to Emerald Caves. For this one, I recommend booking a tour – a local guide will be able to teach you loads about the local area, keeping you safe and on-route.
Do a holiday tour of the Las Vegas strip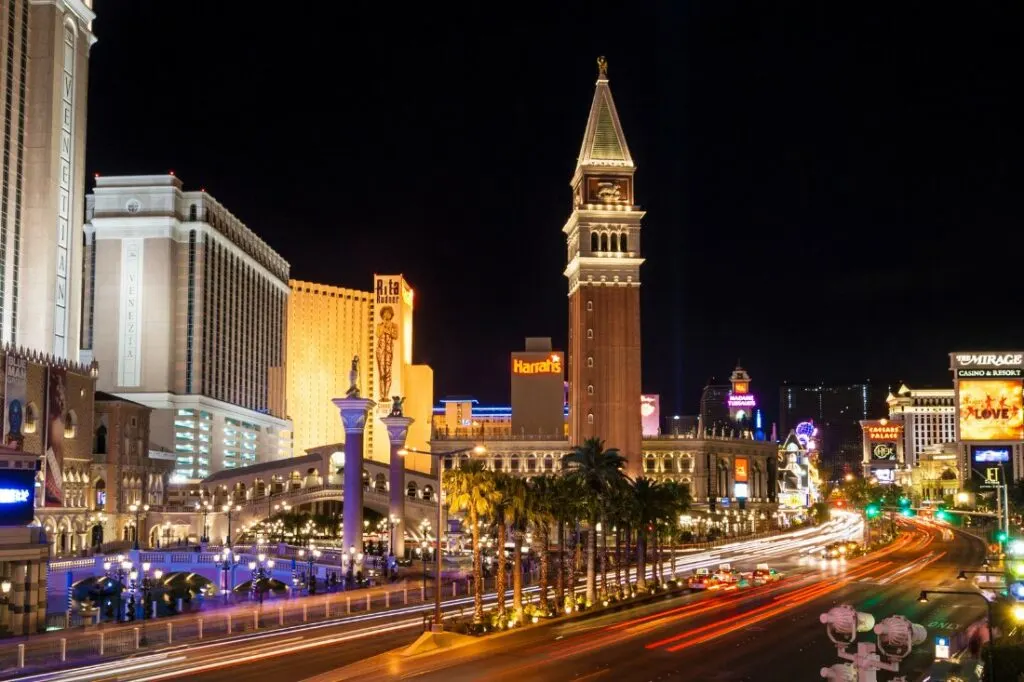 A classic Las Vegas winter activity has to be taking a holiday tour of the strip. Fairly well known as a land of indulgence, the festive decor is no exception, and the Las Vegas hotels tend to go all out with Christmas trees, lights and decorations. Plus, these aren't ordinary hotels – there's tons to do from grabbing a drink, getting a bite to eat, or browsing in shops.
---
Where to stay in Las Vegas in winter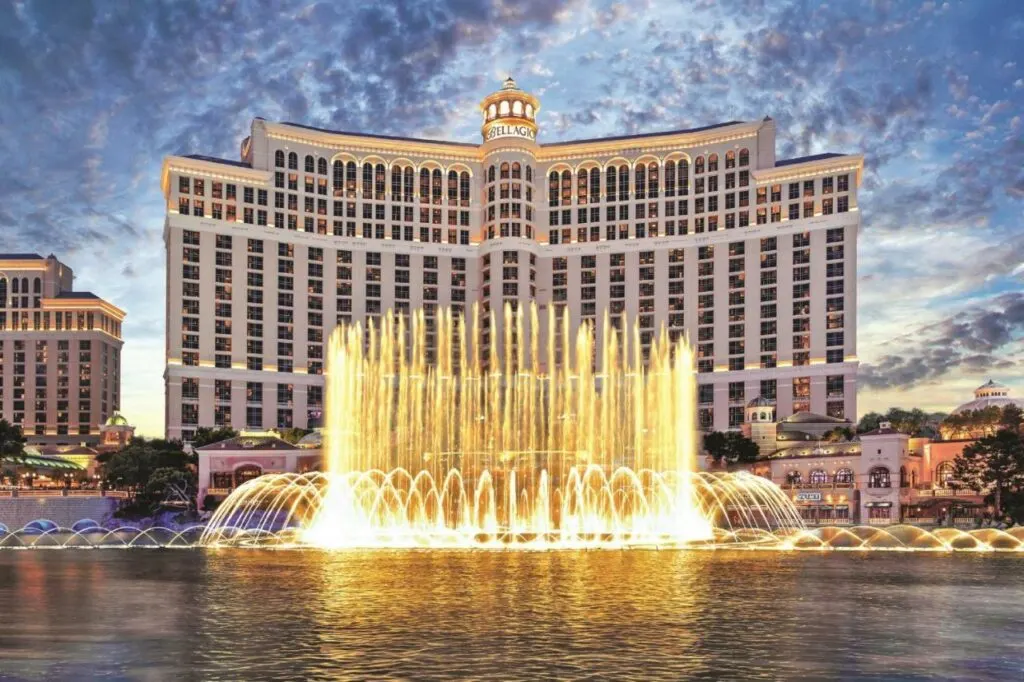 If you're already visiting the Bellagio for the festive display, why not spend the night?
One of the famous hotels that dominate the strip, no expense is spared at the Bellagio. The rooms are ornate and beautifully decorated, complete with marble bathrooms. Plus, it's not just the Conservatory you've got for entertainment: marvel at the Fountains of Bellagio, wander through the lush botanical gardens, or grab a bite at one of the three on-site restaurants.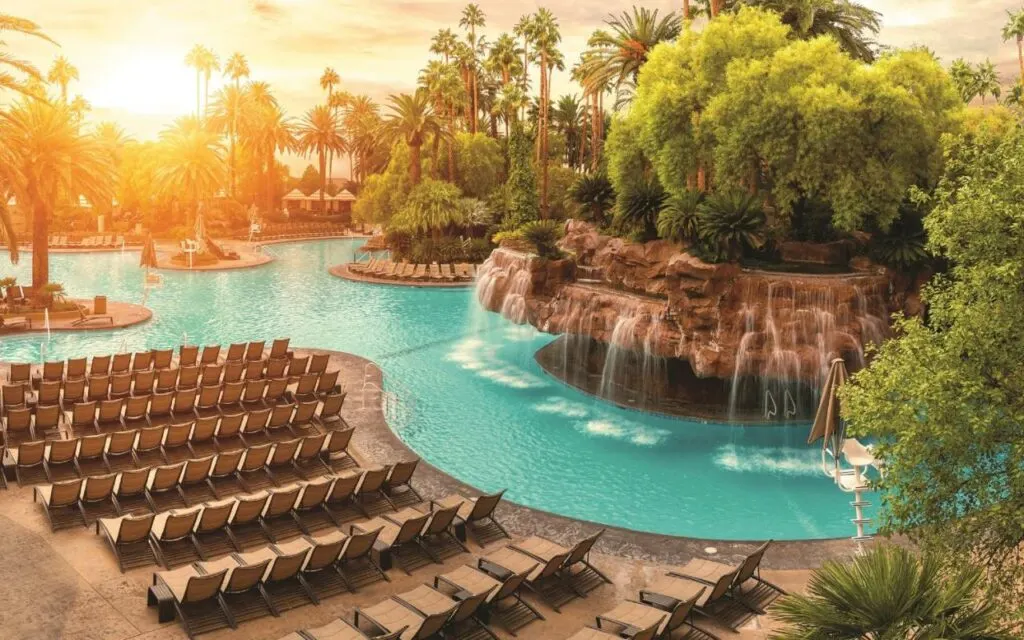 Warm temperatures in Las Vegas and winter mean it's a fine time to still enjoy the tropical refuge that is The Mirage. Seriously – it's even got its own unique dolphin and wild animal habitat on-site (as well as a lava-flowing volcano replica). And while it might be a bit too chilly for a dip in the pool, there's nothing stopping you from making use of the casino, spa, or one of the many restaurants, bars and lounges.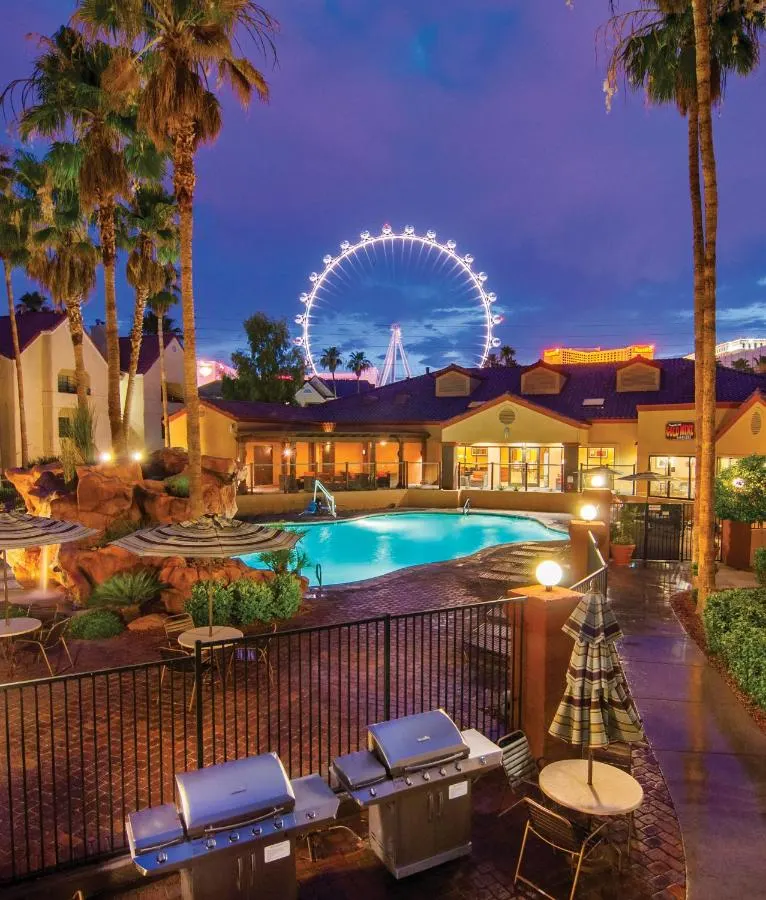 If you've got a packed out trip to Vegas in the pipeline, you probably want to save those pennies. Luckily, that doesn't have to mean sacrificing your creature comforts. Holiday Inn Club Vacations at Desert Club Resort has everything you need: comfortable bedrooms, a bar and grill for convenient eats, plus fully equipped fitness centres and hot tubs for you to unwind in.
---
Heading to Las Vegas this winter? Let me know your plans in the comments below!
Like this blog post? Then Pin it for the future!