Do you fancy going to one of the craziest shows on Earth? Then check out my guide to the Robot Restaurant in Tokyo (including ticket discount!)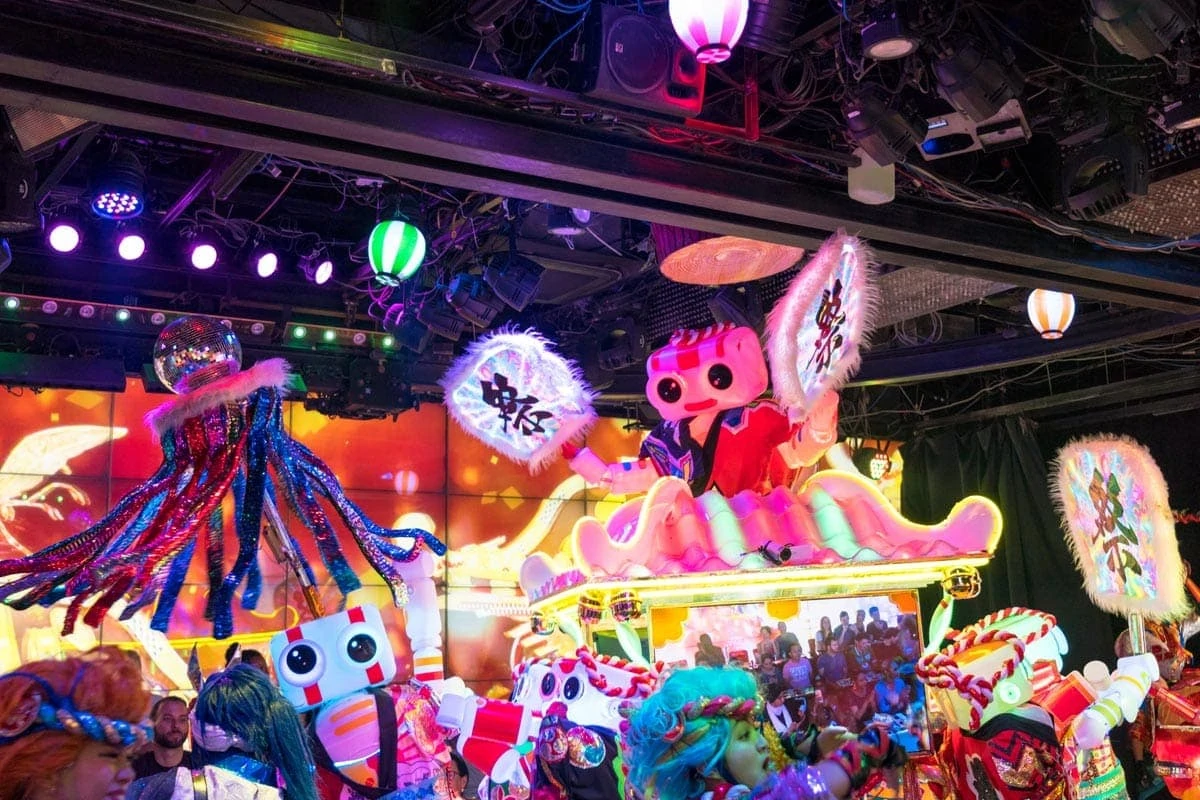 The Robot Restaurant in Tokyo is one of the craziest experiences I've ever done in my life. It is just a sensory overload in every sense of the imagination. What can I say, I really loved this place.
If you don't know anything about the robot restaurant then you're in for a treat. In this post I'm going to tell you everything about the robot show in Tokyo. It really is a once-in-a-lifetime experience and one you'll never forget.
Located in the city's trendy neighbourhood of Shinjinku, the Robot Restaurant first opened its doors in July 2012. Ever since then it has become one of the top attractions in Tokyo with hundreds of thousands of tourists visiting each year.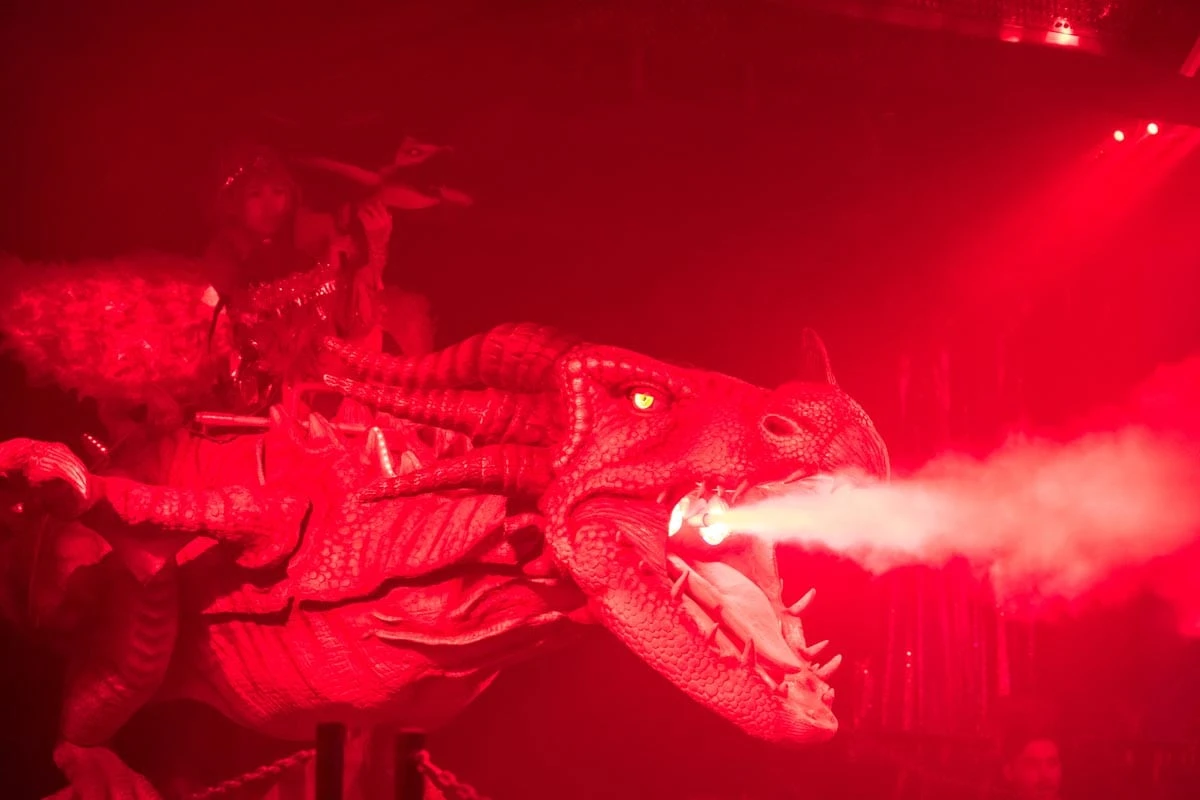 It's quite hard to describe what Tokyo's Robot Restaurant is like. Essentially, it is a crazy neon-fuelled show that is a cross between Japanese anime/manga with a computer game of good vs bad. And yes, the robots really are robots. And yes, they are absolutely massive.
I found myself crying with laughter within the first 5 minutes. This is one of those truly *Japanese* experiences in every sense. If you're coming to Tokyo I really can't recommend this place enough!
Here's everything you need to know about the show including how to get your hands on some Robot Restaurant discount tickets, so read on!
If you're heading to Japan then make sure you check out my itinerary for two weeks in Japan featuring some of the best places to go in the country!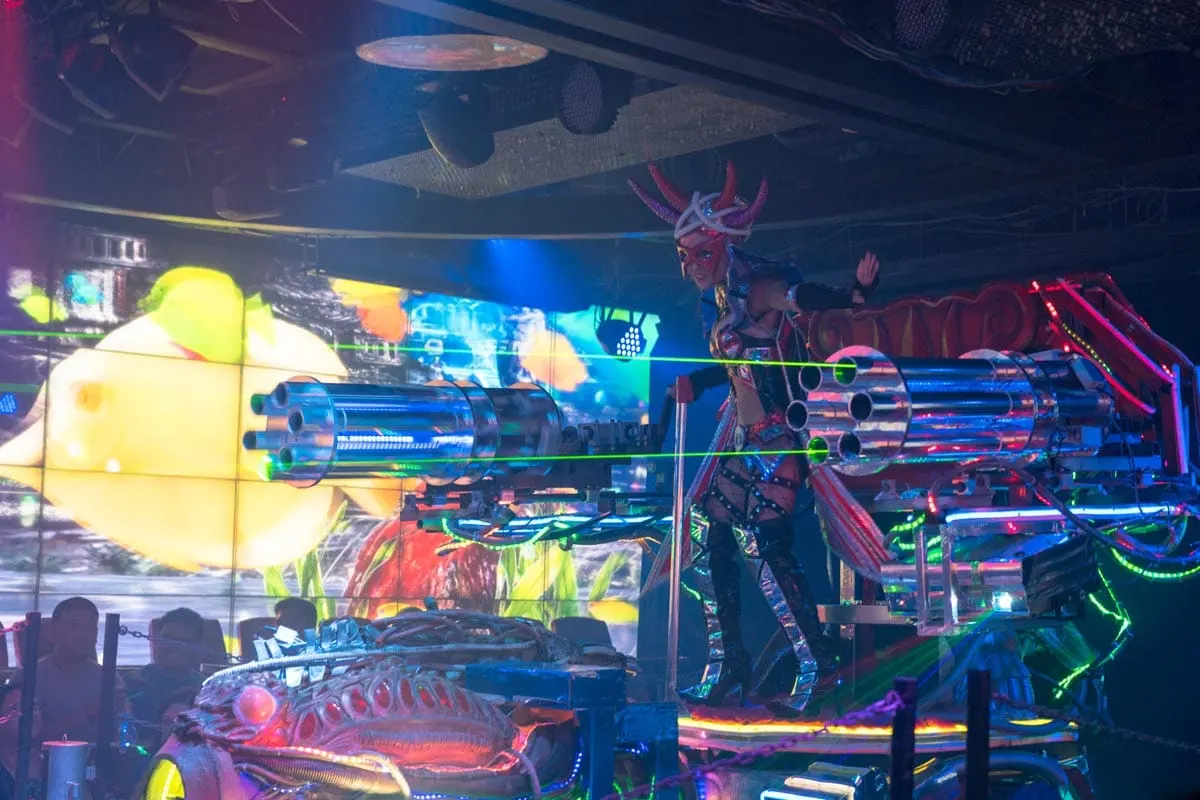 What is the Robot Restaurant?
Even though they say this place is a restaurant, it's a bit misleading – hardly anyone eats here. Yes, they do serve food but it's not the best around. Instead people come for the incredible robot show and for the drinks.
Saying that, if you do want to eat, then they have American diner-style food on offer, so things like hot dogs and chips.
During the show you can also order snacks like crisps and popcorn, so there is something if you're feeling a little hungry.
I would say this though – the food and snacks inside is quite expensive for what you're getting! You have been warned!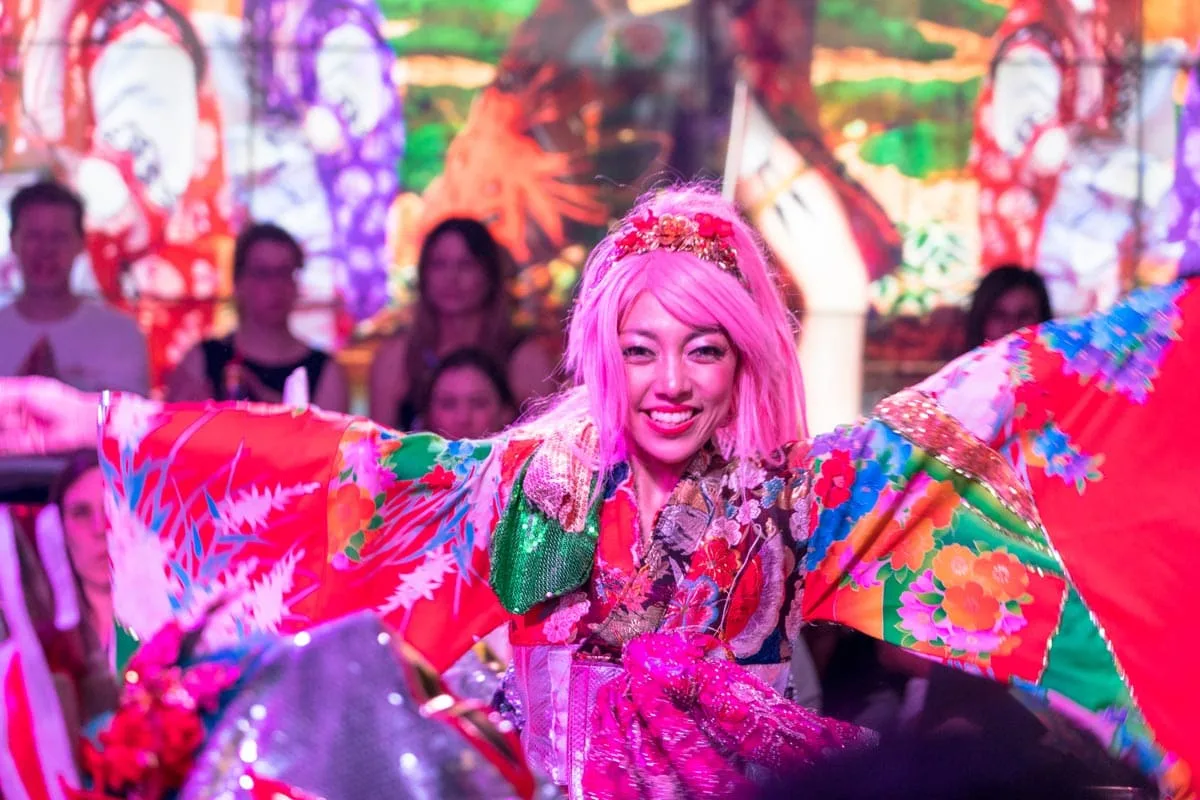 Instead, I'd really recommend eating something delicious before the show starts. There are so many incredible restaurants in Shinjinku it'd be a shame to miss out on one of these.
Shinjinku's Kabukicho area (where the restaurant is) is actually one of Tokyo's red-light districts. It's quite a surreal experience walking around here and seeing sex shops, seedy clubs and love hotels dotted all around the place.
If you're travelling with kids then it might be best to head straight to the Robot Restaurant, but if not then take in the cacophony of sights and sounds because this is what makes Shinjinku such an interesting area to visit.
You'll know once you get to the robot show – it's impossible to miss. The whole street is lit up by a kaleidoscope of fluorescent colours and music is blaring. Outside the restaurant are a couple of giant robots you can pose with. Saying that, even if you don't plan on going inside for the show, this is still a fantastic place for a photo!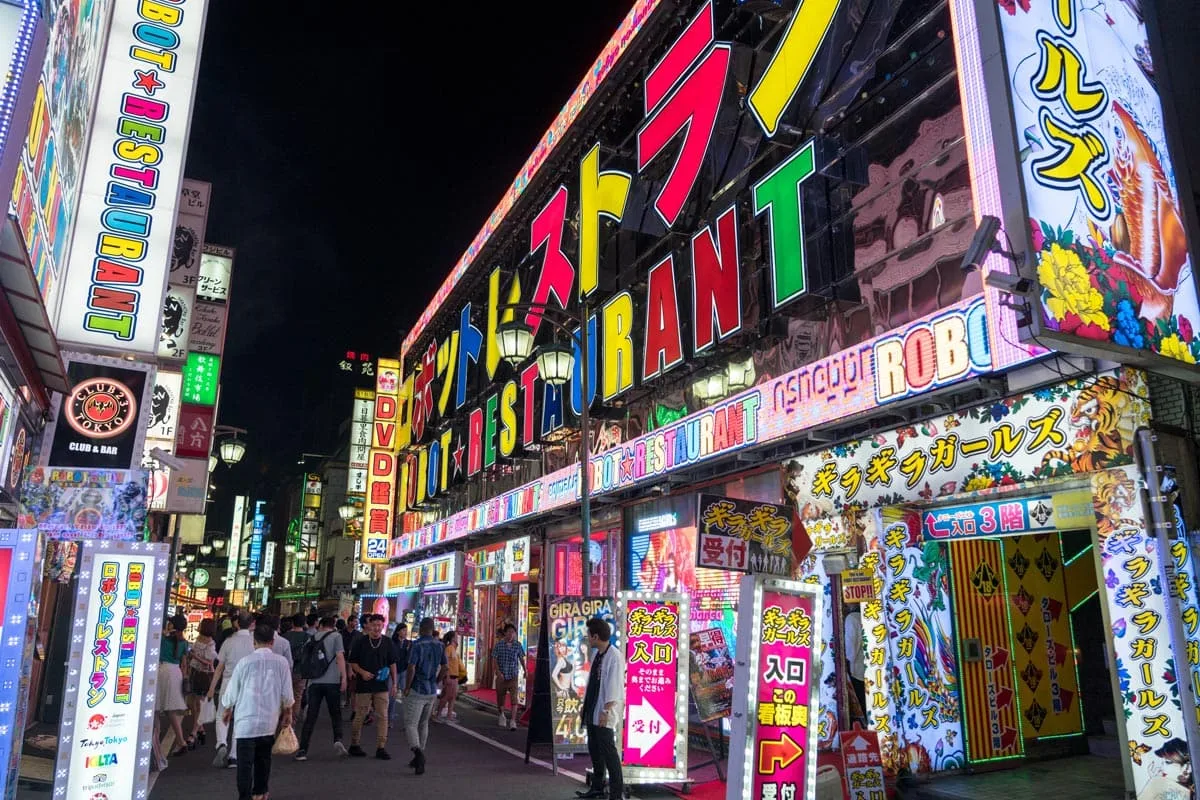 The Tokyo robot show!
Once you head into the Robot Restaurant, you quickly realise what you're getting yourself in to (as if you didn't know already!)
After walking through a few passage ways you're taken into a room that can only be described as being on the inside of the gaudiest glitterball above a classic 70s dancefloor. Basically, the entire room is decorated with mirrors everywhere and beautifully tacky furniture.
In the corner were a couple of guys dressed up in Daft Punk outfits playing guitar as a hostess lead us over to the bar.
Drinks were quite expensive, around $6 for a bottle of beer, but they did have a couple of specials on cocktails. I remember the G&Ts being particularly cheap!
After being in the bar for around 20 or 30 minutes, we were led downstairs to where the show is.
In a long hall, there are 3-tiered rows where you'll be able to find your designated seats. I know the front is considered the best but you've got a great view of the performance space wherever you sit. We were on the back row and I really liked it there – I felt like the front row you're too close to the action!
I won't get into the ins and outs of the show itself. For that you're going to have to experience it for yourself!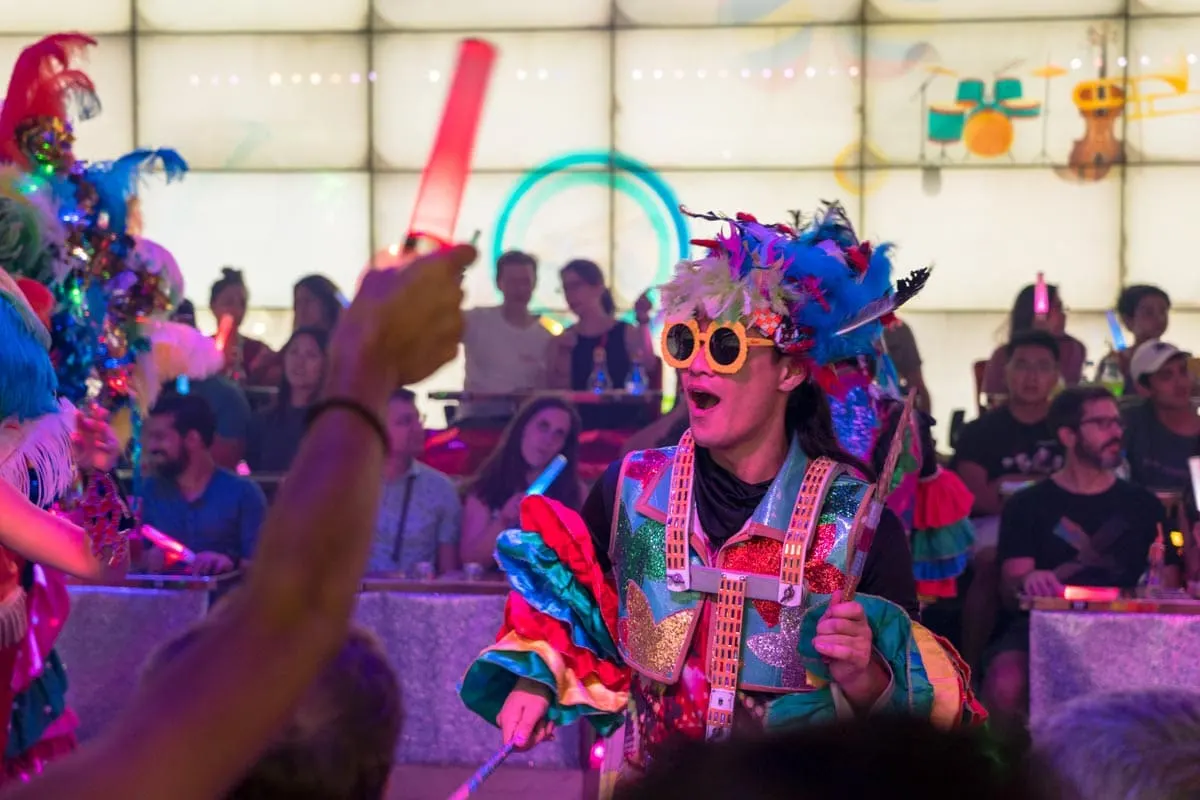 Robot Restaurant timings
The robot show actually runs 4 times a day.
The timings are 3:30pm, 5:30pm, 7:30pm, and 9:30pm. Each show is exactly the same and lasts about 90 minutes with a break in the middle. Also, just a note, you're supposed to arrive 30 minutes in advanced to get the full experience.
It all depends if you're watching the show with your family, but I'd recommend one of the later slots at 7:30pm, or 9:30pm. Then you can go out for dinner beforehand and really enjoy the experience.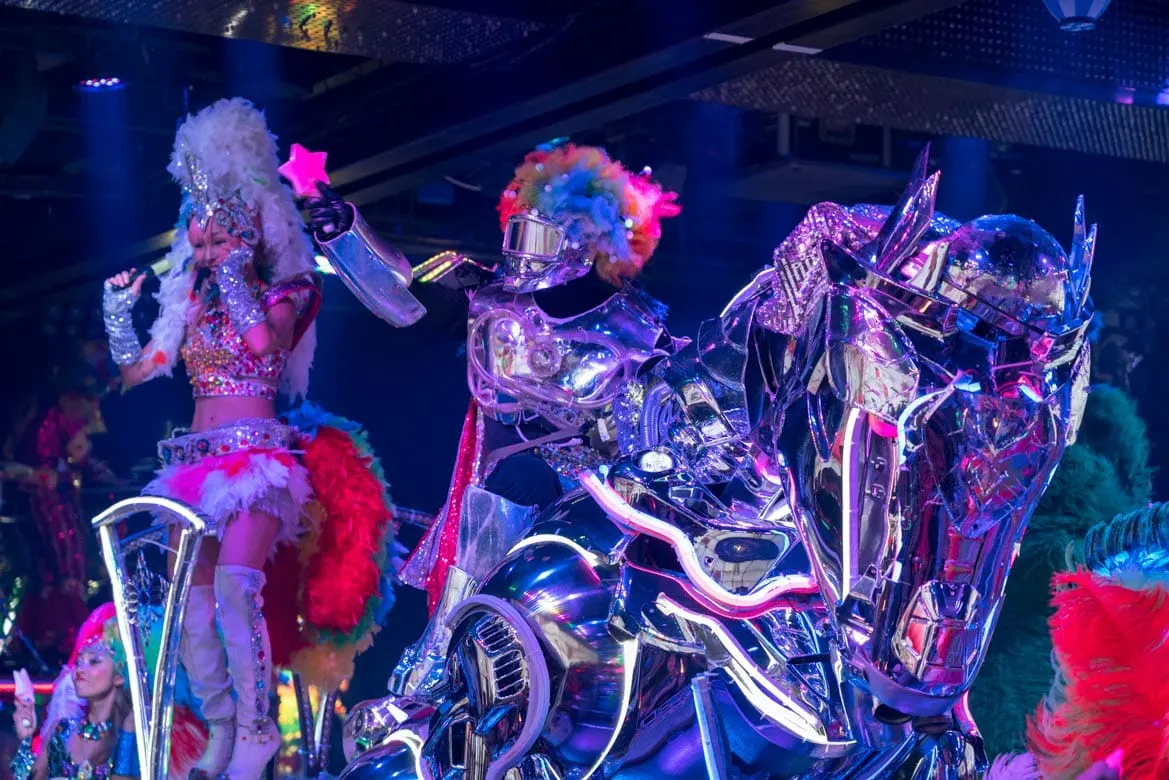 Robot Restaurant Tickets Discount
The Robot Restaurant price is ¥8000 ($72 USD). Even though this might sound expensive, it really is one of the best things to do in Tokyo.
The ticket office is opposite from the main entrance – it's in bright neon lights so you can't miss it.
Whenever I walked past the Robot Restaurant in peak times, the queues for tickets were always pretty long.
Instead, I'd really recommend booking a Robot Restaurant ticket beforehand and then picking it up before dinner. Then you can go out and not worry about waiting around for you ticket.
As with a lot of shows, the on-the-door price was a lot higher than you can get online – that's why I recommend booking a ticket beforehand!
I'm very thankful that I can offer you a wee little Robot Restaurant discount to my readers. If you head on over to Voyagin you can get 38% off the Robot Restaurant ticket including a free gift if you book online which is pretty cool! This isn't a scam or anything, just a really good discount that'll save you some money.
Food is an additional ¥1000 Yen or ¥1500 when you're there.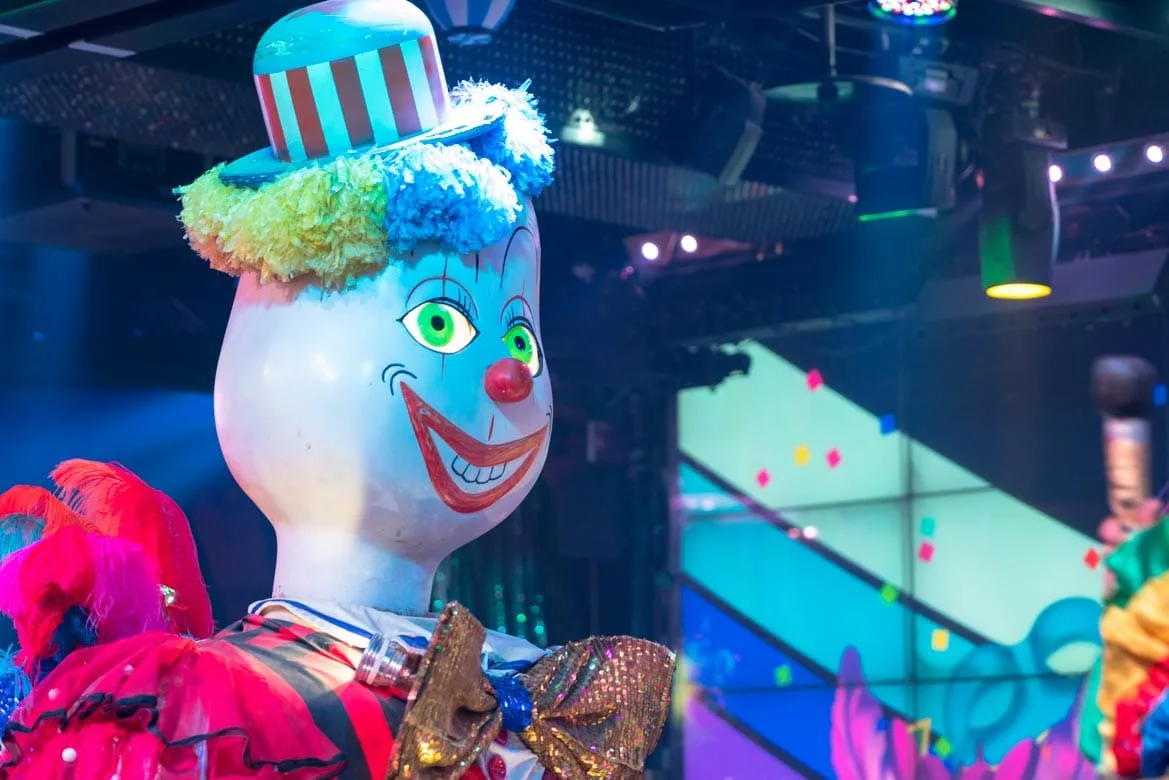 Robot Restaurant Tips
If you can, make sure you've eaten beforehand (unless you plan on having a hot dog!) You'll be very pleased you did
To save money, get your Robot Restaurant cheap tickets online beforehard. Don't forget, if you book with Voyagin you get a whooping 34% off the ticket price
Try and pick up your ticket from the ticket office in-between shows so you don't have to wait around in queues. Means you'll get longer inside the bar and the show
The nearest station is Shinkinku. Take the east exit and it's about a 10-minute walk. Mark it on your Google maps beforehand and it's very easy to find
Fully embrace the madness of the experience and enjoy yourself. There's a reason why this is one of the top things to do in Tokyo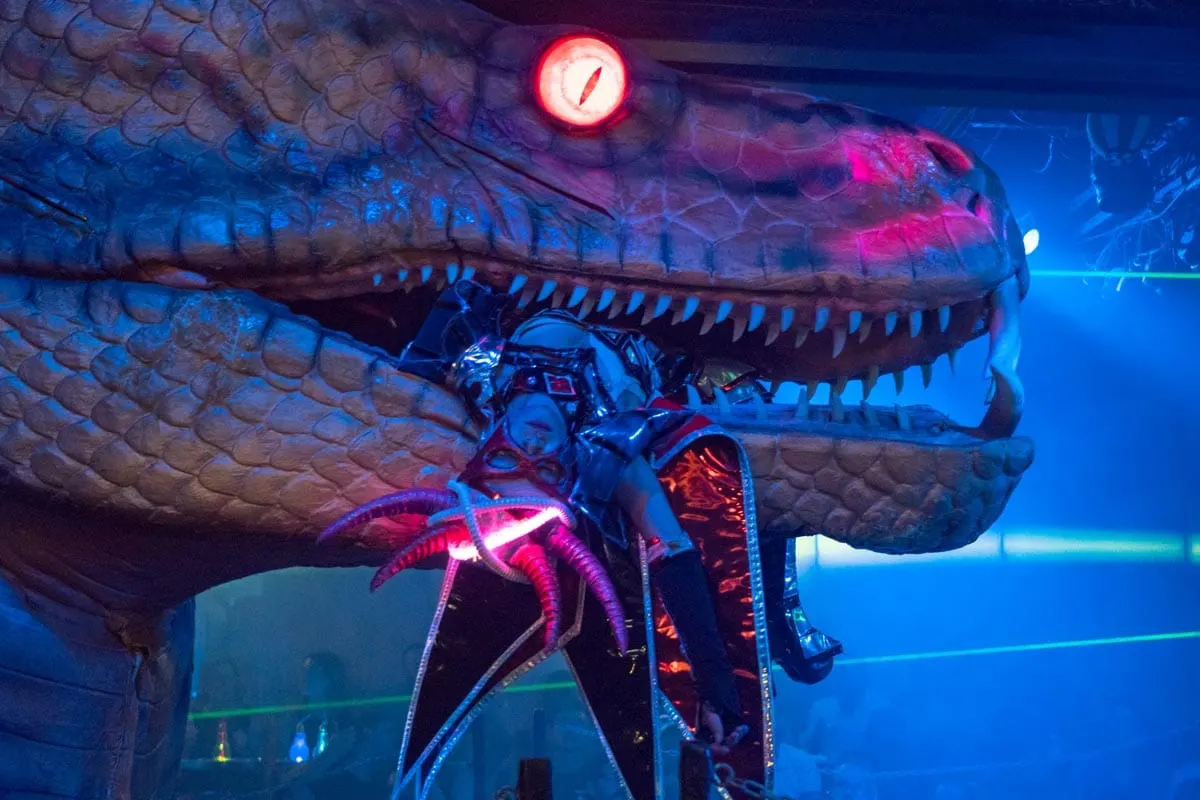 Is it worth it?
I'll say this now – it's not for everyone. It's bright flashing lights, lazers, explosions. It's loud, an attack on the senses, and it is a proper tourist attraction so you pay for it.
Saying that, I think it's 100% worth it. I genuinely loved the Tokyo robot cafe so much and it was one of the best things I did in Japan. Have, I love stuff like this.
If you've seen the pictures, you'll know whether this is the type of thing you'll enjoy or not!
---
If you're looking for a few other things to do in Tokyo then check out my favourite food tours in the city!
Do you want to visit the Robot Restaurant while you're in Tokyo? What else are you looking to do in Japan? Let me know in the comments below!
Like this blog post? Then make sure you Pin it!