Warning: You are about to come across some of the coolest hotels in Tokyo. Expect things like dinosaur staff, Helly Kitty rooms & futuristic capsule hotels!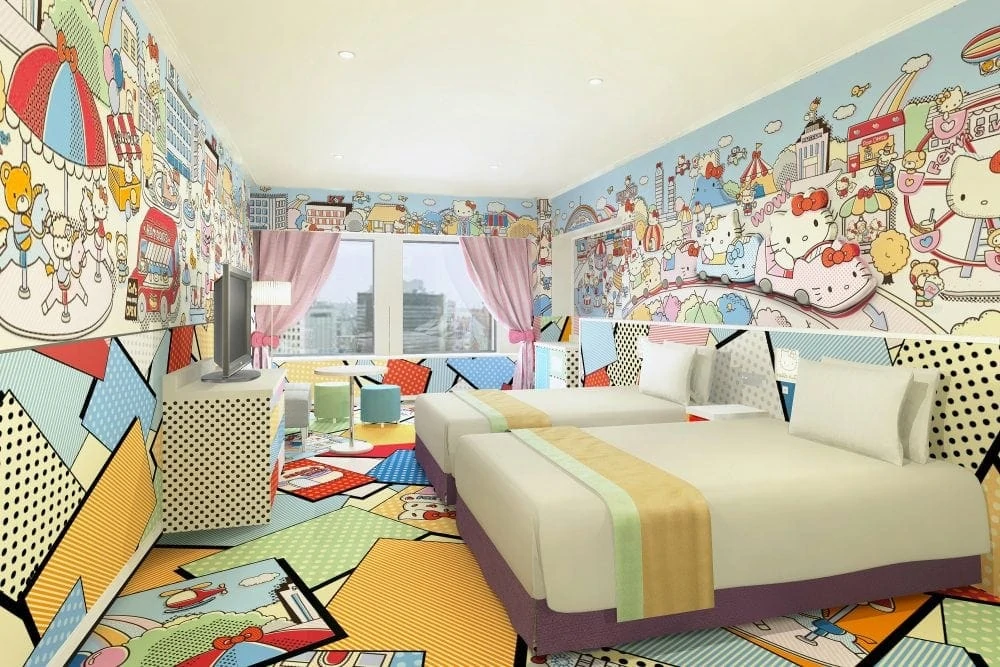 When it comes to a country like Japan, a county that embraces the crazy and quirky, you just know the coolest hotels in Tokyo are going to be out there. Like really out there. I'm not going to lie, some of these unique hotels in Tokyo are the strangest I've ever come across around the world!
When I visited Tokyo I stayed in the Hotel Gracery Shinjuku. I mean, it sounds like a normal hotel, right? Wrong.
This place is otherwise known as the Godzilla Hotel with a giant Godzilla statue hanging off the side building. It even roars and spits fire every hour. It's very cool and very Japanese.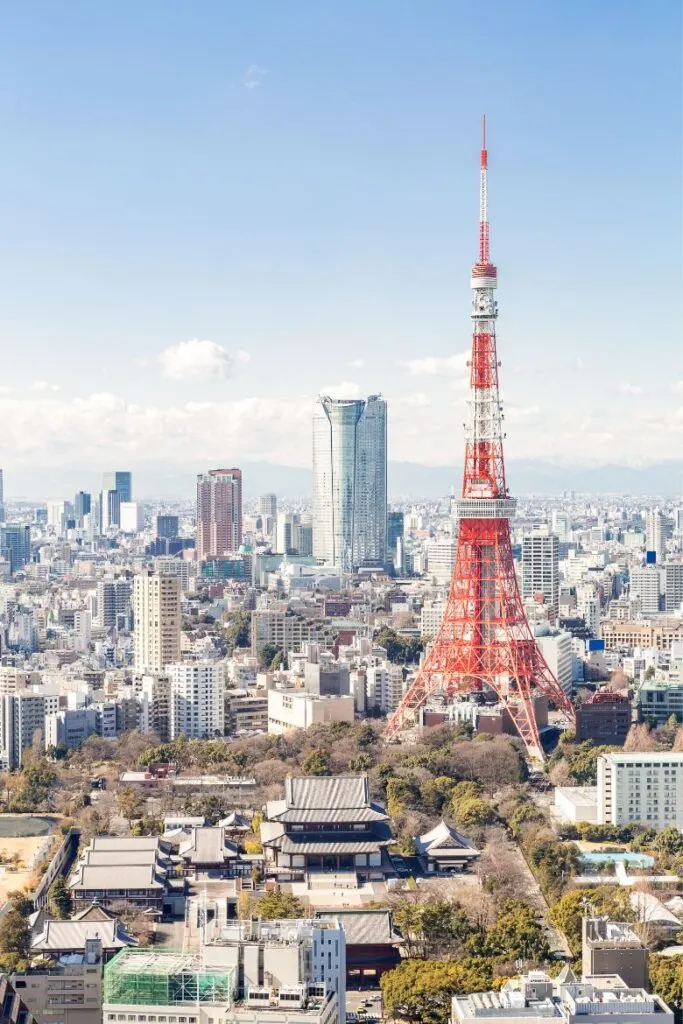 That's what I love about Tokyo. Always expect the unexpected and nothing is too weird here. It's weird, but it's not too weird (if that makes sense).
From places like the Henn na Hotel with their dinosaur check-in staff to the super futuristic capsule hotels, you just know you're going to find some cool hotels in Tokyo.
With that in mind, I've rounded up some of the most unique places to stay in Tokyo. I really want you guys to have an amazing time travelling around this city. Stay in one of these on your visit and you're guaranteed a good time!
---
Coolest Hotels in Tokyo, Japan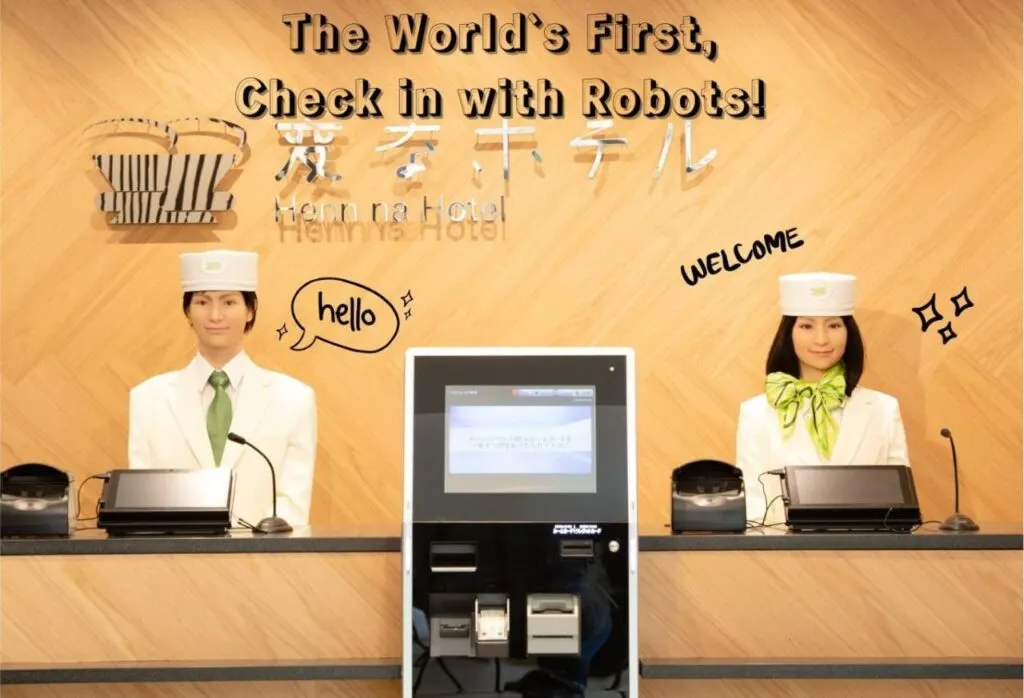 Obviously Japan is a place that's at the cutting edge of robotics. Any way they can automate something (like the simple act of buying ramen from a vending machine), they'll do it. Well, they've taken that to the next level by opening the world's first hotel chain staffed by robots – a claim actually recognised by Guinness World Records.
These aren't just any old robots though. One is a woman and the other two are velociraptors (yes, you read that right). Robotic dinosaurs check you into the hotel. They even robotically deliver luggage to your rooms courtesy of an automated trolley. I bet you didn't think you'd do that on your holiday to Japan!
Much like a lot of hotels in Tokyo, the rooms are quite small here, but it is an amazing place to stay.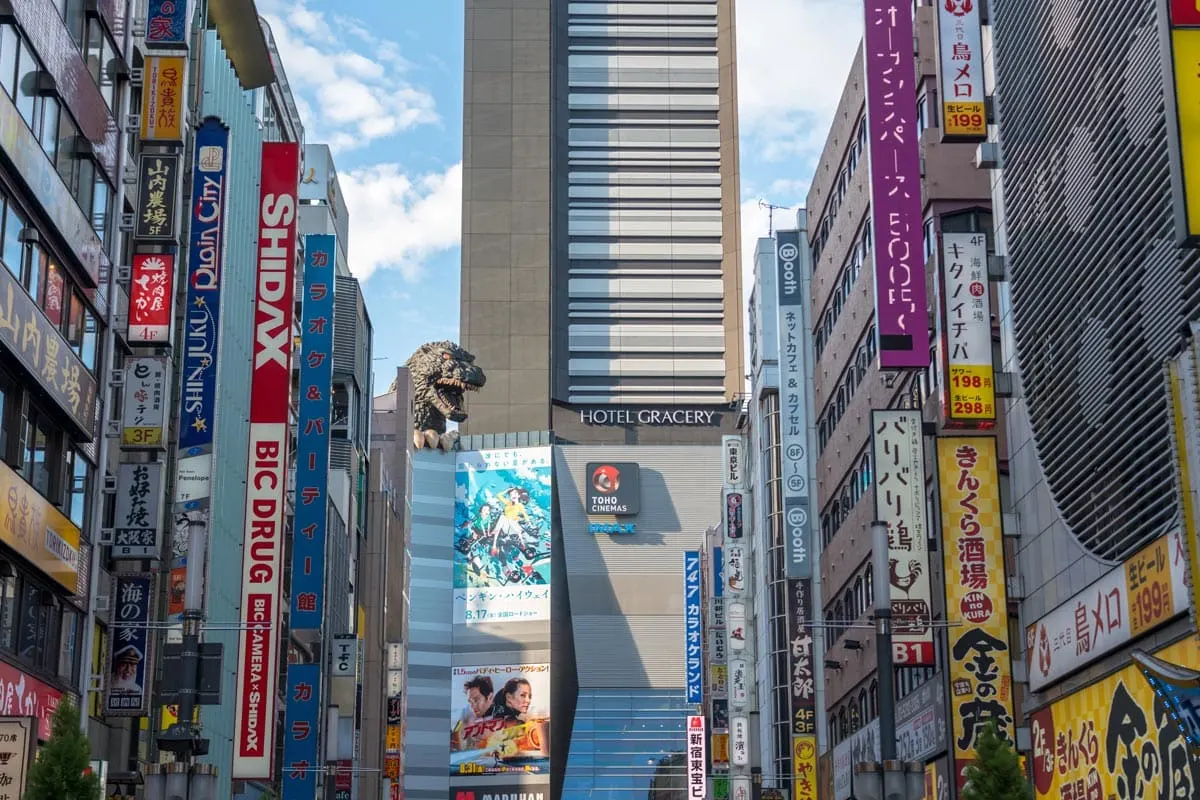 Moving onto another dinosaur (sort of), Hotel Gracery Shinjuku is the Godzilla Hotel in Tokyo.
Shinjuku is one of the most popular places to stay in Tokyo with a number of hotels to choose from but none are quite as striking at Hotel Gracery.
I actually stayed here when I was in Tokyo and I loved it. Disappointingly, the rooms weren't decorated with the Godzilla theme which was a shame. Saying that, there's a lot of Godzilla memorabilia with film posters from the 70s and a interactive themed-room dotted around the hotel, so you do get your Godzilla fill in other ways.
Also, you can access the rooftop for the Godzilla show which occurs once an hour. This is where Godzilla will give up an ear-splitting scream and then blow fire (well, smoke) out of his mouth. It's incredibly cheesy but definitely one of the coolest hotels in Tokyo.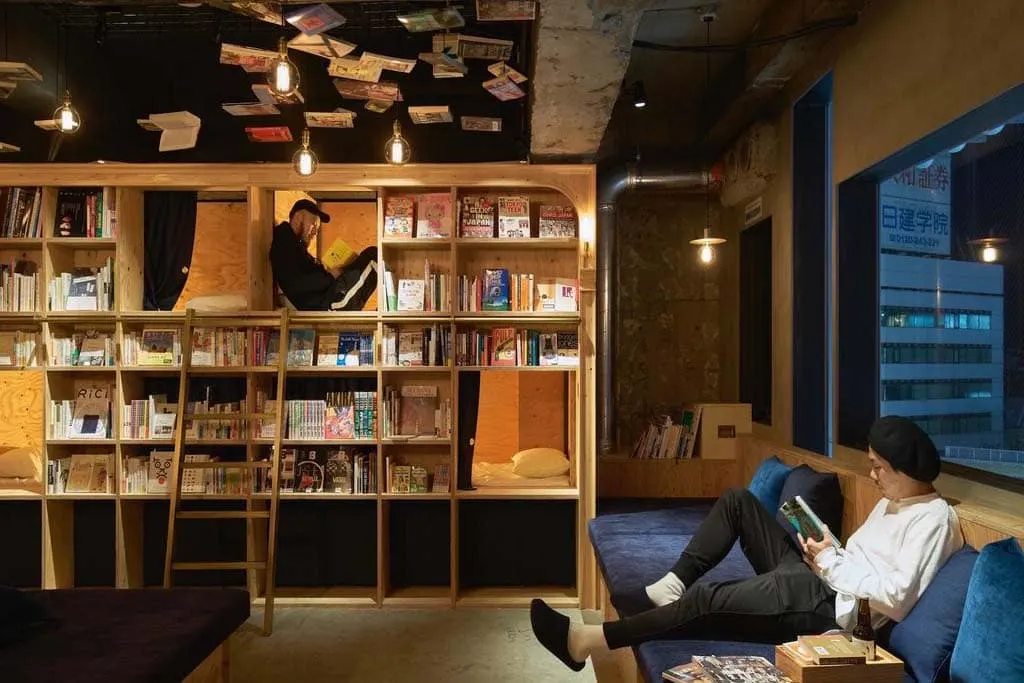 The Book and Bed Hotel in Japan is a bit of a blogger favourite. Not only is it relatively cheap for Tokyo at £36 per night but it's incredible cool too. Basically, your bed is in a bookshelf and it's a cross between a capsule hotel and a library.
Far from being a luxurious getaway, this themed hotel focuses on creating a cosy, inclusive environment where you can relax in the simplest of ways – with a good book in your hand. Apparently there's over 3,600 books at this hotel so you're never short of something to read. There's also an amazing book swap scheme here too if you're looking at changing a book or two.
It's also a really great way of meeting other travellers in Japan and it's a great place to swap stories too. For me this is one of the most interesting hotels in Tokyo.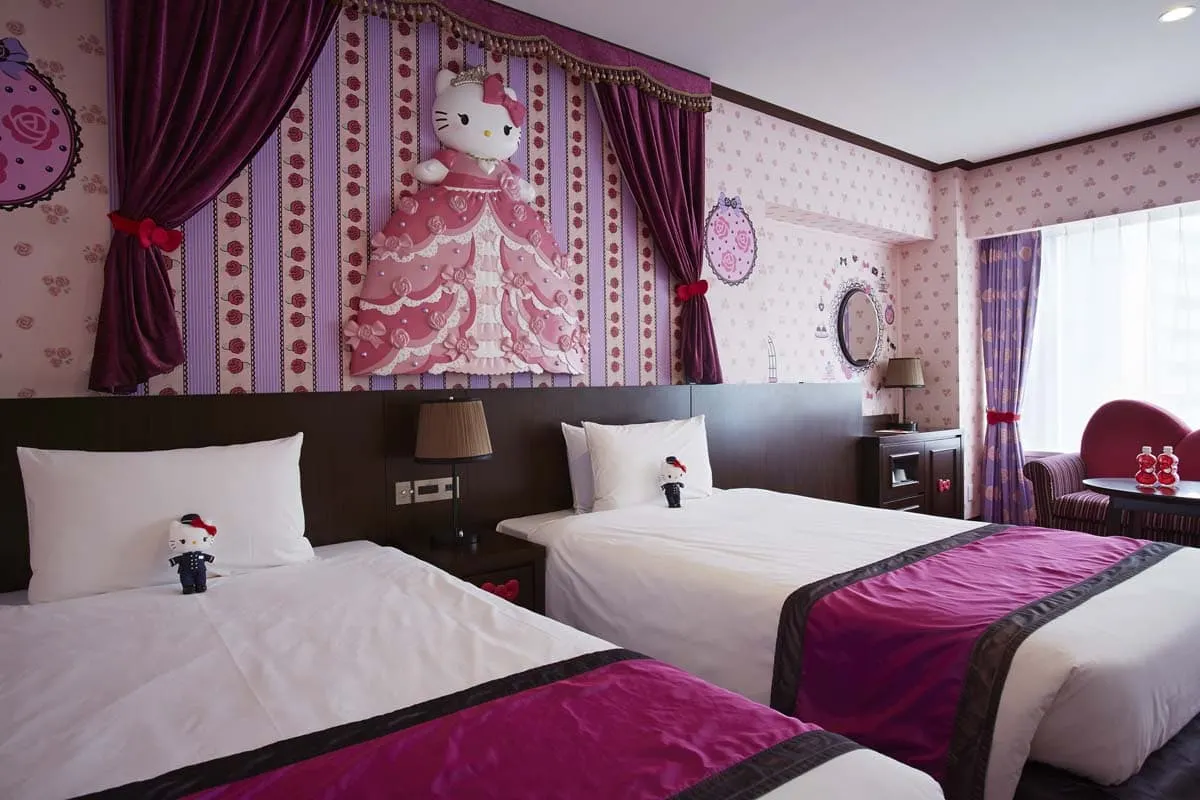 If you're looking for fun hotels in Tokyo, you really can't go wrong with the Keio Plaza Hotel.
This is another hotel in Shinjuku that's off-the-wall weird. This is the Hello Kitty hotel in the city, and despite the cartoony appearance it's actually one of the highest rated places to stay in Tokyo.
Most of the hotel is 'normal' with bellhops to greet you at the door when you arrive and very traditional design everywhere. However, there are 8 special Hello Kitty themed rooms which you can stay in for something a little different. And everything is designed in Hello Kitty – the bedspread, the walls, the furniture. Everything. You can even kickstart your day with a special order of the Hello Kitty breakfast set.
Also, because this is Japan, there's a cracking karaoke room up on the 47th floor and the rooftop swimming pool has some of the best views of the city. If you like weird hotels in Tokyo then you will absolutely love this place!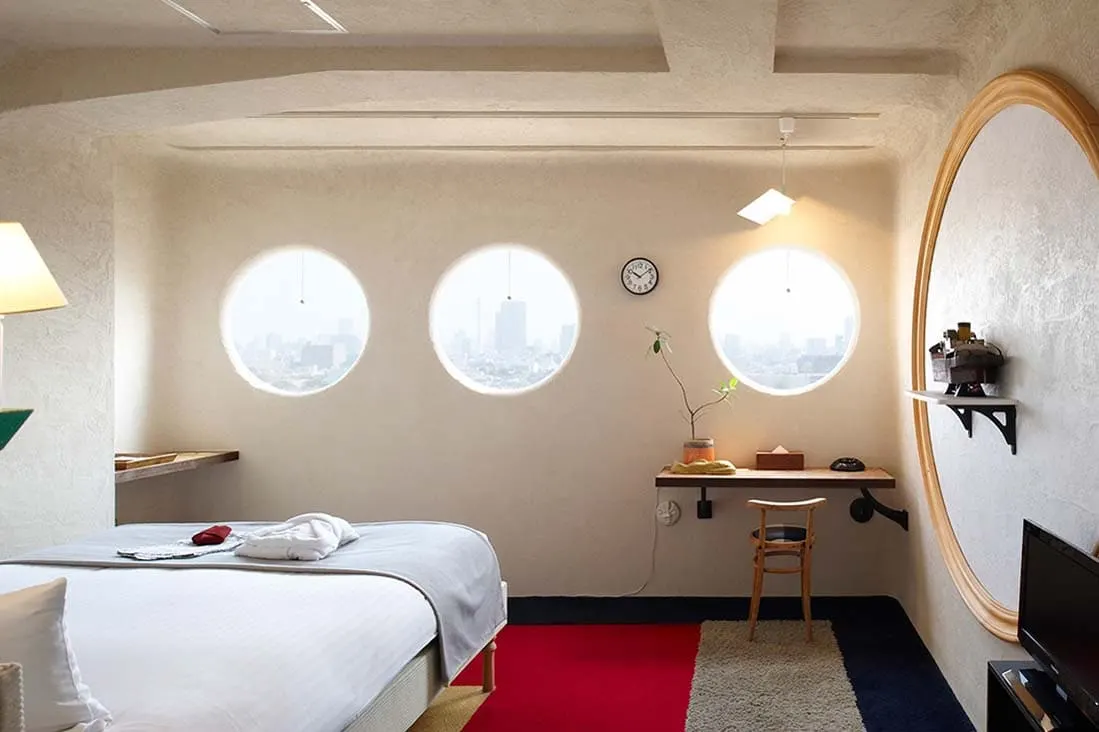 Claska is known as Tokyo's original boutique hotel. This is the one that started the trend of the cool hotels in Tokyo.
Claska is a very stylish and modern hotel located in Meguro-ku, the city's design district. Each of the 20 rooms have been individually created by local designers, so your stay at Claska is always sure to be unique.
There's a really popular design shop where you can pick up some of the kitsch items you see around the hotel. Also, there's a French restaurant on the rooftop that's worth visiting too.
I can't tell you how popular this place is so make sure you book ahead as far as possible for this one. It's in a really good location in the city too so I'd definitely recommend this hotel.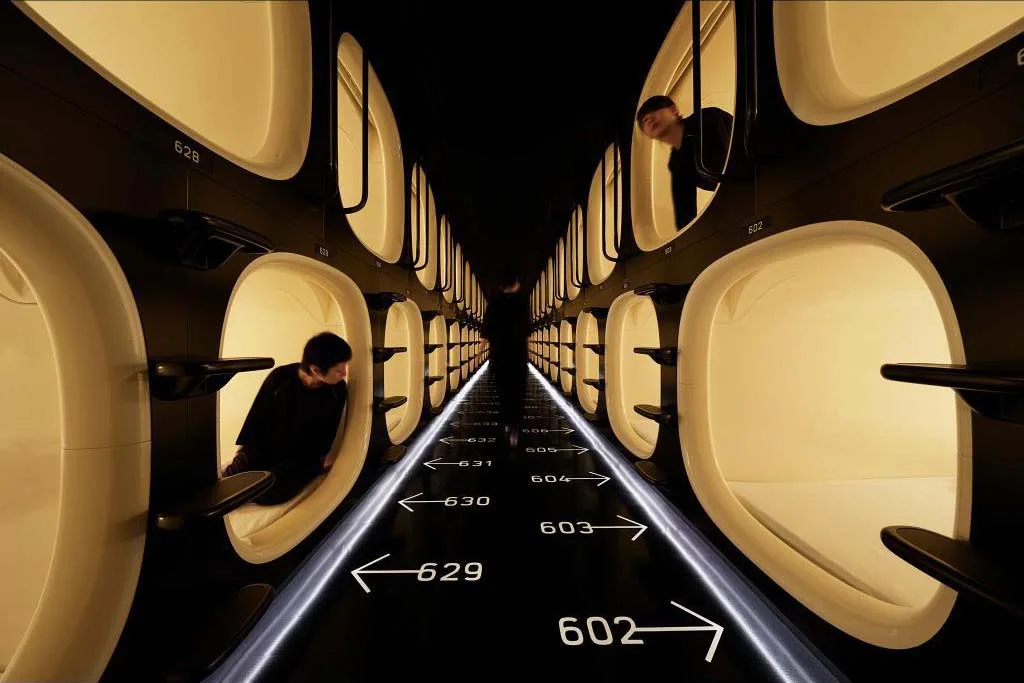 In a country where space can be at a premium, the Japanese were the original pioneers of the capsule hotel.
Instead of bunk-beds in dorms, they created their own private pods to really maximise the space and capsules can be surprisingly comfortable.
The 9 Hours hotel is super-modern and very futuristic. I always think that this place looks like a spaceship, yet there's a distinct Japanese design to the hotel too.
All the capsules are air-conditioned with lots of plug points so you can charge all your electronics. Also, there are lockers available to keep all your stuff safe and there are shared bathrooms too.
A capsule hotel is one of those unique experiences you just have to have in Japan. This is what things could be like a lot more in the future so get a taste for it now. If you're looking for a unique Tokyo hotel then you really can't go wrong with 9 Hours.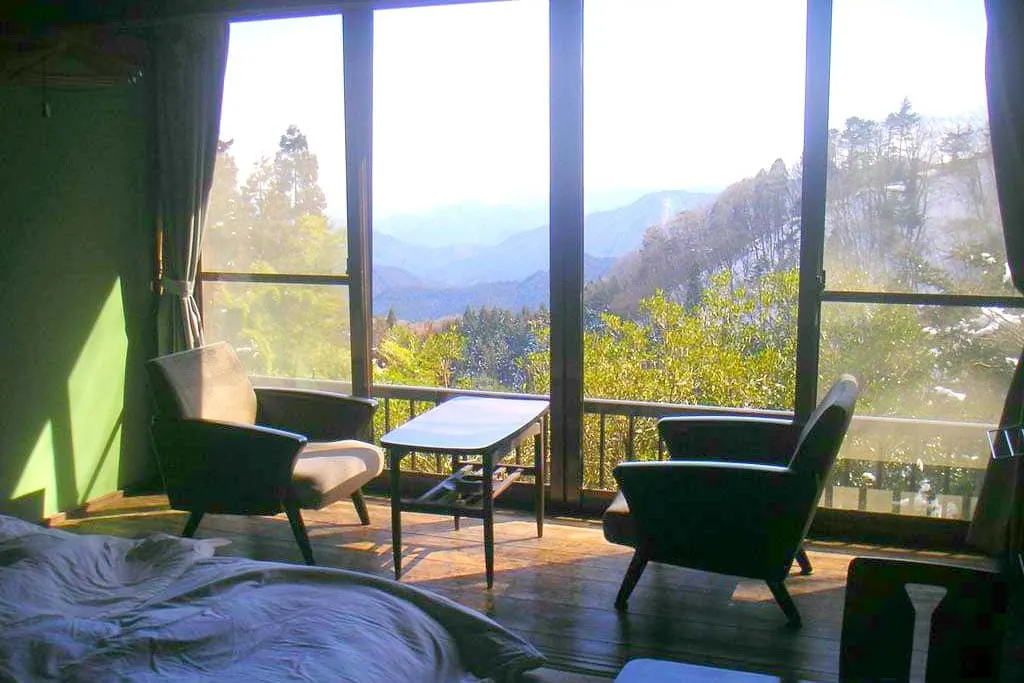 With a population of around 14 million, it's easy to feel claustrophobic in Tokyo. If you want to get out of the city then look no further than Shukubo Komadori-Sanso.
Located in Chichibu Tama Kai National Park, this is a century-old temple where you can stay in a two-story wooden inn. It's so peaceful here and I would say it's up there with the top quirky hotels in Tokyo.
Even though these are basic-style Japanese rooms with shared bathrooms, they are in one of the most beautiful settings you'll find just outside Tokyo.
Also, the best feature – there's a secluded waterfall nearby that you'll have all to yourself.
If you're look for a place to unwind, you really can't go wrong with Shukubo Komadori-Sanso that's for sure!
---
What do you think of the coolest hotels in Tokyo? Would you stay in any of these? Let me know what you think in the comments below!
Like this blog post? Then make sure you Pin it!