Looking for the best food tours in Tokyo? From exploring Tsukiji Fish Market to a ramen tasting tour, it's time to experience Japanese food!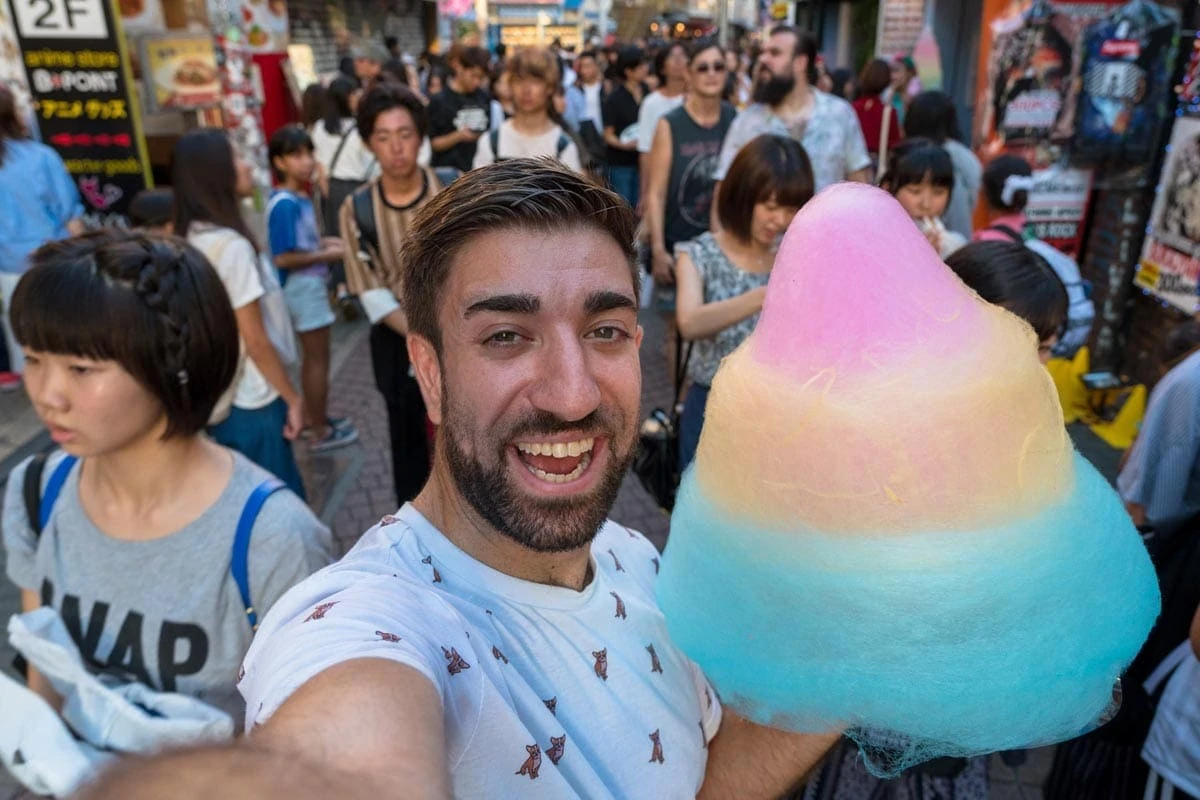 Tokyo, the world's largest city with 38 million people calling it home, is an eclectic, electric city full of culture and customs.
With its bright lights and cacophony of sounds, Tokyo is a city like no other and you can almost feel the buzzing atmosphere.
However, the city can be more than a little intimidating for first-time visitors (that's how I felt!) That's why I really recommend going on a food tour in Tokyo to get a feel for the city.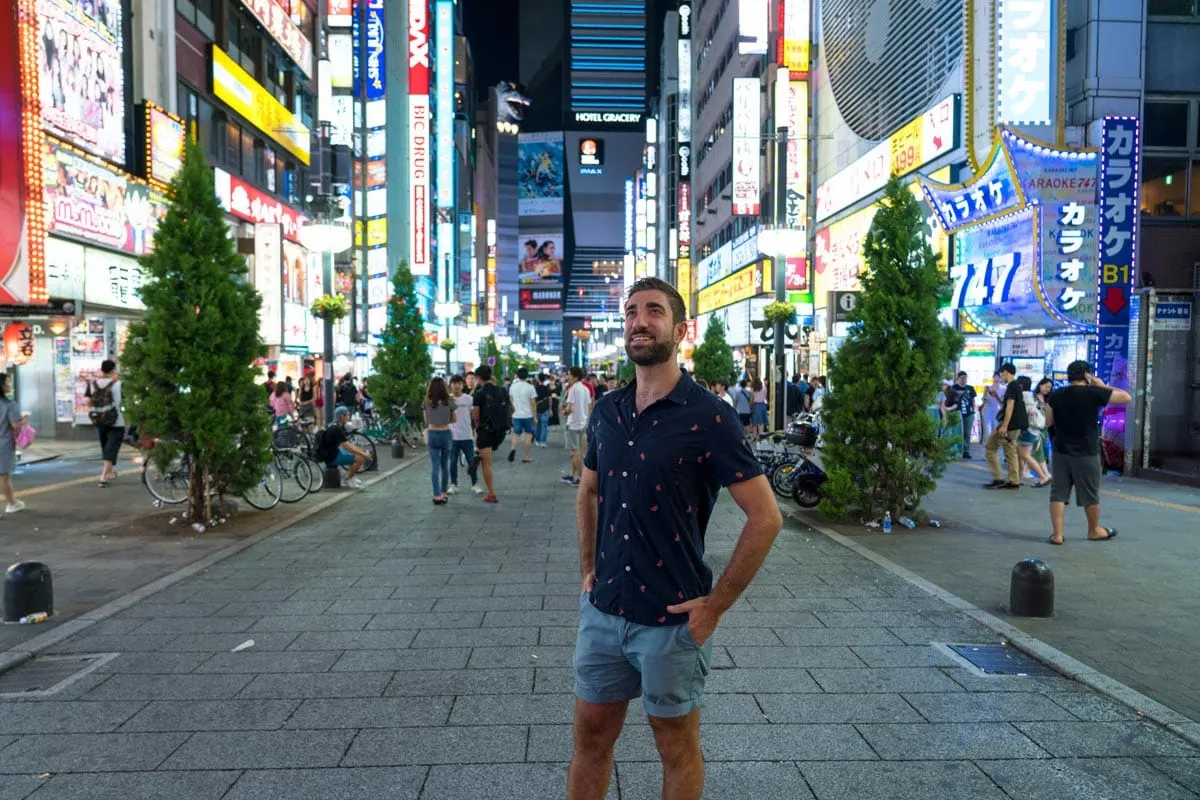 Whenever I get somewhere I've never been before, I always go on a food tour. I find they're the best way to learn about a city through its food – if there's a better way I don't want to know about it!
And Tokyo is the perfect place for a food tour. Not only do you get to try dishes like sushi, ramen, and other delicacies, but you get to learn all about Japanese food culture and the customs that come with it.
On my Tokyo food tour, I learned about 72 things just to do with chop-sticks, and that was just chop-sticks. For me, this was the perfect way to prepare for my two weeks in Japan – I really learned that much.
So, if you want to eat your way through the city and find out where some of the best restaurants are along the way, then check out some of the best food tours in Tokyo.
Oh, and make sure you turn up hungry because you're going to eat a lot!
---
Tokyo Food Tours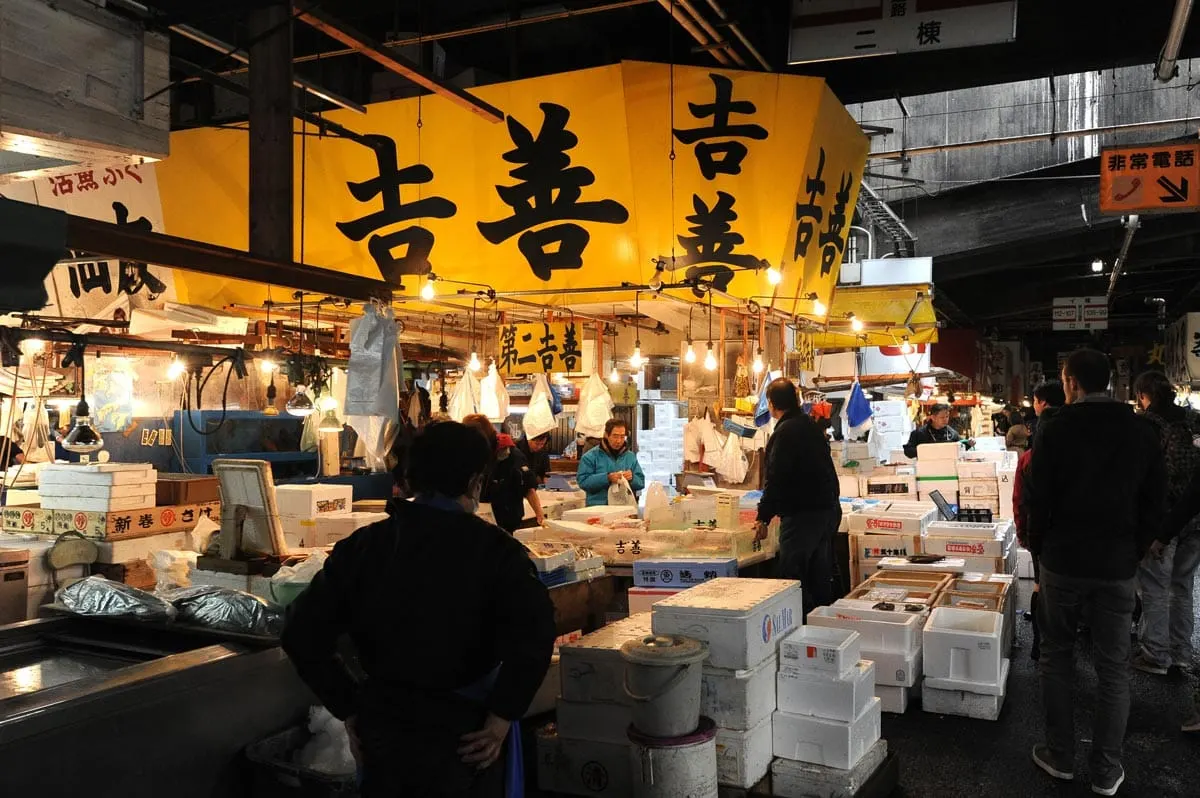 This is a 3-hour Tokyo food tour will really give you an insight into Japanese food. Just get ready to be dropped in at the deep end at the bustling Tsukiji Fish Market. Thankfully, there's an amazing tour guide on hand to help you through this maze of fish stalls and people.
At Tsukiji Fish Market you can try all the fruits of the sea. Expect delicacies like bonito, sushi, fresh tuna, and local omelets cooked with fish. You'll also learn all about the history of the market and the cultural significance of seafood in Japan.
Start the day by dining and shopping just like a local at Tokyo's famous Tsukiji Market. You'll quickly see why the best Japanese chefs shop here for the freshest ingredients.
Explore the plethora of seafood stalls while flitting between boxes packed with sea urchins. Observe busy vendors carving huge bluefin tuna and spot nervous pufferfish floating in tanks.
The tour ends with a visit to a genuine sushi restaurant for a serving of the best fresh sushi before heading back to Tsukiji Station. This is one of the most popular food tours in Tokyo, and it's perfect for those who adore seafood!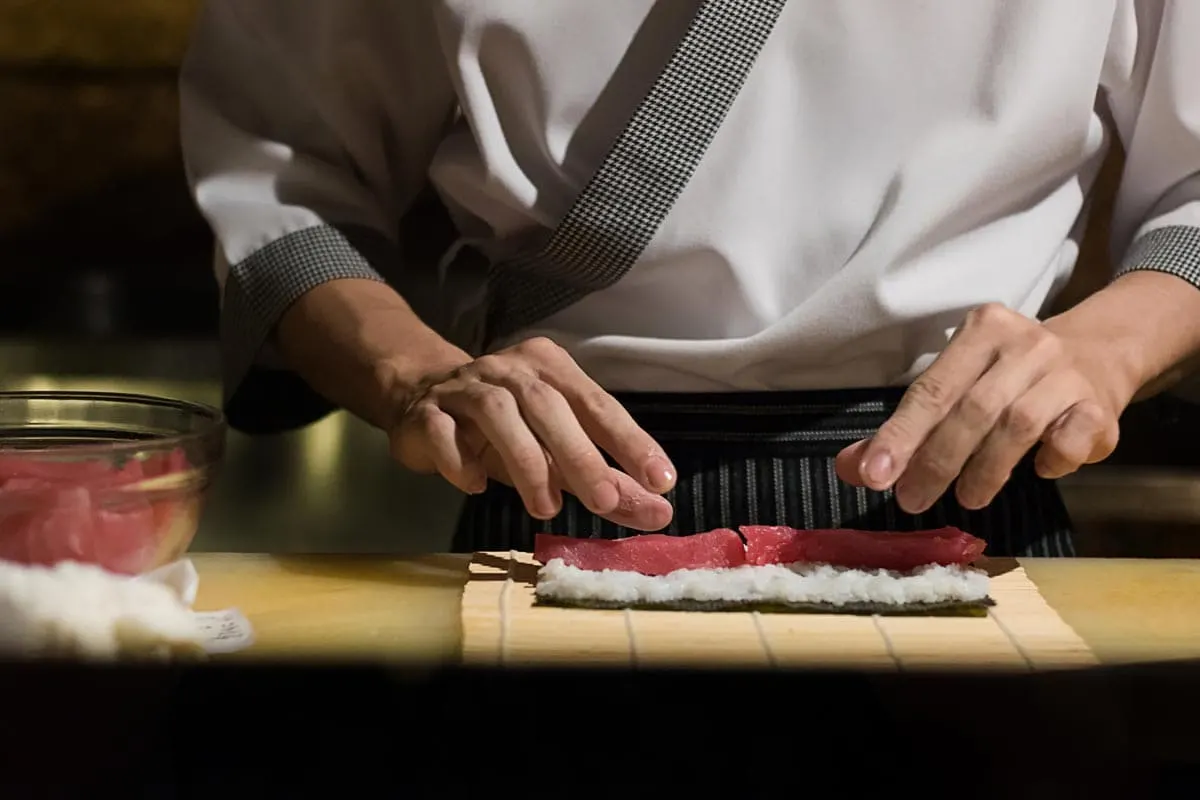 Obviously you can't come to Tokyo without eating sushi. Better yet, eat it after you learn how to make it!
One of the things I really love about making sushi is you can go wild with different flavour combinations. For me, that means lots of spice an chilli.
After learning the basics of sushi making, the sky is the limit for creatively inventing new sushi recipes with local ingredients. At the completion of this class, you will enjoy the excellent sushi that you made along with miso soup.
In this class you will get step-by-step instructions on how to make delicious and attractive sushi. And trust me when I say this, it's a lot easier than it looks.
During this hands-on cooking lesson you'll learn how to make eight or nine different kinds of sushi while spending an afternoon with friendly locals in an informal atmosphere. You'll also learn proper techniques on how to make tasty sushi rice.
This class is taught by local female instructors, all of whom speak English. A number of different common types of sushi will be covered in the class, including inari, nigiri, and sushi rolls.
As this is always a small group tour, you're guaranteed one-on-one assistance from the instructors. That means you'll have plenty of opportunities to ask questions too.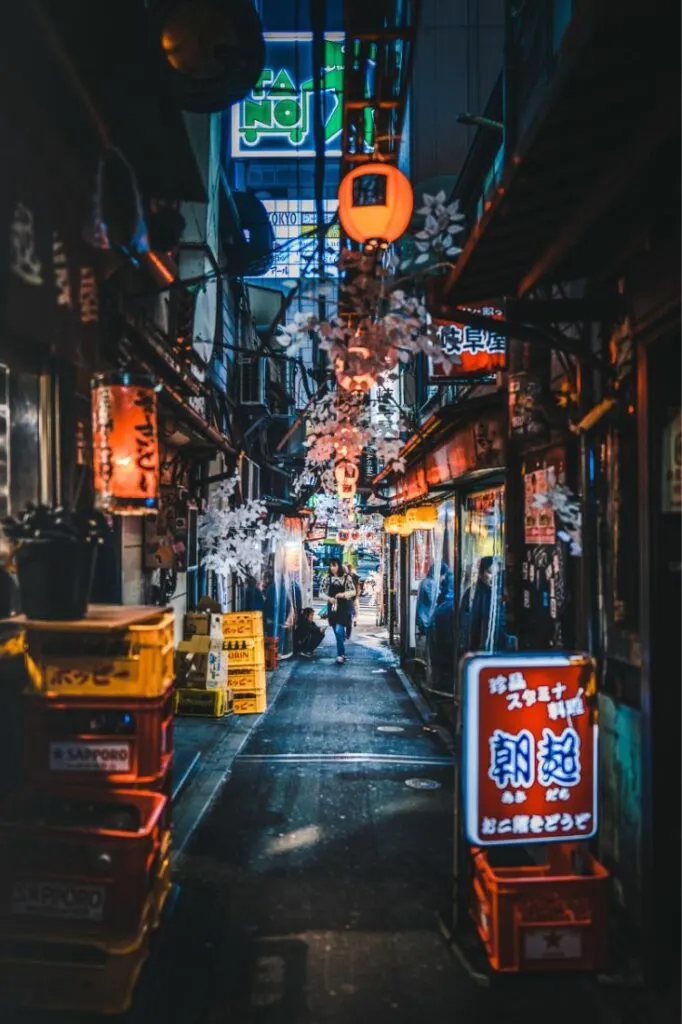 Tour guide Yoshi has experienced a lot of "tourist traps" in Japan and started his tour company to provide visitors a unique experience. He's picked some of the best spots to enjoy Shinjuku nightlife on the Shinjuku After Dark Izakaya Tour.
He'll take you to the best late-night food and drinking spots in Tokyo, including izakaya (Japanese gastropubs) in the notorious Kabukicho and classic Omoide Yokocho street. Enjoy yakitori and drinks while bar-hoping with a fun group!
This is one of those Tokyo excursions that you'll remember for a long time (depending on how much sake you have of course!). It's a bit like a Tokyo street food tour, but with bar hopping including too.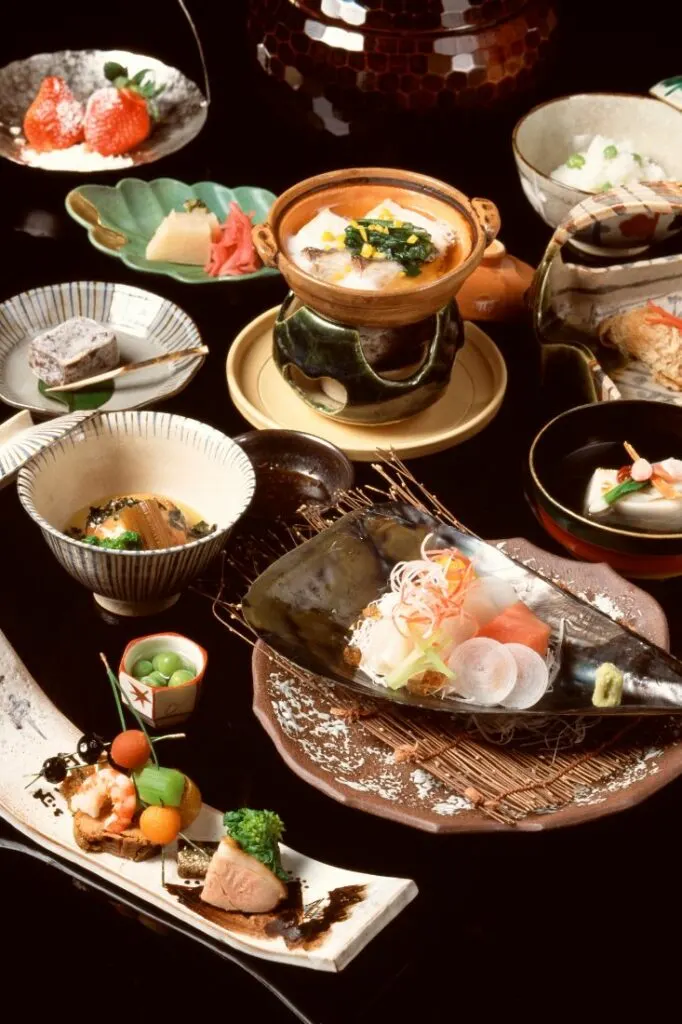 One of the best ways to experience local food is to learn how to make it in a local cooking class! Kaiseki is a traditional multi-course meal in Japan. It features individual dishes made from seasonal ingredients, and is both aesthetic and delicious!
With English step-by-step instructions, the chef breaks down the process of making kaiseki dishes, making them accessible for beginners and families. Once everything is prepared, you'll get to enjoy a full kaiseki feast!
If you really want to learn all about Japanese food, then this is one of the best food tours in Tokyo for that.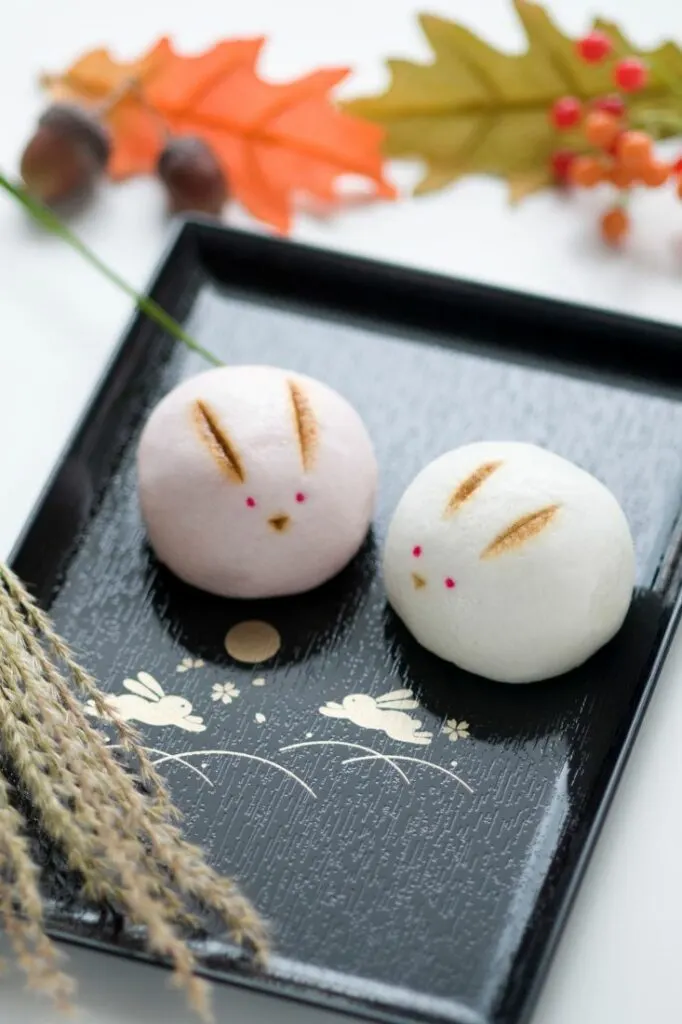 Wagashi are traditional Japanese sweets that are naturally vegan and gluten-free. You'll make three different types of Japanese sweets, including mochi, the classic chewy rice cake. The sweets are shaped to reflect different seasonal motifs, and are as beautiful as they are tasty.
After making the sweets, you'll learn how to make a bowl of matcha green tea. The matcha goes perfectly with the wagashi, and you'll enjoy both after the class.
When it comes to the best food in Tokyo, ramen is always at the top of the list. Well, this is your chance for you to enjoy and experience ramen like a Tokyo native during this 3-hour group tour.
You will learn about the history and culture of this exciting dish, and then eat your way through six bowls of ramen. Yes, you read that right – six bowls of ramen!
The tour will take place in three unique Tokyo neighborhoods, including Shibuya. As part of this experience you will be given insider tips on the best ramen restaurants and tips to increase your enjoyment of ramen, learn about the history and different types of ramen, as well as how it is prepared, be exposed to how ramen is enjoyed locally, learn what makes good ramen, and select and enjoy a delicious bowl of ramen at a local restaurant suggested by a ramen expert.
I think this is one of my favourite food tours in Tokyo, so I really hope you check it out.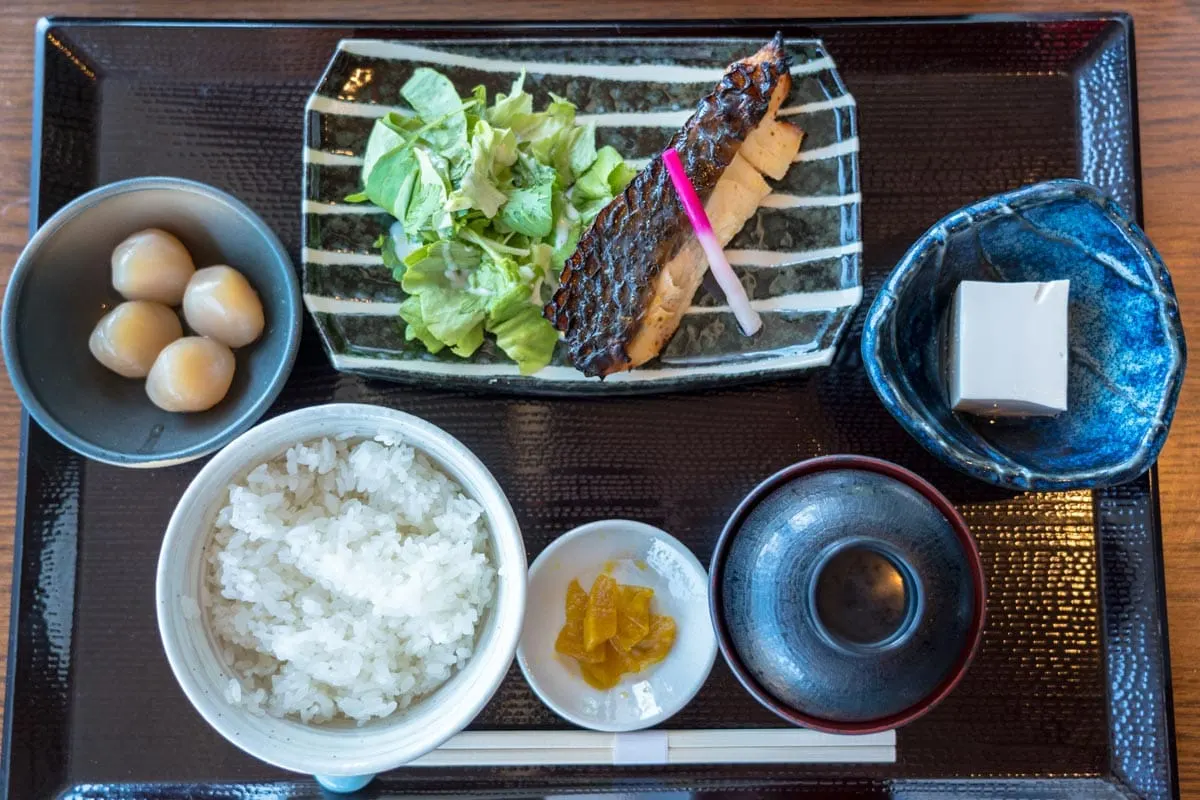 Asakusa, with its Sensō-Ji Buddhist temple and popular May Sanja Matsuri festival, is an area that positively vibrates with excitement. This is one of the most popular places to visit in Tokyo so expect it to be busy busy busy.
This was the Tokyo food tour I went on when I first arrived in the city and I LOVED it! I found it so useful and our local Tokyo food guide was incredible. I can't tell you how many questions I asked him over the 3 hour tour.
We went though the history of Asakusa and why food is so important to Japanese culture. He was the one who taught me all about chop-sticks too. For example, you should never stick your chopsticks upright in a bowl of food as it's means death and is very disrespectful.
This tour begins with an overview to Asakusa. This means you get to explore Namise Street while tasting popular Japanese delicacies like pickles, rice crackers, Japanese plums, and melon bread (made with a secret recipe!) along the way. You'll also learn about pilgrims who have visited this area for over a thousand years.
The highlight of this Asakusa food tour is lunch. One thing I quickly learned was the Japanese love eating and lunch was a proper feast.
Depending on the time of year, lunch is often at the Tsukiji fish market. This is where you can try the freshest sashimi you'll ever in your life. You'll also learn about food customs with top tips on how to order food.
Other stops on the 3-hour tour include a visit to the theater, the side streets, and sampling specialties of Japan. Enjoy a popular pastry that has been made by a dessert shop since 1945 using a traditional candy making method. Oh, and obviously there's lots of matcha tea too!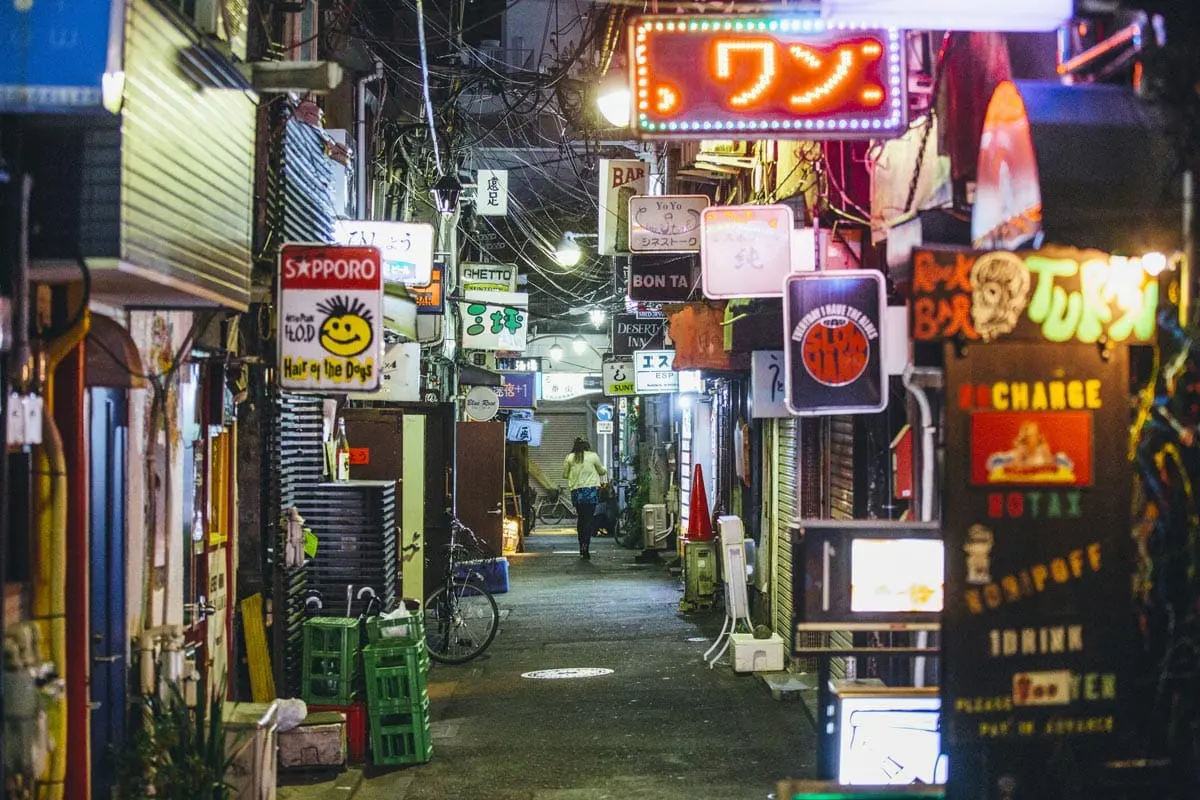 Those looking for a wilder ride can take a night walk with an established guide in two of Tokyo's most notorious areas – Kabukicho and Shinjuku Golden Gai. For those looking for a beer and a bit of a party, this is the one for you.
Tokyo nightlife is like few places on the planet, and the heart of the experience can be found in Kabukicho. This is an area comparable with the red light districts of Europe but you know, different. However, Kabukicho is much cleaner and safer than its given credit for, and you'll soon be enjoying the Tokyo nightlife like a local.
On your Tokyo street food tour you discover some of the best Japanese dishes – delicious ramen, okonomiyaki, yakitori, udon, takoyaki, soba, sashimi, tempura, and a load of others too. By the end of the night, you'll be an expert.
Afterward, you'll zoom through the streets to Shinjuku Golden Gai. This was one of my favourite areas in Tokyo and it's always buzzing.
Golden Gai is a full of narrow, winding alleys and mysterious taverns and pubs. This is where a guide becomes essential – you'll quickly find the best hidden gems in Golden Gai.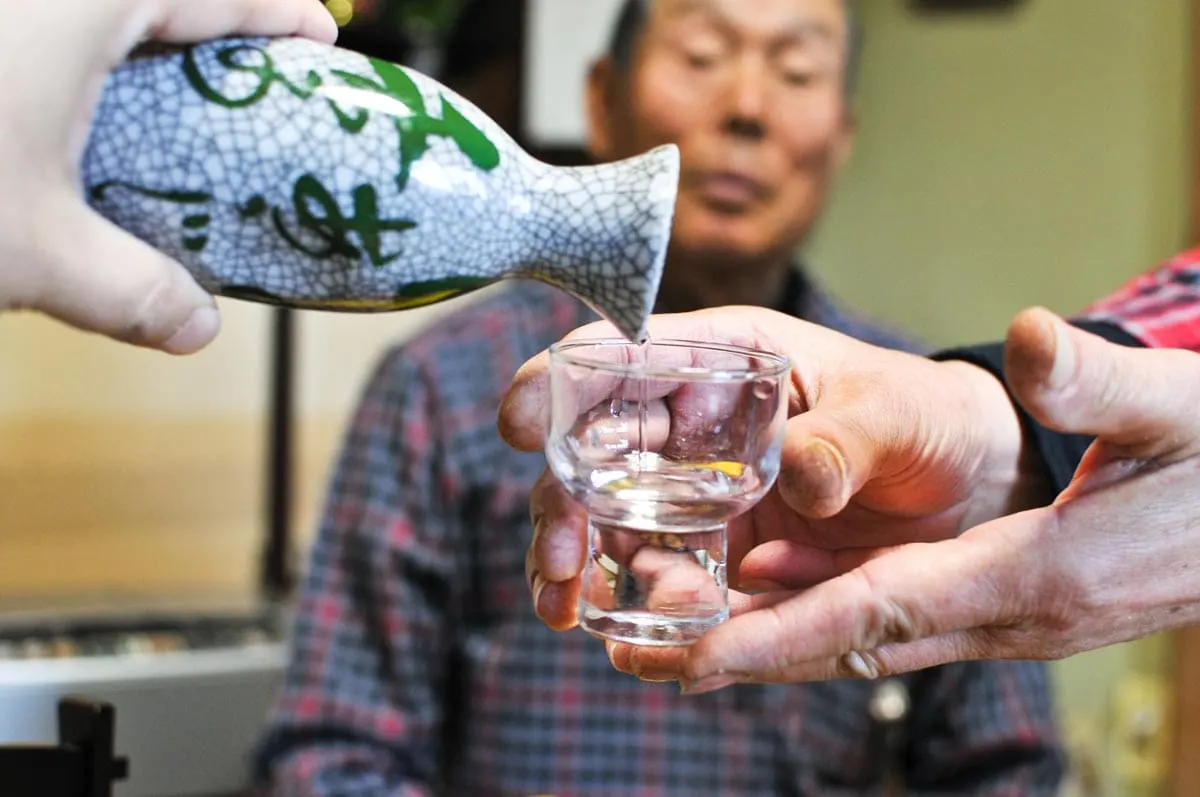 Now it's time for some sake! I have to admit, I developed a bit of a taste for sake while travelling around Japan. I can't say I know too much about it though which is why a sake tour is perfect.
This tour is all about experiencing Kikizake. This is the process of judging the color, aroma, and taste of sake in a similar manner to how sommeliers taste wine. While blindfolded, you'll sample different brands of sake and attempt to identify them – and yes it is hard!
During the tasting you'll select 7 different types of sake from 20-30 different varieties for sampling. If you enjoy a particular type of sake that you have tasted, you can order it at the end.
Sake comes in many varieties, amount of alcohol, and degrees of dryness. It can also be served warm or cold (warm was my fav).
If you already have a particular inclination for the types of sake you would like to sample, you can let the guide know ahead of time so that we can select sake that matches your taste.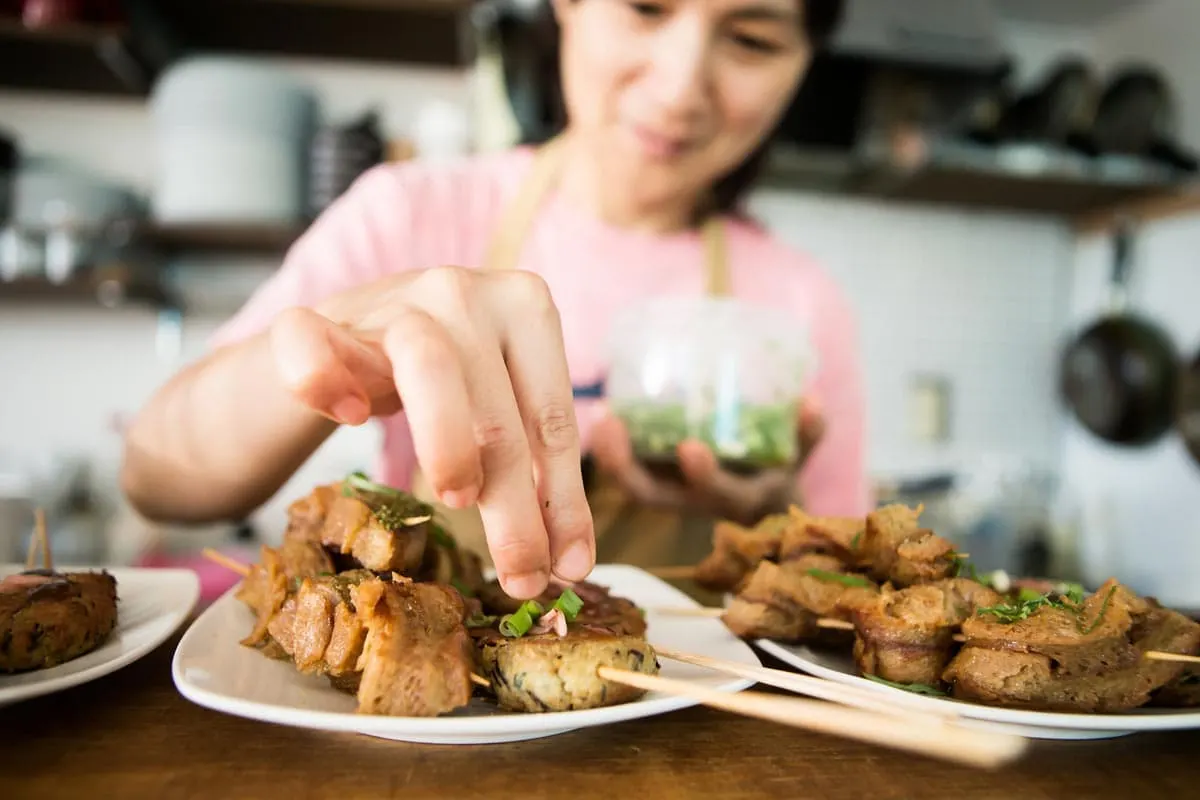 This is without a doubt one of the best Tokyo food tours. If you're interested in learning more about the Japanese vegetarian lifestyle, this experience offers the opportunity to learn how to cook a Japanese vegetarian course menu of four or five different dishes.
The dishes include hijiki with creamy citrus sauce, brown rice with mizuna, persimmon gelee, steamed azuki and pumpkin, and lotus root fried ball. All the recipes featured in this course follow macrobiotic theory and include no meat, fish, white sugar, chemical products, or eggs. Basically, this is perfect for vegans and vegetarians!
Included in this class are also lessons offering instructions on how to arrange different types of vegetables and bread to make them more aesthetically pleasing. The table will be arranged with Japanese pottery or white porcelain with beautiful bouquets and tasteful table linens.
Classes are available on Saturdays and Sundays. They last three hours and there are two each day, one from 10:30-1:30 and one running from 4:30-7:30.
These classes are for women only and any males interested should bring a female such as a spouse, friend, or family member. That's just the way it is I'm afraid!
---
To learn more about the cuisine before your trip, check out this amazing podcast all about Japanese food. They talk through some of the most popular dishes you'll find in Japan, and it's a great overview.
So, out of the best food tours in Tokyo, which one catches your eye? I would love to know which one you'd go on so let me know in the comments below!
Like this blog post? Then make sure you Pin it!