Quality food with a trendy bar right in the heart of central London, this is my Sanderson restaurant review. This place is such a good bargain too!
If you haven't heard of the Sanderson Hotel before, it's famous for its Alice in Wonderland themed Mad Hatter's afternoon tea parties. These guys were making cute cakes and tiny pastries fashionable long before all the other hipster joints in the area were getting in on the action.
Even though the Sanderson Hotel is famous for its afternoon tea and trendy interior design, I was here to eat in their aptly named restaurant called 'The Restaurant at Sanderson'. Unimaginative but functional. Does what it says on the tin.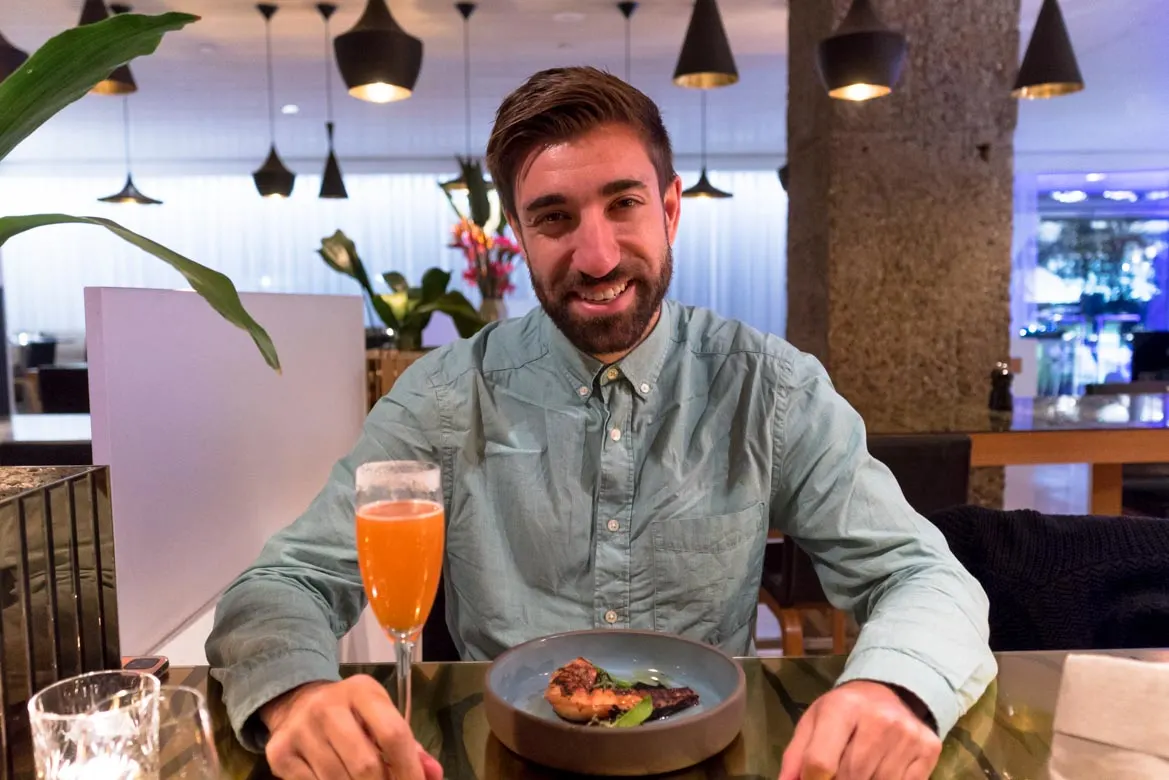 Chloe and I were celebrating 4 years together so we wanted to go somewhere fancy in central London. As usual, I jumped on Bookatable to see what deals they had on offer and I wasn't disappointed. A 3-course meal with a cocktail on arrival for £28 per person – take my money now.
I always love these festive deals on Bookatable as you get to eat in some really nice restaurants at a fraction of the price of their al la carte menu. In the past I've eaten at Amesta which was so different to most other restaurants, and at heart-throb Marcus Waring's restaurant too. I always love a good deal, especially when it comes to food and fine dining.
So, if you looking for somewhere to celebrate the festive season then this is my Sanderson restaurant review. Hopefully you can squeeze in a visit before Christmas!
Where is the Sanderson Hotel?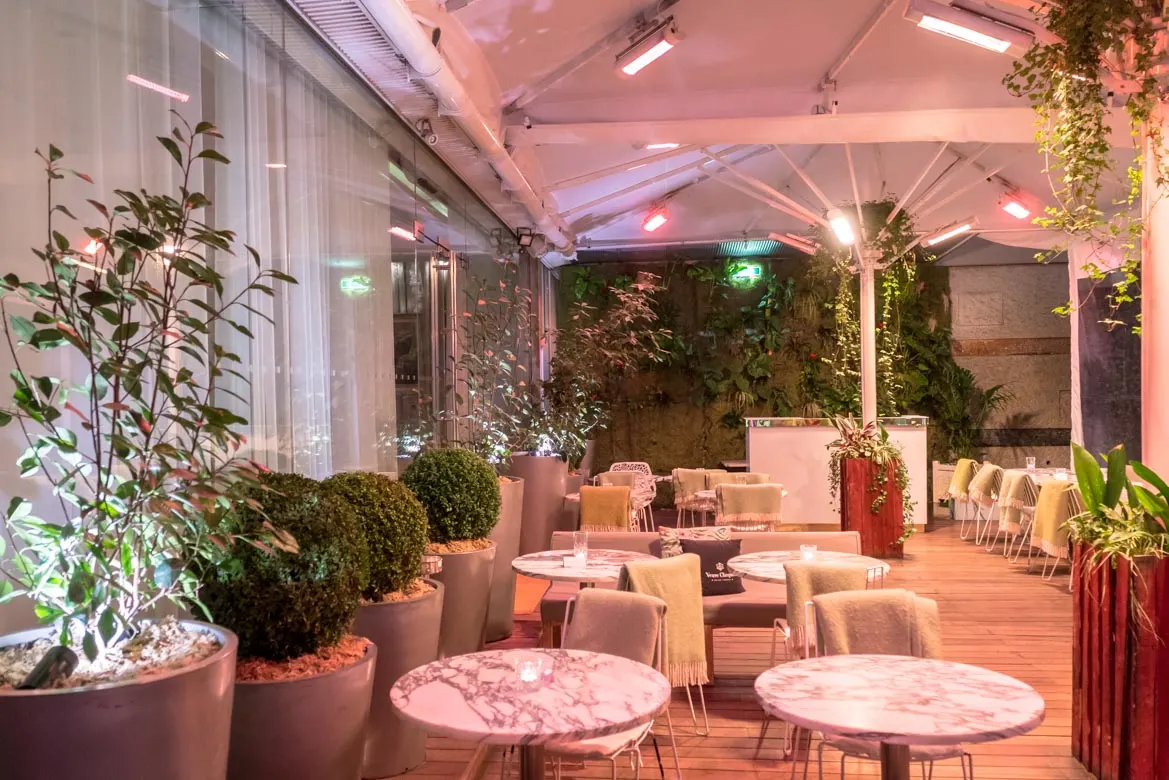 The Sanderson Hotel is located on Berners Street, a short 8-minute walk from Oxford Circus. When I say this is central London, I really mean it.
It's very easy to walk past the Sanderson. Unlike iconic buildings like the St Pancras Hotel or The Ritz, the Sanderson is in an austere grey block. However, behind this façade is a beautifully decked out lobby with lots of chic design and cool chairs dotted all over the place.
Perhaps that's why the Mad Hatter's Tea Party works so well here. How deep does the rabbit hole go?
To get to the restaurant you have to walk through the busy and loud hotel bar on the right. I was here on a Friday evening so the music was pumping with a DJ in the corner. Be warned – if you're looking for a quiet place for dinner on a Friday night you won't find it here!
Starter – grilled octopus with seaweed tartar and salsa verde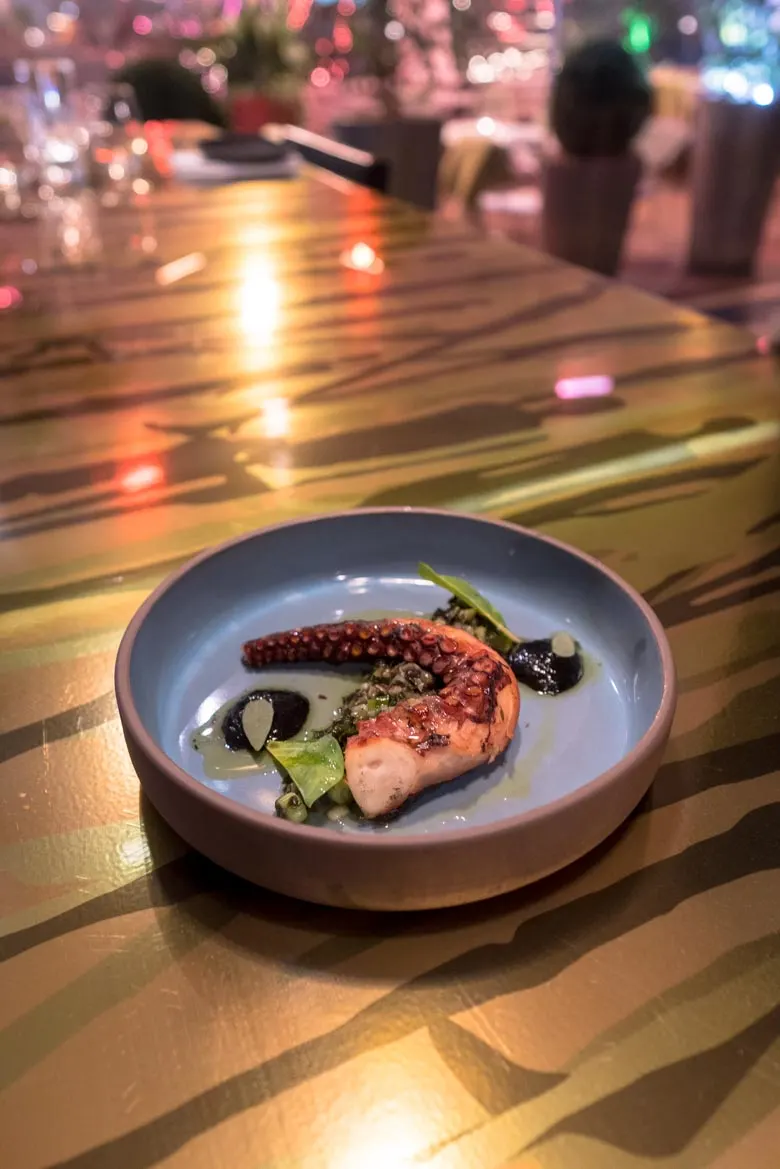 For starter I had the grilled octopus with a really earthy seaweed tartar and an incredible salsa verde sauce.
Obviously octopus can be difficult to cook and chewy, but this dish was so soft and tender. It was perfectly grilled too with a really nice charred taste to it and a lot meatier than you might expect.
The seaweed tartar brought a different texture and the salsa verde added a little zing to the dish too. To be honest with you, I could've had a bowl of the salsa verde alone as a starter.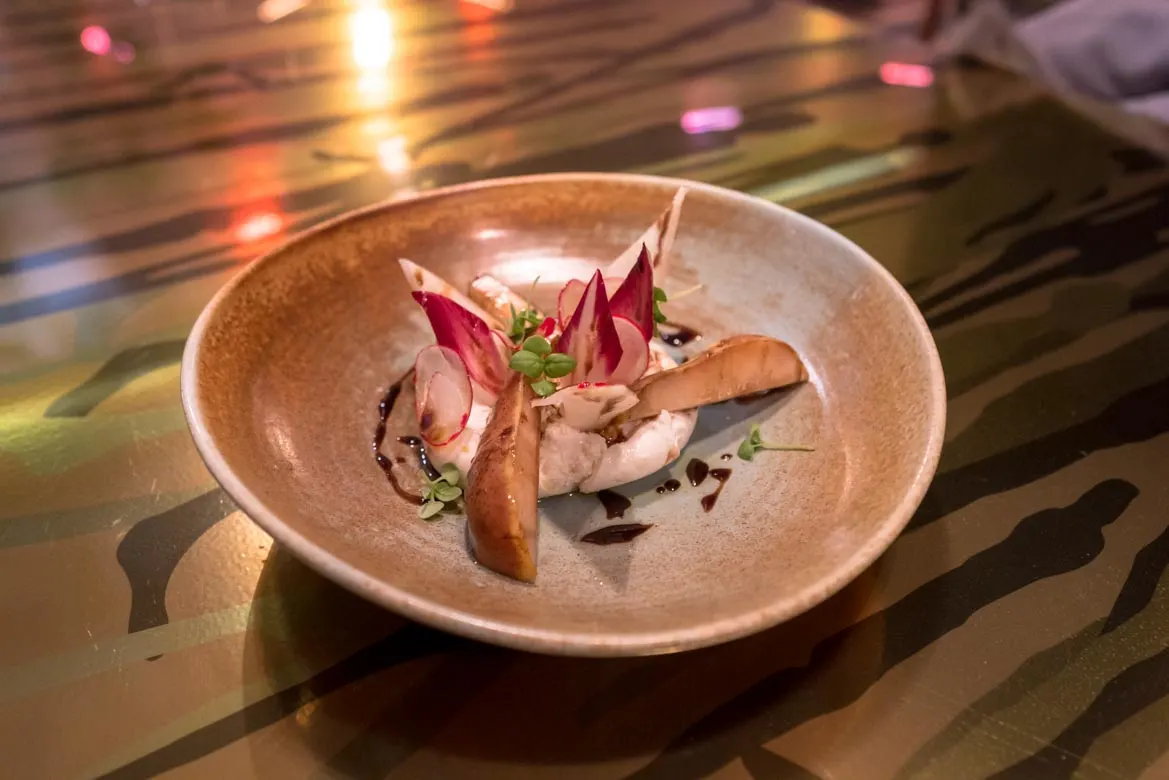 Chloe had the burrata with pear and balsamic dressing and a few micro basil leaves on the side. A very simple start but utterly delicious. I had a fair few mouthfuls so I know!
Main – stuffed chicken with wild mushrooms and truffle dauphinoise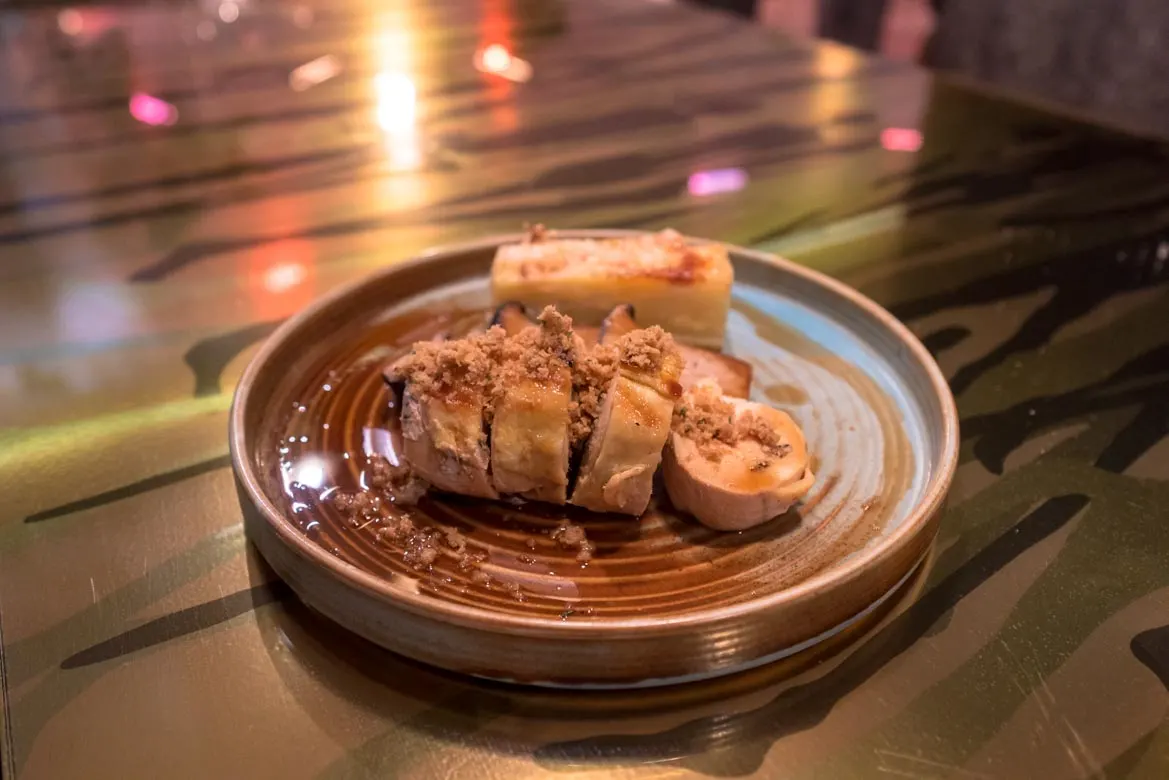 One thing I always worry about with set menus is portion size. Basically, I worry I never get enough food. Well let me put those fears to rest as this main course was massive!
It was a ballotine of chicken stuffed with a wild mushroom duxelle. On the side was a brick of truffle dauphinoise (because truffle makes everything better) and grilled hen of the wood mushrooms. There was also a deep rich red wine jus which complimented the dish nicely.
For me, the seasoning was spot on and there was a lovely crunchy crumb on the chicken that added another texture to the dish.
However, I love my mushrooms, and I felt like this dish could've tasted more of mushroom. It was still tasty though and I cleaned the plate so I can't really complain!
Dessert – black forest delice with tonka bean ice cream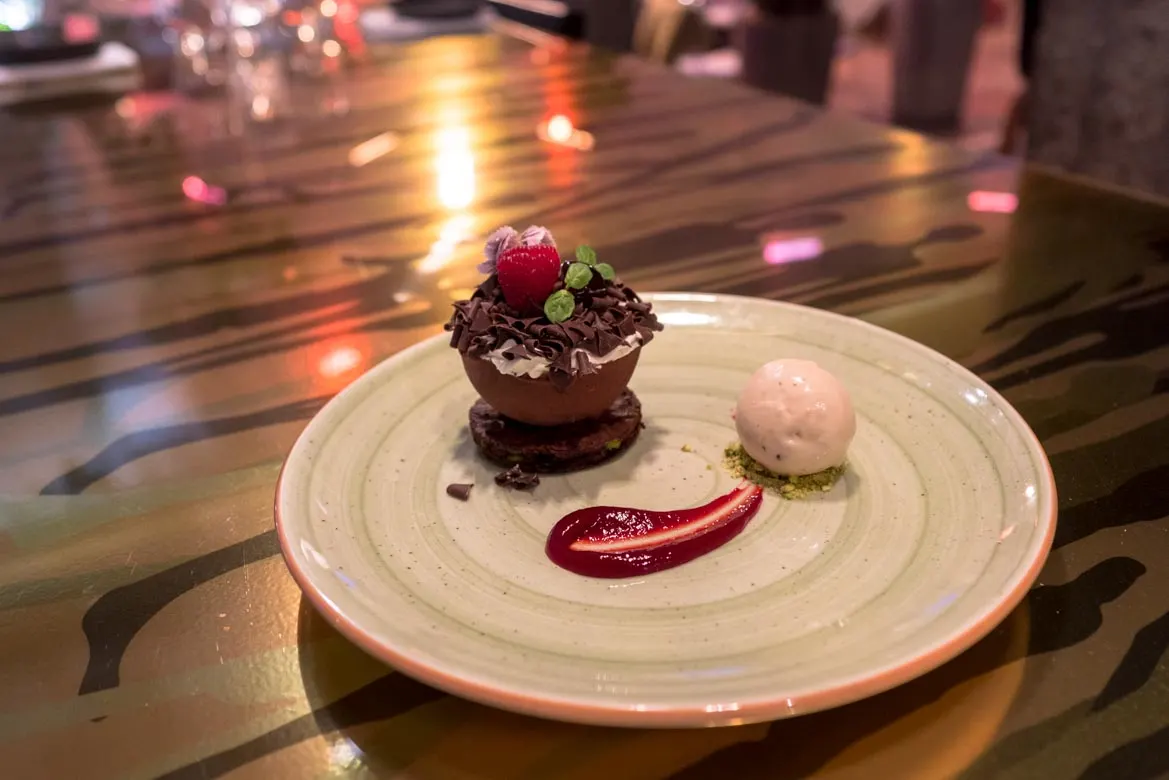 If you like chocolate then you'll love this dessert. It was a sphere of chocolatey goodness.
On the base was a chocolate biscuit. Then came the delice – black forest cherries encased in a sphere of vanilla ice cream and all covered in chocolate to make a sphere. There's nothing more satisfying that breaking into ice cold chocolate for dessert is there?
On the side of this was a really nicely spiced tonka bean ice cream. Tonka bean is a little like vanilla but it was more aromas to it and a much deeper flavour.
I'm not too sure you needed the double ice cream on this dish but it was a cracking way to end the meal.
Chloe had the Braeburn apple tart which also looked delicious. You could tell the pasty chef loved his work and each dessert was really well presented.
How much was dinner at the Sanderson?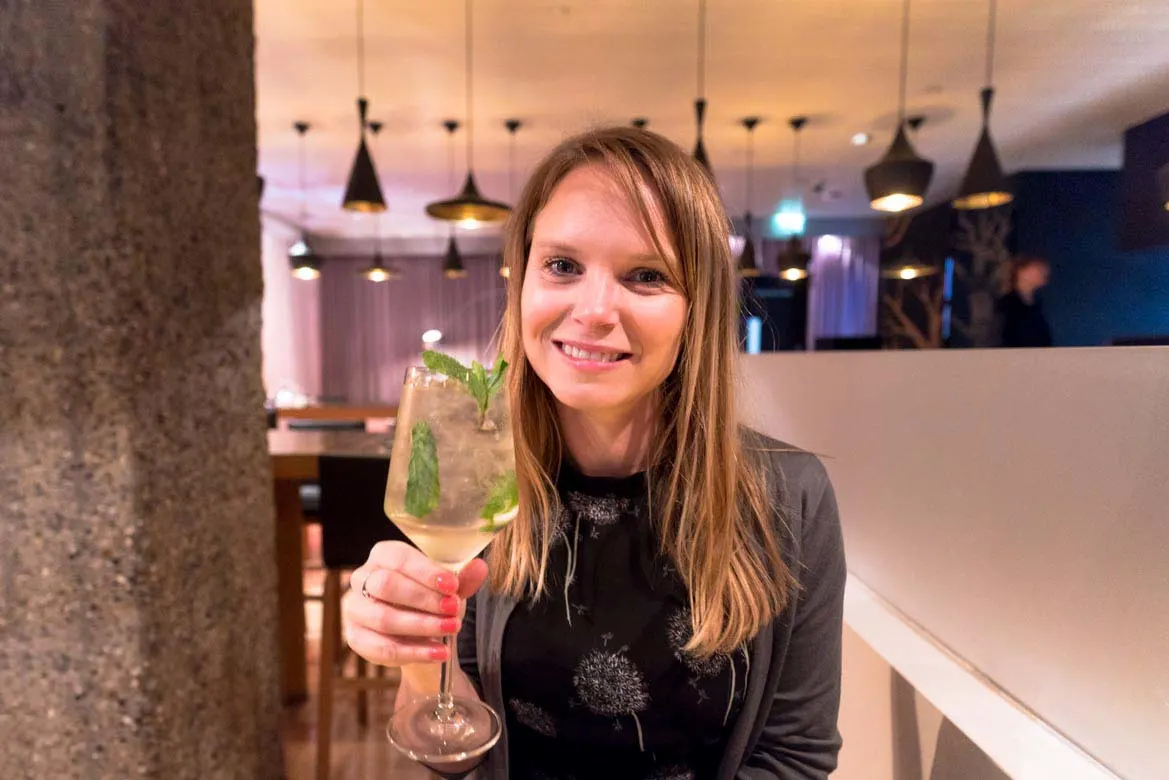 The 3-course menu with a cocktail on arrival was £28 per person. Considering that the same cocktail I had was £13 in the bar, it really shows that this is fantastic value for money.
Other drinks on the menu varied but you could get a beer for £5, a glass of wine from £8 and a bottle of wine from £28, so it's not too expensive on the drinks side of things.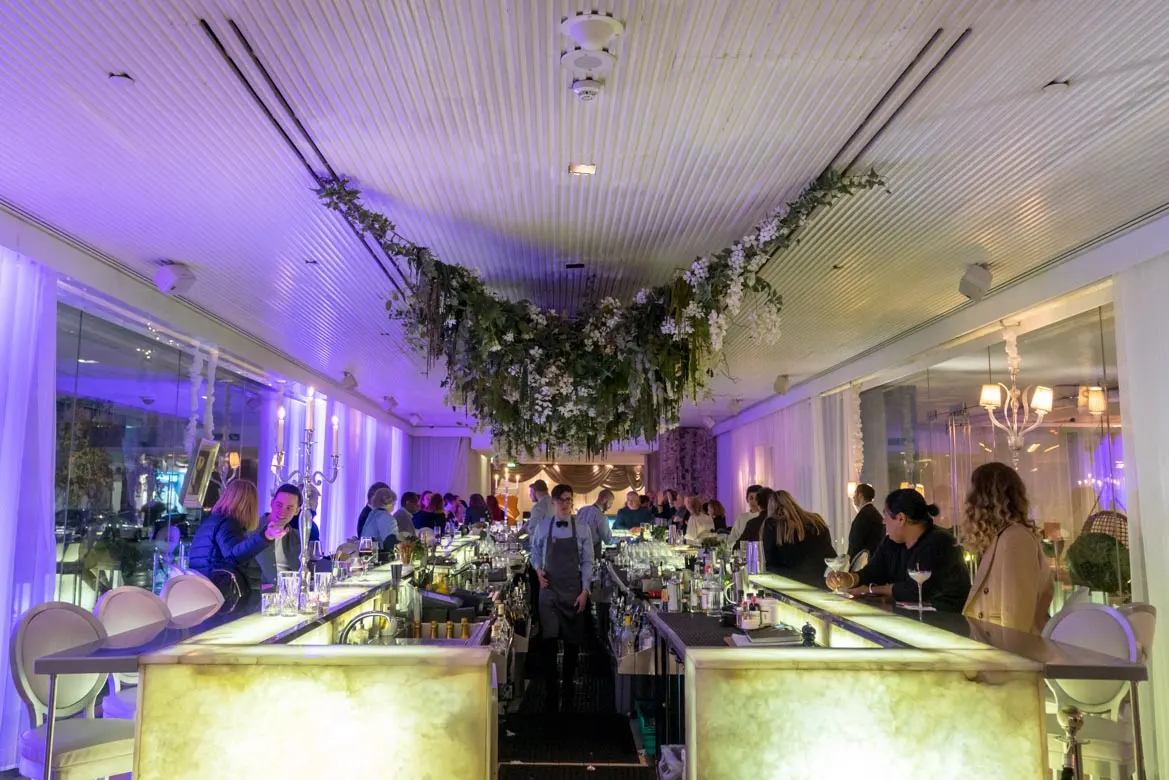 And that's it for my Sanderson restaurant review! I really enjoyed my evening here and it was a great place to celebrate 4 years with my partner Chloe. We even went out for another cocktail afterwards as we didn't want the night to end!
If you're looking for a fancy restaurant in the heart of central London just without the prices, then you should definitely add the Sanderson Hotel on your list of places to eat at!
---
This post was in association with Bookatable promoting their festive dining menus and deals. As always, all views and opinions are my own and I paid for everything at the restaurant.
Where's the best place you've eaten in central London? What restaurants would you recommend? Let me know in the comments below.