Looking for an amazing pre-theatre menu in the West End? Then check out my Whitcombs restaurant review and see why this could be the perfect place for you!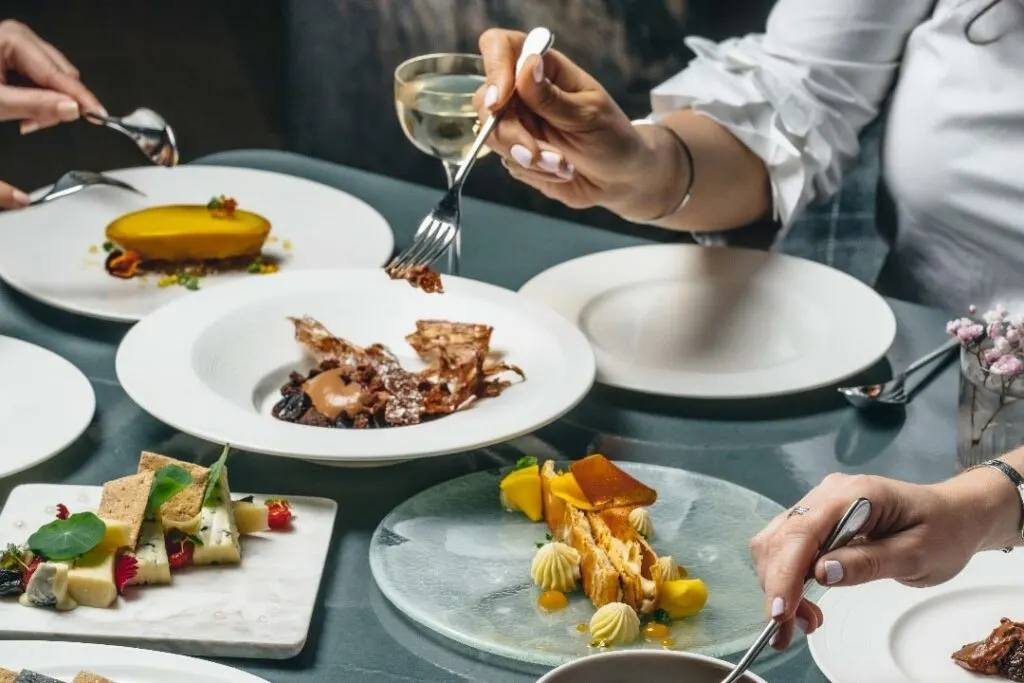 The ol' pre-theatre dinner menu has been pulling in punters for decades. It's one of the best ways of grabbing a bargain before watching a show in the West End.
The problem with most pre-theatre dinner menus though is they're exactly that, pre-theatre. That means dinner at 5:30pm when you're not actually hungry.
However, I've found a place in Leicester Square, in one of the fanciest 5* hotels in London, and they do a pre-theatre dinner menu all night. The best bit? It's ridiculously cheap too.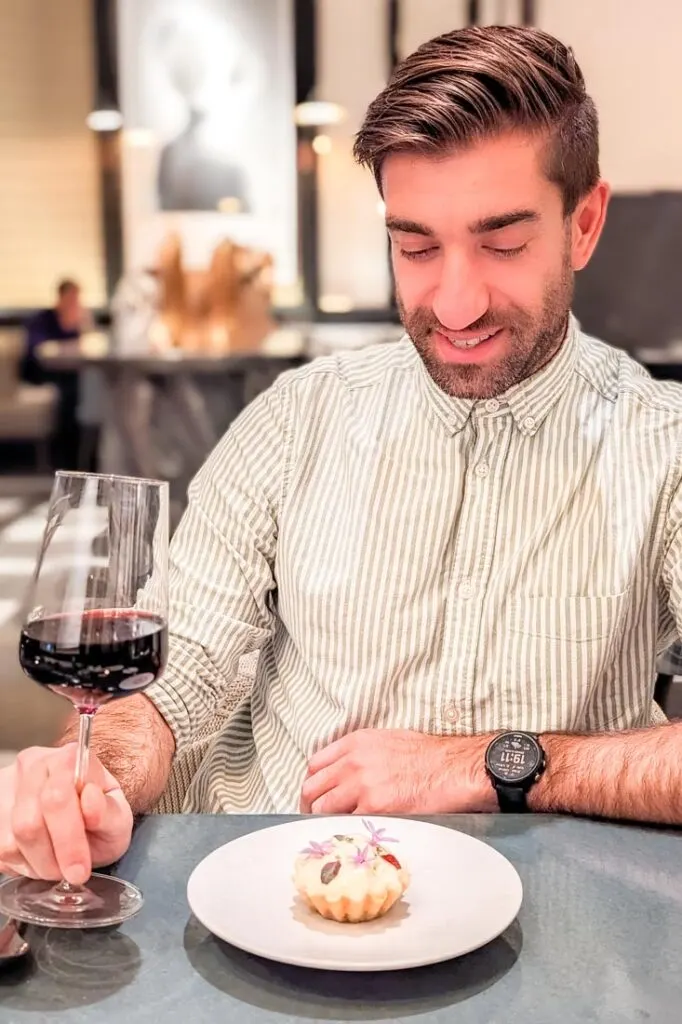 As usual, whenever I'm looking for a deal, I jump on OpenTable to see what dining experiences they have on offer.
One jumped out at me that I hadn't seen before which was Whitcombs, a very fancy French restaurant at the Londoner in Leicester Square, just moments away from Soho.
Their 3-course pre-theatre menu costs just £29 per person which is an absolute bargain. And pre-theatre doesn't mean you have to rush off to the theatre afterwards – it's for everyone.
I noticed that you can book this 3-course pre-theatre menu up until 10pm from Monday to Thursday. For central London that's really good! It means you can have a nice long relaxing meal during the week.
So, if you're wondering what it's like to dine here, then make sure you read my Whitcombs review. This really might be one of the best value pre-dinner theatre menus in London!
If you're looking for some amazing offers on the top London restaurants, I really recommend you check out Opentable first!
What is Whitcombs Restaurant?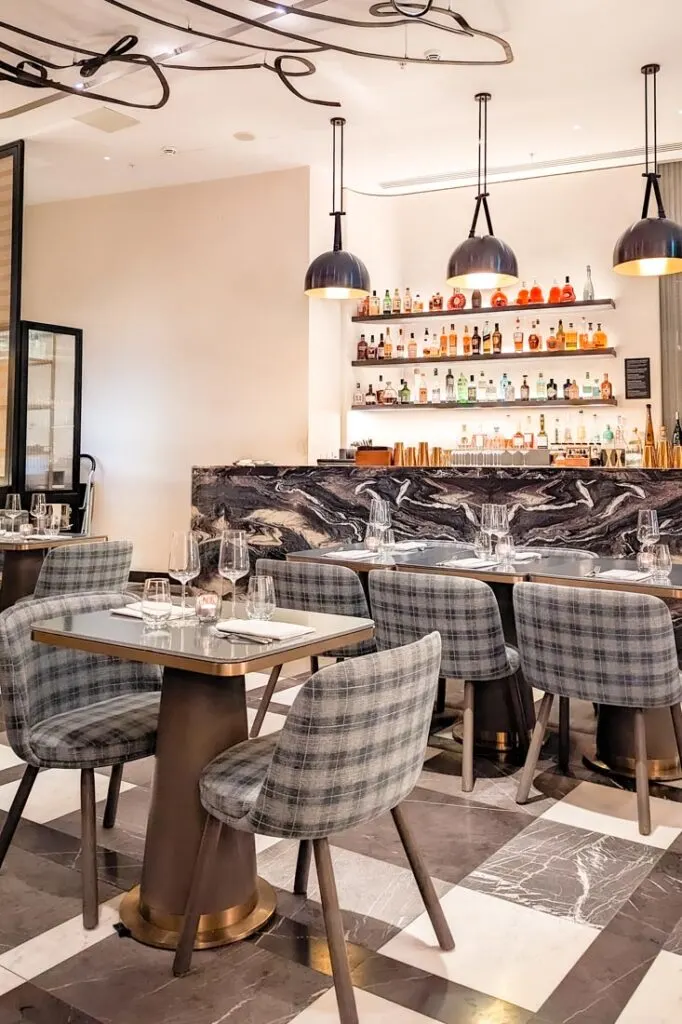 Whitcombs only opened its doors on the 16th September 2021. Since then, it has quickly established a reputation as one of the best French restaurants in London. And it's wonderfully French.
As soon as I stepped into the restaurant, I was immediately transported to a romantic Parisian brasserie. They even had a basket of baguettes at the entrance.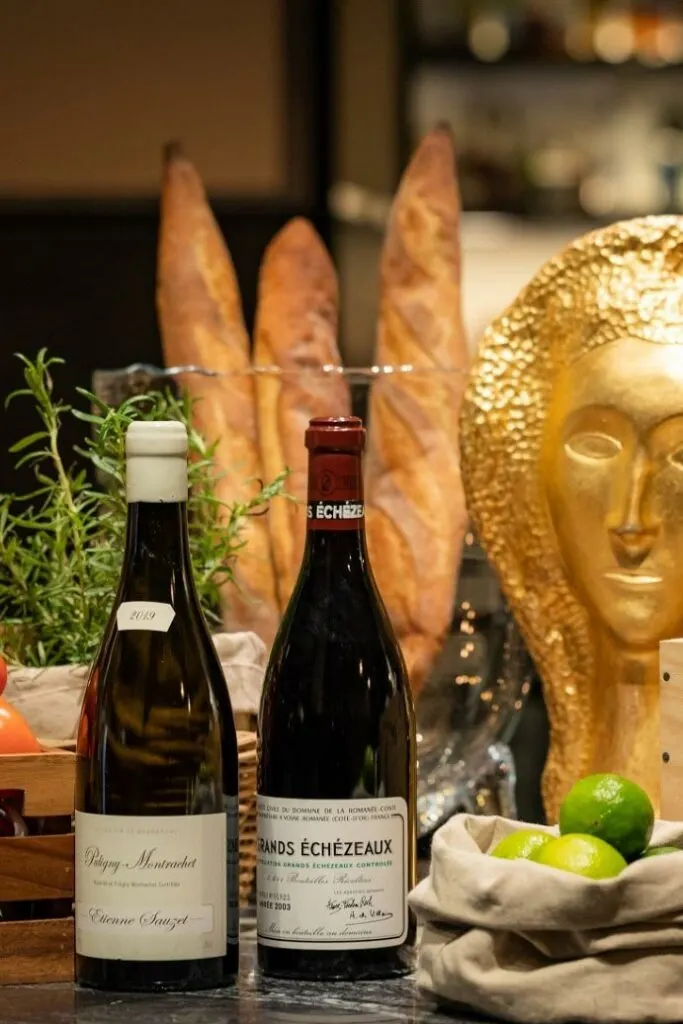 The décor is cosy yet modern, and even on a Tuesday night, in January I might add, it had a good number of diners creating a warm atmosphere.
They describe the menu as French Mediterranean, but it's more classically French. On the al la carte menu you can expect things like baked snails in white wine and a seared filet mignon with chanterelle and an aged Parmesan crème.
Like the French, it's simple yet elegant cooking, and it's damn delicious. Be warned though – they don't go easy on the butter or the cream!
Where is Whitcombs?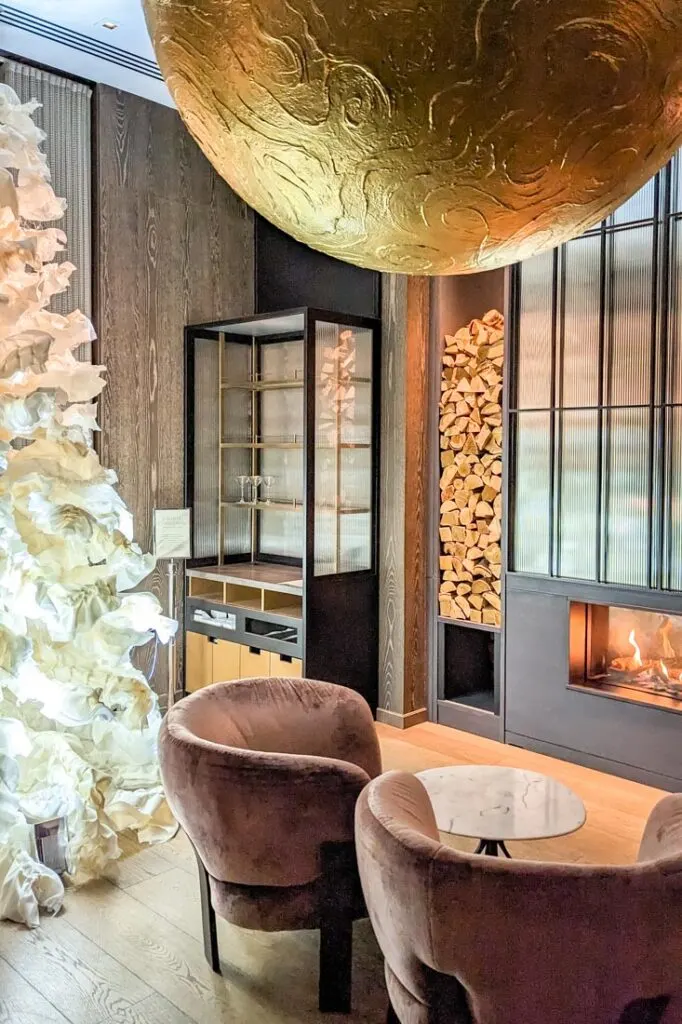 The Londoner is one of the newest 5* hotels to open in London. The hotel restaurant, Whitcombs, is just to the side of the hotel lobby.
I always love that feeling of arriving at a fancy 5* hotel when the doorman welcomes you and opens the door. It's the small things that make a big difference. There's also a lovely bar in the hotel lobby if you fancy a drink after dinner (though I was far too full!)
Getting to Whitcombs is super easy. When they say it's in the heart of the West End, it really is.
Located on one side of Leicester Square, it's a short 5-minute walk from the tube station. Also, once you finish dinner, it means you've got Soho at your fingertips.
Starters – Tarte au fromage and burrata miel
To give you a good overview of the food at Whitcombs, Chloe and I ordered different dishes and shared everything. You know, all in the name of research.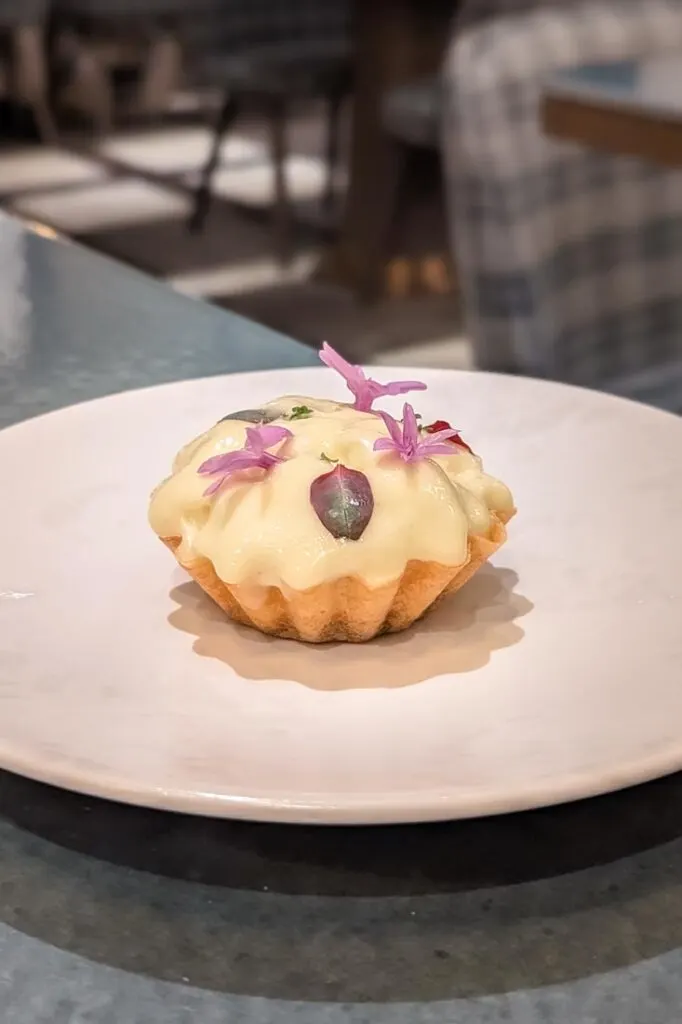 Ahhhh the classic cheese tart. This is the perfect example of French cooking – so simple but so delicious.
The tart case was paper thin with a sharp break to it. Nestled in the bottom was an unctuous caramelised onion chutney with garlic and thyme. Then on top was a salty and decadent Gorgonzola foam. I could've eaten 10 of the cheese tarts they were that good. This was probably my favourite dish of the evening actually.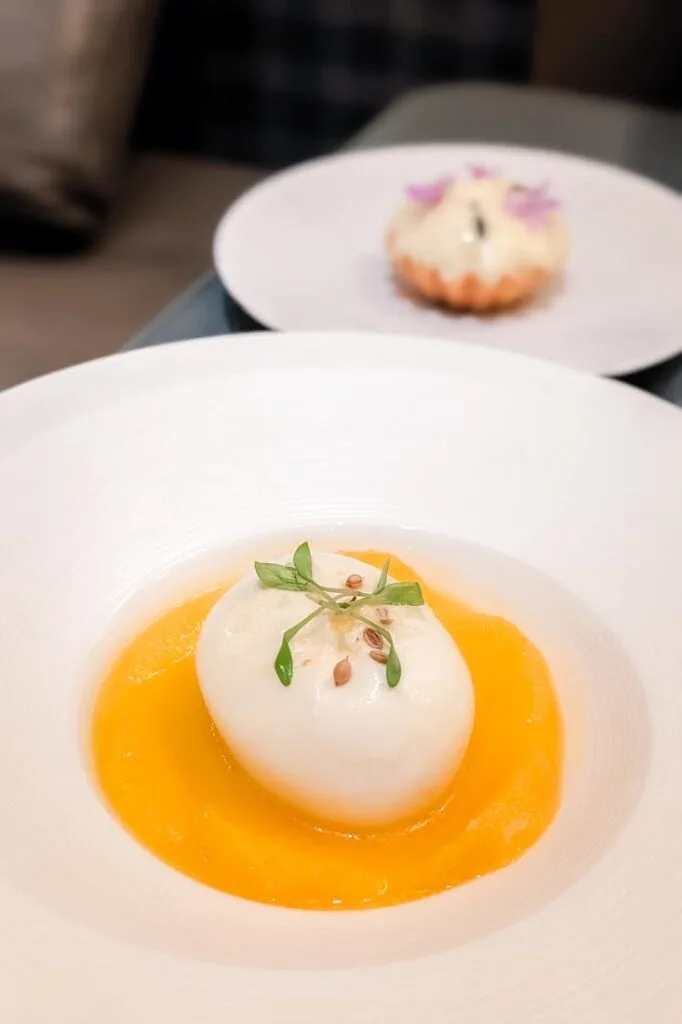 The burrata with quite subtle in comparison, but you can never go wrong with burrata. This came with segments of Seville orange, and the orange juice really brought a fresh zestyness to the dish. Also, the little coriander seeds that pop in your mouth were inspired.
If you're worried about a pre-theatre menu being small, then the size of the burrata dish should ease your fears. It's a very big portion for a starter!
Main course – Pan-seared sea bass and a paprika-roasted poussin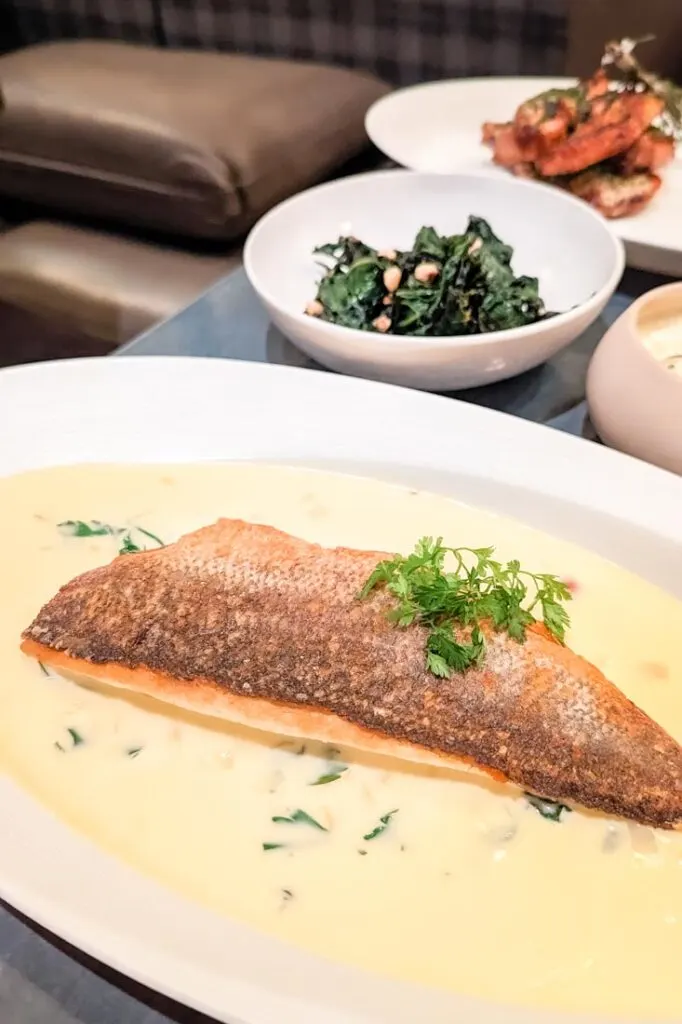 Great ready for some more classic French ingredients and cooking. The pan-seated sea bass came with a mariniere sauce, so white wine, parsley, shallots and lemon.
It was quite daunting at how much cream I was eating (don't even look at the calories for this dish), but it was delicious. The sea bass was perfectly cooked with crispy sink, and it's a classic combo that works every time.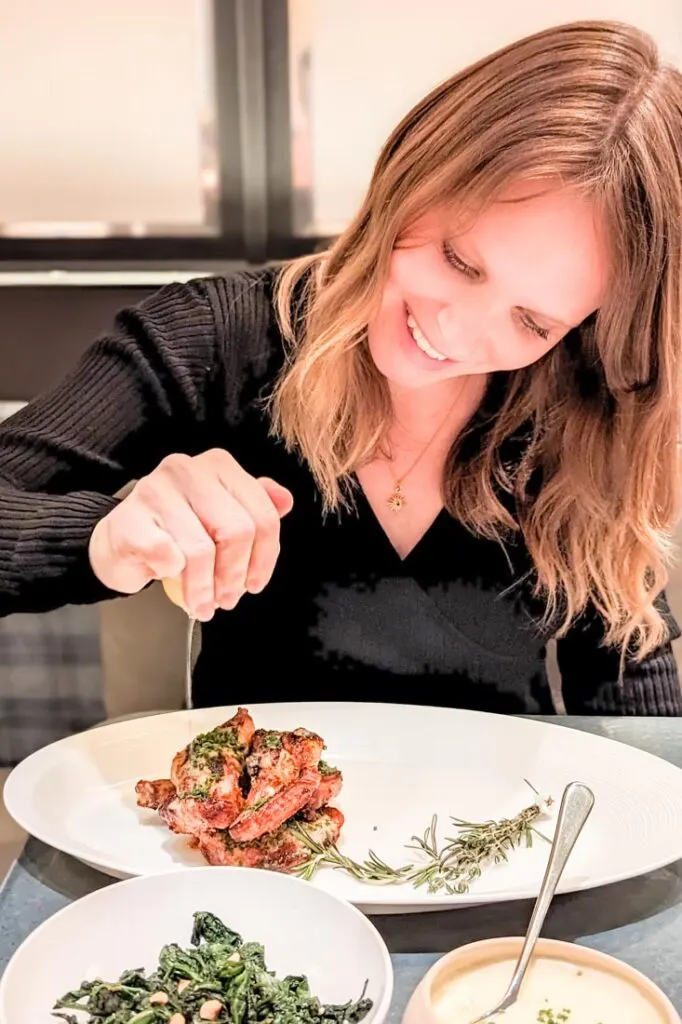 The other main was quite surprising because it was one of the only things on the menu that didn't scream French. It was a paprika-roasted poussin with a chilli and lemon butter, so more Portuguese than French.
Again, you can't go wrong with a roasted poussin. The only negative was I wanted to dive in and eat it with my hands, but I thought better of it in a 5* restaurant! It's that type of food though.
The sides that came along with the main courses were baby spinach with caramelised garlic and toasted hazelnuts, and a very creamy (again) aerated whipped potatoes.
Desserts – Mille-feuille and a tarte au citron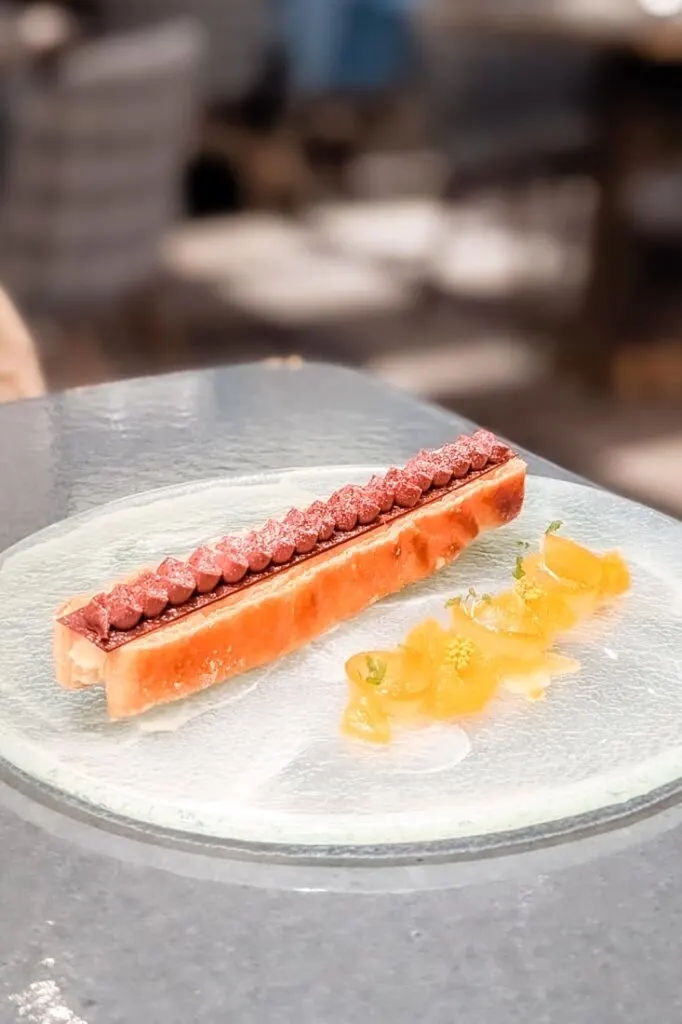 This one takes you to a little patisserie in Paris. The mille-feuille came with a tainori dark chocolate Chantilly, caramelised mandarin, and a very boozy Grand Marnier crème. I can tell you this – they really don't hold back on the Grand Marnier!
I always feel like the mille-feuille is such an underrated dessert. On the plate it always just looks like pastry and cream (though in this case a very elegant pastry and cream). But then you've got to think about the work that goes into it.
You've got to make the puff pastry that takes so much work and time. Then you've got the crème patisserie flavoured with Grand Marnier. Then a separate Chantilly cream. Even the caramelised mandarin peel on the side takes time. It eats like such a quick and simple dessert, but it's so much more than that. As you can tell, I've got a lot of time for mille-feuilles!
The tarte au citron is one of the signature dishes at Whitcombs and it's almost the perfect version. This one comes with honey, roasted almonds, and a little drizzle of olive oil that just elevated it to the next level. It's that perfect balance of super sharp tartness balanced with sweet.
---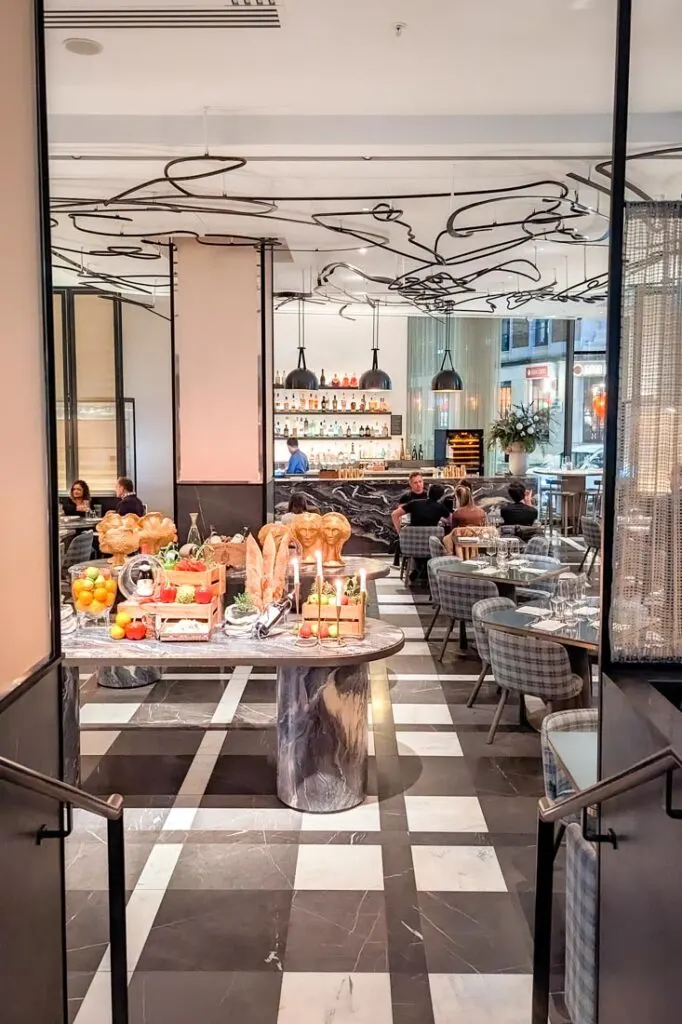 And that's it for my Whitcombs review! I feel like you know exactly what you're getting from this place before you even step into the restaurant. Classic French combos + good quality cooking = delicious food. Sometimes simple really is the best.
It's amazing to think that this is only £29 per person for a 3-course dinner in Leicester Square. I love the fact that you can still order the pre-theatre dinner menu all the way up to 10pm too. That's very rare in London.
So, if you're looking for your next date night, whether you're going to the theatre or not, then this could be the perfect place for you!
---
This post was in association with Opentable promoting some of the best restaurants in and around Soho. As always, all views and opinions are my own and I paid for everything at the restaurant.
Where's the best place you've eaten in central London? What restaurants would you recommend? Let me know in the comments below so I can add them to my restaurant bucket list!