If you're going skiing in the French Alps then check out my guide to ski hire in Val Thorens. I've even got an exclusive Intersport discount code for you!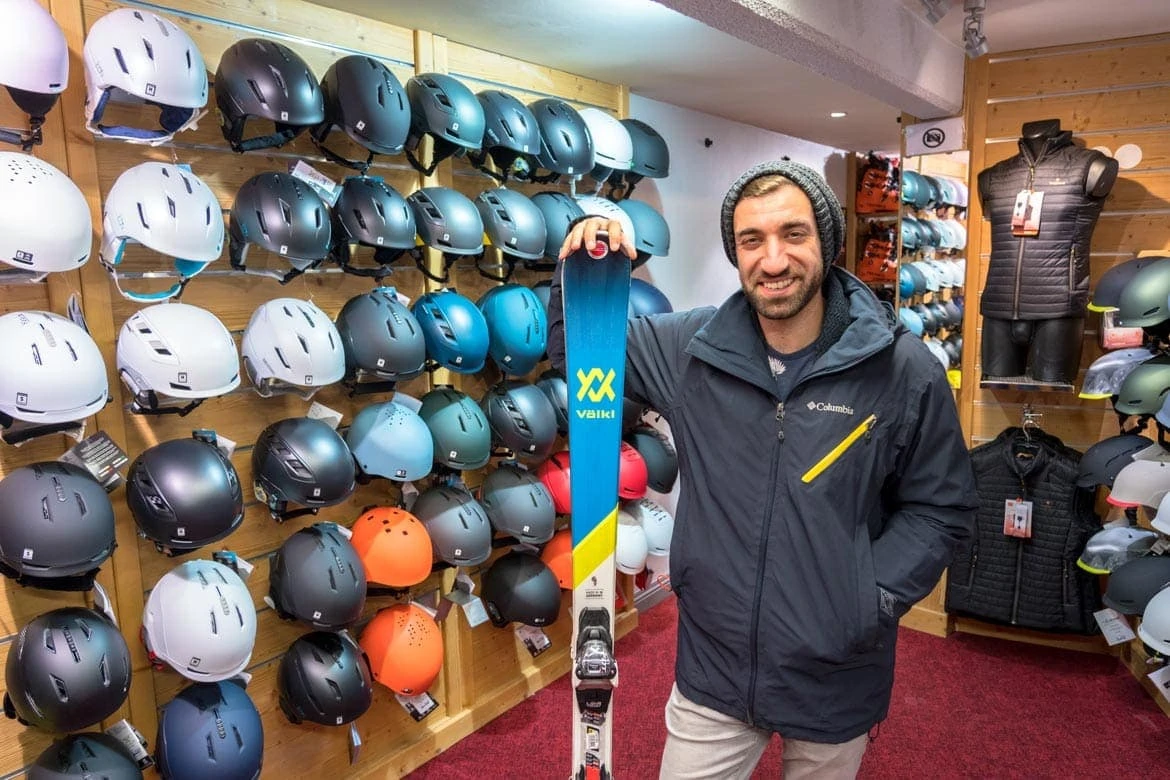 I know it can be tricky finding the right ski hire in Val Thorens for your ski holiday. Sometimes it can become information overload with terms such as 'last', 'flex' and 'canting' being thrown about by shop assistants. Trust me, I get as confused as anyone!
That's why I wanted to write this detailed guide on everything you need to know before you go. This blog post includes how to find the right ski boots that fit perfectly every time to an exclusive ski hire discount code so you can save some money on your holiday.
Make sure you scroll down to see my exclusive Intersport discount code for the 2020 ski season!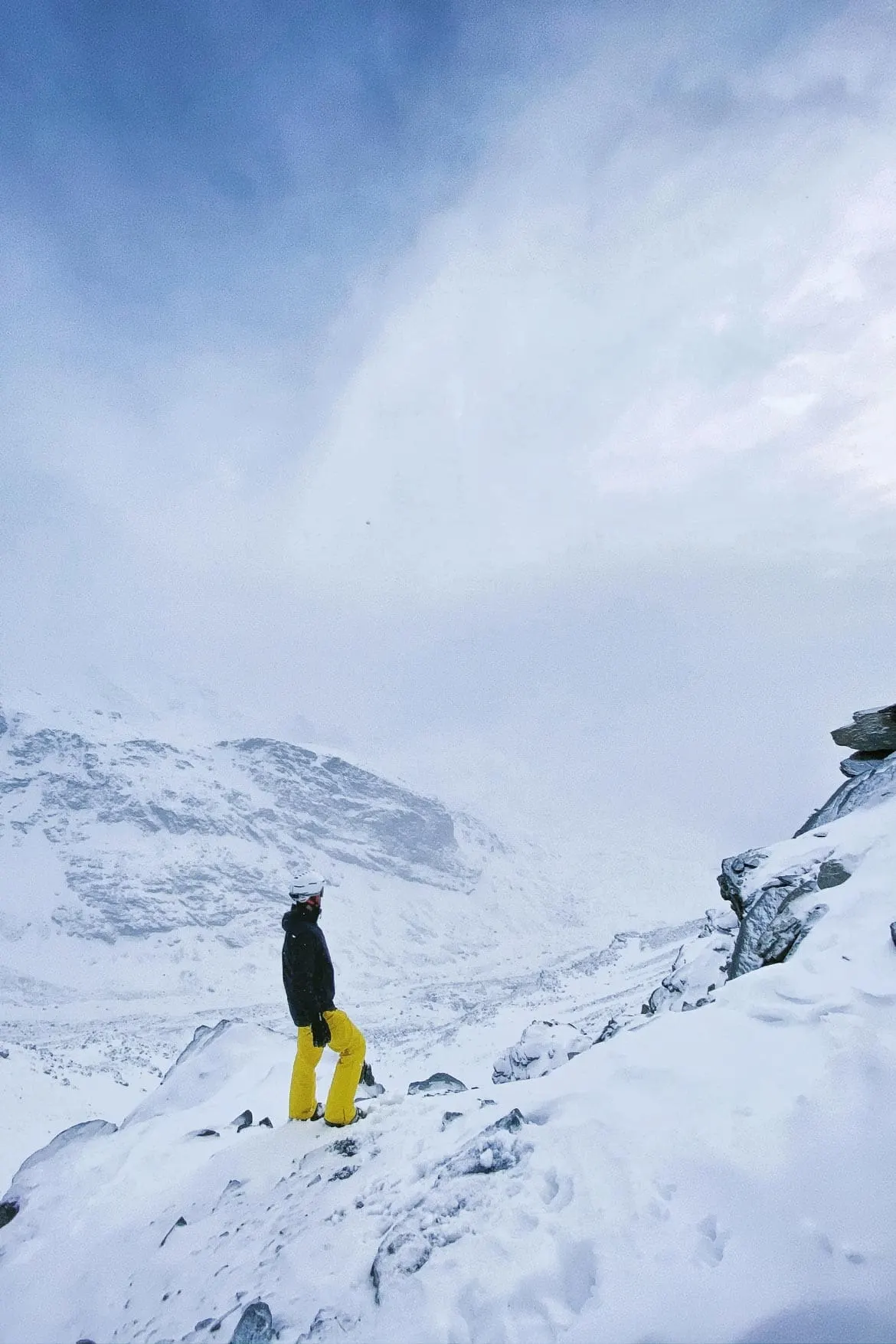 I am very new to skiing and I find everything about it equal parts fascinating and exciting. I'm like a little kid riding a bike for the first time and I just don't want to get off. However, it can be hugely daunting and overwhelming too.
As I never went skiing with my parents or on any school/uni trips, I don't have any of that experience or knowledge about skiing that you build up over the years. Basically, I don't have a clue what I'm doing, especially when it comes to ski rentals.
That's why I'm always hesitant when I walk into a ski shop. When they start asking me questions like "what length skis do you want?" and "what ski boot flex do you usually have?", I just don't know the answers.
So, if you're like me and new to skiing, this is the perfect guide to ski hire in Val Thorens in France. Hopefully it'll give you the confidence in finding the right equipment for your ski holiday.
Finding the perfect ski boots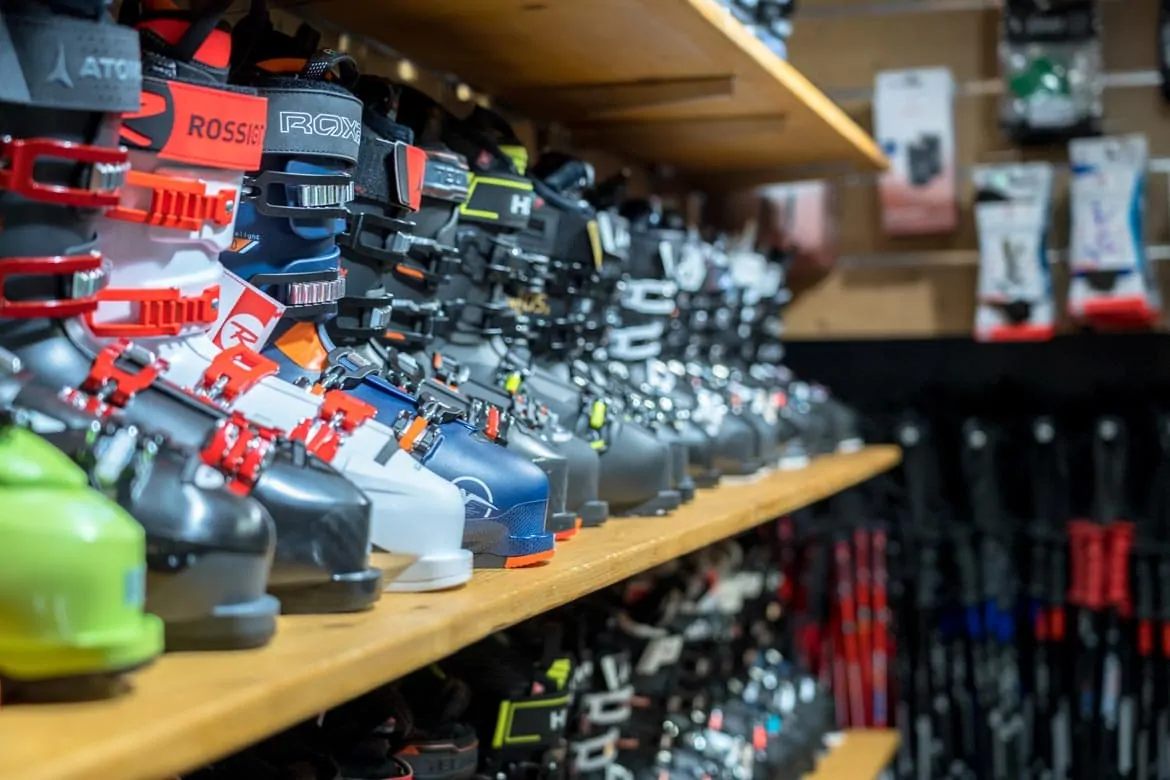 If there's one thing that can make or break your trip it's ski boots. If they don't fit and they're uncomfortable then they'll give you all sorts of problems like causing numbness of the toes or getting blisters. That's why it's so important finding the right boots.
It may sound obvious but everyone's feet are different. In fact, your own two feet are completely different from one another. That's why there isn't a "one size fits all" kinda boot.
Some boots are wider, some have more flexibility, some have a thinner inner lining. However, there are some things that will help you find the right boot.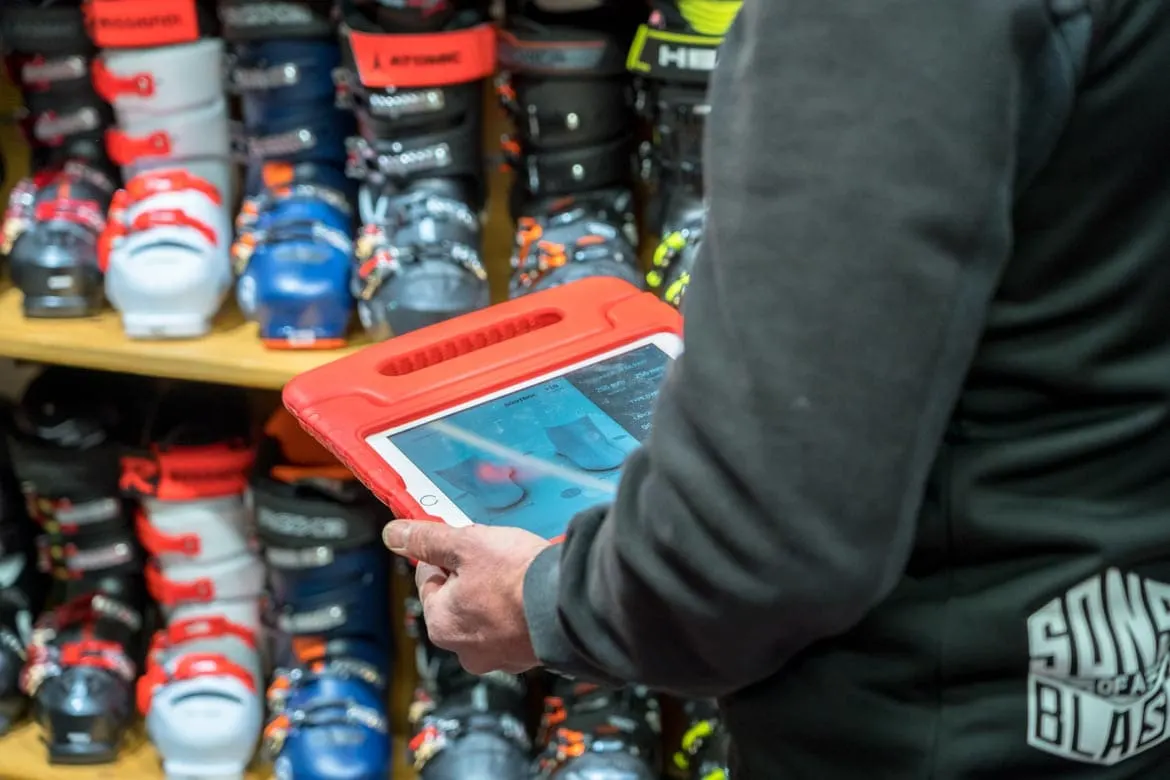 On my most recent trip to Val Thorens I got my skiing equipment from Intersport. Well, in their shop in Le Chevel Blanc they've got this amazing machine called the BootDoc. This is a machine that reads your foot and gives a virtual 3D impression of its size and shape. It measures things like the width of your feet and the height of your heel arch. From there, the shop assistants can give you a ski boot that's much more likely to fit your foot.
As I've got quite narrow feet with a medium foot arch, I needed a narrow boot. Also, as I'm a new skier, I needed a boot with a good amount of flex in them. As the name would suggest, this is how much flexibility there is in the ankle of the boot. The more flex meant less chance that I'd break my ankle which I was happy about!
One of the things I really liked about Intersport was their shop assistants explained everything to me like I was an 8-year-old. It wasn't at all condescending and I actually found it really useful learning about all of this stuff. It made me feel very confident that I was getting the right boot for me.
Returning your ski boots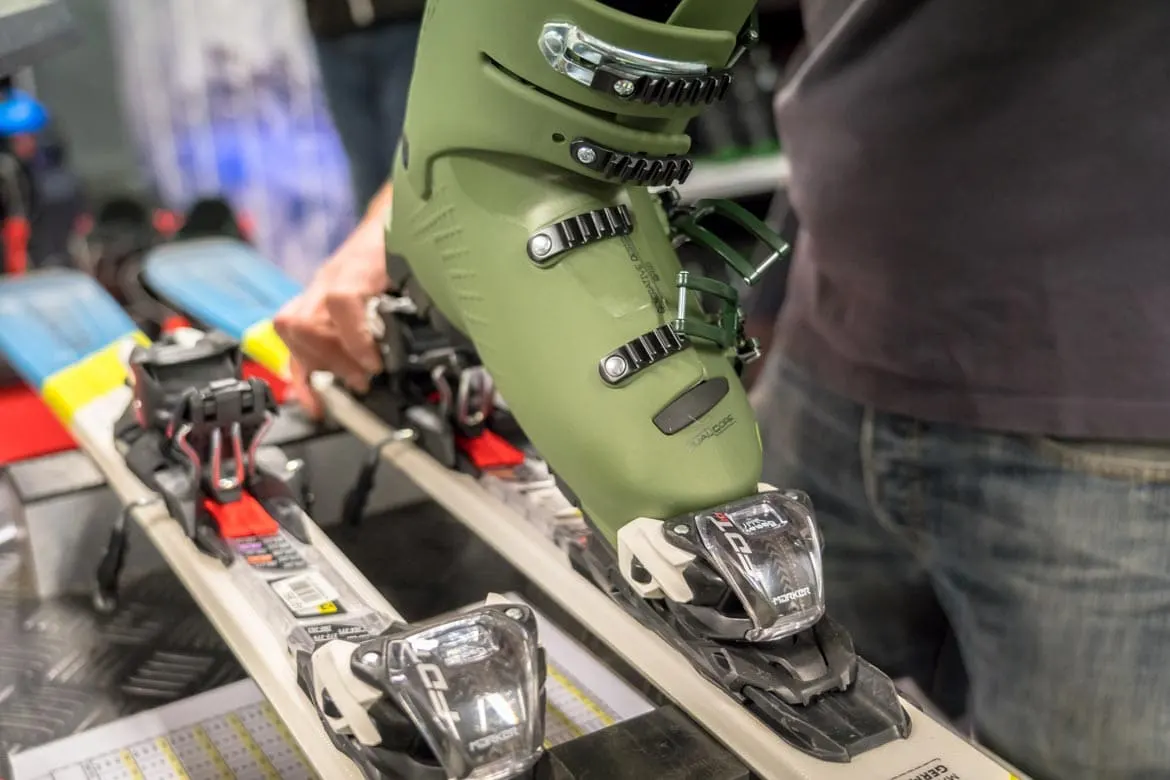 One of the common misconceptions with ski hire in Val Thorens is once you've got your equipment you can't change it. Wrong!
Most shops will allow you to return your equipment if you're not happy with something or if your boots don't fit.
While I was in Val Thorens I changed my boots twice. Once because my big toe was hurting so I changed them for slightly larger boots.
However, after about 15 minutes of wearing these new boots both my feet had gone numb, so I went back to the shop to go back to my other boots.
I spoke to Sacha, the shop manager at Intersport, and he said I just needed to give the original ski boots a bit more time. In the end I felt like they were the perfect boots for me so I'm glad I listened to him and followed his advice. They are the experienced professionals for a reason!
Get a custom moulded inner sole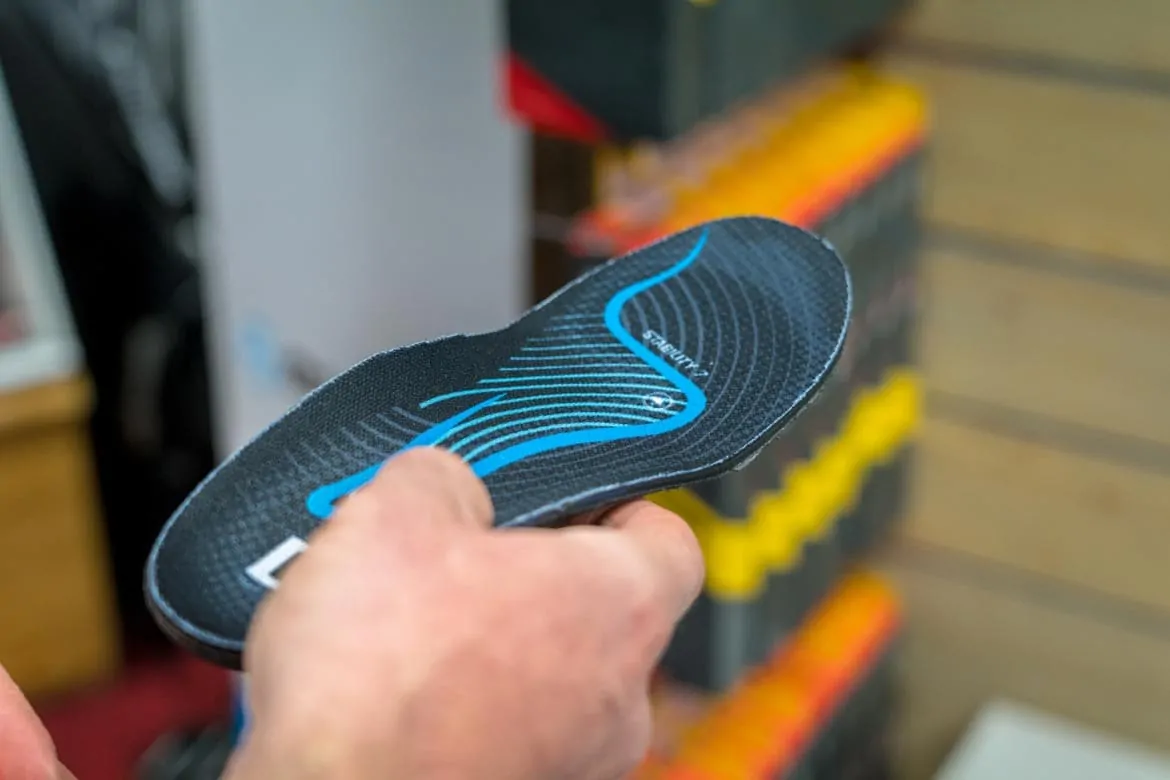 Another way to get the perfect boot fit is to get a custom moulded inner sole.
A bit like with the BootDoc machine, the outline and size of your foot shape in created in heat moulds. Then the inner sole is sculpted to your foot shape so it fits perfectly.
Obviously this gives an added comfort to your feet and should prevent any aches and pains from occurring from the bottom of your feet.
The great thing about moulded inner soles is once your ski holiday is over, you can take them out and put them into your hiking boots for the summer! Win win!
How much does ski hire in Val Thorens cost?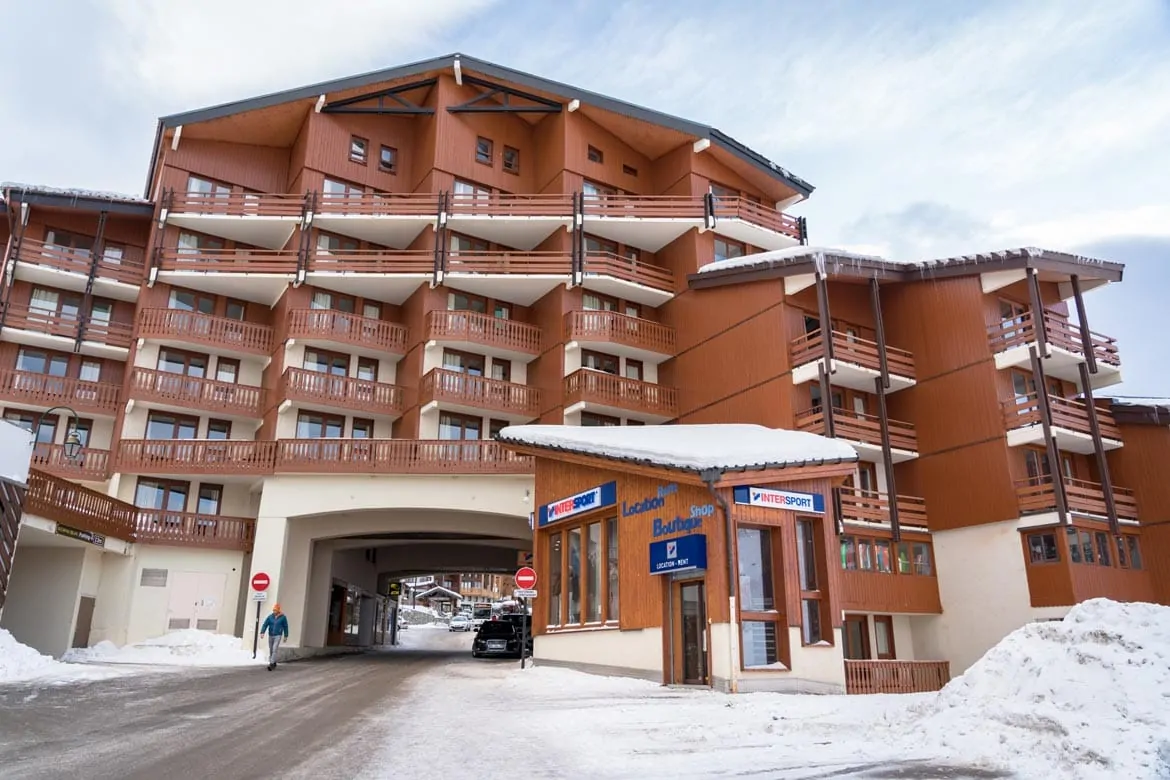 I think ski rental in Val Thorens is surprisingly cheap. You can pick up skis, boots and other equipment from around €10 per day.
One of the things I really liked about Intersport is they change all their equipment each year so everything is brand new. As I was skiing in Val Thorens on the opening day of the season I had brand new skies and boots. Genuinely they were straight out the box with their labels still attached!
Obviously having the latest ski equipment means you'll be able to tear up the slopes even easier. It's also a lot safer having new equipment too.
How to save on ski hire in Val Thorens: Intersport discount code 2023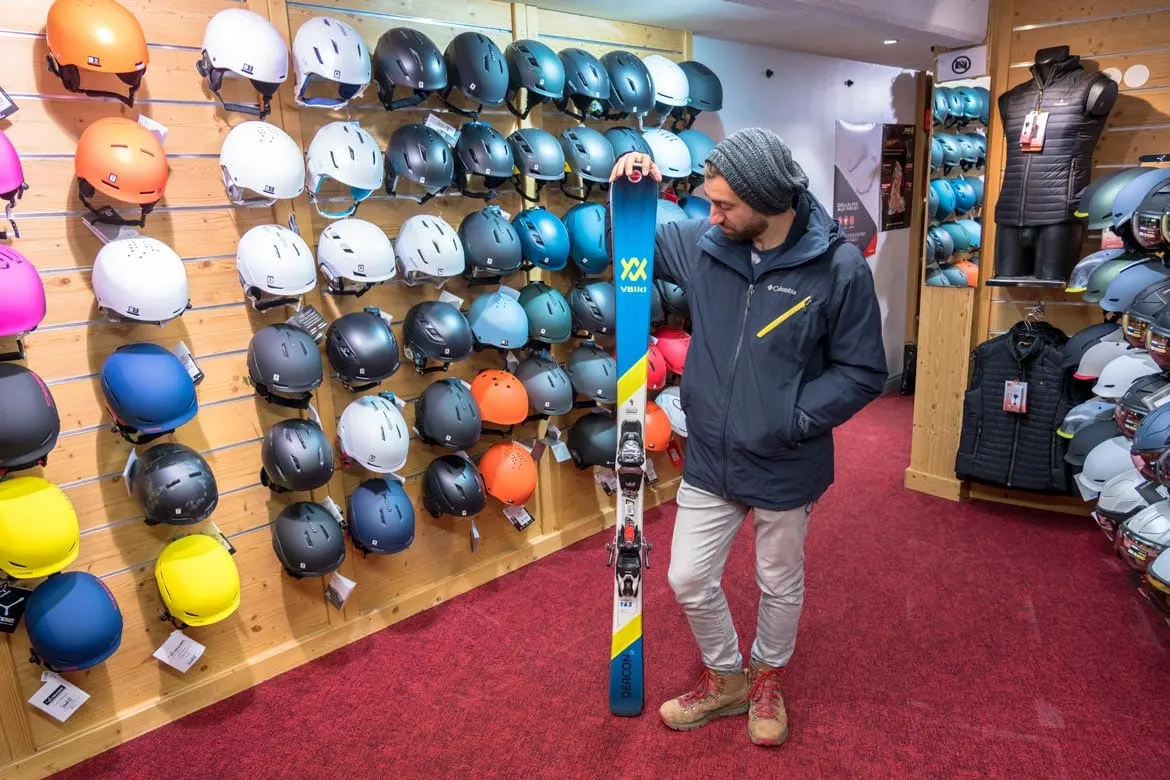 If you're looking to save some money then I'd really recommend booking everything beforehand. If you book online you can save up to 30% off which is a huge saving.
Also, I've partnered up with the team at Intersport offering an exclusive ski hire coupon code just for my followers. This is such a good discount so I really hope you use it.
If you input the voucher code "AnAdventurousWorldSki" you'll get a further 6% off your total basket price when you book from Intersport. How about that as a little saving for your ski holiday!?
Intersport discount code 2023:

AnAdventurousWorldSki
Top tips for ski hire in Val Thorens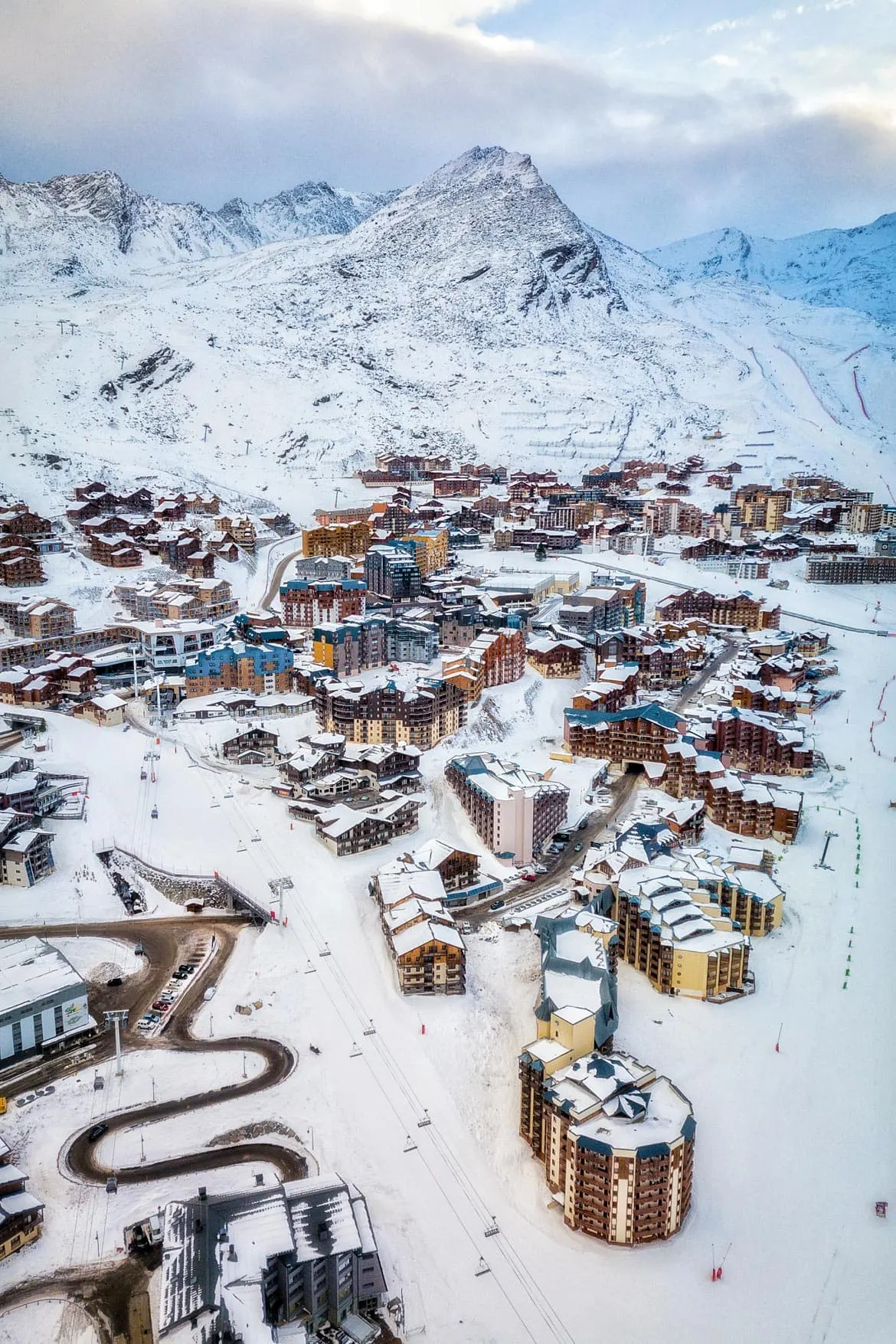 Allow plenty of time – If this is your first time hiring ski gear then allow plenty of time. After talking to the professionals, trying on a couple of different boots and picking up your skis, it can take a fair bit of time. I'd say allow at least an hour to do everything and leave feeling comfortable.
Get measured by a professional – I can't stress this enough but it's so important getting measured by a professional. It's the only way you'll ensure getting the right sized boot. You may as well tap into all that experience while you're in the shop. It's basically what you're paying for!
Wear thin socks – I always thought you should wear thick socks when skiing. Oh how wrong I was. Because the ski boots lining is so snug and thick, you should actually wear thin socks when skiing. If you can buy a pair of ski socks beforehand then even better.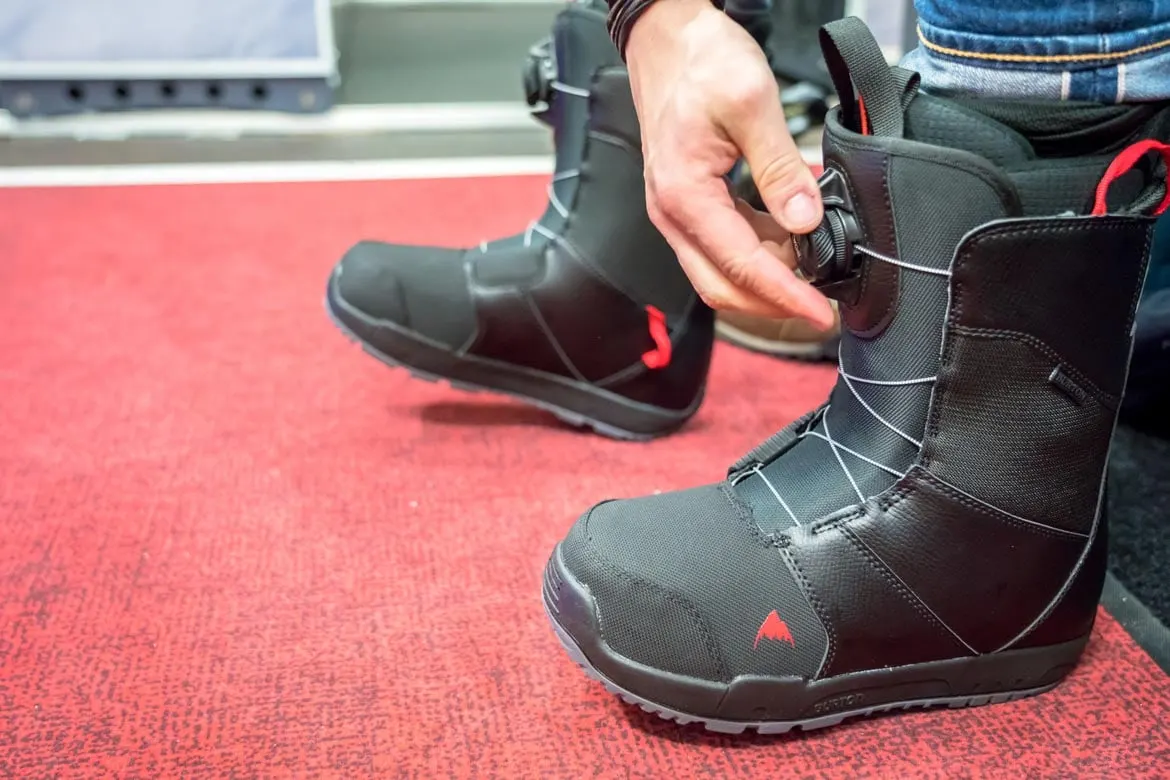 Walk around the shop – To make sure you've got a pair of boots that you're comfortable with then walk around the shop a few times. Ski boots are made for skiing downhill, so lean forward in them or even pretend to ski. I know that sounds silly but if really will give you the best feel for the boots and whether they're comfortable.
Don't be afraid to speak your mind – I've made this mistake before, but don't be afraid to speak your mind. If the boots don't feel comfortable or there are pressure points, make sure you let the shop assistant know. You can try on unlimited boots and it's important to find the right ones for you
It isn't about fashion – Those bright red boots may look cool but this isn't a fashion show. You shouldn't be selecting ski equipment on whether it looks cool or not. Everything should be functional, not fashionable. Saying that, if they are bright red then that's a bonus!
Getting a Val Thorens ski pass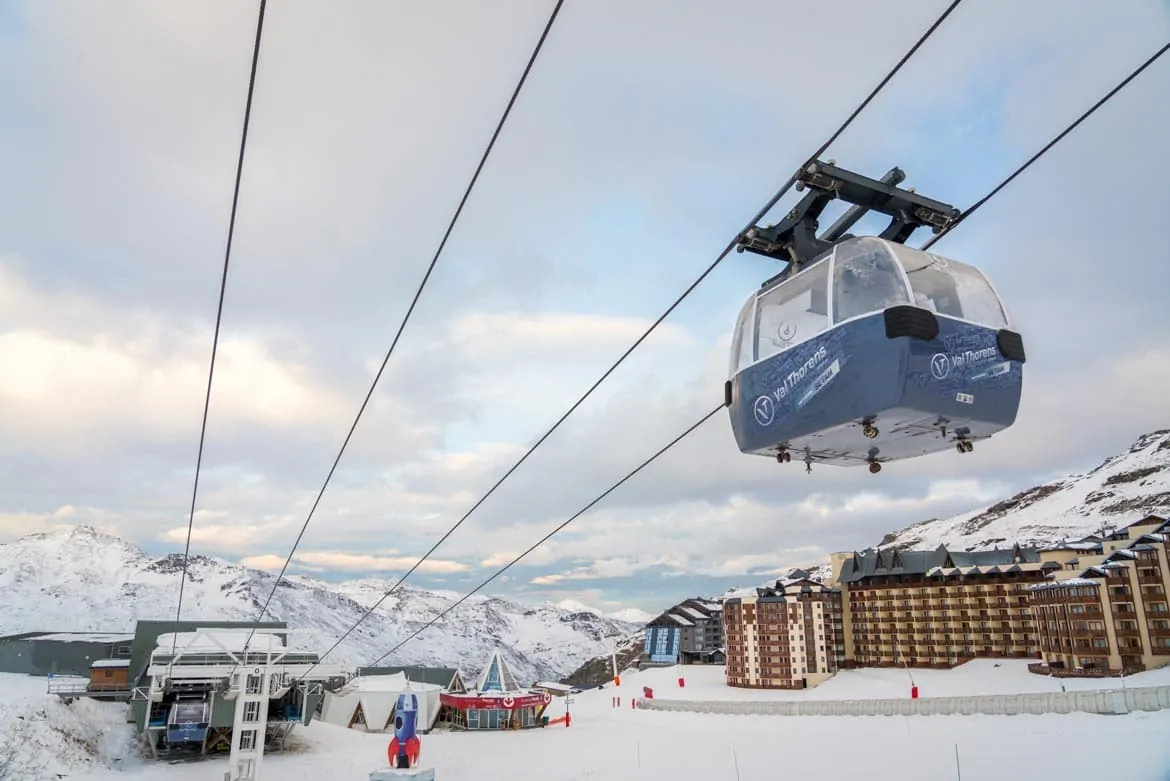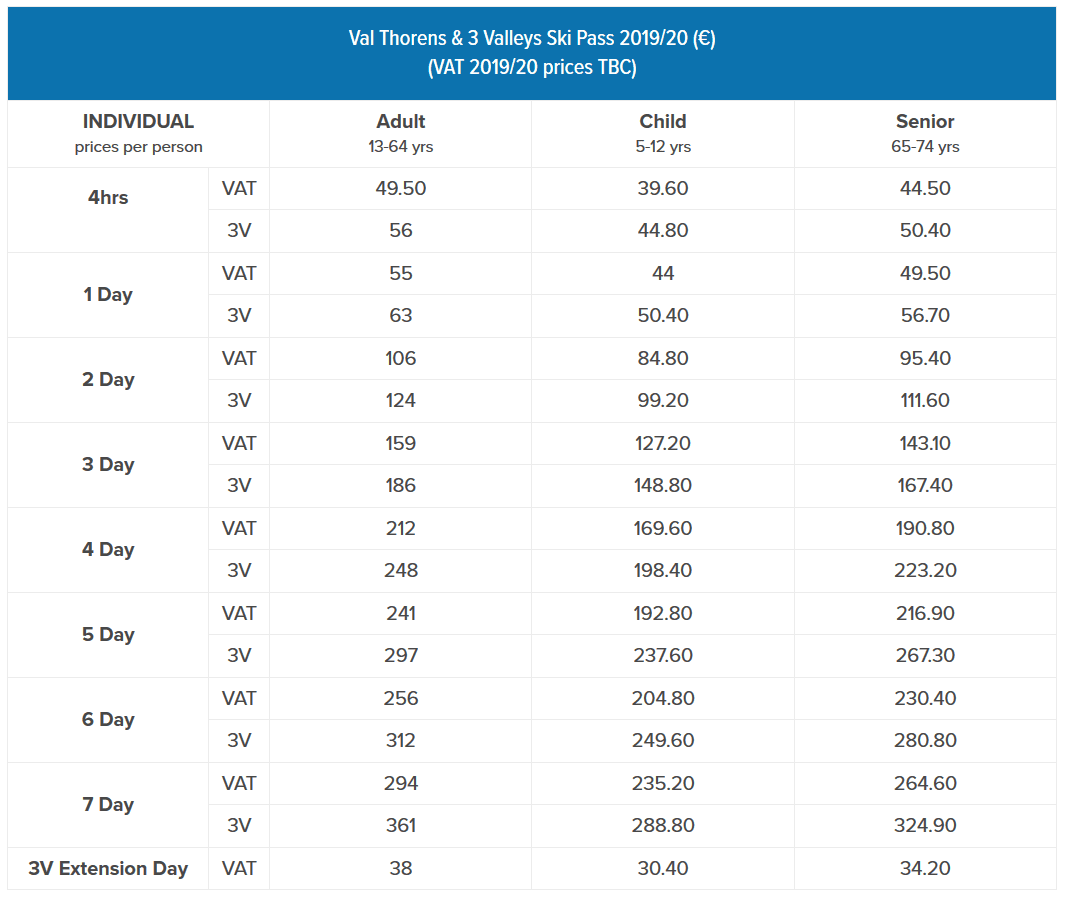 I won't go into all the different types of ski passes for Val Thorens as I could write a whole post about it separately. Obviously you can get anything from an afternoon pass to a week pass. Hopefully this table will give you more of an idea on prices though.
There are 2 main types of 'Val Thorens Ski Area' passes to choose from – the 3 Valleys Pass (full area) and the Val Thorens / Orelle Pass (resort area).
If you have any other questions just let me know!
Getting the right ski equipment for you
At the end of the day it's all about finding the right ski equipment for you. This doesn't mean the cheapest, it means best value for money.
It's really important having things like ski hire insurance just in case the worst happens. I have broken a ski before and I was so happy I had insurance! Saved me €100 straight up!
Hopefully you've found this guide about ski rentals in Val Thorens useful and I hope it means you can enjoy your ski trip in the French Alps!
---
This post was in association with Intersport promoting their ski hire and equipment in France. As always, all views and opinions are my own.
Are you skiing in Val Thorens for your ski holiday? Have you got all your ski equipment sorted beforehand? Let me know if the comments below!
Like this blog post? Then make sure you pin it for the future!