Are you looking for the best Meribel ski holiday? Then read my guide to skiing in Meribel with essential tips, prices & information!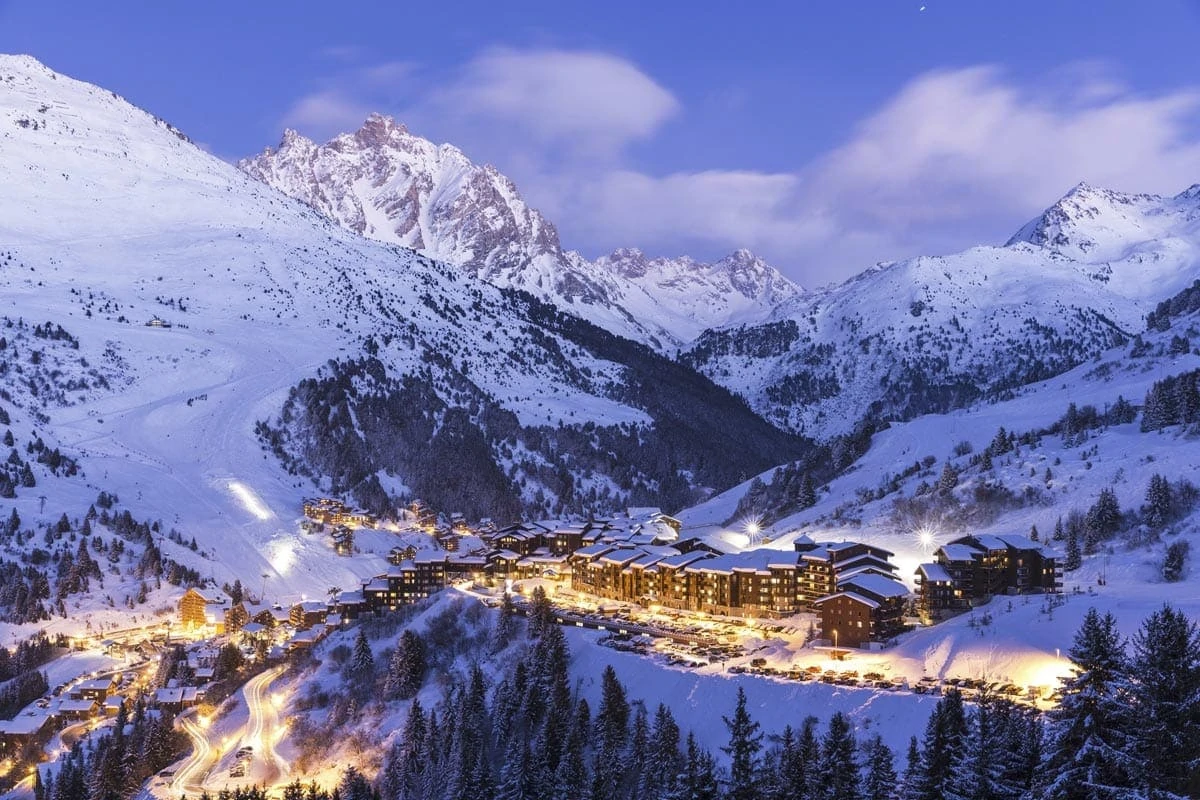 If you're looking for one of the best places in the world to hit the slopes then let me introduce you to the skiing in Meribel, France.
With ski-in, ski-out chalets, a number of hotels to satisfy anyone's budget, and even a fair few apartments dotted around the valley, often the hardest choice is deciding where to stay.
For me, I wanted to purely focus on the skiing in Meribel. I wanted nothing but powder for 8 hours a day. That meant I wanted a place directly on the slopes where I could ski-in and ski-out each morning. I also wanted somewhere close to Meribel Village so I could enjoy the delights of town.
That's when I came across a deal with Ski Total that ticked all the boxes. Flights, transfers, accommodation and all meals included? Sign me up. That meant I could just focus on improving my skiing.
So, if you're looking for a ski holiday in Meribel, this is my Ski Total review for you! Hopefully it should give you a good idea of what booking a holiday with SkiTotal is like.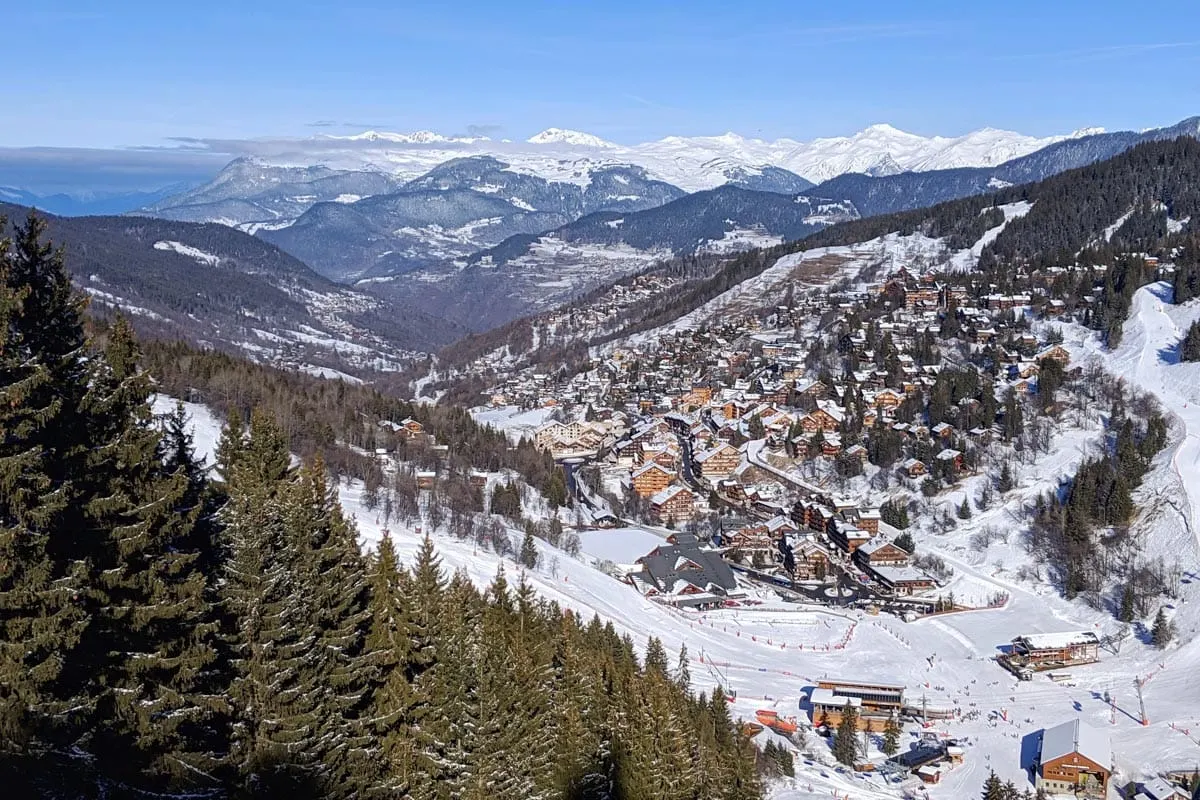 Arriving in Meribel as a complete beginner
Now let me say this now – I am not a skier.
I desperately want to be a skier though, I really do.
The last time I went skiing was a couple of years ago in Zermatt and it ended disastrously.
I went there with all the hubris and confidence of being a sportsman, of someone who thought I'd be able to pick it up immediately. Spoiler alert: I didn't.
After one morning of lessons and an afternoon of hitting the green runs, I thought I was ready for the blue runs despite the fact I could barely stop.
A terrifying 10 minutes into my second day of skiing culminated in my ploughing into the side of the slopes and snapping a ski.
Since then, all other skiers have been astounded that I could actually snap a ski, but hey, I did it.
So, with confidence knocked and pride damaged, that was my first foray into skiing over. That's why I wanted some Meribel ski lessons so I could actually call myself a skier.
Did it work? You tell me! Check out my skiing in Meribel video (and yes, that's me filming it!)
Learning to ski in Meribel
Fast forward to the present day and I was flying off to Meribel in France for my second ski holiday.
As I've already said, I *desperately* wanted to be a skier, so learning on past mistakes I wanted to focus on the skiing and nothing but the skiing.
That meant lessons and lots of green runs before I even attempted a blue.
As I was in a group, we went for a group ski lesson with ESF – they're considered one of the best ski schools in Meribel.
Prices vary but our private half-day lessons from 09.15 till 11.45 which was for 6 people cost €220 per session. That's €37 for a two and a half hour lesson which I think is pretty good!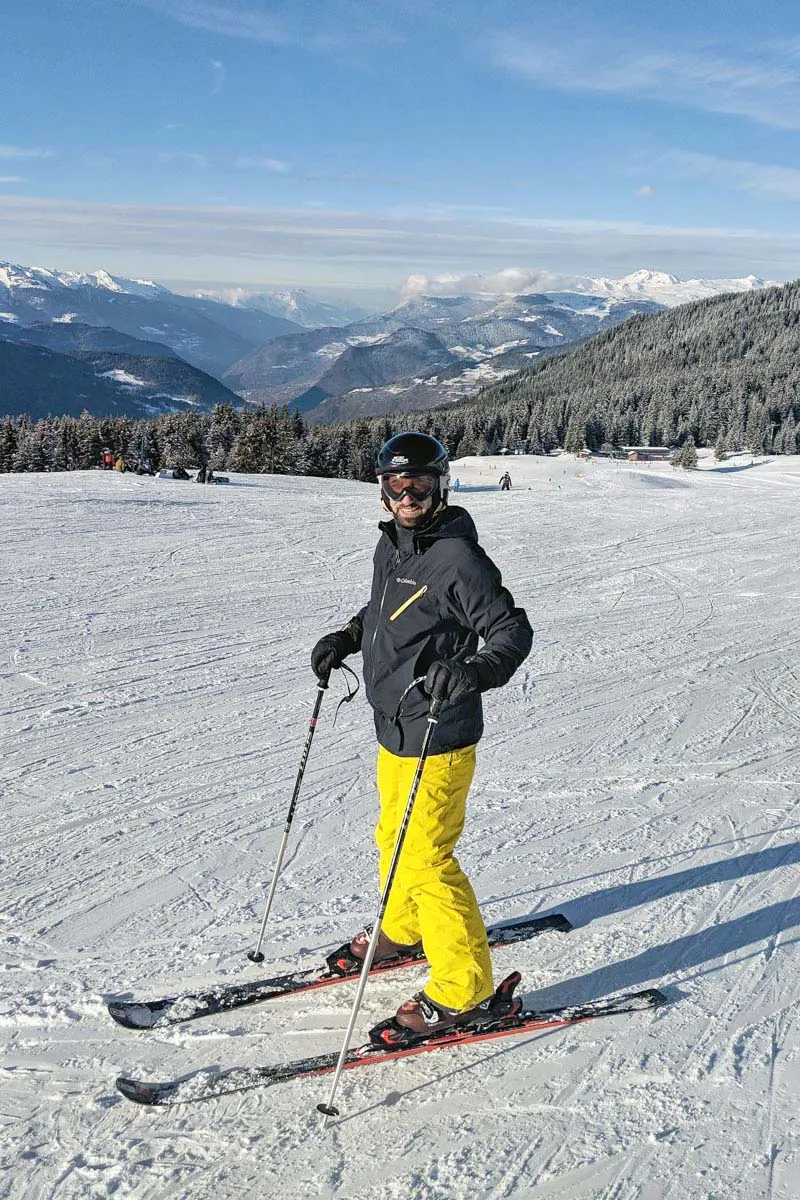 After mastering the trusty snow plough and relearning how to stop all over again, I graduated from the baby slopes to an actual green run.
It's at this point I should say I was bricking it. Actually bricking it. I did not feel ready to be let loose on the slopes!
Luckily, I had Fred with me, my ridiculously charming Meribel ski instructor who showed me the way.
Fred was the perfect instructor. Patient but forceful, and I quickly learned skiing was equal parts technique and confidence. If I had to confidence in myself and my abilities, I would be fine.
As a parting gift, almost as if he knew exactly what happened when I got to this stage last time, he said: "Macca, don't even attempt any blue runs yet. Master the greens, then the blues."
So what did I do that afternoon? I went on a blue run and stacked it of course. Lesson learned Fred, lesson learned.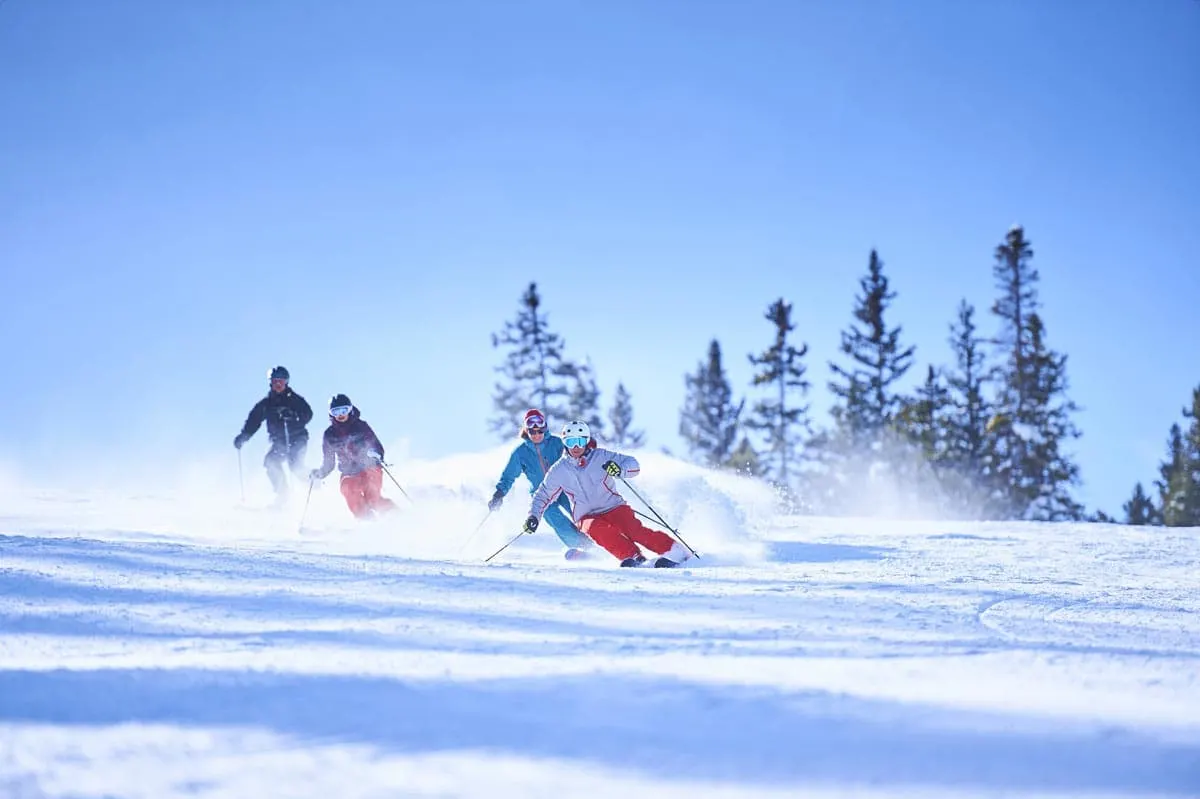 Ski Meribel: Mastering the slopes
From that point onwards on our Meribel ski holiday I stuck to green runs for the next few days and absolutely loved every second of it. I can't remember the last time I had so much fun.
Meribel and the 3 Valleys is regarded as one of the best places to learn how to ski as there are so many different green runs you can do, so it was perfect for someone like me who needed to practice.
On my final morning in Meribel it had snowed overnight and it was powder perfect conditions.
If you've never skied on fresh powder before, there's nothing quite like it. The way you can carve through the snow is such a joy. More friction means more confidence and I was soon zooming down the slopes. I felt like Fred would've been proud.
Feeling good, I felt confident enough to take on a blue run just before I headed back in Meribel Village to head home, and do you know what? I DID IT!
I had one goal coming to Meribel; to leave the mountains a skier. Finally I think I can say that.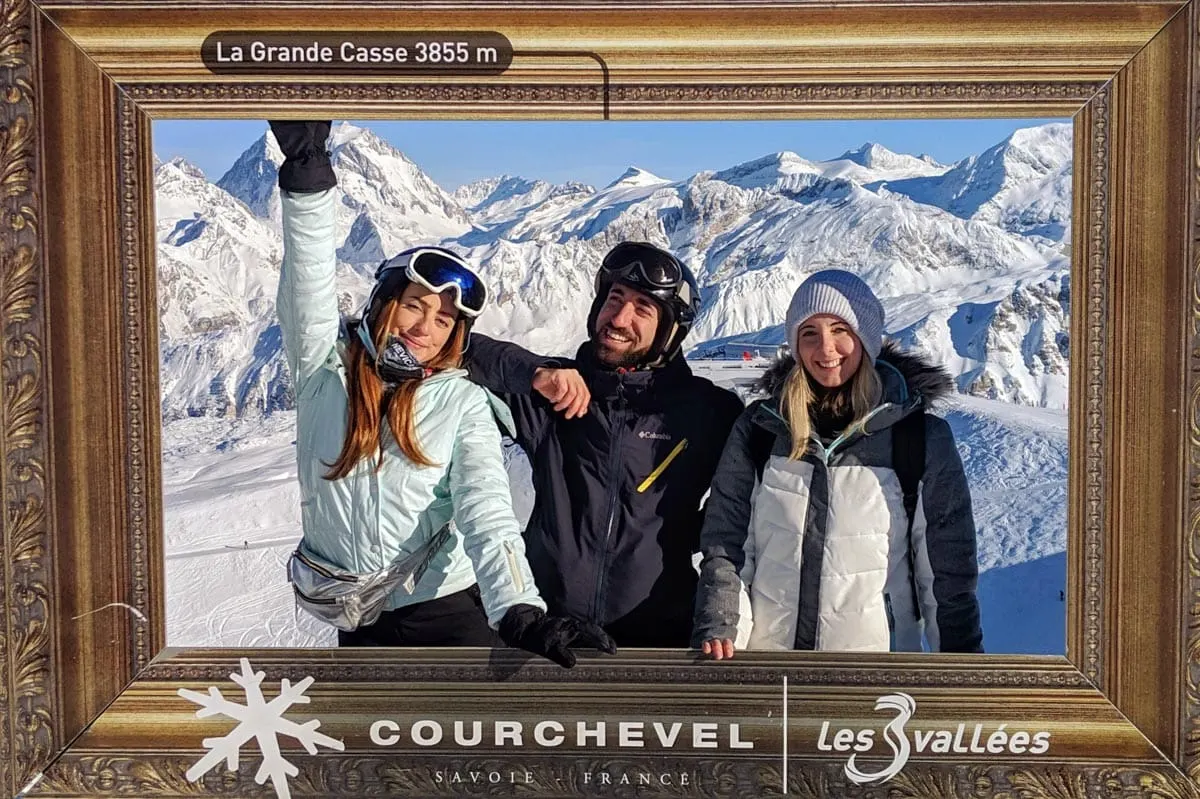 Après ski Meribel
The après ski in Meribel is legendary.
With the three ski resorts of Courchevel, Meribel and Val Thorens making up the 3 Valleys, there are a veritable bevy of options for après ski.
However, the one place that everyone considers to be up there with the best après ski bars in the world is La Folie Douce.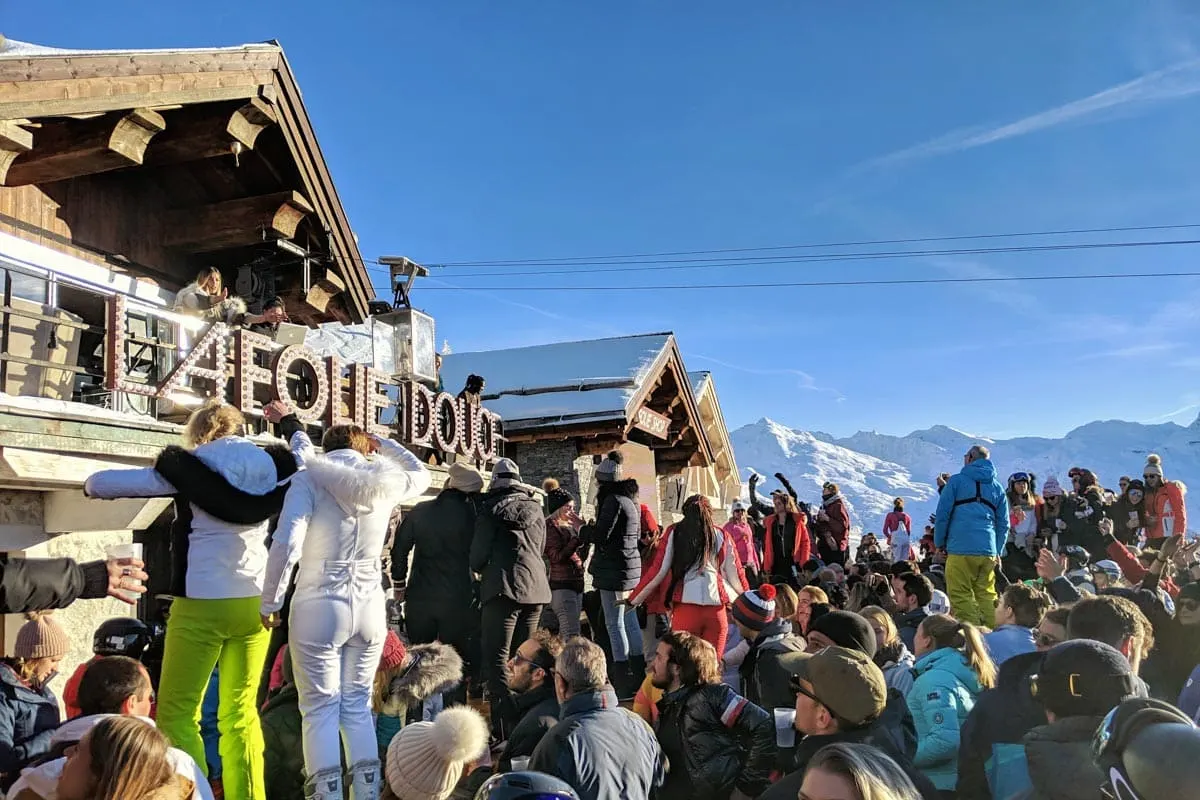 This is basically an Ibiza beach club up in the mountains, and on the weekends it is packed from 3pm till 5pm with everyone dancing on the tables.
I can't tell you how amazing the atmosphere is there with the house DJ spinning club classics.
Be warned though, drinks are cripplingly expensive. It was €8.30 for a 50cl beer, so be prepared for that.
Saying that, La Folie Douce really was one of my highlights of skiing in Meribel and I really recommend going here for at least one afternoon.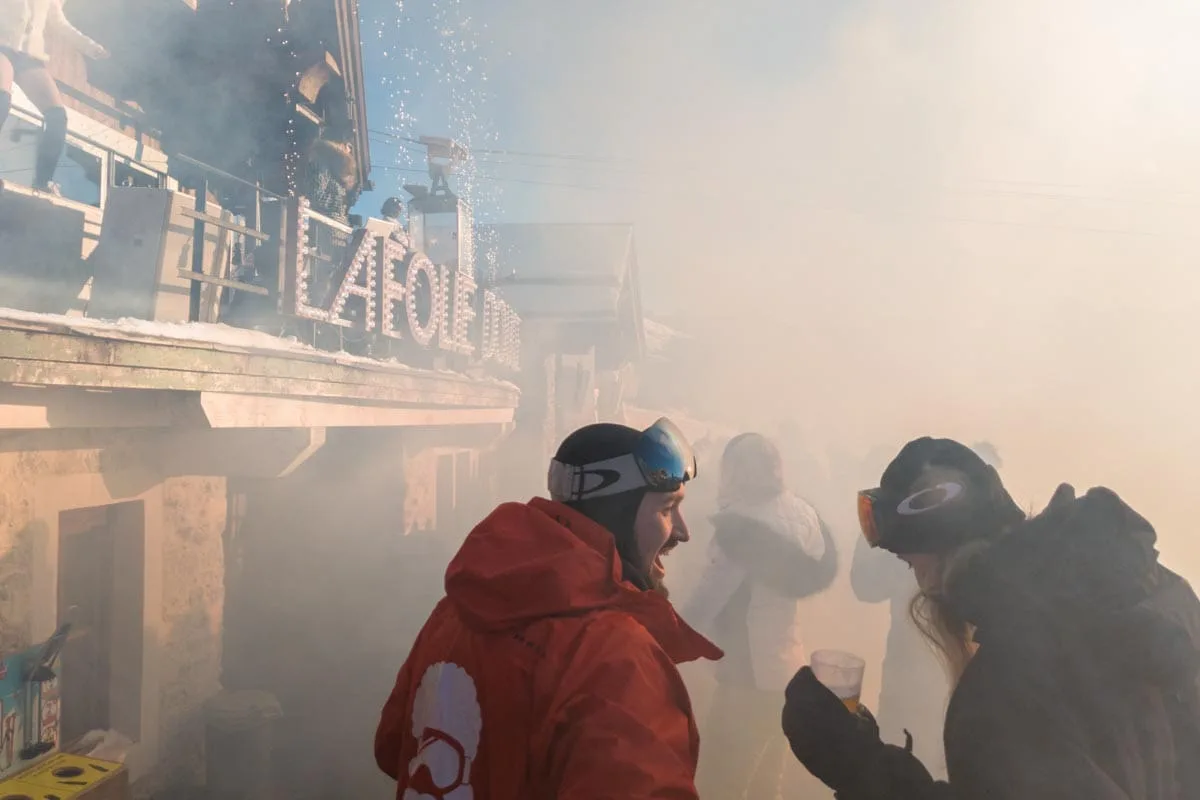 Another après ski bar I really enjoyed was La Rond Point.
This was rough a 20-metre stagger from the front door of Chalet Hotel Alba where were staying, so it quickly became our go-to bar.
Most evenings they have a live band playing from about 4:30pm onwards and it is an amazing place to hang out after a hard day's skiing on the mountains.
Oh, and they have a slide IN the bar down to the toilets. How many more reasons do you need to go here!?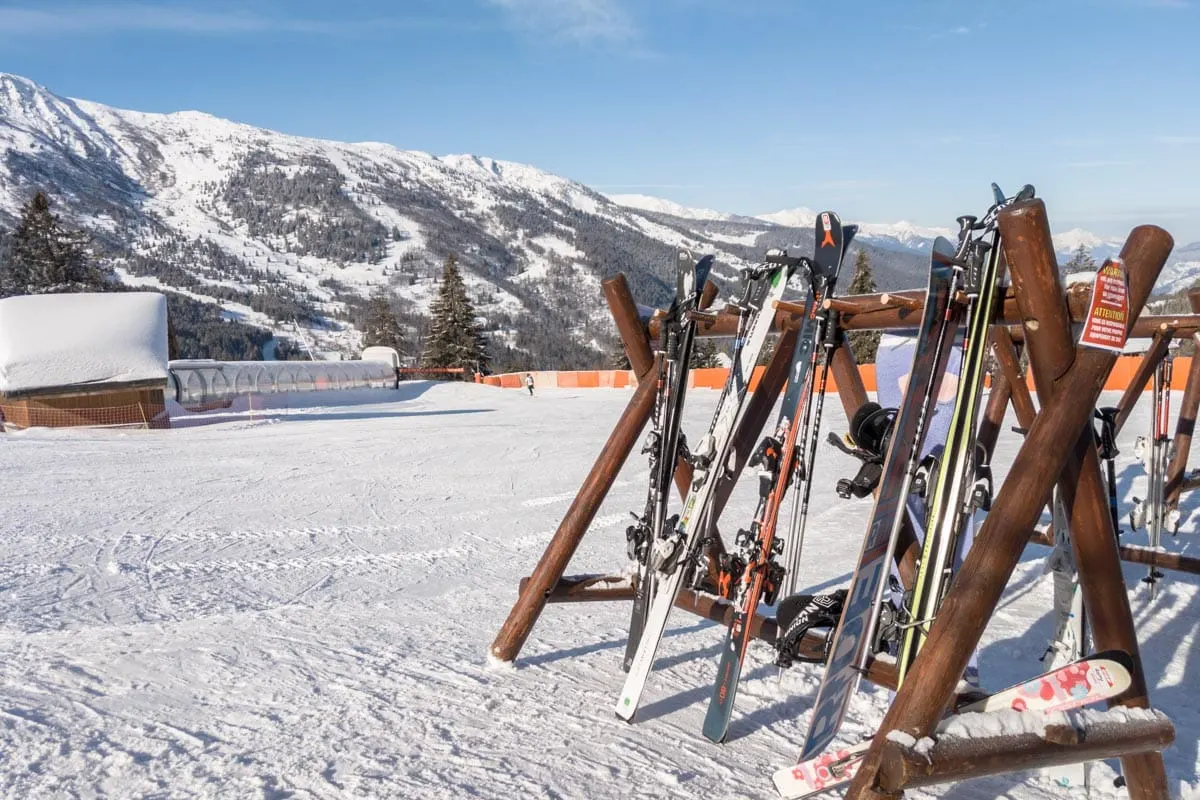 As part of our Ski Total package we stayed at Chalet Hotel Alba.
This is a 3* ski-in, ski-out chalet/hotel located just above Meribel Village.
With a bus stop just outside the hotel, this place is perfect for getting into town for ski hire, etc.
Chalet Hotel Alba is in the style of a ski chalet with soft wood furnishings wherever you look and it gives a really cosy feel.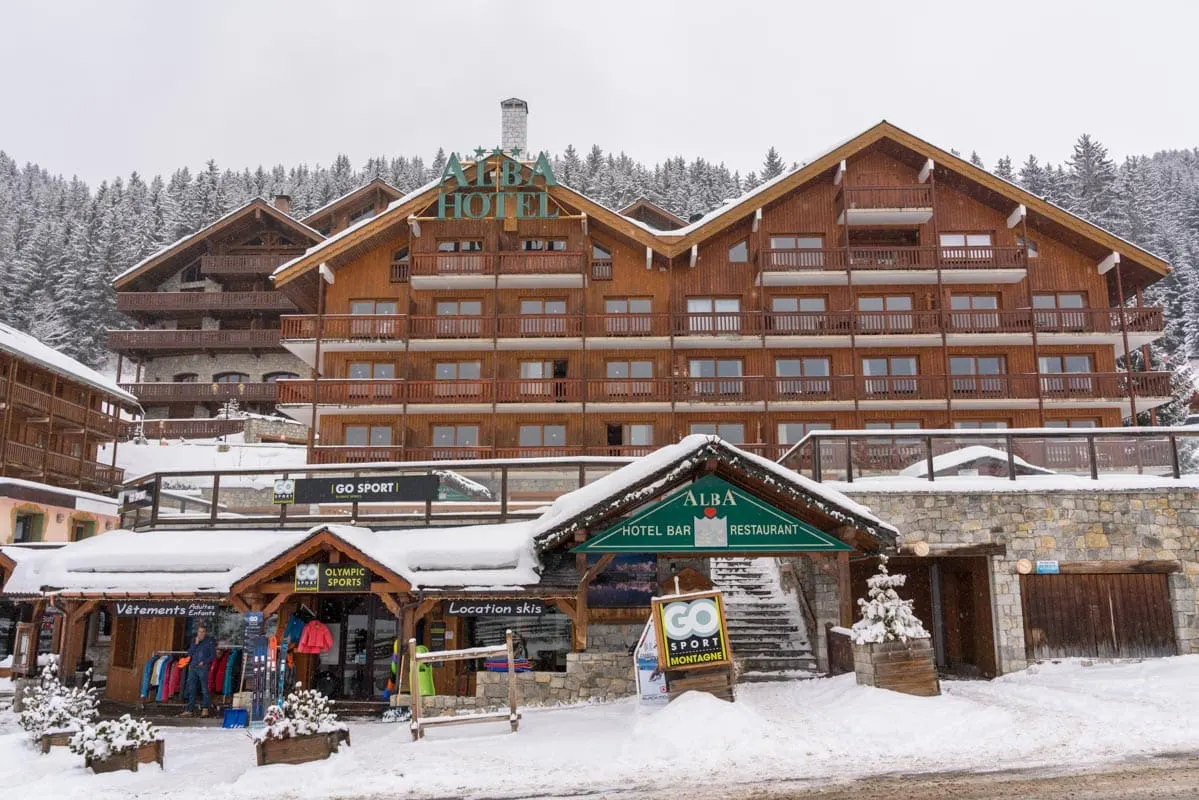 One of the things I loved about Chalet Hotel Alba was all meals were included.
Every morning was a big fry up, though there was lots of cereals and fruits too for healthier options.
In the afternoon, there was tea, coffee and cake which was just perfect after being on the slopes for a few hours.
However, the best was the evening meals. Even though this was a big buffet, the food was surprisingly good with lots of different options. Also, big shout out to the salad bar – one of the best I've had in a very long time.
To make things even better, all wine is complimentary during the meal. Order a glass and you get a bottle, that type of thing. It certainly made the evenings slip by and it was a really nice touch.
Chalet Hotel Alba also had a sauna, steam room and hot tub, but as these were only open from 4pm till 7pm, I didn't get in them myself. Not going to lie, I feel like I missed out there and I wish they were open for longer!
As for Meribel accommodation, Chalet Hotel Alba is definitely in one of the best locations in town.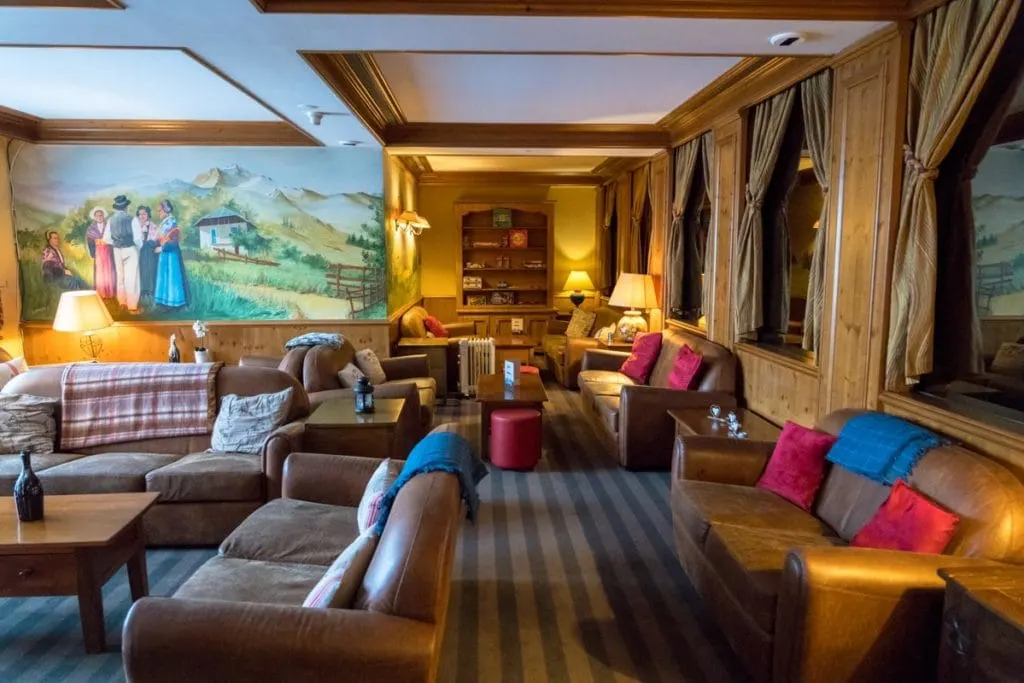 Ski hire in Meribel
There are a number of places where you can hire ski and snowboard equipment in Meribel.
I went with SkiSet in the centre of Meribel Village and I found them really helpful when kitting me out.
For skis, boots and a helmet, ski hire costs €96 for six days. This includes a €12 cost of breakage/theft guarantee, which after my last time skiing I'd 100% recommend.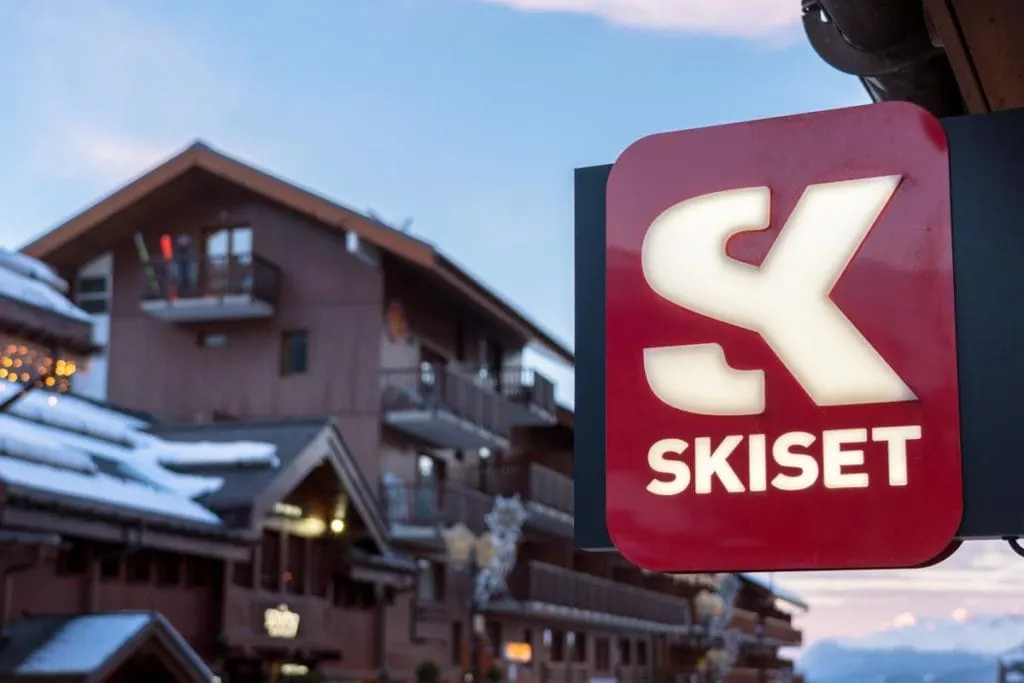 Meribel lift pass prices
There are two different types of ski passes you can get in Meribel – one for Meribel valley only, and one for the 3 Valleys of Courchevel, Meribel and Val Thorens.
It obviously depends on how good you are as a skier and how much you plan on doing, but I would say if you're a beginner then just stick to Meribel. I didn't go near the other resorts despite planning to!
Anyway, here are the latest Meribel lift pass prices:
Meirbel only: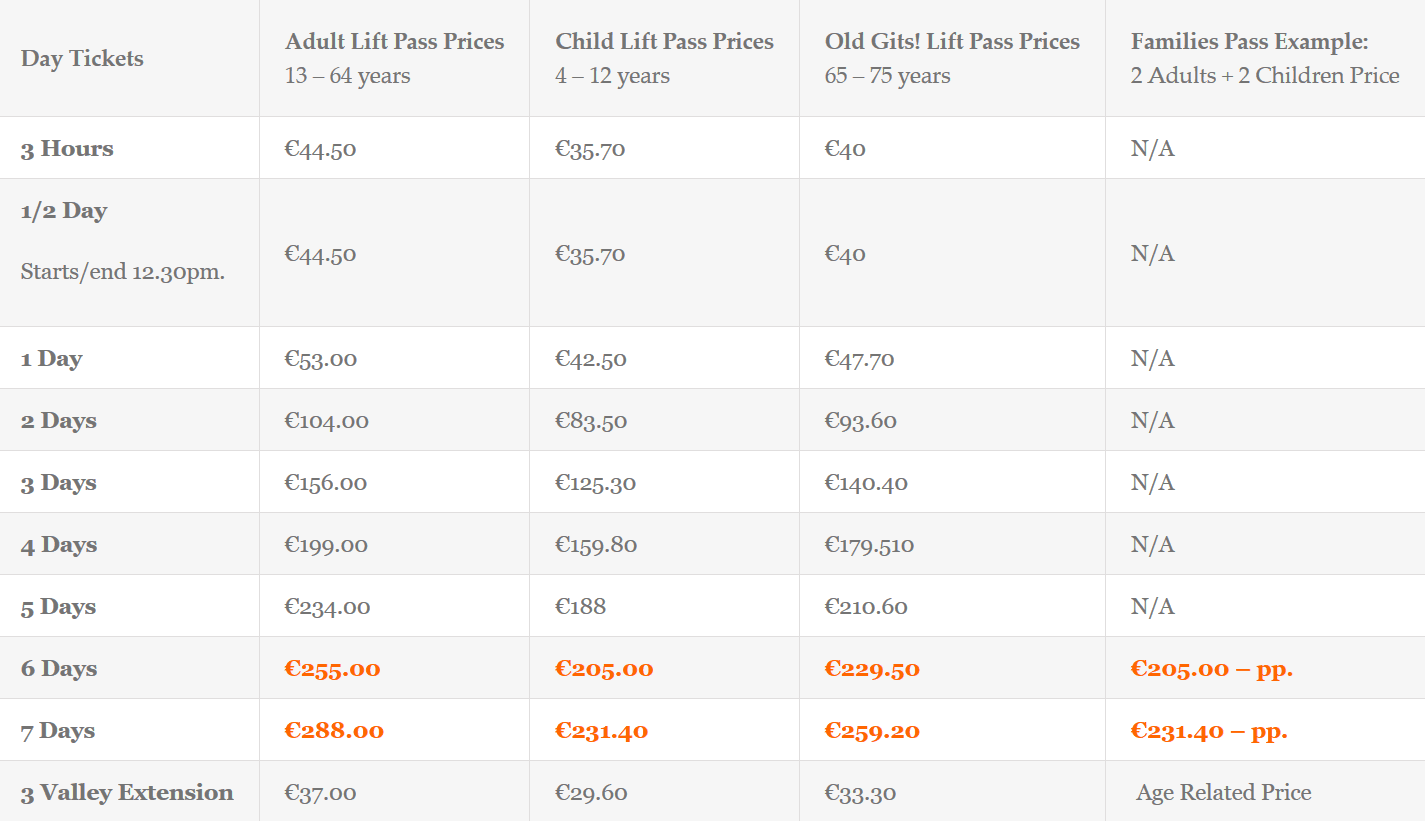 The 3 Valleys: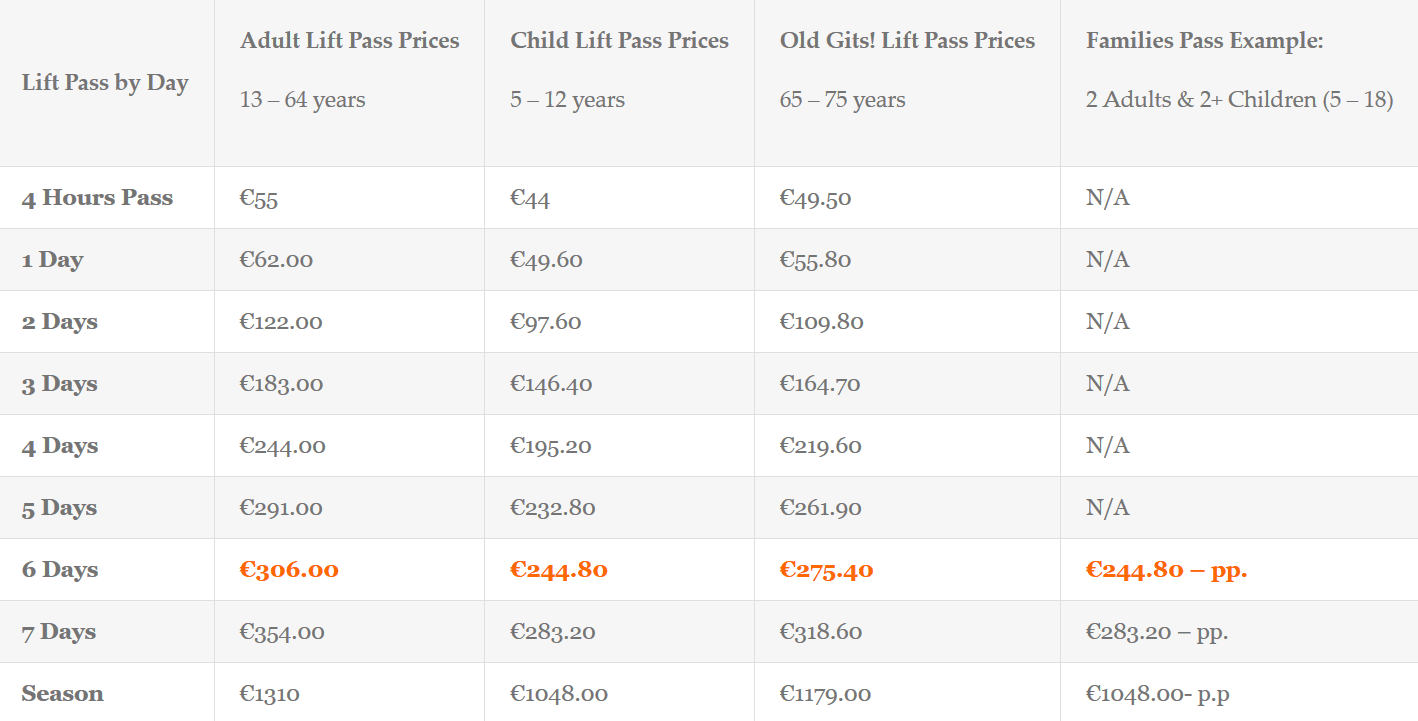 Top tips for first-time skiers
Borrow as much equipment and clothing as you can. Ski holidays can quickly add up, so if you can save some money by borrowing a few things first it'll help save you some money. Also, if you don't enjoy skiing then you can just give all the stuff back.
Make sure you get comfortable boots. These are the most important item when it comes to skiing, and if you don't have comfortable boots you'll instantly regret it. If the don't feel right in the shop, as for a new pair of boots.
Make sure you get ski insurance (both personal insurance in case you have an accident and ski hire insurance in case you snap a ski). 99% of the time you won't need it, but for that 1% of the time that you do, you'll be grateful you've got it (trust me on that one).
It's all about layers when you're skiing. It was actually really hot when I skiing Meribel. However, as soon as the sun goes behind the mountains those layers come in handy!
Sunscreen is a must. You'd be surprised at how hot and sunny it can be up in the mountains.
If your legs get tired remember you can just sit down.
Don't forget to bend those knees and keep your hips forward.
You are going to crash, and that's fine. Embrace it rather than being scared of it. Skiing is all about confidence.
Also, don't be too intimidated by what's going on around you! Just concentrate on yourself and all the better skiers will ignore you.
And finally, have fun! Skiing is all about having fun!
If you're looking for some of the best ski runs in Meribel then check out this post.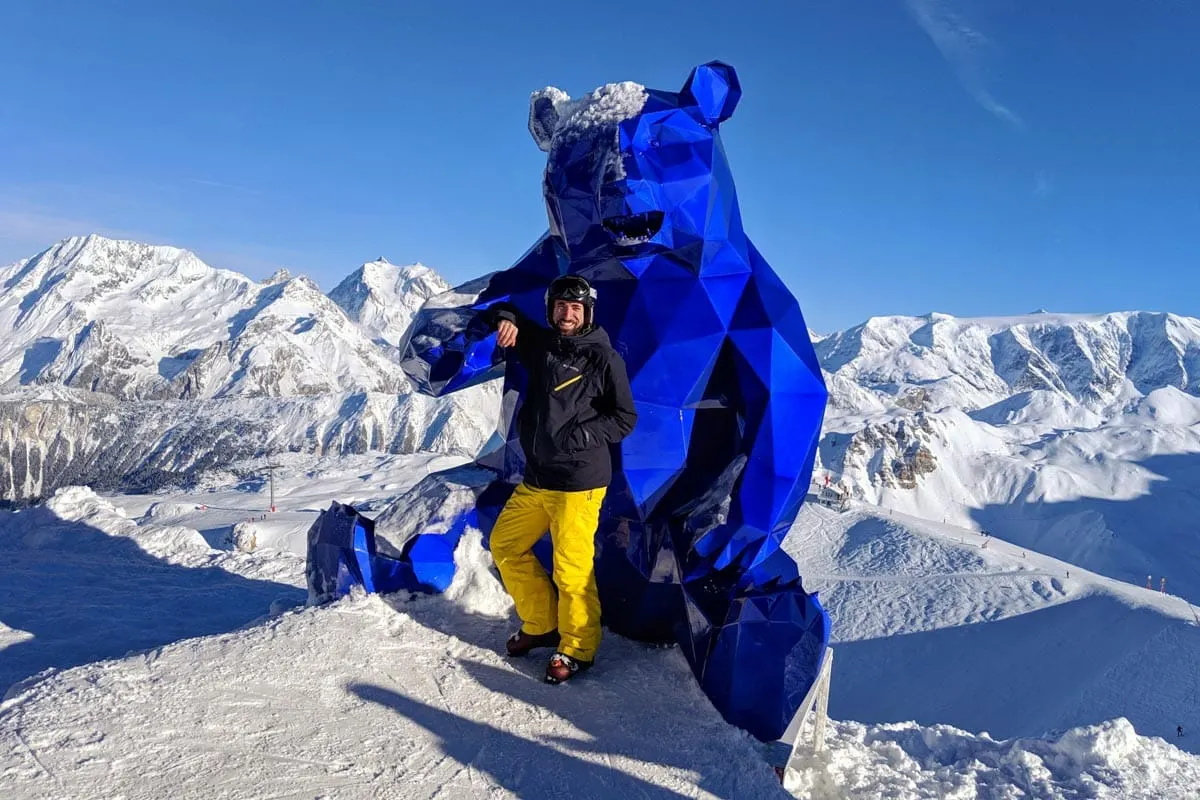 Ski Total review
I felt the Ski Total experience was all about comfort and convenience to optimise time on the slopes.
I couldn't believe I could wake up, grab some food and walk to the slopes in just a few minutes. This is what skiing is all about.
Also, all the staff are there to ensure you have a great time and the service is excellent. This is your holiday and they all appreciate that making the hotel a really relaxing place.
I can't tell you how much I loved my Meribel ski holiday (perhaps you've picked up on that now) and I can't recommend this place enough.
Now that I've got the bug I can't wait to hit the slopes again!
---
Ski Total (www.Ski Total.com / 01483 791 935) is offering seven nights at the four-diamond plus Chalet Hotel Alba in Méribel, France from £674 per person. Price includes flights, resort transfers and chalet catered accommodation with wine. For more information on visiting Méribel, go to www.meribel.net and to book lessons or guides, go to www.esf-meribel.com.
Also, if you love skiing as much as I do, then check out these fun facts about skiing. Some of these will really surprise you!
Are you planning on skiing in Meribel? If so, what's the one thing you're most looking forward to doing? Let me know in the comments below!
Like this blog post? Then make sure you Pin it!