From where to stay, where you'll find the best ski runs & the top things to do in Trentino, this is my expert guide to skiing in Madonna di Campiglio!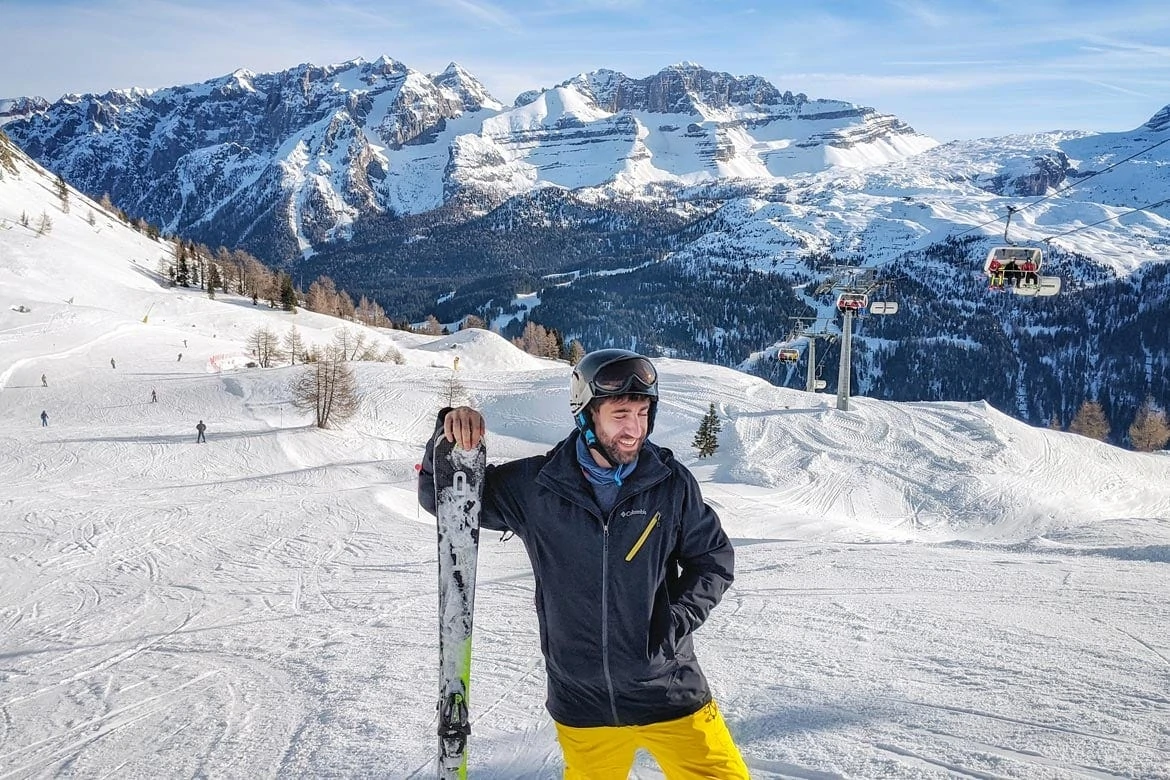 I came to Madonna di Campiglio in Trentino with one goal – to actually get good at skiing.
Even though I've been on the slopes a few times now, it's only ever been the occasional day here and there; it's never been long enough to practice regularly and improve. That's why I spent every waking second skiing, so I could finally improve.
Thankfully, after an amazing weekend skiing in Madonna di Campiglio I can now officially say I'm a skier! I can now parallel ski (something I couldn't do before) and I even took on my first ever black run which I'm so pumped about. If that doesn't mean I can call myself a skier then I don't know what does!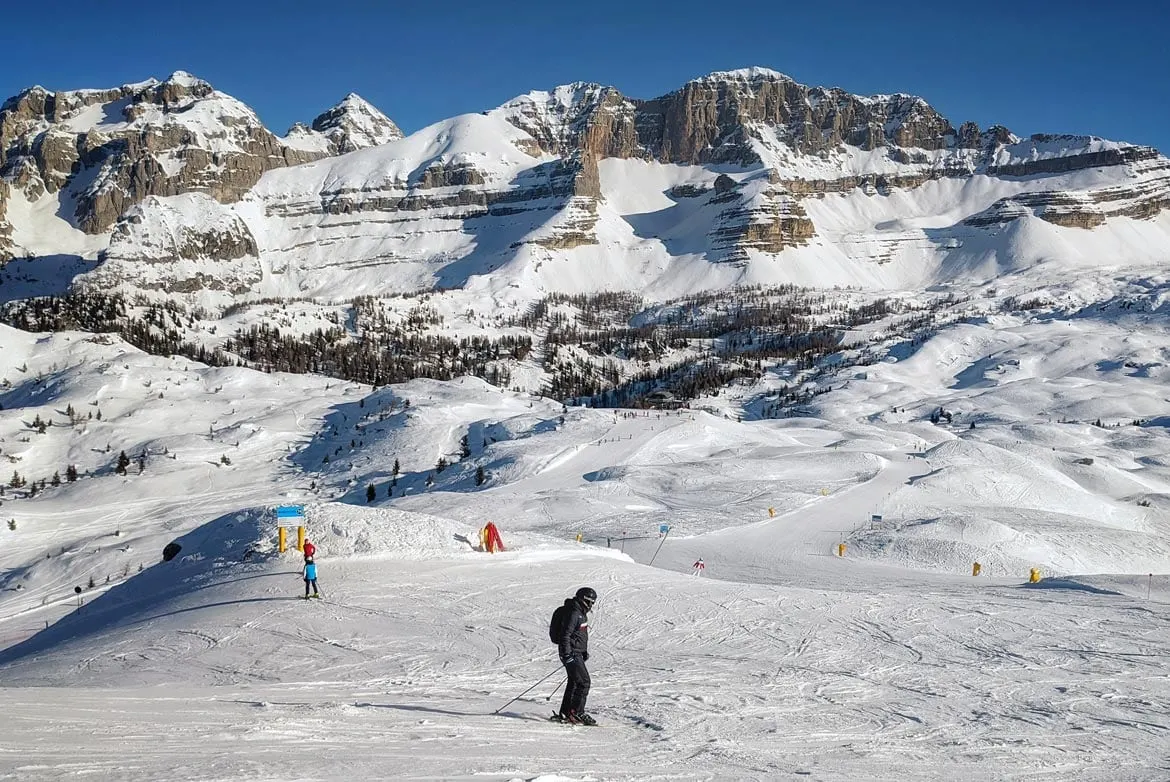 Let me say this now – I found the skiing in Trentino in Italy absolutely amazing on every level. The conditions were perfect, there are so many different mountains and runs to choose from, and the little town of Madonna di Campiglio is as cute as they come.
Also, the views of the Brenta Dolomites are unbelievable. Sometimes when you're skiing its easy to forget where you are, but this is one of the most beautiful places I've ever been in Italy. And that's saying something.
In this blog post I'm going to show you how to have the perfect weekend skiing in Madonna di Campiglio. This will include where to stay, what to do when you're not skiing and I'll even tell you about my favourite runs too.
So, if you're looking at skiing in Trentino then look no further than Madonna di Campiglio. Hopefully this blog post will inspire you to visit!
Getting to Madonna di Campiglio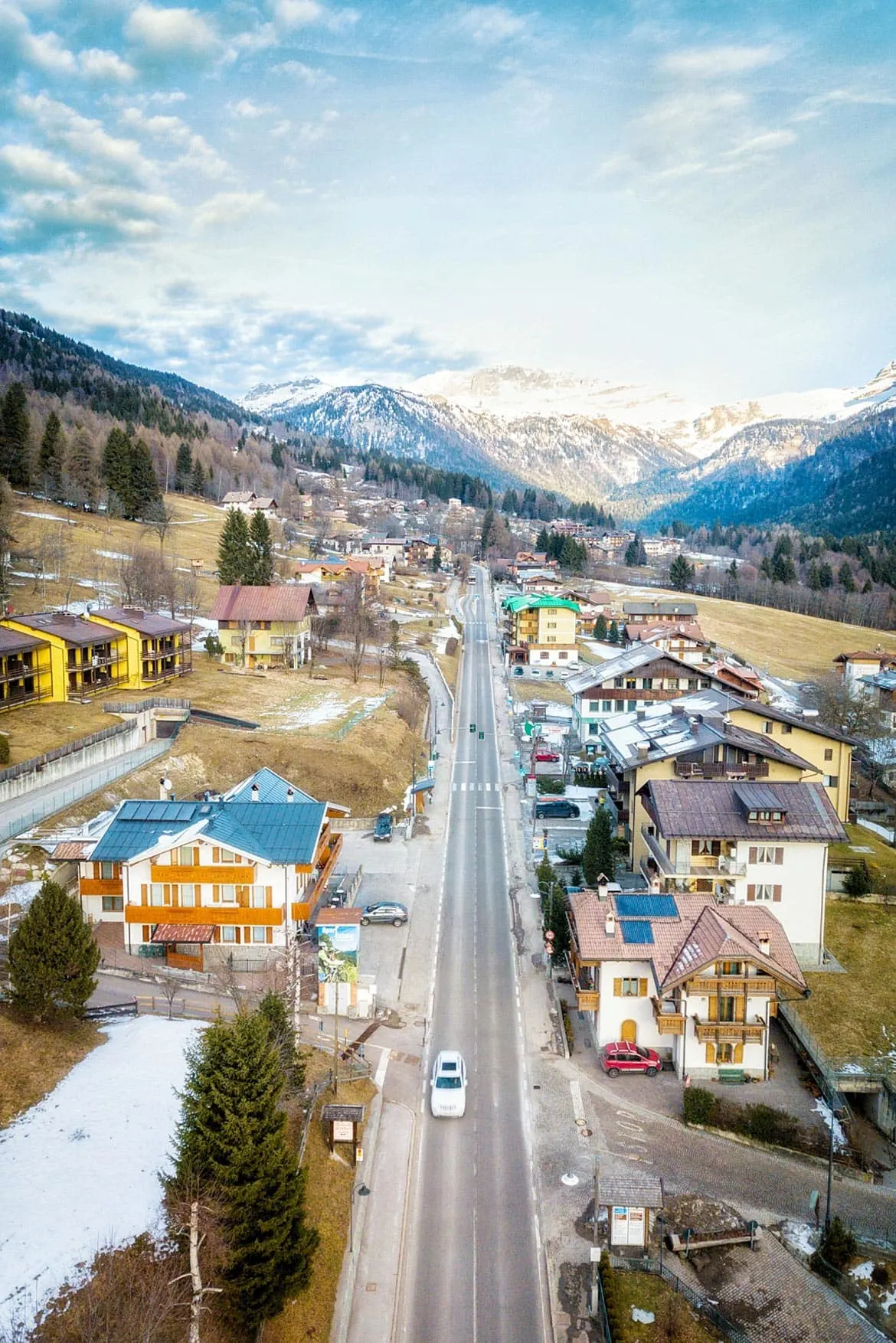 Getting to Madonna di Campiglio is fairly straight forward. The majority of people fly directly into Verona, the main airport to the south of Trentino. From there it's a two and a half hour drive all the way to Madonna di Campiglio.
Depending on where you're staying its fairly easy organising an airport transfer before you arrive. A lot of hotels will offer this as an additional service too. There is also a group shuttle bus which is a fantastic option.
Alternatively, if you're travelling by public transport, you can catch the bus or train from Verona to Trento. From Trento, you can then jump on the B231 bus (tickets cost 5 euros) that will take you all the way up to the mountains. This will take you around four hours, so it is a bit longer.
Once in Madonna di Campiglio, there are a number of ski buses that take you to the different ski lifts. I also caught that B231 bus a couple of times too.
Skiing in Madonna di Campiglio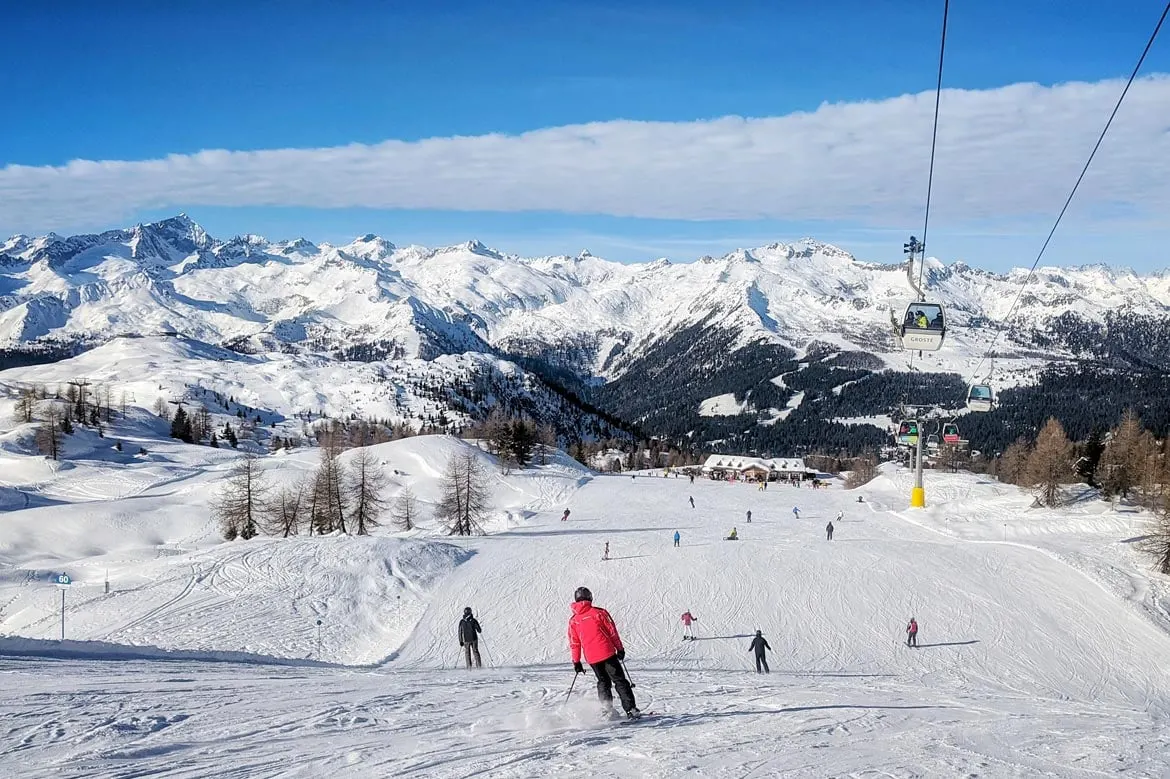 I will say this again – the skiing in Madonna di Campiglio is simply incredible.
What I loved about this ski resort is it really caters to all ages and abilities. I saw lots of kids in ski school practicing their snow plough all the way through to boarders catching some giant air in the snow park. I was very firmly in the middle of these, what you would label 'a normal skier'.
Madonna di Campiglio offers 150kms of well-groomed slopes with the stunning scenery of the Dolomites all around you. In fact, Madonna regularly wins prizes for the quality of its piste grooming (yes, this is really a thing).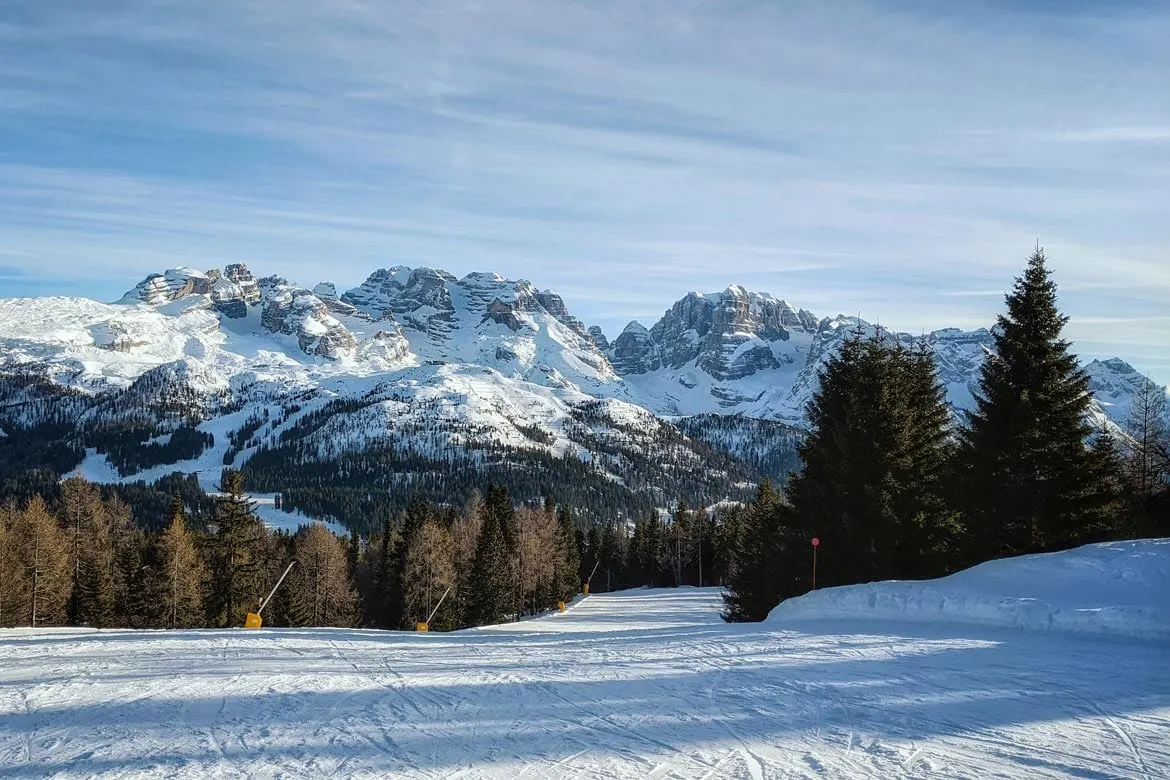 There are 108 runs to choose from, four different snow parks dotted around the place (one is basically at an Olympic level with the biggest jumps I've ever seen), and 59 different lifts transporting you around the slopes. A couple of the cable car lifts like the Pinzolo-Campiglio Express and the Cinque Laghi cableway offer some stunning views.
The core of the ski area is four linked centres around the villages, all of which flow back to Madonna in the middle. These are:
Madonna di Campiglio
Folgàrida
Marilleva
Pinzolo
Madonna di Campiglio is known as the Pearl of the Dolomites and I can see why. It has been irresistibly attracting skiers for over 100 years and it is such an incredible place to visit. I promise that you'll have nothing but great times here!
Also, if you love skiing as much as I do, then check out these fun facts about skiing. Some of these will really surprise you!
Beginner & intermediate skiing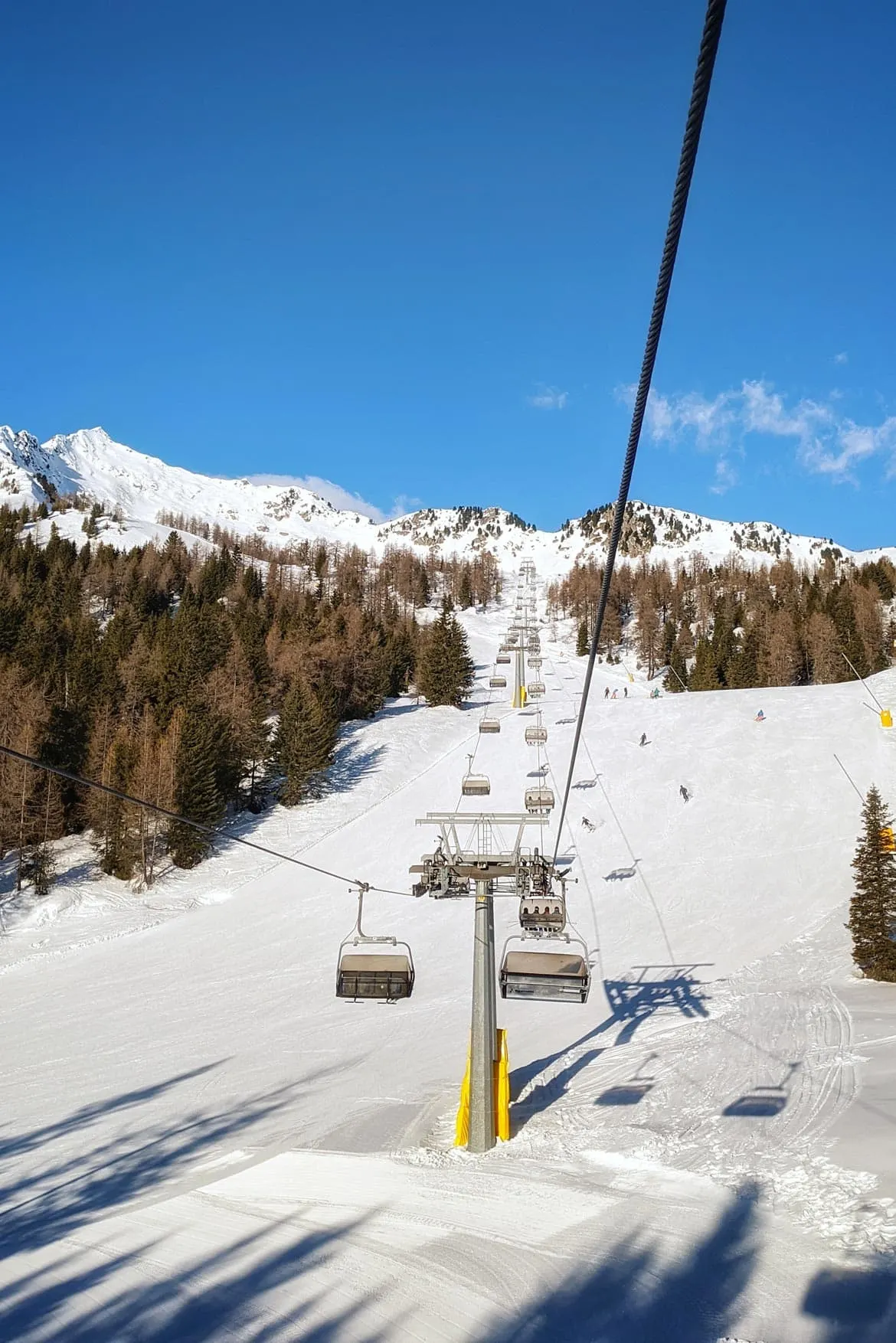 Absolute beginners can have their first skiing experience at the Campo Scuola near Campo Carlo Magno.
I would say the majority of skiing at Madonna di Campiglio caters towards intermediate skiers with some gorgeous long blue and red runs stretching all the way to Folgarida to the north and Pinzolo to the south.
For absolute beginners there is a good area on the edge of the village, from which point progression on to longer blues is excellent. In fact there are few resorts with such a good selection of long blue runs.
Madonna di Campiglio stats:
Total Pistes: 154km
Total Slopes: 108
Blue: 33%
Red: 45%
Black: 22%
Lifts: 59
Altitude: 852m – 2504m
Despite the relatively low altitude, a vast snowmaking system ensures reliable conditions throughout the winter, just keep an eye for slushier patches come spring. You can access the latest snow report here.
Here's a little video on my favourite Groste run, a blue run through a canyon with the rocks and the trees either side of you:
A couple of red runs that I absolutely LOVED in Campiglio Dolomiti were these two:
Fis-3Tre (run no. 88) – I would say this is quite a tricky red run, especially in the afternoon when the slope is a lot more cut up, but it is so much fun. I really enjoyed how technical it was, and the views of Skirama Dolomiti Adamello Brenta made it even better too!
Spinale Diretta (run no. 73) – If you head to the top of Monte Spinale, there is a lovely long red run that takes you all the way down to the bottom. The run is about 2km in length and takes about 10 minutes from top to bottom.
Expert skiing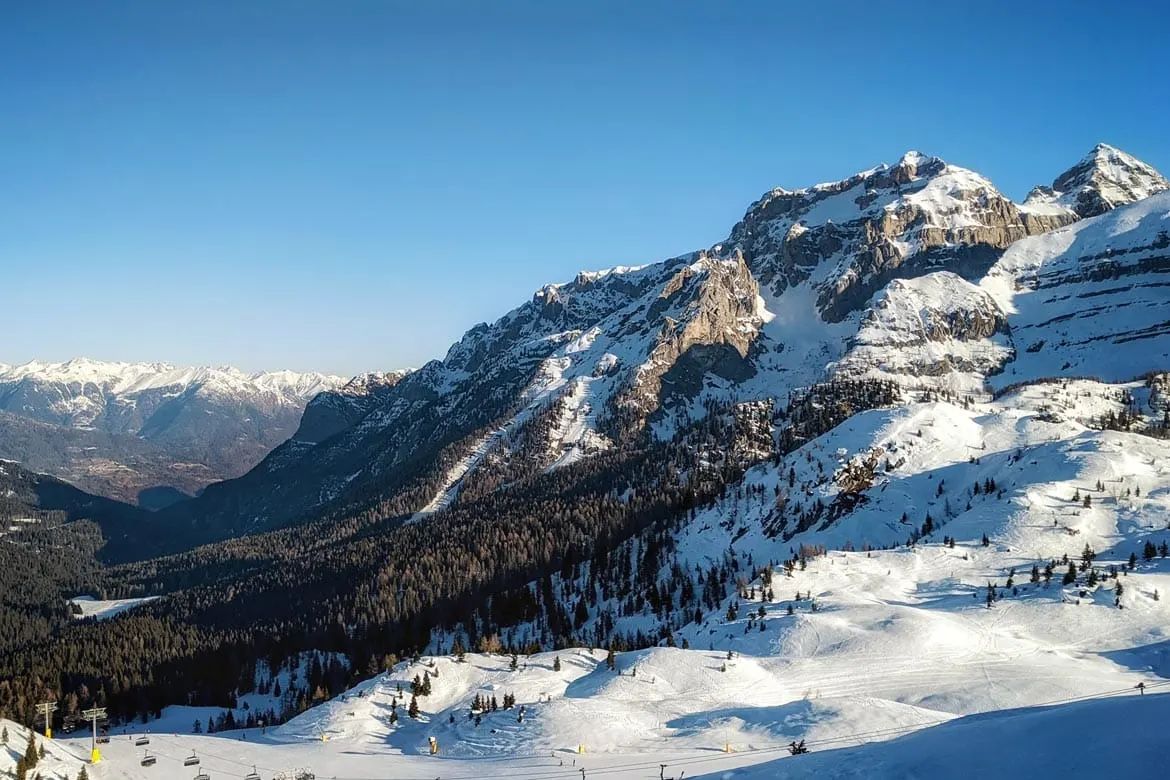 Even though there are fewer black runs for expert skiers than other European ski resorts, there are some fantastic options for expert skiers.
The pick of these is the infamous Schumacher run. Starting at the top of Spinale, this is a black run that dives down into the town centre. After the first little section at the top you eventually get to the Schumacher run, a section that has gradients of 70% and is where the great Michael Schumacher skied himself. This is a real test of how fast you can go on skis. Are you brave enough to take it on?
Another fantastic run is Amazzonia. This will always be known as my first ever black run, so if I can do it then so can you!
This is one of the first slopes to get some sunshine on it in the morning. The slope starts at the top of Pradalago cable car and runs down to the Piana di Nambino area.
The maximum gradient of Amazzonia is 67% and the total length is 1.6km, so it's a really nice run back into town. Apart from one section it's a dream to ski on and a real test for those who are looking to take the step to the next level.
How much does a Madonna di Campiglio ski pass cost?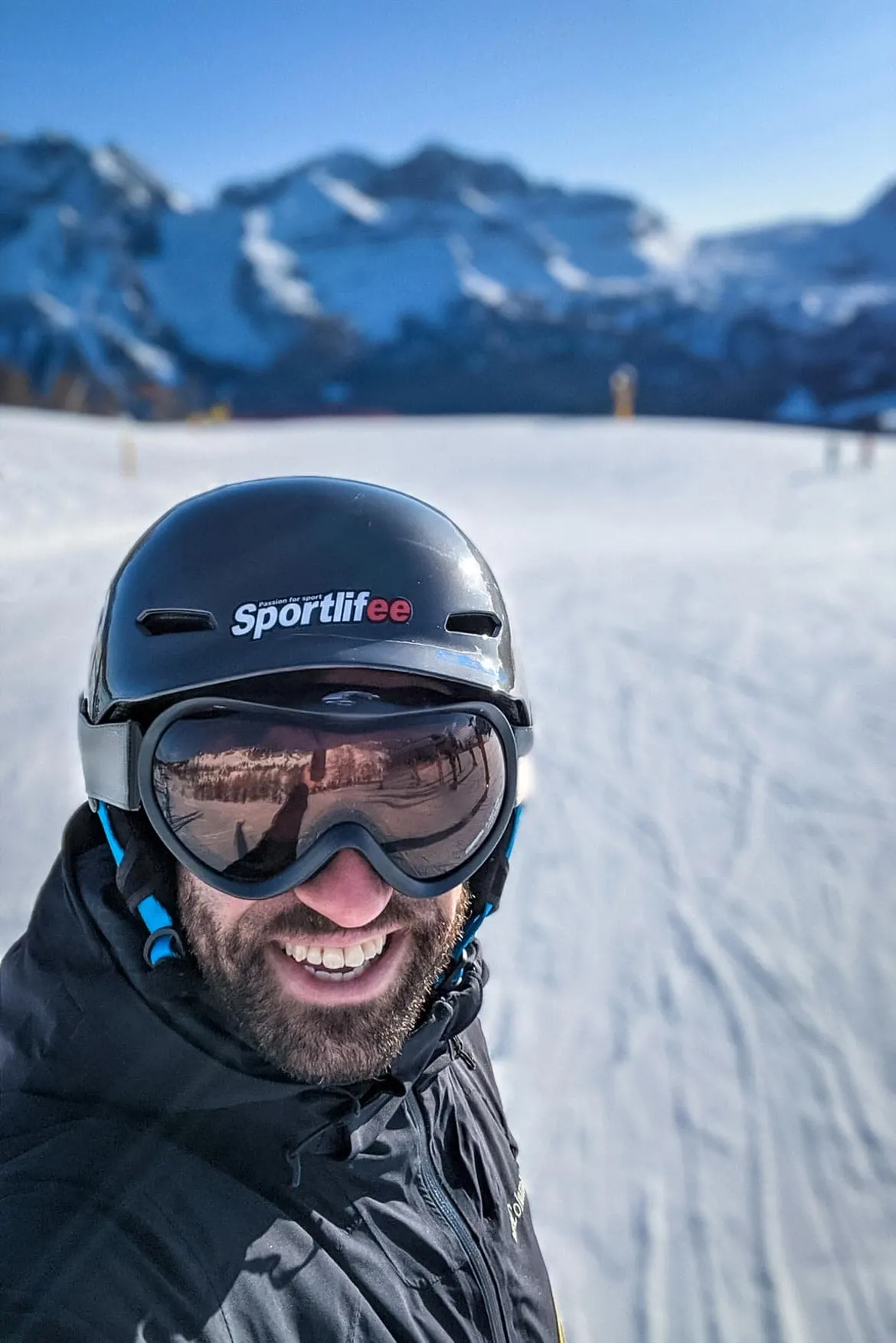 The skiing in Madonna di Campiglio is surprisingly affordable for Europe. It is part of the Campiglio Dolomiti Skiarea – this means that one pass gives you unlimited access to all the pistes in Madonna di Campiglio, as well as nearby Pinzolo and Folgarida/Marilleva.
A 1-day pass in low season costs €53 in low season and €56 in high season. For a 1-week pass it is €279 in low season and €317 in high season.
However, you can get a ski pass that gives you access to just one resort. Obviously this works out a little bit cheaper.
You can also get hourly passes too. I tagged on a couple of hours on my last morning as I was having so much fun, and a 2-hour pass only cost me €20.
You can see all the ski pass prices here.
Things to do in Madonna di Campiglio
When you're not skiing there are plenty of things to do in Madonna di Campiglio. The town itself is built in a traditional Italian style so don't be surprised when you see Gucci and Prada shops dotted all over the place. After all, you have to look stylish off the slopes as well as on it.
One of the things I loved about Madonna di Campiglio is it's a car free town. All of the traffic is by-passed through the mountains, so you're guaranteed so peace and quite right in the middle of the town.
Go on a sunrise hike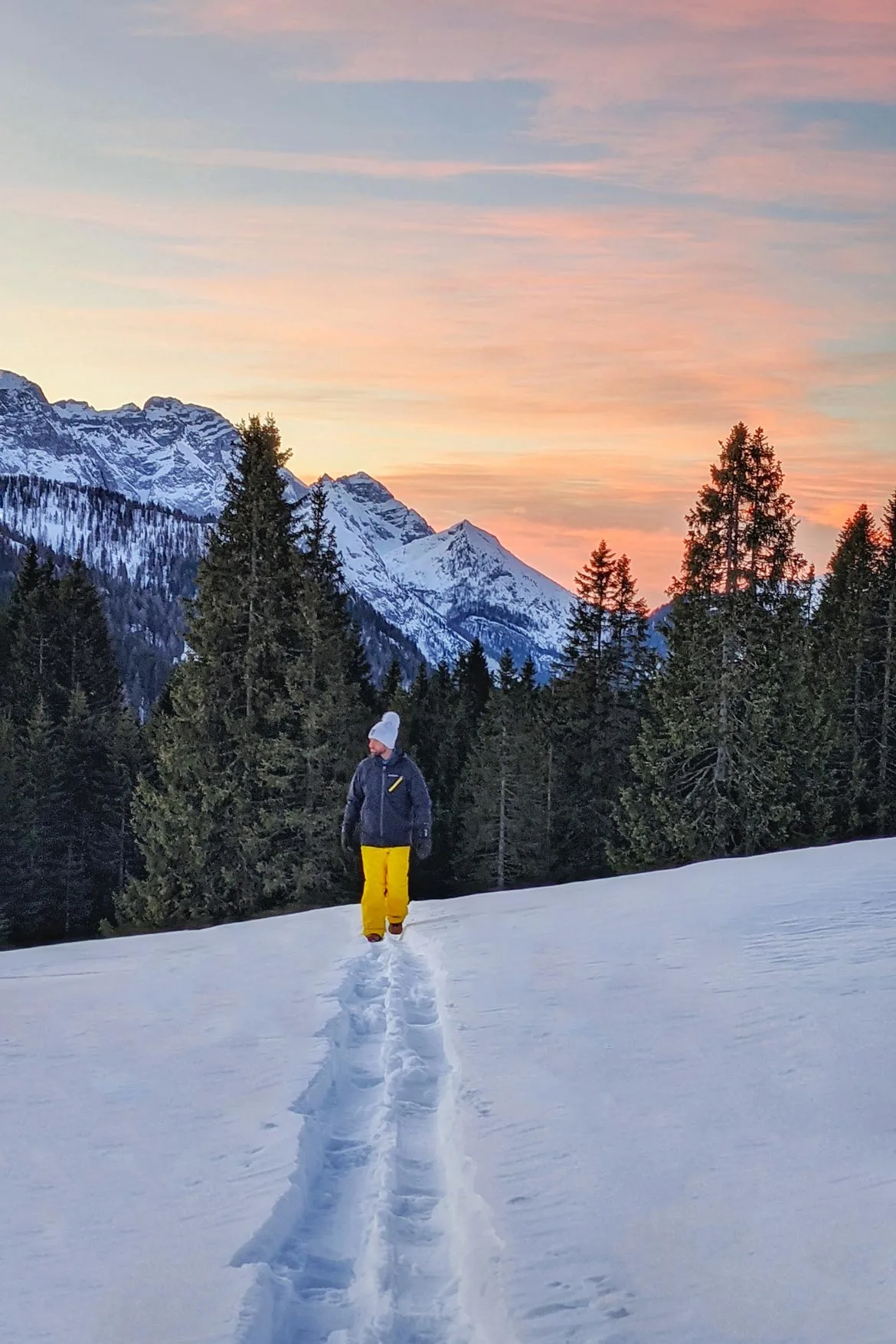 I am such a sucker for sunrise, especially up in the mountains. If you're staying in Madonna di Campiglio then I really recommend waking up early and hiking up one of the pistes.
Being up in the mountains, the sun rises late. While I was in Trentino the sun was rising at 8am. That meant I didn't have to wake up to early to see sunrise.
The thing is, even though it wasn't late, there was hardly anyone else around. I had the slopes to myself and the views were absolutely stunning.
Watch the Audi FIS Ski World Cup – 3Tre Madonna di Campiglio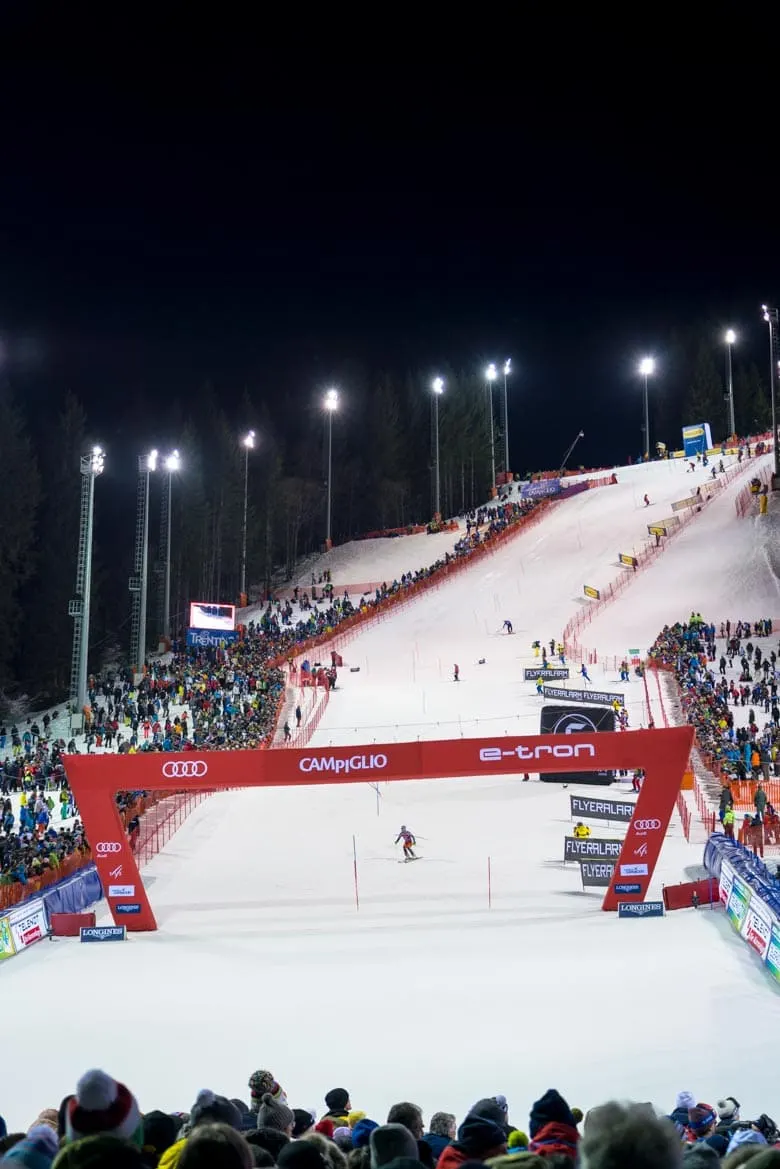 I was lucky enough to be in Trentino for the Audi FIS Ski World Cup and it was so amazing. I've only ever watched slalom skiing on TV, so to actually see it live was an experience I'll always remember.
Hitting speeds of up to 95mph, these downhill skiers are the best in the world and at the top of their game. Watching them do a perfect run is so satisfying; proper ski goals right there.
I was watching from the finish line and the atmosphere was electric. Unfortunately an Italian didn't win, but Dave Ryding from the UK finished 7th so we were cheering him heavily.
The ski world cup is always on the 22nd December, so if you coincide your trip to Madonna di Campiglio with this event then you're in for one helluva time.
Après-ski in Bar Suisse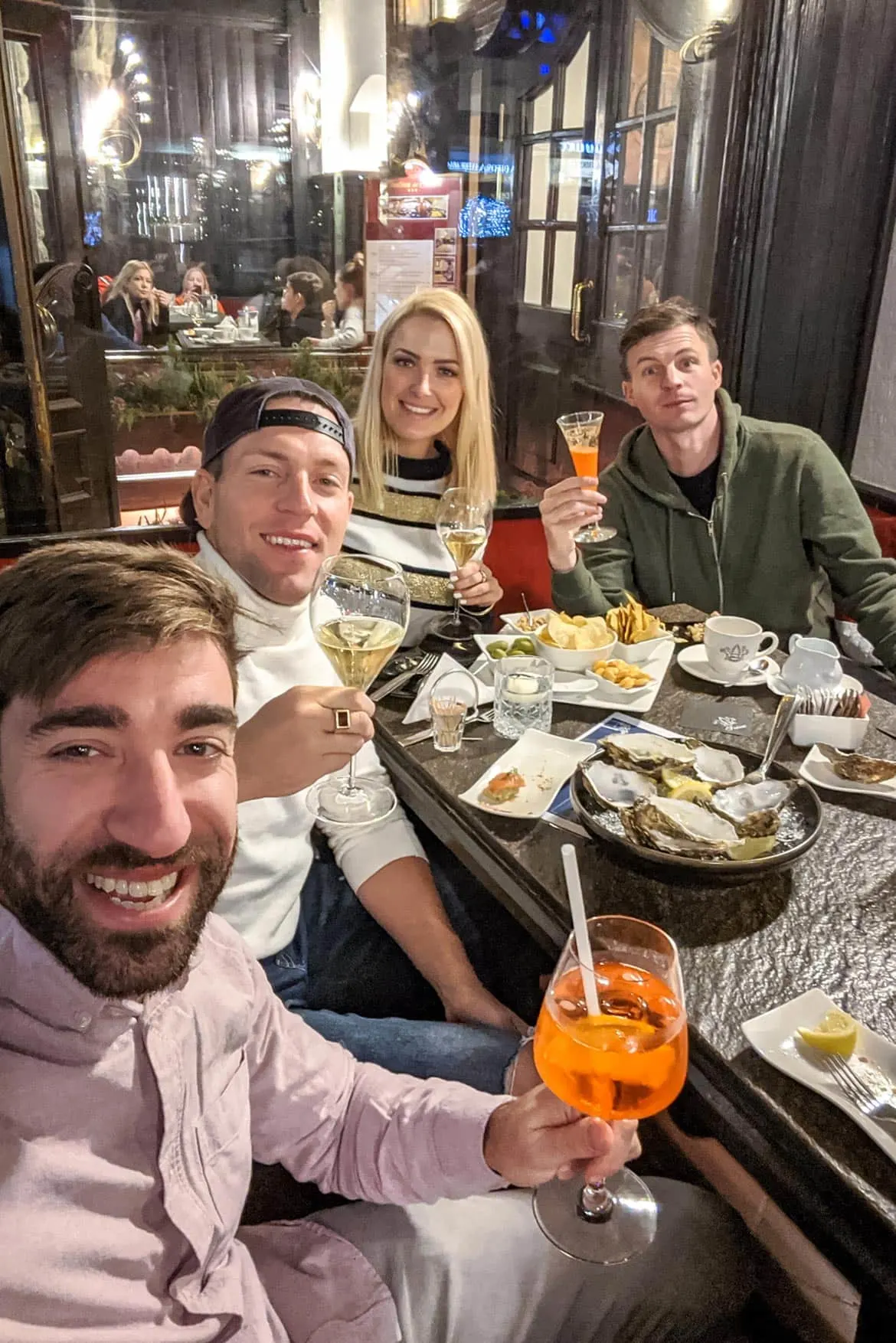 The après-ski in Bar Suisse is so far from doing shot and dancing on tables its unreal.
Bar Suisse is the oldest bar in Madonna di Campiglio and dates all the way back to end of the 19th century. It used to be the former home of Emperor Franz Joseph and it is a cross between hunting lodge and luxury hotel.
If you're looking for an Aperitivo before dinner or a small bite to eat then you can't go wrong with Bar Suisse. While I was here I sipped on Aperol Spritz while tucking into a few oysters. This is how the high society live so I thought I'd give it a go myself!
Restaurants in Madonna di Campiglio
This is Italy so naturally the food is top notch. Instead of heavy mountain food you get at other ski resorts, expect things like antipasti and risotto. In fact, all the food I had in Madonna was absolutely delicious.
Here are a few of my favourite restaurants that I'd recommend.
Rifugio Lago Nambino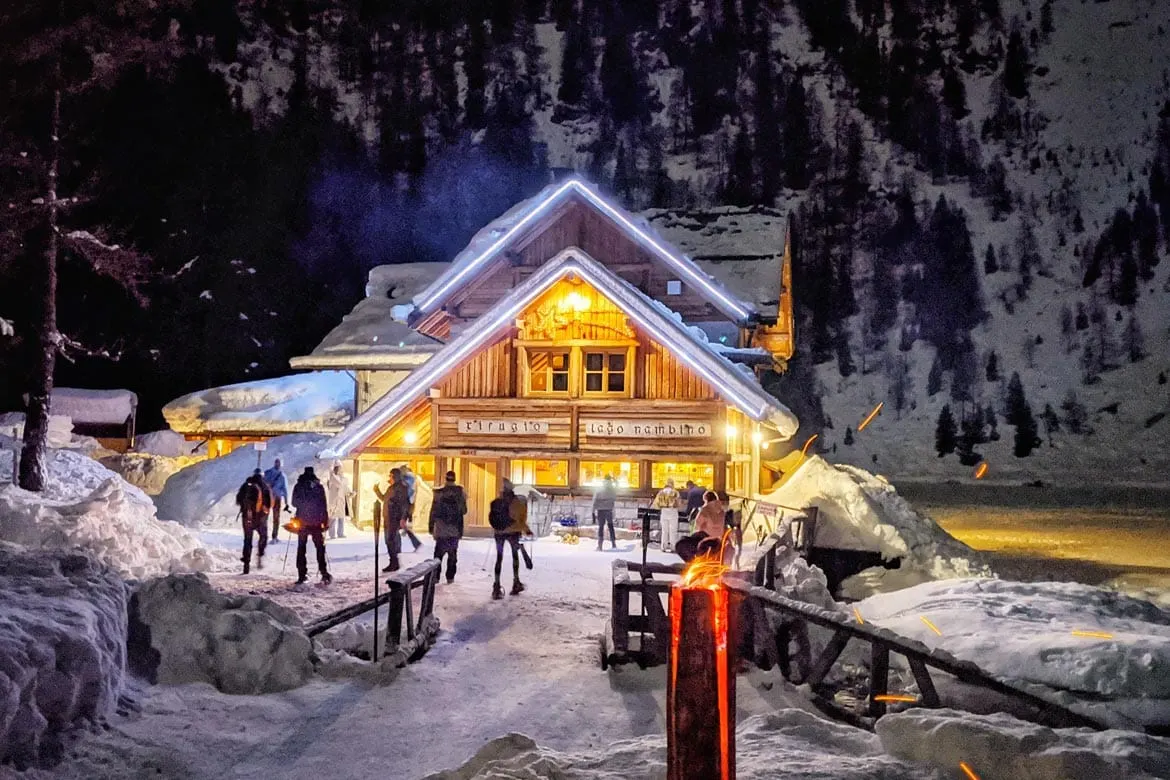 If you can be bothered to put in the effort to get here, I promise you this is one of the most memorable restaurants you'll ever go to.
Basically, Rifugio Lago Nambino is located in the middle of nowhere. It's genuinely tucked away in the mountains and I would never have found it without our guide.
We went to Rifugio Lago Nambino at night. We set off at 7pm, and after a really magical snow-shoe hike under the stars, we arrived at the restaurant an hour later around 8pm.
Obviously snow-shoeing under starlight and through a pitch-black forest is an experience in itself, and it really works up an appetite too. Well, lucky enough the food at Rifugio Lago Nambino is cracking.
You can do this on a tour with a snow-shoe guide, or you can stay at the restaurant if you're looking for a secluded place that's out in the sticks.
Home Stube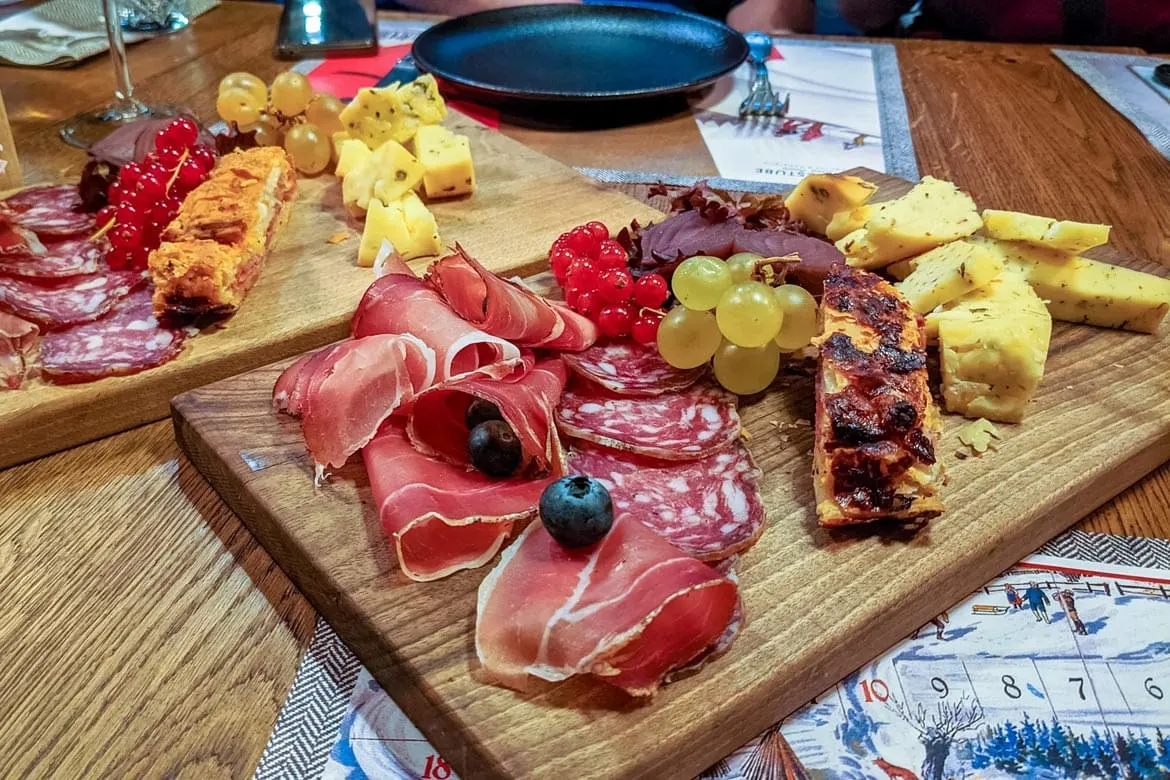 A restaurant that I'd really recommend in Madonna di Campiglio itself is Home Stube. I loved the décor of this place with a class wood finish and fake cow's hide draped everywhere. It felt comfortable but classy.
The menu is a slight step up from gastro-pub food. You get a burger and chips, it's just slightly better than most other places. Their antipasti boards are pretty special too.
Also, if you like craft beers then this is definitely the place to be. They brew their own beers and have 12 different beers & ales on selection. A great place to finish after a hard day on the slopes.
Rifugio Patascoss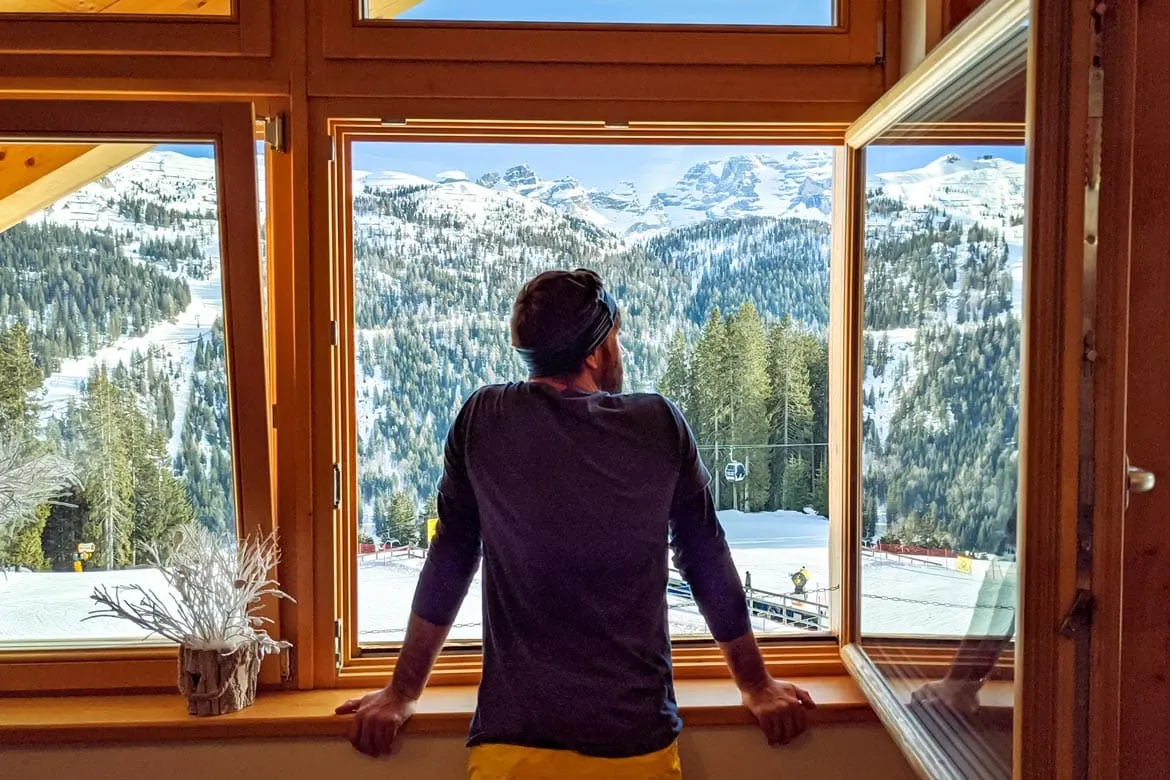 Rifugio Patascoss is one of the best places for lunch in Madonna di Campiglio. It's one of the restaurants that's actually on the slopes, so mainly caters to people at lunchtime.
One day I stopped here and had one of the best risotto dishes I've had in a very very long time. Red wine risotto with parmesan. So simple yet so delicious.
The views of the mountains all around you are pretty special too!
Where to stay in Madonna di Campiglio
There are loads of hotels in Madonna di Campiglio to choose from catering to all options.
The best thing about staying in the town of Madonna is you're a short walk away from the ski lifts. If you're looking at maximising you time on the slopes then I'd recommend staying here.
If you're looking for somewhere a little cheaper, you can stay in Sant'Antonio di Mavignola, a little village 10 minutes further down the valley from Madonna. There are buses every hour to the ski lifts, so you do need to be organised, but there are lots of cheap options.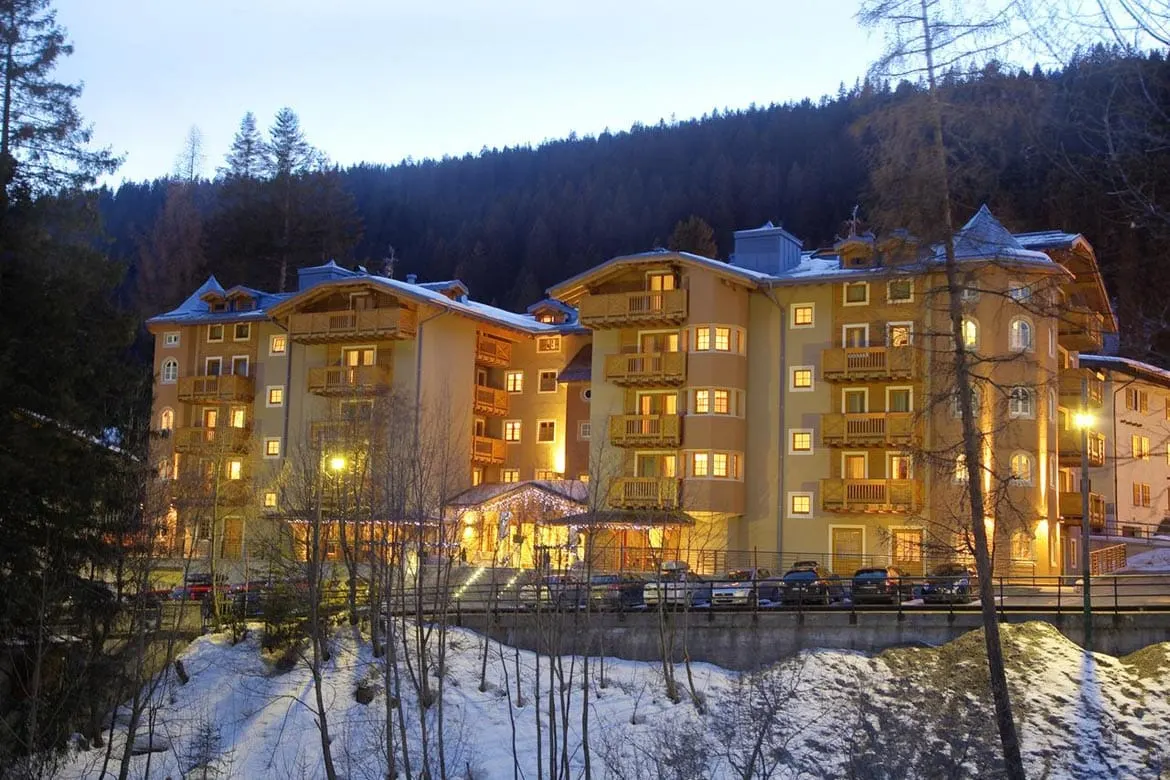 This is one of the best rated hotels in Madonna di Campiglio. What I really loved about Hotel Chalet Del Brenta is you're just a short 5-minute walk from the Spinale chair lift, so it's good access to the mountains. There's also a free ski shuttle bus to different chair lifts too.
After a hard day on the slopes you can come back and relax in the spa with a swimming pool, Turkish bath and sauna.
There's also an on-site restaurant that serves regional specialities and a large choice of wines too.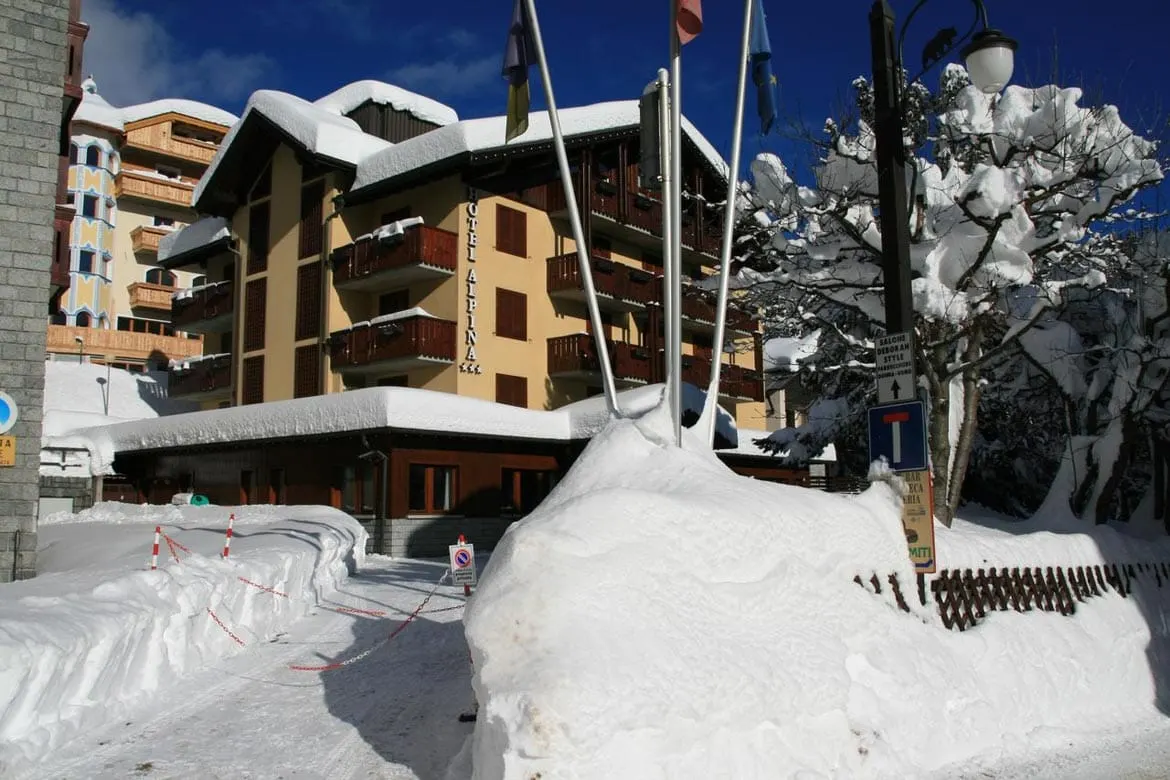 The family-run Hotel Alpina is in a quiet area of Madonna di Campiglio, just 50 yards from the Miramonti Chairlift. Even though this is a 3* hotel, it's a really nice option and a bit cheaper than a few other options around. Surprisingly, there's a wellness centre with a sauna, hot tub and a gym. Not bad for a 3*!
Parking is free at the Alpina Hotel. Other facilities include a TV lounge with PlayStation, a lounge bar and reading room with card games. There is plenty of storage space for ski equipment in winter and bikes in summer.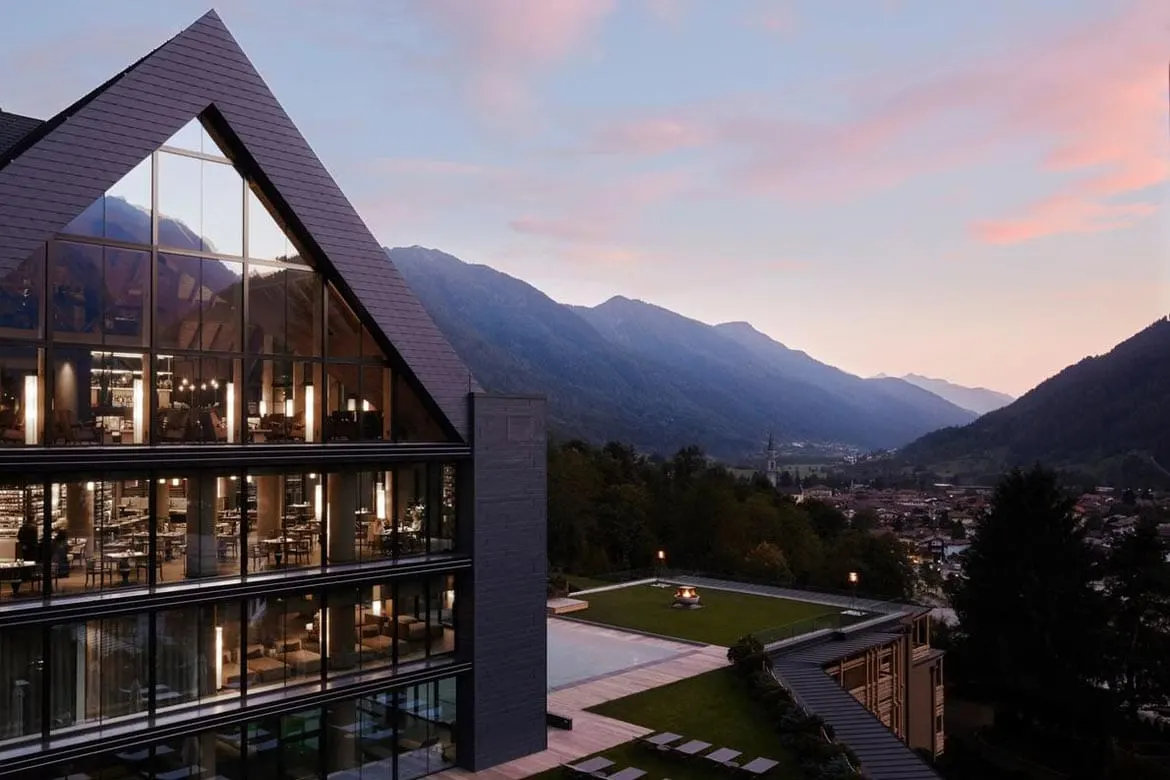 If you're looking to splash out and stay somewhere luxurious then look no further than the Lefay Resort & SPA Dolomiti. This is a beautiful 5* hotel with the most stunning views of the Val Rendena valley.
One of the best things about staying here is it gives you access to the incredible spa. If you've had a tough day on the slopes then you can come and have a treatment or just relax in one of the seven saunas on offer.
Another thing that's great about the Lefay Resort & SPA Dolomiti is its just a short 5-minute walk from the Pinzolo-Prà Rodont gondola, so it's in a great location if you want to go skiing too.
Being a luxurious 5* hotel, the service is of the highest standard. All rooms include a free transfer to and from Verona airport too which is a nice touch.
---
This post was in association with Visit Trentino & Traverse Events showcasing some of the best things to do in Trentino. As always, all views and opinions are my own.
Are you planning a trip to Trentino? Are you going to be skiing in the Dolomites? Let me know if the comments below!
Like this blog post? Then make sure you pin it for the future!