Are you planning a day trip to Bath? From visiting Bath Spa to seeing the Royal Crescent, start planning your trip with my 1 day Bath itinerary!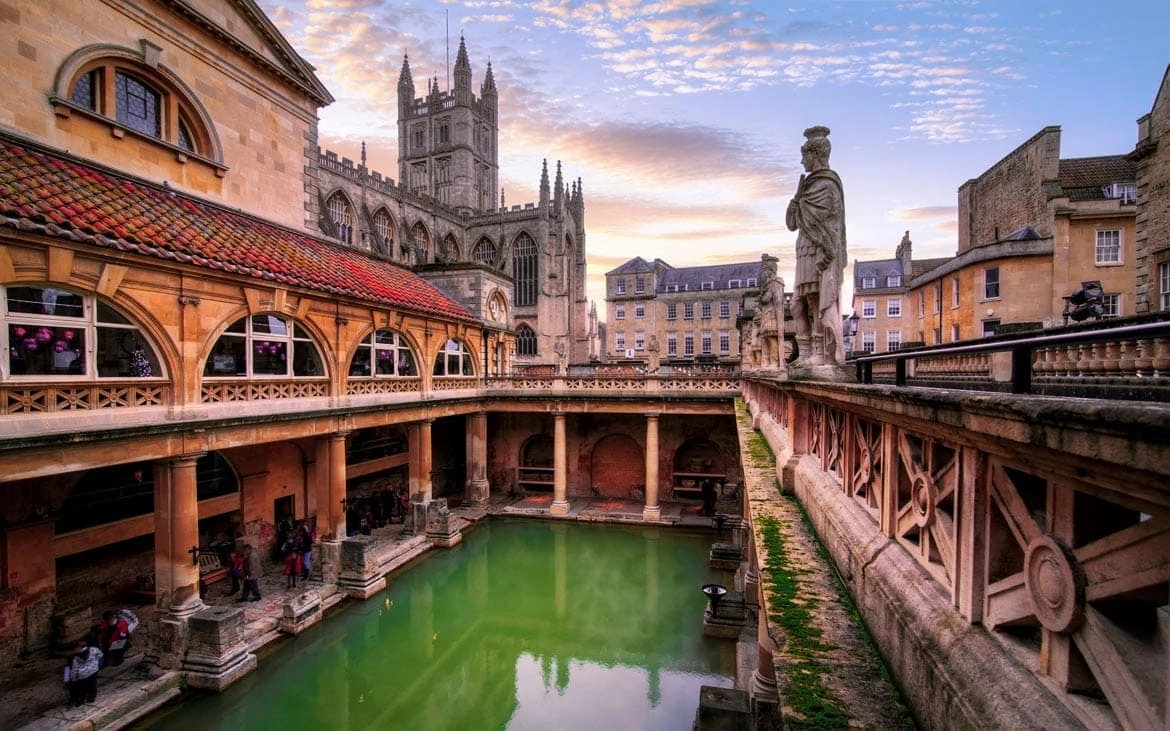 Bath is without a doubt one of the most popular places to visit in the England. Once you've spent some time here it's very easy to see why!
This quaint city feels a world away from the sprawling urban metropolis that is London, delivering a drastic change of scenery and character. For me. it's the stuff of Jane Austen novels. That means if you're looking for a stereotypical English town, you'll find it here.
I've been on a day trip to Bath a couple of times now and I just love wandering around the city. It feels a million miles away from London and there is so much to do here. From delicious Michelin-starred restaurants to gorgeous Georgian architecture, it's got something for everyone too.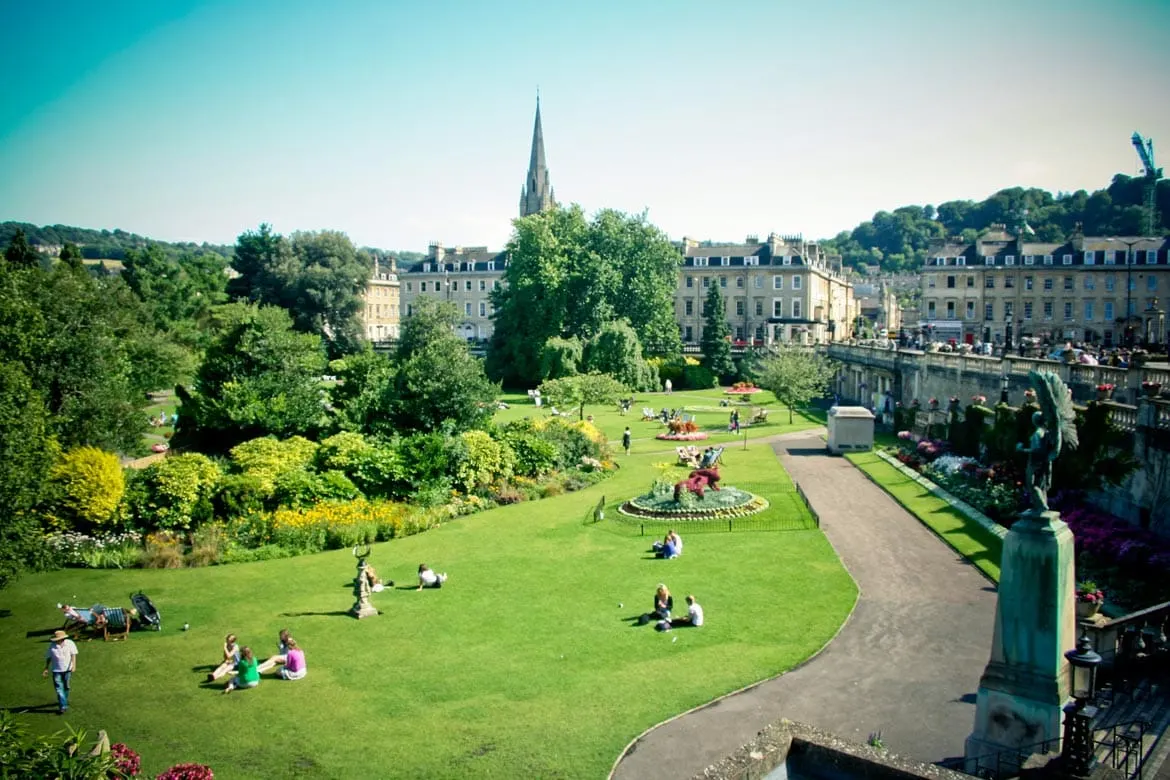 There are heaps of other things to in Bath – Bath Spa, Pulteney Bridge, the Sally Lunn museum – I could go on here. And I can assure you the Roman Baths aren't the only thing to see in the city.
Don't worry if you only have one day in Bath though. You can still squeeze in plenty of must-see sights and activities in this time, thanks to its easily walkable size.
So, if you're wondering what to do in Bath for a day, I've narrowed down my top suggestions to help you get the most out of your time in the city. Enjoy!
Getting from London to Bath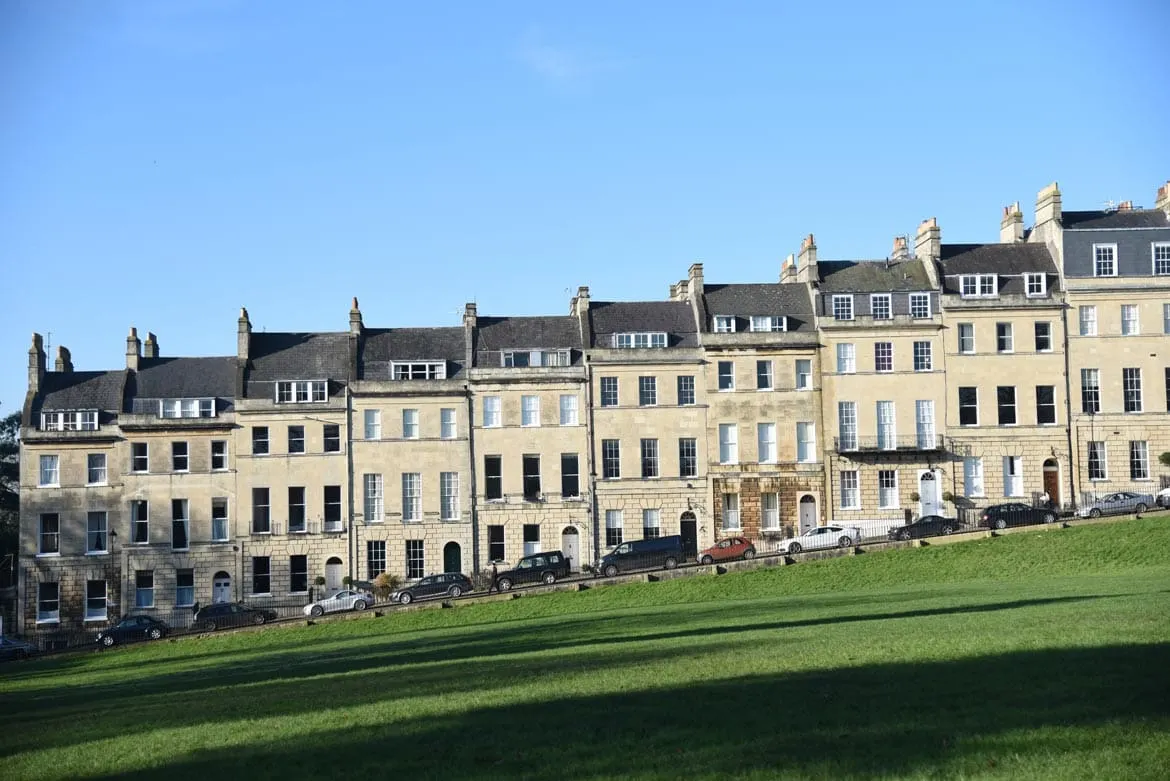 Arranging a day trip to Bath from London is super simple.
Direct trains from Paddington Station run regularly and only take around 1 hour 30 mins. Tickets can cost as little as £12.60 when you buy in advance. This is why I always recommend buying in advanced if you can.
Even kinder on your wallet is catching one of the National Express coaches. Incredibly, you can hop on one of their services from Victoria Coach Station for just £5. This is a great money saving tip for travelling.
There is always the option of driving too. It's only a 2.5-hour journey, depending on where in London you set off from and traffic. Once you get out of London it's a really beautiful drive too.
However, Bath is definitely not the most car-friendly city. So unless you want the freedom to stop off at a few sights like Stonehenge on the way, I'd stick to the train or bus.
Things to do in Bath, England
Visit the ancient Roman Baths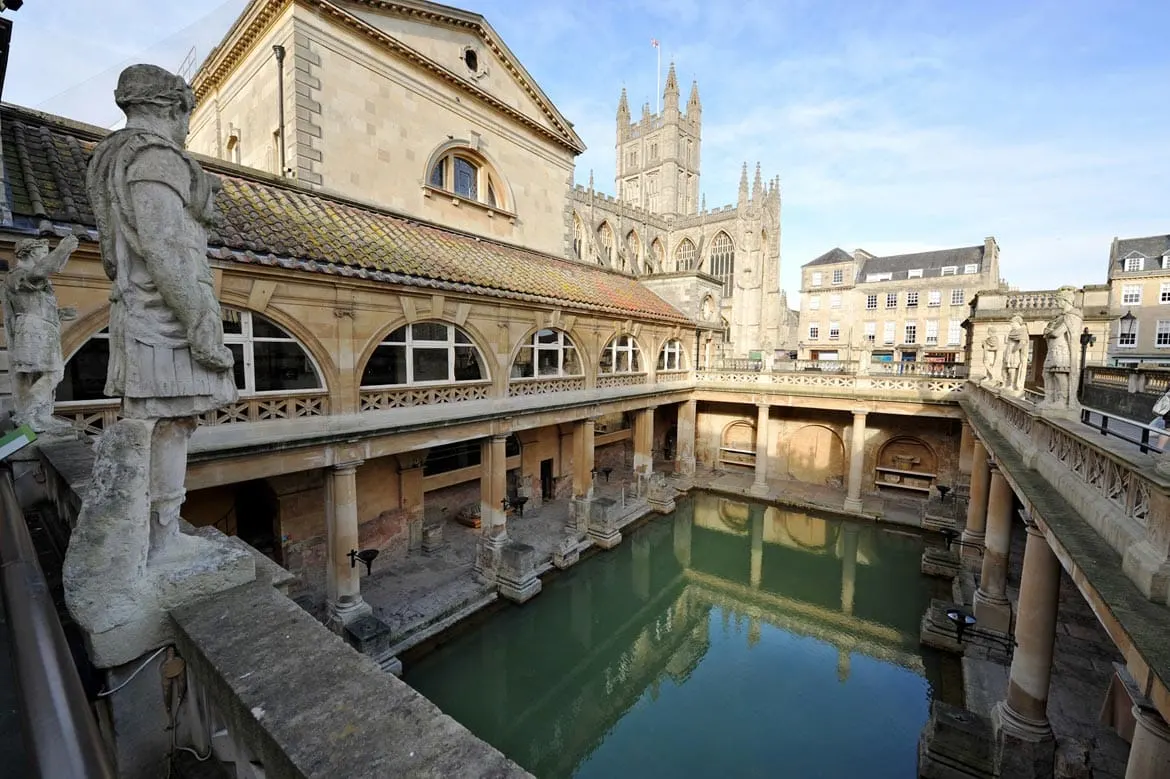 Even if ancient history isn't usually your thing, I really wouldn't leave without visiting the Roman Baths. It's the reason Bath is what it is today, after all.
Dating back to 70AD, the baths are amazingly well-preserved and it feels like you're stepping right back into Roman Britain. I was surprised by how entertaining the audio guide that's included in the ticket is. It's a real treasure trove of fascinating history, and the interactive museum is worth checking out too.
As you'd expect, the original baths aren't open, so you can't wash in the mineral-rich water. However, you can actually get a taste of it in the Pump Room.
The only downside is that the Roman Baths are on everyone's itinerary for a day trip to Bath, so it's always busy. Head there as early in the day as you can to beat the crowds.
A great way of seeing the baths is on a Roman Baths and City Walking tour where you get to visit some of the best sites in the city with a local guide.
Take a stroll along Royal Crescent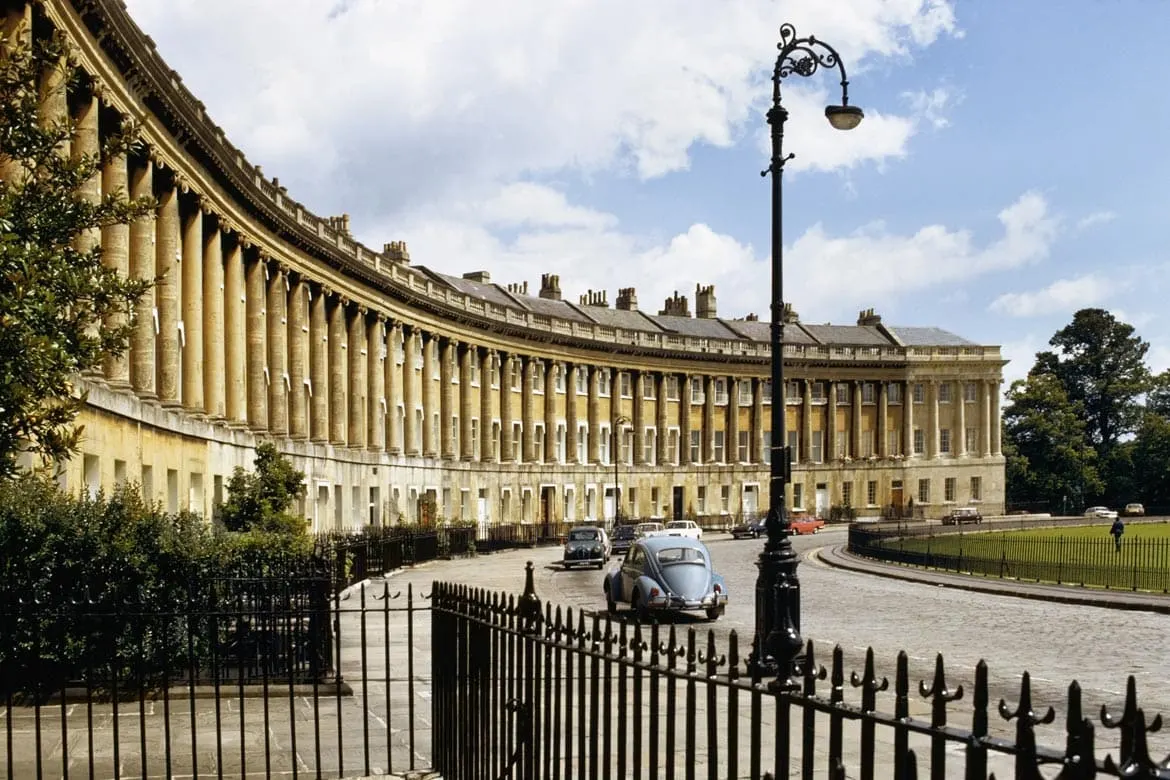 This is another classic Bath landmark, made up of a glorious curved terrace of Grade I listed houses.
Aside from being lovely to look at from the outside, there's another chance to dig deeper into Bath's history inside No. 1 Royal Crescent. It's a museum, furnished and decorated just as it would have been back in the 18th century. This is like stepping into a time machine and going back a couple of hundred years.
If you're lucky the sun will be out and you can relax on the inviting stretch of lawn just in front of the crescent. This is a great picnic spot in the city.
Marvel at Bath Abbey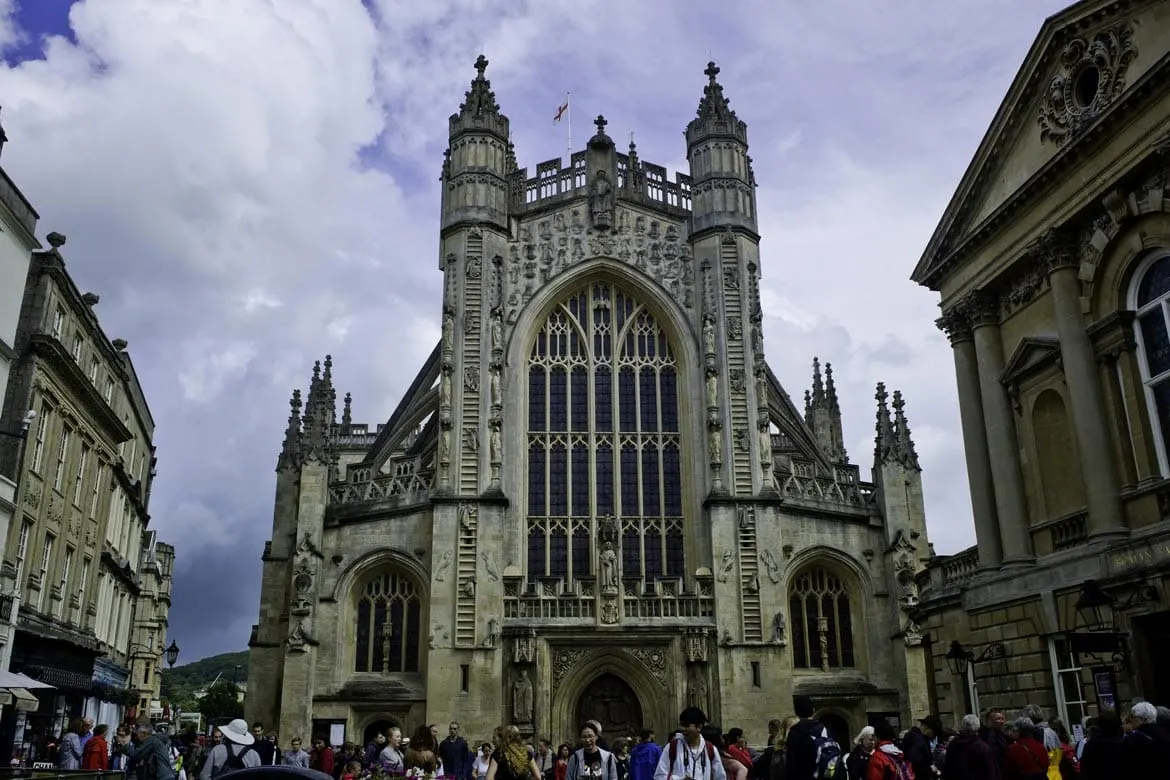 It's not all Georgian architecture in Bath – the abbey is Victorian Gothic in style and seriously impressive. A place of worship has been stood here for over 1,200 years, so as you can imagine the atmosphere is something special.
Admiring the Bath Abbey from ground level was awe-inspiring enough, but I do wish I'd done the tower tour. These only take 45-50 minutes and you get to see the ringing room, sit behind the clock face and much more. The views from the top are said to be the best in Bath.
Wander around Pulteney Bridge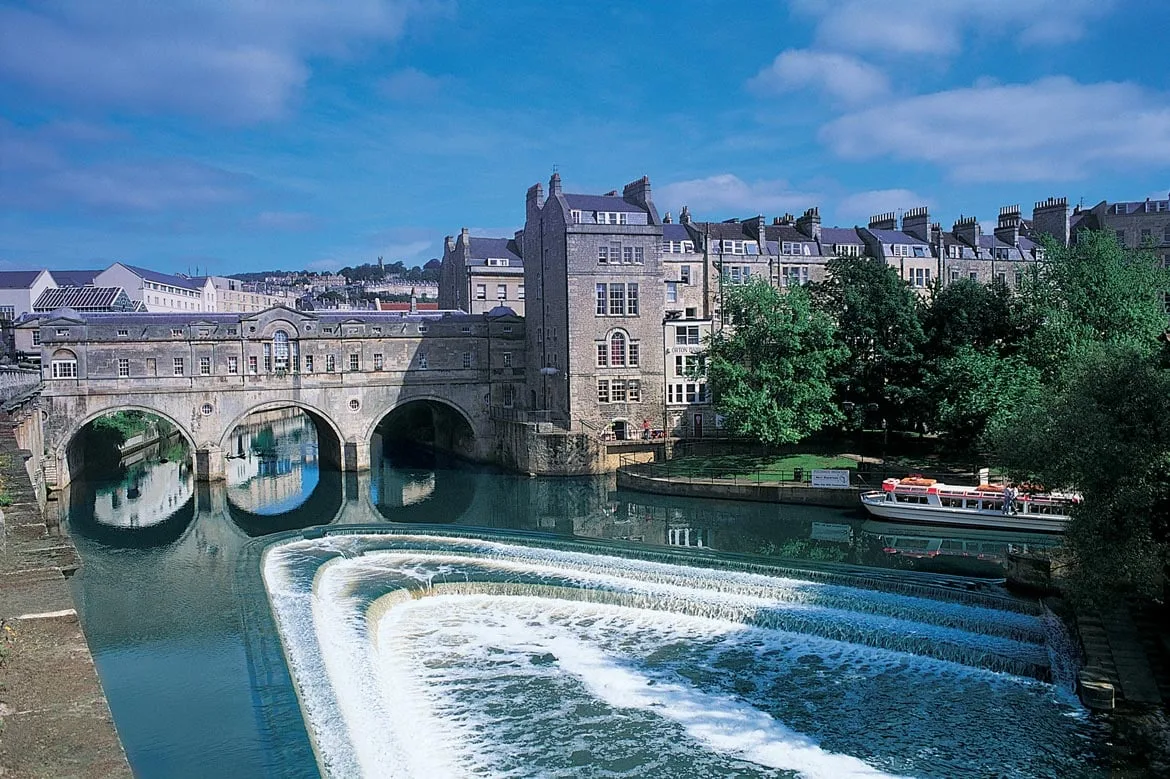 Only four bridges in the world are completely lined with shops on either side and this is one of them. Fellow architecture geeks like me will love it.
It was built at the request of an ambitious and important man in Georgian Bath, William Johnstone Pulteney. He wanted this bridge to be a major talking point. Today, it's a symbol of the city and photographed constantly, so I guess you could say he succeeded.
As well as marvelling at the bridge, I followed the lead of locals and popped in for a coffee at The Bridge Coffee Shop. A perfect pick-me-up while sightseeing!
Take in stunning art at the Victoria Art Gallery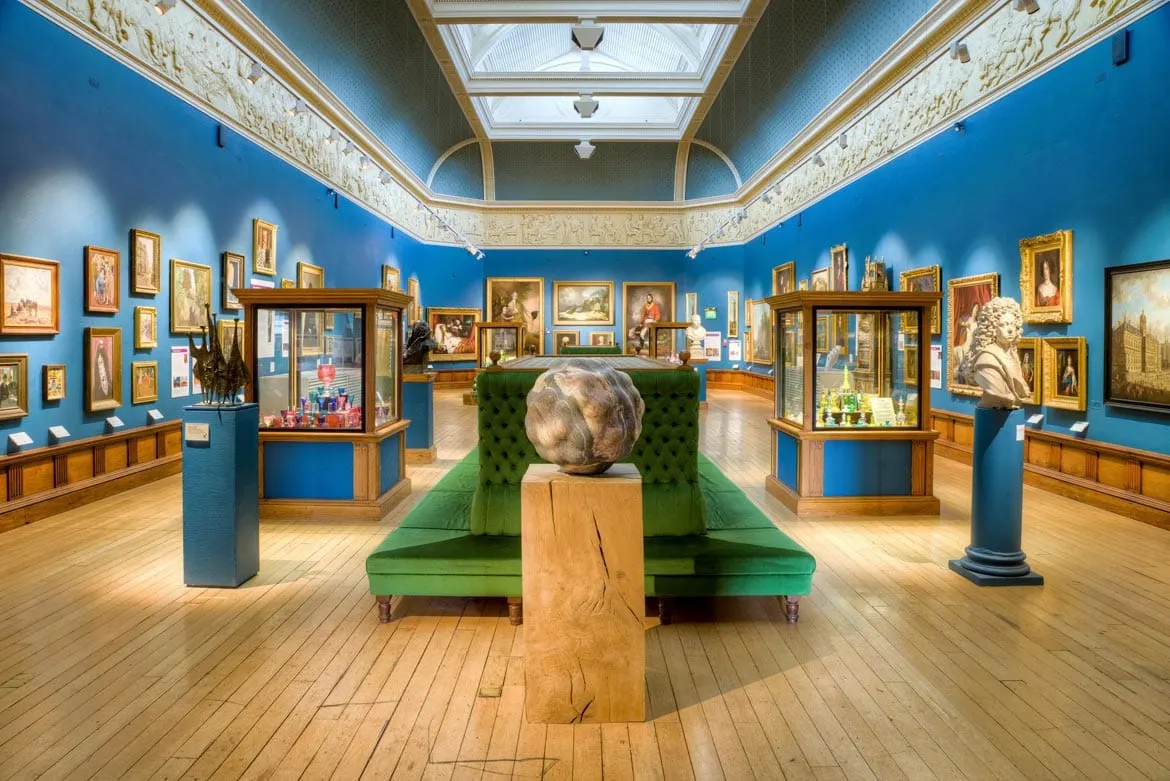 Just a stone's throw from Pulteney Bridge, the Victoria Art Gallery is definitely one for any art lovers wondering what to do in Bath. Ever since its opening in 1900 entry has been completely free, which is always a bonus if you're on a budget.
Even the dome-topped Grade II listed building that houses the gallery is a sight to behold. Inside, I could have easily spent hours taking in the paintings and sculptures. But with just a day in Bath, I pulled myself away after checking out the permanent collection, to fit in the rest of my schedule.
Go on a boat tour along the river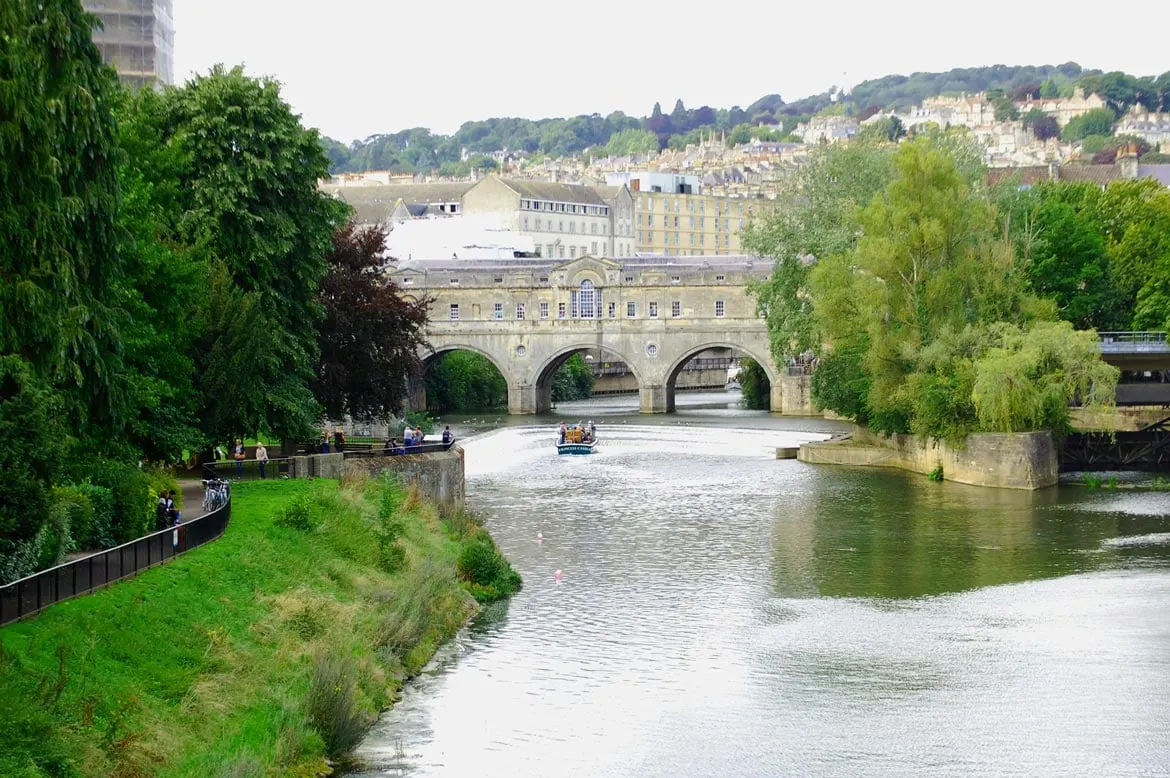 The River Avon snakes through Bath, making a boat tour a fun way to see the city. You pass plenty of the most notable points of interest as you cruise down the river.
Depending on which tour you choose, you can also get a good glimpse of the scenic countryside just beyond Bath and lots of wildlife too. It's a relaxing ride and a good excuse to rest your feet for a while.
For something a bit more unique, I recommend hiring a narrowboat and steering yourself along the Kennet and Avon Canal. The hire company will give you the lowdown on what to do beforehand and set you on your way. This is definitely a must on any Bath itinerary.
Wander around Prior Park Landscape Garden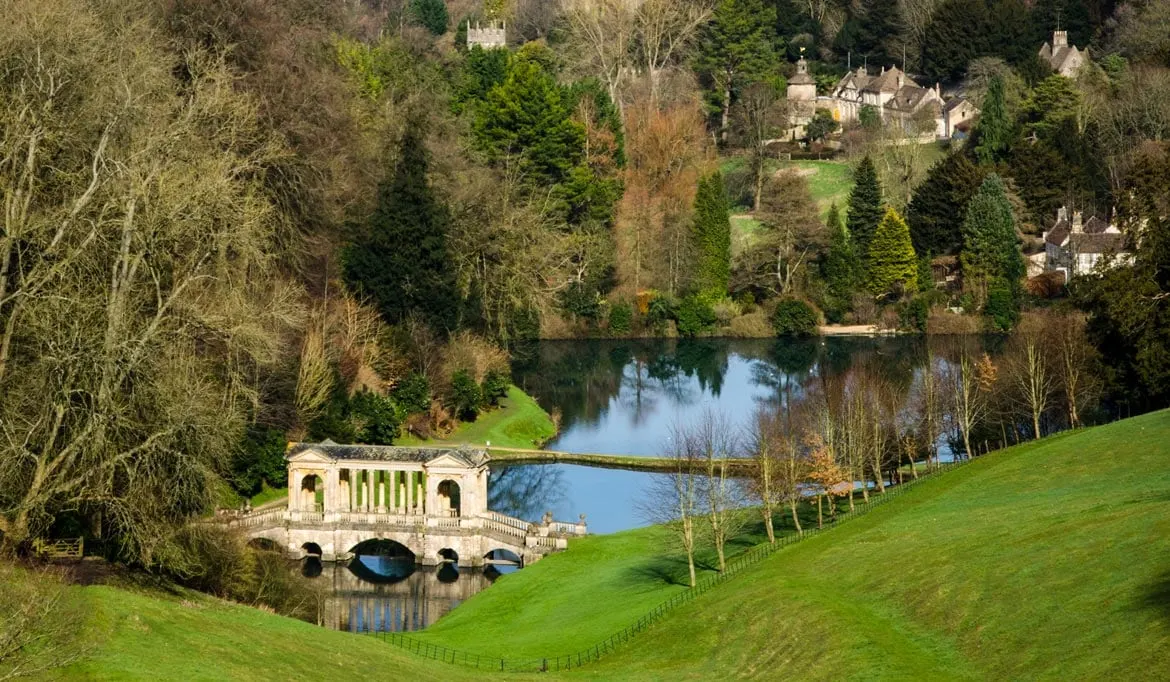 Another place to enjoy the great outdoors and do some wildlife spotting during your Bath day trip is the Prior Park Landscape Garden. Trust me when I say this place is beautiful! A lush green valley, pretty woodlands and sweeping city views. What more could you want from a city garden?
Oh, and there's yet another unique bridge here too. Like the Pulteney Bridge, the Palladian Bridge is one of just four of its kind in the world. And people think neighbouring Bristol is where all the cool bridges are at – I'm starting to think Bath deserves the reputation!
If you get a ticket for the Bath hop-on, hop-off bus then you'll be able to hit up a fair few of these spots. Very easy if you've only got one day in Bath!
Eat at Chez Dominique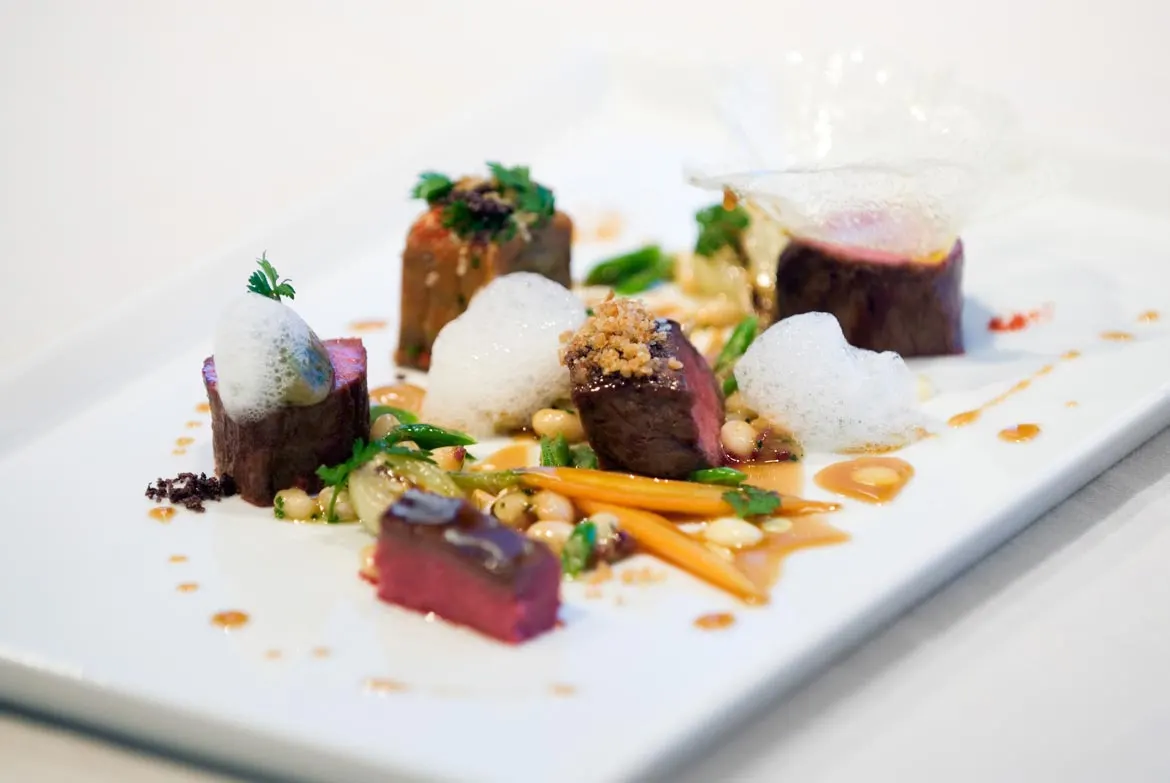 I have a long old list of restaurants I love eating at in Bath, but that's a whole other blog post. For now, I'm just going to tell you about one of my favourites – Chez Dominique.
This family-run, French-inspired bistro has scooped up a handful of impressive awards. Their menu is full of interesting European dishes, all perfectly cooked, and the desserts are especially dreamy.
But even better than the food is the views from the private dining room. Looking out over the Pulteney Weir while you indulge in some of the city's best food is a real treat. It would be the ultimate place for a date night dinner.
Pop into Sally Lunn's House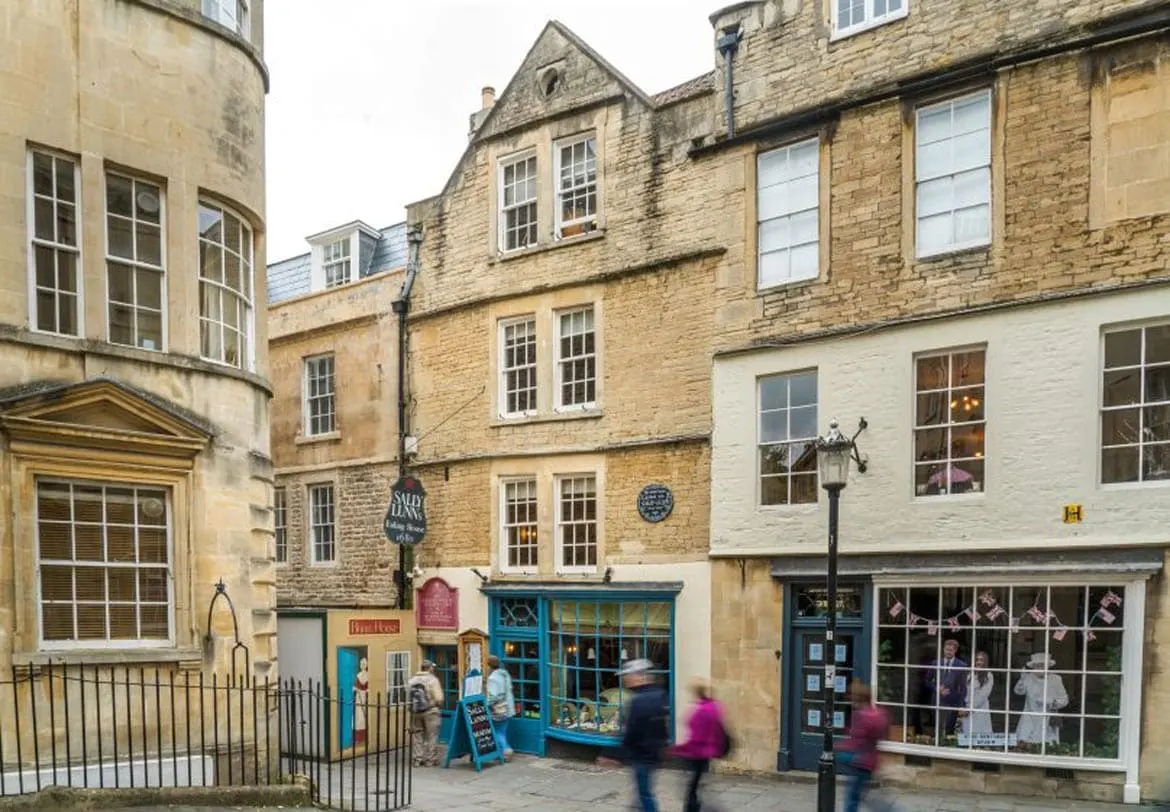 A world-famous sweet treat originated in Sally Lunn's Historic Eating House – the Bath Bun. They have a similar taste to brioche, which makes sense when you find out Sally Lunn was a French Huguenot. She brought her baking skills to Bath as a refugee, way back in 1680.
What makes tucking into one of these even more special is knowing the tea room is inside one of the city's oldest houses. Take a look around the micro-museum down in the cellars too. You get to see the original kitchen, bakery and oven, which dates back nearly 1,000 years.
There's also the option to grab a bun or two to take away. Perfect if you've already filled up on food from Chez Dominique.
Hit the pubs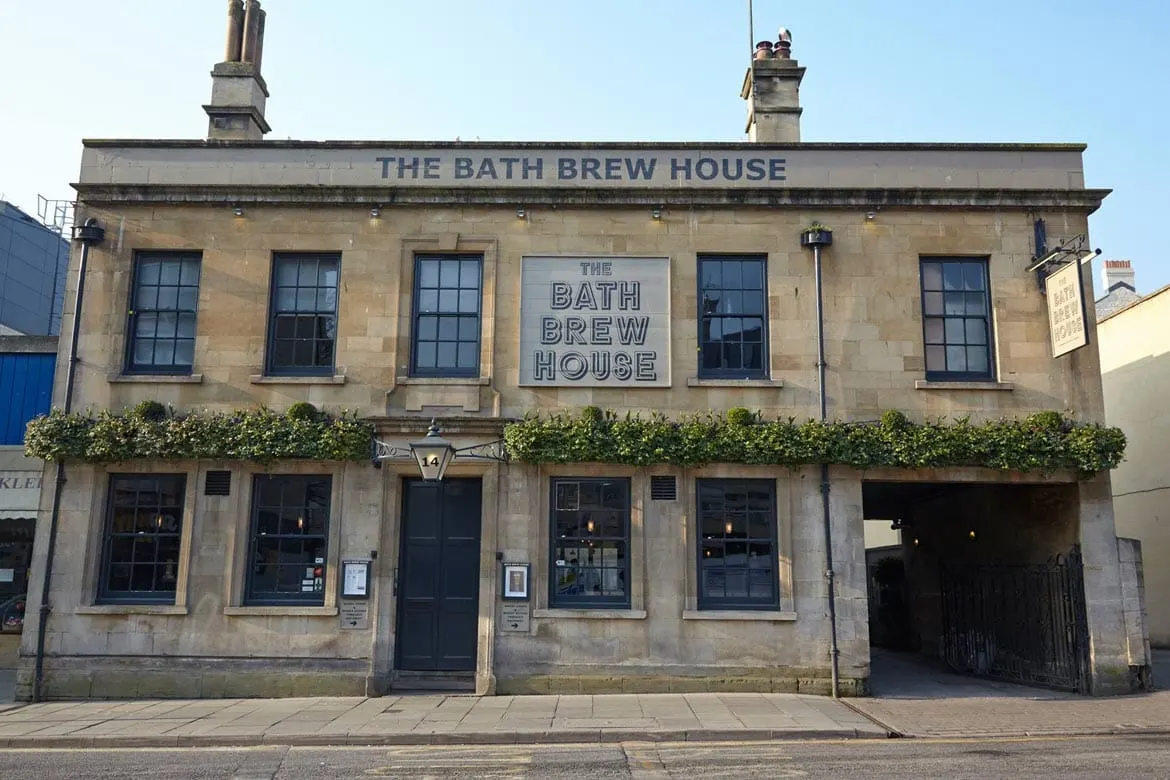 Where better to round off my Bath 1 day itinerary than at a traditional British pub?
There are plenty to choose from and as with practically everything in the city, many of them have an interesting history. If the weather's wintry and you want to cosy up by an open fire, I would head to The Star Inn. It's on the Paragon and a pub has stood in its place since the 16th century.
On sunny days, you can't beat the beer gardens at the Marlborough Tavern and The Bath Brewhouse. The brewery tour at the latter is great too.
---
Which of my suggested activities will you be doing on your day trip to Bath? Share your thoughts or let me know if I've missed your favourite spots in the comments!
Like this blog post? Then make sure you Pin it!