Are you going on a South of England road trip? Then check out some of the top places to visit in Hampshire and Kent for your itinerary!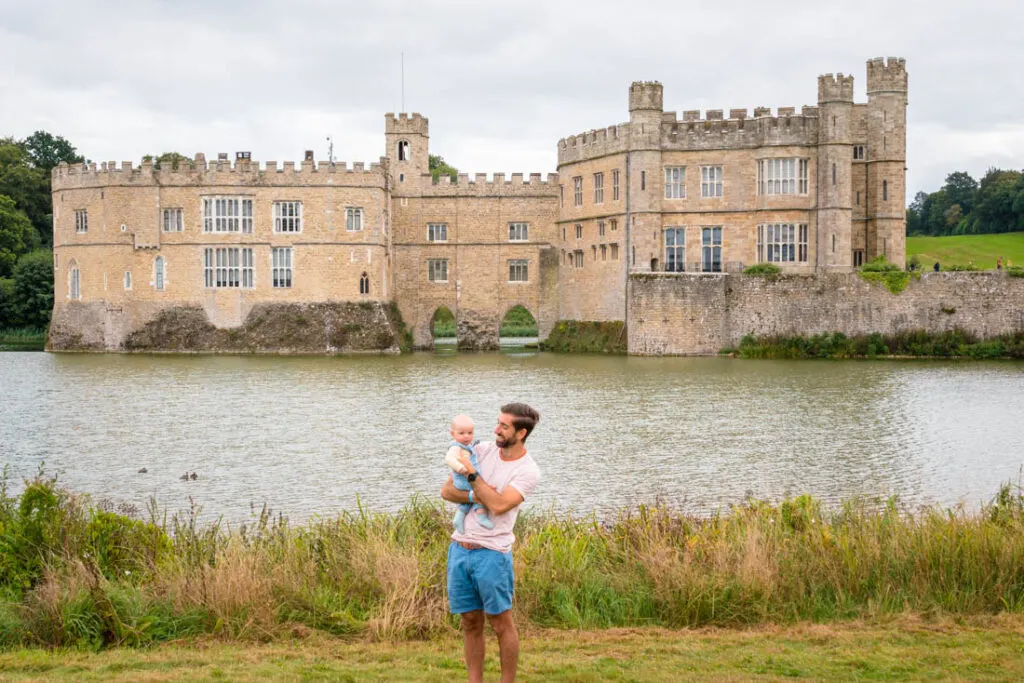 Times are tough at the moment, aren't they? We're going through a cost-of-living crisis, flight prices are through the roof, and every day we're feeling the pinch that little bit more.
With all of that, it's very easy to just stay at home, stick the telly on and not even think about travel. But I promise you it's not all doom and gloom. You can still travel on the cheap – that's what this post is all about!
Today I'm going to tell you about a budget-friendly, family-friendly, sustainable South of England road trip with Days Inn by Wyndham that's not only good for your wallet, but good for the environment too.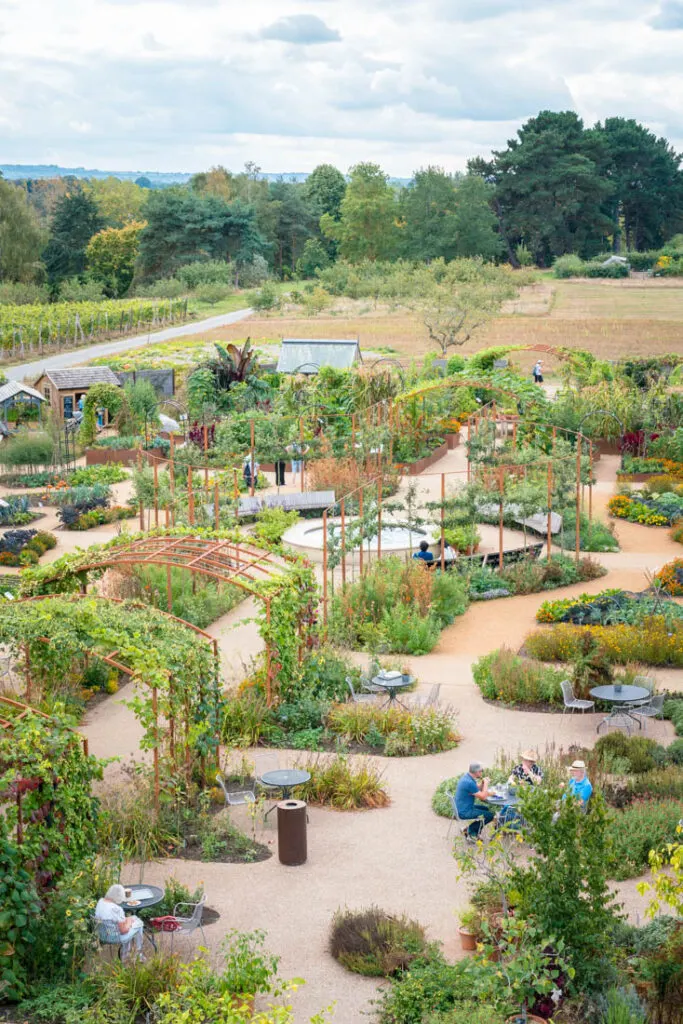 I recently asked Chloe: "what would you prefer – a 4* hotel that costs £250 a night with £50 spending money OR a 2* hotel that costs £50 a night with £250 spending money?"
It might sound surprising, but we both said we'd have the cheaper hotel with more spending money. We just love doing things, especially eating out, so the more money for that, the better.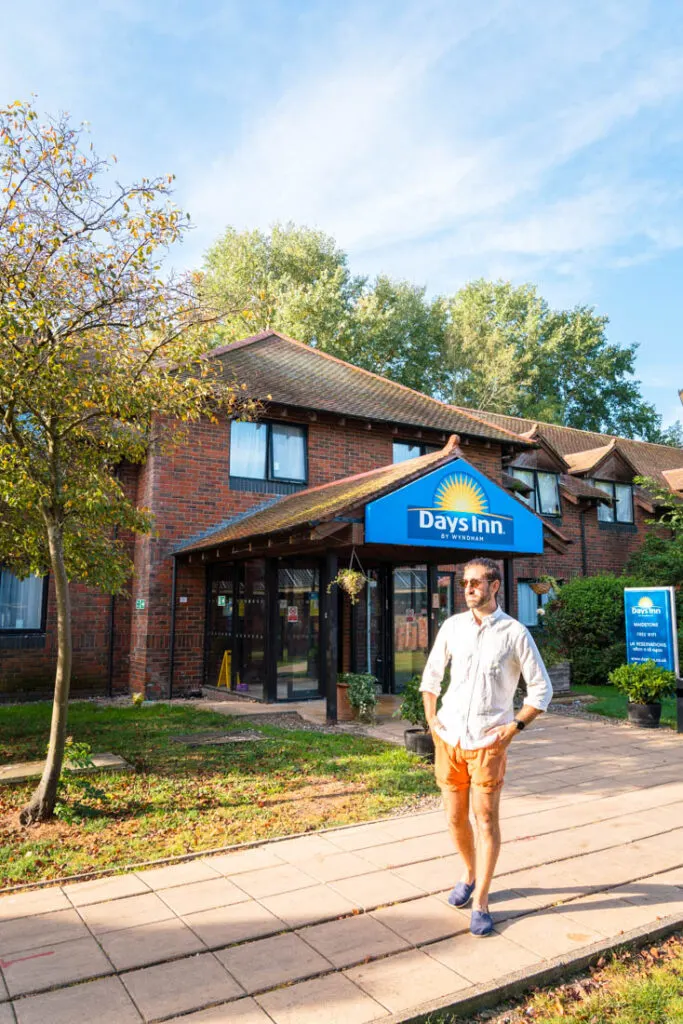 Now I know what you're probably thinking: "There's no way you can get a hotel for £50 a night these days…"
Enter the room – Days Inn by Wyndham. With these guys, you can.
In fact, if you book far enough in advanced, you can even get a room for £29.99 a night (that's the cheapest room I've found). So when I say it's possible to still travel on the cheap, I really mean it.
Who are Days Inn by Wyndham?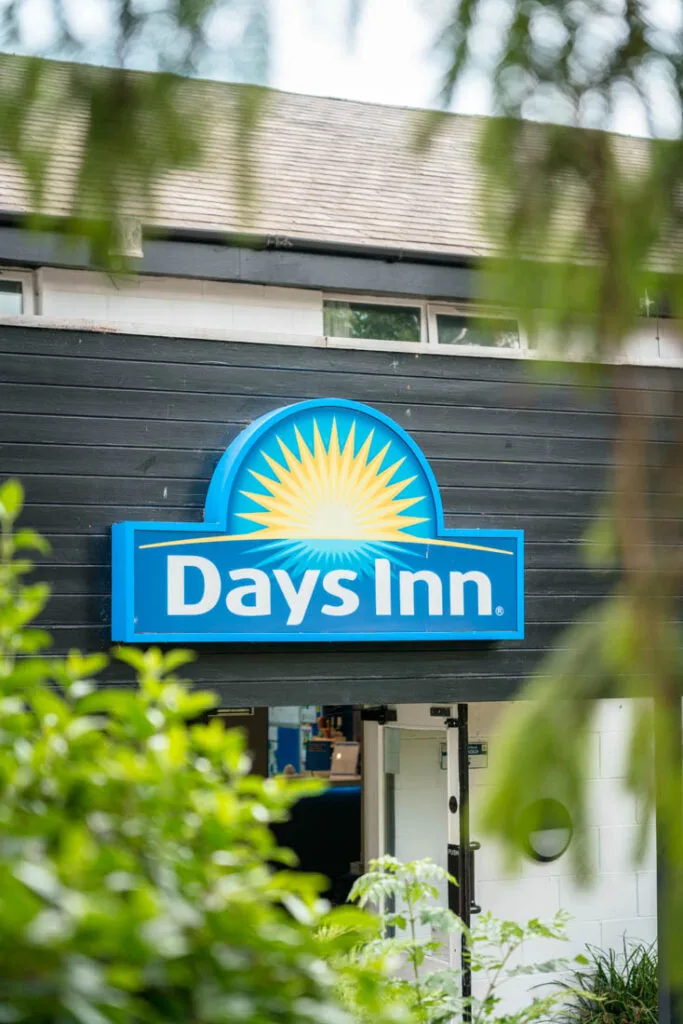 Days Inn by Wyndham is one of the largest, most well-recognised hotel brands in the world with over 1,500 locations in over 20 countries.
One of the best things about these hotels is their locations for a road trip. Often you'll find them in roadside service stations like Road Chef and Welcome Break. It might not sound the most glamourous, but it's incredibly accessible and convenient.
Also, all the hotels offer electric charging stations so you can charge your electric vehicle cheaply and easily. Win win.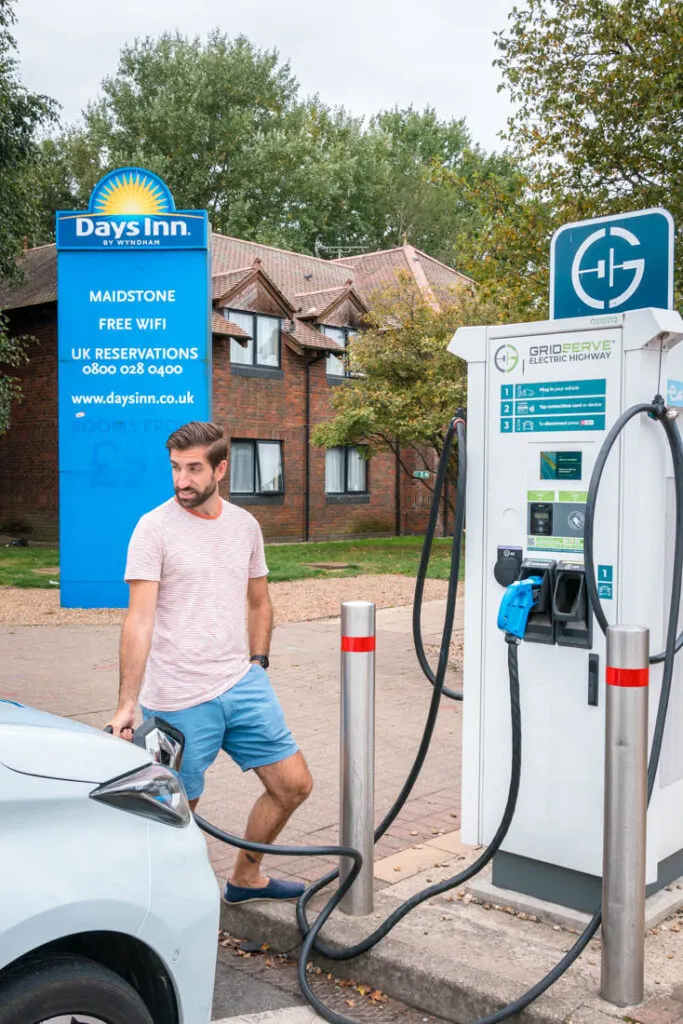 For our South of England road trip, we hired a car from EVisions, the first fully electric car hire company in the UK.
This meant we could plug in our car at the electric charging stations along the way. As I said earlier, not only good for my wallet, but good for the environment too.
For our trip to Hampshire and Kent, we stayed in a couple of Days Inn by Wyndham hotels. I actually found the rooms very spacious and comfortable, perfect for the three of us with Cooper (still in his cot bless him).
It was also good chatting to the concierge on the front desk who was packed full of tips on where to go in the surrounding area. One of them even recommended the most amazing pub that I would never have found myself.
One last word about Days Inn by Wyndham. They offer the world's most generous rewards program in the industry. This gives over 103 million enrolled members the opportunity to redeem points at thousands of hotels worldwide. This is just another way you can make your trip cheaper with some superb savings to be had.
---
Places to visit in Hampshire
For the Hampshire leg of our South England road trip, we based ourselves at Fleet Services.
Now there are so many places to visit nearby. You can explore Windsor and Windsor Castle, go hiking in the Surrey Hills, or get the adrenaline pumping at Thorpe Park.
As we've done all of these things before, we wanted to do something different, something family-friendly (unfortunately Cooper's not at an age yet where he's remotely interested in theme parks!)
Wisley Gardens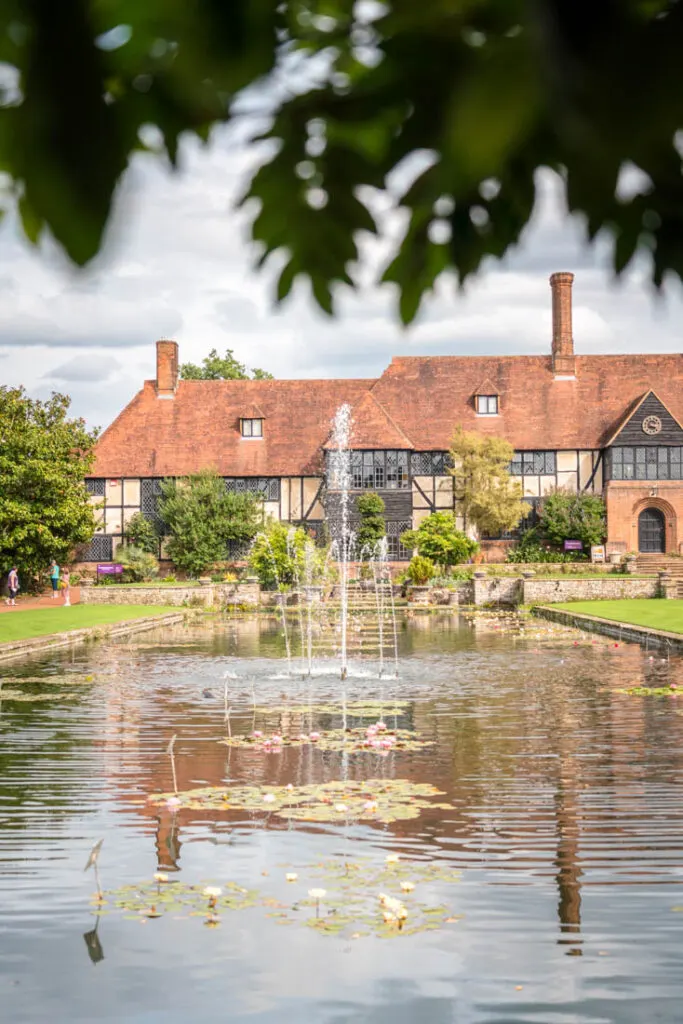 Nestled in the heart of Surrey's picturesque countryside, Wisley Gardens is an amazing place to spend the day. Covering 240 acres, this place is nothing short of a botanical wonderland.
From the tranquil beauty of the Glasshouse to the stunning Rock Garden, there is so much to see and do here.
At the moment there's a 'Festival of Flavour' event going on which is right up my street. This is all about what ingredients you can grow easily in your garden and how you can use them in your cooking. There was even a talk all about growing chillies which I obviously had to go to.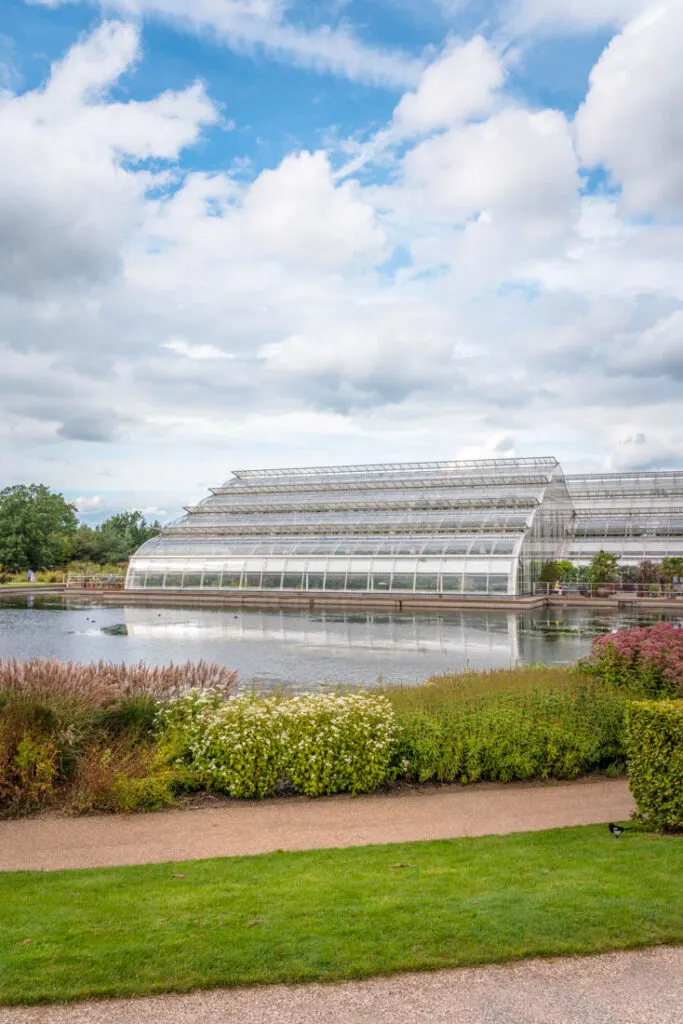 To highlight sustainable produce, we had lunch at the World Food Garden café. This is a little café restaurant in the middle of the gardens with chillies and vegetables growing all around. I had the aubergine curry, and I had aubergines growing next to me. It doesn't have to travel far to your plate here! The restaurant is in such a beautiful spot, and the food was delicious too.
I also loved the architecture of the Glasshouse and the Old Laboratory (more like a grand country house than a laboratory).
I could've easily spent all day walking around Wisley, it's so peaceful and tranquil.
Cooper absolutely loved it too. He's going through a real green-fingered stage at the moment and he's obsessed with touching leaves, so he was in heaven!
Winchester Science Centre and Planetarium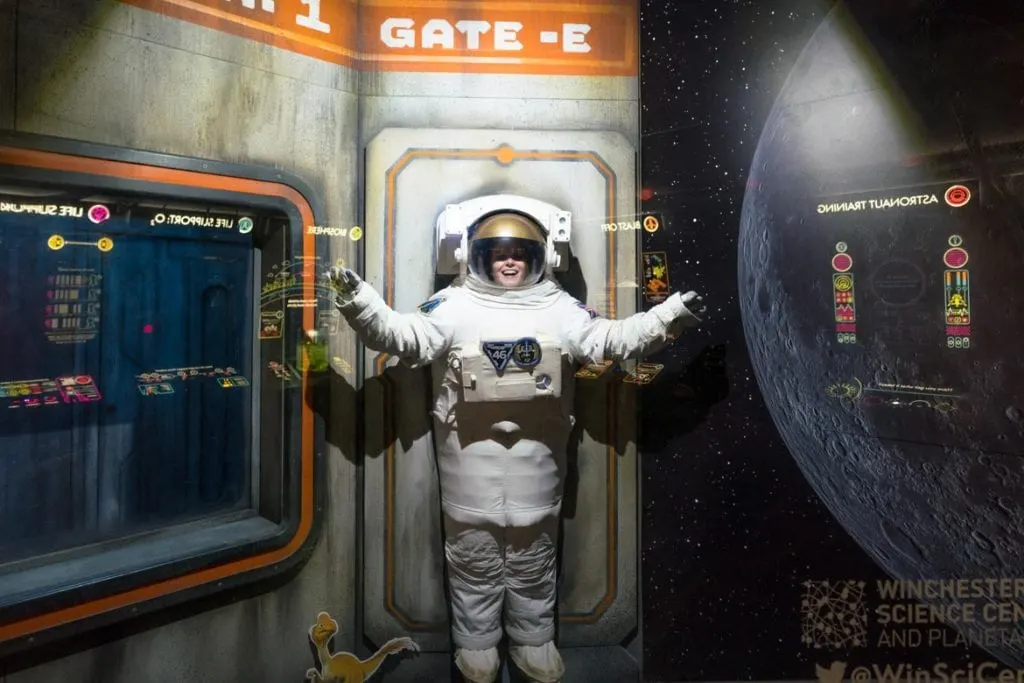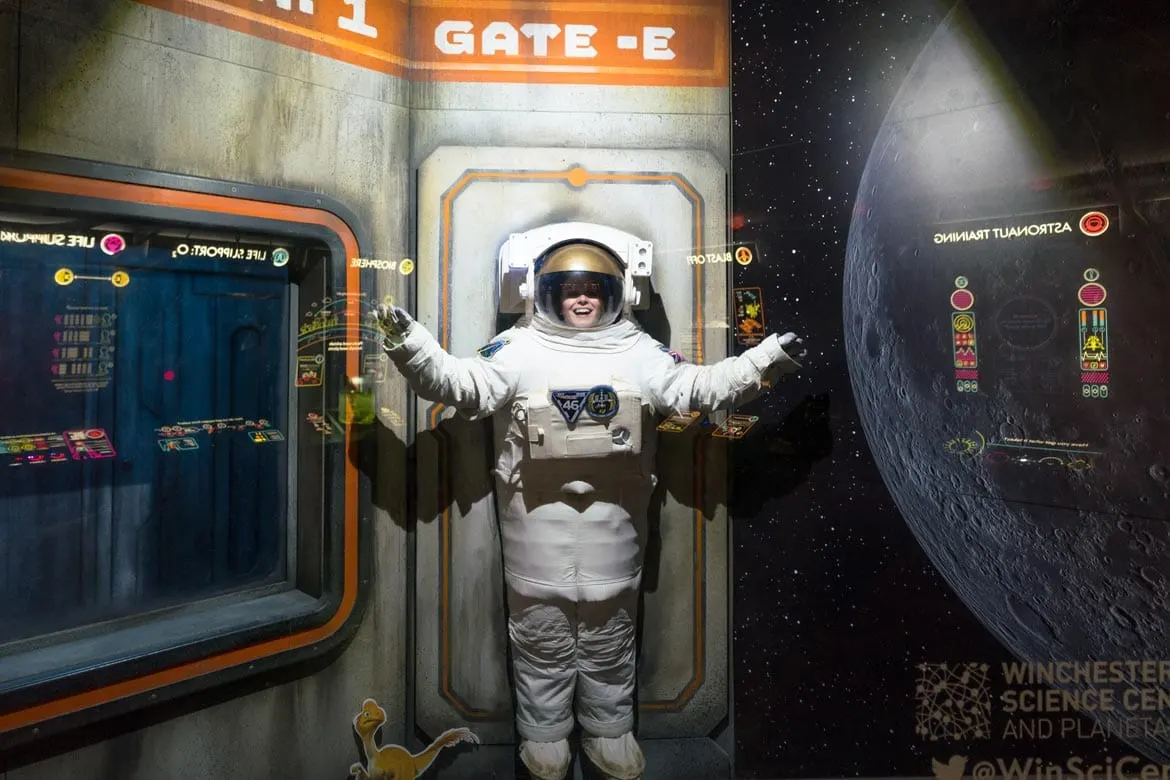 Another family-friendly activity that's brilliant for kids is Winchester Science Centre and Planetarium.
Dotted around the science centre are loads of interactive displays where you can learn all about space. I slipped on a NASA space suit and pretended that I was an astronaut for 5 minutes, so that was a bit of a highlight for me. It was great seeing so many displays dedicated to teaching kids about science in a fun and easy way.
The other part of the Science Centre is the Planetarium. Here we watched a short film all about how stars were created. The 360° cinema screen completely surrounds you. All you can do is relax back in your seat and get sucked into a black hole or fly through the Solar System.
Also, there are some events in the evenings where you can listen to things like Pink Floyd's Dark Side of the Moon while sitting under the stars with a glass of wine in your hand. Now that sounds like my kind of night!
Heron on the Lake
Heron on the Lake was the restaurant that the concierge at Days Inn by Wyndham suggested to me, and it was such a good recommendation.
Just a short 10-minute drive from the hotel, this pub is perched overlooking a lake. And like the name suggests, there's even a resident heron here to complete the picture.
Inside the pub there's a cosy log fire and a number of different dining rooms, but if the weather's nice then you've got to sit outside on the waterside terrace.
I had the roasted lamb rump with a cherry tomato, barrel aged feta, grilled courgette and aubergine salad, and it was absolutely delicious. It was genuinely one of the best meals I've had in a long time.
Also, the service was incredible. As you can tell, I really liked this place!
---
Places to visit in Kent
For the Kent leg of our South England road trip, we based ourselves at the Maidstone services.
Kent is one of my favourite counties to visit in England. You can explore the Kent Downs, have a classic British seaside holiday at Margate or Folkstone, or visit cute little villages like Ashford and Aylesford.
Rochester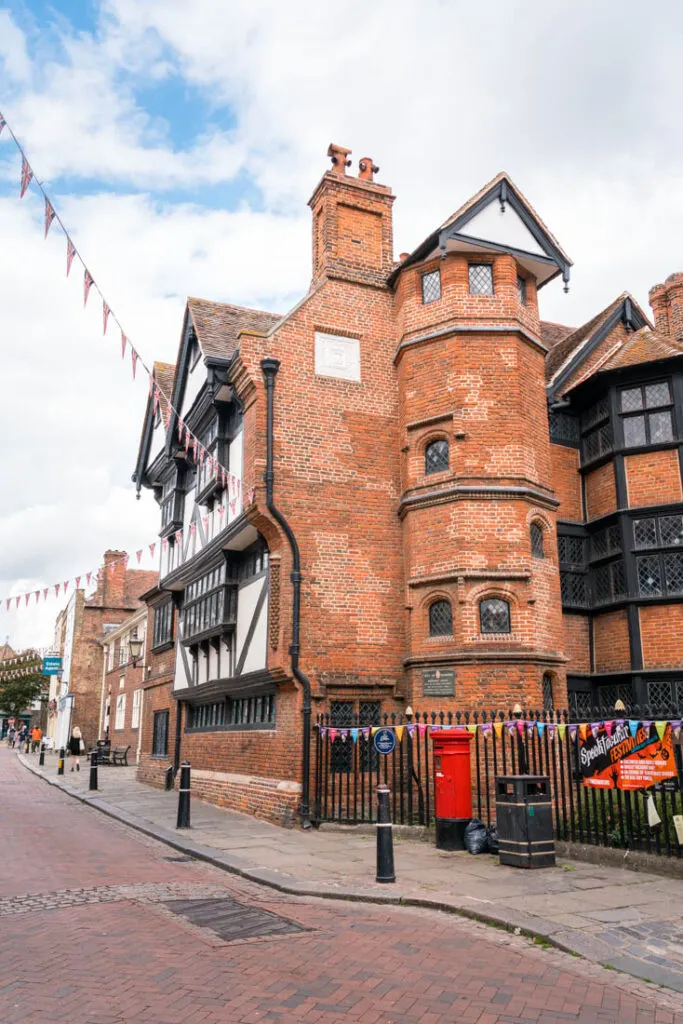 Nestled in the heart of Kent with views of the River Medway, Rochester is without a doubt one of my favourite towns in England.
It has a deep rich history, a quaint high street with cobbled streets, a stunning cathedral and a castle that dates back to 1087. It's from up here that you get the best views of the River Medway.
For me, the best place to start any trip to Rochester is by taking a stroll along the high street. With its Tudor buildings and time-worn stones, it feels like the view hasn't changed for centuries.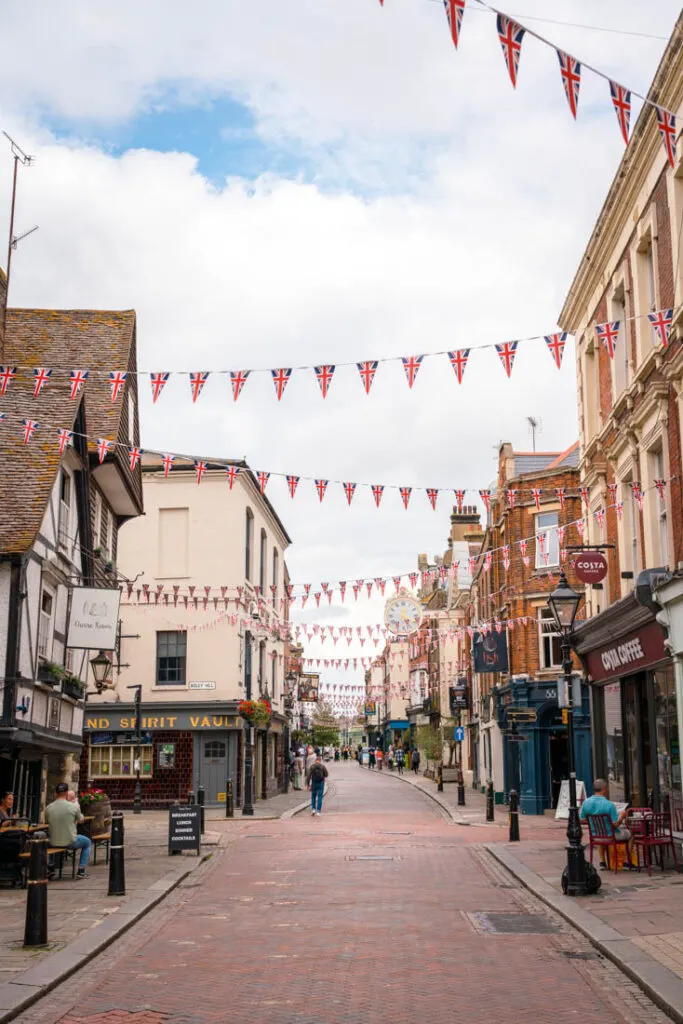 There are loads of boutique shops and yummy restaurants though. It definitely feels like it has retained a lot of its independence which I like.
If you're looking for a place for lunch, I'd really recommend The Cheese Room. This place does amazing cheese and charcuterie boards, as well as some killer sandwiches and pastries too.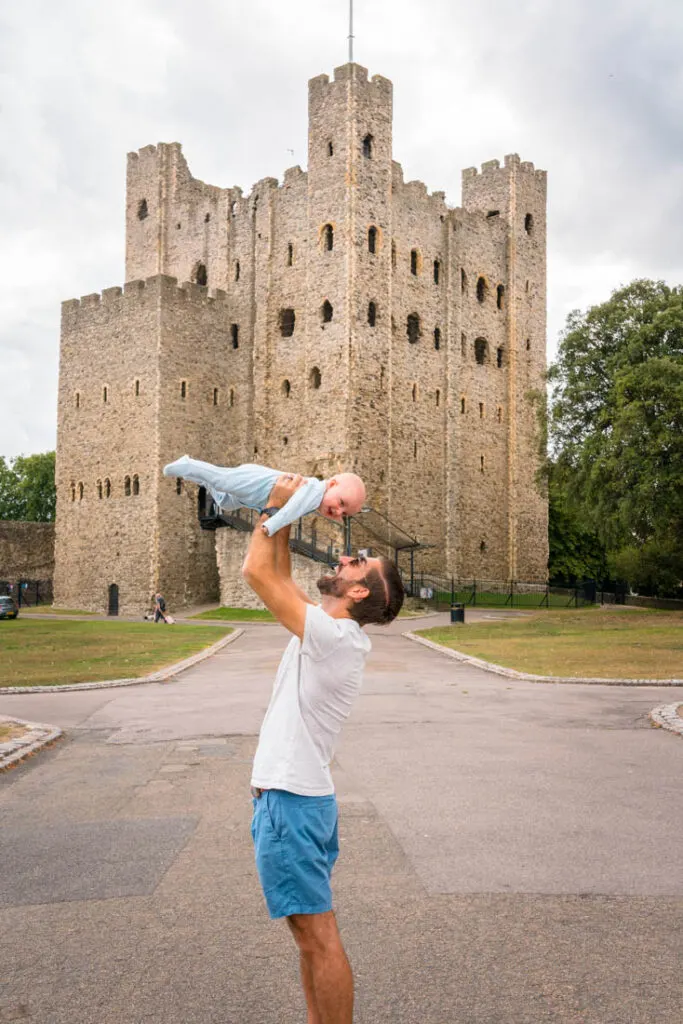 Tucked away just off the high street is a little secret not everyone knows about – Charles Dicken's chalet.
Yes, among all the buildings you'll find a tiny French chalet where Charles Dickens used to write some of his books. Dickens adored Rochester and even wanted to be buried here (against his wishes he was eventually buried at Westminster Cathedral).
And finally, no trip to Rochester would be complete without walking up to Rochester castle. This is a towering fortress that whispers tales of knights and battles. From here you can also see Rochester Cathedral, a masterpiece of Norman architecture.
Leeds Castle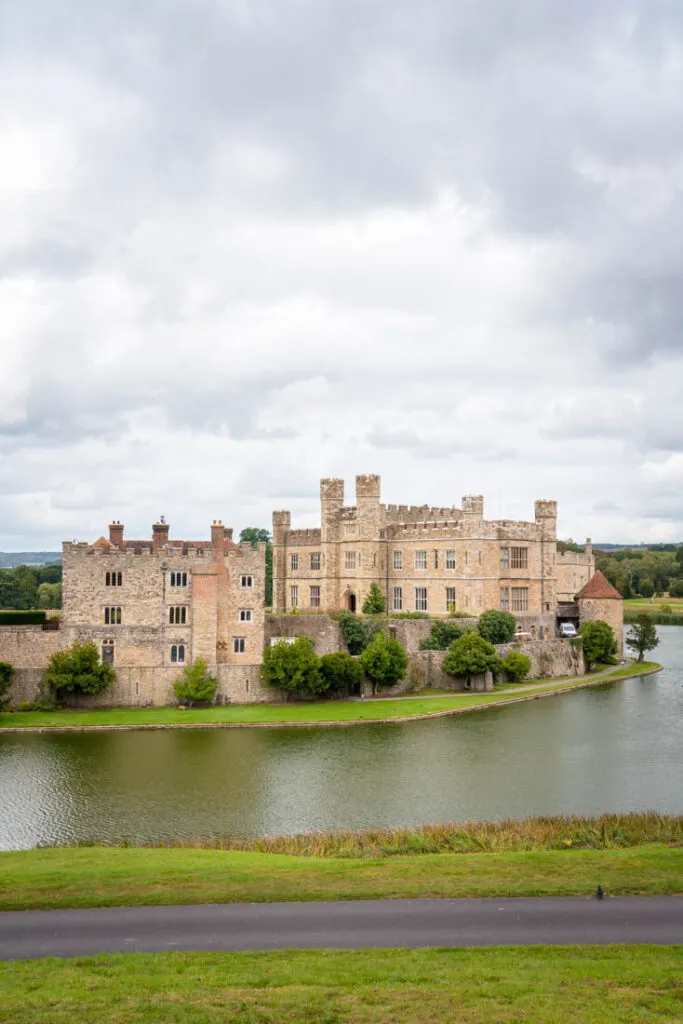 One place that I've been meaning to visit for years is Leeds Castle. Well, on our South of England road trip we finally ticked this one off.
A journey to Leeds Castle is like stepping into a fairy tale. This enchanting and opulent home (yes, this was once someone's home as opposed to a fortress), is just stunning. And there is so much to do here.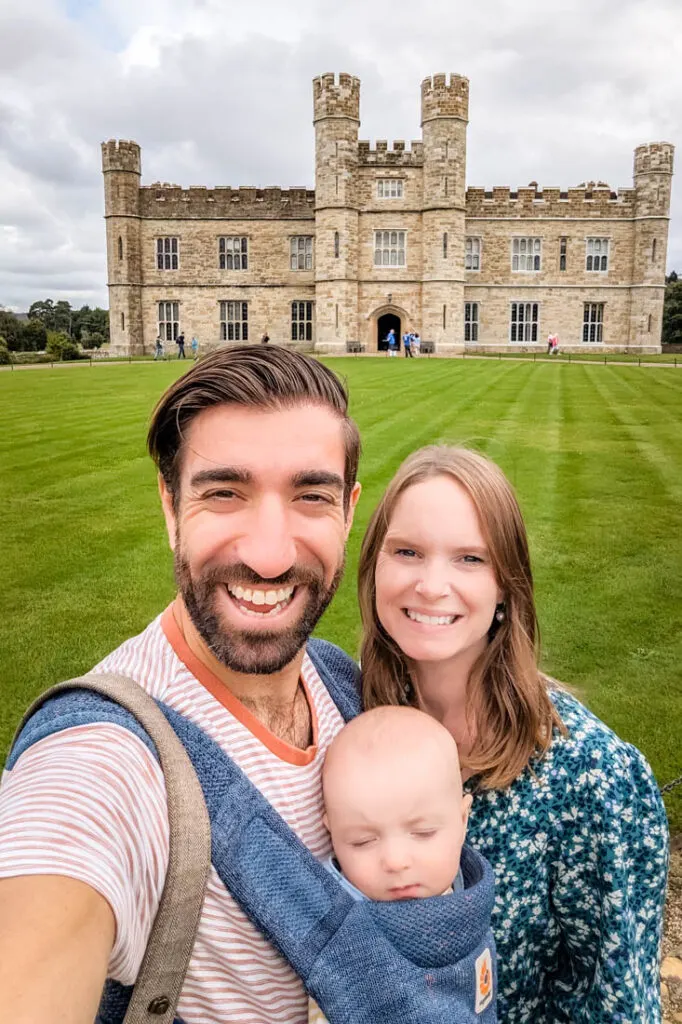 Often called the "Castle on the Lake," it stands majestically amidst lush greenery and gardens all around.
This is in stark contrast to the lavish 1930s art deco rooms within the castle itself. As a lot of the information plaques will tell you, so seriously decadent parties were once thrown here.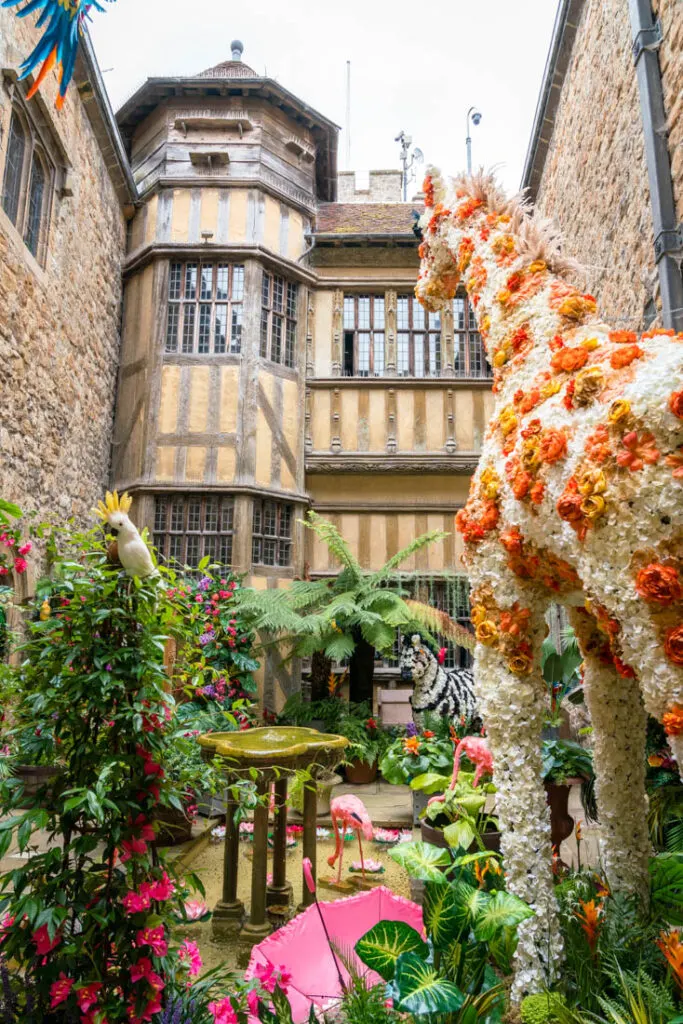 One of the biggest draws to Leeds Castle is their maze. Now all I was expecting was a tiny path through a few hedges, but this was a next-level maze. I'm not kidding when it took us about 20 minutes to find the centre – we were walking around in circles for ages! There's also a little mystery below the maze (don't worry, I won't spoil the surprise).
Another activity we did was play some crazy golf. It was quite difficult when you've got a baby strapped to your chest, but I loved it. We're getting Cooper into his sports from a very young age!
Aylesford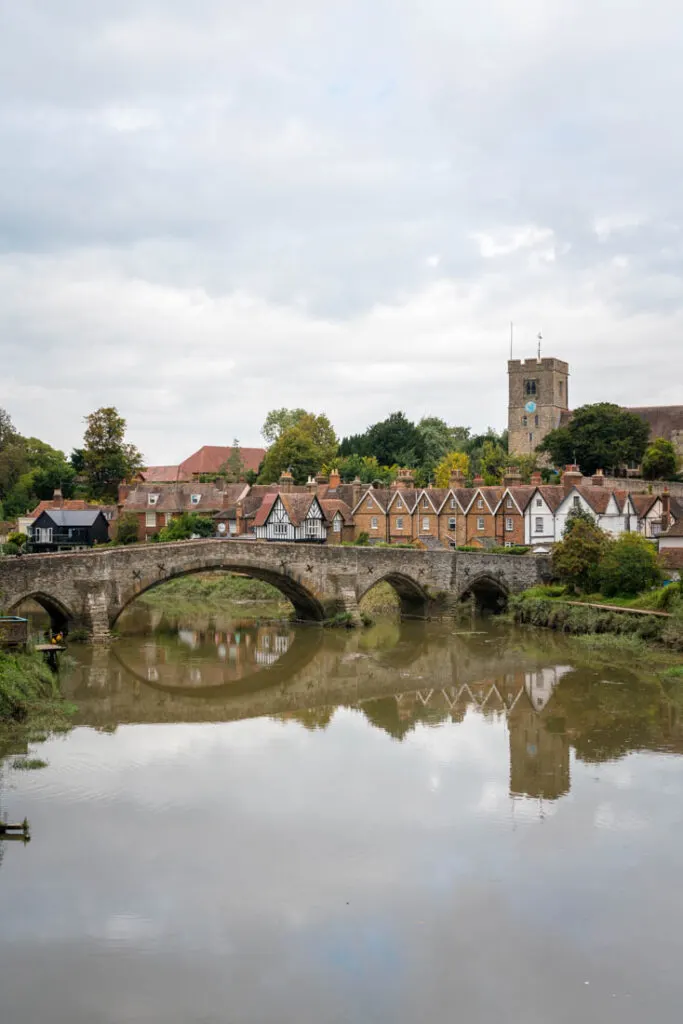 If you're looking a quintessentially English village, then I'd really recommend visiting Aylesford. This is just a 20-minute drive from Maidstone services.
With cobblestone pathways, historic buildings, and a tranquil atmosphere, it's a delightful escape from the hustle and bustle of everyday life.
I couldn't resist exploring Aylesford Priory's serene gardens. Also, the medieval bridge over the River Medway offers some breathtaking views of the village itself.
Mereworth Wines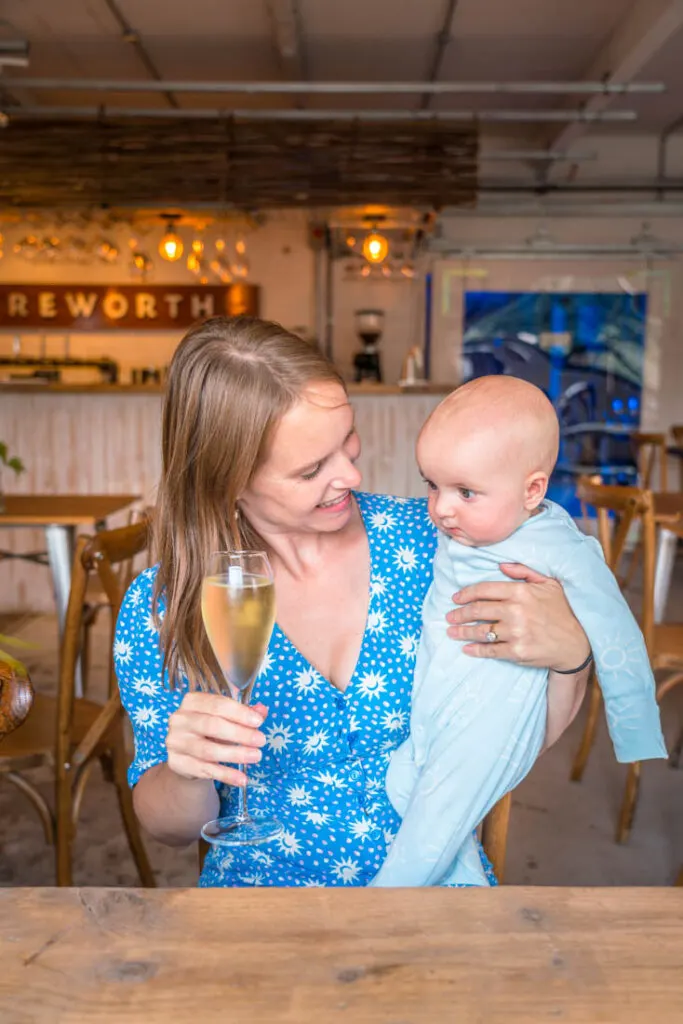 One of the things Chloe and I love promoting and celebrating is English sparkling wine. There are so many independent wineries in England, and they are genuinely so good – people just don't realise it!
It's almost our unofficial mission to visit all English wineries, so naturally we had to squeeze in one while on our South England road trip.
This place, Mereworth, only opened their doors in 2020, so they are very new players in the game.
One thing they have already though is an amazing indoor and outdoor space that's perfect for friends and family.
They also have some really cool events on the weekends, like pizza night with live music. It's like they want to create a hub where people will hangout – I really like that.
The Ringlestone Inn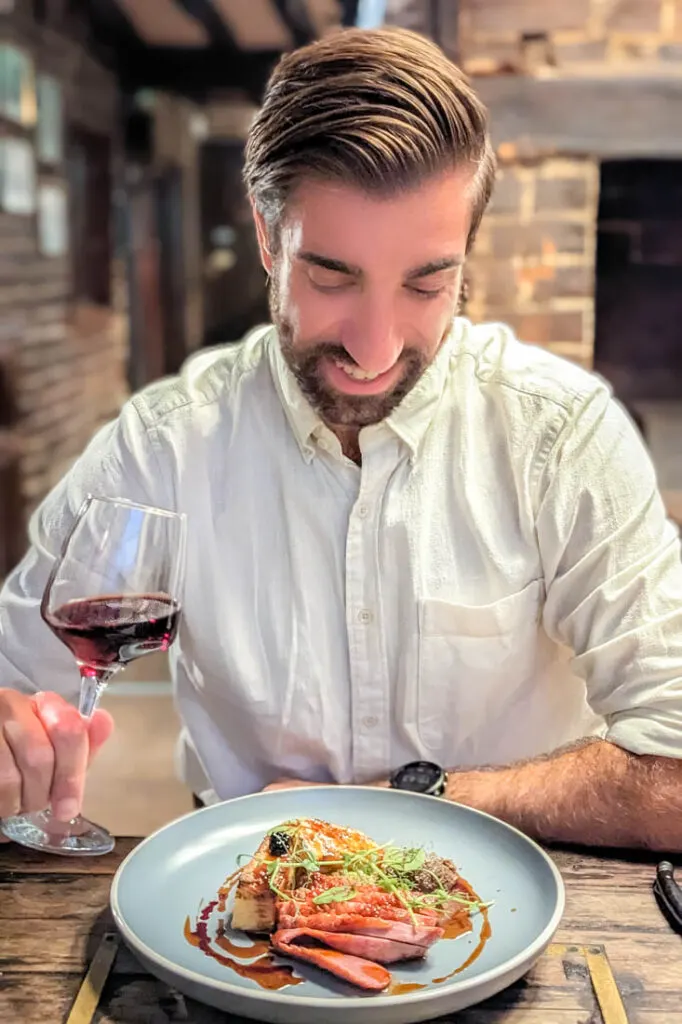 I am so happy we stumbled upon this place. Just a short 15-minute drive from our hotel in Maidstone, the Ringlestone Inn is your classic British pub but serving top quality food.
In the main restaurant the serve a 5-course or 7-course tasting menu if you'd like to try the whole repertoire of dishes. Or alternatively, you can opt for something off the al la carte menu (which is what we did).
I had the roasted duck breast with dauphinoise potatoes, mushroom duxelles, celeriac and an unctuous blackberry & elder infused sauce.
When I said I prefer saving some money on my hotel so I can spend it on food, this is exactly the type of restaurant that I had in mind.
---
So there you go, that's my South of England road trip with some of my favourite places to visit in Hampshire and Kent. If you have any places you'd like featured in this itinerary, then let me know in the comments below!
Like this blog post? Then Pin it for the future!