Are you looking for the best places to visit in Hampshire? From exploring the New Forest to seeing Southsea, this is where to go in Hampshire!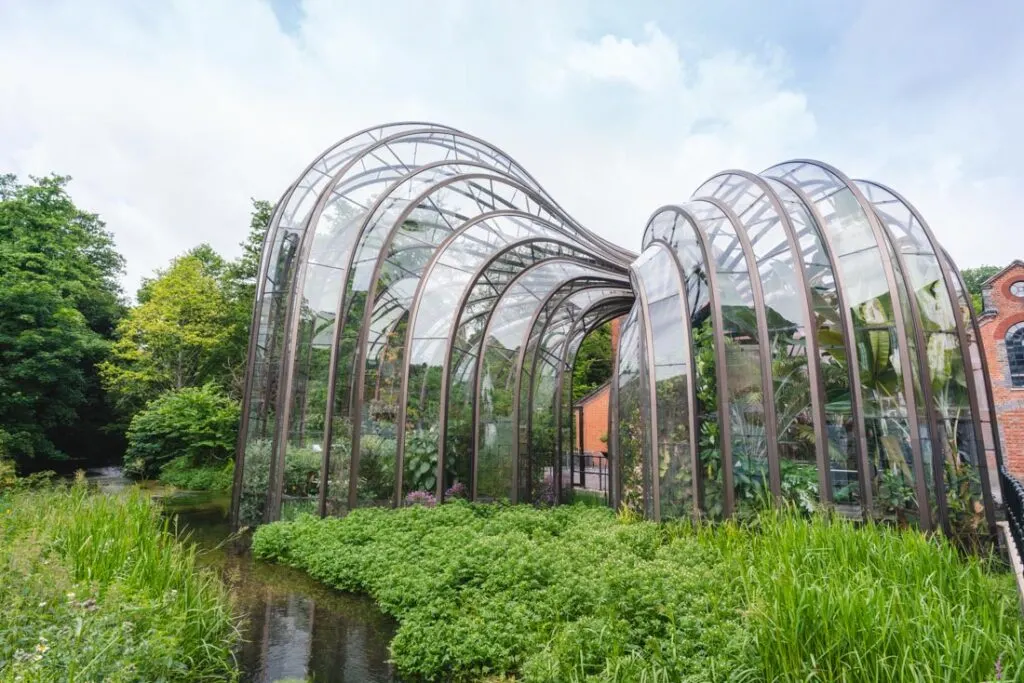 When it comes to beautiful places to visit in Hampshire, you're completely spoilt for choice.
It's one of those counties that has everything going for it. It has cool cites, a cracking coastline and gorgeous countryside all just waiting to be explored.
It's also very close to London making it perfect for either a day trip or a weekend away – I mean, what more could you want from a UK staycation!
In this blog post I'm going to highlight some of the most beautiful places in Hampshire. These are the places I'd really recommend visiting while travelling around the county.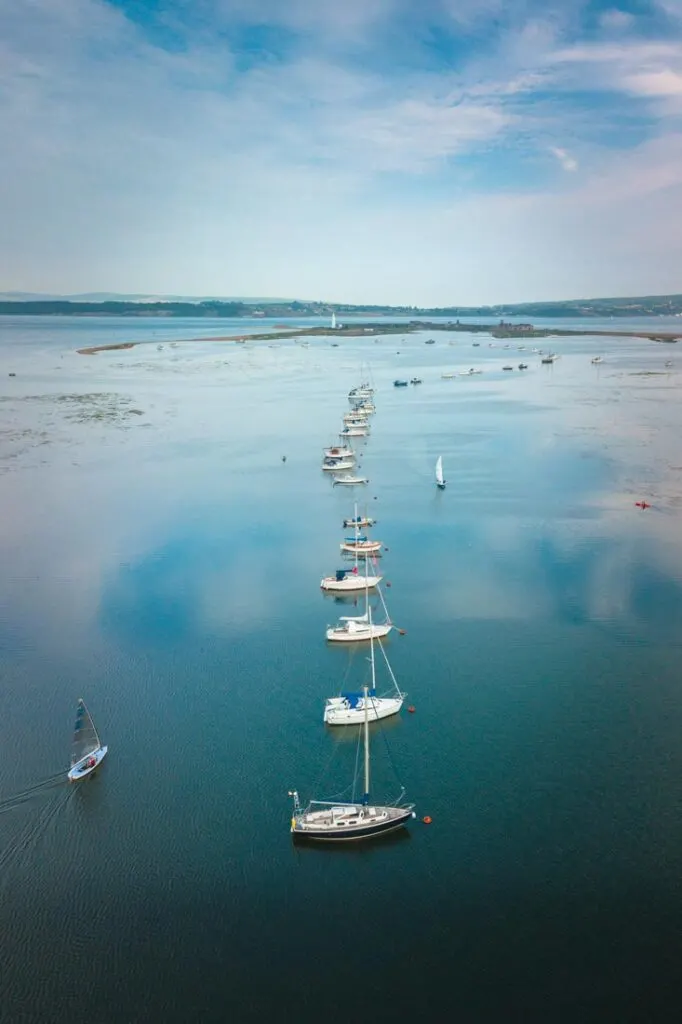 I've been to Hampshire a few times now, and every time I keep discovering something new and exciting.
This time around my trip was all about visiting some of the most beautiful places to visit in Hampshire. With places like Whitchurch, Keyhaven and Brockenhurst, I definitely ticked off a few of those.
We also visited the Bombay Sapphire distillery too. If you haven't seen the architecture of this place yet, just wait till you see it. The glasshouses are just absolutely stunning and this was a real highlight of my trip.
So, if you're planning a UK staycation, this is what to do in Hampshire. Hopefully this blog post will help you plan your trip here!
Where is Hampshire?
Hampshire is located slap bang in the middle of the south coast of England. It essentially marks the border between the south east and the south west.
Hampshire is one of only a few counties to have two National Parks within its borders – The New Forest and the South Downs National Park. A couple of things that Hampshire is famous for: it's home to Highclere Castle where they filmed Downton Abbey (the castle itself is amazing though and well worth visiting). It's also where Jane Austin was born, and you can even take a tour of her house where she wrote Pride & Prejudice.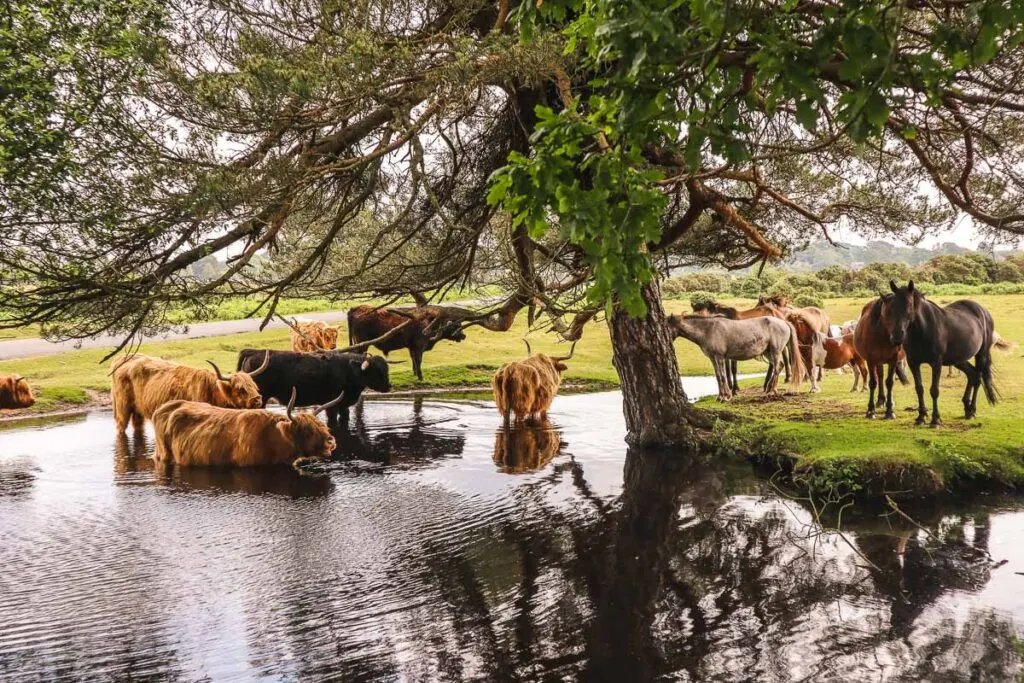 Coming from London, it only took me an hour and 45 minutes to drive to Portsmouth.
There are regular trains too. The train from London Waterloo to Portsmouth Harbour only takes 1h:40m. There are also trains directly to Brockenhurst, Southampton and Winchester all under two hours. Basically, it's very easy getting to Hampshire!
Best Places to Visit in Hampshire
Whitchurch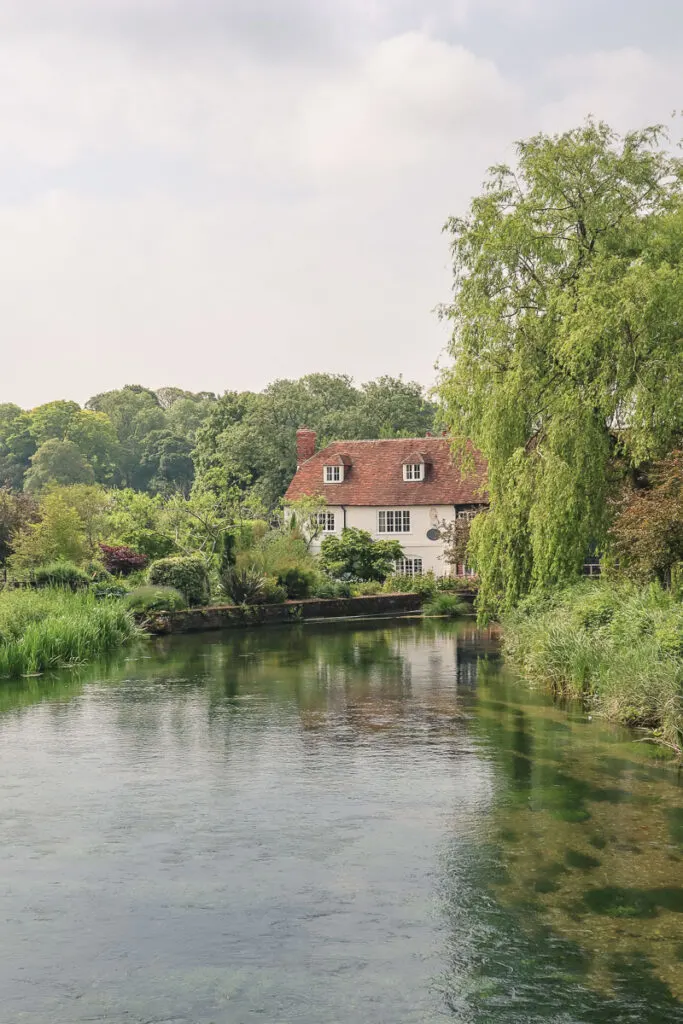 Situated on the River Test and surrounded by rolling green hills, Whitchurch is a tiny town that packs a big punch.
It is the first place in North Hampshire where Walkers are Welcome (an initiative to encourage walkers to visit the local area), and that's definitely what you should do here.
We went on the Mill Trail, a lovely 5-mile loop that takes in the old paper and silk mills in the area. Starting at the Silk Mill in Whitchurch, we walked to Bere Mill, up to Laverstoke Mill, and then round back to Whitchurch again.
There are a few shorter walks along the Mill Trail, but it really highlights everything that's great about Hampshire.
Our walk took around 2-3 hours – all you need to do is follow the blue arrows! Here's a map to the different walks you can do.
Visit: Bombay Sapphire Distillery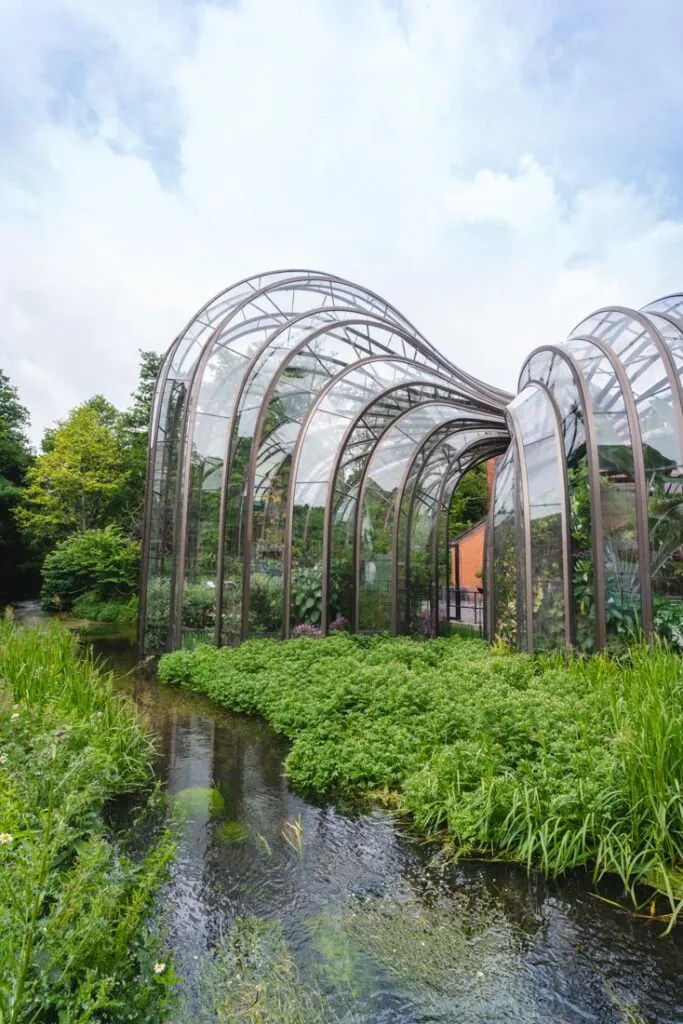 Okay, if the Bombay Sapphire distillery isn't on your Hampshire bucket list, you need to add it now.
I've wanted to visit the Bombay Sapphire distillery ever since I saw a picture of their glasshouses on Instagram years ago. This is the iconic image that draws you in, but it's the gin that makes you wanting to keep coming back for more.
Obviously, this place is all about the gin, so the best thing to do is go on a gin tour. The tour costs £17.50pp – this is for a guided tour where you'll discover the 10 exotic botanicals that's infused into Bombay Sapphire gin.
This price also includes a drink in the Mill Bar afterwards where you can choose from 11 different cocktails. I'm not going to say this is the best part of the tour, but it is a great way of finishing it.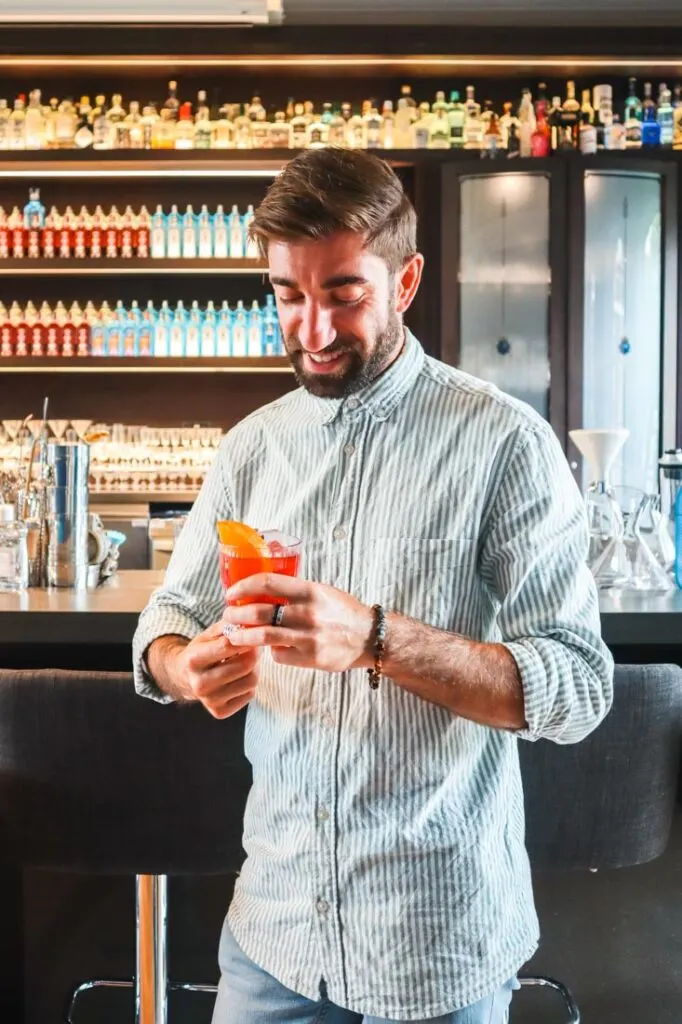 If you're looking for a Bombay Sapphire tour with something a bit more special, then the Gin Cocktail Masterclass is for you.
This is an interactive session on cocktail culture where you can learn the tricks of the bar trade so you can create your own cocktails easily at home.
This experience includes the fully-guided tour detailed as above, but once you've finished your complimentary drink, you go off for a one-hour interactive cocktail mixology session. This would make such a good present for that gin fanatic in your life.
Eat: The Palm Brasserie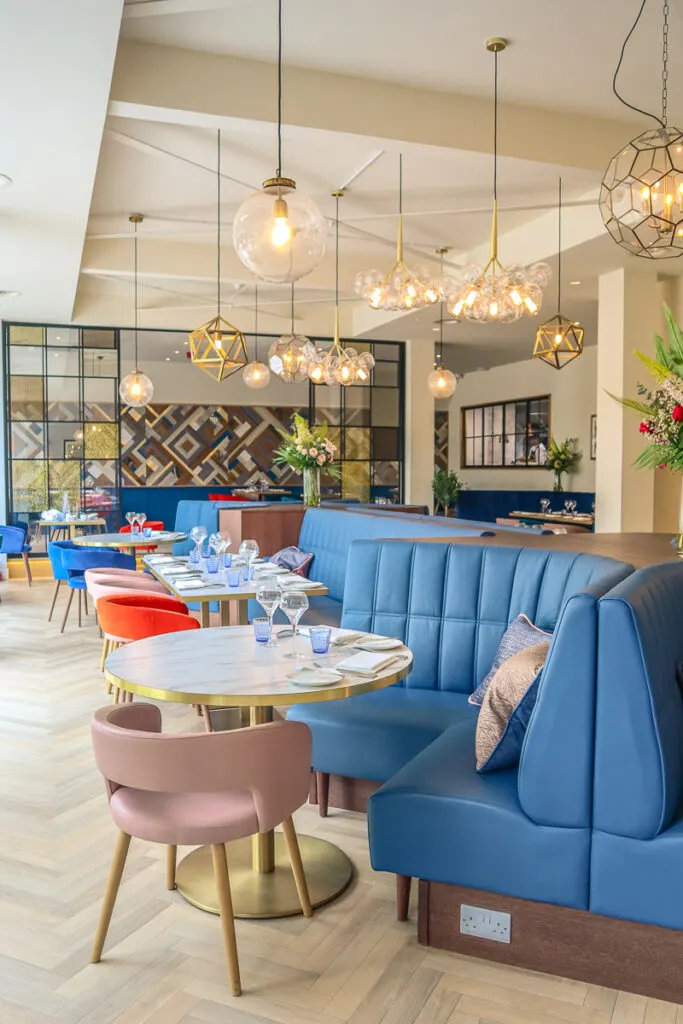 If you've worked up a bit of an appetite after the Bombay Sapphire distillery tour, then make your way over to The Palm Brasserie. This is a short 10-minute drive just on the outskirts of the village of Deane.
The Palm Brasserie is a converted pub that's recently been refurbished in 2020. The interiors are really bright and open – it definitely doesn't feel like it was once a pub.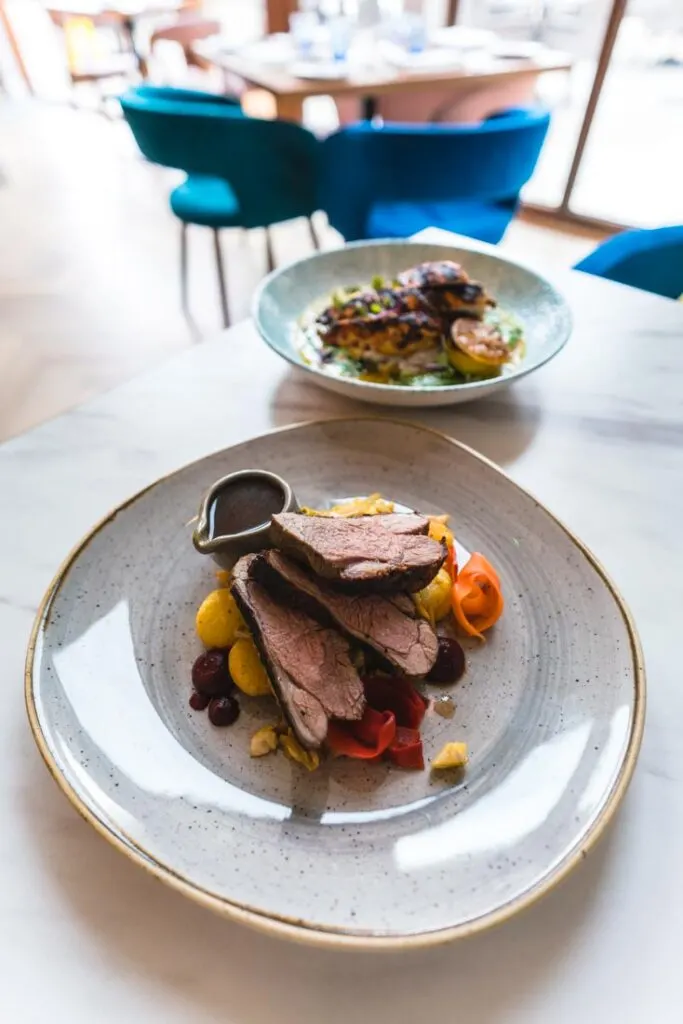 As for the food, it serves up modern Asian fusion and it's really top-quality cooking.
To start with, I had the seabass roulade on a bed of pickled seaweed, wasabi mayo and salmon roe. For mains, I had the Ras el Hanout rump of lamb with pomme parmentier, savoy carrots, pickled carrots and an Armagnac sauce.
Honestly, the food was so delicious. I really can't recommend this place enough!
Stay: Watership Down Inn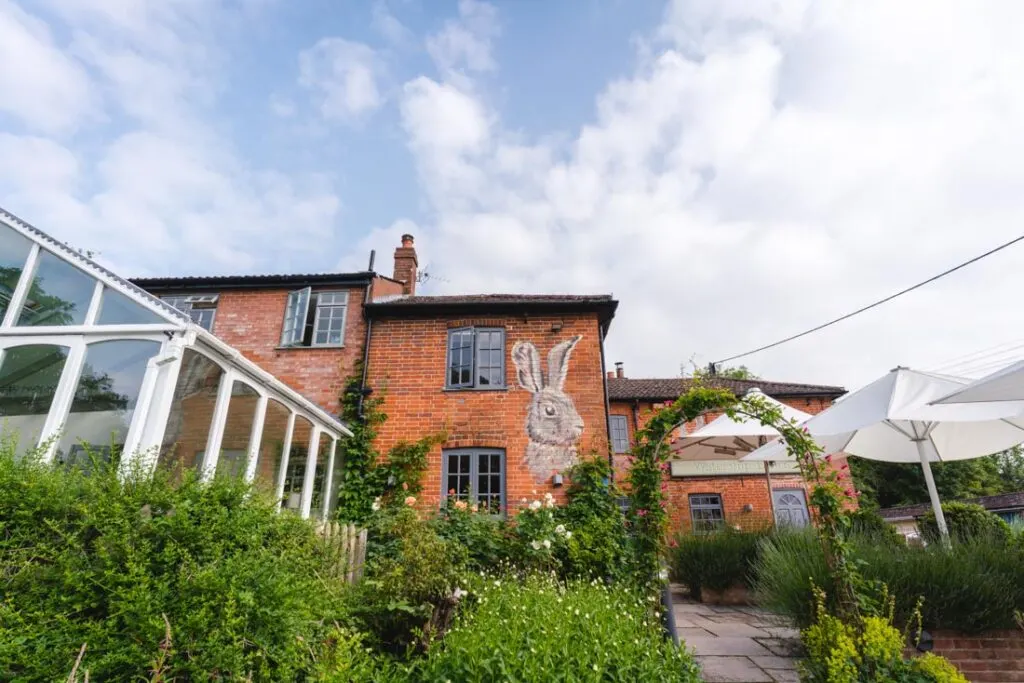 If you're looking for somewhere to stay near the Bombay Sapphire distillery, then the Watership Down Inn is the perfect place.
Located in Whitchurch, this is a really charming pub with rooms onsite. There are three rooms upstairs in the original inn, and four brand new bedrooms outside, including a very large family room.
The garden rooms are completely self-contained and quietly nestled on the ground floor within the gardens, carefully designed to complement the beautiful surroundings while bringing a new design. Also, being just on the edge of Whitchurch, there are loads of fantastic walks in the area.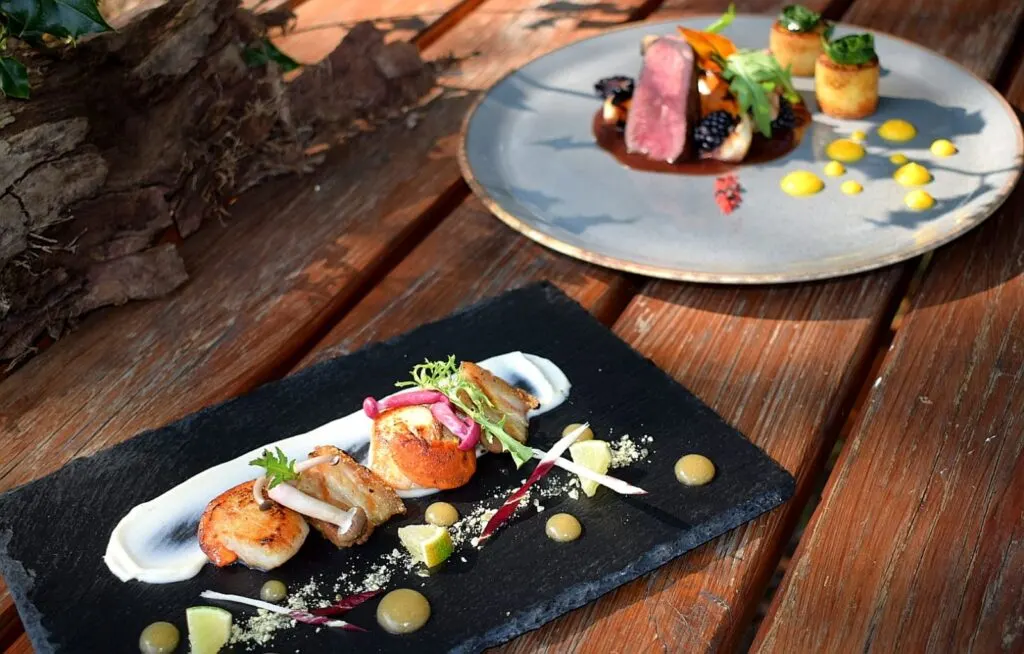 The onsite restaurant is really popular too, so this is another amazing option for somewhere to eat at. Just taking a look at their Instagram feed is enough to make the tummy rumble.
For me, my perfect day here would involve a really long walk in the afternoon followed by an amazing dinner in the pub afterwards, all washed down with a couple of pints of the local ale of course.
Oh, and if you didn't get it from the mural, all the pub is themed on the Watership Down novel – so cute!
The New Forest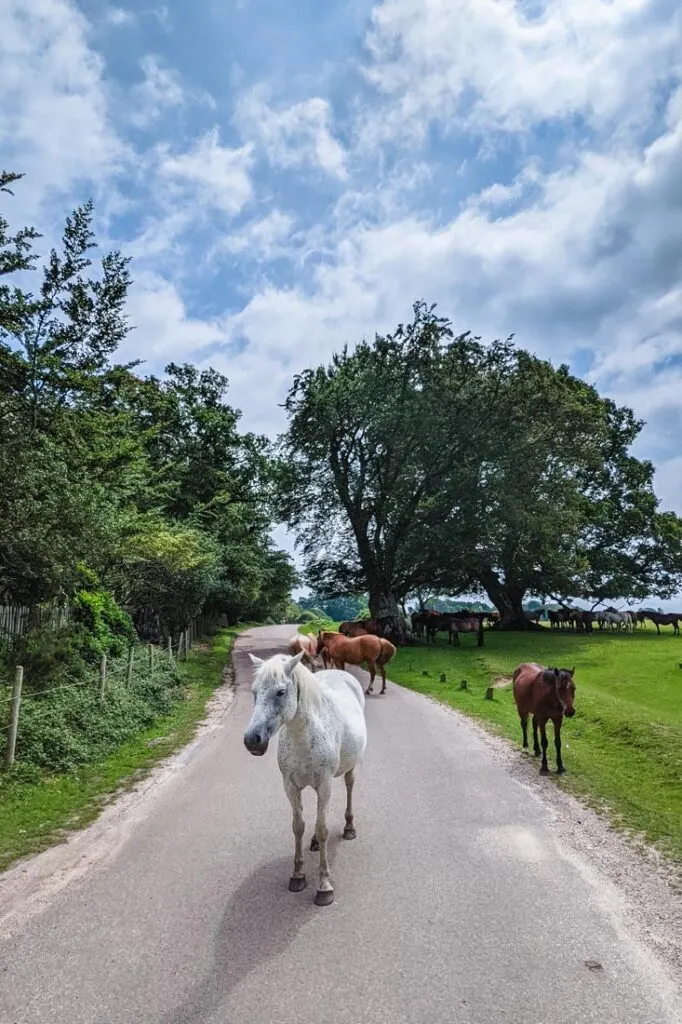 For me, the New Forest is up there with the most beautiful places to visit in Hampshire. I just absolutely love it here.
Firstly, don't let the name fool you. The New Forest is anything but new – it was first named as a royal hunting preserve in 1079. Since then, not a whole lot has changed apart from charming villages popping up all over the place.
One of the reasons the New Forest is so famous in England is the fact the deers, donkeys, horses and ponies are free to roam the land. Every time you visit, there'll be a traffic jam with horses lazily crossing the road – it's just how they roll here.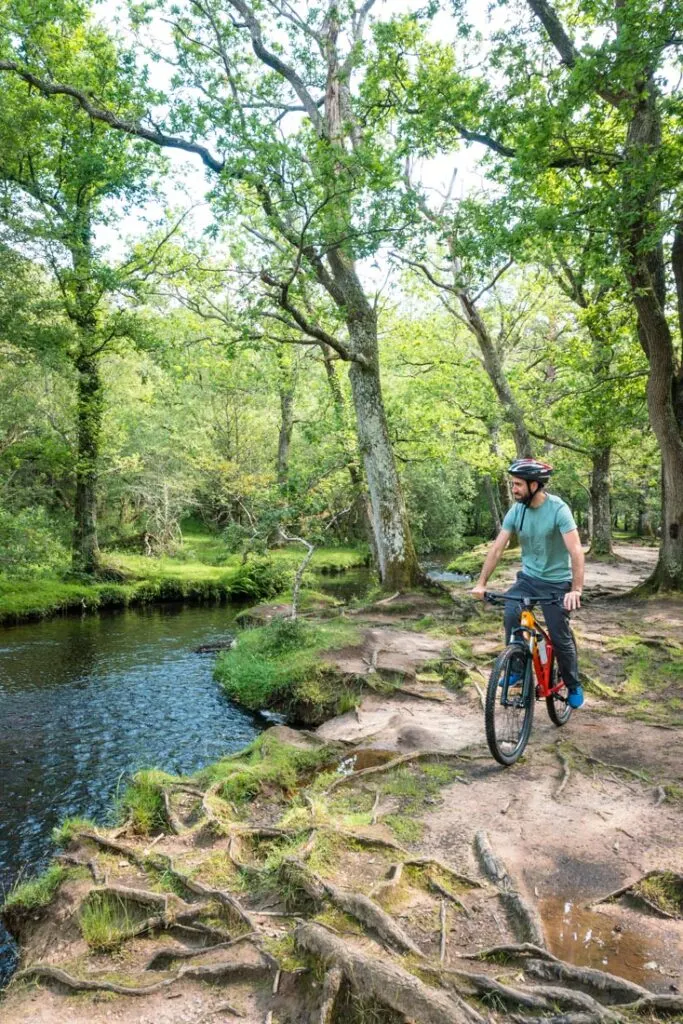 One of the best ways of exploring the New Forest is by bike.
I hired an off-road bike from Cyclexperience and hit some of the trails for the morning. They have plenty of maps and trails to choose from at Cyclexperience – some are short family trails, and others are 30-mile loops that'll take you most of the day.
I went on a 15-mile route through the heart of the New Forest and it was so peaceful. The riding is fairly flat, and the route takes you past sleepy villages, through the Big Trees, and out into the scrubland. It probably took me around 3 hours to do the loop, but that was stopping lots of times along the way to take photos of the horses and ponies.
Hiring a bike from Cyclexperience can cost as little as £23 per day, which I think is really good value for money. They are a hive of information too, and they'll help plan your route in the New Forest.
Eat: Rosie Lea House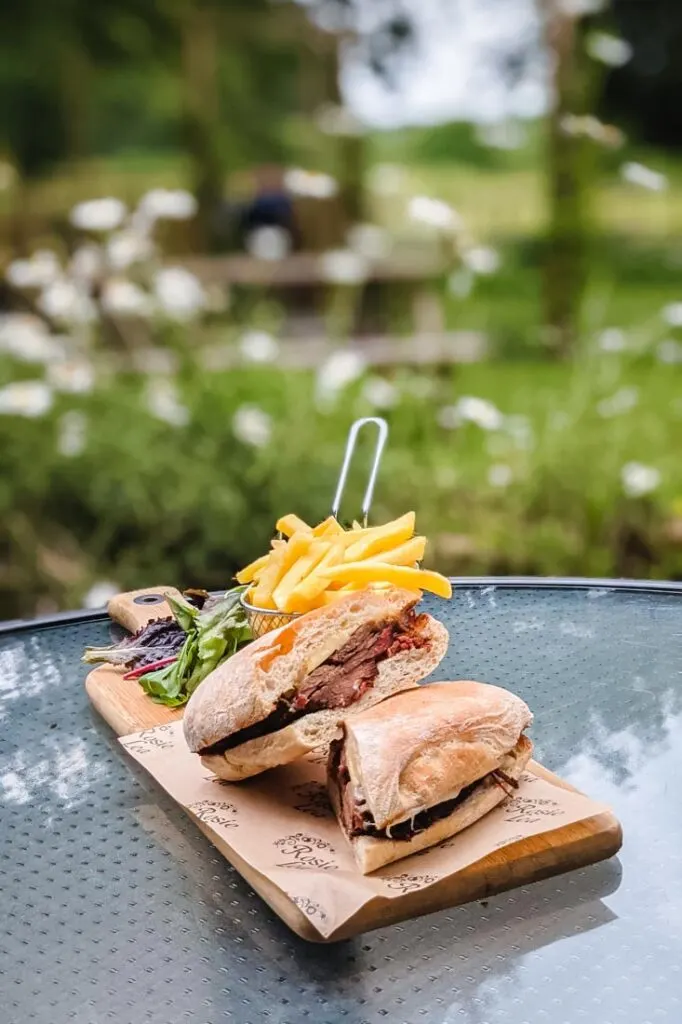 If you're looking for somewhere to eat in the New Forest, I'd recommend Rosie Lea House. This is on Southampton Rd on the outskirts of Lymington, and it's a really charming place to visit.
The restaurant is housed in a beautifully restored building which is really bright and open. Outside, there is a brand-new decked area and patio that feels like you're in a friend's garden.
Rosie Lea House is famous for its homemade scones and cakes. It also has an American inspired bbq menu with dishes like slow cooked beef brisket and pulled pork.
Their ciabatta sandwiches are mega, so I had the 12-hour smoked beef brisket with pickles, and it was melt-in-the-mouth delicious.
It's definitely worth stopping by this place for lunch or dinner while in the New Forest.
Keyhaven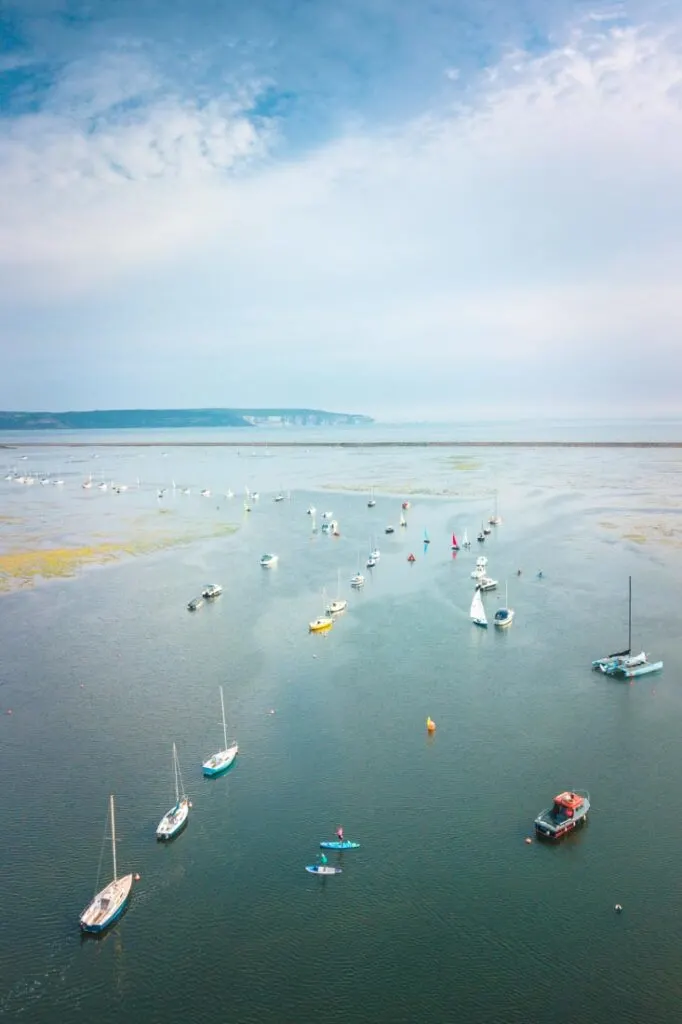 Down on the south coast of Hampshire is Keyhaven, a tiny hamlet that boasts some incredible views of the Isle of Wight.
Keyhaven is also home to Hurst Castle, a defensive fortification built by King Henry VIII. You can walk to Hurst Castle via the Hurst Spit, or you can catch the ferry over to the castle.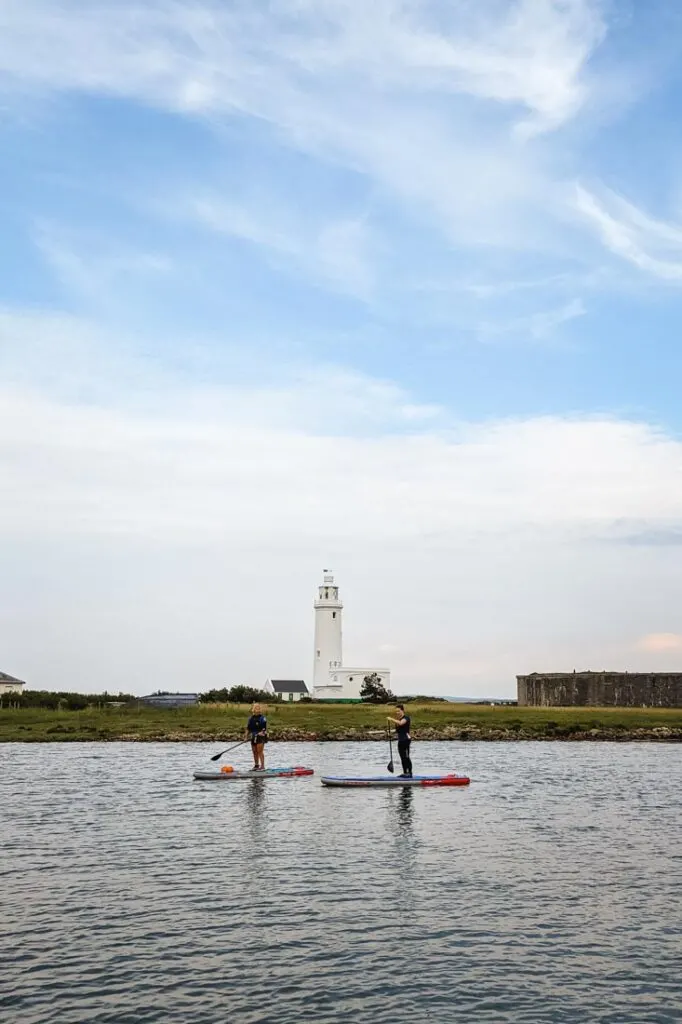 We opted for a different option though and hired paddleboards from the New Forest Paddle Sport Company.
You can either go on a guided tour with these guys, or hire paddleboards and go out on your own. We decided to go on a tour with Jan so we could learn more about the area and plot the best route to Hurst Castle.
Because the spit separates the harbour from the Solent, the waters are usually very calm. This makes them perfect for sailing and paddleboarding.
Our tour took us around two hours, and it was brilliant paddling in the shadows of Hurst Castle.
For me, this is definitely one of the best things to do in Hampshire.
Portsmouth
One of the most popular places to visit in Hampshire is Portsmouth. With a population of 240,000 people, this is actually the biggest city in Hampshire.
What I love about Portsmouth is you're never short of things to do. You could easily spend a couple of days exploring all the city has to offer and still not do everything.
One of the top things to do here though is visit the Mary Rose Museum. The Mary Rose was first launched in 1511 as one of the key ships in King Henry VIII's navy.
The wreck of the Mary Rose was discovered in 1971 and was raised in October 1982. This was one of the most complex and expensive maritime salvage projects in history, so it's a pretty big deal.
The museum really brings the Mary Rose to life, and it's fascinating learning about one of the UK's most famous ships.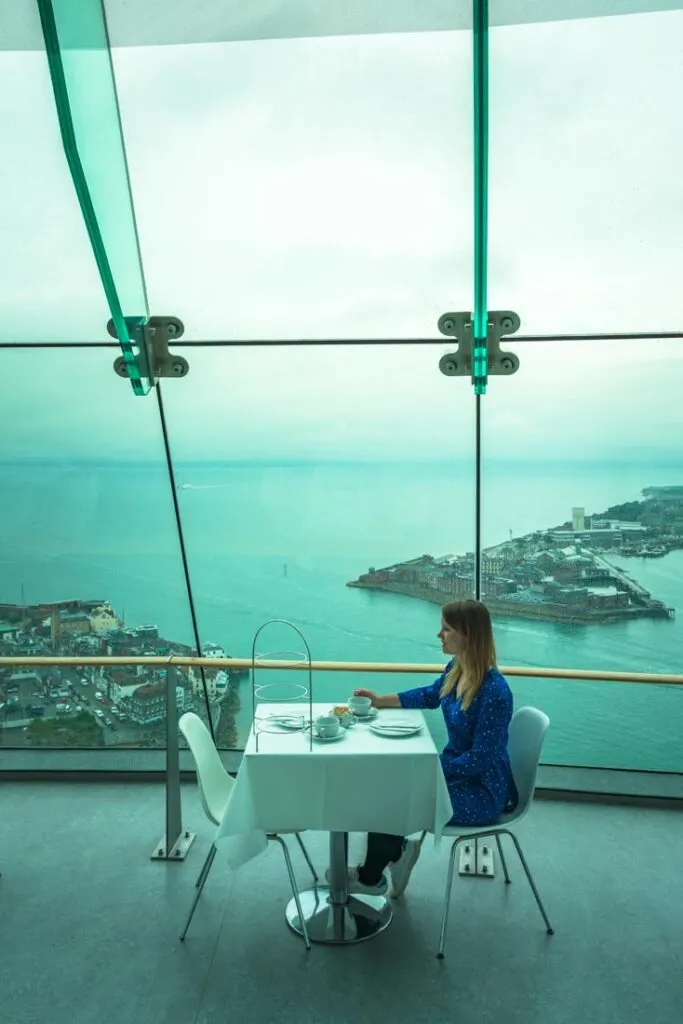 The other top thing to do in Portsmouth is visit the Spinnaker Tower. At 170 metres, this is one of the tallest observation towers in the country.
Tickets to the observation deck cost £13pp, and you have the most gorgeous views of the Solent and the Isle of Wight. I've been up the Spinnaker Tower a couple of times and it's really worth it – the views are always stunning.
You can also have High Tea at the top of the Spinnaker Tower for £35pp which is really popular.
Southsea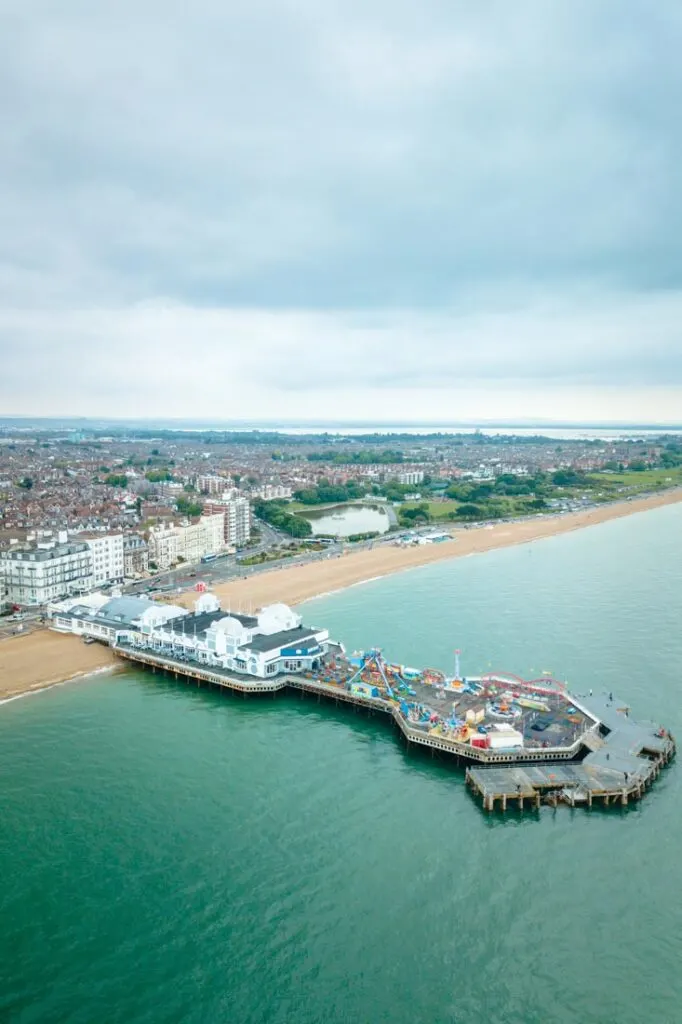 Once you've finished at the Spinnaker Tower, I really recommend the walk to Southsea. This is a 45-minute stroll along the Hampshire coast, and there are plenty of places to stop off along the way.
The walk takes you past the Hotwalls Studios. This is an area packed with independent artists selling their work.
A little on from the Hotwalls is Clarence Pier. I'm going to mention the Treasure Island Adventure Golf here because it's awesome. I've played here a couple of times, and it's fun for the whole family.
If you keep wandering along, the walk will take you past Southsea Castle and the D-Day Story Museum. Both of these show you the naval history of the area and are worth visiting if you've got time.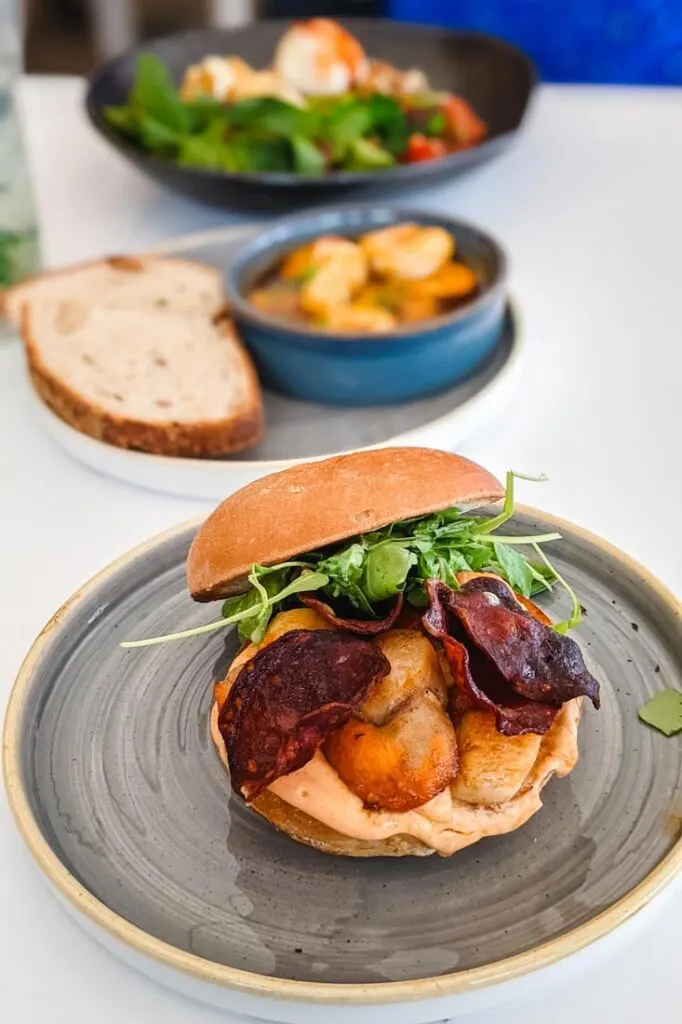 If not, keep on walking towards South Parade Pier in Southsea. Now this is your old school pier from the 1950s. You know the ones with cheap rides on the end and where you can play the penny slots inside. I just love the nostalgia of piers like this – they're still a lot of fun too.
A little further along from the pier is the Southsea Beach Café. This is one of the best restaurants in Portsmouth and I can't recommend it enough. I've been here a couple of times now and the food is always incredible. If you don't know what to get, the scallop and chorizo bap is next level.
To be honest with you, I could easily write a guide just on this short walk from Portsmouth to Southsea there are so many things to do!
Southsea is always ranked as one of the best places in Hampshire – it's very different to Portsmouth so it's well worth checking out separately.
Stay: The Farley Hangar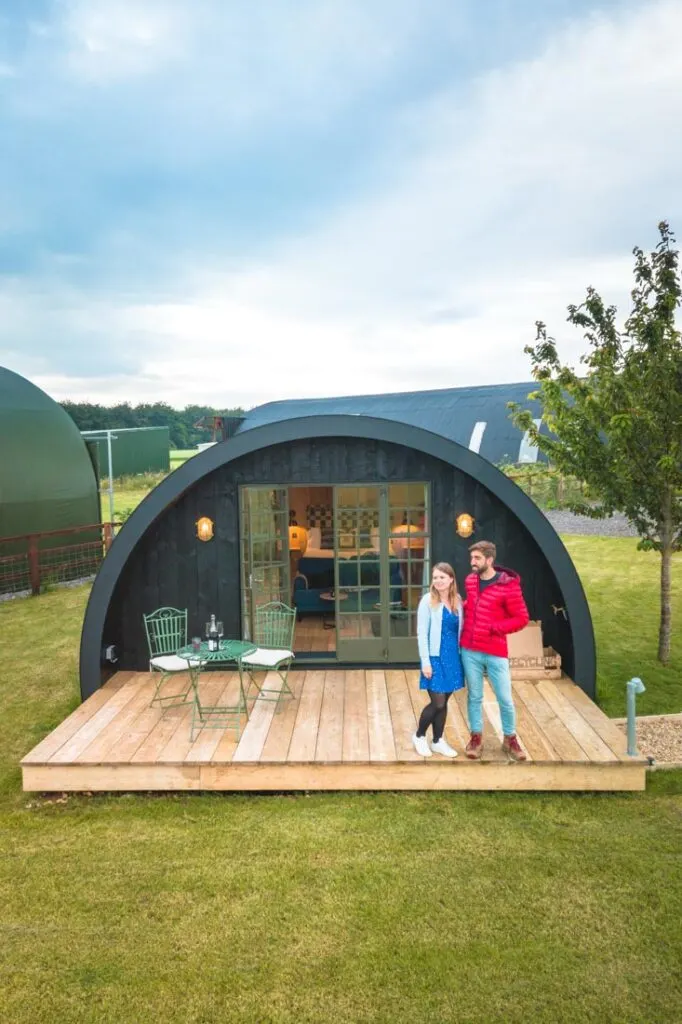 The Farley Hangar is such a peaceful place to stay at in Hampshire. Located on a family farm and private airstrip in the Test Valley, the hangar is right in the heart of the countryside. The closest towns are Romsey, Stockbridge and Winchester, all just 20 minutes away.
The building is a converted Nissen hut that comes with everything you need for a little staycation. Inside you'll find a king-size bed, a bath with rain shower, a little kitchenette where you can cook, and a fridge too.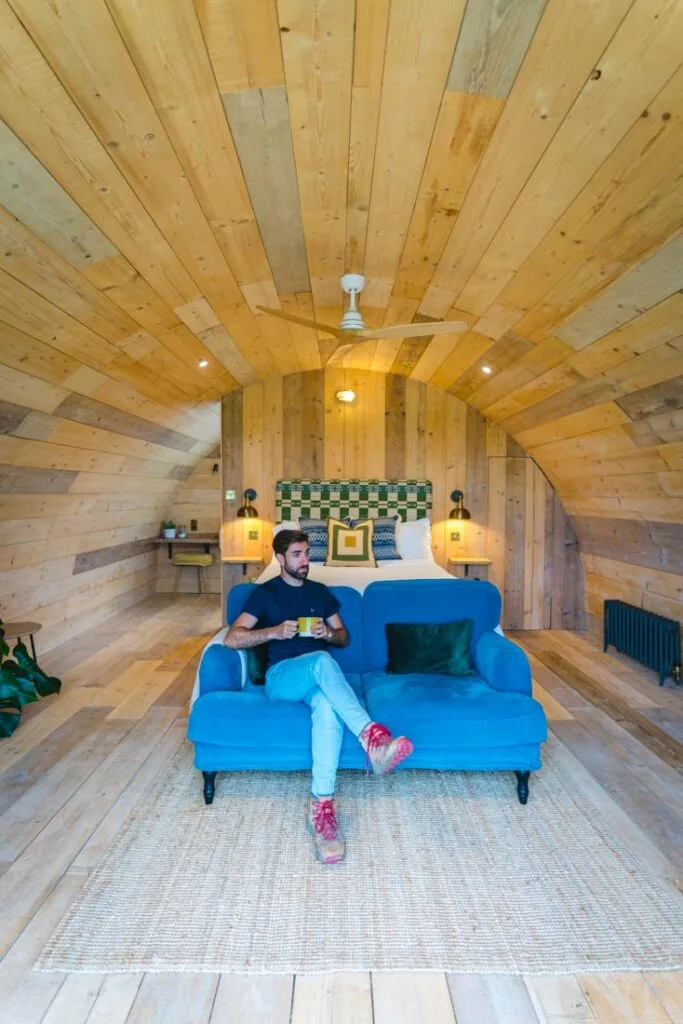 What I loved about this place was dinner though. They've teamed up with the guys at McCrimmon and Reid to bring you fine dining in the comfort of home.
We ordered a gourmet food box that was delivered directly to Farley Hangar. All we had to do was heat it up in the oven, and that was it.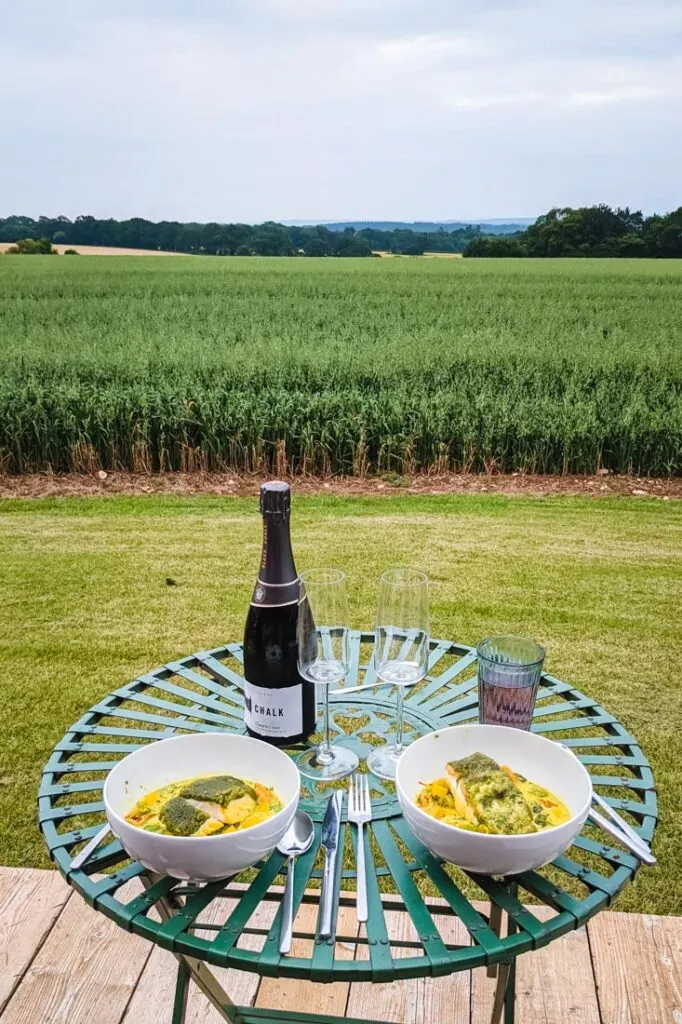 We had king prawn kebabs to start, followed by an herb crusted cod in a mussel and saffron chowder. It was such a special dinner, especially eating outside with the views of the countryside all around.
South Downs National Park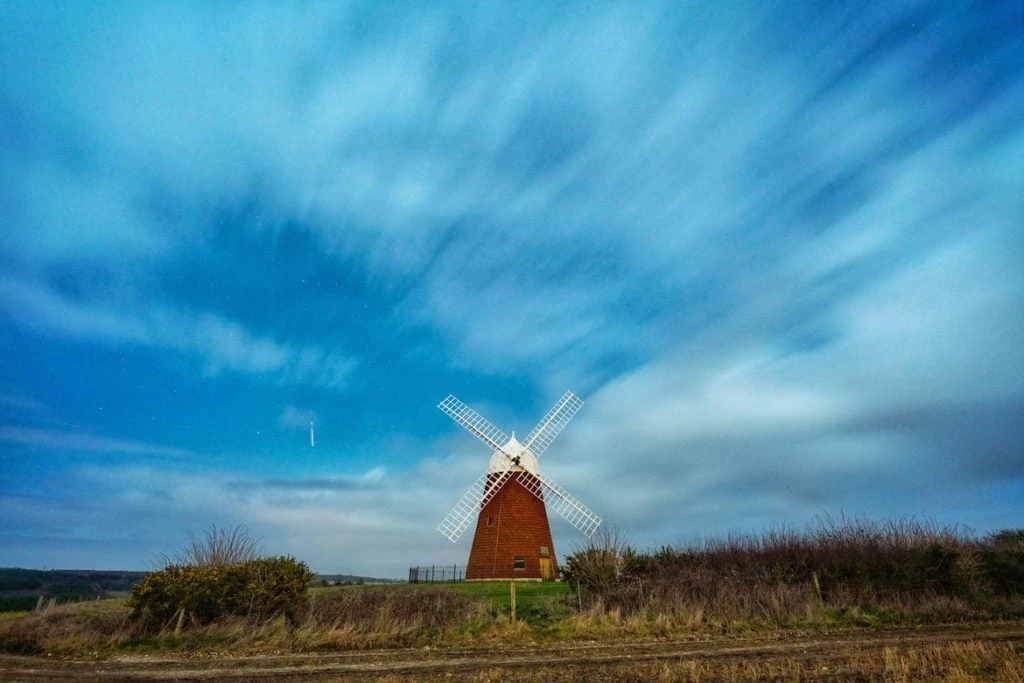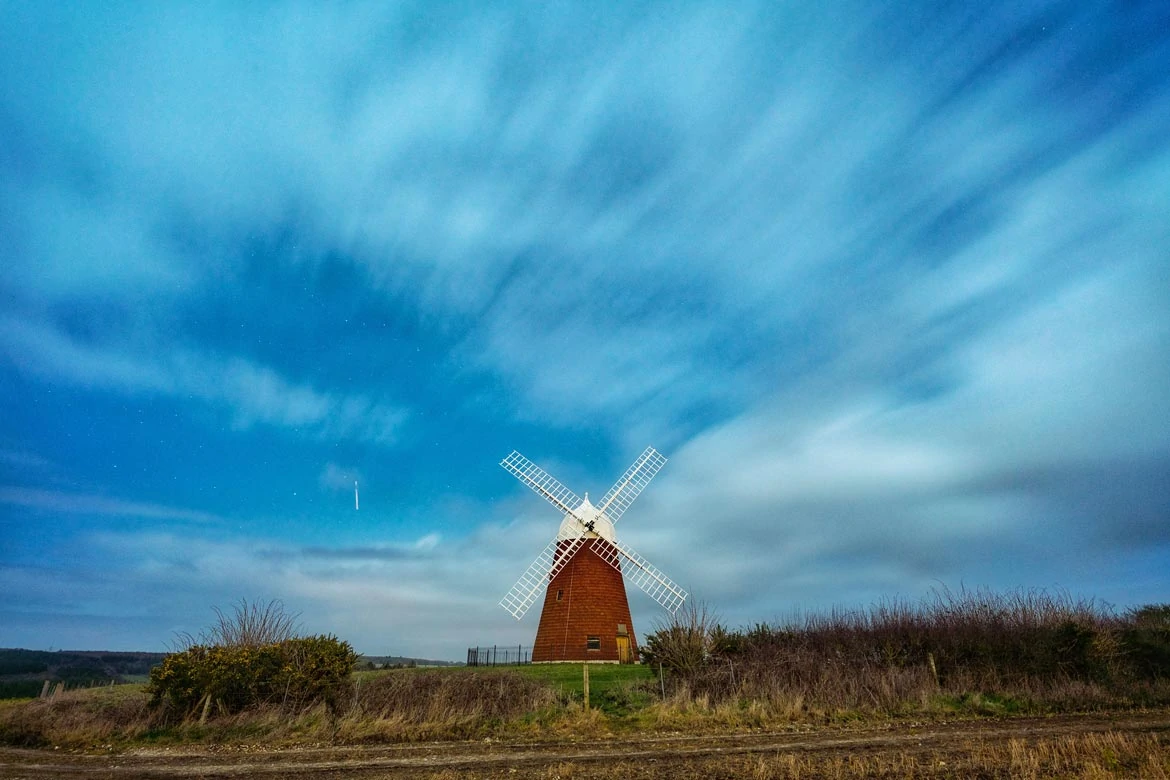 The South Downs National Park is one of the best places in the world to go stargazing. It is officially an international dark sky reserve. There are only 16 around the world, so it's amazing that we've got one on our doorstep.
Every year in February there's the South Downs Dark Skies Festival. This has a load of free events all over the South Downs where you can learn about the stars and the night skies. If you've never been stargazing before, this is a great place to start.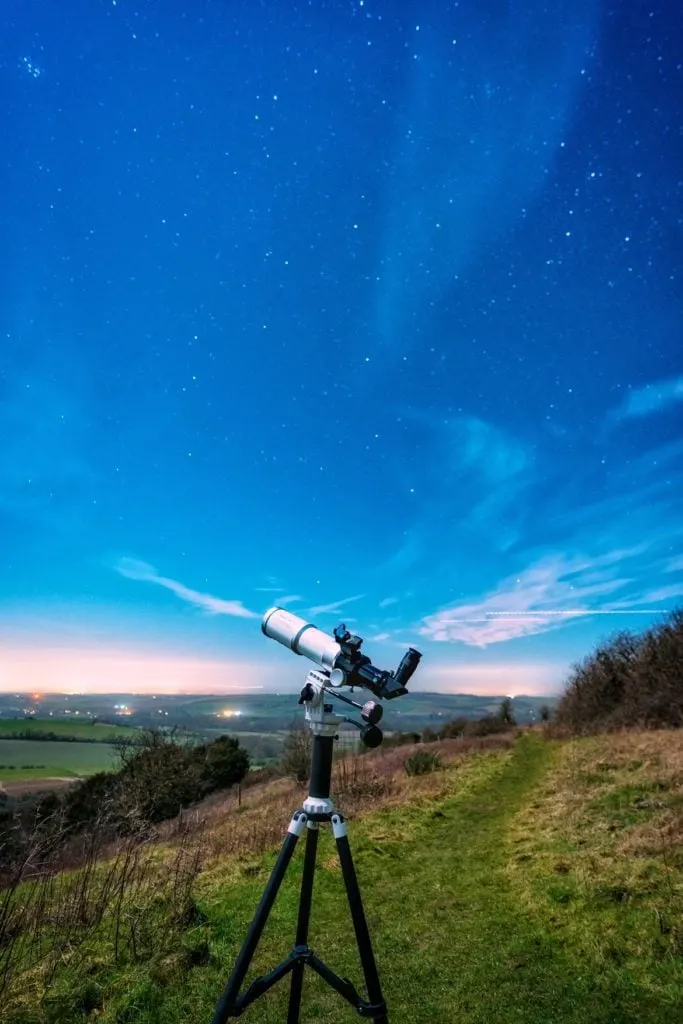 When I was last in the South Downs National Park, I had a session with Dan Oakley (unofficially known in these parts as Dark Skies Dan) who taught us so much about the night skies.
For example, Sirius, the dogstar, is the brightest star in the sky. I always thought this was the north star but I was completely wrong! It was great learning all about the constellations, and Dan was so enthusiastic. He really made you want to learn more about our night skies.
Obviously if you're not around for the South Downs Dark Skies Festival then you can go stargazing on your own. I'd really recommend visiting the Old Winchester Hill – this is where I took this photo from (above) and is probably one of the best views across the valley.
You can check out my definitive guide to stargazing in the South Downs here. This guide is packed full of information and is perfect for planning a stargazing trip here.
Honestly, I can't rave about the South Downs enough. It's very easy to see why it's one of the top Hampshire destinations to visit!
---
This post was in association with Visit Hampshire promoting some of the best things to do in the area. As always, views are entirely my own and without bias.
Are you planning a trip to Hampshire? Let me know if you have any questions in the comments below and I'll get back to you!
Like this post? Then make sure you Pin it for the future!