Deciding where to stay in Cancun is so important for that holiday of a lifetime. To make life easier, here are the best hotels in Cancun for 2021!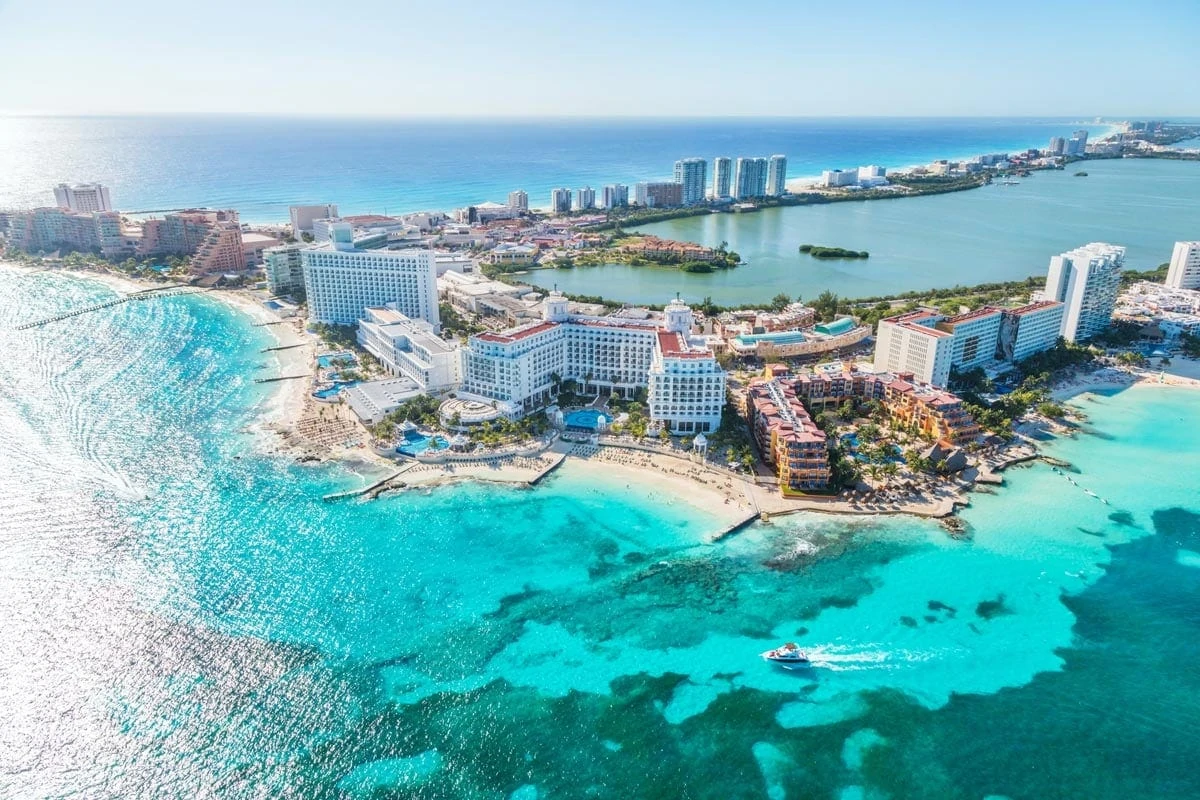 Love it or hate it, there's no denying that Cancun is one of the most popular places to visit in Mexico.
With gorgeous weather, perfect pristine beaches, crystal clear water and some amazing attractions in the area, it's no surprise people flock here at all times of the year. However, deciding where to stay in Cancun and finding the right hotel for you is so important for that holiday of a lifetime.
Obviously Cancun is famous for it's big 5* all-inclusives that are surprisingly affordable, but there are some really unique places to stay here as well.
I've been to Cancun a few times now and I really love the atmosphere of the place. Everyone is there to have a good time and the atmosphere is always incredible.
If you're looking for some of the world's most beautiful beaches and a cracking nightlife to go with it, you really can't go wrong with a holiday in Cancun.
Make sure you check out my guide on what to do in Cancun for the best things to do here!

Living the life in Cancun
The first time I visited Cancun I hired a small AirBnB just back from the beach in Playa del Carmen. It had it's own private pool and was perfectly located so I could explore the sites like Chichen Itza and the Tulum ruins. I loved how it felt like it's own little oasis away from the hustle and bustle of Playa.
The second time I went into full party mode at Moon Palace, one of the most famous hotels in Cancun. What can I say, it was decadent on every level. Saying that, I did still get out the hotel to explore some more of Cancun and the Yucatan so it is possible to get out of the hotels if you want to.
Anyway, when it comes to where to stay in Cancun, I feel like I know what I'm talking about because I've been there and done it myself.
To make your life a little easier, these are some of the best hotels in Cancun for you. I feel like if you stay in one of these places then you're in for the holiday of a lifetime!
The best place to stay in Cancun
There are two main areas in Cancun where you can stay.
By far the most popular is Zona Hotelera. This is right on the water where the major attraction is 14 miles of white sandy beach studded with sea-view hotels. Honestly, I can't do this beach justice, it is that beautiful. This Cancun beach is often voted in the world's top 10 beaches, so you know it's a good one. Also, there are plenty of shops and restaurants in the area for those looking at eating out, etc.
The other area is El Centro which is a lot closer to the action of downtown Cancun. Here you'll find popular places like Coco Bongo and Senor Frogs – both places are actually a lot of fun. If you're looking for a banging nightlife, El Centro might be better suited for you.
– Where to stay for luxury –
What can I say, I think this place is perfection personified. Le Blanc Spa Resort is one of the most luxurious places to stay in Cancun. In fact, it might just be one of the most luxurious hotels in the world. Even though there are 260 rooms here, it feels very exclusive and romantic, so perfect for couples on their honeymoon.
Expect services like butlers unpacking your clothes and pool attendants who provide cold towels for your eyes. Yes, that's a thing and I want it. Le Blanc Spa Resort is very modern with a couple of infinity pools facing the ocean to relax in, just magical for sunset. Be warned: it is on the expensive side though!
Offering gorgeous panoramic views of the Caribbean Sea, Nizuc Resort & Spa is located on the secluded Punta Nizuc and it is like a little slice of heaven. The thing about this place is the photos actually do it justice. I mean, just look at how beautiful it is.
The hotel's amenities include 6 on-site restaurants, paddle boarding, kayaking, tennis courts, and a world class spa. Oh, there's even a private dock if you've got your own boat (I mean, who doesn't!) If you're looking for a beautiful place to get away from it all then you really can't go wrong with Nizuc Resort & Spa.
The 5* Moon Palace Cancun offers something very special from the start it's actually three resorts in one. There's Nizuc (different to the one above), Sunrise and The Grand, each one with their own decadent lobbies with huge chandeliers, activities, bars and restaurants.
What makes The Grand different from the others? It has the best amenities, the best restaurants and the newest rooms, each with their own private pool. I've stayed here myself and I can vouch that it really is an amazing place to stay at. Put it this way – there's a reason so many people book the Moon Palace.
For me, this really is one of the best hotels in Cancun for those looking for a good time.
– Where to stay for mid-range –
When you think of idyllic Cancun hotels, this place ticks all the boxes. Live Aqua Beach Resort is regarded as one of the best places to stay in Cancun and it has built up an amazing reputation over the years. Beautiful beachfront, pools with swim-up bars dotted all over, 9 delicious restaurants to choose from. You know, those sorts of things.
The hotel is modern in décor with all the amenities that guests could need for that perfect family holiday. The Aqua's extensive spa offers relaxing hydrotherapy treatments and is one of the best spas around. There's also hot tubs and steam baths for those looking for a bit of a soak.
Despite being a lovely 4* resort right on the beach, you can get some amazing deals at the Marriott Cancun making it a very affordable option. One of the best times to book here is on the shoulder season (April/May and September/October) as there are often some cheap deals on.
Like a lot of hotels in Cancun, there are a number of dining options at one of the 8 gourmet restaurants including Mikado Japanese Teppan Yaki and Sasi Thai. There's a variety of children's programs too making this a firm family favourite but be sure to check if there are any deals on!
This is anther place I really recommend to people visiting Cancun. What can I say, The Royal Islander All Suites Resort is a place that has it all and is perfect for the whole family.
Not only is this an absolute bargain making it a family favourite, it's very close to the Maya Museum which is a real gem. Always make sure you check for deals at this place as often there's 2-for-1 deals and other offers for the whole family.
As you can see from the photo though, The Royal Islander is right on the beach. There's lots of pool space around the hotel too so you've got a number of options where to spend the day.
– Where to stay for budget –
The Selina Cancun Lagoon Hotel is one of the best options for those on a budget and there are a wide variety of rooms to choose from.
This hotel is really near the malls and restaurants with Coco Bongo just around the corner, one of the best parties you'll ever go to in your life. Still, this place has a pool, some fantastic amenities and really is perfect for those on a budget.
---
Which one of these hotels would you stay at? Any of them catch your eye? Let me know what you think in the comments below!
Like this blog post? Then make sure you Pin it!