Looking at what to do in Cancun, Mexico? From visiting Chichen Itza to exploring Tulum, check out my Cancun travel guide packed full of things to do!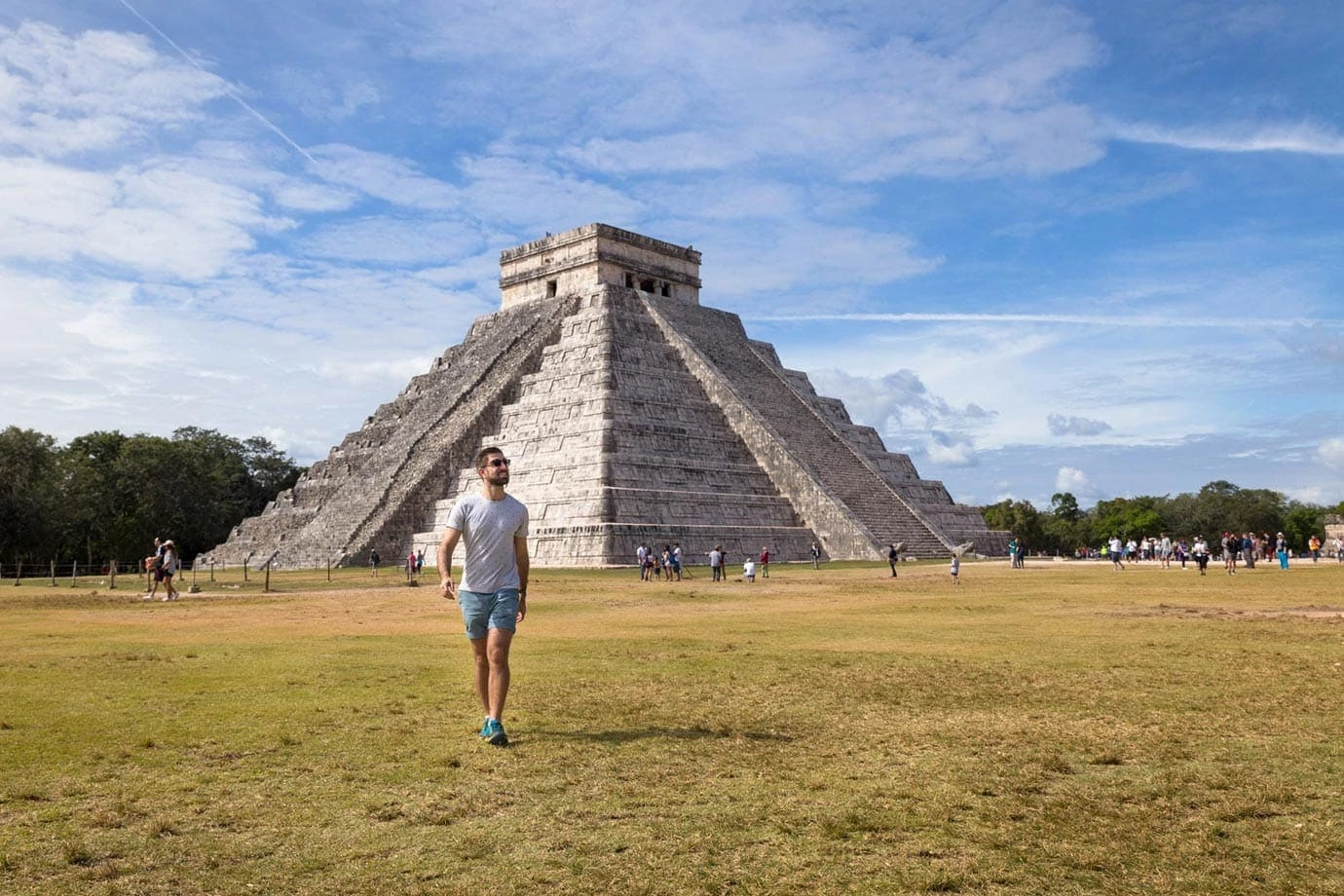 Are you looking at what to do in Cancun? With beautiful beaches, amazing ancient history, all-year-round sunshine and the best tacos you'll ever have in your life, you're certainly not short of things to do in Cancun.
With its bright colours, cracking cuisine and some of the world's best tourist attractions, Mexico is easily one of my favourite countries in the world. And that's got nothing to do with the fact that my sister-in-law is Mexican.
I really wanted to put together this Cancun travel guide to help you guys plan your trip here. A lot of people just stay in the Cancun Riviera, but this guide is packed full of other places you should visit in the area too.
Hopefully this guide will inspire you to visit a few places you hadn't thought about before!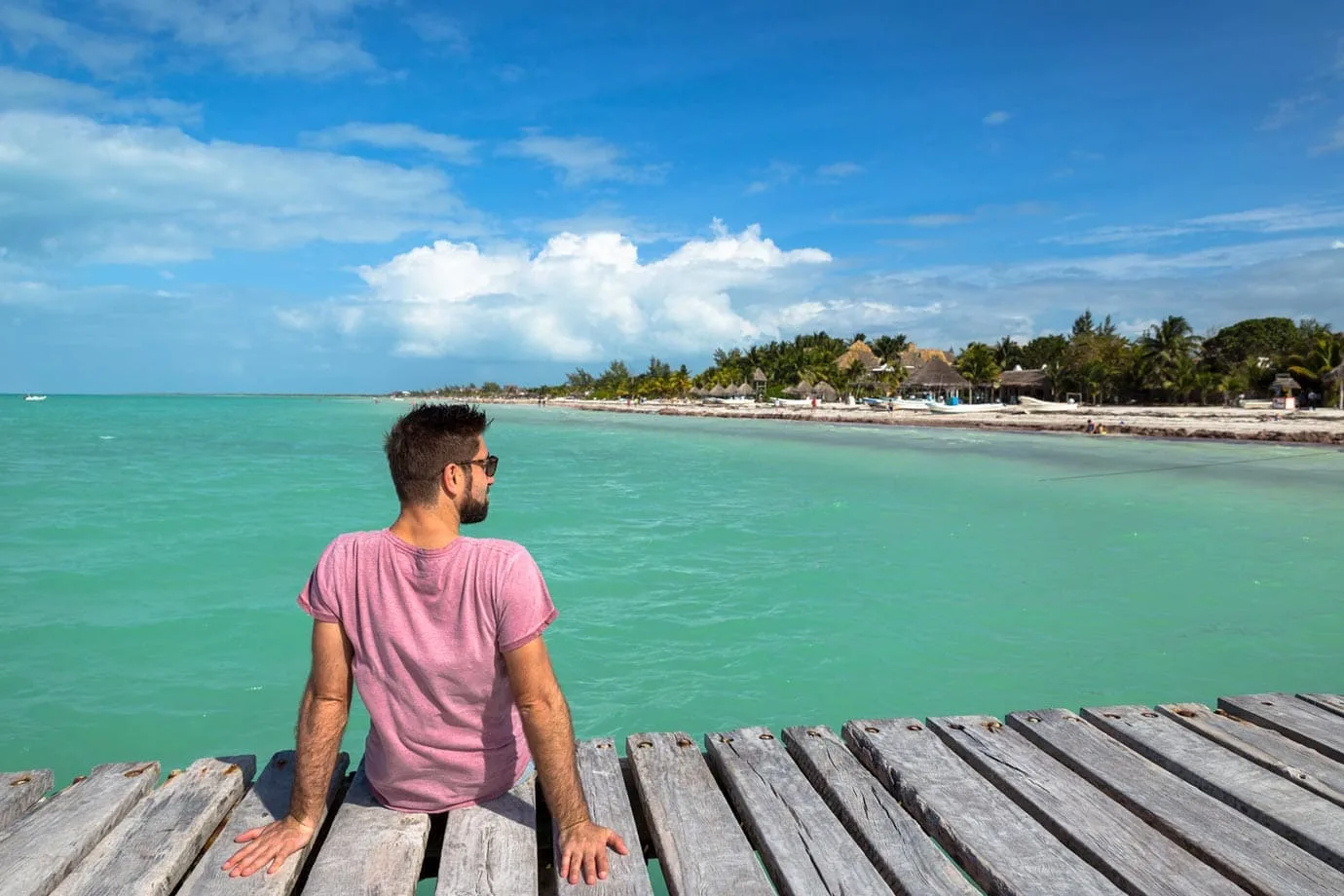 My guide to Cancun
Cancun is an area of Mexico I know very well – I've been a few times now – but I still jumped at the chance to go back again with Teletext Holidays.
Based at the Moon Palace, the 5* all-inclusive resort just south of Cancun, I hired a car and looked at exploring as much of the area as possible. There are so many things to do in Cancun it's easy visiting a different destination each day and never get bored, so that's exactly what I did.
I headed to places like Chichen Itza, the ruins of Tulum, diving at Isla Mujares, and I even went to Coco Bongo. For those of you who love to party you'll definitely want to know about this place.
So, for those of you looking for the holiday of a lifetime, then keep on reading my Cancun travel guide!
If you're looking for some of the best hotels around then check out my blog post on the best boutique hotels in Cancun – this is perfect for those of you planning a trip here!
---
Best things to do near Cancun
Holbox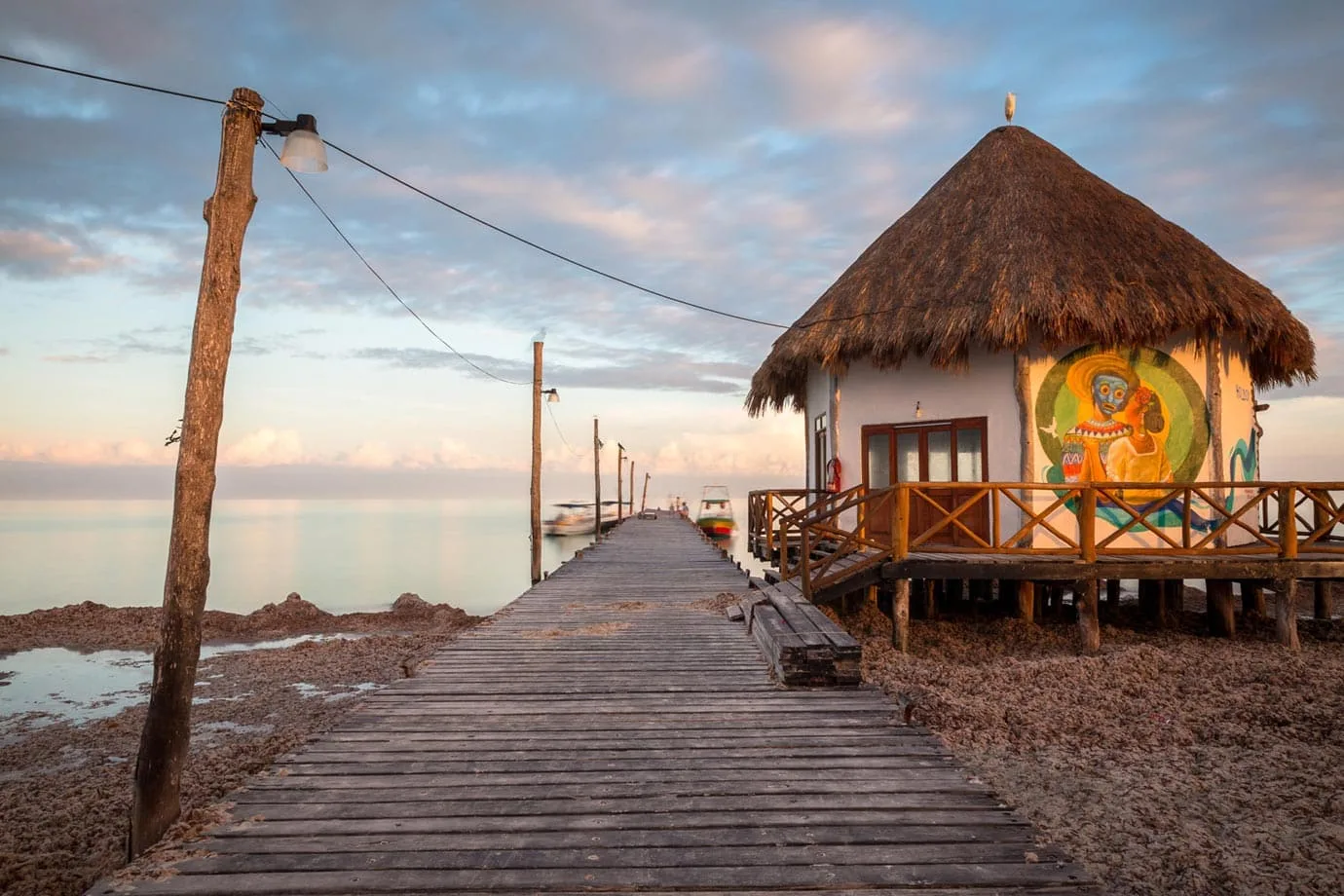 Ahhh Holbox, you beauty.
Holbox is a little slice of paradise just off the northern coast of Quintana Roo, and it is absolutely gorgeous.
Only two hours from Cancun, it is easy to catch the ferry and visit Holbox for a couple of days. It would say it's really worth tagging Isla Holbox onto your holiday either at the beginning or the end. Trust me, you won't regret it.
Holbox is the best of Mexico all on one little island with a number of hotels and beach clubs dotted along the coast. The main town is just a 10-minute walk from the port and is made up of a few cluster of streets.
Here, everyone is on island time, and the only things you have to worry about is where you left your flip-flops or which restaurant to eat in for dinner.
With no cars on the island, everyone gets around by golf buggy (which costs around $150 peso to hire for two hours; a taxi ride is usually $30 peso).
Or if you're looking at doing nothing at all, you can grab lunch, a pina colada and a bed on the beach at one of the beach clubs and laze around for the afternoon (which is what I did at Coquitos while I was there and it was blissful).
Cenotes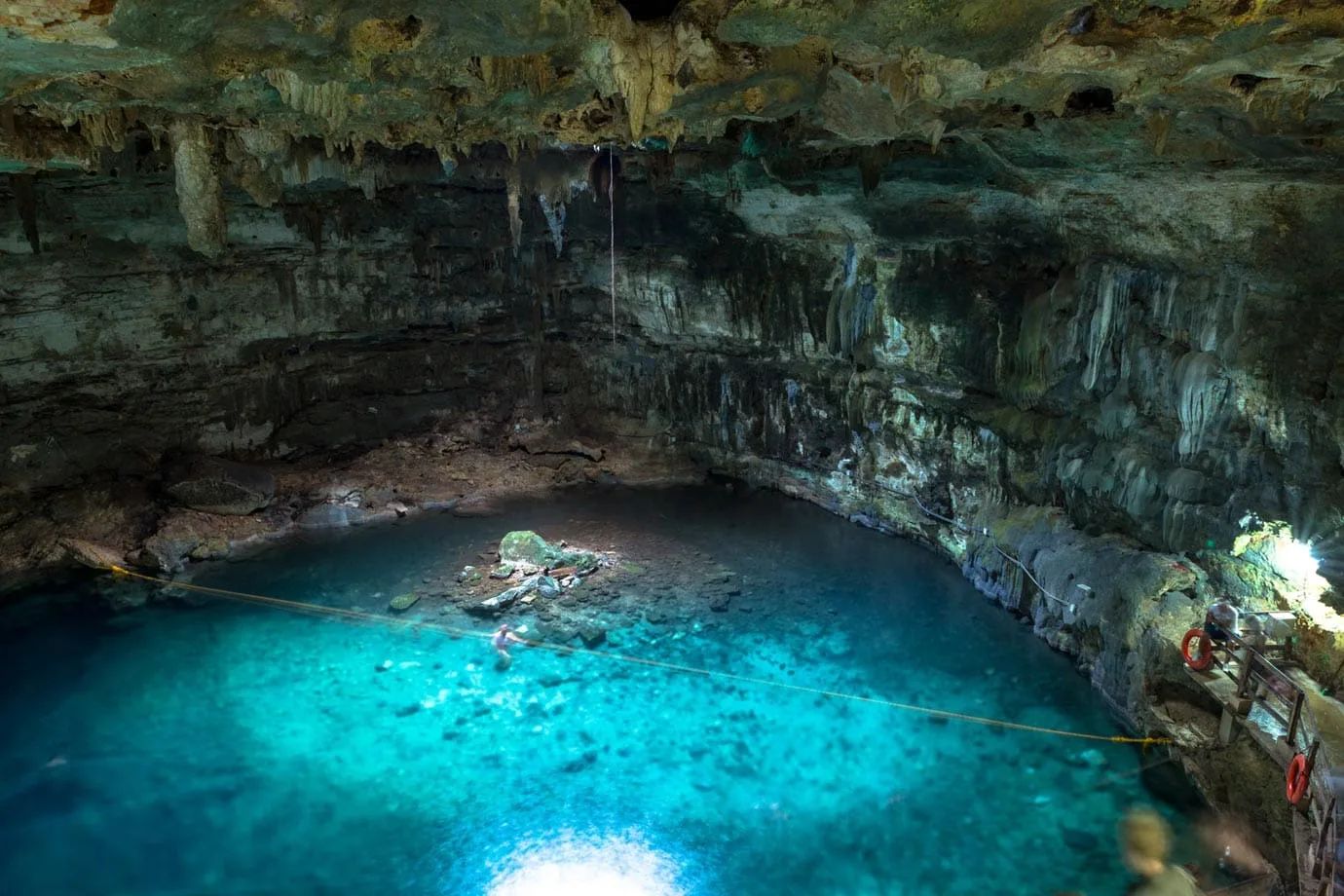 When it comes to adventurous things to do in Cancun, you can't go wrong with exploring the local cenotes.
Cenotes are natural pits and sink holes in the rock completely filled with water. Some of them you can even swim and dive basically making them the most unusual swimming pools around.
The ancient Maya people used to believe cenotes were connections to the underworld and they used to make human sacrifices there. However, these days people use them to splash around in for an underwater adventure.
The most popular cenotes are Ik-Kil – this is next door to Chichen Itza and a lot of tours include this cenote in a package combo – and Dos Ojos very close to Tulum.
Ik-Kil is great fun as there's a high platform you can jump off for those brave enough, and Dos Ojos is like an underwater themepark where you can snorkel and dive (it's also now officially the longest underwater cave in the world at 216 miles long!)
However, if you've got your own car then it's really worth while driving to a few of the lesser visited cenotes. Places like Samula and X'Keken are arguably more beautiful than the other more popular cenotes with a 1/10th of the crowds.
Also, if you're into your diving then Cenote Angelita gets my vote as the best dive site in Quintana Roo – that's the one where you dive through this alien-like cloud underwater. It's quite hard to explain it all so you're better off reading all about it here!
This full-day tour takes you to Chichen Itza, Ik-Kil and Valladolid on a true Mexican adventure. This includes hotel transportation, all entrance fees and a buffet lunch too.
You can check out 20 of the best cenotes in Tulum in this amazing guide here.
Chichen Itza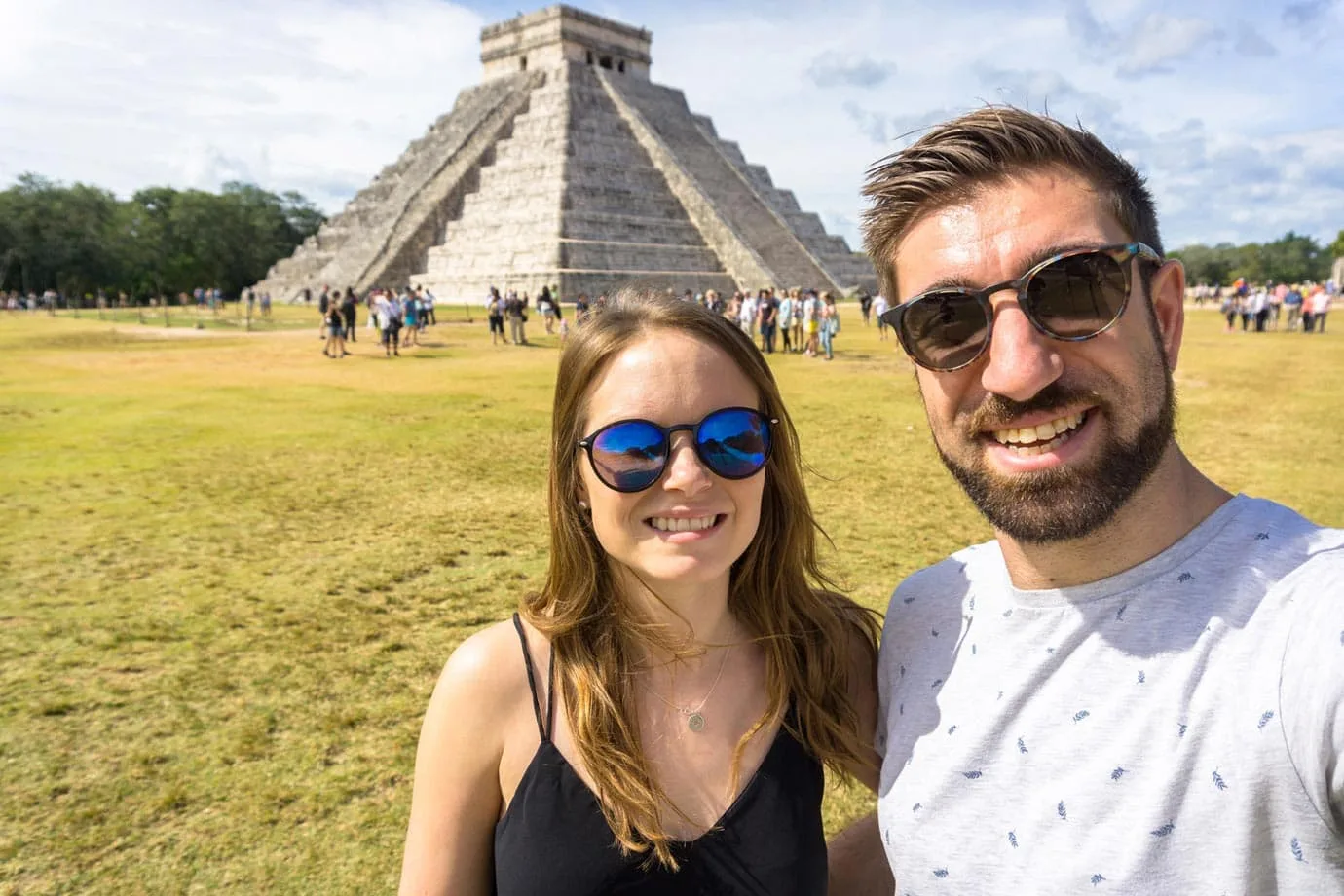 Obviously I have to include Chichen Itza in my guide to Cancun!
Chichen Itza is actually the most visited tourist attraction in Mexico, and it is by far the most magnificent of all the ruins in Quintana Roo and the Yucatan.
Built around 600AD, Chichen Itza was once an ancient Mayan city situated in the jungle. Today, it has one of the best preserved Mayan pyramids and was voted as one of the 'New Seven Wonders of the World'.
Chichen Itza is always extremely busy, but if you come as soon as it opens at 8am or an hour before it closes at 3:30pm you've got a good chance to see it without the coach loads of crowds.
El Castillo is the main pyramid here but there are a number of other sites dotted around Chichen Itza such as Skull Platform and The Great Ball Court. It takes a good two hours walking around Chichen Itza and taking it all in, so bear that in mind.
It's amazing to think this was once a great city and it really is worth seeing on any trip to Mexico!
One of the best ways of seeing this place is is on a Chichen Itza tour. Then you get to see Chichen Itza and a few other sites without the hassle of driving and transport.
Also, if you like Chichen Itza then check out these other ancient ruins in Mexico. This posts includes a couple of my favs like Teotihuacan & Monte Alban which I really recommend visiting.
Another fantastic place to visit in the Yucatan that's a little further from Chichen Itza is Merida. This place is packed full of colour and colonial architecture. For all the best things to do in Merida, check out this amazing blog post.
Coba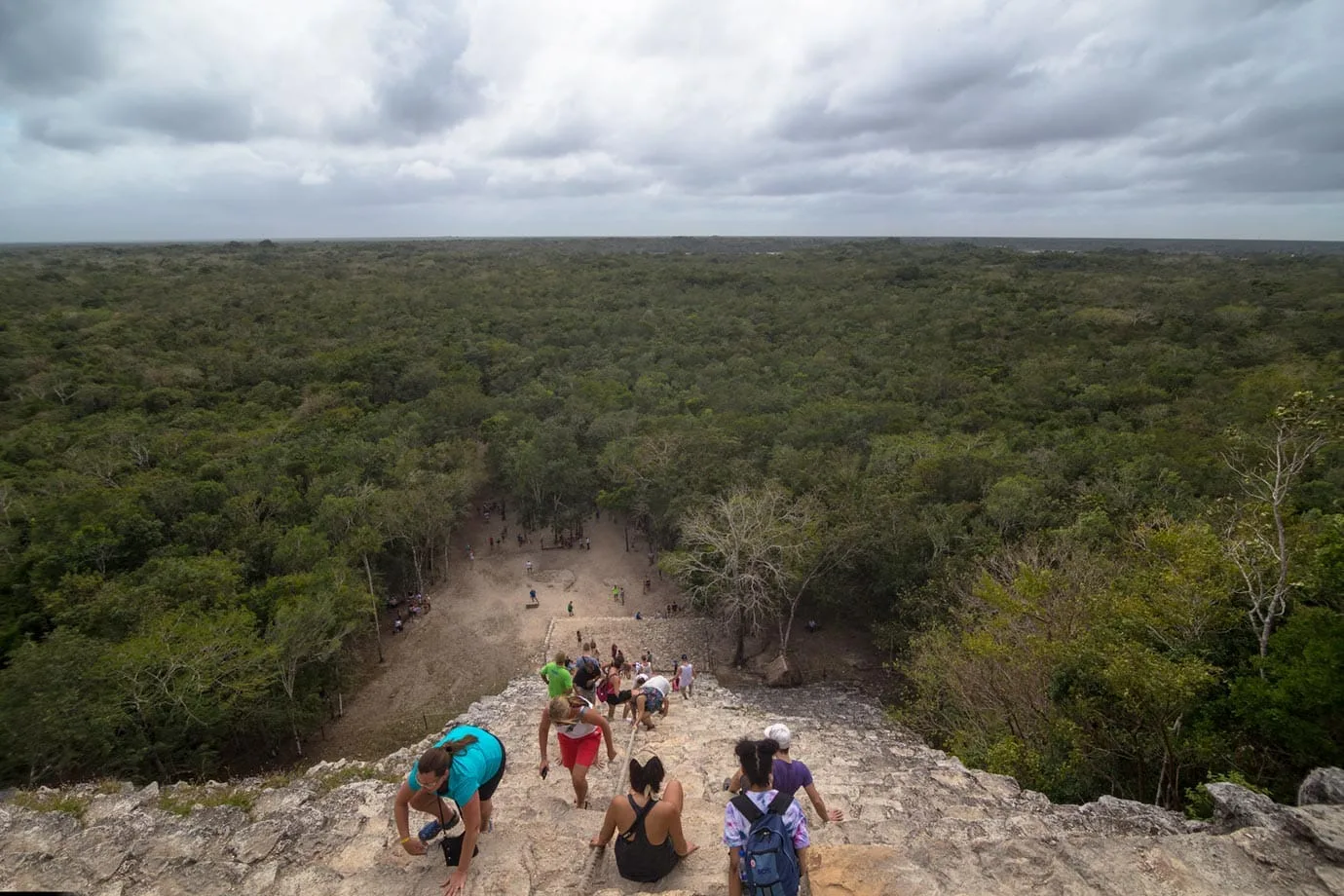 Coba is tucked away deep into the jungle, and if I had to pick just one ruin to visit in Quintana Roo it would probably be this one.
What I really love about Coba is two things – one, you can climb to the top of one of the pyramids with some of the most amazing views of the jungle around – and two, you can get little cycle rickshaws through the jungle from temple to temple.
Coba seems much more rustic than the other ruins in Quintana Roo and it really shows what a Mayan city would've been like right in the heart of the jungle centuries ago.
Again, two hours is a good amount of time to visit Coba and it is up there as one of my favourite things to do in Cancun.
Cost – $55 peso (adult)
Tulum Ruins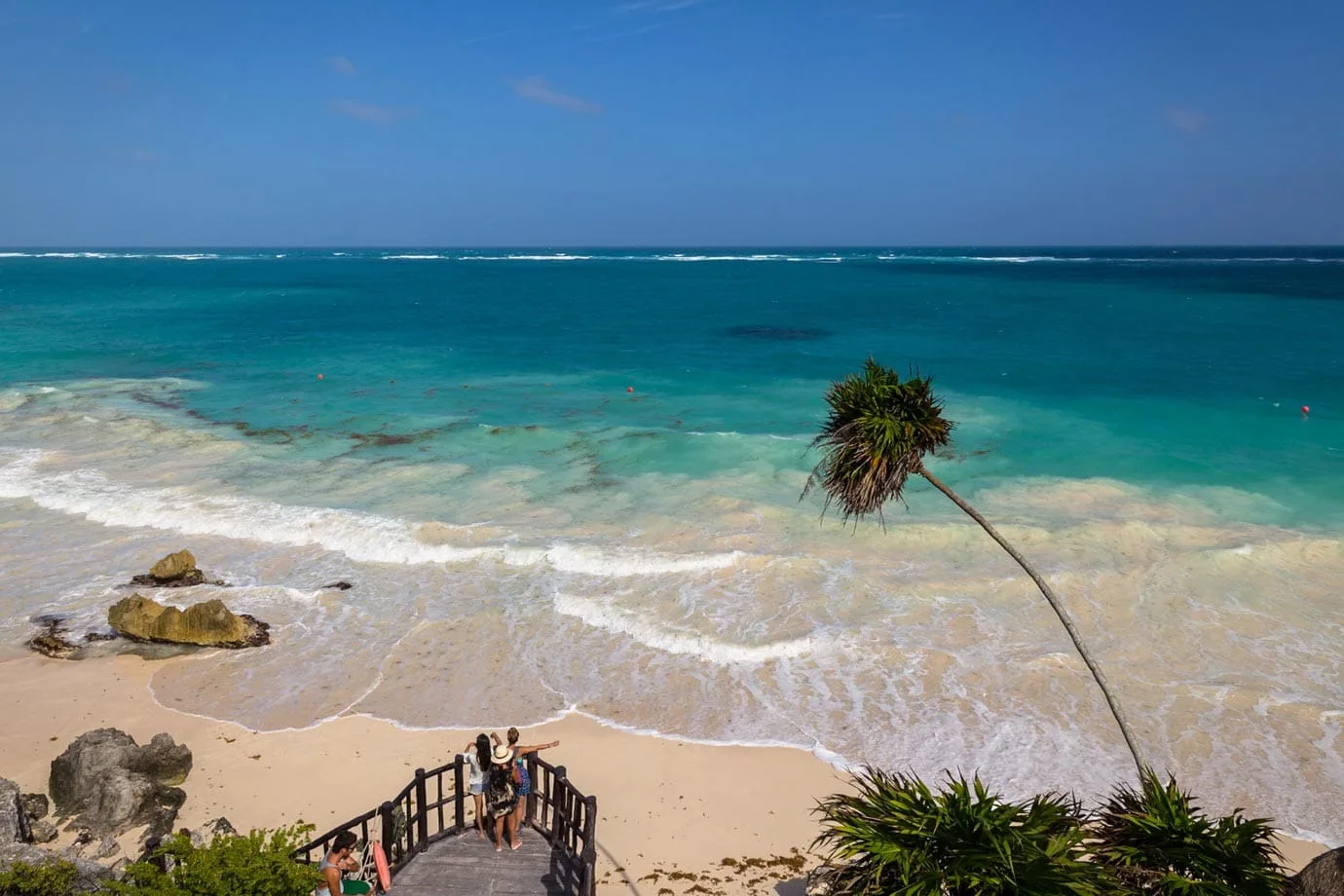 When it comes to what to do in Cancun, make sure you add Tulum to your list. This is a beautiful town that's become so popular recently.
Further down the coast of Cancun is the Tulum ruins. Perched on a cliff edge overlooking the beautiful blue sea, these ruins are in the most spectacular setting.
One of the names for the ruins is Zama, which means the Temple of Dawn. The ruins directly face sunrise, and if you get here early in the morning you'll see why this was such a cherished and holy place for the Maya people.
Like with all of the ruins in Quintana Roo, they're especially busy around 10am till 3pm – this is when most of the tour buses will be there. However, if you visit outside of these times it'll be much more peaceful and quiet.
The ruins are much more compact than the other major ruins in Mexico and you can get around the site here in about an hour. Oh, and if you want a dip in the sea then make sure you bring your swimming trunks!
If you want to see Tulum and Coba all in a day, then I'd really recommend this tour that takes you to the best sites in the region. You also get to visit one of the lesser known cenotes too!
Tulum is also a fantastic place for a yoga retreat too. For those of you looking for a little zen, here are some of the best yoga retreats in Mexico that you can do.
If you're looking at getting from Cancun to Tulum, check out this transport guide. From the local bus to renting a car, this guide has all the best options for you.
Isla Mujeres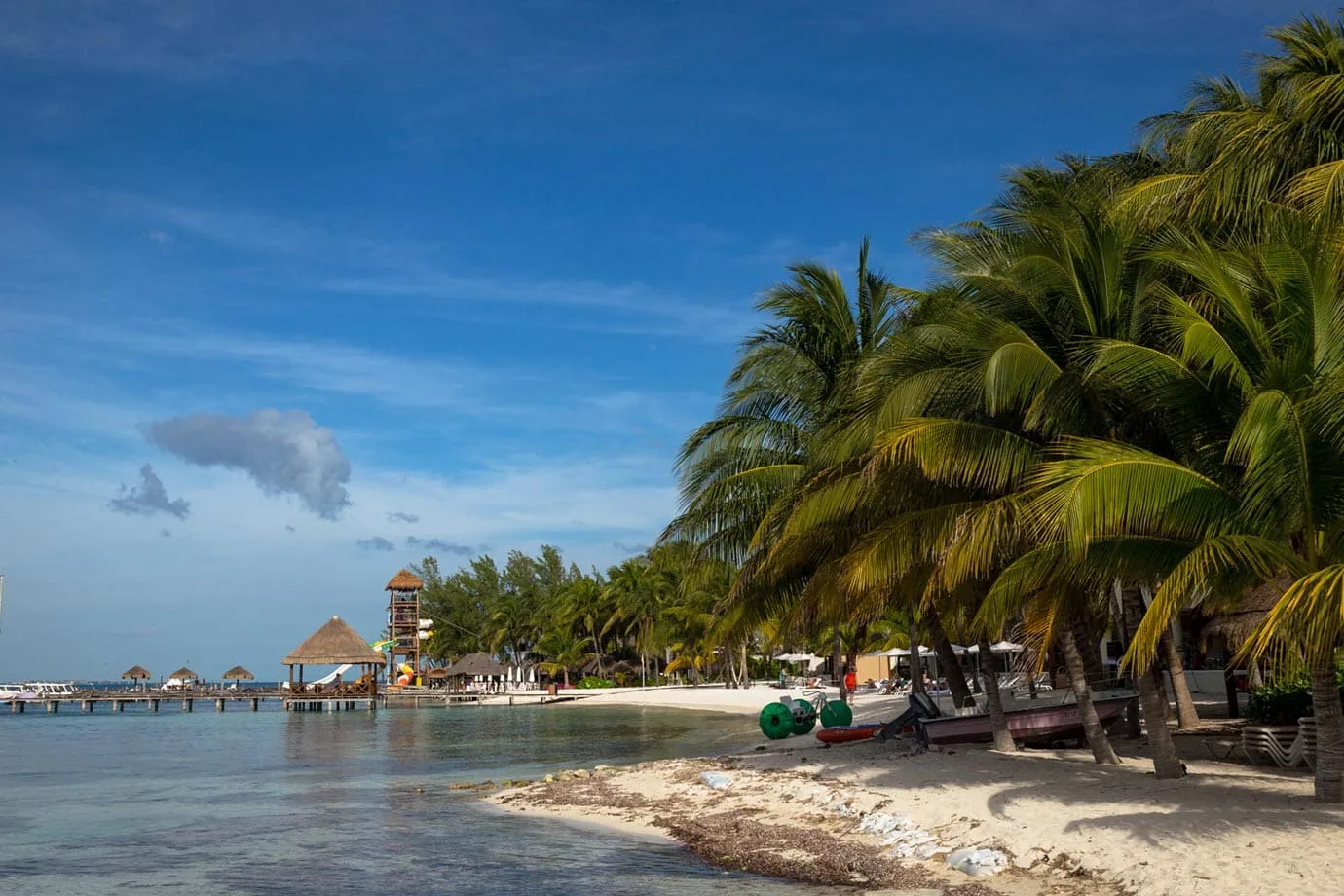 Isla Mujeres is without a doubt one of the most popular day trips from Cancun.
Just 45-minutes off the coast, Isla Mujeres is a little island with pristine beaches and palm trees.
If you're looking at doing a day trip through someone like Aquaworld, then this includes all transfers to the island, access to a beach club for food and drink (all included in the price), a snorkelling tour, and then things finish up in the cute fishing town in the north of the island before heading back to Cancun.
Instead of being stuck in a resort for a week, a day trip to Isla Mujeres is one of the best ways seeing what Mexico is all about, and it is definitely up there as one of the most popular things to do in Mexico.
Cost – A full-day tour to Isla Mujares costs £57 (US$73) including all transfers, a snorkelling tour and all-inclusive food and drinks
Diving MUSA, the Cancun Underwater Museum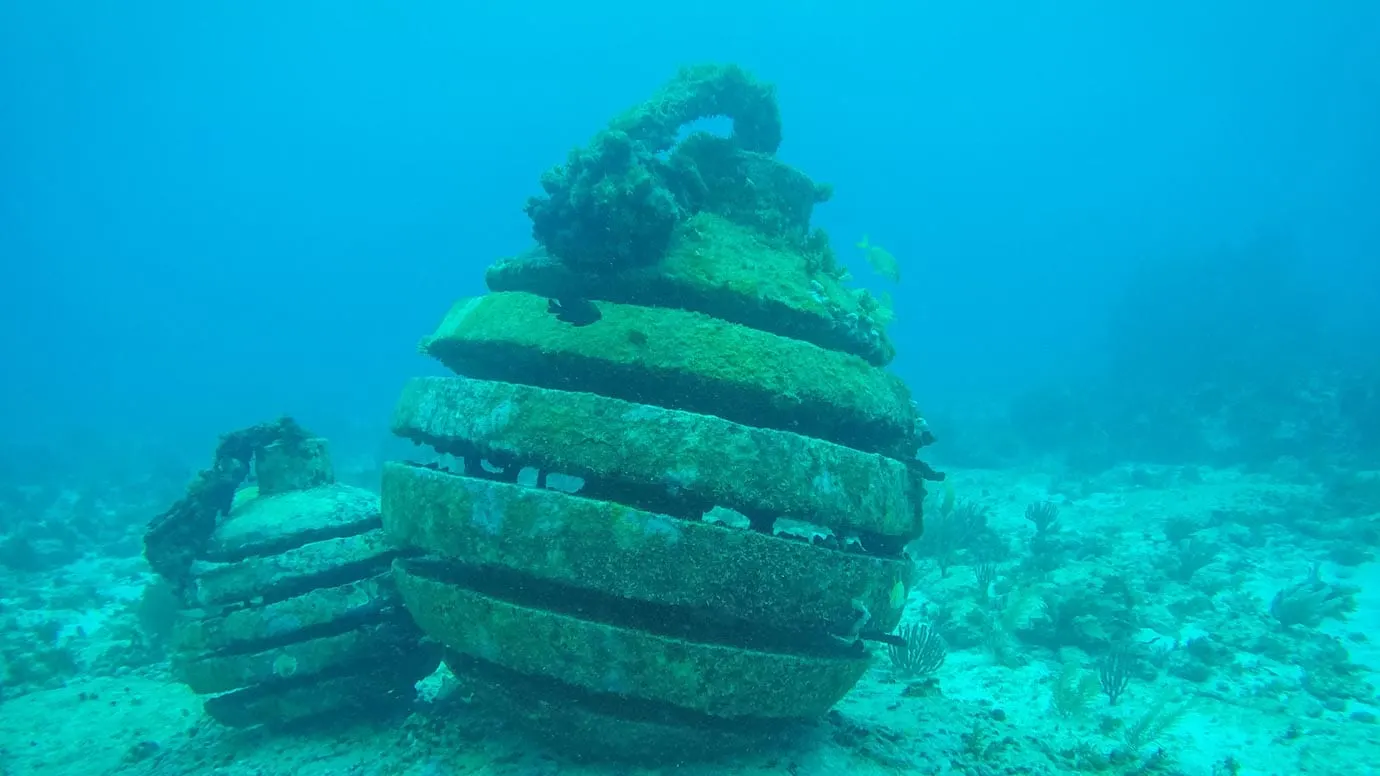 Another place for an underwater adventure is MUSA, the underwater museum in Cancun. You can read all about it in my blog post here. This is a dive site just off the coast of Isla Mujeres where there are over 500 different sculptures that have been sunken which you can swim in and out of.
Like a lot of places around the world, the reef around Mexico has taken a battering, but with MUSA they're trying to tackle this in a very different way. Not only do the sculptures attract divers from all over the world but they also create an artificial reef from marine animals to breed on, so it's creating a new reef and preserving life.
Some of the sculptures that they've sunken at MUSA are a couple of cars, a house and groups of people which is rather eerie when you're diving around them.
If you're looking at what to do in Cancun, companies like Aquaworld offer both snorkelling and diving half-day to the Cancun Underwater Museum.
Cost – US$80 including all transfers, dive gear and snacks (biscuits and water). Wetsuit and marine park fee are separate (US$13 together)
Puerto Morelos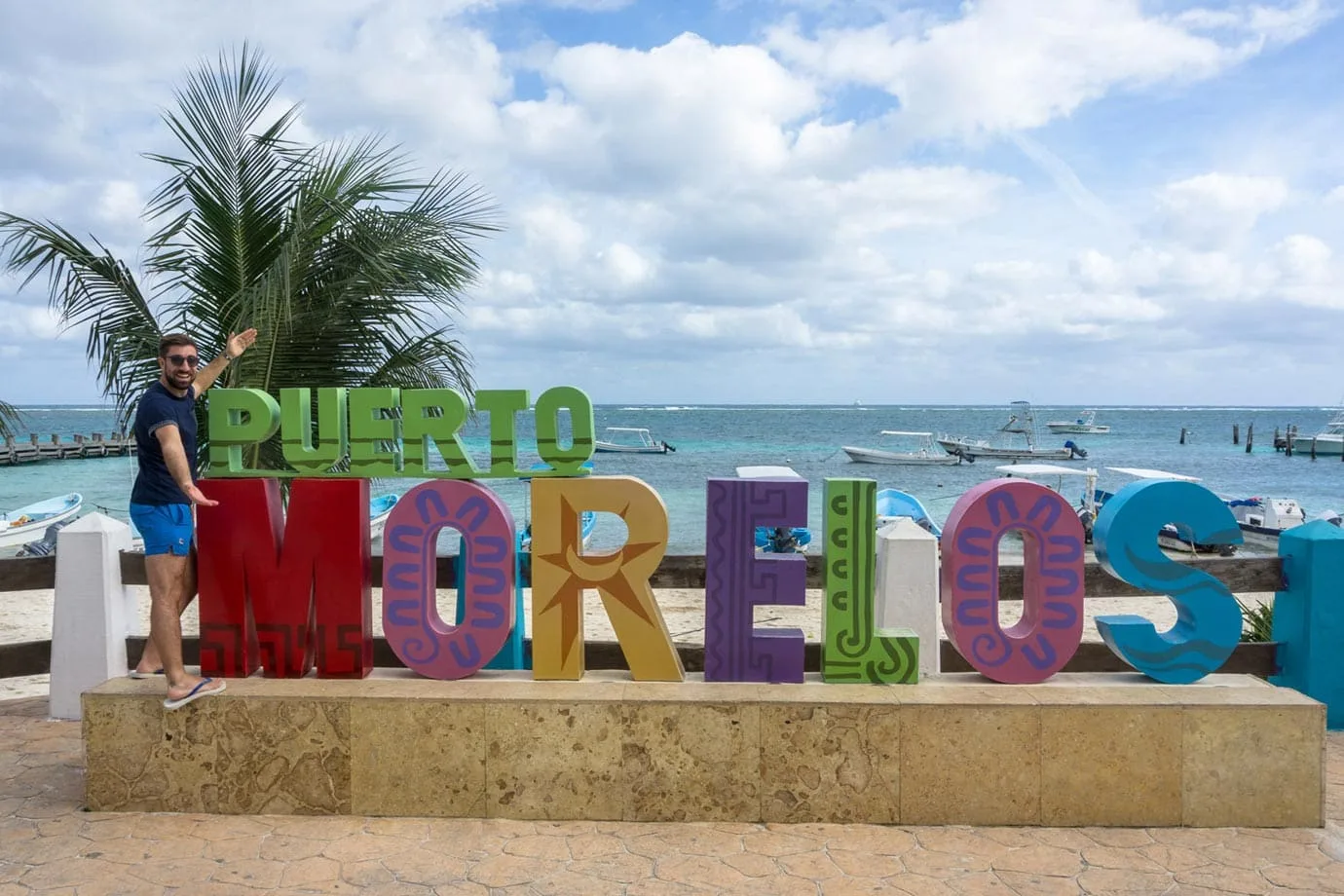 Another place I recommend visiting in my Cancun travel guide is Puerto Morelos.
Halfway between Cancun and Tulum is Puerto Morelos, a sleepy fishing village with more than its fair share of beautiful beaches.
Puerto Morelos is quickly growing as a cute day trip from Cancun or Tulum for its laid-back beach vibes and to see the wonky lighthouse (it was blown over by a hurricane in the 60s but still standing strong!)
I spent the day at Unico Beach Club, the first beach club in the area.
Not only is this in a pretty cool spot at the end of the beach but it also had the best ceviche I've ever had in Mexico.
All the food here is amazing and it's worth visiting this place just for lunch on the beach. Also, the cocktails are killer too!
Coco Bongo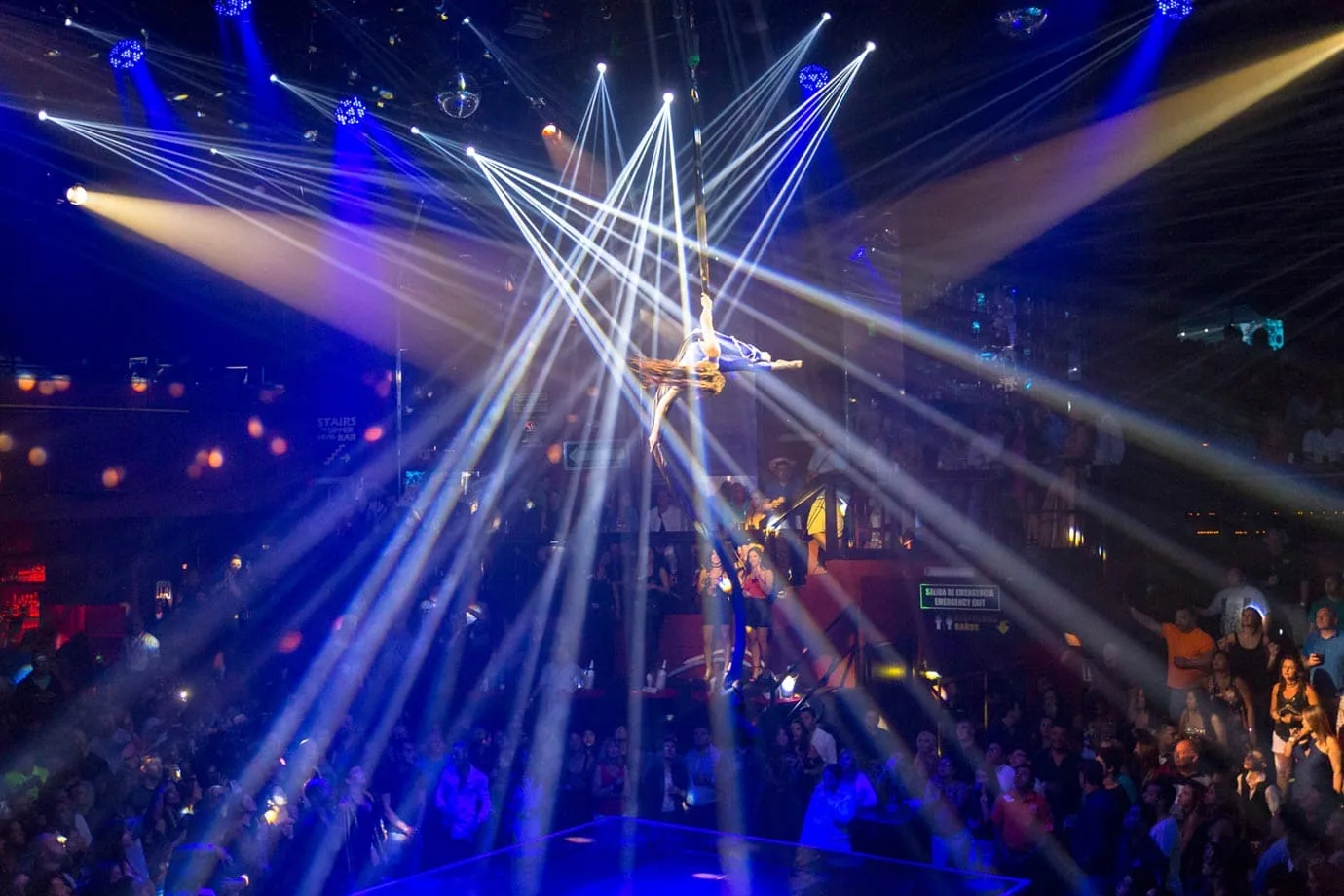 Are you looking for one of the best nights out that rival any in Las Vegas? Of course you are!
Coco Bongo is like no other night I've ever been to. It's like a cabaret show crossed with a huge dance club, all with a Mexican twist of course.
Different acts include Chicago, Madonna, Michael Jackson, Queen, Rio and a whole host of other acts too.
Even though tickets are a little pricey at £56 (US$80), that does include unlimited drinks and house spirits from 10:30pm till 03:00am (it's a long night), and it is 100% worth it.
Alternatively, you can get a gold ticket is £91 (US$130) which gives you a table (handy if you don't want to be up on your feet all night) and access to premium drinks.
My top tips is to make sure you're wearing very comfortable shoes because you'll be up on your feet dancing all night! This is the best night out in Cancun!
Alternatively, if you want to visit Coco Bongo, Congo Bar and Señor Frogs (the 3 best nightclubs in Cancun), then you can buy a multi-ticket that'll give you access to all 3. This ticket also gives you queue jump and unlimited booze (yes you read that right).
Cancun packing list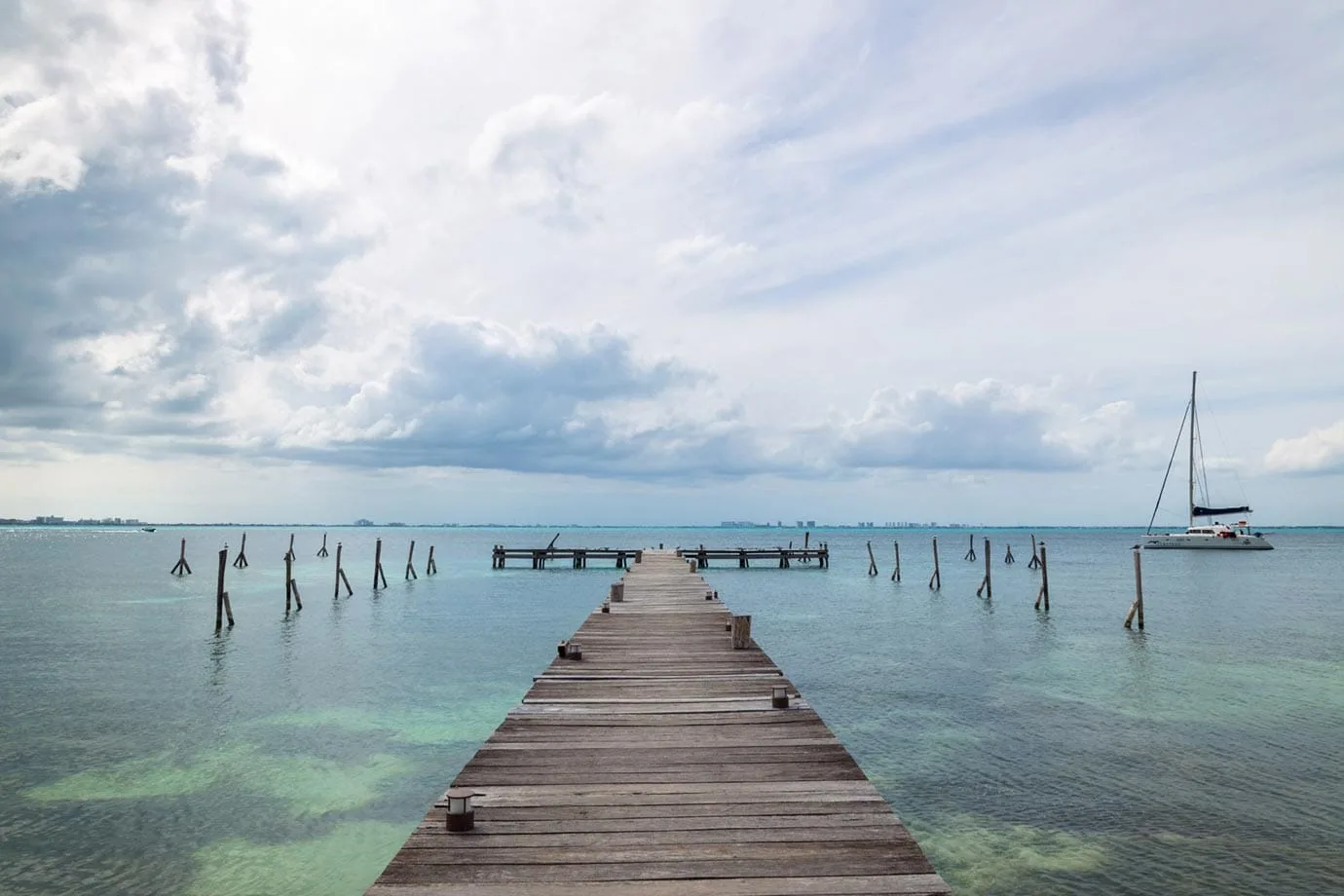 As you can imagine, I travel a lot. It comes with the territory of being a travel blogger! That being said, there are some things that I now can't travel without. If you're planning your Cancun itinerary, I'd really recommend taking these items with you: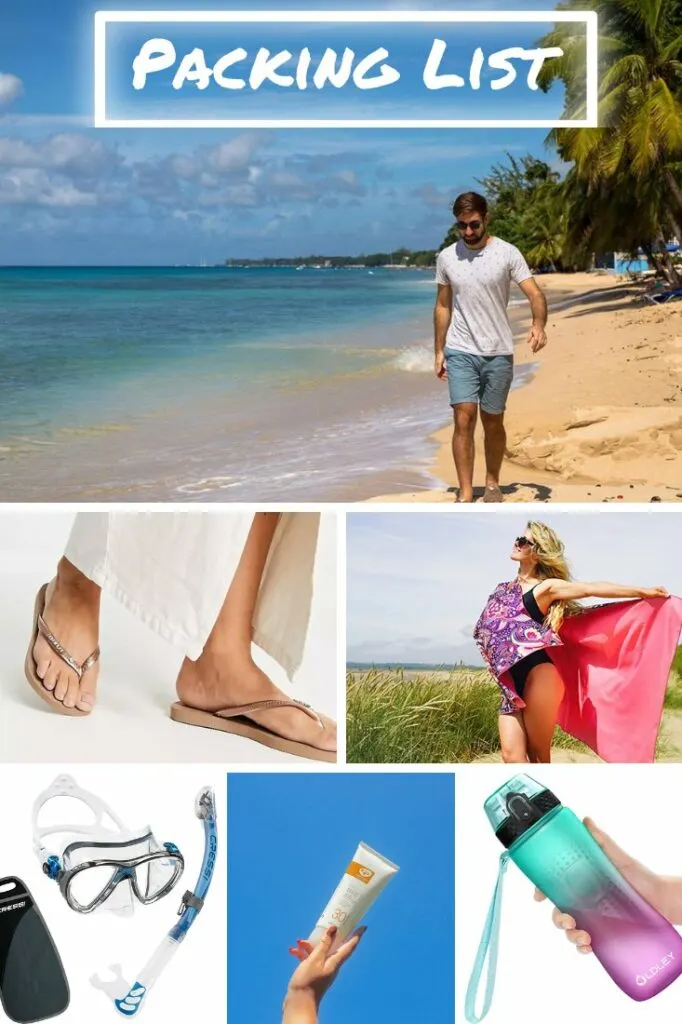 ---
My trip to Mexico was in association with Teletext Holidays's campaign #TeletextDoesCancun promoting one of their best selling destinations. As always, views are entirely my own and without bias.
What's the one thing you'd most like to do in my Cancun guide? Let me know what's your favourite in the comments below!
Like this blog post? Then make sure you Pin it!