Are you looking for the best things to do in Bandung? From learning about the Hong Community to visiting Kawah Putih, this is what you should do in Bandung!
When it comes to things to do in Bandung, it's all about the culture.
Bandung, the capital of West Java's province, might not be at the top of your places to visit in Indonesia, but it's an amazing city to spend a couple of days.
Most people visit Bandung on the way to the temples of Borobudur and Prambanan, and it's very easy to get caught up here and stay for longer.
Bandung is the third largest city in Indonesia and is nicknamed the Flower City after the gorgeous green mountains and all the flowers everywhere.
Bandung can be described as Indonesia's cultural heartbeat, and it is a place where old fashioned traditions live on and history really comes to life.
With playing games with the Hong Community, seeing a traditional Saung Angklung Udjo performance, visiting the white crater of Kawah Putih, going on a 4X4 off-road safari, and having lunch at a couple of the best restaurants in all of Indonesia, you certainly won't be short of things to do in Bandung.
However, if you've only got couple of days in the city these are the ultimate things to do in Bandung.
---
Visit the Hong Community and play some traditional games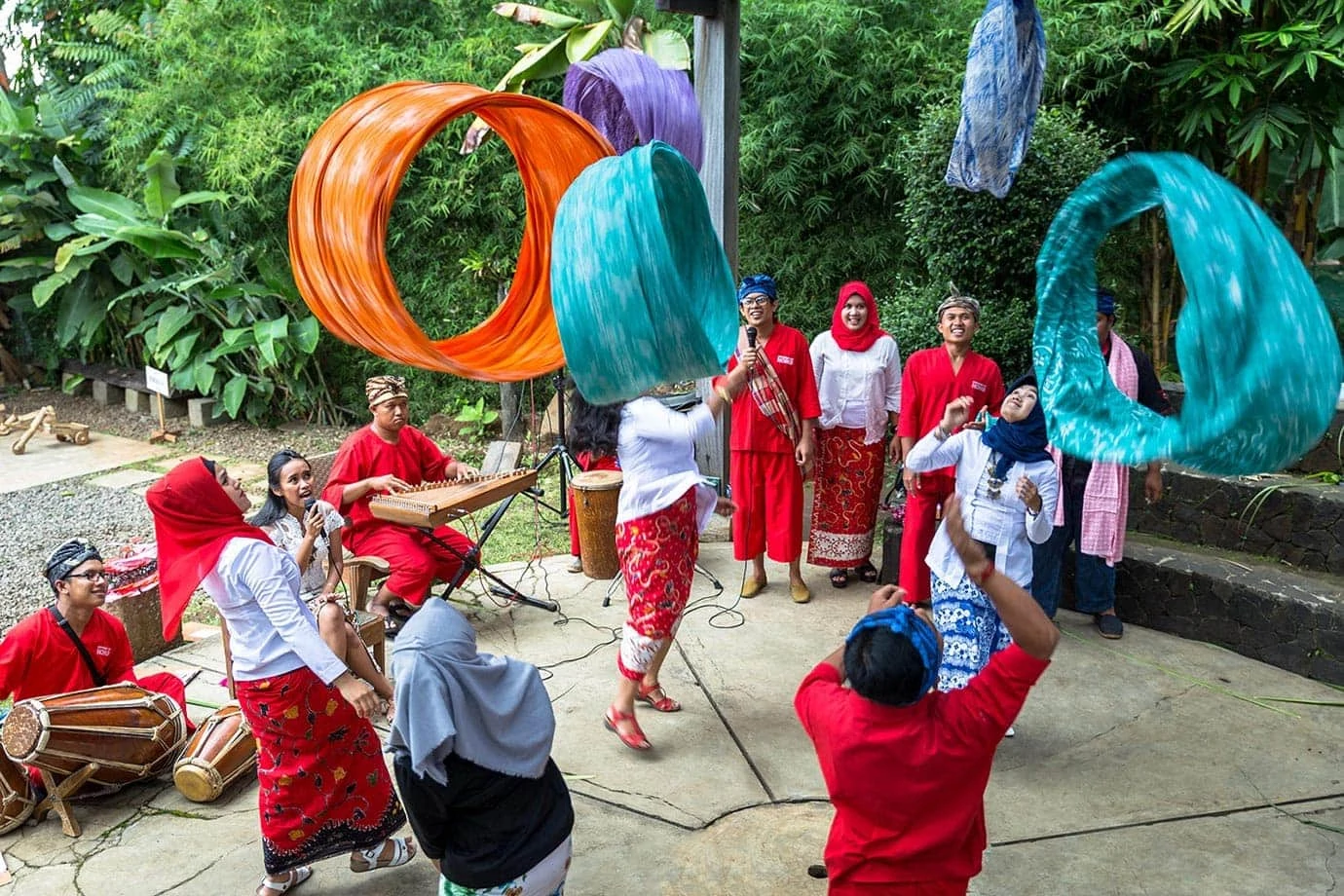 The Komunitas Hong is a traditional Sundanese community where you can learn all about the history of Bandung and discover how to make toys and play games, something all families still do throughout Indonesia.
Even though all of the games are very basic – they are games like shoot an elastic band gun and getting a sarong to spin through air – they bring joy to everyone who plays them.
At first people are quite hesitant to join in, but any preconceptions are quickly left behind as everyone joins in. As an introduction to the culture of Indonesia and Bandung, this is the perfect way to do it; learning through doing.
This is without a doubt one of the top things to do in Bandung.
Have lunch at Dusun Bambu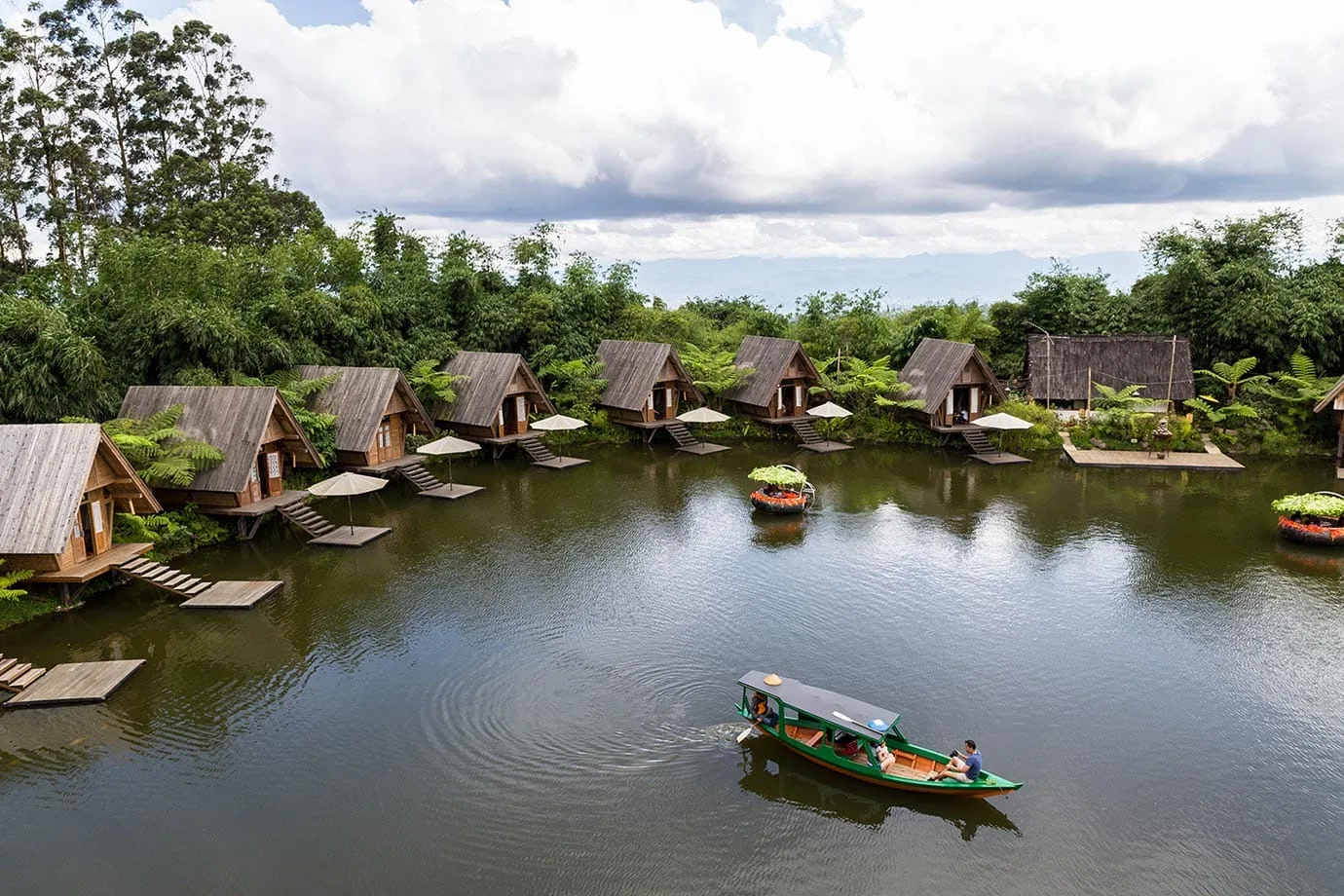 Dusun Bambu is a family leisure park in the foot of the mountains in Bandung.
Described as an eco-retreat, Dusun Bambu is in an extremely relaxing setting with large bamboo structures and running water everywhere. All of this makes for an incredibly quiet and peaceful place to spend an afternoon, and it's the perfect place for lunch!
If you want to work up an appetite there are a number of activities you can choose from at Dusun Bambu such as going on one of the many bamboo walks, visiting the bird park or and you can even go camping.
They also do one of the best lunch buffets around, and with the mountains in the background and the lake fringed by tiny wooden cottages it is in such a picturesque setting.
4X4 off-road safari in Bandung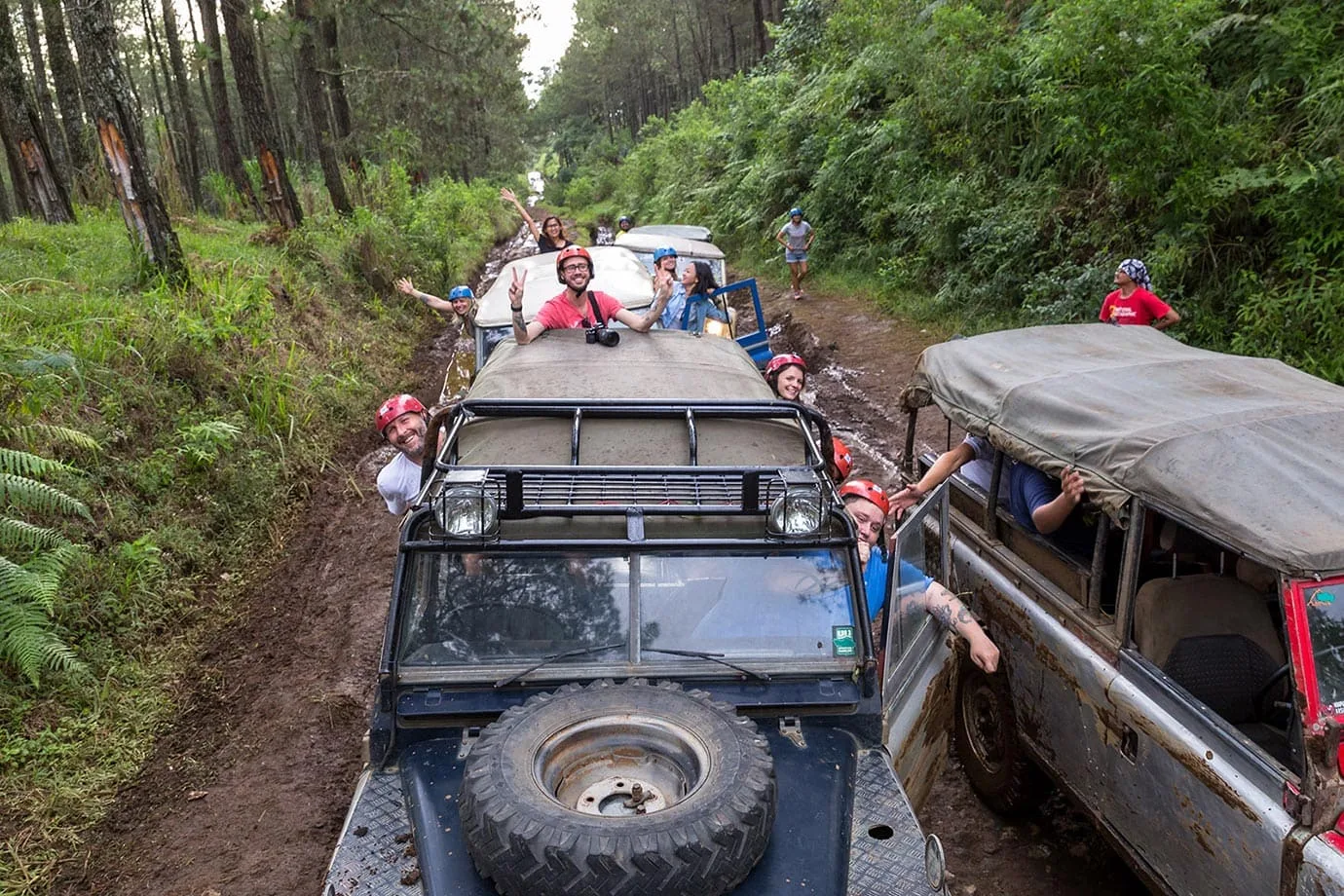 For those adrenaline junkies out there looking for a bit of adventure, you can also go on a 4X4 off-road safari from Dusun Bambu. This takes you past the tea plantations and onto one of the toughest off-road tracks you'll ever come across.
When it comes to things to do in Bandung, if you're looking to be bounced around for a couple of hours then this is the activity for you!
Go for dinner at Kampung Daun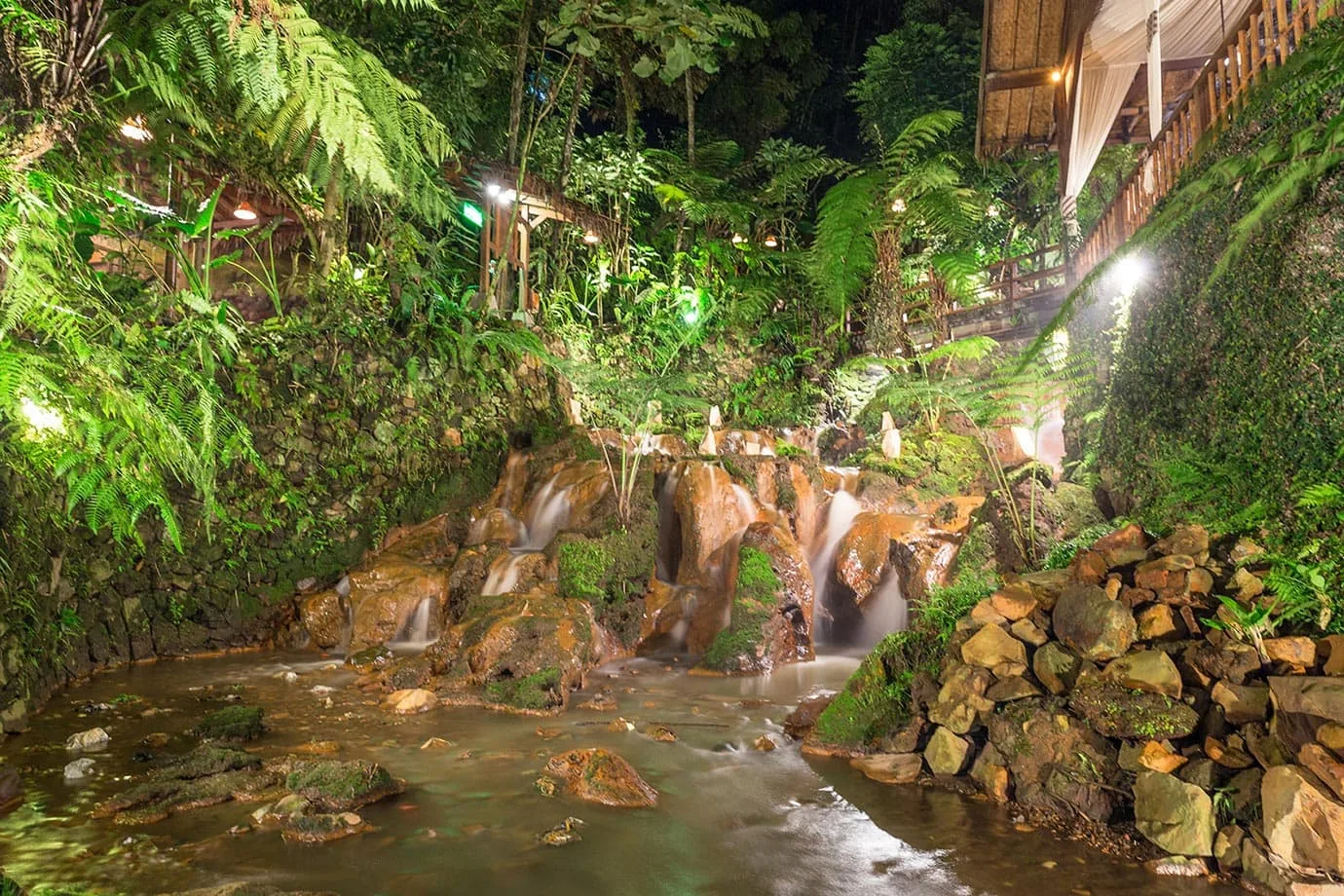 Dinner at Kampung Daun is an experience in itself. You don't have to spend long in Bandung to discover this is the restaurant to eat at. This place has a reputation for great dining and an atmosphere that's hard to beat.
Set in a forest, Kampung Daun is surprisingly large with a number of private dining areas for families and booths for couples. The restaurant even has its own natural waterfall in it!
One of the reasons why this is such an amazing place to dine at is there are a number of local music and dance performances each night, and it really adds to the cultural ambience. However, the one thing that really stands out here is the food – it's simply delicious.
Visit Kawah Putih, the White Crater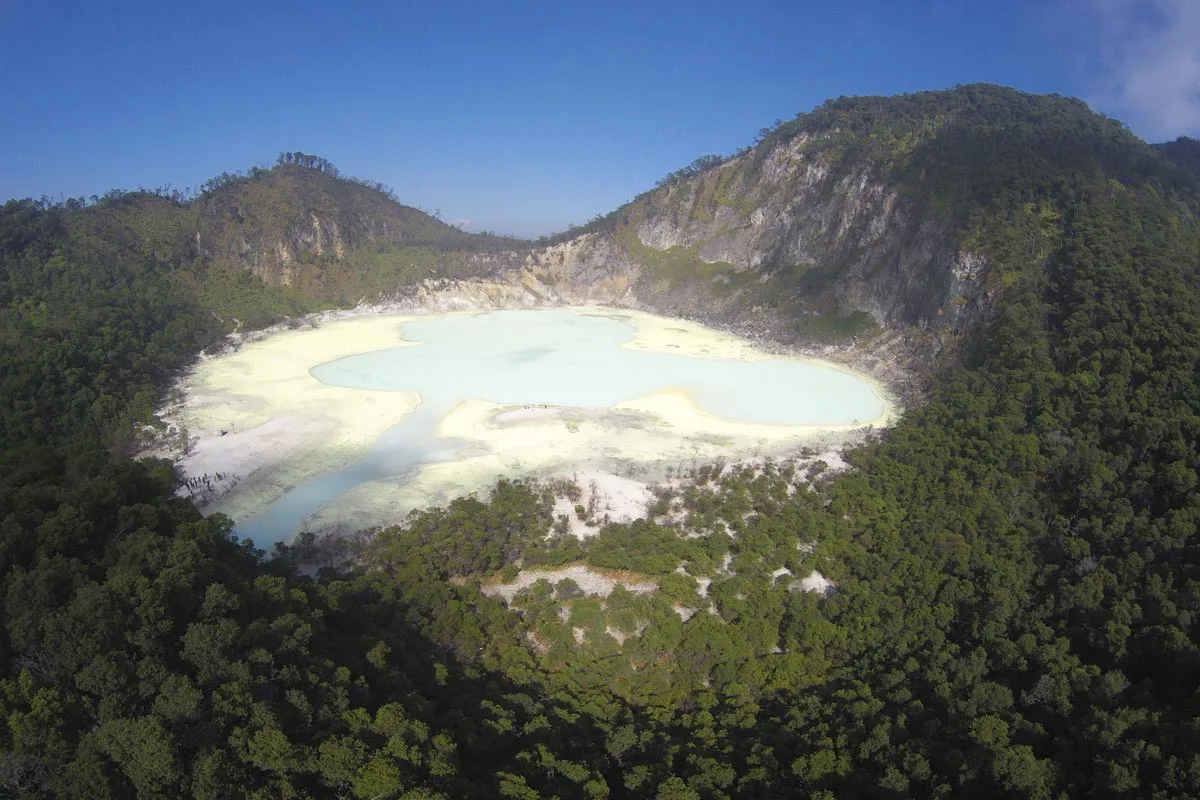 Kawah Putih (also known as the "White Crater") is a crater lake 50kms away from Bandung and it is a wonderful place to spend the morning. With a white landscape, turquoise lake and skeletal trees dotted around, Kawah Putih is equal parts eerie and dreamy, but it's an amazing place to see for yourself, particularly for the photos.
As it's quite high up it can be quite cold at Kawah Putih, especially in the mornings, so make sure you take an extra layer of clothes. Also, there's a strong smell of sulphur here (the smell of rotten eggs), but you can buy a face mask at the entrance. And don't worry, the sulphur isn't dangerous – it just smells bad!
This is one of the most popular things to do in Bandung.
Pick your owns strawberries at Sindang Reret Ciwidey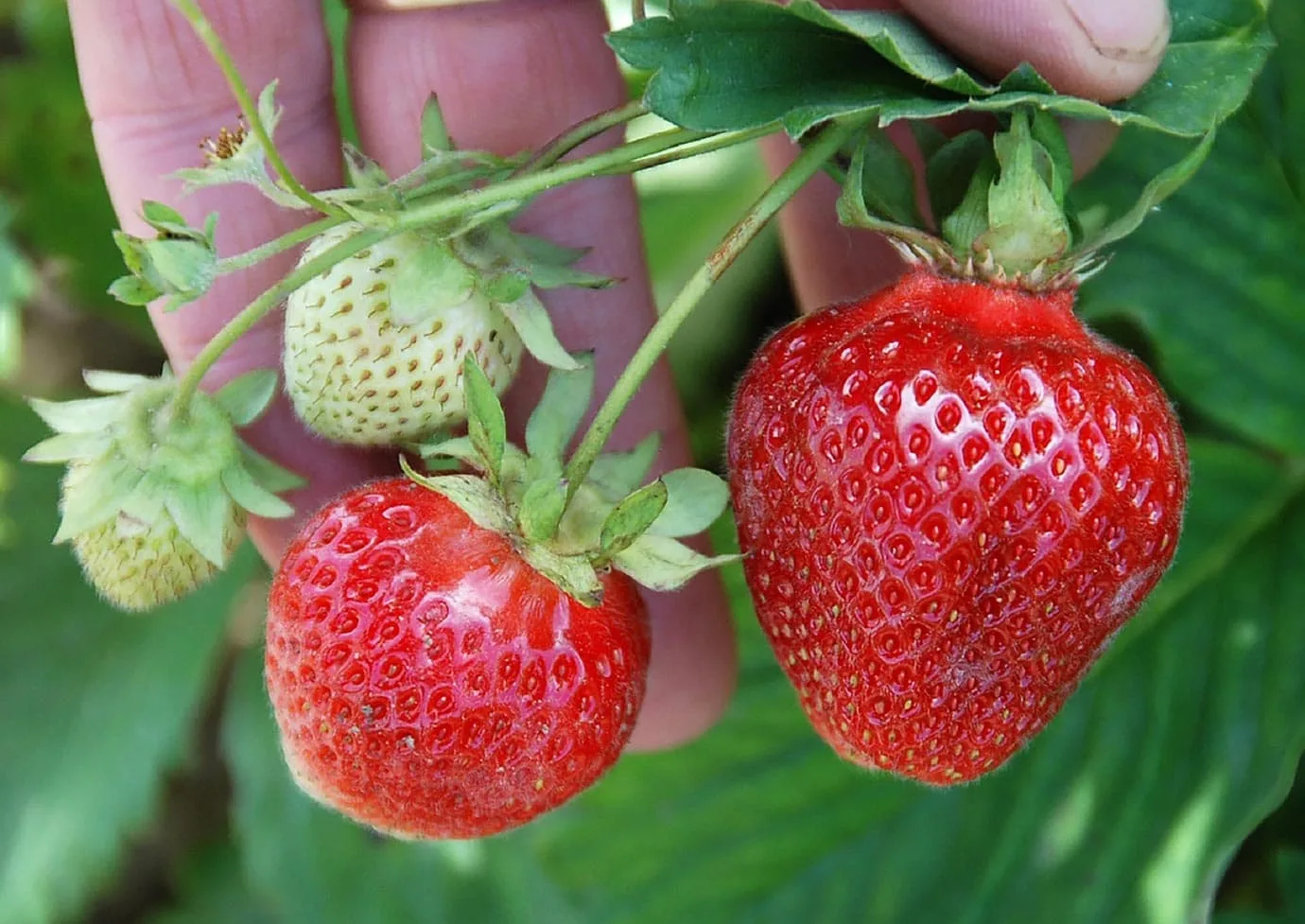 Sindang Reret Ciwidey is the definition of seclusion, and with stunning view over the rice paddies and mountains this place is another fantastic spot to have lunch.
One of the things that makes this place so different compared to other restaurants is its alternative take on traditional Indonesian delicacies, and then there's the strawberry gardens. Here you can pick your own strawberries, enjoy them with the view, or even have some dishes made with them. It's great family fun, especially for the kids!
Watch a traditional Saung Angklung Udjo performance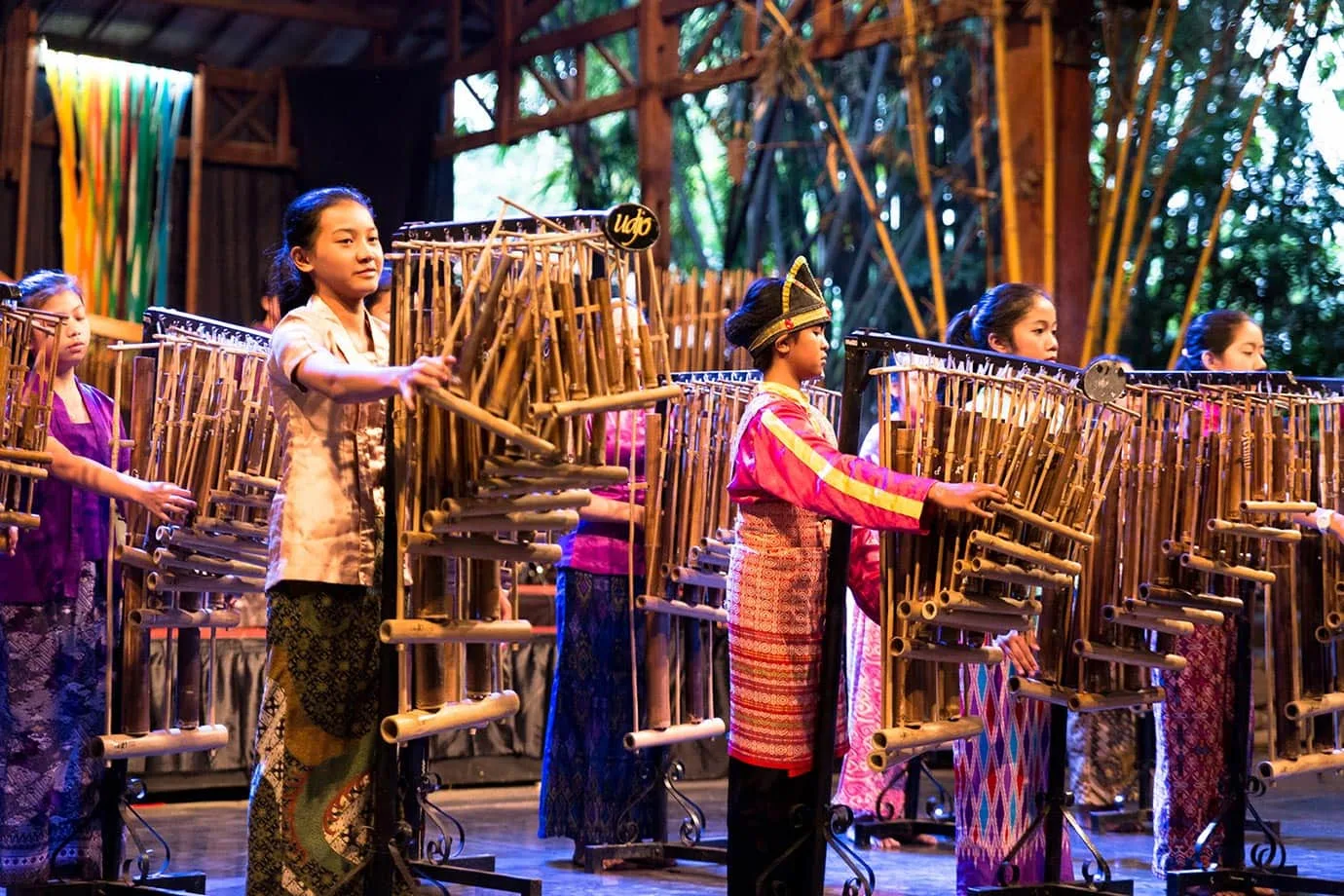 As Bandung is considered the cultural heartbeat of Indonesia, it doesn't get more cultural or traditional than watching a Saung Angklung Udjo performance. You really can't see this anywhere else in the world and it's a definite must on any visit to Bandung.
Angklung are traditional musical instruments made of bamboo, and they are strung together in a way that when they're shaken they create a particular note. Different Angklungs are different sizes to create different notes, and when they're all played together they create a harmony.
All of the performances here are conducted by the children of the community. This isn't just a school, but a refuge centre, an orphanage, and a place where kids can come together and learn something new.
Also, one of the best parts of the performance is when you get to join in! Yes, they even teach you how to play a couple of songs too! This really is one of the best cultural things to do in Bandung.
If you're looking for some amazing adventures in Indonesia then check out the blog post – from diving at Tulamben to hiking to the top of volcanoes there are some incredible adventures here!
What are some of your favourite things to do in Bandung? Is there anything I've missed out? Let me know in the comment box below!