Crystal clear water, perfect pristine beaches and idyllic islands? Say hello to Raja Ampat, a little slice of paradise in Indonesia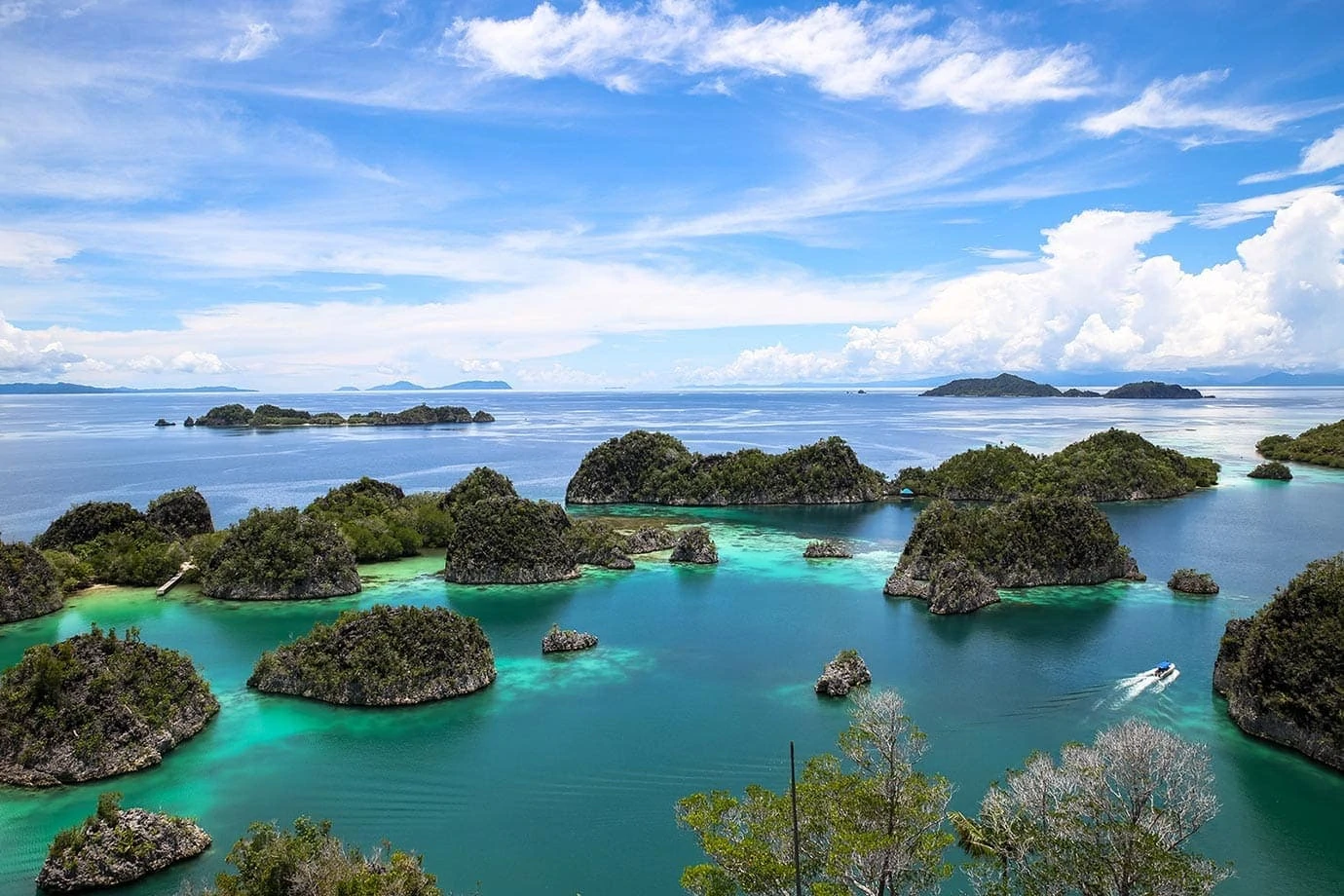 Pure, unaltered beauty. That's the only way you can describe Raja Ampat. It's easily one of the most alluring places I've ever been. Period. I really can't wax lyrical about this place enough!
With crystal clear waters, perfect pristine beaches, paradise islands dotted all over the place and some of the kindest communities you'll ever meet, Raja Ampat is without a doubt one of the most picturesque spots in the world.
It almost sounds too good to be true, right?
There are a couple of down sides – it is exceeding difficult and expensive to travel to. However, all of the time, effort and money is 100% worth it. Hopefully just one of these reasons on why you need to visit Raja Ampat should be enough!
1. It's isolation means you'll have the place to yourself
Located just off the coast of West Papua in north-eastern Indonesia, getting to Raja Ampat takes time. A lot of time.
Even if you're flying from Jakarta or Bali, you usually have to fly to Makassar (or sometimes Ambon) in Sulawesi, and then catch another flight onto Sarong in West Papua.
Then, once at Sarong you have to catch a boat to Waisai in Waigeo, and even then you haven't made it.
From Waisai, it's then another boat to whichever island or homestay you're heading to in Raja Ampat. All of this takes nearly 24 hours to do, so a full day of travelling just to get there.
Why am I telling you this? Because all the time and effort it takes to get to Raja Ampt, all the changes from bus to plane to boat, all the hours spent waiting around, is 100% worth it for what awaits you – say hello to paradise.
2. The jewel of Raja Ampat – Piaynemo
One of the reasons that Raja Ampat is so popular is Piaynemo. This is the pin up postcard for the tourist board; this is why so many people want to visit Indonesia at the moment.
Piaynemo is a small cluster of karst islands jutting out of the water and places really don't come much prettier than this.
To get to Piaynemo you have to catch a boat from wherever you're staying, and this usually takes about an hour and a half. Still, the time it takes to get here means you almost have to place to yourself.
Once you get to Piaynemo, there's a view point you can climb to the top of, and even though it's hot and hard work the views make it all worth it. And yes, it really does look like this.
When I was at Piaynemo it was only my group of travellers and a couple of locals – that was it. Swimming in the water being surrounded by the rocks is pretty special too.
3. The diving and snorkelling is out of this world
Being a huge diving enthusiast, I've been to some truly amazing dive sites (such as the Blue Hole in Belize and the Cenotes in Mexico), but it was with a huge sense of anticipation that we went to Raja Ampat because the diving here is considered up there with the best in the world.
This group of islands lie in the most bio-diverse marine region on earth. The fact that there aren't many boats or people polluting the waters means the coral and aquatic life here is next level. Expect anything from dolphins to manta rays to sharks to huge schools of fish. You really do get all types of life here.
There are a number of dive lodges dotted around Raja Ampat (shout out to Raja Ampat Dive Lodge which is where we stayed), and even though they are expensive it is worth it for the world-class diving.
Even if you're not a diver, the snorkelling here is amazing too. All you need to do is flop in the water and you've basically got your own aquarium all around you. The coral really is some of the best I've ever come across, so much so I found it hard to get out of the water!
If you're interested in diving in Raja Ampat, click on the link and check out where you can find some of the best dive sites in the area.
Photos by Pinneng from Wet Traveler
4. Meeting the local communities
Raja Ampat is home to a number of small island communities such as Arborek, Sawingray and Yenbuba, and having the chance to meet the people from these communities was a real highlight of my visit.
As you'd expect of a place with hardly any tourists, all the kids were so curious when we landed on each island and it wasn't long before they were scampering around our legs asking for their photo to be taken.
Each community has its own vibe, and a number of islands have their own homestays (such as Lalosi Homestay and Manta Homestay on the island of Arborek) so you can really immerse yourself in the local culture too.
If you're heading to the islands of Raja Ampt, I'd really recommend you staying in a homestay and immersing yourself in the local community.
5. Exploring the islands by boat
One of the things that I absolutely loved about Raja Ampat was travelling around by boat everywhere.
The waters are so clear, and no matter which direction you head in you zoom past these tiny little islands. Also, when you're out on the water you really do feel like you're a million miles from civilisation. Well, you kinda are.
Most of the hotels and homestays have their own transfers to and from each island, so it's fairly easy to get around. However, getting to the more secluded spots like Piaynemo isn't really possible unless you charter your own boat. I'd really recommend arranging these day trips beforehand!
6. Life on Raja Ampat
Being so isolated and secluded, life on Raja Ampat is noticeably slower. When you're stuck on a deserted paradise beach all you can do is kick back, relax and just enjoy the good times. There really is nothing else you can do. It's a hard life sometimes, isn't it?
Most evenings we just sat around with a beer or cocktail in hand taking in the views around us. Also, the sunsets on Raja Ampat were some of the best I've seen.
This is partly down to the lack of pollution meaning you get virtually no haze at all. It's safe to say this place is dream for photographers like me!
7. Enjoying the local cuisine
Even though the food is very simple (obviously you can't grow a lot of ingredients on the islands), the food is delicious.
Most mornings I had breakfast on the beach this this view and the seafood was incredible. I had barbecued lobster one night and it's the best I've ever had. You've just got to tuck in and enjoy it.
As I've already said, it does take a lot of time and effort to get to Raja Ampat, but it is worth every penny, it really is. This really is paradise on earth.
---
My visit to Indonesia was part of a press trip organised by Indonesia Travel as part of their #TripOfWonders campaign. As always, all views and opinions are entirely my own and without bias.

Have you ever been to Raja Ampat? If so, how did you do it? And what did you think of the place? Let me know in the comment box below!